Mark Messier. Brian Leetch. Mike Richter. Rod Gilbert. Eddie Giacomin. Harry Howell. Andy Bathgate. Adam Graves. All Ranger greats. All house-hold names to Ranger fans. However one name supercedes them all, yet doesn't have his last name hanging in the MSG rafters. That man is no other than the greatest Ranger of them all, Frank "Raffles" Boucher. I am hoping that this article reaches the men who make the decisions at the Garden, because it is a travesty that Boucher's #7 isn't honored at all.
Unless you are in your late 80's, chances are, you've never seen Frank Boucher play. That's ok, neither did I. However, I have spent countless hours researching Frank Boucher's career, reading game accounts, read Frank Boucher's autobiography and took in a whole lot of knowledge reading the various works of the Hockey Maven himself, a one Mr. Stan Fischler. The fact is, you did not need to see Frank Boucher skate to understand that not only should his number be retired by the New York Rangers, the Chase Bridges should be named after him too.
To give you quick and straight facts, Frank Boucher was an original member of the inaugural 1926 New York Rangers. He won two Stanley Cups as a player, in 1928 and 1933. When he retired, he was the NHL all-time leader in assists. He also won the Lady Byng Trophy 7 times until the trophy was just handed to him and the NHL got a new trophy. He was a First Team All Star on many occasions.  He was also the coach of the 1940 Stanley Cup team. He would later on become the general manager of the squad.  His affiliation as a blueshirt lasted from 1926-1955, unparalleled by any other individual in New York Ranger history.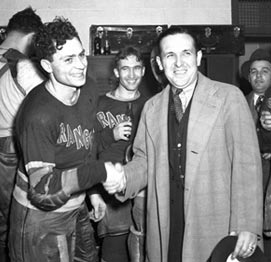 So I ask, why do the Rangers forget about him? Why isn't he adored in the same vein as Babe Ruth? Ty Cobb? Conn Smythe? Art Ross? Maurice Richard?  The Rangers, with only 4 Stanley Cups in their history, the least amount of championships/cups than any other Original 6 team, you would think, would want to honor the man who was responsible for 75% of them. Instead, Boucher is not even an after thought, it's like he never existed.
Obviously, players of the modern era and for Ranger fans, players of the 1994 team are honored at great lengths. Fans remember them. Fans still see them. As time moves on, we can not forget the past. We need to learn from the past and embrace it. No offense to any of the retired numbers hanging in the MSG rafters, but none of them accomplished what Frank Boucher did for the New York Rangers.
Boucher was destined for the NHL. He was one of four brothers to eventually make an NHL team. With only six teams hiring professional hockey players at the most elite level, it was hard to make an NHL team. One must not forget that shifts were longer and it wasn't unusual for a player to log 80% of ice-time during a game, as opposed to the 33% or so we have today.
Boucher, who spent time as a Mountie before joining the NHL (and you should hear the ribbing he gave to one of his team mates about his stint as a Mountie, as he made up grand stories for his own amusement. You can find the stories in Frank Boucher's "When The Rangers Were Young" autobiography.) originally started his professional career with the Ottawa Senators. He later moved on to the Vancouver Maroons in 1922. In this era, there were different leagues that competed for the Stanley Cup. Prior to the Original 6 era of the NHL, the PCHA became the Western Canadian Hockey League, then renamed the Western Hockey League. By 1926, all of it was dissolved due to money losses and NHL player rights were divided by the Original 6 teams.
Ironically, the Boston Bruins bought Frank Boucher's NHL rights in 1926. He would never lace up for Beantown, as the future Toronto Maple Leaf legend Conn Smythe, who was working for the Rangers, signed him on the advice of Bill Cook. Bill Cook, his brother Bun and Frank would later form the Bread Line, winning two championships together.
Smythe never liked Boucher. Boucher talks about why vividly in his autobiography. It didn't matter though, because shortly thereafter, Smythe would be fired by the Rangers. Lester Patrick would take over for Smythe and the rest is history. Just imagine if Smythe never left the Rangers. How different would NHL history be today?
Boucher, a center, was officially an original Original 6 New York Ranger. He was named the classiest player in the league 7 times in 8 years, until the Lady Byng Trophy was just given to him.  As classy as he was on the ice, he was just as classy off the ice, traits that Coach Lester Patrick saw when he hand-picked his successor. 
The Rangers would win two Stanley Cups during Boucher's playing career. After taking over for Patrick prior to the 1939-1940 campaign, Boucher would lead to the Rangers to the Stanley Cup. In his first year as a professional head coach, Boucher had won the Cup! How about that Mike Keenan? Sadly, it would be the last Stanley Cup Frank Boucher would ever see the Rangers hoist. It wasn't until 1994 that the Rangers won a Stanley Cup, 17 years after Boucher's passing in 1977.
During Boucher's coaching career, Boucher would achieve various levels of success. World War II was all the rage during the early 1940's. A military draft crippled the Rangers, and the Rangers had many holes in their line-up. It was so bad, that Boucher came out of a 7 year retirement and played 15 games, where he actually recorded 14 points. While World War II was fought over serious and life changing issues, for the New York Rangers, it was a war that also hurt their club, and it took a while to rebuild.
Frank Boucher, displaying characteristics that won him the Lady Byng trophy so many times, would be asked to be Patrick's successor once again, as Boucher moved from behind the bench to the front office as the Rangers new GM in 1949. Boucher again would have various levels of success at this role and saw the Rangers lose in the Stanley Cup in 1950. Despite the loss, it showed that Boucher was successful and smart at every level in the game, because as a player, coach and general manager, his team made the Stanley Cup.
As a coach and a GM, Boucher was a pioneer. Boucher was the first coach to use two goalies regularly, common place today. He would even alternate them in shifts, until he abandoned that philosophy and alternated them every game. He also would introduce the center red line to the game.
According to Frank, in his autobiography, he left the Rangers for good in 1955, when he thought he deserved to be let go due to consecutive seasons of losing. He went to a local Irish pub and never looked back. That was nearly 60 years ago. We are nearly 60 years removed from the greatest Ranger in history leaving the franchise. With the big 6-0 anniversary coming up, perhaps it's about time the Rangers & MSG show some respect, and honor Mr. Boucher.
I understand the logistics in all this. Frank has been dead for 37 years. His family is dead and his kin aren't in any sort of public limelight.  As someone who attends 40+ games a season, travels to away games, goes to preseason games and is at playoff games, I don't care if the Rangers do a big ceremony or if I just happen to look up one night and see Frank Boucher's #7 next to Rod Gilbert's
The greatest Ranger of them all doesn't even exist in MSG. It's about time the Rangers & the Garden change that. Do not let this career be forgotten. Boucher is one of the reasons the Rangers are even here today, and we should be thankful for that. As we get older, we need to be reminded of the past. It is a shame Frank played in a time with no cameras and most of the witnesses who saw him play are dead. However, the numbers and facts don't lie. His contributions on the ice and off the ice make Frank Boucher the greatest Ranger of all time.
So I beg of you. I plead with you. Shout it from the rooftops. I hope someone with power in the Rangers organization or MSG see this one fans cry for help. Frank Boucher is a Hockey Hall of Famer. Why isn't his number up in the rafters? We are so quick to chant "POTVIN SUCKS" about 293 times a home game. Now it's time to chant "WE WANT BOUCHER!" Make room Gilbert and Bathgate, hopefully you will have a new friend in between you. A true Ranger fan can only hope.
Thank you Frank Boucher, your legacy remains with at least one Ranger fan.
Feedback, comments, ideas to get James Dolan to retire Frank Boucher's #7 can be sent to:
NYCTheMiC on the twitter gimmick.