Greetings and salutations everyone and welcome to another blog here on BlueCollarBlueShirts.com. Anyone else remember a time where we had hockey games on from 12PM-1AM every day? The qualifying round of the 2020 Stanley Cup playoffs feels like ages ago now!
The Rangers, who were the first team eliminated from the 2020 Stanley Cup Playoffs (and the only team to get swept for that matter too) had to bide their time until the Stanley Cup Final series was complete, before making a flurry of moves. I've recapped all of those moves on previous blogs already, moves that included the 2020 NHL Entry Draft, free agent signings and the Rangers re-signing the majority of their own restricted free agents.
When I last left you a week ago, I said we're still awaiting news on the statuses of both Ryan Strome and Brendan Lemieux. A week later, we're still waiting. Who knows how longer we'll have to wait? (I fully expect the Rangers to re-sign both of these players the second I hit "publish" on this blog!)
At the end of last week, it felt like the Rangers were putting a bow on all of their off-season activity, especially when the franchise gave out a pair of two-year deals to both Alexandar Georgiev & Tony DeAngelo. However, since that time, outside of re-signing two players for the Hartford Wolfpack, in both Darren Raddysh & Gabriel Fontaine, the Rangers have been dormant this week.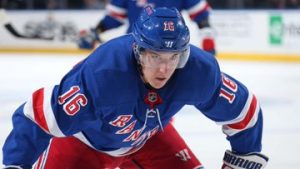 As mentioned last blog, the Rangers still have plenty of time to get things done with both Lemieux & Strome. The Rangers now have two weeks to get deals done with both players, before each player's respective arbitration date. (Strome's arbitration date is set for 11/5, and with Lemieux's arbitration date scheduled for a day later, on 11/6.) Very rarely, do the Rangers go to arbitration with their players. And if you look at recent Rangers history, the Rangers have passed on their last restricted free agent to go to arbitration with the club. (Nikolai Zherdev, in 2009.)
As of this writing, the Rangers haven't tipped their hat in either direction. While it has been assumed that the Rangers will retain both Strome & Lemieux, the Rangers sure are taking their time in doing so. When you look at the other restricted and unrestricted free agents that are out there, while it would be easier to find someone to replace Lemieux, should the Rangers explore that idea, an exploration that I don't see happening; outside of an unlikely offer sheet to the Islanders Mathew Barzal, it would be much tougher to find someone to replace Ryan Strome.
If you get anything out of this intro and the headline photo of tonight's blog, there's not much going on. We don't even have a new episode of Tony DeAngelo's "Watch Your Tone" podcast this week! And that's a shame too, because I really wanted to hear from Tony DeAngelo after the huge contract he signed last week. That said, I wanted to do at least one blog this week. After all, I don't want my blogging skills to diminish in this off-season!
When it comes to other pertinent Rangers news items of the week, all I really have for you this week are a bunch of questions, questions that we pretty much have the answers to already. After doing all the Rangers stuff in tonight's blog, I'll get into all of the other news around the NHL, including the retirement of Mike "Doc" Emrick & what's going on with the Chicago Blackhawks.
However, as usual, before jumping into everything – the PLUGS segment.
Here are my last few blogs in case you missed them:
---
---
---
---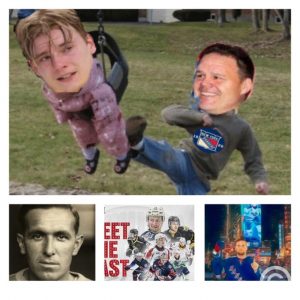 ---
After officially making Alexis Lafreniere a New York Ranger last week, the first "controversy" surrounding Lafreniere, if the word controversy even applies here, is where and when Lafreniere next displays his wares.
On October 20th, the IIHF, in conjunction with the NHL, announced their plans for the 2021 World Junior Championship Tournament. The annual tournament, which features players 20 years of age or under, was first officially put together in 1977.
As the press release states, the tournament will be held at the same site of the 2020 Stanley Cup Final, with all tournament games being played in Edmonton, at Rogers Place. Just like the Stanley Cup Final, these WJC games will be held in a bubble environment, meaning no fans in attendance.
For the entire press release on this tournament, check out: https://www.nhl.com/news/wjc-tournament-schedule/c-319482978
As it stands right now, while we do know that the WJC Tournament will run from 12/25/2020 through 1/5/2021, we don't know when the 2021 NHL season will begin. Right now, the NHL is targeting a start date of January 1st, 2021. However, as we all know, when it comes to the future of this world, no one knows anything! The start date of New Year's Day is what's proposed, and not what's in concrete.
Again, the word "controversy" isn't really appropriate here. And admittedly, this is really only a story because it's a slow news week! While this Lafreniere story really isn't "filler", I do admit to filling up some white monitor space with this segment! (I'm always honest with you!)
Once the IIHF & the NHL issued their press release, Bob McKenzie, of TSN, tweeted out some thoughts, regarding not only Alexis Lafreniere, but about Kaapo Kakko too. Here's what McKenzie said:
Will Alexis Lafreniere play for Team 🇨🇦?

If I were a betting man, I would say, no, probably not. He's played in two WJCs. He dominated last year and won gold. My sense now is that his primary focus is on playing for NYR in the NHL, that he's done with junior hockey.

— Bob McKenzie (@TSNBobMcKenzie) October 20, 2020
McKenzie later added the following comments:
"My sense is also that NYR would rather have him in NHL training camp in December and/or January preparing for the 20-21 regular season, whenever that may begin. The notional target of Jan. 1 is just that. A notional target.

Now, if at some point well before the WJC start date of Dec. 25, the NHL 20-21 start date is set for much later in January or February, well, that would give NYR and Lafreniere the opportunity to consider the option of Lafreniere going back for a third tour of WJC duty.

Next question: What about last season's full-time NHLers who are still WJC eligible — Jack Hughes (NJ), Kaapo Kakko (NYR) and Kirby Dach (CHI)? Again, I'd say it's a long shot but given uncertainty of when NHL reg season starts, never say never, I suppose.

As long as the NHL season gets underway any time in January, with camps opening a few weeks earlier, I'm hard pressed to envision last year's full-time NHLers playing at the WJC. NJ, NYR, CHI won't close any doors until they get further clarity on start dates, though it's safe to say all three teams view Hughes, Kakko and Dach as pros and the priorities for teams/players is NHL focused."

---
Not for nothing, when I heard that the IIHF was going to hold the WJC tournament, not for one second, did I ever think that Alexis Lafreniere was ever going to be a part of it. While I understand that national pride & patriotism runs deep in hockey, hence all of the tournaments between various countries that occur all year long, for the Rangers and in these times, the Rangers just can't run the risk of having their crown jewel of the 2020 NHL Draft, not only risk getting corona, but risk getting injured too.
When I saw McKenzie's tweets on this subject, he pretty much cemented my thoughts. When it comes to Lafreniere, he's already won (and dominated) this tournament, so it's not like he has anything to prove here. If anything, by participating in this tournament, Lafreniere has more to lose than to gain.
While Lafreniere is the number 1 pick of the draft and has his contract signed already, why do anything that takes away from your pro career? Lafreniere's sole focus should be with the Rangers, especially since Lafreniere has to get accustomed to living in New York City & everything that goes along with playing in NYC. And to really understand Lafreniere's current situation, just imagine yourself at 18 years old, leaving everything you've ever known and moving to a new country. While Lafreniere knows the language, which gives him a leg up, NYC isn't Quebec either.
The only way I see the Rangers ever entertaining this idea, is pretty much the scenario that McKenzie outlined. If for some reason, the NHL doesn't start on 1/1/21 and the season is pushed back to late January or early February, then, in order to give Lafreniere a tune-up or rink time, I could see Lafreniere going to Edmonton.
That said, even under those conditions, I think it benefits both Lafreniere & the Rangers to keep Lafreniere in New York. Lafreniere would perhaps be better served skating and practicing with teammates, where he can learn the tendencies of his teammates, rather than risking his health & playing with players that won't help him grow as a pro. After all, what would you rather see? Lafreniere spending time with kids under 20, or practicing with potential linemates in Mika Zibanejad and Artemi Panarin? While I know Canadian fans will want Lafreniere to play in the tournament, as a Ranger fan, I'm opposed to the idea.
And really, for Ranger fans living in Canada (they are out there, I've met them and know some of them) what video clip would you rather see in late December/early January – Lafreniere taking a pass from a random Canuck schmuck in Edmonton or Lafreniere taking a pass from Mika Zibanejad and ripping the puck past Tyler Wall or Keith Kinkaid? Even if you're a Canadian Rangers fan that has maple syrup in your veins and a taste for poutine, you have to admit that it's better for the Rangers to be sharing Lafreniere news this winter, rather than Team Canada.
In closing on Lafreniere here, again, we don't know when the NHL season will start. We just know, that in time, there will be a 2021 NHL season. It just behooves both the Rangers and Lafreniere to do everything possible to make this a fruitful marriage, a marriage that will hopefully spawn multiple Stanley Cups for the Rangers! The best way to kick off this unity, is by giving Lafreniere as much time as possible to get used to New York City, practicing with his new teammates and trying to understand the day-to-day life of a NHLer, even if these times aren't like the past. For Lafreniere to take a 2-3 week detour in Edmonton, no matter when the NHL season starts, in my opinion, it feels those 2-3 weeks would be better off served in New York.
Also of note here, is the status of Kaapo Kakko, who McKenzie also mentioned. Just like Lafreniere, I think Kakko is better off in New York, for all the reasons I previously outlined. Plus, for Kakko, who has a weaker immune system (due to his Celiac disease) than Lafreniere, why take an unnecessary risk? While the NHL did a tremendous job with their bubble, (not one positive Covid-19 test result throughout the entire duration of training camps and the NHL playoffs) there's just no plausible reason to subject Kakko to this risk. Like Lafreniere, Kakko is better off in NY, as he continues his path in the NHL.
When it comes to the WJC tournament, which admittedly is bigger in Canada than it is in the USA, I don't see why any NHL team would risk allowing their players to participate in this tournament, especially with the 1/1 target date for the start of the 2021 season. If anything, this WJC tournament should give us a good look at the top names of the 2021 draft, (which this tournament is designed to do) more than anything else. For the NHL pros, they are better off focusing on the 2021 NHL season.
Let's now take a look at the bigger stories around the league.
---
On Monday, October 19th, the cantankerous Phil Mushnick of the NY Post, of all people, broke the news – national NHL broadcaster, in a one Mike "Doc" Emrick, is retiring. NBC Sports, Emrick's primary employer, later confirmed the news, issuing this press release/statement: https://nhl.nbcsports.com/2020/10/19/mike-doc-emrick-voice-of-nhl-on-nbc-announces-retirement/
Immediately once the news became official, a tremendous out-pour of support, SASHAYED & RICOCHETED, in Emrick's direction. Elsewhere, there were a lot of "hate tweets" concerning Emrick. Love him or hate him, it seemed like many people had a strong opinion about Emrick either way. (Of note, when it comes to public figures and team statements, as you'd expect, all of these entities were more supportive of Doc than fans were on social media.)
When I read the negative stuff from Ranger fans, regarding Emrick, most of that stuff brought up Emrick's long tenure with the NJ Devils. To me, I think that's too much of being a fanatic. After all, say whatever you want about Sam Rosen, and how Rosen, in the present, currently has senile moments on air at a frequent rate, the bottom line is that if Rosen & Emrick were flip-flopped, Ranger fans would be going after Devil fans for besmirching the good name of Sam Rosen.
Doc Emrick had his own unique style. I think he should be credited for that, no matter how you feel about his style. Far too often, especially with the world becoming more politically correct, fans are now treated to a vast collection of vanilla cookie-cutter types, types that are devoid of all personality and humor. When it comes to Emrick, he was full of personality and humor, even if at times, his verbiage would make your head pound like it was subjected to a  tequila hangover. (Bad tequila at that!)
For NBC Sports, who in 2020, has their pink pussy hat firmly affixed to their head and with their ass highly presented in the air, they have recently moved on from both Jeremy Roenick & Mike Milbury. No matter how you may personally feel about JR & Milbury, the fact of the matter is that these departures were both politically and publicly pressured moves made by NBC. In fact, NBC had no issue with JR or Milbury, at the time of their "controversies". What NBC had an issue with, was the social media "cancel culture" response. NBC reacted to crybabies with a Twitter account, rather than reacting to either man at the time of their "controversy". This can't be disputed.
With Emrick now gone, another staple of their network will now need to be replaced. (Another thing to keep an eye on, is NBC's TV rights deal with the NHL, a rights deal that expires after the 2021 season. It's being reported that both ESPN and Fox Sports are both interested in acquiring the rights to the NHL, which is great news for the NHL, but not great news for NBC Sports.)
As far as who replaces Emrick, NBC has plenty of time to figure out what to do there. Both Kenny Albert and John Forslund have to be thought of as candidates. As I've said 78678696879679 times on these blogs, I would love to see M$G Networks back up a truck of cash, and name Kenny Albert the successor to Sam Rosen.
While I personally know that Albert loves the Rangers & his current gig calling games on the radio, I don't know if Kenny Albert would give up all of his other jobs and make the Rangers his number 1 priority. (Albert is in high demand, especially with the NFL.) In addition, as we saw during the 2020 Stanley Cup playoffs, Kenny Albert really enjoyed himself calling all of those games. Albert, along with Pierre McGuire, also made history in 2020, as the duo became the first broadcasters in sports history to call a pair of Game 7's on the same day. (I am also pretty sure that the duo is also the first broadcast team to call three playoff games in one day too.)
In either event, all the best to Mike "Doc" Emrick. While I never had strong feelings about him one way or the other, I do respect his entire career and the one-of-a-kind brand he brought to broadcasts. As mentioned, as time goes on, and this world continues their "GOTCHA" and looking to be offended about every little thing nonsense, I think as fans, we will only suffer. Personalities and using humor on air will be self-suppressed, as broadcasters won't want to take any risks, risks that will put them on the unemployment line.
Speaking about people looking to be offended about any little thing, let's now talk about the Chicago Blackhawks, who somewhat pulled a "New York Rangers" this week.
---
The Chicago Blackhawks were in the news for two different reasons recently, one for a hockey related story and the other because of the crybabies who look to be offended by everything. Let's get the whiners out of the way first, and then look at the hockey related story afterwards.
On October 12th, woke ESPN (of note, I didn't see this story covered by the Canadian news outlets) reported that someone defaced the Blackhawks logo at the United Center. Whether or not that story pushes ESPN's liberal narrative or not, (again, I didn't see this story covered by TSN or SportsNet) I don't know. All I know is that this is a story.
To read ESPN's trail of tears, check out: https://www.espn.com/nhl/story/_/id/30103293/statue-depicting-chicago-blackhawks-logo-defaced-united-center
Of note, starting in 2020, Blackhawk fans are no longer allowed to wear Native American headdresses at games. Liberal politics. Can you imagine if the Rangers canceled "THE CHIEF", back in the day? (If you're not familiar with who The Chief was, he was the Dancin' Larry of his generation. Check out my book review of "THIN ICE" for more on The Chief. Sadly, for those wondering, The Chief, whose real name was Robert Comas, passed away in 2009, at the age of 62.)
Of course, not mentioned in the ESPN story or known among these fake outragers, is the fact that the Blackhawks are named after a legendary Native American leader, whose name, as you may have guessed, was "Blackhawk." Frederic McLaughlin, who founded the Blackhawks, named the team after the 86th Infantry Division of the US Army, who were called the Blackhawks, a division which McLaughlin once served in. So not only does the Blackhawks team name have a link to a major figure in Native American history, it also has a link to American history as well. However, facts are often ignored whenever liberals are looking to cancel their "topic du jour."
(And I know I said I'd stop talking politics on this site, but this is a news story and this story is entirely rooted in liberal cancel culture politics. That said, let me get out of this story and into the next one, but I do have to get in one last parting salvo here!)
In response to this defacing, the Blackhawks said they would not be changing their team name, although they will ban fans from embracing Native American heritage at games, whether it's headdresses or doing tomahawk chants/chops in the stands. (Side note here: are these people also going after cigar shops for their Indian statues?)
This all said, how long before the Blackhawks become the number 1 target of these liberal scum? The Cleveland Indians have caved. The Washington Redskins have caved. And with the word "black" in their name, you know the liberals won't stop attacking the Blackhawks for using that name! And wait, there's more – hawks are an endangered species! THE AUDACITY!
In closing on this, I can't wait to attend my next Ranger road game in the Windy City, where the Rangers take on the Chicago Hockey Team. Then again, the word "Chicago" is associated with violence and crime. Maybe I'll see the Rangers play the Hockey Team from the State of Illinois. Then again, I'm sure someone will find the word "Illinois" offensive too. It never ends!
---
On October 20th, the Blackhawks pulled a Rangers, and addressed their fan base with the following letter: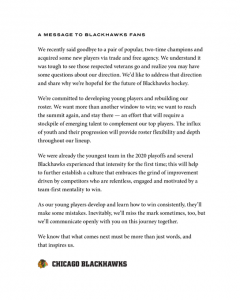 After the Blackhawks released this letter, NHL.com followed up with a story, which you can read here: https://www.nhl.com/news/chicago-blackhawks-issue-letter-to-fans/c-319488298
Of course, many Ranger fans, and I just did it too, have compared this letter to the rebuild letter the Rangers sent out, back in February of 2018. Over two years later, the Rangers are in much better position now, than they were in February of 2018. That said, while both Original 6 franchises both sent out a letter, the similarities end there.
The fact of the matter is, that in recent times, the Blackhawks won three Stanley Cups in six years. The Rangers did not. As I've said repeatedly since this site's inception, the Blackhawks are the biggest victim of the NHL hard salary cap. After sucking for years on end, the Hawks finally put together a core, a core four that as of this writing, still includes Jonathan Toews, Brent Seabrook, Patrick Kane & Duncan Keith. Of note, according to the Chicago Sun Times, moving forward, all four of these players will remain with the organization, after collectively meeting with Blackhawks GM, Stan Bowman.
I know I've shared this following fact a bunch of times on this site, and it's worth sharing again. In 2016, six years after winning the 2010 Stanley Cup, if you looked at all the players from that 2010 Stanley Cup team, their salaries in 2016 were $126M overall. In 2016, the salary cap was $73M. What this tells you, is how many great players Chicago developed and drafted, and how many players they had to move on from.
Even in recent times, after their Stanley Cup championships, the Blackhawks had to take a pass on Kevin Hayes, a Kevin Hayes who is now making major bucks in 2020. The Blackhawks once had that Artemi Panarin guy too. You may have heard about him! If you get anything out of this, it is that during their height of winning, and after winning, the Blackhawks have had to move on from many top talents, due to the salary cap, a salary cap that punishes teams for doing things right & kills any sort of player loyalty to a franchise. Rather than instituting a "Larry Bird Rule" or something similar, in order to reward franchises for drafting well & signing undrafted players, the NHL punishes teams for doing so. That's why you'll never see another dynasty in the NHL again.
You can't be upset with championship players wanting to be paid/rewarded. Professional athletes have a short shelf life, with really, only 6-8 years to really make peak money. Under today's conditions, no matter how great you are, you're paid pennies on the dollars in your first three years. After that, teams still hold your rights and can bridge you, which extends players from really cashing out. Then, once you eventually become an unrestricted free agent, you really have to play the game to set yourself and your family up for life. After that contract, you're on the wrong side of thirty years old, and you're wondering if you can land a coaching or TV gig.
When it comes to the Blackhawks, while building around elite forwards is a great way to win Cups, it should be mentioned, that once the mega contracts that Kane & Toews received went into effect, starting in July of 2015 (8 years overall, with a $10.5M AAV for each player) the Blackhawks haven't sniffed a Cup since. However, how can anyone knock Kane or Toews for wanting to be paid, after they just won three Stanley Cups? That said, maybe if they took a little less at the time, the Blackhawks wouldn't be sending out this "rebuild on the fly" letter that they just sent out.
And if you're a regular reader of this site, here's exhibit number 87678678686896 of why I hate the hard salary cap. I'm not even a Blackhawks fan. I'm just fair and true to all of my opinions, and one of my biggest opinions is that the hard salary cap has ruined some of the fun in the NHL. There's no more loyalty. Even worse, as mentioned so many times before, salary cap hits dominate headlines and a cap hit of a player is as important as any stat on the back of a trading card. Is that what the NHL wants? People talking about salary cap hits, rather than wins and losses, goals and assists and saves and shutouts? Even when I turn on the NHL Network, whenever they talk about a player, at least 50% of the talk is about a player's cap hit. I hate it.
In any event, with the cap staying flat, and with Kane & Towes taking up 25% of the payroll, the Blackhawks are screwed. At least they have their three Stanley Cups.
Back to the Rangers, and then I'll close this abnormally short blog for this site!
---
For a Rangers fan base that is primarily male, in my recent social media scouring sessions, I have seen more males than females talking about the clothing attire that the Rangers should wear in 2021 and the hair of these players. Oh no – I'm going to be canceled for making this observation!
As mentioned on previous blogs (if I ever release a T-Shirt, "as mentioned…" would be the slogan on the shirt!) it seems that many teams will be wearing third jerseys in 2021. After all, the NHL and their teams need to create as much potential revenue as possible, and what easier way to create revenue than by selling merchandise featuring new logos & colors? It's all about the new wardrobe!
It's seeming more and more likely, that after a thirteen year hiatus, the Rangers will bring back the Liberty Head jerseys in 2021. While this news isn't official yet, and we don't know if the Rangers will modernize the Liberty Head jersey, all signs are pointing in this direction.
Of course, in a slow news week, this prospective news set off fireworks on NYR social media accounts. And this news followed the release of this picture, from Henrik Lundqvist:
In both the Lundqvist ripped jeans picture & the Rangers Liberty Head jersey story, fashion & clothing have been two major topics discussed. Outside of threads, the topic of hair is another prevalent subject of discussion among Ranger fans. All of this talk makes me miss the fruity charts featuring the "EXPECTED" stats!
And oh, if the Rangers do bring back the Liberty Head jersey? If that happens, then I can't wait to get a Jack Johnson Liberty Head jersey!
I go back to what I said at the top of this blog – "Anyone else remember a time where we had hockey games on from 12PM-1AM every day?"
Drop the puck!
---
If you haven't already, subscribe to this blog for the next update:
Moving forward here, just as I left you last blog, all that's left to discuss this off-season, is whatever the Rangers do with Strome & Lemieux. After that, it's DeLorean & book reviews. I'm also working on my own NYR related book, but the formatting has been driving me insane. Like these blogs, the writing part comes easy to me. It's the formatting, the pictures & everything else that gives me headaches. I need a real editor!
As always here, thanks for reading and…
LET'S GO RANGERS!
Sean McCaffrey
BULLSMC@aol.com
@NYCTHEMIC on Tweeter and on Parler
Follow the BlueCollarBlueShirts.com Facebook Group by clicking this link: https://www.facebook.com/groups/1564026407193056/