Greetings and salutations everyone and welcome to another blog here on BlueCollarBlueShirts.com. This stupid NHL runny nose protocol list, where anyone who even dares of sneezing, coughing and/or farting – is then sent to Siberia for at least five days. That's what happened to the Rangers on this night in LA.
(Of note: I have already posted over 150 pictures from my time at this game and of Los Angeles in general. To view that photo gallery, click this link: https://bluecollarblueshirts.com/11022pix/)
Before getting into everything tonight, including this 1/10 game review of the Rangers return to "the city of angels" – this is my final road-trip blog of my three game road-trip to the west coast.
For those wondering (and some of you have even asked), after spending time in Las Vegas, Anaheim and Los Angeles – I'm not going to San Jose.
While it would've been nice to visit all three of the NHL Californian cities; I just couldn't make it work logistically, between travel, taking time off and because of the personal schedules of my road-trip buddies too, BORGATA RAY and TEN O'CLOCK TOMMY.
After this game in Los Angeles, the Rangers are now idle for two days, where they will play next at the Shark Tank on Thursday night.
And while my friends and I love our road-trips and seeing new things – hanging out in Los Angeles and/or San Jose for a few extra days wasn't appealing either.
(In addition, hotels, or at least good ones – ain't cheap! By waiting around for Thursday, we would have to blow another $1,000 each, on a trip that's already been expensive, yet rewarding and fun! And if that damn Willy Wonka slot machine in Vegas favored one of us – then maybe we would have extended our stay!)
As someone who could care less about Hollywood – doing all of that touristy shit, in an attempt to kill time between games, wasn't in my wheelhouse, nor did that interest my friends either.
That said, it was just more of time, money and "real life" issues (both work and personal related), that's cutting our trip one game shy of the entire west coast swing.
That said, we'll one day visit San Jose. After all, I think my friends and I have 7-8 NHL cities left to visit and then we'll have hit them all – and some cities multiple times at that! And if we get lucky – maybe we can double-up a future trip to San Jose with a UFC show too.
As I wind down this little intro here, I should also mention that following the conclusion of Monday's night game, which ended around 11PM PST, I had a 5AM flight to catch. In other words, I'm pulling an all-nighter in order to get this blog done.
(Plus, I don't want to risk sleeping for an hour or two and take the chance of sleeping through my alarm. Being stuck in Los Angeles would be bru-tal!)
Once boarding my plane, I plan on closing my lids during my six-hour flight back to New York – where I'm not embracing the time zone difference, nor the weather!
Enough of my diary here, back to the Rangers.
(Of note, and as I've been doing during this whole road-trip, I'll give you the news from the off-day first, and then the game review at the end. Let's roll.)
---
For the 67686896389768746876397639746th time on this site – can the NHL please stop testing vaccinated players? (And coaches too!)
On Sunday morning in sunny Los Angeles (where temperatures hit 70 degrees), the Rangers returned for practice. About fifteen hours prior to this particular practice, the Rangers, along with some members of the Wolfpack pitching in, came together as one organization and served up some Peking Duck.
Following this big victory in the city of Anaheim, the Rangers took a short thirty minute drive to Los Angeles, where they got some great news, after a week of never-ending runny nose nonsense.
That news? The Breadman was BACK!
Here's how the Rangers broke the news via Twitter on Sunday, January 9th:
Panarin, who maintained his low-key great sense of humor in interviews following the practice, seemed excited to be back. He was quickly returned to his place on the second line, where he skated along with his favorite center Ryan Strome, and current linemate Barclay Goodrow. Or at least that was the plan. (More on Goodrow to come.)
Obviously, having the best skater, sniper and play-maker of your roster back in the mix is an overwhelmingly positive thing (not omicron positive – more on that in a second too), and in no way, shape or form a negative.
That said, with Panarin back, it does change the make-up of the Rangers. We'll get more into this during the game review/thoughts, but with #10 back in the line-up, it lessens the chances and "GOOD LOOKS" that Mika Zibanejad gets on the power-play. That's just the way it is.
And if you're one of these acne-riddled geeks, who believe the Rangers should lose every game while playing every teenager under the sun; Panarin also takes time away from fellow left winger Alexis Lafreniere.
As we saw at Sunday's practice, once "The Breadman" came back, Lafreniere was relegated back to the third line, where admittedly, under current circumstances – his presence will be welcomed. (And one more time here – or at least that was the original plan for Monday's game too!)
It should also be mentioned that Panarin's return means less time, or at least power-play time, for right winger Kaapo Kakko – as #24 admirably filled in on the first power-play unit during the Russian's absence.
Let me be clear – I am not complaining about any of this at all. I am just simply observing and stating. In no world would I want the Rangers to move on from Panarin, nor decrease his role/minutes with the team. That said, everything mentioned above is all true. I'm just trying to make you think here – that's all!
---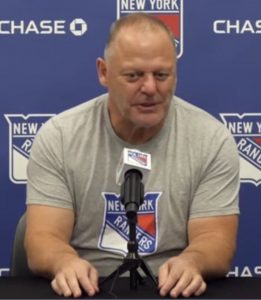 Once Rangers practice from Sunday afternoon concluded; where I am to assume that most of these guys (or at the very least, the Americans) returned to their hotel rooms, where while there all cooped-up they watched football; everything looked peachy-keen.
Sure, the Rangers have been getting hit with shot-after-shot by this omicron garbage, but like a great boxer with a strong chin, the Rangers have absorbed each blow and in return, have given some major counter-punches to their opponents.
After Gallant briefly spoke to the media at the end of practice, an hour later, the Rangers tweeted out the following: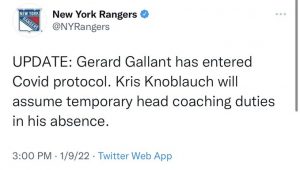 It was speculated on Saturday, prior to the game against the Ducks, that perhaps Gallant had tested positive. This speculation began when Gallant (and as covered last blog) postponed Saturday's press conference from noon and moved it to 5PM.
I've written so much about this omicron testing already, that I don't feel the need to go on another rant here.
That said, this is all getting out of control.
If these men were really getting sick, and legitimately feeling ill – that would be one thing. However, and while I (nor anyone else), can speak to Gallant's current condition, in 99% of these cases, these players (and coaches) don't even know they are carrying the virus.
Kris Knoblauch, who served the Rangers well in steed of David Quinn last season, went 4-2 during the former head coach's absence. It should be stated that during that time, DQ was sick and not feeling well, after contracting the "real" version of the coronavirus.
Knoblauch, head coach of the Hartford Wolfpack, while serving the Rangers behind their bench, said last season that he basically used whatever line-up DQ gave him. He also added that he followed all of DQ's instructions too. And when the Rangers promptly blew out the Flyers 9-0 on St. Patrick's Day of 2021 – fans were ecstatic.
While Knoblauch didn't speak to the media or say anything publicly on Sunday, it's thought that the coach of the 'Pack will now do exactly what he did last season – play the line-up given to him by the Rangers bench boss and dole out the minutes accordingly. (This came into play in Monday's game, as you'll soon see.)
I have no problem with Knoblauch stepping in. It is what it is. My issue is with the whole testing system, but you know that already.
The Rangers, needing an interim head coach for at least the next two games, could find much worse than Knoblauch. For the time being, Knoblauch is a perfect replacement, especially more so now than last season, since the Rangers have a ton of current Wolfpack players in their line-up.
Obviously, Gallant has done a great job this season thus far. That's not up for debate.
However, and this is most certainly not an indictment nor a criticism of Double G – Knoblauch, unlike Gallant at this present moment, does know these young players a bit better, since he's been around them and has coached most of them.
All of this is to say that I'm fine (and I'm sure you are too) with Knoblauch temporarily being behind the bench – especially since he'll be doing whatever Gallant tells him to anyway.
And of course selfishly, with a lot of time, money and miles invested during my trip to the Pacific Ocean state – I just wanted these games to be played.
(That said, now that I'll be home for Thursday's game, yeah – these games probably should've been postponed. More on that to come too.)
---
So that was all of Sunday's news. Let's now get into Monday, and then tonight's game too. And I better hurry up – I got a flight to catch as I write these words!
In one picture, here's how the Rangers entered Monday night's game in LA:
The Rangers, who did not dare to practice on Monday morning (and I do wonder if the NHL told them to take the morning off, in fear of a game postponement, although more likelier than that, it had to do with getting Knoblauch into town); added one more name to their snot-rocket list on Monday.
Similar to Ryan Reaves on Saturday night against the Ducks; just one minute before pregame warm-ups, it was announced that Barclay Goodrow was the latest to pop positive.
In turn, Knoblauch (who after the game, confirmed he was running Gallant's playbook – more on that to come as well), went with the following:
FIRST LINE: Kreider/Mika/Kakko
SECOND LINE: Panarin/Strome/Lafreniere
THIRD LINE: McKegg/Rooney/Chytil
FOURTH LINE: Gettinger/Barron/Brodzinski
FIRST D-PAIR: Lindgren/Fox
SECOND D-PAIR: Miller/Trouba
THIRD D-PAIR: Tinordi/Nemeth
And in net, Alexandar Georgiev, who wound up being the best Ranger on the ice during this 3-1 loss.
---
There's really not much to say to this game, especially as someone trying to get this blog done as fast as possible before my flight. Instead of the usual blow-by-blow review, I'm just going to share thoughts.
If there's one general thought about this entire game, it's this – the Rangers weren't the Rangers.
All over the league, games are getting postponed left-and-right and for far less than the current woes of the Blueshirts. Even a Flyers/Canes game was announced as postponed on Monday, despite the Flyers having less players and staff in COVID protocol than the Rangers.
Since the Rangers are on their west-coast trip, a trip that would be tough to reschedule had any of these games been postponed; the NHL, while trying to be militant about green nasal projectiles, will also allow teams to dress anyone, in order to get these games completed. It's 100% ass-backwards and hypocritical.
If this was a game between the Rangers and Devils (as the natives of Newark, just like the Flyers, are postponing games now too – and let's not even get into the Islanders), this game, and probably last Saturday's game, would've been postponed.
However, due to the 3,000 miles between the Rangers and these California Dreamin' teams – the NHL would allow me or you to take the ice in order to get these cross-country games off of the schedule.
So to bottom line this before getting into everything else – I can't be upset about this loss. I know what it was.
Sure, there were moments that were frustrating, such as Strome missing on every opportunity available and Panarin not being himself – but you have to take this game for what it was – a COVID loss.
And yes, you can play the blame game and single-out K'Andre Miller and the Nemeth/Tinordi pairing for both goals allowed, but that seems like a futile exercise to me. The Kings had more of their regulars on the ice. They also had their head coach too.
Lastly, as an overall synopsis of this game, I thought the Rangers were hurt without Gallant. I know – duh.
To explain what I mean here, down a goal and/or when things weren't working out offensively – Knoblauch rolled out the same four lines, never once mixing anything up.
Had Gallant been in his rightful spot behind the bench – who knows?
Maybe as The Turk has done so many times before, he would've put Panarin and Mika together when looking for a goal. Maybe he would've tinkered with the lines a bit. Again – who knows, as this is only an observation. That said, I don't think Knoblauch wanted to do anything that could be remotely deemed as "controversial" and/or off-script.
---
I thought Alexandar Georgiev had a great game in net, where as has been the case since December 3rd, 2021 – it's tough to fault him for any of the goals allowed in this game.
"The Bulgarian Beast" gave up only two goals in this game, and in a span of under three minutes during the opening stages of the second period.
Georgiev, who had already recorded thirteen saves in the first period, as opposed to his peer, Cal Peterson (seven saves in the first); made most of these saves while under extreme pressure.
On the first Kings goal, Miller was all over the place, turned over a puck and couldn't clear it on the other end. This allowed Phillip Danault to score an easy goal, just 55 seconds into the second stanza. Then, at the 3:41 mark, after some shadiness out of the Tinordi/Nemeth pairing, Blake Lizotte beat Georgiev to make it 2-0.
Those two goals would be the only tallies Georgiev and the Rangers afforded at even-strength. Despite their offensive issues tonight, the Rangers easily could've hung a three-spot or more on the Kings in this game. They didn't.
The Kings would later add a third goal, the dagger, with the Rangers net empty, and with 1:17 left in regulation. Adrian Kempe would get the long distance goal after a shot from his own end of the ice. This goal would hold up as the final goal of the game, giving the Kings a 3-1 home win.
(And speaking of that word "home" – the building was half-empty, with a 50/50 mix of Ranger and King fans. I also know why the Kings now wear black – the arena felt like a morgue.)
All in all, Georgiev made 36 saves on 38 shots. He also made seven short-handed saves in the process, where not many of them were easy.
Conversely, Petersen had a relatively easy night, where he finished with 22 saves after 23 shots faced. He also probably owes Ryan Strome a steak dinner too, as #16 easily could've had a hat trick tonight but could never finish.
---
When it comes to Panarin, he only had one shot on goal in this game. Obviously, not enough. Even worse, he and his linemates, Strome and Lafreniere, all finished with a plus/minus stat of a game low negative three (-3).
With the second line struggling, it was up to the Rangers top line to get going.
Down 2-0 in a third period where the Rangers could really never get going offensively, Zibanejad, first on the ice from his line, deflected a puck in at the 11:27 mark of the third. Receiving apples on the Mika goal were both Greg McKegg and Filip Chytil.
As far as Chytil goes, while he did make a play here; he was pretty much blah and also got caught skating with his head down, when he got absolutely rocked with a big hit. I thought the hit was going to end his night, but to his credit – he remained on the ice. If he misses Thursday's game with a non-COVID issue, we'll know why.
(And would anyone be surprised if Chytil missed time after that hit? He already has a reputation of being "Filip Brittle." Joke Credit: Eddie Gieck of "The BSU Show.")
It should also be mentioned that the officiating was horrible all game. The officials were just a disaster tonight.
I'm never one to get on the officials, but they easily missed 4-5 calls in this game. And even when they got a call right (a Matt Roy trip on Lafreniere), it was the far side official who made the call, despite his fellow zebra standing one foot away from the infraction. Just brutal officiating tonight – which is a statement, and not an excuse for this loss.
Speaking of penalties and special teams, the Rangers (0-2) and the Kings (0-3) couldn't pick up a power-play goal. For the Rangers, a PPG would have at least earned them a point in the standings. However, the NYR penalty kill, despite missing Goodrow, finished flawless.
---
Down 2-1 in the final minutes of a third period, I for sure thought that Mika and Panarin would be teamed-up, as the Rangers chased for an equalizer. As mentioned above, I guess Knoblauch didn't want to risk stepping on anyone's toes.
Despite numerous chances, the Rangers either got too fancy with their passing, refused to shoot, or in Panarin's case – turned over the puck.
And Ryan Strome, who failed to capitalize on a tap-in try just thirty seconds into this game; would have another great chance denied by Peterson during this desperate 6×5 attack.
3-1, your final from LA, where I'd blame this loss on the Omicron before pointing fingers at anyone in Rangers white.
It's time for me to jet "blue" out of here! Sorry for going short here, but you know the deal.
And thanks for all the feedback to these road-trip blogs too!
One last parting shot before heading home (both figuratively and literally!)
Despite going 1-2 on my three game road-trip, I do have one silver lining – I didn't have to see Vally on my TV screen once!
PLUGS time!
---
The first plug of tonight's blog – the mandatory plug for my new book, "The New York Rangers Rink of Honor and the Rafters of Madison Square Garden".
As mentioned previously, the book is now available in hardcover, in paperback and in Kindle formats. To purchase a copy of the book, visit this link:
https://www.amazon.com/Rangers-Rafters-Madison-Square-Garden-ebook/dp/B09CM5N2WD
For those still looking for signed paperback versions of the book, I have re-ordered more copies. I now have 14 signed copies for sale at $25 a pop (includes shipping price) through me directly. Here is all the information on that:
---
Here are my last few blogs, in case you missed them:

---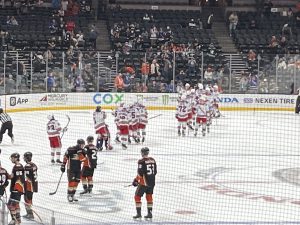 ---
---
If you haven't already, subscribe to this blog for the next update:
---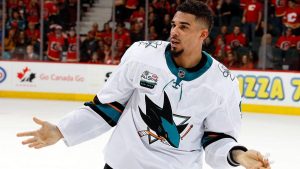 Up next: Two nights off for the Rangers, where we will have to hope for no more BS with omicron. Then again, the whole team could get it, and the NHL would then force the Rangers to pluck fans out of the crowd to get this game completed.
On Thursday, the team resumes their California trip, where they'll finish up with the Sharks. After that, it's a game in Philly against the no longer Vigneault-led Flyers, before returning home to New York.
It's going to be great to return home and freeze my balls off, but as Dorothy Gale once said – "there's no place like home!"
As always here, thanks for reading and…
LET'S GO RANGERS!
Sean McCaffrey
BULLSMC@aol.com
@NYCTHEMIC on Tweeter