What's up everyone and welcome to another blog here on BlueCollarBlueShirts.com. I hope everyone had a fun New Years'. For many of you, come Tuesday, January 2nd, it's back to reality. It's back to work, back to school, or for Joe Micheletti, back to his Henrik Lundqvist fleshlight.
For me, it's been non-stop, as I'm working 7 days a week/12 hour shifts. However, fortunately, today was a slow day at the job site, so I was able to get time to watch the 10th Winter Classic, which saw the Rangers defeat their HEATED and MOST HATED rivals of them all, the knives of the north, those much dreaded Buffalo Sabres.
The Rangers, who beat the Sabres, 3-2, in overtime, at the CITI PARK ARENA, as Pierre McGuire and other NBC media members so eloquently named it, played in their third straight overtime game. Unlike the previous two overtime games, no shootout was needed, as the Rangers were able to win the game in the 5 minute, 3 vs 3 frame.
While good feelings are plentiful after a win, this was very much another game where the weaknesses of Henrik Lundqvist were on display. For a team that talks about their goalie all the time, even at the expense of promoting other stars, it's tough to fathom this team winning 16 games in the spring.  I just can't envision it, when their star player leads the league in most two-goal leads blown and most goals allowed within the first two minutes of a period.
On the national stage, on New Years Day, Lundqvist was able to give you the double-whammy, as while the headline is how he is now 4-0 in outdoor games, (0-12 in winning a series when it matters the most, in June) he was also able to display his uncanny ability to give up a two goal lead, get beat from a shot from the blue line and give up a goal within the opening minute of a period. While you may scoff and say I'm overreacting, because after all, the team won, if you are playing like this against bad teams in the winter, what do you expect against good teams, in games that actually matter, come playoff time?
I fully expect the fans, who treat this overrated and overpaid goalie like a Swedish dreamboat, to give me the "IT'S A TEAM GAME" blah blah blah excuse. However, that would be ignorant and you're really just burying your head in the sand, or in this case, the snow. It amazes me how people will ignore every trend, and then blame anyone but the goalie when the team comes up short. Here's a fact – he's the highest paid goalie in the world. For that money, he's expected to be super-human night in, night out. He's just not, and in a league where center depth and defense are winning Cups, it's hard to envision a goalie who can't hold a two goal lead or prevent a goal within the first minute of a period, winning a Cup.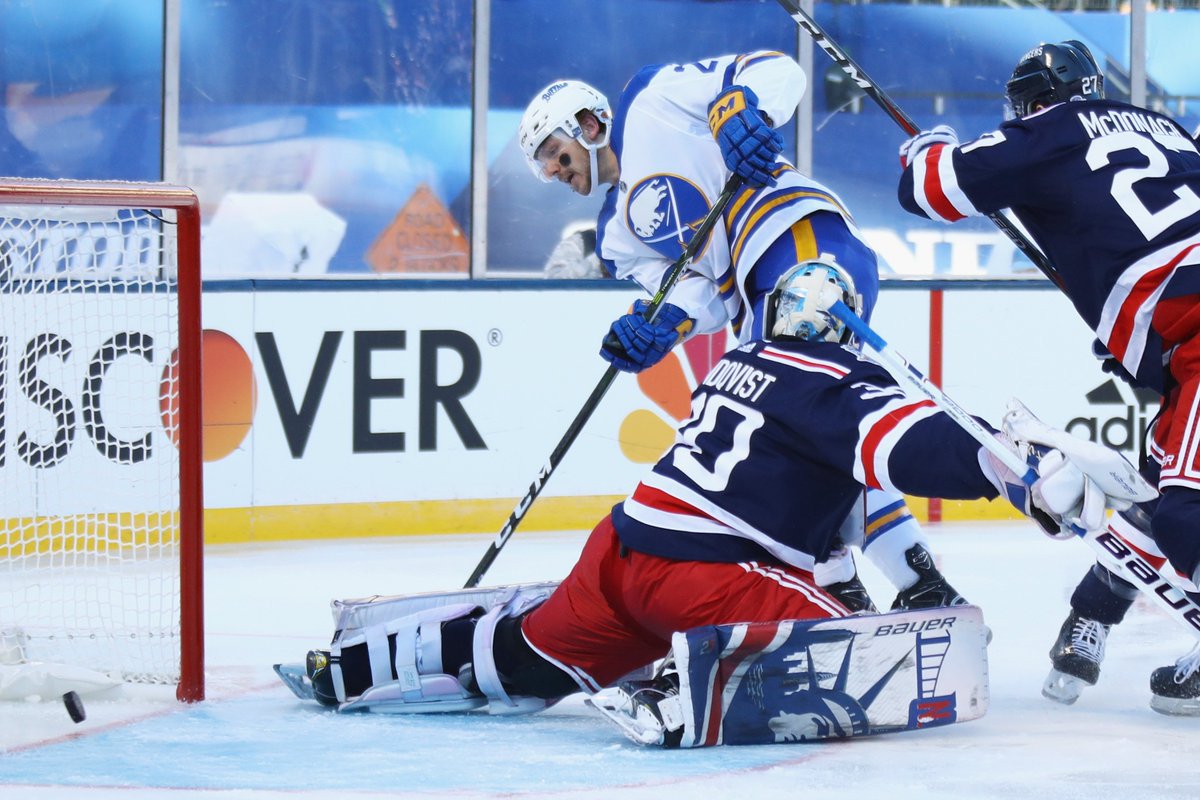 I hate to come off with such a negative tone, especially since the team actually won the game, but as I start this blog, three hours after the game ended, all I see on social media and in news reports is how "HENRIK LUNDQVIST LEADS THE RANGERS TO VICTORY!" What? I'm here to call bullshit and debunk the false narrative that is put out there.
Fact is this – the Rangers jumped to a quick 2-0 lead. They were the aggressors. Buffalo would get within one, after a PP goal. Sabres goalie Robin Lehner and not Henrik Lundqvist, was the better goalie throughout the contest.  Lehner also didn't get the benefit of several pings off the post, like his counterpart did. However, you don't hear about that in the media reports about this game. Why let the truth get in the way of a good story?
In the third period, in a 2-1 game, led by the Rangers, the Sabres would tie the game, 27 seconds into the period, after a bomb from Rasmus Ristolainen. 2-2 game. While the Sabres started off hot in the third period, by the end of it, the Rangers would log 42 shots, while the Sabres came up with 33. Is Robin Lehner even mentioned in any news report? Of course not, because he plays for a 10 win afterthought team. However, if you read these game recaps in the media, you would think Lundqvist stormed the beaches of Normandy and in the process, cured cancer, ended world hunger and made Joe Micheletti listenable. When it came to Lehner, he was just there.
Even worse, as a Ranger fan, all you heard about was Lundqvist. Getting no burn at all whatsoever, was the Miller/Hayes/Grabner line, arguably one of the hottest lines in the NHL today. In fact, these players produced two goals and created a ton of scoring chances.
One thing that I learned from my days in the wrestling business is that when you got a star, don't get lazy. Always try to find your next star and start promoting that person. You can never have enough star power. This Winter Classic game, a gimmick game used to draw a hungover national audience on television, did nothing to educate new fans about the players.
While Doc Emrick did a good job of trying to call the game as basic as possible and using other sports to make analogies for the casual viewer/potential next NHL customer, NBC & the NHL did themselves no favors by just talking about one player on the Rangers.
For a league that is shunning their Olympics (and really, the team USA is sending to the Olympics is more puke inducing than a pint of tequila at 4am) and has an All-Star Game coming up, NBC & the NHL ignored who should be the Rangers representative for that game, in Michael Grabner.
I mean, I could at least understand the Lundqvist Love if he actually, you know, WON a Stanley Cup. Fact is, during his tenure here, he's not even a pimple on the ass of NY success in sports. He's not Derek Jeter. He's not Eli Manning. He's not Michael Strahan. He's not Mariano Rivera. No, he's more along the lines of Carmelo Anthony or a Mark Sanchez. And just like Anthony and Sanchez, Lundqvist should've been jettisoned out of town long ago. Sorry, not sorry – WINNING is all that matters. Lundqvist is not a winner in the NHL and his ego & diva behavior are not traits that scream Cup Champion.
It's funny, I planned on barely talking about Lundqvist as one of my New Year's Resolutions. So much for that! The fact is, when I see this broadcast, check social media and read the news reports from this game, it makes me sick that it's all Lundqvist all the time. Not one mention about Grabner, who is arguably the Rangers All-Star & best player on the team. Just imagine if Rick Nash produced to his contract the way Grabner produces to his cap hit?
Even worse, as I was working on this blog, a reader sent this to me, concerning the Rangers All-Star voting:
Seriously – are you fucking kidding me? I get that Lundqvist has to be mentioned, or else the world will fall off its axis. However, Rick "I can't score in a whorehouse with a fistful of $50 bills" Nash? Kevin "No D and AV just called me out in the media" Shattenkirk? And Mika Zibanejad, who missed nearly a dozen games so far, with a concussion? Who's in charge of this stuff? I know the All-Star game means nothing at the end of the day, (Outside of the John Scott year, can you remember anything from any All-Star game from this century? And yes, I'm exaggerating, so I don't need you to contact me with your memories here.) but at least give credit where credit is due.
Just to change gears for a minute, here my most recent blogs, in case you missed them:
---
---
---
---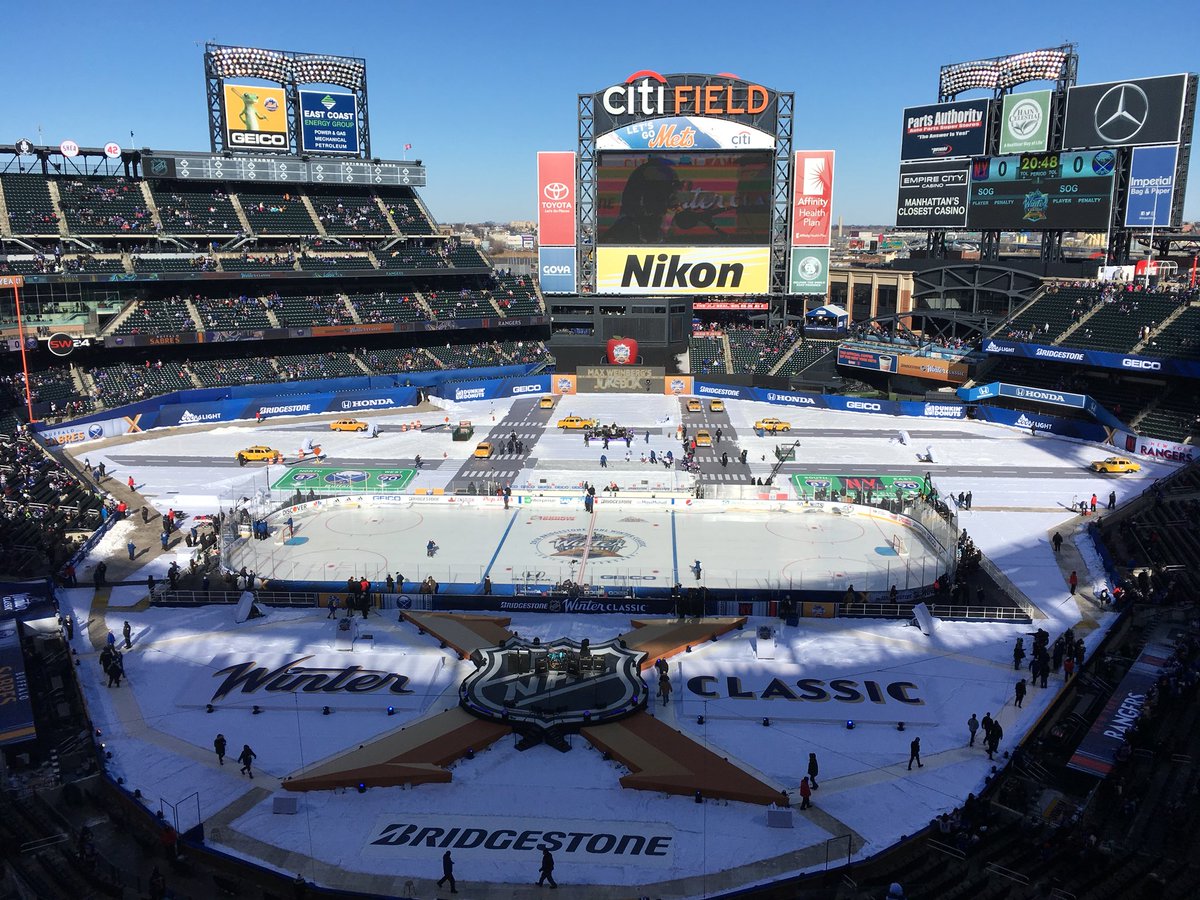 I'm really trying to limit myself from the Lundqvist crap, but I'm a man of the people! I must speak up for those who are shunned at the expense of the overrated and overpaid one!
Moving along, there are two more things I must get into, before talking about the play on the ice itself. Let's go negative first and then finish with the good stuff.
NBC, as usual, did a terrible job with this broadcast. If you're a regular reader of this blog, you know my deal. I work 7 days a week and have to be up at 4:30am every day. The reason I say this is because I don't have all night to get into detail about how bad NBC was. However, he's a quick hit list:
No pregame show. For a network that was doing "Road to the Winter Classic" specials, at the fan friendly time of 11:30PM, there wasn't even a pregame show for this huge annual event. Even the Westminster Dog Show gets a pregame show!
No alumni. Ranger and Sabre alumni were in the house, despite the dropped ball of no alumni game the day before this game. How about some interviews with Graves, Richter and other Ranger stars that were in the house? Even if it's fluff shit, it's stuff you gotta do.
The motion-sickness camera angles. I understand that this outdoor game can be a production nightmare, but you've done this game now 10 times, in addition to other outdoor games. People shouldn't have an epileptic seizure while watching the game.
The romanticization of the Winter Classic, specifically ranting and raving about these players and their "pond hockey" days. I talked about this on twitter already. I'm older than everyone on the Rangers, with the exception of Captain Graybeard No-Cup, who has me beat by three months. When I think "pond hockey", I'm thinking of the days of Frank Boucher and Art Ross. I'll even give you the days of Terry Sawchuk and Gordie Howe. Even more, I'll give you the days of the Espositos. However, for a generation of players, who are primarily younger than the Super Nintendo and Pogs, I just don't picture these guys playing shinny until the sun drops. No, I picture these guys being dropped off to the rink by their parents.
That said, as reader/friend/podcast host extraordinaire, Travis Jackson, pointed out to me, maybe I'm living in the NYC bubble. Perhaps I'm ignorant here, because I didn't see it happen. However, the way NBC was talking about the Winter Classic, like it was a throwback to the days of yore, where you could bread, milk, eggs and a handy for 5 cents, it just seemed like hyperbole and exaggerated BS to me.
While on the "pond hockey" term, on twitter, besides Travis, fans from different areas wrote in about their experiences. These fans ranged from as young as 18 to as old as AARP age. So while I'm maybe off about the whole romanticization of this outdoor game, I'm coming from my personal experiences, which was a local rink down the road from me. There are no ponds by me! Maybe it's being a history guy. When I hear the term pond hockey, I just picture small Canadian towns, with one street lamp, with kids playing in tattered single runner skates. However, I can't pretend that pond hockey doesn't exist and these players didn't play it. I'm just saying I visualize pond hockey in "black and white", and not something of today. I hope that makes sense.
Not that this has to do with anything, I just wanted to mention that Travis lives in Guam and to visit him, you need a valid passport! Also, if you're into NY high school hockey, Travis is your go to guy. He also gets some huge interviews, such as his interview with Brian Riley, head coach of West Point's hockey team. Check out his  #HVPucks podcast at: https://itunes.apple.com/us/podcast/hudson-valley-hockey-podcast/id1190613084
The continued tradition of the worst musical acts possible. The NFL always gets the hottest acts for their big games. The NHL counters with Cee-Lo in the Bronx, Snoop Doog dropping the n-word at the All-Star game and the fucking Goo Goo Dolls today. Was Nickelback booked already?
With no pregame coverage, while we were informed that it was cold out, the B-Roll footage was deeply lacking. It would've been nice to see video of fans tailgating, how people were layered up and more crowd shots. This is a nitpick, but for a broadcast like this, by not doing this, it was just poorly produced.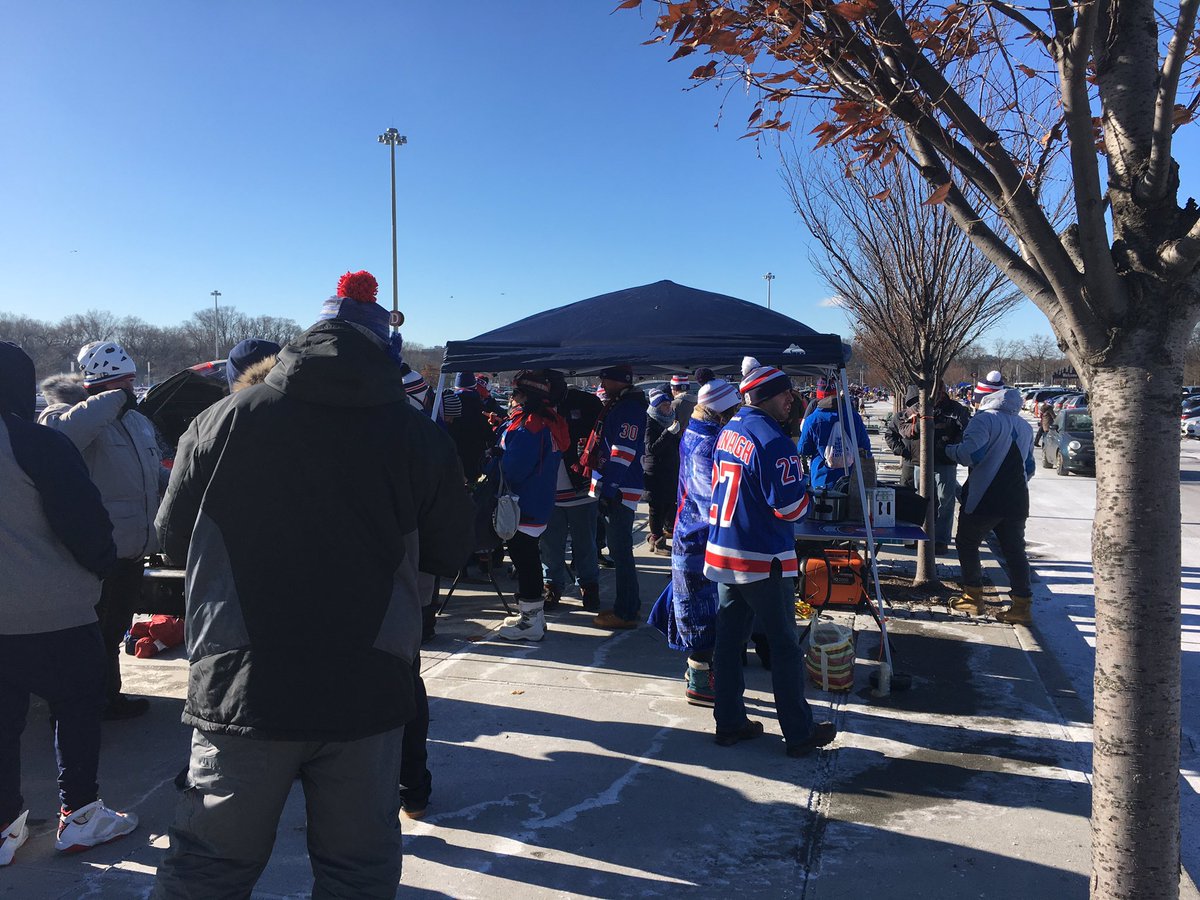 To me, the best part about this game, especially while stuck and watching some of it at work, before I could get to the bar, was looking at NYR twitter. If you went to this game, you're a fucking trooper. I envy anyone who went.
Granted, I work outside in the cold all day, so while I would've tried to find a ticket indoors for the game, because I'm sick of being in the cold all work-week long, I would've sat outside if I had to. The NHL announced an attendance of 40,000+ and while this was a Sabres "home game", we all know that was a farce out of necessity, due to the Rangers/MSG tax exempt status with NYC.
While I wasn't there, based on crowd reaction and the stuff I saw online, I would peg the crowd at 95% NYR – 5% BUF. In other words, over 39,000 of you blueshirt maniacs braved one of the coldest days of the winter. You sat for 3+ hours, shaking your knees and seeking warmth at the bottom of a bottle, all for the New York Rangers. I respect that.
While other fanbases would've came out for a game like this, as we've seen in the past, Ranger fans did a great job coming out for this game.
I also gotta admit – I was wrong about something. (It happens, very rarely!) I thought the ticket prices would drop tremendously the day of the game. Instead, they stayed at around face value, with the cheapest ticket in the $150 range, an hour before game time. Maybe the "Winter Classic" name means something, because the Stadium Series games saw ticket prices plummet the day before and the day of the game.
Can you imagine explaining to a non-sports fan how you paid over $200 to sit in the freezing cold for over 3 hours and sought refuge in $12 beers? For some, no explanation is necessary, for others, no explanation will ever do.
In closing on this, if you were there today, my hat is off to you. What a great memory you got today, and I'm sure you will enjoy it once the frostbite and shrinkage wears off.
Oh and even better, if you're like me and bought the OFFICIAL Winter Classic jersey, the OFFICIAL Winter Classic puck, the OFFICIAL Winter Classic hat and all the other OFFICIALLY LICENSED cash grab bullshit from the NHL, at least we will have a fond memory of the game. Imagine having all this shit and the team gets blown out, like the Devils did three years ago, in the Stadium Series game?
As usual, the ESPN.com box score, followed by my game thoughts:
1st Period Summary

Time
Team
Scoring Detail
NYR
BUF
4:09

Paul Carey (5)
Assists: Jesper Fast, Boo Nieves
1
0
8:20

Michael Grabner (18)
Assists: Kevin Hayes, J.T. Miller
2
0
Time
Team
Penalty Detail
0:38

Zach Bogosian: 2 Minutes for Roughing
13:59

Brendan Smith: 2 Minutes for Tripping
17:27

Kevin Hayes: 2 Minutes for Hooking
19:37

Nick Holden: 2 Minutes for Hooking

2nd Period Summary

Time
Team
Scoring Detail
NYR
BUF
0:56

Sam Reinhart (6) (Power Play)
Assists: Kyle Okposo, Rasmus Ristolainen
2
1
Time
Team
Penalty Detail
3:39

Zach Bogosian: 2 Minutes for Holding
8:44

2 Minute Bench Penalty for Too Many Men on the Ice (Served by J.T. Miller)
13:57

Ryan McDonagh: 2 Minutes for Tripping

3rd Period Summary

Time
Team
Scoring Detail
NYR
BUF
0:27

Rasmus Ristolainen (2)
Assists: Ryan O'Reilly, Kyle Okposo
2
2
Time
Team
Penalty Detail
No penalties this period

OT Summary

Time
Team
Scoring Detail
NYR
BUF
2:43

J.T. Miller (8) (Power Play)
Assists: Kevin Shattenkirk, Mats Zuccarello
3
2
Time
Team
Penalty Detail
2:15

Jacob Josefson: 2 Minutes for Tripping
Goaltending Summary
New York Rangers Goaltending

Player
SA
GA
Saves
SV%
TOI
PIM
H. Lundqvist
33
2
31
.939
62:43
0

Buffalo Sabres Goaltending

Player
SA
GA
Saves
SV%
TOI
PIM
R. Lehner
42
3
39
.929
62:43
0
This is a tough game to really judge or assess. The Rangers won the game 3-2 and while there were highs and lows, to me, this gimmick game is a one-off. Again, my schedule sucks, so I haven't been able to read everything yet, meaning I didn't see any post-game interviews (Although I know Lundqvist was interviewed 7588458845858485 times) but I'm sure the shadows played a part in today's game.
In baseball, the shadows gradually creep in one direction. Today, it seemed like the shadows constantly kept changing. Unlike any other regular season game, the teams had to switch sides at the halfway mark of the third period and the halfway mark of the overtime. There were also random stoppages to work on the ice. Obviously, this was not your normal game, the players aren't used to these conditions and really, nothing from this game will carry over to the next time the Rangers play.
If you really want to get analytical, if you believe the crowd is a factor in a home game, while technically the Rangers were the away team, we all know who the home team was here. However, unlike a closed arena, there is no place for sound to escape. In an open aired stadium like Citifield (And yes, the place is called Citifield, not Citibank Park, Citizens Field or whatever else Pierre, Milbury or Emrick called it) the sound escapes straight to the sky.
While it might be loud in your section, the sound in a stadium, as opposed to the sound in an arena, doesn't travel as well to the ice. That also came off on the broadcast, in particular on Carey's goal, as you could hear him calling for the puck. To even hammer the point home, with fans so far away from the ice, despite 40,000+ spectators, for the players, this game is more intimate. And when I say the word intimate, I don't mean it in a Micheletti/Lundqvist way.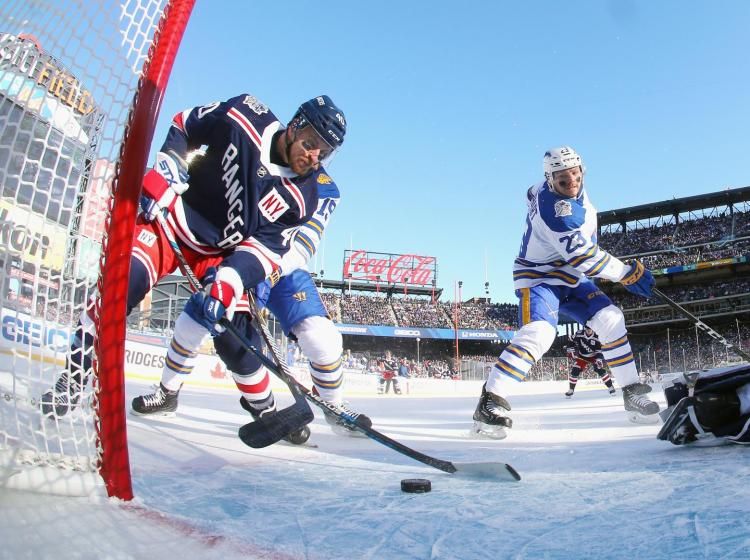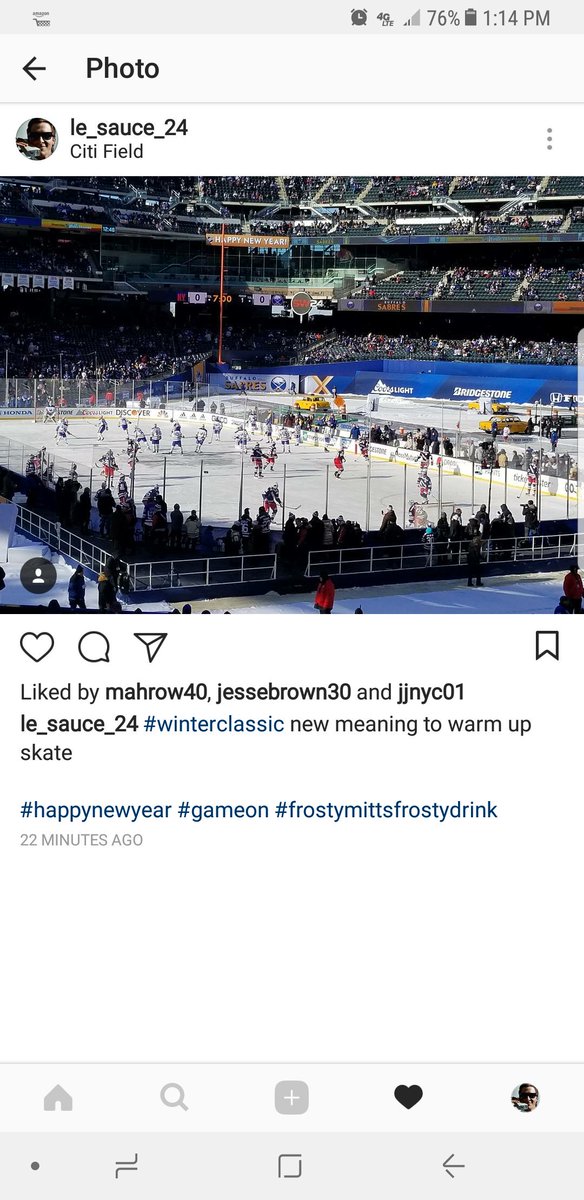 To me, as far as team decisions go, the biggest news was Jesper Fast returned to the line-up. That meant Vinni Lettieri was scratched. I'm mixed on this. While obviously Fast was going to be re-inserted into the line-up and deserves to play in this game, why kill Lettieri's momentum?
We all know that AV will always go with experience over youth. Maybe that's to his detriment at times. However, who do you scratch for Lettieri? Carey? He's been playing well and scored the first goal today. Desharnais? He's been a steal for the Rangers all season. Nieves? The only possible scratch I could see, but Nieves has more experience than Lettieri, so in the world of AV & his gum, Nieves will always get the nod over My Cousin Vinni.
When it comes to coaching, coaches are judged by RESULTS. The fact is, no matter how it happened, the Rangers won today. AV's line-up decisions worked out and you really can't second guess him here, unless you wanted to see the first ever Winter Classic shutout, which means AV should've started KING ONDREJ THE GIANT!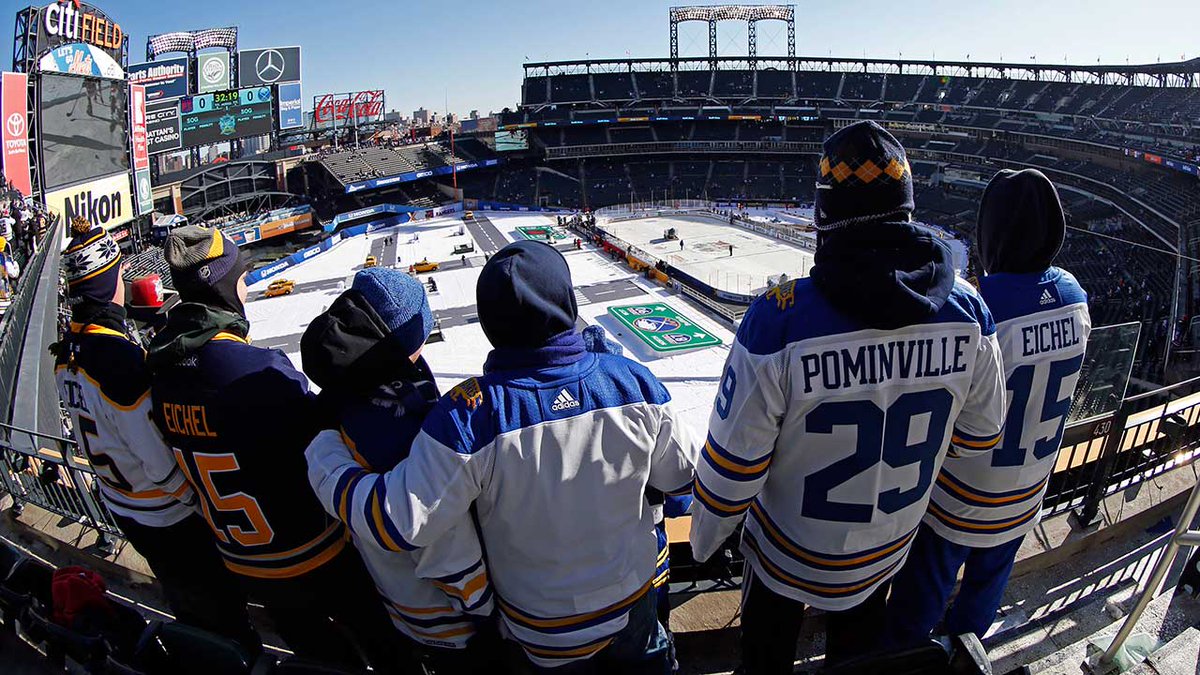 Due to time-constraints, I'm not going to give you my normal blow-by-blow review. After all, this game is about the experience. However, here are my quick thoughts:
Paul Carey called for, and received a beautiful feed from Fast for the first goal. This was great team work and more fourth line magic. I've said it before, you need to be deep four lines to win Cups. In the AV era, the deepest the Rangers ever got was in 2014, when they had a great fourth line. Check out the sweet dish and finish for yourself:
PAUL CAREY OPENED UP THE SCORING FOR @NYRangers EARLY! pic.twitter.com/trvdompjik

— NHL Daily 365 (@NHLDaily365) January 1, 2018
The Rangers were sloppy for most of this game, giving Buffalo five powerplays. The Rangers were fortunate a sixth powerplay wasn't given to Buffalo, after Zibanejad accidentally smashed Evander Kane's nose with his stick, while trying to clear a puck. Check out this, straight from the ouch files:
Evander Kane takes a swinging stick to the face, then smashes his head off the boards pic.twitter.com/YEZev8FvMX

— Pete Blackburn (@PeteBlackburn) January 1, 2018
The Rangers got away with one there for sure. It should've been a double minor.
While taking too many penalties has been an occurrence for these Rangers, I thought some of the penalties today were a result of the conditions on the ice. The Rangers took three in the first, two in the second and none in the third, so as the game got along, I think they were able to finally get a feel for the flow of the game and the ice conditions.
The anemic NYR PP would actually score today, this time a 4 vs 3 OT game winner. The five vs four PP unit is still severely lacking and the fact that Scott Arniel has a job is one of life's greater mysteries.
Michael Grabner scored the Rangers second goal of the game, making the game 2-0 good guys in the first period. Since joining NYR, he leads the team in goals scored. He's playing the best hockey of his career.
Big kudos to Jimmy Vesey, who has really grown up a lot in Year 2. He's more aggressive and despite being one of the younger guys on the ice, is getting involved with the physicality. Hey, he lost his front teeth already, so what else does he have to lose? There was a scrum in the second period and Vesey, unlike his teeth, was front and center. That stuff is appreciated by paying fans.
Worth mentioning – I went outside for a cigarette at intermission. Pardon my vile behavior, vices & bad decisions, but I spit as I smoked. My spit froze on the ground and so did my cigarette. Again, you animals that sat out there, I give you much respect.
Lundqvist gave up his first of two goals, a minute into the second period, just as he would later give up a goal a minute into the third period. This is just part of Lundqvist's game. He leads the league now with I believe 14 goals allowed in the first two minutes of a period. Again, ignore the trend if you want, but this is a Lundqvist problem and not a team problem. I won't kill him for the first goal allowed, as it was Sam Reinhart PPG, which came off a Nick Holden slashing penalty at the end of the first period. Here's the goal:
They don't ask how, right? Sam Reinhart picks up the trash, pulling the Sabres within one with a power-play goal. pic.twitter.com/8YZjZaTxs6

— Sportsnet (@Sportsnet) January 1, 2018
The early Sabres second period goal was the only goal of the period, so with twenty minutes remaining, the score was 2-1 good guys.
The third period was classic Lundqvist, with another long goal allowed in the opening minute. It was also a goal that blew a two goal Rangers lead:
Rasmus Ristolainen scores at 0:27 into the third period to even the #WinterClassic at 2-2#Sabres pic.twitter.com/EtXJWf6Hnc

— Forward Mile NHL (@ForwardMileNHL) January 1, 2018
What amazed me more than anything, was Milbury, a notorious Lundqvist & Ranger hater, actually defended Lundqvist here. I'm sorry, I don't give him the same pass, because this stuff happens far too often. Don't give me the team game shit either, because Pavelec, Raanta and Talbot didn't give up these early period goals, nor blew two goal leads left and right. I expect more from the highest paid goalie in the league. (And for those who may be wondering, I only mention Pavs/Talbot/Raanta because those were the back-up goalies since Lundqvist's decline/terrible contract.)
After dominating most of the game, the Rangers found themselves flat-footed for the start of the third. They barely got a shot off, until what felt like the 8 minute mark of the period. However, by the end of the period, NYR would out-shoot the Knives 12-8, although the Sabres had the best shot at scoring, as a puck ringed off a post.
Credit to Sabres goalie Robin Lehner. He was the best player for the Sabres and was the best goalie on ice.
Jacob Josefson gets heat for the Sabres loss, as he was blatantly busted for tripping in the OT. This put the Rangers on a four vs three PP, and off the top of my head, I believe for the second time this season, the Rangers converted on this opportunity. (I don't have time to look this up, but I believe Zuccarello scored a 4vs3 PP GWG this season too.)
While it's Citifield, it was MILLER's PARK in the OT. Here's the GWG:
JT MILLER! OVERTIME WINNER AT THE WINTER CLASSIC! RANGERS WIN! pic.twitter.com/A0PAiQUQLO

— NHL Daily 365 (@NHLDaily365) January 1, 2018
Goodnight Irene, the Rangers win 3-2. For the Rangers, a much needed two points, any way you slice it. In fact, it put them in third place in the Metro. Again, standings will change every day, blah, blah, blah, but take a peek at the updated standings. Oh, and as usual, the top 5 Metro teams will get in, because the Atlantic is inferior:
We're not even at the half-way mark, but after that last Rangers/Devils game, can you imagine an NYR/NJD first round series? And how about those Capitals? How many of us thought they were done after going for broke last season?
All in all, while some of the problems that have plagued the Rangers all year were prevalent in this game, I give the team somewhat of a pass, just because of the nature of this gimmick. It just alarms me how the team does play down to level of their competition. We've seen these Rangers come up for big games, but when it comes to 10 win Buffalo and crappy Detroit, the Rangers should be handling these games in regulation, rather than going into OT and fighting it out.
Deep down, I know the Rangers won't win the Cup, but the maniac in me tries to come up with scenarios about how they can, such as Tampa's plane crashes into 29 other team planes! Joking aside, the NHL playoffs are the best, because anything can happen. An injury here, a puck luck goal there, and who knows?
I don't think this Rangers team is as strong as previous Lundqvist or AV teams. However, I do think the field is more wide open than other years. Outside of Tampa, who is really that dominant? Plus, NYR beat Tampa in their own barn. Again, long season, any given night, blah blah blah, but you get my point.
While I may have my strong opinions, whether you agree with them or not, we all want the same thing. Realistically, I don't expect the Cup and I think about it often, but anything could happen.
End of the day – a great day for the hockey world, even if I thought the NHL and NBC didn't maximize their potential with the broadcast.
Up next for the Rangers is one of those terrible 8PM "RIVALRY" games. Listen, NYR and Chicago are both Original 6 teams, but perhaps feature the weakest rivalry among the six teams. I just fucking hate these 8PM start times too, but on the bright side, it will be two Micheletti-free Ranger games in a row.
As we get to the close here, I just wanted to share this reader email I got. This comes from @SPUDSPRINGER, written after the Detroit loss. I really enjoyed this. If you ever want to send your thoughts in for this blog, just email them in or use the comment section, which is now working:
As far as the next blog goes, I'll try to get something up after the Chicago game. After all, at 3:30PM Wednesday, I AM FINALLY ON VACATION! After all my bitching and moaning about 4:30 am alarm clocks, working every weekend & holiday, and everything else, I finally get a week away. As you may have read already, I got a plane Thursday to Vegas. I'm really looking forward to it.
The Rangers, after Chicago, go to the desert to play Arizona on Saturday, before the Vegas tilt. I'm really trying to convince my friend to give up a Saturday night in Vegas, and either book the $150 round trip flight to Arizona or do the four hour drive to the game. However, I don't forsee it, so I'll probably wind up in a Vegas bar watching the game. I don't know where my night will wind up, so I'll try to get a blog up after that game, but no promises!
Sorry if I was all over the place in today's blog. I'm running on no-sleep, working like a maniac and then try to do these blogs of venting and jubilation after a long day. I hope you enjoyed it, in any event!
As always, thanks for reading and…
"LET'S GO RANGERS!"
Sean McCaffrey
BULLSMC@aol.com
@NYCTHEMIC on the tweeter gimmick machine