Greetings and salutations everyone and welcome to another blog here on BlueCollarBlueShirts.com. On Monday night, after grabbing three out of four points on their mini road-trip, the Rangers defeated the Vancouver Canucks at MSG, by a final of 2-1. For the Rangers, they are setting all sorts of in-season highs right now. More importantly, they are exceeding everyone's expectations.
With tonight's victory, the Rangers are now 6-0-1 in their last seven games. That's good for 13 points out of a possible 14 points. You can also make the case that the Rangers are the hottest team in the Eastern Conference right now, as they are 7-2-1 in their last ten games. Only Nashville & Winnipeg have been better in their last ten games, going 8-2.
What's really been impressive about the Rangers this season, including the losses the Rangers racked up in October, is that for a team that was supposed to "suck", for lack of a better word, the Rangers have been competitive in nearly every game they've played. Outside of the loss to the Blackhawks, the Rangers haven't really been outplayed, nor have been made look to amateurish, in the other 17 games.
I don't mean to hit you with the "granted, it's early, blah blah blah" stuff right now, but what's really been fun and great to see is that the Rangers are holding their own against the best teams in the league. Just in these last two games alone, the Rangers beat the top team in their respective division.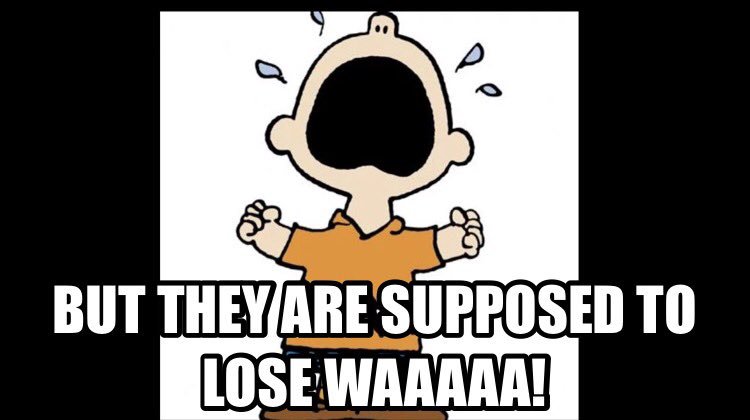 When Gary Bettman approved of the new hard salary cap after the latest NHL lockout, besides my theory of "a top 5 paid goalie will never win a Cup with this system" being proven true, the main drawing point for the hard cap was to create league parity. Keep in mind, when the NHL approved this hard cap, this is when the NFL was arguably at its peak. (For the NFL at this time, the CTE stuff were just murmurs, you didn't have the kneeling controversy, the criminal activity didn't reach its boiling point and fantasy football was carrying the league to new levels of popularity.)
In both the NHL and the NFL, you need to have a wise GM to win. This isn't baseball where you can throw money at problem and just get taxed for your errors. This isn't the NBA, where one guy can carry 11 junior varsity players to four straight NBA Final appearances. Never before in the history of hockey, has there been such an emphasis on what the players make financially. While you may have been aware of salaries, salaries were never discussed when talking about players. Today, that's all we talk about, because this is now a Billy Beane league, where financials are the most important analytic of them all.
I have talked about all this stuff before, so before I travel this road again and get too deep into this, the reason I bring this up, is because look at the Rangers right now. This season was supposed to be the "LOSE FOR HUGHES" campaign. Instead, the Rangers are knocking off top teams left and right.
Just as the NHL adopted the hard cap from the NFL, they have also stumbled into another thing from football and that is the "Any Given Sunday" slogan/mantra.
Look at the three most recent Ranger losses. They lost to a Chicago Blackhawk team, who then lost five straight games and fired a coach that was as iconic as Ditka and Jackson are in Chicago. They lost to the LA Kings, another team that fired their coach shortly after beating the Rangers. The Kings are currently the worst team in the league too for that matter! The most recent loss came to the Detroit Red Wings, another team that's rebuilding and are in second to last place in their division.
The NHL has really turned into an "Any Given Sunday" league, and with head coach David Quinn, the Rangers have embodied that mantra just as they have bought into Quinn's "Fast. Physical. Relentless." slogan.
The NHL is a league of parity in the regular season and like the NFL, the juggernauts come to beast and feast in the playoffs. Yes, you have some surprise playoff runs to the Stanley Cup Final, but look at who has won the Cup in this cap era – The Kings. The Blackhawks. The Penguins. Even Washington, despite blowing up their team a bit, still had a hell of a team last season.
In this league of parity, can the Rangers make a playoff run? I think you'd have to be a bonehead to suggest there is no chance at all. Are the Rangers a juggernaut? I don't think they are right now, but I think we're seeing the formation of one.
Just like the 2017 New York Yankees, these 2018-2019 Rangers entered this season with little-to-none expectations. Now, as we sit a few games shy of the quarter pole of the season, I don't think it's crazy for the Rangers to start thinking about their playoff tent on 33rd and 7th.
There are two guarantees I can give you right now. Number 1- There is not one player on this Rangers team that wants to lose. Number 2- David Quinn wants to win a Stanley Cup. The lone wild card in all of this is GM Jeff Gorton.
If the Rangers are playing like this around the trade deadline, will he have the balls to move the expiring contracts of Kevin Hayes & Mats Zuccarello, in an attempt to grow the youth movement? Will he gamble for a Panarin or Karlsson type? Even right now, as we near December 1st, will Gorton make a play for Nylander?
However, I'm getting WAY ahead of myself, and that's because I'm excited. I'm flying around like a kid in a candy store with a sugar high. I feel like Joe Micheletti after he walks into a Swedish bathhouse. But hey, I thought this season would be LOSE, REPEAT, IS IT THE DRAFT YET? Instead, in a sports town that will be dead all winter, the Rangers look to be the light at the end of the mid-town tunnel. I'll take it.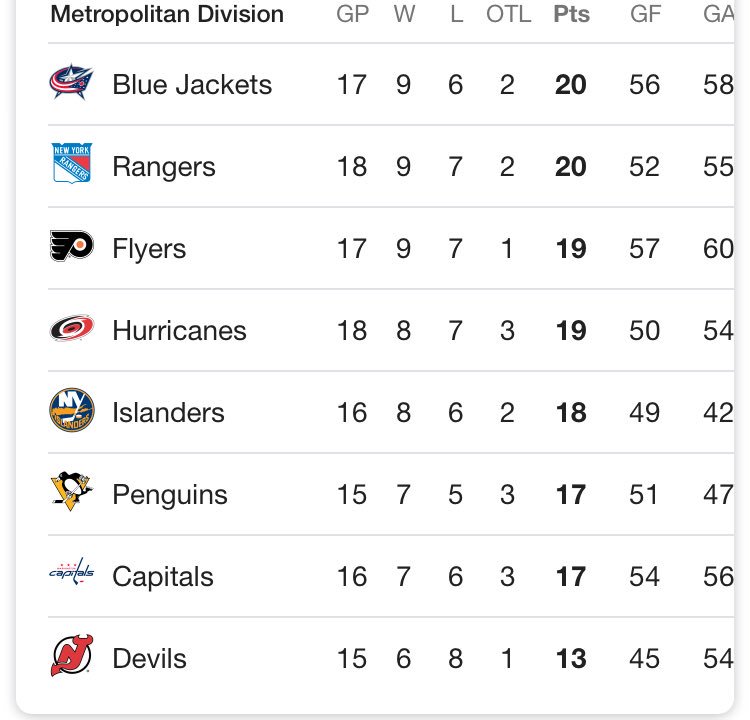 If this was a normal website or blog, after writing that intro, I would've said something like "Back Aftuh Dis" or "Have a Good Night and a Happy Tomorrow." Then again, if this was like any other site, you would be littered with ads and have to shut down more "X" boxes than Derek Jeter did in his prime!
With that said, let's get back to the regularly scheduled format here. As always, here are my last few blogs in case you missed them:
---
---
---
---
---
---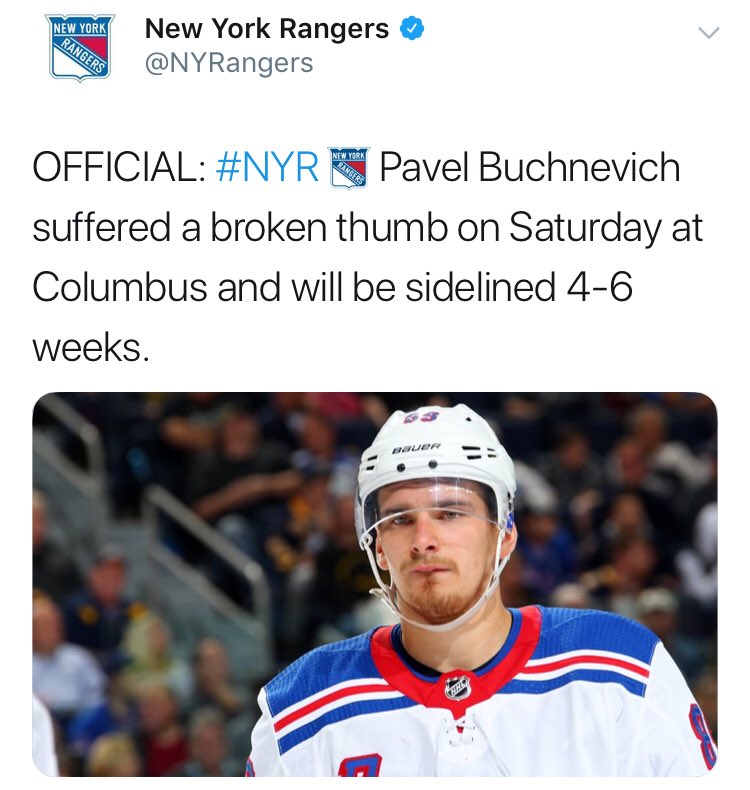 In what is an unfortunate turn of events for Pavel Buchnevich, Buchnevich, who just came off his best game of the season, is now out 4-6 weeks with a broken thumb.
My serious take on Buchnevich's injury is that while it sucks for him, I really don't see the Rangers missing a beat. After all, he was scratched so many times already and the Rangers were fine without him. Sure, a healthy and motivated Buchnevich makes the Rangers better, but with him now out, this just creates opportunity for a young man to step right up and bolster his value.
I'll get more into this as we move along, but another reason why I think losing Buchnevich won't put a rip into the sails of the Rangers is because of head coach David Quinn. Outside of the goalie, there are no superstars on this team. With the exception of Kevin Shattenkirk & Mats Zuccarello, is there a big name on this team that casual fans would know? I mean, to this very day, there are some "diehard" Ranger fans who can't even spell "Marc Staal." It's only been 13 years. Seriously, between fans wanting to lose and people writing on twitter about how much "MARK STAHL SUX", it's enough to make you want to ignore millennials forever!
I just think with David Quinn, and this is my opinion after an 18 game sample and reading about his past work elsewhere, his system accounts better for player injuries than others. In other words, this Rangers team isn't relying on one guy. This isn't if the Oilers lost McDavid, if the Caps lost Ovechkin, or if the Pens lost Crosby. The Rangers really lost a player that's a third or fourth liner anywhere else in the league. He's replaceable.
In a "let me vent my patriotism and nationalism on you" segment of the blog, I truly think this is a cultural thing too. Dave Maloney, of note, and I note him because he's an ex-Rangers captain, a current MSG analyst and has a Rangers endorsed podcast, always bring up player nationalities in his work. After all, with all the tournaments in hockey, is there any other sport that talks nationalities more than hockey?
And yes, while some stuff is stereotypical, there are a reason for stereotypes. There's usually some historical basis behind each stereotype.
I mean after all, have I seen Irish people drink? I'm a good example of that stereotype, although I refer to myself as an American. Do I know Asian people who are good at math? I do! Do I have some Jewish friends that are a little frugal with the money? I do! Do I have some Italian friends that eat some version of pasta every day and wear FILA sweat suits from time-to-time? I do.
In that same vein, I just don't think the eastern hemisphere hockey player is as tough or willing to gut through things like their North American counterparts. When I say North American, I'm referring to both American and Canadian players. The game is just different in Europe and in Russia. Whether it's the bigger rinks, a less emphasis on hitting/no fighting, relying more on skating, or whatever; for whatever reason, I just think North Americans are willing to go the extra mile more than a Swede or in this case, a Russian.
Maloney has said pretty much the same things about Buchnevich, but granted, just not as blunt as I just said it.
I know "Rocky IV" was supposed to end the Cold War and all that, but I just think North American athletes have a different mindset. It's just the culture. Sports are a bigger emphasis here. No one wants to be called a pussy.
Sidebar 1: Is "pussy" an acceptable PC word? I didn't want to use a word that people have twisted into a homophobic slur, a word that essentially means douchebag today. Oh and speaking of that "F" word that some people just solely equate to homophobia, how horrible is it that Tony DeAngelo works with veterans and with the Wounded Warrior Project? Oh boy, what a horrible person! It's amazing how fans will use politics to slam a player and ignore all the good work he does when the cameras aren't around.
Sidebar 2: "South Park" remains one of my favorite shows, all these years later. The way they are able to parody and satire the world, during any given controversy, is second to none. Their episode on that "f" word is a must see.
Let me get back to my original point as this blog of tangents continues!
I am aware that a broken thumb affects your grip. I am aware that Buchnevich is a forward and not a defensive defenseman. I am aware that this is still the regular season. All I'm saying, is that US Olympian Kurt Angle, won a gold medal with a BROKEN FREAKIN' NECK. Ryan McDonagh played with a broken ankle. Dan Girardi was blood, water and duct tape his last few seasons here. Eddie Giacomin played with burnt up legs. There have been countless stories, both reported and unreported, of North American athletes playing through far worse injuries than a broken thumb.
Okay, okay, okay, I'm still being facetious here. I get why #89 is out. I hope he comes back healthier than ever and starts playing at a high level consistently. I hope that consistency rate exceeds one out of every 17 games.
I'm not calling Buchnevich soft here. This is a regular season injury. You don't want to make him any worse.
What I will say is that I think the Rangers will be fine without him.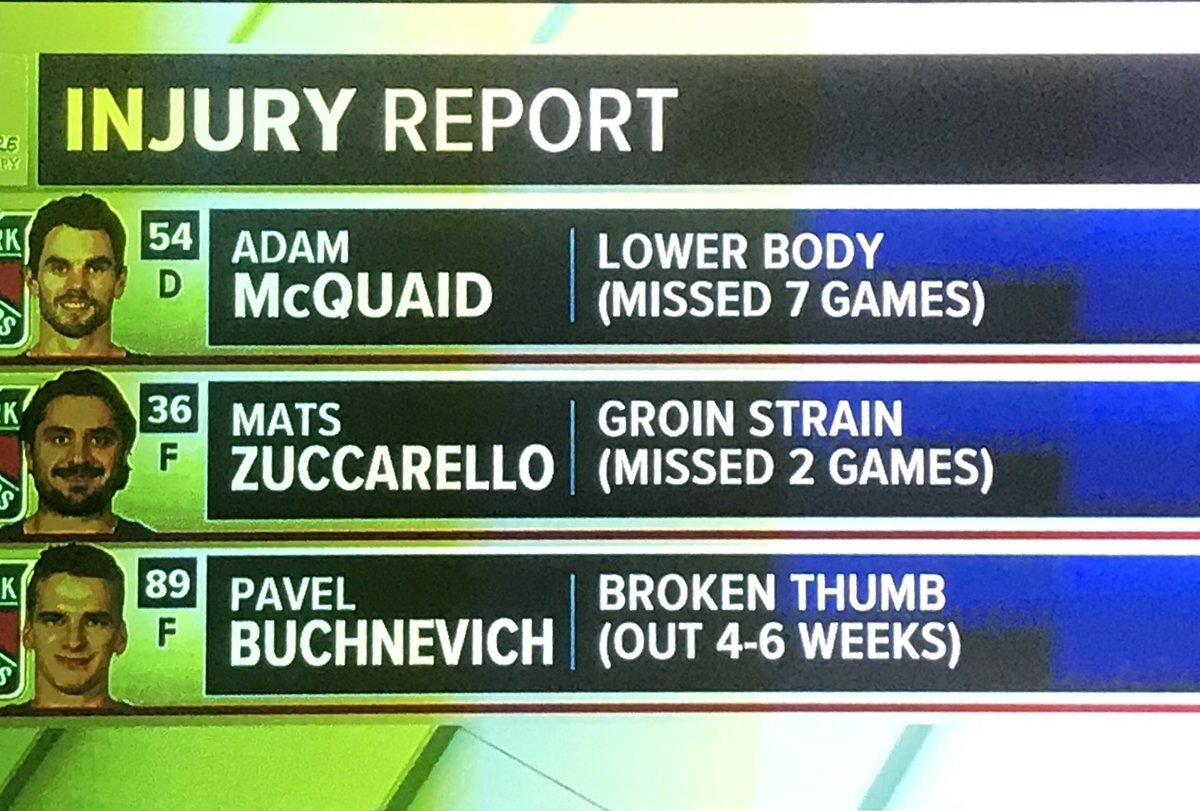 While there wasn't much NHL news going down, outside of the HHOF which I got into in my last blog, there was Ranger news outside of Buchnevich. Zuccarello, who Quinn thought on Saturday would be ready for this game, was not. He's expected back Thursday with the Islanders.
Adam McQuaid remains out, and as I said a few blogs ago, if he played his last game as a Ranger, I wouldn't be shocked. I would trade him once he's healthy, as I really don't see a need for him on this team. With McQuaid out, the team still carries 7 defenseman and with Claesson rotating in and out, I just don't see where McQuaid fits in. Will Quinn scratch Skjei? Even if Quinn did do that, I doubt Skjei would remain in the press box for any lengthy amount of time.
With the injuries, it is not known if the Rangers will call anyone up. Quinn had been scratching Lettieri and McLeod a lot. I don't know if you want to take a kid out of Hartford, just so he could sit. (I would like to see what Tim Gettinger could do, if he was here in McLeod's spot. I really don't care for Matt Beleskey, no matter if this team is trying to win or trying to rebuild.)
However, with all these injuries, especially with Buchnevich, this should give Lias Andersson some job security on Broadway. Then again, Zucc could come back, and the Rangers could decide that Lettieri & McLeod are worth playing more than Andersson. Who knows?
Oh and real quick, it still boggles me that the HHOF holds their event while NHL games are being played. They should hold this event either before or after the season, or during the All-Star break. Where are the money hungry league and TV executives? Don't you want as many eyeballs as possible watching this? I would've watched the festivities tonight, but I'm not missing the Rangers game to do so.
With all the injuries, there was only one healthy scratch tonight and that was defenseman Brendan Smith. You knew Smith was going to be scratched for one game, after the look Coach Lundqvist gave Smith in Detroit. Now Smith has been on the list for two straight games. With the Rangers only giving up one goal tonight, I don't see why Quinn would bring Smith back when the Rangers play the Islanders on Thursday.
As far as tonight's game, here were the new lines:
FIRST LINE: Namestnikov/Zibanejad/Spooner (More on Spooner at the end of this blog)
SECOND LINE: Kreider/Hayes/Andersson
THIRD LINE: Vesey/Stepan/Fast
FOURTH LINE: McLeod/Chytil/Lettieri
D-PAIR 1: Skjei/DeAngelo
D-PAIR 2: Staal/Pionk
D-PAIR 3: Claesson/Shattenkirk
Funny thing on Quinn – in his post-game interview on Saturday, after the win with Columbus, he was taken aback and laughing about how people overreact to the way he scratches players & changes his lines. He said he never saw reaction like this. Knowing that this NY media and feedback is new to him, it's nice to see him stick with his guns and not abandon his strategies.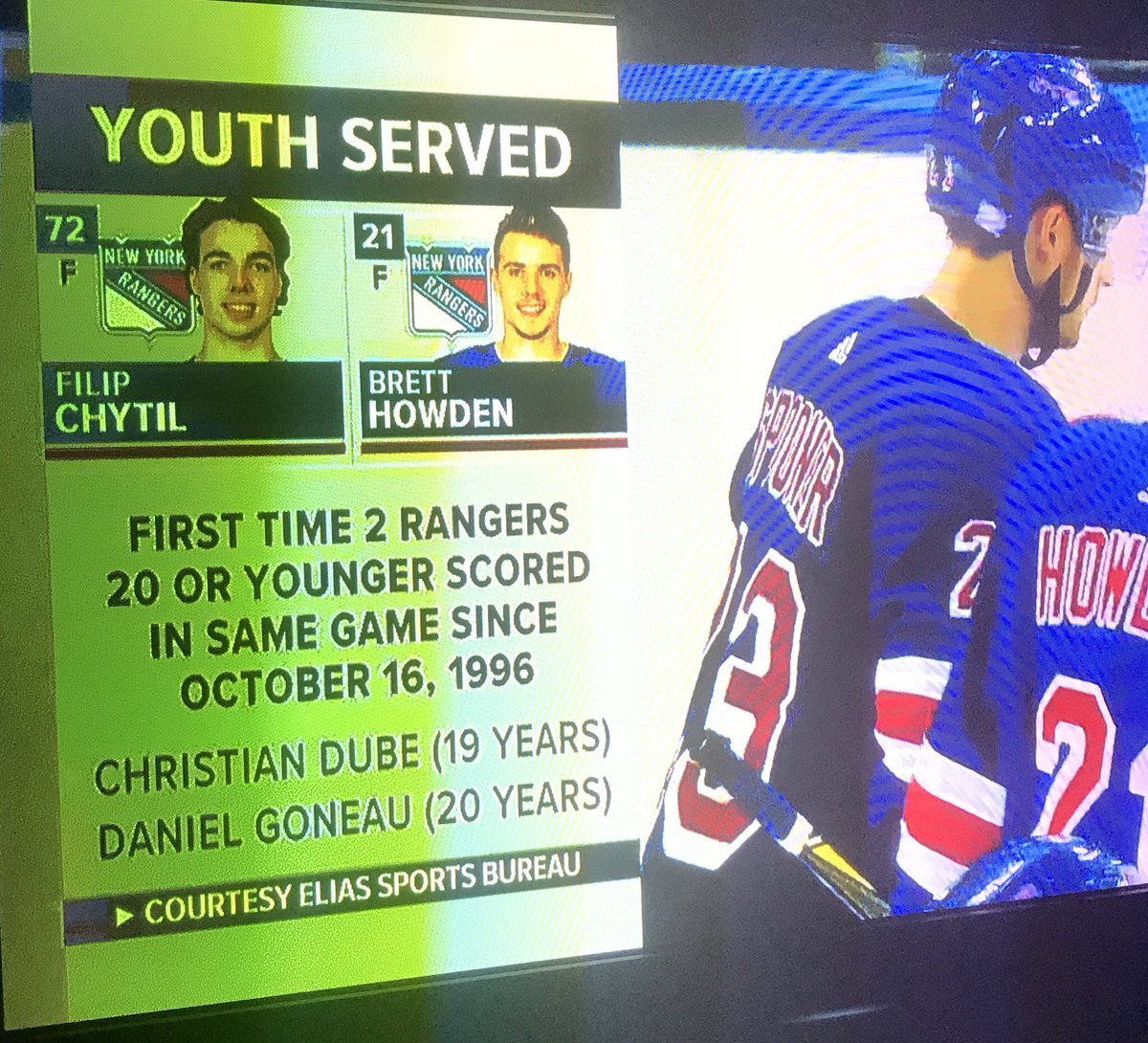 As usual, here is the box score from ESPN.com:
SCORING SUMMARY:
1st Period
No Goals Scored
2nd Period
3:16

Nikolay Goldobin

(2)

Assists: Tyler Motte, Ben Hutton

1
0
12:42

Filip Chytil

(1)

(Power Play)

Assists: Chris Kreider, Neal Pionk

1
1
3rd Period
11:19

Brett Howden

(4)

Assists: Jimmy Vesey, Jesper Fast

1
2
PENALTY SUMMARY:
1st Period
2:29

Adam Gaudette:

2 minutes for Slashing

6:35

Anthony DeAngelo:

2 minutes for High-sticking
2nd Period
1:08

Nikolay Goldobin:

2 minutes for Hooking

4:18

Cody McLeod:

5 minutes for Fighting (Major)

4:18

Darren Archibald:

5 minutes for Fighting (Major)

8:41

Ben Hutton:

2 minutes for Cross checking

10:20

Filip Chytil:

2 minutes for Interference

12:34

Loui Eriksson:

2 minutes for Tripping

16:44

Mika Zibanejad:

2 minutes for Interference

16:57

Markus Granlund:

2 minutes for High-sticking
3rd Period
15:23

Nikolay Goldobin:

2 minutes for Hooking

18:45

Mika Zibanejad:

2 minutes for Hooking
GOALIES:
| | | | | | | | | | | |
| --- | --- | --- | --- | --- | --- | --- | --- | --- | --- | --- |
| SA | GA | SV | SV% | ESSV | PPSV | SHSV | SOSA | SOS | TOI | PIM |
| 26 | 1 | 25 | .962 | 21 | 0 | 4 | 0 | 0 | 60:00 | 0 |
| | | | | | | | | | | |
| --- | --- | --- | --- | --- | --- | --- | --- | --- | --- | --- |
| SA | GA | SV | SV% | ESSV | PPSV | SHSV | SOSA | SOS | TOI | PIM |
| 27 | 2 | 25 | .926 | 17 | 1 | 7 | 0 | 0 | 57:41 | 0 |
As usual, these Rangers won another game while employing the flair for the dramatics. This was another one goal game for the Rangers and they made you sweat it out at the end of the game. If you didn't see the game, you missed the Rangers killing off a Mika Zibanejad penalty for the final 75 seconds of the game, all while Vancouver had their goalie, Jacob Markstrom, pulled. Essentially, for a long 75 seconds, the Rangers had to kill off a 6 vs 4.
I will say, this kind of worked out in the favor of the Rangers, because they were on the PK. The Rangers were able to just keep on icing the puck without fear of getting a whistle. Of course that was something Sam and Joe ignored to mention to the viewers. However, if you wanted to know the ages of players, the weights of the players, who the players ate with, what type of food the players eat, the blood type of the players, the mother maiden names of the players or the thread count of the sheets the Rangers sleep on, Sam and Joe had you covered like a fly on shit.
For some reason, mastermind and executive producer of the M$G Networks, resident idiot Jeff Filippi, thinks that by combining the popularity of cooking shows with the Rangers, this will become the equivalent of a smashing ratings success. I would love to know how many people actually tuned in to see Adam McQuaid make fish nuggets with some random chef.
When this "FOOD WEEK" ratings drive fails, I wonder if Jeff Filippi will go back to the drawing board. Maybe they can have Pavel Buchnevich do a home remodeling show. Just watch out for your thumb with those hammers!
If there was any crossover show I'd watch and that I think would get ratings, it would be a live cam of Michael Del Zotto stalking porn stars online. Or maybe you can do an HBO crossover, and do "Hookers on 42nd Street" with MDZ. After all, sex sells. I rather watch MDZ get smacked in the face by a prostitute than watch Frederik Claesson whip up a chicken parm with Fat Tony in Little Italy!
And while Joe Micheletti has always been fair game on these blogs, watching Sam Rosen sell all these terrible ideas and go on and on about "MSG FOOD WEEK", boy was that nauseating.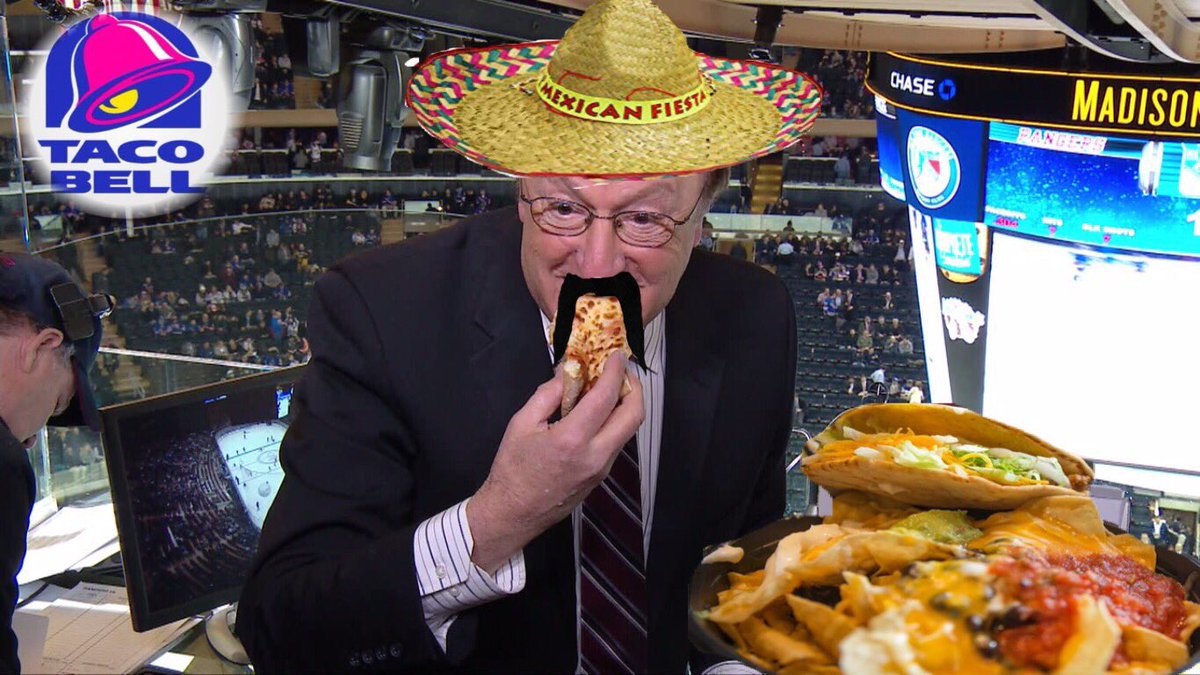 Like most Ranger first periods of late, this game started slow. The Rangers would get an early power-play, log six shots and then take a penalty themselves when Tony DeMAGAngelo (Credit, as always to @NYRKELSMADS) got caught for high-sticking. Despite not giving up a PPG, the rest of the period felt like a Vancouver PP, as the Mother-Canuckers were in the Rangers d-zone for what felt like the remainder of the period. Both goalies would finish up with 8 saves in the scoreless period.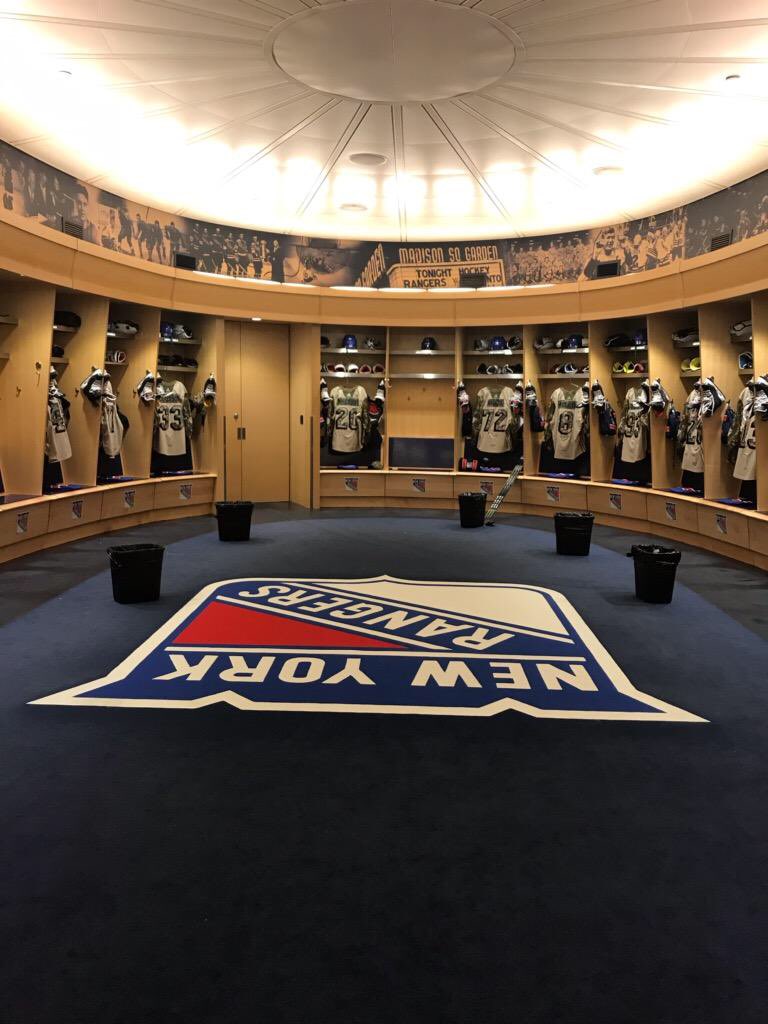 It's a weird thing. In the NFL, NBA and MLB, the leagues have their teams wear different jerseys and hats during games to celebrate different causes during the year. The leagues then sell those jerseys for a profit, as well as donate some of the proceeds. In the NHL, they celebrate different causes too, but the teams only wear these special jerseys during warm-ups, and not during the games themselves.
In a league and world driven by money, I'm surprised the league doesn't have these teams wear these jerseys in the games themselves. It just seems like it would be a profitable idea. I'm speaking from experience here too. I own one of these Veteran's Day jerseys (A Raanta one) and I would've purchased an NYPD tribute jersey, if it was made available.
Had some help on the bench today from the legendary Rod Gilbert. He helped lead the @ArmyClubHockey team to a win in the Budweiser Salute to Service tournament at @TheGarden Thanks to the @NewYorkRangers_ for putting on an awesome event for our Cadets #NYR #WestPoint #7 pic.twitter.com/w7YphYB1VL

— Jeff Fearing (@fearfactor27) November 12, 2018
While on Veteran's Day, I just want to commend the Rangers on a good job that they did to help out and give back. Yes, the cameras are rolling for these segments, but I don't doubt the genuine feelings the Rangers, both past and present, have when they donate their time during days like this. Hockey players are the best and I'm not trying to besmirch other athletes here. Whether it's the Garden of Dreams, the stuff Adam Graves does, the stuff Ron Duguay does, the 5K's, the charity fundraisers or a night like this, the Rangers are always there.
While the first period saw the Canucks dominate the majority of it, there was a three on one chance for the Rangers. Skjei, who was 5 feet in front of Markstrom, missed the net. That's just unacceptable to me. You either make a move or shoot hard and hope one of the trailers beats Markstrom on the rebound. Shooting it nowhere does nothing.  That would be the best Rangers chance in the first and it was squandered away.
There's not much to write home about after the first period and at the end of it, the score remained 0-0.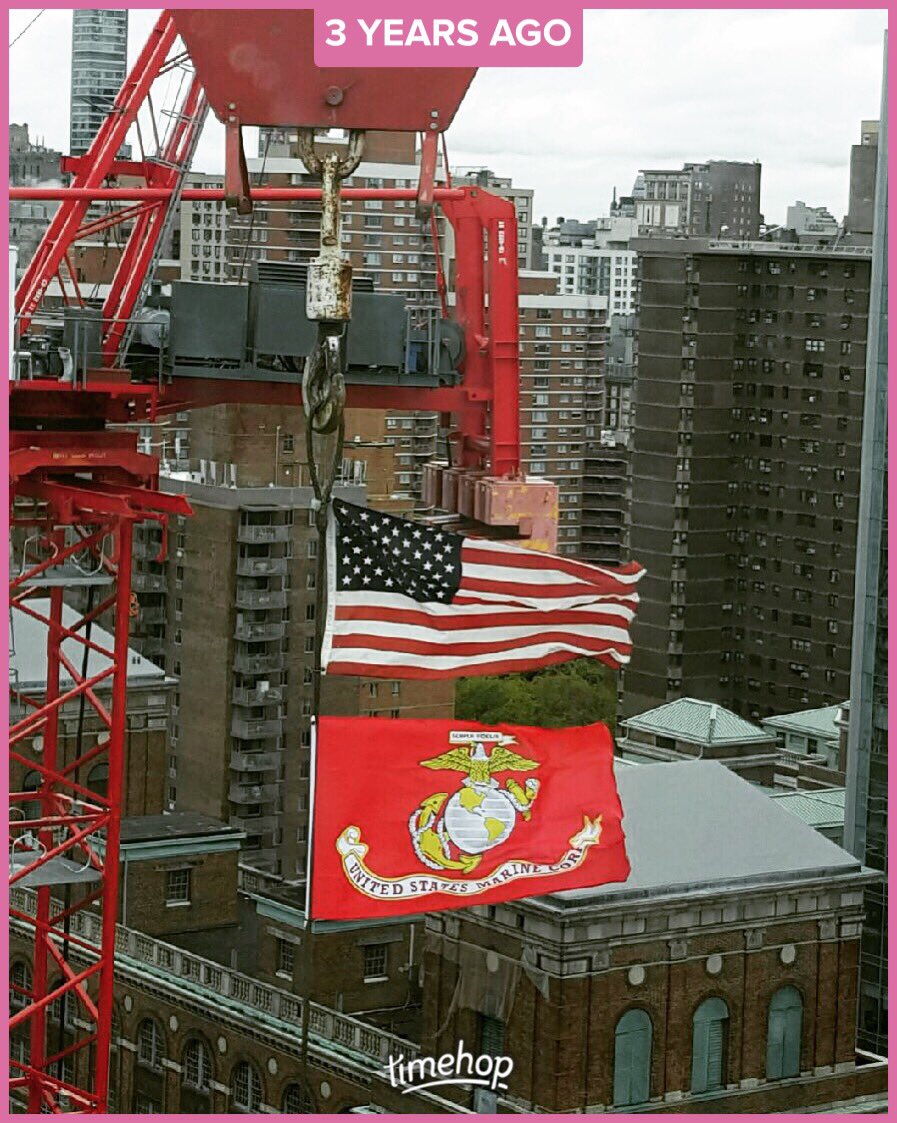 In the second period, the Rangers and Canucks traded a bunch of penalties. In what's becoming a trend, aside from the game a few days ago, the Rangers get a bunch of penalties and hope the law of averages catches up with them. What I mean by that, is that they they usually are 0-2, 0-3, 0-4, but then eventually get a late one. While they are winning, you would like to see the Rangers convert on their first PP, just so they can get the other team nervous.
The Rangers failure to convert on their PP chances hurt them early in this game. The Rangers failed to convert in the first period. On their second try, in the second period, they failed again, and this time it bit them in the ass.
Here's Nikolay Goldobin at the 3:16 mark of the second period:
Nikolay Goldobin goal gets the #Canucks on the board as he rips the shot past Lundqvist. pic.twitter.com/lKjSsfjTOH

— Sportsnet (@Sportsnet) November 13, 2018
On the goal, Nikolay Goldobin got out of the box, and boom, it's a two on one jack-in-the-box goal the other way. It's not as simple as just blaming the Rangers PP for failing, but because the Rangers PP failed, Goldobin got this opportunity.
1-0 bad guys.
In a game devoid of much crowd energy (and that's not to say the Rangers were playing bad, they were just playing defense and this is league that markets itself around offense) Cody McLeod revved shit up a bit. A minute after the Goldobin goal, McLeod finally won a fight and beat up Darren Archibald:
McLeod makes quick work of Archibald #NYR pic.twitter.com/OmvWxciRjY

— Rob Taub (@RTaub_) November 13, 2018
I'll tell you what – McLeod really needed to win a fight here. I'll talk more about this fight when I get to the end of this second period.
Michael Del Zotto, or "Del Zaster" as he's better known by to Ranger fans, has always intrigued me from day one. His draft selection. His rise. His fall. The off the rink stuff. In fact, MDZ was one of the first people I ever profiled on this blog. (Also worth mentioning, the Klein/MDZ trade was one of best trades Sather ever made.)
In case you missed that blog, written a long time ago (meaning some links and pictures may be broken, just like the heart of Del Zotto) you can read this BCBS flashback here:
The Rise and Fall of Michael Del Zotto: A Complete Look At The Troubled Defenseman
If there was ever a more Michael Del Zotto moment than what happened in this game, I don't know what it is.
With the Canucks up 1-0, Michael Del Zotto, on another Canuck two on one chance, ringed the puck off both goal posts and the crossbar. I'm sure I've seen something like this before, but I drink a lot and my memory isn't what it used to be. Feel free to send me any GIFS or whatever, of a puck hitting all three irons and not landing behind the goal line.
Here's Lundqvist getting a break and here's MDZ pulling a MDZ:
The overhead angle of Michael Del Zotto's rush chance. No goal. #Canucks pic.twitter.com/OvZ0lkEScc

— J.D. Burke (@JDylanBurke) November 13, 2018
Do you know what happens when you're a good team? You get puck luck. You get some breaks. This is what happened to the Rangers here. MDZ has a great look and rattles the puck off all three irons. Unbelievable. Obviously, this kept the game at a one goal deficit, rather than the Rangers chasing a two goal disadvantage.
Oh, and that Elias Pettersson rookie from Vancouver? You can see his talents in this game. Fortunately, he was held off the scoreboard tonight, but you can see why he's the favorite for the Calder right now.
As the period went along, the Canucks found iron again. Really, again, some puck luck action for the Rangers, as this game could've been 3-0 real quick.
In what was a heartbreaker for Vancouver and what brought the Garden to their feet, at the 12:42 mark of the period, Filip Chytil scored his first goal of the season and in an emphatic fashion:
Not a bad time to score your 1st of the season, @filip_chytil!#NYR tied 1-1 in the second period. Watch the action now on MSG & https://t.co/9032j80fse! pic.twitter.com/N8PZNR4Uhr

— MSG Networks (@MSGNetworks) November 13, 2018
Even better for the Rangers, this was a PPG, scored early into the PP. Law of averages. 1-1.
By the time the second period came to an end, the Rangers, who were admittedly outplayed, were in another tie game. I give all the credit in the world to David Quinn, as I'll get into at the end of this.
As you know during these blogs, I always try to give you the full story and talk about Rangers related stuff that went on. After all, there are about 86727847278947 social media posts, blogs, podcasts, newspapers or whatever, that you can go to for the same damn thing. I always try to bring up the MSG Network guys, because I find them interesting and I know others do too.
I was shocked when Valiquette said the same exact thing I was thinking when I saw McLeod fight in the second period. During the intermission break, Vally said something, and I'm paraphrasing him here, "I really liked the McLeod fight. It woke up the Rangers. It motivated the team." I felt the same way when McLeod had that fight with Montreal, even if he was over-penalized in my opinion.
In this game, the Rangers were looking sluggish offensively and were the victims of keep-away hockey. The McLeod fight sparked up not just the crowd as Micheletti was going on and on about, but the team themselves. I saw a difference.
Of course, Vally did preface his statement by alluding to how he and others aren't always a fan of these types of fight. However, for this one segment, Vally channeled his inner Ron Duguay, and I thought Vally was dead on accurate with his McLeod assessment.
Obviously, Vally has a more of an inside track with this team and knows this game better than I ever will/can. He then said, (and again, paraphrasing him here) "This is a game I expect the Rangers to win. The Rangers before this game expected to win this game."
Now I don't know who Vally talked to, or if he even talked to anyone, but he said the Rangers expected to win this game. That was more telling to me than anything else.
THE RANGERS EXPECTED TO WIN. THE RANGERS EXPECTED TO BEAT A FIRST PLACE TEAM.
Yes, Vancouver has sucked for years and are rebuilding themselves, but one can not ignore the standings. If Vancouver falls off (as Vally predicted at the end of the broadcast, and I would agree with his prediction too) for the RIGHT NOW, Vancouver is a first place team.
What this tells me is that Quinn has instilled a great deal of confidence in this team, that they expect to win any game, against any team. The ANY GIVEN SUNDAY Rangers are here and after a slow start in the W/L department, they are giving Ranger fans their time and monies worth.
Jesus Christ, MIKE RICHTER, this blog is going long tonight, but that usually happens when I'm jacked up after a win! I'm telling you, I did not expect any of this winning or any chance in hell of the Rangers having a shot at the tournament this season. Yes, blah blah blah Jack Hughes, but I'm enjoying the hell out of myself with these games. I hope that comes off when you read these blogs.
Two things before getting into the third period:
— Going into this game, Vancouver leads the league with the most amount of goals given up in the third period, with 26 goals allowed. I would've never guessed that, based on their record.
— Secondly, wouldn't it be great if Sam Rosen had a Booger McFarland "Monday Night Football" seat at MSG? Just let Micheletti wheel him around the bridges. That would be good TV to me! "WHOA SLOW DOWN JOE!"
As the third period commenced, both teams were very strong defensively. Give it up for Lundqvist, he played well during the stretch here.
With less than half the time remaining in the period, Brett Howden, a Calder candidate in his own right, would score what would be the game winning goal:
Brett Howden! The Rangers take the lead in the 3rd!#NYR pic.twitter.com/3rHYY3pVjP

— Hockey Daily (@HockeyDaily365) November 13, 2018
2-1 good guys.
That's goal number four for someone who we all thought would be in Hartford this season. Furthermore, Howden, coming off concussion protocol, took another nasty hit in this game, came back, and here he is off the draw.
When I saw this shot go in, I spilled my Miller Lite and all I could think was "HOLD THAT LEAD!"
As time ticked down, Vancouver coach Travis Green, who looks very different from his Islander days, pulled Markstrom at around the 2:20 mark. The Rangers fought off the Vancouver attack, until Mika Zibanejad took his second dumb penalty of the game. Vancouver now had a 6 vs 4 attack, but the Rangers could just keep icing the puck.
With 75 seconds of a 6 vs 4 attack, I was just waiting for Lundqvist and the Rangers to give up the tying goal. After all, we've seen it so many times before during this season. The Rangers just love this helter-skelter style of winning.
However, unlike teams previous against the Rangers, Vancouver would not find the net, Lundqvist made some stops, and boom, 2-1 Rangers, your final from MSG. For the Rangers, and yes it's early blah blah blah, but they now have a playoff berth.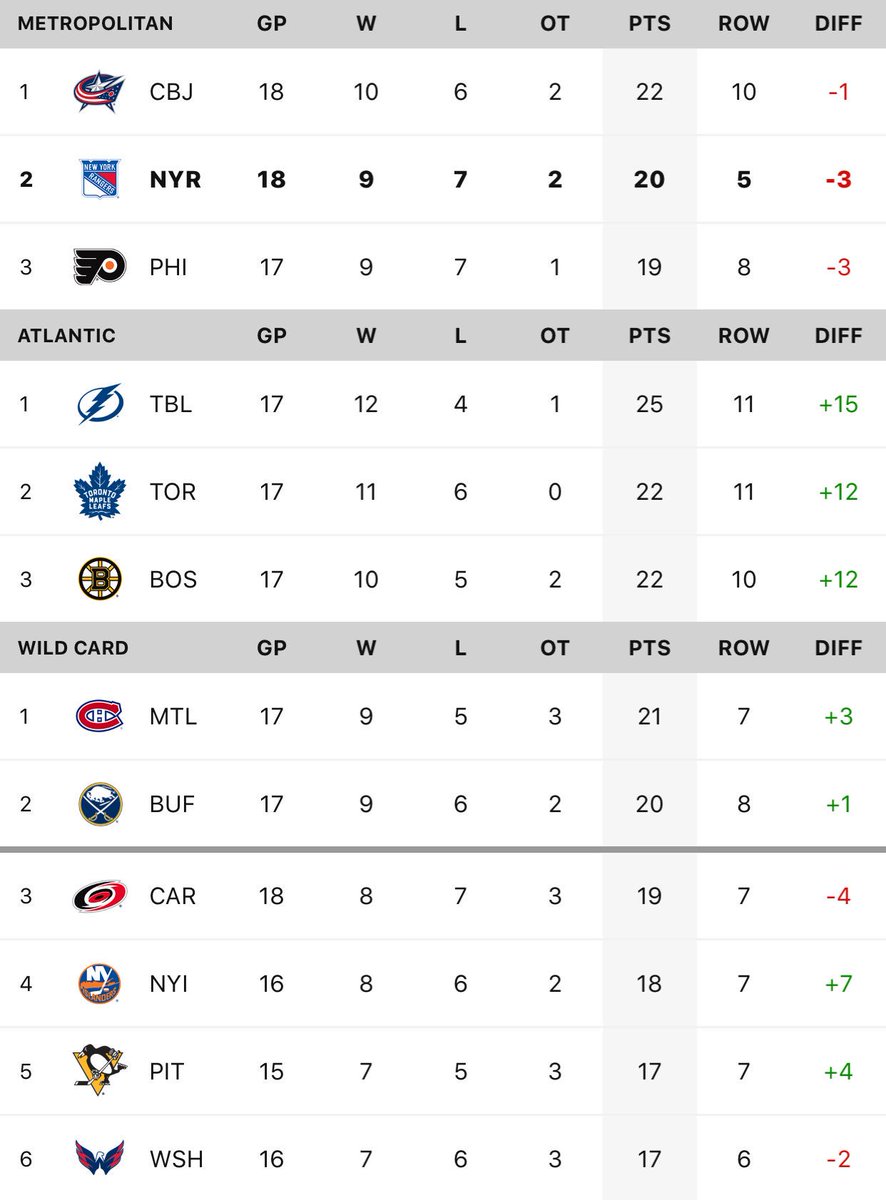 Yes, the standings will change every day and yes the Rangers may slip, but for right now, could you ask for anything more? I didn't think so.
When it comes to the three stars of the game, you usually look at the winning goaltender or the scorers. Someone who never gets looked at is the head coach. To me, there was no game this season that was won more because of coaching than this one.
Keep in mind, Quinn was without one of his top 6 forwards in Zuccarello. He was also without Buchenvich.
In tonight's game, every time the MSG cameras focused on Quinn, his mouth was running like a Kenyan. He was pacing like a coke addict, talking to every one of his players. I noticed Quinn doing this when I sat behind the Rangers bench when they played the Hurricanes. Other fans have contacted me to say they have witnessed the same thing. It's weird to see a coach moving his mouth so often without gum in it. (And yes, I was an AV guy, I just like the jokes.)
Quinn also made adjustments on the fly. Spooner was terrible on the PP. While I want Lettieri on the PP, it didn't happen. What did happen was Chytil was shifted upwards, while Spooner was put on the fourth line. What happened? Chytil scored his first goal of the season. Now is that because of Quinn or because Chytil was in the right place at the right time? You can argue either way. The point is, Quinn saw something wasn't working, and didn't waste any time abandoning his original in-game ideas.
Ron Duguay, in interviews and at the BSU Radio party on Saturday said, "I really like David Quinn. The Rangers will win a Cup with this guy." Games like this strengthen Duguay's argument.
Going into the Quinn hiring, his resume wasn't impressive, because he no team hardware/championship to show off. Maybe for Quinn, this is his chance. After all, there aren't many veteran NHL coaches that win multiple cups with multiple teams.
And really, what stands heads and shoulders above everything else – it's the kids that are winning these games.
For 18 games, I think Quinn has to be considered for the Jack Adams. He might need a lozenge and a hot tea to regain his voice after these games, but you can see that he's seriously invested, on top of everything and to me, what's most important – will not accept losing. At this rate, I would be shocked if the Rangers have another three game losing streak this season.
On a side note, I'm going to Ottawa and Montreal at the end of the month for those Ranger road games in those cities. Montreal is usually more expensive, but I believe in Ottawa, I can get tickets behind the Rangers bench for less than $100.  One of the draws of sitting near the Rangers bench this season, is just watching Quinn and seeing what he says to his team as the game unfolds. If there is any coach that needs to be "mic'd up", it's Quinn.
The Rangers are off until Thursday, when they take on the Islanders in Brooklyn. For Lundqvist, who I assume gets the start, he won't have to worry about the Halakness monster.
If you're looking for Ranger fan reaction, the BSU guys have two shows this week. Tuesday night covers all the latest in Rangerstown. Wednesday night, they will be interviewing Ron Duguay. For more, visit https://www.facebook.com/groups/blueshirtunderground/
And as I've said previously, that BSU Radio show entertains me in the way I hope these blogs entertain you.
See ya Thursday night when the Rangers try to take points in their seventh straight game. Work schedule permitting, I'm debating on going, as long as I can get an unobstructed view seat!
Thanks for reading and as always…
"LET'S GO RANGERS!"
Sean McCaffrey
BULLSMC@aol.com
@NYCTHEMIC on twitter