Greetings and salutations everyone and welcome to another blog here on BlueCollarBlueShirts.com.
I know I said last night that I'd return later in the week, but with the 2021 season about to commence this Wednesday night (Rangers open up a day later, on Thursday 1/14 against the Islanders) a lot of news was broken on Monday, January 11th, both from the Rangers and the NHL themselves.
Rather than letting the news build up, become dated and present to you a 20,000 word blog on Wednesday night, I figured I'd do a short piece tonight. (At least short for this site!) After all, a lot of developments in Rangerstown, USA occurred on Monday, including Mika Zibanejad confirming the COVID-19 rumors/speculation. In addition, while everything is always subject to change, we pretty much now know the Rangers line-up for Opening Night. Truth be told, I'm surprised we have this information now, as I was sure that David Quinn would hold out until Thursday.
Before getting into all of the news, opinions and everything else sandwiched in-between, here are my last few blogs, in case you missed them:
---
---
---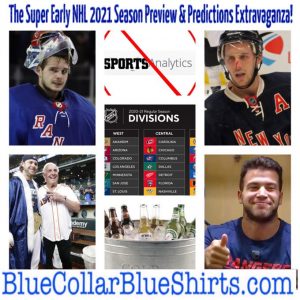 ---
Where to begin, where to begin and did I mention, where to begin?
As talked about last night, as a result of K'Andre Miller's strong camp and the less than stellar showing that Jacob Trouba and Tony DeAngelo had together, K'Andre Miler now finds himself as one of the team's top four defensemen. For the Rangers, this could be good and bad.
Obviously, the bright side here is that Miller seems to be ready for the NHL. Who knows, maybe he impresses just like Adam Fox and Ryan Lindgren did in their rookie year? And oh, let me emphasize to you, that it was just a season ago where Fox and Lindgren made their NHL debuts. In other words, when you look at the six starting defensemen of the Rangers, half of them have a season or less than a season of experience. Of course, with a condensed schedule for the 2021 season, youth and fresh legs will be to the team's benefit.
Going into camp, based on what David Quinn said and what we heard about during the practices and in scrimmages, it looked like the Rangers were going to open up the season with these three defensive pairs:
Fox/Lindgren
Trouba/DeAngelo
Miller/Smith
However, on Monday, the Rangers announced their first set of cuts. They also pretty much announced their line-up for Opening Night too.
On Monday morning, the Rangers opened up practice with their non-varsity squad:
While there is no shocking information here, as I remarked last night, it's amazing how fast Libor Hajek has fallen from Opening Night of the 2019-2020 season to the present day. Originally with the team to start the 2019-2020 season, Hajek would be sent down to Hartford, which in turn allowed Ryan Lindgren an opportunity, an opportunity that Lindgren seized and with much success. Today, when you look at the left side of the Rangers defense, Hajek now seems to be an afterthought. That said, it happens – not everyone is destined to have a lengthy career in the NHL.
After the above line-up finished practice, the Rangers made their roster cuts. Following the practice, the Rangers waived these seven players:
Anthony Bitetto
Colin Blackwell
Jonny Brodzinksi
Brandon Crawley
Gabriel Fontaine
Anthony Greco
Keith Kinkaid
---
I think all of these cuts were pretty much expected, with Anthony Bitetto's name standing out the most. While as fans, we haven't been able to see these practices and scrimmages, it's being reported that Jack Johnson and Brendan Smith outplayed Bitetto in camp. And as we all know, K'Andre Miller had a tremendous camp, thus sliding Bitetto's name even further down the depth chart. (And really, Bitetto is most likely a one-and-done season insurance policy, as Miller is hoped to have a nice future with the Rangers.)
I will say this, on a personal note, I hope Bitetto at least gets one chance to take the ice at MSG this season, as he grew up as a life-long Ranger fan. Of course, Bitetto's fandom of the Rangers doesn't play into how the Rangers conduct business. The Rangers are all about putting the best team on ice – the Garden of Dreams & Make A Wish charities are something else.
With teams across the league waiving multiple players, on Monday, we saw some teams put in claims on some players. However, as of this writing, none of the players that the Rangers waived have been claimed. And really, I don't think anyone, including the Rangers front-office themselves, expected anyone to claim any of their talent. (Although, wouldn't it be interesting if the Devils put in a claim on their former goalie, in Keith Kinkaid, especially in light of the recent retirement of Corey Crawford?)
Sometime on Tuesday 1/12, and perhaps by the time you read these words, we'll have concrete information on the immediate future of these players. Some could be destined for the taxi-squad, while some will most likely end up in Hartford. It should also be interesting to see if the Rangers put in a claim on a player waived by another team. (I don't expect that to happen.)
After the news about the players who were waived got out, the following was tweeted out by the Rangers Twitter account:
The Group B players from Monday, were pretty much who we all expected. For your own confirmation, here they are, and their spot on the roster:
A few things to get into here, as a result of all these announcements. Keep in mind, all of this is subject to change, and by Game 2 of the season, the line-up could change.
FOR NOW, Brendan Smith is the team's seventh defenseman and Kevin Rooney is the team's 13th forward. These two players will most likely rotate in-and-out of the line-up. As talked about in-depth on a previous blog, putting Smith on the taxi-squad would give the Rangers significant daily cap savings, which in turn, that money could be used to add a piece, should the Rangers be gearing up for a playoff run.
When it comes to Smith, I see his spot on the team as a double-edged sword. Yes, it's great to put him on the taxi-squad and save some money. However, if the Rangers are looking to deal his expiring contract to another team, it benefits the Rangers if Smith plays and plays well. More importantly, outside of really Ryan Lindgren, Brendan Lemieux and Tony DeAngelo, you really don't have anyone who has shown a tendency to drop the gloves when needed. And while I expect Lemieux and DeAngelo to get into their fair share of altercations this season, you also don't want these guys beating themselves up all season.
The Rangers, who still remain in the toughest division in the league, in the newly renamed Mass Mutual My Shiny Hiney Pines Motor Inn Papajohns Trojan Condoms division; the Rangers will have a lot of tough customers on the docket. I mean, just think about it. The Rangers open up the season with two games against the Islanders, an Islanders team that has no problem getting into fights. Away from the Islanders, you have players with tough guy reputations in Boston, Washington and Philadelphia. In these potential physical games, it might more make sense to play Brendan Smith over Jack Johnson.
In addition on Smith, who had a bounce back season after a poor showing the season prior; Smith became one of Quinn's favorite utility players, as DQ had Smith playing the wing and on defense. In some games, Smith would play the wing in 5 vs 5 situations, only to become a penalty killing defenseman in the same game. Smith's versatility and willingness to do anything asked of him, may make Smith more valuable to Quinn than both Jack Johnson and Philipp Di Giuseppe.
While I don't envision Smith having a Rangers contract after this season, Smith may become a player that Quinn goes back to during this 2021 season. According to Quinn and basic deduction, the new coach of the Rangers defense, in Jacques Martin, as a result of having coached Jack Johnson previously, is high on Johnson. Martin feels that Johnson can help the Rangers penalty kill.
Jack Johnson will have an opportunity to revitalize his career while with the Rangers. It's up to Johnson to perform. While Johnson has an ally in Martin in his corner, should Johnson continue his play from last season, I'd imagine that Quinn will quickly go back to using Brendan Smith on a night in-night out basis.
On the forward end of things, where again, Brendan Smith could also join; Kevin Rooney was signed for the Rangers penalty kill. As of now, Brett Howden is the team's fourth center, but if the Rangers penalty kill struggles, perhaps Rooney will work his way into the line-up.
And it should also be mentioned, since David Quinn did this a few times last season, that the Rangers could always dress 11 forwards and 7 defenseman, where theoretically, because of his ability to play multiple positions, could be where Smith gets some playing time.
With the line-up set and players waived, there were a few players that were just cut from the varsity club, where they will either join the taxi-squad or go to Hartford. As of now, Morgan Barron is one of those players, with the thinking being that he will be a taxi-squad player. Of course, Barron could always join Matthew Robertson and go to Hartford.
Elsewhere today, the Rangers also signed the 19th overall pick of the 2020 NHL Draft, in defenseman Braden Schneider. Schneider, who brings grit and snarl to his game, recently played for Team Canada during their silver medal run during the World Juniors Tournament. (And let me mention that USA Hockey finished with the gold!) As a result of this signing, Schneider will start the 2021 season in Hartford.
While the roster moves and cuts were both huge stories, the biggest story of Monday was the health status of Mika Zibanejad.
---
At the start of training camp, Mika Zibanejad was reported to be day-to-day. It was thought and speculated that he may have had COVID-19 or was in contact with someone who had it. Of course, no one was able to confirm any of this. However, on Monday, Mika Zibanejad confirmed the speculation – he had the coronavirus.
Here is Mika's interview from Monday:
There were three news items coming out of Zibanejad's interview. Obviously, the first news item is that he tested positive for COVID-19 and is now okay. However, in our second news item, Zibanejad hinted that he was still not 100% and may miss the Rangers home opener on Thursday night. In the event that happens, it's highly likely that Howden would bump up to the first line, as Howden has been practicing and scrimmaging with Kreider and Buchnevich during Zibanejad's absence. (And if Howden is the first line center on Thursday, expect Rooney to be the team's fourth line center.)
Right now, who knows if Zibanejad plays on Thursday night? While you see this more in the NFL than with the NHL, perhaps it's a good thing that the Rangers aren't showing all of their cards here. Of course, the Islanders have to expect Zibanejad to play, although they may think he's not 100%. Perhaps Zibanejad is selling his current health condition, enroute to playing at 100% and kicking ass on Thursday night. However, this could be some optimistic and wishful thinking from me.
In our third and final real news item, Zibanejad was asked about the Rangers captain vacancy. Zibanejad was a little coy here, saying that no one has said anything to him about it. However, Zibanejad then added, that he wouldn't say anything even if the Rangers did make him the offer.
I've talked about the future of the captaincy too many times on this site to count. Refer to the archives for more on this topic. Simply stated here – I'd give it to Kreider, but I wouldn't have a problem if Zibanejad got it either.
In any event, I guess we can assume Zibanejad traveled to the United States while being positive with the virus, and once arriving to the United States, where he was immediately tested by the Rangers, he was sent to his hotel room or home. At least Zibanejad is on the road to recovery and should be back sooner than later. Needless to say, the Rangers need a healthy Zibanejad to make a playoff run in 2021.
Let's go back to the Rangers defense for a bit.
---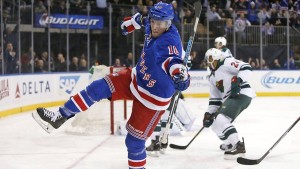 Whoops, sorry, some habits are hard to break. Let me try this again.
David Quinn spoke to the media on Monday, where he recapped the busy day. This is an interview worth going out of your way to watch:
Just as he did in his last press conference, David Quinn continued to rant and rave about K'Andre Miller, while making sure to remind everyone that this is training camp and not NHL games. Quinn even gave Miller a nickname in this one, a nickname that may stick – "The Praying Mantis".
Here's DQ's exact quote:
"From a defending standpoint, he's like a praying mantis with that stick & his arms & his legs, he's tough to get around. You think you have him beat, there he is with his stick. There's just an awful lot to like about him."
With Miller now officially in the line-up, at least for Opening Night, Miller was made available to the media. You can watch his interview here:
In his interview with the NYR beat reporters, Miller continually talked about preparation, mentioned his long layoff between games and how he's never been more ready to play hockey. Miller also said:
"I would consider myself a shutdown defenseman with offensive abilities, closing quick in the D-zone with a good stick. I like to throw my body around a little bit. Definitely in the D-zone."
In another news story, Miller said that Trouba has been helping him out, even saying that Trouba has taken him "under his wing". Miller was extremely complimentary about Trouba throughout the interview as well.
Let's face it, if Trouba and Miller click, that's a great thing. However, after Trouba's bad season last year, I'm not sure if he's the best mentor. What I mean here, at this stage of the game, Trouba needs to figure out his own game, before trying to lend a helping hand elsewhere. That said, Trouba does seem to be more dedicated and aware of what went wrong last season. It's now up to Trouba, who is being paid handsomely, to figure it all out.
When it comes to the Rangers roster, the roster which was confirmed on Monday; going into training camp we were only certain of one position – the goaltenders. Igor Shestyorkin is the starter, Alexandar Georgiev is the back-up. In a shortened season, the two may wind up with a 60-40 split or even a 55-45 split. That's to be determined.
When you see the four forward lines that were announced on Monday, there were no surprises there. In fact, outside of the fourth line, most fans pretty much had a good idea of who the top 9 forwards were going to be. And even then, most fans expected Lemieux/Howden/Di Giuseppe on the fourth line too.
Of course, when you look at the weaknesses on this Rangers roster, aside from experience, you're talking about center depth and the defense. As far as the biggest weakness, it's most arguably the defense. For all the chatter about the team's center depth, Mika Zibanejad is pretty damn good. Strome is coming off career year and will still continue to play with Artemi Panarin, the star of that line and a Hart candidate last season. Yes, Filip Chytil is still a question mark, but he's continued to grow and improve game-by-game. Playing with Alexis Lafreniere may help him. Brett Howden, who perhaps gets too many chances because of the players the Rangers dealt to Tampa to get him, has had a good training camp, albeit while playing with Kreider and Buchnevich. However, as a fourth line center, it's not like he's going to have the ice time that the six defensemen will.
Again, while it's only one game and I'd expect the line-up to change throughout the course of the season, we now know who will take the ice against the Islanders on Thursday night. The six defenseman suiting up for the Rangers are now all paired off, as we'll see these pairings:
Adam Fox/Ryan Lindgren
Jacob Trouba/K'Andre Miller
Tony DeAngelo/Jack Johnson
I think most people expect Fox and Lindgren to continue their strong play. As both men have stated in their press conferences, they are now rooming together for this season. That tells us that their chemistry and bond is strong.
When it comes to Rangers history, you can go to day one of the franchise and look at "The Bread Line" of Bill Cook, Frank Boucher and Bun Cook as an example of players living together, thus forging life-long friendships. In interviews given by all three of these legendary Rangers, once their careers were complete; all three Bread Line members recounted their time living together in an apartment building in Queens, where in their limited free time (travel took up a lot of time back then) they would still talk hockey and bounce ideas off each other. In fact, it was in this apartment building where Bun Cook came up with the idea of the drop pass.
While comparing Lindgren & Fox to three Hall of Famers is a huge stretch, the point remains the same – chemistry is important and these guys have it. Of the three Ranger defensive pairings, the Fox/Lindgren pairing is the least of my concerns.
I don't know what to expect out of the Trouba/Miller pairing. I know everyone is high on Miller, but as DQ himself said, training camp is not NHL game experience. There could be some growing pains there. While both DQ and Miller himself have stressed Miller's defensive abilities, from what we've seen from Miller at the college level, he was more of an offensive-oriented defenseman than anything else. Similar to when DeAngelo was originally paired with Trouba, I'm not sure if this is the best situation for Trouba. Then again, it's not like Miller could be any worse than Brady Skjei last season!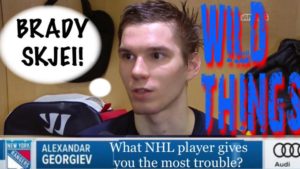 Without question, Trouba, who did have a better second half of the 2019-2020 season than he did in the first half of the season, needs to come out the gate hot. As mentioned earlier, he needs to get his game together, but now he will be tasked with grooming a rookie partner. I hope it all works out.
The third pairing of Tony DeAngelo and Jack Johnson presents the most "iffiness" to me. As talked about repeatedly on this site and in-depth during my New York Rangers season preview blog, I see DeAngelo's offensive stats taking a hit this year. I truly believe he'll miss Marc Staal, as Staal stayed back and allowed DeAngelo to run rampant on offense. With DeAngelo himself stating that he wants to focus more on his defense this year, it's tough to imagine DeAngelo being the fourth highest scoring defenseman of the league this year, as he was in 2019-2020. Even worse, DeAngelo is playing with Jack Johnson, a Johnson who had a terrible 2019-2020 season and is not a upgrade over Marc Staal.
While I'm not as down on Johnson as the majority of fans are, I'm aware that he can very easily become a liability too. If Johnson continues his decline, DeAngelo will be forced to carry the pairing on both sides of the puck. Of course, if Johnson doesn't rebound this season, he'll quickly be replaced by Brendan Smith, which may be the next best thing for DeAngelo.
I had some people ask me on social media why are we getting Trouba/Miller instead of DeAngelo/Miller and Trouba/Johnson? Of course, that's a question for David Quinn to answer. However, as an outsider looking in, I would venture to guess that Trouba/Miller have natural chemistry in Quinn's eyes. Furthermore, it's Trouba that has the massive contract, where he gets paid $8M a season for the next six seasons. With the money invested, the Rangers perhaps want to give Trouba the best opportunity and partner available, knowing that DeAngelo only has a two year contract, and a contract where the Rangers could expose DeAngelo to Seattle, should they choose to do so. (I'm not saying this will happen, I'm just saying this option is out there.)
There were way too many complaints about Lindy Ruff last year, as he became the scapegoat for the Rangers defensive woes. After all, there are only so many things a coach can do – at some point, the players have to carry their weight too. I'm very curious how this team comes out defensively, especially under new coach Jacques Martin. I also think CZAR IGOR will cover up many mistakes, as the Rangers haven't had a goaltender like this since the 2010-2011 season with Henrik Lundqvist.
And from the "isn't that amazing Suzyn?" files – going into Opening Night, the Rangers will feature an All-American defense and two Russian goalies. I think this was the goal after the final scene of "Rocky IV"! You win Sly!
Lastly, while on the Rangers and before getting into everything else, let me say this one more time – DROP THE PUCK. I really can't wait for this season to get started!
Some quick news and notes from around the league, and I'm out of here.
---
On Monday, the NBC Network announced their commentating and broadcasting crews for the 2021 season. The following comes from https://nbcsportsgrouppressbox.com/2021/01/11/nbc-sports-announces-nhl-game-and-studio-commentators-for-2020-21-season/ :
FOR IMMEDIATE RELEASE
Monday, January 11th, 2021

NBC SPORTS ANNOUNCES NHL GAME AND STUDIO COMMENTATORS FOR 2020-21 SEASON

NBC Sports' Commentary Team Features Over 20 Game and Studio Commentators

Kenny Albert, Brendan Burke and John Forslund Headline Play-By-Play Commentators

Liam McHugh, Kathryn Tappen, Anson Carter, Keith Jones and Patrick Sharp Anchor Studio Coverage

Stanley Cup Champion Head Coach Mike Babcock and 13-Year NHL Veterans Ryan Callahan and Dominic Moore to Contribute to Studio Coverage

2020-21 Season Preview Conference Call Today at 1 p.m. ET

STAMFORD, Conn. – Jan. 11, 2021 – NBC Sports has announced its team of more than 20 game and studio commentators for its coverage of the 2020-21 NHL regular season, which begins Wednesday on NBCSN with a tripleheader headlined by the defending Stanley Cup Champion Tampa Bay Lightning against the Chicago Blackhawks. As a result of approximately 100 regular-season games in four months combined with COVID protocols, NBC Sports will use a deep roster of game and studio commentators in a variety of different combinations, with some occasionally calling games from remote locations.

GAME COMMENTATORS

NBC Sports will utilize nearly 15 play-by-play commentators and analysts throughout the 2020-21 season. Kenny Albert, Brendan Burke and John Forslund will headline the group of play-by-play commentators. Eddie Olczyk, Brian Boucher, Pierre McGuire and AJ Mleczko will lead NBC Sports' game analyst team, all appearing on the season's opening night Wednesday Night Hockey tripleheader. U.S. Olympic gold medalist Kendall Coyne Schofield, who has appeared numerous times on NBC Sports' NHL coverage, will take on a recurring role as a game analyst this season.

In addition, many analysts, such as Olczyk, Anson Carter and Keith Jones, will contribute to both game and studio coverage during the year. In some instances, game commentary will originate from remote locations, including NBC Sports' International Broadcast Center in Stamford, Conn.

NBC SPORTS' 2020-21 NHL GAME COMMENTATORS
Play-by-Play*
Analysts*
Kenny Albert
Eddie Olczyk
John Forslund
Brian Boucher
Brendan Burke
Pierre McGuire
Mike Tirico
AJ Mleczko
Gord Miller
Kendall Coyne Schofield
John Walton
Keith Jones
Randy Hahn
Anson Carter

*These are not paired commentary teams.

WEDNESDAY NIGHT HOCKEY TRIPLEHEADER SEASON OPENING NIGHT DETAILS

The 2020-21 NHL season begins on NBC Sports' Wednesday Night Hockey tripleheader on Jan. 13 on NBCSN. Broadcast information is below:

| | | | |
| --- | --- | --- | --- |
| Date | Coverage | Commentators | Time (ET) |
| Wed., January 13 | NHL Live | Kathryn Tappen, Keith Jones, Patrick Sharp, Bob McKenzie | 5:15 p.m. |
| | Pittsburgh at Philadelphia | Kenny Albert, Pierre McGuire | 5:30 p.m. |
| | Chicago at Tampa Bay | John Forslund, Eddie Olczyk, Brian Boucher | 8 p.m. |
| | St. Louis at Colorado | Brendan Burke, AJ Mleczko | 10:30 p.m. |
| | NHL Overtime | Kathryn Tappen, Keith Jones, Patrick Sharp | 1 a.m.* |

*Immediately following game coverage

 STUDIO COMMENTATORS

Kathryn Tappen and Liam McHugh return as the hosts for NBC Sports' NHL studio coverage alongside analysts Jones, Carter and three-time Stanley Cup champion Patrick Sharp. In addition, Stanley Cup-winning head coach Mike Babcock and 13-year NHL veterans Ryan Callahan and Dominic Moore will contribute to studio coverage during the season.

NHL insiders Bob McKenzie and Darren Dreger also reprise their roles for the 2020-21 season, appearing during studio coverage on Wednesday Night Hockey.

NBC SPORTS' 2020-21 NHL STUDIO COMMENTATORS
Hosts
Analysts
Insiders
Kathryn Tappen
Keith Jones
Bob McKenzie
Liam McHugh
Anson Carter
Darren Dreger
Patrick Sharp
Mike Babcock
Ryan Callahan
Dominic Moore


2020-21 SEASON PREVIEW CONFERENCE CALL TODAY AT 1 P.M. ET

NBC Sports' NHL game analysts Eddie Olczyk, Brian Boucher, Pierre McGuire and AJ Mleczko as well as NBC Sports executive producer Sam Flood will preview the 2020-21 season on a media conference call today, Jan. 11, at 1 p.m. ET.

Media interested in participating should call 800-437-2398; Passcode: 3007916.

2020-21 REGULAR SEASON COVERAGE ON NBC SPORTS

NBC Sports is scheduled to present roughly 100 games featuring all 31 teams on NBC and NBCSN during the 2020-21 NHL regular-season with coverage beginning January 13 with a Wednesday Night Hockey tripleheader on NBCSN, headlined by the defending Stanley Cup Champion Tampa Bay Lightning against the Chicago Blackhawks. Click here for more info.

–NBC SPORTS–

---
First off, congratulations to Kenny Albert, as he now replaces Doc Emrick as the lead voice of the NHL in America. No one is more deserving. If anything, I think this was to be expected after Emrick announced his retirement. Of course, I'd love to see the Rangers/MSG Networks have Albert succeed Sam Rosen, but Rosen, bless his heart, is still out there looking more confused than ever. With NBC, Albert will team up with 1994 Stanley Cup champion Eddie O.
In a move that's just baffling to me, as in how did the MSG Networks not make these guys an offer, two huge New York Ranger fan favorites, in Dominic Moore and Ryan Callahan, are now part of the NBC in-studio team. I've been saying ever since the MSG Networks got rid of Ron Duguay, that they needed to get someone in that MSG Studio that Ranger fans could relate to and were a fan of. No one, outside of chart geeks, cares about Steve Valiquette and his fake news. In addition, Valiquette is horrendous as a solo act. Putting Callahan or Moore with him would've been an upgrade to the broadcast.
Perhaps the biggest news here is the end of the Mike Milbury era. I talked about this in-depth when it happened and I'll keep it short here. Simply stated, I think it's horrendous that he was fired, as NBC reacted to public pressure from a few mooks on social media. I would've much rather seen Milbury get the ax for hockey related reasons. Milbury, who got fired/let go/not re-signed, was dropped over an innocent joke that the PC culture did not like. Due to this, I think it gives him an out. Rather than saying Milbury was a chooch and got fired, Milbury can blame political correctness and the woke pink hat movement for his removal.
To me, this is all hypocrisy by NBC, because while I'm not a Milbury fan, he was hired to be controversial and to play the "heel". And let's face it, NBC was fine with all of this. They weren't fine when people started blowing up their social media accounts with complaints of the PC nature. After all, hockey fans have been petitioning for Milbury's removal for years. Oh well.
---
On Monday, NHL.com ran an interview with Gary Bettman. You can read the interview in its entirety here: https://www.nhl.com/news/nhl-commissioner-gary-bettman-on-2020-21-season/c-320200732
The key snippet to the article was this passage:
The NHL is prepared to deal with disruptions and lose billions of dollars to play the 2020-21 season amid the coronavirus pandemic, Commissioner Gary Bettman said Monday.

"Let me make something really clear: We're coming back to play this season because we think it's important for the game, because our fans and our players want us to, and it may give people, particularly those who are back in isolation or where there are curfews, a sense of normalcy and something to do," Commissioner Bettman said.

"It would be cheaper for us to shut the doors and not play. We are going to run through more money — or [to] say it differently, lose more money at the club level and at the league level — by playing than by not playing. But the owners unanimously are OK with that because they know how important it is for our fans and for the game."
At this point, we get it – the NHL, like everyone else in the world, isn't making the money they are used to. It's hard to find sympathy for the NHL here, because one, people are way worse off than them (talk to any small business owner) and two, the NHL put themselves in this position a long time ago. While yes, you can't predict a pandemic, the NHL never marketed themselves well, which in turn, leaves them in the worst financial standing when compared to other sporting entities like the NFL, NBA, MLB, WWE, UFC, NASCAR and the PGA. Hell, I think Cornhole on ESPN Ocho is more financially secure!
The NHL is in the beginning of their "sell-out" mode, as a result of the new division names. As I opined on a past blog, while the NHL can give us the lip-service that this is a one-time thing, really, the NHL, who is still publicly crying about finances, are they really going to turn down millions of dollars next year for their division naming rights? I don't think so! You can never go back and close that box.
Speaking of broke people that I have no empathy for, let's close up with Evander Kane.
---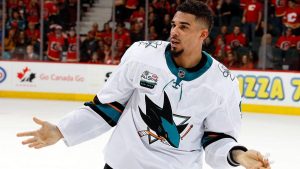 In a story that's been made public league-wide and is getting mainstream media coverage, it's being reported that Evander Kane, now of the San Jose Sharks, has filed for bankruptcy. All you have to do is Google Kane's name and you'll be linked to hundreds of stories about this.
Here's CBS Sports version of the story, courtesy of https://www.cbssports.com/nhl/news/sharks-evander-kane-files-for-bankruptcy-totally-26-8-million-worth-of-debt-per-reports/
According to Daniel Kaplan of The Athletic, San Jose Sharks forward Evander Kane has filed for bankruptcy, totaling $26.8 million of debt. He reportedly filed for Chapter 7 bankruptcy in California.

The filing includes $10.2 million in assets, including three homes. 

Kaplan noted that Kane's monthly income is minus-$91,131.13 and the 29-year-old lost $1.5 million gambling over the last month. He also notes that seven dependents live with Kane.

Recently, Centennial Bank filed an $8.3 million lawsuit in Florida federal court against Kane and the Sharks over pending debt.

According to the filing, there is a chance Kane does not play in the upcoming NHL season. He has been spotted at camp and has not made any public comments about possibly sitting out this season. The team has also not made comments about him potentially missing the 2020-21 season.

The bankruptcy petition said, "Debtor may terminate his contract and he may opt out of the season, as allowed under current rules, because of health concerns given the recent birth of his first child. Should he terminate his contract or opt out at a point in the season, Debtor will not receive his salary."

In 2018, Kane signed a seven-year, $49 million extension with San Jose. According to capfriendly, he has earned $52.9 million in salary in his 11 years in the league.
Let's state this upfront – this Kane situation isn't like the Jack Johnson situation, where Johnson's parents robbed him. Johnson could've sued his parents for stealing his money, but Johnson didn't have the heart to go through a long legal battle in the courts with his parents. Instead, Johnson took a massive hit and eventually reworked himself back to a state of financial normalcy.
Furthermore, Jack Johnson, the human being, from all accounts, is a nice guy. Evander Kane has a criminal past, including assaulting several women and not paying off gambling debts with various casinos. In other words, all of Kane's current issues are self-inflicted. There are no outside factors here. Kane only has himself to blame for his current situation.
With Kane's bankruptcy issues now public, this also explains two things. Why he started the Hockey Diversity Alliance and his recent grandstand challenges to celebrity boxer Jake Paul. If you recall, over the summer, Kane, on behalf of the HDA, demanded a $100M ransom from the NHL, a request that was absolutely ridiculous, considering the league's own current financial issues. In recent weeks, Kane has been angling for a fight with Jake Paul, knowing that he'd make a good payday as an underneath fight on the next Mike Tyson card.
I'm not hear to sing a song and do a happy dance about Kane's current issues. It's a sad situation, especially since he became a father over the summer. I don't want to see any kid in poverty. While I'm sure Kane's situation will resolve itself and his daughter won't be out in the streets or anything like that, Kane must accept responsibility for himself. For a hockey player that has a $49M contract right now, this is just inexcusable and immature behavior.
Lastly on this, if you're the HDA, you better find someone better than Kane to ask for finances and/or run your finances. Kane's demand of $100M looks very self-serving right now. It's almost as pathetic as Kane begging Jake Paul to fight him.
---
If you haven't already, subscribe to this blog for the next update:
---
As I close out this blog, I'll say what I said 96 hours ago at this time!
Up next: I continue to work on my "New York Rangers Rink of Honor" book, a project that has become overwhelming, yet fun.
I'm pretty sure I'll have another blog up before the start of the Rangers 2021 season. Make sure to subscribe for the next manifesto!
As always here, thanks for reading and…
LET'S GO RANGERS!
Sean McCaffrey
BULLSMC@aol.com
@NYCTHEMIC on Tweeter and on Parler
Follow the BlueCollarBlueShirts.com Facebook Group by clicking this link: https://www.facebook.com/groups/1564026407193056/