Greetings and salutations everyone and welcome to another blog here on BlueCollarBlueShirts.com. If you're a New York Giants fan like yours truly, this was a pretty good weekend, as both the Dallas Cowboys & Philadelphia Eagles lost and are now eliminated from the NFL playoffs.
With the Rangers winning on Saturday afternoon against the New York Islanders, it would've been perfect if the Rangers could've put the cherry on top to close the weekend and defeat the Columbus Blue Jackets on Sunday night. Instead, the Columbus Blue Jackets stepped on the cherry and just like the NFL playoffs, scored a touchdown themselves, as the Columbus Blue Jackets defeated the New York Rangers, by a score of 7-5. For the Rangers, who picked up their first win of 2019 the day before, this game was one Donald Trump "YUUUUUUUUUUUGE" step backwards.
For the Rangers, from the time they beat the Islanders on Saturday to the time where Rick Nash dropped the puck before this game with the Blue Jackets, there were two types of talk going on. The Rangers, their media and their staff on the MSG Networks, all talked about Henrik Lundqvist's mental state, to a degree of ad nauseam.
I've never before heard about Lundqvist's "mental fragility" as much as I have heard about it this season. In fact, Dave Maloney & John Giannone are so sick of hearing the term "mental fragility", that they've made an effort to stop talking about that on their podcasts. Even after the game, during the MSG Networks postgame, Dave Maloney blew off any talk of mental fatigue, when Steve Valiquette tried making that excuse for this team.
The other story before this game, was once again started with the Maloney & Giannone "Bleeding Blue Shirts" podcast. The story was that maybe Alexandar Georgiev has the ability to be a starting goalie one day. I know, I know, I know – you look at this score and see 7 goals allowed, but really, would there have been any difference if Henrik Lundqvist was in net tonight? Probably not. If anything, maybe CBJ scores more or maybe Hank is pulled and Georgiev has to do mop-up duty.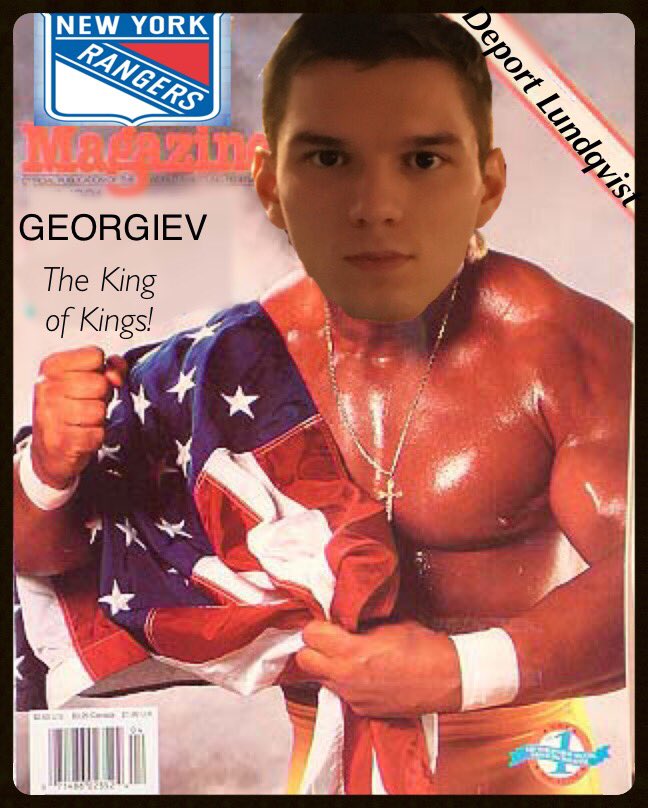 To me, in spite of the touchdown (and extra point) that Columbus scored tonight, Georgiev didn't look bad, except on the last goal that he allowed. When Georgiev gave up 8 goals to Carolina, back in October, he looked horrendous. Now, twice in 9 days, Georgiev has given up 6 goals to Colorado and now 7 goals to Columbus. (For the record, both of these teams are playoff teams.) In both of those losses, both which occurred in the year 2019, I don't think Georgiev has looked particularly bad.
Now this is where the Cult of Lundqvist comes in, as people who have nothing to say to me when Lundqvist has games worse than these, now all start to pop out of the wood-work. That's fine, that's their enjoyment and that is what they do to take some of the burn away during this bad season.
The most common response I got to tonight's game, via my social media accounts, was that "YOU BURY LUNDQVIST WHEN THIS HAPPENS TO HIM!" Of course, as usual, those people ignore the contract issues and the standards between a future Hall of Fame goalie, one that's paid the second most amount of money in the NHL and 22 year old Alexandar Georgiev, who is in his first full season as an NHL goaltender.
What these people are admitting, without realizing it, is that they are blaming the defense for all the troubles. I won't fight that argument, as it's true, the defense has been bad more times than good. That said, if both Hank and Georgiev are going to have bad stats regardless, why pay a 37 year old goalie the money he gets? Why not force him to waive his NMC?
Put it this way – if Product A costs $8.5M and Product B costs $792,000, why would you spend nearly $8M more on Product A, when Product B does the same exact thing?

The point I'm trying to get at here, is that the standards and expectations are different between the two goalies. Furthermore, when Lundqvist has games like this, we are now hearing about how it's screwing him up mentally. To me, in a season that's a REBUILD or a DEVELOPMENT, I don't mind Georgiev having a game like this. Sure, I rather him post a shutout every night, but that's not going to happen either. (Although he does have the lone Ranger shut-out of the season. Have I mentioned that before?)
When you look at the Colorado (6GA) and this game tonight (7GA), Georgiev's numbers are going to take a hit. That's fine. What's lost in the stat sheet/box score were all the great saves he made. As I'll get into as I get rolling here, the Rangers absolutely sucked tonight. The Rangers were out-shot 40-27, with the bulk of the Rangers shots coming when the game was already over. The Rangers went 0-3 on the PP, and for the third straight game in a row, went scoreless during a 5 vs 3 PP. The Rangers got destroyed at the dot, as Columbus won 47 face-offs to the Rangers 21 wins. And just like the SOG, the Rangers only made ground at the dot when the game was out of hand.
The Rangers also spent a 1/6th of this game in the penalty box and once again, the early penalties killed any flow the Rangers could've had hoped to have in this game. They were just beaten in every facet of the game. If there is anything positive to say about them tonight, it is that despite his stats, Georgiev played well and the penalty kill was great. Everything else was a big bowl of diarrhea.
When you look at Georgiev's 7 goals allowed, 33 saves and .825 save percentage, keep in mind that Columbus just dominated the puck for the whole game. In fact, Georgiev even outplayed the two-time Vezina winner, in Sergei Bobrovsky. Seriously, if Bobrovsky didn't have such a bad game, this could've been a 7-1 or 7-2 type of game. Bobrovsky was horrible in his return. However, because of it, that meant the Rangers looked respectable in the newspaper box score, especially when you see that the score was 7-5.
Taking into account that Bobrovsky was terrible, the Rangers just looked awful all game and really, Bobrovsky couldn't have asked for a better team in front of him. Bobrovsky wasn't challenged that much and could've took naps in between shots faced. The Rangers didn't give up and tried to make a go of it late in the third period, but it was a three goal game late into the contest, before the Rangers & Bobrovsky made it interesting.
When the game was over, while I know what this team is, to me, this was a good learning experience for Georgiev. I know Vally said on the postgame that he's nervous about Georgiev's mental health after a game like this, but can we pretend that not everyone in the world is a snowflake? I will say, I heard Georgiev's post game interview before doing this blog, and I'm happy to report that he didn't bury his team after the game, didn't blame his defense and just rolled with the punches. That's a sign of development. That's also the sign of maturity.
I hope for the sake of Georgiev, Quinn keeps rolling him out. Georgiev has played all these top playoff teams all season, while Lundqvist cherry picks his starts against Florida, Ottawa, Philadelphia (twice), LA, Chicago, Arizona (twice) St. Louis, etc. How about giving Georgiev some starts against shitty teams too? With Carolina and Chicago up next, Georgiev should start one of those games. If Hank takes both of those games against crappy teams, that means his mental health nonsense is as bogus as his dreams of winning a Stanley Cup.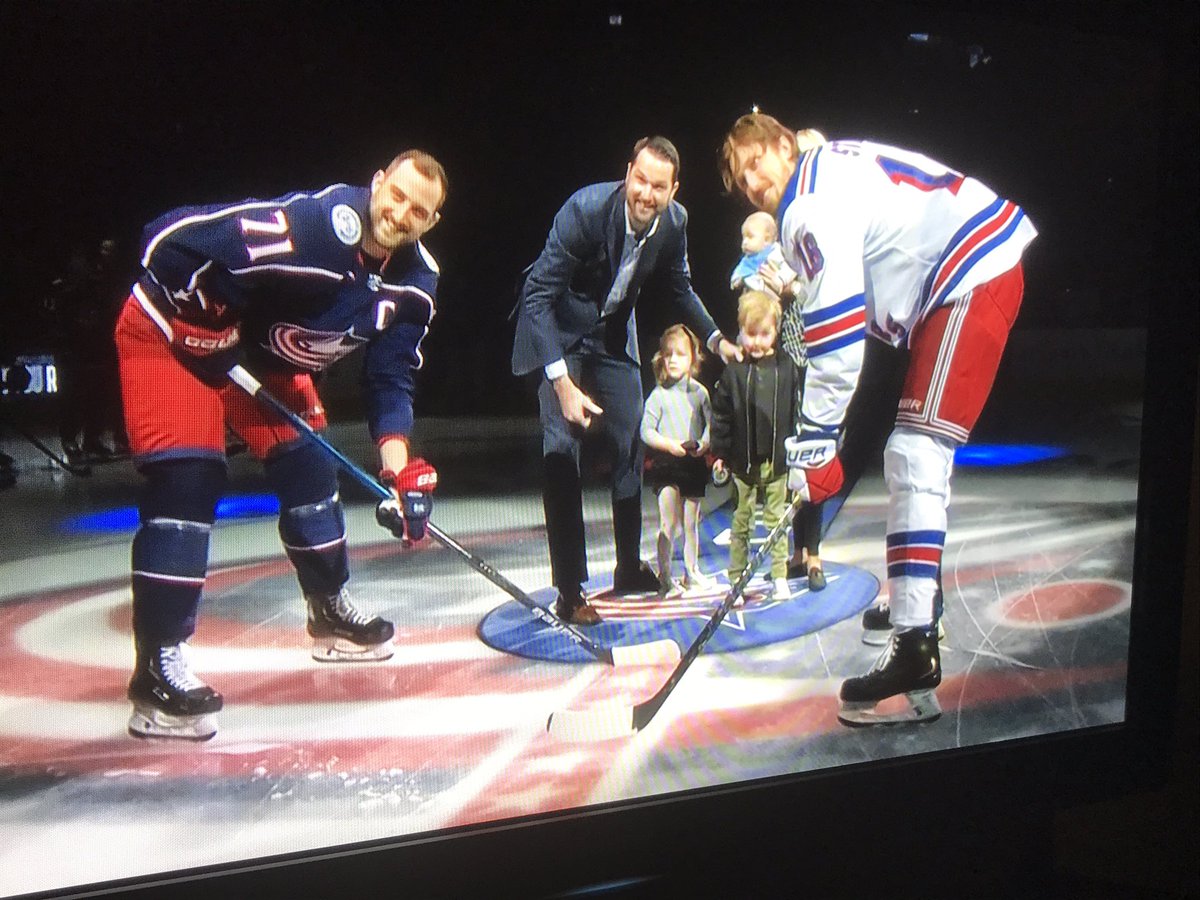 Speaking of Rick Nash, who was celebrated in Columbus tonight, I did a Rick Nash blog on Friday night. You can find that blog, any my most recent blogs here:
---
---
---
---
---
In the latest from the Quinn Binn Scratch List of Quinn, Kevin Hayes remains out. With the injury suffered against the Islanders, Freddy Claesson is expected to miss significant time, and he will go for an MRI on Monday. That left Adam McQuaid as the lone healthy scratch tonight, although I'm not sure if he was 100% anyway, as he took a beating blocking a shot in the win over the Islanders.
Here was what Quinn rolled out today and he did make a minor tweak to his forwards:
FIRST LINE: Kreider/Zibanejad/Zuccarello (Zucc has flourished on the first line, statistically and again, this is probably a call more from up top than from Quinn, as the team auditions Zucc to a potential trade partner.)
SECOND LINE: Chytil/Fast/Strome (Strome has silently become one of the better offensive threats for the Rangers, which is probably indicative of how this season is going. That said, he's doing much better than Ryan Spooner is doing in Edmonton.)
THIRD LINE: Vesey/Namestnikov/Nieves (Nieves got bumped up to the third line and he deserves it, as he's been playing well lately.)
FOURTH LINE: McLeod/Howden/Buchnevich (When McLeod is the best offensively of the three, as he was in this game, there's a problem. This is where you need Quinn to make his mark, as Howden and Buchnevich aren't as good RIGHT NOW, as they were in November. These guys need to grow, not wilt.)
Defensively, with Claesson as an automatic out and McQuaid the lone healthy scratch, here were Quinn's pairs:
D-PAIR ONE: Staal/Pionk
D-PAIR TWO: Skjei/DeAngelo
D-PAIR THREE: Smith/Shattenkirk, who were both absolutely horrendous tonight.
As noted, Georgiev got his second start in as many nights. Again, even with the way this game went, I liked this. This is part of growing a new goalie and seeing what he's made of. I hope to see more of this and wouldn't have a problem if Quinn started him in the next two games too.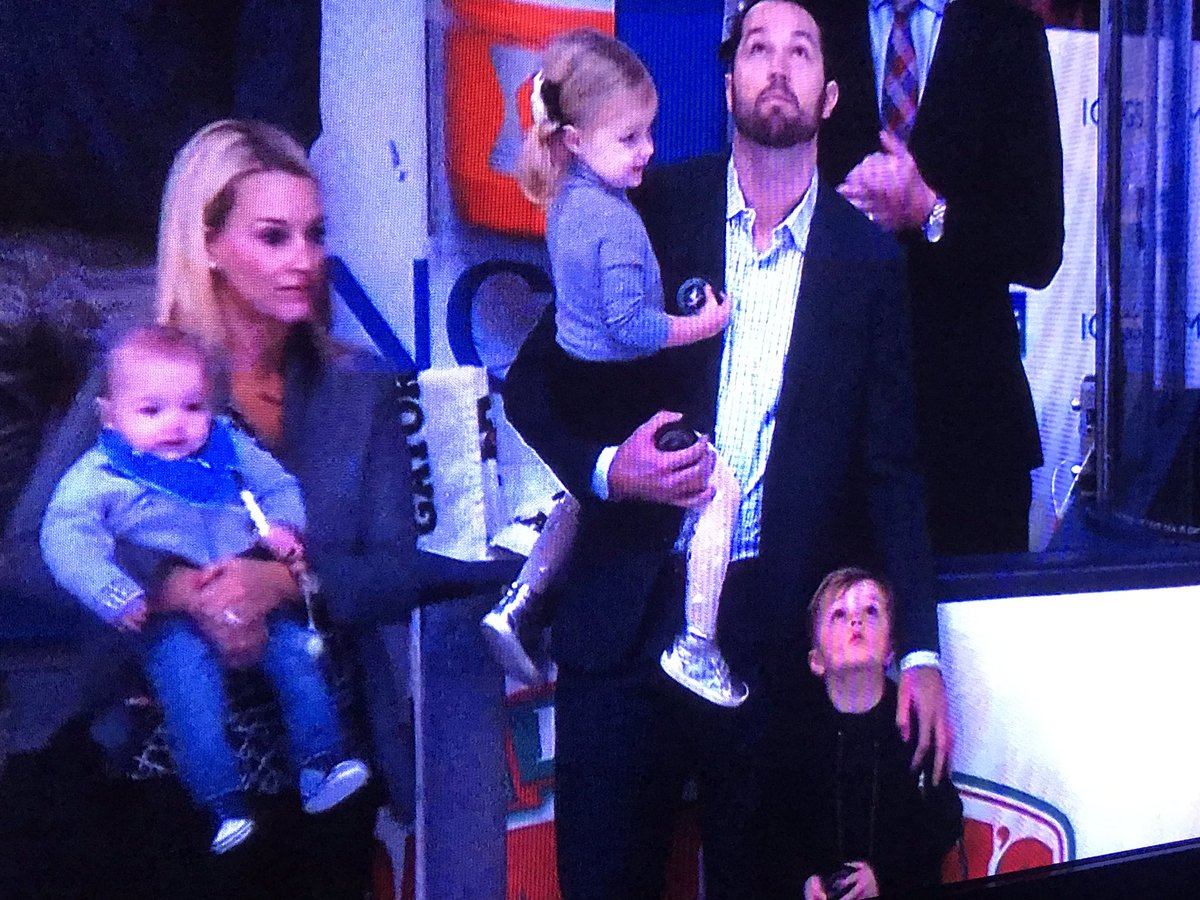 Rick Nash got a video from the Blue Jackets before this game and dropped the opening puck. I thought CBJ fans were luke-warm to him. This is all still new, so it might take some time for those fans to thaw out on Nash, who is arguably the greatest player the franchise has ever produced. It was noted on the broadcast that Nash still has a home in Columbus, so perhaps once time moves on, he will be more apt to work with CBJ than NYR.
Before getting into the game itself, I must be fair and talk about Joe Micheletti.
Ever since this blog's inception, anytime Micheletti has done something questionable, at least in my eyes, I have pounced on him like a lion on raw meat. Sometimes I have gone extremely over-the-top, especially in losses, as I'm trying to be humorous and make you laugh. Other times, I am 100% serious in my criticisms of Micheletti.
In tonight's game, I felt that we got the BIZARRO JOE MICHELETTI. He was good. I may dare here and say he was great. This was the best Micheletti broadcast of the season, at least in my opinion. For all the crap I give him, I feel like I have to be fair here and praise the work he did tonight.
For the first time this season, Micheletti raved and praised Georgiev, even when the goals on the board started ascending. He gave Georgiev "The Lundqvist Treatment", as he called this Georgiev game the same way he would've called any Lundqvist game.
Now, while I have thrown out some conspiracy theories out there over the years, maybe Micheletti wanted to jinx our beloved Alexandar Georgiev. Then again, maybe Micheletti sees the writing on the wall and with talk of Georgiev having the potential to be a number 1 from Dave Maloney, perhaps Micheletti is jumping aboard before a new edict is handed down to him from his superiors.
Goalie crap aside, Micheletti actually shared interesting/previously unheard stories during the broadcast. One story was about CBJ captain Nick Foligno and his playing days with David Quinn for the under 18 team of USA hockey. I don't know how many people knew about that (I didn't) and Micheletti was insightful when talking about it.
Micheletti also shelved the pom-poms tonight and called a spade a spade. He was overly critical of the defense and with the way the Rangers were playing. He didn't pretend that everything was hunky-dory.
For the first time all season, I didn't have a rash or acid reflux after a Micheletti broadcast. Micheletti was refreshing and on the ball. I hope this continues. So in closing on this topic, "Pardon Me Sam, but Joe was alright tonight!"
Without further ado, here's the ESPN.com box score:
SCORING SUMMARY:
1st Period
4:34

Ryan Strome

(7)

Assists: Filip Chytil, Jesper Fast

1
0
5:08

Artemi Panarin

(17)

Assists: Cam Atkinson, Pierre-Luc Dubois

1
1
8:55

Anthony Duclair

(10)

Assists: Markus Nutivaara, Ryan Murray

1
2
17:56

Chris Kreider

(21)

Assists: Boo Nieves, Alexandar Georgiev

2
2
2nd Period
14:00

Cam Atkinson

(26)

Assists: Zach Werenski

2
3
17:49

Lukas Sedlak

(2)

Assists: Oliver Bjorkstrand, Riley Nash

2
4
18:58

Mats Zuccarello

(6)

Assists: Mika Zibanejad

3
4
19:58

Nick Foligno

(11)

Assists: Ryan Murray, Josh Anderson

3
5
3rd Period
5:29

David Savard

(3)

Assists: Artemi Panarin

3
6
15:00

Mats Zuccarello

(7)

Assists: Kevin Shattenkirk

4
6
16:48

Jimmy Vesey

(11)

Assists: Brett Howden, Brendan Smith

5
6
18:14

Nick Foligno

(12)

Unassisted

5
7
PENALTIES:
1st Period
5:38

Neal Pionk:

2 minutes for Hooking

13:15

Ryan Strome:

2 minutes for Tripping

17:12

Jesper Fast:

2 minutes for Hooking

17:36

Nick Foligno:

2 minutes for Interference
2nd Period
6:56

Marc Staal:

2 minutes for High-sticking

9:01

Kevin Shattenkirk:

2 minutes for Delaying Game-Puck over glass

10:53

Josh Anderson:

2 minutes for Hooking

11:44

Boone Jenner:

2 minutes for Delaying Game-Smothering puck
3rd Period

No Penalties This Period
GOALIES:
| | | | | | | | | | | |
| --- | --- | --- | --- | --- | --- | --- | --- | --- | --- | --- |
| SA | GA | SV | SV% | ESSV | PPSV | SHSV | SOSA | SOS | TOI | PIM |
| 40 | 7 | 33 | .825 | 26 | 1 | 6 | 0 | 0 | 58:22 | 0 |
| | | | | | | | | | | |
| --- | --- | --- | --- | --- | --- | --- | --- | --- | --- | --- |
| SA | GA | SV | SV% | ESSV | PPSV | SHSV | SOSA | SOS | TOI | PIM |
| 27 | 5 | 22 | .815 | 19 | 0 | 3 | 0 | 0 | 60:00 | 0 |
As mentioned at the top of this blog, the Rangers absolutely sucked tonight. They lost every battle possible – faceoffs, loose pucks, turnovers, shots on goal, etc. You name it and the Rangers lost it. Furthermore, and this really says a lot, this was one of the worst defensive games the Rangers have played all season. I don't know if it was the worst, as there are a lot of good candidates out there, but this game was right up there. Of note, Smith and Shattenkirk stood out as the worst of the worst. If it wasn't for the bad Bobrovsky, Smith and Shattenkirk's +/- would've been something like a -4 or -5.
In the first period alone, CBJ had 19 shots to the Rangers 7 shots. The Rangers just couldn't get much going.
The start of the game saw Georgiev get lucky and prevent a goal on a Columbus 3 vs 2. Then, Skjei blew his coverage and Georgiev cleaned up. Georgiev would then have to make a huge save on Atkinson. The Rangers would get a fortunate break, when they were able to create a two on one attack and Filip Chytil fed Ryan Strome for the goal at 4:34:
RYAN STROME BURIES FILIP CHYTIL'S BEAUT OF A PASS!#NYR pic.twitter.com/LjXgxMDWQd

— Hockey Daily (@HockeyDaily365) January 14, 2019
1-0, good guys. Again, Strome has been racking up points as of late and this was a great pass from Chytil.
Immediately after, as in 30 seconds, Panarin scored the type of goal that usually happens when Lundqvist is out there:
ARTEMI PANARIN HAMMERS ONE HOME TO TIE IT UP!#CBJ pic.twitter.com/TTmsMxgonu

— Hockey Daily (@HockeyDaily365) January 14, 2019
1-1. Of note, this would be the first of two goals that Georgiev gave up, as a result of the Rangers losing a defensive faceoff after an icing. I can't stress how bad the Rangers were at the dot tonight. Nieves was particularly bad, winning two and losing fourteen.
The Rangers, after this goal allowed, would take their first of three penalties, with Pionk taking the first one. Of all the penalty kills the Rangers went on during this game, this was the only one where Georgiev had to do all the heavy lifting, as he made a flurry of saves on this PK, including making three rapid fire saves.
However, right after the PK, former Ranger Anthony Duclair (read my past blogs for my thoughts on him, as I am still pissed that he was included in that Yandle trade) beat Shattenkirk and then beat Georgiev:
ANTHONY DUCLAIR BURSTS THROUGH AND BEATS GEORGIEV WITH A SHORT-SIDE TALLY!#CBJ pic.twitter.com/3bQUr7JTNs

— Hockey Daily (@HockeyDaily365) January 14, 2019
This is a save you'd like to see Georgiev make, but it's a 50/50 thing here. Of note, this was CBJ's 13th shot of the game, as opposed to the whopping three shots the Rangers had at this point. 2-1 bad guys.
The Rangers would take two more penalties from this point, with the penalty kill unit looking impressive via a variety of clears and breaking up passes with loose sticks. In fact, the PK actually drew two penalties on its own, with none being bigger than Zibanejad drawing Foligno for interference.
On the ensuing four on four, Chris Kreider scored, with just a tad over two minutes remaining:
CHRIS KREIDER SLAMS HOME THE LOOSE PUCK TO TIE THE GAME!#NYR pic.twitter.com/gVsCWOFiZn

— Hockey Daily (@HockeyDaily365) January 14, 2019
2-2. Of note, doesn't it feel like it's been a long time since CK20 last scored? That said, this was his team high 21st goal of the season.
As the clock wound down, this was a very sloppy and very lucky period for the Rangers. In no way should've this game been tied, but again, because of Bobrovsky not being up to snuff & Georgiev making a slew of saves, we were 2-2 after twenty.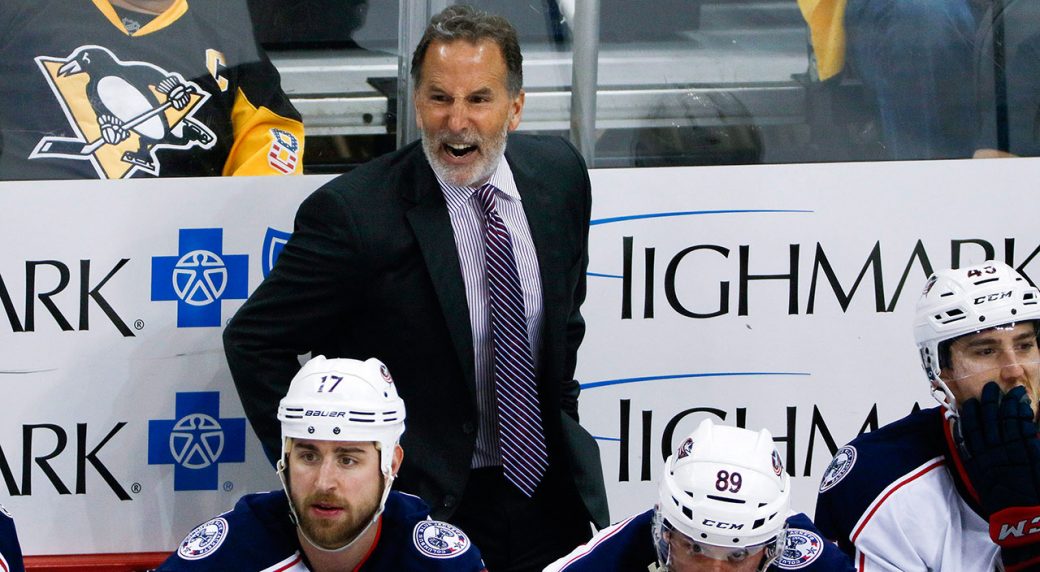 Just like the 9-1-1 streak that the Rangers once had, their streak of good luck came to an end in the second period.
Georgiev would continue to make big saves. The Rangers then took back-to-back penalties at the 6:56 mark (Marc Staal) and 9:01 mark (Kevin Shattenkirk). The penalty kill came up huge here. At this point, the Rangers were called for 5 penalties, as opposed to the 1 Columbus had.
Then, with Shatty's penalty running down, the PK drew another penalty, when Josh Anderson was called for a penalty. To the Rangers good fortune, Boone Jenner was then boxed for covering the puck. The Rangers now had, for the third straight game, a 5 vs 3 attack for over a minute.
On the 5 vs 3, while the Rangers barely got off any shots in their attempts with the Isles, the Rangers did get chances here. They just couldn't finish. Loose pucks were all over, but the Rangers never got the bounce. This was another blown 5 vs 3 opportunity. Seriously, is Scott Arniel still here?
During the 5 vs 3, Georgiev had to make a two on one short handed save and then stop a jack-in-the-box Jenner. This wasn't a good game to be a Rangers goalie.
At 14:00, after losing another defensive zone faceoff, Cam Atkinson immediately scored while Brendan Smith enjoyed watching. 3-2 bad guys. At this period of time, CBJ were winning the faceoff battle at a score of 28-6.
Less than four minutes later, Lukas Sedlak doubled up the score.
Some hard work from Lukas Sedlak helps No. 45 get his second goal of the year: pic.twitter.com/bwAs5LFV43

— The Cannon (@cbjcannon) January 14, 2019
4-2 bad guys.
However, the Rangers didn't give up. With 1:02 remaining, Zuccarello scored his first goal of the game. 4-3, bad guys.
In what was the most Lundqvist thing ever, Nick Foligno made this a two goal game again, with just two seconds remaining in the second period:
NICK FOLIGNO BEATS THE BUZZER IN THE 2ND!#CBJ pic.twitter.com/2XWo6J3K5b

— Hockey Daily (@HockeyDaily365) January 14, 2019
5-3, bad guys. This goal was crushing as it gave CBJ the momentum back and it killed the Rangers good vibes. Of note, there's Shatty and Smith on the ice again for this one. Shattenkirk knows he fucked up too, as here he is going to the locker room at intermission:
Shatty showing some frustration pic.twitter.com/SEnGfFZ74M

— Rangers Report (@rangersreport) January 14, 2019
In one of the highlights of the broadcast, John Giannone interviewed Rick Nash at intermission:
"To spend those 5 1/2 years in New York was some of the best hockey memories I'll ever have."

Rick Nash talks retirement & time with #NYR with @jaygeemsg pic.twitter.com/8ZWlaq2M16

— MSG Networks (@MSGNetworks) January 14, 2019
Hearing and seeing Rick Nash in person, rather than a statement from an agent, Nash's condition hit home more. He talked about the doctor visits and how he still has post concussion symptoms. This is something that he may have to deal with for the rest of his life.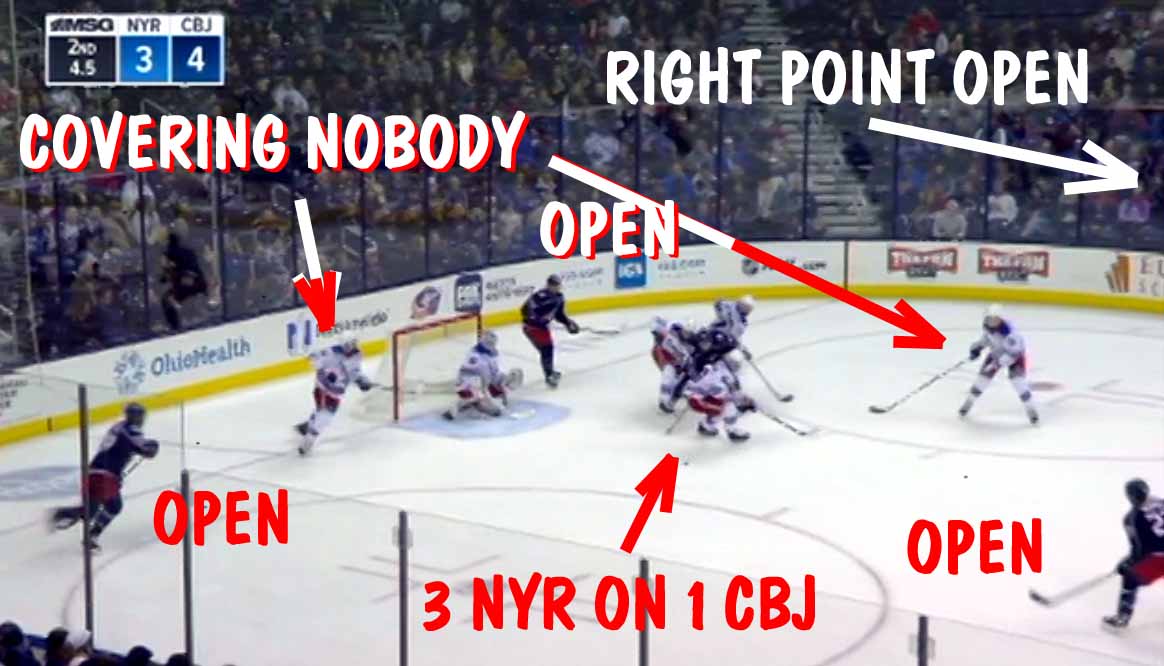 The third period was a complete shit show, until there were five minutes remaining.
The Rangers did ABSOLUTELY NOTHING from the time the period started until the clock was winding down and the game seemed out of reach.
David Savard would score at 5:29. 6-3 bad guys. Here's @TheHockeyRodent again: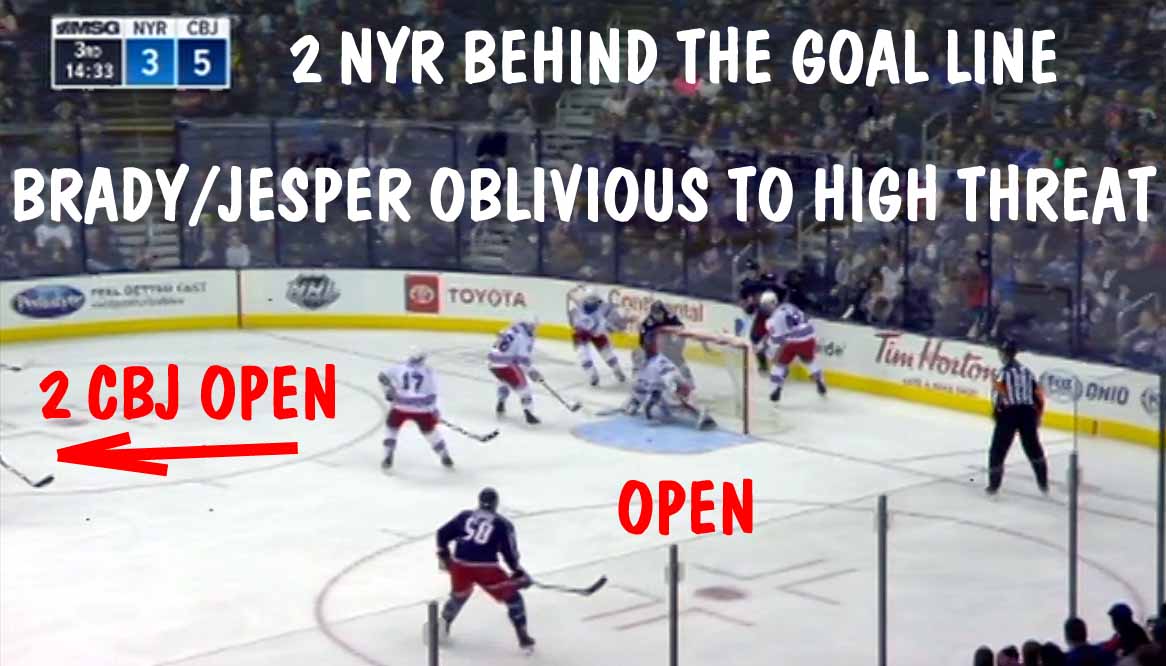 Tough night for the King of Kings.
The rest of the period saw CBJ dominate the game, the time of possession and basically everything else.
With five minutes to go, Zuccarello would get a goal after Bobrovsky shakily played the puck. 6-4, bad guys.
Then, at 16:48, Smith had a shot blocked, but the loose puck took a lucky bounce right to Jimmy Vesey, where he slammed home the puck. This goal wasn't Bob's fault, but it did make the score 6-5 bad guys, with under four minutes to go. Somehow, for all their woes, the Rangers were back in this.
However, before they could even pull Georgiev and after dicking around and not being able to set anything up, Nick Foligno iced the game after Georgiev misplayed a puck:
Foligno just keeps working and he is rewarded for it.#CBJ pic.twitter.com/7Uv9xppABs

— 1st Ohio Battery (@1stOhioBattery) January 14, 2019
7-5, bad guys. The Rangers inability to clear a puck, control a puck or stop the forecheck of Columbus, prevented them from having at least one chance at miraculously tying this game up. Oh, and for what it's worth, Vesey broke his stick after blowing it with Foligno. I guess he's not a choir boy either.
7-5, your final from Columbus. This loss was as bad as any.
As I was working on this manifesto, I was alerted about Quinn's post game press conference when I saw this tweet: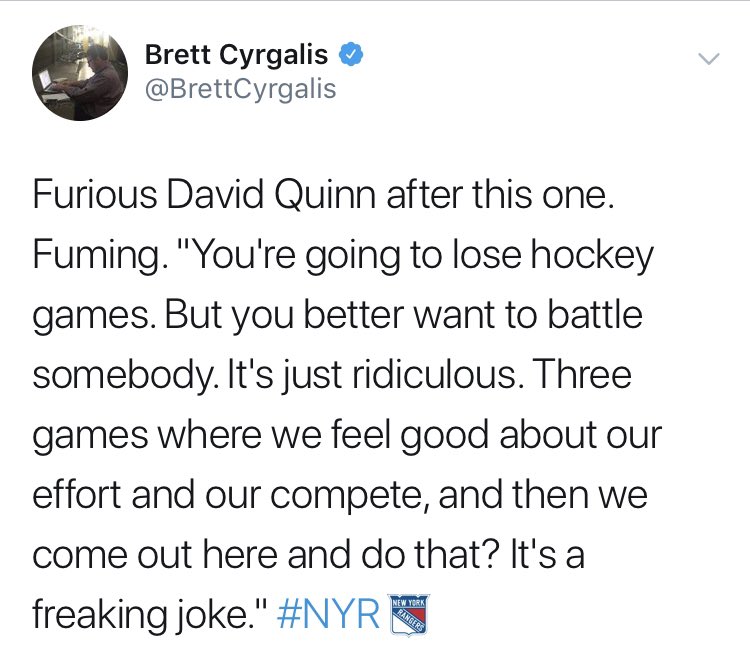 Here's Quinn's post game press conference:
Three quick things here:
— This is the most fire Quinn has shown in a while. You can see he's furious and perhaps embarrassed.
— If it wasn't for the current rules that the NHLPA bargained for, I think Quinn would've bag skated these guys right after this game.
— Quinn is still getting used to the NHL and the rules, as he doesn't even know when he can legally practice next.
And a quick bonus thing – I would love if the next practice aired live on the Rangers social media accounts!
Lastly, before moving on to the next game, here was what I said before this atrocity:
With Georgiev starting and both teams playing last night, I'm going to take the UNDER tonight. I'm 14-5-1 since placing these bets. Parlay with #nyr win is nice money. pic.twitter.com/XYZmNzCeSY

— BlueCollarBlueShirts (@NYCTheMiC) January 13, 2019
So yea, dead wrong on everything. My over-under prediction record worsens to 14-6-1.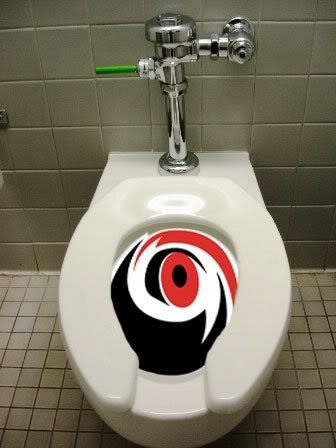 The Hurricanes are up next, as the Rangers host them on Tuesday night. The Hurricanes have three highlights this season – their post game celebrations, beating the Rangers 8-5 and wearing Hartford Whaler jerseys.
I would imagine Quinn goes with Lundqvist on Tuesday, and if he does, I hope Georgiev gets the Blackhawks then on Thursday. If Lundqvist really has all these mental problems, I would just let Georgiev rack up the starts and see what he's made of. He could be part of the future. Lundqvist isn't.
Furthermore, with Shattenkirk and Smith having a terrible game and with Skjei & DeAngelo not looking so hot either, why not go to Hartford to send your defense a message? Claesson may be out for the time being. No one is going to claim Smith on waivers. DeAngelo may be picked up on waivers and you can't send down Shattenkirk because of his NMC. Pionk and Staal I wouldn't touch, as Pionk is part of the future and Staal can't go down to Hartford anyway, because of his NMC.
My buddy @Whalepack, who follows the Wolfpack, says that currently, John Gilmour, Ryan Lindgren and Chris Bigras are the best defensemen in Hartford. Why not call these guys up and press box Shattenkirk and Skjei, while sending Smith down? What do you have to lose? Instead of just words and press conferences, let your actions speak for you.
I know it's redundant, but we know what this season is. How would it hurt to bring up some new blood and send a message to a defense that's been one of the worst defenses in the league? While you're at it, it wouldn't hurt if someone opened the emergency exit door on the plane and booted Lindy Ruff out the door either!
Rangers vs Hurricanes, Tuesday night at MSG. See you after that game.
As always, thanks for reading and…
"Let's Go Rangers!"
Sean McCaffrey
BULLSMC@aol.com
@NYCTHEMIC on twitter