Greetings and salutations everyone and welcome to another blog here on BlueCollarBlueShirts.com.
On Monday night, riding a high after two strong 60 minute games, in victories over the Tampa Bay Lightning and the Nashville Predators, the Rangers were thumped by the lowly Senators of Ottawa, with a final score of 6-2. For the Rangers, you could argue that this 6-2 loss to the Ottawa Senators, on M$G home ice, was the worst loss of this young season. After all, what's worse than losing to the worst team in hockey?
If you're looking for the short and skinny recap of this game, it's fairly simple. The Rangers came out guns blazing and dominated the Senators for the first ten minutes of the contest. After a goal from Kaapo Kakko, which put the Rangers up 1-0 early, the Rangers took their foot off their gas and then watched the Senators kick their ass.
In this era of David Quinn as head coach of the New York Rangers, we've seen this before. The Rangers come up and beat the good teams in the NHL, only to be embarrassed by the bottom feeding teams of the league. Not only did we see this last year, we've already seen this take place this season. This previously occurred when the Rangers lost to a then win-less New Jersey Devils team, only to bounce back and beat the then best team in the NHL, when they defeated the Buffalo Sabres.
For the Rangers, who are a little bit further than expected in their rebuild, games like this are a reminder that this is a rebuild. For as much good will and emotion the team can create after big wins, the team is still very prone to these "one step forward, two steps back" kind of losses.
Quite frankly, while you can try to find a silver lining in this game, such as Kakko having his first multi-point game of the season, the fact of the matter is that there is no way to spin any sort of positivity about this loss. When you lose to a team that's obviously tanking and uses salary cap loopholes to get to the salary cap floor, you can't ignore what happened. This wasn't a loss to a team of equal talent or a loss to a more talented team. This was a loss to the worst team in the NHL, and even worse, the Rangers got annihilated.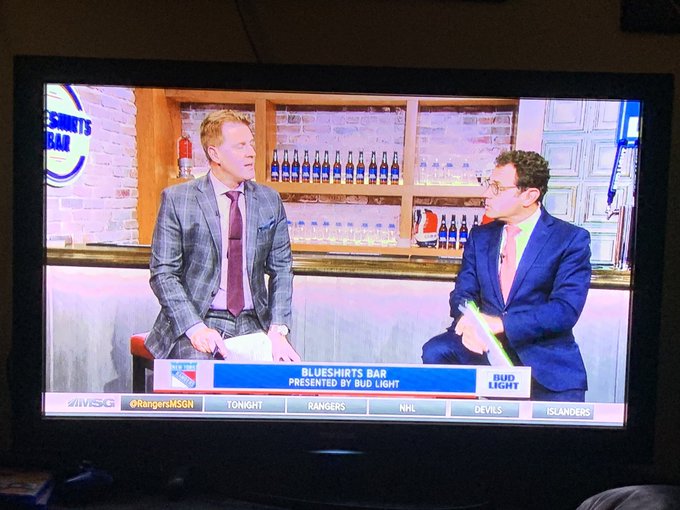 As I start this blog, I am starting this blog late, as I wanted to watch the conclusion of the Giants loss to the Dallas Cowboys. Due to that fact, I was able to watch some of the Rangers post-game. There are only two things to take out of that post-game and that was Alexandar Georgiev accepting responsibility and the comments from Chris Kreider.
I'll get into Georgiev as we move along here. That said, while this wasn't a great performance out of KING GEORGIEV, the fact of the matter is that despite 6 goals allowed, all of the goals allowed were either right from his doorstep or while Ottawa was on a power-play.
When it comes to Chris Kreider, who I can't wait for the Rangers to say "toodles" to, he pretty much said this was a "trap game" for the Rangers. The Rangers, a team that doesn't even have a .500 record, are treating bad teams as "trap games". The ego. The audacity. The balls.
With some of the wins the Rangers have amassed recently, such as the wins over the aforementioned Sabres, Bolts and Predators, if anyone should know the dangers of treating teams as a "trap game", it's the New York Rangers. Instead of trapping someone else, the Rangers were trapped and had the crap knocked out of them.
Losses like this are games that will infuriate the fan base and will rile up the head coach. It's one thing to lose because a goalie was standing on his head; it's another thing to just say "eff it, this is over", after ten minutes of play.
When I say games like this are "one step forward, two steps back", it's funny when you think about it. The Rangers just won two impressive games, but this one loss erases the memories of those wins real quick.
At this time, before continuing, here are my blogs about those recent wins, plus my last few blogs, just in case you missed them:
---
---
---
---
---
When it comes to this game tonight, David Quinn did exactly what I thought he should do. Let me be clear about that sentence. It's not like Quinn is reading these blogs, nodding his head and saying, "shit, let me do what this beer-bellied blogger says." What I'm saying here is that I agreed with what Quinn did.
After two straight victories over upper-echelon teams, Quinn once again used the same line-up for the third consecutive game in a row. That meant that Marc Staal was scratched again. That meant that Lundqvist was the back-up goalie again. And for you Gregg McKegg fans, that also means that the Kegger was scratched too.
For those unaware of what the line-ups were, here's what Quinn used:
FIRST LINE: Panarin/Strome/Fast
SECOND LINE: Kreider/Chytil/Buchnevich
THIRD LINE: Lemieux/Howden/Kakko
FOURTH LINE: Haley/Andersson/Smith
FIRST PAIR: Hajek/Trouba
SECOND PAIR: Skjei/DeAngelo
THIRD PAIR: Lindgren/Fox
And in net, was the king of kings himself, in a one Alexandar Georgiev.
Oh, and I'd be remiss if I didn't mention this – Mika Zibanejad was still out, nursing his "upper-body" injury. That said, the Rangers beat the Bolts & Predators without him, so you can't use Zibanejad's absence as an excuse here. And while speaking of Zibanejad, he's skating and practicing right now. His status is still up in the air for Wednesday's tilt with Detroit.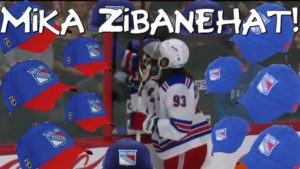 If you're David Quinn, you had to feel good about this game going into it. The Rangers just picked up two big wins and were now at home to host a team that would be lucky to qualify for the playoffs in the AHL. By deploying the same line-up for the third game in a row, it had to be decision that Quinn didn't even second guess.
For detractors of David Quinn, while I think they would agree with the line-up Quinn used, I think you can make the argument that Quinn was perhaps out-coached tonight, by new Ottawa Senator head coach, DJ Smith. For whatever reason, and maybe it's the "trap game" excuse, the Rangers just checked out after their 1-0 lead. Despite an intermission break, Quinn couldn't get his guys going, while DJ Smith had his team playing like it was Game 7 of the Stanley Cup Final.
While I'm slamming the Rangers lack of effort for 50 minutes of this game, another factor in the Rangers 6-2 loss was the play of Senators goalie, Anders Nilsson. Nilsson would make 32 saves on 34 shots, enroute to being named the first star of the game. You can't discredit anything Nilsson did in this game. He was a beast, stopping the Rangers on multiple near-goal opportunities. That said, after Kakko scored, the Senators dominated the puck and were able to get into Georgiev's face whenever they wanted. For the Rangers, they could barely set anything up and when they did get a rare good look, Nilsson was able to kill the Rangers momentum.
Going into this game, probably like many of you reading this, I felt very good about the Rangers chances in this one. In fact, let's go to the GAMBLING segment of the blog. Here's what I said before the game:
Season over/under record : 9-2

Just keep riding the trend. With Georgiev starting, bet the UNDER.

Isn't it amazing Suzyn, that after being 2:1 dogs on Saturday, the Rangers opened as 2:1 favorites?

I won't consider this a revenge game for Namestinkov either. I see #NYR 4 OTT 1 pic.twitter.com/xKpOLTWCJ0

— BlueCollarBlueShirts (@NYCTheMiC) November 4, 2019
Well, I couldn't have been any more wrong. My over/under record drops to 9-3, which still isn't shabby. Every time you think this Rangers team is on the cusp of something, they pull the rug right from under you, and you watch this team take it up the poop chute.
Moving along.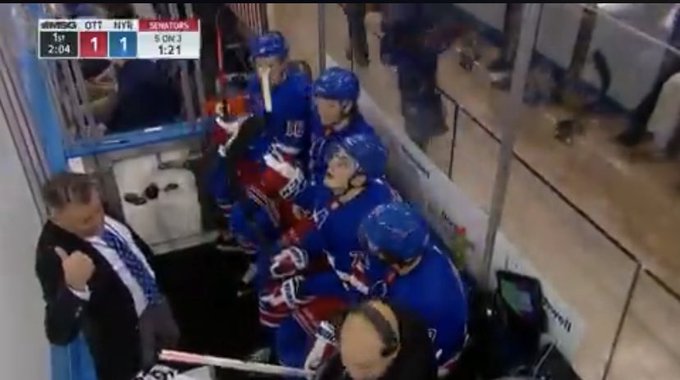 At this time, before jumping into the meat and potatoes of this blog, let's take a look at the official box score from ESPN.com.
SCORING SUMMARY: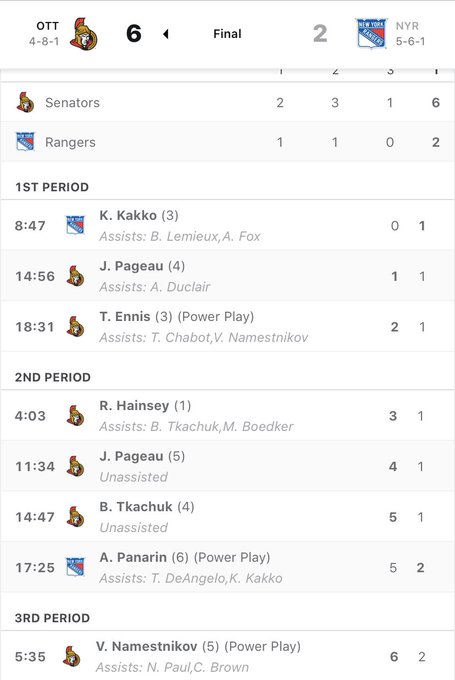 PENALTIES: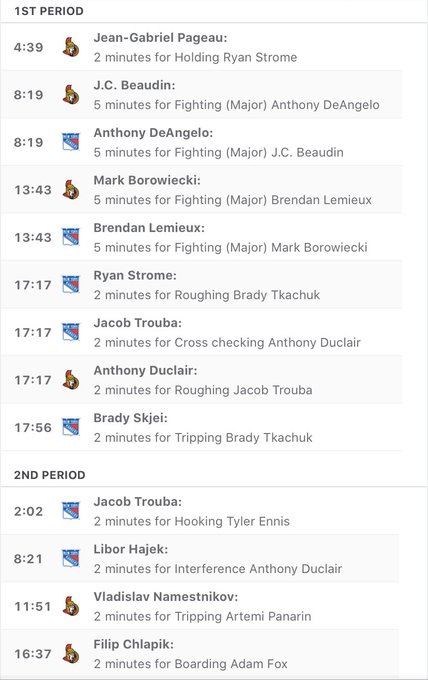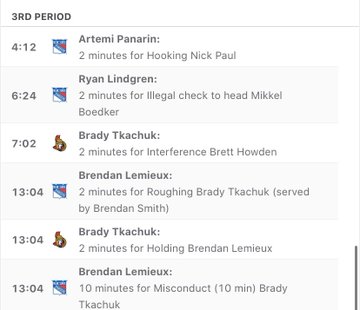 GOALIES:
| | | | | | | | | | | |
| --- | --- | --- | --- | --- | --- | --- | --- | --- | --- | --- |
| SA | GA | SV | SV% | ESSV | PPSV | SHSV | SOSA | SOS | TOI | PIM |
| 30 | 6 | 24 | .800 | 19 | 0 | 5 | 0 | 0 | 59:35 | 0 |
| | | | | | | | | | | |
| --- | --- | --- | --- | --- | --- | --- | --- | --- | --- | --- |
| SA | GA | SV | SV% | ESSV | PPSV | SHSV | SOSA | SOS | TOI | PIM |
| 34 | 2 | 32 | .941 | 25 | 2 | 5 | 0 | 0 | 59:42 | 0 |
This game isn't fun to write about and after the first period, it just felt like the Rangers were skating through diarrhea, while wearing yellow rubber rain boots. And it's truly a shame, because for the first ten minutes of this game, the Rangers absolutely dominated. After that, it all went to shit.
In the first ten minutes, the Rangers were out-shooting the Senators 11-0. In the final ten minutes of the first period, the Senators out-shot the Rangers 14-1. After the first period, and with a 2-1 lead, the Senators never looked back and the Rangers looked helpless in trying to make a game of it.
If there's also another cause for concern, it is how bad the Rangers have been on their power-play. Alexandar Georgiev, with two great performances in his last two games, was able to mask the bad Rangers power-play. If the Rangers lost those games, the power-play would be a topic of debate. In tonight's game, the Rangers had multiple chances to get a two goal lead or to even up the game, but the lone Rangers power-play goal of this game wouldn't come until the Senators had already amassed a four goal lead.
For the Senators, they finished 2-6 on their power-play. They also scored a goal a second after another power-play expired, so in reality, their power-play had a 50% success rate. During these Ranger penalty kills, the Rangers were skating like chickens with their heads cut off. Then again, the Rangers pretty much looked like a deer in headlights during 5 vs 5 play too.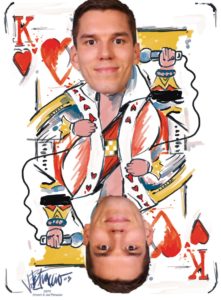 After honoring the recently deceased Dean Prentice, a Ranger who played during the horrible era of those Muzz Patrick 1950's Ranger teams, we had puck drop. Speaking of Prentice, it's a shame the Rangers only talk about these legendary ex-Rangers after they die. You already know my stuff on Frank Boucher already. I'll also say this again – Emile Francis is 93 years old and instead of honoring him now, the Rangers will wait until he's dead. SAD!
I should also mention, that before this game got out of hand, M$G was dead as a door nail tonight. Aside from a few jackasses starting "POTVIN SUCKS" chants, you could hear the mice in the bowels of M$G doing butt sex all game. While I understand the Giants had a huge home game tonight, this game was also being played on the eve of a holiday that many people have off of work from. (Election Day.) Furthermore, ticket prices weren't insane. Despite riding a good wave of wins, the Garden wasn't able to pack in an enthusiastic crowd. Maybe fans are just conditioned to think that every game is an insane amount of money and it's just easier to watch these games on TV.
And really, truth be told, as I get older, while I love attending Ranger games, I find it easier, and obviously much cheaper, to watch at home. While I still attend many home games, I have started to cut down and would rather spend my money on road-trips.
I've said it a bunch of times on this blog, and I'll say it again here – once you get away from MSG, you will see how much better it is, when you attend games at other venues. If you have disposable income, I feel you will have a better time watching the Rangers on the road, rather than at M$G.
The stories of the first ten minutes of this game were how good the Rangers were and how good Anders Nilsson was. Seriously speaking here, without Nilsson, the Rangers may have been able to put a 3 spot on the board.
Right away, Nilsson stopped Fox on a 3 vs 2 chance to open the game. Ranger killer, Jean-Gabriel Pageau, gave the Rangers an opportunity early, when he held Ryan Strome, just four minutes and change into the game. On the Rangers power-play, the second unit started off the attack, as the first line drew the penalty.
During the power-play, the Rangers logged one measly shot and Jacob Trouba shot two pucks at the Jagermeister ads on the boards. Joe Micheletti, never one to shy away from being a cheerleader, said, "this was a pretty good power-play."
Speaking of Micheletti, while I don't have the energy tonight, I have to mention that Micheletti and Rosen were horrible all game. Rosen was the worst of the two, as he continued to have his senior moments on the air, from messing up names to messing up special team units.
Later on in the game, Rosen even muffed up the trivia question, which was "name the three Rangers that are wearing a uniform number for the first time in Rangers history." The answers were Chytil (72), Buchnevich (89) and Skjei (76). Rosen said Zibanejad (93). Of course, being a huge Nedved fan, I knew that wasn't the answer. However, Keith Yandle wore 93 and he is pretty recent with the club. Maybe I'm nit-picking here, but with each game, you can see Rosen has lost a little on his fastball.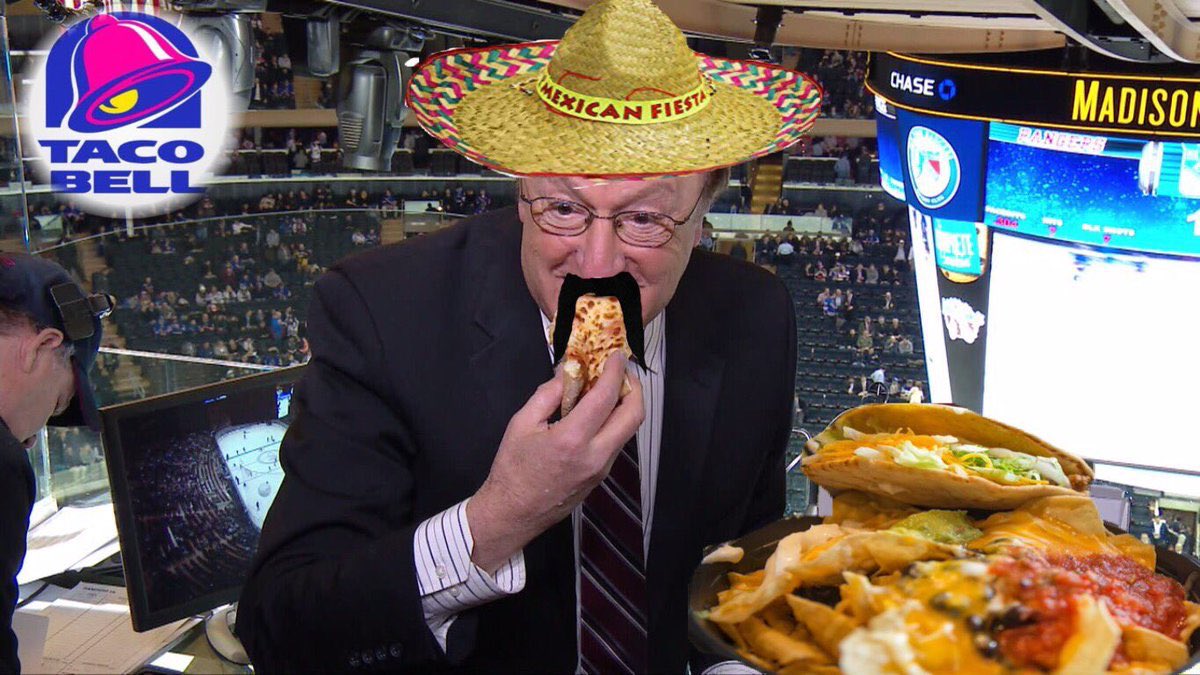 In a period where the Rangers were bringing the fire, Tony DeAngelo and J.C. Beaudin went at it 8:19. I thought our American hero, in Tony DeAngelo, got the better of J.C. Beaudin in this fight:
Tony DeAngelo drops the gloves. Good scrap. #NYR pic.twitter.com/Tg1wQ2amjv

— Rob Taub (@RTaub_) November 5, 2019
If you're a believer in big fights produces big plays, you were proven true after this scrap. 30 seconds after this fight, Kaapo Kakko scored on this nifty goal:
What a Finnish by Kaapo Kakko!!! 🚨 👀 @NYRangers | #NYR pic.twitter.com/vnUZ9ZFS18

— Rangers on MSG (@RangersMSGN) November 5, 2019
1-0, GOOD GUYS!
Unfortunately, this would really be the lone highlight of the game, when it comes to the Rangers.
From this point on, the Rangers, knowing they were playing a bad team, decided to kick back, man-spread and thought they could kick it in cruise control. Once the ten minute mark of the period hit, the Senators would out-shoot NYR 14-1. The Senators would add two goals too.
At the 13:43 mark of the period, Mark Borowiecki and Brendan Lemieux tossed the gloves. Lemieux would whoop his ass. However, it was the Senators who got the life-injection.
A minute after this fight, Anthony Duclair made a great play around the net, which fooled the Rangers defense but didn't fool Georgiev. However, after stopping THE DUKE, an uncovered Pageau, the Ranger killer himself, scooped up the puck and lifted it past Georgiev from the goal mouth. 1-1. I think this was the Senators third shot of the game, so this sucked. The Rangers played so well and then something like this happens.
Georgiev would then have to make a flurry of saves here. Some Senators would crash the net and collide with him. IMMEDIATELY, the Rangers came flying in to fight. You don't see that when Lundqvist is in net. Maybe the Rangers respect a goalie who doesn't bad mouth them all game and after the game?
Speaking of Lundqvist, despite Ottawa running up the score, he's already made it clear that he will never play in mop-up duty, unless Georgiev is injured. That being said, I don't think Georgiev was ever horrible or rattled in this game. The Rangers were just bad.
During this scrum, Ryan Strome, the third of the great MAGA boys, wanted to fight. Strome went after Brady Tkachuk, who was a pure pain in the ass for the Rangers tonight. However, after some shoving and pushing from both teams, somehow, Ottawa got a power-play out of this, as both Strome, Trouba and Duclair were sent to the box. For some reason, the refs gave Tkachuk a pass. This was horrible officiating and it directly led to an Ottawa goal. I'm not blaming the refs for this loss, but they were inept tonight and it hurt the Rangers. And even worse? The refs would miss a blatant Senator penalty that was committed against Brendan Smith. If the refs called this penalty, it would negate the Senators power-play.
30 seconds after putting all these men in the box, Brady Skjei, who has been the FUCKING DRIZZLING SHITS this season, committed a blatant tripping penalty. This gave Ottawa 1:22 of a 5 vs 3 power-play. I'll get into Skjei later, but can someone tell me what does he do well and why he got the contract he got? Seriously, I've only seen him have one exceptional game this year and it was during the preseason.
While on the Rangers 5 vs 3 PK, after a big save made by Georgiev on Tkachuk, Ennis would score after a fortunate bounce. 2-1 BAD GUYS, with 90 seconds remaining in the first period.  This score would remain after one full period of play.
The second period was one huge bad prostate exam, from a doctor with overgrown sausage like fingers. It's not worth my time recapping every bit of minutiae.
Trouba, who had his worst game of his career as a Ranger, immediately got caught for hooking, at 2:11 into the period. As Ottawa's power-play expired, as in one second after it expired, Ron Hainsey beat Georgiev from his doorstep, after a great pass from Tkachuk. While that pass happened, Smith was snow-angeling. That didn't work out. 3-1 BAD GUYS.
Oh, and if you can't tell from the penalty information I posted above, the Rangers just couldn't stay out of the box tonight. By the way this game was played, you would think the Dallas Cowboy cheerleaders were in town too, and were giving out free blowjobs to any Ranger who could get into the penalty box. Seriously, it felt like the penalty box had a magnetic force-field tonight and the Rangers couldn't stave off that polar energy.
One big play after this Ottawa goal saw Nilsson rob Strome. Big save here. After this, Libor Hajek decided to see what the penalty box was all about after interfering with Anthony Duclair. I don't know about that penalty. It was a 50/50 thing and something you would NEVER see get called in the playoffs.
Worth mentioning tonight, ex-Rangers Anthony Duclair and Vladislav Namestnikov had big games tonight. Of the two, I thought Duclair was better. He most certainly treated tonight like a revenge game. He could've had two goals in this game, but Georgiev was able to stop him.
Brady Skjei and Pavel Buchnevich must've had a side bet tonight, on who could directly shoot at the Senator defensemen the most. Because neither had any idea that you are supposed to shoot at the goalie, one of these plays came back to bite the Rangers in the ass.
The Rangers, who were putting together their best offensive attack of the period (that doesn't say much) saw Pageau block a shot and then easily skate all alone towards Georgiev. Pageau beat Georgiev on this breakaway. 4-1 BAD GUYS.
As the game progressed, the Rangers got two power-plays. They would fail on the first. Then the Senators would just crowd Georgiev and Tkachuk easily put a puck past Georgiev from close. 5-1 bad guys. It was at this time of the game where you expected Casper Kreider to get his A-Rod goal. However, Kreider was so fucking bad tonight, that he couldn't even get his consolation goal in.
On the Rangers next power-play, with 2:30 remaining, Kakko made a sweet cross ice pass to Panarin, who beat Nilsson to make the game 5-2, bad guys. Also assisting on the goal was TONY F'N DEANGELO. Another point for the best defenseman on the team and the true crown jewel of that 2017 draft day trade with Arizona.
Oh, and after this Panarin goal, Kakko joined Manny Maholtra and Joe Bell, as the only Rangers in team history to log a multi-point game at the age of 18. I've said it in the past on these blogs – I was such a huge fan of Maholtra. Let's hope Kakko has a better career though!
On the Panarin PPG, it was a great looking goal, but down 5-2 and the team playing like dog shit, dog shit that was laying out on fresh pavement on a hot summer day, it was hard to get excited about it. 5-2 was your score at the end of 40 minutes.
The third period was all about my other TV, as in what was going on between the Giants and Cowboys, who at the time, were playing a close game.
Panarin was boxed for hooking, four minutes and change into the period. Vladislav Namestnikov, continuing the tradition of ex-Rangers scoring at MSG, beat Georgiev on the PPG. Prior to this PPG, Trouba had a breakaway and then waited for everyone to catch up so he could turnover the puck. Then, for good measure, Skjei decided to shoot right at a Senators defenseman.
Of note here, despite giving up a touchdown, Georgiev did not cry, pout, whine or bitch. He also didn't bury his teammates after the game either, despite their poor penalty kill and allowing every goal scored to come from within two feet of the net.
Brady Tkachuk, who was channeling the energy of Sean Avery tonight, did a great job of instigating and riling the Rangers up. However, the refs wouldn't let him get his comeuppance, as every time the Rangers tried to fight him, the refs broke it up immediately. That's some sissy shit to me and more poor officiating.
The Rangers would do dick for the rest of the game. If I gave two shits, I would check the MSG TV ratings for this game. I would bet the final two quarter hours of this game saw the audience drop off by 90%.
6-2, your final from M$G. A fucking disgrace, but not the end of the world.
Let's close this blog out, rapid-fire style.
Since the topic of goalies is a big one on this blog, I had no problems with Georgiev. Half the goals were basically PPG's, with one being a 5 vs 3 PPG. The other three goals were scored from a combined distance of 3 feet, with one being a breakaway.
Does this mean Georgiev was great? Of course not, we've seen him make saves on some of these shots before. However, when Ottawa's offense went to work, it was everything at once.
Before the game, David Quinn announced Lundqvist would take the easier start with Detroit on Wednesday and then give Georgiev the harder start against Carolina on Thursday. I wonder knowing that he wouldn't be able to keep his momentum going, no matter what the result tonight, played any effect on Georgiev. If Georgiev played well tonight and if the Rangers won, then you would make the case to keep on riding the hot hand. By already saying you were going with Hank the next game, I wonder if that played into this equation at all.
I'm not going to get into my whole Georgiev vs Lundqvist stuff again here. Just check my prior blogs. I'll just say this, nothing changes my opinion after this loss. I don't think Georgiev was awful tonight, but this obviously wasn't his best game. I want him to take his lumps with his team, as it will only make him better. If the Rangers don't make the dumbass decision of trading him, all the playing time now will only make him stronger once this team is able to compete for the Cup. And yes, I'm fully aware of CZAR IGOR. In my dream world, these two would be splitting time on a Cup contending team.
After all here, I would rather be debating IGOR vs GEORGIEV, than talking about Lundqvist ever again.
If you're looking to finger-point any one after this loss, in my opinion, you can't blame Georgiev or Quinn. To me, if you're looking for people to hang, besides the normal suspect of Lindy Ruff, to me, it's Kreider and Skjei.
As talked about already on these blogs during this season, with each passing day, Chris Kreider continues to nick away at what should be the biggest contract of his life, come this summer.
This game was another textbook case of Chris Kreider going into ghost mode.
With the team missing Mika Zibanejad, and playing the worst team in the NHL, Kreider didn't do anything. He had one shot on goal against the worst team in hockey! With Zibanejad out, this is the time where Kreider should really be trying to put the weight of the team on his back. Instead, you have to continue to check the box score to see if he's alive. If I've said it once, I've said it a million times – Kreider will be 29 this summer. How many players get better once they hit 30? This is Chris Kreider. He's not going to get any better. I await to see what Gorton gets in return.
Another thing that I've said 8788978978978 times on this site, is I don't see why Gorton ever gave Skjei the deal that he gave him. I want to stress here – I WANT KREIDER AND SKJEI TO PLAY WELL. However, with a dozen games played, can you name one game where either one of these two have been a positive factor? With a bunch of lefty defensemen in the pipeline and with Lindgren & Hajek having more potential and on the team right now, I think it's time for Skjei to take a seat in the press box and it's time to dust off Marc Staal.
The following might sound hypocritical of me, because I've been advocating for all the young talent to play. I said as much in my last blog, regarding Hajek vs Staal. However, despite his age, Skjei has the fifth most tenure on this team. He shouldn't be above being held accountable for poor play.
Come Wednesday night, and we know Quinn will shake up the line-up as he does after every loss, especially after a loss like this one, I hope to see Skjei think about it from the bridges of MSG, while Staal gets a chance to redeem himself.
I spent way too much time talking about this horrible game tonight.
The Rangers will host a team that is similar to them on Wednesday night, when the Rangers and Red Wings skate in a game that will be aired on national television. We already know Lundqvist is starting that game. In the past, Lundqvist vs Jimmy Howard, goaltender of the Wings, have had low scoring games. While I don't know if Howard is starting just yet, I imagine that he will be, since this is a prime-time national game.
The Red Wings are kind of like the Rangers right now, as they are rebuilding and brought back a name from their past to help run the team, in Steve Yzerman. As we saw tonight with Ottawa, no team is a "gimmie game" and each opponent needs to be treated with respect.
I would expect the Rangers to bounce back after this loss, as Quinn usually gets his team ready after low points. Then again, this team recently had a five game losing streak too.
I'll be back Wednesday night.
Until then, as always, thanks for reading and…
"LET'S GO RANGERS!"
Sean McCaffrey
BULLSMC@aol.com
@NYCTHEMIC on twitter