Greetings and salutations everyone and welcome to another blog here on BlueCollarBlueShirts.com.
Do you miss the Rangers yet?
As the Rangers bye week continues and with the NHL All-Star game upon us this weekend, as I write these words on January 25, 2019, we are exactly one month away from the NHL Trade Deadline. Obviously, for Ranger fans, there are a myriad of possibilities that can occur for the men in blue.
During this bye week/slow period of time for the Rangers, I've been checking out other Ranger blogs, Ranger social media pages, and the New York Post. Larry Brooks, the Mitt Romney of the NY Post, which I'm implying that he is never afraid to flip-flop on a topic; Brooks is one more slow news day away from writing an article on why the Rangers should keep Mats Zuccarello! It wouldn't shock me if he wrote an article about how the Rangers should try to make a deal for Michael Del Zotto, from now until Tuesday! It's been that slow!
Seriously, if you follow Larry Brooks and don't know what I mean by that, go to the New York Post website and type in either "Kevin Hayes" or "Chris Kreider" in the search bar. From there, you will see several conflicting articles during this season, all written by Brooks, where he's "The Rangers Must Trade Hayes" or "The Rangers Must Keep Hayes". It's fairly entertaining.
I would also like to shout out Nick Adams, of the Garden of Ill Repute: The Skjeidy End of Rangerstown Facebook group, for also noticing these topsy-turvy takes from Larry Brooks! And as I've always said, the day Nick Adams decides to do a blog, the Rangers fan base will be better for it. His writing blows my stuff away, which perhaps isn't saying much! But hey, give me the "E" for effort!
I'm pretty sure I've talked about this before on this site and I don't mean to disparage any other blogger/person with free time and a keyboard, but if you're one of these schmucks, who writes blogs that start off with "THE RANGERS MUST DO THIS WITH PLAYER X AND THEY NEED TO DO THIS WITH PLAYER Y", then you are a pissant of the highest degree. The Rangers don't have to do jack shit. They are the most profitable team in hockey. Furthermore, nothing you are writing is creative or thought provoking.
Seriously, how many blogs or articles must I see plugged on random Facebook Groups or on Twitter, that have headlines of "THE RANGERS MUST TRADE KEVIN SHATTENKIRK!" or "THE RANGERS MUST TRADE ZUCCARELLO!" Enough is enough with that inane drivel. Do you think you're really challenging anyone with your writing? Do you think that writing basic going-with-the-grain articles, articles that aren't even as long as the plug section of these BCBS blogs, made any reader truly think or ponder? All that crap is written at a 3rd grade level and I wouldn't be shocked if that was the target audience for those three paragraphs either.
Speaking about the plug section of these blogs (how about that smooth transition?) here are my last few blogs, in case you missed them:
---
---
---
---
---
---
---
There are a bunch of things I want to talk about today, but since I mentioned Larry Brooks and all these bloggers that write mindless crap that wouldn't even challenge a monkey, I wanted to quickly talk about something that made the rounds in Rangerstown.
On Thursday, Larry Brooks wrote a column on Brendan Smith, which was basically reiterating everything I've said on this blog and stuff that you already know – Smith is a bust, he doesn't fit in with a rebuild, he's overpaid and it's in the best interest of the Rangers to divorce themselves from him.
The reason I mention Brooks by name, is because I do want to credit him for the work he did with his calculator. Here's what he said in his NY Post article: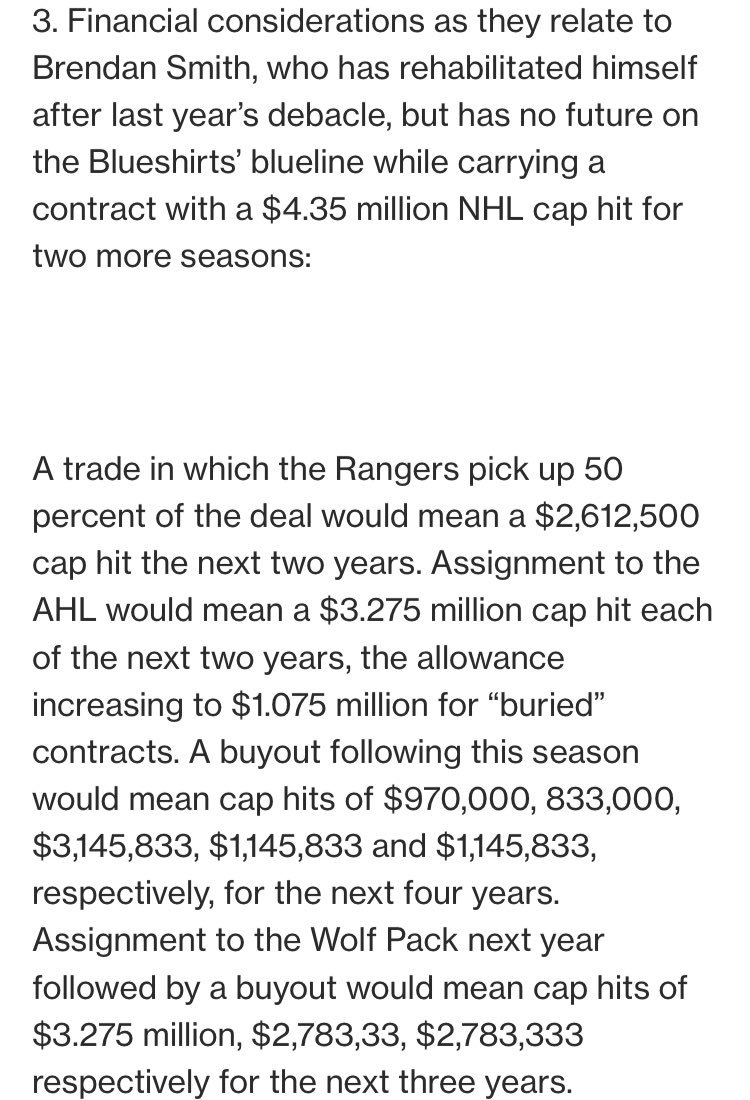 The most ironic, saddest and funniest part about all of this? The fact that it was the Rangers that once abused the system/cap loophole, by sending Wade Redden to Hartford, which thus led to the "Wade Redden Rule", meaning that you could no longer bury shitty players with high contracts in the AHL. Brooks, who has ties to the Rangers, didn't jeopardize his relationship with the Rangers by mentioning that tidbit. That's why you have me!
In other words, Senile Sather, the mentor to Gutless Gorton, made such a horrible deal, that the NHL had to create a rule so Sather had to take responsibility for his mistake. Not that it mattered to James Dolan, who paid for Sather's mistake and countless other Sather slip-ups over the years. James Dolan never saw a mistake that he didn't mind throwing money at. Just ask Isiah Thomas, who still has a job with Dolan to this day, despite costing Dolan over $10M in sexual harassment lawsuits.
If you thought the Wade Redden deal that Senile Sather made was bad (6 years/$39M), I present to you the following: Jeff Gorton signed Brendan Smith at four years/$17.5M & Kevin Shattenkirk at four years/$26.6M. Let's not also forget the third "S" of the "Triple S" of bad Gorton defensemen contracts, in Brady Skjei, who also received a 6 year/$31.5 deal from Jeff Gorton.
If you take Skjei out of it, that means for four seasons, Gorton has committed $44.1M in two players, in Smith and Shattenkirk, that don't fit in during these rebuilding plans. If you compare that to Redden, that's $5.1M more of salary committed, here, now in the hard cap era. Furthermore, this money is committed to two different players, which means that two roster spots are being wasted, rather than the one that Redden just took up. Try doing that math Larry Brooks!
The biggest problem in all of this – Jeff Gorton. That's something that wasn't mentioned by Brooks or the mindless drones that waste bandwidth with their "THE RANGERS MUST GET CHECKED FOR PROSTATE CANCER BEFORE THE AGE OF 40!" articles.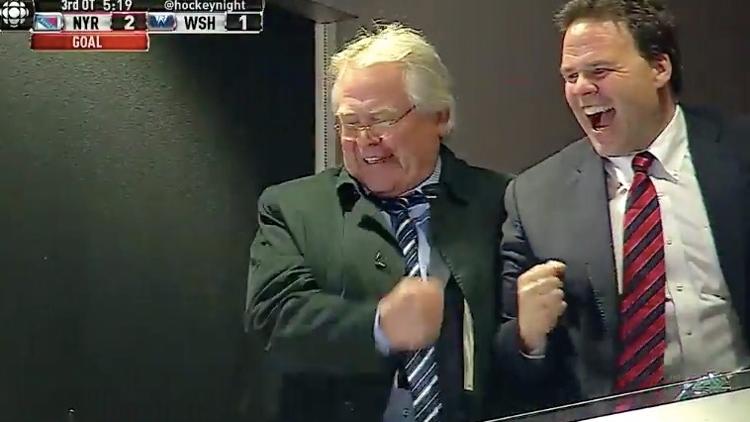 I've talked about Jeff Gorton a few times on this blog and this all started because of a conversation I had with a fellow Rangers fan, in Al Demauro. And real quick, it's people like Al who I try to make my target audience. I want the fans that watch the games. Not the ones that spank their monkey to a spreadsheet. I'm not a priest. I want an older audience, as they are people that have lived through things, have seen things, are aware of history and more willing to think outside of the box. These are the readers that challenge me the most and drive me to be better with these blogs. And it's not just Al. If I converse with you, you're one of the people I'm talking about here.
No two fans will agree on everything, but I find with an older crowd, the level of debate is better. The teenagers/college kids are hard to really connect with, because most of their debates end with, "YOO ARE A GAY FAYKE FAN , I HOPE YOO DYE SZN!" But hey, at least those people enjoy their "THE RANGERS MUST PROTECT THEIR PIN CODE WHEN ENTERING IN THEIR FOUR DIGIT DEBIT CARD PASSWORD AT AN ATM!" articles.
Alas, I digress.
The conversation I had in the past with Al was about Jeff Gorton. Check the archives for my full detailed thoughts on the topic. For now, how does one truly assess Gorton? Gorton has two things against him: the dumbest owner in sports and the fact that Senile Sather is still here. So right off the bat, Jeff Gorton is handcuffed like Bill Maher at one of his $75,000 a year sex parties. (I'm really turning into Dennis Miller on these blogs. Even that Dennis Miller reference is very Dennis Milleresque!)
Working with the theory that Gorton is already at a major disadvantage, what has he done? The team has declined ever since Sather stepped down, but Sather, who is senile, isn't a dummy either. He knew he fucked up. He knew that he went all in and failed. The second the Rangers lost in the 2015 ECF, Sather gave the GM title to Jeff Gorton and decided to just collect checks as "Team President." Talk about a President that should really be impeached.
Since Gorton became the official GM of the Rangers, he had to assume the mess Sather left him. An owner that cared about winning would've fired Sather long ago. Under Gorton, the Rangers were trounced in the first round by Pittsburgh in 2016, saw Lundqvist blow every fucking lead imaginable to Ottawa in 2017, had their worst season in the Lundqvist era in 2018 and as we head to the 2019 playoffs, the Rangers will most likely embark on their second straight season of no playoff hockey.
However, Gorton gets a reprieve for a bit, because now the Rangers are rebuilding. However, in this rebuilding era, it seems that Gorton is piling up more losses than wins. The Stepan/Raanta for Andersson/Deangelo trade? That's a fail. The McDonagh/Miller trade? That's not looking too hot right now either. Smith? Fail. Shattenkirk? Fail. Spooner? Fail. When your biggest highlight this season is turning Ryan Spooner into Ryan Strome, there's a reason to worry.
For a team rebuilding, there just seems to be too much mediocrity. Even as the Rangers march forward, will they ever land that true number 1 elite forward? They are still hellbent on trying to win around a 37 year old goalie. In what world will that work? X-Box? PS4?
When it comes to Brendan Smith, which was the original point of this whole rant, Gorton will have to admit he failed, just like how he admitted he failed on Spooner. However, unlike Spooner, Peter Chiarelli isn't around anymore. You're not going to find any stupid takers to take out your trash. This isn't Tom Sawyer & Huck Finn – no one is going to paint your fence for you. (Hell of a reference if I say so myself!)
That said, the Rangers may get a break, because if they embrace a true rebuild (Although I don't think the fan base ever will, as I see people at each other's throats every day, despite these same people posting tank gifs at an incessant rate) there should be cap room to buy out Smith. And please, save me the trade scenarios – who in their right mind would trade for Smith right now?
In my eyes, play Pionk, play Lindgren, bring up Gilmour – just get young. Sometimes the best GM's are the ones that realize they erred. By forcing Smith on the Rangers, Gorton is just digging his team into a deeper and more importantly, an unnecessary hole.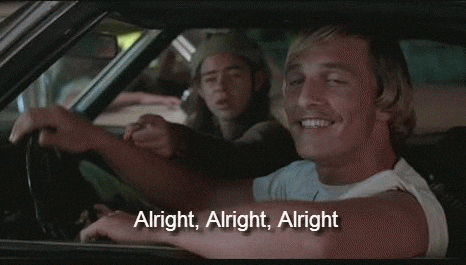 Since this is a different blog than the norm, meaning that this isn't a game review, I can add a little here and say that we're now 2000 words in, which is the equivalent of 10 "THE RANGERS MUST WAIT 30 MINUTES BEFORE GOING INTO THE POOL AFTER EATING!" articles. Not to toot my own horn (Although I made the mistake of having White Castle for dinner, so I'm doing a lot of tooting right now) but only here, can you get these 10,000+ manifestos, spyware free and with no ads for boner pills.
Now, to switch gears a bit, let's talk the Oilers and their impact on the Rangers.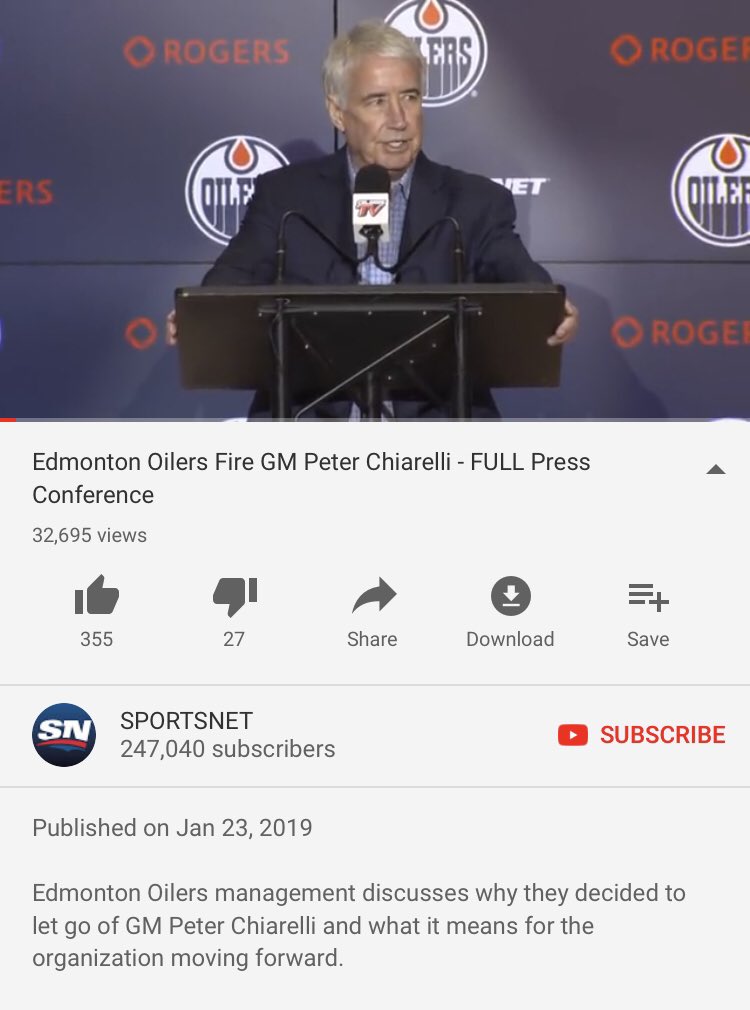 In what was a long time coming, the Oilers finally fired GM Peter Chiarelli. One can not state how long overdue this firing was.
If you're a long time reader here, you know my deal. I'm a diehard Rangers fan. However, when Cam Talbot was traded to Edmonton, I started rooting for Edmonton as a "secondary" team. After all, it was a win-win for me. The Oilers aren't in the Rangers conference. Furthermore, it gave me an excuse to watch Western Conference hockey.
In the time that Talbot was traded to Edmonton until now, I've visited Edmonton, met some great Oiler fans and follow many of their twitter accounts and reporters. It's a whole different world, when compared to the Rangers, especially when it comes to the media. In New York, the Rangers are pretty much an afterthought, where in Edmonton, it's all Oilers, all the time.
What made taking to the Oilers so easy for me were all the Ranger tie-ins. I've talked about this before – in Edmonton, they consider the 1994 Rangers Cup as the sixth Stanley Cup for the Oil. Can you blame Oiler fans for saying that? After all, the 1994 Rangers were Brian Leetch, Mike Richter and ex-Oilers.
In fact, and in my opinion, the best thing Sather ever did for the Rangers? It was trading all the ex-Oilers to the Rangers, to set-up the 1994 Cup victory.
If you're a Rangers fan and craving more hockey, it's easy to root for Edmonton because of all the history. Let's face it- the Rangers are fucking awful at celebrating their history. To this day, they ignore and spit into the face of their first two Hall of Famers, in Frank Boucher & Bill Cook, two men that went into the Hall of Fame as life-long Rangers. According to the Rangers, the Rangers started in the 60's, Rod Gilbert happened, 1994 was the equivalent of man walking on the moon, then the Lundqvist era happened.
And quickly, when on Boucher & Cook, I was cracking up as the Rangers tried to piggy-back on Mariano Rivera's HOF announcement. You couldn't ask for two organizations that were any more night and day. The Yankees dive like Scrooge McDuck into their history and are winners. The Rangers ignore all their history and are the most pathetic franchise out of the Original 6. And if you want to cry that I said that, go read an article that has a headline of "THE RANGERS MUST FREEZE HENRIK LUNDQVIST'S SPERM!" 92 seasons. Four Cups. Three of the four Cups being won in the first 14 years. Sorry folks. I love this team as much as anyone, but that is Pathetic, and yes "Pathetic" with a capital "P".
Oh and if you need another reason to like the Oilers? Let's not forget who ended the Islanders dynasty!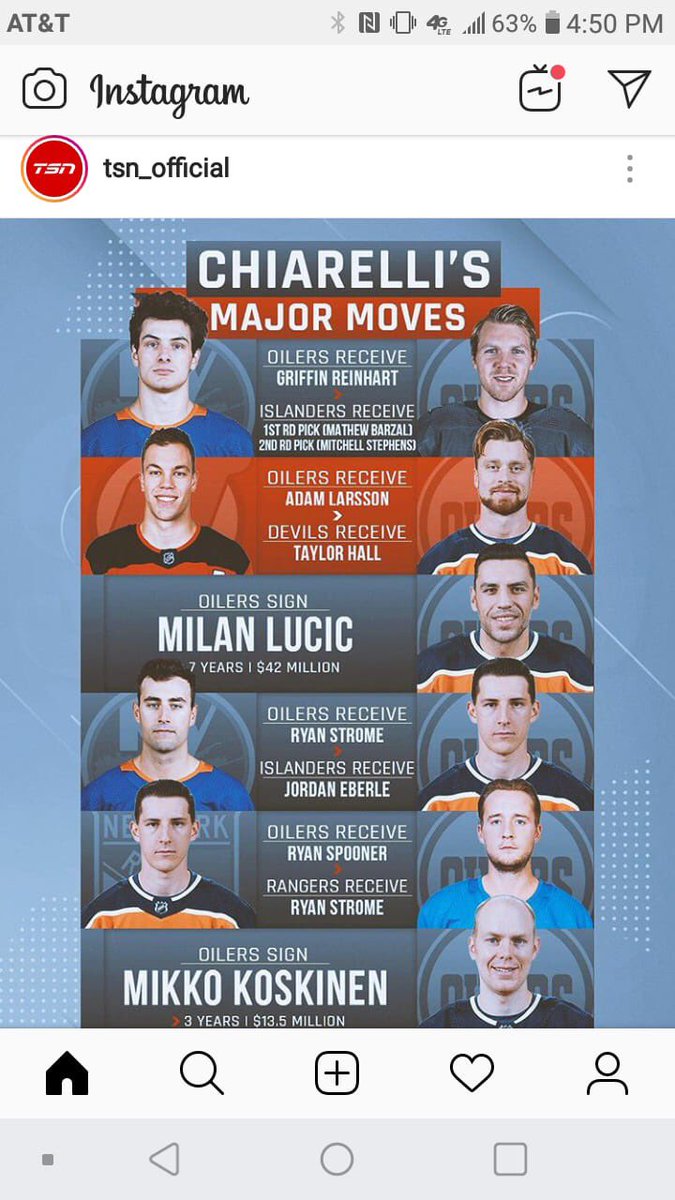 When doing this blog and tackling this subject, I am a bit late to the news, here in this era of 24/7 news cycles. The reason for this is because some of this ties in with Cam Talbot. From day one, everyone associates my name as the Talbot guy. Even when I first met Steve Valiquette a few years back, he said, "You're the Talbot guy!"
If you're new here, here's the quick refresher – there is no doubt in my mind, that if the Rangers rode Talbot into the 2015 playoffs, they would've won the Cup. Nothing will change my mind. That 2014-2015 season was the beginning of Lundqvist being shaky and I called it at the time. Furthermore, Lundqvist was getting constantly shellacked by Tampa, routinely. The sad thing is, we'll never know. It's not like we got a Delorean and an alternate 2015 timeline.
That said, please, for the kids who are fans of the "THE RANGERS MUST DRINK 8 GLASSES OF WATER A DAY" articles, save me the crap on how Talbot is doing now. My point and as it has always been, in that moment of time, Talbot to me was the right choice. What happened after? The Penguins would go on to win two Stanley Cups, when they rode the hot hand, in the previously unknown Matt Murray, as they benched future Hall of Famer, Marc-Andre Fleury. Again, we'll never know.
I'm all over the place tonight, but I think that makes this blog entertaining. After all, would you rather read, "THE RANGERS MUST PICK UP DOG SHIT AFTER WALKING THEIR DOGS!" articles?
Anyhoo, the reason why this blog comes a little late, is because I thought Cam Talbot would've been traded by now. While it hasn't happened yet, it's coming. I know it, you know it, Oiler fans know it.
However, in what was just head scratching to me, the day before firing Chiarelli, Chiarelli was authorized to re-sign Mikko Koskinen: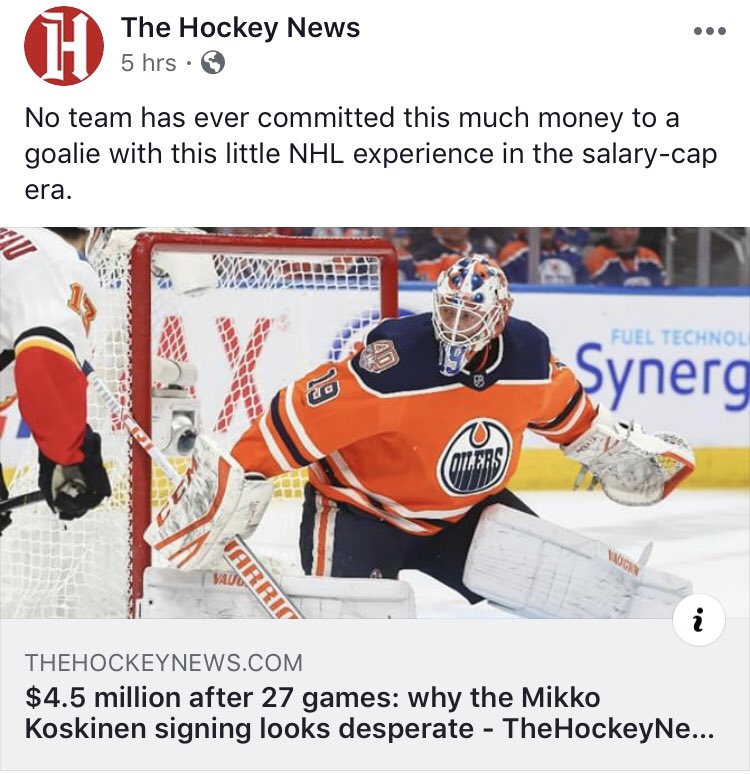 After firing Chiarelli, whether it was true or not, the Oilers said this was an organizational decision. Huh?
Let's put it this way – WHY WOULD YOU FUCKING SIGN A GOALIE THAT'S ONLY PLAYED 27 GAMES TO A LONG-TERM DEAL AND FOR BIG MONEY? Furthermore, while I'm the biggest non-relative Cam Talbot fan out there, I can admit that it's time for a change of scenery for both parties. That said – SERGEI BOBROVSKY, YOU KNOW, A TWO-TIME VEZINA WINNER, is available both via the trade and via free agency this upcoming off season.
With Talbot's contract off the books and if you didn't make this dumb deal with Kos, you could get Bobrovsky. So again, I must ask, WHY WOULD YOU FUCKING SIGN A GOALIE THAT'S ONLY PLAYED 27 GAMES TO A LONG-TERM DEAL AND FOR BIG MONEY?
The Oilers, in one word, are a "mess". Even Jeremy Roenick is firing off shots on them: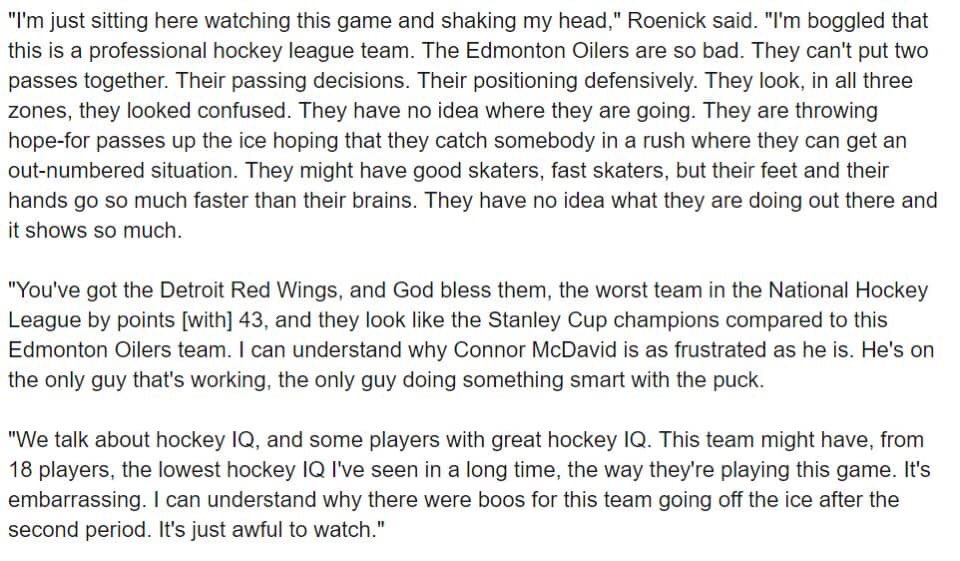 Funny thing about Roenick's comments? The Oilers brass acknowledged them and actually reached out to tell JR that he was right. That's like a rape victim thanking their friendly neighborhood rapist!
I can't say I feel too bad for diehard Oiler fans. After all, you've won more Cups in your first twelve years in the league than my Rangers won Cups in 92+ seasons. So I hope you can understand my perspective here, in the present moment. That said, I do sympathize with Oil Nation. After all, check out these graphics & tweets from Oiler fans: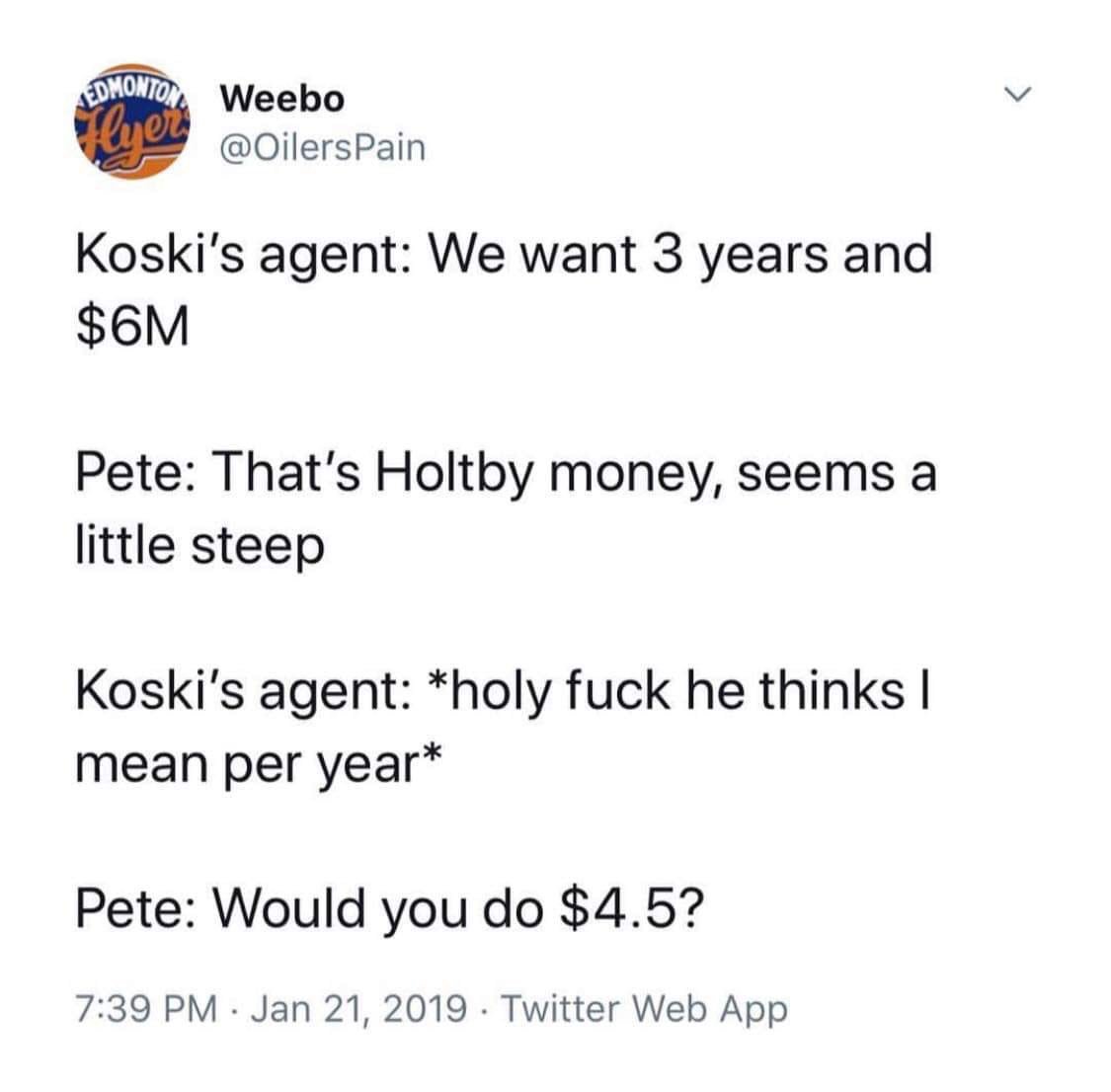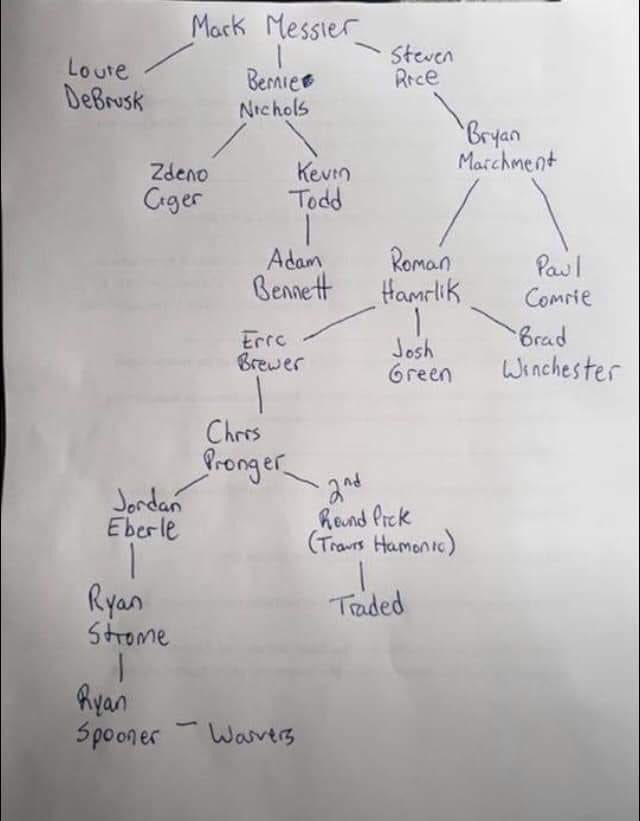 While the Oilers & Rangers have had a weird bond during their history, when it comes to Chiarelli, it's been the Islanders & Devils that have benefited the most in recent years. The Isles turned Griffin Reinhart into Mat Barzal & Anthony Beauvillier. The Isles even fleeced Chiarelli again, this time when the Isles gave up Ryan Strome for Jordan Eberle.
Across the river, the Devils pulled off a heist that Martin Scorsese should do a movie of, when Chiarelli gave up Taylor Hall for Adam Larsson. Admittedly, while everyone panned the trade the moment it was made and wondered if Chiarelli was on the meth, the trade did work out in year one, on behalf of the Oil. However, the reason that trade looked good is because Talbot played the best hockey of his career, starting in 73 games, enroute to a playoff berth. If it wasn't for terrible officiating, the Oilers would've made the Western Conference Final that year.
That said, as we stand now, the Oilers got abused on that trade, and Hall would go on to win the MVP/Hart Trophy, in the 2017-2018 season. Ironically enough, because he didn't make the playoffs, Connor McDavid wasn't considered for the award. If the Oil would've made the playoffs, McDavid would've won the award hands down. (McDavid settled for the Ted Lindsay award, which is voted on by McDavid's peers.)
So, the point in all of this, from a Rangers perspective? For starters, ex-Ranger Cam Talbot seems to be in limbo. Personally, I hope he can hook up with a playoff team. I think away from the Oilers, their mismanaged franchise, their terrible goaltending coach and even worse defense, I think Talbot can be resurrected. I think he has a better chance of being an All-Star next year that Koskinen.
Moving forward, there were many rumors that the Oilers were interested in Mats Zuccarello. With Chiarelli now fired, will the interim GM be looking to save this season or will he be looking to embrace the 7873647892646635th rebuild in Edmonton?
If anything, I got the perfect trade scenario for both parties – Connor McDavid for Senile Sather! The Oilers can have their useless twat back and McDavid can now become a primetime star on Broadway! Sign me up for this deal! Shit, I'll throw Lundqvist and Zuccarello into the deal too!
Seriously speaking, whoever eventually takes over Edmonton is going to be in the same boat that Jeff Gorton was in when he took over as GM of the Rangers in July of 2015. The old guard fucked shit up so bad, that it's going to take a while to correct everything and get back in the right direction.
While the scenarios aren't exactly the same, Eli Manning won two Super Bowls and probably could've made another run if he had an offensive line. For Connor McDavid, who will be in his fifth season in 2019-2020, he hasn't had much help & with the problems in Edmonton, his career looks more Ovechkin than Crosby. In other words, McDavid may have to wait a while for his Cup.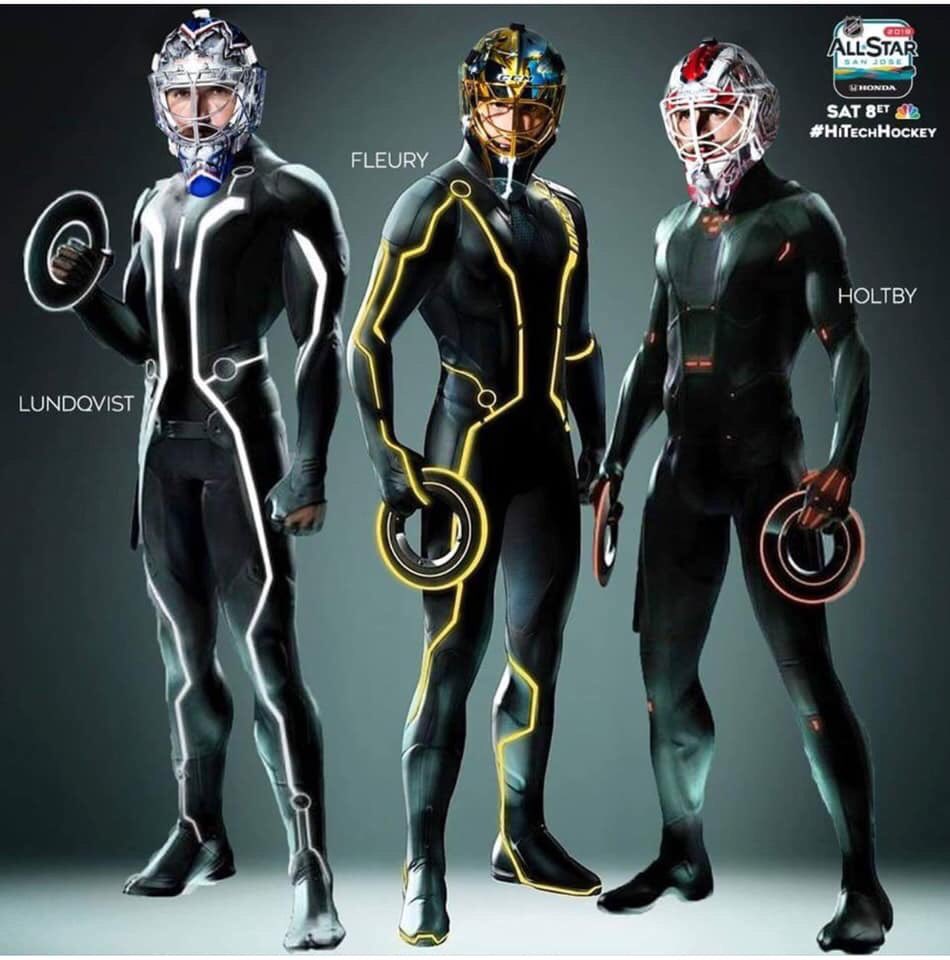 The NHL All-Star skills competition is tonight and the All-Star game will be played on a Saturday night. For some reason, the NHL switched the day of the game this year, most likely because of the bye weeks around the league. (For example, the Rangers practice on Sunday.)
From talking to other Ranger fans, it seems there is little-to-no interest in the All Star Game this year. Can you blame these fans? What's to root for? The All-Star Game has been bastardized into a popularity contest. Put my disdain for Lundswiss aside. The fact that Mats Zuccarello was eligible as an alternate for this game, long before his recent hot streak, is a disgrace. There is one thing to market stars. It's another thing to rob great players of an honor.
Compounding matters is not only the fact that the ASG is a popularity contest, players are also named to the game based on position. In what world is Lundqvist an All-Star this year? He's only an All-Star to the people who write the "THE RANGERS MUST GET A VASECTOMY IF THEY ARE GOING TO BLOW MAN JUICE IN OUR ASSES" articles.
As far as "fixing" the All-Star game, I don't think there is one right answer. I don't know how you can make this game "meaningful." The three vs three stuff has run its course and I hate to be that guy, it's not fair to the goalies. Leave it to me to defend Lundqvist, but how is it fair to this guy to play in front of a defense that cares less than the Rangers defense he's accustomed to? Like most ASG's, the money and the ratings is in the offense. No one wants to a see a 3 vs 3 game that ends in 1-0.
If anything, hockey, of the four major sports in America, is the one that promotes nationalities and patriotism more than the other three major sports. Go back to the North America vs the World format, or just do the Canadians vs everyone else. Who roots for divisions or conferences? Do I give a flying fuck if Crosby, of the Metro division, is the MVP of the ASG?
I know some people hate it, but I like what baseball did with their ASG, in regards to giving home field advantage to the league that wins the game. There just needs to be some sort of stakes involved. I don't know what stakes you can really do here, but come up with something, whether it's financial or at least something entertaining, like the winning team gets to punch the losing conference mascots in the face. I'm not saying I have all the answers here, I'm just saying there needs to be another reason to watch this game.
As it stands right now, I'll watch the game, because that's what I do, but I'm more interested in the Bellator MMA card on Saturday night than this ASG.
In July of 2018, I wrote a blog recapping the history of Rangers goaltending, while debating "Richter vs Lundqvist". You can find that blog here:
The Mike Richter vs Henrik Lundqvist Debate: An In-Depth Look At Who Is Truly The Greatest Goalie in the History of the New York Rangers, Looking At Every Starting Goalie in the 91+ Year History of NYR & Much More Richter vs Lundqvist Talk
In that blog, I talked about wanting to do a long blog on John Vanbiesbrouck, or as most fans knew him as, "Beezer". I still want to do that. It would be a privilege just to get an interview with that guy. The last Ranger affiliated interview I saw with Beezer occurred when Jim Cerny was still working with the Rangers! It's been that long!
In tonight's blog, I just wanted to throw in some history and just keep Beezer on your brain. After all, wouldn't you rather think about the great moments Beezer gave Ranger fans? Or would you prefer an article entitled, "THE RANGERS MUST WASH THEIR HANDS AFTER USING THE REST ROOM!"
As I said on that blog, when it comes to Beezer, when you look at every Ranger in Rangers history, has there ever been a Ranger that was more a victim of circumstance than John Vanbiesbrouck?
Think about it. He was aged out by the Rangers and replaced by Richter. Then the same thing happened to him with Team USA.
And isn't it funny, in those non-salary cap years, that the Rangers went younger in net with Richter, and let Beezer move on? Hmmmm.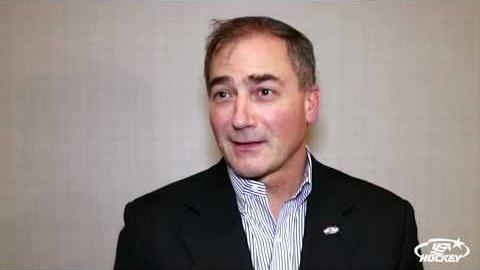 John Vanbiesbrouck spent 11 seasons out of his 20 season NHL career in New York. However, it seems like his NYR career is an after-thought, as it began at the end of the Islanders dynasty and was over right before the Rangers 1994 Cup run.
The reason why Beezer is on my brain is because I'm reading a bunch of blogs, from the "THE RANGERS MUST SIGN AN AFRICAN AMERICAN TRANSGENDER VEGAN PLAYER IN 2019-2020" type, that are all talking about Lundqvist's HOF candidacy. Even today, Lundqvist is a bit nostalgic when talking about himself, as he gave this quote to reporter/stooge Dan Rosen: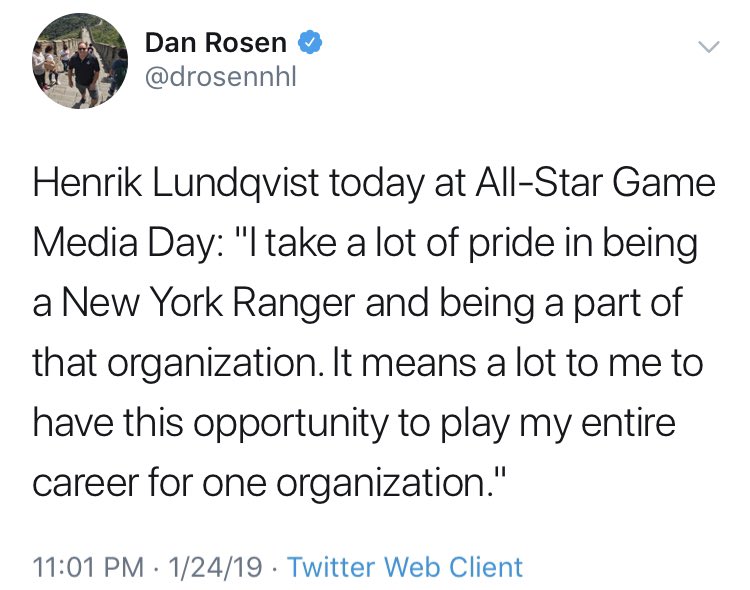 When you break it all down, is Lundqvist any better than Vanbiesbrouck? The biggest argument for Lundqvist is that he had more opportunity to win, opportunity that was squandered. Beezer never had that same opportunity, but like Lundqvist he also won a Vezina as a Ranger. Can one really argue that the Rangers wouldn't have won a Cup with Beezer in 1994?
If you know me in person or if I'm just a name from the internet for you, you know that the Rangers disregard for their history drives me up a wall. To me, Beezer feels like a forgotten Ranger, which admittedly, is probably because of the racial incident he had in 2003, when coaching the Sault Ste. Marie Greyhounds. As I've said in past blogs, with Beezer being the assistant executive director of hockey operations, it kinda shows you how hockey isn't under the same microscope as other sports, or at least here in America. Can you imagine someone who only talks about race, in Jemele Hill, covering Beezer? Thankfully, Hill is prejudiced against Canadian sports and doesn't pay attention to it!
As Lundqvist does all these collective "look-back" interviews, it's amazing how the Rangers and the media themselves, ignore Ranger careers such as Davey Kerr, Chuck Rayner, Gilles Villemure and of course, John Vanbiesbrouck.  Sometimes I feel like I'm the only person willing to speak out on behalf of the past, as no one else will carry a torch for these guys. Like most great memories in Rangers history that occurred pre-1994, it's all forgotten and swept under a rug.
While one can't defend what Beezer said in 2003, it amazes me that now 16 years later, he never hooked up with an NHL team. Beezer could be a fountain of knowledge for a young and an aspiring goalie. It also shows you the power of winning the Cup, as in both the case of Beezer & Lundqvist, who is remembered more fondly, those goalies mentioned or Stephane Matteau? Matteau will never have to open his wallet for a drink in New York, and that was because of a goal in the ECF! I doubt 90% of Ranger fans today, could pick Beezer out of a line-up. SAD!
I've always been an advocate of the Rangers trying to promote their history. I just hope that with his job with USA Hockey, the Rangers will try to do more with Beezer. It's little things like this that can help an Original 6 team and help teach the history to up and coming fans.
I talked about my alternate 2015 timeline with Cam Talbot at the top of this blog. Any Beezer fan can make the same argument about 1994 and perhaps beyond.
To this day, to me, Beezer is one of the more under-appreciated Rangers of all-time and one that has been forgotten fairly quickly. In fact, when on a recent twitter tirade, I mentioned Beezer and some fan actually said, "who?" This all goes back to the Rangers ignoring their history, and like other ex-Rangers, it's a shame that Beezer's contributions aren't remembered more fondly. But hey, at least we have Lundqvist! WE DON'T DESERVE HIM!
And yes, as mentioned, I'd love to get an interview with Beezer and do a 10,000 word blog on Beezer's career!
Looking ahead, the Rangers return Tuesday night, when they host the Flyers. I would expect a low scoring game, as both teams may be rusty after the break.
From now until the deadline, things should rev up for the Rangers. They are carrying a three game win streak and are a middle-of-the-pack team. The biggest problem for the Rangers, is that this league promotes parity and there are a lot of empty points that teams can beef up with, by losing in overtime.
If you hold the pipe-dream that the Rangers can make a playoff run, they need a double digit win streak. That seems improbable. That said, the Rangers don't seem bad enough to sink to the bottom of the league standings either. As it stands, a number 6 draft pick seems like something that is the most logical for the Rangers to procure, come the NHL draft.
With expiring contracts (Hayes/Zucc), a player in the same situation as McDonagh last year (Kreider) and with someone with a NMC about to kick in (Zibanejad) all in the mix, Jeff Gorton will define his & the Rangers future in these upcoming weeks. Just save me the "JEFF GORTON MUST DO THIS" articles.
Barring a Talbot trade (or a Rangers trade) from now until Tuesday, I'll be back Tuesday night with a Flyers/Rangers review.
If you're looking for more Ranger talk between now and then, check out Blueshirt Underground Radio. They are now doing live video radio shows, so I guess you can show off your ass cheeks to Jim & Eddie, should the mood strike you!
Oh, and I forgot to mention, for some reason, I was granted a media pass for a Jeff Gorton Q & A. I replied to the offer, but have yet to heard back. If I get the okay from NYR, I will be there. And to put your worrisome mind at rest, NO, I won't be asking about Lundqvist. I will be asking about Frank Boucher. I guess I should be clear here – I DON'T CONSIDER MYSELF AS PART OF ANY MEDIA. I'M JUST A FAN WITH A BEER, A BOTTLE OF WHISKEY AND A KEYBOARD. However, I'm not going to turn down an invite to pepper Jeff Gorton with my Boucher stuff!
Enjoy your weekend, enjoy the All-Star game if you can and as always, thanks for reading and….
"LET'S GO RANGERS!"
Oh, and fuck the Islanders.
Sean McCaffrey
BULLSMC@AOL.COM
@NYCTHEMIC on the twitter machine
PS: Eddie Gieck, I hope you know I listen to all your shows. Richter > Lundqvist! Keep up the good work! BABASHAMPOOEY!