"We need a headline of "LAFRENIERE SCORES GAME WINNING GOAL; #NYR END LOSING STREAK" badly." – Yours truly, on my @NYCTHEMIC Twitter account, at 9:13PM on Thursday, January 28th, 2021; a date that now moving forward, will forever be known as not only the date when Alexis Lafreniere scored his first NHL goal, but also the date where Lafreniere scored his first overtime game winning goal as well! You gotta love it!

Note: this blog is going to be a long one, perhaps the longest blog thus far of the season. You might need a second or two to let this load.
Of course, while I could put the Duguay stuff in a separate blog entry, you know the drill here – 10,000+ words, no ads, one click. Read at your own leisure! I write these blogs, not only for myself, in my attempt to vent after losses and gloat after wins; but more importantly, for you, the readers who give me your time. I'll never short-change you and make you click 76769696796789678 links, links full of ads and spyware, to make you read about the Rangers. (Although, I'll soon ask you for $10 one day, when I finish my "New York Rangers Rink of Honor" book! And I promise you, it will be worth your $10, as you'll pay something like .001 cents per page!)
And no joke, had the Rangers lost this game, I would've been fed up and spent a majority of my time talking about ROSES Pizza tonight. After all, in addition to my tweet about Lafreniere posted above, I also said the following on Twitter – "if the Rangers lose, I might just do a whole blog on the closing of ROSES PIZZA in Penn Station."
That said, I'll do a whole thing on ROSES in the near future, but for now, I know these blogs go on long enough already, so I'll save that bit for Saturday. In preparation for that upcoming piece, feel free to comment at the bottom of this site with your favorite ROSES memories! I'll include the best ones once I get to my thoughts on ROSES. (For me, I'll miss ROSES not only for the pizza, but because it also had the best bathroom in Penn Station, a clutch bathroom when you had 15 beers in you after a game and 8 minutes to spare before your departing train! Fellow Long Islanders know the struggle!)
Okay, enough pizza talk, let's get into it!
Greetings and salutations everyone and welcome to another blog here on BlueCollarBlueShirts.com. The Rangers win, the Rangers win, the Rangers wiiiiiiiiiiiin! (Yes, John Sterling is a heavy influence in my writing – isn't that amazing Suzyn?)
On Thursday night, with the Rangers riding a four game losing streak, where they lost each game by only one goal; the Rangers desperately needed a victory and to right the Blueshirt ship. It didn't matter how the Rangers won, they just needed a win. Winning, like losing, can be contagious. While yes, it's only one game and yes it's only two points tonight, this win will help to quell a lot of fears, panic and concern. That said, and as I'll soon get into, had the Rangers found a way to lose this game, you could only imagine the misery, complaints and wide-spread panic throughout the streets of New York.
No joke, this game had a feeling and vibe of "we'll do everything right tonight except win", especially after the Rangers blew their second lead of the game. While the Rangers still have a lot of work to do, for one night, Alexis Lafreniere took the team off the hook. Lafreniere easily alleivated a lot of Ranger issues tonight.
When Lafreniere scored his game winning goal in overtime, thus securing the Rangers a 3-2 victory; not only did you hear a rumbling sound, as if an earthquake hit, you could also just feel the built up pressure being released by the entire team. Of course, while the Rangers had about 76795696956775 chances to win this game in regulation, and they would've done so had it not been for Sabres goaltender Linus Ullmark; Lafreniere prevented this team from losing five straight games, five consecutive games all featuring a one goal difference.
And I'll get into this once I get into the game recap portion of the blog, but someone who deserves as much credit as Alexis Lafreniere right now? Colin Blackwell. (And Blackwell will soon be a future "Jeopardy" question, as he's the answer to "who assisted on Lafreniere's first NHL goal?")
There are many things to talk about tonight, many of them being positive, as I feel like a kid entering the Willy Wonka Chocolate Factory right now.
Tonight, I'll kick off with the Ron Duguay "Up in the Blue Seats" podcast review. Then I'll get into all the pregame stuff and line-up news. After that, it's the game recap/review and all of that other happy-happy joy-joy entertainment.
(Note: for those of you who just want to skip past the podcast recap and get right into tonight's game, and it's shame if you do, just scroll down to the picture of Alexis Lafreniere in the Rangers "Broadway Hat".)
However, before getting into all of that, as usual, the PLUGS segment.
Say it with me, in case you need a refresher or missed them, here are my recent NYR manifestos:
---
---
---
---
---
On Thursday morning, prior to the Rangers vs Sabres game, "Up in the Blue Seats" released their third episode of their second season. To listen to the show, click the play button below:
Up In The Blue Seats Podcast: @RonDuguay10 & @MollieeWalkerr talk about the Rangers goaltending struggles this season with @NYP_Brooksie and @VallysView

Apple: https://t.co/Z3jIHe12HP
Spotify: https://t.co/KoHXuUOBwY pic.twitter.com/TorarPG3Gu

— New York Post Sports (@nypostsports) January 28, 2021
I know this is a long blog, so let's get straight into the recap!
Mollie Walker kicks off the show, recapping the recent events in Rangerstown, USA. Walker also previews what we'll hear on this episode, an episode she entitles as a "don't jump off the cliff just yet" edition.
After the familiar opening music, which features the timpani drum roll, producer Jake Brown asks people to rate and review the show. Done and done. Brown then previews the episode as well, as you can tell that Brown and Walker both record their openings separately.
Ron Duguay starts the show off hot, saying "there's no jumping off the cliff, there's no panic". Duguay feels the recent games have been close and thinks that the Rangers goaltending have not been up to snuff. However, Duguay gives Shestyorkin and Georgiev a pass, due to the fact that they had no exhibition games this season to work off of. Duguay says sometimes things don't go as planned. Duguay feels the Rangers have the right parts, but it's just not there yet. Duguay is predicting a big win over the Sabres on Thursday night. (He was correct!)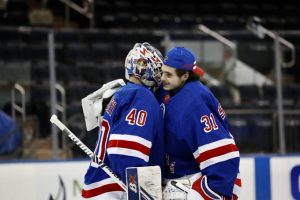 Walker and Duguay then talk about the Chytil injury. Walker says if you asked her last week, what Ranger could ill-afford to be injured the most, she would've said Chytil. (Really, not Panarin or Zibanejad?)
Walker recaps Chytil's injury, as she's not sure if it's just an upper-body injury, hinting that there could be a knee injury too. (NHL rules, despite the NHL pushing gambling on everyone, allows teams to hide injury information.)
Walker talks about how well Chytil was playing before his injury, saying that this is a big loss. Walker talks about Chytil's great growth, despite the short sample size.
Duguay switches gears to Panarin, bringing up Panarin's most recent games. Duguay asks Walker if she thinks if Panarin has lost confidence. Walker doesn't think so, but she thinks DQ's frequent juggling of the lines has hurt Panarin. Walker brings up Strome's recent struggles, saying that Strome's struggles are also hurting Panarin right now too. Walker adds that Panarin enjoys playing with Strome and feels that with Strome not so hot out the gate, that it's hindering Panarin right now. (Hindsight being 20/20 here, Walker was right & look how great these two played tonight!)
Duguay, like yours truly from last blog, hits home about how important face-offs are. Duguay, who played center himself, talks about how very often, how teams have set plays after winning draws at the dot. (No joke – I saw analytic nerds on Twitter saying how winning and losing face-offs aren't important. I just don't get how someone can throw shit into a computer and think that means more than what actually happens on the ice. Winning draws is ALWAYS important and if any chart says otherwise; well that just goes to show you how charts mean oo-gatz!)
Duguay talks about Zibanejad's struggles at the dot. Duguay then brings up the idea of signing Brian Boyle to help the Rangers out, not just at the dot, but in the locker room too. Walker agrees with Duguay, mentioning that the team needs leadership right now. Walker isn't sure if the Rangers have talked to Boyle yet or not. (Of note, it was Larry Brooks, to his credit, and for better or for worse, who introduced the idea of a Boyle return.)
Walker talks about how the Rangers are on a four game losing streak, with each loss coming by one goal. Duguay says that the team has ran into many hot goaltenders, which my response would be – isn't that always the case? The Rangers just have this uncanny ability to turn any goaltender in the second coming of Turk Broda. (Duguay also says the second game of the season would be the lone exception to what he's saying here.)
Duguay feels the Rangers will rebound Thursday night. Duguay says there is a certain calmness around David Quinn, where DQ never shows any sort of panic. I guess that's somewhat true, outside of that whole rabbit ears fiasco!
Duguay then starts talking about K'Andre Miller, saying how Miller reminds him of Victor Hedman. Walker concurs, as both co-hosts believe Miller has been one of the best Rangers in these first six games. Walker sums it up nicely, saying – "it looks like he belongs."
Jake Brown jumps in, saying it's nice to hear the two co-hosts having something positive to say. Brown then brings up the name of Jack Johnson right after saying that! Brown then transitions this into a Twitter Q&A. The fan asks about Lafreniere, wondering what's going on with him right now.
Duguay says he wants to ask Steve Valiquette about Lafreniere. Duguay says the floodgates will eventually open up for Lafreniere. Duguay says Lafreniere isn't in his comfort zone yet, but it will happen. Walker compares Lafreniere's first six games to the season Jack Hughes had with the Devils last season. Walker feels Lafreniere being bounced all over the line-up hasn't helped his cause. (Again, Duguay was correct with his prediction, which is why I find this podcast and these recaps worthy of your time!)
Brown says that the Rangers stock is down, but Gamestop's stock is up. Brown feels now is a good time to buy-in on the Rangers. Brown then introduces us to Larry Brooks. Walker then does the same.
Walker recaps all the current Rangers misery and asks Brooks for his thoughts, specifically stating, "when is it time to panic?" Brooks, says CONCERN, not panic, is the issue right now. Brooks says it's unfair to overreact to six games, but you can only work with what you got. Brooks says things are disappointing. Well, he's right on the money here.
Duguay talks positively about Buchnevich. Brooks agrees with Duguay, saying how there is "push and pull" between the coaching staff and the players about playing well away from the puck. Brooks talks about DQ's recent scratchings, scratchings which are the result of bad play away from the puck. Brooks feels that DQ's message has landed with Buchnevich. Brooks feels that Buchnevich is the best forward on the team right now, while Fox is the best defenseman. No argument there!
Walker says DQ is long past the honeymoon phase and asks Brooks what needs to happen now. Brooks says it doesn't matter if fans point fingers at anyone. That's pretty ironic, considering Brooks and his history with Tortorella. Brooks feels that the goaltending is worse this season when compared to last season. Brooks thinks the goaltenders are co-number 1's and how the two goalies need to make the extra save. Funny how we didn't get any of that talk in recent seasons from Brooks.
Brooks recounts the goals that the goalies have given up, and again says, "the goalies need to make the extra save." Brooks then does his ode to Lundqvist stuff again. Brooks is careful to say that he's not calling Shestyorkin or Georgiev busts or anything like that, but says they need to get better.
Duguay then asks Brooks about the Rangers depth, thinking that it's weak. Brooks says down the middle, the Rangers are weak, as is evident with Chytil now out. Brooks says he's surprised that the Rangers didn't address their center-depth issues during the off-season. Brooks says you can't win in this league without strong center play. Brooks then talks about how Mika Zibanejad was an elite center last season but right now, he hasn't played like one. Brooks says the Rangers need to fix this issue, an issue that's really glaring whenever Zibanejad isn't playing well.
Walker then thanks Larry Brooks for his time. No talk from Brooks this week about Jacob Trouba, the player Brooks said should be the next Rangers captain.
The final half of the show is dedicated to the Steve Valiquette interview. Ugh.
Walker gets right into it with Vally. Walker says both Ranger goalies have been less than average. Vally thinks the Ranger goaltenders will take a turn for the best. Vally then goes into repeats and talks about Andrew Hammond from 2015. (Vally has talked about this story about 48488484 times during other interviews and on the MSG Networks itself. Basically, Vally thought Hammond had a horseshoe up his ass during that season and how he didn't think Hammond wouldn't last. Too bad Vally as a solo act on the MSG Networks has!)
Vally feels the two Ranger goaltenders have been playing well, except for their "untimely goals against". To that I ask, when is a good time for a goalie to give up goals? Vally continues to reiterate that he feels the Ranger goaltenders will be fine this season. (And for what it's worth, I agree with him on that point.)
Duguay says he has fond memories of working with Vally during his time with the MSG Networks. Duguay brings up again that he's not panicked about the current state of the Rangers. Duguay then asks Vally, what does Vally's analytics tell him about the Rangers right now? Vally goes into his spiel about "expected" stats, which are stats formed in the eye of the beholder. After all, every time I buy a powerball ticket, I expect to win the powerball. That hasn't happened yet. Do my expected stats now take a hit now?
Vally talks more about how he comes up with his fake news data. Vally says how there is an evolution in "bad goals", saying how a bad goal in Duguay's day wasn't the same in Vally's day and how a bad goal isn't the same today. Of course, none of this makes sense; because after all, in any era, a shot from the blue line, where the puck beats the goaltender, especially in a Conference Final game, will always be a bad goal. (Vally would then go on to contradict himself on this point later in the interview, talking about that McCann goal against Shestyorkin and how that was a bad goal allowed in any era.)
Vally then says how he was on the phone with five NHL guys, talking about a Yandle/Barkov goal. Vally then talks more about his stats and numbers that pertain nothing to the Rangers right now. Vally then talks more about bad goals, a topic he was pretty much mum about on the MSG Networks, at least until this season.
Vally continues to talk percentages and what's a "low danger chance" and crap like that. Vally breaks down some of the goals the goalies have given up. Vally says the best goalies in the league are the ones that handle average shots on goal the best. You needed charts to come up with that conclusion?
Vally continues to ramble on about nonsense. While I know Vally is brought in here to talk goaltenders, not mentioned by Vally, regarding the recent Rangers losing streak, are the bad special teams, all their face-off losses, fat cats not producing, etc.
Walker brings up Henrik Lundqvist to Vally. I'm surprised they didn't have Brooks and Vally on at the same time, just so they could compare their Henrik Lundqvist hair doll collections with one another!
Walker says that Shestyorkin was "primed" to take over the net when the Rangers drafted him in 2014. Of course, Walker is wrong here, as Brandon Halverson was supposed to be that guy. (Halverson was drafted 59th overall of that 2014 draft, while Shestyorkin was drafted 118th overall of that same draft.) Walker asks Vally if he thinks if Shestyorkin is battling the pressure that's now on him.
Vally compares the Rangers situation to recent history of the Pittsburgh Penguins, because somehow, Marc Andre Fleury, with his three Cups, is the same as a Cupless Lundqvist. Vally says that DESPITE Matt Murray WINNING two Stanley Cups, Murray wasn't the same when MAF went to Vegas. I'll take any Ranger goalie winning two Stanley Cups, because whoever does that will be the first Rangers goaltender to ever do so! While I'm being a jackass here, because I know what Vally means, I thought he just casually brushed off two facts here, with winning multiple Cups being the biggest and the fact that the Penguins roster changed a bit after winning two Cups. (Plus, this isn't the NBA, where the NHL is a league of dynasties anymore either. The days of those Montreal dynasties are now 40+ years old. FYI: screw the Islanders too!)
Vally mentions that Tristan Jarry is now struggling. He didn't struggle too much against the Rangers in his two games against them. Ugh. Vally says that the game can consume you. Vally talks about how goaltenders prepare. Vally says there is a great responsibility of being the guy. Vally says while he never had that role in the NHL, he did have that role in the minors.
Duguay asks Vally who has impressed him the most so far. Vally goes right to Adam Fox and K'Andre Miller. Vally thinks Fox is the best three zone player on the team and is surprised how well Miller has adapted to the league in six games. Vally says his foo-foo (my word, not his!) charts tell him that Fox has set up more scoring chances than any other player on the team. I have said the same exact thing on this site, without needing charts, spreadsheets and Apple products behind me. (Of note, I'm typing this blog up on a Windows 2005 desktop computer, a computer that always freezes!)
Vally says we're lucky to have this Rangers defense. Vally quickly adds – the Rangers defense of the future, before anyone could scream JACK JOHNSON. Vally thinks Fox could be the Rangers version of Torey Krug. Vally adds that Trouba needs to get going too.
Vally says he's never worried about these goalies needing to make a save. Vally then talks about his Apple computer again. Vally talks about his data and the way the goalies track and process pucks. Vally says Georgiev is a great goalie to learn from and someone he uses as an example when teaching kids at his goalie camps. Vally then talks about the differences that Georgiev and Shestyorkin have from another. Vally then tries to explain that bad McCann goal that McCann scored on Igor. Vally thinks Igor was looking for a pass that never came and it caught Igor off-guard. Vally says he made the same mistake in the minors, but because Igor made the same mistake in the NHL, that mistake is bigger.
Vally says no matter what someone does in college, the minors or overseas, you can never predict how a goalie will do at the NHL level. I think you can say that about any hockey player, no matter what their position is.
Duguay asks Vally for his thoughts on Lafreniere. Vally says Lafreniere just needs to get comfortable. Vally brings up the competition that Lafreniere has faced so far. Well those match-ups won't get easier. Vally says Lafreniere isn't getting many chances yet. Vally says special teams haven't favored Lafreniere either, mentioning how Lafreniere isn't on the PP1 unit. Vally says it's too small of a sample size to judge Lafreniere's true value yet. Vally says Lafreniere should be a generational player.
Jake Brown asks Vally if he was ever intimidated by Duguay's blazers when they worked together on MSGN. Vally laughs and talks about the fashion tips Duguay gave him when working together. Vally says he joined MSGN at the right time, saying how he started during the 2014-2015 season. This then wraps up the Vally interview and the episode.
---
Overall, this was a much better episode than last week in my opinion. I basically got everything I wanted in this episode, as I talked about in my review of last week's episode. Rather than talking to an ex-Islander, as the podcast did last week, and even if I don't care for his opinions, we got Steve Valiquette, talking the current Rangers. (And yes, I know Vally is an ex-NYI too, but my point here is that I'd rather hear from Vally talking current NYR than hear Mike Bossy talk about NYI.)
I'm all for this podcast talking all NYR, all the time. As talked about in my last review of this podcast, if "Up In The Blue Seats" is only going to get 40 or so minutes a week this season, I rather that time be used to talk about current affairs, than anything else, in regards to the Rangers. (As mentioned before, I would like two episodes a week, but that's obviously not my call.)
Mollie Walker continues to get the "most minutes" on this podcast, which is not a bad thing, just an observation. That said, unlike last week, we got more out of Duguay and his opinions on the team. That's what I want when I listen to this podcast – takes from someone who's been there and done it. I think Walker contributes nicely, and I thought this was the first episode since Walker became a co-host, where we got an even balance between her and Duguay. Good stuff all around.
And while I think Jake Brown does a good job, you can tell that his hockey and Rangers knowledge is very limited, as he usually brings up other topics or Duguay's off-the-ice tales, whether it be women, Duguay's hair, Studio 54 or the way Duguay dresses. Again, not a bad thing, just an observation from a day one listener!
Let's now get into this Rangers 3-2 overtime win over the Sabres.
---
On Wednesday, following the Rangers loss to the Sabres on Tuesday night, the team held a closed practice, meaning that the NYR media weren't privy to it. In addition, the team did not practice on Thursday morning, meaning that the media didn't get much out of David Quinn. The only concrete information that was reported, concerning the Rangers line-up for Thursday night, was this: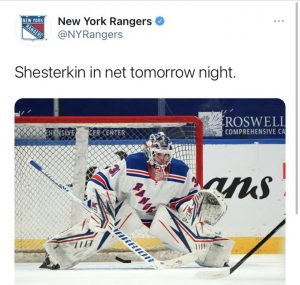 As far as anything else line-up related, on Wednesday, DQ said the following: "We're still talking about what we're going to do for a lineup."
At 4PM Thursday, the Rangers also tweeted out the following:
I know I do this rant whenever it's #BELLLETSTALK today, (as it was today) which is a hashtag used to promote mental health awareness in the hockey world, but some of the responses to the Jack Johnson injury news were terrible. Listen, we all know that Jack Johnson has been horrible this season, but to wish injuries and other evil shit against him makes you look like an idiot. I'm not even going to waste my time sharing the responses to this tweet above with you here.
As I said during the off-season, I'm also entertained by the outright hypocrisy from some of these Ranger fans, most from the chart world, who will stand on their soapbox and preach all this anti-bullying stuff and how they are there for people. In their next 7867867896789687 tweets, these same people are burying a Ranger daily, even going as far as to bully this player's family members on social media, all because a player doesn't agree with them politically.
While personally, I could care less about how one approaches #BellLetsTalk day, I just don't understand how these people can do the woke stuff and the "I'm anti-bullying" statements, and then spend their next waking hours slamming a player over politics. If you want to slam a player over their play or about a salary cap hit (I've done the latter on this site numerous times, as you may already know!) I get it. That's all hockey/on-ice related. However, to get personal, on a subject like politics, or to wish cancer on a player; well that all seems hypocritical to me.
Enough of this talk, let's now get into what DQ put out on the ice on Thursday night.
We're almost up to the game recap/review portion of the blog. Two more quick segments. Up first, the GAMBLING segment. Here's what I said before the game:
Season over-under record: 4-2

Due to #nyr scoring issues, I am riding the under until it doesn't hit. If you can get it at -6.5, even better!

Monumental game tonight. Being swept on the road will create even more panic. I think Rangers avoid the sweep, but if they don't…. pic.twitter.com/6bvh1Mxjja

— BlueCollarBlueShirts (@NYCTheMiC) January 28, 2021
With a 3-2 Rangers win, the UNDER hits. My season over-under record now goes to three games over .500, with a 5-2 record! I'll also add this, after tonight's game, I bet the over-under line drops to -5.5 next game, as the under has been hitting too frequently.
BOX SCORE time!
The following graphics and information are courtesy of ESPN.com:
SCORING: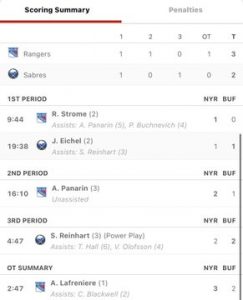 PENALTIES:
GOALIES:
| | | | | | | | | | | |
| --- | --- | --- | --- | --- | --- | --- | --- | --- | --- | --- |
| SA | GA | SV | SV% | ESSV | PPSV | SHSV | SOSA | SOS | TOI | PIM |
| 25 | 2 | 23 | .920 | 21 | 1 | 1 | 0 | 0 | 62:47 | 0 |
| | | | | | | | | | | |
| --- | --- | --- | --- | --- | --- | --- | --- | --- | --- | --- |
| SA | GA | SV | SV% | ESSV | PPSV | SHSV | SOSA | SOS | TOI | PIM |
| 39 | 3 | 36 | .923 | 26 | 0 | 10 | 0 | 0 | 62:47 | 0 |
Real quick on the MSG Pregame Show tonight – Steve Vagistat, if he wasn't horrible enough already, is now plagiarizing fans too. During the ridiculous "Bud Light Bar" segment, where no one drinks a beer, Steve Vagistat called K'Andre Miller "K'Andre The Giant". Vally was proud of himself, stating that he created the nickname and he wants the nickname to stick. While it's a good nickname, I've seen about 789676789689 fans use the "K'Andre The Giant" nickname before, including my buddies Steve S. and Ricky O., who have been using that nickname for months now.
And Vally isn't stupid. He knows he's stealing and ripping this nickname off. He's on Twitter all the time, even interacting with people who have "K'AndreTheGiant", or some version of it, in their Twitter handle. Too bad Vally couldn't commit robberies like this when he was on the ice. And to go even further here, there were about 78678678967896 tweets sent at Vally after Vally claimed to be the originator of this name, all with evidence that these people have been using this nickname for some time now. Vally ignored all of that stuff on the post-game show.
I guess when it comes to values, the only values Vally truly cares about are the x and y values on a chart.
After ripping off fans and claiming other people's ideas as his own, Vally started talking about his expectations. Keep in mind, just 48 hours prior, Vally called a Rangers loss as a "must win game". I know I sound like Phil Mushnick here, but like Joe Biden says, "COME ON MAN".
Once Vally was done wasting our time, we went to Sam and Joe, a Sam and Joe who had me crying laughing tonight, which I'll soon explain, as we now get into the on-ice stuff section of this blog.
---
After their terrible time at the dot last game, the Rangers, behind Ryan Strome, won the first two face-offs of this game, with Strome winning two face-offs in nine seconds. (The Rangers iced the puck after their first face-off win.)
Panarin, playing with new linemate Colin Blackwell, tried to feed Blackwell a puck early, but no dice. Their chemistry would improve as the game progressed.
In what was a sign of things to come, the new Rangers first line, of Lafreniere, Zibanejad and Buchnevich, along with Miller & Trouba, had a great shift, where they pressured Ullmark. Really, this would be the story of the game, as Ullmark, despite giving up three goals in this game, was lights out. He was easily the best player of the game, despite Lafreniere's game winner. Had the Rangers lost tonight, everyone would be talking about Ullmark's dominating performance.
The $6.5M man in Casper Kreider, looking to get something going and now on the third line, saw his new line get eaten alive by the Sabres top line, as if the Sabres were mosquitos looking at fresh legs on a sticky summer day. Kreider would ice the puck in response.
Again, in more Ullmark theatrics, Lemieux went for a shot/pass on pads, with Rooney streaking for the rebound. Rooney just missed, as Ullmark, who was fantastic, also had a horse-shoe in his five-hole tonight.
3:50 into the game, Lemieux took an undisciplined cross-check penalty, as Lemieux cross-checked Jeff Skinner as Lemieux was returning to the bench. True to recent form, Joe Micheletti tore into Lemieux for this dumb penalty. As stated last blog, I'm enjoying the heel turn of Micheletti, as he isn't holding back at all. Like a Fresca, Micheletti has been refreshing as of late.
The Rangers penalty kill was great here, preventing the Sabres from getting a SOG. Both Zibanejad and Buchnevich stood out here, helping the team to make clears.
Tony DeAngelo, who I thought had his best game of the season (amazing how that happens when Johnson isn't around) would put his first of five shots on goal at Ullmark. Micheletti said that Ullmark looked shaky and wasn't handling pucks right. In turn, Ullmark had one of the best games of his life. (To be fair, Ullmark did seem to get a lot of puck luck in his favor too.)
After Micheletti's comment, Ullmark stopped Zibanejad on his doorstep and then stopped Zibanejad on a one-timer from Ovi's office.
At just before the half-way mark of the period, finally, one of Panarin's 8756786796966 cross-ice/east-to-west passes connected, this time to Ryan Strome:
Buch-Panarin-Strome looking pretty good pic.twitter.com/CMZ3jcnCks

— Rangers on MSG (@RangersMSGN) January 29, 2021
1-0, GOOD GUYS.
On the goal, Panarin made a perfect pass and Strome did his job. It's nice to see these guys getting their chemistry and mojo back together.
Right after this goal, on the next possession, Kakko came this-close to making this game 2-0.
Also of note, in a nice stat reported by Micheletti – with Panarin's assist, Panarin becomes the third fastest player to score 200 road points, dating back to the 2015-2016 season. Only McDavid (EDM) and Kane (CHI) have had more points on the road, during this time period, than the Breadman.
With 7:29 remaining in the period, Ryan Strome drew Eichel into a hooking call. At this point, Strome was winning face-offs, scoring goals and drawing penalties. This was EASILY Strome's best game of the season.
Of note on the Rangers power-play, both Tony DeAngelo and Adam Fox are now on the first unit, along with Panarin, Buchnevich and Zibanejad. While the PP didn't score tonight, these two PP QB's had a ton of success together, as the Rangers dominated the puck for 100+ seconds on each power-play and produced 10 SOG. Despite not scoring tonight, I would think you would have to keep this same PP1 unit after this game. Goals will come if this unit continues to play like this.
On this PP, Buchnevich would get the best chance, but missed by a few inches on a net left partially vacated by Ullmark. The Sabres PKers, who were gassed, would get their first clear with only 15 seconds remaining during this Rangers power-play.
With 4:03 to go, and with the teams back at five vs five, Lindgren, who took two penalties tonight, took his first penalty of the game here, after holding the stick of Eichel. The Rangers PK were once again great here, with both Miller and Blackwell standing out the most, as Miller blocked a shot and Blackwell was able to make clears.
As we approached the final minute of regulation in the first period, the Rangers were just dominating. However, with 21.3 seconds left to go, Reinhart shot a puck, and with Miller right on him, Eichel was able to tip-deflect the puck past CZAR IGOR. 1-1 just like that, where you felt the Rangers great effort was somewhat negated at this point in time, especially for a team who has struggled to hold leads and play well after blowing them.
After twenty minutes, we remained at 1-1. However, how about these stats? SOG were 15-5, in favor of NYR. Face-offs, a major issue from last game, were pretty much even, as the Sabres were up 10-9. That stated, once again special teams were hurting the Rangers, as the Rangers were 0-1 on their power-play, where a PPG would've swung a tied or one-goal game.
---
After our routine "SECOND PERIOD, WHAT DO YOU LOOK FOR HERE JOE?" question from Sam Rosen, the two teams returned. 32 seconds into the period, Irwin tripped Panarin, giving the Rangers a quick chance to pull ahead again, in the event of a rare potential NYR PPG.
As has been the case, Adam Fox stood out on the power-play, as he was dishing the puck when needed and firing the puck when it was right to do so. After a Zibanejad one-timer whiff, Fox was robbed by Ullmark. Fox, who had four SOG tonight, would get two SOG on this power-play. However, despite another 100+ seconds of PP time for the NYR first PP unit, the Buffalo PK and Ullmark kept the Rangers PP off the board again.
After Micheletti was rambling on about a phantom broken stick of CZAR IGOR, where Micheletti talked this up so much, as if he was trying to will the stick into spontaneous combustion; Ullmark would make another save on Zibanejad. Like others on this team, Zibanejad needs a goal badly these days.
With 11:42 to go in the period, in a play similar to the one from the last time these two teams played, Kreider missed a streaking Kakko. Ullmark would then make a big save on Brendan Smith, forcing a stoppage.
During the stoppage, Sam Rosen was forced to plug about 786786786796 different types of Rangers social media, saying "that's a lot of social media". Micheletti then urged Rosen to get onto "Tik-Tok" and start dancing. I was crying laughing just thinking about this. Micheletti, as the game progressed, would continue to pester Rosen about getting on Tik-Tok and shaking his ass like a thirsty Onlyfans girl, with Rosen saying maybe he'll do it if the team makes the playoffs. As if we needed another reason to root for the Rangers to make the playoffs this season!
As the period went under ten minutes, the Rangers still looked to be the better team tonight. In more Strome/Panarin chemistry news, Strome would force a turnover, and shoot at Panarin's stick, looking for a Panarin tip/deflection goal. Ullmark made a huge save here.
At the 14:17 mark, Blackwell and McCabe went off the ice, each getting a two minute minor. As a result, we had some four vs four foreplay. During this foreplay, Trouba made a perfect pass to DeAngelo and Ullmark absolutely robbed DeAngelo. Ullmark had a highlight reel of a game tonight, with this save, and the one he'd later make on Lafreniere, standing out the most.
With the teams nearly at the end of the four vs four action, Artemi Panarin scored, as the result of sticking with a loose puck that Ryan Strome kept alive. I thought Strome should've got an assist here (and maybe he will be credited with one tomorrow) but in any event, here's Panarin giving the Rangers a 2-1 lead:
— Rangers on MSG (@RangersMSGN) January 29, 2021
What a drive from Panarin, as he looked like a pro golfer swinging at a tee. Of note, look at that Panarin leg kick! One of these days he's going to give himself a cut lip or a concussion. If anything, if you look at how fierce that kick was, it tells you how jacked Panarin was. After looking somewhat out of it in the game prior to this one, whatever DQ said to him or whatever Panarin was feeling, it worked. You could see that Panarin certainly gave a shit tonight.
Right after, and now with the two teams back at even strength, Miller tried to thread a puck to Lafreniere. No dice, but you like to see these two making waves out there.
With just under three minutes to go in the period, Strome took a bad penalty when he slashed McCabe in the Rangers offensive zone. While the penalty was kind of ticky-tacky, the refs call this type of penalty all the time. In addition, for a team like the Rangers, who have an uncanny knack to blow any lead imaginable these days, you don't want to put the other team on the PP.
On the PK, which pretty much took us to the final seconds of the second period, the Rangers PK were FABULOUS, preventing a Sabres SOG. Kreider, who continues to struggle, missed a sure-fire chance at a short-handed goal, in a play where DQ was just rolling his eyes behind the bench. (Credit to the MSGN camera crew for catching DQ's reaction to this Kreider gaffe.) Brendan Smith, in for Jack Johnson, made two clears on this PK as well.
After forty minutes of play, we remained 2-1, GOOD GUYS. All we could do was wait for the third period, and hope that the Rangers could maintain their lead. Spoiler: they didn't.
---
The Rangers, who just did everything but score in this period, started off with Zibanejad trying to hook up with Lafreniere:
It's coming. It's coming soon. pic.twitter.com/2SndiHnLox

— Rangers on MSG (@RangersMSGN) January 29, 2021
Unfortunately, Lafreniere was robbed, thus preventing him of his first goal. Fortunately, the Disney moment would come later on.
After Igor made a few saves, including one on Colin Miller, Sam Rosen told us that Colin Miller and K'Andre Miller aren't related. He said this seriously. I guess Colin Miller & K'Andre Miller aren't like the Dudley Boyz!
I should also mention here, as people were reacting to Lafreniere's inability to score a goal, I got a million tweets sent at me, saying how "Lafreniere is a bust." I won't shame you here, but you know who you are. Keep this "bust" stuff in your mind for a second.
With Ullmark stopping both Lafreniere and TDA, two players who were knocking on the door all game and who both need a goal badly, Ryan Lindgren cross-checked Kyle Okposo. Okposo went straight to the locker room, but would return later in the game.
The Sabres, now on the power-play, would win the face-off and Sam Reinhart scored after receiving a perfect pass. A person with no limbs could've scored this goal. 2-2 with 15:03 remaining. Once the Sabres scored, I got another million tweets, all telling me how the Rangers miss Lundqvist and how CZAR IGOR is a bust. Talk about a fan base that has an instant reaction to every play and to every second of the game. These were also the same people burying Blackwell too, the same Blackwell who continued his point streak in this game! Some of you people need a XANAX, the official anti-depressant of the New York Rangers. I will say, to their credit, these fans are passionate!
The rest of this period was all Rangers, where it got to the point of comedy, and where you could only shake your head, as Ullmark made every save, on every shot, from the Rangers imaginable.
During a long Rangers shift, where the Sabres were gassed beyond belief, TDA and Panarin would be denied, with a shot block ending a near 75 second Rangers possession.
After Kreider failed on another chance, Kakko fed Trouba and Trouba did his usual Scott Norwood impersonation.
As we hit ten minutes to go, Igor kept making the saves, keeping his team in the game.
With Ullmark swimming on the ice like a drunk with too much in him, Lafreniere couldn't lift a puck over Ullmark. The Rangers had a bunch of whacks at the puck during this, but Ullmark, with luck and skill behind him, made the saves.
With 9:14 to go, Jeff Skinner was boxed for putting the puck over the glass. The Rangers got another late power-play and another late chance to win a game.
The Rangers power-play was phenomenal here, but they didn't score. No joke, this may have been the best two minutes of power-play time in NHL history, where a team doesn't score a goal. Ullmark was frantic like a Black Friday shopper, as he was flipping and flopping around. The Rangers, who had the puck in the Sabres zone for 1:50 of the 2:00 of power-play time, had the Sabres standing around like statues. Unforunately, unlike people in San Fransciso, the Rangers couldn't take these statues down.
No joke, the Rangers had a dozen chances to get the game winning goal here but couldn't. At this point in the game, the SOG were 35-21, in favor of the Blueshirts.
As we got under the FOXWOODS FINAL FIVE mark of the game, Dahlin hipchecked Kevin Rooney, sending Rooney ass over teakettle. This was a clean hit, but Ranger fans wanted a call anyway.
With 2:30 to go, Mika Zibanejad blocked a Taylor Hall shot, a shot that looked like it was going to result in 3-2 Sabres and another late game loss for the Rangers. In his postgame interview, CZAR IGOR thanked his teammates for all their shot-blocking tonight.
As we hit triple zeroes in regulation, we remained at 2-2. At this point in time, while a point is fine, the Rangers had to win this game. They were, by far, the more superior team tonight, only having their great efforts thwarted by Ullmark.
After a quick commercial break, we went to overtime.
---
You could say that David Quinn was outcoached to start this overtime period, as the Sabres put out their top face-off man to start the period, and after the Sabres won the face-off, that man quickly changed for Jack Eichel. (I'm drawing a blank on this Sabre who won the face-off, but give me a break – it's late and no one else has more detailed game recaps around than this site, even if I'm failing to remember the Sabre who won this particular face-off!)
Zibanejad, Panarin and Fox opened up the OT period for NYR. The Sabres would then blow an easy two on one chance, where the Rangers got lucky that the Sabres waited for the Rangers to catch up and prevent a goal. After an Igor save, DQ put Blackwell, Miller and Lafreniere on the ice.
While Lafreniere will get top billing everywhere you go for the next 48 hours, it was Colin Blackwell who made the game winning goal happen.
In the Rangers defensive zone, Blackwell blocked a shot and then stripped Eichel of the puck. Blackwell would then rush up the ice with Lafreniere, and by now, you know what happened:
All the looks at the beauty of a Lafreniere OT winner 🤯 pic.twitter.com/EBUSJl0zKt

— Rangers on MSG (@RangersMSGN) January 29, 2021
3-2 GOOD GUYS. Lafreniere's first goal! Lafreniere's first overtime goal! Lafreniere's first game winning goal! As someone once famous said – "OH BABY!"
Talk about a fountain of positivity here. Not only does Lafreniere get the monkey off his back, the Rangers get a much needed, and perhaps a desperate here too, victory. Even better, as a result of Lafreniere's goal and the Rangers win, we can praise Strome. We can praise Panarin. We can praise Blackwell. We can praise Igor. We can praise Tony DeAngelo and Brendan Smith too. However, if you're looking for any negativity here, you can continue your grumblings about Casper Kreider, Jacob Trouba and Mika Zibanejad, three fat cat players who need to get jump-started big time. Lafreniere's goal now sweeps all of them under the rug for the time being. In addition, this Lafreniere game winning goal also has you forgetting about the Rangers anemic power-play too.
And perhaps more importantly about Lafreniere's goal? It calms down the "FIRE DQ" stuff, at least for one day. (That said, I was tagged in 678968967896 social media notifications about how Quinn still sucks after this win tonight!)
---
I'm very transparent and open with you on these blogs. While I wasn't on the "FIRE DQ" bandwagon, I was questionable about him after the last loss. I just don't get why, until tonight, why all of the fat cats haven't played well so far.
We all know the deal – winning hides, or at least stalwarts, any talk of failure and weaknesses. While I'm still concerned about Trouba, Kreider and Mika, I can't say that any of these three players didn't come to play. Even better, especially when you consider the fact that the team folded like a cheap suit 48 hours prior, the Rangers gave a full 60 minute effort tonight, an effort that eventually was rewarded. Had it not been for Linus Ullmark, you're probably talking about a 5-2 or 6-2 Rangers win right now. But hell, don't we love the great drama of an OT GWG, especially when it's Lafreniere scoring it?
Again, like Marcia Brady, all the talk right now is Alexis Lafrieniere, Alexis Lafreniere and Alexis Lafreniere. And yes, he deserves his moment of glory here right now. However, don't forget that Strome and Panarin are now clicking, a line that needs to click for the Rangers to have success. Let's also not forget that CZAR IGOR had a great game too, where you can't pin any goal allowed in this contest against him. While we don't know if Jack Johnson's injury forced Brendan Smith into the line-up or not, let's not forget that DQ pushed all the right buttons tonight.
Also of note – this was the first Rangers win this season, over a starting goaltender. Previously, the Rangers had only beaten Ilya Sorokin, who made his NHL debut in the Rangers 5-0 pasting over the Islanders.
All of this said – this can't be the highlight of the season. You're only as good as your last game. The Rangers must take this momentum and ride high, as they try to make a playoff push. Up next, the Rangers host the Penguins for two games, as the Rangers look to even up their season series with the Penguins.
If you haven't already, subscribe to this blog for the next update:
---
As always here, thanks for reading and…
LET'S GO RANGERS!
Sean McCaffrey
BULLSMC@aol.com
@NYCTHEMIC on Tweeter
Follow the BlueCollarBlueShirts.com Facebook Group by clicking this link: https://www.facebook.com/groups/1564026407193056/