Greetings and salutations everyone and welcome to another blog here on BlueCollarBlueShirts.com. As I start this blog at 1:30AM, I apologize in advance for any typos or grammatical errors. It's late.
On Saturday night, in the Rangers final game of their Western Canada road-trip, the Rangers were defeated by the Vancouver Canucks, in a final of 2-1. For the Rangers, this was their third consecutive loss. It was also the Rangers third loss in a row by essentially one goal. (Edmonton beat the Rangers 7-5, after an empty net goal.)
Unlike the first two games of this trip, this was a game the Rangers should of won, hands-down. However, as we so often see, a team that dominates a game but fails to score, usually finds a way to lose. That's what happened to the Rangers tonight.
Despite the loss, this was one of the Rangers best games of the season. They played a full 60 minute game. They were great defensively. They clogged passing lanes. They blocked shots. They broke up passes. They were all over Vancouver like white on rice. However, for as great as the Rangers were in this game, Vancouver goalie Jacob Markstrom was just that much better.
In Markstrom's first game after being named an All-Star (replacing Marc-Andre Fleury, who is more invested in a Vegas Cup run than a meaningless All-Star game) Markstrom showed us why he was worthy of his newly found All-Star status. Markstrom made 36 saves off of 37 Ranger shots. And these weren't soft shots either, as the Rangers, led by Jacob Trouba and his team-high five shots on goal, were coming at Markstrom all game. However, Markstrom looked like Terry Sawchuk in his prime out there, denying the Rangers on nearly everything.
A few blogs ago, I talked about the importance of the first five games after Christmas. I said the Rangers had to get 8 points in their first five games, if they wanted any hope of sniffing the playoffs. These five games started off promising enough, as the Rangers won their first two games. However, once flying west, in the land of cellophane money, the Rangers went 0-3 and were swept.
In case you're new here or need a refresher, here is my blog previewing these first five games after X-Mas and my recaps of each of those games:
---
---
---
---
---
---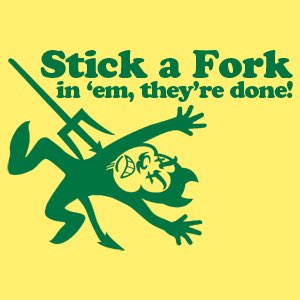 In my last blog, linked above, I used the above graphic. After tonight's game, you can add the knife to the Rangers too, as this game was a dagger loss on any hopes of making the playoffs.
If you're looking to sum up the vibe after this loss, this loss was akin to the following:
— Getting punched in the gut.
— Watching a girl you have a crush on ignore you and date the biggest jerk in high school. (We've all seen these teen movies depicting this situation. However, unlike the movies, the Rangers won't be getting the girl at the end.)
— Having a zipper catch your johnson after a drunken leak.
If David Quinn wasn't defeated already, as was his tone after the loss to Calgary, he was defeated tonight. What more could have the Rangers done tonight? Sure, they did finish scoreless on the power-play again, but they did put 37 shots on goal. They dominated most of this game, especially in the third period, with the game at 1-1.
In another situation, a situation where the Rangers were a playoff team, you would just throw your hands up-in-the-air, pat the opposing goalie on the back for a monster game and look ahead to the next game. These losses happen. However, for the Rangers, these losses happen too frequently, and combined with their piss-poor play in other games, all of these losses add up.
Tonight's game was the 41st game of the season, meaning that this was the final game of the first half of the Rangers season. The Rangers are currently 19-18-4, which is three games under .500, where the majority of the league has records over .500. The Rangers are currently seven points back from the wild card and 11 points away from the third seed in the Metropolitan division.
If you're an optimist, the Rangers play the Islanders three times in nine days, in two week's time. The Islanders are currently third in the division, with 53 points. The Rangers, second to last in the division, have 42 points. In other words, in the near-future, the Rangers will have three big "four-point" games with the Islanders. However, even if the Rangers did sweep the Islanders, that still puts them five points behind them and that's disregarding that the rest of the conference plays games too.
While the loss to Calgary was my "white-towel" moment, this loss is even more painful. Even when the Rangers play great, they still can't win. Yes, Markstrom was fantastic tonight. However, once again, a PPG would've been the difference in getting a point or leaving a game pointless. And what has it been, before Christmas, since the Rangers first PP unit has scored a PPG? Even in tonight's game, with the Rangers trying to find a last second goal with the extra attacker, I had no confidence. These guys don't score on the power-play, so why would they score in crunch time?
If you're looking for the quick and dirty, obviously you're on the wrong site. However, there isn't much to expand on, when critiquing or recapping this game. The Rangers played great, Markstrom was better. The end.
If you're looking to nail someone, or do the blame game, once again, like many games this season, you can look at Brady Skjei. However, he's not the reason why they lost. Georgiev, despite the fact that he probably should've stopped the game winning goal, isn't the reason for the loss either. Even the power-play, 0-2, isn't the real reason for the loss. You just have to tip your hat to Jacob Markstrom, who may as well have worn a ski-mask during this game. Like a bank robber, Markstrom stole two points from the Rangers vault tonight.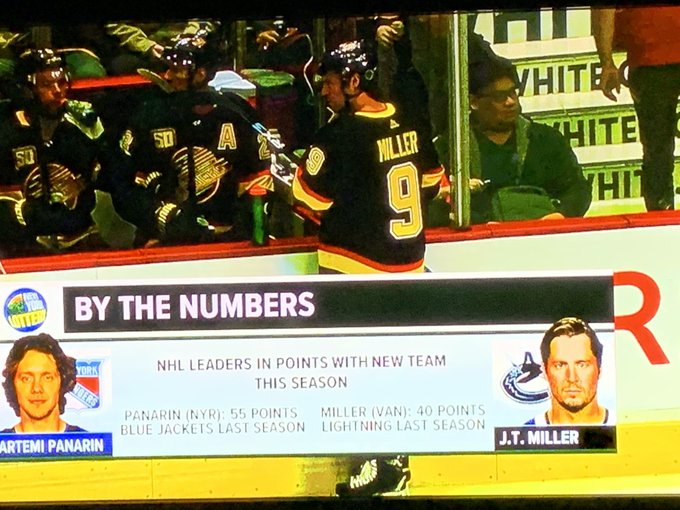 To pile up on the bad news, let's go to the GAMBLING segment of the blog:
Season over-under record: 22-17-1
Ride the trend, as the over has hit six games in a row. No goalies announced yet, but I don't think it matters. #NYR can score & they find new ways to give up goals in every game. If Lundqvist starts this is a gravy bet, as JT Miller will get 1! pic.twitter.com/1Ljy6acJhy

— BlueCollarBlueShirts (@NYCTheMiC) January 4, 2020
With three total goals tonight, I lose my bet tonight. I now drop to four games over .500, with a 22-18-1 record. Just like the M$G guys, I thought this game would be high scoring. I even thought JT Miller would score. Instead, the three goals in this game, didn't come from the usual suspects by either team. Damn that Jacob Markstrom!
Going into this game, Quinn used the same lines that he's been using all throughout this Western Canada trip. If you need a refresher, here you go:
FORWARDS:
FIRST LINE: Kreider/Zibanejad/Buchnevich (Buchnevich had one of this best games of the season, if not the best.)
SECOND LINE: Strome/Panarin/Fast (It seems that if Panarin doesn't get on the score sheet, then the Rangers have no chance of winning.
THIRD LINE: Chytil/Kakko/Howden (Rangers scribe Rick Carpiniello has dubbed this line "The Diaper Line". I'm sure those guys are thrilled with being associated with a product that contains shit inside of it.)
FOURTH LINE: Smith/McKegg/Fogarty (Their best work of this trip. Quinn played them all game, rather than deserting them in the third period, as he's done in the past.)
DEFENSEMEN:
FIRST PAIR: Skjei/Trouba (Skjei wasn't a horror show as he usually is, but he still led to the opposing team's GWG. Trouba was once again a beast tonight.)
SECOND PAIR: Staal/DeAngelo (These two complement each other well, and have been the best all-around pairing to me.)
THIRD PAIR: Lindgren/Fox (Lindgren, while logging the least amount of ice time of all Ranger defensemen, played the most amount of minutes in this game, during any other game on this trip.)
In net was this guy:

While Georgiev did his numbers a service tonight, by finishing up with two goals allowed and a save percentage of .926, the number that matters the most takes a hit tonight, as in one loss.
I thought Georgiev played well tonight, but the two goals allowed were kind of back-breakers. While you can say that the Rangers had a defensive lapse on the first goal and Skjei screened Georgiev on the game winning goal, we've just seen Georgiev make these saves before. As I've said in the past, expectations are high with Georgiev, which is a good thing. He has better numbers than the guy making $8M more than him.
Speaking of Lundqvist, he was ruled out for this game, as he was "under the weather". While he dressed for this game, there was no way he was going to enter this game. However, with the way Georgiev was playing tonight, switching goalies was never even a thought. Georgiev rebounded very well tonight, after the meltdown from his last game with Edmonton.
In tonight's game, I thought Georgiev shone the most during the three Vancouver power-plays. Vancouver has the most PPG's in the league and their power-play is ranked fourth overall in the league. Vancouver put 9 shots on goal during their three power-plays and Georgiev denied each attempt. It's what makes the two goals allowed sting even more. This is not a new thing for an NHL goalie, as far too often, we'll see goalies make incredible saves, but then get scored on something that makes you slink into your seat and leave you defeated.
News wise, there was nothing that went down from the loss to Calgary to puck drop in tonight's game. I don't think that will be the case in the future, as the Rangers will assess this roster, especially with the playoffs not being in the equation.
Let's go to the official box score, courtesy of ESPN.com:
SCORING SUMMARY: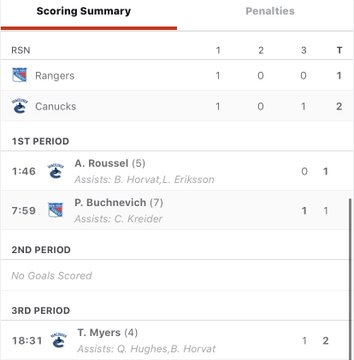 PENALTIES: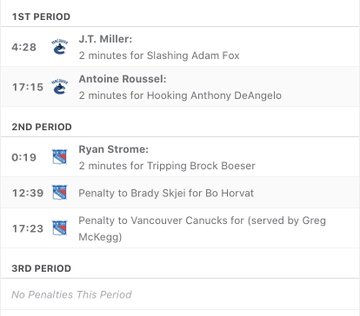 TEAM STATS: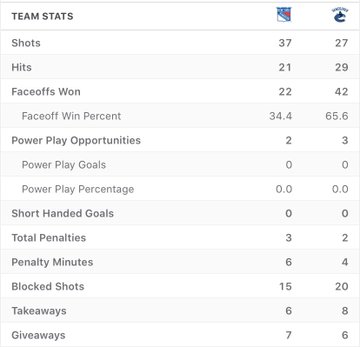 GOALIES:
| | | | | | | | | | | |
| --- | --- | --- | --- | --- | --- | --- | --- | --- | --- | --- |
| SA | GA | SV | SV% | ESSV | PPSV | SHSV | SOSA | SOS | TOI | PIM |
| 27 | 2 | 25 | .926 | 15 | 1 | 9 | 0 | 0 | 58:32 | 0 |
| | | | | | | | | | | |
| --- | --- | --- | --- | --- | --- | --- | --- | --- | --- | --- |
| SA | GA | SV | SV% | ESSV | PPSV | SHSV | SOSA | SOS | TOI | PIM |
| 37 | 1 | 36 | .973 | 30 | 1 | 4 | 0 | 0 | 60:00 | 0 |
If there was anything of note during the pregame show, it was that Vancouver were wearing their black jerseys, the same jerseys they wore when the Rangers beat them in the 1994 Stanley Cup Final. It was 1990's night in Vancouver, meaning everything was 1990 themed, right down to the music. Of course, the only two things that weren't 1990 themed, were the price of tickets and the jacked-up prices at the concession stand.
I found it weird that Vancouver, who plays 41 home games a year, would choose this night to honor the 1990's and their 1994 team. It's like they were trolling themselves. While Vancouver did get the win tonight, against this down-ridden Rangers team, I'll take the 1994 Cup win over this game on January 4th, 2020!
This game looked like it would be a nightmare to start, as just 80 seconds into the game, Antoine Roussel scored off a rebound:
Still a 1-1 game after 40. So enjoy this early goal from @Rous_ant again! pic.twitter.com/hTWPWgLVYr

— Vancouver #Canucks (@Canucks) January 5, 2020
On this goal, the defense broke down, but that being said, Georgiev needs to freeze the puck here. We've seen him play these types of shots much better in the past. 1-0, bad guys.
Keep in mind, Vancouver entered this game on a six game winning streak and just scored seven goals in their last game. This early goal felt like an early death knell for the Rangers. Instead, Georgiev would hold off Vancouver off the board, until the final 90 seconds of the game.
Shit, after many great Georgiev games this season, I always hear from the Cult of Lundswiss, "how Lundqvist mentors Georgiev." While that couldn't be any further from the truth, after the Georgiev Lundqvistesque meltdown in Edmonton and now giving up goals in this game in the first and last two minutes of the contest, maybe there is something to that mentorship nonsense!
I don't want to sound redundant during this entire recap, so let me say this and move on. From this point on in the game, both Jacob's, in Jacob Trouba and Jacob Markstrom, were absolutely phenomenal tonight. Both played amazing and I can't say enough good things about them. They were both studs in this game. They get the highest of marks from me.
Markstrom started off the game by making a play on Panarin, who was forced to shoot to the side of Markstrom's net. DeAngelo then fired a good seeing-eye shot, which Markstrom stopped too. After this, Buchnevich turned the puck over behind Markstrom, and you thought, "oh no, it's Stinknevich again." However, after this play, Buchnevich would go on to have one of this best games of the season.
At the 4:28 mark of the first period, old friend JT Miller would get boxed for slashing Adam Fox. The Rangers power-play was absolutely horrible here, with the first unit emitting the stinkiest of odors. No shots on goal for the Rangers PP here.
Often on these blogs, I have called out Buchnevich for crying too much and being scared of contact. While obviously he doesn't read this blog (I am not even sure if he can read & write in English to begin with) Buchnevich would go on to tie the game, in a play made by a hockey player's hockey player.
At the 7:59 mark of the first period, Buchnevich would tie the game up:
That's what we like to see Buchy! #NYR pic.twitter.com/JIu5tqJssu

— Rangers on MSG (@RangersMSGN) January 5, 2020
While Kreider sets up Buchnevich with a superb pass, this goal doesn't happen if Buchnevich didn't man up.
Prior to Kreider's one-timer pass, Buchnevich got absolutely crushed by Canucks defenseman, Alexandar Edler. Instead of crying about it, Buchnevich popped right back up, skated towards Markstrom and finished off the one-timer. 1-1.
This was Buchnevich's first goal in his last 16 games played. Let's hope it doesn't take another 16 games for the next one.
Unfortunately for the Rangers, this would be their last goal of the game. Again, all the credit to Jacob Markstrom for this fact.
In shades of Sam Rosen, here's what I tweeted with ten minutes to go in the first period:
We are almost at the halfway mark of the first period and Skjei doesn't have a brutal turnover nor has scored on his own goalie yet. #nyr #PlayLikeANewYorker

— BlueCollarBlueShirts (@NYCTheMiC) January 5, 2020
What a jinx. How prophetic.
As the period continued, Trouba kept firing away, as he already had three shots on goal, in the first ten minutes of action.
Buchnevich, who not only played well offensively, also played well defensively in this game. He took down Pearson and would continue to check all game.
After the mid-way point of the period, Chytil was tripped and high-lowed by Motte and Beagle. No call, despite Chytil laid out on the ice, wincing in pain. Fortunately, Chytil would return to the game. He didn't even miss a shift. Worth noting here, this is the fourth time this season where Chytil had to be helped off the ice, only to return later in the game.
Not that it matters, because the Rangers PP is so bad, but this should've been a Rangers PP here.
What I'm about to say about Strome here, you can apply to everyone on this team not named Brady Skjei – he was great defensively tonight too. He was breaking up passes and shot opportunities.
The Rangers would get a power-play with 2:45 remaining in the period, when DeAngelo was hooked by Roussel. The Rangers PP was much better here, but Markstrom was a one man show.
With 15 seconds left in the period, JT Miller rung one off the post. Crisis averted.
At the end of the period, the score remained 1-1, with the Rangers having a 13-7 SOG advantage.
The next 38:30 of this game were a goaltenders duel and a defensemen's wet dream. Both goalies were excellent and the defense was on-point too. I know some people find this type of hockey "boring", but I loved it. Despite where the Rangers are in the standings and despite lackluster crowd participation, this felt like a playoff game. Neither team gave up much, and when they did, the goalies showed up as the last line of defense.
One more time – while the Rangers lost this game because Markstrom was out of this world, in my opinion, I loved what I saw out of the Rangers. They broke their holes and played a near-perfect game. Yes, Vancouver would get the game winning goal, but as I always say, the other team is paid to play hockey too.  The result sucks for the Rangers, but you can't be mad about the way they played.
After Sam Rosen did his normal, "SECOND PERIOD, WHAT DO YOU LOOK FOR HERE JOE?" routine, Trouba broke up a Vancouver two-on-one chance. Unfortunately, Strome was boxed for tripping during this, here in the first 19 seconds of the period.
Do I really need to sell you on how good Elias Petterson is? On the lethal Vancouver power-play, his quick hands translated into a powerful heat-seeking missile of a shot, that Georgiev only stopped because he was in position. The puck found Georgiev's mask, loosening the mask. Once things settled down, we had a timeout for mask repairs.
Not going to lie – I have told you about how I have two tv's in my man cave. My eyes did leave the Rangers game for seconds at a time, as I watched the Titans upset Brady and the Patriots.
I'll say this on TB12 and the Patriots – obviously not having Gronk this season hurt them. However, to troll them and relish in this win like it's the Americans knocking off the Germans, to me, that's SAD! The Patriots are the best team of the century and have put together a dynasty unheard of in this period of free agency and salary caps. I'm surprised they lost, but to me, no dynasty lasts forever. Belichick and TB12 go down as the GOATS to me, considering how they won, how many teams were in the league when they won and because of the era they won in. (Cap/FA's.)
Where was I now?
During a mini 3 vs 2 chance, Markstrom would deny Chytil. The Rangers would continue to pepper Markstrom with shots and Markstrom would leave the Rangers salty.
Again, this game was just some defensive wizardry and we saw some great goaltending.
At the 12:39 mark, Brady Skjei (who else) in a tied 1-1 game, was called for a lazy high sticking. Unlike last game, DQ didn't punish Skjei afterwards.
On the PP, there was Petterson again, with his bullet-like shooting. Once again, Georgiev picked up a save here, because he was in the right position. He had no time to react to Petterson's shot.
The Rangers PK during this Vancouver PP was led by Georgiev, who did his best work of the game here. He made a gorgeous save, on a deflected puck from Roussel.
After the successful Rangers PK, Markstrom would make a Statue of Liberty save on Adam Fox.
With 2:37 remaining in the period, for the FIRST TIME THIS SEASON, the Rangers took a "faceoff violation" penalty. This was a fugazi and BS penalty to me. McKegg was nailed here and I still don't get this call. Again, it's one of these penalties that we never see, that somehow gets called against the Rangers.
The Rangers PK was hairy here, but they got through it. The clock then wound down, leaving us after two periods, at 1-1. However, there is one last thing to talk about, concerning this second period.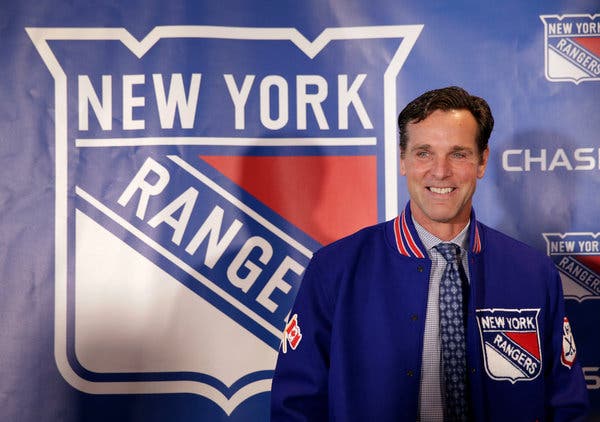 I don't know if the great Eddie Gieck, of BlueShirt Underground Video/Audio, made this or not, but he's the person that posted the link I'm about to share with you. Word to the wise, don't click this video if foul language offends you. (And hey, I'm doing a great job of erasing my f-bombs from these blogs, based on your suggestions, don't you think?)
Here's David Quinn's rant on the referees, during the loss to Edmonton. If you recall, this rant earned DQ a penalty and put the Oilers on a power-play, which then resulted in a goal, a goal that was the difference between a win and a loss for the Rangers:
As you can tell, when DQ gets upset (and he had every right to be at this point in that game) he can go off.
At the end of this period, David Quinn looked ready to unleash another Father Fink rant on the referees, after the dubious face-off violation call.
Unfortunately, as I write this blog (It's now 2:15AM) I can't find a video of Quinn at the end of the second period of tonight's game. I'll let my words illustrate the moment for you.
The Rangers, WHO DID KILL THIS BS penalty, would start heading to the locker room after the horn went off, signaling the end of the second period.
DQ then went to the officials, with his tongue burning bright red and his face fueling with anger. You could see that he was ready to go an epic rant.
Instead, just as DQ was about to let the four-letter words fly, Lindy Ruff pulled Quinn back. You could see Ruff say on TV, "we killed it, it's over, let it go."
I'm not a Lindy Ruff defender, but I am always fair and say it as it is on these blogs – this is why the experienced Ruff is on this coaching staff. While who knows what happens if Quinn goes off, we can say that we've seen a Quinn rant put the other team on the power-play in the past. By grabbing Quinn and shutting him up, Ruff prevented a potential Vancouver PP/Rangers PK here.
Kudos to Ruff here, as he reeled in David Quinn. While the Rangers did ultimately lose this game, Ruff kept the game tied at this point.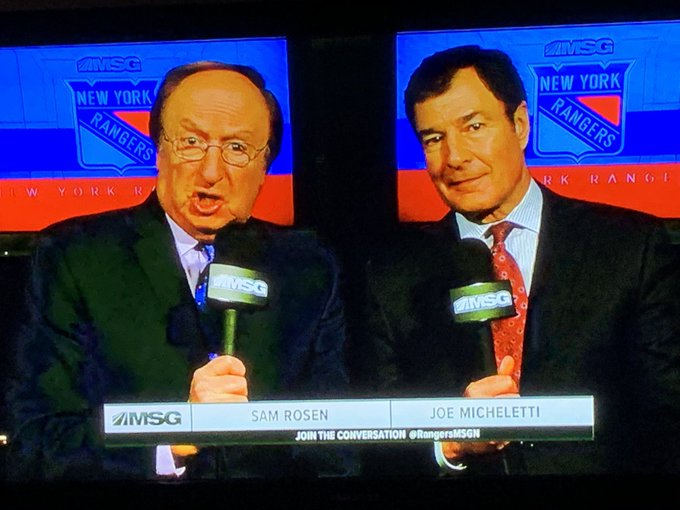 You know the deal with these blogs. I talk about the M$G broadcast in every blog.
I know I've been repetitive as of late, but I have to be here. I have buried Joe Micheletti so much in the past, that it's only fair that I praise him when he's great. And really, he's been great all season. With no studio show for the third game in a row, due to the time zones and the Rangers too cheap to pay Vally & Pidto, I thought Micheletti was once again great tonight.
I want to be clear here – I want everyone to do well. While it may seem like Vally is in my cross-hairs this season, am I wrong? He's been Father Finkin' horrible all season. I'm not looking to prop up Micheletti because I'm burying Vally. I'm just stating my opinions – Micheletti has been delightful all season, and this comes from someone who has used Micheletti for comic relief since the advent of this blog.
Without worrying about Lundqvist non-stop, Micheletti has relaxed and settled down, all while covering up for Rosen. Again, I know I've said this before, but this blog gets new readers every day. I'll just say that Micheletti was once again great during this broadcast, broke down everything perfectly (in my opinion) and I enjoyed hearing from him. NEXT!
The third period was complete Rangers domination, with Markstrom being the difference maker. At the half-way point of the period, the Rangers, in the third period, were out-shooting the Mother Canuckers by a tally of 12-3.
The Rangers tried their best to beat Markstrom. One pretty play saw Buchnevich drop pass to Kreider, who then drop passed to Zibanejad, only to see Markstrom deny the shot on goal.
Again, the goalies and defense were spectacular here. Again, worth mentioning here, is that DQ played everyone. He didn't shelf his fourth line, nor did he staple anyone to the bench, as we've seen previously.
After a period the Rangers absolutely kicked ass in, I could feel it coming. I have to give credit to my buddy Chris Biv here (@ChrisBiv on Twitter) who said something like, "you know it's only a matter of time before the Rangers lose on some bullshit play." I echoed his sentiment, because we've seen it so many times before.
In a game where Georgiev settled down after the first goal and in a period that the Rangers would've had 5 goals for against a weaker goalie, the Canucks broke up the 1-1 tie, with only 90 seconds remaining in regulation:
Tyler Myers throws the puck on net and it finds its way through the traffic and into the back of the net. #Canucks pic.twitter.com/wCMgQlyAcZ

— Sportsnet 650 (@Sportsnet650) January 5, 2020
2-1, bad guys.
This goal resulted after an icing call on Brady Skjei. I know it's cool and trendy to dump on Skjei, but let's be fair here – the Canucks had something like 10 icing calls in this game, and the Rangers never capitalized on any of them.
On this goal, the Canucks, who won the battle at the dot, won this faceoff. Skjei then screens Georgiev and a shot that Georgiev saves 99/100 times goes in. Unfortunately, this is the one time that this puck goes in and in a goaltender's duel, this was the straw that broke the camel's back.
I've done Skjei rants before, so I'll spare you tonight. However, I will leave you with this – SKJEI IS THE WEAK LINK OF NOT ONLY THIS RANGERS DEFENSE, BUT OF THE RANGERS AS A WHOLE. Maybe someone will combat me on this and say Micheal Haley or Greg McKegg. However, those guys average something like 5-7 minutes a game. And neither of them have scored on their goaltender, nor screen their goalie like the way Skjei does. Plus, how many times has Skjei tip-toed and held his dress up like a bitch, when it comes time to blocking a shot?
While this would be the game winning goal and yes, Skjei gets some fault here, the bottom line is Markstrom was insane tonight. Plus, the Rangers couldn't score on the PP once again. I'm not ignoring Skjei's role on this goal allowed, but to blame him for the loss is silly to me. Blame Markstrom.
In the final 90 seconds, DQ would pull Georgiev. Buchnevich would hit the crossbar. After that, the Rangers passed around; despite needing a shot on goal to at least have a chance of tying the game. I get you want to set up the perfect look, but very rarely, are you going to find it with 60 seconds or less remaining. Sometimes you have to fling the puck at the goalie, and hope for a tip, deflection or screen. I think it's happened once this season, but the Rangers have to be the worst team in the league, when it comes to scoring while 6 vs 5.
2-1, your final from Vancouver. I can't believe how long I went with this blog tonight. Just don't get this game twisted though – the Rangers played great tonight, but Markstrom was better. I know I've said that a lot here tonight, but that's the story of the game.
One quick diversion, before going home here.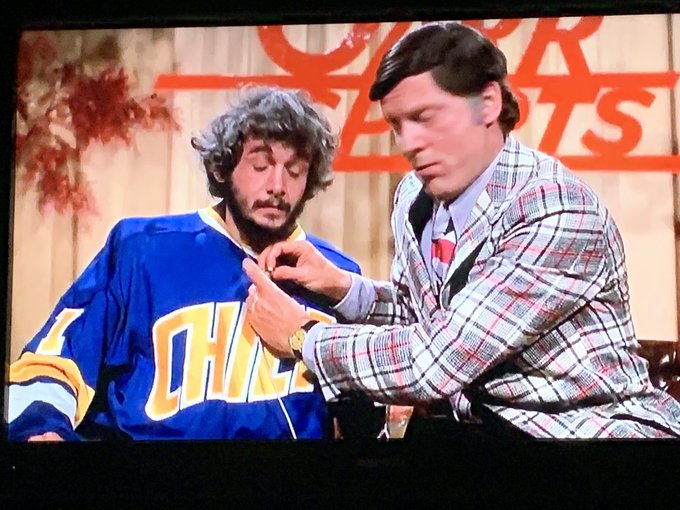 During these last few blogs, I brought up the topic of Paul Newman and why I think he's the greatest actor ever. This then led to a ton of feedback, with many of you rattling off your favorite Newman movies.
On Saturday morning, I happened to catch "SLAP SHOT", a movie that I've watched as often as "The Godfather", "Shawshank Redemption" and "Forest Gump". It's one of those movies, that if it's on, you don't change the channel.
As I watched the movie, now through 2020 eyes, I am convinced – there is no effing way this movie is made today, at least not in its current form.
If you can remember the movie, the word "fag" is used about 10+ times. Today, that's a word that melts liberals like the way water did to the Wicked Witch of the West in "The Wizard of Oz". I've done rants on the word "fag" before. Check the archives.
In today's world, I think people use the word "fag", the majority of the time, in a way you would call someone an "ass" or a "douche". That said, in "SLAP SHOT", the word "fag" is used as a homosexual slur. However, that's the way hockey players talked back then. Just read Phil Esposito's autobiography.
In a scene that I forgot, in "SLAP SHOT", you had two fans, wearing Nazi regalia, featured. These guys had swastikas, the iron cross and the whole nine yards. I will say, even for a movie in 1977, I'm surprised that was in the final cut of the movie, much less even an idea. These two Nazi's didn't add anything to the plot, nor did they have any type of character development.
The funny thing about that? The NHL, at the time, in 1977 (and the WHA too for that matter), didn't care about the two Nazi's in the movie. They were more worried about hockey being portrayed as a sport of goons.
I don't think a movie like "SLAP SHOT" gets released today. With the NHL trying to look woke with all their rainbow nights, there is no way they would be happy about a movie with the word "fag" in it.
(FYI, I'm pro same-sex marriage, as it doesn't effect me. Everyone should be able to do what they want, as long as it's not physically hurting someone else. All I'm saying here, is that I don't like anything sexually oriented promoted to kids. This world is sick enough already, as you have toddlers saying they need same-sex surgery, which is shit that pollutes their mind from their parents. I've done these rants before, it's late and I don't want to go too deep into this again.)
All I'm saying, if you don't remember the movie "SLAP SHOT" vividly right now, go back and watch it. There is just no way the liberal media or liberal Hollywood, allows a movie like this today. I bring this up, because I've mentioned on past blogs, how this world today limits creative ideas and originality. While I'm not saying you need a movie that promotes the word "fag" in it, or anything of that sort, I'm just saying, that today, in its original form, we wouldn't have the classic that is "SLAP SHOT" today. How many potential classics have we missed out on, in this new world, where everyone is offended by everything, or at least look to be fake out-raged?
The schedule doesn't get any easier for the Rangers, as recapped in my last blog, with the Avalanche up next. If there is any silver lining, the Rangers catch the Avalanche on the second half of a back-to-back. I'm sure the Av's will play their hotter goalie (it's up for debate which goalie has been better for the Av's this season) against the Islanders on Monday, and save their weaker goalie for the Rangers.
I also want to share one last idea with you, which came from reader/ex-NHL front office guy, Howie Wirth:
While I can't see the Rangers sending Chytil or Kakko down, I don't think this idea is out of the realm. It does beg some debate. I just don't see Chytil going down, because it looks like a demotion. For Kakko, I just can't see the Rangers sending him to a team where he's never played with before. Keep in mind, Kakko lives with a billet family in NY. By sending him to Hartford, even temporarily, you would have to change all of Kakko's living and day-to-day arrangements. (In addition, Kakko isn't fluent in English yet, and obviously, isn't familiar with Hartford, Connecticut.)
What I think does have some merit, validity or weight here, is that with the Rangers shitting the bed, maybe the Rangers don't call up CZAR IGOR, Kravstov, Lettieri or whoever else you like from Hartford, until the Calder playoffs wrap-up. And if Hartford goes deep, that means we might not see any of these guys this season.
I could care less about how Hartford does, which is why I'm an advocate of press-boxing Lundqvist and calling up Igor. However, maybe there is something in letting guys who have a future with this team, or at least we hope, with Igor and Kravtsov, in tasting victory in America. What says you?
Barring me getting a night job at work this week, I'll be back Tuesday night after the game with the Avalanche.
Until then, thanks for reading, and as always, win or lose…
"LET'S GO RANGERS!"
Sean McCaffrey
BULLSMC@aol.com
@NYCTHEMIC on Twittah