"By far the best game he had all year." – David Quinn, on 2/10/21, talking about Mika Zibanejad after the Rangers 3-2 overtime loss to Boston. If this is the best Mika has, the Rangers are doomed, especially if Panarin is out for any significant amount of time. (Panarin was injured in this game, tried to play through it and then returned to the bench. As of this writing, there's no update on his status for Friday night, against these same Bruins of Boston.)
Greetings and salutations everyone and welcome to another blog here on BlueCollarBlueShirts.com. If you're a fan of moral victories, these New York Rangers are the team for you! And let me get this out there – after tonight's game, David Quinn should sit Mika Zibanejad down and shave his head. Something has to give here! You need to do something to get Zibanejad out of his slump and perhaps a buzzer could be that thing!
Of note and something you should keep in the back of your mind as you read this – as a result of this loss, the Rangers are now 1-3-3 in one-goal games. Had the Rangers gone even 3-4 in these types of games, they'd have a playoff berth right now.
On Wednesday night on NBC, two Original Six teams, in the Boston Bruins and the New York Rangers, squared off for their first of eight meetings this season, where the Bruins eventually had their hand raised in overtime, winning the game by a final of 3-2. With this being the 12th game of the season for the Rangers, 21.4% of the season is now complete for the Blueshirts. As a result of this loss, the Rangers still remain in the bottom half of the Mass Mutual, My Shiney Hiney, Viagra, Burner Phone, Serenity Pads, Sam Rosen's Toupee East Division standings.
There are a lot of things that bothered me about this loss, with the post-game interviews being the biggest. While I wouldn't use the word "giddy" or "excited" here, when I watched David Quinn and the players speak after this game, I thought all of these guys gave off the impression that they were "accepting" of tonight's loss. Once you hit that point, you may as well throw in the towel.
Yes, the Boston Bruins are the best team in the division. Yes, the Bruins are a veteran team, trying to get back to another Stanley Cup Final. Yes, the Bruins swept the Rangers during the 2019-2020 regular season. However, when is enough truly enough? After all, we've seen more excuses after games than points out of Zibanejad this season.
Organizationally, I totally understand where the Bruins are at and where the Rangers are at. I'm also aware that the Rangers are banged up a bit. That said, are you telling me that the Rangers need Filip Chytil, Brendan Smith, Jack Johnson and Colin Blackwell in the line-up in order to win games? And while I get that the Rangers are at the tail-end of their rebuild; as mentioned numerous times on this site, the Rangers have a lot of big money tied up into their fat cats of Artemi Panarin, Jacob Trouba, Chris Kreider, Ryan Strome and Mika Zibanejad. The "rebuild" excuse will only take you so far.
In addition, let's not forget about Tony DeAngelo too, (who is also on the books for big bucks) a Tony DeAngelo who I'll get into later on during this blog, as NHL reporter Bob McKenzie had a few comments about DeAngelo on the NBC broadcast tonight.
I guess your frustration level after tonight's 3-2 loss depends on where your expectation levels were at for this Rangers team and the players on it. If you're an optimist, you can once again talk about the strong penalty kill, another fine 50+ minutes of a defensive effort, somewhat solid goaltending, tremendous play out of the bottom six forwards, Fox, Lindgren, Miller and how the team hung right in there with another great opponent. However, is it too much to ask for one three-game win streak this season? Is it too much to ask for Mika Zibanejad to have more goals this season than Kevin "Father Finkin'" Rooney? Is it too much to ask for Jacob Trouba and Chris Kreider, the supposed and alleged leaders of this team, not to take bad penalties and have them help lift the team to victories?
Anytime I hear anyone, whether it's from the team themselves, the fans or the NYR beat reporters, use the phrase "moral victory", it makes me want to puke. Moral victories are the equivalent of "participation trophies", which I guess is where we are now at as a society. It's okay to lose, as long as you get your moral victory, a participation trophy and a pizza party after your loss! And if you're happy enough about losing, you might just get an ice-cream party too!
Yes, Boston is a great team, but when I saw DQ and the Rangers seem okay about the result of this game, it just made me go back to everything I've previously said about creating a losing culture and all the Buffalo & Edmonton comparisons.
Say what you want about him, but I miss Tony DeAngelo. I love watching Brendan Lemieux getting fired up. I enjoyed Anthony Bitetto throwing down the gloves in this game. I like seeing players who are visibly upset about losing. You think if the Rangers had won this game, that Brad Marchand and the top names in Boston would be smiling and enjoying their moral victory? I don't think so. That's why Boston has had a winning culture for over a decade now. (And unlike former Ranger stars, Boston's top players took less money, in order to keep their nucleus alive, during this hard salary cap era. Boston's top guys have always put winning first.)
There's a lot of news to get into tonight, with the big bombshell being the fact that soon enough, fans will be allowed to attend Ranger games inside of Madison $quare Garden again. I'll kick off with that story tonight. After that, it's the usual stuff before getting into the game review portion of the blog, such as the line-up, the gambling segment, the box score and everything else. (Of note: please fire off in the comments or on email, about your thoughts about fans being allowed back inside of MSG. I'm interested in as much feedback as possible on this topic.)
However, of course, before getting into everything, the PLUGS segment of the blog!
Here are my last few manifestos in case you missed them:
---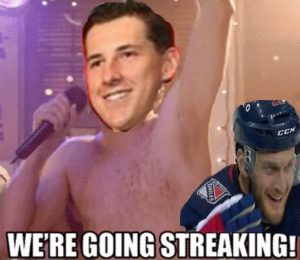 ---
---
---
On Wednesday afternoon, Governor Andrew Cuomo announced plans to rescind empty arena games. You can read one of the many stories on this topic here: https://www.nbcnewyork.com/news/coronavirus/cuomo-says-large-ny-arenas-venues-can-reopen-feb-23-with-testing/2879391/
I don't want to get into the politics and economics of all of this. I just want to stick to the facts, then give my opinions as a regular attendee of Ranger games. I know there are other factors and stories coming out of this, but I just want to keep everything to the Rangers and hockey here. After all, none of you care about my thoughts on politics, nor should you.
And really, when it comes to Cuomo's announcement, this is all that you really need to know:
There's a lot to unpack here. For starters, starting on February 26th, the Rangers will re-open MSG to the fans, where about 1800 or so tickets will be sold. How the Rangers disperse tickets for these upcoming games is unknown for right now. One idea suggested to me was that perhaps the Rangers hold an "Essential Workers Night", where the Rangers give out free tickets to essential workers. I wouldn't be opposed to that, although I do wonder if M$G would forfeit ticket sales for one game. However, this team has been charitable in the past and this would be a great move, especially from a public relations perspective.
While more news will eventually come out, regarding how the Rangers will decide how to dish out their ducats; as of this writing, nothing is confirmed, nor has anything been suggested by the franchise. In addition, there hasn't been a mailing to season subscribers just yet. I would have to imagine that season ticket holders will get the first crack at attending games. Then, even in that scenario, due to only a 10% capacity and the fact that you'd probably have to keep the fans away from the players, thus meaning no fans in the first 5-10 rows; I would imagine that most season ticket holders won't be sitting in their normal seats. If you're currently paying an ungodly amount of money for great seats at center ice, are you going to want to spend a ton of money to sit corner ice? Again, all of this stuff will have to be worked out.
Another thing that will be monitored by yours truly here, will be the secondary market. For people who are selected/asked to attend games, they may not want to. (I'll get more into this in just a second.) With only a 10% capacity, will people with tickets use the resale market for big gains? Then again, are people clamoring to go to games right now? Based on the research I've done, (which is pretty much yours truly polling and talking to about 200 Ranger fans at a personal level) the majority of fans are NOT interested in attending games right now. And for the people who are interested in attending games, the majority of those people don't have the economic means to attend games, should the resale market soar.
At this time, I just want to share with you a Twitter poll I ran, which still has many hours remaining and already has 100 votes as I write these words. Here it is:
Trying to gauge how people feel here. An average night out at MSG is $200 between travel, ticket, etc. For $200, plus having to provide a test for admittance, do you have any interest in attending any NYR game at MSG under these current conditions, including wearing a mask? #nyr

— BlueCollarBlueShirts (@NYCTheMiC) February 10, 2021
According to this poll, (with 100 voters being a good sample size) 59% of fans will not attend games. 41% said they would. In my other talks with fans, whether it was on the phone, email or on Facebook, the majority of people (who are older fans) told me that they would not be interested in attending games right now either. If I combine all my findings, I would say that 65% of Ranger fans right now, WILL NOT attend games, under current conditions.
If you're a regular reader of these blogs, you know I love going to games. You also know that I go on many road-trips, as I enjoy seeing new places and taking in new arenas, when watching the Rangers play. That said, and I'll use Buffalo as an example here since they are part of New York State, and because my trip to Buffalo last season got cancelled; even if Buffalo opened up at 100% capacity right now, I wouldn't book a trip. There is just too much "unknown" for me right now.
I want to preface what I'm about to say with this – I support and respect everyone's personal decision and opinion on this topic. My opinion here isn't the end all, be all – I'm just sharing my opinion.
When it comes down to it, I would just open up all the arenas at 100% and let fans roll the dice on if they want to attend games or not. 5%, 10%, 50% or 100%, it doesn't matter – at the end of the day, you're going to run into/make contact with someone during your travels to a game and while inside the arena. Bottom line – if you do choose to attend a game, that's your own decision and your own risk. Who is anyone to deny you your freedom of choice here?
For me personally, I have no interest in attending any game under these conditions and I say this as someone who has been going to 20-25+ games a season (both home and away) ever since I sold off my traveling wrestling company in 2012. (When I sold my business, I had extra money in my pocket and more free time to attend games.)
What bothers me the most about Cuomo's ruling, is the fact that you have to bring a negative COVID-19 test with you to attend a game, a test that needs to be conducted within 72 hours of a game. To me, this is just going through the motions and half-assing it. I mean really, Cuomo is asking Ranger fans right now to congregate at a doctor's office or at a doc-in-a-box, where people who are sick with the virus go to. So if you're fine, and have been fine this whole time, Cuomo wants you to go where sick people are, in order to produce a negative test. (And let's not forget about all the false positive and negative tests that are out there, which means that some of these tests are rubbish anyway.)
Even sillier, is that once you get your piece of paper that says you're negative (and who is to say that these tests can't and won't be forged by fans?) you then have 72 hours to walk about, where theoretically, you can contract the virus, just seconds after leaving your place of testing.
There are just too many factors here, in the event of a fan/customer producing a negative test, both irrelevant and worthless to me.
Had Cuomo or the Rangers said, "you'll have to take a rapid test at the door, prior to entry", (like the media does) I could understand that. At least you know that test is real and of course, more timely and accurate. In addition, you know there will be no forgeries going on either.
If you're one of the people that would attend games and bring a legit negative test with you to a game; once inside the arena, you have to wear a mask at all times, except when you eat or drink. Of course, if I was going to a game, I'd do what I'd normally do – pound beer all game. So I guess I wouldn't have to wear a mask for the three hours while I'm there! Would that make a stranger sitting near me feel comfortable? (And really, that's what the mask is really all about – being respectful to your fellow humans of a civilized society. For the mask-haters/COVID-deniers, that's always been my issue with them. I get that they hate the mask and what not, but putting a mask on, at the very least, is a way to show consideration to your fellow man.)
On another personal note, when attending games at M$G, the "pregame" is always a great experience for me. I just don't think that would be the same today, as I'm sure bars around MSG, at least the few that are still left, will have to turn away fans, due to capacity issues.
While I respect anyone's decision to attend games if they choose to do so; to me, this is all pure hypocrisy and I find this idea delusional. After all, and as was described/reported on several times during tonight's broadcast, 25% of NHL teams are down/inactive right now, due to coronavirus issues. Even worse, half of the Rangers division, in the Capitals, Sabres, Devils and now Flyers, are also currently inactive with COVID-19 issues. (More on the 2/14 NYR/Flyer game at the end of this blog, a game which is now postponed, due to the virus.)
On one hand, we have the NHL telling us that all these teams are severely effected by the coronavirus, but in their next breath, they are saying "COME ON DOWN FOLKS!" If the NHL can't even control their own teams and players, am I to expect that they can control their own paying customers? The NHL can preach all they want about wanting to take care of their fans, but this all comes off as a cash-grab to me, at the risk of the health of their paying customers.
I'm not trying to be a "Debbie Downer" here, nor am I trying to promote fear to anyone. All I'm doing is pointing out how none of this makes sense. The amount of NHL players and teams effected by the virus is increasing, and in response, the Rangers, due to Cuomo's decision, are telling fans to join them inside of MSG.
Going back to my poll and talks with Ranger fans, my findings were pretty much what I'd expected. Older fans have no interest in attending games right now. Younger fans do. Of course, this is a catch-22 situation, because generally, the older fans have the money to attend these games, while the younger fans do not. At the age of 38, I guess I'm middle-aged, but I'm siding with the older fans on this topic. Risking my health (and my family's health) doesn't seem worth it. Plus, the Rangers are playing like crap right now too! (Talk to me about this issue if the Rangers are in the playoffs! I kid, I kid, or am I? You decide!)
Many of you guys wrote to me on Wednesday, saying what I'm about to say now. Throughout this pandemic, I've found it much cheaper to drink beer at home and have found it much easier to avoid bathroom lines in my own home too! I hate to admit it, but I've enjoyed the hermit lifestyle! Hell, if it weren't for this pandemic, I wouldn't be near 100% complete with this upcoming "New York Rangers Rink of Honor" book that I keep yammering on about during these blogs!
And really, for $200+ (and that's on the cheap side of things) to sit in an arena where you have to wear a mask for three hours and then deal with the LIRR and all that, it all just doesn't seem worth it to me right now. The fun and the awesome experience of attending a game is greatly diminished right now. And to share another personal story with you, which is related to this, I have friends currently asking me to take a trip to Atlantic City. I just have no interest as the experience and enjoyment isn't the same right now. Playing blackjack, while closed off in a glass box, just doesn't sound appealing to me.
Speaking of the future experience at M$G, I found this Facebook posting from the Garden of Ill Repute NYR Group , to be right on the money:
For the fans who do decide to attend, all the best to you. And hell, perhaps my itch for live Rangers hockey will grow to a chicken-pox level, where I'll go against what I'm saying here. However, for the immediate future, I'll be watching these games on TV. Kind of like the vaccine, I have a wait-and-see approach. I'll let other people be guinea pigs and lab rats.
And as I close here, I must say this – what happens when a fan gets sick at one of these games? And let's not forget that we live in a litigious society, where everyone is sue-happy. I mean, would you really rule out someone, someone who already had the virus, getting into one of these games and then blaming MSG (or another NYC venue) for getting the virus? That's another Pandora's Box that's awaiting to be opened.
<Cough, cough, sniffle, sniffle.> Let's get into the rest of the news, as I know this blog is going to easily surpass 10,000 words tonight!
---
On Tuesday, David Quinn announced that Alexandar Georgiev would get the nod in net for this game, saying that this decision was made prior to the game with the Islanders. In other words, CZAR IGOR wasn't being "punished" for losing a 2-0 game.
Again, I'm not here to make a ruckus about what goalie starts, as I had no issue with Igor going on Monday, but as I said, I would've went with Georgiev on Monday and then go back to my number 1 goalie against a number 1 team in Boston. While I don't blame Georgiev for this loss tonight, maybe this game plays out differently with the better goaltender. And because I've said all of this for several days now, this isn't a case of hindsight being 20/20.
In his media interview on Tuesday, Georgiev talked about the DeAngelo incident for the first time, stating, "I don't want to elaborate on what happened. I just want to keep it in the past tense. Emotions happened, and that's all I can say. I wish Tony the best moving forward and I'm going to focus on my game."
I guess that's what we all expected Georgiev to say, as if the team isn't going to tell us what happened, I doubt Georgiev was going to go against the team's protocol/stance on this issue.
I also want to say this. From all reports now, with this incident now approaching the two-weeks old mark, the story is that DeAngelo mouthed off to Georgiev and Georgiev clocked DeAngelo. As I said when this incident first happened, teammates fight all the time, including the 2019 Stanley Cup Champions, in the St. Louis Blues. I'm not advocating for anyone to get punished over this, as sometimes, you have to fight among brothers to grow stronger. I think there's just more to the DeAngelo situation, such as DQ not being a fan of his and that Gorton already laid down an ultimatum and didn't want to look "one-upped", had he not stuck to his word/threat to DeAngelo.
And if you're James Dolan, despite the facts that he's well-off and the Rangers are the most profitable team in the NHL; it has to sting a little that he might pay nearly $10M to DeAngelo for only six games played. I have no clue if Dolan was informed about all of this or not, but I can tell you, if I were running things and this was my $10M, I wouldn't want DeAngelo on the sidelines right now.
This whole situation sucks, where I just think if you could find some sort of mediator to sit all the parties down, you could get a better result than what we have here. The Rangers are better with DeAngelo than they are without him. (And if you want to talk about DeAngelo not producing much this season, look at Mika, look at Trouba, look at Kreider and until recently, look at Panarin. The whole team wasn't producing.) And I don't buy the "DeAngelo isn't liked by his teammates" junk. I can tell you personally, that Ryan Strome (see I'll give you a source here, unlike Adam Hermtrans) told me that DeAngelo was a great teammate and he enjoys playing with him.
If you read my last blog, as predicted, the top story after the Rangers loss to the Islanders was the woeful play and tone of Mika Zibanejad. You know it's really bad, when Zibanejad's struggles is the top story of the media and that everyone is asking both he and DQ about it. It was also the lede NYR story during the NBC broadcast tonight.
In his Zoom call with the media, DQ said he thought about tinkering with his lines and was asked about sliding Zibanejad down. DQ left those type of questions open-ended. As I said on social media, if I were going to do anything with Zibanejad right now, I'd take him off the PP1 unit and put K'Andre Miller on it. By doing so, you'd put a left-hand shot on the PP1 unit and a guy who is able to put the puck on net from the point. At this point, with the power-play absolutely abysmal, what do you have to lose? (Then again, I'd also bring DeAngelo back, but the odds of that happening right now seem to be at 0.0%. More on DeAngelo during the first intermission of this game recap.)
---
For the first time this season, due to the team playing tight games and because of injuries, David Quinn used the same line-up for the third game in a row. (The only change was the goaltender.)
For those keeping track, here was tonight's line-up for this 3-2 OT loss to the Bruins:
FIRST LINE: Kreider/Zibanejad/Buchnevich
SECOND LINE: Panarin/Strome/Kakko
THIRD LINE: Lafreniere/Howden/Di Giuseppe
FOURTH LINE: Lemieux/Rooney/Gauthier
Defensively, we had this:
FIRST PAIR: Lindgren/Fox
SECOND PAIR: Miller/Trouba
THIRD PAIR: Hajek/Bitetto
And in net, as mentioned, was the birthday boy in Alexandar Georgiev, a Georgiev who turned 25 years old today. Happy birthday.
GAMBLING SEGMENT time.
Here's what I said before the game:
Season over-under record 5-5-1.

This over-under went down one full goal. Bruins are dominant right now & get back DeBrusk & Grzelcyk. #nyr get one break – no Halak, as we are getting Rask v Georgiev. I would feel better if this line was -6 with the under. I'm taking the OVER. pic.twitter.com/ulBg7K7ejL

— BlueCollarBlueShirts (@NYCTheMiC) February 10, 2021
Like the Rangers themselves, I'm on a losing streak, as my over-under record now moves to 5-6-1. Of course, this game could've easily hit the over, had Zibanejad not been robbed as usual all game. Ugh.
5000 words in already! That coronavirus rant was long! Let's now go to the BOX SCORE segment, with all of the following information and graphics being provided courtesy of ESPN.com:
SCORING:
PENALTIES:
GOALIES:
| | | | | | | | | | | |
| --- | --- | --- | --- | --- | --- | --- | --- | --- | --- | --- |
| SA | GA | SV | SV% | ESSV | PPSV | SHSV | SOSA | SOS | TOI | PIM |
| 32 | 3 | 29 | .906 | 25 | 1 | 3 | 0 | 0 | 60:36 | 0 |
| | | | | | | | | | | |
| --- | --- | --- | --- | --- | --- | --- | --- | --- | --- | --- |
| SA | GA | SV | SV% | ESSV | PPSV | SHSV | SOSA | SOS | TOI | PIM |
| 32 | 3 | 29 | .906 | 25 | 1 | 3 | 0 | 0 | 60:36 | 0 |
TEAM STATS (Again: the power-play and the face-offs doomed the Rangers in another loss.)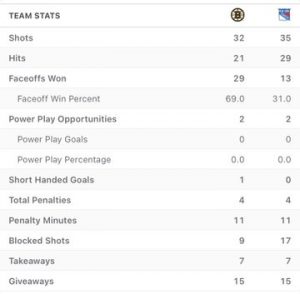 Off puck drop here, if you consider what Rask did tonight as a "robbery", then Mika Zibanejad is as penniless as a junkie sleeping on the steps of Penn Station. Hell, perhaps with their coffee cups full of coins, these junkies might have more pocket change than Zibanejad does right now.
Unlike the Rangers loss to the Islanders, Zibanejad was noticeable tonight, but of course, for all the wrong reasons, as he was continually stoned like a mid-century heathen all game. It's been the same shit for Zibanejad for most of this season, as it seems like every goalie in this division is hellbent to keep Zibanejad off the scoresheet. It's like every goalie in this division is playing someone in their fantasy league, with their opponent having Zibanejad on their fantasy team. While the Islander game was bad, this was another game where Zibanejad could've had a multi-goal game, but the other goalie just said – "no effin' way guy."
Seriously, if you look at all the Ranger games this season, except for Monday night's tilt with the Isles, and just look at all the great saves made against Mika this season; Mika could easily be sitting on 10+ goals right now. In this game alone, Rask took two potential goals away from him.
---
Since this was an NBC game and not a MSG game, we have a VALLY-FREE blog tonight! And wow, what a difference, as the NBC broadcast was a 767868667867868689689 times superior than the shit that the MSG Networks gives us. It takes watching the Rangers on NBC to really show you how bad MSG is. (Of course, with that said, I've been championing for some time now for the Rangers to admit the obvious, and let Albert take over the torch from Sam Rosen.)
I know many people hate Pierre McGuire, because "it's the cool thing to do", and since most people on social media are sheep, but I thought Pierre was FABULOUS tonight. Truth be told, the only time Pierre really annoys me, is whenever he's covering the Penguins, where he then does his fanboy fandom act of Crosby and the Pens. Away from the Pens, not many are better at their job than Pierre is.
Of note, during this broadcast, Albert let his Rangers fandom come out, as he recited some Rangers history. Pierre, who knows more about hockey than any other living human today, with perhaps only Stan Fischler being able to challenge him; then rattled off a bunch of Rangers history on the broadcast too. You know how I am about Rangers history – I loved every second of this. (And if you want some entertainment after this blog, google this – "Art Coulter interviews.")
Even better was that we got the best play-by-play man in the game tonight, in Kenny Albert. While Sam Rosen is unintentionally funny these days, as he's turned into a parody of himself; no one calls a game better than Kenny Albert. NO ONE. No joke, Pierre and Kenny were great. Going back to the two schlubs on the MSG Networks on Friday will be painful. I know this sounds like too much about a broadcast, but I really want to express my admiration for the job that both Kenny and Pierre did tonight. I appreciated it. (I always feel that it's a good thing to be over-complimentary when you like something. It's easier to be happy than to be upset. Plus, I rather be positive anyway.)
From a studio aspect, there were no charts tonight. There were no "EXPECTED" stats. Even better, we had analysts who understood the importance of black-and-white stats, such as special teams and face-offs. And when NBC analyst Patrick Sharp talked about his career? I put more weight into what a three time Stanley Cup Champion and a veteran of nearly 1000 NHL games has to say, over some ANALytical doofus who carried bags around during the majority of his 46 NHL game career.
And as much as I hate to admit this – I did miss Milbury tonight. I always like the agitators, assholes and heels, even if Milbury was one of the biggest NYR villains ever. Fire Milbury for not doing a good job. Don't fire him because you're overreacting to SJW Twitter jerkoffs.
In any event, this was an outstanding broadcast and outside of the game result, I really enjoyed it. It's going to be sad if NBC loses their TV deal with the NHL, because they are doing an A+ job this season and from every aspect.
---
After recapping all the line-up news, league information and everything else in between; including "BYOR", as in "Bring Your Own Results", in the event that you want to attend Ranger games in the future, NBC took us to puck drop. Again, I can't say enough about how great this broadcast was tonight. The only thing I would want to see in the future? Kenny Albert saying, "SECOND PERIOD, WHAT DO YOU LOOK FOR HERE PIERRE?" "Well, Kenny…"
With Mika Zibanejad as the focus of the NBC pregame show, Mika promptly lost the opening face-off to Patrice Bergeron. To show you how bad Mika was against Bergeron tonight, Bergeron went 15-5 at the dot tonight. Zibanejad went 4-16. Just to think, a year ago, everyone, including myself, was using that "elite" word with Zibanejad.
The first period pretty much played out like the first period from the Islander game on Monday, as both teams relied on a heavy defensive structure, and as both teams limited open ice chances. By the time the first period was over, each team only had six shots on goal. While the Rangers have been much better defensively this season, the trade-off has been a lack of offense.
Once again, the bottom six forwards carried the Rangers in this game, with Phillip Di Giuseppe standing out early. While the term "unsung hero" is perhaps going overboard, he's been solid.
To just reiterate what I said last blog, don't take any of my observations or opinions as me trying to produce a "hit-piece" on Zibanejad. I'm going to bring up a ton of Zibanejad follies and errors in this recap, because after this game, I saw a narrative of how Zibanejad seems to be his old self. If a million turnovers, not being able to score and losing nearly every face-off is "vintage Zibanejad", I shudder to think what his new self is!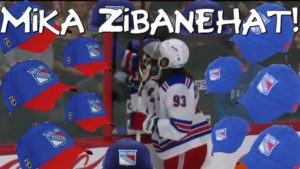 On Zibanejad's second shift, he turned over the puck, which turned into a one-timer for Boston, on a shot that just went wide. Had this puck went in the net, all of this "old self/Mika is back" talk would be out the window.
On Panarin's second shift, he found a streaking Kakko, but Kakko missed the net. Panarin's line would then have 35+ seconds worth of attack here, which was one of the better Ranger shifts of the game.
With the Rangers starting to slide in the face-off stat, both Kenny and Pierre called the Rangers out for their face-off issues. Again, you rarely hear this type of talk on MSGN.
After ten minutes of play, I believe the Rangers led the SOG department by a tally of 3-1. Again, these two teams were pretty much defensively sound in these first twenty minutes.
If there's any Ranger to rave about tonight, it's Adam Fox, who was just a freaking beast defensively all game. Fox led the team in blocked shots with four and Fox was breaking up Boston's offense all game. Once again, Fox remains the team's MVP in my opinion. What a stud.
It should be mentioned that the Garden ice looked horrible tonight, as guys were falling down left and right. By the 11 minute mark of the period, two Bruins and Bitetto fell down and other players would fall down as the game continued.
After a hit from Mika that temporarily stunned David Krejci, Buchnevich would have a nice chance at net, but would come up short. Zibanejad would then try to set up Buchnevich again, but no go. However, do you know who did go? Julien Gauthier!
With 6:10 remaining in the period and in a defensive battle, Gauthier picked up a goal after a great pass from Brendan Lemieux:
Julien Gauthier's FIRST NHL GOAL! 🚨#NYR strike first on #WNH.

NBC Sports | @NewAmsterdam pic.twitter.com/S7uG0K8FmO

— NHL on NBC Sports (@NHLonNBCSports) February 11, 2021
1-0, GOOD GUYS!
Prior to this goal, Mika was gun-shy to shoot and was called out by Pierre. The Rangers fourth line then came on and bang, 1-0, just like that. On the goal, Rooney played solid, Lemieux gets the puck, gets it to Gauthier and Gauthier did what Mika has been unable to do all season – score on a great goaltender from near-fire range.
Of note on Lemieux – this was his first of two assists in this game, as the Rangers fourth line scored the only Ranger goals of this contest. That's great for the fourth line and not so great for the Rangers fat cats and top six forwards. (Anyone see Lafreniere tonight? While I'm joking with that comment, needless to say, like Mika, he is coming nowhere close to meeting expectations. I know it's only 12 games, it's early, and blah blah blah, but Kevin Rooney has more goals than Lafreniere, Mika and Trouba combined this season.)
After a rare Trouba SOG, Pierre said that Fox may have one of the best IQ's in the league. I would think so – after all, Fox went to Harvard!
With 4:13 remaining in the first period, "Team Leader" Chris Kreider took another one of his stupid offensive zone penalties, this time for tripping Jeremy Lauzon. I'm sure he won't be a healthy scratch next game. Only TDA and Lemieux are scratched for such offenses, as DQ continues to wax poetically about his two overpaid fat cats daily, in Kreider and Trouba.
Brett Howden would get the Rangers PK a huge clear during an explosive Bruins power-play attack. Zibanejad and Miller would then go on a short-handed two-on-one odd-man rush, where Zibanejad turned over the puck. Do you know who didn't turn over the puck while short-handed tonight? Chris "Who?" Wagner.
After killing the Bruins power-play, the two teams would remain at 1-0 after one period of action. This was a solid period for the Blueshirts, especially when considering the competition.
---
Not so fun fact: Zibanejad had three turnovers in the first period.
During the first intermission, Bob McKenzie gave us an update on Tony DeAngelo, where the update wasn't much of anything. As talked about last blog, the Rangers aren't rushing to move DeAngelo right now and would rather buy him out than trading for crap. If a DeAngelo trade is to come this season, it seems like it will be made at the trade deadline, when a contending team is looking for some extra oomph. Maybe the Rangers could be one of those contenders if they would just bring DeAngelo back. After all, the power-play sucks ass and has sucked ass for the last eight games.
And I'll hammer this point home one more time – there has to be some way, where DeAngelo and the Rangers can work stuff out, in an attempt to bring DeAngelo back. To punt on the fourth highest scoring defenseman of last season – well that seems like a fool's mission to me. And if DeAngelo is such a "cancer", for lack of a better word, I would like to hear why from either Gorton or JD.
After Mika lost another first face-off of a period, the Rangers would get the puck back, where Zibanejad fell to one knee when going towards Rask. This all has to be a mental issue for Zibanejad in these present times.
On the next Bruins possession, Coyle deked out Trouba. Save by Georgiev, who at this point in the game, wasn't challenged much. In fact, Georgiev would make the first six saves of the period, as Boston quickly out-shot NYR in this period 6-0.
As the period progressed, Miller, in an attempt to catch Rask who had no work at this point in the period, blasted a shot from the point. Save by Rask. In one of the rare times the Rangers won a face-off, Trouba then did the same thing, only for Rask to stop Trouba's shot too. At least Trouba is getting pucks on net now.
Georgiev looked to be in the zone a bit here, as he was flashing his cow while making glove saves and while making saves that looked like a short-stop fielding a low line drive.
With 11:55 to go in the period, Strome was slashed by Craig Smith. Bathroom break time, as of course, the Rangers power-play didn't score here. (They are now 2-25 on their last 25 power-plays, during a stretch of their last eight games played.)
And of course, no Rangers power-play is complete without Zibanejad being robbed:
Tuukka Rask denies Mika Zibanejad. pic.twitter.com/ZFlbzq3n7i

— Conor Ryan (@ConorRyan_93) February 11, 2021
It's at the point where if Zibanejad was standing an inch away from an empty net and with the puck on his blade, that I feel like a satellite would fall from the sky, crash through MSG and land on the puck before Zibanejad could put it across the goal line. Some may say Rick Nash, but to me, no one has had more bad luck/inability to score goals during a slump, than Mika Zibanejad right now.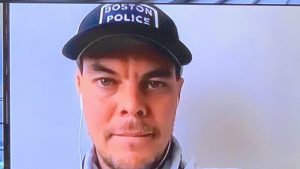 To show you how bang-bang hockey can be and how one play can change everything; after Zibanejad failed to put the Rangers up 2-0, the Bruins scored a short-handed goal with 9:41 remaining in the period. 1-1.
On this short-handed goal, following Zibanejad's failure to score a freaking goal, on the next Rangers entry, Trouba, instead of shooting, skated all over the place, tossed the puck to Panarin and Panarin was stripped of the puck by Chris Wagner. As mentioned on prior blogs, Panarin has been stripped of the puck a lot this season.
On the other end, Wagner beat Georgiev. What should've been a Zibanejad PPG was now a Bruins SHG. Disgusting.
Brad Marchand, who has enjoyed instigating against Ranger rookies in the past, tried to do some razzle dazzle against Miller. Miller didn't bite and broke up a potential Marchand breakaway. Had Miller not made this play, perhaps this game ends in regulation.
With 6:30 remaining in the period, Strome slashed Bjork, as in Anders Bjork and not that Bjork singer from the 1990's. Prior to Strome entering the box, the Bruins had a long attack with their extra skater.
On the Bruins PP, Pastrnak was a beast, as he was in Kobe mode. Pasta hit the post. Georgiev then made a save on Marchand. Georgiev then made a save on Pasta again. Then, to put salt in the wound, Mika would get a short-handed breakaway chance. Save by Rask, as Mika was robbed again. I know I use this joke all the time, but what else is there to say – Mika couldn't score in a cheap whorehouse while holding a fistful of $100 bills.
To compound the misery, once getting out of the box, Strome received a perfect pass from Adam Fox, as Strome had a perfect chance for a jack-in-the-box goal. Rather than shooting on this one-on-one chance, Strome waited for everyone from Boston to catch up and then turned over the puck after a sloppy pass attempt to Kreider. Horrible.
---
It was around this point in the game where Panarin suffered some sort of injury, which looked to be ankle or foot related. Panarin wouldn't play for the final 3:40 of the period.
After two periods, we remained at 1-1, with Boston now taking over the SOG stat 25-20 and where Boston doubled-up the Rangers at the dot to a tune of 18-9.
As the third period began, Pierre McGuire, using the excellent camera work of the NBC Network, pointed out how Panarin was skating around gingerly and looked hurt. Panarin would play one shift here, before going to the bench. Once on the bench, NBC did a picture-in-picture deal, where they showed Jim Ramsey attending to Panarin. Good stuff, at least from a production point of view.
With Fox remaining a human highlight reel for the Rangers, Georgiev would make a save on Charlie McAvoy. After the save, Zibanejad lost another face-off, which at this point in the game, saw Zibanejad lose his 13th face-off after 16 tries.
PDG, now replacing Panarin on the second line due to Panarin's injury; saw the returning Jake DeBrusk hit the crossbar. The puck would land perpendicular from the crossbar, landing right on the goal line. The puck was about 75% over the goal line, but did not completely cross the goal line. The refs took a look at this one for a bit, where it was determined that this was no goal. Georgiev and the Rangers got some puck luck here.
Of note on the DeBrusk no-goal/crossbar? Trouba screened his own goalie.
With play resuming, the Rangers went on a three vs two rush, with Rask stopping Gauthier after a pass from Lafreniere. On the next Boston possession and with 11 minutes remaining, Bjork skated around Trouba, Trouba fell down and Bjork easily beat Georgiev one-on-one. 2-1 bad guys.
At this point in the game, you thought it was over. To the Rangers credit, or should I say to the credit of the Rangers fourth line, they battled back.
After Bitetto took down Wagner in a fight after three right hands, Bitetto's fight gave the team a spark.
With 8:37 remaining, Kevin Rooney continued his scoring prowness, picking up this goal:
TIE GAME! 🚨

After review the call on the ice stands. #NYR

📺: NBCSN
💻: https://t.co/3Uo6aVVcyk pic.twitter.com/TLmiJ7HNkK

— NHL on NBC Sports (@NHLonNBCSports) February 11, 2021
2-2!!!
This goal would be reviewed, as Lemieux may have touched the puck with a high-stick. However, since a Bruins defender touched it and since Rooney, and not Lemieux, scored the goal, the goal stood. Two assists for Lemieux!
And how did this goal come about? It all started with a blast from Ryan Lindgren. Good things happen when you shoot the puck. Someone should let the Rangers top six in on this fact.
Strome, who can't hit an open net to save his life these days, despite putting up some strong games recently, once again missed two chances to put the Rangers ahead in a game. After Rask robbed Strome, Strome somehow was able to put a puck through Rask's legs on his rebound, where the puck went through Rask's legs and hit iron. I think Strome has been solid this season, but while not as bad as Zibanejad, there have been like 8-10 plays, where Strome could've had a goal, but something freaky happens.
With 6:58 remaining, Krejci tripped Lemieux. For the first time since his first shift of the period, Panarin returned to the game during this Rangers power-play. (Panarin would only play this shift and wouldn't return to this game while even-strength.)
Since this was a Rangers power-play, we just took two minutes off the clock.
With the teams back at 5 vs 5, the Rangers made a bad change, where thankfully, the Bruins didn't make the Rangers pay.
As we got under two minutes to go, Rask had a brain-fart himself, where he skated to the bench, thinking that his team was down a goal:
Where are you going Tuukka? 😂#NHLBruins pic.twitter.com/8iVDtviYbG

— NHL on NBC Sports (@NHLonNBCSports) February 11, 2021
Let's face it – had Georgiev or Igor had done this, the other team would've scored immediately. Instead, Rask was all smiles and laughed about this with his teammates in their post-game interviews.
As the horn went off to signal the end of regulation, we remain tied at two goals a piece. Enter the rat.
---
Overtime was quick.
After Mika lost another face-off, Adam Fox bailed out Georgiev, making a dive to prevent a Boston GWG.
On the other end of the ice, Buchnevich, all by himself and with the puck, decided not to shoot. Instead, he made a cross-ice pass to nowhere. Charlie McAvoy then laughed at the idiocy of Buchnevich's horrendous pass attempt and tossed the puck up the boards, where Brad Marchand grabbed the puck and made Georgiev look like a fool. 3-2 bad guys, your final. Also of note, to just make things worse for Mika, he was the trailing skater; as he had the best view of one of Boston's top players doing their job and winning the game.
And I'll save you the easy-to-make DeAngelo joke here, but yeah, I think DeAngelo brings more punch to this team than Georgiev does. Another game lost because the team can't score one effin' PPG.
Yeah, the Rangers get one point in the standings, but they lost another one goal game and another game they probably should've won. Save me the talk about moral victories. I want real victories. And you can talk about how great Boston is all you want and how the Rangers are young, but the Rangers issue isn't their young players – it's their top paid veterans.
How about something to laugh at as I go home here?
---
In an update to the Joe Unfortunato BBQ story from last blog, neither he or Adam Hermtrans has issued an apology or a retraction of their site's fan-fiction/outright lies about the Rangers, Tony DeAngelo and K'Andre Miller.
Our pals at The Blueshirt Underground Show had some fun with this story on their show last night, where they posted the graphic depicted above. They also talked about this story and other topics in the land of Rangerstown, USA. Even better, "THE WHEEL OF DOOM" made its grand return as well! (Great gimmick and bit by the way.)
To listen/watch the latest episode of BSU, which was released on Tuesday night, click the play button below:
And as I always say, even with NYR reporters trying to jump into the podcast game these days, no one does what BSU does, as their shows are recorded live and in front of a "studio" audience!
If you haven't already, subscribe to this blog for the next update:
---
Up next for the Rangers, these same Boston Bruins on Friday night. I'd expect CZAR IGOR to start that game. I would also expect the same line-up, as DQ was very complimentary about his team after the game.
After the game against the Bruins on Friday, the Rangers will be off for another three days, as their Valentine's Day game with Philadelphia is now postponed, due to Philly having issues with the coronavirus. However, come on down folks to MSG!
Even more perplexing, when considering Cuomo's decree, is that the Rangers next game after this Boston series is now on 2/16 against the Devils, a Devils team that has been off for over a week now, due to the coronavirus. That game isn't 100% set in stone yet, as the Devils try to recover from their corona issues. And to put a cherry on top, on 2/18, the Rangers are scheduled to head to Philadelphia, who may not be ready for that game either. Again, get your tests, wear your masks, and come on down to the World's Most Expensive Arena!
I might come back tomorrow with a review of "Up in the Blue Seats", should anything good be said. If not, see you Friday night with a review of Boston vs NYR Part II.
Until then, and as always here, thanks for reading and…
LET'S GO RANGERS!
Sean McCaffrey
BULLSMC@aol.com
@NYCTHEMIC on Tweeter
Follow the BlueCollarBlueShirts.com Facebook Group by clicking this link: https://www.facebook.com/groups/1564026407193056/