Greetings and salutations everyone and welcome to another blog here on BlueCollarBlueShirts.com. Who are these Rangers?
Following all of the celebration and jubilation from the Blueshirts' 6-3 win over the Seattle Kraken on Friday night, where as you may have heard, also featured the Broadway debut of Vladimir Tarasenko; 24-hours removed from the big victory, the "Find-A-Way" Rangers did it again, en route to their 6-2 defeat of the first-place Carolina Hurricanes.
Over the course of this season, I have used a lot of adjectives whenever describing the Rangers' 31 two-pointers in the standings thus far. Following tonight's win, the word "RESILIENT" best sums up this 6-2 showing.
In a game that had all of the makings of a "scheduled loss;" due to the home team having the previous ten days off, combined with the fact that the Rangers were playing on the second half of a back-to-back, and their fourth game in six nights too; the Hurricanes pretty much dominated the first 56 minutes of the contest.
However, despite the well-rested red-and-white shirts dictating the pace, winning every face-off imaginable and creating turnovers left-and-right; the Blueshirts' back-up goaltender, Jaroslav Halak, wouldn't break.
While officially, it will go down in the record books that Halak gave up two goals tonight; unofficially, neither goal allowed was on him.
In his 27-save performance, his seventh victory in a row (remember when the morons/Gallant doubters of this fan base wanted Halak sent to the Wolfpack, in favor of Louis "Spicy Pork Roll" Domingue?); Halak was flawless.
Without Halak, it may have been the home team, and not the road team, that put up a touchdown on the scoreboard.
Tied at 2-2 entering the third period, and with the Rangers looking like they were suffering the effects of their busy schedule; Artemi Panarin, who had tied the game late during the second period, then scored the go-ahead 3-2 goal at the 4:33 mark of the final frame.
For Panarin, who hadn't scored a goal in his last eight games played; the bakery wasn't closed just yet.
The Rangers, now possessing a one-goal lead – never relented – even if Carolina, despite trailing, continued to apply heavy pressure.
As the game went under the FOXWOODS FINAL FIVE mark, and following a successful game-changing Rangers' penalty kill too; Panarin, who had taken the penalty in the first place, scored an insurance goal at the 15:59 mark – "The Breadman's" first hat trick since his 2019-20 Hart Trophy finalist season (December 12th, 2019 against San Jose).
Furthermore, this was also the first Ranger hat trick of the season.
For Panarin, there was no better time than tonight to showcase his greatness – something we saw all the time from that aforementioned 2019-20 campaign.
Now up 4-2 late, the game wasn't over yet.
However, immediately after Canes' bench boss, Rod Brind'Amour, called for his goaltender, Frederik Andersen, to join him at the bench; BOOM – there was Kaapo Kakko depositing the puck into the empty net.
5-2, GOOD GUYS – and where finally – and as talked about last night – you could finally say those two words of "GAME OVER!"
However, for shits and (leg) kicks; Panarin scored one more goal, his fourth of the night, with 1:04 remaining. This cherry on top put the Rangers ahead 6-2 – and sent the six hardcore fans of the Hurricanes solemnly to the exits.
---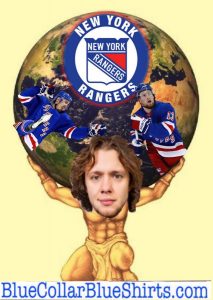 Whether it's this site, another blog, a podcast or social media; without question – Panarin will dominate all the headlines after this affair.
However, two other story-lines are equally as important, as without them – Panarin would've never scored these four goals.
The first story-line is one we've already talked about – the impressiveness of Halak.
The second story-line is centered around the Rangers' head coach, my favorite suit behind an NHL bench and yours, "THE TURK," Gerard Gallant.
As his team struggled to generate offense, as during the second period, the team had gone over twelve minutes without a shot on goal; late during that middle frame, "THE TURKMASTER GENERAL" decided to flip-flop Panarin and Kreider.
Panarin then scored his first goal of the game on his first shift with his new/old linemates – where wouldn't you know it – Vincent Trocheck, the center who we all know has had issues with creating chemistry with his $11.6M winger – assisted on the tally.
Ryan Strome who? I kid, I kid! I was a huge fan of "THE STROMER" when he was here!
Panarin, now returned to the second line – then scored three more goals – and where Trocheck also picked up a second assist on #10's game winning goal.
---
For whatever reason, there are still some major mental defects polluting Rangerstown, USA, and who maybe had mothers who either chain-smoked and/or did shots of pure liquid acid while in the womb – as they will still question and challenge Gallant at every turn.
You know, the head coach with the best winning percentage in Rangers' history (look it up if you don't believe me) – and who finished second runner-up in the Jack Adams' voting last season.
Heck, if you need the proof – here's the evidence – as following tonight's win, Gallant currently holds the best winning percentage and points percentage in all of franchise history – you know – a club that's soon set to turn 100 years old very shortly:
No surprise, these people, "GALLANT DENIERS," are proud members of the "KULT OF KRAVTSOV" – and where much like Jim Jones' old crew – this cult also seems to have their brains fried after their daily dosages with cyanide.
At some point, you'd think that these mongoloids would be sick of being wrong all the time; but when your hockey IQ is as strong as Sam Rosen calling a game these days – tragically, that is not the case.
Sadly, this observation isn't just exclusive to Ranger fans who have mindlessly joined the "KULT OF KRAVTSOV" either – it also includes the two birdbrain millennial reporters of the beat – Wince "Kravtsov played a great game on Friday night despite no shots on goal or doing anything at all" Mercogliano, and Mollie "I don't give a shit, nor do I know shit either" Walker.
But why ruin a good night on these derelicts?
However, I do want to purge this comment from my system – as I continue my venting process – which these daily manifestos are for me:
I will never understand, how alleged FANS of this team, are upset whenever the team wins.
For these people, they'd rather be proven right in a loss, rather than saying, "Golly, I'm glad that I was wrong about my ignorant statements tonight after this big win!"
Here's a new motto that these people should adopt – one of mine – "IN TURK WE TRUST!"
Trust me Kool-Aid drinkers, you'll feel much better.
---
Equally as satisfying tonight? Being proven right as the team continues to win!
That said, and to be fair, I must admit – and I know this must be hard to accept too – I was wrong last night!
After all, I did say the following during my Rangers vs Kraken recap:
"I wish the Rangers didn't have to play on Saturday night in Carolina – just so we could bask a little bit in this win."
Just 24 hours later after saying that?
I'm basking all right – and will enjoy this effervescent glow for the next 72-hours or so – as the Rangers won't return to the ice until mid-week, Wednesday night!
---
Bottom line and back to this game – the Rangers had every excuse in the world to lose on Saturday night – and instead – they fought and battled to a resounding and resilient victory.
As a result, the Rangers, due to land in Vancouver sometime tomorrow, where the touchdown kings of hockey will enjoy the Super Bowl; will enter their annual three-game Western Canada road-trip on a five-game win streak.
But tell me more about how "GALLANT DOZN'T NOSE WUT HE'Z DOIN!"
---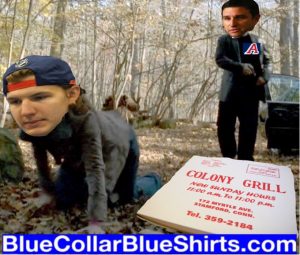 Since the Rangers played on Friday night, and landed in Raleigh at 2AM Saturday; the team didn't have morning skate prior to tonight's tilt, nor was there any real news to be had either.
The only news, real, fake or otherwise; once again, surrounded the mercurial malcontent, the under-performing and under-whelming Vitali Kravtsov, as Gerard Gallant, during his daily pregame "TURK TALK," said that #74 would join Ben Harpur in the press box.
Here's Saturday's "TURK TALK," with my comments following it:
---
One more time for the people in the back – I'm sick of talking about Vitali Kravtsov.
At this juncture, he serves no purpose, that is, outside of being traded.
He's not an NHLer, he doesn't fit on this team, and worse than all of that – he doesn't listen to his head coach either.
And as mentioned numerous times on this site ever since it happened; it's my own belief that "THE TURK" had it once-and-for-all with Kravtsov, following "TOOTHGATE," aka, "THE DIARRHEA DEBACLE."
While Gallant was later forced to re-insert Kravtsov into his line-up, and several times over at that, including a fifteen game stretch where he only scored one goal despite playing top-nine minutes; simply stated – it hasn't worked out – even if Kravtsov has mended his piss-poor and elitist attitude during his third go-around with the organization.
While the "KULT OF KRAVSTOV" bawls their eyes out (and do you know how sick this is – Kravtsov's scratching dominated all of the pregame talk – and if the Tarasenko trade had never happened); lost in all of that, is what Gallant has stated a million times during his chats with the birdbrain beat:
HE WANTS KRAVTSOV TO SHOOT THE PUCK AND PUT PUCKS IN NET.
None of that has happened, and following Friday night's game where Kravtsov was blown off the puck time-and-time again, and didn't register a shot on goal either; for both a team and a head coach who are in WIN NOW mode – Gallant has to answer to 22 or 23 players – and not just one player who can't get it going – despite his numerous chances afforded.
Even during tonight's game, my social media feeds were full of never-ending Kravtsov talk, despite you know, the team playing their best hockey of the season – where following these two-points netted in the standings – the Blueshirts are now 12-2-2 in 2023.
Whether the "KULT OF KRAVTSOV" are trying to scapegoat and besmirch the good names of Barclay Goodrow and Jimmy Vesey, or centering their vitriol at the feet of Jake Leschysyhn; lost in all of that – Kravtsov, now removed from the second line and the game too; that line, his previous line, picked up nine points tonight – and without his daily bouts of zero shots on goal.
And let me be clear, as truly, I do hate wasting my precious time talking about this guy every night; but because it's a story and because of all the feedback that I receive – I'm forced to.
Jimmy Vesey and Barclay Goodrow, hands-down, no-doubt-about-it, serve this team better on a jacked up fourth-line.
Also true? Both of these players are better second right wing options when compared to deploying Vitali Kravtsov as the team's second right-winger.
Seriously – how can one argue that Kravtsov has the track record and/or the success this season, as both #21 and #26 have had?
While I don't think that Jake Leschyshyn will even dress during the 2023 Stanley Cup Playoffs; when it comes to "roster stew;" he's a better option than Kravtsov too.
At least he listens to his head coach.
Plus, when it comes to Kravtsov vs Leschyshyn, with the latter re-inserted in the line-up tonight following his healthy scratch from Friday; it was never about who's better, who's more skilled, etc.
Instead, it was about bettering the second line, in the form of Jimmy Vesey; and since Kravtsov isn't a fourth-liner, nor a center either – Gallant called on #15 – rather than pulling more hairs out of his head – whenever watching #74 aimlessly mope around.
Please Chris Drury, I beg of you – please trade Kravtsov tomorrow! I'm getting rashes whenever I'm forced to write about this guy! I feel like I'm experiencing Lias Andersson 2.0 deja vu too!
---
Here was the line-up from Saturday night:
FIRST LINE: Panarin/Mika/Tarasenko
SECOND LINE: Kreider/Trocheck/Vesey
(AS NOTED EARLIER, KREIDER & PANARIN FLIP-FLOPPED SPOTS LATE INTO THE SECOND PERIOD)
THIRD LINE: Lafreniere/Chytil/Kakko
FOURTH LINE: Goodrow/Leschyshyn/Gauthier
Defensively, we saw:
FIRST PAIR: Lindgren/Fox
SECOND PAIR: Miller/Trouba
THIRD PAIR: Mikkola/Schneider
STARTING GOALIE: THE HALAKNESS MONSTER
BACK-UP: CZAR IGOR
PRESS BOX: Harpur and Kravtsov
---
BOX SCORE time.
The following graphics and information come from ESPN.com:
SCORING:
PENALTIES: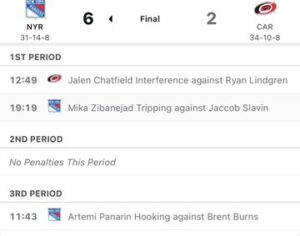 TEAM STATS:
GOALIES:
| | | | | | | | | | | |
| --- | --- | --- | --- | --- | --- | --- | --- | --- | --- | --- |
| SA | GA | SV | SV% | ESSV | PPSV | SHSV | SOSA | SOS | TOI | PIM |
| 18 | 5 | 13 | .722 | 12 | 1 | 0 | 0 | 0 | 59:26 | 0 |
| | | | | | | | | | | |
| --- | --- | --- | --- | --- | --- | --- | --- | --- | --- | --- |
| SA | GA | SV | SV% | ESSV | PPSV | SHSV | SOSA | SOS | TOI | PIM |
| 29 | 2 | 27 | .931 | 23 | 4 | 0 | 0 | 0 | 59:50 | 0 |
---
With the positive vibes fueling the streets of Rangerstown, USA; there was no chance that I was going to watch the M$GN pregame show tonight, once revealed that "The King of Commentary," Henrik Lundqvist, had the night off.
As mentioned before on this site, and for new readers too – I can't sit through thirty minutes of "VAGISMIRKS," as the worst back-up goalie of "The Lundqvist Era" always gives us his creepy and proud smile – and as he does whenever promoting his shitty little fake news ANALytical company.
Come 7PM, I returned to the network, where I was also feeling pretty good about myself earlier in the day, after watching the Islanders absolutely choke, in their 4-3 loss to the Canadiens.
Just as good? Following the Rangers' win, the Devils then lost a 3-2 shootout to the Wild!
Crazier than all of this?
Sammy Blais, who didn't score one goal in his 50+ games played as a New York Ranger; scored tonight, during his first game back with the Blues, in St. Louis' 6-5 win over the Coyotes.
Not crazy at all? Sam Rosen and Joe Micheletti doing their usual act – where their pom-poms for the opposing team were fully on display throughout the entire broadcast.
While Sam & Joe have been really bad this season with all of their praise for Ranger opponents and never-ending reverse curses too; there are two Blueshirt foes, teams from the Metropolitan Division to boot, who Sam & Joe really get a raging hard-on for – the New Jersey Devils and these Candy Canes from Carolina.
At one point, Rosen's love affair and black voodoo magic dusted upon Andrei Svechnikov was so bad (HOW BAD WAS IT?), that I was just hoping for the Canes' right-winger to score his goal and get it out of the way – just to shut up the senile old coot.
Fortunately, while Svechnikov would later assist on the final Carolina goal scored; he never fulfilled Rosen's ill-gained prophecy.
GAME REVIEW time!
---
FIRST PERIOD:
The following statement applies to the first 56-minutes of action – Carolina was the better team – but the Rangers wanted it more.
There were many times throughout this contest where the Rangers could've said "Father Fink It," chalk this game up to the schedule, and then go about their night.
Instead, even with things looking bleak, not one Ranger, the coach included, ever thought of throwing in the towel.
Better than that and following this win?
A nice six-hour flight to British Columbia – where everyone can imbibe in some post-game belts (as I'm doing as I write these words), enjoy the Super Bowl on Sunday, and then have a nice mini-vacation in the city of bright lights, downtown Vancouver.
In other words, this little prologue is my way of telling you that it wasn't all good – but then again – no one powers their way through an 82-game schedule.
And let's face it – even when up 3-2 late in the third period – you would've been happy about an overtime loser's point received.
---
Just 52 seconds into the contest; Jaroslav Halak had recorded four saves, where his first of these four were his best – when he denied the apple of Sam's eye, Svechnikov, on a tip-in try from the blue paint.
A minute later, Halak had two more saves, where his denial of Teravainen, from point-blank range, was most impressive.
At the 3:00 mark of the period/game, Rosen told us that the Rangers had logged four shots on goal. At the time, they had none. I guess he was reading the HITS stat and loused up – again.
At the near 5:00 mark, we saw a lot of what we saw on Friday – Lafreniere & Chytil enjoying a two-vs-one odd-man rush – but with no goal to come out of it.
And don't take this as a criticism – I'm just telling you what happened.
On this play, Lafreniere set-up Chytil, but to his credit, Andersen made the save – his first of the game and his first of only a dirty dozen (13).
Following a save made on Lafreniere; the new fourth line took the Rangers' third shot on goal – a Leschyshyn to Gauthier try that was also stopped. In other words, Leschyshyn was already more noticeable at this point than Kravtsov was last night!
And while I'm being a prick right now, and kicking the losers that compromise the "KULT OF KRAVSTOV;" this is true too – the fourth-line center was the only Rangers' middle-man to finish this game with a winning face-off percentage tonight (7 of 13, good for 53.8%).
Furthermore, if it wasn't for the third period where the Rangers had much more success at the dots; the disparity at the circle would've been horrendous.
Ultimately, the Canes won 35 face-offs (56.5%) to the Rangers' 27 (43.5%); but the home team won nearly every zone face-off imaginable during these first forty minutes.
Put it this way – the Rangers only won eleven face-offs when entering the third period.
They won sixteen during the third, and wouldn't you know it – then went on to score four goals too!
Yet these analytical creatures, all most likely missing a chromosome or two, will tell you that face-offs aren't important.
And sadly, I'm not making that up!
---
Down to 13:58 remaining, Halak remained in wall-form and denied Noesen with a robbery save made.
Following a bad Chytil turnover made with 12:00 to go, to Sebastion Asshole of all people (nickname credit: Roc from "2 Guys, 1 Cup); Halak came up with save number eleven.
Again – Andersen only made thirteen saves in total tonight.
Funny enough, following the first TV timeout; M$GN actually showed us Carolina paying tribute to their latest member of their alumni, Vincent Trocheck.
Previously, the Rangers/M$GN have never shown us any of the returning Blueshirts' salutes on their airwaves, including David Quinn, Ryan Strome and Alexandar Georgiev, where all of these returns took place this season.
At the half-way mark of the period, the Canes were out-shooting the Rangers 11-4, and this is when Sam Rosen started doing his Svechnikov goal rain dance from the booth.
In a period where the Canes forced a ton of turnovers and got sticks in lanes; with 8:30 to go, Vesey, for the fourth time in as many games, showed off his sweet hands, drove to the net – then only to be stopped by the opposing goalie once there.
However, you can see that #26 is in the zone – and I bet if you talk to him – he will tell you that he's having the most fun of his career right now.
Down to 7:45 remaining, it looked like Fox had scored, but upon replay, the puck took a double-doink off of the posts. Keep this in mind for later.
Nearly thirty seconds later, Jalen Chatfield interfered with the birthday boy, the now 25-year-old Ryan Lindgren – as #55 has now drawn penalties in consecutive games.
Less than a minute later; Mika Magic, and needless to say – a brand of wizardry that's much better than Rosen's black voodoo magic:
Mika Zibanejad won't be denied on the power play!! #NYR pic.twitter.com/olmhOisH5t

— Rangers on MSG (@RangersMSGN) February 12, 2023
---
1-0, GOOD GUYS!
Previously, the Rangers first power-play unit was 3 of their last 34.
Since making the change to the man-advantage units on Friday – the new PP1 unit is now 2 of 3, and where the team is now 3 of 4 too.
On this goal, Panarin, from near the blue line, got the puck down low to an awaiting Kreider, and CK20 dished the puck through the blue paint to his BFF. Following Mika's initial shot getting blocked, the center stuck with the play, and boom, roofed it past Andersen.
At this point of the game, and again, for nearly 56 minutes; the Canes controlled play. The fact that the Rangers were up on the scoreboard was a miracle – but also a credit to their resiliency.
Almost as impressive as this goal? The fact that Leschyshyn won the face-off following it, which meant that the Canes wouldn't get a chance to score before the PA announcer could read Zibanejad's goal out!
As Bill Murray and Richard Dreyfuss said in "What About Bob?"; "BABY STEPS!"
Down to 4:25 remaining, Lafreniere and Fox had a give-and-go play; where at the end of it, Fox was denied of another goal, although this time, Andersen made the save – rather than the puck hitting iron.
As we hit 3:15 left on the clock; Halak did it again, this time when he robbed Seth Jarvis from mere inches away.
Several seconds later, Gauthier fired a slap shot at Andersen and the puck hit the goalie's mask.
Despite replay showing Andersen's eyes rolling to the back of his head, as if he was "The Undertaker" from the WWE; the concussion spotters took the night off.
As we got under the final minute, Vesey laid a big hit to extend a Rangers' attack in the Carolina zone. However, back in the other end, and with 40.5 seconds to go, Zibanejad was boxed for tripping Jaccob Slavvin.
This meant that the Rangers would be without their best penalty killer, but in spite of that fact – the Rangers killed off these forty seconds – and then the eighty seconds that followed during the opening stages of the middle frame.
1-0, GOOD GUYS after a sloppy first period.
Here's what I said at the time:
1-0, GOOD GUYS, after 20. 1P Thoughts:
— This felt like something out of last season – goalie carries them and then the PP scores.
— SOG 13-8, FOs 11-4 Canes; Hits 11-9 #NYRB —- Slow start, but expected
— Huge Ranger fan contingent in Raleigh – the usual
— LGR!

— BlueCollarBlueShirts (@NYCTheMiC) February 12, 2023
---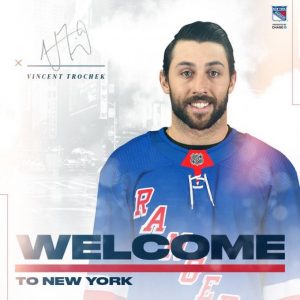 SECOND PERIOD:
This was the worst twenty minutes of the game for the Blueshirts; but by the end of it, they left the period tied at 2-all.
Also, I have to note the following graphic, a rare graphic that actually promoted the Rangers tonight – and where this graphic was sandwiched in-between Rosen's jinxes and a promotional piece on former Ranger, Jesper Fast:
What's that phrase again? Oh yeah – "IN TURK WE TRUST!"
Another one that I love mocking Turk doubters with?
This one: "BUT, BUT, BUT GALLANT DOZN'T NOSE WUT HE'S DOIN!"
The Rangers' penalty kill survived, which meant that both special teams were 1-1 each.
Overall, the special teams finished 3-3 tonight – and where the latter Rangers' PK, and as we'll soon get into, was a major turning point.
Three minutes in, Martinook got around Lindgren, but at the last second, the birthday boy helped break up the shot.
Down to 15:45 remaining, during a period that felt like molasses; Kreider-Vesey-Trocheck came close to scoring the second goal of the game; but following a save on Trocheck, the second-line center's second try, off of a rebound – it was blocked by Slavvin – as the Canes' defenseman bailed out his goalie who had left his net empty and vulnerable.
Come 13:10 left on the clock, Teravainen scored.
1-1.
This goal was a fluke/puck luck goal – but yep, and this works both ways – they all count the same.
On this play, Chytil turned the puck right over to Double T. and the Canes' right-winger caught a piece of Miller's boot on its way past Halak.
In other words, there's no way in hell you could pin this goal allowed on Halak.
I saw some people get on Chytil for this god-awful turnover, and while it's true, the turnover was atrocious; I can't get on him.
Nobody is perfect and shit happens – and where of course – "Heat-il's" recent hot stretch gives him a pass out of me!
Down to eleven minutes remaining; Zibanejad & Panarin had a two vs one odd-man rush. Following Mika's sauce on a silver platter to "The Breadman;" somehow, and some way – #10 missed a wide open and vacated net.
At the time, you wanted to strangle Panarin; but by the end of the game, you were choked up yourself, full of emotion, following "Cousin Artie's" best game of the season.
Following this miss which made you see crimson-red; down to 10:17 remaining, Jesperi Kotkaniemi scored.
2-1, bad guys.
This goal allowed was on the fourth line, as following Leschyshyn's rare d-zone faceoff loss; Svechnikov blasted a puck off of Halak, and on a rebound that went right to Goodrow – the alternate captain whiffed and failed to clear the puck. Instead, the overpaid Kotkaniemi put the Canes ahead.
One more time – neither of these two goals allowed were on Halak – the only goals allowed tonight.
Also of note Part I: At this point, and as we had hit the half-way mark of the game – the Rangers had three chances to score a second goal themselves – the Fox post, Trocheck's shot that was blocked by Slavin and Panarin's failure on the odd-man rush.
Also note Part II: My frequently mentioned Twitter NOTIFICATION feed was going through the roof, all with disparaging comments, where those two words that you should never say, "GAME OVER," was repeated often.
I just don't know how people can give up on this team – especially when only down by one goal with thirty minutes remaining.
Here's what I said at the time:
Too much doom and gloom on #NYR twitter – Canes have been off for ten days, Rangers on a second half of a back-to-back, four games in six nights. It's all relative.

— BlueCollarBlueShirts (@NYCTheMiC) February 12, 2023
---
When I tweeted that, while I believed that the Rangers could come back; never in my wildest dreams would have I imagined what happened next – four unanswered goals – and with Artemi Panarin returning to Hart Trophy form.
Following more saves from Halak and a few Cousin Artie turnovers too; Gallant had enough.
Down to 3:30 remaining; Gallant flip-flopped Kreider and Panarin.
Genius Gallant would strike gold – again.
After a questionable Rangers' icing call with 2:39 to go, one that looked like Kreider had beat out; Panarin took his first shift with his new-old linemates.
Twelve seconds after the icing, and with the returned second line back on ice, this happened:
Panarin rips one and Sam gives all the props to Gerard! #NYR pic.twitter.com/jpa4cDNDQN

— Rangers on MSG (@RangersMSGN) February 12, 2023
---
Kravtsov who?
2-2!
Jimmy Vesey made a hell of a play in the Rangers' o-zone, got the puck to Trocheck and boom – Panarin broke old habits – as he didn't break stride nor looked to pass either – as he rifled a rocket past Andersen.
What. A. Goal.
Also stunning? This was the first Rangers' shot on goal in over twelve minutes!
We remained tied after two periods.
Here's what I said at the time:
2-2 after 2. 2P Thoughts:
— #NYR being dominated, but somehow are tied.
— Schedule does them no favors, but they are battling & not giving up.
— SOG 25-13, FO's 25-11 Canes; Hits 21-20 NYR
— NYR special teams 2-2
— Find a way!
— LGR!

— BlueCollarBlueShirts (@NYCTheMiC) February 12, 2023
---
THIRD PERIOD:
As stated earlier – I would've been ecstatic to just receive an overtime loser's point in the standings tonight.
Instead, Panarin scored two more goals, four in all, where wouldn't you know it – these baked cookies account for nearly 25% of #10's dirty dozen (13) of goals this season!
My biggest takeaway following the Rangers' four-goal period, one that included Panarin's natural hat trick?
It's what I said since the Rangers landed Tarasenko – in regards to both the trickle-down effect and roster-depth.
As talked about earlier with Chytil; no one is perfect.
Like any of us in our jobs and/or daily walk of life – we have off-days.
In other words, while you can't expect the top line, the second line or the first-round pick line to have monster games night-in and night-out; what you can expect, is that one of these trios will steal the headlines following any game played.
Tonight, it was the new-old second line's turn to hog all of the ink and rave reviews.
---
Following Rosen opening up this period by reading off every Carolina third period stat known to mankind; the first four minutes were a barrage of whistles, as both teams went offside and iced the puck several times over.
It was also during this time where the FABULOUS Jumpin' Joe Micheletti relayed to us that he talked to Sammy Blais and where the former #91 wanted to thank the fans for supporting him.
And as you'd expect, both Sam & Joe said what I've said on this site, and what you all feel too – Blais was never the same following the dirty attack orchestrated on him by the filthy P.K. Slewban.
You know how Mollie Walker doesn't give a shit about physicality? That nonsense was negated once again, as with 15:44 remaining, Barclay Goodrow got right into Noesen's face and challenged him to a fight. However, the officials broke it up before the fists could fly.
Perhaps lifted by Goodrow, just 24 seconds later, this happened:
First 2 goal game of the season for Artemi Panarin!! pic.twitter.com/BWPi2tNn00

— Rangers on MSG (@RangersMSGN) February 12, 2023
---
3-2, GOOD GUYS!
I think my live play-by-play sums up my emotions after the goal was scored – and nearly three hours later (I got a late start tonight – no 5AM train tomorrow and a UFC PPV that I watched after this game), as I write these words to you:
SCHNEIDER, BLAST OFF ANDERSEN, NONNA TROCHECK'S BAMBINO, VICENZO FROM PITTSBURGH, SLAMS IT HOME!!! 3-2, GOOD GUYS!!!! Vesey was right there, Panarin too, it could be Panarin's goal but who cares, #NYR now leading with 15:20 to go in a game they are battling in!

— BlueCollarBlueShirts (@NYCTheMiC) February 12, 2023
---
This goal was all set-up by B-Schneids, where on his rebound afforded, both Panarin and Trocheck went for the puck, but the Breadman got there a nanosecond ahead of his center, thus awarding him the goal.
Following the goal, each goalie made a breakaway save each, Andersen on Vesey and Halak on Sebastion Asshole.
Up next – the Rangers, while winning n-zone faceoffs, lost nearly every d-zone faceoff imaginable, which in turn, had my asshole tighter than a freshly tuned snare drum.
Following Zibanejad losing another face-off (he finished 8 of 23, 34.8%); with 8:17 to go, Panarin took his usual penalty, this time for hooking Brent Burns.
Call me biased, call me whatever, just don't call me Shirley; but surely, this wasn't an infraction you'd see called during a playoff game.
In my eyes, this was a "keep-the-game-close-Buffalo-Wild-Wings" penalty.
No matter, as despite a long Carolina attack, Jimmy Vesey, who along with Braden Schneider, had a hell of a game defensively tonight; made a crucial clear with twenty seconds remaining, thus ending the Canes' PP.
Up next? As we surpassed the FOXWOODS FINAL FIVE mark, Panarin called game:
"OH!!! GIVE 'EM THE HATS, BABY!!!!"

Artemi Panarin gives the @NYRangers a 2 goal lead with his 3rd of the night. pic.twitter.com/4M5r7l7g7N

— Rangers on MSG (@RangersMSGN) February 12, 2023
---
4-2, GOOD GUYS!
Once again, I think my live play-by-play commentary (I use my Twitter feed as my online notebook whenever writing these blogs) sums up my feelings both during and after this goal:
PANARIN HAT TRICK!!!! HIS FIRST BREAKAWAY GOAL OF THE SEASON! ELEVENTH TIME IS A CHARM!!!! 4-2, GOOD GUYS!!!! GENIUS GALLANT LINE CHANGES PRODUCE A HATY FOR THE BREADMAN!!!!!!!!!!!!!! #NYR

— BlueCollarBlueShirts (@NYCTheMiC) February 12, 2023
---
And yes – I turn 41-years-old on June 13th this year – and still act like an overgrown man child during Ranger games!
But hey, there are worst vices in life! Inject me with that Blueshirt drug!
The Rangers, who had now doubled-up the Canes following Panarin's natural hat trick; weren't done yet.
As we hit 2:20 remaining, Rod The Bod pulled Andersen. Six seconds later, Kakko easily scored into the empty net, where I was also happy to see Lafreniere and Trouba get rewarded with an apple each next to their name.
Apparently, the bakery cooks some extra goods on the weekend.
Not satisfied with just a hat trick and an assist next to his name; with just 1:04 remaining, Panarin made a fool of Andersen:
tmw Sam realizes Artemi is going to do it AGAIN. 4 goals for Panarin 🍞 pic.twitter.com/jyTlc89jxZ

— Rangers on MSG (@RangersMSGN) February 12, 2023
---
6-2, GOOD GUYS, 6-2 FINAL!
As mentioned, I have no problem calling myself out – but at the same time – one game doesn't change a whole season.
However, and with that said; I'm hoping this game turns Panarin's season around, because despite his status as the team leader in points – let's face it – he could be much better.
(For more, check out what I wrote during the bye week about #10, a blog you can read here: https://bluecollarblueshirts.com/13123/ )
Far too often this season, Panarin, who I accused of being a "compiler" through the Rangers' first fifty games; was a no-show against the top teams of the league.
Furthermore, being held scoreless in 40% of games prior to the break was also disappointing.
Whether it was the break, the addition of Tarasenko or whatever – I'm happy to see this version of Panarin.
SHOOT THE PUCK ARTIE!
While I don't expect four goals every night; all he has to do in my eyes is generate offense. Be a threat. Scare other teams. Make them focus on the guy in the #10 jersey.
And after tonight? I'm sure the Western Canadian teams, the 'Nucks, Oil Cans and Flames, want nothing to do with him next week!
Here's my favorite coach and yours, "THE TURK;" who of course, had to answer a negative question to begin his post-game "TURK TALK":
---
And while Gallant had to answer some annoying question from an unnamed female; it was refreshing to hear Gallant go one-on-one with the only member of the beat with a clue, the Hall of Fame Larry Brooks.
And no joke – you can hear how much Gallant respects Brooks too – as he always addresses him by his first name, while always rolling his eyes whenever Wince and Mollie lead off every interview by asking about Kravtsov!
---
Up next? The Super Bowl, where despite being a Giants fan – I see the Eagles steamrolling the Chiefs.
But hey, at least it's not the Islanders winning the Stanley Cup!
Following Super Sunday; the Rangers will have a few practices and then square off against the three teams of Western Canada.
While staying up late and not sleeping is never an issue for me; aside from the 10PM start on Wednesday in Vancouver; the Rangers will then play a back-to-back set on Friday and Saturday nights in Edmonton and Calgary.
In other words, if you have a traditional Monday-to-Friday work schedule; at least you can stay up late for the two games in Alberta.
This can't be stressed enough as I go home here – this was a statement win.
There were many reasons why the Rangers could've lost (and thank the hockey gods that they didn't – or it would have then been 72-hours of "THEY SHOULD HAVE PLAYED KRAVTSOV, WAA WAA WAA!"); but due to their resilience and never-give-up attitude – they embarrassed the first-place team of the division.
Enjoy the Super Bowl.
I'll be back prior to Wednesday's tilt with news & notes – and maybe talking about a trade or two too!
PLUGS TIME!
---
My first plug of tonight's blog – the mandatory plug for my book, "The New York Rangers Rink of Honor and the Rafters of Madison Square Garden."
As mentioned previously, the book is now available in hardcover, in paperback and in Kindle formats. To purchase a copy of the book, visit this link:
https://www.amazon.com/Rangers-Rafters-Madison-Square-Garden-ebook/dp/B09CM5N2WD
For those still looking for signed paperback versions of the book, I have re-ordered more copies. I now have a few signed copies for sale at $25 a pop (includes shipping price) through me directly. Here is all the information on that:
---
My four-volume set of books, "One Game at a Time – A Season to Remember," is a game-by-game recount of the Rangers 2021-22 campaign.
My second title as an author, "One Game at a Time – A Season to Remember," is now available in eBook, paperback and hardcover formats.
To obtain signed copies, visit: https://bluecollarblueshirts.com/onegamebook/
To purchase all four volumes on Amazon, visit: Amazon.com – "One Game at a Time."
---
The greatest volume-set of books on Rangers' history today!
"Tricks of the Trade – A Century-Long Journey Through Every Trade Made In New York Rangers' History," a four-volume set of books that meticulously covers every trade made in franchise history, is now on sale.
All four volumes of the title can be purchased on Amazon.com and are presented in three different formats – eBook, paperback and hardcover.
To purchase Volume I: Conn Smythe (1926) – Craig Patrick (1986), visit Amazon.com
To purchase Volume II: Phil Esposito (1986) – Neil Smith (2000), visit Amazon.com
To purchase Volume III: Glen Sather (2000-2015), visit Amazon.com
To purchase Volume IV: Jeff Gorton (2015) – Chris Drury (2022), visit Amazon.com
To purchase signed copies of all four volumes, visit https://bluecollarblueshirts.com/tricksofthetrade/
---
Here are my last few blogs, in case you missed them:
---
---
---
If you haven't already, subscribe to this blog for the next update:
---
Don't forget to order my new four-volume set of books, "Tricks of the Trade!"
If you don't order through me, all four volumes are now available on Amazon.com
For more details, check out: https://bluecollarblueshirts.com/tricksofthetrade/
Thanks for reading.
LET'S GO RANGERS!
Sean McCaffrey
BULLSMC@aol.com
@NYCTHEMIC on the Tweeter machine