"Our power play deflated us. We're not going to go anywhere with the power play clicking the way it is and looking the way it is. We have the same guys here from last season, for the most part." – David Quinn, 2/12/21, moments after the Rangers 1-0 loss to the Boston Bruins. In the game, the Rangers power-play went 0-6. Tony DeAngelo anyone? And hell, what's been more non-existent lately – the Rangers power-play or Adam Hermtrans?

(Of course, the obedient NYR beat reporters will never bring up the "dirty word" to DQ, with that word being "DeAngelo". In a different era, Larry Brooks would've challenged the coach about this. However, since DeAngelo was never a Brooks source like Sean Avery was, Brooks has now kowtowed to Rangers management. I mean, DQ served up a DeAngelo question to the media on a silver platter and not one hand of the NYR media decided to go in. And really, just go back and look at the articles Brooks used to write about Avery and Tortorella, when both men were in New York. Brooks is night and day when it comes to his coverage of DeAngelo and Quinn.)

Also worth mentioning here? In DQ's post-game press conference, in the same manner that a young child would rat out a sibling to their parents, DQ basically said, "Wah, Mommy, the Bruins are better than us! The Bruins are ready for the Stanley Cup! We're not! Please stop holding me accountable! I'm telling!" With a loser's attitude like that, my faith in DQ continues to decrease. You think John Tortorella would ever speak like this?
---
Greetings and salutations everyone and welcome to another blog here on BlueCollarBlueShirts.com. Pathetic.
On Friday night, during the second half of their two game set with the Boston Bruins, the Rangers once again found a new way to lose a one-goal game, this time in regulation, as the Bruins defeated the Rangers by a 1-0 final. While you can look at different things from this game, when trying to celebrate the latest "moral victory" in Rangerstown, USA, which is a phrase that I told you I hated two blogs ago; the bottom line is that the Rangers continue to lose games by a one-goal margin. With a 1-4-3 record in these types of games, it means that the Rangers, in eight of these types of games this season, have only been to the winner's circle once. That's unacceptable. Save your excuses for someone else. Once you accept losing, you might as well shine up your golf clubs and pack it in.
While this game was different than any other game or loss this season, the same stuff that has plagued the Rangers throughout all of this losing remains. The fat cats continue to stink out the joint on a regular basis. The power-play is absolutely abysmal, as even the Terry Schiavo of today shows more life than the Rangers power-play. "Mental Mika" continues to struggle. For Zibanejad, this game was one huge step backwards from the game he had 48 hours previous to this one. Jake "The Mistake" Trouba continues to be a liability on the ice, as he continues his efforts to make the old Henrik Lundqvist contract look like something out of a clearance sale bargain bin. And after tonight's game, I am hearing that the NYPD have put out an APB on Chris Kreider.
I know, I know, I know – I was extremely optimistic during the off-season and have tried to use a positive tone on this site throughout this season; a season that now looks like it's getting out of hand. However, there's only so much negative repetition one can endure when watching these games. I may sound like a broken record, but most of these games have the same "rinse, wash, repeat" cycle throughout them. I can only write about what has happened and not what I'd like to see happen.
As has been the case this season, the young guns once again were the top players on the ice tonight. You know, the guys who are making less than a million dollars this season. Your best Rangers on the ice tonight were Adam Fox, K'Andre Miller, Ryan Lindgren, Julien Gauthier, Kevin Rooney, (I know he's not really a "young gun") Kaapo Kakko and Alexis Lafreniere, an Alexis Lafreniere who was the #1 pick of the 2020 NHL draft and a Lafreniere who still remains with one goal to his name. Of the players making over a million bucks this season, only Brendan Lemieux really stood out. (You can make a case for Buchnevich here, but I thought Lemieux was much better.)
When you look at the fat cats tonight, Jacob Trouba was a shit-show. Kreider may as well have been hiding in the lost and found bin at MSG. Mika Zibanejad, for all the excuses everyone wants to give him in order to explain his troubles; well Mika is doing absolutely nothing offensively. Yes, I've recapped all of Mika's stuff in the past (no preseason, coming off the coronavirus, etc) but there is no other star player in the league that is struggling as bad as Mika is right now. It should also be mentioned that every other player in this league didn't have a preseason, and how other players also had the coronavirus. Mika remains stifled the most. The excuses for Mika must end.
For Pavel Buchnevich, who is playing in a contract year and looking to join the upper-echelon of fat cats on this team; I thought he had a decent game, but decent games with no points won't get you paid. Not for someone with his skill set. (To explain what I mean here, Lindgren will one day get paid for his defensive skills, while Buchnevich is a player that will only get paid based on his offensive stats.)
If the Rangers were losing games because the fat cats were carrying the team and the young guys/new players were struggling/learning/developing, I could understand that. However, you're getting more production out of Anthony Bitetto, Libor Hajek, Kevin Rooney, Julien Gauthier, Colin Blackwell and others of this ilk than Zibanejad, Trouba and Kreider. Yeah, it's easy to blame David Quinn or the average goaltending for some of these losses, but if the team can't get any scoring out of their top paid players, you're not going to win anyway. And yes, I'll bring up Tony DeAngelo's name, a Tony DeAngelo that's technically still a fat cat on this roster, as we continue along tonight.
Last night, I returned with a shorter than usual blog, where I recapped the latest episode of "Up in the Blue Seats". During that blog, I told you how Duguay was championing for Brendan Lemieux to get more minutes and perhaps be included as a top six forward. Duguay also spent an ample amount of time singing the praises of Lemieux. What happened 24 hours after Duguay said that? Lemieux was one of the best forwards of tonight's game and you noticed Lemieux on every shift. While I'll get into the MSG Networks pregame show in just a bit, during tonight's broadcast, Vally was spewing off his stupid charts and meaningless stats for thirty minutes. Meanwhile, everything Duguay said on "Up in the Blue Seats" rung true throughout this game. Funny how that works.
Speaking of last night's blog and the stuff Duguay said, let's get into the PLUGS segment of tonight's tome and then rock and roll, as I got a lot to say tonight!
In case you missed them, here are my latest manifestos on the New York Rangers:
---
---
---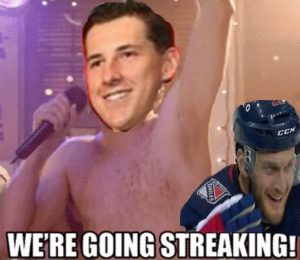 ---
---
---
I recapped all the news in last night's blog. The only news items that were broken on Friday afternoon, prior to this game, were injury updates on both Artemi Panarin and Colin Blackwell. Here's what the Rangers tweeted out around noon on 2/12:
As speculated, Panarin wasn't available for this game on Friday night. His day-to-day status is somewhat encouraging, as it looks like his injury isn't that serious. I'll get more into the upcoming schedule at the end of this blog, but for right now, the Rangers have three days off, before playing the Devils on Tuesday night. In other words, by the time that game rolls around, and if it's played, Panarin will have had five days off. Hopefully that's enough time for him to return at 100%.
Colin Blackwell, after missing the last two weeks, is now back. That's good news, as prior to his injury, he was heating up a bit.
With the Panarin injury forcing DQ to change his line-up, here's what DQ put out on the ice tonight:
Not mentioned by the MSG Networks tonight? The fact that Jaroslav Halak, the Halakness Monster who was a Rangers killer during the Henrik Lundqvist era, was in net for the Bruins. I bring this up, because friend of the blog, in Derek Felix of NewYorkPuck.com, shared the following stats to me after the game: (These stats are updated, to reflect the Rangers loss tonight.)
Halak vs Rangers Career Stats:

33 Games Played / 31 Games Started
Record: 23-8-1
GAA: 2.35
Save Percentage: .927
Shutouts: 4
In addition, Halak's 23 wins against the Rangers are his most amount of wins against any opponent.
Rather than showing these haunting stats, Vally was going off about "expected" this and "slot line" that stats. Of course, what's never mentioned, is that Vally uses these fake news stats, which are made-up by his own CSA company. In other words, whenever Vally pushes all of his fake news stats to viewers, it is all beneficial for his own bank account. This is why he ignores black-and-white stats routinely, such as power-play percentage, face-off wins/losses and you know ACTUAL goals scored. After all, if any of Vally's data meant a damn, the Rangers would have a winning record and a playoff berth right now. Instead, the team is one of the worst in the league.

Again, as I always say – GAMES ARE PLAYED ON THE ICE and not on the spreadsheet of some doofus. You think Scotty Bowman ever asked someone for EXPECTED analytics during a playoff game?
And seriously, watching Vally tonight made me miss Patrick Sharp and the rest of the NBC broadcast crew, the crew that broadcasted the game from Wednesday.
---
GAMBLING SEGMENT time. Here's what I said before the game:
Season over-under record: 5-6-1#Nyr can't score, pp is beyond brutal and no Panarin? I'm taking the UNDER.

Wish I had some confidence about NYR winning a game as they are nearly 2:1 dogs. I would expect Pasta/Bergeron to get on the board than Mika/Kreider. Kind of sad. pic.twitter.com/JBFHzjm4k4

— BlueCollarBlueShirts (@NYCTheMiC) February 12, 2021
Well sometimes a blind squirrel finds a nut, as I pretty much nailed this game, with my EXPECTED predictions. With a 1-0 score, the UNDER hit, meaning my record gets back to .500, as it now stands at 6-6-1.
Of note, the Funhouse/@BackAftaThis Twitter account shared the following information to me on Twitter: in the last nine Ranger games played, the UNDER bet has hit eight times. That's 8-1 in the last 9 (or as Funhouse would say, "noyne") games!
I always recap the over-under lines on this site. Most of the time, the over-under line this season has been -5.5 goals during this nine game stretch. All of this just illustrates how bad the Rangers are at scoring goals these days. After all, if the over-under was a full goal more, at -6.5, you can say, "okay, lots of 4-2 scores" or something akin to that. Instead, the Rangers are losing all the 1-0, 2-0, and 3-2 games.
Let's see if Vegas takes notice. If this keeps up, you might see an over-under line of -5! Heck, you might see an over-under line of -4.5! And if the Rangers continue to play the way they are playing, that proposed -4.5 over-under line might not be low enough!
And to close up this segment, these are the REAL stats that you won't hear Vally talk about, despite MSG promoting gambling all broadcast long! We keep it real here!
---
Box score time.
The following information and graphics come courtesy of ESPN.com:
SCORING:
PENALTIES: (Get your coffee ready, as there were a lot of them!)
GOALIES:
| | | | | | | | | | | |
| --- | --- | --- | --- | --- | --- | --- | --- | --- | --- | --- |
| SA | GA | SV | SV% | ESSV | PPSV | SHSV | SOSA | SOS | TOI | PIM |
| 21 | 0 | 21 | 1.000 | 15 | 1 | 5 | 0 | 0 | 60:00 | 0 |
| | | | | | | | | | | |
| --- | --- | --- | --- | --- | --- | --- | --- | --- | --- | --- |
| SA | GA | SV | SV% | ESSV | PPSV | SHSV | SOSA | SOS | TOI | PIM |
| 30 | 1 | 29 | .967 | 20 | 3 | 6 | 0 | 0 | 58:52 | 0 |
TEAM STATS (Once again – the power-play, the power-play, the power-play.)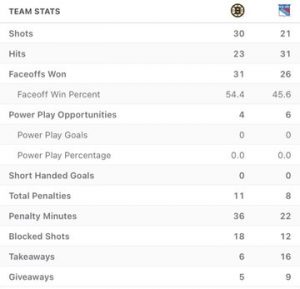 ---
The MSG Networks pregame show had a piece of breaking news on it, but it wasn't because of anything Vally or Giannone said.
After Vally talked about his legendary 46 game NHL career, tried to associate himself with Mark Messier, pushed all of his stupid charts, and continued to ramble on about nothing that pertained to this game; the MSG Networks then cut live to inside of M$G, aka the World's Most Famous Covid-Free Arena.
Inside of MSG, we saw this stand-off:
As you know, during 7PM starts, each team will warm-up around 6:30PM, where by 6:45PM-ish, each team skates back to the locker room. It is tradition that a skater from the home team is the last player off the ice. (For the Rangers, it's usually Panarin.)
At about 6:50PM or so, both Mika Zibanejad and Brad Marchand remained on the ice, refusing to get off. For Marchand, he was playing head games with "Mental Mika", who has been a basketcase this season. Mika, defending his home ice, and spotting Marchand by the away team's tunnel, decided to remain on the ice and wouldn't give Marchand the satisfaction in this war of wills and hockey tradition.
As we got to 7PM, and with the zamboni machines already finishing their resurfacing of the ice (the two players remained on the ice as the two zamboni machines went around both Marchand & Mika) the two players continued to stare each other down. I loved this, as this intensified this NYR/Bruins rivalry. Plus as a former pro wrestling guy, I enjoy the drama.
With the game nearing puck-drop, the two players had to return to the locker room. However, neither would budge. To settle this, we then had an impromptu game of "Rock, Paper, Scissors", in order to see who would win this showdown. For the first time this season, Mika actually won something:
Rock-Paper-Scissors to determine who gets to be last off the ice. 😂 @Bmarch63 @MikaZibanejad pic.twitter.com/YnnyG4YXnc

— NHL GIFs (@NHLGIFs) February 13, 2021
I said it last blog, and I've said this previously throughout this site's history, but Brad Marchand is my #1 "I love to hate him, but wish he was on my team" type of player. (Wayne Simmonds & Tom Wilson are my #2 and #3.)
This was some "Grade A" trolling and head games by Marchand here. For Marchand, he knows Mika is struggling and how the mental aspect of the game is getting to him a bit. Marchand also knows that Mika was robbed twice last game and it looked like Mika was finally turning a corner. By just playing this childish game, Marchand got into the head of Mika a bit here. While Mika may have won the Rock, Paper, Scissors game, Marchand won the war. Not only did he get into Mika's head (I'll explain which play specifically, as I get into the game recap portion of the blog) but Marchand also won the war, as a result of this 1-0 Bruins win and two game sweep of the Rangers on MSG ice.
Of note Part I, when recapping all of this in their segment prior to puck drop, Sam Rosen told Joe Micheletti about how Mika won the "Rock, Scissors, Paper" game, rather than saying "Rock, Paper, Scissors." Bless Rosen's heart.
Of Note Part II: with only two games being played throughout the league tonight (STL/ARI being the other) this Mika v Marchand chess game got league-wide attention, with all the top Canadian reporters in the league covering it. After all, you rarely see this type of stuff and leave it to Marchand to continue his role as one of the biggest Ranger agitators of all-time. In fact, later on during the broadcast, Rosen said "Marchand is a pain in the butt." When Rosen said that, I was crying laughing. By the end of the game, I was just crying!
---
As has happened a few times this season, the Rangers got the first power-play of the game and they got this man-advantage very early into the first period. In tonight's game, 56 seconds into the game, Connor Clifton was banged for a delay of game, as a puck went over the glass. We're seeing a lot of these calls this season and we would see this call again during this game.
Going into this game, the Rangers power-play were 2-25 in their last eight games played. By the end of tonight's game, those numbers grew to 2-31 in their last nine games played. I'll get more into Tony DeAngelo at the end of this!
On this first Rangers power-play, Miller set-up Trouba, and Trouba actually put a puck on net. Save by Halak, as would be the case for the remainder of this game. (Of note, Halak finished with five short-handed saves during six Ranger power-plays, which tells you how the Rangers still refuse to shoot on the power-play.)
After Halak stopped Fox, Fox would then break up a Marchand short-handed chance. The power-play would then expire, as the Rangers were now 0-1 on the power-play.
After the failed power-play, Julien Gauthier, who scored his first NHL goal last game, picked up where he left off. He would make a power move to Halak, where he shook off a Bruins defender, and while with one hand on his stick, got a shot off. This is the stuff that Kreider used to do and should be doing. Gauthier had another solid game tonight in my opinion.
Zibanejad, who continues to be horrible offensively (as noted previously, Mika has been great on the PK) would get towards Halak. Rather than shooting, Zibanejad passed behind him to Lindgren and the puck went off-side. Little plays like this all add up, as instead of putting a shot on net, you're regrouping and trying to set up another offensive attack, where most of the time, you do the same thing again.
As the period progressed, both Trouba and Mika tag-teamed Marchand with a hit, but Marchand, that little rat, channeled another rodent, this time in the form of a weasel. Marchand then weaseled between the two Ranger fat cats which then resulted in CZAR IGOR making a glove save. This SOG should've never happened.
With 13:58 to go in the period, Kaapo Kakko tripped Craig Smith. Boston would get their first power-play of the game, where the Rangers PK once again stood tall, overall finishing 4-4 on the PK in this game. And in other positive news, I was the first person to get the #CadillacTrivia question correct! That said, it was an easy one, as the question was "What player, who played for both the Bruins & the Rangers, has the most amount of points in NHL history as both a Bruin & Ranger?" The answer was easily Phil Esposito, with guys like Jean Ratelle, Brad Park, and Brian Leetch behind him.
During this Rangers PK, Pavel Buchnevich shone the brightest, forcing turnovers and eating up time during a puck battle in Boston's d-zone. After this, Joe Micheletti couldn't stop talking about Kaapo Kakko turning 20 years old on Saturday. By the end of Micheletti's lovely poem, where Micheletti expressed how much he's impressed that Kakko will turn 20 years old, I thought Micheletti would be blowing Kakko's candle out!
Once Kakko got out of the box, he would be robbed on a shot, as Halak denied him. Right after, the other teenager on the team (a fact that Micheletti was frothing at the mouth about, as if he were Jared Fogle) in Alexis Lafreniere, received a great pass from Julien Gauthier, only for Halak to turn back Lafreniere's shot. Once again during this season, another opposing goalie turned into Patrick Roy on MSG ice.
After the save on Lafreniere, Kakko tried whacking the puck, which Jeremy Lauzon wasn't a fan of. We then had a little scrum here, which would foreshadow what was to come.
Phillip Di Giuseppe, who was in shoot-first, ask questions later mode last game, would then skate through three Bruins and tossed a puck on net. The fat cat Rangers could learn from PDG. You're better off putting a puck on net than making these cross-ice passes that go nowhere.
In the play that I alluded to earlier, after PDG's shot and a Bruins possession that saw Pasta go wide on Igor, Mika Zibanejad streaked as he went on a breakaway. Mika shot the puck so hard, where it was like a bullet coming out of a shotgun. The puck went nowhere near the net, as it went high and wide, ricocheted around the boards, where then a Bruin got the puck. You could see the anger and red eyes in Mika's face as he shot this puck. Marchand was in his head. What Marchand did worked. While it doesn't take much to get Mika off his game this season, this was a play where at the very least, Mika should've got the puck on net.
After K'Andre Miller fanned on a shot, the Bruins went the other way, where Igor made a FABULOUS save on Trent Frederic. Frederic's name will pop up again later on during this game recap.
With 2:59 to go in the period, Brandon Carlo took down Brett Howden and he was banged for interference. Just like the start of the period, the Rangers would get a power-play to close out the period. And just like their first power-play, this power-play produced nothing. The only thing worth noting here, was that during this power-play, CZAR IGOR shoved Marchand out of his way. "Moral Victory!"
Fun Fact: CZAR IGOR has as many goals as Jacob Trouba has this season.
During a power-play that looks like it needs a lobotomy, Zibanejad was stopped from near Ovi's office. Water is wet, grass is green and sometimes my urine is yellow. Even better, and true to form, "team leader" Jacob Trouba shot wide from three feet away as the power-play expired.
After one period, the score remained 0-0. SOG were 10-6 Rangers. Face-offs, an issue that has bothered this team all year, were 8-7 Boston. Of course, 0-2 on the power-play is the main issue here.
---
This second period was as long as "War and Peace", and like that book, there was a lot of war here.
After our usual "SECOND PERIOD, WHAT DO YOU LOOK FOR HERE JOE?" line from Sam Rosen, for a first period which mimicked the last few defensive games the Rangers have played, the wheels fell off. Boston out-shot the Rangers 18-6 in this period. And of course, we had the never-ending parade to the penalty box, as if free handjobs were being given out there. "OH JOE, handjobs JOE!"
Despite this loss, I loved this period. This was OLD TIME HOCKEY and a game that all the SJW's and chart nerds hate. Save all the grace and figure skating shit for Europe. I'll take a period like this any day of the week, twice on Sunday's. Put it this way, had fans been inside of M$G for this one, this would've been a perfect return game for fans, sans the fact that the team lost.
And I want to say this here too – my recap of what happened in this period doesn't give any of these players justice. If you can, and with three days off between games, you should go out of your way to watch this game, or at least this period.
---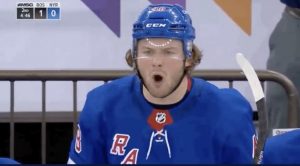 After Igor was forced to make a quick save off a sneaky shot, this period would eventually spiral, but at least in an entertaining way. This period illustrated the age old joke of, "I went to the fights and a hockey game broke out!"
2:12 into the period, Julien Gauthier, ONCE AGAIN, made another great power move to the net, where this time, he drew Charlie Coyle into a slashing call. Anyone seen Kreider? Bueller? Kreider? Bueller?
Of course, the Rangers did nothing with this power-play, as Mika turned over the puck with one of his signature cross-ice passes to nowhere and then had a shot blocked. Cool.
After failing on their third power-play of the game, at 4:23, Brendan Lemieux was boxed for boarding Sean Kuraly. There didn't seem to be much to this call, but at least the refs were consistent in calling penalties all night. It's not like these refs were calling BS calls, like that embellishment call against Kakko in that game with Pittsburgh.
The Rangers PK came up big again, with CZAR IGOR making a save as the Bruins power-play was set to expire. However, just ten seconds after the teams were back at full-strength, Trouba dropped McAvoy. The cameras didn't catch all of this, but it looked like a real quick fight, where Trouba won with a one-hitter quitter.
The McAvoy/Trouba dust-up started when Trouba nailed Zboril. McAvoy was defending his teammate. For whatever reason, McAvoy & Trouba weren't called for fighting, as each were called for roughing penalties instead. Trouba, because of his illegal hit on Zboril, got a double-minor. As a result of all of this, Boston got another power-play, meaning they now had four minutes of power-play time in a span of 4:10. (And like Kreider, Trouba continues to take dumb penalties.)
Once again, the NYR PK were fantastic here, as during this Boston power-play, CZAR IGOR stoned Patrice Bergeron.
At this point in the game, with 11:17 remaining in the second period, Boston was out-shooting NYR 10-1. Yikes.
As we approached the halfway mark of the game, Nick Ritchie scored. 1-0, bad guys. Here's what I said at the time:
1-0 Bruins, that should do it. #NYR will need the fourth line to carry them if they want to tie it.

— BlueCollarBlueShirts (@NYCTheMiC) February 13, 2021
And really, that's how the rest of the game went, as the bottom six forwards were superior than the top six.
On Ritchie's goal, Ritchie was on an odd-man rush, Ritchie took a shot from the left of Igor, got his own rebound and tucked the puck into the limited space that Igor offered him. While you can't take anything away from Ritchie here, this was another one of those hard-working/puck-luck/greasy type of goals that the Rangers have given up all season long. In this case, this goal would be game winner and the lone goal of the contest.
On the face-off after the goal, and in a game that was getting chippy anyway, Brendan Lemieux & Trent Frederic had the best fight of this NHL season:
FIGHT OF THE YEAR pic.twitter.com/Or4D5pjILG

— Chief (@BarstoolChief) February 13, 2021
This fight was absolutely insane. Kudos to the camera guys too, because right after the fight, they caught Frederic saying "let's go again" and a few f-bombs out of Lemieux. In a 1-0 game, this had you pumped up a bit.
On the next Boston possession, after Igor froze the puck, Igor and Ritchie went at it, but didn't fight. The way this period went, you kind of expected (there's that EXPECTED word again) to see Igor and Halak go at it!
With ten minutes remaining, the SOG in this period read Boston 14 – NYR 2. Impressive.
After another save/stoppage, we had another brawl, with this time Brett Howden and Brad Marchand going at it. Everyone on the ice got involved (this is where I thought we'd see a Cloutier type of fight) and it was complete pandemonium. Howden was screaming that Marchand took his stick and hit him in the eye. Igor left his net and was pulling Bruins off of Rangers. This was bat shit wild, extremely entertaining and enjoyable, despite the score.
With every Ranger going crazy and with this game turning into a UFC PPV, you know who you didn't see at all – Chris Kreider. Where art thou Christopher Kreider?
As a result of this latest altercation, both Marchand and Howden were boxed. Also boxed was Sean Kuraly, who started all of this, as it was his boarding of Libor Hajek that kicked off this fracas. As a result, the Rangers got a power-play here, where they promptly spent two minutes not putting the puck on net. 0-4 on the power-play at this point. Bring back #77!
In a game that was almost as violent as a peaceful civil protest from BLM during this past summer, Ritchie was at it again, this time whacking wood (not like that) with Ryan Lindgren. WILD! And may I say, with the power-play sucking and with the Rangers needing guys to throw down, Tony DeAngelo was certainly missed. I don't care how you feel about him, and yeah, he probably would've got a game misconduct for doing something crazy, but you know TDA would've took a run at Brad Marchand. I'll take DeAngelo's competitive spirit over whatever Kreider was doing tonight.
With five minutes to go in the period, SOG were 17-3, in favor of the Bruins. What a shit show, but it was fun!
At the 15:14 mark, that intoxicating commie, in Pavel Buchnevich, threw down with Lauzon:
FIGHT NIGHT pic.twitter.com/jWYH4rVkW6

— Spittin' Chiclets (@spittinchiclets) February 13, 2021
I don't care if Buchnevich lost this fight. Just seeing him fired up and taking this fight spoke volumes to me. Again I ask you, anyone see Chris Kreider? You know, the team leader? And while Buchnevich did lose this fight, he did land some good shots and went all-in. Good for him. If he's not going to score, he may as well throw dukes.
Right after these fights, Sam Rosen ran down the upcoming schedule, a schedule that may be naught by the time you read these words, due to the coronavirus issues with both New Jersey and Filthadelphia.
In the hockey portion of this game, with about 34773374 PIM this period assessed, the Bruins got three players in front of CZAR IGOR, where they flubbed an easy chance to make this game 2-0.
Eventually, this wild period came to an end, with the score remaining at 1-0, in favor of Boston. SOG were 24-16 and face-offs were 22-16, both in favor of the Bruins. Once again, the Rangers power-play were 0-4 in another one-goal game.
---
Going back to my "War and Peace" comment from earlier, if the second period was "war", this third period was "peace", or at least more peaceful than the second period.
During the intermission, in the "150 Seconds" segment, it was noted that Marc Staal has scored two goals in his last three games. That gives Staal more goals than Trouba and Zibanejad, combined. Also of note, Vally looked clueless when trying to talk about fighting and physical games. After all, there are no "EXPECTED" fight stats or heat maps depicting punch locations. Vally is so freaking bad as a solo act, that I'm convinced he's a relative of someone high up in the MSG Networks. It's a shame that Vally can't disappear like Kreider often does.
Joe Micheletti, to kick off the third period, brought us this astute analysis – "the Rangers need to score a goal." Sometimes the K.I.S.S. method is the best. What I did like about Micheletti, was that after the Lemieux/Frederic tilt, Micheletti would point out whenever both players were on the ice at the same time.
1:38 into the period, "team leader" Jacob Trouba took his 789678679697th stupid penalty of the season, this time for holding Anders Bjork. Luckily for the Rangers, for as bad as their PP is, their PK is just as strong. And let's face it, if DeAngelo played as bad as Trouba has played this season, DeAngelo would've been buried in Siberia. For whatever reason, due to this false narrative of Trouba & Kreider being team leaders, they are immune to being criticized by David Quinn and the media. (If either one was a true team leader, they would've got the "C" on their sweater by now, as Larry Brooks has been campaigning for.)
To make sure that everyone knew that he couldn't hit the broad side of a barn, Mika, with the puck, would get all alone with Halak on this PK, but opted not to shoot. That's a fine strategy in a one goal game.
After Strome did his usual act of not being able to put a puck into a vacated net, Charlie McAvoy was boxed for tripping Kakko, after a knee-to-knee hit. Fortunately, no embellishment call against Kakko here!
The Rangers power-play did absolutely nothing here. Jeff Gorton has stated that they are comfortable with paying Tony DeAngelo nearly $10M to sit at home. Insane. 53 points last season and the fourth highest scoring defenseman of the league! Instead of sitting down, getting a mediator and working things out with DeAngelo, we are subjected to seeing Trouba deposit pucks into the East River every game.
At this point, with the first line doing absolutely nothing, I thought DQ should've just double-shifted the fourth line. And while he didn't do that, the fourth line continued to eat minutes and looked good.
During another one of Zibanejad's 789678689689689 chances, Lauzon broke up the play. You have a better shot of seeing Sam Rosen shoot a puck on net from the booth than seeing Zibanejad finish a goaltender.
As we wound down the period, Lauzon laid a clean hit on Ryan Lindgren, where Lindgren suffered a big cut on his right eyebrow. Rather than skating to the locker room for repairs, Lindgren, who is starting to get a face that resembles Terry Sawchuk, skated to the bench, where Rangers trainer Jim Ramsey cleaned him up. HOCKEY PLAYER.
Once again, the MSG camera people were great tonight, as they caught Lindgren shaking this all off:
A little cut ain't gonna stop this kid, Lindgren is ready to get back in there. LOVE THE FIGHT #NYR pic.twitter.com/Ntp7XTonsJ

— Rangers on MSG (@RangersMSGN) February 13, 2021
As we got into FOXWOODS FINAL FIVE territory, Sam and Joe said the Rangers miss Filip Chytil big time. No mention of DeAngelo, you know, the guy who was the quarterback of this power-play. Also no mention of the fact that the young guns are better than the fat cats.
For good measure, after getting a great pass from Fox, Zibanejad shot wide. Marchand sure effed Zibanejad up tonight.
As we hit the two minute warning, Boston had the puck and killed time. Igor wouldn't leave his net for the empty skater until there were 75 seconds left on the clock.
With 1:02 remaining, Charlie McAvoy sailed a puck over the glass. For the second time this week, the Rangers would have a 6 x 4 power-play attack in the final seconds of a game. Of course, due to the power-play, this also meant that the Rangers opponent could ice the puck, which Boston would do here.
On the face-off, Boston won the draw and sent the puck flying to the empty net. With the game now under a minute to go, the Rangers got the puck to the boards behind Halak and Boston absolutely embarrassed the Rangers here, as they chewed up the clock for about 30 seconds or so, winning every puck battle and board battle imaginable. This was absolutely pathetic by the Rangers here.
With about 14 seconds to go, and with the Rangers you know, needing a goal, Kreider got the puck. Despite having a chance to shoot, he dilly-dallied and promptly turned over the puck. Marchand then got the puck and fired it to the Rangers empty net, where he just missed. I thought this puck would go in, because it would be a fitting ending to this fiasco.
1-0 Bruins, your final from M$G. Shove the moral victories up your ass!
---
I'll try to limit myself from going into "repeat mode" here and won't spin my "Greatest Hits". However, I'm going to keep stressing this point on this site, at least until the day that Tony DeAngelo is no longer a Ranger.
The post-game interviews, which featured David Quinn, Jacob Trouba and others is the same old shit. "We gotta learn from this and move on." Blah blah blah. Talk is cheap, you mother Father Finkers! Actions speak louder than words and at this point, every word out of Quinn's mouth is lip-service towards a pandering media.
I'd like to see David Quinn admit that his power-play sucks and this team is worse without DeAngelo. No team is going to bite on that DeAngelo contract. While yes, the Rangers could force DeAngelo to sit at home for the remainder of this season, the longer the Rangers keep DeAngelo at home, the longer DeAngelo will acquire rust. It should be noted, that since he's on the roster, TDA could force the Rangers hand here, and request rink/ice time, even if he skates alone.
I have no clue what DeAngelo is up to. I do know he has a buddy (Colby Cohen) that runs a rink near his home. Maybe TDA is skating there. However, skating by yourself is not the same as playing in games or practicing with teammates.
It is not too late to salvage this situation. I understand that Jeff Gorton doesn't want to go back on his word or look "one-upped". However, sometimes you have to put your own ego and sense of pride aside for what's best for the team. And until I hear one Ranger say "DeAngelo is a bad teammate", I'm still of the belief that DeAngelo is well liked. (I've explained this in-depth on past blogs, including in the blogs linked above.)
The Rangers can't score if their lives depended on it. The power-play is 2-31 in their last nine games. As suggested a few blogs ago, there has to be some way for all parties to sit down and come to an agreement. However you feel about DeAngelo, you can't deny the fact that he's talented and is a major boost to this power-play. And if buying him out is the path you'd like to see, that not only hurts the team salary cap, but you also have to answer this question – who are you going to get to replace his production?
In addition, don't be like Sean Hacknett, the one-time Rangers reporter who had his press pass revoked, due to the poor job he was doing, including using his political biases in his reporting. Thanks to the several of you readers who sent me the latest from him, which I replied to on Twitter:
Stuff like this is why #nyr revoked this ❄️'s press pass years ago. I did like when the @nyrangers stimulated the culture when they told @WFAN660 that Hacknett was no longer welcome at press row. No rooting or politics in the press box! pic.twitter.com/zJK68vwR48

— BlueCollarBlueShirts (@NYCTheMiC) February 12, 2021
---
The way this team currently looks, including their inability to win one-goal games and produce on their power-play; this is now starting to look like a lost season. If that's your attitude, so be it. You just better hope that Nils Lundkvist can step up into this line-up next year and have a season like the one K'Andre Miller is having right now. For me personally, I root for the team to win every game. I just can't accept losing, for better or for worse.
Not so fun fact: the Rangers have now been shut-out three times this season. They weren't shut-out once last season.
If you're like me, and want to see this team win games, you should want DeAngelo back. I understand wanting to stand your ground and all of that, but sometimes you need cooler heads to prevail and resolve a situation. With each passing game, DeAngelo's stock drops. Eventually, it will come to a point where you're going to have to hope that some team is desperate enough to make a trade for him at the deadline.
And let me throw this out there to you – if you could get land a power-play quarterback right now, wouldn't you do so? While I admit that I'm a big fan of DeAngelo and am biased because I do like his style of play, what is the real reason not to bring him back? Who cares if DeAngelo and Georgiev got into it? Let all that water sit under the bridge. After all, look at the 2019 Stanley Cup Champion St. Louis Blues who fought with another. Stuff happens and sometimes you need to get physical with each other for progress.
For people looking for the biggest positive of this game, it's the fact that the Rangers played the Bruins in another one-goal game, this time without their best player in Artemi Panarin. However, 0-6 on the power-play is just inexcusable. The fact that the team leaders, in Trouba, Zibanejad and Kreider, did absolutely nothing to lift this team tonight, should not be ignored. Quinn placating these three fat cats in his post-game interview, is a disservice to this organization. Again, I go back to Tortorella, you know a Stanley Cup Champion and two-time Jack Adams Award winner. You think he would be babying these fat cats?
And oh, a big FATHER FINK YOU to Steve Vagistat, who tried to pin some of this loss on Igor Shestyorkin during the post-game show. This seven foot jackass would've never said the same thing about Henrik Lundqvist. 1-0, and you're blaming the goalie for the loss? I think all that Walmart hair dye is seeping into his brain.
---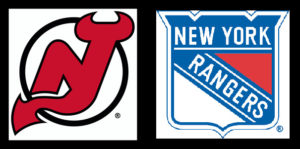 With Sunday's game with the Flyers postponed, the Rangers are scheduled to return on 2/16, Tuesday night, hosting the Devils. Of course, this game could be postponed too, as the Devils have had coronavirus issues for the last two weeks and it doesn't seem to be getting any better for them. "BLAME RUFF!" (Hi Jim & Eddie, of BSU!)
Assuming the Rangers do play the Devils, the Rangers are then supposed to play the Flyers on 2/18, in Philly. The status of that game is questionable too. As noted last night, if the Flyers are still all messed up with corona next week, there is a chance that the Rangers back-to-back weekend series with the Capitals is postponed, as the Rangers are the team most likely to go on and play Boston at Lake Tahoe on 2/21. Again, as mentioned last night, why the league is forcing two East Division teams to go to Lake Tahoe makes no sense at all, unless you're a champion of the idea of Cash > COVID-19.
What we do know for 100% is that the Rangers are practicing on Saturday and taking Sunday off. The Rangers are also scheduled to practice on Monday too.
With another three days off between games, now would be the time to reconsider bringing DeAngelo back. If not, the Rangers can continue to enjoy their horrendous power-play. For as great as Adam Fox is, RIGHT NOW, he's not as good as DeAngelo is as a PP QB.
If you haven't already, subscribe to this blog for the next update:
---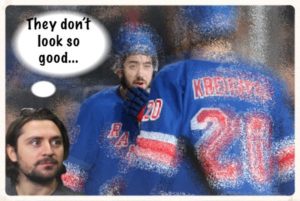 Moving forward, I guess I'll return sometime before Tuesday night, with whatever news is going on. In the meantime, I'm back to trying to complete my "New York Rangers Rink of Honor" book. Working on a book about the alumni will help me get the poor taste out of my mouth from this game.
Until then, and as always here, thanks for reading and…
LET'S GO RANGERS!
Sean McCaffrey
BULLSMC@aol.com
@NYCTHEMIC on Tweeter
Follow the BlueCollarBlueShirts.com Facebook Group by clicking this link: https://www.facebook.com/groups/1564026407193056/