Greetings and salutations everyone and welcome to another blog here on BlueCollarBlueShirts.com. Bring on the Mother Canuckers.
Presently, the New York Rangers, your favorite team and mine, have a lot of positivity running through their veins – where without question – they are playing their best hockey of the season.
Furthermore, the team has never been deeper this season than as they are right now.
Whether it's Gerard Gallant moving into sole possession as the franchise leader in both winning and points percentages, the recent acquisition of Vladimir Tarasenko, one of three lines that can score on any given night, a formidable fourth/checking line, a defenseman looking to win his second Norris Trophy (Adam Fox), strong goaltending, the rebirth of the power-play or something else; needless to say, there are a lot of things to be happy about right now.
That is, unless you routinely read the never-ending drivel from the clueless birdbrain millennial Blueshirt beat reporters – and the stuff regurgitated by their lack of cognitive thought minions – where if you can believe it – possess even less intelligence than them!
No joke – every positive fact mentioned above hasn't been brought once up by any of these dolts – "professional scribes" – and a ragtag bunch who are desperately in need of a change in vocation.
Put it this way – if I was as bad in my real-life job as they are in theirs – then there would be no construction in NYC today!
Then again, especially for people sick of the constant traffic throughout the mean pothole-ridden streets of Gotham – maybe that's not a bad thing either!
Maybe I should flip-over a backhoe tomorrow at my job site – I that know my boss, my friend and my fellow fan of all things "SCRATCHY," the often-mentioned Eddie Whistles, would appreciate that!
In other words, and long story short – I'm going to start off tonight's blog by talking about all of the good stuff – and then I'll cover the inconsequential stuff – a story that in the grand scheme of things, is truly meaningless – the latest chapter in the Saga of Toothboy, Vitali "Crybaby" Kravtsov.
---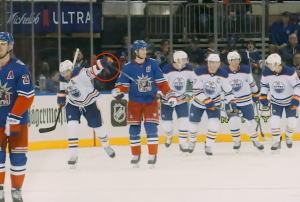 Following Vladimir Tarasenko's storybook M$G debut from Friday night, which was somewhat overshadowed 24-hours later in the Rangers' impressive and resilient 6-2 smacking of the first-place Hurricanes; things have been looking pretty gravy in Rangerstown, USA.
Late Saturday night, the Rangers boarded their six-hour flight from Raleigh, North Carolina to Vancouver, British Columbia; where gun to my head – I'm sure a few alcoholic beverages (I assume Russian Vodka was the drink of choice) were shared while in the clouds, where ironically – accurately describes how every Ranger fan should feel like right now – in the clouds.
But of course, there are psychopaths out there, severely damaged and demented folk, who will overlook all of the team's many successes – and just focus on the struggles of Lias Andersson 2.0 – where if that's not bad enough – these same jackals will also disparage Gallant too.
Once landed in British Columbia early Sunday morning, the team took the day off.
As previously written on this site – I don't think these three off-days could have taken place at a better time.
Following a Super Bowl team-bonding party; the Rangers then practiced on Monday & Tuesday – the first two team practices for both Tarasenko and Niko Mikkola. Previously, the pair had only participated in one pregame morning skate.
As any pro athlete will tell you, especially a hockey player – road-trips are pertinent and important when it comes to team-bonding and creating chemistry.
I'm sure that during the past 72-hours, captain Jacob Trouba, his alternates, the Russians, and everyone else made both Tarasenko and Mikkola feel comfortable.
You just can't overlook how valuable team chemistry is, and since Drury didn't wait the extra three weeks to make his big splash – these three off-days should do wonders – not only as the team makes their playoff push – but looks to grab the top spot of the Metropolitan Division.
---
The Rangers, as mentioned, practiced on Monday and Tuesday.
Outside of Gallant remaining with Kreider on his first line and Panarin on his second line, as this flip-flop, needless to say, worked wonders on Saturday night; not much else really took place – at least not on the ice.
The team got their legs under them, skated around and worked on everything, including their special team units.
However, in this observer's opinion, and to go back to what I just said – I think the team bonding was more important than the actual time spent at the rink.
But of course, these two practices also allowed the two former-Blues-now-turned-Blueshirts to learn a bit about their new teammates and their tendencies.
Black-and-white, here is Wednesday's expected line-up against Vancouver:
FIRST LINE: Kreider/Mika/Tarasenko
SECOND LINE: Panarin/Trocheck/Vesey
THIRD LINE: Lafreniere/Chytil/Kakko
FOURTH LINE: Goodrow/Leschyshyn/Gauthier
FIRST PAIR: Lindgren/Fox
SECOND PAIR: Miller/Trouba
THIRD PAIR: Mikkola/Schneider
STARTING GOALIE: CZAR IGOR
BACK-UP: THE HALAKNESS MONSTER
PRESS BOX: Harpur and Kravtsov
---
Here were the "TURK TALKS" from Monday and Tuesday:
---
---
Ugh, while we'll talk about Kravtsov in just a few paragraphs; but as you've probably heard by now – his crack agent and advice team, a collection of fools that have given this mercurial kid bad advice from day one – #74's squad has let the Rangers know that if he doesn't fit into their current plans, then he wants out.
In other words – more of the same from Crybaby Kravtsov.
I only bring this up here, because on Monday, Mollie Walker, always pushing her own narratives at the expense of the truth, sold some fake news to her blinded readership, when she stated that Gallant had spoken about Kravtsov requesting a trade.
In reality, and if you watch Monday's interview posted above – Gallant was never asked about Kravtsov requesting a trade at all.
Instead, "THE TURK" talked about Kravtsov's place in his line-up, when he said:
"It's not easy. Like I said, I think I've mentioned before to him and you guys that he's a top nine player, and right now, he's not in our top nine and he's not going to be a fourth-line player, he doesn't play in that role for our team.

"We like him, I like him, he's a good kid. He's got to continue to work hard when the chance is available, take advantage of it. You don't give anything to anybody, you got to make them earn it.

"Again, I'm happy with the way our guys played the other night. Our top nine has been really good and if you look at one of those spots and say 'take him out to put Kravy in,' I don't know where you do it. Kravy has come a long way this year – it's not that we don't like him – I'm putting out my top-nine forwards out there and right now he's not one of them."
---
On Monday, the NHL announced that Panarin had been named as their "First Star of the Week" – music to the ears of Gallant and every other resident of Rangerstown, USA.
Here's what the NHL had to say:
"Panarin, who made his first All-Star Game appearance in South Florida, led the NHL with 4-5-9 in four contests to propel the Rangers (31-14-8, 70 points) to a perfect week and their fifth straight win dating to Jan. 27. He collected two assists in a 5-4 overtime victory against the Calgary Flames Feb. 6. Panarin then registered one helper in both a 4-3 triumph over the Vancouver Canucks Feb. 8 and a 6-3 win versus the Seattle Kraken Feb. 10. He capped the week by scoring a career-high four goals (including a natural hat trick that featured the game-winner) and matching a personal best with five points (last achieved March 12, 2022 at DAL: 1-4—5) in a 6-2 victory against the Carolina Hurricanes Feb. 11.

"The 31-year-old Panarin, who also eclipsed 200 career goals on Saturday (203-425—628 in 561 GP), tops New York with 16-43—59 through 53 total games this season. He also places among the League leaders in assists (9th; 43), power-play assists (10th; 19) and points (20th; 59)."
As mentioned on this site repeatedly – the Rangers need the 2019-20 version of Panarin to show up – especially come the playoffs.
Whether it's the addition of his fellow comrade or something else; in any event, it's great to see Panarin showing up, and better than that, showing up against high-end competition too.
Of course, it's up to him to keep it up – and limit the turnovers too.
After all, let's face the facts: the only reason Panarin was set-up to win this not-so-prestigious award was because he wasn't playing well enough through 35 minutes on Saturday. Once Gallant made his switch, the light bulb also switched on for "The Breadman."
---
As far as anything else from the pair of "TURK TALKS" – not much.
No joke, with Larry Brooks not in Canada with the team – it felt like Gallant was teaching hockey to a group of elementary school children.
I mean, the stuff that Gallant was saying and explaining to these ignorant folk wasn't even "Hockey 101." Instead, it was like he was teaching the sport and the principles of coaching to a squirt team out of Moosejaw, Saskatchewan.
Such simplicities slowly explained to the buffoons of the beat included:
— Jimmy Vesey has a good hockey IQ. I mean, the guy only graduated from Harvard and the media is just figuring this out now.
— Barclay Goodrow can, GASP, play anywhere in Gallant's line-up!
— The players aren't enraged about Gallant's daily line-up tinkering – and as the media would lead you to believe.
— Jaroslav Halak, and what a shock, can succeed when his team scores more than one goal a night for him in support!
All of this stuff was more apparent on Monday than on Tuesday; but in any event, and as noted many times before – these "TURK TALKS" are night-and-day whenever Brooks isn't around – a complete disservice to Ranger fans.
We should have better reporters, reporters that know the sport, and don't need to quote NaturalStatTrick 1,000 times in all of their ad-laden articles either.
The day Brooks retires will be a bad day for Ranger fans.
Like the former NYR/M$G dee-jay, Pauly D., of MTV's "The Jersey Shore," let's continue to "beat-up the beat!"
---
You can check the archives of this site for the full 411, as it's too long to rewrite all again tonight; but as I've been saying ever since it happened, and in the games that transpired ever since the Rangers' 4-3 loss to the Oilers – this is when the season finally changed – and for the better.
If you recall, this post Thanksgiving game was the contest where Leon Draisatil showed up Jacob Trouba, when the Oiler knocked "The Great Eight's" stick out of his hand, mocked him and then laughed all the way back to the visitor's bench, following his goal scored late into the third period.
During a match that the Rangers once led 3-0; Draisaitl's goal, the fourth Oilers' goal of a frantic third period, held up as the game winner.
When I asked Mollie Walker why she didn't ask Trouba about this play/transgression during her two interviews with him that followed, this is when she told me, "nobody gives a shit."
Apparently, everyone else did "give a shit," as not only was this play the featured topic of the NHL on TNT broadcast two nights later, when Anson Carter asked Draisaitil about it (he sheepishly brushed it off, but for all intents and purposes, gave us a wink-wink); following being shown up – Trouba, no longer the butt of anyone's joke anymore – the captain soon fought three times in two consecutive games.
While the Rangers lost those two games (Ottawa and Chicago), and where the 5-2 loss to the Blackhawks, with the benefit of hindsight, may now be considered as the turning point of the season ("The Helmet Toss Game"); following the loss to one of the league's worst, the Rangers, albeit, aided by some shaky goaltending out of St. Blues netminder, Jordan Binnington, finally reversed course.
Prior to the 6-4 win against the Blues; the Rangers were 11-10-5 – four games under .500 – and barring a monumental collapse from this point forward – their rock-bottom point of the 2022-23 campaign.
Once beating the Blues, the Rangers then won their next six games, lost a game to the Pittsburgh Refguins, and in their final game prior to the Christmas break, thwarted off their biggest nemesis, the pesky NY Islanders.
Come 2023, and as of Valentine's Day, the Rangers have gone 12-2-2 once the calendar flipped.
I think we can all "give a shit" about this – as while Trouba was perhaps the catalyst for the 180 – the whole team has rallied around their captain too.
On any given night, anyone can help lead this team to victory – that is, with the one exception being Vitali Kravtsov!
---
Despite the Blueshirts set to play three games in four nights, and with a back-to-back set to conclude the trip too; the red-hot Rangers should feel good about themselves heading into each tilt.
Perhaps equally as exciting? The "revenge factor," where once again, Trouba finds himself at the center of it.
On Wednesday, the Rangers will take on one of the league's worst – the rebuilding, selling and now Rick Tocchet led Vancouver Canucks.
And let's state the truth – just like eight days ago when the Rangers survived a snoozer vs 'Couver in their 4-3 victory over the lowly 'Nucks (https://bluecollarblueshirts.com/2823/ ) – anything other than two points on Wednesday night will be a disappointment.
The Rangers, who saw Spencer Martin in net that night, won't see him again on Wednesday, as the goaltender was assigned to the AHL following that game.
With Canuck starting goalie, Thatcher Demko, still out; it's expected that we'll see a goaltending match-up of CZAR IGOR vs Colin Delia.
Delia will enter the game with a 3.48 GAA and a .878 save percentage.
I don't think I have to tell you this, but I'll say it anyway – the Rangers are infinitely better than the Canucks. Losing to these bums would be inexcusable.
It's up to Gallant's Gang, now freshly rested and used to the Pacific Time Zone, to handle business and then move on to "The Battle of Alberta" teams – and with a six-game winning streak in-hand.
---
I'm really excited and looking forward to the pair of weekend games – and not just because I have a three-day weekend coming up. Then again, I also look forward to all 82-games on the schedule!
I'm interested to see if there are any games of "one-upsmanship" to be played between Trouba and Draisaitl on Friday – where if there are – I'm sure Ms. Walker won't give a shit!
For the Rangers, I do wonder if they have this game circled on their calendar, following what happened on the scoreboard the last time when these two teams played.
And then there was that Connor McDavid 1 x 4 goal scored from last season – but the less said about that – the better!
While the Canucks' present state of goaltending is marred by injuries; over in Calgary, the Rangers will see a Flames team experiencing a goalie controversy themselves, as the significantly younger and cheaper Dan Vladar is outplaying the significantly older and more expensive Jacob Markstrom.
And how can we forget what happened the last time these two teams played, just a little over a week ago, on February 6th? (Full recap here: https://bluecollarblueshirts.com/2623/ )
As Ranger fans, we all thought it, but following that game, even the national league reporters, including "32 Thoughts" Elliotte Friedman and Jeff Marek, said it too – that February 6th game was the most exciting and electrifying contest of the NHL season thus far.
What will these two teams do for an encore?
I can't say for sure, but I'd expect the Flames to have the Rangers' #8 in their cross-hairs.
While we must subscribe to "THE TURK's" motto of "ONE GAME AT A TIME;" should the Rangers sweep this trip for the first time since 2015 – then boom – the Rangers will fly home to the Big Apple on their biggest and longest winning streak of the season.
And should that happen – there will still be morons saying, "BUT, BUT, BUT, GALLANT DOZN'T NOSE WUT HE'Z DOIN!' HOW DARE HE BENCH VITALI KRAVTSOV! THE SCOUNDREL!"
Ugh, at this time, allow me to breeze through the latest nonsense surrounding the non-NHLer and then go home on a high note!
And yes, I'm referring to Vitali Kravtsov as a non-NHLer for reasons as previously described on this site – if the Rangers could send him to Hartford right now, then they would. Since they can't, he remains a resident fixture of the press box – where maybe that's where these beat reporters are getting their information and propaganda from!
---
In a story first broken by Elliotte Friedman during last Saturday's "Hockey Night in Canada," then confirmed by Larry Brooks (and right after that, Wince Mercogliano then said he heard the same from his "sources" – where let's face it – were Friedman and Brooks!); it's being reported that Kravtsov's team has requested a trade, but with one caveat – only in the event that Kravtsov won't figure into Gallant's line-up anytime soon.
Team player though, am I right?
In my eyes, this is the latest example of Kravtsov displaying his millennial entitlement.
After all, he did receive a recent seventeen game stretch with the top six, where during those games, he scored one fluke goal and that was it.
Despite being asked by his boss to shoot the puck and put the puck into the net once doing so; Kravtsov blew off those orders and was then in a complete state of shock when "THE TURK," a former Jack Adams' winner and last year's second runner-up to the award too, told Kravtsov to take a seat in the press box last Saturday.
Listen, I get it. Kravtsov, set to become a restricted free agent this summer, wants to play. All athletes worth a damn do.
But what's also true is that he's had plenty of opportunities to play this season, and once there – has done nothing with these multiple chances.
And as I keep repeating on this site – this team is WIN-NOW mode. Gallant has to do what's best for him and his 23-players – and not just one player who can't figure it out.
I don't wish to relive every chapter of this saga once again (you can check out the archives of this site for all of my previous writings on this never-ending topic); but Kravtsov did himself no favors from day one, and in turn, lost valuable development time.
Instead of running away to his mother's nipple in Russia two times over, had the first-round pick of the 2018 NHL Entry Draft had stayed, manned-up and accepted his Hartford assignments; then perhaps he'd be enjoying success right now, much like the 2017 first-rounder, Filip Chytil, the 2019 first-rounder, Kaapo Kakko and the 2020 first-rounder, Braden Schneider.
Now it's too late. The rebuild is over. The team has their eyes set on the prize, Kravtsov or no Kravtsov.
For Lias Andersson 2.0, there are a lot of similarities between the 2017 bust and the one that followed a year later.
Not only did both run home to their mothers at the first sign of adversity and the second when things didn't go their way (and several times over at that); but a player later drafted by the Rangers in the same draft that they were selected in – each of those players then went on to have much more NHL success than the pair of lottery picks that had preceded them.
In Andersson's case, it was Filip Chytil. In Kravtsov's case, it is K'Andre Miller, as #79 was taken 22nd overall by the Rangers that year.
Some irony? Andersson was drafted 7th overall. 14 spots later, the Rangers took Chytil. Kravtsov was taken 9th overall. Miller was drafted 13 spots later.
---
As mentioned at the top of this and throughout tonight's tome; the Rangers, and to quote Larry David, are "pretty, pretty, pretty good" right now.
However, it's the non-NHLer, the disappointing Kravtsov, who continues to garner headlines, as if he was the second coming of Wayne Gretzky, rather than saying what he is – a first-round bust of many Ranger first-round busts.
And yes – I'm still sore over the 1999 NHL Entry Draft – my first personal experience as a fan when experiencing a first-round bust – where at that time – there were two of them! (Pavel Brendl and Jamie Lundmark.)
No joke, despite the team motoring right now; do you know what the top takeaway was from Stephenson, Mercogliano and Walker today? This: "VITALI KRAVTSOV WAS THE FIRST SKATER AT RANGERS' PRACTICE TODAY!"
Not for nothing, and as you may have figured out – I'm not an NHLer either!
In other words, if I had the chance to embarrass myself on NHL ice – then I'd show up as early as possible too – this way, no one could see me falling on my ass and missing the net!
And heck, if I was as young as Kravtsov – I'd also show up early – because for non-NHLers – skating on that holy sheet of ice is both a privilege and an honor. I'd cherish every day – and much like how I do at my "real job" – as I do show up an hour early to work everyday!
(It's always been ingrained into me that it's always better to be an hour early than a minute late! John Tortorella 101!)
One phrase that I'm seeing a lot of right now is this one, "asset management" – a phrase first coined during the salary cap era – and by Gary Bettman's design.
While I understand the "asset management" talking points; what I don't understand (and the irony, because these were the same people championing for Tony DeAngelo's dismissal – and by any means possible), is whenever comparing the former Rangers' blue-liner to Kravtsov.
However you felt about DeAngelo, all of the following is true, prior to his unceremonious buyout:
— He was the league's fourth highest scoring defenseman.
— He had a track record of success.
— He produced.
— He wanted to be a Ranger – and all of the time.
Conversely, the following is true about Kravtsov:
— He has no track record of success.
— Even his numbers in Russia weren't exactly that eye-popping either, and where he was actually demoted to the VHL for a while, the KHL's version of the AHL – AFTER leaving Hartford the first time. (This is what prompted his return too.)
— He rarely scores.
— He didn't want to be a Ranger all of the time.
---
Do you know what really amuses me today? Self-professed "Ranger fans," who are currently saying, "I hope the Rangers lose and Kravtsov goes on to win the Stanley Cup."
Really, that's your takeaway about one player of 23?
Listen, I was absolutely crushed when the Rangers moved on from my favorites too – but at least my favorites actually did something during their time here, including players like Mark Messier, Adam Graves and the worst trade of them all, the one Sather should've been fired on the spot for, Brian Leetch.
And even when it comes to some of my recent favorites, like Cam Talbot, Derick Brassard, Carl Hagelin, Tony DeAngelo, Mats Zuccarello, etc?
Never, not even once, did I wish losses upon the Rangers.
While I rooted for all of these players to do well (like I do with most members of the alumni – as I do subscribe to "Once a Ranger, Always a Ranger"); never at the expense of my favorite team.
And none of this is new either.
Just ask the fans who attended (or lived through) the Eddie Giacomin return game in 1975 – but again – Giacomin actually did something in his career – and wanted to be a Ranger throughout his entire duration – two things you can't say about the player with the tummy and toothaches.
While you all know that I was never high on Kravtsov to begin with; this latest trade demand just confirms my suspicions about him – he's an entitled brat and who thinks he's above everyone else.
For a guy who has made every wrong decision possible throughout his tenuous tenure; this latest trade ask is his latest snafu – although it's great for the Rangers – as they will soon have this headache off of their hands.
What's not so good, is that despite Kravtsov not being good enough to crack into Gallant's line-up, thus meaning that the rest of the league kind of knows that the Rangers would be looking to move on him anyway; is that Kravtsov's team leaked this news – which not only somewhat forces Drury to move him – but for a "trade asset," diminishes whatever perceived return you'd think he'd bring back.
Rather than Kravtsov's team shutting up about it, as Gorton should have once did with DeAngelo; instead, it's now fully known that the Rangers have him on the trading block.
Of course, it should also be said that Drury is very patient and doesn't settle for just anything either. He'll play the long game.
After all, let's not forget that despite the whole league knowing that Nils Lundkvist would never bump Fox, Trouba or Schneider out of the line-up – the general manager still got a first-round pick in return for him anyway – a pick that's now turned into Tarasenko.
Could Patrick Kane be far behind? (Had to get that in!)
And here's a spoiler, not a prediction: no one will care about Kravtsov next year, when Brennan Othmann, another right-winger, is with the team.
---
My promise to you – and I swear on beer – I'm done talking about Kravtsov – that is, unless he plays for the Rangers again.
Until then, the next time I'll talk about him on this site is whenever he's traded – as quite frankly, he's not worth my time and he's taking valuable space from the players who deserve attention.
Up next, a full day at work, followed by a major nap and a 9:30PM alarm clock.
In other words, I'll be back way late tomorrow, following the 10PM puck drop in Vancouver.
And yes, I already know I have an easy day at work on Thursday – so sacrificing sleep for Ranger hockey (which I'd do anyway) will be worth it!
LGR!
PLUGS TIME!
---
On Monday night, our pals over at "2 Guys, 1 Cup" returned with a new episode. To check it out, click the link below:
Episode 71 is up!
Reactions to national media jumping on the bandwagon, tarasenko's first couple of games, a final resolution to the Kravtsov situation, and what we should target at the deadline. #NYR https://t.co/CSF4LXzNO0

— 2 Guys 1 Cup Podcast (@2G1CRangers) February 14, 2023
---
My first plug of tonight's blog – the mandatory plug for my book, "The New York Rangers Rink of Honor and the Rafters of Madison Square Garden."
As mentioned previously, the book is now available in hardcover, in paperback and in Kindle formats. To purchase a copy of the book, visit this link:
https://www.amazon.com/Rangers-Rafters-Madison-Square-Garden-ebook/dp/B09CM5N2WD
For those still looking for signed paperback versions of the book, I have re-ordered more copies. I now have a few signed copies for sale at $25 a pop (includes shipping price) through me directly. Here is all the information on that:
---
My four-volume set of books, "One Game at a Time – A Season to Remember," is a game-by-game recount of the Rangers 2021-22 campaign.
My second title as an author, "One Game at a Time – A Season to Remember," is now available in eBook, paperback and hardcover formats.
To obtain signed copies, visit: https://bluecollarblueshirts.com/onegamebook/
To purchase all four volumes on Amazon, visit: Amazon.com – "One Game at a Time."
---
The greatest volume-set of books on Rangers' history today!
"Tricks of the Trade – A Century-Long Journey Through Every Trade Made In New York Rangers' History," a four-volume set of books that meticulously covers every trade made in franchise history, is now on sale.
All four volumes of the title can be purchased on Amazon.com and are presented in three different formats – eBook, paperback and hardcover.
To purchase Volume I: Conn Smythe (1926) – Craig Patrick (1986), visit Amazon.com
To purchase Volume II: Phil Esposito (1986) – Neil Smith (2000), visit Amazon.com
To purchase Volume III: Glen Sather (2000-2015), visit Amazon.com
To purchase Volume IV: Jeff Gorton (2015) – Chris Drury (2022), visit Amazon.com
To purchase signed copies of all four volumes, visit https://bluecollarblueshirts.com/tricksofthetrade/
---
Here are my last few blogs, in case you missed them:
---
---
---
If you haven't already, subscribe to this blog for the next update:
---
Don't forget to order my new four-volume set of books, "Tricks of the Trade!"
If you don't order through me, all four volumes are now available on Amazon.com
For more details, check out: https://bluecollarblueshirts.com/tricksofthetrade/
Thanks for reading.
LET'S GO RANGERS!
Sean McCaffrey
BULLSMC@aol.com
@NYCTHEMIC on the Tweeter machine