Greetings and salutations everyone and welcome to another blog here on BlueCollarBlueShirts.com. Ugh – but at least they got a point in the standings.
Riding a three game winning streak when entering Thursday's contest with the Red Wings; the Rangers had that streak snapped on Thursday night, following a 3-2 final, where the Wings won a shootout gimmick contest in the sixth round, 2-1.
As I said following the Rangers win over the Bruins – "you love the shootout when you win 'em, but you hate the shootout when you lose 'em."
Tonight, the latter applies.
Before getting into Ryan Strome's shootout miss on an empty net (and everything else too for that matter); it should be stated here that emotions weigh heavily whenever one of these skills competitions take place. I think we can all agree on that – no matter your own personal feelings on shootouts in general.
Just like the win over Boston, had the Rangers won this skills competition tonight; we're then doing back-flips, raving about K'Andre Miller's "Tuck You" goal, praising Lafreniere for one of his strongest games yet, and Zibanejad's power-play rip.
Instead, while we'll eventually talk about all of that as well tonight; we are now focused on Strome's miss in the shootout, Panarin's inability to score goals (and in addition, his unselfishness), and how perhaps Rangers general manager Chris Drury shouldn't wait until the last second of the NHL Trade Deadline to make a move.
For a team full of adages all season, here's another – "winning covers warts."
---
Had the Rangers won the six-round shootout, obviously, the tone of this blog (and anywhere else that you may visit in Rangerstown, USA) would be positive. However, they lost, so negativity takes the lede here. I'll try to limit myself from giving off a vibe of "doom and gloom," because at the end of the day, this game wasn't that. Or so I say!
That said, this game, and certainly the final score, was disappointing.
Following a two-week break, where the team, especially their superstar forwards, are well-rested; once again, the top six went scoreless tonight during five-vs-five play. While you can blame rust for the effort and lack of production on Tuesday night; if you're looking for an excuse for tonight's loss, it starts-and-ends with Wings' goaltender Thomas Greiss.
However, it should also be mentioned that Thomas Greiss, the former Ranger slayer from Barclay, is now 36 years old. He's rarely played this season for the spoked-wheel. In other words, looking for an excuse is just that – looking for an excuse.
Despite growing older, in addition to his limited playing time from this season too; Greiss dialed it back, and just like how he used to beat Henrik Lundqvist all the time, the now former Islander received a victory over CZAR IGOR on this night. It was like Greiss channeled his inner Jimmy Howard, the now retired Wings goalie who always played the Rangers tough.
(Some of the best goaltending duels from the Lundqvist Era featured Howard, who grew up as a fan of the Rangers, on the other end of the ice – especially whenever the Motor City visited the "city that never sleeps.")
As far as Igor goes, just as he did on Tuesday night, he once again logged 31 saves in this tilt. As you'll see during the game review segment of tonight's manifesto, both Detroit goals were fluky. That's not me hating on Detroit, that's me saying what it was.
On the first goal allowed, an errant puck deflected off of the skate of Zac Jones. Not much any goaltender could do on that.
On the second and final regulation goal allowed, a puck took a fortunate Detroit bounce off of the backboards behind the CZAR, and then landed right onto the blade of Dylan Larkin. Anyone could've scored this goal on this vacated net, except for maybe Ryan Strome. (I couldn't resist making that joke. Laughter is the best medicine and helps to heal all wounds! And after this loss, I'm breaking out new material tonight!)
On the other end, while Greiss was good (especially as the game went on), he also received a bunch of luck too. The Rangers hit the iron three times in the first period alone. The Rangers, still having issues with their passing game, missed on what felt like 9786786868968968967896 passes – passes that had they connected, would've led to easy tap-in, tip-in, or whatever other adjective you want to use here, goals.
---
I've talked a lot about the following this season, especially when Sammy Blais got "Slewbann'd," and after news of Kakko's injury.
Chris Drury never replaced Sammy Blais this season with outside help. Instead, players who ordinarily wouldn't be in the top six (Dryden Hunt), or on the team at all (Greg McKegg), have slotted in. And with Kakko now out, no matter how you feel about him and his terrible offensive production numbers – he still was part of the top six.
Maybe this is a slight overreaction to a loss, but I've been saying this during the past few weeks anyway – I know how things work, and how you'll get a better deal by waiting – but after two games like these, games that should've been easy blowouts for the Rangers, that instead were decided by a circus sideshow – how long do you want to wait?
(Holy run-on sentence Batman! Spoiler alert: I'll have another Batman reference for you later on!)
I don't care who your trade target of choice is, whether it be JT Miller, Joe Pavelski, Tomas Hertl, or whatever other name that is making the rounds; but the Rangers obviously need help with their top six. Everyone knows this, including Drury himself. It's just a matter of how long does he want to wait in order to address this issue.
The first line, which had many chances during this affair, and got a great performance out of Alexis Lafreniere tonight as well, seems to be set – although I'd argue that Lafreniere is on the top line because of his status as a first overall pick, rather than by merit. Conversely, and at the same time – if it's not Lafreniere right now, who else?
The second line obviously needs work. Dryden Hunt can't be the answer. And for as much as I like Barclay Goodrow, he's better off on the third or fourth line, as that's the role he suits/fills best. Whenever Goodrow is on the second line, it has a trickle-down effect on the roster, and in turn, weakens the bottom six.
Winning cures everything, but for a stacked team that should've easily manhandled a Boston team without two of their best players, and a rebuilding Detroit squad too – these two games didn't exactly instill confidence.
(And again, had the Rangers won the freak show competition, I'm probably in a better mood right now! At least I'm honest with you! After all, these blogs are a way for me to celebrate my favorite team and to vent about my favorite team too. It's soothing for yours truly once I hit that publish button!)
---
I want to be clear here before closing out this intro – it's one loss. They still got a point in the standings, as the Rangers are now three points behind the first-place Pittsburgh Penguins, a black-and-yellow team that has also played in two more games than the Blueshirts. In other words – the Rangers still control their own destiny.
In addition, I know there will be a lot of "trap game" talk, but I don't think this game was that either. After all, the Rangers have had a ton of bad first periods this season, including bad first periods during their many victories.
If you're looking for two reasons to describe this loss, I'd use the two names of Thomas Greiss and Artemi Panarin.
"The Breadman," despite his game-high six shots on goal (and one off of the post too), couldn't get any puck-luck tonight. In addition, there were two plays in this game, where Panarin and Goodrow had a two vs one against the Wings defense, and instead of taking the puck to the hopper himself – Panarin forced passes to Goodrow for turnovers.
(I'm not trying to come off like I know better than Panarin, but really, he's being paid Scrooge McDuck money to lead the team in scoring. No fan wants to see Panarin pass up scoring opportunities for these cross-ice passes that go nowhere – passes where following them, you can hear the opposing goaltender let out a huge breath of relief.)
At this time, let's hit the NEWS and all of the other regular segments first; and then follow all of that up with the GAME REVIEW.
---
On Wednesday, following CZAR IGOR's "Willis Reed" game from Tuesday night; the Rangers reconvened for practice, where admittedly, not much came out of it.
If there's anything worth nothing, it is that during head coach Gerard Gallant's media briefing, "The Turk" heavily praised both Filip Chytil and Zac Jones. Gallant was pleased with the effort Chytil gave and obviously, hopes to see more of it. On Jones, Gallant said that while the young defenseman may lack size, he also defends very well.
On the topic of his goaltenders, Gallant brushed off the idea that Igor may be tired after his tremendous showing against Boston. As we all know, and as Gallant previously said – the Rangers just came off a two week vacation. And that's pretty much the news from the Rangers off-day.
Prior to tonight's game, at 5PM, Gallant met with the media. Here's his press conference:
---
Of note from Gallant's fireside chat with the media, the head coach confirmed a report that the New York Post put out earlier in the day, where Mollie Walker said that Patrik Nemeth's issue is one of a COVID nature and as a result, was placed on the injured reserve list.
According to Walker and the New York Post, Nemeth is suffering from lingering effects of COVID-19. While Gallant didn't confirm the COVID part of the story, it was later confirmed that Nemeth is currently on the injured reserve.
As a result, this means that Zac Jones will continue to get a chance to prove himself on the Rangers third pair. "Next Man Up" is certainly an adage that has applied to Gallant's Gang all season.
Gallant, while not confirming his goaltender, nor the line-up either; also said that "not much is new," hinting that we'd see the same line-up from Tuesday night. And that's what we saw.
Here's what "The Turk" went with for this Original Six game:
FIRST LINE: Kreider/Mika/Lafreniere
SECOND LINE: Panarin/Strome/Goodrow
THIRD LINE: Hunt/Chytil/Gauthier
FOURTH LINE: McKegg/Rooney/Reaves
Defensively, we had this:
FIRST D-PAIR: Lindgren/Fox
SECOND D-PAIR: Miller/Trouba
THIRD D-PAIR: Jones/Schneider
And in net, CZAR IGOR.
---
Also of note, prior to tonight's game, Marc Staal met with the Detroit Red Wings beat reporters, where he talked about his return to Madison $quare Garden. Here's the near seven-minute video:
Staal pretty much said what you'd expect him to say. He enjoyed his time in New York, thought it was going to be weird entering the visitor's locker room and was grateful about everything.
In my opinion, #18 was always a great Ranger. After all, that's why I featured him in my book!
---
BOX SCORE time.
The following information and graphics come from the new world-wide leader in NHL coverage, ESPN.com:
SCORING:
SHOOTOUT:
PENALTIES:
TEAM STATS:
GOALIES:
| | | | | | | | | | | |
| --- | --- | --- | --- | --- | --- | --- | --- | --- | --- | --- |
| SA | GA | SV | SV% | ESSV | PPSV | SHSV | SOSA | SOS | TOI | PIM |
| 39 | 2 | 37 | .949 | 35 | 2 | 0 | 0 | 0 | 65:00 | 0 |
| | | | | | | | | | | |
| --- | --- | --- | --- | --- | --- | --- | --- | --- | --- | --- |
| SA | GA | SV | SV% | ESSV | PPSV | SHSV | SOSA | SOS | TOI | PIM |
| 33 | 2 | 31 | .939 | 27 | 0 | 4 | 0 | 0 | 65:00 | 0 |
---
The M$GN pregame show wasn't as bad as it usually is, only because we got more of former captain Dave Maloney, and less of Steve Vagistat – the man of the most historic and legendary 46 games that have ever taken place in all of NHL history. I'm sure in 100, 200, 300+ years from now, Ranger historians of the future will be talking about these iconic 46 games.
To fast-forward a bit here, Vagistat was so brutal tonight, that I had to turn off the post-game show within seconds, despite wanting to see Gallant's post-game presser.
I don't know if it's just me, but following any Rangers loss, whenever I see that smug jackass smirking, and licking his lips like Jared Fogle on a playground – it "triggers" me! Give me an angry Ron Duguay and/or Dave Maloney any day!
I hate, hate, hate, whenever you see any hometown broadcaster, analyst, or whoever, smile and laugh two seconds after a loss. In other words, this take/opinion/feeling isn't just exclusive to Vagistat – even if he's the biggest offender.
And as he remained on-brand, what did Vagistat immediately do after the loss? He talked about his own career again, where he's now run out of material, so much so – that he's now talking about his days in Hartford. What's next? Talking about his coach from the first grade?
Can one person tell me what Vagistat's time with the Wolfpack had to do with this NHL game?
Moving on – or so I will lead you to believe!
---
At the onset of the pregame show, following a report from Gingras, and where we were also allowed to hear from John Giannone prior to a BET MGM commercial cutting him off; Vagistat, in his first appearance, gave us his fake math – stuff which sounded like it was ripped straight out of a fifth-grade common core math classroom.
After Vally used his arts-and-crafts (and perhaps his fingers and toes too) to determine that CZAR IGOR was a Vezina candidate; we finally got to Dave Maloney.
"STONE COLD" Dave Maloney, now with a fully shaved head, reminded us that it was Adam Fox's birthday today. Maloney, from an eye-test perspective, then raved about the '21 Norris winner. I can appreciate that!
Maloney then echoed what I've been saying all season, and heaped praise upon Ryan Reaves and #75's hockey IQ. Maloney then talked about Reaves' value in regards to the playoffs, where the topic of playoff hockey is something that Vally never experienced.
I just don't get it. You have a battle-tested beloved ex-Ranger, a former captain no less, and it is the back-up goalie of 46 games (where may I add that he was an Islander too), who gets more air-time. Ridiculous.
Maloney, who must love riling up the chart/analytical geeks as much as I do, then closed his bit by teasing a Marc Staal reunion at the trade deadline. Once he said that, you could hear the aneurysms of the people who decide to watch hockey with a protractor and T-square, rather than with a beer and a pretzel.
Following Maloney's segment, Gingras interviewed Braden Schneider. #45 raved about Ryan Lindgren, and praised double-nickel for helping him out recently when Fox was on the IR.
In Vally's final segment, he did say something that had some meat to it, where he stated that the Wings have given up the most amount of goals from the slot this season. What he didn't say, was how the Rangers have scored more than half of their goals from either the paint, or a foot away from it, where Kreider's 33 goals are most evident here.
(And of the two Ranger goals tonight, neither were scored from the slot. And for what it's worth, Chytil's goal from Tuesday, the lone Ranger goal of that game, was also scored in the paint. Just sayin'!)
In stuff that I did like, the M$GN aired a recap of Igor's performance from Tuesday. The video had a WWE/UFC pre-fight vibe to it. It was slickly produced. Kudos to whoever put that together.
Lastly, as I finish this long-winded diatribe on the M$GN pregame show; Sam Rosen was beaming from ear-to-ear when talking about Tuesday's win, and the Rangers in general, where I thought he'd need ice packs for his cheeks after smiling so much.
Again, for the 786786679696th time on this site – no one loves their job more than Rosen loves his. He can make 786786789689696 mistakes on these broadcasts (and as he often does), but you can't deny that he loves this team. It comes out in every broadcast, despite him being in that seat for over forty years.
And for those who keep track of such information; Joe Micheletti's "TACO BELL TAKE" was dedicated to "OLD FRIEND" Marc Staal. I'm not sure what we heard more of tonight – "OLD FRIEND MARC STAAL JOE" or "FABULOUS SAM!"
Let's get to this game review, as I have (Marc) "staaled" enough.
---
The first half of this game pretty much felt like a sequel to Tuesday's game, where just five minutes into the contest, I said the following on Twitter:
Should we just fast-forward to the shootout? #NYR

— BlueCollarBlueShirts (@NYCTheMiC) February 18, 2022
---
Of course, in the interest of being both truthful and fair here, I should also mention that I tweeted that CZAR IGOR would post a 4-0 shutout, Adam Fox would have a three-point game, and that the Rangers would blow-out the Wings too.
Oops.
All predictions aside, this was another game where it took the Rangers a long time to get a shot on goal (at the 6:35 mark tonight, an innocent shot from Greg McKegg), they could barely put two passes together, and just an overall feeling of sloppiness.
No joke, they may as well have played this game in mud, because this game was so freaking sloppy, between all of the cross-ice passes to nowhere, blind passes for easy turnovers, and really, just turnover-after-turnover during the majority of the contest.
Unfortunately, unlike the game against Boston – there was no lipstick on this pig of a game tonight.
---
Just 47 seconds in, Fabbri split the Rangers defense and got right into Igor's crease. It was just too easy for Fabbri here.
As the downstairs bowl of M$G were bringing their vegan sushi and kale wine smoothies to their seats; just 2:19 into the game, Troy Stecher scored.
Stop me if you've heard this before. This was a Rangers' opponent first goal of the season.
This goal was the result of some good puck-luck for Detroit (and bad puck luck for the Rangers too), as Stecher shot the puck and the galvanized rubber then took a bounce off of the skate of Zac Jones and into the net. Nothing Igor could do here.
1-0, bad guys, as once again, the Rangers quickly found themselves trailing.
As the Rangers kept turning over the puck, and having shots blocked too; Detroit then swarmed Igor, where the CZAR was forced to go on his belly and then lost his stick. Despite the puck being unseen, the referees allowed the Wings to hack and whack away at Igor – our first display of incompetence out of the jackasses pretending to be zebras. After about 20 seconds of this, we finally got a whistle.
Five minutes into the period, the Rangers had iced the puck four times, as they couldn't make a tape-to-tape pass.
In "Exhibit A" of the horseshoe up the hiney-hole of Thomas Greiss; Lafreniere deflected a puck, a puck which caught the iron. Instead of a puck-luck tying goal, the Rangers were still at zero goals for.
Right after, Lafreniere, who as mentioned, was most certainly noticeable tonight, and had one of the best games of his career, despite having a goose egg in the scoring categories; set up Zibanejad for a good SOG. Unfortunately, Mika went wide and Kreider just missed out on cashing in as well.
After a commercial break, we saw Marc Staal saluting the crowd. For whatever reason, M$GN had to show us 78967867867896 JB Smoove commercials, rather than showing us the Marc Staal tribute video that aired at M$G. Of course, Sam and Joe than talked about the video that we didn't see. Poorly produced, poorly produced!
With 10:15 remaining, Lafreniere forced a turnover at the Wings' blue line and then fed Kreider. It was a great play, but no dice. That said, again, this was nice to see out of Lafreniere, who has most certainly been more physical as of late too.
After more sloppiness out of the Rangers; the Wings then had an odd-man rush, one that Zadina pulled a Gauthier on, when he went wide from a foot away from the goaltender.
In what was pretty much foreshadowing what was to come; Panarin, with 8:20 to go, made some great moves and wristed a shot at Greiss. The puck hit the post, as this was "Exhibit B" of the horseshoe up Greiss' five-hole.
The referees, who must've placed a few bets with JB Smoove himself on this night; then boxed Goodrow with 8:09 remaining, for a high-stick on Bertuzzi. On replay, Goodrow never touched Bertuzzi and it was obvious that Bertuzzi was auditioning for a post-hockey career in the sport of diving.
Remember that one season, from 7-8 years back, where you'd see embellishment calls all the time? You rarely see them anymore, and there were about 4-5 times in this game where the Wings were trying to win an Emmy – the actors of "Ozark" and "Yellowstone" be damned.
After three saves from Igor on the penalty kill, where Trouba was the best Rangers skater during it; we returned to full-strength, where Lindgren almost had Kreider for a goal. However, this was a case of "close, but no cigar," where I guess I should also mention that smoking isn't allowed inside of M$G either – despite this game being chain-smoking inducing!
Following this stop, Greiss then stopped a streaking Rooney.
In a play that just drove you absolutely bonkers; Panarin and Goodrow had a two vs one odd-man rush, with #10 carrying the puck. Rather than the $11.6M man taking the shot himself, where I should be clear that Panarin also had a wide-open lane to the net too; "The Breadman," who must not have a selfish bone in his body, forced a pass to Goodrow, where the end result wasn't a shot on goal – it was a freshly baked turnover.
Right after this, Mika went wide, where he missed Greiss' net by an inch. It's a game of inches Suzyn.
With 1:49 to go, Trouba tripped Gagner. Of note, both of these first period penalties took place in the Detroit zone, and with the Rangers attacking.
On the PK, Goodrow received a breakaway but was denied.
At the end of the period, Igor made one more save, as the Rangers love giving up these last second shots – a new trend that's been on display since returning from the break.
After twenty minutes, 1-0 bad guys, and where you felt that the Rangers could've had a four spot, if it weren't for all of the iron and the Craigslist "Missed Connections." Then again, asking for four goals may be a tall order at this current juncture.
---
The Rangers second period was much better than the first, as M$G turned into a shooting gallery. However, despite nearly twenty SOG during this middle frame – the Rangers only came away with one goal. Even worse, they also allowed Detroit to regain the lead just ninety seconds later.
After killing off the end of the Detroit man-advantage, Lindgren laid a sucker out with a big hit, where following the clean collision, #55's helmet popped off.
With the first line attacking, Lafreniere, just like everyone else, had his turnover moment, where he sent a puck towards the wrong goalie.
As Igor and Greiss exchanged saves, Dryden Hunt had two chances to score, but went wide on the first try and then hit the side of the net on the second attempt.
As the period approached the half-way mark of the game, Micheletti questioned the Rangers compete and intensity level. That's pretty telling, as it's very rare whenever "Jumpin' Joe" makes comments like this. (And I'm not saying that he's wrong – you just never hear this stuff on a homer broadcast.)
After Marc Staal prevented Gauthier from getting a breakaway chance, a chance where the puck would've landed in the East River anyway; Greiss then robbed Ryan Strome. Poor Strome, poor Strome.
Now with under ten minutes to go, Greiss made a trifecta of great saves, where I must praise his skill, rather than talking about the lucky apparatus up his poop-chute.
As you were just wondering if the Rangers would ever score in this game, with 7:42 to go, this happened:
Miller picks up right where he left off! pic.twitter.com/iUCqnM1gnd

— Rangers on MSG (@RangersMSGN) February 18, 2022
---
1-1, a "TUCK YOU" goal from Miller, as #79 channeled his inner Stephane Matteau and tucked this puck in.
This was really only a goal that Miller could've scored, due to his "PRAYING MANTIS" reach and ability.
If you recall in the game against Boston, during the shootout, Chytil tried a move where he basically just ran out of stick, as he didn't have the reach to pull off this trick move.
On this Miller goal, #79 in hometown blue was able to use his long stick (not that one you perv), and pretty much tucked the puck into the small space afforded, while remaining behind Greiss' net. Very incredible.
However, just ninety ticks later, Danny DeKeyser bombed a puck off of the backboards and Larkin had his puck luck moment. 2-1 bad guys.
After Panarin was denied, he'd then again get a two vs one chance, with Goodrow along for the ride. Again, Panarin preferred to be Robin than Batman, and we had another turnover.
Seriously, whenever Panarin is being Mother Theresa with the puck, Gallant should tell him that Putin, Marchand, Wilson, Hitler, Satan and Valiquette are in the building. Whenever Panarin is pissed off, we see him get selfish, and that usually leads to good results. (This is akin to my stuff on Trouba playing at his best, whenever he's pissed off.)
After a tremendous shift from the first line, where Fox was interfered with (no call, despite the ref watching Fox get slammed to the ice, where as a result, Fox blocked a Rangers shot); we had another Rangers turnover during the final seconds of a period, and another clean-up job from CZAR IGOR, as if he were the fixer himself – Harvey Keitel from "Pulp Fiction."
2-1 bad guys after forty minutes, where you really felt it was just a matter of time before we saw more magic at M$G. Instead, we flashed back to the days of old, and saw another circus inside of "The World's Most Expensive Arena" – and at the Rangers expense.
---
To open up the third period, Strome won the faceoff and then tried a headman pass to Goodrow. Goodrow was there for the puck, but the inept officials called for an icing anyway.
Miller, really showing off a flair for the offense as of late, swooped around the net and found a wide-open Panarin. For whatever reason, Panarin hesitated with the puck and allowed Greiss to get set. Panarin then shot the puck wide.
The Rangers, who had five good scoring chances within the first 3:30 of the final frame, then saw a referee screen and interfere with Schneider. Have I made it clear yet that these officials sucked tonight? (Keep in mind, I rarely ride the officials in my game reviews – I'm not Howie S.!)
As the game progressed, Greiss made two back-to-back tremendous saves on both Reaves and Trouba, where the pair of shots came from the left side of the Red Wing goaltender.
After another turnover, Igor rectified another mistake, where he stopped Larkin from nearby.
The refs, not satisfied with their terrible performance, and with the Rangers attacking; then called Lafreniere for a hand-pass, following #13's leap, where he reached the height of Manute Bol, and brought down a puck. Horrendous call. Right after that, Rooney was tackled behind Greiss' net, but no call there either, as at this point in the game, the Rangers hadn't received a minute of power-play time.
In what I thought was a turning point in the game; with 10:31 to go, Givani Smith crosschecked Gauthier from behind. Hunt immediately defended his teammate.
What happened next? The Wings got a power-play here, AS DESPITE SMITH BLINDSIDING GAUTHIER FROM BEHIND, IT WAS HUNT WHO NOT ONLY GOT A TWO MINUTE PENALTY FOR DEFENDING HIS TEAMMATE, BUT GOT ANOTHER TWO MINUTES TACKED ON TOO, where he received a double-minor for roughing.
Utter horseshit from these donkey officials.
I thought this clown show black-and-white crew fired up the Rangers a bit. The Rangers PK did their job, and with 12 ticks remaining on the Wings power-play, Fabbri tripped Fox. Miraculously, this penalty was called.
Once on the power-play, their first-and-only of the game; CZAR IGOR made a homerun pass to Zibanejad. Mika got the puck to Panarin, Panarin dished it to Fox, and #23 then found #93 in "Ovi's Office," for a monstrous power-play goal, where it felt like the puck was shot at 300 miles-per-hour.
2-2, with 8:09 to go, and with loud and boisterous "THESE REFS SUCK" chants echoing all over Madison $quare Garden.
Mika, obviously miffed about the Hunt call, and now in the zone; played "hero-ball" a bit here, as he kept getting to Greiss. However, Greiss wasn't having it.
After more excellent saves from both goaltenders; we finally got to a minute remaining, where just like against Boston, Igor had to come up with two huge saves to preserve the tie, including Igor's best save yet with 40 ticks to go – as #31 FLASHED THE COW, and made a sweeping glove save on Larkin. Oh Baby!
In game that the Rangers had turned the tide in, it was Greiss who was able to get his team to the tie, even if the Rangers were sloppy for most of the game. 2-2 after sixty. Up next, overtime.
---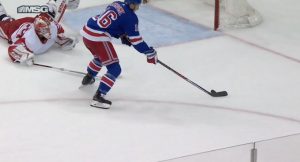 The Rangers dictated the pace in the five minutes of threes', but couldn't find the game winner. It wasn't for a lack of trying though.
The Rangers had a bunch of chances, as Greiss denied all the name-brand players, including Kreider, Zibanejad and Panarin.
On the other end, CZAR IGOR displayed his wizardry, where he denied the Wings on two separate two vs one odd-man rushes. And just like every other period of this game, as the bonus period expired, CZAR IGOR had to make one last save, where he stopped Larkin.
After 65 minutes of hockey, we then went to the shootout.
---
In round one, Raymond beat Igor. Rosen said the puck was stopped, which gets you extremely excited, but then equally as pissed off, when two seconds later, he says, "oh wait, that puck went in Joe!" Mika then followed Raymond with a goal himself.
After both Larkin and Panarin were stopped again, Erne flubbed while Fox lost the puck when dangling to the net.
Now in the bonus rounds of the shootout, Bertuzzi had no shot (get it, he's the only NHLer not to be vaccinated, har-har-har), while Lafreniere was stoned.
In round five, CZAR IGOR denied Gagner.
With the game now on his stick, Strome went to the net and Greiss attempted a poke check on him, a poke check that Strome disagreed with. However, Greiss then went out of his crease, and when doing so, left Strome a net that was more open and gaping than a washed-up and spitted-out porn star. He missed.
If you look at the picture above, it's obvious that the puck wasn't level and was dancing around like Elaine Benes from "Seinfeld." Even so, a little finesse and this puck goes in. Opportunity wasted.
Suter, who had never taken a shootout prior to tonight, then beat Igor. Chytil, now looking to keep the Rangers chances alive, was stopped by Greiss. 2-1 shootout for the Wings, 3-2 final.
---
A couple of things before going home here:
— This was another game where the Rangers didn't play a full sixty minutes. It cost them.
— For all of the tears about Strome, I don't hear anyone whining about Fox losing the puck, and everyone else besides Mika not scoring in the shootout as well. I also don't hear anyone crying about Igor giving up two shootout goals either. (And to be clear, I'm not blaming anyone here, I'm just stating.)
— Anytime your favorite team loses a shootout, you hear fans say "why didn't this guy or that guy get a chance?" Tonight, people were bitching that Kreider and Miller didn't get a chance to win it. Again, that stuff ignores my initial point – the Rangers should've won this game outright, rather than needing a skills competition to win.
— I know I probably say this more often than I'd like to – but sometimes, you run into a hot goalie. Tonight it was Greiss, who admittedly, and as observed, received a lot of luck. The officials didn't help either, but even so, that doesn't make up for all of the turnovers and sloppiness from the first thirty minutes.
— To single out Strome as the reason why the Rangers lost this game is the errand of a fool. Sure, he should've scored on that. I'm not denying that. My only point is that this game should've been long over before Strome lined-up in the fifth round. That's all.
You know that I'm glass half-full about this team. Yes, I'm disappointed in the loss (especially since I bet my Superbowl winnings on this game), but my faith in this team remains in-tact. Of course, I'd like to see a trade made sooner than later, but I'm not the general manager. (You may have heard!)
For the Rangers (who did gain ground in the division, a fact that may be lost after this bad-taste-in-your-mouth loss), they'll have to move on and continue the "one game at a time" philosophy. Beat Ottawa on Sunday.
PLUGS time!
---
In our first plug tonight, on Wednesday, Adam Fox wrote an article for "The Players Tribune," where he talked about his first game as a Ranger and his upbringing. To read it, check out: https://www.theplayerstribune.com/posts/adam-fox-new-york-rangers-hockey-nhl
---
On Thursday afternoon, "Up in the Blue Seats" returned with a new episode with Stan Fischler as the featured guest.
(Of note, to read my review of "Tales of Brooklyn," check out: https://bluecollarblueshirts.com/122021/)
(Also of note: Duguay didn't bring up his relationship with Sarah Palin, as the mainstream noise on that is starting to simmer down some.)
To listen to the show, where Mollie Walker also made an interesting observation about Shestyorkin vs Lundqvist, click the link below:
Up In The Blue Seats Podcast: @RonDuguay10 & @MollieeWalkerr talk about Igor Shesterkin's personality on and off the ice. @StanFischler & @NYP_Brooksie also joins the show.

Apple: https://t.co/u9IM18zpWk
Spotify: https://t.co/AA0D7wxrKQ pic.twitter.com/7YQU1bWv5a

— New York Post Sports (@nypostsports) February 17, 2022
---
On Tuesday night/Wednesday morning, "2 Guys 1 Cup" returned with their 35th episode, a Mike Richter episode if you will. This is a fact that both co-hosts, Shawn S. and Roc, brought up, even when joking at my expense. (Those bastards!)
(The 2G1C crew doesn't share my opinion that Mike Richter is the greatest Rangers goaltender of all-time, and unlike others – I'm fine when people disagree with my opinions. As noted 756756756756 times before, at the end of the day, we're all fans, and who all want the same thing – the fifth Stanley Cup in franchise history.)
To listen to the podcast, click the link below:
Episode 35 is up!

A lot of Zac Jones/Schneider talk and addressing the rumor mill#NYR https://t.co/CSF4LXzNO0

— 2 Guys 1 Cup Podcast (@2G1CRangers) February 16, 2022
---
On Wednesday night, "The Blueshirt Underground Show" returned with an all-new episode as well, with a very interesting ending featuring "BSU Whackpacker" Jeff aka Cutter. To watch the program, click the play button below:
---
The hardcover version of my book, available now at Amazon.com
The first plug of tonight's blog – the mandatory plug for my new book, "The New York Rangers Rink of Honor and the Rafters of Madison Square Garden".
As mentioned previously, the book is now available in hardcover, in paperback and in Kindle formats. To purchase a copy of the book, visit this link:
https://www.amazon.com/Rangers-Rafters-Madison-Square-Garden-ebook/dp/B09CM5N2WD
For those still looking for signed paperback versions of the book, I have re-ordered more copies. I now have 2 signed copies for sale at $25 a pop (includes shipping price) through me directly. Here is all the information on that:
---
Here are my last few blogs, in case you missed them:
---
---

---
If you haven't already, subscribe to this blog for the next update:
---
Up next: The Rangers try to get past the truckers, and a mothercanucker of an Ottawa team too, when they play the Senators late Sunday afternoon, with a puck drop of 5PM.
As always here, thanks for reading and…
LET'S GO RANGERS!
Sean McCaffrey
BULLSMC@aol.com
@NYCTHEMIC on Tweeter