Greetings and salutations everyone and welcome to another blog here on BlueCollarBlueShirts.com.
Off of puck drop here, these are the type of blogs that I love and hate to write! I enjoy writing these blogs after a big Rangers win. That's why I started this site to begin with!  However, with nine total goals scored tonight, tons of news to talk about, a strong goaltending performance and a late puck drop of 8:15PM, this blog is going to be longer than usual! Not ideal circumstances for a weeknight! Selfishly, I would've much preferred a 1-0 Rangers shutout!
Thankfully, I was able to recap a ton of Rangers news yesterday, with a non-game day blog. In case you missed that blog, and any of my most recent blogs, check out the following links below:
---
---
---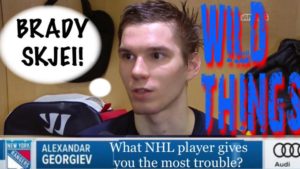 ---
---
In my last blog, I recapped all the trade deadline rumors and news. However, the news and rumor mill never sleeps!
With tonight's Rangers game being an NBC broadcast, NBC focused a ton of their broadcast on the Rangers & the trade deadline. The two big themes were the statuses of Chris Kreider and Henrik Lundqvist. I'll get more into this as this blog goes along, but I'll say it here now – this NBC broadcast tonight was refreshing.
Without being under the thumb of James Dolan and the sugar-coat everything M$G Networks, the NBC analysts openly called out Henrik Lundqvist tonight for being selfish and not being a winner. Even at the end of the broadcast, Mike Milbury was still tearing into Lundqvist, saying that "it's about time Henrik Lundqvist sees the light here."
Say what you want about Mike Milbury, and I've said a lot about him on past blogs, but I loved this. I think Milbury wants Lundqvist off of the Rangers more than I do!
No joke, throughout the entire broadcast, while the "will they or won't they?" angle was hyped up, in regards to Chris Kreider, the NBC guys focused on Lundqvist and how his time was up. In a million years, you would never hear Steve Statiquette talk like this during a M$G Networks broadcast!
Before getting into everything Chris Kreider & Henrik Lundqvist, let's talk about all the other news first.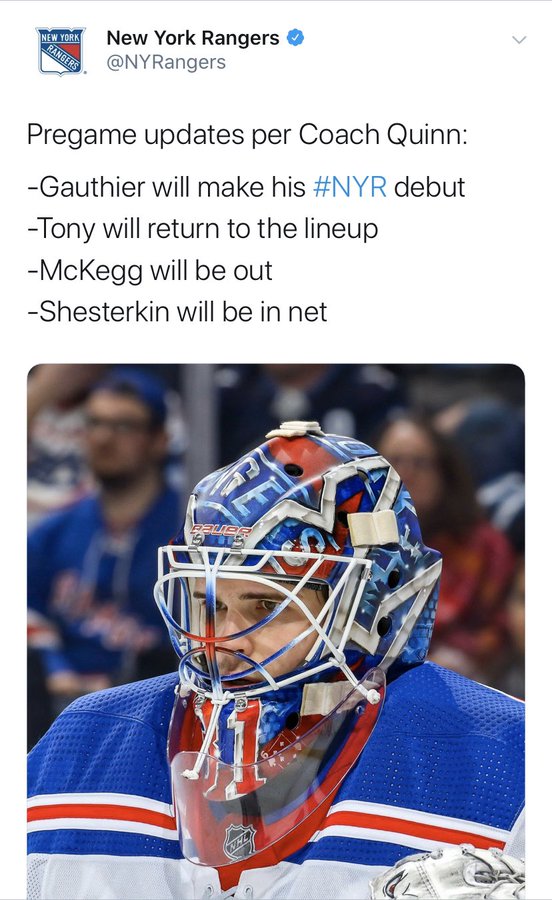 When it comes to the Rangers line-up tonight, as I've said in the past, you can never go too nuts about David Quinn's lines. After all, he always changes them in-game. We've even seen Quinn tinker with his top lines during games too. Quinn's lines are never etched in stone. Even in tonight's game, a 6-3 win, Quinn toyed around a bit with his bottom six forwards.
The easiest thing to talk about, in regards to Rangers news, was tonight's goalie. After missing three games with a minor ankle injury, CZAR IGOR got this prime-time "Game of the Week" start. Unless you're one of these demented and deranged members of the "Cult of Lundswiss", I don't think you can have a problem with that. Igor is now 100% and with Igor back to full health, you have to go with your number 1 goalie.
Let's face it – Igor is the number 1 goalie. In turn, Igor rewarded Quinn with a 37 save performance, moving Igor to 7-1 on the season. Truth be told, of the three goals Igor gave up tonight, you could argue that Igor should've made a save on one of them. However, as you'll see, that's because we already have enormous expectations Igor already, expectations where we believe Igor should stop every one-on-one shot attempt.
One last time & I won't repeat the following again for the rest of the blog. I know I said it during the preseason, the start of the season, mid-season and I'll say it again now – just imagine where the Rangers would be if they bought out/traded Lundswiss during this past off-season and let Igor be the number 1 goalie from day one of the 2019-2020 season? To me, and this isn't 20/20 hindsight, because I've wanted Lundqvist off this team since 2015 – the Rangers most likely would have a playoff spot today.
You can't change the past (even if I've been right on the Rangers goaltender situation ever since starting this blog) but man, oh man, it's never been more apparent than right now, that Lundqvist has to go. More on that to come.
As talked about in last night's blog, the Rangers traded Joey Keane for Julien Gauthier yesterday. It was reported after the trade, that Gauthier would report straight to the Rangers, rather than going to Hartford. As I said last night, I expected Gauthier to play in tonight's game against Chicago, because why else would you have him report to the Rangers? I also predicted in last night's blog, that I expected Brendan Smith & Greg McKegg to be the healthy scratches in this game. That's what wound up happening tonight.
With Gauthier here, and with the ascent of recent call-up Phillip Di Giuseppe, David Quinn had a new line-up tonight. Let's take a gander:
FIRST LINE: Kreider/Zibanejad/Buchnevich
The top Rangers line was once again amazing tonight. Every player on this line scored a goal in this game. Kreider & Zibanejad also picked up two assists in the contest, while Buchnevich also recorded an apple for himself too. As mentioned earlier, Kreider's status was mentioned all game. This was another game for Kreider, where he drove up his asking price and/or drove up his trade value. In a 1-1 game in the third period, the top line took over this game in crunch time. What more can you ask for?
SECOND LINE: Panarin/Strome/Fast
While this line has been struggling a bit lately, to the point where I even saw fans criticize Panarin's game on social media, both Strome and Panarin picked up goals tonight. And what a game for Ryan Strome, as he was playing against his brother tonight, all while having his mother in the stands. Strome's mother even led the Rangers locker room tonight, by giving a pregame pep-talk speech, while reading off Quinn's line-up card. And as mentioned several times this season on this blog, in my advocating of the Rangers re-signing Strome, Strome also remains a go-to interview for members of the media: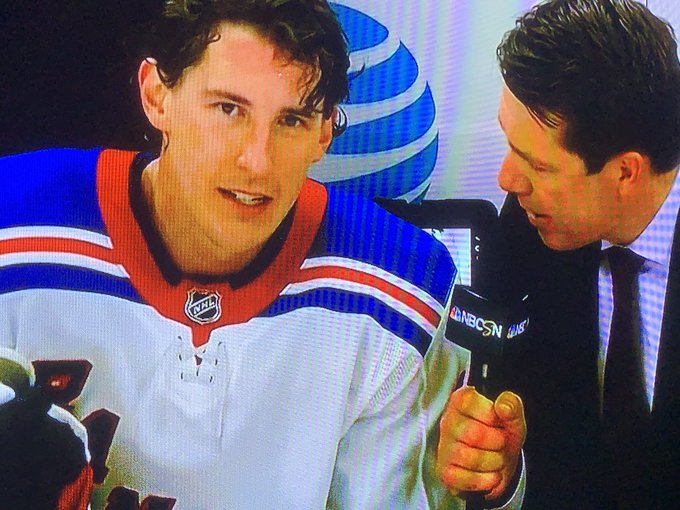 THIRD LINE: Di Giuseppe/Chytil/Kakko
Once again, I found the third line to be extremely well tonight. In fact, it was Chytil who kicked off the scoring in this game. While Di Giuseppe is still looking for his first goal as a Ranger, he has done a good job of pressing the offense. Kakko seems to be in a groove lately too and you can see his progression. However, when it comes to progression from last year to this year, outside of maybe Tony DeAngelo, no other Ranger has progressed at a quicker rate than Filip Chytil this season.
FOURTH LINE: Lemieux/Howden/Gauthier
In what feels like the 78678676789th fourth line combination of the season, I thought this new line was decent. The only black mark of this line was Brett Howden, who kept taking penalties and had trouble clearing the puck. Lemieux played his game, and as the Rangers agitator, was able to bait Chicago goalie Robin Lehner into a stupid penalty. In game one of his Rangers career, I thought Gauthier looked good. He made one fantastic play to the net in this game, a play where he drew a holding call, which then led to a Rangers PPG. While Gauthier had the least amount of ice time tonight (7:18) I wouldn't look much into that. He's on the fourth line and he will have to play his way up. Solid debut.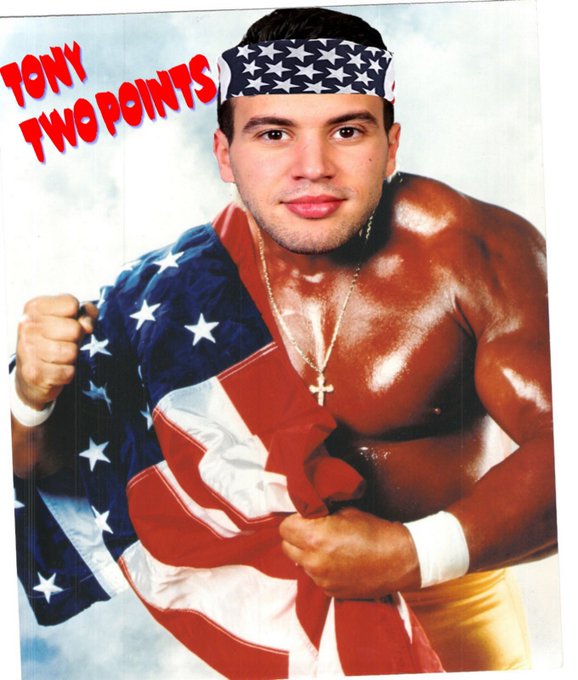 Defensively, we had the same old pairings:
FIRST PAIR: Skjei/Trouba
These two were terrible tonight. Trouba was on for two goals against and was turning over the puck left & right. I've been a Trouba defender on these blogs. I'm not one screaming to trade him like others are. That said, I call it like I see it. Trouba was not good tonight. Skjei, while not as horrendous as he's been, almost scored on his own goalie again tonight. Luckily, as usual, CZAR IGOR was able to bail him out.
SECOND PAIR: Staal/DeAngelo
It's tough to say what was the best defensive pairing of tonight's game. Offensively, without question, it was this duo, as DeAngelo had another two-point game, assisting on two Ranger goals. Marc Staal would also pick up an assist, on the Rangers game winning goal, scored by CK20. While Staal was on the ice for one bad goal allowed, while playing with Trouba, sometimes you have to look at goals allowed as "the other team is paid to play hockey too."
THIRD PAIR: Fox/Lindgren
At this point of the season, Lindgren is held together by duct tape. He's turning into a 1980's Ric Flair, as it seems in every game, Lindgren is getting beat-up or bloodied. In tonight's game, he drew two penalties, which is a credit to his aggressive, physical and never-give up style. What more can I say about Fox this season? He remains the best defenseman on the team, at least in my opinion.
Scratch wise tonight, Gregg McKegg & Brendan Smith were your skaters who were scratched. I see both of these guys getting moved at the deadline.
While CZAR IGOR was the starting goalie, and with Alexandar Georgiev joining Smith & McKegg with the Ranger moms in a luxury suite, this man was on the bench tonight: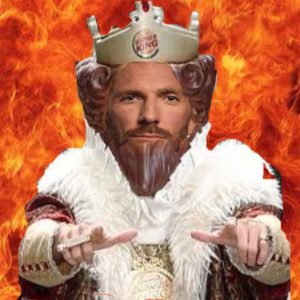 I know, I know, I know – you're sick of me talking about Lundqvist. Truth be told, I'm sick of talking about him too, but as long as he's here and as long as he's making headlines, I'm forced to talk about him.
Prior to today's game, Henrik Lundqvist gave an interview to the Swedish media. You can find this interview here: https://www.expressen.se/sport/hockey/nhl/det-ser-inte-ut-som-att-jag-kommer-spela-jattemycket/
This interview is the most telling Lundqvist interview of the season, in regards to Lundqvist's feelings on the current three-goalie system.
The above interview was conducted in Swedish. The website HLundqvist.BlogSpot.com translated the interview. You can find the full translation of the interview here: https://hlundqvist.blogspot.com/2020/02/henrik-lundqvist-says-it-doesnt-look.html?m=1
Here are the key parts of the interview, courtesy of Expressen.se & HLundqvist.Blogspot.com:
On the topic of his current role: "We have had discussions internally. We'll see. We'll see what happens."
---
When asked about playing time and if he's happy: "I take it day by day, I have been doing it for quite some time. I try to train well and keep up. And hopefully … it will be something good."
---
When asked what does he mean by "good", Lundqvist said: "Eh, yes … I don't have much to say about that right now. It's clear … I want to play. That's what it's all about. It hasn't been much in the last two months. The situation is as it is. It is very different. Yes, that's what I have to say right now."
---
When asked about David Quinn and his talks with DQ, Lundqvist didn't reply. The reporter noted that Lundqvist sat there in silence.
Here's how the reporter accounted these questions on Quinn:
How are the discussions with Quinn?
Long silence.
– Yes … How are they …?
Long silence again.
---
When pressed to respond about Quinn and his playing time, Lundqvist said: "Hard to say. Well, but I will get some games. But it doesn't look like I'm going to play very much."
---
When asked about Jeff Gorton and any discussions with Gorton, Lundqvist said: "Eh, I've had discussions during the season. That's … that's what I'm saying."
When pressed to talk about waiving his no-move clause, Lundqvist once again met the reporter with silence, before saying "No comment."
When the reporter said that Lundqvist didn't exactly say no here, Lundqvist followed up with: "As I say, the focus is on the workouts and doing it as well as I can. Then… the discussions we have, we keep them in-house, it's not something we talk to you about."
---
On the topic of playing time, Lundqvist said:
"Besides maybe a year in Frölunda when I entered the a-team, I have been the first goalie my entire career. It's a certain role, it's a certain approach when you go out and play. You know you're playing."
Lundqvist added:
"This, the last two months really, especially the last two months, has been very different. It was a change already last year when we would start playing more younger and different rotation than it has been the other 13 years. But the league goes in that direction, you play less. Now it becomes an extreme situation, since we are three. But of course, physically you can keep going. No problem. The body feels very good. There is more match focus and so on … When you play, you get in and fight. It won't be as it usually feels, but you really have to work hard to find that feeling. That's it."
---
When asked about the goaltending situation in Colorado and again about waiving the NMC, Lundqvist said: "As I said, we have discussions internally. That's where we keep them. We'll see. We will see what happens. I have nothing more to add actually. I don't want to add more right now. We'll see.
---
In closing, when talking about potentially leaving the Rangers, Lundqvist closed the interview by saying, "It is clear that the family, the children, will get broken. But otherwise … You think constantly … You think more about hockey in a situation like this than when you play a lot, and it goes well. When you are in such an extreme situation with very little play it is clear that you analyze a lot and think a lot. You try to get those breaks from yourself a little … Then the family is number one."
---
After this interview with Lundqvist was released today, NY Post reporter, the infamous "Leapin'" Larry Brooks, tweeted the following: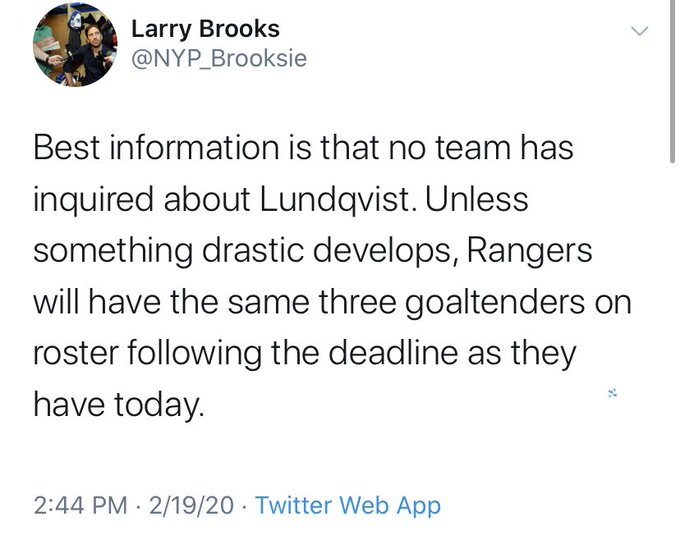 I'll save you my "Greatest Hits" on Lundqvist today, and just talk about the stuff only from today.
If anything is truly SAD about Lundqvist and his selfish situation, it is that NOBODY wants him. The Rangers don't want him. Not one team is asking about him. Again, last night, I told you how I talked to Colorado Avalanche reporter Adrian Dater, and how he told me how the Av's, despite their goalie injury issues, aren't interested. Teams don't even want Lundqvist at half-price!
I'm left thinking here – say the Rangers do buy out Lundqvist during the off-season. Is anyone really going to snatch him up? Even if Lundqvist would sign with someone on the cheap, where would he fit in? Most teams are featuring youth in their nets. They want to build their cores. What's the point in signing a 38 year old has-been and Stanley Cup never was?
Not for nothing, but Lundqvist's best chance to be a starting goalie again might be with Frolunda. I just don't see him being a starting goalie, at the NHL level, ever again, sans a major injury.
Of note, neither Gorton, JD or Quinn have been asked about this Lundqvist interview. After all, it's not like the NY beat reporters will dare to talk about this topic. Speaking of the NYR beat reporters, after none of them having any inkling about a Keane/Gauthier trade, a trade that Quinn said after tonight's game, "was in the works for a while", the Rangers announced another deal today, when they tweeted the following out, during tonight's game: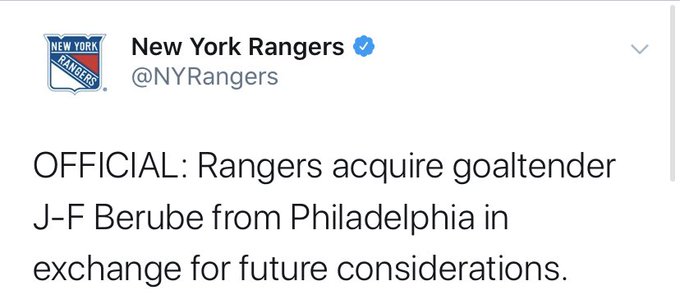 Real quickly, while I haven't seen this confirmed anywhere, the following transaction, in my eyes, is just a deal for Hartford. After all, there is no chance in hell that J-F Berube is knocking off Igor or Georgiev right now.
With Igor now a full-time member of the Rangers, and most likely having played his last game for the Wolfpack, J-F Berube will give the Hartford Wolfpack some goaltending help, as the Wolfpack compete for the Calder Cup this Spring.
I just wonder what the future considerations will be? A pack of gum for AV? A dimebag for Kevin Hayes? A trip for Gritty to Henrik Lundqvist's personal hair stylist?
To go nuts about this Berube acquisition would be foolish. It's a move for Hartford. If anything, this move isn't a vote of confidence for the current Wolfpack goaltenders, in Adam Huska and Tom McCollum.
Father Fink me! 3200 words and I haven't even got into tonight's game yet. I told you this would be a long one!
At this time, let's go to the GAMBLING segment of tonight's manifesto. Here's what I said before the game:
Season over-under record: 28-27-3

Igor in net. Under. Simple as that. #nyr #PlayLikeANewYorker pic.twitter.com/n0iQWKQVBW

— BlueCollarBlueShirts (@NYCTheMiC) February 19, 2020
Well, with 9 total goals scored, my over-under prediction was shot to shit. My record now sits at a season low of .500, at 28-28-3. And really, the under looked good after two periods. Then the two teams went on to score 7 goals in the final 20 minutes of tonight's game. As they say: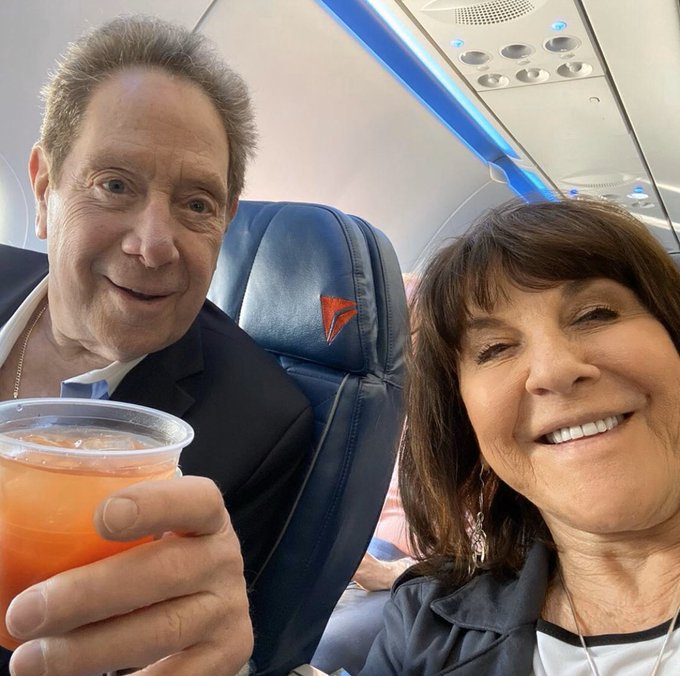 Moving forward, with 99.9% of the pregame news recapped, let's go to the official box score, courtesy of ESPN.com:
SCORING SUMMARY: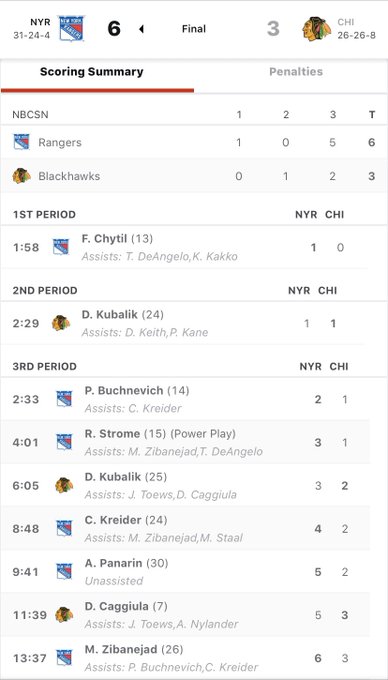 PENALTIES: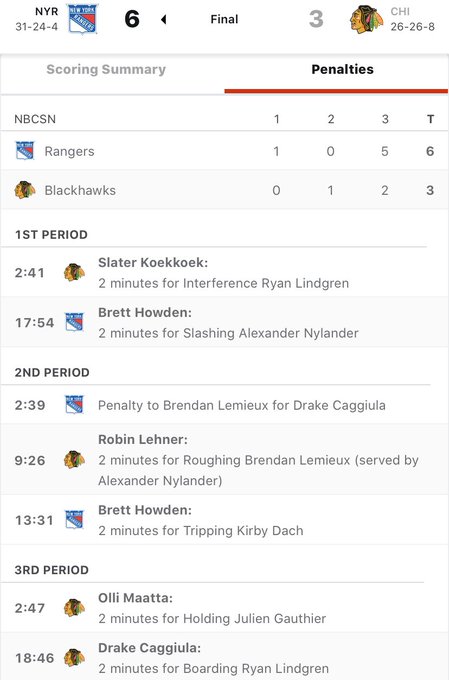 TEAM STATS: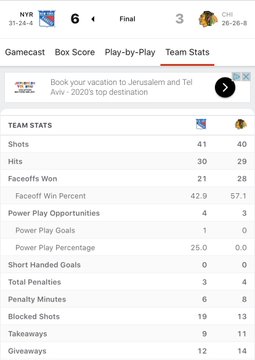 GOALIES:
| | | | | | | | | | | |
| --- | --- | --- | --- | --- | --- | --- | --- | --- | --- | --- |
| SA | GA | SV | SV% | ESSV | PPSV | SHSV | SOSA | SOS | TOI | PIM |
| 41 | 6 | 35 | .854 | 29 | 0 | 6 | 0 | 0 | 59:21 | 2 |
| | | | | | | | | | | |
| --- | --- | --- | --- | --- | --- | --- | --- | --- | --- | --- |
| SA | GA | SV | SV% | ESSV | PPSV | SHSV | SOSA | SOS | TOI | PIM |
| 40 | 3 | 37 | .925 | 31 | 0 | 6 | 0 | 0 | 60:00 | 0 |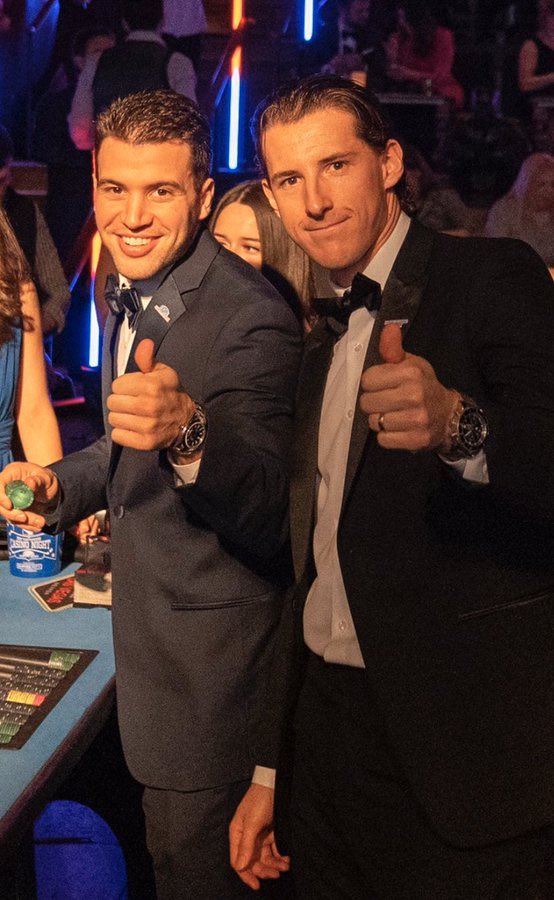 In the last .01% of pregame news, during the NBC pregame, every NBC analyst wrote Lundqvist off, with Mike Milbury really going in. The esteemed Bob McKenzie, perhaps the most informed & best reporter of the league today, talked about Lundqvist's future. McKenzie said he didn't see Lundqvist being moved, because after all, what team would want him? McKenzie said that the Rangers are listening to pitches for Georgiev, but said that the Rangers want an obscene package for Georgiev, meaning that the Rangers aren't interested in moving him.
Away from Milbury's dismissal of Lundqvist's career and future with the Rangers, even the always friendly Eddie O. was saying that the Rangers need to move on from Lundqvist. Eddie O.!
Again, you would never see or hear any of this stuff during a M$G Networks broadcast.
You know what's funny? I see people always comparing Lundqvist to Patrick Ewing. However, towards the end of Ewing's career, many teams wanted Ewing. Today, no one wants Lundqvist, outside of a few loons in the Cult of Lundswiss.
And lastly on this, it always amazes me how fans talk about Lundqvist, as if he's some sort of demi-god. You already know my talking points on Frank Boucher. Three Stanley Cups, 75% of the Rangers Cup wins. The Rangers won't honor this guy. Then you look at other Ranger legends and HOFer's in Brian Leetch & Eddie Giacomin. Leetch was traded on his own birthday, for a package of trash. Giacomin was waived for free! However, to some people, they feel that the Rangers are not being nice to Lundqvist. SAD!
Finally, the game review section of the blog!
In a nice touch, the brothers Strome took the opening face-off, similar to the way the Tkachuk brothers took a face-off with each other, earlier this month. Of note, Igor was in net for the Rangers tonight, while Rockin' Robin Lehner, who wound up getting rocked, was in net for Chicago. I bring up Lehner here, because he currently is unhappy about his situation in Chicago and may be dealt before the deadline passes. This game may fast-track such a trade.
And yes, while I know Lehner has mental issues, it seems that he cries about his job in every city he's in.
Right off the bat, Panarin, as he always does, tried to set up his teammates rather than looking for individual glory. Panarin knows that his goals will come. To start this game, Strome received a pass from Panarin and blasted it at Lehner, only to have the puck deflected into the netting.
A minute into the period, if you had any concerns about CZAR IGOR, he answered them quickly, as he monstrously swallowed up a shot, from inches in front of him. This could've been 1-0 Chicago real quick. However, due to this save, this led to this:
ICEBREAKER! 🚨

The @NYRangers moms are loving it. #WNH

Presented by: @NewAmsterdam pic.twitter.com/FSLR6Ze4g0

— NHL on NBC (@NHLonNBCSports) February 20, 2020
1-0, GOOD GUYS, just 1:58 into the game!
Too bad Sam Rosen wasn't there tonight: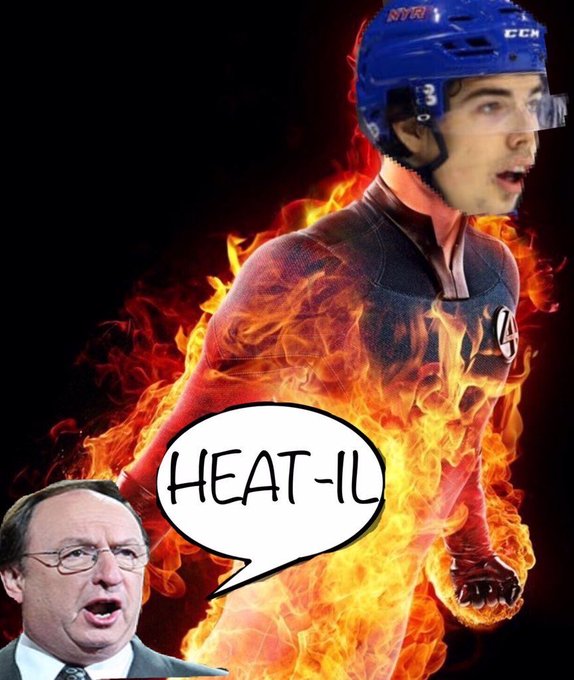 On the goal, DeAngelo gets the puck to Kakko, Kakko feeds Chytil at the blue line and Chytil motored his way to Lehner. Once at Lehner, Chytil sniped a puck right by him. What an individual effort. We've seen Chytil score like this a few times this season, starting with that road game on Nashville on 11/1. (I only remember that date because I was there.)
Up 1-0 early, it looked like the Rangers would get a chance to blow Chicago out of the water. However, the Rangers wouldn't score again until the third period.
In what was a trend tonight, as it happened three times in this game, right after a goal allowed, the team that gave up a goal took a penalty. Forty seconds after Chytil's goal, Slater Koekkoek cross-checked Ryan Lindgren, which sent Lindgren flying, feet-first, into the boards. Koekkoek was called for interference here. And to quote Jim Ross, "BY GAWD!" Ryan Lindgren takes a ton of punishment with every game played.
The Rangers PP didn't look too hot here, mustering up only one lone shot on the PP, courtesy of Strome. Chicago would actually have the best chance to score here, but CZAR IGOR made one of his now famous poke-checks, to break up this scoring opportunity for the Hawks.
After the failed PP, we had some classic Brady Skjei action, as he stood there and watched Dylan Strome attempting to stuff a puck in. Save by Igor.
During a long Chicago possession, the Rangers fourth line would break up Chicago's offense. Lemieux would then feed Gauthier at the door-step, but the puck just missed Gauthier's tape. However, for two guys playing their first game together, you had to like what you saw here.
As we hit the ten minute mark of the period, the INTOXICATING third line had a good shift. And wouldn't you know it, the OFFENSIVE GURU, in Marc Staal, was forechecking well, even logging a shot on goal off of a rebound!
With the game under ten minutes to go in the first period, Chicago would once again muster up an attack, which was led by Patrick Kane. Jacob Trouba would finally get the puck, where he was absolutely stripped, as if he was a hooker at this hotel: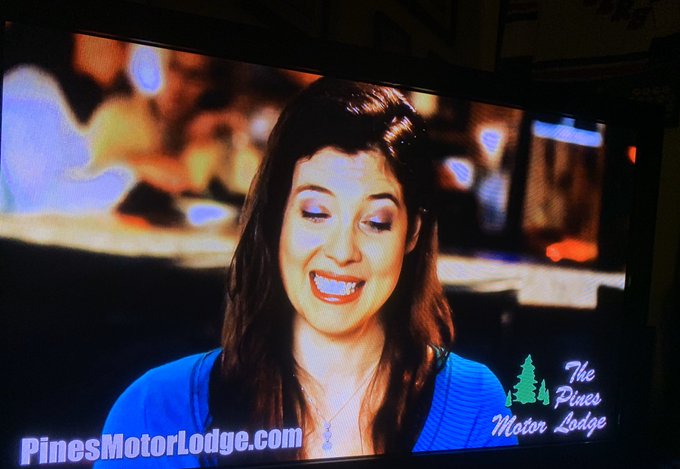 Fortunately, after this brutal turnover, Igor would make a save, thus bailing out Trouba.
In a sign of the times, when doing an isolation feature on a Ranger, NBC focused in on Adam Fox. I know some of you have written in to me, all saying something along these lines – "This is the most fun I've had with this team since 2015." I'd be hard-pressed to argue with you. There are so many different players to highlight and to be excited about. It's just another reason why I can't wait for Lundqvist to be off this team. I'm excited just as you guys are, as the Rangers are really piecing together a great new core here.
Obviously, watching Gauthier tonight was one of my missions. After coming close to a tap-in goal earlier, around this time in the game, Gauthier fiercely took the puck deep. While he wiped out behind Lehner, he did take the puck deep and moved the game in favor of the Rangers here.
With 2:06 remaining in the first period, Brett Howden took a slashing penalty. I have no comment about this penalty, as we didn't see it live, nor saw a replay of it.
Of note, going into this game, in their last six games, Chicago were 1-18 on their power-play. In their last six games, the Rangers were 13-13 on their PK.
During the Chicago PP, their best chance at a goal came when DeBrincat rang a puck off the iron. Fast would immediately clear the puck.
The Rangers, who went on to kill this penalty (the Rangers PK finished 3-3 tonight) almost had a jack-in-the-box goal late, as with six seconds remaining in the period, Howden came out of the box and had a breakaway on Lehner. Lehner made this huge save, a potential goal, which would've given the Rangers all the momentum in the world, going into the intermission.
At the end of one period, the score remained 1-0, in favor of the Rangers. Each team had 12 SOG.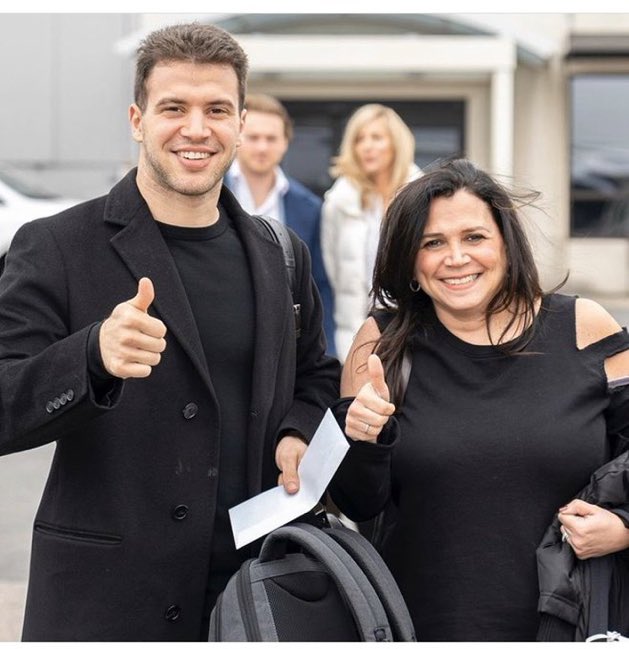 While the Rangers pretty much dominated the first period, the complete opposite happened in the second period.
The Rangers opened up the period with several chances. Lehner stopped Panarin. Then Mika would have two great looks at net and went wide each time. Then, in a play that saved Lehner's bacon, Kakko nearly had a goal, but Jonathan Toews swiped the puck off the goal line with his blade. It easily should've been 2-0 here.
From here, it was all Chicago.
2:29 into the first period, Duncan Keith made one of those cross-ice, board-to-board passes, that we've seen Tony DeAngelo make a few times this season. Keith found Dominik Kubalik all alone in front of Shestyorkin. 1-1 game. Nothing Igor could do here.
Just like the Rangers goal from the first period, immediately after Chicago's goal, Lemieux was boxed for high-sticking. We didn't get a replay of this penalty, so who knows if it was legit or not.
The Rangers PK would escape here, despite Brett Howden, who had the puck, being unable to clear it, even when having empty ice in front of him.
With 8 seconds left on the Chi-Town PP, a Hawk took a shot and Brady Skjei deflected right towards Igor. Igor made the huge glove save here. If I said it once, I've said it a million times – trade Skjei, pay DeAngelo.
Most of this second period was the CZAR IGOR show, as he was already up to 20 saves before the half-way point of the game, as he stopped name brand players, such as Kane, Toews and Saad.
The Rangers would get a mini-reprieve in this period, when Robin Lehner cowardly attacked Brendan Lemieux from behind, after a whistle. This put the Rangers on the PP again, at the near mid-mark of the game. Unfortunately for the Rangers, the PP failed to produce a goal here.
At the 13:31 mark of the period, Brett Howden took another penalty, this time for a blatant tripping call. This call was clear as day, unlike the other penalties called on the Rangers in this game.
During the delayed penalty call, Chicago put forth a pretty good attack, having the puck for 35-40 seconds. The Rangers would touch-up and Chicago would go on their power-play.
As was the case from the earlier Rangers PK's, the Rangers PK did their job again and with Igor making his sixth and final short-handed save of the game.
In a scary moment, with 2:44 to go, Toews got his stick caught up in Igor's mask:
Well this is a new one 😅

Jonathan Toews got his stick stuck in the mask of Igor Shestyorkin. pic.twitter.com/m8QEBsG2RP

— Sportsnet (@Sportsnet) February 20, 2020
Of course, during an injury, the cameras quickly panned away, leaving us with this shot before the sex hotel commercials: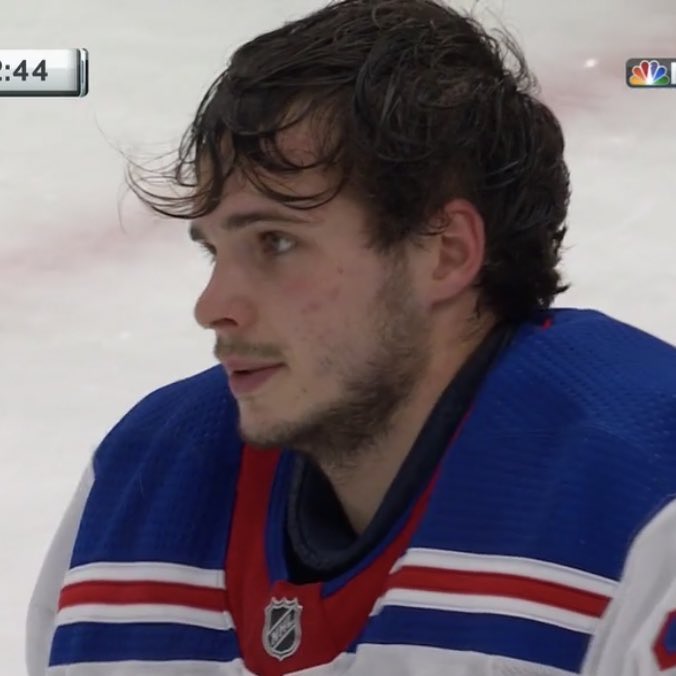 With Igor being okay, we would see the replay. This was a complete accident and unintentional thing from Toews. You could even see Toews patting Igor and saying he was sorry. What a Canadian. I will say, at the time, knowing about Igor's ankle injury, I was just hoping this would be nothing. It wound up being that. We don't need Igor getting hurt here!
And to prove he was fine, during the next two Chicago chances, Igor would stop Toews on a Chicago two vs one and then stop a shot while 100% screened.
In the final second of the period, just like the first period, the Rangers would challenge Lehner. Lehner would stop Di Giuseppe.
As the final horn of the second period went off, the score remained 1-1.
For the Rangers, they were horrible in this period. During an in-period interview, DQ said as much and said his goalie was saving his team. Thankfully, with Igor holding the fort, it allowed the Rangers to regroup in the locker room and come back with their best offensive period of the season.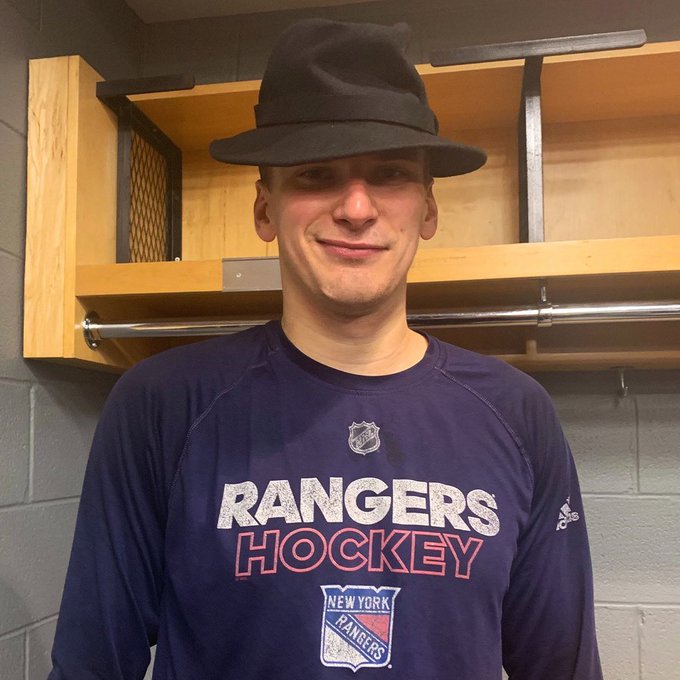 The third period was as explosive as Hiroshima, as the Rangers went into "bombs away" mode, scoring five goals in the period.
The Rangers kicked off the period with a near goal, as a Ryan Strome puck rattled off the far post and just missed from crossing the goal line. However, Buchnevich wouldn't miss on his next shot.
2:33 into the period, the Rangers regained the lead:
Back on TOP. 🚨@NYRangers | #NYRvsCHI

📺: NBCSN
💻: https://t.co/xFg9MuaGSV pic.twitter.com/IgyPoGGKiC

— NHL on NBC (@NHLonNBCSports) February 20, 2020
2-1, GOOD GUYS!
On the goal, Kreider, from behind his own net, finds Buchnevich camped out in front of Lehner. Badda-bing, badda-boom, the top line is the hottest line in the room.
While I know Chicago sucks, it's going to suck if the Rangers trade Kreider.
I know sometimes I repeat myself on these blogs, but it's because the readership of this blog continues to grow, which is probably due to the Rangers success. I'll say it one more time here – while I don't think the Rangers will make the playoffs, I'm rooting for it. It would be awful to waste Panarin's amazing season with a trip to the golf course in April.  You can also see this team really coming on as of late, as it feels the Rangers are peaking at the right time. And yes, I'm aware of the Sunday matinee loss to Boston, the best team in the league, a game where the Rangers essentially lost by one goal and hung in there the whole time.
For the third and final time in this game, right after a goal was scored, a penalty was called. This time, 14 seconds after Buchnevich's goal, Olli Maatta was sent to the sin bin for holding. This put the Rangers on the power-play. Of note, Gauthier drew this penalty, after making a strong move to the net.
With 46 seconds left on the power-play, Ryan Strome would score the lone PPG of the game:
STROMER. 🚨

Ryan Strome spins and fires to extend the @NYRangers lead. #NYRvsCHI

📺: NBCSN
💻: https://t.co/xFg9MuaGSV pic.twitter.com/1Xk5thT3FK

— NHL on NBC (@NHLonNBCSports) February 20, 2020
3-1, GOOD GUYS! And hey, another assist for Tony DeAngelo, as he continues to have the best offensive season of any Rangers defenseman, since the days of Brian Leetch. For Ryan Strome though, this goal had to feel good, especially with his mom there and doing the thing in the locker room.
Two minutes later, Dominik Kubalik would score his second goal of the game, as he easily beat Staal & Trouba and backhanded one by Igor. 3-2. I thought Igor could've had this one, only based on the way he was playing in this game. That said, this was a one-on-one goal, as Kubalik picked up his 25th goal of the season.
Three minutes after Kubalik's goal, Kreider would get back the insurance goal:
Chris Kreider CAN'T STOP scoring. 🚨@NYRangers | #NYRvsCHI

📺: NBCSN
💻: https://t.co/xFg9MuaGSV pic.twitter.com/IlTc7rt6Qk

— NHL on NBC (@NHLonNBCSports) February 20, 2020
This was a goal that made Kreider's agent shoot his load, as if he was hanging out in the "Safari Room" of the Pines Motor Lodge. This was all Kreider. Kreider booted a puck off his skate, got control, beat two Hawk defenders and backhanded a puck through Lehner's five-hole. 4-2 GOOD GUYS!
A minute later, Panarin would find a loose puck in front of Lehner and beat Lehner over his shoulder. 5-2 GOOD GUYS. The rout was on, or so we thought.
Less than two minutes after Panarin's goal, with under 9 minutes to go in regulation, Drake Caggiula, who makes me think of that sex freak from the Pines Motor Inn, you know, Caligula, the former Roman emperor, beat Igor while a foot away from the net. 5-3, good guys.
And isn't it amazing Suzyn, that after a 1-1 game through forty minutes, we saw six goals in nine minutes? That's hockey Suzyn!
With 6:23 remaining in regulation, Chris Kreider once again dominated the puck. Kreider was skating around the Blackhawks, juking and duking and jiving and thriving, (Holy Walt Frazier Batman!) and fed Buchnevich. Buchnevich put the puck on net and Mika deflected it by Lehner. 6-3 GOOD GUYS. With a touchdown allowed, I can see why Lehner has mental issues. (Oh settle down, it's a joke. Plus, I've done blogs on the history of NHL goalies, where I talked about the mental health issues they had to go through. Stop looking to be offended!)
With 5:27 remaining, Lehner stopped Trouba. If Lehner had anyone's number tonight, it was Trouba, as Lehner easily saved all three of Trouba's SOG tonight. I mention this here, because this would lead to the first TV timeout of the period. That's how crazy the action was. (There is no TV timeout after a goal scored.) What this tells you, that up to this point in the period, there were no offside or icing calls either.
In the "Being Greedy" department, it sucked that the Rangers had a three goal lead here. Why? Because with the Hawks doubled-up, by a score of a touchdown to a field goal, that meant that the Hawks weren't going to pull Lehner. If this was a two goal Rangers lead, the Hawks probably would've pulled Lehner, which would've meant an empty net goal attempt from CZAR IGOR!
In a very sloppy period, CZAR IGOR would make two big saves, with 2:30 remaining in regulation.
With under two minutes to go, Drake Caggiula boarded Ryan Lindgren. Even up three goals, Ryan Lindgren was still out there, taking a beating like Steve Valiquette humping a chart or like a lady of the night at the Pines Motor Inn! (I'm beating that Pines Motor Inn joke, as if that hotel was Ryan Lindgren!)
Up three goals and under two minutes to go, the Rangers weren't looking to add the extra point to their TD. The Rangers skated around and that brought us to the final horn. Rangers 6 – Blackhawks 3. A huge two points in the standings, and really, two points the Rangers should've attained, against this last place Chicago team.
Oh and for all the gripe that we Ranger fans have about the salary cap, no one has a bigger gripe about the cap than the Hawks. Fortunately for them, they won 3 Stanley Cups before it all turned to shit.
Big win!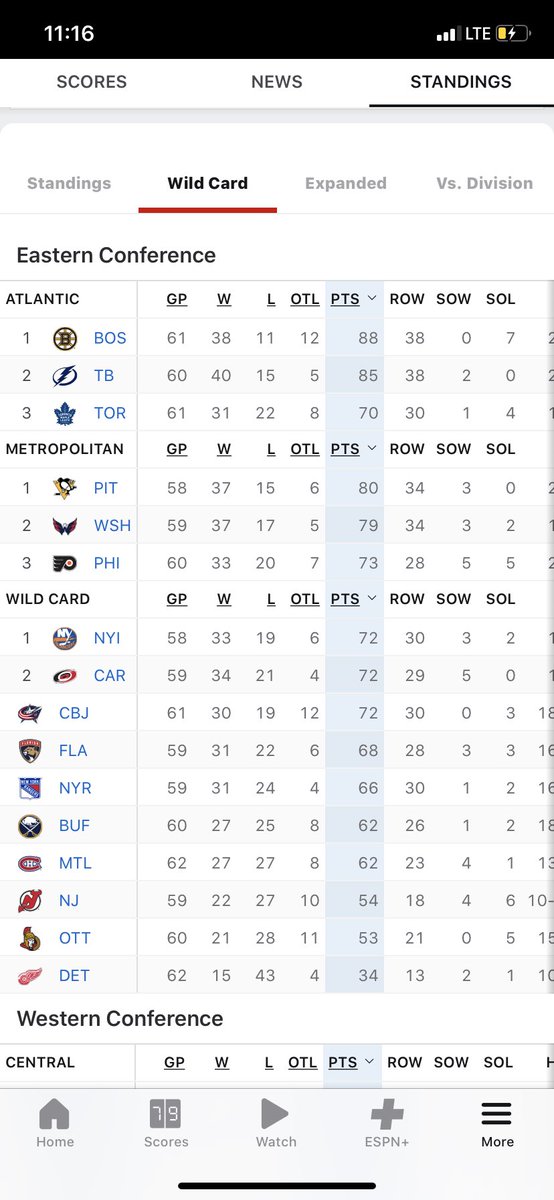 I don't care what anyone says. Making the playoffs for this team would be a huge accomplishment. I can care less about the Rangers getting a first round draft pick, from the 11-15 position. I want that Father Finkin' playoff Rangerstown tent on 33rd street! And really, think about it, should you be one of these "tankers". Do you really think this team is going to get a Top 5 or Top 10 pick, with the way Igor & Panarin are playing?
In some post-game news (I didn't watch or read anything else, I only saw what I'm about to say here) Ryan Strome was interviewed on the ice, immediately after the conclusion of this Original 6 contest. To paraphrase Strome, he made me fist-pump and let out a Dancin' Larryesque "OH HELL YEAH", when he said: "We want to make it tough on the general manager."
I know some people preach "tank" and "it's all about stock-piling draft picks", like my good buddy Al "SMD" Demauro, but Father Fink that noise. These players and coaches want to win. I want to see the team win too. I don't invest all this time doing these blogs, watching games, bullshitting with you guys on social media/email and all this money going to games, just to root for losses. Plus, when you create a losing culture, you could potentially turn into Buffalo or Edmonton.
I loved what Strome said here.
I don't know what the future is for this team. None of us do, not even the NYR beat reporters. After all, like I mentioned, none of these beat reporters knew about the Gauthier trade or that the Rangers were looking for goaltending help in Hartford.
I will say, if Strome is here next season, as I hope, give him the "A" on his sweater. He's a new go-to guy, and he's very well spoken, honest and openly critical in the bad times.
The Rangers handled business tonight. As it's going to be, as long as this team is alive in the playoff mix, the next game is the biggest game of the season, as the Rangers play a four-point game with the Carolina Hurricanes.
The Rangers and their mothers travel to Raleigh for a Friday night tilt with the Canes. Want some drama? Here you go:
The Rangers are 3-0 against the Canes this year. In each of those three wins, Henrik Lundqvist started. In those three games/victories, Lundqvist has averaged over 40+ saves. And really, in Lundqvist's career, he has absolutely owned the Hurricanes. Not only has Lundqvist been a storm chaser against the Canes, he's made the Hurricanes high-tail it back to sea.
However, with Lundqvist being off since seemingly in forever, what do you do if you're David Quinn? Do you play the trends? Or do you go to your 7-1 goalie, the number 1 goalie of the team, in Igor Shestyorkin?
I'll say this – if Henrik Lundqvist is to ever play again for the Rangers, this would be the game. That said, to me, the Lundqvist Era is dead. If I'm DQ, and knowing what Lundqvist said to the media on Wednesday, I'm going right back to Igor on Friday and then would go with Georgiev on Saturday vs the Sharks.
Of course, the underlying issue here is that while the Rangers may freeze out Lundqvist from ever playing again, who is going to deal for him?
When I put all the cards on the table, I look at this situation as so – Igor is the best goalie on the team. He's on fire. He's 7-1. He gives you the best chance to win. This is the biggest game of the season, as the Rangers can narrow the gap. With a win over the Canes, the Rangers could potentially be four points away from a playoff spot. With the shitty Sharks as the next team on the docket, meaning if the Rangers can rattle off a three game win streak here, the Rangers could be a win away from the playoffs. You have to go with what gives you the best chance to win, and how can anyone argue against CZAR IGOR?
And I'll say this here too – after DQ looking resigned to missing the playoffs, especially after the Western Canada trip, DQ seems to have that fire in his belly again. This man wants the playoffs. That's a FACT.
I said this earlier on the blog, and I'll say it one more time before I close tonight's missive off – what a great and exciting time to be a Ranger fan!
I'll be back Friday night, unless something super crazy happens tomorrow.
As always, thanks for reading, especially to you day one readers, who always challenge me and give me great feedback on the emails. And of course…
"LET'S GO RANGERS!"
Sean McCaffrey
BULLSMC@aol.com
@NYCTHEMIC on twitter