Greetings and salutations everyone and welcome to another blog here on BlueCollarBlueShirts.com. After sneaking by the last place New Jersey Devils on Thursday night, on Saturday night in prime-time, the Rangers hosted the best team in the entire NHL, in the Tampa Bay Lightning. Despite the Rangers victory over the Devils in Newark on Thursday, I thought the Rangers, as a whole, played better in this 3-2 loss to the Tampa Bay Lightning. Sure, it sucks to lose, but at least the Rangers held their own against the best team in the league.
While the Rangers offense did put up four goals on Thursday and only scored two tonight, the Rangers played a more structured game against the Bolts and were more alert defensively. For most of the game, the Rangers dictated the pace and limited Tampa's blazing and break-neck speed. They also forced Tampa to commit four penalties, as opposed to the one penalty the Rangers took in this contest. The only problem was that Tampa's special teams were just a bit better, but going into this game, that was to be expected.
Going into this contest, I don't think many fans thought the Rangers had a chance of winning this game. However, when down 3-0 in the second period, the Rangers made a go of it and really hung in there with the best team, by far, in the league.
That said, to be fair, Tampa played & won 24 hours previous to this tilt at MSG, winning a tremendous fast-paced game over the NY Islanders. The game was decided in a shoot-out and it was no easy win for the Bolts either. As has been the case for most of this season, when an opposing team has a back-to-back, the opposing team more times than not, have elected to start their back-up goalie against the Rangers. That was the case tonight, as Louie Domingue, who is now 17-4 this season, got the start. And yes, Domingue is the beneficiary of playing behind the best team in the NHL.
With Tampa playing last night and with Tampa going with their back-up, the Rangers got two nice little breaks. However, the biggest break for the Rangers was that Tampa's second line center, in Brayden Point, was ruled out for this game. It's funny, the other day on social media, I saw a debate from Ranger fans, as these fans discussed if Mika Zibanejad was an "elite center", a term that David Quinn gave Zibanejad. To me, that's silly, because if Zibanejad is an elite center, what's Connor McDavid? Shit, what's Sidney Crosby then?
To put things really into perspective, Brayden Point, on the second line for Tampa, has 30 goals and 35 assists, for a grand total of 65 points. In other words, on the second line, Point has more goals, assists and points than any New York Ranger this season.
So, with Point out, starting goalie Andrei Vasilevskiy sitting this out and with Tampa playing the night before, I thought that the Rangers would've had a chance to steal one tonight. In fact, I said this after Tampa's win over the Islanders on Friday night:
Great game at Nassau, Rangers should get a tired Bolts team tomorrow!

— BlueCollarBlueShirts (@NYCTheMiC) February 2, 2019
I also said this:
I think #nyr has a good chance against TB tomorrow….

— BlueCollarBlueShirts (@NYCTheMiC) February 2, 2019
What happened in this game? The Rangers had a good of a chance as any, but when it came down to it, back-up goalie Louis Domingue was better than Henrik Lundqvist. That's all it took. Tampa Bay is just one of those kryptonite teams for Lundqvist, as Lundqvist now moves to 4-9 (not including playoffs) against Tampa since the start of the 2013-2014 season. This was also his third straight loss to the Bolts. Very regal stuff here.
Obviously, whenever the Rangers play the Bolts, there's always going to be that association between the two teams. If you really want to go back in time, you can say it all started with former Ranger captain, Phil Esposito, and his founding of the Tampa Bay Lightning. It's true that no one would ever consider Esposito a "true" Ranger, because he'll always be remembered as a legendary member of the Boston Bruins. That said, one can not deny, nor forget Espo's tenure, not only as a player with the Rangers (with one Cup Final appearance) but in addition, Esposito's time as the team's General Manager.
Of course, in recent years, the Rangers and the Bolts have been frequent trading partners, starting with the trade that saw Glen Sather get fleeced by former TB GM, Steve Yzerman, when Sather gave up Ryan Callahan & two number 1 picks for Martin St. Louis. To be fair, if the Rangers won the Cup in 2014 or in 2015, you would've called this trade a monumental victory. However, the Rangers didn't win the Cup, so instead, they lost two number 1 picks for a player in Martin St. Louis, who made it clear that he wouldn't accept a trade to anywhere else, but New York.
Senile Sather, who never saw a move he couldn't wait to fuck up, would later pass on Anton Stralman after the 2014 Cup run and instead sign former Bolt (who was then with San Jose at the time) in Dan Boyle. This was another major screw-up for the tapioca-pudding-eating-through-a-straw Glen Sather, as Stralman continued to be one of the best defensive defenseman in the NHL, while Dan Boyle's biggest Rangers highlight was going off on the mealy mouthed Larry Brooks:
You know who also wasn't a fan of two-faced Larry Brooks? Boyle's head coach with the 2004 Stanley Cup Champion Tampa Bay Lightning, and former New York Rangers head coach, in John Tortorella.
Once the 2015 playoffs came to an end and Senile Sather realized he went all-in and busted so bad that he couldn't even get a free buffet comp, Sather put his tail between his legs and handed his mess to Jeff Gorton. Gorton would buy out Dan Girardi, who would later sign with Tampa Bay. Later on, in the same season, Gorton would trade Ryan McDonagh and JT Miller to Tampa.
With five ex-Rangers that were part of multiple Eastern Conference Championship appearances, in JT Miller, Ryan Callahan, Ryan McDonagh, Dan Girardi and Anton Stralman, the Tampa Bay Lightning were one game away from the Stanley Cup Final last year and are currently on track to win the Presidents' Trophy this season. Sound familiar?
Furthermore, when former TB goalie Ben Bishop got too expensive, Tampa shipped him out of town and went with the unknown and cheaper back-up goalie, in Andrei Vasilevskiy. What happened? Vasilevskiy was a Vezina candidate last season and should be one this season too. The Rangers, in their infinite wisdom, continue to build around a 37 year old overpaid and overrated goalie who has never won shit.
And granted, while it's a no-brainer that Tampa has drafted light-years better than the Rangers in recent years, Tampa put all their money into star forwards, in Steven Stamkos and Nikita Kucherov. The Rangers continue to invest their top dollar into Henrik Lundqvist to this very day, despite no evidence of a Top 5 paid goalie winning a Stanley Cup in this new era of the salary cap. Making matters worse, unlike other teams in similar rebuilding situations, the Rangers are not investing in playing time with their back-up.
When it's all said and done, Tampa must win the Cup this year, or just like the Rangers, their best days may be behind them for the foreseeable future.
Before moving along, here are my most recent blogs, in case you missed them:
---
---
---
---
---
This was a weird game tonight. I felt that this game never had any real "juice" to it. This was a rare Saturday night game on NBC, which meant the MSG crew was off. That meant no "Bleeding Blueshirts" podcast, a podcast that's been part of my daily game day routine, as I enjoy listening to it before every game. With the game on NBC, not only did you not have a MSG pregame or post game show, there was no pregame or post game show on NBC either. From that perspective, it felt like the game was mailed in.
For hardcore fans, you had to rely on your eyes and on social media to get the line-ups for this game, as NBC couldn't be bothered to tell you shit. On the bright side, there was no Joe Micheletti tonight (he was calling the other NBC game in his home state of Minnesota) and we did have Kenny Albert, who's probably the best in the business. Without Sam & Joe, it was also nice to hear a Rangers game being called without the high-pitch shrieks and shrills whenever Henrik Lundqvist saw a shot. We also didn't have to deal with the Rangers pushing four game packs incessantly all broadcast.
Also of note, at one point in this game, Albert's partner, ex-Ranger Eddie O., even said Lundqvist wasn't seeing pucks right. That's something that Micheletti would never say.
I do have to mention one thing about Eddie O. I got nothing against him at all. However, it is truly FUCKING SAD, that Eddie O. will be honored this Friday, during 1994 night, while the Rangers continue to spit on a grave that I cherish: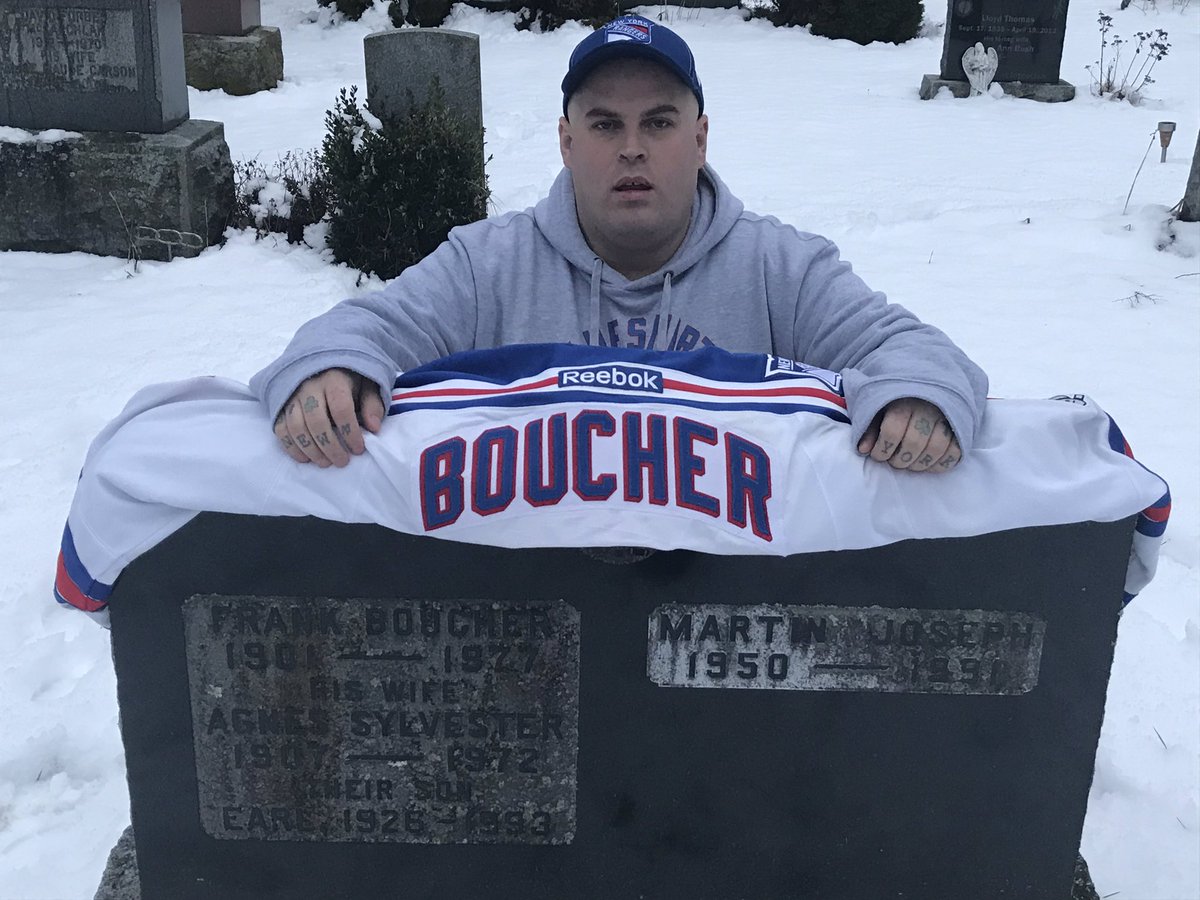 Seriously, as the Rangers continue to honor 1994 every year, it's just another reminder that all-time Ranger legends and hockey hall of famers, remain brutally ignored by the franchise. Keep in mind, the Rangers are aware of Frank Boucher's relatives who want to see Boucher get his just due, but the Rangers snub their nose at the Boucher family. However, the Rangers have no problem rolling out the red carpet for Nick fucking Kypreos. Get outta here.
As I've always said since the inception of these blogs, if there is one thing I can do with this site, it is to one day see Ranger legends get honored by the franchise that has ignored these guys for so long. Ranger fans should be able to rattle off names like Frank Boucher, Bill Cook, Bun Cook, Ching Johnson, Davey Kerr, Chuck Rayner, Emile Francis, etc, just like they do with Rod Gilbert, Mark Messier, Brian Leetch and Henrik Lundqvist.
Again, for all my stuff on Frank Boucher, you know, a guy who won 2 Cups with the Rangers as a player, coached perhaps the greatest Rangers team of all-time in 1940 to a Cup and a guy who led the Rangers as a GM to a Cup appearance in 1950, check out: http://doinow.com/retire-frank-bouchers-7/
David Quinn used the same players he did on Thursday. However, Vesey was punished and Buchnevich was promoted. For those who need a refresher of who was active, here you go:
FIRST LINE: Kreider/Zibanejad/Zuccarello (Buchnevich would replace Kreider late in the third period, which made no sense to me at all. Why would you take ice time away from your best goal scorer and most active net front presence when down a goal?)
SECOND LINE: Buchnevich/Hayes/Fast
THIRD LINE: Chytil/Strome/Namestnikov
FOURTH LINE: McLeod/Nieves/Jimmy Vesey
Defensively, Quinn went with this:
FIRST PAIR: Staal/Pionk
SECOND PAIR: Skjei/McQuaid
THIRD PAIR: Smith/Shattenkirk
With this line-up, Tony DeMAGAngelo (Credit, as always, to @NYRKELSMADS) was your lone healthy scratch. I'm not a fan of this and I know that hindsight is 20/20, but the Rangers are much better on the PP with TDA out there. While Smith wasn't overly terrible tonight, and I get that the Rangers have money invested in him and may want to showcase him for a potential trade, I still would rather see TDA in the line-up than #42. Just one fan's opinion.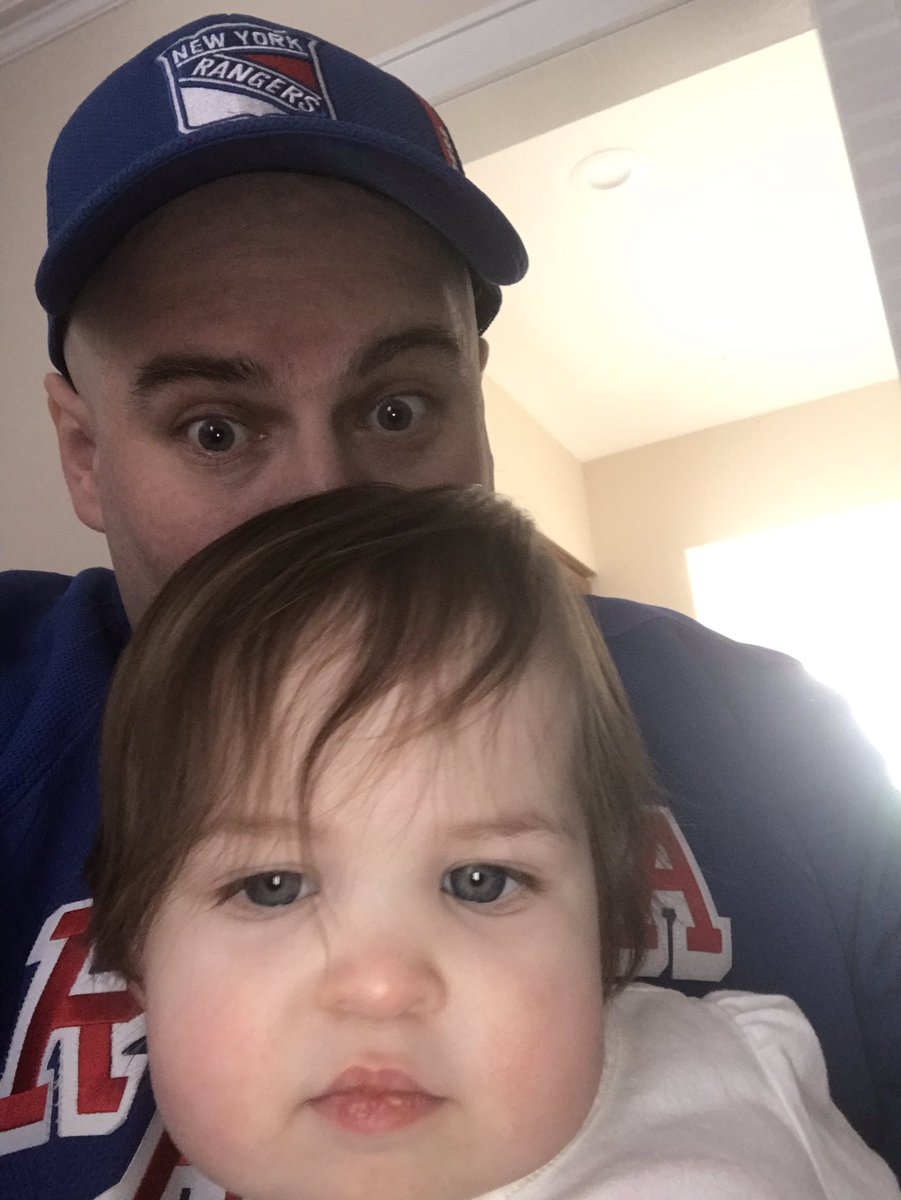 Enough farting around. ESPN.com box score time:
SCORING SUMMARY:
1st Period
6:51

Yanni Gourde

(13)

Assists: Ryan McDonagh, Mathieu Joseph

1
0
2nd Period
4:41

Erik Cernak

(1)

Assists: Ryan Callahan, Cedric Paquette

2
0
8:33

Steven Stamkos

(28)

Assists: Victor Hedman, Nikita Kucherov

3
0
16:17

Mats Zuccarello

(9)

Assists: Mika Zibanejad, Chris Kreider

3
1
3rd Period
6:49

Kevin Hayes

(11)

(Power Play)

Assists: Mika Zibanejad, Henrik Lundqvist

3
2
PENALTY SUMMARY:
1st Period
9:54

Adam McQuaid:

2 minutes for Hooking

18:31

Dan Girardi:

2 minutes for Tripping
2nd Period
11:08

Tampa Bay Lightning:

2 minutes for Too Many Men/Ice – Bench (served by J.T. Miller)
3rd Period
5:38

Braydon Coburn:

2 minutes for Tripping

14:09

Ryan McDonagh:

2 minutes for Tripping
GOALIES:
| | | | | | | | | | | |
| --- | --- | --- | --- | --- | --- | --- | --- | --- | --- | --- |
| SA | GA | SV | SV% | ESSV | PPSV | SHSV | SOSA | SOS | TOI | PIM |
| 23 | 3 | 20 | .870 | 17 | 2 | 1 | 0 | 0 | 57:41 | 0 |
| | | | | | | | | | | |
| --- | --- | --- | --- | --- | --- | --- | --- | --- | --- | --- |
| SA | GA | SV | SV% | ESSV | PPSV | SHSV | SOSA | SOS | TOI | PIM |
| 33 | 2 | 31 | .939 | 28 | 1 | 2 | 0 | 0 | 60:00 | 0 |
I know what the Cult of Hank will say about tonight's game. Let's get their three talking points out of the way first:
— Talking Point One: DID YOU SEE THE SAVE THAT LUNDQVIST MADE ON CALLAHAN? Answer: Yes I did. I also saw the soft goals allowed and I saw Domingue make two similar saves on Ryan Strome.
— Talking Point Two: LUNDQVIST HAD AN ASSIST IN THIS GAME, SURPASSING BEEZER FOR MOST ALL TIME IN RANGERS HISTORY! Answer: It took Lundqvist 400 more games to do so, but hey, let's not the truth get in the way of a good story.
—Talking Point Three: TAMPA BAY IS SO MUCH BETTER THAN NYR! Answer: In fact, the Rangers were the better team in this game and by far. Tampa just had the better goalie tonight and anyone who says otherwise is blinded by Swedish love. Lundqvist was just more opportune in this game to give up a bad goal here and there. Domingue made 31 saves on 33 shots, for a save percentage of .939. He also makes $1,150,000 a season. Lundqvist made 20 saves on 23 shots, for a majestic save percentage of .870. He's paid over $7M more than Domingue.
In a 3-2 game, a game that featured many GOOD LOOKS, (and let's not forget the Rangers had 4 powerplays to Tampa's one PP) back-up goalie Louis Domingue outplayed the defALLt Star, in Henrik Lundqvist. In a one goal decision, that was the difference. Make no bones about it. Plus, keep in mind that Tampa was missing Brayden Point.
Do you know how many times a day that I get the nonsense from the Cult of Lundqvist and geeky awkward kids on twitter, like some stalker I have named Peter Reichfart, saying "YOO ARE A FAYKE FAN BCUZ YOU DON'T SUCK LUNDQUISS DIK LIKE I DO!"
As I've been saying for years on this blog, the Rangers will never win a Cup with Lundqvist, or any goalie that's making Top 5 money in the league. I've been saying it since 2014.
That said, these same people with a belly full of Swedish male juice specimen, were the first people who were booing Ryan McDonagh at the Garden tonight. WHAT? How does that logic work? You got these people, who would give up their right testicle, to just sniff a split-end off the head of Henrik Lundqvist, and they are out there booing Ryan McDonagh tonight? Then you had the people on social media advocating the booing of McDonagh.
Listen, Ryan McDonagh's legacy with the Rangers isn't like Eddie Giacomin's and I don't expect Ranger fans to tear up every time McDonagh comes into the Garden with his Bolts jersey on, just like how Ranger fans did when Giacomin had the wheel & spokes on his red chest. That said, how the fuck are you going to boo McDonagh?
You all know that I can't stand Lundqvist's selfish behavior and his contract, but if the Rangers ever woke up and finally moved him, I wouldn't sit there and boo him if he came into MSG as an opposing player. I would be more than ecstatic that he was off my team. Plus, with Lundqvist wearing another jersey, it would mean that the Rangers would have a good chance to win a game at home!
Ryan McDonagh was a GREAT Ranger. Yes, I'm biased, as I always pull for the Americans, but McDonagh is one of my favorite Rangers of the last ten years. McDonagh didn't leave town like a Kristaps Porzingis did. McDonagh gave it his all during his time here, but the Rangers would rather overpay a losing goalie than invest in a Norris Candidate this season. Does this surprise anyone? The Rangers aren't exactly known for their great roster management.
I'm not going to sit here, do a long rant and chastise the people who booed McDonagh tonight. However, I just didn't agree with it. It's always been my opinion that if you pay your money, you can do whatever the fuck you want to do. That said, I found the booing of McDonagh as idiotic and mentally retarded as the people who scream during the National Anthem and still have a fixation about Denis Potvin. However, as I always say, if you pay your money, as long as you're not verbally attacking a fellow patron in the building, do whatever you want.
(And to be clear, I know some people will say, "what do you mean you don't like people attacking a fan of the other team?" I think it's stupid to start a fight over a game being played by millionaires with a fan that just happens to be wearing a different shirt than you. I just heard of a story from reader George S., where some Devils fan was talking shit and trying to instigate a fight with him on Thursday, all while George's wife was there. You're not a tough guy when you're ganging up on man with his wife. Try that shit in a packed bar and see where it gets you.)
Gambling prediction time. Here's what I said before the game:
I'm 20-6-1 w/my #NYR o/u. Hank starts go over 9/10 times. -6.5 is a lot to sweat but Tampa probably goes w/Domingue v NYR top line & Tampa has routinely owned Hank over the years. Wild card is TBL played hard last nite but they are due to explode offensively. Hank is a sap. OVER! pic.twitter.com/A3sbFElHsn

— BlueCollarBlueShirts (@NYCTheMiC) February 2, 2019
I now drop to 20-7-1, which isn't shabby. After nailing every part of my prediction right on Thursday, I got this one wrong. I'm not perfect. I accept that.
Quick note on the commentary tonight. Pierre McGuire was between the benches and seemed very neutered tonight. He's still getting flak for treating a woman like an idiot several games ago. Leave it to me to defend Pierre here, but when he's saddled with morons like Susan "OH OH OH!" Sarandon, I just think his guard is up more. That's all I have to say about that.
Most of this game was dominated by the Rangers tonight, and for reasons described earlier in this blog. Tampa played a hell of a game the night before and were seemingly ripe for the picking tonight. The Rangers played their game and limited Tampa's strengths. The real deciding factor in this game, as mentioned, was the goaltending.
In a first period devoid of many shots (I believe the first period ended with the Rangers with 6 shots, Tampa with 5), Domingue had to make tough saves, such as this one:
DOMINGUE! pic.twitter.com/2ZPuyiJl5l

— NHL on NBC (@NHLonNBCSports) February 3, 2019
At the 6:51 mark of the first period, and after the Rangers just setting the tone of the game, Tampa broke onto the score sheet first:
⚡️⚡️⚡️

The @TBLightning strike first!

Stream #TBLvsNYR here: https://t.co/F2jZoWrPBJ pic.twitter.com/Zpdvx3VgO3

— NHL on NBC (@NHLonNBCSports) February 3, 2019
1-0, bad guys. On the goal, Lundqvist had no rebound control, vacated his net and there's McDonagh picking up an assist on Gourde's goal.
At 9:54, McQuaid would take the lone Ranger penalty of the game, and despite playing against the top PP team in the league, the Rangers prevented a TB SOG while on their PK. Of note, Namestnikov had a shorthanded look. He's been doing that a lot lately.
The intoxicating Buchnevich had himself a night full of turnovers, which made me wonder why Quinn was placating Buchnevich by allowing him to play crunch time minutes later on in the game. One of his turnovers saw him take a shot from the blue line, that went all types of Scott Norwood. Pathetic.
Ryan Strome would get the best Rangers scoring chance of the period, but he was stoned by Domingue on a breakway and to add insult to measure, Domingue stopped Strome's rebound attempt. These saves here were the difference in a one goal game.
Towards the end of the period, Girardi took a penalty, giving the Rangers a wrap-around period PP. The Rangers wouldn't score.
At the end of twenty, 1-0 bad guys.
The second period was more or less the same as the first, as the Rangers looked to be the better team on the ice, but it was Tampa scoring the goals.
At 4:41, while on a 4 vs 2 advantage, Ryan Callahan picked up an assist on Erik Cernak's first ever career goal:
First NHL goal alert 🚨 Erik Cernak. pic.twitter.com/CwZo5nj6j9

— NHL GIFs (@NHLGIFs) February 3, 2019
2-0, bad guys. It really looked like this game was following the script of many other past TB/NYR games – TB running away in a blowout.
Even with Domingue sometimes coming out of the net and looking shaky, the Rangers couldn't capitalize. Less than four minutes after Cernak's goal, Steve Stamkos made it a 3-0 game:
Stammer Time!

Get to @nbc or stream it here: https://t.co/F2jZoWrPBJ pic.twitter.com/eSkMuOLG4w

— NHL on NBC (@NHLonNBCSports) February 3, 2019
3-0, bad guys. On the goal, this was a ridiculous tough angle shot, but Hank didn't have it tonight. Even some of the saves he did make, they were somewhat lucky, as he didn't know where the puck was and constantly was looking behind himself. Tampa will do that to a goalie.
At the 11:08 mark, Tampa took a "too many men on the ice" penalty. I wonder if Sather traded a number 1 draft pick for that penalty?
The Rangers, who again, I can't stress enough, looked like the better team on the ice despite the scoreboard, would finally get on the board when Domingue flubbed against Zuccarello:
The @NYRangers have joined the party! pic.twitter.com/NeIhSnMPW8

— NHL on NBC (@NHLonNBCSports) February 3, 2019
3-1, bad guys.
I don't know how Zuccarello's final days with the Rangers will end, but for this stretch of time, Zuccarello is giving Ranger fans some positive memories to remember him by. Where it once looked like the Rangers would be lucky to get a third round pick back for Zucc and his expiring contract, Zuccarello should at least fetch back a second round pick, if not a late first round pick.
When Zuccarello is finally moved (I think it's inevitable, despite a push from some people thinking that the Rangers should retain #36) there will be lots of good stuff written about him. It will all be deserved. In fact, I would say he was a better Ranger than Rick Nash, who got lots of praise in his retirement. Zucc is (and future-speaking was) a good Ranger and a perfect candidate for my New York Rangers "Rink of Honor". (You can find that blog here: http://doinow.com/nyrroh/)
Towards the end of the period, Domingue would make game-saving stops on both Zuccarello and Skjei. With the way this game ended, these two saves were huge.
3-1 at the end of 40.
The Rangers made it interesting in the third period and you have to be happy about that, considering the opponent.
At 5:38, Coyburn took a tripping penalty. On the Rangers PP, their third of the evening, the finally struck one by Domingue. Here's Hayes, just ripping one:
An 🍎 for @HLundqvist30. pic.twitter.com/jsRL2RZNyT

— NHL GIFs (@NHLGIFs) February 3, 2019
3-2, bad guys.
On the goal, Lundqvist got his 26th career assist, moving him ahead of Beezer. Some fans thought that was the greatest thing ever. I guess it's the little things. It's also the things Ranger fans who didn't see Martin Brodeur play do.
As the game moved on, Chytil would have some chances, but came up empty-handed.
What shocked me, is with the Rangers creeping back into the game, Tampa was happy to sit back and not show any aggressiveness. I wonder how much of that had to do with playing the night before?
With just a tad over 6 minutes to go, Lundqvist would stop Callahan. This was Lundqvist's best save of the game:
HANKKKKKKKKKK 👑 pic.twitter.com/ruZYPf1A4h

— NHL on NBC (@NHLonNBCSports) February 3, 2019
While Ranger fans may call this the save of the game, what couldn't be forgotten was how Domingue stopped Strome earlier in the game on the same chance. However, this save by Hank, in a one goal game in the third period, obviously comes off bigger than a first period save. Either way, great stop and it kept the Rangers hopes alive.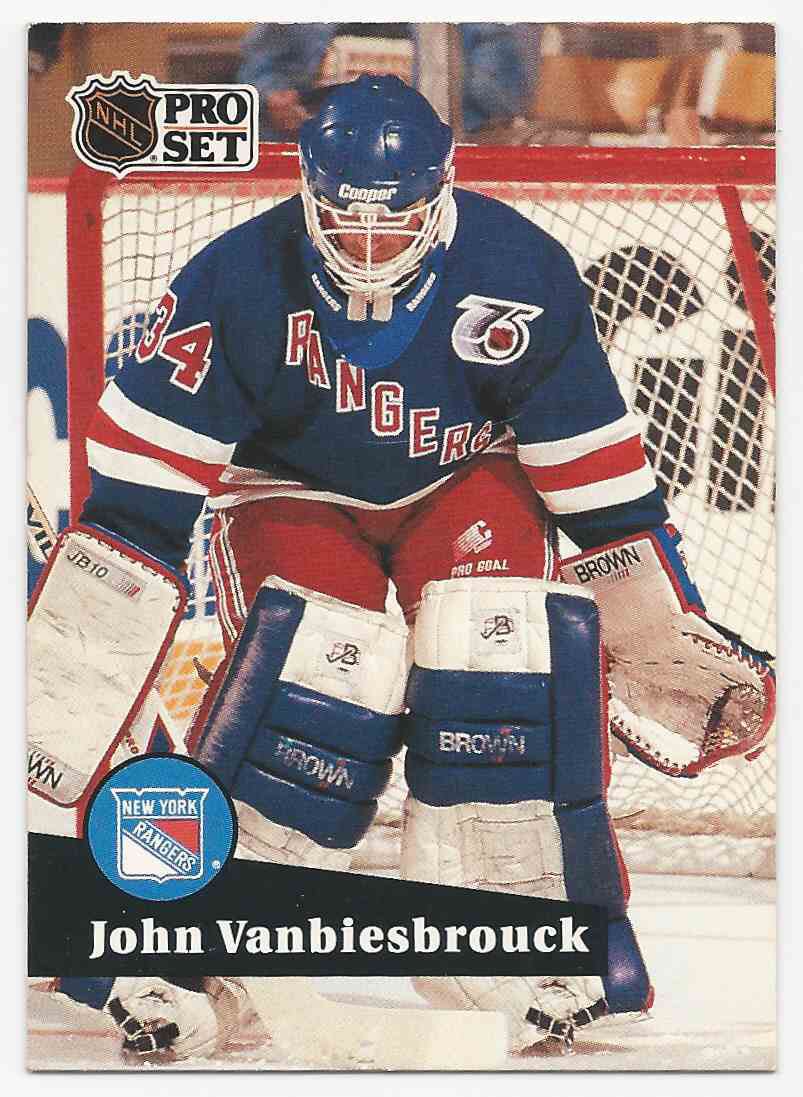 At 14:09, McDonagh would be penalized. The Rangers would get no shots on goal during the PP, thus finishing 1-4 on the night. With just under 2:30, the Rangers pulled Lundqvist and had multiple chances to tie it up during their 6 vs 5 attack. However, Domingue was a wall and was stopping everything.
Two things of note on the Rangers extended 6 vs 5 attack which produced no goals:
— Buchnevich was playing in place of Chris Kreider. I don't get it.
— Shattenkirk needs to be removed from these situations. How many games have you seen this season, with the Rangers down by one and just under a minute remaining, where Shattenkirk opts to dance around behind his net, wait around for a while and then slowly skate up the ice? This is where the Rangers need DeAngelo. Seriously, next time the Rangers are in this situation, watch #22. There's just no sense of urgency at all and it's infuriating. You're not going to make a perfect play with a minute to go. Do something than sitting behind your own net!
While the Rangers employed their extra attacker offense, Tampa once again was happy to sit back and just chip the puck the other way. With one final faceoff with under 2 seconds remaining, Tampa held on and won the game 3-2.
Give it up for Tampa, not only did the shut out the Isles 1-0 on Friday, they swept the back-end of their NY double-header. There's a reason why Tampa is tops in the league. It will be fun band-wagoning for them come the playoffs.
Going into this game, I didn't think the Rangers would win, so I'm not really disappointed, as say if the Rangers lost to the Flyers tonight, as they have done all season long.
Looking ahead, the Rangers host the LA Kings on Monday night, the same LA Kings that saw Alec Martinez, once again, beat Henrik Lundqvist for a game winning goal, earlier this season. LA sucks this season, so to me, this is where you deploy Alexandar Georgiev for some work. It's not like Hank has a stellar record against the Kings anyway.
Enjoy your Super Bowl later today. As for me, I like the Pats -2. I think it will be a close game and I'm sure the referees will WWF something up too.
See ya Monday night.
As always, thanks for reading and…
LET'S GO RANGERS!
Sean McCaffrey
BULLSMC@aol.com
@NYCTHEMIC on twitter