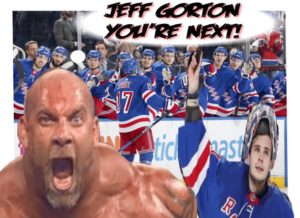 Greetings and salutations everyone and welcome to another blog here on BlueCollarBlueShirts.com.
With the Rangers 3-2 home win over the San Jose Sharks on Saturday night, the Rangers now have their third winning streak of over three games this season, with two of these streaks happening in these past two weeks. For the Rangers, they are heating up at the right time, thus making the job of Rangers General Manager Jeff Gorton, that much harder.
Just shy of a week ago, the Rangers lost essentially a one goal game to the best team in the league, in the Boston Bruins. After that game, the Rangers had a mini-two game road-trip, a road-trip that they swept, when they defeated the Blackhawks & the Hurricanes. In net for both of those games, was CZAR IGOR SHESTYORKIN.
In the Rangers first game back at M$G, since the loss to the Bruins, the Rangers hosted the dreadful San Jose Sharks on Saturday night. Once again, the Rangers turned to CZAR IGOR, as he made his first back-to-back starts of the season for the Blueshirts. As has been the case ever since he got here, CZAR IGOR rewarded Rangers head coach David Quinn once again, turning away 44 of 46 shots faced, enroute to the Rangers 3-2 victory.
For the Rangers, and as I'll get more into below, they are now 8-2 in their last ten games played. They are playing their best hockey of the season, with the trade deadline coming this Monday. If there is one job I don't envy right now, it's Jeff Gorton's job. No matter what Gorton does at the deadline here, he will be criticized one way or the other. Does Gorton roll the dice with this team and chase the playoffs, or does he pull the reins back and hope whatever he does helps the franchise in the future? Only time will tell.
At this time, as usual, here are my last few blogs, in case you missed them:
---
---
---
---
---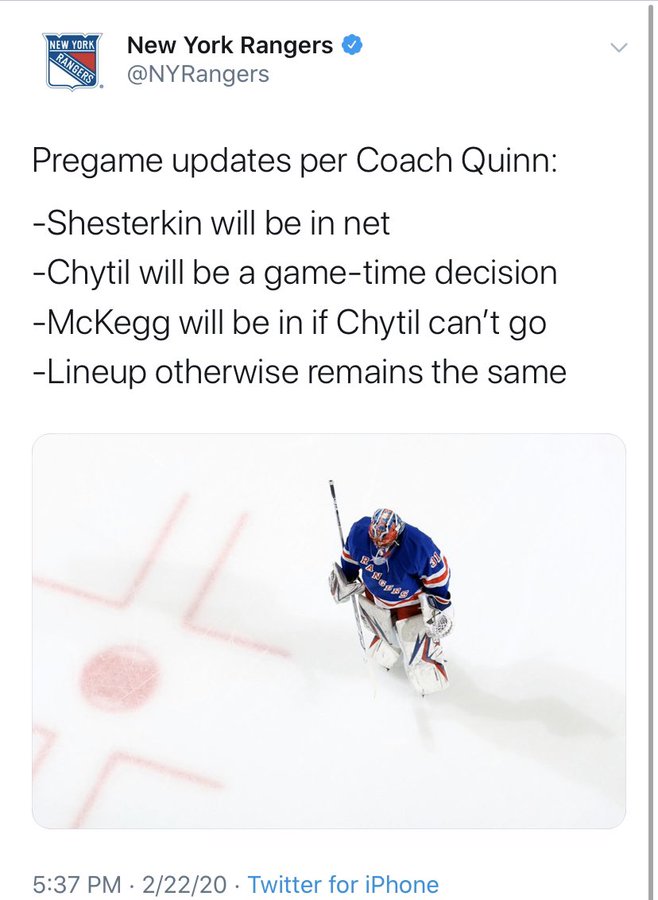 After last night's Magna Carta of a blog, there aren't as much pregame news & notes to report to you tonight. However, I do have some things for you.
Line-up wise for tonight, everything stayed the same from the last two games. Here's a quick refresher of the lines & pairings for you:
FIRST LINE: Kreider/Zibanejad/Buchnevich
(This line, which has been really hot as of late, cooled down a bit tonight, despite Zibanejad's goal, which came off a pass from Panarin. That said, and as I'll get into, the whole entire team pretty much had an off-night tonight, which was more due to the schedule than anything else.)
SECOND LINE: Panarin/Strome/Fast
(Easily the best line of the game. While Fast picked up a career high two goals in a game tonight, this game was dominated by the top star on the Rangers, in Artemi Panarin.)
THIRD LINE: Di Giuseppe/Chytil/Kakko
(Like everyone else, not their best game of the season together. Again, the schedule hurt the Rangers tonight.)
FOURTH LINE: Lemieux/Howden/Gauthier
(While these three don't show up in the scorer's sheet tonight, they played well enough, even drawing several penalties, including a penalty shot.)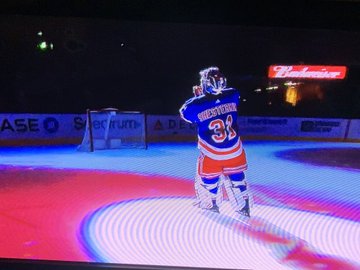 Defensively, we had the same pairings from the majority of this season:
FIRST PAIR: Skjei/Trouba
(Once again, these two were the weak link of the defense. While most of the team had an off-night tonight, these two were the biggest blisters of the evening.)
SECOND PAIR: Staal/DeAngelo
(These two didn't have their best game of the season either tonight. DeAngelo made one brutal turnover that led to a goal in this game. Staal was on the ice for a goal allowed too.)
THIRD PAIR: Lindgren/Fox
(As usual, these two were the best defensive duo of the game.)
And of course, in net, was CZAR IGOR SHESTYORKIN.
Speaking of Igor, I buckled down this morning, blocked out some time, and made a fancy analytic chart to depict Igor's recent success. Here it is: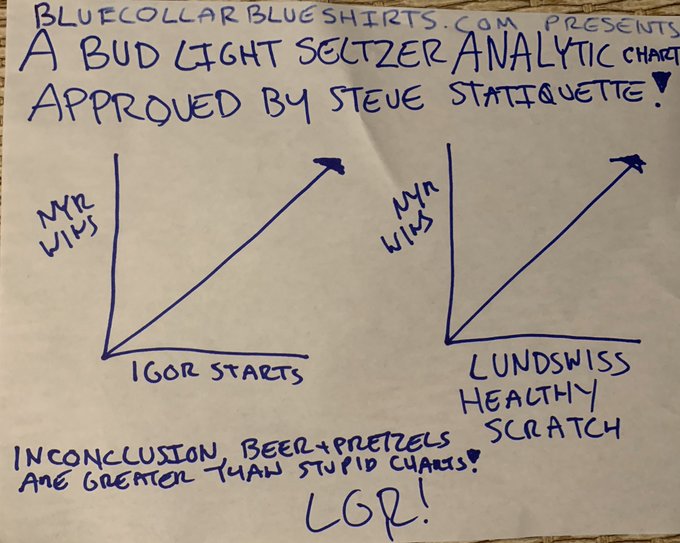 As I'll get into during the game review portion of the blog, as we're getting accustomed to, this was another game where CZAR IGOR carried the Rangers in. Igor made 767867867896 insane saves and in turn, allowed the Rangers to find their legs and put a few goals on the board. Without Igor tonight, this could've been a nasty loss. Instead, Igor made 22 saves in the first period, held the Sharks to two goals all game and the Rangers would score a goal in each period, in their 3-2, one goal margin victory.
Of note, after crying about a hard practice on Friday, Henrik Lundqvist returned to the line-up tonight, as the back-up goalie. Alexandar Georgiev joined Brendan Smith & Greg McKegg in the press box. (As noted above, Filip Chytil, who entered today with a "day-to-day" status, did in fact play in this game.)
I got a few minor news and then we'll be off to the game review, the trade deadline and the craziness in the league tonight.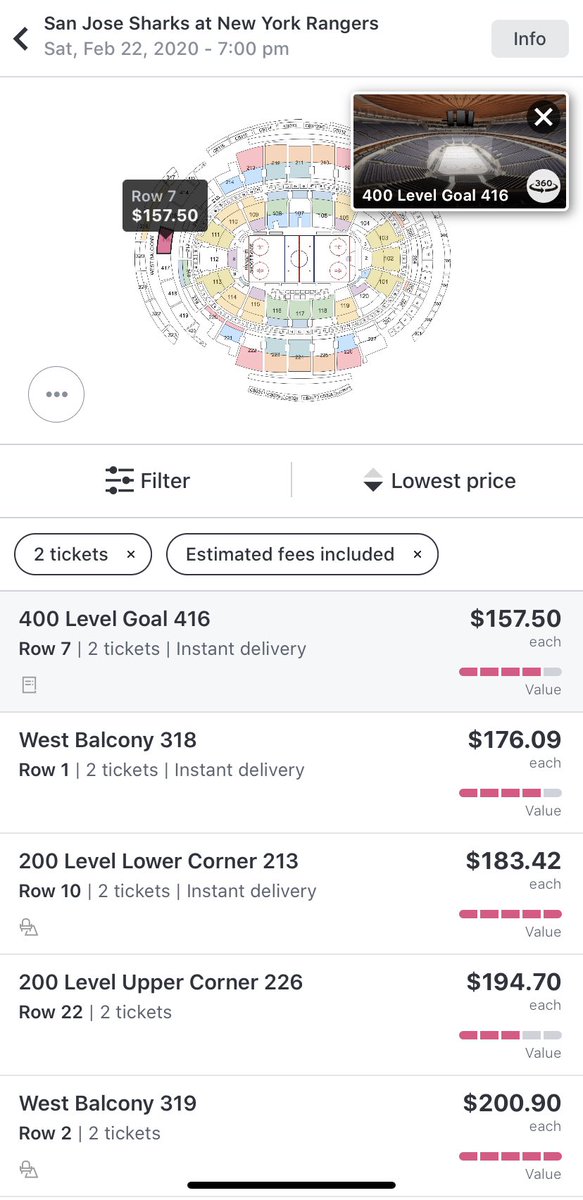 As mentioned last week, in my blog about the game with the Bruins, these weekend home game ticket prices are now through the roof. 10 hours prior to game time, it would cost you $158 just to walk in the door tonight. Two hours before game time, the cheapest ticket on the resale market was nearly $200. An hour before puck drop, the game was sold out.
If anything, this tells you that when it comes to supply & demand, with the Rangers hot right now, there is a ton of demand for Ranger tickets right now. While I think weekdays will still remain your best shot at getting tickets for below face value, when it comes to weekend games, be prepared to pay an arm & a leg.
Moving along here, as I currently feel as drained as the Rangers were in the first period tonight, let's go to the GAMBLING segment of the blog. Here's what I said before the game:
Season over-under record 28-29-3
I'm under .500 for the first time this season. Igor & Georgiev are playing well to hold scores, but #nyr can explode for 5 goals at any time!

I'll take the over tonight, with Rangers offense blasting a bad team.

Best VALUE bet – NYR -1.5! pic.twitter.com/8d3eXBXHKP

— BlueCollarBlueShirts (@NYCTheMiC) February 22, 2020
I couldn't buy a winning ticket tonight. The Rangers came out flatter than a 1990's two liter jug of Crystal Pepsi opened in 2020. This game went under, the Rangers offense did not blast away the Sharks and even worse, my best value bet didn't hit. After a few games where the Rangers did score empty net goals in, they couldn't score one tonight! SAD!
Say it with me – "that's gambling Suzyn!"
With the loss, my over-under prediction record drops to a season low of 28-30-3. I was much better at this last season, when Lundqvist played a lot and the over-under lines usually were at -5.5 or -6, rather than all these -6.5 lines from this season.
One last thing before I go the box score.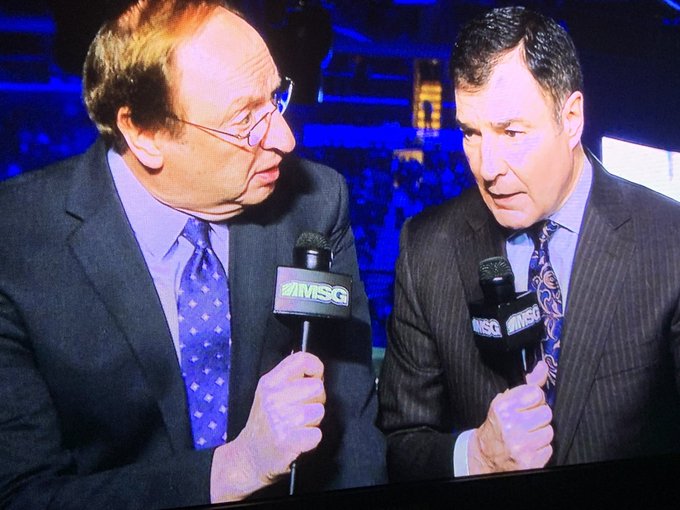 Quick plug here.
I've mentioned Blueshirt Underground and their audio shows, videos shows and whatever else they are doing about 834834737374373 times on these blogs. In their latest stage of evolution, BSU is now using YouTube as their newest platform to put out their product.
I've talked about BSU plenty of times on these blogs. If you like the sense of humor and laid-back style of these blogs, you'll be entertained by BSU & their interactive shows. (Fans can comment as the shows happen live on YouTube.)
To give you a sample of what BSU is up to now, here's their first dedicated YouTube show, which aired two hours before game time today:
For Ranger fans, BSU is a fun listen and you can talk shit with the hosts as the show goes along. Very frequently, when it comes to Ranger fan podcasts and stuff of that ilk, you usually have a jerkoff or two, trying to be authority figures. Even worse, with some of these shows, you got bumbling and mumbling jackasses, reading off charts. Who wants to listen to that? With BSU, it's fun, it's light-hearted and it helps keep you engaged with what the Rangers are doing.
---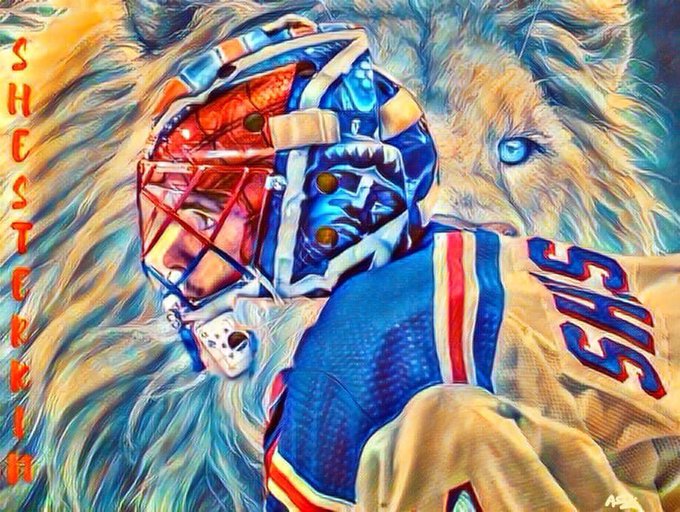 With no other pregame news to talk about, let's go to the box score of this game, courtesy of ESPN.com:
SCORING SUMMARY: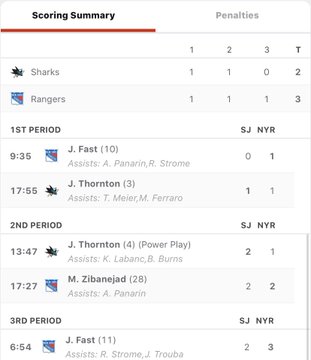 PENALTIES: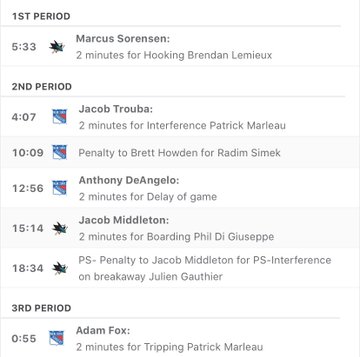 TEAM STATS: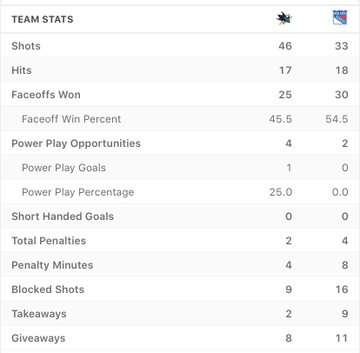 STARS OF THE GAME: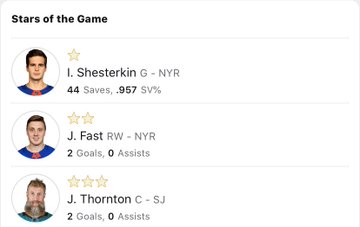 GOALIES:
| | | | | | | | | | | |
| --- | --- | --- | --- | --- | --- | --- | --- | --- | --- | --- |
| SA | GA | SV | SV% | ESSV | PPSV | SHSV | SOSA | SOS | TOI | PIM |
| 33 | 3 | 30 | .909 | 25 | 2 | 3 | 0 | 0 | 58:49 | 0 |
| | | | | | | | | | | |
| --- | --- | --- | --- | --- | --- | --- | --- | --- | --- | --- |
| SA | GA | SV | SV% | ESSV | PPSV | SHSV | SOSA | SOS | TOI | PIM |
| 46 | 2 | 44 | .957 | 33 | 4 | 7 | 0 | 0 | 59:47 | 0 |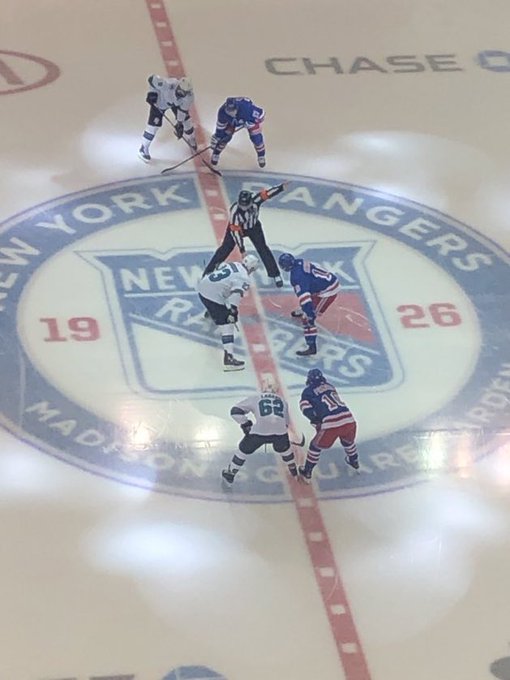 This was not a pretty game for the Rangers tonight. However, as I've often said on these blogs, good teams find a way to win bad games. The Rangers did that tonight, and really, it's due to the efforts of Igor Shestyorkin & Artemi Panarin.
As talked about a ton on these blogs, the Russian Redshirt Rangers are the future of this franchise. It is my belief, that one day, we will all be drinking vodka during a parade in New York City. These two players are also why I hope the Rangers make the playoffs this year. With these two, anything could happen. Even in the worst case scenario, which would be a quick first round exit; at least these two, and the rest of the team, would get some New York Ranger playoff experience under their belt.
If you don't like close games or goaltending duels, this wasn't the game for you. If you're a big CZAR IGOR fan like I am, while your asshole puckered up a bit when watching this game, as if you ate a Taco Bell burrito full of White Castle meat, you had to love what you saw tonight. It's hard to pick which of Igor's wins in nine of his ten games have been the best, but this one is right up there with any of them, if not the best game of the lot.
For all the bullshit from the Cult of Lundswiss and how "ITS KNOT FARE, ONLEE LUNDQUISS HAZ TO FACE THE MOST SHOTS A GAME", in tonight's 3-2 victory, Igor Shestyorkin set a season record for most saves and most shots faced in a period tonight, when he stopped 22 of 23 shots in the first period. I don't know if Georgiev would've made some of these saves that Igor made tonight. I 100% know Lundqvist wouldn't of.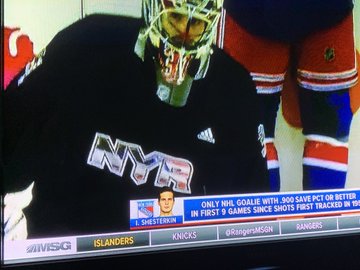 When it comes to the M$G Networks pregame show tonight, I didn't find it as bad as I usually do. I thought Dave Maloney conducted a good interview with Marc Staal. As Staal skated away, Dave Maloney took a shot at the chart nerds, saying Staal was much better than whatever analytics there are about him. I would agree with Maloney.
Steve Statiquette has become pure white noise to me. Anytime he talks, my mind just wanders elsewhere. Whatever he says is pretty much 100% useless. You got a guy, who played something like 25 NHL games, critiquing and nit-picking every goalie in the world. Even if the best coaches or analysts are the ones that aren't superstars, if Vally is so good at what he does, how come not one of his students from his goalie camps have ever been drafted, much less made it to the NHL?
John Giannone, Vally's partner on these things, then started talking about if this would be Kreider's last game as a Ranger. Of course, not one mention if this game could possibly be Lundqvist's last game as a Ranger, Skjei's last game as a Ranger, Fast's last game as a Ranger, etc.
Another funny thing on the pregame show, is when Sam & Joe started talking about Joe Thornton, and how maybe he should waive his no-move clause. It's amazing how that the topic of waiving a no-move clause is ever brought up on this network, in concerns to King Hair Gel. All of these guys are guilty of this, where they talk about cap hits of the other teams, while leaving their head in the sand about their own team. That's why I enjoyed those two recent games on the NBC Networks, where they outright called Lundqvist out.
If there was any highlight of this M$GN pregame show, it was the National Anthem that Lauren Leggio sang. Bang-up job.
I know I've talked about Kreider so much on these blogs, but one last thing and I'll leave it at that.
Whether it's my real life friends or just people on social media, I have had people declare to me, as if what they were saying is 100% fact, that Chris Kreider is either being traded or being re-signed by the Rangers. If you're one of these people, why do you do this? You have no clue either way. I have no clue, but I'll at least say that! No one knows what Gorton is going to do. All we know is this – Kreider will either be a Ranger or dealt on Monday. The only scenario you can rule out, is Kreider finishing the rest of the season here without a contract. For everyone else, who believes their opinion as fact, are you just trying to convince yourself?
To start tonight's game, DQ opened up with the Panarin line and Lindgren & Fox. And isn't it amazing, that the Panarin line consists of Strome, Panarin and Fast, or to abbreviate them, SPF? They've been burning opposing teams like the sun themselves!
Right out the gate, Igor would make a stop on a shot from his paint. Igor would then make his first of ten saves on Brent Burns. With the Rangers a little slow here, Igor started clearing the puck all by himself, even tossing a pass to the Sharks blueline!
And let me say this, since I talked about this topic in the line-up section of the blog. The Rangers were awful in this first period. This was not a good game for the Rangers. This was a Father Finkin' ugly win. Outside of the performances of Igor, Panarin and Fast (who was really in the right spot at the right time for his two goals) there's not much to take out of this game.
That all said, I don't blame the Rangers one iota for their poor performance tonight. At the beginning of the season, we all lamented, moaned & groaned about the schedule. The Rangers opened up the season with two games and then had 8 days off. Now, here in the back half of the season, with under 25 games to go, the NHL has the Rangers playing three games in four nights and with a ton of back-to-back's scheduled in. Eventually, something will give.
As Ranger fans, and for the Rangers themselves, be glad it happened in this game, with a bad opponent. An effort like tonight wouldn't have flown against most teams in the league. The Rangers just happened to catch a reeling (pun intended) and down-and-out Sharks team at the right time.
I'll say it here now, so you can keep this in the back of your brain as you read along – outside of Skjei & Trouba, who have just been absolutely horrible as of late, I'm giving everyone a "Hall Pass" for this game. The schedule is now grueling. The Rangers played last night, and got back into NYC at 1AM last night. They also had their mothers with them, so I'm sure the team didn't have their normal routine. Furthermore, the Sharks were off last night, and just chilling, with several of the Sharks at the Knicks game at M$G last night.
While I 100% expected the Rangers to win this game, and that's all I care about, I also 100% understand what happened tonight. Be thankful for CZAR IGOR!
As this period progressed and hit five minutes into the game, the SOG were Sharks 4, Rangers 0. This would be a theme all game.
After a long shift where the Sharks pretty much owned the puck against the Rangers third line, along with Staal & Trouba, the Rangers finally got a clear. The puck eventually went to Kreider. I don't know if I was hearing things, but it seemed the crowd cheered when Kreider touched the puck. They knew that tonight was possibly CK20's last game.
At the 5:33 mark of the period, Sorensen hooked Brendan Lemieux, as Lemieux continues to lead the team in penalties drawn. However, the highlight of this Rangers power-play weren't the Rangers, it was CZAR IGOR:
What a save by Shesterkin on Evander Kane #NYR pic.twitter.com/DijNnEhUZ9

— Rob Taub (@RTaub_) February 23, 2020
Save of the game.
On this play, TDA has a shot blocked and Evander Kane was off to the races, on a short-handed breakaway. A goal here would've been crushing. Instead, Igor makes a Joe Micheletti "FABULOUS" save, to keep the Sharks off the board and to keep the Rangers PP alive. WOW! And let's face it, if Lundqvist was in net, this game would've been 1-0 right here.
The Rangers PP would go nowhere here. Then, as the period progressed, the Sharks were out-shooting the Rangers at a 10:1 ratio, as the Sharks had 10 shots to the Rangers measly one shot on goal.
At this point of the broadcast, the camera went to the Rangers bench, where you saw David Quinn imparting knowledge on Brendan Lemieux. Good camera work and pick up by the M$GN.
With the Rangers, sans Igor, looking as lifeless as Terry Schiavo, it was time for the other prominent Rangers Russian to do his magic:
That's just a ridiculous play by Panarin to set up Jesper Fast #NYR pic.twitter.com/aNUcGFXd2y

— Rob Taub (@RTaub_) February 23, 2020
1-0, GOOD GUYS, at the 9:35 mark of the first period. What a goal!
On this play, Strome finds Panarin camped out to the right of Sharks goalie, Aaron Dell. Panarin then displays patience, about the same amount of time as the length of the Guns & Roses song entitled "Patience". After doing the Axl Rose "Patience" whistle, Panarin then passed the puck through Dell's five-hole, finds Fast and Fast taps in the easy goal.
I'm sure this has happened before, but I can't recall seeing a goal like this any time recently. After all, how many goals can you remember, which came as the direct result of a player passing the puck through the legs of a goaltender?
Not even ten minutes into this game, we had highlight reel stuff from both Panarin & CZAR IGOR. And really, with the way Igor was playing, and with the saves he was making, he was just "posterizing" the Sharks. If this was the 1990's, you would have posters of Igor's saves on your bedroom wall, just like the John Starks "The Dunk" poster. Hell, as I said on social media, with the way Igor treated this first period, he reminded me of another nickname of an NBA star, in Dominique Wilkins, you know "THE HUMAN HIGHLIGHT REEL".
Of note, this goal from Fast was the third Rangers shot of the period. It was also the last Rangers shot of the period.
The rest of this period was all Igor, who not only had to fight off the Sharks, but the Trouba & Skjei pairing too. During one play, Skjei broke his stick in the Rangers offensive zone, raced down the other end and made sure to screen Igor, as Igor made another save. Man, oh man, I hope they trade Skjei at the deadline.
With 4:05 remaining in the period, the SOG were 17-3, in favor of the decimated Sharks.
The Rangers just couldn't get any passing going in the final ten minutes, and really for most of this game. Even when they did, the Sharks were there to block shots, including here, when a TDA to Panarin one-timer was blocked.
As I said on Twitter at the time – the Rangers needed the moms back!
It just felt in this first period, that no matter what Ranger was on the ice, the Sharks could get to Igor at any time.
Another thing that killed the Rangers in this game, were all these no-look, blind as hell, drop-passes.  None of them connected or were efficient.
With under three minutes to go in the period, and with Igor already at 20 saves, during a Rangers rush, TDA decided not to be selfish, didn't shoot the puck and went for a blind drop-pass. This wound up being a turnover for TDA. This then led to the Sharks marching up the ice, where Joe Thornton beat Igor, with only 2:05 remaining in the period. 1-1.
As a huge fan of TDA & Igor, this sucked for me, but I'm always honest with you here. TDA made a terrible turnover here and this was a shot Igor should've saved. Again, when it comes to the Ranger skaters, I get it, the schedule is a killer and it took them some time to find their legs tonight. In defense of Igor, who saves this shot 99 out of 100 times, he already had 20 saves up to this point in the period and I think this shot caught him off-guard.  I just don't think he was expecting it. This always tends to happen for goalies when they are hot – they will make all these insane saves and then something stupid like this Thornton shot goes in.
Of note on the goal allowed, the puck may have caught a piece of Trouba. And of course, Skjei was on the ice for this. Is anyone shocked?
As we got to triple zeroes of the first period, the scoreboard remained 1-1. SOG? 22-3, Sharks. That's not a typo. 22-3! Again, give Igor all the credit in the world here, to keep this game even.
And I'll say this too – had this game featured Lundqvist in net or have been played prior to Igor's arrival, I would've pegged the Rangers as dead and buried. However, here in late February and with Igor in net, my confidence never was broken. I still thought the Rangers were going to win this game. I knew Igor was doing his thing and it was just a matter of time before the Rangers found their legs.
The second period of this game, on behalf of the Rangers, was just a little less worse than the first period. The Rangers played a bit better in this period, but they weren't world beaters either.
After our normal, "SECOND PERIOD, WHAT DO YOU LOOK FOR HERE JOE?" spiel, Strome got the first shot of the period off. Easy save for Dell, but a SOG was a step in the right direction, especially with the way this game was going.
Immediately after, on the next Sharks possession, Skjei & Trouba looked completely lost, as the Sharks had them spinning like tops.
The Rangers would get two straight face-offs in the Sharks defensive zone, after two consecutive icings from the Sharks. I've preached so much about winning offensive zone face-offs this season. Nothing doing here, but keep this in mind.
If Trouba, who has just been completely awful lately, wasn't struggling enough, he would lose the puck twice in one shift and then get banged for an interference call, 4:07 into the period. If you recall, he took two of these dumb penalties, 24 hours prior to this game as well.
The Rangers PK was pretty good here, limiting the Sharks to no shots on goal. In fact, Fast got the best opportunity to score here, but Dell stopped him on a breakaway.
After the kill, Dell, who was in his own groove tonight, stopped a picture-perfect blast from TDA. The Rangers were starting to come on a bit here.
At this time in the game, Sam & Joe started raving about KIDS DAY at M$G. Talk about horrible timing. This KIDS DAY game is a 12PM game between two heated rivals, two teams in the playoff mix, in the Rangers & Flyers. Of all the games to promote as "kid-friendly", it's a Rangers vs Flyers game? And let's face it – afternoon games, especially 12PM games, suck. Poor scheduling once again.
At the 10:09 mark of the period, Brett Howden went to the sin bin, after high-sticking Simek. Once again, Igor would make a highlight reel breakaway save on Kane. It would take 70 seconds into the power-play for the Rangers to get a clear and Mika Zibanejad would milk 20 seconds off the clock on his own. The Rangers PK was once again successful here, going 2-2.
Right after Howden came out of the box, a bouncing puck headed towards DeAngelo. As DeAngelo went to clear the puck, the puck went over the glass. Delay of game. Another Sharks PP. This time, the Rangers PK wouldn't stop the Sharks, as the 98 year old Joe Thornton scored again. 2-1, bad guys, with 6:13 remaining in the period.
On this goal, there was nothing Igor could do here. And stop me if you heard this before, but Brady Skjei was on the ice again here. For the cherry on top, Trouba was screening Igor as Thornton scored. These two have been dreadful.
With five minutes left in the period, the SOG were 32-9, Sharks.
At 15:14, Jacob Middleton boarded Di Giuseppe. The Rangers would go on the PP here. While on the PP, the Rangers cleared the puck twice for the Sharks, with their errant shooting and wild passing. Dell would make a nice save on Buchnevich and that would be that. The Rangers were now 0-2 on the PP.
With about 2:30 left to go in the period, the Rangers would tie the game:
Mika's goal was great, but Panarin's heads up defense made it even better. Just, WOW. @NYRangers | #LGR | #PlayLikeANewYorker pic.twitter.com/gpzjViOVzj

— Rangers on MSG (@RangersMSGN) February 23, 2020
2-2!
This goal was a little bit of luck and a whole lot of Panarin. After a Zibanejad turnover, Kane took the turnover for granted and skated behind Dell. Panarin continued the forecheck and poked the puck loose. Panarin got the puck to Mika, who easily beat an unready Dell for the goal. Mika did his job here, despite his turnover, but this goal was all Panarin. When it comes to these two Ranger goals, neither of them happens without Panarin and his uncanny & elite skill set.
With 1:26 remaining in this tied game in the second period, new Ranger, Julien Gauthier, streaked to the net, where he was tripped. PENALTY SHOT! Unfortunately, Gauthier, who could've had a M$G moment here, was denied by Dell. It's easy to judge these penalty shots after they happen and not in the heat of the moment, but it looked like if he lifted the puck a bit, he would've scored. But hey, like the lotto – you never know.
At the end of the period, the score remained tied at 2-2. However, the Rangers turned it on a bit at the end of the period. Going into the third, I 100% believed the Rangers would win this game.
The Rangers opened up the third period like gangbusters. However, after their initial onslaught, just 55 seconds into the period, Fox was banged for tripping. Another Sharks PP, their fourth of their game.
The Rangers PK was much better here, even if Igor had to make three saves during this. The Rangers would kill this Sharks PP.
In something that didn't get much talk on the air, after a shot to the mask of Igor, courtesy of Joe Thornton, Igor's neck guard was all messed up. They had to cut the neck guard off. If you recall, the neck guard is the same piece of equipment that Ryan McDonagh once accidentally lifted on Lundqvist, when Lundqvist took a puck to throat in 2015, in a game against Carolina. In this instance with Igor, the neck guard was removed and that was that. No mention of how big this could be for Igor and how his neck was no longer protected. Maybe I'm making a big deal of it, but the last thing I wanted to see here, was another Lundqvist incident.
With 13:31 left in third period, and without the neck guard, Igor stoned Patrick Marleau. This game, despite four goals scored, was pretty much a goalie's duel, as both goalies looked great.
Remember how I was talking about how big winning offensive zone draws is? After a Sharks icing, we saw this, at the 6:54 mark of the period:
A goal's a goal #LGR pic.twitter.com/537tNOKCsr

— Rangers on MSG (@RangersMSGN) February 23, 2020
Strome (who finished with two assists himself in this game, even if they were a lot less silent than Panarin's points) wins the face-off. Trouba blasts a shot. Jesper Fast grabs the rebound and puts it over Dell's leg. 3-2, GOOD GUYS.
If you've noticed lately, the Rangers are getting a ton of goals like this, during this recent run of games. You have to win the battle at the dot to have success in this league.
With the new-found life, the Rangers continued the attack, but Dell did his job. Dell would stop a Buchnevich to Mika try. Then, on the next Rangers shift, Dell would stop DeAngelo & then CK20 on the rebound.
As we hit ten minutes remaining in regulation, Di Giuseppe blocked a big shot from Burns, which turned into a  Rangers clear.
The Rangers must've felt this game was in the bag, as with nine minutes and change to go, they went to Dancin' Larry! Usually, M$G waits until the FOXWOODS mark to bring out Larry.
Around this point in the game, Igor would his 40th save, after making his 10th & final save on Burns. Then, for the next four minutes and change, the Rangers just suffocated the Sharks. The Sharks wouldn't get a shot on goal during this period of time. The Rangers were just stifling here. They wouldn't let the Sharks get near Igor at all. What a role reversal from what we saw all game! In some poetic justice here, it were the Rangers smelling blood like a salt-water predator!
The Rangers were up the Sharks ass so much here, that the Sharks couldn't pull Dell from the net. It wouldn't be until there were only 68 seconds remaining, that Dell was finally able to get to the bench.
During this 68 second attack, the Rangers couldn't get the puck. However, the Sharks wouldn't shoot the puck either. It wouldn't be until there were 15 seconds left or so, that the Sharks ever looked at Igor. Those 15 seconds would then come off the clock, leaving us with RANGERS 3, SHARKS 2. Another win for the good guys!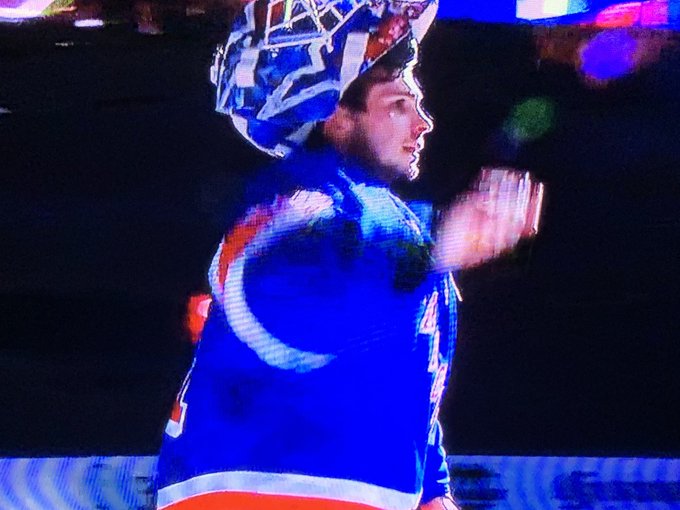 In conclusion on this game, the Rangers handled business. It wasn't pretty and it wasn't easy, but the job is done. And that's all I gotta say about that!
Let's talk about a few more topics real quick.
Here's the playoff picture right now: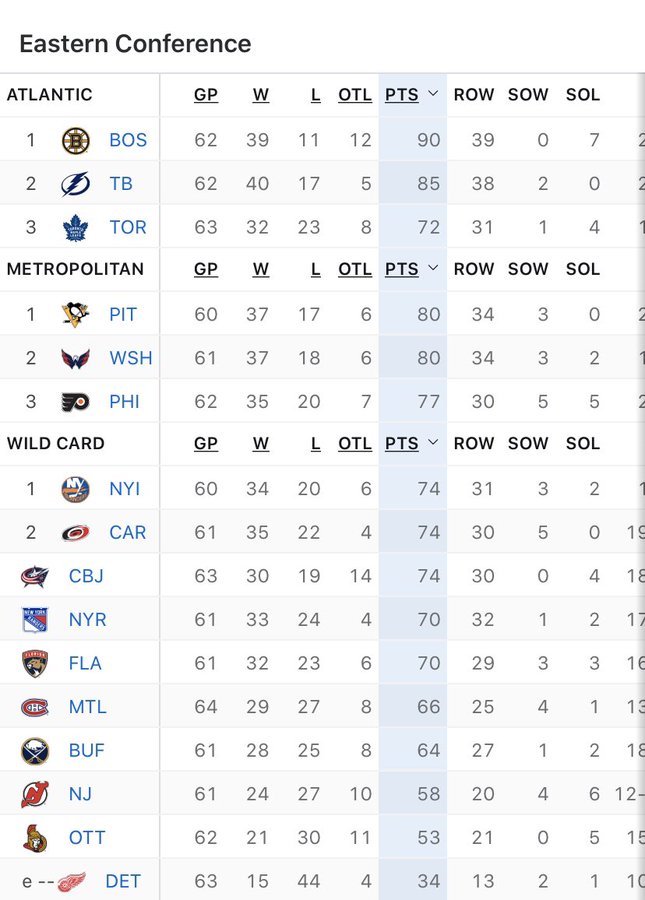 With the win tonight, the Rangers are now four games out of a playoff berth. In good news for the Rangers, Columbus is absolutely decimated by injuries. They've lost 8 games in a row and are in a free fall. In addition, with two games in hand over Columbus, the Rangers should be able to leap-frog them in the standings.
The two teams the Rangers are chasing for a wild card spot are the Islanders and Carolina. Let's talk about the easy thing first.
The Rangers play the Islanders in their next game on Tuesday. Once again, that will be the biggest game of the season for the Rangers. It's another "four-point" game. If the Isles lose tomorrow to the Sharks, it's a game where if the Rangers win, they will be two points away from a playoff spot.
Goalie-wise for that game with the Isles, with Igor just playing a back-to-back set, I see Georgiev, due to his history with the Isles, getting this game. Then again, who knows? Maybe DQ rides Igor until the wheels fall off. I won't argue with what Quinn does here, as long as it's not Lundqvist. That said, if I had to bet on it, I think Georgiev goes Tuesday.
Speaking of Lundqvist and looking at the other team the Rangers are chasing, in Carolina, the stars may have aligned tonight!
In the biggest story of the NHL this evening, Carolina, in their game with Toronto on Saturday night, had to use an emergency house back-up goalie, in the previously unheard of David Ayres.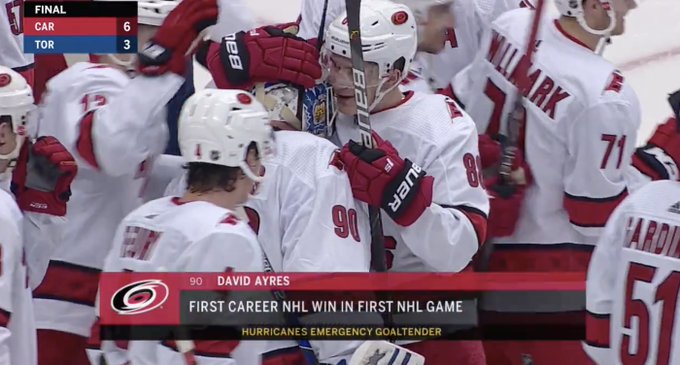 If you haven't seen this story about David Ayres yet, check out https://www.nhl.com/news/carolina-hurricanes-toronto-maple-leafs-game-recap/c-315386778
The short of the story, is that both Carolina goalies, in James Reimer and Petr Mzarek, both got injured in Carolina's road game against Toronto tonight. In turn, Carolina had to use a 42 year old zamboni driver as an emergency back up goalie. In turn, Carolina beat Toronto, by a final of 6-3.
Away from the Rangers, this is one of the most embarrassing regular season losses in Toronto Maple Leaf history. However, this is a Rangers blog, so I'll keep my thoughts about this game on how it relates to the Rangers only.
While Carolina's win is a nice story, it sucks for the Rangers and their playoff chase. Carolina gets two points.
However, as an optimist here, the big story, in regards to the Rangers, is that Carolina now needs a goalie!
You know where I'm going here!
Make it happen Jeff Gorton: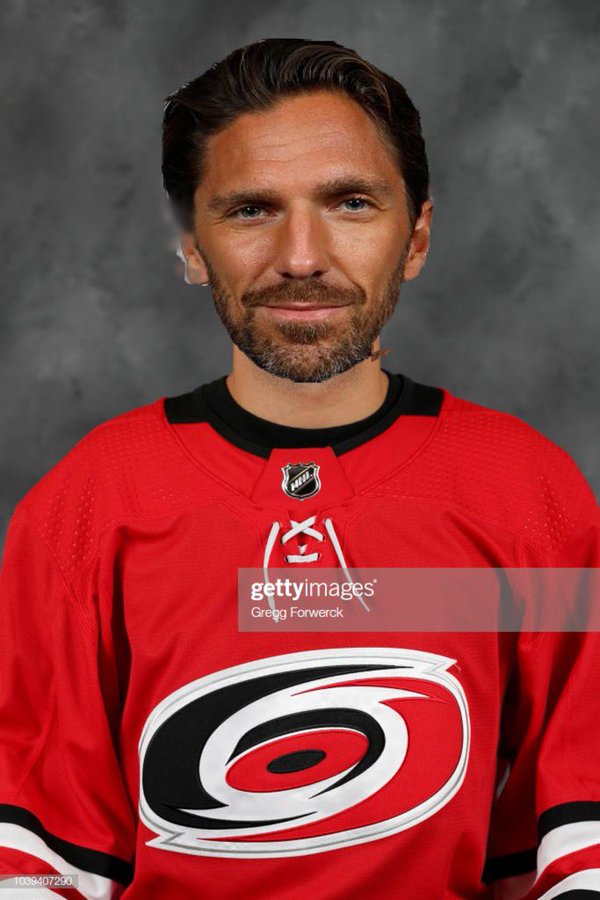 I recapped my thoughts on the trade deadline and what I'd like to see happen several blogs ago. That blog is linked at the top of this blog.
Truth be told, I just can't see another team, even if they took on only half of Hank's salary, trading for Lundqvist. That said, a boy can dream!
Come on JD, work your magic!
Up next for the Rangers, the trade deadline. I honestly have no clue what the Rangers will do here. That said, you have to like how this team has made Gorton's job that much tougher.
I will definitely be back Tuesday night, looking at the Rangers/Islanders game. While I don't know what the Rangers will do between now and 3PM Monday, I do expect them to do something. At the very least, we will know the future of Chris Kreider.
With a blog definitely coming your way Tuesday, I may also be back tomorrow and Monday. Hit the subscribe button for the latest and newest blog. I'm just waiting to react now, as everything that could be written about this trade deadline has already been written. The ball is in Gorton's court. To quote former wrestling world champion, in Bill Goldberg, Jeff Gorton: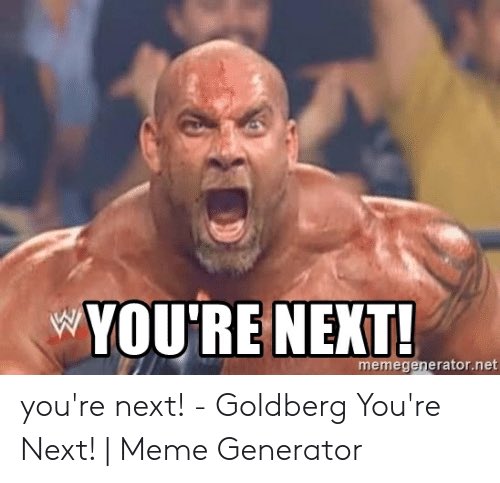 See you soon.
As always, thanks for reading and…
"LET'S GO RANGERS!"
Sean McCaffrey
BULLSMC@aol.com
@NYCTHEMIC on twitter