Greetings and salutations everyone and welcome to another blog here on BlueCollarBlueShirts.com. We are living in exciting times!
Expensive times too, but still, exciting times nonetheless.
If you're a regular reader of this website, then you know the following to be true – since June of 2022 – I have been beating the Kane-to-Rangers trade drum.
And going back to that Summer of '22 when I first suggested this transaction, throughout this season, and presently tonight too – yes – and as you're all probably aware of by now – the only way to make this trade happen is via a three-way deal, where a third team would have to assume 25% of Kane's salary/cap-hit in return for draft capital.
While I won't play my "GREATEST HITS" again, as you can go through this site's archives for all of my previous opinions and rantings on this subject; as of Wednesday, February 22nd, 2023 – there is even more smoke to this fire – where even the national reporters are now donning firefighter equipment!
Should the Rangers execute such a trade, it would be the first time in franchise history where the team has made a three-way cap-retention deal in this fashion too – and where these three-way cap circumvention/loophole trades have proved successful for previous Stanley Cup champions.
After all, look no further to the Tampa Bay Lightning, no stranger to exploiting cap loopholes themselves, and who exploited the NHL's rules twice during the 2020-21 season, en route to defending their 2020 Stanley Cup championship.
As an assumed-to-be healthy Nikita Kucherov sat out the regular season for LITR cap circumvention purposes (only to be "magically" healed come the playoffs); as the Russian twiddled his thumbs at home and focused on the postseason – the Bolts' front office soon added Denis Savard, formerly of Columbus, via a three-way trade, where Detroit g.m., Steve Yzerman (formerly of Tampa – and this is of no coincidence), assumed 25% of the defenseman's cap hit to make the trade happen.
The NHL, which is a copy-cat league, ironically saw Tampa's assumed first-round opponent of these upcoming 2023 Stanley Cup Playoffs, and who the Bolts eliminated during the first-round of the 2022 tournament too, the Toronto Maple Leafs, make a three-way trade themselves just a week ago, when Leafs' g.m., Kyle Dubas, added Ryan O'Reilly & Noel Acciari from St. Louis, where in return, the Minnesota Wild ate 25% of ROR's cap-hit in exchange for draft capital.
(Holy run-on sentence Batman! But hey, I'm excited!)
As the old adage goes, "If you ain't cheating, you ain't trying!"
While these three-way cap loophole trades are legal; it does take some creativity and a will to win to pull them off, two traits that Rangers' general manager, Chris Drury, has exhibited throughout his brief tenure as the head honcho of the club.
And for what it's worth, and similar to Tampa's acquisition of Savard; Drury's old boss, someone who he is still on good terms with, Jeff Gorton, currently runs the show in Montreal – a Gorton who knows the Rangers' farm system inside-and-out – and should draft capital not be enough if-and-when asked to assume 25% of Kane's salary.
---
In our latest chapter of "The Patrick Kane Saga," one more thrilling than the one that's presently being written by "the player who shall not be named;" on Wednesday, following Kane's recent offensive explosions in Chicago – the rumors of the future Hall of Famer moving from the Windy City to the Big Apple heated-up – again.
While I'd really like to see this trade happen; at the same time, I'm also reminded of what was going on at this time last year, when everyone and their mother had a J.T. Miller Rangers' return signed, sealed and delivered.
To be fair, Miller never publicly expressed his desire to join the Rangers – and as Kane has done this season.
In other words, while I do think that the chances of seeing Kane in a Rangers' sweater increased on Wednesday (following those odds plummeting after the recent deals for Vladimir Tarasenko and Tyler Motte) – I'll believe it when I see it.
For whatever reason, and perhaps because the Rangers have been idle during these past two days as they approach the deadline; the Kane-to-Ranger rumors not only received their legs again – but like a young Forest Gump – are runnin' wild too.
Following the esteemed Larry Brooks jumping on board "THE KANE TRAIN" on Tuesday (where just a week ago – he was completely dismissive of the idea); other members of the Rangers' beat, including Islander fan Arthur Staple, boarded the train too.
While I don't put too much stock into the Rangers' beat, unless it comes from Brooks himself (and as explained on this site before, the Rangers use him as a conduit, and in exchange, Brooks remains as the only member of the beat to break stories about the team); league-wide, the national reporters have boarded their KANE TRAIN passage too.
Here's what circulated around the league on Wednesday:
As TNT's resident heel weighed-in, Emily Kaplan, of ESPN, reported the following, courtesy of https://www.espn.com/nhl/story/_/id/35706678/latest-patrick-kane-boston-bruins-more-trade-buzz :
"We should get clarity on Kane's decision this week. None of this has been easy for the veteran winger. Kane always envisioned himself retiring as a Blackhawk. It's only been over the past several months — and maybe even the past several weeks — that he was forced to accept that that vision might not be realistic anymore. Based on conversations I've had with sources around the league, the behind-the-scenes talks with the Rangers were more advanced than have been reported. There was a path for Kane going to New York, his preferred destination should he leave Chicago, and then suddenly it felt as if it was taken away — which is why you saw him react so vulnerably to the Vladimir Tarasenko trade."
As Kaplan first reported, which was later confirmed by other reporters throughout the league – the Rangers were close to landing Kane – but at the last second – the Blues came in and offered Tarasenko – and for a more affordable price than what the Hawks wanted for their right-winger.
While I can't personally confirm anything to you (after all, Chris Drury is one of the most tight-lipped general manager's in the NHL, perhaps second only to the much older & experienced Lou Lamoriello); it has been reported that Chicago, which really doesn't have much leverage here, wants a haul in return for Kane.
St. Louis, knowing that Tarasenko wanted out, and wouldn't re-sign with them over the summer either – just had to get something back – and Drury easily accommodated that request.
Fast-forward to today, and while there are other contenders for Kane out there, teams such as the Golden Knights (who in a tip-of-the-cap to Tampa, just put team captain Mark Stone on LITR this week), the Stars, the Avalanche and the Hurricanes – should #88 opt to waive his no-move clause, then what we do know for a fact is this – Kane WANTS to be a Ranger – and more important than anything else – only he can decide where he spends the rest of this 2022-23 campaign.
In other words, and in a hypothetical that will never happen – the Oilers could offer the Blackhawks both Connor McDavid and Leon Draisaitil – but if Kane, with his no-move clause in tow says no – then the deal isn't happening.
Whether it's the lure of the foul-smelling streets of NYC, the chance to play with Artemi Panarin again (Kane won the Hart Trophy with "The Breadman" as his linemate – and Panarin won the Calder Trophy with Kane too), wearing another Original Six jersey or something else; either way, Kane wants to be a Ranger.
It's just up to Drury to accommodate this request – and for the Blackhawks to finally realize, and just like a late 1990s George Costanza, that they have "no hand" in the manner.
And let's face it – the Stanley Cup winner will come out of the Eastern Conference this year. (I have a piece coming out about this on Friday in Stan Fischler's "The Hockey News" column.)
Not only is the Metro Division an arm's race – but so is the Atlantic Division.
Every contender in the East is loading up right now – and where Timo Meier will probably reside in the EST zone soon enough – and perhaps with the Rangers' assumed first-round opponent themselves, the Devils.
You can never have enough weapons – and have no doubts – Kane is a weapon.
---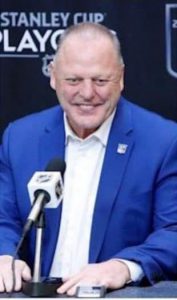 I've been on record for a while – adding Kane – and the "trickle-down" effect that he would create – is the best thing for the Blueshirts.
Rather than going for a fourth-liner prior to the deadline; Kane would not only boost the top-six – but repair the fourth-line too.
And as the clock goes tick-tick-tick for the Blackhawks; should Kane tell them it's "The Rangers or nothing," then they'll just have to get what they get – or just like Jonathan Toews – they'll receive nothing in return for another one of their franchise players.
Truthfully, it's up to Kane to force this trade to New York, should that really be his desire.
Simply put – "it's nut up or shut up time."
While Kane has expressed his loyalty to the only NHL club that he's ever known; if he wants to do what's best for him, then he needs to put his foot down and make it clear – "TRADE ME TO THE RANGERS."
If Kane continues to be wishy-washy, and is willing to bend for the Hawks, then the dream will be dead.
By now, you know the deal – for the Rangers to make it happen – they'll have to part with pieces that don't fit for this WIN NOW team, including a package most likely consisting of a first-round draft pick, Zac Jones, a middle-round draft pick and "the player who shall not be named."
And while on the topic of the mercurial Russian, here's what Larry Brooks reported on Tuesday, in regards to the soon-to-be former #74 of the New York Rangers:
While we can't say why, at least not with 100% certainty, why the player who shall not be named had his locker moved away out of nowhere; at the same time, would it shock you if you heard that both Gallant and Drury had a laugh about this?
As repeatedly mentioned during the past few weeks on this site – I'm done talking about the player who shall not be named – unless there is a story.
For tonight, I'll just say that "Lias Andersson 2.0," and who has already abandoned the Rangers twice for his mother's nipple in Russia; is not only considered "soft damaged goods" by the Blueshirts – but across the league too.
As Brooks also reported earlier this week – NHL clubs consider #74 to be "soft" and worry that he'll run back home to Russia over the summer – and then spend the 2023-24 season in the KHL.
While no one knows the thought process of the player who shall not be named; perhaps a chance to play for a rebuilding Chicago team, where in theory – he should receive more ice time with a pretender rather than he presently does with a contender – will put a dash on his own daily dashes to his home country.
Again – who knows?
What is known? That the player who shall not be named must be included in this trade, or out-right waived, in order for the Rangers to accommodate 25% of Kane's salary.
Presently, all the player that shall not be named is doing is taking up valuable cap space – where again – the Rangers are in it to win it – and whether it's Kane or somebody else – Drury isn't done yet.
The general manager will need to shed this salary in order to bring in an asset that can help this franchise prevent this current Cup-less drought from turning thirty years old.
And similar to the mantra in regards to winning the silver, "WHY NOT THE RANGERS?" – when it comes to putting together a super-team, akin to the ones that you routinely see in the NBA – and in regards to Kane – I must ask again, "WHY NOT THE RANGERS?"
As far as the Rangers of today? After a long and well-deserved day off on Tuesday, they reconvened at their practice facility on Wednesday, where it was business as usual.
---
The only real news to come out of the practice itself was that Panarin had a maintenance day. In his spot was the player who shall not be named – and a player who shall not play on Thursday night in Detroit either!
Barring that Kane trade (I couldn't resist), here's how the Rangers will line-up against the 'Wings, an Original Six rival that will look to extract revenge on the Blueshirts, following Gallant's Gang pummeling them 8-2 the last time the Rangers visited the Pizza Arena:
FIRST LINE: Kreider/Mika/Vesey
SECOND LINE: Panarin/Trocheck/Tarasenko
THIRD LINE: Lafreniere/Chytil/Kakko
FOURTH LINE: Motte/Leschyshyn/Goodrow
FIRST PAIR: Lindgren/Fox
SECOND PAIR: Miller/Trouba
THIRD PAIR: Mikkola/Schneider
STARTING GOALIE: CZAR IGOR
BACK-UP: THE HALAKNESS MONSTER
PRESS BOX: Harpur and The player who shall not be named
---
Following the practice, and prior to boarding their flight, Gallant held his daily "TURK TALK." Here it is for your viewing pleasure:
---
As is always the case, Gallant didn't say anything that you wouldn't expect.
Gallant said that he'd like to see less opponent goals scored (what coach doesn't want to see this?) and admitted that his goalie, CZAR IGOR, is slumping a bit – but at the same time – he hasn't lost one iota of confidence in the 2022 Vezina Trophy winner.
As yours truly has been saying, and you guys & gals too – you rather see Igor experience the first slump of his career now, rather than during the playoffs.
When it comes to CZAR IGOR himself; after blowing off the media on Monday night (and while it's a story – I was surprised how much traction it received); #31 talked to the media on Wednesday afternoon – but the Rangers didn't upload the interview to their social media pages.
CZAR IGOR, who never gets long-winded or talks about himself in the first place, told the beat reporters the following:
"I don't like to talk too much. I just want to play the game and get back on the winning road."
And that was that.
As previously written on this site, and as Gallant also said on Wednesday, "the winning road" hasn't been an issue.
Despite CZAR IGOR's GAA & save percentage statistics taking a beating as of late; he's still 6-1-1 since enduring the first slump of his NHL career.
Furthermore, the Rangers have the second-best record since the flip of the calendar, with only the Hurricanes, who the Blueshirts are currently 2-0 against this season, possessing a better record than them in 2023.
As far as anything else, Gallant brought up how the schedule has really become grueling as of late – and how that won't change during the final weeks of the regular season either.
Following three games played in four nights in western Canada, followed by a game 48-hours later at M$G on Monday night against the Jets; the Rangers, idle the past two days, will now play three games in four nights again.
After playing in Detroit on Thursday, the Rangers will then play the Capitals in Washington on Saturday afternoon. Come the conclusion of that contest, the Rangers will then host the Kings on Sunday night at M$G.
Once those "hat trick" of games are through, the Rangers will then have two days off again, followed by another three games to be played in four nights, when they play Philly, Ottawa and Boston.
And prior to that March 4th Saturday matinee game in Beantown? The March 3rd NHL Trade Deadline – but I think you already know all about that!
One last thing before going home tonight.
---
On Tuesday, the Rangers informed their season-ticket subscribers that they will be jacking up the prices of their seats next year.
Sadly, this was expected – as the Rangers always do this, and just like any other franchise in all of sports, following a playoff run.
In what's not being mentioned, as the annual increase is set to become higher than ever before?
Rangers' owner, James Dolan, has a pet project in Vegas, the M$G $phere – and a project that's now $2B over its original budget.
(More details here: https://www.casino.org/news/msg-sphere-cost-inflates-175m-to-2-175b/ )
Who do you think will foot the bill of this bloated project, one that Dolan is now personally overseeing himself?
I think your empty pockets and depleted wallets know the answer.
---
About five years ago on this site, and in a response to sky-rocketing ticket costs, I brought up this question, "where will the next generation of hockey fans come from?"
A few years following that, and during the dying days of the coronavirus pandemic, I told you that during the height of the pandemic, all of these live entertainment entities, whether they be sports, concerts, or something else – all realized that the secondary market was cutting into their profits.
And my old "Stubhub Trick" that I shared with you, one that is featured at the top of this site? That trick is now as useless as "the player who shall not be named!"
With plenty of down time to take a deep look into this, all of these live entertainment entities, who mostly rely on gate receipts to turn a profit (and as the Rangers do); all of these groups realized that fans/customers were paying double, triple, quadruple, and sometimes even more than that, the amount of money on the secondary market for ducats, when compared to face-value prices.
In a classic case of "supply and demand;" all of these entities reacted in the way that they should have done – even if it hurts us – John or Jane Q. fan.
While I'll keep it to the Rangers here, even if this is true all across the board – the days of double-digit ticket prices are long gone.
As brought up a few blogs ago, and really, all season too – you can't enter M$G anymore without dropping over $200+. And then when you include the cost of travel, concessions and whatever else – attending a Ranger game will run most fans $300+.
And if you want to sit in the lower-bowl? You better be willing to skip a mortgage payment!
Family friendly, am I right?
While I know that it's the aim of all of these live entertainment companies to put the secondary market out of business (and I don't blame them – I understand capitalism); I'm also reminded of what I was told by a beer vendor in 2010, when attending a Yankees game in the Bronx, following my reaction to the insanely priced $24 beer that I purchased:
"You want a championship team? Then ya gotta pay championship prices my friend!"
The Rangers don't have that championship yet – but it's my belief that it's coming!
Sadly, will anyone without a full-time job that pays them six-figures plus be able to see it?
For older readers of this site, many of you have shared your war stories with me, and whether you saw the Giacomin return game in 1975 for 50 cents, or were there for Game 7 of the 1994 Stanley Cup Final for the low cost of $20 – as you know – those days are extinct like the dodo.
And again, while I understand economics, inflation and capitalism – not even Grandma's birthday money will get a younger generation inside of M$G these days – that is – unless their parents are swimming in cash as if they were Scrooge McDuck.
I'm not breaking any news here, but of the four major sports in America – it's the NHL that provides the best live experience – especially if you sit close to the action.
While the NFL is tailor-made for television (hello Red Zone channel), MLB is boring and the NBA presents a three-point contest every night; nothing fares in comparison to the live product that the NHL provides.
It's just a shame that most fans, and now a younger generation, won't be able to afford it.
I've brought this up before, and just to illustrate that this isn't just a problem exclusive to the richest city of the league; three years ago, right before the pandemic, I bought tickets to see the Rangers play the Sabres and the Penguins.
I can't remember the exact seat locations, but I can tell you that I paid $80 each for both games – and to sit ten or so rows away – and at center ice to boot!
Of course, the pandemic happened and all of my plans were then changed. My trip was off – where yes, I know – this is the least of anyone's concerns right now and during that time too.
In several weeks, and because I had to use my flight comps that were set to expire (what a terrible business practice by the airlines – they wouldn't give me a cash return for my pandemic-canceled flights – they gave me comps instead) – I'm going to Buffalo and Pittsburgh to see the Rangers play.
To sit in the same seats that I had originally purchased three years prior – I'm now paying $160 in Buffalo and $289 in Pittsburgh. INSANITY – especially in the Steel City – where every ticket in the lower bowl, center ice, end zone or otherwise, all run for $289!
And since "The Stubhub Trick" is a thing of the past – I just had to take the hit and pay the $289. (I didn't want to sit in the upper-bowl since I don't know when I'll ever be back and because I wanted to sit good during my first foray in black-and-yellow town.)
Sadder than that? When you combine the $289 and $160 – $449 in total – that won't get you the worst seat in the lower bowl of M$G on most nights.
And come the playoffs and into the 2023-24 season – does anyone need a kidney?
What a great transition to our final segment, where need I remind you – I do have books for sale!
(And see ya tomorrow night, following the Rangers vs. Wings game.)
PLUGS TIME!
---
My first plug of tonight's blog – the mandatory plug for my book, "The New York Rangers Rink of Honor and the Rafters of Madison Square Garden."
As mentioned previously, the book is now available in hardcover, in paperback and in Kindle formats. To purchase a copy of the book, visit this link:
https://www.amazon.com/Rangers-Rafters-Madison-Square-Garden-ebook/dp/B09CM5N2WD
For those still looking for signed paperback versions of the book, I have re-ordered more copies. I now have a few signed copies for sale at $25 a pop (includes shipping price) through me directly. Here is all the information on that:
---
My four-volume set of books, "One Game at a Time – A Season to Remember," is a game-by-game recount of the Rangers 2021-22 campaign.
My second title as an author, "One Game at a Time – A Season to Remember," is now available in eBook, paperback and hardcover formats.
To obtain signed copies, visit: https://bluecollarblueshirts.com/onegamebook/
To purchase all four volumes on Amazon, visit: Amazon.com – "One Game at a Time."
---
The greatest volume-set of books on Rangers' history today!
"Tricks of the Trade – A Century-Long Journey Through Every Trade Made In New York Rangers' History," a four-volume set of books that meticulously covers every trade made in franchise history, is now on sale.
All four volumes of the title can be purchased on Amazon.com and are presented in three different formats – eBook, paperback and hardcover.
To purchase Volume I: Conn Smythe (1926) – Craig Patrick (1986), visit Amazon.com
To purchase Volume II: Phil Esposito (1986) – Neil Smith (2000), visit Amazon.com
To purchase Volume III: Glen Sather (2000-2015), visit Amazon.com
To purchase Volume IV: Jeff Gorton (2015) – Chris Drury (2022), visit Amazon.com
To purchase signed copies of all four volumes, visit https://bluecollarblueshirts.com/tricksofthetrade/
---
Here are my last few blogs, in case you missed them:
---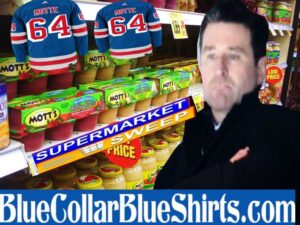 ---
---
If you haven't already, subscribe to this blog for the next update:
---
Don't forget to order my new four-volume set of books, "Tricks of the Trade!"
If you don't order through me, all four volumes are now available on Amazon.com
For more details, check out: https://bluecollarblueshirts.com/tricksofthetrade/
Thanks for reading.
LET'S GO RANGERS!
Sean McCaffrey
BULLSMC@aol.com
@NYCTHEMIC on the Tweeter machine