Greetings and salutations everyone and welcome to another blog here on BlueCollarBlueShirts.com. After a pathetic effort on Thursday night against Minnesota, the Rangers welcomed the doormat known as the NJ Devils into MSG on Saturday afternoon. In what was a predominantly one-sided game, the Rangers handled business against the worst team in the Metropolitan division, as the Rangers beat the Devils, by a final of 5-2.
When I see the Rangers win games like this, it makes me wonder – what would've happened if Lundqvist would've won all those starts against the last place and second-to-last-place teams in the league? The Rangers very likely would've been a wild card team. Just think about all those lost points with Lundqvist in net this season – the two games with LA, the two games with Arizona, the game with Detroit, the game against a then last place Chicago Blackhawks, all those games to the Flyers before the Flyers got hot, the game with the Oilers, and oh yeah, the game with Ottawa, where the Rangers got shut-out! Just so many lost points this season.
So really, when you hear about all this talk about rebuild and development, it's not like the Rangers are exactly that far off from being a playoff team. The issue remains the same and it's the same thing I've been saying all along – this team will rather lose with Lundqvist than try to win without him. Today was another perfect example of this.
The biggest news, before today's game with the Devils, was that the Rangers were scratching Mats Zuccarello, Kevin Hayes and Adam McQuaid. In essence, the Rangers "bubble-wrapped" these three players 48 hours before the trade deadline. As it stands right now, it looks like Thursday night's loss to the Vikings Wild was the last game as a Ranger for Zuccarello, Hayes and McQuaid.
I've gone in-depth about all of this before. In case you need a refresher, just check out my most recent blogs, which you can find below:
---
---
---
---
---
---
When it comes to the futures of McQuaid, Hayes and Zuccarello, obviously, McQuaid won't be missed by Ranger fans. That's not to say he was bad or anything, but obviously, there was no tenure or attachment here. He will always be a Bruin. That said, I think it's nuts that teams want to trade for him, as McQuaid seems very injury prone to me.
Kevin Hayes, who started his Rangers career during the Presidents' Trophy winning season of 2014-2015, is the hardest decision for Jeff Gorton to make. As I've said on prior blogs, there's really no right answer. With the way this organization is, I just see whatever the Rangers do with Hayes just coming back to bite them in the ass.
The Rangers have been a Murphy's Law franchise for nearly 100 years, so if the Rangers re-signed Hayes, I could see Hayes rapidly diminishing. If and when the Rangers trade Hayes, I can see Hayes going on to bigger and better things, while whoever the Rangers get back in return, wind up being busts. That's just the way it works as a Rangers fan.
Obviously, losing Zuccarello is the dagger to the heart of many Ranger fans. His removal from New York is a pure business move. While I understand why the Rangers will move on from him, I would just be interested to hear about whatever contract was offered to him by the Rangers.
What really drives me up a wall about all of this, is that just like Ryan McDonagh, Ryan Callahan, Carl Hagelin, Anton Stralman, Dan Girardi, Cam Talbot, Derek Stepan, Antti Raanta, Michael Grabner, Rick Nash, Brad Richards, Brian Boyle and countless others, Mats Zuccarello and Kevin Hayes are soon-to-be goners. However, the lone constant in this Cupless drought remains Henrik Lundqvist. How many times must the Rangers lose with Henrik Lundqvist to realize that maybe it's not everyone else around him? Maybe Lundqvist (and that contract) is the problem?
I understand that this is a business, I truly do. However, when I hear the same reporters, the guys on the MSG Networks crew, fans on social media and everyone else in-and-between say, "Hayes and Zucc have to be moved for business reasons", these are also the same people that don't question Lundqvist being here.
Yes, Lundqvist has a no-move clause, but seriously, just throw him in the press box until he decides to waive it. The only way to force action on these millionaires is to hit their pride, and their pride is their playing time.
I'll tell you what – I rather have McDonagh for the next 5 years, Hayes for the next 5 years and Zuccarello for the next 4 years than a 37 year old goalie that's the second highest paid in the NHL.  As I'll get into with Kreider at the end of this blog, with the Rangers going through a YOUT movement, you need some veteran leadership. Who is that guy on this team? Who is going to run with the ball?
Goalies are eccentric types and most of the time, they are loners too. You can't build around a goalie and a goalie will never be a team leader. Granted, while you will never find another Mark Messier, because there's only one Mark Messier, you just need a strong leader in this locker room. I thought Stepan could've been that guy. He's not here anymore. I thought Zuccarello could've been that guy, but he was in contract limbo all season. Maybe Hayes could've grown into that guy. We won't know for some time.
It's just a shame how many men have become "business moves" for the Rangers, while the biggest of business moves is ignored.
Today's victory over the Devils was bittersweet a bit, as once the news of Hayes and Zucc was made available, all these rumors and all these months of talk, finally became real. It's one thing to talk about the fates of Hayes & Zucc. It's another to see it come to fruition. With the trade deadline now 48 hours away, and these guys put into the press box, it's only a matter of time before these three guys become ex-Rangers.
Going into today's game, I didn't know what to expect. The Rangers usually rebound after bad losses, but with the top line missing their set-up man and the second line missing their scorer, I didn't know who would shoulder the load.
What helped the Rangers more than anything today, is that the Devils are freaking terrible and missing their MVP, in Taylor Hall. Half of the New Jersey roster is pretty much an AHL squad these days. In other words, the Rangers didn't have to regroup against a powerhouse like a Tampa Bay Lightning; they had the benefit of hosting one of the worst teams in the league. The Rangers made the most of it, which they should've done. This wound up being a wire-to-wire victory for the Rangers and there was never any point in this game where you thought the Devils could win.
To show you how bad the Devils truly are, the Rangers shelved Zuccarello and Hayes, put Brendan Smith on the fourth line as a forward, had mish-mashed lines, and 15 minutes into the game, the Rangers were winning 3-0. Up until the mid-way point of the second period, Alexandar Georgiev, who started today, had the easiest game of his career.  It's when the Rangers held back and got sloppy in the third period, that the Devils were finally able to get on the board.
Before fully diving into the game itself, let's go through the normal segments of the blog! Up first, the LETTIERI WATCH!
The Wolfpack started their first of three games in a row on Friday night. In the first game of their Friday-Sunday marathon, Vinni Lettieri scored the game winning goal on Friday: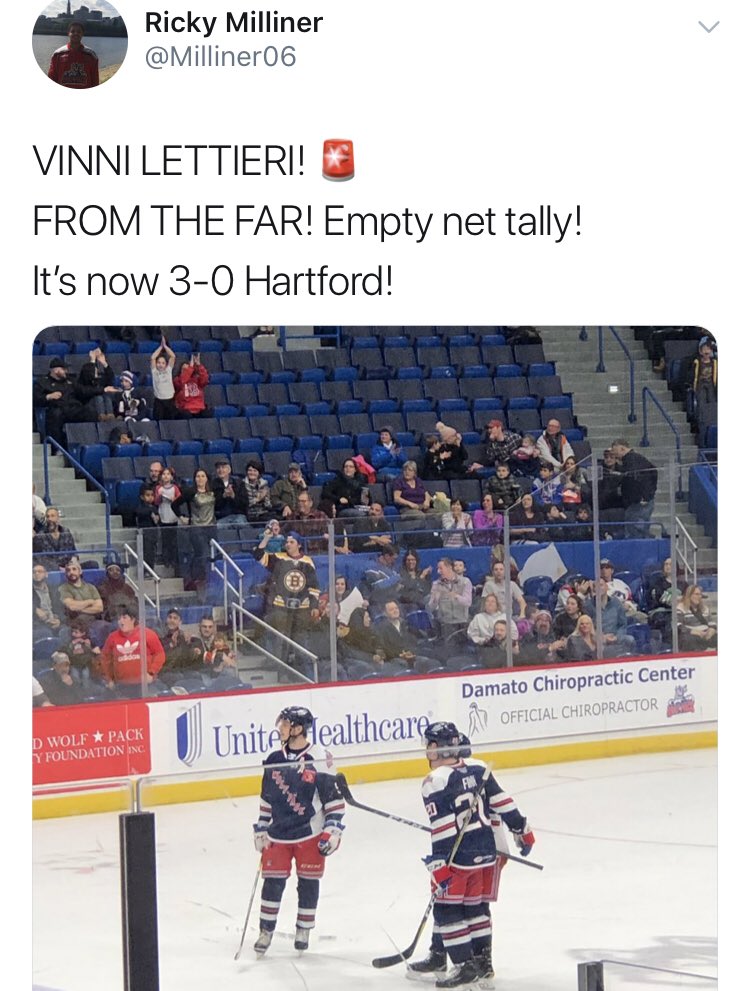 For Vinni Lettieri, that's now four goals in four straight games. Besides his goal being the game winning goal, he also picked up an assist in Hartford's 3-2 victory. If only the Rangers were overpaying him or made a bad trade to get him, the Rangers would invest in this kid.
Stay tuned to this blog tomorrow for the next LETTIERI WATCH update!
As far as the "SCRATCH LIST OF QUINN" goes, David Quinn had to get creative today. Here's what Quinn went with:
FIRST LINE: Kreider/Zibanejad/Vesey (Vesey was rewarded and got an opportunity to play on the first line. He would score in this game, so this experiment worked today.)
SECOND LINE: Namestnikov/Strome/Fast (Strome was bumped up in lieu of Hayes. Strome scored two goals today, so like Vesey, this experiment also worked.)
THIRD LINE: Andersson/Chytil/Buchnevich (Buchnevich picked up two assists today, but one assist was on a PP that just expired and the other assist was a PP assist. I still don't think Andersson is ready for the NHL.)
FOURTH LINE: Smith/Nieves/Brickley (This is tough for Nieves and Brickley, as they continue to play on a mish-mash line and there is no chemistry there yet.)
Defensively, Quinn went with:
FIRST PAIR: Skjei/Pionk (These two are trending in different directions, as Skjei is improving; Pionk is not.)
SECOND PAIR: Staal/DeAngelo (The best duo of the game.)
THIRD PAIR: Claesson/Shattenkirk (The worst duo of the game.)
Oh, and while on Filip Chytil, someone on Facebook brought up how Chytil looks eerily familiar to Heather Matarazzo, who was a young actress from the 1990's. I can see the resemblance here!
I didn't know Chytil was the first trans Ranger: #nyr pic.twitter.com/xkv2JKyYXu

— BlueCollarBlueShirts (@NYCTheMiC) February 22, 2019
---
Gambling Segment time! Here's what I said before the game:
Tough game to predict without knowing who is playing and who isn't. Rangers looked like shit on Thursday & will want to rebound. Top line has gone cold. 7 goals seems a lot for these two teams. Georgiev & Schneider have been good lately. Take #NYR & the UNDER. pic.twitter.com/0hrfJdV4bE

— BlueCollarBlueShirts (@NYCTheMiC) February 23, 2019
I'm as cold as ice right now. I now drop to 25-14-1. (As stated in past blogs, I only count my over-under prediction in my win/loss record.) While I was right about the Rangers, with 7 total goals scored, my under bet missed. Those fucking empty netters will get you every time.
And now, without further ado, here's the ESPN.com box score:
SCORING SUMMARY:
1st Period
4:48

Jimmy Vesey

(14)

Assists: Pavel Buchnevich, Tony DeAngelo

0
1
8:54

Ryan Strome

(9)

(Power Play)

Assists: Chris Kreider, Pavel Buchnevich

0
2
14:23

Chris Kreider

(25)

Assists: Mika Zibanejad, Jimmy Vesey

0
3
2nd Period

No Goals Scored
3rd Period
2:20

Kenny Agostino

(3)

Unassisted

1
3
11:08

Brady Skjei

(4)

Assists: Mika Zibanejad, Kevin Shattenkirk

1
4
12:59

Andy Greene

(4)

Assists: Kyle Palmieri, Nico Hischier

2
4
19:41

Ryan Strome

(10)

Assists: Vladislav Namestnikov, Jesper Fast

2
5
PENALTIES:
1st Period
2:48

Brett Seney:

2 minutes for Boarding

5:04

Brady Skjei:

2 minutes for Holding

6:55

Drew Stafford:

2 minutes for Tripping

9:52

Brendan Smith:

5 minutes for Fighting (Major)

9:52

Kurtis Gabriel:

5 minutes for Fighting (Major)

15:54

Boo Nieves:

2 minutes for Roughing

15:54

Brett Seney:

2 minutes for Roughing
2nd Period
6:07

Kurtis Gabriel:

2 minutes for Cross checking

9:40

Kevin Shattenkirk:

2 minutes for Slashing
3rd Period
11:08

Chris Kreider:

2 minutes for Roughing

11:08

Eric Gryba:

2 minutes for Roughing
GOALIES:
| | | | | | | | | | | |
| --- | --- | --- | --- | --- | --- | --- | --- | --- | --- | --- |
| SA | GA | SV | SV% | ESSV | PPSV | SHSV | SOSA | SOS | TOI | PIM |
| 0 | 0 | 0 | .000 | 0 | 0 | 0 | 0 | 0 | 0:00 | 0 |
| 33 | 4 | 29 | .879 | 24 | 1 | 4 | 0 | 0 | 57:38 | 0 |
| | | | | | | | | | | |
| --- | --- | --- | --- | --- | --- | --- | --- | --- | --- | --- |
| SA | GA | SV | SV% | ESSV | PPSV | SHSV | SOSA | SOS | TOI | PIM |
| 21 | 2 | 19 | .905 | 15 | 1 | 3 | 0 | 0 | 60:00 | 0 |
| 0 | 0 | 0 | .000 | 0 | 0 | 0 | 0 | 0 | 0:00 | 0 |
The first period of this game was just as good as any period the Rangers have played this season. It was pure domination. With three minutes remaining in the period, the Rangers had a 3-0 lead and were out-shooting the Rock residents by a tally of 14-4. We've seen the Rangers on the other side of this fence before, so it was nice to see the Rangers as the ass-kickers.
The first minute of this game didn't start out so hot, as both teams made brutal turnovers, and then Zibanejad took a hit and went right to the bench. He was wincing in pain and immediately you thought "oh shit." Fortunately, it was nothing and Zibanejad was right back out there for his next shift.
At the 2:48 mark of the first, Seney blatantly boarded Brendan Smith. This put the Rangers on the PP. The Rangers would dick around on their power-play. At one point, you had four Rangers behind their own net during their own PP. That's not a recipe for success. However, the second after the PP expired, Tony DeMAGAngelo blasted a shot, Buchnevich grabbed the rebound and then Vesey grabbed the commie's rebound to make it 1-0, good guys:
JIMMY VESEY SLAMS ONE HOME FROM IN TIGHT!#NYR pic.twitter.com/vKHVV3YrVJ

— Hockey Daily (@HockeyDaily365) February 23, 2019
For some reason, because of this goal, Steve Valiquette would say that Vesey reminds him of Mark Scheifele. Vally has been all over the place in recent weeks. Even in the post-game show, Vally was still talking about Cam Talbot, as Vally over-compensates for his loser friend, in Henrik Lundqvist. People would respect Vally more if he would just say that Lundqvist is overpaid and overrated and it's time for the Rangers to move on.
Instead of critiquing Lundqvist without bias, Vally brings up Talbot and Raanta, and their current situations. What Vally omits, is that behind a defense that wasn't injured, Talbot set franchise winning records in Edmonton. What Vally also omits, is that if it weren't for an injury late last season, Raanta would've been a Vezina candidate. But hey, for Steve Valiquette, when talking Henrik Lundqvist, he never lets the truth get in the way of a good story. At least Vally is consistent in that way.
Oh, and speaking of current situations, Lundqvist's bottom of the league numbers are NEVER brought up by Valiquette. Again, why let the truth get in the way of a good story?
Oh, and while on the Vesey goal, this was Tony DeAngelo's sixth straight game with an assist. He now leads all Rangers defensemen in this department, despite being scratched more than anyone not named Brendan Smith. Kevin Shattenwho?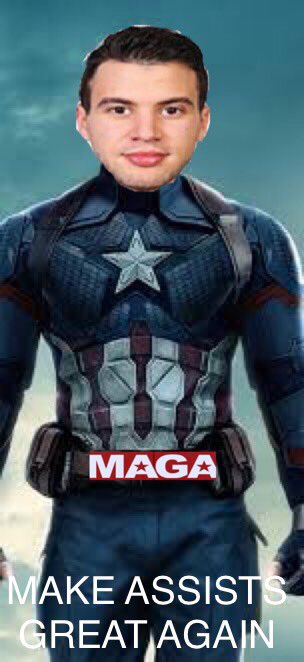 As the game went on, Brady Skjei took a dumb hooking penalty. Robert Kraft was interested in that penalty. The Rangers would kill the penalty and then go on the PP themselves, as Stafford got caught for tripping.
On the Rangers PP, they scored one of their prettiest PPG's of the season. This rivaled the PPG from a few games ago, where Buchnevich, from behind the opponent's goal, backhanded the puck (I can't remember which game it was off-hand) and Zibanejad buried the puck for a goal. Here's Kreider with a no-look backhand pass to Ryan Strome:
RYAN STROME HAMMERS HOME CHRIS KREIDER'S DISH!#NYR pic.twitter.com/mfWrW4rDGN

— Hockey Daily (@HockeyDaily365) February 23, 2019
2-0, good guys!
On Ryan Strome, as I've been saying for a while now, he's one of those unsung "heroes" to me. The word hero doesn't really apply, so I'll go with "unsung Ranger". He's playing well. The Rangers obviously won that trade with Edmonton.
It's funny, I polled several social media groups to see what they thought about Strome and the reaction was mixed. For Strome's role on the team, I think he's playing well. He plays hard. He doesn't take shifts off. The scoring helps too, but even without it, he seems to have a good attitude and is a good locker room guy. As far as my opinions about his off-the-ice stuff, I'm going by what I've heard other players say and based on those MSG Shorts segments.
A minute after this goal, Kurtis "WHO THE FUCK ARE YOU?" Gabriel, started jaw-jacking at the Rangers bench. Quick aside here – the Rangers were mouthing back and Giannone reported that the Rangers were asking Gabriel who he was.
Stay with me here – wouldn't you pay a little extra, over the course of a season, to watch a Rated R version of these games? What I mean by that is, is having an alternate M$G channel to watch these games on, where everything is miked up and you're allowed to listen to everything. Wouldn't you want to hear the words from these players during these situations? This would later come into play in the third period, when Kreider got into it with Eric Gryba.
Anyway, Brendan Smith went after Gabriel. Smith drug Gabriel down by his jersey. That was the end of the "fight". Seriously, the refs don't care about boarding calls or sticks to the head, but any time two players square off these days, the refs are all up into it, like a freaking wedgie.
With Corey Schneider looking extremely shaky today, as you can see he was leaving large gaps of the net open, Chris Kreider would score his 25th goal of the season:
The Rangers are buzzing this afternoon, as they lead 3-0 thanks to this Chris Kreider goal #NYR pic.twitter.com/2QKchpJgb1

— Dom Renna (@drennaESNY) February 23, 2019
3-0, good guys, at the 14:23 mark of the first. This period was all Rangers. This was also the easiest period of Georgiev's Rangers career.
Here's my final Vally story for this blog. During the intermission, Vally made light of Hayes & Zucc and joked that the Rangers were better off without the dead-weight. Immediately, I was tagged in a million things, which all called Vally an asshole in a million different ways. Seriously guys? You can't tell that Vally was joking here? I would hope that if you know me or read these blogs, I value a sense of humor. For anyone who went nuts about Vally's obvious joke here, you need a sense of humor transplant. If you want to blast Vally for being a Lundqvist stooge, that's warranted. To pan him for this joke, well that was ridiculous to me.
After a 3 goal first period, I knew my under bet was fucked. However, the second period would go scoreless. Schneider finally calmed down and was able to make the saves. At around the ten minute mark of the period, the Devils woke up, which in turn, meant that Georgiev had to wake up.
If you're a regular reader of these blogs, you know that I like to rile it up about Georgiev. The fact that I'm barely talking about him until now, shows you how this game was. The Rangers just dominated and Georgiev didn't have much work. The only time it got hairy for Georgiev was in the third period and with the Rangers kind of relaxing a bit.
The Rangers would fail on a PP in this second period. Seriously, when will Quinn put TDA on the first PP unit where he belongs? For a coach that preaches about merit and earning shit, he doesn't always practice what he preaches.
Georgiev would make two huge saves with under 10 minutes to go in the period, thus protecting a shutout that the team in front of him was giving him. On the other end, Strome set up scoring chances with some fine passing, but Schneider did his job.
I don't know if you could call the Devils the better team in the second period, but they were much better than they were in the first. 3-0 after forty minutes.
In some social media circles, I admittely like to rev it up about Georgiev. Sometimes it's fun toying with the Cult of Lundqvist. One fact I love to bring up, because people sell for it, is that Georgiev is the only goalie with a shutout for the Rangers this season. With Georgiev having a no-no going into the third period and with the Devils looking like a pile of diarrhea, it looked like Georgiev was on his way to his second shut-out of the season. It was at this time where I was tagged in a ton of social media posts about Georgiev's current status, as if I didn't know. However, like a no-hitter, Georgiev was jinxed by these people!
Okay, okay, okay – I don't believe in jinxes and I'm having fun with you here. Georgiev didn't get his shut out. In fact, he would give up two goals, two goals that I wouldn't 100% pin on him.
Kenny Agostino would score at the 2:20 mark of the third period, after Fred Claesson made a turnover, which left Agostino all alone with Georgiev. Bang, see ya shut-out. 3-1, good guys.
In fact, while on Claesson, in my opinion, he was the worst D-man in this game. It's also a disgrace that he's allowed to wear the number 33, a number which was once worn proudly by the legendary and all-time Rangers great, in a one Cam Talbot!
And seriously (As some people will take what I just said above to heart) I can see why Quinn has put Claesson in the "QUINN BIN" (Credit: BSU Radio) during these last few games. He was a little turnover machine today.
Shit would get real at the 11:08 mark of the third. Here's Brady Skjei making it 4-1, good guys:
Brady Skjei scores to make it 4-1 #NYR pic.twitter.com/WCwvOJNiub

— Rob Taub (@RTaub_) February 23, 2019
While on Skjei, while I personally would've given the Broadway Hat to either Ryan Strome or Chris Kreider, Brady Skjei got it: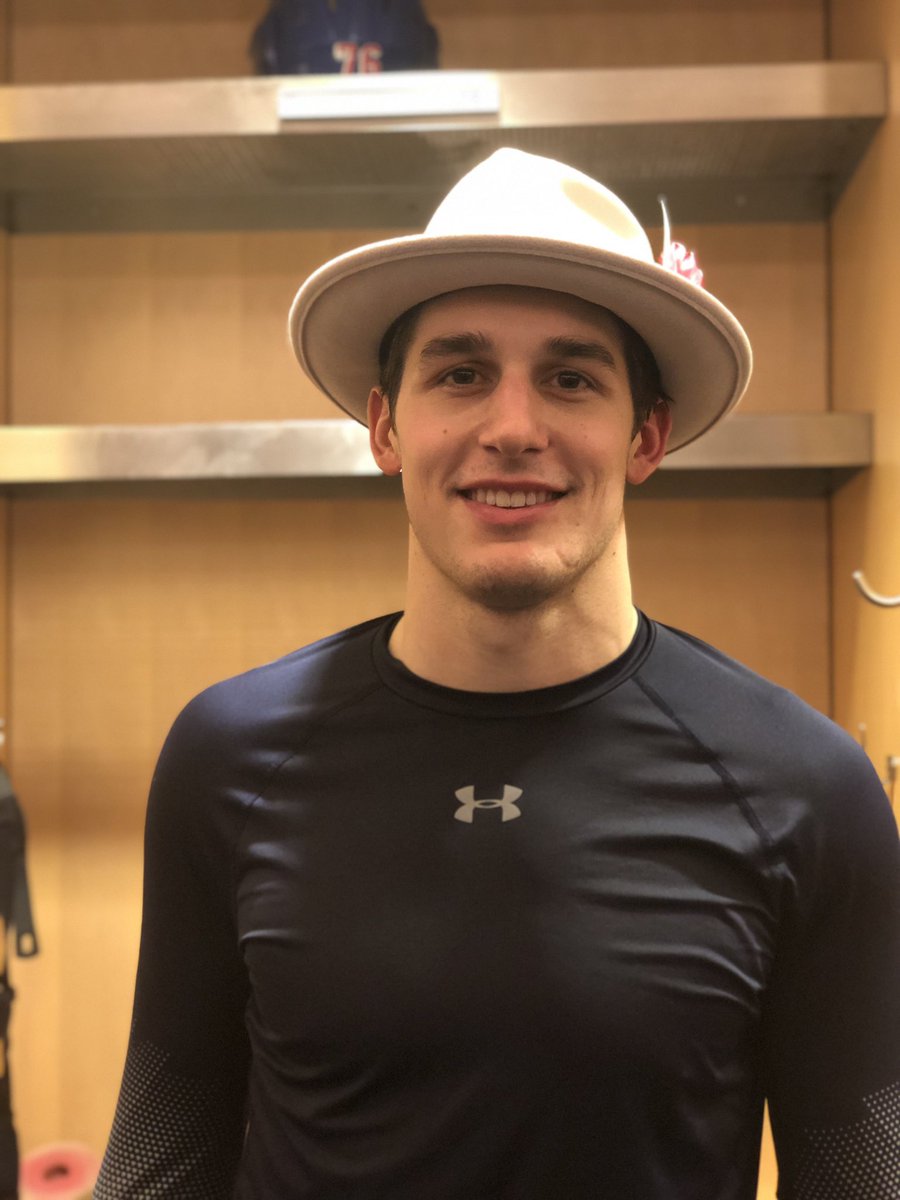 The story of this play wasn't the goal, it was the dust-up between Kreider and Gryba. Gryba took his stick and went to Kreider's balls. This led to a scrum and this animated scene:
Looks like the @NJDevils and @NYRangers rivalry is alive and well 🥊 pic.twitter.com/ag9hQV1bry

— MSG Networks (@MSGNetworks) February 23, 2019
Too bad these two only got off-setting roughing calls here. If this was a five minute major for fighting, then Kreider would've got the Gordie Howe Hat Trick! More on Kreider at the end of this blog.
At 12:59, a puck went off of DeAngelo and Devils captain, Andy Greene, was left all alone with Georgiev. 4-2, bad guys.
From here, Georgiev would make a slew of saves and kept the insurance lead in-tact.
With over two minutes to play, the Devils pulled Schneider. At 4-2, my over-under bet, which could've been a push, was in peril. Of course, the Rangers never score empty netter goals, except when I bet the under! Ryan Strome would add the final dagger with 19 seconds remaining. 5-2, good guys and that would be your final from the World's Most Expensive Arena.
In conclusion on this game, the Rangers beat a bad team. They should win these types of games. I'm also happy to see the team win in this type of fashion, as they got scoring from all over, solid goaltending and the special teams were pretty good today.
I thought the Garden was subdued a bit, because even while the Rangers were sticking the pitchfork right up that Devil ass, Zuccarello was on the back of everyone's minds. Yes, business, blah blah blah, but in recent times, like McDonagh, and Cally before him, the Rangers are about to lose one of those warrior types, a warrior with tenure. Like other Ranger fans, I appreciate what Zucc has done for this club and will miss him when he's gone.
However, as a fan, we move on.
In my opinion, this is the biggest and most important time of Chris Kreider's career. While I did hear Kreider's name mentioned in trade talks, the fact that he wasn't pulled from this game is an indication to me that he's staying.
Like Ryan McDonagh last season, Kreider has about 100 or so games left on his Rangers contract. Arguably, during the 2020 period of free agency, if Kreider doesn't re-sign with the Rangers (or is traded elsewhere and negotiates a deal) Kreider will stand to make the best money of his life. In other words, the more Kreider produces from now until then, it's only in his best interest, both career-wise and financially.
Kreider will soon be the most tenured forward on this club. (Only Lundqvist and Staal have more time with the Rangers.) Apparently, Marc Staal isn't that guy to be Captain, or it would've happened by now.
I think it's time for Kreider to show everyone how bad he wants it. He needs to step up a bit and put this team on his back. Yea, Mika Zibanejad is here, but I don't think Zibanejad is the leader that Kreider can be. Furthermore, Kreider has the tenure and has been in the trenches with this team.
The common knock on Kreider is that he's "consistently inconsistent". It's time for Kreider to shed that label and get to the next level. While I don't consider Kreider to be an "elite" forward, when it comes to building this team, he's the veteran the team should be building around.
Furthermore, in the case of Chris Kreider, the guy speaks Russian. That is HUGE, considering the Rangers have a ton of Russian players as is, and two of the most hyped prospects, two prospects that should be Rangers in 2019-2020, in Shestyorkin and Kravtsov, are also Russian.
Obviously, it's in the Rangers best interest and it's in the best interest of Chris Kreider, if he can become the true leader of this young team. I just hope to see it. I think he has it in him.
The competition will be a little bit better tomorrow, as the Rangers head to D.C. to take on the defending Stanley Cup champions. The Caps have been struggling as of late, especially Braden Holtby, who has recently lost to the Ducks and the Sabres.
The Caps played today, losing 5-2 to the Sabres. I was watching that game while watching this Rangers game today, and boy, has Holtby lost a step. I would assume that Holtby gets tomorrow off after losing today, and the Rangers will see Pheonix Copley in net.
The Capitals are currently the second seed in the Metro and are neck-and-neck with the Islanders for first place. It's too early to figure out the seeding of the playoffs right now, but first place is important with the way things look now. After all, would you rather play the first wild card or would you rather play the Penguins in the first round? For both the Islanders and the Capitals, I would want to avoid the Penguins in the first round. Again, yes, these races are too early to call, but with the way things look NOW, finishing in first place in the Metro would mean you wouldn't see Crosby and company until later on in the playoffs.
So where am I going with all of this? Simple – the Caps will be gunning for blood, especially after losing to the Sabres today. It was nice for the Rangers to do their job today and get the two points here. With Zucc and Hayes gone, we'll see what these Rangers truly are tomorrow.
Until next time, as always, thanks for reading and…
"LET'S GO RANGERS!"
Sean McCaffrey
BULLSMC@aol.com
@NYCTHEMIC on twitter
PS: I'm off to watch the Flyers vs Penguins outdoor game. I still can't believe these idiots have Elliot starting in net tonight. What a waste of this mask: