Greetings and salutations everyone and welcome to another blog here on BlueCollarBlueShirts.com. Who do you want to see added to the Rangers prior to the March 21st NHL Trade Deadline?
Before getting into the Rangers of this 2021-22 season; a few more things on Emile Francis, as the tributes, stories and memories continue to roll in.
Up first, on Monday, February 21st, three more members of the Rangers alumni released statements through the organization themselves. As talked about last blog, I was hoping that Eddie Giacomin would say something. He did just that. Here's his statement: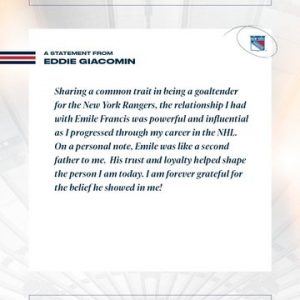 I already talked about the Giacomin and Francis relationship during my last two blogs, so I won't rehash all of that again. All I'll say is that I hope that the Rangers get a camera in front of Eddie's face soon, because as #1 said himself – Francis was a second father to him.
Also as previously discussed on this site, is the impact that Emile Francis made on Nick Fotiu's career, as Francis coached #22 in the old MJHA. Here's Fotiu's statement: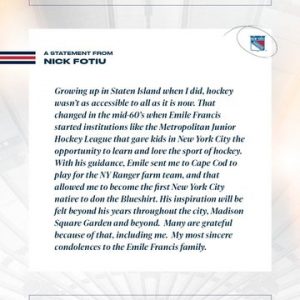 Brad Park was the other member of the alumni to release a statement on Monday. Here's his:
Of course, Park, along with Jean Ratelle, was part of the biggest trade in Rangers history, if not in all of NHL history. (Gretzky to Los Angeles would be a candidate for this distinction too, ditto Messier to New York.)
This trade, which was made on November 7th, 1975, saw Park and Ratelle land in Boston, while Phil Esposito and Carol Vadnais became Rangers. As you may imagine, this trade, which was engineered and executed by Emile Francis, will take up a ton of space in my new book. Without a shadow of a doubt, it's the most discussed trade in all of hockey history.
(This trade also had a "butterfly effect" and led to the absolute worst trade in Rangers history too, when John Ferguson, the successor to Francis, dealt Rick Middleton to Boston in exchange for Ken Hodge. I'll have a lot on this one in my new book too! Just thinking about this trade gives me a rash!)
---
Again, thanks to everyone for all of your comments pertaining to Saturday's blog, where I paid tribute to Emile Francis. (The link to that blog, in case you missed it, is located in the PLUGS segment of this particular blog.)
One comment that I received, as I continue to go through everything, was this one:
"Here's a picture of my Grand Father's jacket which I still have. He worked alongside Emile during the Guelph Royals and became the Chief Scout when Emile started as the Rangers coach. Sad day for sure!"
The person who wrote this was Billy Humphreys, grandson of Jack Humphreys, a Jack Humphreys who indeed was the Rangers top scout once Francis retired as a player.
In case you didn't know; the only reason why the top league in all of hockey today is known as the NHL, as opposed to the NHA (and as originally desired), is because hockey club franchise owners of that era wanted to rid themselves of Toronto's Eddie Livingstone – a Livingstone who was detested by his fellow club owners.
I've talked about this in-depth in the past, but long story short, before the NHL there was the NHA. The only way to get Livingstone out of the top league in all of professional hockey, right or wrong, was by shutting down the NHA, and then by starting a new league, the league which we now know today as the NHL.
In a classic case of "Tree House Politics" (No Homer's Allowed! Yes, that's a "Simpson's" reference), the NHA owners abandoned their league and then created the NHL. In turn, Livingstone was left with a one-team league, while the new league, the NHL, wouldn't let Livingstone in.
So how does all of this pertain to Jack Humphreys and Emile Francis? I'll now explain. I'll even have that pic of Humphreys' jacket for you too!
---
After retiring as a player following the 1959-60 season, Francis was sought out by several suitors to become their head coach, but as you know already – "The Cat" ultimately decided to join the Rangers organization.
In his first gig under the Rangers umbrella, Francis was named as the head coach of the Guelph Royals, a minor league team of the Ontario Hockey Association. When Francis was hired, Jack Humphreys was already employed by the Rangers, as their head of scouting.
(And if you're really into history, and the way scouting/finding prospects was done in the mid-1950's, check out this Trent Frayne article from March 31st, 1956: https://archive.macleans.ca/article/1956/3/31/they-beat-the-bushes-for-stars)
As Frayne's article will tell you (and as I'm stating here), back in the 1950s, NHL teams only had one scout. (The Blackhawks would eventually hire two scouts, making them the first club to have two men employed in this position.) Jack Humphreys was the Rangers man in this department.
Prior to the inception of having a dedicated scouting staff, general managers approached teenage players with contract offers. (One of the most famous, or perhaps infamous, stories from the early days of Rangers history? General manager Frank Boucher offering a sixteen year old Gordie Howe a job. Howe didn't want to move far away from home and would later sign with Detroit. What could've been – what could've been!)
(And speaking of Boucher and Frayne, Frayne was also the co-author of what I consider to be the Bible of New York Rangers History, Boucher's 1973 autobiography, "When The Rangers Were Young.")
In the 1950s, Frayne was talking about how the job duties of an NHL scout had evolved. He also talked about how in just thirty years worth of time, from the founding of the NHL (1917) to 1956, how it was tougher for these scouts to find prospective NHLers, than it was when compared to their peers from the past. It's these little historic gems, including this Frayne article, that really gets my hockey heart pumping! (And keep in mind, there was no NHL Entry/Amateur Draft at this time either.)
Fast-forward to today, and teams now have dozens and dozens of scouts employed, and where these scouts are dispatched all over America, Canada, Europe, Russia and anywhere else where two nets sit above a sheet of ice.
In Humphreys' day, all he had to worry about was Canada; where to be fair, travel in his time wasn't that easy either. To find the creme de la creme, you had to take many trips down roads that hadn't been traveled. In addition, I also can't imagine what it was like trying to get through the cold Canadian winters for these guys either.
Since Humphreys, who sadly died of a sudden heart attack in 1962, was already with the Rangers at the time of Francis' hiring; the two men had frequent conversations, especially since "The Cat" was tasked to coach one of the Blueshirts' top junior teams.
If you recall, when I posted my Francis tribute, I used a picture that historian Dave Stubbs took of him from several years back. Here's that picture as a reference:
Billy Humphreys, who saw my Francis tribute article on Facebook, responded with a picture of his grandfather's jacket. Here it is:
Needless to say, Francis kept his jacket in much better condition than Humphreys did!
Regardless of cleanliness issues, should you feel that way; this piece of Rangers history is a hell of an artifact for any collection. It's a piece of memorabilia that captures an important and significant time of the franchise's storied history.
And I'll have to reach out to Billy myself in order to get the full scoop – but I wonder if this jacket was beat up because of Jack's many travels on dusty roads and long train rides, rather than due to the passage of time.
---
Lastly on Francis, or at least for tonight; on Tuesday, the Rangers reconvened for practice, where this decal was spotted on their helmets:
We'll see what happens on Thursday when the Rangers play next, but it looks like they will be wearing these Emile Francis decals on their helmets for the rest of the season. I'd also expect a video tribute to Francis prior to the game as well.
As far as shoulder remembrance patches go, the team already is wearing one, in tribute to Rod Gilbert. Of course, and as you may have figured out already – the Rangers have two shoulders, and a Francis patch could easily be affixed to these jerseys as well. That's what I'm hoping for.
In addition, I'd rather see a Francis patch on a Rangers jersey than any sort of advertisement.
Soon enough, we'll see BET MGM, Draft Kings, Caesers, and every other gambling outfit known to man, with their patches littering what once was an iconic sweater. And don't even get me started on ED pills and pubic shaving devices either – companies whose ads which consume most male-targeted podcasts and websites!
---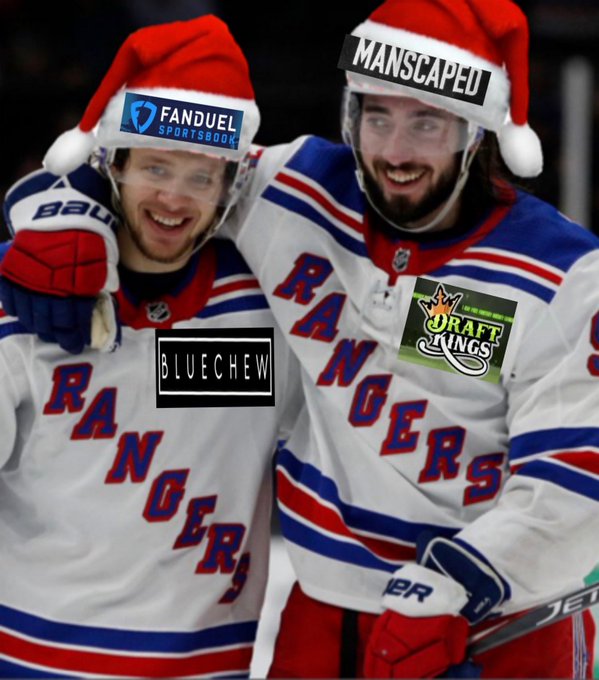 Of course, I'll have more on Francis in the upcoming days, weeks, months and years ahead; but for now, let's now talk about the 2021-22 team.
Following Sunday's victory over Ottawa, the Rangers took off on Monday. They then returned to practice on Tuesday.
The biggest news of the day was that Zac Jones was demoted to Hartford. As you'd suspect, this "triggered" a large part of the fan base, you know, the fans who want Patrik Nemeth traded for the best package possible – but don't want him to be showcased for such a potential trade either. Such faulty logic!
As stated on previous blogs, I don't go nuts and/or overreact to these daily transactions. For all I know, Jones could be recalled to the varsity team by the time you read these words.
I don't have an inside line to Drury, but as an educated guess, I feel that he and Gallant are going to showcase Nemeth as much as possible prior to the trade deadline.
And as stated last blog, I don't think Jones is the answer for a '22 Stanley Cup playoff run either.
More likely than Jones and Nemeth, is outside help, via a trade. Who that player is, I don't know. I just think, come playoff time, that Braden Schneider's third pair mate will be someone who isn't presently wearing a Rangers jersey right now. And that's an opinion – not a fact.
Head coach Gerard Gallant talked to the media on Tuesday. Here's his press conference:
---
As usual, Gallant remained cool, calm and collected, where he pretty much said the obvious – his team is playing well defensively, but he'd like to see more goals.
"The Turk" also mentioned that he thinks his team is still rusty a bit, due to the two-week vacation.
In a comment that I appreciated a lot, it was when Gallant said that he didn't care who scored goals, as long as people were scoring them. I think this helps in relieving some of the pressure on the younger guys of the team.
Gallant, when indirectly asked about Kreider's three game "goalless drought," said he didn't think that other teams were singularly focusing on trying to shut Kreider down.
As I said last blog, I think a reason why Kreider hasn't added to his 33 goals scored number during these past three games, is because the Rangers haven't had many power-plays. And to go back to what Gallant said, if you're scoring on these power-plays, as both Zibanejad and Panarin recently did during the past two games, then who cares? As long as you're scoring!
As far as anything else, there wasn't much.
---
Even with the Rangers on a three-day break, the New York Ranger beat reporters still have white monitor space to fill. In turn, all of them, including the only one that really matters, Larry Brooks, are posting all of their trade deadline ideas, and who is and who isn't "untouchable."
While I did the exact same thing during the Rangers two-week vacation; of course, my opinion, nor the opinions of the media either, matter. The only opinion that matters is the opinion of general manager Chris Drury – who at the end of the day, will make the final call. (And whatever he does, I'll support it!)
There are three new "trade-bait" names to have been sprouted from these beat reporters. One is Zedno Chara, who as mentioned previously on this site, I just don't see happening, because one, he's an Islander, and two, Lou Lamoriello has never made a trade with the Rangers.
Another name is current Islander Cal Clutterbuck, where just like Chara (and Claude Giroux of the Flyers too) – I just can't see that happening either. It's my opinion, that neither the Flyers and/or the Islanders, will help the Rangers out. Conversely, I can't see Drury taking the risk of being burnt down the line either.
Again, I don't know who is on Drury's trading block, but I can't envision any scenario where he trades Nils Lundkvist to the Islanders or to the Flyers, a scenario that could come back to bite him in the ass. It's one thing if Lundkvist becomes a stud in Dallas or Arizona – it's another if he becomes a stud within the division, and for a heated rival as well.
(It's also my opinion that the Rangers need someone for their top six, which would then make the roster deeper with the trickle-down effect. Adding more bottom six depth doesn't rectify the team's current issues, a team that never replaced top six winger Sammy Blais after the "Slewban" incident.)
The third name currently talked about is Winnipeg Jets center Andrew Copp, a close friend of Jacob Trouba. Not only did the two play together in Manitoba, but prior to that – they also played together in the U.S. juniors program, as well as at the University of Michigan.
Copp, like most players suggested at this time of year, is on an expiring contract and will become a free agent at the end of the season. In other words, he's another rental. On a down-and-out Jets team, he currently has 28 points in 47 games played.
If there was any other news from all of these reports, ideas and opinions; it's that allegedly, Phil Kessel can be had, not only for a late round draft pick, but even better – Arizona will eat 50% of his contract too.
For the Rangers, cap hits don't mean anything for them for this season, as they have plenty of space available. For other teams, Arizona taking half of Kessel's salary is a homerun.
If these reports are true, and you can land Kessel for a fourth or fifth rounder, you'd have to think that someone would've made this deal by now. I know that if I was in the big seat on 33rd Street, rather than sitting in my fart-filled computer chair – I would've already traded away a late-round pick for the Hot Dog Man.
---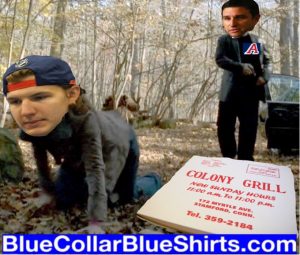 As far as the "untouchables" on the Rangers roster, it's pretty much what we knew already. None of the regulars, including Alexis Lafreniere, and now Braden Schneider, will be dealt.
Who will Drury deal, should he choose to do so? The usual suspects, as talked about before, such as Nils Lundkvist, the 2022 first round draft pick, Vitali Kravtsov, Libor Hajek, etc.
Brooks, the most plugged-in reporter on the beat, is saying that the Rangers would like to retain Filip Chytil. As you may know already, if there's one player I'd trade of the regulars, it's Chytil. Again, we'll see.
Another name being bandied about is back-up goaltender Alexandar Georgiev. We all know his last game with the Rangers will take place whenever this 2021-22 season ends. Do the Rangers try to get something decent back in return, or do they maintain him as an Igor insurance policy?
In my eyes, I think the Rangers are better off keeping Georgiev for the rest of the season. If he's dealt, so be it, but it may be better to wait until the NHL Draft to try to move him for something – even if the return are a bunch of conditional picks.
(I don't like to play fantasy G.M. on this site, but amuse me for a second if you will. Kessel for a late round pick, and then get these late round pick(s) back, when you trade Georgiev at the draft.)
Either way, Georgiev is a goner at the end of this season, as he's expressed interest in having a chance to contend for a starter's job next season. That won't happen with the Rangers, nor should it. You also can't blame Georgiev either – as he should have these feelings.
Come the off-season, and in regards to the back-up spot; I'd try to see if I could find a veteran with playoff experience, a goalie who would be willing to accept a pure back-up role to Shestyorkin. In other words, I wouldn't promote Adam Huska, nor Tyler Wall, either. For a contending team, you need someone with experience to play 15-25 games for you.
I don't know how Braden Holtby feels about becoming a bonafide #2, but he'd be worth kicking the tires over. Either way, whoever the Rangers have backing up Shestyorkin next season, it has to be someone who understands that his sole role is to be the back-up, and that he'll never challenge or take starts away from CZAR IGOR.
Let's close out with some humor.
---
If you haven't seen it already, here's a comedic video of Ryan Strome interviewing his teammates, with the topic of movies being of the utmost priority:
---
Couple of reactions:
— I didn't realize that I was like Ryan Strome, which is to mean that I've never seen a "Star Wars" movie either. I know all about the characters, like Indiana Jones, Luke Skyjumper, Debbie Reynolds' daughter, the hairy guy, the green midget et. al; and how Vader pulled a "Maury Povich" about his fatherhood too – but I've never seen one of these movies from start-to-finish. I guess I've always relied on pro wrestling for my fake fantasy fix!
— Whenever I see the last name of "Schneider," especially in regards to the Rangers, I think of the native of Manhattan himself, Mathieu Schneider. The name of "Rob Schneider" never popped into my brain, but here's Braden Schneider bringing him up! Nothing says cinematic magic like "Deuce Bigalow Male Gigolo!"
— What I like the most about these harmless videos, is that you see the team chemistry fully on display. They're all laughing it up, telling some inside jokes, using their nicknames, etc. This all goes hand-in-hand with the gelling process, where really, that's my number one takeaway from this video.
PLUGS time!
---
On Tuesday night, "The Blueshirt Underground Show," which also has a Rangers watch/viewing party this Saturday afternoon too, returned with an all-new two-hour episode. To watch the show, click the play button below:
---
And when on the topic of Ranger-themed podcasts, I believe that "2 Guys 1 Cup" will be releasing a new episode late Tuesday night/early Wednesday morning too. To find the new episode, follow them on Twitter @2G1CRangers, or check out their podcast page, over at: https://linktr.ee/2G1CRangers
---
The hardcover version of my book, available now at Amazon.com
The first plug of tonight's blog – the mandatory plug for my new book, "The New York Rangers Rink of Honor and the Rafters of Madison Square Garden".
As mentioned previously, the book is now available in hardcover, in paperback and in Kindle formats. To purchase a copy of the book, visit this link:
https://www.amazon.com/Rangers-Rafters-Madison-Square-Garden-ebook/dp/B09CM5N2WD
For those still looking for signed paperback versions of the book, I have re-ordered more copies. I now have 2 signed copies for sale at $25 a pop (includes shipping price) through me directly. Here is all the information on that:
---
Here are my last few blogs, in case you missed them:
---
---
---
---
---
If you haven't already, subscribe to this blog for the next update:
---
Up next: a few days off, then a rematch with the Washington Capitals at M$G on Thursday – a team that the Rangers haven't seen since the first game of the season.
Will Georgiev, who opened up the season in Washington, get that start? We'll find out, but it should be mentioned that Georgiev hasn't played in a while now, but at the same time – how do you have Igor sit?
More likely? Georgiev gets one of the back-to-back games over the weekend.
(And yes, I said all of this last blog too – there's just nothing else new!)
As always here, thanks for reading and…
LET'S GO RANGERS!
Sean McCaffrey
BULLSMC@aol.com
@NYCTHEMIC on Tweeter