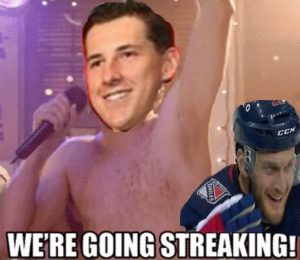 "I was thinking holy [expletive] what is he doing? And then it ends up in the back of the net." – David Quinn, 2/4/21, reacting to Anthony Bitetto's first goal as a New York Ranger. I'll have multiple clips of this goal for you in tonight's blog. For what it's worth, because after all, each goal counts the same; this Bitetto goal is now the top candidate for the biggest highlight reel goal of this young Rangers season. This goal was even better than the Lafreniere overtime game winning goal!

Greetings and salutations everyone and welcome to another blog here on BlueCollarBlueShirts.com. WHAT A WIN!
And let me preface this blog with the following – I know many people will point out that the Rangers 5-0 win over the Islanders may be bigger than this win, but when you look at the competition, the Rangers injuries, the DeAngelo drama and everything else; to beat the Caps tonight, and in this fashion, in my opinion, that is more impressive than anything else this season.
On Thursday night, and perhaps still reeling a bit with the Tony DeAngelo story still as a headline, the Rangers defeated the Washington Capitals, 4-2, and on Madison $quare Garden home ice. For the Rangers, this is their first two-game win streak of the season. If there's anything negative to say after this win, it's this – too bad Saturday's scheduled game with the Devils is postponed due to COVID-19, as the Rangers are now playing their best hockey of the season. As a result, the Rangers now have three days off, before hosting the Islanders at M$G on Monday night.
When you look up-and-down this roster tonight, there are positive things to say about everyone, including Jake "No Mistake" Trouba! (That will make my buddy Budda happy!) You can look at everyone on this roster and find something great to say about them, and that even includes the habitually snake-bit Mika Zibanejad, who once again, was fantastic during various Rangers penalty kills in this game. (He took two penalties, so he wasn't on the ice for all of the succesful NYR PK's)
If there's anything that truly impressed me tonight, and really, I have a long list of things to choose from here – it has to be the Rangers six defensemen. Even when talking about these six players, I don't know where to start!
In this game, Jacob Trouba blocked a team high and season high nine shots. Nine blocked shots are Dan Girardi in-his-prime numbers. Even better, not once in this game, did we see Trouba do his act where he shoots the puck and a golf caddie has to fish the puck out of the East River afterwards. Trouba was a monster defensively tonight. While you can make the argument that for $8M, you need some offense out of him, (that said, he did make some great passes tonight too) if he's going to play mistake-free hockey and block nine shots every night, I'll take it. I'll always have great things to say about anyone sacrificing themselves and eating rubber like a red light district worker.
Libor Hajek, making his 2021 season debut tonight, while paired with Anthony Bitetto as the team's third pair defensemen, stepped right up, and was a fine example of the "next man up" adage. Think about it – when this season started, Hajek & Bitetto weren't even on the roster, as they were on the taxi squad. Tonight, both had tremendous games and both players really made it all look effortless. There wasn't one ounce of "disconnect" between these new Rangers. They looked like they've been with this team since day one.
Of course, Adam Fox, Ryan Lindgren and K'Andre Miller, who for my money, are the top three defensemen on the team, continue to shine. Lindgren, (3 SOG) not known for his offense, even had more shots on goal than both Fox (2) & Miller (1) combined. Even better, with Tom Wilson agitating the Rangers relentlessly throughout the first period, by the time the second period started, Lindgren did a great job of making Wilson a non-factor.
In net tonight was CZAR IGOR, who in my opinion, had his best game of the season. While he gave up only one goal the game prior; in tonight's game, he was tested throughout, especially in the third period. In addition, he had one fluke goal scored against him and he allowed one goal to Ovechkin off a rocket of a shot, after another defensive zone face-off loss by the Rangers. You couldn't hang Igor for either goal allowed here and in turn, CZAR IGOR put forth a monstrous effort, making 31 saves, while facing a ton of great Washington scoring chances during the contest.
As I've said, as you've said and as everybody who watches this team knows, for the Rangers to have success this season, they need Artemi Panarin and Mika Zibanejad to get hot and at least come close to sniffing the season they each had in 2019-2020. While Panarin started off slow, he's catching fire again, as with three assists in this game, Panarin has now posted back-to-back games with three-pointers in the box score. Even better, behind Panarin's strong play, Ryan Strome is back on the horse again, as he had a two goal game tonight. And new linemate Kaapo Kakko? While Kakko was only credited with one assist tonight, he helped set up two Ranger goals in this game, returning to the line-up without missing a beat, after a one day stint on the NHL's COVID-19 list.
Right now, and after this win, the only thing that still concerns you about these Rangers is Mika Zibanejad, a Mika Zibanejad who gets about 34783837374 chances to score a game, but either gets robbed, just misses, fans or an opposing player dives right in front of his shot at the last second. Put it this way, after ten games played, Zibanejad has as many goals as Anthony Bitetto does in his two games played. Hell, Bitetto now has as many goals as Zibanejad, Trouba and DeAngelo have COMBINED, this season! Obviously, while this is great for Bitetto, for the Rangers to continue their winning ways, they are going to need Zibanejad to get out of this slump, a slump which admittedly has been effected by opposing goaltenders.
That said, if Panarin continues to be the Panarin from last season, he may be able to carry the team offensively, as his line has now done in two straight games for our beloved Blueshirts.
And oh, speaking of Panarin, I got this BLUECOLLARBLUESHIRTS.COM EXCLUSIVE NEWS, so suck on this Adam Hermtrans – FOCO.com, who made the Zibanejad bobblehead, is now working on a Panarin bobblehead. While FOCO spilled the beans about this future Panarin bobblehead to me, they wouldn't confirm that this future Rangers bobblehead will be one featuring Panarin doing his patented leg kick. However, I think it's safe to assume that's what we'll get! Anything else would be uncivilized. (Bonus points to you if you get that reference!)
And Part One: This is an exclusive, even though this news is as big as a loose hair on Rosen's toupee! And look Adam Hermtrans, I cited my sources and I'm not trying to set a world record as a hide-and-seek champion!
And Part Two: For people who may not know, this Adam Hermtrans talked so much shit about me and to an ungodly level; over my correct opinions about Henrik Lundqvist and the salary cap, where now, I'm enjoying the fact that John Davidson called out this little puke for his hateful fake news! Say what you want about my opinions, but the Rangers team president never called me "sad" or called me a liar! Adam Hermtrans can't say the same!
There's a lot to get into tonight, as outside of the game review/rundown, I also have a recap of the latest episode of Ron Duguay's "Up in the Blue Seats" podcast, a podcast that featured an interview with Dave Maloney. I also have news updates on the roster and other news tidbits sprinkled in-between. And if a Rangers win wasn't good enough for me tonight, how about this:
Lastly, as I wind this giddy introduction down, I'll kick off tonight's blog with the "Up in the Blue Seats" recap and then get into everything else. (I think this introduction is already 10 times longer than any other recap you'll find out there, but hell, that's what makes this site unique!)
At this time, the PLUGS segment! Here are my last few blogs in case you missed them:
---
---
---
To listen to the newest episode of "Up in the Blue Seats", click the link below:
Up In The Blue Seats Podcast: @MollieeWalkerr & @JakeBrownRadio chat with Rangers great @DaveMaloneyMSG

Apple: https://t.co/suAoRi8mCT
Spotify: https://t.co/hKrETBeYXb pic.twitter.com/FWEHvfAZ1n

— New York Post (@nypost) February 4, 2021
Mollie Walker opens up the show, previewing all of the topics that will be covered on this week's episode. Walker says "there will be no punches thrown here". Not for nothing, even four days after the fact, there are about 767689686 stories still out there on this Georgiev/DeAngelo thing. While I think there are partial truths in all of them, I don't think we'll get the full 100% detailed story, at least not until later on down the line. (NOTE: check the end of this blog, where I'll share some video evidence, which supports the fist-fight stories. That said, I'm still waiting to hear DeAngelo's side.)
Jake Brown does his usual spiel, asking everyone to rate and review the show. Done and done. Jake Brown mentions that Ron Duguay and Larry Brooks are both out this week, as Duguay is sick and Brooks is just not there. Get well soon Doogie!
Brown gives Walker a grand introduction, mentioning her old basketball number of #11. Hmm, a Mark Messier influence?
Walker gets right into the Tony DeAngelo situation, recapping all of it. Walker is reporting that Georgiev punched DeAngelo and put DeAngelo into a headlock. Walker then talks about the comments that JD and Gorton made in their press conference. Walker then talks about her own personal experiences with Georgiev and all the stuff he's had to go through since being here. (Subjected to BS trade rumors, being a back-up, being in the shadows, etc.) Walker says that Georgiev snapped over the comments DeAngelo made and this violent outburst was out of character for Georgiev.
Walker breaks down DeAngelo's worth to an NHL team, as a right-handed defenseman who can produce points. Walker then brings up DeAngelo's contract and how that will play into a future trade. Walker feels that the Rangers will have to throw in sweetener picks to make a trade happen. Walker then says Detroit could be an option and brings up DeAngelo's history with Detroit GM Steve Yzerman. Walker then recaps Yzerman's previous comments on DeAngelo.
Walker continues to say that DeAngelo made a "racial" slur during his time in the OHL. For what it's worth, I've always been under the impression that DeAngelo called someone a "fag", and because the word "fag" is a slur, people took the word "slur" and added the word "racial" in front of it. (Of note, there wasn't a black player on the Sarnia Sting at the time of the DeAngelo's incident in Sarnia, which is why I think DeAngelo used a word that was pretty common back then and a word that hockey players have used forever. Just read Phil Esposito's "Thunder & Lightning" book for more.)
Walker says DeAngelo is on the "immature side". I think everyone can agree with that. Walker says what team would want to take a player that had a fist fight with a teammate? How about the St. Louis Blues, who won a Cup in 2019, after their players fought among another?
Jake Brown says a common French phrase and talks about Lafreniere's game winning goal from last week. Brown recaps the recent game results since the last time "Up in the Blue Seats" had an episode. Walker gives high praise to Colin Blackwell. Brown then talks about the strong Rangers penalty kill as of late. Walker then talks about how Quinn was beaming after the team's win over Pittsburgh and how Quinn and the team needed that win. That would be an understatement!
Walker previews the upcoming schedule and how it's going to be a measuring stick for the Rangers, as tough tests against the Capitals, Bruins and Flyers are coming up.
Brown mentions his 30th birthday is coming up and also talks about the upcoming schedule. Happy birthday Jake!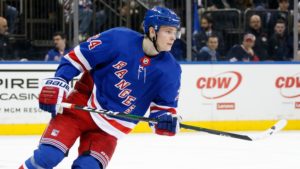 Walker then talks about the Rangers injury report and the COVID-19 list. This is all stuff recapped previously on this site. The biggest takeaway here is that Kaapo Kakko is fine and didn't test positive for COVID-19.
Producer Sarah McCrory talks about her previous bout with her cat and how she's feeling fine now. McCrory brings up how her cat keeps jumping up on her desk. It happens!
Brown brings up Trumbull, CT hero Chris Drury and how he turned down the Penguins GM job. Walker thinks Drury staying with NYR is a good thing, as she recaps what Drury has done as the assistant GM of the Rangers. Walker says what I've been saying all along – Drury is happy to stay at home and most likely doesn't want to move/relocate.
Brown then plays the recent Henrik Lundqvist video, (included later on in this blog) where Lundqvist says he's feeling better after his surgery. Walker says Lundqvist's fashion sense is still on point. Walker hopes we can see him on the ice again some day. Brown says he hopes that Lundqvist gets one more crack at the Cup.
Walker answers a fan question, regarding the Rangers defense, with the new injury to Brendan Smith. Walker brings up how Anthony Bitetto will most likely remain and how Libor Hajek is now the next man up.
After recapping all the news, the program welcomes former guest and friend of the show, former Rangers captain and current Rangers analyst, in a one Dave Maloney.
Walker asks Maloney about the importance of a team having a captain. Maloney jokes about Duguay not being on the show this week. Maloney talks about how being a captain in hockey is different than being a captain in another team sport. Maloney credits Fred Shero and Phil Esposito for making Maloney the youngest captain in Rangers franchise history. Maloney, says that due to tenure, Kreider understands the Rangers culture. Maloney says this current group needs more time playing together before a true leader emerges. Maloney says he's not sure if the Rangers are ready for a captain just yet.
Maloney makes a good point, saying that DQ seems to be the main spokesman of the team right now and a player needs to break out of the pack. Maloney would like to see a young guy become a voice, mentioning Ryan Lindgren by name. Maloney says he doesn't think it's imperative to have a captain right now.
Walker brings up how Brooks brought up Trouba and Kreider as potential candidates for team captain. Walker asks Maloney who would he name as captain if it were up to him. Maloney says he doesn't really know what goes on in the Rangers locker room right now, so he can't really come up with a name. Maloney says COVID-19 has kept him away from the team a bit. Maloney brings up Drury's time as captain of the team. Ugh. Maloney feels that Trouba could be a candidate, mentioning Trouba's long-term contract.
Maloney says the toughest thing about being a captain, was that for him personally, he was wound tight and kind of demanding. Maloney says he barely talked to Fred Shero when he was captain, mentioning that he may have had five one-on-one conversations with Shero during his tenure. Maloney says he may have ruffled a few feathers during his time as captain, but not necessarily in a bad way. Maloney says he thinks he would've been a better captain if he was a bit older and had some guidance from management.
Maloney talks about the grueling schedule and the opponents coming up. Maloney says we'll soon find out what this team is and where the franchise is. Maloney says the series from last summer with Carolina was a "rude-awakening." Maloney thinks the rest of the schedule will be a rough go for the Rangers, as the Capitals, Bruins and Flyers are all Stanley Cup contenders.
Maloney feels the current crop of Rangers just need to get experience. Brown asks Maloney what was it like playing with his brother Don Maloney. Maloney talks about all of his siblings and how they are all successful in different walks of life. Maloney talks about growing up with his other hockey brothers and how they fought as kids, but that stuff didn't happen in the NHL. Dave speaks highly of Don Maloney's entire NHL career, especially Don's executive career.
Brown brings up "Hockey Sock Rock". Maloney talks about that great 1978-1979 season and how "Hockey Sock Rock" came to be. Maloney brings up the jean commercials and how the Rangers had a contact with Alan Thicke. Maloney says that Esposito was a huge factor in making "Hockey Sock Rock" happen.
Walker jokes and asks Maloney if he can still fit into those old Sasson jeans. Maloney thinks he can, but it would be close. Maloney says he'd trade in all of his experiences to win the Stanley Cup.
Brown asks Maloney if he ever joined Duguay at Studio 54. Maloney says no and that it wasn't for him. Maloney says he could never keep up with Duguay's nightlife.
That wraps up the Maloney interview and the show. I can't believe Walker & Brown didn't ask Maloney for his thoughts on Tony DeAngelo, as that's obviously the top story in Rangerstown, USA right now.
---
All in all, this was a solid episode, as I think Walker has found her chops as a host. As a reporter, I like her work, as she's straight to the point and doesn't try to editorialize in her writings like others. During this episode of "Up in the Blue Seats", I enjoyed getting all of the latest news and the Maloney interview, even if I thought Brown & Walker should've asked Maloney about the DeAngelo situation. I do like how Brown admits that asking about Studio 54 is now his gimmick. Ain't no shame in his game!
Let's get into the news and I'll try to move quick here, as I know this is going longer than usual tonight! That said, you have three days to read this! In addition, after wins, I always enjoy taking my time with these manifestos.
---
As a result of the Brendan Smith injury on Monday night, Libor Hajek was called up from the taxi-squad, which meant that in two consecutive games, the Rangers replaced a defenseman with someone from the taxi-squad. Even better, for the second consecutive game, that taxi-squad player stepped up.
If there was any true news here, it's the fact that David Quinn has already abandoned his "alternating goalies" nonsense. While DQ was quick to point out that he wanted to give Georgiev some time to get his head together after the DeAngelo incident; really, even if the DeAngelo thing never happened, Igor should've started this game. He's the hot hand. He gives the Rangers the best chance to win. Go with your number one guy, especially when he's hot. Why cool your hot goaltender down? It makes no sense to me.
For the "FIRE DQ" crowd, this all could be twisted, as this is another example of DQ reversing course and going back on his word. If I were DQ, I'd stay away from these grandstand proclamations, and just react game-by-game. After all, there was no reason to make a public decree about alternating his goalies in the first place.
In addition, while no one in the media asked about this, I thought it also made sense for Igor to go tonight, knowing that the Rangers will now be off for three days. I'd then come back with Georgiev on Monday, due to his history with the Islanders, and then go right back to Igor the game following. We'll see what happens, but I have a gut feeling that's what we'll see. I have the feeling that DQ doesn't want Georgiev to sit for too long, and with Georgiev's history, it makes all the sense in the world to give Georgiev the start in that game on Monday.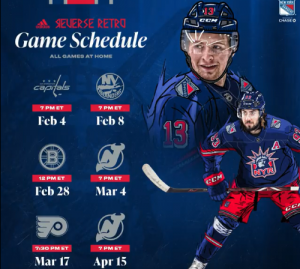 For people who care about such trivial issues, as you can see from the graphic above, the Rangers have announced the dates regarding when they will be wearing their new reverse retro jerseys. To me, I don't care what these guys wear, as long as they win. However, I do know how some fans go ape-shit about this stuff.
My only true comment about these Liberty Head jerseys is this – to me, they came off way too dark on TV, where it was hard to see jersey numbers. I never had this problem with the first run of Liberty jerseys from eras ago. That said, if the Rangers are going to win games in these jerseys, I don't give a crap how dark they may look on TV. Just win!
In other Rangers news, assistant GM and current GM of the Hartford Wolfpack, in former Rangers captain Chris Drury; Drury has told the Pittsburgh Penguins that he's not interested in their currently vacated general manager position. I don't get it. How was Drury even in the running in the first place, after he already previously spurned the Florida Panthers?
Drury, who was interviewed, basically told Pittsburgh the same thing he told Florida – he doesn't want to leave New York.
How about this "screenshot this" prediction: Chris Drury will be a general manager one day – with the New York Islanders. Why is this my prediction? Simple – with Jeff Gorton still young and doing his thing with the Rangers, unless something truly catastrophic happens, I see Gorton having a long tenure as the Rangers GM. How long can Drury work under Gorton? I think that once Lou Lamoriello calls it a career, which will be sooner than later, Drury could take that job, and still maintain his current residence in Connecticut. We'll see.
For what it's worth, while yours truly, and many of you, were not a fan of Drury as a player with the Rangers, across the league, everyone raves about his work as an executive. That's why his name always pops up whenever a GM job becomes available.
Speaking of Drury, his Hartford Wolfpack open up their season on Sunday at 1PM, as a nice appetizer to the Superbowl. Here's the information:
ICYMI👀 We got to play hockey Sunday!

And we're back at it again this Sunday! Make sure to tune into AHLTV for a FREE-VIEW of our home opener at 1pm vs Bridgeport! pic.twitter.com/YfcE7ae7yd

— Hartford Wolf Pack (@WolfPackAHL) February 3, 2021
With the Rangers now off for three days, this game could give you your hockey fix for this weekend!
One more news item and I'll finally get into this Rangers win over Washington!
---
On Wednesday, February 3rd, Lundqvist gave an update on his current health status:
I was not sure what to expect the first month after surgery. 4 weeks today and I feel strong, both body and mind filled with positive energy. Recovery is going well💪🏻😎 pic.twitter.com/62V7yGc958

— Henrik Lundqvist (@hlundqvist35) February 3, 2021
Had Lundqvist's condition not worsened during this off-season, tonight would've marked his first game at Madison Square Garden as an opponent. While it remains to be seen if ever suits up again, at least he seems to be making a full recovery, and really that's what's most important here. Good luck to him and his family.
---
Line-up wise, with the Smith injury and the returning Kaapo Kakko, we had this:
(Of note, MSGN didn't share the line-up tonight. They'll talk about everything else under the sun, but will omit the line-up during some broadcasts, and for no reason at all. Why am I complaining about this? Easy – I rather just share a screenshot of the line-up than typing all of this up!)
FIRST LINE: Kreider/Zibanejad/Buchnevich (KZB is back, as Lafreniere was demoted to the third line.)
SECOND LINE: Panarin/Strome/Kakko (Best line tonight.)
THIRD LINE: Lafreniere/Howden/Di Giuseppe (I'm not one of these "LAFRENIERE IS A BUST" people, or someone who goes crazy about time on the ice; (special teams swing TOI) but I noticed Howden and PDG more tonight, than I noticed Lafreniere.)
FOURTH LINE: Lemieux/Rooney/Gauthier (I thought Lemieux had another solid game again. Ditto Rooney. Gauthier still seems uncomfortable.)
Defensively, we had this:
FIRST PAIR: Lindgren/Fox (Outstanding, as usual.)
SECOND PAIR: Miller/Trouba (Collectively as a unit, I thought they had their best game together, rather than Miller out-shining his partner.)
THIRD PAIR: Hajek/Bitetto (Excellent job tonight from two players who no one had playing on this team, just two weeks ago.)
And as mentioned, in net was CZAR IGOR.
---
Two more things, and we're off into the actual review!
GAMBLING segment time! Here's what I said before the game:
Season over-under record: 5-4

You can shop around tonight between -6 and -6.5. #nyr games tend to go under this season, but you're going to need goals to beat this Capitals team. I'll go 4-3 Rangers, using -6, as I take the OVER. pic.twitter.com/A4yCXeryPO

— BlueCollarBlueShirts (@NYCTheMiC) February 4, 2021
With a 4-2 final, this game was a PUSH. My record this season now moves to 5-4-1.
Box score time!
The following graphics and information comes from ESPN.com:
SCORING:
PENALTIES:
GOALIES:
| | | | | | | | | | | |
| --- | --- | --- | --- | --- | --- | --- | --- | --- | --- | --- |
| SA | GA | SV | SV% | ESSV | PPSV | SHSV | SOSA | SOS | TOI | PIM |
| 33 | 2 | 31 | .939 | 25 | 0 | 6 | 0 | 0 | 60:00 | 0 |
| | | | | | | | | | | |
| --- | --- | --- | --- | --- | --- | --- | --- | --- | --- | --- |
| SA | GA | SV | SV% | ESSV | PPSV | SHSV | SOSA | SOS | TOI | PIM |
| 30 | 3 | 27 | .900 | 23 | 0 | 4 | 0 | 0 | 58:50 | 0 |
TEAM STATS (Notice how both teams couldn't score a PPG in this game. The Rangers were better than they have been on face-offs tonight, but one face-off loss in this game led to an immediate goal for Ovechkin. More importantly, look at the blocked shots. Trouba blocked as many shots in this game as the Capitals did as a team.)
---
I have no witty banter about Steve Valiquette tonight. As I always say on this site, if I'm going to bury something, I'll also give something equal praise, when it's warranted. While I don't think Valiquette was great or anything tonight during the pregame show, at least he spared us from two segments of stupid charts and tales from his legendary 46 game career, unlike the last broadcast. (Vally wouldn't be able to help himself in the intermission segments though, as Vally talked about his career once again. At this point, Vally talking about his career is as frequent as Micheletti saying "FABULOUS", where it's now comical.)
Speaking of Micheletti and "FABULOUS", with the Rangers having a "FABULOUS" game, Micheletti broke the "FABULOUS-O-METER" tonight, as I lost count of how many times he said that word, at around the 50th time he said it.
And for all of Vally's charts, I'd love to see him bust out the pie-graphs and hieroglyphics, when explaining "EXPECTED HIDING PLACES" for Adam Hermtrans. It's been over 72 hours since JD refuted the made-up reporting of Hermtrans and Hermtrans still remains radio silent. Very irresponsible if you ask me! You make up some garbage report that the Rangers said was made-up, yet no retraction yet from Blueshirt Bullshit Banter. What hypocrites. This also tells me that Hermtrans has no morals or any sense of responsibility.
Also of note during the pregame show, Michelle Gingras interviewed Bitetto, who like Valiquette swimming in a pool of spreadsheets, remains happy as ever; as you can't wipe the grin off of Bitetto's face, as he loves playing for his hometown and childhood team of the New York Rangers. Little did we know at the time, that Bitetto would soon appear on every NHL highlight show after this game!
While I don't want to get into repeats about Bitetto, I'll say this. As you know, I live about 5-8 minutes away from Bitetto. I also have mutual friends of his. On Wednesday, while doing errands around my town, I was wearing Rangers gear. In three of my stops, someone stopped to talk to me about the Rangers, where they relayed to me how they knew Bitetto. While who knows if some of these stories were exaggerated or not (I don't think they are) it seems like everyone on Long Island is pulling for him. I know I am, as it's nice to hear about a local success story with your favorite team!
Finally, and about 6000 words later, puck drop time!
---
This game didn't start pretty, although the Rangers would go on to dominate the first period. The Rangers would lose the opening face-off, but after Ovi fanned on a shot, Panarin would get the puck. Panarin, who as mentioned on prior game recaps, now has a tendency of being stripped of the puck and at a frequent rate. Panarin would get stripped of the puck here, which led to CZAR IGOR making a FABULOUS save on Ovechkin, just seconds into the game. Had Ovechkin scored here, it would've been another early goal allowed and it may have taken the wind out of the Blueshirt sails. Instead, Igor makes a humongous save on his buddy, (Ovi & Igor, as talked about this summer, practiced/trained together in Florida) and the Rangers got a break. For all the people out there, including Larry Brooks, who talk about how CZAR IGOR needs to make the "extra save", Igor did just that tonight.
After Igor denied the Great 8, the Rangers marched down the ice, and just 1:41 into the period, Adam Fox made things happen, ONCE AGAIN:
Sam is FIRED up…Strome gives us the 1-0 lead pic.twitter.com/uI92E4n7Bb

— Rangers on MSG (@RangersMSGN) February 5, 2021
1-0, GOOD GUYS!
On the goal, Panarin got the puck to Fox at the point, Fox blasted the puck on net and Strome skillfully and deftly tipped/deflected the puck underneath Vanecek's crossbar. Fox has been making plays like this all season. You love to see it! And hell, for all the shit some of these losers on social media give Strome, I was happy to see him get this hardworking goal, as he screened Vanecek and was in the right position to make this happen.
From here on out, it was mostly all Rangers, where even as a Rangers fan, you were left shocked, as no one expected the Rangers to dictate the tone to the Caps here.
In some funny business, Ryan Lindgren slammed Wilson into the boards. Later on, Ovi and Wilson would double-team Lindgren with a hit. Wilson would pester the Rangers throughout the period, but for as much as Wilson agitated, Lindgren was right in the face of the Capitals all game, taking no shit from anyone.
4:47 into the period, Nick Dowd was all over Trouba where Dowd was called for holding. They could've even called hooking here too. However, because I've been so critical about Trouba this season, let's point out how Trouba drew a big penalty here, a penalty which could've made this game 2-0; had the Rangers been able to score a PPG!
The Rangers PP1 unit dominated the puck here, where Vanecek absolutely robbed Zibanejad from another one of his 76786868978 one-timers from Ovechkin's office. I feel bad for Zibanejad, because he's doing everything right but he just isn't being rewarded for it. Last season, all these shots go in. For whatever reason, whether it's hot goaltending or what, Zibanejad couldn't score if he was in a cheap whorehouse with a fistful of $100 bills. All you can do is shake your head and laugh. Hopefully, the goals will come, because it's not a case of Zibanejad "sucking" or anything like that – it's just a case of Zibanejad not having any puck luck. I think that once one of these shots go in, he'll get going, just like Panarin and Strome.
8 minutes into the period, NYR were out-shooting the Caps 9-1 and Trouba already had three shot blocks. While Igor had a huge test tonight, Trouba helped out Igor's grade in this game.
After a Trouba shot block, Zibanejad tried to feed Fox, but couldn't connect on those infamous cross ice passes to nowhere. On the next Caps possession, Trouba blocked another shot. Watching Trouba tonight, all I could think of was my buddy and blog reader Budda, who has been in Trouba's corner this whole way.
Igor would continue to heat up in this period, as he made saves on Wilson, Ovechkin and others. While the Rangers played great tonight in front of Igor, when Igor's number was called, he answered the bell.
As the period progressed, Sam Rosen plugged Tik-Tok again. I have to give Micheletti credit here, as his timing was perfect. Rosen plugged Tik-Tok and rather than digging right in, Micheletti stayed quiet for comedic effect, and then said, "I know you're waiting for me to say something Sam." I know many of you disagree with me, but I think Micheletti has been great and FABULOUS this season.
As we got to the halfway point of the period, Trouba fed Howden with a great pass for a breakaway, only for Oshie to help break it up. Howden got a shot off but Vanecek made the save. Again, Trouba had a beast of a game tonight.
On the next Capitals possession, Fox broke up a two on one chance. While the Rangers were bringing the noise and the funk in this period, it still remained a one-shot game.
With 5:27 to go in the period, Zibanejad put the Caps on the power-play after blatantly tripping Wilson. I wonder if Zibanejad will now become a healthy scratch? (I know that joke will get old soon enough!)
In one of Trouba's best moments, he'd block an Ovi blast during the Caps PP and clear the puck.
Following this, Vanecek made a great save on a streaking Chris Kreider. Miller came close to hooking up with Trouba, but the puck just missed the sweet spot. Vanecek would then stop Lemieux from near the blue paint.
PDG, who has been having a solid season, would chase Orlov down the length of the ice, where PDG ultimately stripped Orlov of the puck. What a great defensive play!
After one period, the score remained 1-0, GOOD GUYS. SOG saw the Rangers up 14-8, while the Caps had a 11-9 face-off advantage. You also felt that a fight was brewing with Wilson, but it never came. The fighting would eventually come, but only after the Rangers secured a 4-2 victory.
---
After our "SECOND PERIOD, WHAT DO YOU LOOK FOR HERE JOE?" question from Rosen, a question where I'm still waiting to hear Micheletti respond with, "a power-play goal, ya ding-bat!", the Caps once again won an opening period face-off, where this time, CZAR IGOR was forced to stone Tom Wilson.
On the next Rangers possession, Vanecek would stop Panarin. Back on the other end of the ice, Igor would make a save and try a homerun pass to Lafreniere, which didn't connect. That said, we all know about Igor's puck-handling skills, and this was the first time this season where we saw Igor try to get offensive with the puck. You can see his confidence is back.
As Trouba continued to block shots, one shot that got through was by Chara, as the puck made a thunderous sound off of Igor's chest.
With 14:49 remaining in the period, Hathaway slew-footed Bitetto. Give it up to Bitetto, he's such an offensive threat that people are now tripping him up!
The Rangers power-play here was the same old shit – pretty passing, Zibanejad with his one-timer that gets stopped and no PPG. In fact, during this PP, the Rangers wouldn't get a SOG.
As the period neared the half-way mark, Anthony "Effing" (I don't like to use the f-word on this site) Bitetto, scored the prettiest goal of the season, not only for the Rangers, but in all of the NHL. There are a bunch of replays to share here, and I'm going to give them all to you:
Long Island's finest Anthony Bitetto puts the Rangers up 2!

Island Park get pumped 🥳 pic.twitter.com/6I5TY5EOan

— Rangers on MSG (@RangersMSGN) February 5, 2021
Bitetto skating circles around the Caps for his goal 🇮🇹 pic.twitter.com/MoAq4wooxl

— Rangers on MSG (@RangersMSGN) February 5, 2021
Anthony Bitetto got hit into the glass so hard it broke the Goal Cam… but he went through it like it was nothin on his goal 💪 pic.twitter.com/bIyQ0wxZI0

— Rangers on MSG (@RangersMSGN) February 5, 2021
You've heard me rave about Tony D. on this site during these past few seasons. Now, it's all about Tony B.!
I had to share all the replays here, because my words wouldn't give this goal any justice. Here you have Tony B., a defensive grinding defenseman, skating through four Capitals and finishing off Vanecek with a backhand, as if Bitetto was a pimp slapping a crackhead hooker at "The Plantation" hotel in Island Park! What. A. Goal!
And yes, while I'm going to be like Adam Hermtrans and flat-out make something up to you right now – after this goal, I heard fireworks outside of my house! All jokes aside, Island Park was blowing up, as everyone was going nuts about this, just like every Rangers fan.
What a moment for Bitetto. Call me empathetic or sappy as I approach the age of 40 (I turn 39 this year), but I love stories like this. If Bitetto never does anything again, he'll always have this play, scoring this FABULOUS goal for his favorite team.
And I'll go even further here – once Bitetto scored this goal, while I always root for the Rangers to win, I really wanted the Rangers to win even more, or else this goal would've become a secondary story. Instead, it's one of the best stories of this game.
2-1 GOOD GUYS!
---
After the Bitetto goal, Vanecek absolutely robbed Buchnevich, preventing the Rangers from taking a two goal lead.
At the 10:42 mark, Zibanejad took his second penalty of the game, this time for slashing Wilson. I doubt DQ will make Mika a healthy scratch next game. (I know, I know, I know, I gotta retire this joke from my playbook!)
CZAR IGOR would absolutely dominate on this NYR PK, even taking a puck to the jaw from Ovechkin. However, after a brief stoppage, Igor shook it off and continued to play.
As the Capitals PP expired, and with 6:58 left in the period, Vanecek made a bone-headed turnover, where he left his net completely open. Strome, admittedly from a bad angle, absolutely missed the wide-open net here. Had this gone in, who knows, perhaps Strome finishes up with a hat-trick tonight!
Gauthier, who hasn't been hot since returning to the line-up, made a god awful turnover, where "THE PRAYING MANTIS" K'Andre Miller bailed him out, forcing a turnover the other way.
With 5:29 remaining in the period, Richard Panik high-sticked Miller. In other words, DICK PANIC sticked Miller. Oh Joe, what a bad joke Joe!
This Rangers power-play was completely awful here, as the Capitals PK ate up the Rangers PP like Valiquette inhaling a Swedish meatball.
At the 3:20 mark, the Rangers took a too many men on the ice penalty. Since the Rangers won this game, no one is calling DQ out for this, as DQ has previously said all of these too many men penalties are on him.
Two great plays happened on this NYR PK. Fox made another play to break up a 2 vs 1 Caps chance, blocking a cross ice pass near Igor's door step. For all this talk about who the next NYR captain should be, maybe the Rangers hold off for a bit and give it to Fox. Fox remains my team MVP so far.
With every Ranger standing and watching, and as Ovechkin went to his office for his patented PP one-timer, CZAR Igor slid to his right post and easily swallowed up Ovechkin's blast. Igor just made this look way too easy. I don't know if this was a set defensive play or what, but all the Rangers kind of clogged up the middle, left Ovi wide-open and Igor just sat and waited for Ovi to take a shot. Igor was lights-out!
With 1:03 remaining in the period, the Capitals would get a fluke goal to make this a 2-1 game. On the goal, Michael Sgarbossa fired a puck at Igor and the puck went up in the air, like a lazy pop-fly at Yankees Stadium on a Saturday afternoon in July. On the rebound, Hagelin tapped the puck in. The refs went to review the play, and we even had a horn from Toronto, as it looked like Hagelin's stick may have been high. However, it wasn't and the goal stood.
And whether it's Lundqvist, Georgiev or now CZAR IGOR – it doesn't matter. Ex-Rangers always find a way to score against the current NYR. I should also add here, this was Hagelin's first goal of the season.
With 9.2 seconds left in the period, Howden slashed Hathaway. The Rangers would kill the 9.2 seconds of PP time here, but would then open up the third period on a 1:51 PK. The sound you heard here was every Rangers fan taking a deep breath, while their assholes puckered up and got tighter than a snare drum.
2-1, GOOD GUYS, after forty minutes.
---
After Vally talked about "nice dumps", we went to the third period. Speaking of nice dumps, if Vally is impressed with that, he should come to my house after I finish off a handle of Proper 12 whisky! Vally would then later go on to talking about "dripping", as if he was a war veteran talking about the clap he got from Korea.
With the Claps Caps on the power-play, both Ryan Lindgren and Mika Zibanejad were FABULOUS, as they produced multiple clears. While Zibanejad can't buy a goal these days, he's been an extremely effective PKer.
Five minutes into the period, Panarin took a shot that Vanecek didn't even see, but since Vanecek was in the right position, he made the save.
Libor Hajek, who was strong in his 2021 debut, would stop a streaking Hagelin and as a result, cruised the puck out of the Rangers d-zone.
Trouba would also continue to block shots, as his partner K'Andre Miller blocked a shot from Ovechkin too.
At the 7:55 mark, Ryan Strome and Artemi Panarin, on a two on one, executed this perfect give and go goal:
2nd of the night for Strome 🎯 pic.twitter.com/5QgcRHkhXW

— Rangers on MSG (@RangersMSGN) February 5, 2021
3-1, GOOD GUYS!
On the goal, you couldn't have pulled this play off any better than Strome and Panarin did. As a Strome fan, I'm happy to see him succeed!
As we got under the ten minute mark, CZAR IGOR stopped Ovechkin twice, meaning that Igor how now made six saves on Ovi at this point. Before I could even get the words "Hank who?" out of my mouth, on the next play, Backstrom won a face-off and Ovechkin blasted a puck right by Igor at the 11:01 mark. Me and my fat mouth, what a jinx.
If anything, this goal allowed exemplified one of the Rangers biggest weaknesses this season, which are face-offs. While the Rangers didn't killed at the dot like they have been during previous games, this was a set play by the Caps after a face-off win.
3-2 GOOD GUYS, with just under 9 minutes remaining. Heart attack hockey time.
At the time, I thought the Rangers should've taken a timeout, because the Caps were all over the Rangers from this point out. At 11:59, we saw an absolute horrid call from the official, that set off a mass reaction of F-bombs among Rangerstown, USA:
Embellishment for Kakko!? pic.twitter.com/l1is2KeLPN

— Rangers on MSG (@RangersMSGN) February 5, 2021
You know I try to not use the F-word on this site, but really, WTF? Dillon BLATANTLY trips Kakko and Kakko gets called for an embellishment? Hands down, this is one of the worst calls I've seen in years, a call that rivals that horrible call from that Vegas/San Jose Game 7 from two seasons ago. Without question, these officials should not only be fined, but should be suspended for a game too. This should've been a Rangers power-play, and while the NYR PP hasn't been so hot, at the very least, it would've killed two minutes off of the clock.
I don't want to go 10,000 words on this one call, but really, this call was DREADFUL, HORRIBLE, UNACCEPTABLE AND DOWNRIGHT INEXCUSABLE! There wasn't anything to suggest that Kakko tried to draw this call, much less "sell" this call. The refs effed up, no ifs, ands or buts about it.
Thankfully, on the two minutes of four on four foreplay, the two teams would remain at 3-2, in favor of the Rangers.
With the teams back at even strength, PDG would make an amazing defensive play and set up Howden. No dice. Right after, Panarin would shoot just wide.
At the two minute warning, the Rangers had the puck. With 100 seconds left, the Caps pulled Vanecek, as it felt like time had just stopped, as the Caps went on their 6 v 5 attack.
Panarin, who always remains unselfish, wouldn't look at a wide open net during this empty net situtation. Instead, he tried to feed Strome, in an attempt to get Strome a hat trick. This try didn't go as planned.
After one last Capitals rush in the Rangers zone, Zibanejad was able to get the puck to Buchnevich and with 26.7 seconds remaining, Buchnevich easily put the puck into the Caps net. 4-2 GOOD GUYS, 4-2 YOUR FINAL! Bada-bing-bada-boom, the Rangers were the hottest team in the room!
Of note, after the game, it looked like Lemieux tripped Vanecek, which then set off two fights, with Rooney v Dillon and Bitetto v Hathaway. It's a shame these two teams don't play tomorrow, but they will play a back-to-back series later this month.
If this victory wasn't enough for you, the Tony DeAngelo haters got a bone. Check out this post-game reaction in the Rangers tunnel:
IGOR I CAN'T LMFAO pic.twitter.com/NuFtbY3Gbz

— Aidan (4-4-2) (@AidanNYR) February 5, 2021
As clear as day, CZAR IGOR mocked Tony DeAngelo here, threatening a fight with Artemi Panarin. According to Adam Herman, Igor and Panarin had a brawl over Panarin stealing Bitetto's puck from his first goal as a Ranger! For good measure, Herman is also reporting that Kaapo Kakko's middle name is Keith and that pisses off K'Andre Miller! (Joke credit: Ricky Otazu.)
Seriously speaking, because as we all know, and as JD confirmed, regarding Adam Herman and the way he's a sneaky little liar; this Igor/Panarin postgame was something else.
You know how I feel. I'm a Tony DeAngelo fan and I wish him the best moving forward. I've reported and talked about all of this on this site previously and how TDA was well-liked in the locker room. After all, it was TDA in the Derek Stepan role in all of those MSGN segments, where TDA went around the locker-room and interviewed teammates. On TDA's podcast, he had teammates on, where they all pumped each other's tires up.
However, when I see this, whether it was CZAR IGOR making levity of a situation or something else, such as perhaps a disconnect between TDA and the Russian Rangers; without question, this was 100% CZAR IGOR joking around about what happened with DeAngelo and Georgiev. And to be clear, in no way, shape or form, is this Igor mocking Georgiev. This was Igor mocking DeAngelo. (If you notice, Georgiev was right there, which is why I think this was Igor's attempt of making Georgiev laugh.)
Even an ardent DeAngelo fan like myself must admit this, especially with the Rangers on a two-game win streak and after seeing Igor and Panarin here – maybe the Rangers are better off without him. When I saw Igor and Panarin here, this looked like their way of feeling elated about DeAngelo's dismissal. If they were truly upset about DeAngelo being kicked off the team, I doubt they'd joke around like this, especially knowing that they'd be on camera.
When the DeAngelo incident happened, I said this could be the catalyst for the Rangers downward spiral or an event that could bond the team together. Two games into the "Post TDA Era", the Rangers look united.
I'm not Adam Hermtrans and trying to play news reporter here, I'm just giving you my opinion. However, facts are facts, and the Rangers are now 2-0 without DeAngelo and when it comes to Igor and Panarin, they seem happy about it. Just like Maloney said in "Up in the Blue Seats", I'm not in that locker room, so I have no clue how these guys feel. I just know what I saw here.
And just to give you an update on the future of DeAngelo, it's being reported that many teams are interested in DeAngelo, with the Calgary Flames and Detroit Red Wings looking to be the front-runners to land him right now. For DeAngelo, just a week ago, he had a dream job, playing close to home. Now, he could be buried in Western Canada, some 3000 miles away from his family and in a different country. Time changes everything. However, as Gorton said in his press conference, DeAngelo was warned, DeAngelo challenged Gorton and Gorton wasn't going to be made out as a liar, as if he were Adam Hermtrans.
---
Quick plug: The Blueshirt Underground Show returned this past Tuesday night, where I believe they had their longest and one of their best episodes ever. You can watch their show here:
If you haven't already, subscribe to this blog for the next update:
---
This was a huge win for the Rangers. As a result, they are now one point out of a playoff berth. That said, with three days off, come Monday, the playoffs could be further out of reach, as the team hits the 20% mark of the season. In other words – plenty of time left, although there is a lot of tough competition ahead.
As far as this site goes, I'll definitely be back Monday night. If the Rangers make the DeAngelo trade official before Monday, I'll come back and talk about that. In the meantime, I'm back to working on my "New York Rangers Rink of Honor" book, hoping to see my new niece, and oh yeah, the Superbowl is on Sunday! My prediction: Bucs 34 – Chiefs 31. Brady cements his status as the GOAT.
As always here, thanks for reading and…
LET'S GO RANGERS!
Sean McCaffrey
BULLSMC@aol.com
@NYCTHEMIC on Tweeter
Follow the BlueCollarBlueShirts.com Facebook Group by clicking this link: https://www.facebook.com/groups/1564026407193056/