Greetings and salutations everyone and welcome to another blog here on BlueCollarBlueShirts.com. I need a nap!
As I write these words late Friday night/early Saturday morning, I'm currently inside of my hotel room in Downtown Buffalo, awaiting my buddy/neighbor/fellow road-tripper, "TEN O'CLOCK TOMMY," to pass out.
Before you come up with something sick-and-twisted – whenever T.O.T. and I go on the road to watch the Rangers, we have a deal that I'll stay up an hour or two after he falls asleep (an easy feat – I'm a night owl anyway), and for one reason only – I tend to snore so loud that it's been alleged that I can wake up the dead.
However, this theory was put to the test earlier on Friday afternoon – but more about my trip to the grave site of Millard Fillmore in just a bit!
---
Following the Rangers' "WHEW" 4-3 shootout victory over the Montreal Canadiens from Thursday night; just hours later, T.O.T. and I made our way to JFK airport – where right away – our flight was delayed by one hour – not the best way to start a road-trip.
Worse than that, was being stuck inside of JFK, and when looking to kill time, sucking down a $22 Bloody Mary that was so bad (HOW BAD WAS IT?) – that with each sip, it felt like spackle being applied to my colon.
Immediately after drinking one of the worst airport cocktails I've ever endured in my life (and that does say a lot), and perhaps following a five-minute "echo session" over the toilet too – finally – we were allowed to board our aircraft.
Come 11:30AM, we were now in Buffalo, and where upon our own touchdown, so was the snow.
By the time we had claimed our luggage and picked up our rental car – BOOM – the snow had begun to stick. Nearly twelve hours later, and as I write these words – there's about two inches of snow here – but where it should also be said – all roads are clear, as this city is used to the wintry conditions.
As previously mentioned on this site; in addition to my affinity and fandom of all things Rangers' history, is also my love for all things related to American history.
Once inside of the rental car, where an Expedia coupon saved us 33.3%, and since we couldn't check into our hotel just yet – we drove ten minutes to Main Street – and just like anyone else on  a "vacation" – visited a graveyard!
As we pulled into the Forest Lawn Cemetery in Buffalo, we were told that Rick James was somewhere among the tens of thousands of people who now call this huge piece of land "home" – permanently at that.
However, we weren't there to see the longtime fan of crack-cocaine – and ironically, due to the "snow" – we weren't going to take the time to figure out where he was.
Instead, we were there to see Millard Fillmore, the 13th President of these United States.
While these photos aren't exactly the best, due to the freezing cold temperatures (and I was wearing my "flying shorts" too – which didn't help matters); here's the resting place of one of the final pre-Civil War Presidents – and an "accidental" leader too.
(Fillmore, then Vice-President at the time, took over the White House following the untimely death of President Zachary Taylor.)
Here are the pics:
---
---
---
---
---
---
---
---
---
Once paying our respects to Mr. M. Fillmore, or as T.O.T. refers to him as, "Uncle Milly;" we decided to grab a bite at one of the places that was recommended to me by you guys & gals, "Chris' Sandwiches."
Since I do a better job than the actual people who are paid to cover this team (sans Larry Brooks); let's take a page out of their book and share some pictures of my meals!
Here's what I had for lunch, a coppacolo and sausage sandwich:
---
Just one hour into our trip – we had already visited a U.S. President and ate like English Kings.
Not too shabby!
As far as "Chris' Sandwiches?" It was pretty good – and I had the feeling that would be the case, because as we sat down, so did members from the Buffalo SWAT team, police department and fire department. However, as far as an "Italian" hero goes? It wasn't as good as I can get back home!
After all of that, we finally checked into our hotel, where we found out why we saw so many young hockey players on our flight – there's some huge high school hockey tournament taking place this weekend, and directly adjacent from where the Sabres call home (KeyBank Center).
Also revealed – the Rangers had just finished practicing – where music to our ears – not only was Tyler Motte back, but so was Ryan Lindgren.
(And since I'm typing this up on my crappy little laptop, I can't go as in-detail as I'd like to right now. That's also why you might find some typos and formatting errors tonight too – as this laptop has as much life left as Fillmore does these days!)
Following the skate, not only did Gerard Gallant conduct his daily "TURK TALK," but both Lindgren & Motte spoke too.
Here are all three interviews:
---
---
---
The biggest takeaway from all three interviews was that Lindgren and Motte remain as "day-to-day;" but it's highly likely that they return to Gallant's line-up on Saturday. What another excellent event to take place during my road-trip!
As far as anything else, Motte bit his lip a bit and said he couldn't say what he really wanted to say about Austin Watson, but did say that he felt the hit was dirty and disgusting.
Lindgren said that all of the time off had been "boring" (which is kind of funny, as Miller said the exact same thing following his suspension); and how he's had a similar injury as the one he has just overcome – but it took longer to heal during this go-around.
When it comes to "THE TURK," the head coach continued to preach that the team needs to focus on defense and limit the turnovers.
And somewhat like Motte, the bench boss also bit his lip a bit, as he did tease changing lines again – but only in the event that his team continues to play like they did in Montreal.
Let's not have that event happen please!
Also of note, Chris Kreider took the day off, following his missed hit from Thursday night. However, this "maintenance day" won't amount to much, as the longest-tenured Ranger is expected to play on Saturday afternoon – and where JONNY BRODZINSKI will either be scratched or returned to Hartford.
---
As the day-turned-into-night, we decided to hit up the local casino, where like everything else in this town – was a convenient five-minute UBER ride from our hotel.
As someone who has visited a bunch of casinos in my life, this was one of the worst casinos I've ever been to, as the joint was tiny, the drinks weren't free, the Sports Book was more of a "Sports Closet," and all of the restaurants had shuddered their doors by 9PM.
Needless to say, the Seneca Creek Casino isn't exactly Las Vegas or Atlantic City!
After an hour or so, where we couldn't find our favorite slot machines – "Wheel of Fortune" and "Willy Wonka;" we decided to head over to "Gabriel's Gate," a favorite restaurant of Buffalo locals – and a wing spot that came highly recommended to me from several of you readers.
(And after dining here? The wings are at best, the second-best reason to visit this establishment. In other words – this place is more than just wings.)
"Gabriel's Gate," which was established in 1864, and without a shadow of a doubt, the old-time restaurant/bar lived up to the billing:
---
When I first posted these pictures on Twitter, some readers messaged me and told me that WINCE Mercogliano was there – but I didn't see him.
Perhaps he was having a conversation about "EXPECTED STATS," and all of the other junk that he copies & pastes from NaturalStatTrick, with one of the many animals that had previously found themselves on the table of a taxidermist!
This bar/restaurant felt like something out of the days from the American Revolution, as there were cozy tables all over, many past prizes of hunters adorned on the walls, fireplaces and other stuff that made you feel like you were dining & drinking at "Fraunces Tavern."
(But of course – and unlike the days of old – no smoking. And if you're K'Andre Miller – no spittoons either!)
Better than all of that – the food was, and as Joe Micheletti would say, "FABULOUS"  – and easily the best we've had thus far on this trip.
While we will be going to the "Anchor Bar" tomorrow, the place that claims to have invented the chicken/buffalo wing, and a place that today, locals consider as a tourist trap; "Gabriel's Gate," a place for locals (and where in addition – our hotel concierge told us to go here too), lived up to the hype.
Not only did the much-hyped wings live up to the billing – but so did my Reuben sandwich!
And yes – between all of the food (I NEVER eat like this at home) and all of the booze (I DO drink like this at home) – I now need a nap!
---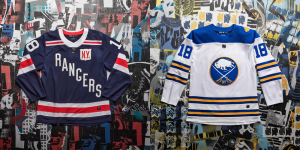 Going into Saturday's 5PM late matinee; I do have high hopes for the Rangers to come out swinging. However, I'm also nervous about the home team, as the Sabres, looking to reach the playoffs for the first time in twelve years, were just blown out 10-4 by the Dallas Stars this past Thursday night.
As you may already know – teams who get embarrassed usually tend to get up and seek revenge in their next game. Of course, the Rangers will be the team that the Sabres look to extract a pound of flesh from.
The Rangers can't fall into the trap – and must kick the Sabres when they are down – and continue to thwart Buffalo's playoff hopes.
I am expecting to see Jaroslav Halak in net – and loud ovations for the hometown kid, Patrick Kane.
Furthermore, this may be a young audience, between the start time and the fact that there are thousands of high school kids in town for a major tournament.
I'll most likely be back late Saturday night – with a few comments about the game (not a GAME REVIEW) and where I should have about a hundred or so pictures for you too.
Until then, bed time for me, and as always, LGR!
PLUGS TIME!
---
My first plug of tonight's blog – the mandatory plug for my book, "The New York Rangers Rink of Honor and the Rafters of Madison Square Garden."
As mentioned previously, the book is now available in hardcover, in paperback and in Kindle formats. To purchase a copy of the book, visit this link:
https://www.amazon.com/Rangers-Rafters-Madison-Square-Garden-ebook/dp/B09CM5N2WD
For those still looking for signed paperback versions of the book, I have re-ordered more copies. I now have a few signed copies for sale at $25 a pop (includes shipping price) through me directly. Here is all the information on that:
---
My four-volume set of books, "One Game at a Time – A Season to Remember," is a game-by-game recount of the Rangers 2021-22 campaign.
My second title as an author, "One Game at a Time – A Season to Remember," is now available in eBook, paperback and hardcover formats.
To obtain signed copies, visit: https://bluecollarblueshirts.com/onegamebook/
To purchase all four volumes on Amazon, visit: Amazon.com – "One Game at a Time."
---
The greatest volume-set of books on Rangers' history today!
"Tricks of the Trade – A Century-Long Journey Through Every Trade Made In New York Rangers' History," a four-volume set of books that meticulously covers every trade made in franchise history, is now on sale.
All four volumes of the title can be purchased on Amazon.com and are presented in three different formats – eBook, paperback and hardcover.
To purchase Volume I: Conn Smythe (1926) – Craig Patrick (1986), visit Amazon.com
To purchase Volume II: Phil Esposito (1986) – Neil Smith (2000), visit Amazon.com
To purchase Volume III: Glen Sather (2000-2015), visit Amazon.com
To purchase Volume IV: Jeff Gorton (2015) – Chris Drury (2022), visit Amazon.com
To purchase signed copies of all four volumes, visit https://bluecollarblueshirts.com/tricksofthetrade/
---
Here are my last few blogs, in case you missed them:
---
---
---
If you haven't already, subscribe to this blog for the next update:
---
Don't forget to order my new four-volume set of books, "Tricks of the Trade!"
If you don't order through me, all four volumes are now available on Amazon.com
For more details, check out: https://bluecollarblueshirts.com/tricksofthetrade/
Thanks for reading.
LET'S GO RANGERS!
Sean McCaffrey
BULLSMC@aol.com
@NYCTHEMIC on the Tweeter machine