Greetings and salutations everyone and welcome to another blog here on BlueCollarBlueShirts.com. There's a lot to get into tonight, so let's roll.
As always, here are my last few blogs, in case you missed them:
---
---
---
---
---
---
With 19 games remaining for the New York Rangers, the Rangers hosted an Original Six contest at M$G on Friday night, losing 4-2 to the Montreal Canadiens. For the Rangers, I don't think any fan can truly be upset about this loss, considering everything that's been going on. Plus, most of the fan base is rooting for losses anyway, as they scream "LOSE FOR HUGHES" from the roof tops. While I've never embraced the tank, I understand it. The only thing that truly bothers me, and you know it by now, is that I think rebuilding around a 37 year old goaltender is a master-plan from a full-blown retard.
I know I've said it a million times, but really, Henrik Lundqvist, who turns 37 years old today, here on March 2nd, 2019, will be 38 years old come the 2020 playoffs. Do you really think he's going to get better or have 16 "vintage" games, if the Rangers are even able to make the playoffs next season? It's ludicrous to think so. I'm all for rebuilding and changing the guard, but as long as he is here, the Rangers will never win a Cup.
However, enough about that overrated and overpaid Cupless wonder. When you look for glimmers of hope with this franchise, the star that is shining the brightest right now, is David Quinn's newest toy, in Brendan Lemieux.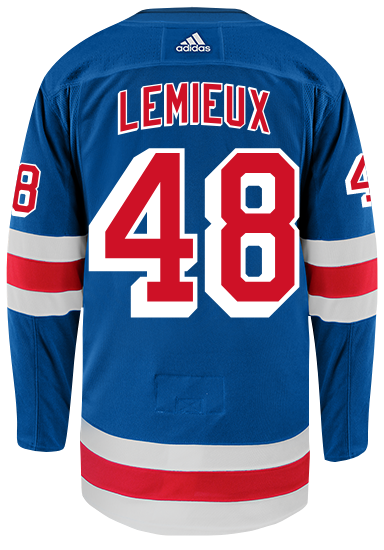 When the Rangers acquired Lemieux in the Hayes trade, I said I didn't know much about him, outside of what I read and from the one game he played against the Rangers. In just two games with the Rangers, Lemieux is starting to win over every fan in the fan base.
It's funny, while yeah, it's only two games, blah blah blah, I've seen all sorts of fans – Hank fans, Hank contract haters, rebuild fans, tank fans, fuck the tank fans, try to win every game fans, Quinn fans, Quinn haters, Gorton fans, Gorton haters and everyone else that's not a crybaby twunt liberal, all step up, put their chest out and declare their undying love for Lemieux.
Don't get me wrong, I'm on the Lemieux bandwagon too. However, I wonder how much Ranger fans are somewhat overcompensating with their new-found love for Lemieux? Are they using Lemieux to replace the hole in their heart that was once occupied by Mats Zuccarello? I really don't know, but what I do know is this – if Brendan Lemieux can keep this up, he will be as beloved as some of the more recent Rangers, such as Brandon Dubinsky, Sean Avery, Ryan Callahan or Mats Zuccarello himself. And if Lemieux can be part of a Cup winning Ranger team, he will replace Stephane Matteau!
Okay, okay, okay – I'm going overboard and over-the-top here. But hell, with the way this Rangers team is and with the way this franchise is, I have to find something to rally around, right? It's not like the Rangers will make the right move and get rid of Lundqvist. Lemieux has become that ray of light for the Rangers and his "I don't give a fuck" personality resonates loudly with not just me, but with many others.
Two games a career does not make, but in two games played, Lemieux has embraced New York and has connected with this fan base quicker than 99% of athletes that come to this town. For his sake, my sake and for the sake of RANGERSTOWN, USA – I hope this love affair becomes a story that is old as time.
I'll have a ton more on Lemieux as we get into this blog, but if Lemieux was a television show, in episode 2, he has everyone hooked and eagerly awaiting episode 3. And hell, episode 3 may feature a Lemieux vs Tom Wilson showdown. To quote Wayne & Garth, "SCHWING!"
If you're a regular reader of these blogs, you know me – if I can slam Henrik Lundqvist after a loss, I will. In tonight's 4-2 loss to the Habs, outside of one really horrific goal allowed, Lundqvist was fine tonight.
What was funny to me, and I'd be remiss if I didn't mention it, was that my buddy who co-hosts BSU Radio, in a one Jim Schmeideberg, said, "Why is Lundqvist playing a playoff team tonight?" I thought it was a no-brainer Lundqvist would start this game for several reasons.
For starters, Quinn has not given Georgiev three straight starts this season and I just don't see that happening for the remainder of the season. Secondly, and more importantly, if you're Henrik Lundqvist, who would you rather play – Tampa, who has lit you up every time you see them, Washington, who just put 6 goals past you in your last start, or the Montreal Canadiens, a team who Lundqvist has good numbers against at home? (His numbers in Montreal, well that's a different story!)
When it came to choosing between Tampa (Rangers played them Wednesday), Montreal (Rangers played them tonight) or Washington (Rangers play them Sunday) I 100% thought that Georgiev would get Tampa and Washington, while Lundqvist would take this start with Montreal. I'm telling you my predictions on who will start are usually right on the money!
I'm on the record already – I don't see any Top 5 paid goalie ever winning the Stanley Cup in the salary cap era. It hasn't happened yet. Maybe it will happen after the next CBA, where the salary cap should significantly increase, thus meaning that goalie cap hits won't have the same impact on a roster that they do now. It is my belief, that to win a Stanley Cup in today's NHL, you must build around a forward, rather than building around a goalie. I haven't been disproved yet.
In tonight's game, Carey Price looked every bit as the number 1 paid goalie in the league. Granted, if you look at the standings, you would expect Price to pick up a victory against the non-playoff bound Rangers. However, the Rangers usually step up against top competition. Despite losing their last two games in overtime, look who the Rangers lost to – the 2018 Stanley Cup Champions (and now in a virtual tie for first place in the Metro) in the Washington Captials and to the eventual 2019 Presidents' Trophy winners, in the Tampa Bay Lightning.
Tonight's game was no different. The Rangers once again played well enough to win. This was really another one goal game (Montreal's fourth goal was an empty netter) and the Rangers had a chance to take this game into overtime too.
While yes, I could sit here and finger-point at Lundqvist for giving up a god-awful goal in the second period, the truth of the story is that Carey Price stole this game for the Montreal Canadiens.
The box score, which will be included later on in this blog, does not tell the story of this game. Lundqvist did make more saves than Price, but most of Hank's saves came later on in the game, with the Habs already having the lead. Furthermore, Hank didn't have to face the quality of shots that Price did, as Price should've just wore a ski mask in net tonight, as he robbed the Rangers all game.
If you're Vladislav Namestnikov, you have to wonder what you did to piss off the hockey gods tonight. Namestnikov had 6 really high quality shots in this game, but Price stopped them all. The only Namestnikov puck that Price couldn't stop, was one of the deflected variety.
Sometimes during the course of a season, you run into a hot goalie. For the Rangers, they ran into one of the league's best goalies and they ran into that guy on one of his best nights of the season. Price was simply phenomenal tonight and that was the difference. In a game where the Rangers could've put a 3 or 4 spot on the board after one period, Price kept the Rangers at bay, limiting the Rangers to one goal. While Hank's brain fart in the second period didn't help, I don't think it mattered. This was the Carey Price show and nothing was going to ruin his night, not even our beloved Brendan Lemieux!
Speaking of Brendan Lemieux, I just wanted to touch on the Islander/Tavares nonsense from last night. By now, you probably heard of everything that went down in the Islanders 6-1 victory over the Tavares led Toronto Maple Leafs.
Over time, the score of that Isles/Leafs game will be forgotten. What won't be, is the way Islander fans treated Tavares: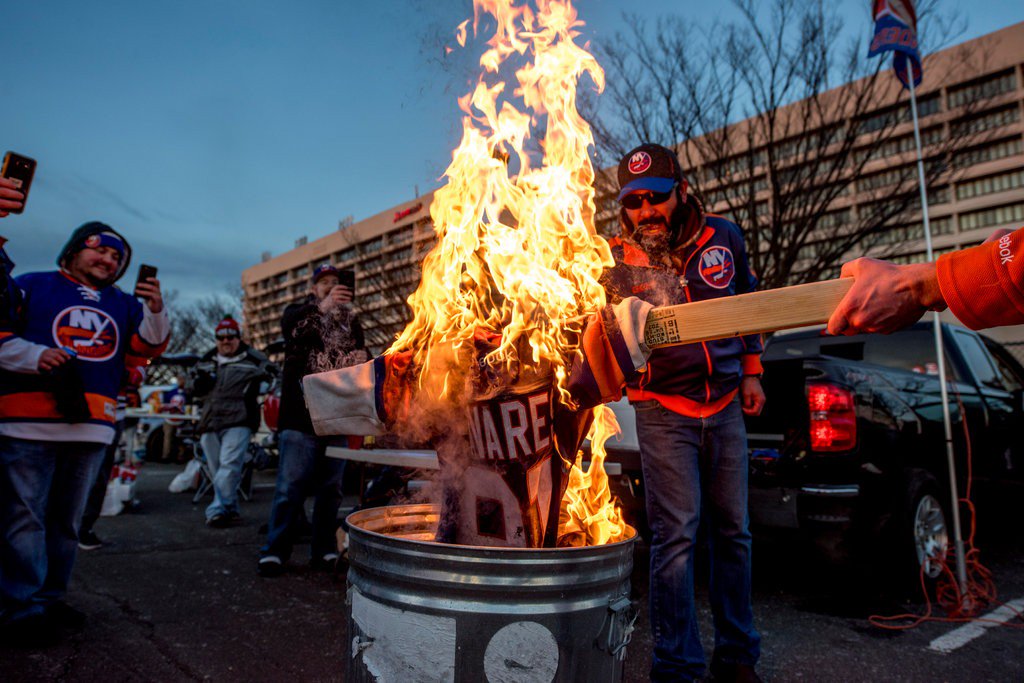 I can understand some of the hatred Islander fans have for Tavares right now, but I think the bulk of the blame belongs to former GM Garth Snow, who didn't move Tavares at last year's deadline. That fact eludes Islander fans, as they acted like savages last night, even attacking women and children who wear wearing Toronto Maple Leaf gear:
Yes I was at the Isles game. I actually had a lot of fun. Until the assholes there went too far. #TORvsNYI pic.twitter.com/ODmxF4sIqf

— Katya (@plscallmesurely) March 1, 2019
Despite the fact that this woman has too many favorite teams, there is no reason for fans to start fights with other fans. As I've said in the past, these millionaire athletes don't care about your job, so why are you starting fights over their jobs?
Obviously, this woman wasn't the biggest heel in the building. It was John Tavares, who had everything from rubber snakes to jerseys thrown at him:
Jersey thrown at John Tavares while he was heading down the tunnel after warm up pic.twitter.com/JvMsT1XuZI

— Flintor (@TheFlintor) February 28, 2019
With Islander fans selling out the Coliseum last night, as the game was a hot ticket that was fueled by hatred, (And how ironic, because maybe if Islander fans actually attended games when Tavares was there, maybe he wouldn't have left?) ex-Ranger, Sean Avery, posted a message directed towards Crylander fans:
I guess we know what Sean Avery thinks about #Islanders fans… 😳#HockeyTwitter pic.twitter.com/765H4FR8ND

— Tim and Sid (@timandsid) March 1, 2019
While Sean Avery is not one to shy away from controversy, my favorite part about this video wasn't Avery's message. It was the fact that Brendan Lemieux liked it! Take a look: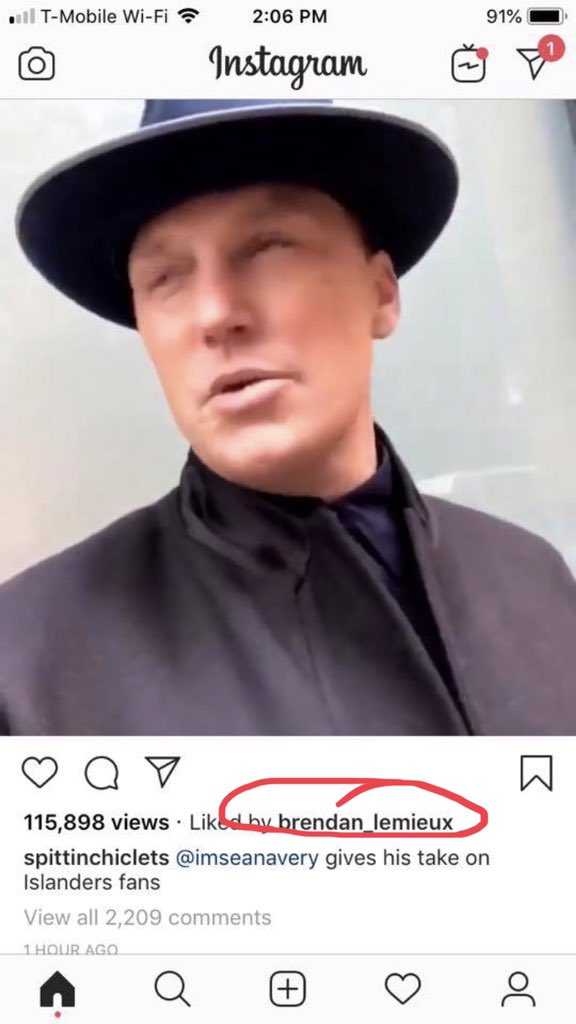 I said this in my last blog – I can't wait for Brendan Lemieux to get a taste of the rivalries between the Flyers, the Islanders and the Devils. Can you imagine Lemieux kicking the shit out of Matt Martin? When I see Lemieux liking an Instagram video from a player that fans are comparing to him to, it gets me excited. This also tells me that Lemieux "gets it" and is all-in on the Rangers.
I know many of you guys look at me as being negative a lot of the time (4 Cups in 93+ years will do that to you) but when it comes to this Lemieux kid, he's making it fun again.
Moving along.
In the LETTIERI WATCH segment of the blog, I am sad to report that Lettieri's 7 game point streak has been snapped. The Wolfpack got demolished by the Springfield Thunderbirds tonight, losing 5-1. It was also a tough game for Ranger prospect goalie, Brandon Halverson, as he was shellacked and pulled from this game.
Hartford is such a fucking mess right now, it amazes me that GM Chris Drury still has a job. I don't get the Rangers fascination with Drury. Drury was arguably the worst captain in the history of the Rangers. He was also another big name free agent that did nothing, but for whatever reason, the Rangers have a Micheletti sized hard-on for the guy. I get that he's a nice guy, but being a nice guy can only get you so far.
From the Scratch List of Quinn department, Quinn used the same lines as he did on Wednesday. Here are your forwards:
FIRST LINE: Kreider/Zibanejad/Vesey
SECOND LINE: Namestnikov/Strome/Fast
THIRD LINE: Andersson/Buchnevich/Lemieux
FOURTH LINE: Smith/Nieves/Brickley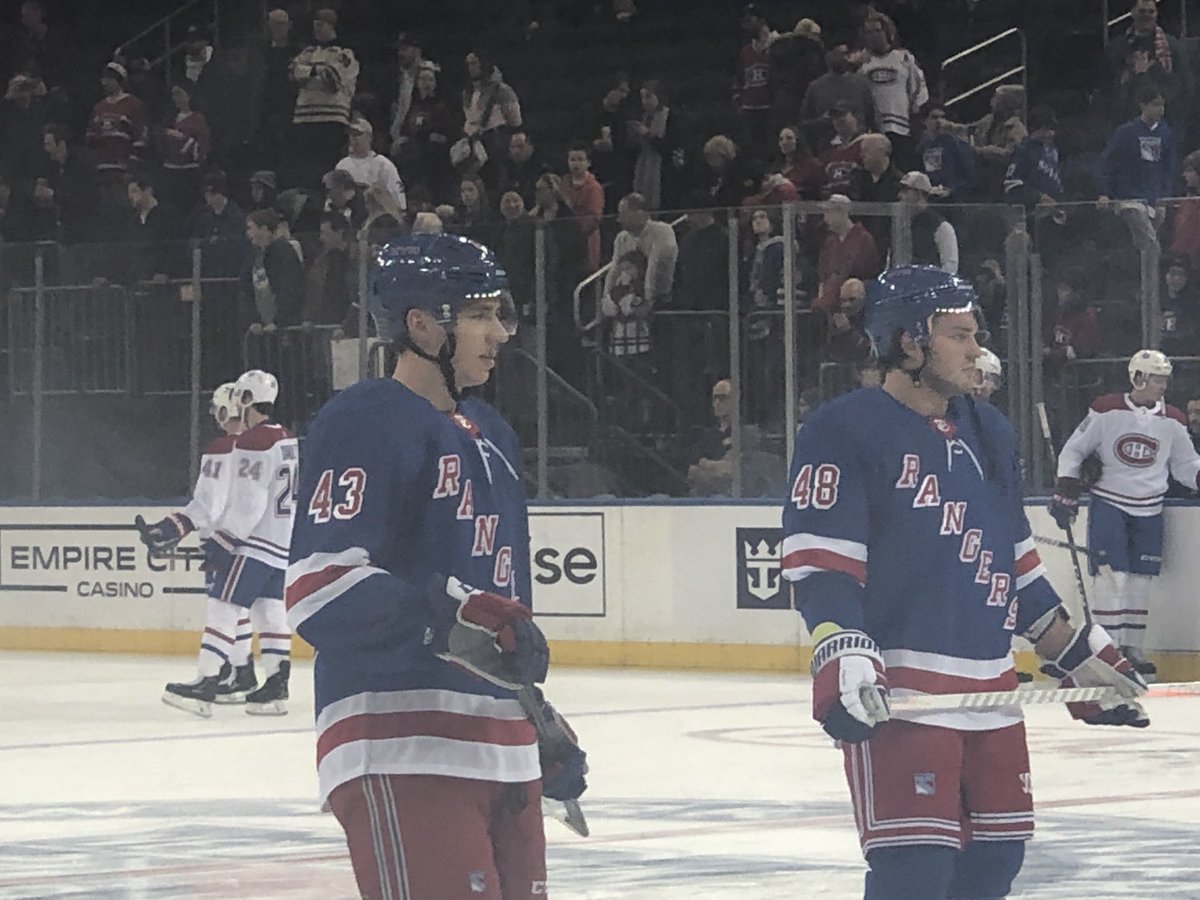 Defensively, Quinn and Gorton promoted Libor Hajek, the 21 year old defenseman acquired from Tampa in the McDonagh trade, to the main roster.
I haven't seen one Hartford Wolfpack game in person this season. I have relied on my Wolfpack people, such as @Whalepack, Ricky Milliner and Mitchell Beck for daily Hartford reports. From what they say, Hajek hasn't had a good season in Hartford. Both Dave Maloney, on his podcast and Steve Valiquette, on the broadcast, said the same thing today.
The talk about Hajek was that maybe he wasn't an AHL player and how he needed to leave a bad team to showcase his stuff in "the show". I've never heard that excuse for a struggling AHL player before, but to each their own. Maybe there is some merit to that, as Hajek was fine tonight and truth be told, the Wolfpack flat-out suck this season.
Personally, and as I've been saying for a while, the Rangers have tried signing and acquiring 78967895667895675 defensemen, in the hopes of replacing Ryan McDonagh. They haven't found that guy yet, so Hajek becomes the newest player to get a chance.
With Hajek promoted, Quinn scratched Claesson, who hasn't been the same player since returning from injury. However, what was puzzling to me, was that Hajek was paired with the struggling Neal Pionk. If anyone deserved to be scratched, it's Pionk. By putting Hajek with Pionk, I thought the Rangers were setting up Hajek to fail, but that wouldn't be the case, at least here in game one of Hajek's career.
When you look at Tony DeAngelo, his level of play has increased ten-fold since being paired with a veteran in Marc Staal. Even Brady Skjei turned the corner when paired with a veteran, when he was teaming up with Adam McQuaid. I thought pairing Hajek up with a veteran would've been the best course of action, but hey, I'm just a blogger with 10 beers in me as I write this and David Quinn is the coach!
With Hajek on the roster, here's what Quinn went with defensively:
FIRST PAIR: Tony DeAngelo/Marc Staal
SECOND PAIR: Shattenkirk/Skjei
THIRD PAIR: Hajek/Pionk
And now, before jumping into the box score, let's go to the gambling section of tonight's blog! Here's what I said before the game:
-5.5 for tonight's Rangers/Habs game???? Jump on the over now while you can!!! It will go up. #nyr pic.twitter.com/NEQoVsBptl

— BlueCollarBlueShirts (@NYCTheMiC) March 1, 2019

If you saw my tweet early in the day, I hope you jumped on board. I was able to get the over-under at -5.5. With six goals scored, my record improves to 27-15-1.
Also, as a bonus, my prediction was right, as the over-under did jump up. By puck drop, the over-under was 6, meaning that if you bet this game later on in the day, your over-under bet pushed tonight. As they say, the early bird gets the worm and the early bettor gets the bookie's money!
Box score time.
As always, the ESPN.com box score:
SCORING SUMMARY:
1st Period
4:41

Vladislav Namestnikov

(9)

Assists: Brady Skjei, Kevin Shattenkirk

0
1
2nd Period
7:27

Brendan Gallagher

(28)

Assists: Tomas Tatar, Jordie Benn

1
1
14:38

Joel Armia

(8)

Assists: Christian Folin, Victor Mete

2
1
3rd Period
4:29

Joel Armia

(9)

Assists: Jesperi Kotkaniemi, Brett Kulak

3
1
17:28

Brendan Lemieux

(10)

Assists: Jesper Fast, Brady Skjei

3
2
19:23

Joel Armia

(10)

Assists: Paul Byron, Nate Thompson

4
2
PENALTY SUMMARY:
1st Period
8:08

Brendan Lemieux:

2 minutes for Roughing

8:08

Christian Folin:

2 minutes for Interference

14:34

Chris Kreider:

2 minutes for Holding
2nd Period
1:22

Jordie Benn:

2 minutes for Cross checking

12:04

Libor Hajek:

2 minutes for Holding the stick

12:26

Jeff Petry:

2 minutes for Interference
3rd Period
19:23

Brendan Lemieux:

10 minutes for Misconduct (10 min)
GOALIES:
| | | | | | | | | | | |
| --- | --- | --- | --- | --- | --- | --- | --- | --- | --- | --- |
| SA | GA | SV | SV% | ESSV | PPSV | SHSV | SOSA | SOS | TOI | PIM |
| 35 | 3 | 32 | .914 | 29 | 0 | 3 | 0 | 0 | 58:49 | 0 |
| | | | | | | | | | | |
| --- | --- | --- | --- | --- | --- | --- | --- | --- | --- | --- |
| SA | GA | SV | SV% | ESSV | PPSV | SHSV | SOSA | SOS | TOI | PIM |
| 30 | 2 | 28 | .933 | 25 | 0 | 3 | 0 | 0 | 60:00 | 0 |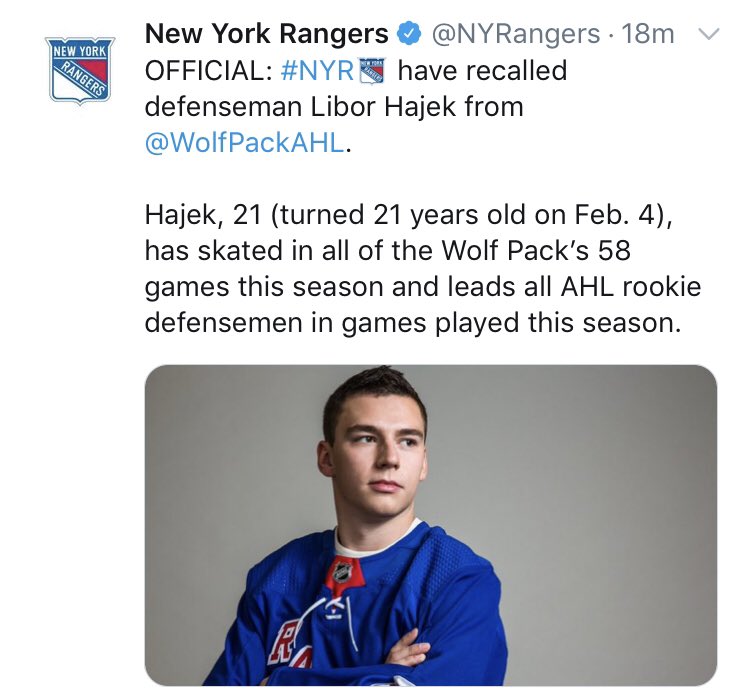 Once again, I thought the Rangers played well. I thought the fourth line continued to play well. The same goes for the second line and Lemieux. Even the defense was pretty solid for the most part. I know some people will nit-pick little things, but no NHL defense is perfect for 60 minutes. I think a lot of fans forget that.
Before the game, Al Trautwig mentioned how half the building were Montreal fans and he seemed genuinely surprised that Montreal fans travel well. I have a friend from my wrestling days who moved to Montreal, became a fan of the team because her husband is and she was asking me how come M$G was so empty tonight. Pretty sad, right? High prices, a team that doesn't want to win, one of the worst arenas in the league and everything else means dead nights at MSG. I'm sure the older fans, fans who can remember when the blue seats were the blue seats, are just downright disgusted in what M$G has become.
The beginning of this game was all Rangers, as the Rangers seemed to pick up where they left off on Wednesday night. However, as talked about above, tonight was Carey Price's night.
In example #394378374837834934 of why someone should check Joe Micheletti's computer for illegal images of children, Micheletti described Hajek as a "good looking kid." Micheletti then paused, played with his pants (I'm assuming that part) took a deep breath and then restated, "he's a good looking kid." I think Micheletti's true calling in life was to become a Catholic priest.
After testing Carey Price early, the Rangers aggressive forecheck produced a goal at 4:41. Here's Namestnikov tipping in a Skjei blast:
Vlad Namestnikov continues to find the back of the net #NYR pic.twitter.com/7P1eR0f8fi

— Dom Renna (@drennaESNY) March 2, 2019
1-0, good guys. For Namestnikov, he should've just called it a night after this goal, because for the rest of the night, Carey Price was on some "Ocean's 11, Ocean's 12 and Ocean's 13" bullshit, as he just kept robbing and robbing Namestnikov. I'm telling you Namestnikov had all these great high quality shots and every time, Price and the horseshoe up his "bleu, blanc and rouge" ass had an answer.
Lemieux, who was in beast-mode tonight, got things started off at the 8:08 mark. Have I mentioned how much I love this guy's game? Lemieux was crashing the net all night. During every second of every PP second he got, Lemieux parked himself in front of the net. Imagine if Kreider or Nash did that over the years? I know Kreider and Nash have done it from time-to-time, but in this game, Lemieux could smell what Price had for dinner. For my pal @Fixxser, Lemieux could tell if Price was on a keto diet. That's how close Lemieux was during every Rangers PP.
Oh and speaking of the Rangers PP, while I don't think the PP cost them this game tonight, as the PP has in past games, the Rangers PP once again came up empty-handed in this game, going 0-2. And it's not like the PP has been bad or anything, it's just that the Rangers can't put the puck in the net. The Rangers PP has been as successful as Rebecca Howe trying to land a husband. (Mandatory CHEERS reference.)
At 8:08, Lemieux crashed the net and Price. In return, Christian Folin got involved and we had some four on four fore-play. That's Micheletti's favorite.
For as good as Price was and with Hank making a bunch of saves too, I thought the Rangers got extremely lucky that Montreal pulled a Rangers. What I mean by that is, it seems that all game long, Montreal would make that extra pass to nowhere. There must've been about 15 times in this game, where Montreal would go for these cross ice passes that turned into turnovers. SHOOT THE PUCK!
At around the half-way mark of the period, two things happened. One, the Rangers tried trolling Montreal, by showing something about Johnny Manziel getting cut from the Canadian Football League, as if anyone gives a fuck about that. Can you imagine if the Canadiens trolled the Rangers when it came to Stanley Cups?
The second part of this saw Brendan Lemieux say "What the fuck?" Take a look:
So back the "My Heart Will Go On" moment, Brendan Lemieux was actually singing along at first. Rangers were showing Johnny Manziel highlights hence the song, great stuff. Re-live it below. #NYR pic.twitter.com/MGQjL80Jub

— Dom Renna (@drennaESNY) March 2, 2019
I'll get more into Lemieux and his mouth later, but I think after tonight's game, someone from the Rangers will tell Lemieux that he's on camera and will ask him to try to limit the four letter words!
At 14:34, Kreider took a penalty. The Rangers would kill the Habs PP. Of note, with this failed PP, the Canadiens are now 1 for 20 in their last 20 PP's. Not good!
The rest of the period was the Carey Price show.
1-0 after twenty.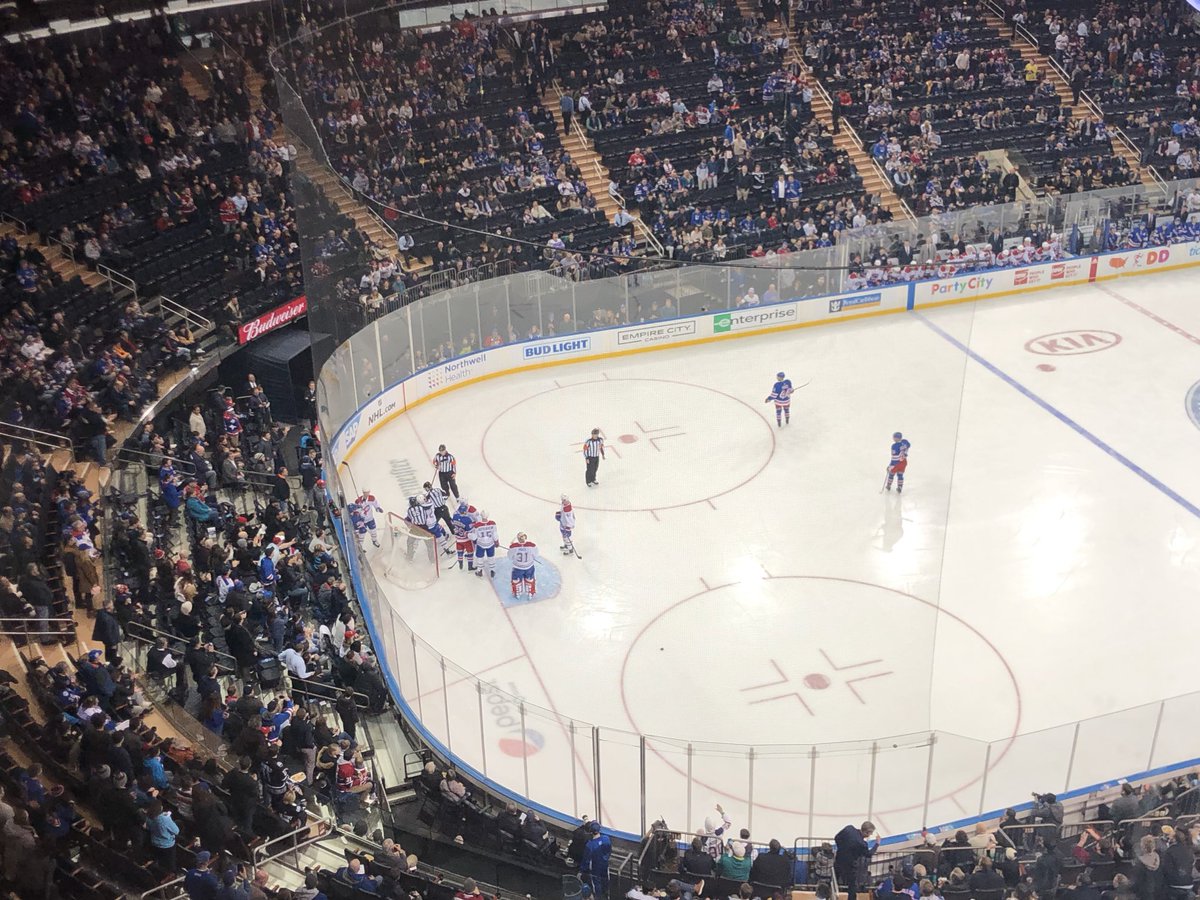 The second period remained the Carey Price show.
Jordie Benn would cross check Ryan Strome early into the period, giving the Rangers a PP. The Rangers couldn't score. That's not to say they didn't try, it's just that Price was in the zone.
After the PP expired, Price made the save of the game:
Carey Price.
That is all. pic.twitter.com/SNy8f5xmH4

— InGoal Magazine (@InGoalMedia) March 2, 2019
Poor Vladdy.
7 minutes into the period, the Rangers were out-shooting the Habs by a tally of 8-0. However, from this point in the game, the Habs must've got some smelling salts or something, because they woke up.
At 7:27, we had a tied game:
BRENDAN GALLAGHER GETS WIDE OPEN IN THE SLOT AND TALLIES!#GoHabsGo pic.twitter.com/LOrZODiL7R

— Hockey Daily (@HockeyDaily365) March 2, 2019
Can't bury Hank for this one. 1-1.
After a questionable penalty by Hajek and after Petry blatantly holding/interfering Zibanejad, thus breaking up a potential breakway goal, Joel Armia got his first goal of his hat trick, here at the 14:38 mark of the second period:
Christian Folin bounces a dump in off the stanchion, and Joel Armia pounces on the puck for his eighth goal of the year. pic.twitter.com/Nr4o09nPlI

— Scott Matla (@scottmatla) March 2, 2019
2-1, bad guys. This goal allowed is all on Hank. He should've froze the puck initially. Instead, he misplayed it, overcompensated by coming out of the net and Armia caught him. This wound up being a one goal game, but even I, the leader of "TRADE LUNDQVIST" movement, won't blame him for this loss. I will blame him for this goal allowed, but again, to me, the story of the game begins and ends with the game Carey Price had.
I will say this, up until this Armia goal, Hank was playing well. However, THERE'S ALWAYS SOMETHING to negate the good he's doing. Deport him and give me the commie tandem next season. IN ALLAIRE WE TRUST!
Price would make a few more saves by the time the period concluded, but the tide had turned. 2-1 after forty minutes.
Early into the third period, Zibanejad was near Price, but opted to make a backhand pass to nowhere.
Then, with four minutes expired, Brendan Smith (who has been playing well as a forward, despite me wanting Lettieri here, you happy now @3rotts_NYR ?!?!)  found Jesper Fast for a perfect one-timer. Price stopped it. That's just the way this game was.
Immediately after, the Habs rushed up the ice, and boom, there was Armia again, easily beating Lundqvist. 3-1 bad guys. Just like that:
JOEL ARMIA WITH A COAST TO COAST BEAUTY FROM THE SLOT!#GoHabsGo pic.twitter.com/t4pwIVvaTv

— Hockey Daily (@HockeyDaily365) March 2, 2019
This play really sums up the game. The Rangers were all up in Price's ass like a wedgie and then boom, the score goes the other way.
With Price doing his thing, it wouldn't be until the 17:28 mark that the Rangers put some stress on the Habs again. Here's LEMIEUX:
A moment @blemieux22 won't ever forget: his 1st #NYR goal! pic.twitter.com/5H3fnw4D1P

— MSG Networks (@MSGNetworks) March 2, 2019
3-2, bad guys. On the goal, Lemieux kept crashing the net all night and it paid off here. This also gave the Rangers a chance to tie, as they would pull Lundqvist. Unfortunately, the Habs iced the game, as Armia got the empty netter, thus giving him a hat trick. 4-2, bad guys.
Before the final horn went off, something happened with Max Domi and Brendan Lemieux. What irony, considering who their fathers were. I didn't see the whole thing and the MSG Networks didn't catch it either. However, the MSG Networks did catch this:
Lemieux to Domi @WeBleedBlueNYC #NYR pic.twitter.com/RhxPhQZ8wk

— Brian Rajs (@Double_4s) March 2, 2019
Again, someone is probably going to either tell Lemieux to tone it down or the MSG Networks are going to have to wake up their 8-second delay guy. The best part about Lemieux saying "I fucked your sister" to Domi, was Jimmy Vesey's reaction! Oh, and for Sam & Joe, who are looking for Cadillac Trivia questions, besides my Frank Boucher trivia which I've asked MSG to talk about before, how about Sam & Joe transcribe what Lemieux said here?
4-2, your final. Price wasn't right for the Rangers tonight.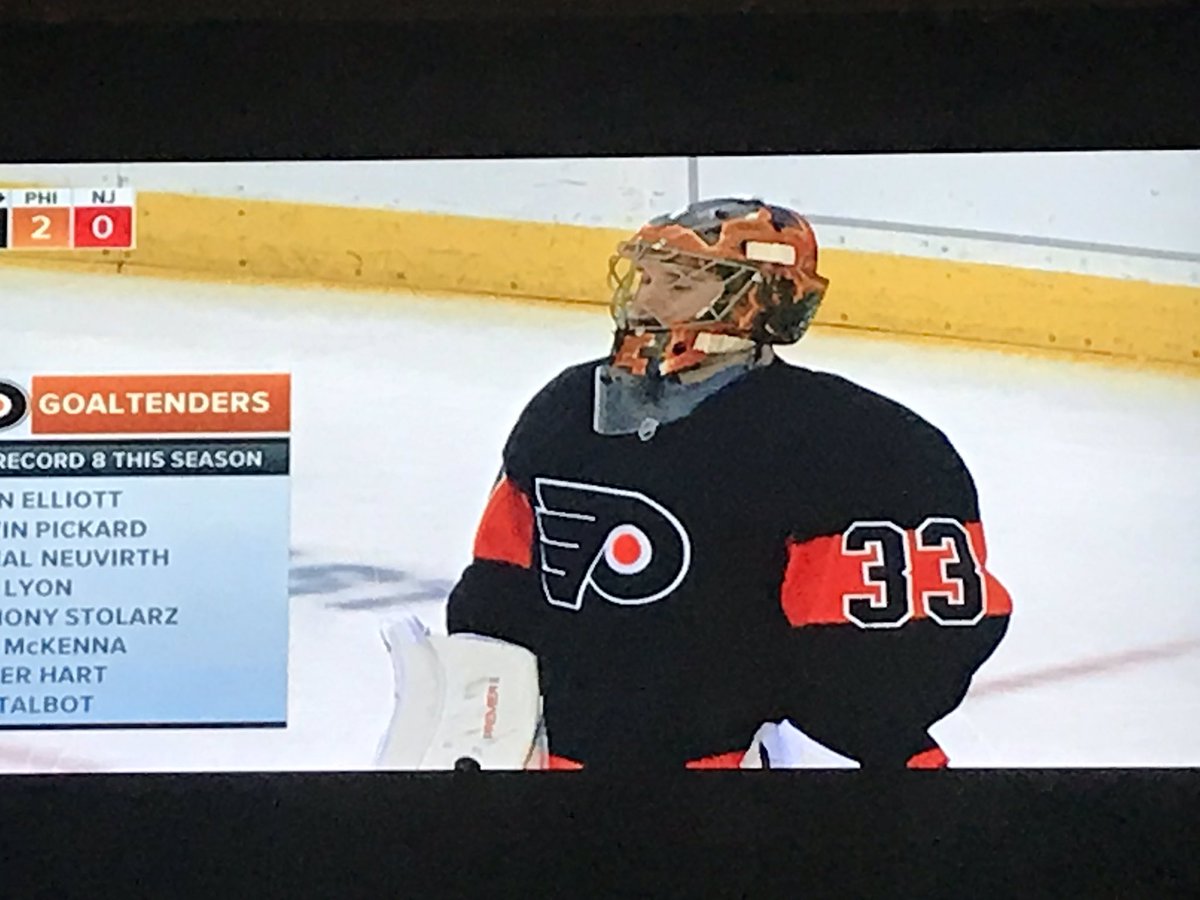 Before putting a bow on this blog, how about everyone's favorite goalie, in Cam Talbot? He made his Flyers debut tonight and beat the Devils! Here is Talbot after the game: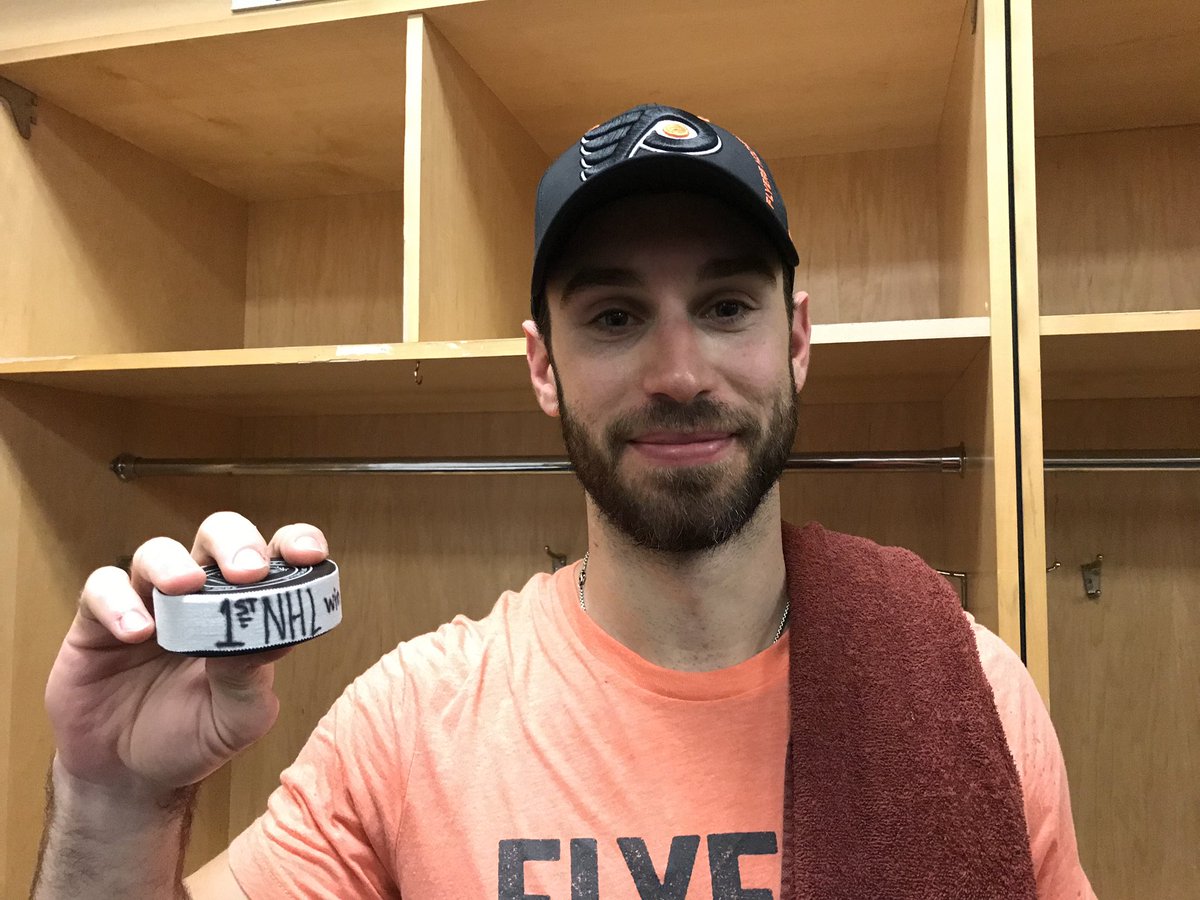 I will tell you, as a Cam Talbot fan, it's tough to look at him with that filthy "P" on his hat. Congrats Talbot on your first win as a Flyer. I can't root for the Flyers, but I can root for Talbot beating the Devils!
The Rangers, who are currently on a 3 game losing streak (0-1-2) will try to right the ship on Sunday, with another Sunday matinee game at MSG against the defending Stanley Cup Champions, in the Washington Capitals. The Capitals are in a neck-and-neck race for first place with the Islanders.
I would bet that Georgiev gets the start in this game, because there is no way Lundqvist wants to get embarrassed by the Caps again. We'll see if I'm right come Sunday.
See ya Sunday night, sizzle-chest. (I don't know why the "Jerky Boys" have been on my mind lately!)
As always, thanks for reading and…
"LET'S GO RANGERS!"
Sean McCaffrey
BULLSMC@aol.com
@NYCTHEMIC on tweeter
Oh, and PS: Happy 38th birthday to Rob/@Bozfirstsince81. I like you, but at your age, I wouldn't want you to be my starting goaltender!