Greetings and salutations everyone and welcome to another blog here on BlueCollarBlueShirts.com. MUCH BETTER!
Our beloved Blueshirts, prior to tonight's game, were losers of their last two and 1-2 on their last major road-trip of the season.
On Saturday night, the team finished their time on the road by defeating the Dallas Stars by a final score of 7-4. As a result of the victory, not only did the Rangers salvage their weary road travels with a 2-2 record; but more important than that – they regained their status as second-place in the division.
The Rangers, who now have completed 59 games, and with 23 more games ahead – the team still controls their own destiny. If the season ended today, they'd open up the first round of the 2022 Stanley Cup Playoffs with a home-ice advantage, in a series against the dreaded Pittsburgh Penguins.
Presently, it seems like the Carolina Hurricanes will run away with first-place in the division, as they have 87 points in 58 games played. Of course, a bad stretch of games for the Raleigh team, combined with a huge winning streak from the Rangers, could change all of that; but for right now, it feels like the Canes will take the division.
As the season winds down, it looks like the Rangers and Penguins will do battle in the first-round. Bring on Crybaby Cindy.
The two teams have been going back-and-forth over second-place/first-round home ice, as both teams have earned 79 points in 59 games played. However, since the Rangers have more regulation wins than the black-and-yellow – it's the team from 33rd and 7th who currently possess the tie-breaker.
That stated, the Washington Capitals are very much alive too, with their 74 points in 60 games played. However, and akin to what head coach Gerard Gallant has previously preached several times over this season – you can only worry about yourself – and you can't concern yourself with the teams that are chasing you.
All the Rangers have to do is worry about themselves and good things will happen.
---
When you see a score like 7-4, obviously, there's a lot to talk about.
While Artemi Panarin picked up his second five-point game as a Ranger, behind his one goal and four assists; you can look up-and-down the line-up, and if you covered your eyes when you got to the names of Filip Chytil and Julien Gauthier – you'd have something fantastic to say about each player on the roster.
I'll give you the blow-by-blow once we get to the GAME REVIEW segment, but for your consideration, check out the following:
— Greg McKegg, who flew to Dallas on Friday, scored the first Rangers goal of the contest, a much-needed goal at that, considering the Rangers were down 2-0 at the time.
— K'Andre Miller, who looked to have originally had the goal that McKegg was ultimately credited with (McKegg deflected the puck into the net), picked up two assists. As he's done a lot of lately, #79 shot the puck whenever he could throughout the sixty minute affair, and he also laid a hit too. In addition, Miller wasn't pushed around at all, as we're starting to see a more physical game out of him – something that every fan desires out of the big-framed defenseman.
— Jacob Trouba, who we all know that I was hard on this season (and I still defend my previous opinions regarding the start of his career in New York), continues to erase the memories of his first 15-20 games from this season. Not only did he pick up an assist tonight (a Fox deflection goal), but he was a stud defensively. He also led the team in blocked shots, with three in total. I'm also happy to say this – "it's not how you start, it's how you finish," and Trouba has been a superstar, as the Rangers work their way to the finish line of this 2021-22 season.
— Patrik Nemeth is a much better parent of his own child, rather than he was as a baby-sitter of someone else's child. Once tasked with overseeing Nils Lundkvist; ever since the birth of Nemeth's own son, Vincent, a Vinny N. who joined this world just a few weeks back, #12 has been playing his best hockey of the season. Not only did the Swede lead the team in hits (4), but he scored a big-time insurance goal in this game, following a play that you never would've expected out of him. (Clip of the goal located in the GAME REVIEW.) And oh yeah – Nemo's goal was of the game winning variety too!
— Adam Fox, for all of the noise about how he's tired, he's hurting, he has gas, he stepped on a Lego, or whatever else you may have read and/or heard; scored tonight and played a team-high 22:39. While he may not win the Norris this season (at this point, it's Cale Makar, of the Colorado Avalanche, as the overwhelmingly odds-on favorite), Fox should once again be a candidate for the prestigious trophy.
— Dryden Hunt, who just gets roasted by these fools on social media 24/7, where these people just don't realize that Gallant is out of options until Kakko returns and/or a trade is made to bolster the line-up; picked up three assists tonight – a single-game career-high.
— Ryan Strome, who also gets a lot of flak from Ranger fans (where some of that is warranted and just), did the seemingly impossible – he scored on an empty net, which as a result, secured the Rangers' victory.
— And while I've been very critical of both Chytil and Gauthier – each player picked up an assist tonight.
Funny enough, in a game where you had multi-point games all over the place, and in contest where thirteen different Rangers logged at least a point – both Chris Kreider and Alexis Lafreniere were held off of the scoresheet. However, it wasn't for a lack of trying, nor did either man play bad. In fact, both played well and were strong defensively. No one can question their efforts.
One name that I haven't mentioned throughout this gleeful parade yet? CZAR IGOR.
---
Let's face it – as the self-proclaimed bandleader of the CZAR IGOR movement, as I've been singing his praises ever since 2017 on this site; I'll never say a bad word about him. And after this season – how could anyone have anything negative to say about him?
After his worst statistical game of the season on Thursday, where you couldn't pin any of the four goals he allowed on him; during tonight's game, he gave up his worst goal of the season, in a goal that you could 100% blame him for. That said, these occurrences are as rare as seeing Haley's Comet – so to go nuts about one bad goal would be the work of an ignorant fool.
The other three goals allowed by the future '22 Vezina and Hart winner were of the last-second tip/deflection variety. When it comes to everything else, as usual, he was rock-solid – despite an over-anxious gaffe when trying to go for an empty net goal, which we'll soon get into.
(And even then, whenever one of these offensive opportunities don't go his way, he just bails himself out anyway. In other words – I have no problem with him being eager in his attempt to record his first-ever NHL goal.)
---
There's a lot to get into tonight, where Gallant's out-of-the-ordinary line-up decisions once again paid off for the Rangers.
Let's get into the news now, talk about the line-up a bit, and then get into the main event – the GAME REVIEW.
---
During this eight-day road-trip, which began last Sunday, the Rangers have been on the ice everyday. That changed on Friday, as the team took the day off.
With the Rangers out of action, and with many fans still eagerly awaiting whatever deals Chris Drury will make – it were the Stars, and not the Blueshirts, who made headlines on Friday afternoon.
On Friday, March 11th, the Dallas Stars announced that they have re-signed Joe Pavelski to a one-year contract extension worth $5.5 million. In other words, my pipe-dream of the Rangers landing Pavelski is officially kaput. Had the trade deadline been sooner this season, maybe it could have happened. However, there is no use in crying over spilled milk – Pavelski will remain in Dallas.
With Pavelski now wearing the green jersey for the rest of the 2021-22 campaign, his decision to remain in the "Big D" will only up the ante and pressure for playoff contenders looking for pieces. March 21st can't get here soon enough. I'm already over the rumor-mill – I want to see the end-result of it.
---
On late Saturday morning, the Rangers took their pregame skate in Dallas, where a few news and notes came out of it.
Defensively, the pairs were tinkered with. In was Libor Hajek, out was Ryan Lindgren.
I know that many people blew a gasket when they heard about the change. The way that people go from zero-to-a-hundred, and in the blink of an eye at that, never ceases to amaze me.
Very often, I think fans, and beat reporters too, forget that Gallant knows his team better than anybody else. He's around these guys 24/7. More important than that? He's privy to information that no fan or reporter is privy to. Simply put – TRUST THE TURK!
When I saw that Lindgren was pretty much skating around as an extra, I figured it was more of an injury thing and not a performance issue. And let me be clear – I didn't know this for a fact, I was just guessing. (And eventually, this became a non-issue, as you'll soon see.)
After all, during the last few games, #55 has blocked some big shots, including ferocious one-timers. Heck, just last week he didn't practice, after blocking a bunch of shots in the Rangers' home win against the Blues. (The game where CZAR IGOR was trying to help Lindgren to the bench.)
For whatever reason, the name of Libor Hajek, like Brett Howden before him, and like Tanner Glass before them, and the list goes on-and-on; is an automatic turn-off for millennials who use social media. (Whenever the team struggles, it has to be the fault of the 7th defenseman and/or the 13th forward!)
Rather than stopping to think and say – "hey, Lindgren may need a breather here;" instead, these people go to their murderous line of, "fire Hajek to the sun!" If such a rocket exists (I didn't see such a rocket in the futuristic movie "Project Adam," now on Netflix), I wouldn't mind if some of these fans took a seat on such said rocket!
Another name that just triggers these millennials and chart geeks, is the name of Greg McKegg. The Kegger, who was out for personal issues, where Gallant had previously said that #14 wouldn't play on the trip; returned to the team on Friday and then practiced on Saturday.
And as I always say on this site – I think McKegg IN HIS ROLE, serves his purpose better than either Gauthier or Chytil serve in theirs. I can understand the McKegg teeth jokes. I don't understand the malicious hatred of the guy.
With the Keg Man back, and Hajek seemingly in for Lindgren; following the light practice, head coach Gerard Gallant addressed the media:
---
For starters, Gallant stated the obvious – CZAR IGOR would be getting the nod in net.
When asked about his defensive pairings, while not saying anyone by name, the head coach said that he was thinking about making a temporary switch. He reiterated not to look too deep into it, as he's happy with his core of rearguards. In other words, whatever he was going to do in this game wouldn't necessarily reflect what he'll do moving forward.
Gallant also expressed his displeasure about the Rangers' recent pair of losses, but didn't use the words of "soft" and "embarrassing" again. However, he did say what I said last blog (just not verbatim) – it's time for the Rangers to play hungry and desperate, rather than being a "slump-buster" for somebody else. (And as you know – they did just that tonight!)
Double G then said that he wasn't sure what his line-up would be, and also said that he'd talk it over with his coaching staff.
And with everyone pretty much assuming that Ryan Lindgren would be scratched for this game, it was another Ryan instead who was scratched, in #75 himself, Ryan Reaves.
---
Once the Rangers took the ice for pregame warm-ups, it was announced that Ryan Reaves was a healthy scratch. (Following the game, Gallant confirmed as much, saying the reason why Reaves was out was because of a "coach's decision," rather due to an injury/ailment/illness.)
As a result, for the second time this season, Gallant went with a line-up of eleven forwards and seven defensemen. This proved to be successful, as Gallant's Gang is now 2-0 under this unorthodox line-up. However, be advised – there is no intent to make this strategy habitual.
After all, keep in mind what Gallant had said earlier – don't look too deep into his line-up tonight.
In addition, Gallant has repeatedly stated that he'd rather roll out four lines, rather than going with a line-up consisting of 11F/7D.
Long story short – this defenseman-heavy line-up is as rare as a unicorn. Don't consider this to be the norm moving forward.
---
Here's what "The Turk" eventually went with for this "Sergei Zubov Cup" game:
FIRST LINE: Kreider/Mika/Lafreniere
SECOND LINE: Panarin/Strome/Hunt
THIRD LINE: Goodrow/Chytil/Brodzinski
EXTRA SKATERS: McKegg/Gauthier (Gallant rotated these two with the top three lines, where they mostly took third-line shifts, although there were times where Kreider and Mika were out there with both of them.)
Defensively, we had this:
FIRST D-PAIR: Lindgren/Fox
SECOND D-PAIR: Miller/Trouba
THIRD D-PAIR: Nemeth/Schneider
EXTRA DEFENSEMAN: Libor Hajek, who played 5:28 overall, and due to the lack of playing time – was barely noticeable at all.
And in net, CZAR IGOR
---
BOX SCORE time.
The following information and graphics come from the new world-wide leader in NHL coverage, ESPN.com:
SCORING:
PENALTIES:
TEAM STATS:
GOALIES:
| | | | | | | | | | | |
| --- | --- | --- | --- | --- | --- | --- | --- | --- | --- | --- |
| SA | GA | SV | SV% | ESSV | PPSV | SHSV | SOSA | SOS | TOI | PIM |
| 28 | 6 | 22 | .786 | 21 | 0 | 1 | 0 | 0 | 58:12 | 0 |
| | | | | | | | | | | |
| --- | --- | --- | --- | --- | --- | --- | --- | --- | --- | --- |
| SA | GA | SV | SV% | ESSV | PPSV | SHSV | SOSA | SOS | TOI | PIM |
| 33 | 4 | 29 | .879 | 25 | 0 | 4 | 0 | 0 | 60:00 | 0 |
---
During my last blog, I mentioned how the Rangers were 0-2, ever since M$G stopped airing Reaves' clips of "SHESTY, RELEASE US!"
They omitted this clip once again tonight, but as you know by now, we'd later find out that Reaves was scratched. Better than that – this curse was also snapped tonight too!
After a better-than-normal showing last game (or at least in my eyes), Sieve Vagistat was the lone analyst tonight, as Henrik Lundqvist had the night off. For whatever reason, a few games ago, John Giannone made it sound like Lundqvist would be on every broadcast for the rest of the season. So much for that.
Once again (and I can't believe I'm saying this either), I didn't think Vagistat was that bad tonight.
Of course, part of the reason for that is because he echoed pretty much all of my thoughts and opinions, where he opened the broadcast by saying that one of the leaders on this team needed to "step up" – a phrase Vagistat used a few times, and a phrase that I was bellowing out to anyone who would listen too.
After Vagistat strongly urged that someone like a Kreider, a Zibanejad, a Trouba, a Goodrow, or another one of the team's 78956679575675675 alternate captains needed to have a big game; Giannone then questioned if CZAR IGOR could be that guy. For what it's worth, there was no way Vagistat was calling out Igor here, as Giannone just blurted this out, in order to get to a segment promoting the greatness of #31 in Ranger blue.
Giannone then brought up this great stat – entering this game, CZAR IGOR was 6-0 following a regulation loss, and 8-1 this season following any loss. These numbers now read as 7-0 and 9-1.
After wondering if Fox was banged-up; we then saw Kreider's pregame interview, where CK20 once again came off as the unofficial captain of the team.
As fans on social media started to whine about the line-up, where need I remind you that Gallant knows his players better than anyone on Twitter; it was mentioned that the Rangers power-play was second-best in the league, while the Stars penalty kill was second-best.
Like an old Gorilla Monsoon quote, these special teams presented "the unstoppable force against the immovable object." And when it was all said and done – the Rangers came out with their hand raised.
Vagistat, who was doing so good as we neared puck-drop, couldn't help himself.
During his final segment, he started plugging his useless fake news stat company, told a war story, and then gave us this nugget – "if the Rangers can play offensively and score goals, they can win this game." What expert analysis.
Once we finished up with Sieve and John, we went to Sam Rosen and Joe Micheletti. Bless their hearts. (Hi Brenda, ya octopus!)
No joke, Sam Rosen told us that the Dallas Stars had trouble with scoring goals as of late.
Here were the Stars in their last five games:
— 4-2 win over BUF on 2/27
— 4-3 win over LA on 3/2
— 4-3 win over WPG on 3/4
— 6-3 win over MIN on 3/6
— 2-1 loss to NSH on 3/8.
In other words, outside of their last game, the Stars were putting up four or more goals a night during their last five games. Doesn't a producer look over Rosen's notes before he comes on-air?
And what happened tonight? The Stars scored four goals again.
Rosen's partner, Joe Micheletti, actually had me cracking up tonight.
Right before puck-drop, "Jumpin' Joe" said, "will the Rangers win? I don't know!" Just his delivery, unintentional or not, had me wiping tears from my face after laughing so hard.
GAME REVIEW time (get a drink – there's a lot to get into!)
And in case you're wondering, I shook it up tonight – instead of whisky and beer, which I usually drink whenever hammering out one of these Magna Carta sized recaps; just like Gallant's unorthodox line-up, I'm going with an unorthodox pairing of Tito's vodka and Mountain Dew. I'm so classy, and such a beacon of health!
Kids – don't try this at home!
---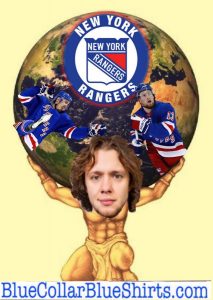 To open the game, Mika Zibanejad won the face-off.
Ironically enough, while Mika won all three opening faceoffs of each period; he finished 5-9 on the night, for a poor win-loss percentage of 35.7%.
How he wins the first faceoff of each period, and then only wins two more throughout the entirety of the game is a question that I don't have the answer to. After all, that's why I'm drinking Tito and 'Dew, while Gallant and his staff are paid very good money to figure out these answers!
A question that I do have an answer to, is this one – "was Ryan Lindgren hurt?" The answer to that would be resounding "NO," as double-nickel started the game in his usual spot, alongside Adam Fox. (Lindgren played 16:47, in case you're wondering.)
How about another question that I have an answer to?
"Are the jerseys of the Dallas Stars the ugliest in hockey?" My answer? A resounding Father Finkin' YES!
Take a look at these god-awful things, where I must state – pictures of these jerseys don't do them justice. (Or is it injustice – you be the judge!) They are much worse on television, and even worse than that in-person:
Why do I bring up fashion and apparel? For this reason – just 49 seconds into the game, Esa Lindell scored a long-distanced backhanded goal, a shot that's a routine save not only for CZAR IGOR, but even Steve Valiquette, during his ten goals allowed game against these Stars so many years ago, would have made.
1-0, bad guys, where I'm using these jerseys as an excuse for CZAR IGOR giving up this goal. No other explanation will do! For a goaltender, I'd imagine looking at these jerseys is the equivalent of looking at neon lights during a bad acid trip.
Panarin, despite his five-pointer, still makes questionable decisions with the puck – a new trend for this season.
After going wide on a shot from mere feet away, to his credit, the Breadman forced a turnover and set up Hunt for a shot – a save for Stars' goalie Jake Oettinger.
As the Rangers tried to find the equalizer, K'Andre Miller, like a Dallas Cowboy, fumbled the puck. His miscue led to Joel Kiviranta firing a puck towards Igor, and at the last second, Seguin tipped the puck past the Rangers goaltender.
2-0, bad guys, at only the 4:53 mark of the period. Egads!
If you're a regular reader here, you know that I'm very optimistic about this team and always feel that they'll mount a comeback during bad times. That said, even I was thinking about Gallant's remarks from last game, where he said the words "soft" and "embarrassing." However, that negative thought would soon be perished – and big time perished at that!
Up next, four consecutive Ranger goals.
After JONNY HOCKEY forced a turnover, which led to him placing a puck at the side of Oettinger's net; Radulov blocked a Hajek shot attempt. Following that, Lafreniere tried some razzle-dazzle, but a Dallas defender snuffed that out too.
However, with 10:15 to go, it was K'Andre Miller, redeeming himself from his turnover that led to the Seguin goal, who put the Rangers on the board:
K'Andre with goals in back 2 games! pic.twitter.com/zNwiGhECCZ

— Rangers on MSG (@RangersMSGN) March 13, 2022
---
2-1, bad guys.
While the clip says that Miller scored this goal, after a review of #79's wrister, we were shown that McKegg got a piece of the puck. In other words, THE KEGGER opened the floodgates for the Rangers – even if this goal was all Miller Time.
And on McKegg, how about this pregame prediction:
I hope McKegg has a multi-point game tonight. Rather see him get time than Gauthier and Chytil. Kegger plays to his role better than those two do. #nyr

— BlueCollarBlueShirts (@NYCTheMiC) March 12, 2022
---
While McKegg never got that second point, this goal satisfied me. I'm claiming the win here, just as I did with my prediction of the Rangers winning this game. (And to be fair – I predict that the Rangers will win every game!)
(Not mentioned, my 78678678968678969 incorrect predictions, such as a 4-0 score, a CZAR IGOR shutout, Kreider hitting forty goals, and many other pregame predictions that eventually looked as good as a Penn Station toilet. But hey – let's accentuate the positives and omit the negatives!)
The turning point of the game occurred with 7:08 remaining in this first period, after Roope Hintz violently hooked JONNY HOCKEY.
Just seven seconds into the Rangers power-play, Mika blasted the puck, and after hitting some iron, the vulcanized rubber (hi Tom B.!) took a fortunate bounce for #93. 2-2!
On the goal, Mika won the faceoff, Panarin retrieved the puck, and #10 then set-up "Magic Mika" for his 12th PPG of the season.
The Rangers weren't done yet. Far from it.
After a long shift in the Stars zone, where Fox, Lindgren, Kreider, Gauthier and McKegg were on; with six minutes remaining, Oettinger stopped Fox. He wouldn't stop Fox on his next SOG.
With 4:46 to go, Trouba deftly sent a puck towards Oettinger, and low-and-behold, there was another defenseman, #23 for your New York Rangers, the Foxy one himself, to deflect the puck into the net.
3-2, GOOD GUYS! Not only had the Rangers erased the quick two-goal deficit – they took the lead too. They'd retain the lead for the rest of the contest.
Following the goal, Fox was shown on the bench, grinning from ear-to-ear, where I'd imagine he needed ice packs on his cheeks after all of that smiling. Happy to see it! Heck, I was doing the same thing from my couch!
But wait K-Mart shoppers, there's more!
Just 36 seconds after Fox's goal, it was Panarin's turn.
This was the Panarin that we've come to know, ever since he first arrived to the Rangers.
On this goal, Panarin displayed his "elite" skills (hockey fans love the "e" word), skated around, took his time, made his move, and then picked his spot, where after doing so, the puck whizzed past Oettinger. 4-2, GOOD GUYS.
Here's a look at all three of these Ranger goals:
3 goals in 1:51!!! pic.twitter.com/z8mDGTsEcp

— Rangers on MSG (@RangersMSGN) March 13, 2022
---
After the goal, CZAR IGOR came up with a few good saves himself, including a stop on Klingberg, with the Dallas d-man just a foot away.
Panarin, perhaps feeling it, then made one of his patented cross-ice pass for a turnover, but Trouba, as he did all game, bailed out his teammate and then broke up a Stars' scoring chance.
With 1:52 to go, Igor fought off one shot, Fox blocked another, and Barclay Goodrow, as he does every game, got the puck out of the Rangers d-zone.
Now with fifteen ticks remaining, Igor stopped the player who got one by him before, Lindell, as #31 made a tough save here to preserve the two-goal lead.
4-2, GOOD GUYS, after twenty minutes.
No joke, I wish the game ended right there. Like an overwhelmingly crowd-pleasing joke, there was just no way for the Rangers to top this period. In my eyes, just like a good comedian – I wanted the Rangers to leave on a high-note.
That said, while the Rangers didn't play "bad" in the next two periods or anything like that; needless to say, this period, and really the last fifteen minutes of it, were the best fifteen minutes of Rangers hockey in some time.
---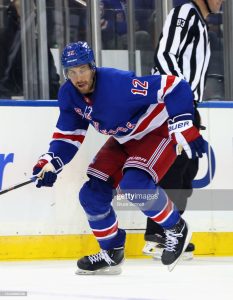 Feeling giddy to open the second period, Zibanejad won the draw.
In a funny tweet from friend of the blog, Steve S., and in a response to McKegg's opening goal; he said, "KEGGER, RELEASE US!" Of course, all jokes land better when the Rangers are winning!
After Kreider forced a turnover, his line-mate, Alexis Lafreniere, drew Radek Faksa for a tripping penalty, just 47 seconds into the middle frame. Again, while CK20 and AL13 didn't make the scoresheet tonight – they both played well, or at least in my opinion anyway!
This Rangers power-play wasn't as successful as the first one, but they did make a go of it.
After a few saves from Oettinger, the Dallas backstopper received a break, when with just seconds remaining on his team's kill, Panarin fed Mika for a one-timer, but as #93 wound up, he whiffed on the puck. Had Mika connected, it would've been 5-2, good guys.
JONNY HOCKEY, still extremely noticeable, and in "I don't want to go back to Hartford" mode too, brought a puck into the zone. Gauthier was then tripped, but in perhaps a "scoreboard no call," the refs ignored this Dallas infraction.
You know me, and as stated earlier – I'll never have anything bad to say about Igor. However, I must also be honest with you too.
With about five minutes down, Igor tried two consecutive passes – both turnovers. We know what he can do with the puck, so that's why these turnovers felt so glaring, because we rarely see them. I wouldn't call the game against St. Louis an off-night. I would call his puck-handling ability in this game an off-night, especially with what happened later on, at the end of the tilt.
The Dallas Stars, who were just being assassinated at the time (bad joke, I know, but I'm the king of bad jokes – and plus, it's been sixty years), and just like a crack whore on food stamps (another bad joke, I know – but less offensive than the previous one), received a hand-out.
With 14:48 to go, Lindgren was boxed for interference on Radulov. While this was a penalty, I also thought Radulov sold this call/took a dive. Remember when we used to see what felt like at least one "embellishment" call a game? (This happened all the time, about 8-9 seasons ago.)
94 seconds later, Brodzinksi joined Lindgren in the box, after clearly tripping Jamie Benn.
The Stars now had 26 seconds worth of a 5 x 3 power-play.
With just one second remaining on it, Klingberg flung the puck at Igor, and at the last second, Jason Robertson, the new wonder-kid in Dallas, deflected the puck into the net off of his glove, for his 30th goal of the season. 4-3, good guys.
This goal was reviewed, as the officials went back to look if Robertson punched the puck in. While I was rooting for that, he didn't, as the puck just hit his glove rather than him using his hand to knock it into the net. Igor was irate about this goal being upheld.
Now with 1:30 remaining on the Stars traditional 5 x 4 power-play, Dallas maintained the puck during their entire man-advantage. Once returned to even-strength, Fox blocked a shot that cleared the puck, and eventually, after having to play a little more defense, the Rangers penalty killers were then able to get off of the ice.
At the eleven minute mark of the period, the Rangers only had two shots on goal, as this period was mostly all Dallas.
However, the Rangers never gave up. Once we hit seven minutes remaining, both goalies exchanged tremendous saves.
With six minutes to go, the Stars had their longest sustained 5 vs 5 attack in the Rangers d-zone yet, but the good guys survived. Also surviving was Oettinger, as with 4:30 to go, Lafreniere made a picture-perfect pass to a streaking Miller in the slot, but the shot was denied by the goaltender.
Now with 3:16 to go on the clock, the Stars received an odd-man rush, where Igor made three saves during it. Following some hacks and whacks at him, Fox and Lindgren challenged anyone wearing those hideous jerseys during a scrum that was quickly broken up.
As Trouba kept battling, and was thwarting out Stars' scoring chances, up next was "Finding Nemo," as the Swede picked up an insurance goal.
After Panarin dipsy-doodled all over the ice, he found #12. Nemeth then skated around the net, turned-and-burned a defender, and backhanded a puck. This looked like a good save for Oettinger, but "OH JOE, THE PUCK WENT IN JOE!"
Take a look:
NEMOOOOOO pic.twitter.com/lFbHubLUBV

— Rangers on MSG (@RangersMSGN) March 13, 2022
---
5-3, GOOD GUYS!
Upon review, it was blatantly obvious that Nemeth was able to tuck the puck in before the officials blew their whistle. Even Sam Rosen could see this one.
As the period came to an end, the score remained 5-3, GOOD GUYS.
However, due to a strong second period out of the Big D, the Stars were out-shooting the Rangers 24-22, out-hit them 17-16, and were winning the battle at the dot, to a tune of 19-13.
Of course, the only stat that matters is goals for, and the Rangers had two more than their opposition.
---
After Mika won the faceoff, and following a big hit out of Trouba, it was apparent that the Rangers weren't going to give up much to the Stars. And while Dallas would sneak in one goal during this period – the Rangers did a good job of protecting the ice.
For whatever reason, Sam and Joe started making excuses for Dallas, where they mentioned the injury of Miro Heiskanen. Not mentioned? The injuries to Kakko, Blais, Rooney, Georgiev's pride, etc.
In another "for whatever reason," the hometown fans started playing sing-a-long, where they sang country songs, "Mr. Brightside," and "Livin' on a Prayer." It felt like an Islander game, where just like the Islanders – these sing-song fans watched their favorite team lose to the Rangers.
To show you how much the Rangers defense clamped down; with just 13:12 remaining, the Stars got their first shot on goal – an easy save for the CZAR.
As Sam and Joe did their jinx act, where they said that the Stars looked done; Pavelski deflected a Hintz shot past Igor with 11:51 to go. 5-4, good guys.
Now clinging onto a one-goal lead, the Rangers had to fight off the Stars some more, until Kreider tested Oettinger with eight minutes and change remaining – a save for the goaltender.
In another "for whatever reason" moment; with about six minutes to go, Sam Rosen started talking about Mike Modano, the class of 2014 Hall of Famer who is the son-in-law of Joe Micheletti.
I think most astute Ranger fans knew this relation, and I think every Ranger fan knows about Rosen's obsession and affinity for "relations," where speaking of that word – Rosen got Micheletti to admit that Modano has produced him five grandchildren. (I just don't know why this was the topic of conversation during a one-goal game, a game that was late into the third period.)
(Want more bad comedy? Can you imagine Rosen doing play-by-play on a porn tape? "OH JOE, THAT WENT IN, OH WAIT, NO IT DIDN'T, AND IT'S A BUKKAKE SHOT FOR MICHAEL DEL ZOTTO, LISA ANN'S TENTH SHOT ALLOWED IN THE LAST HOUR JOE!")
Told you it was bad comedy.
---
As you nervously watched the clock; with 5:53 to go, Barclay Goodrow continued the best individual season of his career, as he beat Oettinger for his 13th goal of the season. 6-4, GOOD GUYS, as the Rangers regained their insurance edge over the Stars.
With 3:25 to go, Oettinger went to the bench for the extra attacker.
After a few chances, including one where Kreider perhaps got too fancy, thus preventing himself from adding to his career-best scoring totals; at around the two-minute warning mark, CZAR IGOR loaded up and looked at the empty net. However, for the first time in his Rangers/NHL career, he fanned on the try, and in turn, had to make two quick saves. This would've been catastrophic had the Stars scored here.
The Stars, still threatening, would find themselves buried with 1:37 to go, as Ryan Strome put the cherry on top, scoring on the empty net. 7-4 GOOD GUYS, 7-4 your final!
The Rangers needed this win big-time. While not a "must win" situation or anything as dire as that, the Rangers can now enjoy a relaxed flight home (and a few pops and belts should they desire), and none of us will have to hear 48 hours worth of doom-and-gloom.
Enjoy this offensive explosion and victory tonight. And in just over a week's time, we'll find out who Drury's reinforcements will be too!
PLUGS time!
---
On Friday, Stan Fischler posted a new article on The Hockey News website, where not only did he quote yours truly; he talked about the Rangers too.
To read it, click this link: https://thehockeynews.com/news/bluelines-with-goalie-power-off-the-rangers-are-doomed
---
The hardcover version of my book, available now at Amazon.com
The first plug of tonight's blog – the mandatory plug for my new book, "The New York Rangers Rink of Honor and the Rafters of Madison Square Garden".
As mentioned previously, the book is now available in hardcover, in paperback and in Kindle formats. To purchase a copy of the book, visit this link:
https://www.amazon.com/Rangers-Rafters-Madison-Square-Garden-ebook/dp/B09CM5N2WD
For those still looking for signed paperback versions of the book, I have re-ordered more copies. I now have 2 signed copies for sale at $25 a pop (includes shipping price) through me directly. Here is all the information on that:
---
Here are my last few blogs, in case you missed them:
---
---
---
If you haven't already, subscribe to this blog for the next update:
---
Up next: the Rangers return home for two games, where they will host the Anaheim Ducks on March 15th. After that game, it's a rematch on St. Patrick's Day with the New York Islanders. I'd expect CZAR IGOR to start both games.
As always here, thanks for reading and…
LET'S GO RANGERS!
Sean McCaffrey
BULLSMC@aol.com