Greetings and salutations everyone and welcome to another blog here on BlueCollarBlueShirts.com. It doesn't matter who they dress, nor does it matter how many players dress – all the Rangers do is find new ways to win!
Following the firework news from Tuesday (I wrote two blogs covering all of the crazy events, where you can find the second half of my "Two-Fer-Tuesday" here: https://bluecollarblueshirts.com/kane/); heading into Wednesday night's contest in Philadelphia – it would've been understandable had the Rangers fell victim to the cliched "trap game."
After all, not only was the team overcome with emotion, as the Rangers eagerly await the arrival of Kane on Thursday night; but they were also without their top two left defensemen – and the absences of both K'Andre Miller and Ryan Lindgren were woefully apparent tonight.
As Lindgren remains "day-to-day," and with Miller serving the first game of his three-game time-out; if that wasn't enough, Gallant, who currently owns the best winning and points percentages of franchise history, was also without a forward too.
Due to those disgusting three words, "the salary cap," and with Kane settling down in his new digs; the head coach only had eleven forwards available tonight.
That won't be the case on Thursday night.
---
While the Rangers and their fans were enjoying the idea – now a reality – of Patrick Kane wearing the famous Blue sweater; down two-hours south on I-95, is where the lowly Philadelphia Flyers reside.
Entering tonight's game, the Flyers had only won two of their past ten games, and where in their last game, they were absolutely massacred by a hated-rival that both the Rangers and Flyers share – the New Jersey Devils – and to a tune of 7-0.
To the home team's credit, they did a valiant job of defending both their ice and the "P" that lays on the crest of their jersey tonight. However, they had no answer for "VLAD THE IMPALER," as on this night, Tarasenko's "Blueshirt Blueballs" dropped – and in the form of an overtime game winning goal.
I said this when Tarasenko first became a Ranger, I said this about Kane last night, and I'll say it one more time for the people in the back – whatever Tarasenko and Kane do during these final games of the regular season does not matter.
Sure, we will root and cheer for all of the big goals and hang our heads if something goes wrong; but at the end of the day, these two Stanley Cup champions, Ranger rentals, will only be judged on what they do during the playoffs.
One more time – all that matters is what they do in the playoffs. Nothing else.
In essence, with twenty-one games still left to be played – this is a "get your feet wet period," as the two long-time stalwarts of the Western Conference assimilate and adapt to the second NHL team they've ever known.
On this night, Tarasenko, who had cooled off a bit after scoring his first goal as a Ranger (on his first shot on goal and during his first shift for that matter too!); created his first true Blueshirt memory.
While sure, you can say that the Rangers should've blown out the Flyers; as you may be aware – this is an "Any Given Sunday" league. All that matters is the win and the two-points netted in the standings.
Prior to sniping his game-winning goal in overtime; Tarasenko was the driving force of the two Ranger goals scored in regulation, as he set-up Mika Zibanejad for the father-to-be's 32nd goal of the season – and the 100th power-play goal of #93's career.
Following the early goal, the Rangers just fell into a slog and couldn't do anything right.
With ten minutes remaining in regulation, the Flyers were up 2-1 on the scoreboard.
Enter "VLAD THE IMPALER."
As we got under ten minutes remaining in what my Latino friends would consider to be a "SLOPPY PAPI" game; Tarasenko soon retrieved a puck, skated all over the Flyers' zone, recovered a missed connection – and then fired a shot, dead-center, from the home team's blue line.
This greasy play was rewarded, as Chris Kreider, the most gifted Ranger when it comes to deflections, found wood on the Russian's blast, thus tying the game.
As regulation time turned into overtime, the Rangers, who had played a meth-influenced "speed" brand of 3 vs 3 hockey during their last foray – changed course – as rather than looking like a Kenyan sprinter nearing a finish line – instead – they played a s-l-o-o-o-o-o-o-o-w and patient brand of hockey.
They were rewarded, as after burning out the Flyers' defense, there was Tarasenko, skating with Filip Chytil and Braden Schneider, beating Philly's goalie, Carter Hart.
3-2, GOOD GUYS – and a victory that was resilient as any – especially when you consider that the team was short-handed once again.
---
As mentioned at the top of this – I wrote two blogs last night covering all of the craziness from a busy Tuesday.
At this time, let's get into all of the pregame news and notes – where there wasn't much – and then get into tonight's GAME REVIEW.
---
The Rangers, following one heck of a "Super Tuesday" of news, held an optional morning skate in Philadelphia on Wednesday.
Following the uneventful practice, head coach Gerard Gallant held his first "TURK TALK" since his general manager's acquisition of Patrick Kane – and where the bench boss could finally talk about #88 himself.
Here's what "THE TURK" had to say:
---
In a response to what his g.m. did, Gallant said, "It's a great move for our hockey team, obviously. To get a player like Kane is outstanding, he's a great competitor, Stanley Cup Champ, he's exactly what we need and we're very real happy to have him."
I'd say!
Gallant also laughed when he was asked about what his new lines would be on Thursday, when Kane joins the team. "THE TURK" said that he was watching the NHL Network late Tuesday night and they had already made his line-up for him.
After cracking his joke, Gallant confirmed the lines that were printed in this space last night. (Full info here: https://bluecollarblueshirts.com/kane/ )
If there was one point the head coach kept on hammering, then it was that his team can't coast.
Gallant repeatedly said that while the team looks amazing on paper, they'll have to work hard, play the right away, and other such coaching cliches – where these cliches are cliches for a reason – they are true.
On Braden Schneider's two-day sacrifice, Gallant said that when it was all laid out to #4, B-Schneids had no problems and said that everything went "smooth."
Schneider himself, in his own post-practice interview, said the same and just gushed about now being able to call Kane a teammate – a prevailing statement made by everyone affiliated with the Rangers today.
Gallant later praised Kane some more and said what you'd expect him to say.
As far as injuries and playing short-handed goes, Gallant wouldn't confirm the status of Ryan Lindgren, nor if any player would be called-up. Gallant said, "you'll find out later tonight," which brings us to the LINE-UP segment of tonight's tome.
---
Here was the Rangers' line-up from Wednesday night – a line-up that you'll never see again – and where tomorrow night's line-up will be the one that we all want to see:
FIRST LINE: Kreider/Mika/Tarasenko
SECOND LINE: Panarin/Trocheck/Goodrow
THIRD LINE: Lafreniere/Chytil/Kakko
FOURTH LINE: Vesey/Motte
Defensively, we saw:
FIRST PAIR: Mikkola/Fox
SECOND PAIR: Harpur/Trouba
ROTATING DEFENSEMAN: Schneider
STARTING GOALIE: CZAR IGOR
BACK-UP: THE HALAKNESS MONSTER
PRESS BOX: Not a soul
DAY-TO-DAY: Ryan Lindgren
GETTING READY FOR THURSDAY: Patrick Kane
---
BOX SCORE time.
The following graphics and information come from ESPN.com:
SCORING:
PENALTIES:
TEAM STATS:
GOALIES:
| | | | | | | | | | | |
| --- | --- | --- | --- | --- | --- | --- | --- | --- | --- | --- |
| SA | GA | SV | SV% | ESSV | PPSV | SHSV | SOSA | SOS | TOI | PIM |
| 25 | 3 | 22 | .880 | 19 | 0 | 3 | 0 | 0 | 62:32 | 0 |
| | | | | | | | | | | |
| --- | --- | --- | --- | --- | --- | --- | --- | --- | --- | --- |
| SA | GA | SV | SV% | ESSV | PPSV | SHSV | SOSA | SOS | TOI | PIM |
| 28 | 2 | 26 | .929 | 26 | 0 | 0 | 0 | 0 | 62:32 | 0 |
---
---
For the first time this season, this game was aired on both the M$GN and TNT networks.
Once I saw that Henrik Lundqvist was on TNT, I flipped that broadcast onto my big TV – and muted the M$GN broadcast, headlined by that weasel Sieve Vagistat, onto my smaller television.
Come puck drop – the TNT broadcast was blacked out to cable subscribers in M$GN's tri-state territory.
While there are ways to get around that (illegal streaming – which does suck if you pay for TNT but don't pay for M$GN – which means that you're forced to pirate something that you already pay for); it didn't bother me.
Despite my never-ending jokes about the bumbling buffoons in the booth, lovable bozos at that, Sam Rosen and Joe Micheletti; I'm always going to listen to them – especially since the best announcer in the business, TNT's Kenny Albert, didn't call the game for the national broadcaster – the Isles' Brendan Burke did.
Plus, for the purpose of this site – how could I tune out Sam and Joe? They provide me so much material!
"OH JOE!"
"FABULOUS SAM!"
That all said – there was no shot in hell that I was going to listen to Lundqvist's coffee boy when the real thing was on TNT.
---
Off puck drop, Lundqvist, as the resident Ranger of the TNT panel, immediately talked about Kane, when he said, "[The trade] makes the league so much better. You want your top stars in the playoffs."
Over on M$GN, Vagistat was bombarding poor souls with his homemade arts & crafts, charts & graphs; while Lundqvist added, "When you're in the hunt, and management says we're going to do it now, do you know what confidence that brings to the group? I remember when we brought in Martin St. Louis. Guys grew up watching Kane too."
Vagistat's response on M$GN? "EAST-WEST JOHNNY! DID I EVER TELL YOU THE TIME WHEN BENOIT ALLAIRE ACKNOWLEDGED MY EXISTENCE?"
(Okay – Vagistat said the former, and not the part about Allaire – but that's what he sounds like!)
As Vagistat was hitting all of his daily and boring tripe; Lundqvist, a player who actually did something in this league, said when praising the Rangers' line-up, "You can't rely on just your top guys every night in the playoffs. It's too tough."
In what I thought was funny, TNT's resident heel, Paul "Biz" Bissonnette, then asked Ranger fans to thank the Arizona Coyotes for trading Patrick Kane to New York.
This then led to some friendly bickering between Lundqvist and Biz.
While Lundqvist is just an all-out natural on television; he's much better on these TNT broadcasts – and for the reasons as previously described on this site.
Simply put – you can be more natural on TNT, TNT spotlights him better and there is more of a "free-flow feel" when compared to the stuffy M$GN.
Don't believe me – just watch whenever Lundqvist is with Vagistat. Vagistat will make jokes at the expense of Lundqvist and then plaster him with all of this analytical junk – and whenever these routine occurrences take place – you can hear Lundqvist's eyes roll to the back of his head.
Conversely, and this was really apparent as Lundqvist told Biz that he'd never give him his barber's phone number; the back-and-forth between the two was more organic – and more important than that as a viewer – entertaining.
As the TNT broadcast continued, Lundqvist interviewed his buddy Jacob Trouba.
Here's what the captain had to say about Kane: "I'm excited. We're all excited. It's the worst kept secret. New York is the best place to play in the NHL. We now have the greatest American player too."
I should add here, as a blanket/general statement – nearly every Ranger was interviewed about Kane today. All of them said the same thing, the "e-word," as in "EXCITED."
It's also why I believe in all of the distraction stuff – because these players – and just like us fans – were absolutely giddy and couldn't contain their jubilation whenever speaking of the newest Blueshirt.
Come 7:30PM, TNT was blacked-out in New York.
Once Sam and Joe hit our screens, our "senile, but we love him because he's ours," Ranger grandfather, Rosen himself, said, "OH JOE EXCITING TIMES JOE. PATRICK KANE IS A RANGER JOE!"
And just like the Rangers and their fans – Sam and Joe couldn't hide their boners for Kane either.
This made the M$GN broadcast far superior than previous games, as for the first time in a long time – it felt like these two were true "homers."
In other words, there wasn't much of the reverse-curse stuff, the hexes, the vexes, the jinxes, etc.
Furthermore, there were no odes and/or tributes paid to a player of the opposing team.
The two were just head-over-heels when talking about both Kane and the team tonight.
REFRESHING!
In fact, rather than paying his daily homage to a Rangers' opponent; at one point, I thought Rosen's six-foot pompadour was going to disrespect the Bobby Clarke banner that hangs from the Wells Fargo Arena – and knock it down to the ice level!
GAME REVIEW time!
---
FIRST PERIOD:
As a general summary, the Rangers played a strong first ten minutes, took the next thirty minutes off, and then found-a-way to win.
But of course – don't forget that the team was playing short-handed – and missing their top two LD too.
In what I thought was a nice touch, the best Rangers' coach of this century, Gerard Gallant, let Braden Schneider start the game. Little things like this go a long way.
Following Zibanejad's opening face-off win (Mika finished fourteen of twenty-three at the dot – 60.9% – which feels like a season-high for him); the third line came on and soon exhibited what we'd see for the remainder of the game – they'd get a zillion chances – but could never find twine.
On the first of many scoring chances tonight, Kakko went wide with his back-handed shot. Once the third line left the ice, Motte hopped on, and at just the 2:35 mark, he drew Scott Laughton for slashing.
At the time, the Rangers, who had snapped their six-game streak of allowing the other team to score first against LA – would get a chance to extend their new streak of scoring first to two-games.
And that's what happened.
Just sixteen seconds into the power-play, and in what felt like one of the easiest & best executed power-plays of the season, Tarasenko found Zibanejad:
Panarin ➡️ Tarasenko ➡️ Zibanejad = PPG🚨

(It's Mika March btw) pic.twitter.com/4rMGwbduae

— Rangers on MSG (@RangersMSGN) March 2, 2023
---
1-0, GOOD GUYS, just like that, and at only the 2:51 mark of the contest.
I won't lie – at the time – I thought this goal was going to be the first of many, in an eventual Rangers' blow-out.
That's not exactly what happened. In fact, the complete opposite happened!
Up next, three consecutive Flyer power-plays.
At the 4:02 mark, Panarin was boxed for hooking the Russian Orthodox, Ivan Provorov.
During this Flyers' two-man advantage, we heard the same exact thing that we heard the last time when these two teams dueled in Philly – thunderous boos and jeers for the home team's defenseman, a member of the Rangers' alum too, Tony DeAngelo.
Similar to the game that I attended in Philly in December – Ranger fans packed the house tonight – and then let DeAngelo hear it.
And as I said then and as I'm saying now – I don't get the hate for DeAngelo – but he's no longer a Ranger – and if it throws him off his game (zero points, plus/minus stat of -1 tonight), then I'm all for it.
In addition, and as previously mentioned on this site – Tony DeAngelo sure is working his way up in my upcoming new book, "The Top 100 Most Hated Rangers' Villains!" (Working title!)
The Rangers' penalty kill, not exactly their strong suit as of late, were flawless here. Not only did they prevent the Flyers from a shot on goal; but at the end of this kill, CZAR IGOR made a home-run pass to Kakko, which forced Hart into making a big save.
Don't let Hart's stats from tonight fool you either – he played a great game, which was evident with 12:00 remaining, when he denied a Panarin-to-Trocheck hook-up.
A minute later, Motte stunted DeAngelo, but JVR rebounded and put a SOG – a save for Igor – and a save where the familiar chants of "IGOR, IGOR, IGOR!" then echoed throughout Filthadelphia.
Now with ten minutes remaining, this is when the tables turned for the Rangers. They wouldn't be able to flip the script back until the half-way mark of the third period.
Following Cates stripping Lafreniere in the Flyers' zone, only to be stripped himself by Fox; with 9:29 to go, Goodrow, when trying to prevent a goal (Igor was out of position) hooked NHL newcomer, Elliot Desnoyers.
Once again, the Rangers' PK did their job – while Ranger fans booed DeAngelo so loudly that Sam and Joe were forced to acknowledge it. (At least on this night, and as opposed to the last time when this happened – TDA wasn't returning following the passing of his grandmother.)
Once the Flyers' power-play had expired, CZAR IGOR came up with a pair of flashy denials.
Down to 7:00 remaining or so – this is when the Rangers really got sloppy – as it felt like they couldn't string two passes together.
Then, with 5:20 left on the clock, Trouba was boxed for tripping Cam York. Of the three Ranger penalties from this period (and the only three of the game) – I thought this call was questionable.
The third time was a charm for the Flyers, as just 25 seconds into this third home team man-advantage; Owen Tippett, who looked like he was trying to force a trade to a contender during this game, scored during a somewhat broken play.
As the Rangers struggled to clear the puck, where the rubber didn't take a bounce their way; the disc sprung loose, which then set-up Tippett for an all-alone shot from the circle to Igor's left.
1-1.
Prior to the goal, it looked like Desnoyers may have touched the puck with a high-stick, but that wasn't the case. Gallant, calmly, and not like a steroided-out UFC fighter, protested the goal – but the refs said good goal.
Igor would buckle down a bit here and came up with a few saves, as the Rangers went into "slop-fest" mode, as passes wouldn't connect and shots wouldn't hit the net.
In what I thought was telling – following a Hart stop on Trouba with 2:00 remaining – the Flyers played Mariah Carey songs over their speakers. This confirmed to me that the days of the "Broad Street Bullies" are long gone!
We remained tied after twenty minutes.
Here's what I said at the time:
1-1 after 1. 1P Thoughts:
— #NYR were flying and hot early, kind of slowed down at the half-way mark.
— Too many penalties, maybe one truly warranted
— SOG 10-9, Hits 13-10 PHI; FO's 8-6 NYR
— Complete faith NYR win this – much better – it's just these penalties.
LGR!

— BlueCollarBlueShirts (@NYCTheMiC) March 2, 2023
---
SECOND PERIOD:
This was the worst frame of the game for the road team.
This is also when M$GN showed us members of the NY Knicks wearing Kane jerseys – where I also want to mention this – you're now seeing a TON of media at Ranger practices & games.
"Rangermania" is now a thing (and as the climbing costs of tickets would suggest) – as I've never seen so many freelance reporters pop-out of the woodwork before. In addition, a lot of celebrities and new fans are all over social media too, as everyone jumps on the bandwagon.
However, I wonder how many of these people stuck around after these twenty minutes?
This period was an all-out mess, where by the end of it – it felt like Panarin had committed 88 turnovers himself, in a tribute to his old-and-now-new line-mate.
The third line continued to be snake-bit, as with 17:30 remaining, Chytil & Kakko, who have become the odd-man rush kings of late – had another one here – but the Czech center went wide.
Thirty seconds later, Hart stopped the Finn's heart, when he robbed Kakko on his fourth-and-final shot on goal of the match.
With the Flyers building momentum after several long shifts in the Rangers' zone, Tippett hit the post with 15:15 remaining. The pro-Ranger crowd responded with "IGOR, IGOR, IGOR!"
Come 14:00 remaining, each goalie traded robberies, as Hart blanked Chytil and CZAR IGOR stopped Farabee.
Ninety seconds later, and following one of Lafreniere's multiple turnovers, Wade Allison hit the post so hard that the ensuing <DING> sounded as if someone had gonged the Liberty Bell.
As Igor continued to get tested; with 10:45 to go, Tippett had another breakaway, where this time, the right-wing hooked a puck wide right himself.
At the half-way mark of the game/period – despite the score reading 1-all – it very easily could've been a field goal kicked for both teams.
Nineteen seconds later, Hayes almost scored an "excuse me goal," following another sloppy and failed zone exit; but Igor made the save.
Down to 9:00 remaining, another baked turnover from Panarin – and another odd-man rush for Philly – but thankfully, Hayes & Tippett couldn't finish.
However, as the Flyers continued their attack following Panarin's brutal turnover; Scott Laughton, from the boards to the right of CZAR IGOR, walked right in and beat the Rangers' goalie with 8:44 remaining.
2-1, bad guys.
This goal was on CZAR IGOR.
Despite Braden Schneider draped all over Laughton, Igor dropped to his knees way too early and the Flyers' center reacted by roofing the puck top-shelf.
Micheletti, and later, Vagistat too, both got on Igor for this – as this was a backbreaking goal – and something we've seen before too – Igor makes 678678967896789 amazing saves – but it's always some weak shot that goes in.
That said – this was also the final goal CZAR IGOR allowed tonight – so spare me from your "THREE-GORE" bullshit! (Yes, I know that nickname has been warranted lately but I hate it!)
Down to five-minutes remaining, the Rangers, due to their inability to move the puck and make passes – only had five shots on goal.
To me, and I know this is an excuse – I just thought that missing both Miller and Lindgren hurt.
Yes, it's on the Rangers' expensive forwards to do their jobs; but without #55 and #79, the Flyers were able to spend a ton of time in the Blueshirts' d-zone.
As the Rangers looked as flat as an 1980s can of "Colt 45;" Rosen shrieked, "I HOPE PATRICK KANE IS WATCHING. WELCOME TO THE RANGERS KANE!"
Never change Sam, never change!
Come 3:15 left on the clock, Vesey coughed up a puck right in front of his goalie – but CZAR IGOR bailed him out.
Under a minute to go, and for good measure – Tarasenko attempted the Rangers' 98767867868689th pass to the slot – a pass that like every single one before this one – led to a turnover.
We remained at 2-1, bad guys, after two periods.
Here's what I said at the time:
2-1, bad guys, after 40. 2P Thoughts:
— Not exactly the best period I've ever seen – too many turnovers, just sloppy.
— SOG 20-19, Hits 25-21 PHI; FOs 19-13 #NYR
— Playing without your top 2 LD hurts, but these forwards having a tough time connecting on passes.
— LGR!

— BlueCollarBlueShirts (@NYCTheMiC) March 2, 2023
---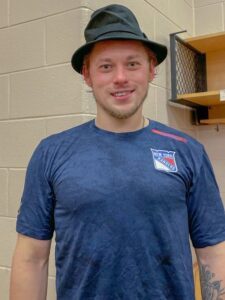 THIRD PERIOD:
After a thirty minute malaise; the Rangers finally had enough and decided to win this game.
While it wasn't as easy as they desired – it wasn't for a lack of trying either – as Hart made a bunch of good saves, while other scoring chances just missed.
This was evident just ninety seconds in, as a Fox-Trocheck-Goodrow tic-tac-toe play went "tic-tac-POST."
A minute after that, Lafreniere beautifully set-up Chytil – another miss at the net.
Down to 14:50 remaining, Lafreniere, albeit rushed by defenders, missed the net too – from a foot away. Thirty seconds after that, Lafreniere shot again, but this time, Hart came up with the save.
Come 13:23 left to be played; CZAR IGOR watched Tippett miss the net himself – a break for the Rangers who were hellbent on tying the game – but had this puck went in – who knows? And thankfully, we don't have to answer that question!
Following more Panarin turnovers, the second line recovered the puck – and from a foot away with 11:38 remaining – Trocheck missed a vacated net. Trocheck was furious at himself, as he threw his head back and muttered a four-letter word in his act of frustration.
A few seconds later – Chytil sent a puck into the net – the one above Hart – and not the one behind him.
Then, with 9:27 remaining – Tarasenko's second primary assist of the game:
Chris Kreider in front with the tip for his 2️⃣6️⃣ goal of the season to tie it for #NYR pic.twitter.com/L9pqqfU3qN

— Rangers on MSG (@RangersMSGN) March 2, 2023
---
This was only a goal that Kreider could score, his 26th of the season, as Tarasenko just dominated this play, rifled the puck on net, and BOOM – following the deft deflection – 2-2.
At this time, I felt it in my bones – there was no way the Rangers would lose this game – although to be fair – I thought that the third line would finally be rewarded following all of their never-ending chances.
Following this goal, Schneider and Goodrow tried a similar play; but unlike Tarasenko and Kreider – no good.
Come 5:30 remaining, CZAR IGOR stopped the Russian Orthodox again.
As the two teams battled, and with many stoppages in-between for icing and offside calls; with 3:04 remaining, M$GN plugged a new documentary that they are set to release, "A Day in the Life of Michelle Gingras."
I'm not making this up.
Nothing against Gingras – but this is what M$GN is investing in and asking their viewers to watch?
If it were up to me, and as stated before on this site, then I would've recorded and aired that Lundqvist & Richter goalie chat from last January.
And is it me – or is there anyone truly clamoring for an inside look at Gingras walking her dog?
Then again, I guess it could be worse – we could have a "Day in the Life of Sieve Vagistat," as he plays with his protractor and makes up stats!
---
As the two-minute warning hit; Schneider prevented Tippett from scoring the potential game-winner.
Following some more chances from the third line; down to thirty seconds remaining, Fox made a pair of back-to-back denials on potential Flyer zone entries.
However, the eventual third try did enter the Rangers' d-zone, and with just ten seconds remaining – CZAR IGOR came up with a pair of thunderous pad stops to keep the game tied as the horn went off.
2-2 after sixty.
Here's what I said at the time:
2-2 after 60. OT is needed.
— #NYR got a point for playing half a game
— SOG 27-24, Hits 33-30 PHI; Fos 25-19 NYR
— Rangers win this game without the three Flyer penalties
— Tarasenko's first OT I believe…
— Rangers don't give up.
— Win this thing!

— BlueCollarBlueShirts (@NYCTheMiC) March 2, 2023
---
OVERTIME:
For a Rangers' team prone to giving up a ton of odd-man rushes lately; that wouldn't be the case during this bonus period.
Prior to Tarasenko's walk-off goal; the Rangers patiently bid their time, and let the Flyers stay on the ice for over two-minutes, as the Blueshirts passed the puck around, while entering-and-leaving the zone.
With 2:28 remaining in the extra frame, Tarasenko finally had enough of the waiting around:
Vladimir Tarasenko – It's A Winner!!!

Rips one in OT for the GWG in Philly 🚨 pic.twitter.com/B9hi3P0yZd

— Rangers on MSG (@RangersMSGN) March 2, 2023
---
3-2, GOOD GUYS, 3-2, GOOD GUYS, FINAL!
While Schneider and Chytil were rewarded with apples here – don't get it twisted – this was all Tarasenko – and the Tarasenko that was advertised too!
Once getting the puck, Tarasenko blazed by three Flyers and then launched a wicked wrist shot to send the team home happy up I-95.
While it wouldn't have been the end of the world had the Rangers lost this game, and once again, lived up to their "play down to the competition" label; what a good way to enter tomorrow night at M$G – where as you may be aware – Kane will be in the line-up!
Here's your favorite coach and mine, Gerard Gallant, following the win:
---
Of note – Dave Maloney should be interviewing Gallant after every game. He drew from his experience and asked all the right questions – something the Rangers' beat usually fails to do.
Here's the hero from Wednesday night:
---
As Gallant, Tarasenko and the other Rangers interviewed following the game all said – that second period was bad – but they found a way. However, and as they also all said – this can't be a common occurrence either.
---
Up next: The Rangers host the Ottawa Senators. The Blueshirts will debut a new player during this game – but I'm sure you've heard all about this by now!
Of note: I will be attending this game, so if you follow me on the Twitter machine for live in-game commentary, that will be sparse, as whenever I'm inside of the arena – I focus on what's in front of me – and not what's on my phone.
I also have to give a big thanks to blog reader and friend, Marc G., and his wife Martine, as due to their fandom of this site – they are the ones who are hooking me up with tickets. Without them, I'd be sitting on my ass on my couch at home on Thursday night – as I just couldn't bring myself to tap my bank account for one game!
In other words – ticket prices for Thursday night are skyrocketing, where as of last check, the "get in" price has now reached $300+, which means that Marc & Martine were very generous with me. I've thanked them privately and I'm now thanking them here publicly – so THANK YOU guys – as I know my dad and I will have an excellent time – when watching the Rangers win! (A Kane goal won't be shabby either!)
Since I won't be back home until late Thursday night – and if the game is really good – then early Friday morning – tomorrow's Senators/Rangers GAME REVIEW blog won't be posted until the wee hours – if not on Friday afternoon.
And should you follow me on the Twitter (@NYCTHEMIC); while I won't be tweeting the game as I usually do (my tweets are my "blog notes"), I will be posting plenty of pictures – as Marc & Martine went out of their way to generously get me into excellent seats.
I can't wait.
My long manifested dream becomes a reality on Thursday night.
LGR!
PLUGS TIME!
---
My first plug of tonight's blog – the mandatory plug for my book, "The New York Rangers Rink of Honor and the Rafters of Madison Square Garden."
As mentioned previously, the book is now available in hardcover, in paperback and in Kindle formats. To purchase a copy of the book, visit this link:
https://www.amazon.com/Rangers-Rafters-Madison-Square-Garden-ebook/dp/B09CM5N2WD
For those still looking for signed paperback versions of the book, I have re-ordered more copies. I now have a few signed copies for sale at $25 a pop (includes shipping price) through me directly. Here is all the information on that:
---
My four-volume set of books, "One Game at a Time – A Season to Remember," is a game-by-game recount of the Rangers 2021-22 campaign.
My second title as an author, "One Game at a Time – A Season to Remember," is now available in eBook, paperback and hardcover formats.
To obtain signed copies, visit: https://bluecollarblueshirts.com/onegamebook/
To purchase all four volumes on Amazon, visit: Amazon.com – "One Game at a Time."
---
The greatest volume-set of books on Rangers' history today!
"Tricks of the Trade – A Century-Long Journey Through Every Trade Made In New York Rangers' History," a four-volume set of books that meticulously covers every trade made in franchise history, is now on sale.
All four volumes of the title can be purchased on Amazon.com and are presented in three different formats – eBook, paperback and hardcover.
To purchase Volume I: Conn Smythe (1926) – Craig Patrick (1986), visit Amazon.com
To purchase Volume II: Phil Esposito (1986) – Neil Smith (2000), visit Amazon.com
To purchase Volume III: Glen Sather (2000-2015), visit Amazon.com
To purchase Volume IV: Jeff Gorton (2015) – Chris Drury (2022), visit Amazon.com
To purchase signed copies of all four volumes, visit https://bluecollarblueshirts.com/tricksofthetrade/
---
Here are my last few blogs, in case you missed them:
---
---
---
If you haven't already, subscribe to this blog for the next update:
---
Don't forget to order my new four-volume set of books, "Tricks of the Trade!"
If you don't order through me, all four volumes are now available on Amazon.com
For more details, check out: https://bluecollarblueshirts.com/tricksofthetrade/
Thanks for reading.
LET'S GO RANGERS!
Sean McCaffrey
BULLSMC@aol.com
@NYCTHEMIC on the Tweeter machine