Greetings and salutations everyone and welcome to another blog here on BlueCollarBlueShirts.com. What cause for concern?
And oh – after a subpar start to the season (at least for him) – CZAR IGOR, SUPER SHESTY, is back!
I know that I've previously mentioned on this site how some people, including both my friends and readers alike, have bombarded me with their "THREE-GORE" nickname for the 2022 Vezina Trophy winner during this 2022-23 campaign.
After Saturday night? "THREE-GORE IS NO MORE!"
For fans who didn't witness the Rangers' 6-0 humiliation of the Penguins; then you may just look at the final score and say, "the rout was on."
While that's true; what the final score, nor the box score neither, won't tell you – is that without CZAR IGOR – then perhaps the Penguins would've been the team who scored a touchdown on Saturday night.
Prior to Mika Zibanejad scoring his league-leading tenth opening goal of the season at the 5:10 mark, where no one knew at the time that this tally would hold up as the game winning goal of tonight's tilt; CZAR IGOR had already amassed five saves – where eighty percent of them were of the "HIGH DANGER" variety.
In other words, before DJ MIKA spun his team-high 36th goal of the season – the Penguins could have easily had a multi-goal lead – and where this goal would've just cut that assumed lead in half.
As the period progressed, and with just 1:04 remaining – CZAR IGOR already had fifteen saves under his belt. It was also at this time where Evgeni Malkin's latest act of frustration took place – but we'll talk more about his double-minor from this time during the GAME REVIEW segment.
The Rangers, still up 1-0 at this point of the match, then found their second goal with just ten seconds remaining in the first frame, as Artemi Panarin baked a power-play goal, his 21st strike of the season.
Heading into the first intermission – it were the Rangers, and not their foes, who held a two-goal lead – where if you didn't know better – then you would've thought that the Penguins were leading on the scoreboard.
After all, they were leading over the home team in every other pertinent statistic.
That is, except for saves – as CZAR IGOR's perfect and flawless 15 of 15 performance was the difference – and with no disrespect intended for the two "FAT CAT" goals.
Once returned from the locker room for the middle frame – the Rangers not only played their best period of the season – come 10:47PM EST, when tonight's contest reached its conclusion – Gallant's Gang had played their best game of the season too – and that remark has nothing to do with a recency bias either.
The Rangers found every which way to score during the middle twenty minutes. The red-hot Vladimir Tarasenko scored during a Blueshirts' 3 x 1 odd-man rush. Chris Kreider picked up his 31st goal of the season following another odd-man rush himself, which then put the Rangers up by four goals at just the 6:43 mark of the period. This goal also ended Tristan Jarry's night.
No less than two-minutes later, and with Pens' back-up, Craig DeSmith, now in net; "THE GREAT EIGHT," the captain, Jacob Trouba, bounced a puck off of the goaltender's mask from a bad angle, which then put the Rangers up by five.
A Panarin goal, one of the easiest goals that he'll ever score in his career, following a perfect pass from his "OLD FRIEND," Patrick Kane – soon put the Rangers up by six – and with 24:22 remaining in regulation time.
While the Rangers would never kick the extra point in this game, nor really truly go for a "SEVENTH HEAVEN;" that was also by design.
Following their six-goal explosion; Gallant and company sat back a bit – and where outside of CZAR IGOR – I don't think you can make an assessment of the final frame at all – except for the fact that perhaps Barclay Goodrow should never play on the power-play again! (More on this during the GAME REVIEW.)
The Rangers, who had previously killed off three penalties during their statement second period, killed two more during the final twenty minutes of action.
And with the Blueshirts not looking to embarrass their opponents, even if that's what the fans inside of M$G wanted – CZAR IGOR, when trying to pick up his second shutout of the season at the time, had his name called again-and-again – and then reminded everyone why he has a Vezina Trophy on his mantle.
As the final horn went off, RANGERS SIX, PENGUINS ZERO. A 33-save masterclass from CZAR IGOR, and where this much is true too – this team, which has had issues with getting the skaters, the special teams and the goalie all clicking at the same time – they all played as one fluid entity tonight.
That is, except for Filip Chytil, who is now nineteen straight games without a goal, where both sadly and ironically, he's been stuck on nineteen goals during this slump.
But of course, Chytil's lack of production isn't the lede story tonight. It's not even the secondary or tertiary story either. He's just an afterthought following, HANDS DOWN and BAR NONE, the Rangers' best win of the season.
---
While I don't think that considering this game as the best win of the season has any recency bias to it; perhaps my following comments do have some recency bias to them – but bear with me anyway!
I won't play my "GREATEST HITS" here, as I'll just tell you to check the archives of this site for the proof instead; but prior to the 2021-22 campaign – I did predict the Rangers to reach the 2022 Eastern Conference Final.
The basis of my prediction? My faith in both the general manager, Chris Drury, and his hand-picked head coach, Gerard Gallant.
This season – I have predicted the Rangers to go all the way – where this caveat has been repeatedly mentioned throughout these past six months – just wait until after the trade deadline to make your full assessments of the team.
After all, and just like any other season, where Stanley Cup contending teams are pressed up against the salary cap and can't make their moves until the trade deadline rolls around – you knew that Chris Drury would have something up his sleeve.
He wound up having "somethings" – and up both of his sleeves!
As said all season, and as I'm saying again, that's why I couldn't give much matter about guys like Sammy Blais, Zac Jones, Libor Hajek, Dryden Hunt, Vitali Kravtsov and others – because I knew – just like you astute readers – that these guys would never factor into the Rangers' playoff plans.
(I will say – I didn't think that Ryan Reaves would be traded – so no – I don't know everything!)
And while I did believe that we'd see the third player of franchise history to wear #88 as a Ranger, Patrick Kane (and you can check the archives of this site for the evidence – as I first said this in June of '22 – although I expected this trade to happen sooner than when it did) – I can't say that I predicted Drury to land Vladimir Tarasenko too!
However, what I did truly believe in, and above all else – was that the Rangers' g.m. would knock it out of the park – again.
I also believed there would be an adaption/acclimation process – and now over two weeks removed from the deadline – we're finally starting to see that.
Not only are the "name-brand" Rangers taking over games, while getting used to their new teammates as well, such as Zibanejad, Kreider, Panarin and Trouba – but the two rentals, perhaps the final pieces of a fifth Stanley Cup win in franchise history, Tarasenko and Kane – these two future Hall of Famers are now getting comfortable in their new home too.
And while all of this is looking waaaaaaaay ahead, as nothing has been won yet, not even a singular playoff game – perhaps if the Rangers can achieve their goal – and finally have that long overdue parade – then maybe one, if not both, will agree to take less money in order to defend such a championship.
But yes – I'm putting the cart ahead of the horse here!
After all, and as Gallant always says, "ONE GAME AT A TIME!"
That said, and as we all know – the Rangers will perhaps go only as far as CZAR IGOR will take them – and if tonight was any indication – then prepare for Blueshirt hockey in June!
As I wrap-up this segment – these past three home games, which followed a concerning three-game road trip that the Rangers took five of a possible six points from – and despite such alarms – have been extremely encouraging.
It may have taken 69 (nice) games – but the plan is starting to come together – much like the team's chemistry.
Simply put – the Rangers couldn't have found a better time than now to play their best hockey of the season – which is why anything less than a Stanley Cup victory will be considered as disappointing – despite the team's current four chalice wins during the past 97 years!
At this time, let's take a quick look at the pregame news & notes, followed by tonight's GAME REVIEW.
---
Following the Rangers' big win from Thursday night, a day later, Friday, St. Patrick's Day; the team had the day off.
Gallant's Gang didn't necessarily take a break from the ice because of the holiday. Instead, their busy schedule, including a back-to-back set this weekend, was the reason for their day of rest.
Come Saturday morning, the team held an early skate, where everything remained status quo, except for one change – Ryan Lindgren was back on the ice with his teammates.
However, and as you all know by now – the Rangers aren't going to rush Lindgren back until he's 100%.
Following the light practice, Gallant held his daily "TURK TALK."
Here it is:
---
Gallant reiterated that while Lindgren was skating with the team, he still remains "day-to-day."
Prior to puck drop – I thought that Lindgren wouldn't play – just because the Rangers are playing on consecutive nights. In other words, there's no reason to throw double-nickel right into the fire, as it's much better, at least in my opinion, to ease him back.
And that's what happened, as Lindgren didn't play tonight, thus missing his tenth consecutive game.
I won't bother you with the "they should've LTIR'd Lindgren" talk tonight.
At the end of the day – it's not like Drury, Gallant and the medical staff expected #55 to miss ten games. Live and learn. Management gambled and hoped for the best – it just didn't play out the way they wanted.
As far as anything else, Wince Mercogliano asked the most pressing question of them all, "Do you want to play well against the Penguins?"
A regular Walter Cronkite.
---
Here was the Rangers' line-up from Saturday night:
FIRST LINE: Panarin/Mika/Tarasenko
SECOND LINE: Kreider/Trocheck/Kane
THIRD LINE: Lafreniere/Chytil/Kakko
FOURTH LINE: Vesey/Goodrow/Motte
FIRST PAIR: Miller/Trouba
SECOND PAIR: Mikkola/Fox
THIRD PAIR: Harpur/Schneider
STARTING GOALIE: CZAR IGOR
BACK-UP GOALIE: THE HALAKNESS MONSTER
DAY-TO-DAY: RYAN LINDGREN
PRESS BOX: The ghost of Vitali Kravtsov
---
BOX SCORE time.
The following graphics and information come from ESPN.com:
SCORING:
PENALTIES:
TEAM STATS:
GOALIES:
| | | | | | | | | | | |
| --- | --- | --- | --- | --- | --- | --- | --- | --- | --- | --- |
| SA | GA | SV | SV% | ESSV | PPSV | SHSV | SOSA | SOS | TOI | PIM |
| 17 | 4 | 13 | .765 | 10 | 3 | 0 | 0 | 0 | 26:43 | 0 |
| 7 | 2 | 5 | .714 | 3 | 1 | 1 | 0 | 0 | 33:17 | 0 |
| | | | | | | | | | | |
| --- | --- | --- | --- | --- | --- | --- | --- | --- | --- | --- |
| SA | GA | SV | SV% | ESSV | PPSV | SHSV | SOSA | SOS | TOI | PIM |
| 33 | 0 | 33 | 1.000 | 28 | 4 | 1 | 0 | 0 | 60:00 | 2 |
---
---
Tonight's broadcast was presented by ESPN, as this game was an ABC national telecast.
Despite hosting a prime-time game on free TV – ABC/ESPN opted not to present a pregame show.
Instead, a very pertinent "Wheel of Fortune" rerun aired from 7:30PM-8PM.
"OH JOE, THE YAMS ON VANNA WHITE JOE!"
Steve Levy, with Chris Chelios and P.K. Slewban by his side, laughed about the poorly produced six-second pregame show, where the two members of the NHL alumni didn't have much to say – nor did they have a chance to.
Then again, with Mark Messier MIA tonight – this wasn't a bad thing either – as it saved us from having to endure the wretched Slewban for an elongated amount of time!
Better than all of that?
Instead of having to deal with Slewban, ESPN actually showed us the National Anthem, as sung by everyone's new favorite baritone, John Brancy – and where the new vocalist at M$G has done a fine job in succeeding his predecessor, John Amirante.
And don't get it twisted – those are tough shoes to fill!
Also a nice touch?
As Brancy belted out "GALLANTLY" during the anthem – ESPN went to a camera shot of "THE TURK."
I bring this up because I've said this in the past:
Similar to the way that Golden Knight fans scream "NIGHT" during the anthem, and how many other teams across the league roar for other lyrics from Francis Scott Key's most famous song; it wouldn't be the worst thing in the world if Blueshirt backers paid their respects to the coach with the best winning and points percentages of franchise history, Gerard Gallant, whenever the word "GALLANTLY" is sung!
Following resident Ranger hater Ray Ferraro tickling the balls of the Penguins, and ABC/ESPN showing us a shot of Sean McDonough in his Taliban-inspired surroundings; the puck was finally dropped.
GAME REVIEW time.
---
FIRST PERIOD:
As noted at the top of this – while the Rangers came away from this period with a two-goal lead – for the most part, the Penguins looked like the better team – that is, until Malkin took his penalty and woke up the Blueshirt Beast!
Just like Thursday night, the last time these two teams played, Gallant went with the Mika line to start the game – and where Zibanejad (12 of 23, 52.2%) began the contest by defeating Crosby at the dot.
The third line, where sans Lafreniere, wasn't very hot or noticeable tonight (Kakko, in a scoring slump himself, didn't have a SOG – and that's now four of the past five games without a SOG from the Finn); this trio spent their first shift chasing around the Penguins in the Rangers' d-zone. Thankfully, the visitors soon found themselves offside at around the two-minute mark.
At just the 2:40 mark, we had our first of many "IGOR! IGOR! IGOR!" chants, as #31 made a hell of save on Archibald, as the Pens' right-winger was stopped from the low slot.
Come 16:10 remaining, and in a play similar to the one that Tarasenko made last game; Pittsburgh native, NONNA TROCHECK'S BAMBINO, dove for a puck at the blue line to keep a possession alive. However, it was then ruled that he wasn't offside, but that he had made a hand-pass instead. Regardless, this was another balls-to-the-wall play that shouldn't be overlooked.
It was also at this time where Trocheck's previous beefs with Malkin were brought up.
A minute later, CZAR IGOR made a pair of robberies, when he stopped both "Rakell, Rakell, The Musical" and Jake Guentzel – the other two men of Pittsburgh's top line.
In other words – it could have very easily been 2-0, in favor of the desperate Penguins – but CZAR IGOR wasn't having any of that talk tonight.
Perhaps inspired by his goalie, or by the month of March himself – enter Mika Zibanejad:
What month is it?

(via @NYRangers) pic.twitter.com/Y0OqVxUYtK

— Rangers Videos (@SNYRangers) March 19, 2023
---
1-0, GOOD GUYS, as for whatever reason, Zibanejad always plays his best hockey in the month of March.
I'd like to see him debunk that talk – and then play his best hockey of the season in April, May and June!
This was kind of a "puck luck" goal, but a hard-working tally nonetheless; as following a TROUBA BOMB from the blue line, which hit a ton of traffic, there was Zibanejad, from the lower left circle, backhanding a puck right past Jarry at just the 5:16 mark.
Needless to say, this was a heck of a start, as the Rangers had neutralized the Pens' hot opening.
Come 13:59 remaining, the Pens were boxed for too many men on the ice.
While this wouldn't come back to bite them, this point is true regardless – this was another game where the Rangers held an early lead – yet their power-play wouldn't be able to extend this early lead either.
Chytil, who remains a mess, despite his extra time spent on the practice rink in Tarrytown (and as he's done during the two previous practice days); turned over the puck immediately during this power-play.
I don't know about that $6,000,000 contract that many have suggested for him. He's going to need a monstrous playoffs in order for that to happen.
The end of the power-play saw Jarry stop Fox, Fox shoot wide, Panarin hit traffic and then Jarry denying Kane of a goal.
Returned to full-strength and with 11:15 remaining; Trouba snuffed out a Crosby scoring chance, as the captain remains as the best d-man on the team ever since Lindgren went down. (Mikkola hasn't exactly helped Fox during these past ten games – and for the reasons as noted on this site in the past.)
As we hit 10:25 remaining, we had our first true physical scrap of the game.
While sitting on his royal hiney; CZAR IGOR stopped both Malkin and Zucker. As Zucker tried to get cute, the Rangers responded, where funny enough, it was the goalie himself who shoved away Zucker like a worthless bum.
Now with 8:40 left on the clock, Kreider crushed Pettersson with a clean and legal hit. This hit didn't get much talk at the time – but Pettersson would soon leave the game – and after one shift played at the start of the third period – never returned. Of course, with the Rangers up 6-0 at the time – there was no reason for Pettersson to return either.
As we approached seven minutes remaining, CZAR IGOR had thirteen saves to his name – where in other words – he was averaging one save per minute.
Come 5:15 left to play, Fox blasted a puck that Archibald blocked with his knee cap. Despite the Pens' skater down on the ice, and soon to limp off to the visitor's bench; the Rangers couldn't capitalize here. Instead, the Pens had a two-vs-one odd-man rush – and CZAR IGOR came away from it with his fourteenth save.
Following a Chytil/Letang collision with 3:50 to go, Jarry, who at this point wasn't horrible, stopped Fox.
Ferraro's response, a truthful one at that? The following: "Chytil hasn't scored in forever."
With the fourth line on the ice, McDonough pulled an Adam Herman and flat-out lied on-air, when he said, "Tyler Motte elbowed Jeff Petry in the face last game and that's why the Pens are down a defender."
In reality, Petry skated into Motte's elbow on Thursday night – and where #14 wasn't even looking at the black-and-yellow skater at the time of this accident.
Trouba, again, who is doing it on both ends of the ice; with 2:31 remaining, he prevented Malkin from entering the zone, which then forced Jarry to make a save on Miller.
Now down to 64 ticks remaining – perhaps the turning point of the game.
Malkin cross-checked Schneider from behind, which earned him a two-minute minor for boarding.
On the scrum that ensued, both BIG BEN HARPUR and SHREK got into it, and both men took off-setting roughing minors as a result.
As Harpur and Malkin sat down in the sin bin, ESPN cameras caught Harpur telling the long-time Pen, "I don't see you backing your shit up once. Not once!"
Who did "back up their shit" was Artemi Panarin, as with just ten seconds remaining in the period, "The Breadman" found the short-side of Jarry, and sniped a puck into the finite amount of space afforded:
Artemi Panarin zips a terrific short side shot past Jarry on the power play, extending the Rangers lead to 2!#NYR pic.twitter.com/E11nqCJkSv

— Hockey Daily 365 l NHL Highlights (@HockeyDaily365) March 19, 2023
---
2-0, GOOD GUYS!
I should also mention that prior to the goal, McDonough referred to Larry Brooks as a "legendary writer," and brought up the great piece that the Hall of Fame scribe wrote about Schneider – as the second-year d-man doesn't take many penalties.
I bring this up because you'll never hear the words "legendary writer" ever be used whenever discussing the rest of the reporters on the Rangers' beat!
Assisting on Panarin's goal was Adam Fox, as he logged his 52nd apple of the season. Erik Karlsson who?
We remained at 2-0, GOOD GUYS, as the horn went off – and where because of CZAR IGOR – the Rangers had voided the strong play of their opponents.
Here's what I said at the time:
2-0, GOOD GUYS, after 20. 1P Thoughts:
— Penguins largely dominated the period, but #NYR lead by two.
— CZAR IGOR SHOW.
— Fat Cats scoring!
— SOG 15-11, FOs 13-8 Pens; Hits 7-4 NYR
— Another chippy game
— Glad to see the PP extend the lead
— Keep it up!
— LGR!

— BlueCollarBlueShirts (@NYCTheMiC) March 19, 2023
---
SECOND PERIOD:
Following a horrible intermission segment where Slewban said that he didn't want to talk about Messier's absence because Ranger fans were watching (you're welcome – you may recall how I "TRIGGERED" Slewban two weeks back), and where the notorious slew-footer also alleged that Lindgren was playing tonight (this tells you how much he's actually paying attention); up next – one of the most blistering Blueshirt periods of the season.
Since ESPN had audio/visual issues once again, this time during a Kaplan/Zibanejad interview (the screen froze as the two looked like they were showing off each other's "o-faces" – and I'm sure that Chytil wasn't happy about that); the world-wide leader then missed the opening faceoff.
I'm to assume that the Penguins won this draw, as they had possession of the puck – and where at just the fifty second mark – Trouba closed a backdoor potential scoring threat on Guentzel.
Following saves on either end, as Jarry stopped Fox and Igor stopped Friedman; at just the 3:54 mark, the Rangers had their first true odd-man rush of the game, this time of the 3 x 1 variety, and "THE ATM LINE" then made Jarry look elementary, my dear Watson!
Take a look at Tarasenko, who is just in the zone these days:
IT'S TARASENKO TIME 🔥

(via @NYRangers) pic.twitter.com/QTHPVmSC1r

— Rangers Videos (@SNYRangers) March 19, 2023
---
3-0, GOOD GUYS, with Miller & Mika picking up the assists on VLAD THE IMPALER'S no-doubt-about-it goal.
What execution.
(And just like Thursday night, where I also bet a 4-0 final – I also bet on a Tarasenko point too! In other words, I balanced myself out!)
Down to 15:25 remaining and with the Penguins visibly frustrated; we had another scrum, the end result following a pair of CZAR IGOR saves.
However, and as opposed to previous scrums (and ones that followed) – Trocheck was nailed for a roughing call on O'Connor.
Yes, I'm a Rangers fan, and yes I'm biased – but I can put that stuff aside whenever writing these GAME REVIEWS.
This was not a penalty. Furthermore, you'd never see this called during a playoff game.
In my eyes, and as both past & present NHL officials have confirmed this – this was a "keep-the-game-close" penalty.
Down 3-0, the officials gave the Penguins a mercy power-play.
However, the puck don't lie.
Behind excellent penalty killing from the usual suspects, including Vesey, Mika, Kreider, Trouba, et al.; the Rangers didn't afford the Penguins one shot on goal during these two minutes.
Better than that?
Trocheck, now out of the box, then popped-out the proverbial middle-finger too – and soon set-up the fourth Rangers' goal of the game:
RIDICULOUS pass from Kane to Kreider 😤

(via @NYRangers) pic.twitter.com/y3MVvbEmkw

— Rangers Videos (@SNYRangers) March 19, 2023
---
4-0, GOOD GUYS!
On this goal, Trocheck, and in no less than eight seconds removed from the sin bin; found Kane wide-open. Kane and Kreider then made their way to Jarry – and BOOM – Kane deftly dished the puck for a gimmie goal for the longest-tenured Ranger.
This goal, scored at just the 6:43 mark, ended Jarry's night.
Things wouldn't get any better for Jarry's back-up, DeSmith, either.
As M$G mockingly chanted "JAR-RY! JAR-RY! JAR-RY!" – the captain struck next.
Here's Jacob Trouba potting a goal after finding the side of DeSmith's mask:
Jacob Trouba puts one in off the mask of Casey DeSmith 😳 pic.twitter.com/BHTW3hdzxo

— Sportsnet (@Sportsnet) March 19, 2023
---
5-0, GOOD GUYS!
Tarasenko & Mika were awarded assists here, but make no bones about it – this was all Trouba – and some luck too!
There was still 11:15 left to be played after this goal, where unfortunately for the road team – they couldn't wave the white flag and retreat back to their Igloo.
I should mention, while I was thinking this at the time, it was Ferraro who said it first – now up 5-0, and with a game to be played in less than 24-hours on Sunday night against Nashville – while Gallant has been balancing his lines anyway – this score just allowed the head coach to lessen the ice time for his best players, in an attempt to get them some rest.
And we saw A LOT of that during the third period.
With 9:43 remaining, CZAR IGOR, when trying to wrap the puck around the boards, accidentally sent the puck over the glass. In turn, the Penguins would have their second power-play of the game.
No matter, as CZAR IGOR made one save during these two-minutes and also made a superb poke-check on Zucker.
The Rangers' PK was now 2-2 and with three more kills coming.
Down to 5:53 remaining, it was Kreider's turn to the box, after tripping Guentzel – perhaps an unnecessary penalty at this juncture.
CZAR IGOR made one save during this kill, while Vesey, and as always, played well.
It was also mentioned by ESPN at the time that not only was the Rangers' PK a perfect 3-3 tonight – but that the PK had killed 20 of their previous 22 opposing power-plays faced.
Not mentioned in that factoid?
Of the two most recent PPG's allowed – one of them took place last Sunday, during the Pens' 5 x 3 power-play.
And as I'll soon mention during the third period – that's why the EYE TEST, and not black & white stats (and eff ANALytics too), is the only way to go!
And similar to the Trocheck penalty, and with Kreider now removed from the box; the Rangers quickly scored again – although it would "take" 31 seconds to do so this time!
Here's Panarin scoring one of the easiest goals of his career:
Don't let Kane and Panarin get hot 🔥

(via @NYRangers) pic.twitter.com/E9tliVmFPs

— Rangers Videos (@SNYRangers) March 19, 2023
---
6-0, GOOD GUYS, as Kane found his long-time buddy all alone and in front of a vacated net.
With this assist, which took place with 3:22 remaining – Kane now has 7 points in 8 games played as a Ranger.
And had the Rangers treated the Penguins as a real threat during the final frame – then who knows – maybe Kane would be averaging a point-per-game as a Blueshirt!
CZAR IGOR wasn't done yet. In fact, and consider his first period – the toughest stretch of the game for him soon followed.
With 2:27 remaining, CZAR IGOR robbed O'Connor on a mini-breakaway. Forty seconds later, he made another robbery save, this time following a Pens' odd-man rush.
These two saves preserved the Rangers' six-goal lead – a lead that would remain as the horn went off.
Here's what I said after the middle frame in real-time:
6-0, GOOD GUYS, after 40. 2P Thoughts:
— 20 mins away from the best win of the season – bar none
— Hasn't been often when the skaters & the goalie click as one
— SOG 26-20, FOs 24-18, Hits 11-10, Pens
— The O will steal headlines but CZAR IGOR stole this game early. #NYR

— BlueCollarBlueShirts (@NYCTheMiC) March 19, 2023
---
Of note: Look at the stats at the time. The Penguins were leading in everything, except the ones that matter the most – goals and goals against!
---
THIRD PERIOD:
Outside of CZAR IGOR – there was nothing learned or gained from this period.
Mike Kelly (one of Gallant's assistants – the one that looks like a Larry Brooks doppleganger), told Kaplan that the game-plan was to not run up the score. Of course, no Ranger fan wanted to hear that.
I'm sure that the fans who bet the -6.5 over didn't want to hear that either!
Perhaps worse than that, was McDonough's frequent usage of the word "SHUTOUT," as the ESPN dummy must've said that word no less than a dozen times during this period.
No etiquette at all!
And unlike Sam Rosen – McDonough's jinxing powers were no match!
The Rangers' respect for their opponents, and laissez-faire approach to offense, wasn't very appealing.
While understandable, this is also why you can't go solely by stats – as the Rangers weren't trying to score, nor did they feature their top power-play units during the two separate man-advantages they later received.
In other words, the Rangers' power-play went 0-2 this period – but that's a stat that will count whenever talking about the power-play.
Furthermore, and to this point, the Blueshirts only took four shots on goal during this period – as again – they weren't looking to score at all.
Again, the EYE TEST – the only thing that matters
---
To begin the final frame, the Pens had two long possessions in the Rangers' zone, but Trouba, always at the forefront these days, was able to thwart off these threats.
The only thing that mattered at this point was CZAR IGOR picking up his second shutout of the season, the tenth of his career – and where the Rangers' taking their foot off of the gas approach didn't do him any favors.
Down to 16:20 remaining, CZAR IGOR's left skate blade prevented Crosby from scoring a backhanded goal from the paint. While this wasn't recorded as a save – it probably should have been.
Following a "SCORPION SAVE" from #31; I made this remark on the Tweeter machine:
IF #NYR get another PP , it will be interesting to see if the fourth line starts it – as they now allow the Pens to get right to Igor again – another robbery, 14:55 to go. They've taken their foot off of the gas.

— BlueCollarBlueShirts (@NYCTheMiC) March 19, 2023
---
And wouldn't you know it, just a second after that tweet, Dumoulin was boxed for high-sticking Trocheck.
While the fourth line didn't begin the power-play – the third line did. The fourth line, and as they'd later do, would take the final remaining seconds of the man-advantages.
In my eyes, and I think this is obvious, Gallant was trying to get the third line going – specifically Chytil and Kakko.
That's not what happened – as for whatever reason – these two remain as cold as ice.
And while I'm not ready to give either player the "KRAVTSOV TREATMENT" (the Rangers sure miss the Russian Wayne Gretzky of his generation these days – am I right!?! I'll never stop laughing at these basement miscreants who buried Gallant for not playing #74, now #91 in Vancouver, and with only one point in his nine games played there); needless to say – there's no excuse for their lack of production.
However, with the team rolling – their lack of scoring will be overlooked – and where you just hope that these two find their way again come playoff time.
Also receiving power-play time was Braden Schneider – a nice tip of the cap by "THE TURK."
Unfortunately, with just four seconds remaining on this Ranger power-play – Goodrow took a penalty himself – an o-zone infraction for high-sticking Ruhwedel.
The Rangers survived the Penguins' fourth power-play of the game – and where CZAR IGOR came up with another robbery, this time on Rakell.
Come 9:27 remaining, Chytil was slashed, thus giving the Rangers another power-play.
Once again, the third line did nothing, while Goodrow took another o-zone penalty – ensuring that he'll never play on the power-play again.
And once again – CZAR IGOR stood tall.
Here's what I said at the time:
Igor freezes Rakell, 6:00 to go, 16 seconds on the PK – I get the "code" – and the idea of not embarrassing your opponent – but the Pens are trying to score – gotta do the same – and help Igor out #NYR

— BlueCollarBlueShirts (@NYCTheMiC) March 19, 2023
---
With 4:15 remaining, and with both teams long-returned to full-strength; CZAR IGOR made a blocker save on Ruhwedel – his 33rd and final save of the game.
Up next, "THE ATM LINE" came on the ice and spent a minute dicking around in the Pens' zone – where they passed-passed-passed and burnt time off of the clock – their intention.
For the final two-minutes, that jackass Sean McDonough repeated the word "SHUTOUT" – as if he was getting paid every time he said it.
No matter – the Rangers – long the winner of this game – kept Igor's NYET-NYET alive.
6-0, GOOD GUYS, your final.
And hey, wouldn't you know it – with thirteen games remaining for each club – the Rangers are now only five-points back of the second-place NJ Devils.
If the Devils can't jump Carolina for first-place – then it wouldn't be a bad thing if the Rangers can steal second-place – and receive home-ice advantage for the first-round.
Although, let's face it – should the first-round feature the two teams that compromise "The Battle of the Hudson" – all of those games will be Blueshirt home games!
Here's your favorite coach and mine, "THE TURK," following the biggest win of the season:
---
How Gallant remains so calm is beyond me.
I'm ready to walk through walls right now – but he's as cool as a cucumber!
"THE TURK," an old-school guy, admitted that he didn't want to run up the score – but also said that he was glad that the shutout was preserved.
The head coach also said the difference between this game and the others is that his team is now burying their multiple chances. And as you'd expect, the bench boss was also happy about the monstrous production from everyone, including the offensive numbers that Trouba is putting up these days.
As far as anything else, Gallant confirmed the expected – "THE HALAKNESS MONSTER" will start against Nashville tomorrow (or by the time you're reading this – tonight), when the Rangers host the Predators at 7:00PM on Sunday.
---
The Rangers' schedule, as previously mentioned on this site, is at its most busiest point of the season.
However, we'll talk more about that tomorrow night, as I'll return with a RANGERS/PREDATORS GAME REVIEW.
Enjoy tonight's win – as this was a game to be proud about – and better than that – the team is peaking at the right time!
LGR!
PLUGS TIME!
---
My first plug of tonight's blog – the mandatory plug for my book, "The New York Rangers Rink of Honor and the Rafters of Madison Square Garden."
As mentioned previously, the book is now available in hardcover, in paperback and in Kindle formats. To purchase a copy of the book, visit this link:
https://www.amazon.com/Rangers-Rafters-Madison-Square-Garden-ebook/dp/B09CM5N2WD
For those still looking for signed paperback versions of the book, I have re-ordered more copies. I now have a few signed copies for sale at $25 a pop (includes shipping price) through me directly. Here is all the information on that:
---
My four-volume set of books, "One Game at a Time – A Season to Remember," is a game-by-game recount of the Rangers 2021-22 campaign.
My second title as an author, "One Game at a Time – A Season to Remember," is now available in eBook, paperback and hardcover formats.
To obtain signed copies, visit: https://bluecollarblueshirts.com/onegamebook/
To purchase all four volumes on Amazon, visit: Amazon.com – "One Game at a Time."
---
The greatest volume-set of books on Rangers' history today!
"Tricks of the Trade – A Century-Long Journey Through Every Trade Made In New York Rangers' History," a four-volume set of books that meticulously covers every trade made in franchise history, is now on sale.
All four volumes of the title can be purchased on Amazon.com and are presented in three different formats – eBook, paperback and hardcover.
To purchase Volume I: Conn Smythe (1926) – Craig Patrick (1986), visit Amazon.com
To purchase Volume II: Phil Esposito (1986) – Neil Smith (2000), visit Amazon.com
To purchase Volume III: Glen Sather (2000-2015), visit Amazon.com
To purchase Volume IV: Jeff Gorton (2015) – Chris Drury (2022), visit Amazon.com
To purchase signed copies of all four volumes, visit https://bluecollarblueshirts.com/tricksofthetrade/
---
Here are my last few blogs, in case you missed them: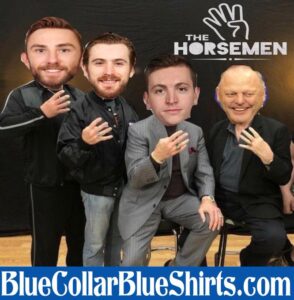 ---
---
---
If you haven't already, subscribe to this blog for the next update:
---
Don't forget to order my new four-volume set of books, "Tricks of the Trade!"
If you don't order through me, all four volumes are now available on Amazon.com
For more details, check out: https://bluecollarblueshirts.com/tricksofthetrade/
Thanks for reading.
LET'S GO RANGERS!
Sean McCaffrey
BULLSMC@aol.com
@NYCTHEMIC on the Tweeter machine