"Like I said before, I didn't feel any of the pressure. As a coach you try to stay calm and encourage your players, but the coaches didn't need to do very much. I know Drury was talking to the players a little bit, but it was more seriousness and 'okay guys, we need to pick it up,' I think they handled it within themselves. Getting up for these games, obviously, this game means a lot more for the Rangers than it does the Sabres, but you call these trap games, where you get up so much playing Philadelphia, you've gotta pass them to get in the playoffs, you are playing the hottest team in the NHL in the Capitals and now you play Buffalo, but I think the effort and execution was pretty good tonight."- Acting Rangers head coach Kris Knoblauch, on 3/22/21, moments after the Rangers 5-3 win over the lowly Sabres. Despite the Rangers scoring five goals, this game was a nail-biter. Thankfully, the Rangers didn't lose their first "trap-game" of the season.
---
"A few things, the way Kaps [Kakko] has been playing the last 3-4 games, we felt he was ready for more responsibility, that is first and most important thing, how well he's been playing. A couple of other things was, we actually planned this before the game, mixing up the lines a little bit and giving him some extra ice time when the opportunity arises and we felt that with Blackwell being important and missing Howden, we need him for PK responsibilities so you want to limit his ice time, but ultimately it was mostly Kaapo, his play determined us making that switch, he deserved it." – Knoblauch again on 3/22/21, when talking about his in-game decision to flip-flop Kakko and Blackwell. Immediately after Knoblauch changed lines, Kakko scored after a pass from Panarin, which snapped Kakko's 19 game goal drought. I for one, knew this coaching decision perked up my buddy @TheEsq_of_212 !
---
Greetings and salutations everyone and welcome to another blog here on BlueCollarBlueShirts.com. On to the next one.
And oh, as far as the "OWNING THE PAINT" graphic? I think Chris Kreider has done a better job owning the paint inside of MSG than Patrick Ewing ever did. After all, when Kreider reached his championship round, he knocked off the best player in the league, in Sidney Crosby; when the Rangers and Kreider stunned the Penguins in the playoffs of 2014. Ewing could never beat the best guy of his era, in Michael Jordan. Ewing needed Jordan to temporarily retire in order to reach a championship series. And don't get me started on the finger-roll against the Pacers either! Rik Smits, are you kidding me? At least Kreider scores in the paint! That's enough NBA talk for one season on this site!
On Monday night, at the World's Most Famous COVID-19 Test Arena, the Rangers did what they were supposed to do, and knocked off the last place Buffalo Sabres by a final score of 5-3. However, the Rangers didn't make it easy, and would need a Chris Kreider power-play goal, which was scored 5:47 into the third period, to prevail as the victors.
This game was an absolute roller-coaster of emotion, where during many times, you had that feeling of having to puke rising in your esophagus. Thankfully, when the ride was over, the Rangers remained puke-free and are now ready for their next ride, which will take place on Thursday night, in Filthadelphia.
If you get anything out of what I'm saying here, tonight could've been a disaster. Had the Rangers not rebounded and came back to win this game, this blog would've set a record for the most amount of times that I've ever used the phrase "Father Fink" on this site. In fact, had the Rangers dropped this game, I would've been saying "Father Fink" as much as Joe Micheletti says "FABULOUS", or as many times as Sam Rosen told us that Adam Fox's parents were in the building tonight!
Thankfully, the Rangers DID win this game, so instead of being miserable right now, we can all breathe a sigh of relief. However, to go completely rah-rah about this game would be foolish. After all, the Rangers did what they were supposed to do – beat a team, that prior to puck drop, were on a 13 game losing streak and had been outscored 53-20 during such said losing streak. In addition, the Sabres were without their best player in Jack Eichel, and within the first three minutes of this game, and somewhat similar to the Rangers, were playing their third string goalie.
And oh yeah – the Sabres had a new coaching staff behind the bench too. Unlike the Rangers new coaching staff, the Sabres moves are permanent.
---
Individually, many Rangers had great games tonight, and in turn, picked up multi-point games. While I have Kreider as my featured Ranger in tonight's blog header photo, you can also make a case that Adam Fox, Kaapo Kakko, Artemi Panarin, and to a lesser extent, Keith Kinkaid, all deserve top billing. The reason I chose to feature Kreider, is not only because he scored two power-play goals in this game, which seems like a Rangers record these days; but because he scored the game winning goal as well.
Aside from Kreider, Kaapo Kakko had one of his better games, if not his best game, of the season tonight. After a stretch of horrible games, including last game where he flubbed three shooting chances away; Mr. Kakko got on the board tonight, which truth be told, was the end result of being put back on the Panarin/Strome line. Kakko would later add the final dagger, scoring the final goal of the game, which was an empty netter.
Artemi Panarin, who just makes everyone who plays with him better, picked up three assists tonight. His first two assists helped the Rangers tie the game, then take the lead, in a game that looked like it was quickly heading south. There was about a five minute stretch of time in this game, where during every shift Panarin took, he was either shooting the puck or setting up a teammate. While Fox remains my team MVP, (check the report card blog for why and for my explanation of this opinion) without question, Panarin remains the team's best forward.
Speaking of Fox, he had another masterpiece tonight. Not only did Fox do his usual top-notch work defensively, Fox, ever since becoming the defacto quarterback of the power-play, which started with the dismissal of Tony DeAngelo; had his best game of the season while running the power-play. As a result, Fox picked up two power-play assists. Fox would also add a goal in this game, which just showed off his offensive awareness, finishing off third string goaltender Dustin Tokarski, after Tokarski gave up a juicy rebound after a shot from the re-emerging Mika Zibanejad.
While three goals allowed by Keith Kinkaid tonight might sound like one too many, and a .842 save percentage is ghastly as well; tonight proved why the EYE TEST will always trump any chart, analytic, hieroglyphic or whatever else Steve Valiquette has on his virus-riddled computer.
In the opening minutes of the second period, and with the game still at 0-0, the NYPD still has an APB out for Keith Kinkaid, as a result of his three consecutive robberies committed against the Sabres skaters. Had Kinkaid not been absolutely LIGHTS OUT during all of this, the Sabres could've jumped out to a 3-0 or 4-0 lead, thus ending any chances of the Rangers coming back. And to give you the whole story here, Kinkaid didn't look so hot to start the third period, but as far as a turning point in the game, Kinkaid making all those stops at the start of the second period proved to be the difference.
---
While we got a bunch of news and the game recap to get into, before getting into the PLUGS segment and all the other regular segments of these game review blogs, let me get the DQ & Knoblauch stuff out of the way.
After this win, which again, is a game the Rangers should've won to begin with; the "FIRE DQ" crew heated up and loudly. As said in the past, I don't blame them. If DQ is fired, I wouldn't care. If DQ is retained, I wouldn't care either. I just don't feel strongly about him one way or the other, as I did when the Rangers fired their last two coaches, in both John Tortorella and Alain Vigneault. However, as I've said numerous times, if the Rangers fired DQ, I don't see any team in the league immediately hiring him, as teams have done over the years with both Tortorella and Vigneault.
While I don't think anyone is clamoring for Kris Knoblauch to be given the keys, you can't ignore that he has been winning games. For the second game in a row, his in-game adjustments propelled the Rangers to victory. I talked the TOI stuff last blog, an issue which I really don't care about, especially if the Rangers win. After all, the head coach doesn't solely have to answer to Kakko, Lafreniere or whatever other rookie you want to plug-in here – the head coach has to answer to every player on his roster.
That said, Knoblauch's roster-tinkering, during both offensive and defensive zone face-offs, proved crucial in the Rangers win over Washington on Saturday. Tonight, with his team down one goal and looking to kick-start the offense, Knoblauch pushed Kakko up to the second line and dropped Blackwell. In turn, IMMEDIATELY after an o-zone face-off win by Ryan Strome, Panarin got the puck and fed Kakko in the paint. More on that goal to come, especially regarding the "in the paint" comment.
It should be stated, that the line-up and the goaltender decisions were decided by DQ. That said, this was pretty much no-brainer stuff. As I'll get into during the news segment, with PDG and now Howden on the NHL's fugazi COVID-19 list, it was simple to put Gauthier back into the line-up. The Rangers had no other choice. As far as the goaltender goes, Kinkaid had a great game in Washington and of the two healthy goalies, fared the best over the weekend. With Igor still out, Kinkaid had to go tonight. And I'll even say this, if Igor can't go on Thursday, I'd go right back to Kinkaid against the Flyers. It's all about winning to me, and in my opinion, Kinkaid is the hotter hand between he and Georgiev.
At the end of the day, I don't care how the Rangers win, as long as they win. They won tonight. However, with Knoblauch being behind the bench during all of this, it will only add more gas to the "FIRE DQ" bonfire in Camp Rangerstown.
Lastly while on this, Larry Brooks of the NYP is reporting that DQ won't be able to return to the team until Friday. In other words, Knoblauch will get one more game here, if Brooks is accurate.
PLUGS segment time!
Here are my last few blogs in case you missed them, and based on recent site traffic, (all-time high, including over 10K hits for the report card blog) not many of you are missing them: (Thanks for the support!)
---
---
---
---
On Monday, M$G and the Rangers updated their COVID-19 policy for fans wanting to attend games. I guess Cuomo got popped for another sexual assault allegation!
To get the full details of this policy, visit this link: https://www.msg.com/covid-19-testing-information?cmp=web_nyr_new-options_DL_210322
As far as this goes, this makes sense, although I don't know what the difference was between tonight's game and April 1st. If you have the vaccine right now, why do you still need a negative COVID-19 PCR test?
I also want to add the following too. I saw some fans gripe that all of this is violating HIPPA laws and/or were pissed off about having to give out their personal health information to the Rangers and MSG. My response – then don't go.
Similar to a store that has policies, MSG and the Rangers have their policies too. Going to Ranger games isn't a "God given right". It's a luxury. If you can't play by the rules, then stay home, simple as that.
While these two aren't the same, but you'll get my point here anyway, I love to drink beer at games. Unfortunately, before a game at M$G, I'm not allowed to go to 7-11 and bring a $20 case of beer into the building. Instead, I have to pay $20 for one can. It's just the rules. MSG is requiring you to have a vaccine or a negative COVID-19 test to enter. You're the customer here and if you can't abide by the store policy, then you can enjoy the games at home.
Lastly on this, especially regarding my last comment, if I've learned anything throughout this pandemic about myself, I am starting to enjoy the "home" experience more than the M$G experience. Cheap beer. No bathroom lines. And saving $300+ a night isn't bad either! I still miss my road-trips though, road-trips which I can't really book for this season, because a game can be canceled at a moment's notice. Plus, with this pandemic, all the traveling and sight-seeing won't be the same either. There's always next season. See you soon Seattle!
While on the topic of non-game related news, previously on these blogs, I've been giving you secondary market ticket updates. Here's what the secondary market looked like for this game:
If you recall, ever since M$G re-opened, due to numerous factors, the secondary marketed plummeted, as you could've got tickets to past games for as little as $16. Whether it's the Rangers beating Washington, the Rangers having a "gimmie" game against Buffalo, the return of superstars like Panarin (phyically) and Zibanejad (mentally) or what; the scalpers made out like bandits today.
At 6:30PM, a half-hour prior to puck drop, there were 3 seats remaining on StubHub, with the lowest seat going for $175. It looks like the low price era at M$G has ended; at least until this team is mathematically eliminated from the playoffs!
Real game news time!
---
The Rangers, who were off on Sunday, tweeted out the above information on Monday morning. As we'd later find out during the day, Howden is now on the fugazi NHL COVID-19 list. This could mean anything, from a false positive test (most likely) to actually having the virus. If anything, I'm shocked that these players don't all have the vaccine by now. While that's a decision of personal choice, you'd think the NHL would push it on their players.
With Howden out of the line-up, Gauthier made his return. More on him in the game review segment.
Igor, who is practicing, is still unable to play. If there's anything frustrating about Igor's current predicament, it's the fact that the Rangers teased us with all of this "day-to-day" talk, yet here we are, over two weeks later, and Igor still isn't playing. Many of you have reached out to me to explain how severe even a minor groin injury can be. I get it. I'm not denying that the injury is painful. I'm not upset with Igor for missing time, I just feel "blue-balled" (pun intended here) about the Rangers teasing us with the "day-to-day" stuff. That's all.
The biggest Rangers news item of the day, is in regards to the incoming Vitali Kravtsov, a Kravtsov who is expected to join the team on Tuesday. With the Rangers having two days off in-between games, Kratvsov will get two practices and a morning skate with the team. Barring anything crazy, you'd have to think that Kravtsov will make his NHL debut this Thursday.
Listen, I know DQ doesn't like to change his lines after wins, but the Rangers aren't adding Kravtsov to the fold, just so he can share peanuts with the press. In addition, with Blackwell not playing excellent right now, it just makes it easier to scratch Blackwell and give Kravtsov a chance.
When it comes to Gauthier vs Blackwell for the fourth line, a line which Gauthier played on tonight; Gauthier, in recent games, has been more noticeable. At the end of the day, this is a youth movement and since Gauthier, of the two, has the clearer future with this team – who knows, this could've been the last time we saw Blackwell in a Rangers jersey. Maybe that sounds dire and as a reach, but really, you can only dress 12 forwards, and if the team is healthy, I don't know where Blackwell fits in.
As far as what you do with Kravtsov, I think this much is known – there's no way you can put him on the fourth line. At the very least, he should be in the Top 9. The key decision for DQ and his crew to make now, is who do you try to get hot? Kakko looked great with Panarin tonight. Lafreniere, earlier this season, had the best game of his young career while playing with Panarin. With Panarin speaking fluent Russian like Kravtsov, it would help Kravtsov's transition.
Unfortunately for the Rangers, there's only so much of Panarin to go around, and with three young guys who the team wants to get going, only one of them can play with Panarin. And with the way the top line of Kreider/Mika/Buchnevich have been playing right now, you can't mess with that either.
Gun to my head, I say put Kravtsov with Strome and Panarin and return Kakko back to the third/Kid Line, and hope that Kakko can keep it going. Right now, here on 3/22/21, Kravtsov needs as many advantages as possible to make his debut a success. Kakko is closing in on 100 games and will need to stand on his own two legs. And if it doesn't work out in the game, you can always flip-flop Kakko and Kravtsov, as the Rangers did tonight with Kakko and Blackwell.
Speaking of lines and the line-up, here was what we saw tonight:
GAMBLING SEGMENT TIME, where I'm now on a four game win streak!
Here's what I said before the game:
Season over-under record: 13-15-2

Kinkaid v Hutton tonight. New coaching staff for Buffalo, WHO HAS A 13 GAME LOSING STREAK. If #nyr doesn't make it a 14 game streak, throw in the towel.

I'll go 6-0 Rangers. OVER hits. Bonus: Gauthier gets a goal.

Biggest line too at -235. pic.twitter.com/Wtj77lqBoQ

— BlueCollarBlueShirts (@NYCTheMiC) March 22, 2021
Well it wasn't 6-0 and Gauthier didn't score, but at the end of the day, with eight total goals, the OVER hit and I'm now one game away from returning back to .500! My record now sits at 14-15-2.
BOX SCORE time.
The following information and graphics come courtesy of the new world-wide leader in NHL coverage, in ESPN.com:
SCORING:
PENALTIES: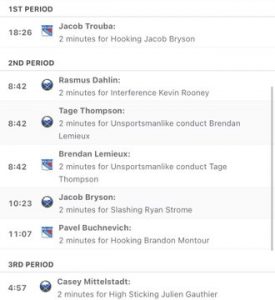 GOALIES:
| | | | | | | | | | | |
| --- | --- | --- | --- | --- | --- | --- | --- | --- | --- | --- |
| SA | GA | SV | SV% | ESSV | PPSV | SHSV | SOSA | SOS | TOI | PIM |
| 19 | 3 | 16 | .842 | 13 | 1 | 2 | 0 | 0 | 59:57 | 0 |
| | | | | | | | | | | |
| --- | --- | --- | --- | --- | --- | --- | --- | --- | --- | --- |
| SA | GA | SV | SV% | ESSV | PPSV | SHSV | SOSA | SOS | TOI | PIM |
| 2 | 0 | 2 | 1.000 | 2 | 0 | 0 | 0 | 0 | 2:53 | 0 |
| 37 | 4 | 33 | .892 | 27 | 0 | 6 | 0 | 0 | 56:23 | 0 |
TEAM STATS: (A rarity – not only did the Rangers more than double-up their opponent with SOG, but they also scored two PPG's too!)
---
You guys know that I always cover the MSGN stuff on these recaps, because one, I think it's funny and two, because if I have to suffer, I think you guys should suffer too! And I always get a kick out of someone saying to me, "You know, until I started reading your site, I never noticed how much Micheletti says the world 'FABULOUS'", and/or "Vally really is creepy like you always say!"
If you know anything about Senile Sammy, outside of always mentioning player birthdays and weights; one of his signature lines, a line that he always says with as much enthusiasm as "IT'S A POWER-PLAY GOAL"; is the line of "OLD FRIEND", whenever he's talking about an ex-Ranger. Tonight, with Dan Girardi behind the bench as one of the Sabre assistant head coaches, Rosen must've said "OLD FRIEND" about ten times, which truth be told, isn't as many times as Micheletti said the world "FABULOUS" (check last blog for more on this) during tonight's broadcast.
The fact that Dan Girardi is now an assistant coach of the Sabres is pretty crazy to me. After retiring, and if you can recall, he started a podcast on behalf of the Tampa Bay Lightning organization, the franchise he finished his career with. That podcast was called "The Block Party", a podcast which he co-hosted with Seth Kush. (In the present day, Kush still runs the podcast, but as a solo endeavor.)
Similar to the assumed retired Tony DeAngelo "Watch Your Tone" and the current Ron Duguay "Up in the Blue Seats" podcasts; I recapped all of "The Block Party" episodes on this site. I bring this up, because due to this podcast, I was pretty much up-to-date with what's been going on in Girardi's life, post-retirement.
In what was pretty much a result of this pandemic, Dan Girardi, who loved living in the Tampa Bay area, moved back to Ontario, Canada. In retirement, prior to the pandemic, Girardi was coaching his son's hockey team in Florida. Once relocating back to his native country, Girardi resumed coaching his son's new hockey team.
While Girardi said it on his podcast, but I'm forgetting the name of the town as I write these words; Girardi moved to an Ontario town that's a 20 minute ride away from the US/Canadian border. In fact, on one episode, Girardi said from his window, he could see Buffalo from his house. Due to his proximity to Buffalo, the Sabres offered Girardi a job as a video coach. However, due to pandemic border restrictions at the time, Girardi had to converse with players over the phone, rather than in-person.
Fast forward to today, and with the Sabres recently firing Ralph "Don't call me Freddy" Krueger and his coaching staff; Girardi's time as the Sabres video coach is now put on hold. As a result, and within a span of under two years, Girardi goes from retired player to an NHL assistant head coach. While Girardi's job may be on an "interim" basis – who knows? This could become a full-time position. Previously, Girardi had indicated on the podcast that his dream was to get into coaching.
Isn't that amazing Suzyn? Even more amazing? The Rangers are still currently paying Girardi millions of dollars and Girardi is a $1.1M dead cap hit on the Rangers 2021 salary cap. In other words, the Rangers paid Girardi handsomely in Girardi's effort to defeat his old club tonight.
Back to Slammin' Sammy Rosen.
---
If there's anything that gives Rosen an extreme amount of joy, it's whenever the parents of a player are in the building. No joke, Rosen must've told us 78567895589675675765685 times tonight that Adam Fox's parents were in the building. I don't know if this was a senior moment for Sam or if he was just giddy about the Fox's being in the M$G hen house; but it felt like that after every whistle, we'd hear "Oh Joe, the Fox's are in the building tonight!" "FABULOUS!"
Let's talk about the other jackal and then get into the game recap.
Prior to tonight's game, the Sabres tweeted out the following news:
We have recalled forward Rasmus Asplund and goaltender Dustin Tokarski from the taxi squad.

— Buffalo Sabres (@BuffaloSabres) March 22, 2021
Who knew how important Asplund and Tokarski would be?
As you'd expect, Vally was terrible on the pre-game show, but would save his most creepiest moment during the second intermission.
After Carter Hutton got hurt early in this game, for whatever reason, Sam and Joe started spending time worrying about who the Sabres back-up goalie would be. Like the games with the Caps, Sam and Joe seemed extremely invested in what was going on with Sabres more than what was going on with the Rangers.
During the second intermission, and with back-up goaltender Tokarski having already played 37 minutes, Vally started wondering if the Sabres needed an "EBUG" (emergency back-up goalie) and creepily smiled while showing off his goaltender gear, as if he were Jared Fogle trying to lure some kid into his home with a five dollar footlong. (And yes, I'm being stupid here with my jokes – I don't think Vally is a sicko. He might be creepy, but he's not that kind of creepy. Just go with the joke!) And not for nothing, I wouldn't have minded if Vally was the EBUG for the Sabres – in that event, I'm sure Lafreniere would've finally scored again!
This was kind of a segment you had to see for yourself, in order to truly feel the cringe. Even creepier, was when the Rangers and the MSGN focused in on that creepy little bastard kid from "Stranger Things", you know, that kid with the jacked up mouth. I've talked about this kid before, but for whatever reason, the Rangers and MSGN are declaring this kid as "the number 1 fan of the New York Rangers." Are the Rangers that desperate for celebrity love, that they cater to this kid? Where thou gone, Andy Dufresne? The Knicks have Spike Lee. The Rangers have a kid who has spent 30 hours on some Netflix show (who probably got an hour or two of screen time in total) and makes annoying commercials for Verizon.
Here's the RangersMSGN Twitter account showering praise for the "Stranger Things" kid:
Number 1 #NYR fan @GatenM123 showing up and and showing out at The Garden pic.twitter.com/10bAHs0iiZ

— Rangers on MSG (@RangersMSGN) March 23, 2021
While this is all stupid, because how can anyone determine who is "the number one fan" of the Rangers; I'm going to say that a teenager isn't the biggest fan of the team. (I would assume a season ticket holder of over 50+ years is.) And really, saying you're "the number one fan" is akin to a Chinese restaurant calling themselves "NUMBER ONE CHINESE FOOD". Not everyone can be number one!
Enough lolly-gagging, let's get into this game!
---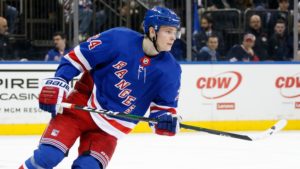 After Sam and Joe did their best in trying to jinx the Rangers, by reminding us a few times how this was a "TRAP GAME", which really, would be the first time the Rangers have had one of these games this season; Ryan Strome's line started the game and got possession of the puck.
In something that I thought was encouraging at the time, Miller took a shot that went into the netting, which was a puck that Sabres goalie Carter Hutton didn't even see. On the next Sabres possession, Kakko deftly forced a turnover, and then got the puck into the Sabres zone. Rather than shooting or making a move to the middle, Kakko made a stupid pass which wound up going for a turnover. When you saw this play at the time, all you could say was "not again."
The game would change 2:53 into the first period, as Julien Gauthier, who is never scared to go to the middle or to the goaltender, streaked to Hutton's net. Sabres d-man Ristolainen, in an attempt to make a play, hit Gauthier, sending Gauthier crashing into Hutton. This would end Hutton's night, as he had to be helped and gingerly made his way to the Sabres locker room. For what it's worth, because it wasn't his fault, Gauthier still checked in on Hutton anway and apologized. Classy.
Replacing Hutton in net was Dustin Tokarski, who hadn't played an NHL game in nearly five years. And of note, the irony of the "poor man's Chris Kreider" crashing into a goalie, only for Tokarski to come in net as relief, was not lost here. (Also of note, Tokarski, who filled in for Carey Price during the 2014 Eastern Conference Final, would later spend a year in the Rangers system. That said, Rosen didn't refer to Tokarski as an "old friend".)
With Tokarski in net, Panarin would whiff on a one-timer, giving Tokarski a break. Buchnevich, looking to test Tokarski, would take a shot from the blue line that Tokarski easily saved. The Kid Line, with the aforementioned Kakko, would go on to have a good shift in the early minutes of this game, and a shift which produced a rare Trouba shot on goal. In fact, Trouba had 3 SOG in this game, which seems like a season high for him.
And yes, call me an asshole for saying this if you want – but with Kakko eventually scoring two goals tonight, coupled in with Trouba actually putting shots on net? Well that tells you how historically bad Buffalo is right now!
In what was pretty much a back-and-forth affair, the Rangers did have the SOG advantage eight minutes in, out-shooting the Sabres 6-1.
With around ten minutes to go, the Taylor Hall line would have the best Sabres shift at this point in the game against the Rangers Kid Line, but the Rangers were able to get the puck out.
As the game progressed, Zibanejad would take a backhanded shot, which Tokarski offered up a rebound to. Trouba would go wide with the rebound. At least he's consistent in that area!
Panarin, who just set-up teammate after teammate all game; would then find K'Andre Miller all alone with Tokarski. No damage done, as Miller waited a second too long to shoot – a common problem with many on the Rangers this season. On his next shot attempt, Jeff Skinner would block Miller's shot, a blocked shot that Rosen said was all because Girardi was on the bench. I'm sure.
As we neared five minutes to go, Tokarski stopped Panarin and Strome, making two huge saves. Right after, Kinkaid made his first huge save of the game, denying Thompson. In another example of the Rangers not finishing on great plays this season, Lafreniere set up an all alone Chytil, a Chytil who had all day to the right side of Tokarski, but Chytil couldn't handle the puck, letting the puck hit his skates than his blade.
With 1:44 to go in the period, the Kinkaid show really heated up, as KING KINKY denied Bryson on a breakaway. For good measure, despite Kinkaid being able to take care of business, Trouba hooked Bryson anyway. The Sabres would get a power-play to close out the period.
The Sabres power-play entered this game without a PPG in their last 19 attempts, a stat Sam and Joe kept reiterating, as if they were trying to reverse jinx the Sabres power-play. Thankfully, and with good work from Kevin Rooney here, the Rangers would get out of this period unscathed.
At the end of one period, we remained scoreless, and with the Rangers having a 10-5 SOG advantage.
To me, and as I said on social media at the time, this felt like the Rangers playing down to the competition again, rather than imposing their will. The Rangers had a "Pittsburgh Period" here, meaning that they played the Sabres tough and all that, but never went out of their way to really turn on the jets against this historically horrible Sabres squad.
---
After our regular "SECOND PERIOD, WHAT DO YOU LOOK FOR HERE JOE?" comment from Mr. Rosen, <a Father Finkin' goal, ya daft prick!> the Rangers, once again behind Ryan Strome's line, would win the opening draw. The Rangers would kill the remaining 26 seconds of the Trouba penalty, and really did so with ease.
What happened next led to the Rangers victory.
With the teams back at even-strength, KING KINKY KEITH KINKAID, you know, the goalie who wasn't even supposed to suit up for the Rangers this season, made three consecutive, and dare I use this word here – FABULOUS saves. Here's one:
You heard it here first from @VallysView

Keith Kinkaid:" Save of the YEAR" pic.twitter.com/4HObvrQokV

— Rangers on MSG (@RangersMSGN) March 23, 2021
No joke, the Sabres opened up this period with five shots on goal, with Kinkaid making three absolute robbery saves, and another jaw-dropping save mixed in. Combined with the breakaway save from the first period, the Sabres really could've jumped out to a 3-0 or 4-0 lead. Yes, Kinkaid broke a bit in the third period, but without these saves, the Rangers would've lost this game.
With the Sabres absolutely all over the Rangers, on their fifth shot, they scored, after a goal from the recalled Rasmus Aslpund. This goal was on Trouba, as after Kinkaid made an initial save, Trouba watched and allowed Aslpund all day, in a successful effort in grabbing a loose puck and tucking it between the goal post and Kinkaid's right leg. What a shame. 1-0 bad guys.
And really, at this point on, this was when the puke and diarrhea feelings started to come on strong.
After the goal, the Sabres kept the pressure on. Fox would try to make a play happen to Chytil, but Chytil, who admittedly was at a bad angle, went wide on an open net. That was now two blown scoring chances for Chytil, a Chytil, who prior to the game, told the media that if he was hurt, he wouldn't tell anyone. I don't know if his hand is still bothering him, but it was a topic of conversation today and Chytil did fail to score, despite a few chances.
With 12:53 remaining in this second period, and with Rangerstown, USA in a sea of misery, we had a TV timeout. What happened next changed those feelings, and fast!
When we came back from the TV timeout, Micheletti was going on and on about how Kakko was now on the second line and how Strome and Panarin were coaching him up. Once the puck was dropped, this happened:
Kaapo Kakko!!! The drought is OVERRRR pic.twitter.com/oZ5RD59zrD

— Rangers on MSG (@RangersMSGN) March 23, 2021
1-1!
On this play, Strome wins the draw, Panarin gets the puck and Kakko showed some balls, and got into the paint. BOOM. Just like that.
Kakko has received a lot of criticism lately, and not just by me. I was happy to see him score here and go to the net. I will say, the Rangers Twitter account was talking about Kakko's drought, just as Sam and Joe were. After the game, Kakko said "it's nice to score goals after not doing so for a long time." Similar to Mika's slump, this can't just be one good game. He needs to keep it going. While Mika needs to carry his own line, I don't expect Kakko to be Mika. All I want to see him is drive to the net. All of this perimeter play hasn't worked out and as we saw here, if Kakko is willing to bang and go hard, he will be rewarded. Now do it again and again and again!
(And if you recall, I've been saying all of this stuff during recent blogs, which is why I said I'd rather see Gauthier than Kakko, since Gauthier always goes to the net and isn't scared of contact. I hope Kakko feels more confident going to the net after this game.)
With the game getting a little chippy, and with 8:42 remaining in this second period, Dahlin interfered with Rooney. The Rangers had a power-play coming up. However, before that happened, after the call on Dahlin, Tage Thompson challenged Brendan Lemieux to a fight. Before the two could go, all four officials broke it up. As a result, Thompson, who instigated this, was boxed. Lemieux, for defending himself, and in a penalty we've seen called in three of the last four Ranger games, was also boxed. How these guys are getting boxed for defending themselves is beyond me.
Instead of a 5 x 3 power-play, we had the traditional 5 x 4 power-play. However, with under 25 seconds to go in the Rangers power-play, Bryson slashed Strome, and after a whistle, gave the Rangers a 19 second 5 x 3 power-play.
With just three seconds remaining in the two-man advantage, Artemi Panarin, you know, "THE BREADMAN", baked up another crucial and big-boy assist:
Oh Chris, we missed this.

It's a POWER PLAY GOAL pic.twitter.com/VK8uPvpndH

— Rangers on MSG (@RangersMSGN) March 23, 2021
2-1, GOOD GUYS. Even better, as we were now under 10 minutes to go in the period, the Rangers still had a 1:45 power-play. Unfortunately, on this second power-play, Buchnevich would take a bone-headed penalty in the Sabres d-zone; a hook on defenseman Brandon Montour, thus giving us two minutes of four vs four foreplay, followed by a 44 second Sabres power-play.
The Rangers would press the offense during all of these penalties, and when the Sabres got their abbreviated power-play, the Rangers wouldn't cough up the puck until there were five seconds left. Another tremendous night for the Rangers PK.
With both goaltenders getting a work-out in this period, once we returned to even strength and with 5:02 remaining, Kinkaid made a quick save on Taylor Hall. After a TV timeout, Sam and Joe looked at Panarin's assists and determined that Panarin is a good hockey player. That's why they are paid the big bucks.
In a game that could've been tied with one shot from a Sabre, with 1:42 remaining, Adam Fox doubled the Rangers lead:
What does the Fox say???

1 Goal, 1 Assist, 100 Games! pic.twitter.com/INNat94ysI

— Rangers on MSG (@RangersMSGN) March 23, 2021
In what started out as a 4 x 2 Rangers rush, Zibanejad blasted a puck at Tokarski and whether it was puck luck or great positioning, Fox grabbed the rebound and buried it. 3-1, GOOD GUYS! That would remain the score as we concluded the second period. After being down 1-0 and looking like poop, the Rangers were now up 3-1 and all that was left to was close out. However, this roller-coaster ride had two more dips to go.
---
With the Sabres sucking complete ass this season, and with the Rangers up 3-1; Ranger fans felt a wave of relief. It looked like this game was cooked for the Sabres. However, as we'd learn, nothing is guaranteed in life, and certainly not Ranger victories.
Just 69 seconds into the third period ("you said 69, heh-heh-heh") Dylan Cozens caught the Rangers defense napping and beat Kinkaid. I don't even think Kinkaid expected this shot. 3-2, and the Rangers had lost their insurance goal lead.
After the goal, Tokarski would stop Kreider and Miller. Kakko also had trouble cashing in on a juicy rebound that Tokarski gave up as well. 4:22 into the period, the much maligned Jeff Skinner beat Kinkaid. 3-3 game. Two goal lead blown, just like that, and in a span of 3:13. Once again, you could feel the vomit entering your throat, awaiting to be projected onto your living room floor.
Just a tad over 30 seconds after Skinner tied the game, Casey Mittelstadt gave the Rangers a reprieve. Prior to this dumbass penalty, the Sabres had all the momentum going. With the Rangers desperately needing their power-play to show-up, a power-play that rarely has shown up in these moments, the Rangers power-play shocked us all:
Deja vu??? nah just another power play goal for Kreids pic.twitter.com/NFAqbY1kib

— Rangers on MSG (@RangersMSGN) March 23, 2021
4-3, GOOD GUYS, and another POWER-PLAY GOAL FOR CAPTAIN Chris Kreider! 4-3, GOOD GUYS, with 14:13 remaining too, as Kreider slammed home a rebound, after Tokarski made the first save on Strome. And as you can tell from the video, the fourth Rangers goal of this game to be scored near or from the paint. In addition, Ryan Strome won't get many headlines tonight, but once again, here's Ryan Strome with a two point game, as his point streak continues. As noted on a past blog, he's my candidate for the Rangers/Jesper Fast "PLAYER'S PLAYER" award.
Man oh man, I loved this goal. The Rangers power-play, and offensively overall, is never better than whenever Kreider camps out in front. Whether it's rebounds for goals, powering himself to the net or screening goaltenders; I'd venture to guess that 95% of all Ranger power-play goals scored this season were created by Kreider.
And thank you Mittelstadt – without this poor penalty, who knows what would've happened?
During a TV time-out with 11:36 to go, and with the way these Rangers have been, I couldn't enjoy my beer until this game was over and as I started writing these words to you. You just never know with these heart attack Rangers.
In what I found to be funny, during this commercial break, Bill Pidto, who seems like he'll say anything during the "150" segments these days, (I challenge him to see how many times he can say "FABULOUS" in 150 seconds) ran a spot for "DOOR DASH". During the ad, Pidto brought up how Vally is a cheap Father Fink. (My words, not his. You'd think with all the spare change Vally spilled in net during his career, that he'd have a few pennies to spend!)
As we got under ten minutes to go, I was in clock watch mode. Tick-tick-tick!
After a Kinkaid freeze, the "Stranger Things" kid got face time. At least he had a mask on to cover his mouth. (And yes, I know he has some sort of condition. I'm just being funny. I don't mean any ill-will to him. And it's sad I even have to explain myself here, which I only do because I know how some idiots like to twist my words around. Some people just can't laugh and always look to be offended. I always try to blend in "stand-up" humor during these manifestos. And for the people who can't laugh – Father Fink yourselves!)
Before approaching the FOXWOODS FINAL FIVE mark, Sam and Joe were in "this game is over mode", which I found to be premature. During this time, Sam and Joe wondered where Kravtsov would fit into this line-up, talked about how Fox's family were in the building for the 7867867896th time and how Libor Hajek's backward skating ability was FABULOUS. And again, these two remained the most sympathetic for the other team, as they were trying to will Taylor Hall into tying the game up.
As we got under four minutes to go, Buchnevich tried to set-up Kreider for a hat trick. That would've been something. I'd have to look this up, but maybe you guys can do it for me – what is the shortest amount of time regarding a Ranger picking up three hat tricks? Had Kreider scored here, this would've been three hat tricks in a three week span.
After reminding us again that Fox's parents were in the building, where Micheletti added the fact that Fox was smart, (he did graduate from Harvard after all and knew he didn't want to buried in redneck towns like Calgary or Raleigh) Kinkaid would make one more big save, this time on Skinner.
With 90 seconds to go, Buffalo couldn't pull Tokarski, but to Tokarski's credit, he made four huge saves here, denying Kakko, Panarin and Strome (twice).
With 80 seconds to go, Tokarski finally left the ice for the extra attacker. Strome would then ice the puck with 1:07 remaining. For whatever reason, and maybe because they thought they'd catch a tired group of Ranger skaters after the icing; Buffalo didn't take a time-out, in order to set up a 6 vs 5 goal. You would think a new coaching staff would go to the marker board and try to set up something here.
10 seconds after the icing call, Kakko flung a puck home, sealing the deal with an empty netter. 5-3 GOOD GUYS!
With 20 seconds remaining, the Sabres pulled Tokarski again. Only thing to look for here was to see if Kreider or Kakko would get the hat trick. They didn't, but no matter, as the Rangers take this one, by a final of 5-3.
---
Let's face it – this win should've been a cakewalk. It wasn't. However, all you can ask for is a win and that's what happened. I shudder to think what would've happened if Mittelstadt didn't commit that penalty when the Sabres were surging. However, that's Buffalo's problem and not mine.
Up next for the Rangers are two games with Philly, with one on Thursday night and one on Saturday afternoon. Of note here, I have a family commitment on Saturday. I should have something up after Saturday's game, but it won't be as detailed or as long as these blogs usually are.
As noted after the win over Washington, if the Rangers want to make a playoff push, now is the time. Taking care of Buffalo was part one. Sweeping this upcoming two-game set with the Flyers will be part two.
With a Flyers loss tonight and with the Rangers win, the current standings look like this:
As talked about on past blogs, catching Boston will be tough, especially since Boston has three games in hand over the Rangers and seven games remaining against this Buffalo team, a Buffalo team which will probably only get worse after the trade deadline.
The Flyers have one game in hand over the Rangers, but even with that fact, it's up to the Rangers to do their own work. Winning these next two against the Flyers will help.
The team I think the Rangers will have to catch, in order to make a playoff bid, will be the Penguins, who are struggling right now. As talked about to death since it happened, those two recent losses to the Penguins just killed the Rangers. Had the Rangers won those two games, they'd have 36 points right now – the same amount of points the Penguins would've had, had they lost that two-game set to the Ragners.
If you choose to jump into the "PLAYOFF PUSH BABY" boat with me, the Rangers still own their own fate. Of course, consistency will determine if this boat sails or sinks.
One game at a time, and I'll be back on Thursday night with a Flyers/Rangers recap, if not sooner.
If you haven't already, subscribe to this blog for the next update:
---
I know I've plugged him before, but you can never plug the stuff you enjoy enough! For an alternative recap than this one, check out my buddy Derek "NO FLEX" Felix, over at https://newyorkpuck.com/
While I don't always agree with Felix's opinions, he writes well and from the other blogs I see out there, gives you more details than most. Plus, he never has a CLICKBAIT headline, like one of these turds recently had, with "THE RANGERS MAY BE LOOKING TO TRADE FOR LANDESKOG!" Cringe. Feel free to slam me if I ever have a headline of "RANGERS MAY BE LOOKING TO TRADE JACK JOHNSON FOR CONNOR MCDAVID."
Stay FABULOUS my friends.
Until then, and as always here, thanks for reading and…
LET'S GO RANGERS!
Sean McCaffrey
BULLSMC@aol.com
@NYCTHEMIC on Tweeter