"The coaching staff [referring to David Quinn] ultimately calls the game plan." – Kris Knoblauch on 3/25/21, moments after the Rangers 8-3 thrashing over the Philadelphia Flyers. As I'll get into later tonight, with DQ soon to return, his seat has never been hotter.
---
"The puck seems to go in right now. It's great to be able to contribute." – Mika Zibanejad, also on 3/25/21, with perhaps the biggest understatement of the season. As a result of his game tonight, of Mika's 26 points this season, 14 of them have been recorded against the Flyers!

---
"Mika does everything for us. Earlier in the year when he wasn't [scoring], he wasn't bringing guys down and wasn't hurting the team. It can be stressful for him not to produce, and to see him get rewarded like this, it's definitely nice for us as a team." – The gracious Adam Fox, while speaking of Mika Zibanejad on 3/25/21. Fox wasn't too shabby himself tonight, picking up a career high five assists in the Rangers 8-3 bludgeoning of the Flyers.
---
Greetings and salutations everyone and welcome to another blog here on BlueCollarBlueShirts.com. Told you the Rangers wouldn't score nine goals again! And if you haven't figured out my sense of humor by now – I AM JOKING! What a game and what a win!
In a game that I just think shocked everyone, no matter where your allegiance may lie; on Thursday night in Filthadelphia, the Rangers once again brutalized the Flyers, downing the orange and black by a final of 8-3. To say I'm speechless here would be lying, because after all, this blog is way over the 10,000 word mark tonight. That said, all of this is incredible and insane to me at the same time – and I'm loving every minute of it. We Want The Cup!
As a result of tonight's pulverizing of the Flyers, the Rangers have now worked their way into fifth place in the division. In addition, as a result of all games played on Thursday night; the Rangers also find themselves three points back from the playoff cut-line, as they to catch the Boston Bruins for the fourth seed. As mentioned on prior blogs, the team the Rangers may have to chase for a playoff berth are the Pittsburgh Penguins, as the Bruins currently have three games in hand over the Rangers and seven games remaining with a historically horrible Buffalo Sabres team; a Sabres team that will theoretically only get worse after the NHL trade deadline.
That said, and to be glass half-full here – the Rangers can only worry about themselves. They control their own destiny. They don't even need any help at this juncture, despite where they are in the standings. JUST WIN!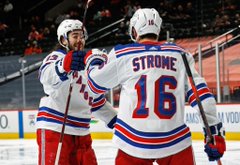 There's so much to get into with this game, as once again, the Rangers made history in their ass-kicking of the Flyers. Obviously, Mika Zibanejad, with his second natural hat trick in as many games with the Flyers and within a span of eight days, is the talk of the town. Even better, unlike his first natural hat trick against the Flyers at M$G, which came when the game was already over, this natural hat trick not only produced the winning goal of this game, but pretty much ended the Flyers hopes of winning this game. And oh yeah – all three of Mika's goals came on the power-play, with Strome and Fox assisting on all of them. OH BABY!
Away from Mika, Adam Fox, who just continues to get better and impress more and more with each game played; had his best offensive game of the season tonight, picking up five assists in total. Even better, with Fox as the power-play quarterback, the Rangers scored three consecutive power-play goals, with Fox assisting on all three. Needless to say, this was Fox's best game as the leader of the power-play. Dare I say it? Tony DeAngelo who?
Pavel Buchnevich added two goals to his ledger in tonight's game, where at the conclusion of this game, his two goals now feel like an afterthought! Imagine that. Heck, the best forward on this team, in Artemi Panarin, picked up another point in this game and even he feels secondary after this win. Go figure.
Of course, in perhaps the biggest story of this game away from Mika Zibanejad, is the fact that CZAR IGOR is finally back. He had a stellar and encouraging night in net, making 41 saves off of 44 shots faced. While it seems like a bulk of the saves CZAR IGOR made came from Flyer shots from the perimeter, the bottom line is he did his job. And really, this was all about getting Igor going and a 41 save game will do just that. Just to think, Larry Brooks was basically writing Igor off prior to this game. (More on Brooks in the Ron Duguay "Up in the Blue Seats" recap.)
While this won't get major headlines around Rangerstown, USA right now, I thought Ryan Strome continued to kick ass tonight. In fact, this was a RYAN STROME 3:16 game, as he picked up three assists, one goal and was on the ice for six of the Ranger eight goals in this game. And if you want to double-down on this Strome 3:16 moniker, Strome had three assists and wears #16 too. Isn't that amazing Suzyn? "Lowe's – let's build something togethaaaaaaaaaa." (And yes – I'm very obsessed with the announcers/commentators of the NY sports scene! I'll get help one day! As I think back, I think my fandom of these people started with Phil "Scooter" Rizzuto on WPIX Yankee broadcasts.)
Seriously, Strome had a four-point game tonight and his amazing performance may slip to the wayside a bit, due to Mika's historic night and Igor's return. If that wasn't enough for you, you also have more fuel for the fire, due to the "FIRE DQ" stuff, the upcoming debut of Vitali Kravtsov, and what I'm concerned with the most – a playoff push.
Even with these blogs being the longest Ranger blogs on the internet, I still fear that I may miss something when trying to cover everything tonight. Heck, who else will spend time recapping a news-worthy Rangers podcast for you before getting into tonight's game!?!? (You know the credo here, "10,000 words, 1 click and no ads", as I just can't write 786786968767869 mini-updates for clicks. I rather you read this manifesto with your morning coffee or during your train commute to work! My promise to you – I'll never clickbait or short-sell you!)
With that said, let me crack my knuckles and go to work.
Of course, and as usual, up first before getting into the meat and potatoes of tonight's tome – the PLUGS segment. Here are my last few blogs in case you missed them:
---
---
---
---
On Thursday afternoon, Ron Duguay and company returned with their latest episode of the "Up in the Blue Seats" podcast. To listen to the show yourself, click the links below:
Up In The Blue Seats Podcast: @RonDuguay10 & @MollieeWalkerr talk Vitali Kravtsov's role with the Rangers with @NYP_Brooksie, play voicemails from listeners & chat with former Ranger Pete Stemkowski.

Apple: https://t.co/AaNjPVDFHm
Spotify: https://t.co/ChdscWvTyK pic.twitter.com/WQSgIrkr7W

— New York Post (@nypost) March 25, 2021
---
There's a lot to get into tonight, so let's get right into this "Up in the Blue Seats" episode 49 recap. I also want to add here, for the people who sometimes skim through these podcast reviews, I'm using what Walker and Brooks said on this podcast as part of the "NEWS" segment, so I won't have to repeat myself later on.
Mollie Walker opens the show by saying, "the Rangers offense is starting to connect the dots." Walker then previews the rest of the show, where she also includes the name of Vitali Kravtsov as one of the topics.
After some ads, including one for MANSCAPED, (I did a bit on this a few blogs ago) we get the familiar opening introduction music. Producer Jake Brown welcomes us to the show, where like Walker, he does an intro for the show as well. As usual, Brown tells us to review and rate the show. Done and done.
After all the intros and previews are done, Ron Duguay joins the fray, where he says it's been a good week for the Rangers. Duguay talks about all the old Rangers vs Flyers bad blood. (This episode was recorded prior to tonight's game.) Duguay brings up that CZAR IGOR is coming back for this game and he's excited to see him play.
Duguay then talks about today's guest, in Pete Stemkowski. Duguay says he was drafted by the Rangers to replace Stemkowski, as Duguay succeeded Stemmer at the center position for the Rangers in the late 1970's. Duguay says over time, and due to their status in the alumni and working media for NYR, that they became good friends. Duguay says when Stemkowski joins the show, he's just going to let Stemkowski fly, as Stemkowski, as he was then and still is today, is a great talker. As just a stupid fan with a blog, I still feel privileged that I was able to shoot the shit with Stemmer for 2+ hours over drinks. Thanks again GG!
Duguay, with some major gusto in his voice, says that Vitali Kravtsov is in town and asks Walker for the latest information on him. Walker breaks Duguay's balls right away, and jokes about Duguay using only Kravtsov's first name of "Vitali" when speaking of him. Walker says she wasn't aware these two were on a first name basis. That was pretty funny. Walker then jokes, asking if Duguay is having trouble pronouncing Kravtsov's last name, which Duguay laughs along with.
Walker says that Kravtsov is now with the Rangers, after clearing all the medical tests that were required. Walker says Kravtsov had his first full Rangers practice of this season this past Wednesday. (3/24/21.) Walker says Kravtsov is definitely a "top six talent". Hey, I'm rooting for Kravtsov too, but didn't they call Lias Andersson a "top six talent" as well?
Walker runs down Kravtsov's 2020-2021 KHL season. Walker says that acting Rangers head coach, in Kris Knoblauch, said during his recent zoom call with the media how Kravtsov had his heart set on joining the Rangers last season, before that whole situation went down the way it did. Knoblauch also said, that due to Kravtsov wanting to be with the Rangers, his heart wasn't into it, regarding Kravtosv's time with the Wolfpack last season. As we all know by now, that's a poor attitude to have. Walker is more polite than me here, as she says that coming from Russia to America is "a transition period." As I said then, and as I'll say again here – if CZAR IGOR had to waste time in Hartford, than Kravtsov should've had no problems with playing in Hartford to start either. That said, that's all water under the bridge now. LGR!
Walker mentions that Kravtsov wouldn't be playing in Thursday night's game, saying it's important not to put pressure on the kids. Not for nothing, Kravtsov is older than Lafreniere and Kakko & has had a better 2021 season in the KHL than Lafreniere and Kakko are having in the NHL. Why not give Kravtsov a shot? Why make him sit out? Let's see if he can keep the momentum going! Walker adds that she doesn't feel that Kravtsov will debut until DQ and his staff is back.
Duguay talks about his younger days, mentioning how guys like Esposito, Vadnais and Hodge helped him out. Duguay says he hopes Kravtsov can get comfortable. Duguay says the Rangers having other Russian players on the roster will help too. Duguay feels that Kravtsov will be fine once he makes his debut. Walker feels that once Kravtsov starts his NHL career, that he'll be on the third line. (I think this makes the most sense and is most likely to happen, but I wouldn't mind seeing Kravtsov play with Panarin's second line, since they both speak Russian and because Panarin makes everyone around him better. It could be a huge confidence booster. I talked about this in-depth last blog.)
Duguay says this is all a balancing act for the coaches, because there are players here who have been playing solid all season and you don't want to disrupt whatever chemistry that already exists. Duguay says if Kravtsov can get going on the third line, then you can promote him to the top six. Duguay feels that Kratvstov is excited and will do well. I'm in "Camp Duguay" on this opinion as well.
Jake Brown brings up the current standings and wonders about a playoff push. Walker says the opinions of fans change on a dime. Truth be told, you can say the same thing about her co-employee, in Larry Brooks! (Which was more evident in today's episode, as you'll soon see.)
Walker brings up the recent winning ways of the Rangers, but she doesn't think that they'll make the playoffs. She does say "you never know" as an out. Brown boos her. Ha. Duguay says the Rangers should catch the Flyers in the standings, but he's not sure if they can catch the Bruins and Penguins. Duguay brings up how Buffalo is the x-factor here, mentioning how the Bruins have more games against Buffalo than the Rangers do. Duguay says despite everything, he thinks that the Rangers will make the playoffs. Attaboy!
The "You've Got Mail" segment, which has been absent over the last few episodes, returns here. The first question is about Ron Duguay's hair, where the caller believes that Duguay cutting his hair during the 2014 Stanley Cup Playoffs cost the Rangers the Cup that year. Ugh. Duguay says he's the least superstitious guy out there, but at that time, he wanted to give himself a makeover. Duguay says maybe he did something that broke superstition, but he's not taking the blame for that series loss to the Kings.
The next caller brings up how Duguay has coached in the past and how Duguay was a good centerman. The caller wants to know if Duguay still has the coaching bug and if he's ever been asked to come in and help the current Rangers centermen with their face-off game. Duguay brings up his coaching experience, where he coached his son's team and semi-pro teams. Duguay says he's not sure if taking face-off's is a real teachable thing, where Duguay believes some guys have it and some guys don't. Duguay says the best advice he has is to scout your opponent and know what they do and then try to take it from there.
Walker spins this into talk about Brett Howden. Walker says the Rangers value him for all the reasons we know about – he's the best face-off guy on the team, his defense and his penalty killing. Walker says she thinks face-offs is a repetition thing too. Duguay then says that Howden is "indispensable". Duguay says he'd stick with Howden. Duguay says since Howden isn't a scorer, he provides value to the Rangers from a salary cap perspective. Good point.
The next question is about what kind of hair products does Duguay use. Riveting question. The caller laughs at her own question, and says she has a real question too. That question is, "what are your top three memorable moments as a Ranger?" Duguay jokes, and says he's happy this question is coming from a woman and not a man, which I'm sure will offend the woke PC people who look to get upset about everything!
Duguay talks about his favorite hair spray, which is something called Tressemme. As someone who has shaved his head for over 25+ years now, admittedly, my knowledge of hair products is limited. Jake Brown, who I think is bald because of nature and not preference, says he knows nothing about hair products either. (I do know, after a Tweeter conversation between he and I, that both of us are fans of using cocoa butter on our chrome domes! Shout-out to Jake Brown, the hardest working producer in the sports podcast game today!)
Duguay says one of his favorite memories was scoring 40 goals in one season for the Rangers. Duguay says the 1979 playoffs was one of his favorite memories as well, mentioning how the Rangers knocked off the Islanders during that Stanley Cup Final run. Another favorite memory of Duguay's was his initiation to the Rangers, where his teammates shaved him head-to-toe. This is another story that today's woke hockey fans would go bonkers about if it happened today, but it's just the way things were done back then, even for as weird as it sounds.
Brown brings up Duguay's sexual exploits with Cher and Farrah Fawcett as favorite memories. Duguay laughs and says he wants to keep it to on-the-ice stories. Walker talks about her hair and says she just dyed her hair. Walker says she wants fans to call up and ask her about her hair. While all of this stuff is silly and pointless, it just makes the show unique and shows off the personalities of Duguay and Walker. And really – that's what makes a great podcast – personalities. Anyone can talk about any topic. It's the personalities that makes you a listener. That's why I always pump the BSU Show so much on these blogs – they are great people with great personalities.
The next caller brings up the topic of low scoring games and how Hall of Fame goalie Ken Dryden thinks that the net should be expanded, due to all the goaltenders being bigger with all of their extra padding. The caller also wonders if Kravtsov can step right in and score. Duguay knows who the caller is, as he works for some clothing company. Duguay says Dryden's idea is worth exploring, where you'd have to try it out at the ECHL or AHL level first. Walker says the players are all different, but it would be interesting to try. Walker says Kravtsov is offensively gifted. To the caller's point, isn't that what they said about Lafreniere and Kakko too? Walker says she does agree with the caller and the scoring doesn't come right away.
Brown then wraps up the "You've Got Mail" segment and plugs the number for people who want to call next week. After that, up next is the Larry Brooks segment.
Walker brings up the Rangers win over the Sabres and wonders if recent Ranger success is because of the fact that Mika Zibanejad has finally woke up. Brooks says that the team is just a different team, and in a good way, when Mika is going. Brooks also adds that Panarin is a top five player in the league and when both are going, and leading their own lines, the Rangers are a tough team to match-up against. Brooks says with that said, the power-play has to get going too. Well the NYR PP sure got going tonight, in their 8-3 massacre of the Flyers!
Duguay brings up Ryan Strome and asks Brooks why does he feel that the Rangers should trade him? (Brooks has previously said the Rangers should trade Strome both on this podcast and in his articles.) Brooks says he doesn't have a good answer. Brooks says if the Rangers don't think Strome is a long-term answer and if Strome continues to play well, he's going to command a big contract. Brooks says he's jumping way ahead, as he often does. Brooks plays fantasy GM, where he basically argues against himself a lot during all of this. What Brooks says here is that the Rangers will trade Strome if they get a blow-away offer for him, which sounds like fan stuff on Twitter. (JOHNSON FOR MCDAVID!) Brooks then brings up points I've previously made about Strome – he's been making everyone better, whether it be Kakko or Kreider. Brooks just seemed lost and as confused as Sam Rosen during this question.
Duguay laughs about the answer Brooks gave. Brooks tries to explain himself better, and says that it's all cap-motivated, which really, you can say about most of these guys.
Duguay asks Brooks what does he expect from the Flyers in Thursday night's game. Brooks brings up the crappy Flyer goaltending issues. Brooks says the Flyers can be angry all they want, but if they can't stop the puck, they're in trouble. Brooks says the Flyers are one of the most disappointing teams in the league. Not for me! And to be fair to Mr. Brooks – he pretty much nailed this game in his pre-game analysis.
Walker asks Brooks for this thoughts on Kravtsov. Brooks brings up the logjam of Ranger wingers. Brooks brings up a past Yankee team and how they had so many starting pitchers and how do you fit all these guys in. Brooks says that sometimes that injuries can resolve roster management, and how now, COVID-19 is a monkey-wrench too. Brooks, like everyone, sees Kravtsov on the third line. And wow, Brooks agrees with me, and thinks that Kravtsov on the second line with Panarin makes sense too. Brooks isn't sure if Kravtov will play on Saturday, kind of saying what Walker just said. This then wraps up a very confusing edition of the Larry Brooks segment.
Up next is the Pete Stemkowski interview. Walker recaps some of Stemmer's accomplishments with the Rangers and brings up the 1971 playoffs.
Walker says the Rangers possess the worst face-off percentage in all of the league and wonders if Stemmer can lace the skates again. Stemmer jokes right away, saying "thanks for the great introduction, but if my ex-wife heard it, she'd say, 'that's not the guy I knew!'"
Stemmer says Duguay was a good face-off man too. Stemmer says face-offs are all about anticipation and being ready. Stemmer brings up the Rangers schedule and how the Rangers are basically playing every other day. Stemmer says that the other teams that have had COVID issues got a rest, where the Rangers haven't. Stemmer brings up Mika overcoming COVID and Panarin's situation. Stemmer says Shestyorkin and Georgiev need more games in their career to get a true feel. Stemmer brings up the DeAngelo drama and says all of this stuff was just turmoil for the Rangers. Stemmer says now that the season is past the half-way mark, the Rangers are getting better. Stemmer also says that he thinks Kreider should be the captain of the team.
Stemmer says things are coming together for the Rangers and talks about a playoff push. Duguay goes back to face-offs and saying a lot of it is knowing who you're going against. Duguay says sometimes bounces play a part in winning face-offs too.
Duguay then brings up Adam Fox and compares him to Leetch. Stemmer says if you asked Fox that question, he'd say pump the brakes on all the Leetch comparisons. Stemmer talks about the transition from the college game to the NHL game. Stemmer says for all these young kids, they have to work on their defensive game and how a lot of these kids have had issues in their own zone. Stemmer says Fox has adapted well and you don't see him struggling behind his own blue line.
Duguay asks Stemmer about the upcoming trade deadline. Stemmer says the Rangers have to look to see who will be around. Stemmer wonders what Buffalo will do, citing them as an influence of this upcoming deadline. Stemmer says you need depth and how the Rangers need another center.
Duguay says the Rangers don't have a captain and how they might be missing some character. Stemmer jokes about captains from his era, where some of their duties were Christmas collections and making up the football pools. Stemmer says that the captain is the conduit between the players and the coaches. Stemmer reiterates that he thinks that Kreider should be the captain.
Brown brings up how Duguay was Stemmer's replacement. Stemmer makes some jokes between his looks and Duguay's looks. Stemmer brings up Duguay's nightlife in NYC and how Duguay did it right – he played hard and had some fun off of the ice too. Stemmer says that's a huge difference between an older generation and this generation – the older generation had more fun. (I often hear this a lot from former players, but it should be noted that players from an older generation didn't have to deal with a world where everyone has a camera in their pocket and how most people look to push out negative stories whenever they can. As I often say on this site – just imagine if Joe Namath or Mickey Mantle played in this new "TMZ/Social Media/I-Phone" era. Hell, even Duguay had issues back then, as a result of the "Page Six" feature in the New York Post.)
Stemkowski talks about some of the partying his teams and he used to do and how the eras have changed. Stemmer feels the game is more serious today and the money these players get has changed things too. The famous restaurant "Il Vagabondo" is brought up, as that was a common hang-out place for ex-Rangers and celebrities. Stemmer bring up how when Giacomin and Villemure won the Vezina Trophy, how the two goalies took out the entire team for a night out at Il Vagabondo. (Of note, as I talked about two months ago, Stemmer still keeps contact with Villemure to the present day, as the two live about 20 minutes away from each other. I always find it cool when I hear stories like this.)
Brown brings up how Stemmer really played in the heart of the 1970's for the Rangers, unlike Duguay, who played in the late 1970's. Stemmer says he lived on Long Island, so he wasn't really into the NYC partying scene like guys like Nevin, Gilbert and others. Stemmer tells a practice story about Gilbert and Derek Sanderson which was pretty funny.
This wraps up the Stemkowski interview and the show. It's a shame that Stemmer only had 13 minutes here, because the guy can tell stories like no one else.
---
All in all, I thought this was one of the better episodes of "Up in the Blue Seats". The Stemkowski interview, albeit short in length, was solid. All the news was recapped and with detail. You had some comedy and fan interaction. The only thing that was baffling was Larry Brooks trying to figure out his opinion on Ryan Strome. After Strome's four-point game tonight, Brooks is probably still talking in circles!
At this time, let's get into the news prior to this game, news that wasn't already covered on this site previously or during the "Up in the Blue Seats" podcast review.
---
Prior to tonight's game, outside of the Kravtsov stuff that was covered in the "Up in the Blue Seats" recap; the biggest news of the day was that CZAR IGOR was going to return. The Rangers admirably went 5-4-1 without him.
For Keith Kinkaid, this news was perhaps melancholy for him, as he's now back with the taxi squad with Alexandar Georgiev serving as CZAR IGOR's back-up. While this stinks for Kinkaid, the tandem of Igor and Georgiev was always the plan. And truth be told, with Kinkaid on the taxi squad, and with a back-to-back coming up; who knows, maybe Kinkaid gets one of these games this weekend? (As I've stated – I'd just run Igor the whole way, no matter what the schedule is.)
In other news, coach Greg Brown is back after his stint on the NHL's COVID-19 list. He took in the game from the press box tonight. Defense coach Jacques Martin was back with the Rangers tonight, as he was behind the bench. It's expected that David Quinn will make his return this weekend. I'll save the DQ/Knoblauch stuff for the end of tonight's blog, but I will say this for now – DQ's seat has never been hotter and there's just no way to spin this otherwise.
Lastly when it comes to the news, Phillip Di Giuseppe is off of the NHL's COVID-19 list. Brett Howden remains on it. The Rangers didn't miss these two tonight!
Let's now get the GAMBLING segment out of the way, where like Kris Knoblauch's unofficial record, I'm now 4-1 with Knoblauch behind the bench!
Here's what I said before the game:
Season over-under record: 14-15-2

This is a tough one, as bookmakers pumped this line to -6.5. Obviously, I doubt we will see 9 goals again. #nyr offense is heating up, but I see a 4-2 Rangers win & one bad goal allowed by Igor. I'm taking the UNDER. Expect penalties galore. pic.twitter.com/GRHl4Th5VW

— BlueCollarBlueShirts (@NYCTheMiC) March 25, 2021
Well, I did get the stuff about not seeing nine Ranger goals again, penalties galore and one bad goal allowed by Igor correct! However, with 11 total goals, the OVER easily hit. As a result, my four-game winning streak is now snapped, as I now drop to 14-16-2 on the season. As I always say, I don't care if I lose on these over-under bets if the Rangers win!
BOX SCORE time!
The following information and graphics come courtesy of the new world-wide leader in NHL coverage, in ESPN.com:
SCORING: (Take a deep breath!)
PENALTIES: (Take another deep breath!)
| | | | | | | | | | | |
| --- | --- | --- | --- | --- | --- | --- | --- | --- | --- | --- |
| SA | GA | SV | SV% | ESSV | PPSV | SHSV | SOSA | SOS | TOI | PIM |
| 44 | 3 | 41 | .932 | 32 | 3 | 6 | 0 | 0 | 60:00 | 0 |
| | | | | | | | | | | |
| --- | --- | --- | --- | --- | --- | --- | --- | --- | --- | --- |
| SA | GA | SV | SV% | ESSV | PPSV | SHSV | SOSA | SOS | TOI | PIM |
| 11 | 5 | 6 | .545 | 5 | 0 | 1 | 0 | 0 | 22:06 | 0 |
| 11 | 3 | 8 | .727 | 0 | 0 | 0 | 0 | 0 | 37:14 | 0 |
TEAM STATS: (Take notice of the SOG and special team stats.)
---
As we now hit the MSGN broadcast segment of the blog, I think this may have been the worst broadcast of the season. And that's not because this game was on the MSG Pi = 3.14 channel.
Let's get the usual whipping boy out of the way first. Following the Rangers 5-3 win over the Sabres on Monday night, Steve Vagistat tweeted out the following:
So dominant that they needed Mittelstadt to take a dumb penalty to win. Vally's charts remain worthless and never tell you what actually happened. Eye test trumps all. #nyr pic.twitter.com/nStJ1OUfWo

— BlueCollarBlueShirts (@NYCTheMiC) March 23, 2021
These useless charts and fake news stats are never-ending. During tonight's game, Vally had some chart that explained to him how Panarin is a good hockey player. Does this loser need to plug his own pathetic analytical company so much, that he just flat-out ignores watching these games with his own two eyes? Later on, during the "Bud Light Bar" segment, you know, the bar where nobody indulges; Giannone pandered to Vally, talking about Vally's echo chamber on Twitter. These broadcasts are as entertaining as getting a prostate exam from Captain Hook.
If there's anything Vally got right on this broadcast, he said what I said (which is why he was right!) – this game couldn't be another "one step forward, two steps back" kind of game. The Rangers needed to keep their momentum going and secure a victory.
After Vally talked about how much he enjoys seeing players get stretched out, Vally started talking about how he wanted to see Carter Hart turn it around. Who signs this douchebag's paycheck? This would be a common theme throughout the broadcast, where in the post-game show, Vally seemed like he was on the verge of tears, when talking about the Rangers running Hart out of this game after five goals for. Earth to Vagistat: Father Fink the Flyers!
If this was an NBC broadcast, where the studio analysts have to be neutral, I would get it. However here's Vally, worrying about the Flyers situation and Carter Hart, rather than focusing in on the fact that the Rangers kicked the snot out of Gritty (where was he tonight?) Hart and the Flyers.
I've often said on these blogs that I don't advocate for anyone to lose their jobs. I've also said previously, that I rather just see Vally go to the Islander broadcasts on the MSGN, so he can work with the rest of the clowns. After tonight's game, where Vally was as sympathetic for the Flyers as someone who just lost a pet, I hope Vally gets the ax. He sucks.
Enough about Vally for one blog, as just typing his name gets me sick.
---
I talk about Joe "FABULOUS" Micheletti and Sam Rosen a lot on these blogs. While Micheletti did say the word "FABULOUS" about 78678678967896 times tonight, his partner, in Sam Rosen, is the story tonight.
I know I've said this before, but it's worth repeating for the new readers of this site. Sam Rosen is a legend. He's a Hall of Famer. He's an institution. He may one day get his name in the rafters of M$G if the Rangers ever decide to honor their history. That said, while the never-ending Rosen gaffe comedy hour has been entertaining over the course of the last three years; if there was ever a game where his family now needs to step in and tell Sam to call it a day, it's this one.
I grew up on Sam Rosen. He's the only voice of the Rangers that I've ever heard in real-time. However, Rosen's continuous senior moments are no longer funny. After seeing/listening to him tonight, to me, it's now sad when you think of Sam Rosen.
Kind of like the young people who say that Adam Fox is the new Brian Leetch since they never saw Leetch play; (if you noticed, on tonight's post-game show, Vally said Fox is the new Leetch, only for Giannone, who actually saw Leetch play, to shut that shit down) there are Ranger fans who only know Rosen as a bumbling senile clown, and not for his Hall of Fame work as a broadcaster.

Listen, I get it. Rosen was calling tonight's game from a monitor. However, this isn't the first time it's happened and it's not like Rosen doesn't make 78678678967896 mistakes when he's in the arena anyway. In addition, I don't see other broadcasters around the league, like Kenny Albert (the assumed successor to Rosen) make mistakes when they call games.
It's at the point where Rosen can't tell the difference between a goal and a save. And again, while Rosen absolutely massacred Buchnevich's second goal of the game (I'll have that clip included in the game review segment of the blog) this wasn't the first time where Rosen couldn't make out a goal and a save. Hell, he just did this a few games ago when Jack Johnson scored his lone goal of the season. If you recall back to a few weeks ago, after Johnson scored and with the Rangers celebrating, Rosen didn't realize the Rangers scored.
And while this is more on Micheletti than Rosen, even though Rosen is the lead guy; it seems that whenever a controversial play or penalty happens, rather than letting the referees call out what happened, Sam and Joe consistently yammer on about nothing while the referee makes his announcement. A minute later, Sam and Joe are wondering what happened and what was called. They just refuse to shut up, listen and let the game breathe.
Even worse, is whenever the MSGN flashes some sort of graphic with stats and Rosen has trouble reading those stats, as he continues to flub his words. It's one thing if Sam Rosen calls out Brendan Lemieux as "Laa-Laa-Loo-Moo, Lemieux Joe!" as he did tonight. I'll even give him a pass when he's shrieking out NOLAN RYAN instead of saying Nolan Patrick. That said, when you can't see the puck go in the net, and at a frequent rate, it's time to hang up the cans, enjoy what you did and stop sullying your once great reputation.
I bring all of this up, because tonight, I was tagged in some Twitter thread, where the whole thread was bashing Rosen. Most of these fans were young. They don't know. And how can you blame them? If you're under 25 years old, the only thing you know about Rosen is that he very rarely gets anything right. It's sad watching a Hall of Famer become a parody.
Similar to the way that I hate to see the President of the United States look senile and bewildered in every appearance he makes, I hate seeing Rosen look this way too.
Lastly, I saw some people compare Rosen to John Sterling, another announcer that I'm a fan of. However, at least Sterling is on the radio, so 99/100 times, he can say whatever he wants and you don't notice his mistakes as much. With Rosen being on TV, every mistake stands out, mistakes that just happen far too often and mistakes that you just hope don't become the way he's remembered by in the future. Unfortunately for Rosen, he's calling games in this social media/instant reaction generation, and all of his follies are posted on social media within seconds of him making them.
Let's get into this game, as really, I don't want to bury Rosen. I just want him to retire graciously.
---
The Rangers were on a mission tonight. With Mika's line opening the game, Mika won the opening face-off. After the Flyers got the puck, their first two possessions saw them turnover the puck after a horrendous drop pass and then saw Hajek block a shot from Lindblom. For good measure, on the Flyers third possession, Kevin Rooney, who had another solid performance tonight, even if his performance will be forgotten about due to everything else; forced a turnover on Raffl.
With the Flyers playing crappy hockey to start, Sam and Joe, like Vally previously, did their usual act of trying to reverse jinx the other team into scoring. During tonight's game, Sam and Joe were trying to will Kevin Hayes into scoring. Sam and Joe would get their wish, as Hayes would later score in this game, where after the goal, the scoreboard read Rangers 6, Flyers 2, seemingly to the dismay of the MSGN crew. (I think Giannone is the only real Rangers fan on that broadcast. As noted, Giannone was quick to shut Vally down after Vally made Fox/Leetch comparisons. It has to be tough for Giannone while working with such a blithering idiot.)
After two strong defensive plays from Kaapo Kakko, a Kakko who followed up his best game of the season with no shots on goal and no points in this game, despite the Rangers potting eight goals tonight; then watched Igor make his first real big save of the game, where CZAR IGOR denied stopped Nolan Patrick from his doorstep.
Igor would then make another early save in this game, where afterwards, Hayes and Lemieux had a post-whistle scrum. Nothing doing here, but it should be mentioned that Vally was wrong as usual in his pregame analysis, when he said that he didn't expect this game to be chippy or to have fights. I guess his charts couldn't predict the human element. What a shock. (Also of note, after the game, Giannone called Vally out on this, and Vally just spun into a different topic. The guy can't admit when he's wrong.)
At the 8:01 mark of the first period, Strome would kick off the scoring:
This is how the blueshirts do hockey 💪 pic.twitter.com/jmkUoIBea6

— Rangers on MSG (@RangersMSGN) March 25, 2021
1-0, GOOD GUYS!
On this goal, for all the talk about north-south, east-west and all that other compass bullshit, here's Fox making a cross ice pass to Panarin. Panarin then shot the puck, where Strome deflected/tipped it past Hart at the last possible second. 1-0 just like that. Good players find ways to get goals no matter what direction they are going in and Fox, Panarin and Strome are very good players.
52 seconds later, the Rangers scored again. Of note, the Rangers and the MSG Twitter accounts did not post a video of this goal I'm about to show you, (and they always post videos of every Ranger goal scored) because the clip makes Rosen look bad. Here's Buchnevich making it 2-0, GOOD GUYS:
Pavel Buchnevich converts on the 2-on-1, somehow sneaking one home through an outstretched Hart!#NYR pic.twitter.com/m9Bk1f0eEo

— Hockey Daily 365 (@HockeyDaily365) March 25, 2021
I said enough about Rosen earlier on during this blog, but despite the Rangers celebrating and the red light going off, once again, Rosen blew another goal call.
On this goal, the Rangers went on a two vs one odd-man rush and Kreider perfectly fed Buchnevich & Buchnevich toasted Hart. While I'm not trying to be Vally here, it was hard to blame Hart for these two goals allowed. The Flyers just suck.
At the 9:29 mark of the period, after Smith nailed Aube-Kubel down to the ice; the two had a quick, and I mean quick fight, where the two men threw a few punches, and like London Bridge, both fell down. In other words, after Vally said to expect no fights in this game, we already had a fight before the mid-point of the first period. It's amazing how consistently wrong the lead studio analyst is. Bring back Cally!
With 7:30 to go in the period, Micheletti caught the Flyers for having too many men on the ice. The refs didn't. When Micheletti brought this up and we had a video clip displaying this no-call, no joke, Sam Rosen replied with a hearty "Mmmoooooooo".
Twenty seconds later, with 7:10 to go, Justin Braun tripped Kakko. What happened next would be the first of three Ranger power-play goals, (all scored by Mika) a season-high!
Adam Fox, who is getting better and better at this power-play quarterback thing, blasted a clean shot from the point and Mika tipped it home. 3-0 GOOD GUYS, and we still had 6:24 to go in the period. At this point, the Rangers were on pace for 10+ goals! Who knew?
After Igor stopped that actor Claude Giroux, on the next Rangers possession, Fox and Panarin just went Harlem Globetrotters here, with some passing wizardry. All of this led to Kakko getting the puck, but he couldn't get a shot on goal off. If he had, this would've been one of the prettiest goals of the season.
With Igor showing no signs of rust, with 47.3 seconds remaining, JVR cross-checked Lindgren. The Rangers power-play was going back to work. While the Rangers would score on this power-play, albeit during the second half of it during the opening minute of the second period; in the final seconds of this first period, Adam Fox turned over the puck. As a result of the turnover, the Flyers went on a two vs one odd-man rush, only for Fox to get back and prevent a SOG. The guy cleaned up his own mistake. And let's face it, if the Flyers get this late SHG, it would've changed the swing of the pendulum here.
After one period, we remained GOOD GUYS 3, Shit 0. What was crazy here was that the Rangers only had 7 SOG, as opposed to the Flyers 8 SOG.
---
After our regular comment of "SECOND PERIOD, WHAT DO YOU LOOK FOR HERE JOE?" <a new pair of glasses Sam> the Rangers power-play continued their attack. As a result, this happened:
.@MikaZibanejad JUST WON'T QUIT! pic.twitter.com/bRHCeqBm4Z

— Rangers on MSG (@RangersMSGN) March 26, 2021
4-0, GOOD GUYS!
If there was ever a goal to suggest that Mika was back, it was this one. For the first time this season, after taking about 789678678687968968969678 of these shots during previous Ranger power-plays, Mika scored after taking a one-timer from his knee.
20 seconds later, Sam Morin, who was just an absolute piece of shit tonight, which I'll explain why during the third period, went to the box, after cowardly horse-collaring Gauthier down to the ice. If Morin doesn't deserve a suspension for this, what he did later most certainly earned him a suspension.
With the Rangers quickly back on the power-play, their third of the game; Mika would just miss, going wide by two or so inches. On his next shot, he scored. 5-0, GOOD GUYS and a natural hat trick for Mika Zibanejad. And get this – Mika had all three of the Ranger power-play goals. WHO ARE THESE GUYS? Pinch me if I'm dreaming!
Before we could get into Mika's historic game, as he now had back-to-back hat tricks against the Flyers; 36 seconds later, and with Brian Elliott now in net after Hart was pulled after the Mika natural hat trick, K'Andre Miller scored from downtown. 6-0 GOOD GUYS! TOUCHDOWN RANGERS.
Two things here. Let's do the good stuff first.
As a result of Mika assisting on Miller's goal, and later on assisting on Buchevich's second goal, which came in the third period; Zibanejad once again had six points against the Flyers, although unlike the last time these two teams played, he didn't pick up all six in one period. What a shame!
At this time, I just want to get into the Mika Magic and all the history, before continuing on.
The following information comes from @NYRSTATSINFO , the official statistic account of the New York Rangers:
(Of note, I also included what this account tweeted, in regards to Fox's big night too.)
Adam Fox (0-5—5) matched a New York Rangers franchise record for most assists in a regular-season game, becoming just the second defenseman to achieve the feat (also Brian Leetch: April 18, 1995: 0-5—5 at PIT).
---
Mika Zibanejad became the third player in NHL history to record multiple games with 6+ points against the same opponent in a single season — and first to do so in nearly 80 years.
---
Fox's five assists were also tied the single-game franchise record for assists by any player. It was the eighth time a Ranger tallied five assists in a game, and the first since Wayne Gretzky on Feb. 15, 1999 at Nashville.
---
Mika Zibanejad has become the first player in NHL history to record 6+ points in consecutive games played against one opponent within a regular season. March 17: 3-3—6 vs. PHI March 25: 3-3—6 at PHI.
---
The Rangers have had a forward and a defenseman each tally five points in the same game for the first time in franchise history. The last time the Rangers had two players record five or more points in the same game was 11/25/92 at PIT (Messier and Graves).
---
Mika Zibanejad has recorded 15 points over the last five games. Per the NHL, the only Rangers who have recorded 15 or more points in a five-game span in franchise history are Frank Boucher (1929-30) and Jean Ratelle (1971-72)
---
Mika ZIbanejad is the second Ranger who has posted two different six-point games in franchise history (along with Anders Hedberg) and the first to do so in the same season.
---
Adam Fox has tied single-game Rangers franchise records for defensemen with five assists and five points in tonight's game.
---
In addition, there's also this:
So this was all the good stuff. The "bad", and I'm using the word "bad" in quotes here; is that the Rangers, now up 6-0, and with 37 minutes remaining in regulation, pretty much employed a "Prevent" defense style of hockey from this point on. And as you'd expect, just like an NFL team does in a blow-out, the other team started to come back.
I get that you don't want to out-class and embarrass your opponent, but with 37 minutes left and despite the fact that you're most likely not going to blow a touchdown lead – you still have to keep the motor running.
A minute after the Miller goal, Giroux scored, making the game 6-1. It's hard to nail Igor on this one, but this kind of looked as one of those "iffy" goals that Igor always gives up. That said, he had 41 saves tonight, so breaking down this goal allowed is the least of anyone's worries.
To me, up 6-1 and with plenty of time remaining, I was kind of hoping to see Lafreniere get time with Panarin, if only to help get him going. The Rangers and Lafreniere could've used an "A-Rod" goal out of him tonight. That said, Lafreniere almost got one in the third period. And of course, up 6-1, I see the other side of the argument – don't fix what's not broken.
The Rangers just got sloppy after going up 6-0, as aside from the Giroux goal allowed, the Rangers would take three consecutive penalties.
With Igor making a ton of saves, as the Flyers ramped up their offense while the Rangers loosened up on both sides of the puck; with 12:05 remaining in this period, Lemieux went to the box after hooking Braun. Sam and Joe just ignored this play, but in their defense, they were paying tribute to former Ranger and St. Louis Blues legend Bob Plager, who passed away yesterday. RIP.
With 6:26 to go, Hayes scored a PPG. 6-2. Again, because of the score, you brush this goal off, but once again, the Flyers power-play scored another goal against the heralded Rangers PK. If there's anything the Flyers can do right these days, it's beating the Rangers PK.
About a minute later, Brendan Smith went to the sin bin, after roughing Voracek. The Flyers power-play did everything but score here. The biggest PKer here was Igor, who made a split-legged save during this. However "Igroin" (joke credit: Jim S. of BSU) looked no worse for the wear. As the power-play expired, and after Igor made something like four saves here, the Flyers were nearing 20 SOG in the period, and with two minutes remaining.
With 19 seconds to go, Trouba took a bone-headed holding call on Aube-Kubel. The Rangers PK went to work for the third time in the period. After some tomfoolery with the clock, with the end result being a meaningless face-off in the dot outside of the Rangers zone; we got to the end of the second period, where the Rangers remained up 6-2.
Of note here, the SOG after forty minutes were Flyers 26 – Rangers 14. At one point, the Rangers had six goals off of twelve shots! If anything, this goes to show you that Igor was playing well.
---
During the intermission, Vally started talking about Igor's groin and compared Igor's groin to his. Vally also solicited wedding invitations, where he then said he'd show off his groin. What a Father Finkin' creep.
With the Flyers opening the period with 1:41 of power-play time, the Rangers got a huge break, when Buchnevich sent the puck over the glass. This happened with about 90 seconds remaining on the Flyers PP, so had this penalty been correctly called, the Flyers would've got a 5 x 3 power-play. Instead, the refs said no, which just made Vigneault irate. Making AV madder, was that after the next face-off, this happened:
Short handed goal by Buchnevich to start the third period! #NYR pic.twitter.com/c6oDU4DXUO

— Rangers on MSG (@RangersMSGN) March 26, 2021
7-2, GOOD GUYS.
To quickly recap, this is what happened:
Buchnevich, a player that clashed heads with AV during AV's tenure behind the Rangers bench, had a two goal game.
Buchnevich, who should've been in the penalty box, scored a SHG, thus officially putting the game out of reach. Who knows, if the Flyers, who have had success against the Rangers PK this season, scored on the 5 x 3 PP, it would've been a three goal Rangers lead. And had the Flyers scored on the second half of the power-play, it's then a two goal game. Instead, Buchnevich made it a five goal Rangers lead.
Less than a minute after Buchnevich's SHG, Sean Courturier scored a Flyers PPG. 7-3. Again, had that penalty been assessed to Buchnevich, who knows? And oh, of course, all three goals Igor gave up tonight are DQ's fault, just for those keeping track! Also of note: two more Flyer PPG's against the Rangers excellent PK.
Micheletti, ever-so-wise, then commented: "The Rangers should try to limit the turnovers here." That's why he gets paid the big bucks, while I'm swilling beer and typing out these blogs that rival the size of the Magna Carta for free!
Igor would keep the Flyers off the board for the rest of the period, but he would be tested, which I guess is kind of a good thing. Of course, this can't be a regular occurrence (giving up 40+ shots) unless the Rangers plan to score a touchdown and a safety during every game.
At the 7:35 mark of the period, we had a huge scrum after a whistle. Rather than letting us hear what the refs said, Sam and Joe just yapped. They had no clue that Strome and Aube-Kubel got off-setting minors.
With the four vs four foreplay concluded, and now back to even-strength, and during a point in the game where you just watned the final horn to go off; with 7:25 remaining in regulation, Couturier was boxed for slashing Chytil. The Rangers power-play, 3-3 at this point, didn't press the issue, as the bottom six forwards and the bottom two defensemen were on the ice. Can't blame Knoblauch for this, as you should always reward your hardworking role players during a blowout with power-play time if you're able to.
As we got past the FOXWOODS FINAL FIVE MARK, with 1:58 remaining, Lafreniere seemingly had his "A-Rod" goal. However, with the benefit of replay, it was determined that Chytil got his stick on the puck right before the puck crossed the goal line. Chytil's goal, but this play was all Lafreniere. At least that's something. 8-3 GOOD GUYS.
With 1:26 remaining, we had a play that exhibited why Sam Morin is shit in human form:
Down 8-3, Sam Morin takes out the frustration on Brendan Lemieux pic.twitter.com/dpoaBEyi4b

— Brady Trettenero (@BradyTrett) March 26, 2021
I know I've repeated these points so many times this season, but I have to talk about what happened here.
FACT: Sam Morin jumped Lemieux here. Lemieux had no other option than try to defend himself, despite his failure here. For whatever reason, Lemieux is penalized for being attacked. And let's be fair – I HAVE SAID THE SAME THING WHEN LEMIEUX HAS DONE THIS STUFF AT THE END OF THE GAMES. It's unnecessary. The game is practically over. Does Morin think that this fight is going to carry the piss-poor Flyers goaltending to victory on Saturday?
Lemieux, because of his reputation, was assessed with a penalty here.
If you watch the video of this jumping/"fight", Morin takes Lemieux's helmet off, pulls Lemieux's hair like he's some woman out of a viral video during a chick fight taking place in "Bath and Bodyworks", and then tries to press Lemieux's face into the ice. If Morin isn't suspended for this, this would be exhibit number 376473678634993 of the NHL Player Safety committee and the league being down-right bat-shit goofy.
Rooney, Laughton and Raffl then all got into it, with the end result being a Rangers power-play. With the Rangers trying to avoid injury or any more bullshit, they skated the rest of the game out, with the 8-3 score holding up as the final.
While there are a lot of great vibes right now, as there should be; the attack on Lemieux left me pissed off. Morin better be suspended.
---
Obviously, this was a huge win for the Rangers and a demoralizing loss for the Flyers, who the Rangers will play on Saturday afternoon. Of note, as mentioned last blog, I do have a family committment on Saturday and most likely will be extremely late with a game recap.
As of this writing, Larry Brooks is reporting that DQ will still remain out for Saturday's matinee game with these Flyers. In addition, I think it's safe to say that DQ has the Wu Flu, or else he wouldn't have been out for all this time. Ironically, DQ's first missed game was on St. Patrick's Day, so instead of the "Irish Flu" that many people get on the morning of 3/18, DQ has the Chinese Flu. Isn't that amazing Suzyn?
Kris Knoblauch is now 4-1 as the bench boss of the Rangers and with his one loss having nothing to do with him. While we know that Knoblauch has been diplomatic and has heavily praised DQ throughout this past week and a half; you'd have to have your head in the sand to not give Knoblauch any credit.
I've been accused by many as being a "filthy DQ apologist", an accusation that gets a laugh out of me and which I wear with pride! Again, for the 3778870708th time – I don't feel strongly on DQ one way or the other. If they fire him, they fire him. If they keep him, they keep him. I just don't care like I did when the Rangers fired DQ's predecessors, in AV and Torts.
The fact is, the Rangers are playing their best hockey of the season under Knoblauch. Is it all Knoblauch? I don't think so, but you can only work with facts. I mean, is Knoblauch getting the best and most out of Mika right now, or is Mika finally putting it together? Really, even if you're a card carrying member of the "I Hate DQ" fan club, do you think Mika wanted to have a poor first half of this season?
Why is Knoblauch winning games? Easy – Mika has found it and has become the player he was last season. You can trace every recent Rangers victory to Mika reclaiming his former glory. And while it's not just Mika, Mika shedding that horrible skin of whatever his first half of the season was; well that is a bulk of the Rangers success right now.
If anything, Knoblauch, who I don't think would be hired permanently by the Rangers if they do fire DQ, has at least earned a look as an assistant NHL head coach. And who knows, maybe he'll be considered for a HC job around the league this summer too. You just can't ignore how the Rangers are turning it around under his watch.
What I'm truly trying to get at here is this – once DQ returns, all the pressure falls back on him. If the Rangers can't continue their winning ways when DQ returns, both Jeff Gorton and John Davidson will have to do what the majority of Ranger fans have done all season – put DQ under the hottest of microscopes.
And if the Rangers continue to succeed when DQ returns? He won't get any credit. All the credit will go to Mika and the players. That's just the way it works!
At the end of the day, the Rangers aren't just winning games under Knoblauch – they are posting historical victories as well. Like trying to add a returning injured player to the mix, there is cause for concern that when DQ gets back, the Rangers will revert to what they were doing during the first half of the season. As someone who is in the middle on DQ and fully aboard the playoff push boat, I'd hate to see that happen.
Lastly, while closing out on this, deep down, how do you think DQ feels right now? Any athlete will tell you that they always want to see the person ahead of them do bad, just so they can get more time to play. It's just human and a natural emotion to have. While he'd never admit it, do you think Keith Kinkaid is rooting for Georgiev shut-outs right now? In the same vein, had the Rangers looked like shit during the last five games, DQ doesn't look too bad. With the Rangers looking like world beaters right now, it only makes DQ's job that much harder.
Quick plug before I go home here.
Our buddies at "The Blueshirt Underground Show" returned this past Tuesday night, with another hilarious and great episode. To hear them sound off, click the play button below:
If you haven't already, subscribe to this blog for the next update:
---
The Rangers look to make it four straight for the first time this season against Philly. While some may wonder who the Rangers goaltender will be, the story here is who will the Flyers goaltender will be? Does it matter? They may as well dress Denis Lemieux at this point! (Bonus points if you get this easy reference.)
Stay FABULOUS my friends.
Until then, and as always here, thanks for reading and…
LET'S GO RANGERS!
Sean McCaffrey
BULLSMC@aol.com
@NYCTHEMIC on Tweeter