Greetings and salutations everyone and welcome to another blog here on BlueCollarBlueShirts.com. Contrary to popular belief – the Rangers are fine.
While sure, every resident of Rangerstown, USA wanted this win over the Devils on Thursday night at "The Pebble" – it just didn't play out that way.
All you can do now is look ahead – and try to find the positives from this one loss too.
I know I say this a lot on this site (especially now, with a playoff berth officially clinched), but whenever the Rangers lose a game, where you know, some fans expect them to go 82-0 – it's the same old misery – and where several fans are back to standing on bridge ledges and finding objects to hang themselves from.
Also forgotten following a loss? The other team is paid to play hockey too – especially a good one, where yes, and unfortunately – is what the Devils are – a good hockey team.
During a road game that the Rangers were never their best in and where the Devils were at the peak of their powers too; it was the home team that escaped Thursday night's tilt with only a one-goal margin of victory.
If it wasn't for another bad first period – which is an issue these days – as the Rangers, time-and-time again, are prone to slow starts – then who knows?
Of course, we can only talk about reality, rather than wading in the waters of the almighty hypothetical.
---
In the first period, it was a lot of the same that we've seen as of late against playoff-bound teams – the Rangers came out flat, slow and uninspired – and it cost them – but where you also wonder – are they just saving their energy for the playoffs?
If not, then maybe they are just into the S&M scene, where they enjoy being tortured before finding gratification later on.
Just a little after the five-minute mark, the recently re-signed Filip Chytil confirmed my concerns about his new contract, as he was cleanly beat during a defensive zone face-off. Just nanoseconds later, Erik Haula scored the first goal of the game.
Towards the end of the period, the newly acquired Timo Meier padded the Devils' lead to two goals, following his power-play tally – and the last goal that CZAR IGOR, who made 29 saves on 31 shots faced, would allow.
However, and as CZAR IGOR's predecessor once said, "give me two goals and I got this" – well that didn't apply tonight.
The Rangers would receive a power-play themselves at the end of the first period – but as is often the case – didn't do much with it – and where it was the Devils' penalty kill that had better scoring chances to boot.
However, come the middle frame, and whether it's "TURK PEP TALKS," smelling salts, body clocks/alarms that don't go off until 8PM or what; the Rangers rebounded.
After giving up two goals and going 0-1 on both the penalty kill and on the power-play; by the time the second period had concluded, the Rangers won these twenty minutes, 1-0, and where both their special team units had succeeded at a perfect 100%.
Now trailing 2-1 entering the third period – neither team would score, as this 2-1 score would hold up as the final.
To the Devils' credit – they played a game of near-perfection.
While the red-and-black attack (or on this night, the simplistic white-and-black attack, as they were wearing their horrifically bad Adidas-inspired jerseys), had numerous odd-man rushes and breakaway chances all game – the Rangers did not – at least not while at even-strength.
Sans an Adam Fox end-to-end try during a Rangers' power-play – that was the lone breakaway for the visitors.
During the third period, the second line almost had an odd-man rush, but a Kreider pass intended for Kane had too much mustard on it – but Trocheck, from the other end of the ice, almost hotdogged himself into a goal – but the Devils' netminder, Vitek Vanecek, wouldn't let NONNA'S BAMBINO relish.
(Three frankfurter puns in one paragraph – that's a new record!)
With over fifty-eight minutes of action complete, the Rangers then pulled CZAR IGOR.
Mika Zibanejad then won the next three ensuing o-zone faceoffs – but despite multiple opportunities – the Rangers could never find the tying goal.
In what could've been a first-round playoff preview (I really like the Devils' chances to jump over Carolina – where should that happen – that would then create NYR/CAR & NJD/NYI first-round pairings), the Rangers got one final look at their Hudson River rivals before the playoffs commence.
While this is definitely loser talk, but with the playoffs long clinched and with that big picture in mind – I rather accentuate the positives than harp on the negatives – because despite the loss – I believe that the Rangers learnt something new about their potential first-round opponent tonight.
Of course, the Devils learned something too – speed kills – but at the same time – I do wonder if the Rangers focused on the big picture too much – as they didn't really start hitting and playing until the second period.
As is evident with Ryan Lindgren right now – there's just no need to take unnecessary risks – and to be fair to yours truly – I have said as much following Blueshirt blowouts too.
As fans, I think we also learnt something else, the following:
Should it be Rangers vs Devils in the first-round – then don't expect an overwhelming "blue wave" in the red barn.
As opposed to some recent games that the Blueshirts have played in the south, including in Raleigh and in Sunrise – Devil fans showed up tonight – and they were loud.
That isn't always the case in Newark, especially not during the past several years.
In other words, should these two teams meet again – it won't be a seven-game home series for the Rangers.
---
As I close this opening monologue, I know the loss sucks in the moment, but what's done is done. But it's not the end of the world either – and to suggest that the Rangers have no chance in the playoffs – as I'm currently reading in my social media feeds – well that's just ridiculous.
And this isn't a case of hindsight being 20/20 either, as I did say this prior to tonight's puck drop on the Tweet-Tweet:
Is tonight the biggest game of the year for #nyr thus far? On one hand, we know the score should they win. On the other, a loss really doesn't change anything. They've had their biggest wins and clinched. Mindset is just different. All about staying healthy – but get me the 2pts!

— BlueCollarBlueShirts (@NYCTheMiC) March 30, 2023
---
And to be clear – yes – I wanted a win tonight – badly at that – but this loss doesn't deter my faith in the Rangers.
All that mattered to me was getting out of this game at full health.
Plus, it was a one-goal loss. Had this been a blowout, then yes, it's a different story/vibe/tone right now.
---
At this time, let's get into all of the pregame news & notes first, and then get into tonight's GAME REVIEW.
Up first, the off-ice news, where Rangers' general manager, Chris Drury, had a very busy Wednesday.
---
On Wednesday, as his Rangers were practicing in Tarrytown, NY; General Manager Chris Drury was busy hitting the phones from his chair on 33rd and 7th.
At 1PM, the Blueshirts' AHL affiliate, the Hartford Wolfpack, tweeted out the following:
OFFICIAL: #NYR has assigned F Adam Sýkora to AHL Hartford.

In addition, Hartford has signed F Bryce McConnell-Barker to an Amateur Tryout (ATO) and has loaned F Cristiano DiGiacinto to ECHL Jacksonville.

Details: https://t.co/FCRDt3zHoD#RunTogether pic.twitter.com/saebFVJfls

— Hartford Wolf Pack (@WolfPackAHL) March 29, 2023
---
The biggest piece of news from that tweet was that Adam Sykora, the Rangers highest selection of the 2022 NHL Entry Draft (second-round, 63rd overall), had left his digs in Slovakia, where he spent the 2022-23 campaign with HK Nitra.
Sykora made the trip over the ocean from his home country to Hartford, where he will now play the next seven games of his career.
And should things break right for the Wolfpack – perhaps he'll get some North American playoff experience too.
Currently, the Wolfpack are flirting with playoff contention, but are outside-looking-in.
Of note: I wouldn't put too much stock into what the AHL club is doing these days, because after all – the best and youngest prospects are currently with the varsity club – as a majority of the Hartford roster are "tweener" and veteran types.
The only two young names in Connecticut that have a chance to make the varsity roster next season are Will Cuylle and Zac Jones. And to a lesser extent, perhaps Matthew Robertson too.
While Sykora may need a year or several to reach Broadway; it is encouraging that he's accepting the AHL assignment without a complaint. I don't think I have to remind you of the career-paths of both Lias Andersson and Vitali Kravtsov right now!
Sykora, who did sign a three-year deal with the club back on July 15th, 2022, will turn 19-years-old on September 7th, which means that he has plenty of time to immerse himself with the North American game – something that neither Andersson or Kravtsov ever seemed interested in.
Speaking of Lias "THE BUST" Andersson, now of Los Angeles, and as the Rangers' seventh overall pick of the 2017 NHL Entry Draft continues to devalue his stock with each passing day; conversely, it's the Blueshirts other first-round pick from that same draft, Filip Chytil (21st overall), whose value continues to skyrocket – a value that Drury rewarded on Wednesday.
---
In news that Drury, Chytil and Chytil's agent all knew was coming, but no one else in the world did – on Wednesday, at around 7:00PM, Larry Brooks (nobody else on the Rangers' beat breaks stories – a fact that's long been established) reported that Chytil and the Rangers had come to terms on a new four-year contract worth $17,750,000 overall – an annual salary cap hit of $4,437,500 per-season.
Like many, this news came as a surprise to me – but a welcomed one.
There are also a lot of ways to break all of this down.
Let's first begin with what the Rangers had to say for themselves, courtesy of https://www.nhl.com/rangers/news/rangers-agree-to-terms-with-filip-chytil-on-four-year-extension/c-342878310?icmp=int_web_nyr_news_rightrail :
New York Rangers President and General Manager Chris Drury announced today that the team has agreed to terms with Filip Chytil on a four-year contract extension through the 2026-27 season.

Chytil, 23, has recorded a career-high in goals (22), assists (20) and points (42) this season while skating in 66 games for the Blueshirts. Among NHL centers 23 years or younger, he ranks tied for fifth in goals. He is the seventh Rangers player in the past 20 years to record a 20-goal season at age 23 or younger, joining Pavel Buchnevich (21 in 2018-19), J.T. Miller (22 in 2015-16), Chris Kreider (21 in 2014-15), Derek Stepan (21 in 2010-11), Brandon Dubinsky (20 in 2009-10) and Petr Prucha (30 in 2005-06). Among all NHL players who average 15 minutes or less of ice time this season, he ranks tied first in points and second in goals. On the Rangers, he ranks fourth in goals.
The Kromeriz, Czech Republic native has skated in 319 games with the Rangers across parts of six seasons, tallying 64 goals and 71 assists for 135 points and seven power play goals. He has posted three 10-plus goal seasons and has 20 or more points in five seasons. Among players selected in the 2017 NHL Draft, Chytil ranks seventh in goals and 10th in points. Chytil's 319 games played before turning 24 is the second most for a Ranger behind Ron Greschner (335). In addition, Chytil has also tallied nine points (7G-2A) in 23 playoff games. Only four skaters in Rangers history have recorded more postseason goals before age 23 than Chytil did (7): Alex Kovalev (13), Ron Duguay (11), Don Maloney (8) and Don Murdoch (8).

Internationally, Chytil has represented Czechia in several tournaments including the World Championship and Under-20 World Junior Championship.

Chytil was originally selected by the Rangers in the first round, 21st overall, of the 2017 NHL Entry Draft.
---
For starters, this new deal presents a significant raise for #72 in blue.
During his first four seasons in New York, including his first nine games as a call-up during the back-half of the rebuilding 2017-2018 season; Chytil was a cap-hit of $894,166 and earned $1,244,166 in real money.
Come July of 2021, and with Drury shedding the "alternate" and "associate" labels from his general manager title and with Jeff Gorton now removed from power; Chytil agreed to a two-year deal with his new boss, a contract which paid him $2,300,000 per-season.
Chytil, who was set to become a restricted free agent this summer, opted for peace of mind rather than searching for extra bucks this summer, when he agreed to four more years on Wednesday.
Previously, it had been opined that Chytil could have potentially earned $6,000,000 or more. In addition, as a result of this deal, both Chytil & Drury opted not to go down "the bridge;" as instead, Drury "purchased" two of Chytil's eligible unrestricted seasons.
No matter how you slice it – this was a very team-friendly deal. That can't be debated. It's a fact.
And while Drury will have to figure out deals with both K'Andre Miller and Alexis Lafreniere this summer (if not before); with a projected savings of around $1,500,000 on this Chytil deal – it does allow wiggle-room for perhaps Patrick Kane or Vladimir Tarasenko, if not both – but only in the event that the pair of superstars decide they like New York – and are willing to play for less after already bagging the biggest bucks of their respective careers.
And let's face it – the probability of this all happening is fairly low – and neither Kane, nor Tarasenko either, owe the Rangers anything – much less a "hometown discount."
Of course, that's a question and an answer we'll get during the off-season. It's also something I'd rather explore then – as for right now, all eyes are on the current prize – the 2023 Stanley Cup.
(And should the Rangers win the Cup? In that dream scenario, then I could see Kane and/or Tarasenko negotiating with Drury. The nightmare scenario? The Rangers are eliminated in the first-round – and both #88 and #91 look to chase another Stanley Cup victory elsewhere.)
I do have mixed-feelings about this Chytil contract, but where I want to reiterate – it is a team-friendly deal. It's also a win-win – especially with the third-longest tenured Ranger playing the best hockey of his career – and at the age of only 23.
My only true trepidation and concern about the contract is the fact that Chytil seems to do nothing to improve his game at the circles – as year-in and year-out, he's the worst faceoff center not only in New York – but of the entire league.
As Brooks pointed out on Tuesday, of all NHL centers who have taken at least 550 faceoffs this season, Chytil's 39.1% success rate (or lack thereof) ranks him 102nd overall – of the 102 centers who have qualified.
Chytil's liability at the dots isn't new, as he's never finished one season on the winning side of the 50% benchmark.
Another question mark is Chytil's "streakiness;" as far too often, he'll light lamps left-and-right – but then go cold for twenty-game stretches.
But if you're to assume that Chytil is improving game-by-game, and perhaps with a new contract in-tow, will buckle down, address his weaknesses and grow – then this contract will be a steal for Drury and the Rangers.
And that's what I'm rooting for.
Prior to the Czech talking about his new paycheck, I posted my immediate reaction on the Twitter machine:
The biggest positive to be gained right now for Chytil is that his contract shit is all taken care of, doesn't have to worry about the summer and in turn, a 100% focused Czech for the playoffs. Win-win all around. #nyr

— BlueCollarBlueShirts (@NYCTheMiC) March 29, 2023
---
A day later, Thursday, and following the Rangers' a.m. skate; Chytil spoke to the media about his new deal, where he pretty much confirmed my initial thoughts:
---
Chytil played it coy with the clueless birdbrain beat, as Brooks wasn't around for this interview.
Chytil, whose sense of humor came out a bit during this, said he knew this deal was coming for a while, but didn't expect it to take place on Wednesday.
But of course – he was more than happy to put pen-to-paper.
Chytil praised the only organization he's ever known and said that he didn't want to leave. The fact that he signed what's considered to be a deal in favor of the general manager, and not the player, confirms that. He backed up what he said for sure.
Chytil later said that he was happy that the deal was now official.
While he said that his focus remains on this season; he also admitted that with the contract now signed, he no longer has to worry about his future. Moving forward, the aim remains the same – win the Stanley Cup in 2023 – and then return to New York for the 2023-24 season and beyond.
While the media never brought this up (again – they aren't very good at their jobs) – it was never asked how long Chytil knew about this deal – nor if he knew that it was coming to the finish line either. I bring this up, as that could explain his recent "CHYT-WAVE" of late, following his longest goal-drought of the season.
Chytil, who couldn't stop smiling the whole time (and how can you blame him – he's now set for life), also expressed his dedication and commitment to the Rangers. He also heavily praised management for allowing him to grow and helping him into becoming a better hockey player – which had to piss off those basement miscreants who always proudly (and ignorantly) state – "DRURY AND GALLANT DOZNT NOSE WUTZ THEY DOING!"
With Chytil signed, Drury now has his top three centers (Zibanejad and Trocheck included) locked-in long-term. Barclay Goodrow, who can play on any line and at any position (and where he's best suited as the team's fourth-line center), is also locked-in for the next several seasons too.
For Chytil – nothing changes – outside of the extra zeroes in his bank account.
Keep it up, improve at the dot, and the best of luck!
Let's now get into the rest of the pregame news.
---
On Wednesday, as Skyora was joining the Wolfpack and as Chytil's agent was giving his player the good news; the Rangers returned for practice.
Once again, nothing of note really took place at the practice – where Lindgren did skate again – but wasn't going to play against the Devils.
Here was Wednesday's "TURK TALK," where Gallant gave the beat a bone – CZAR IGOR would be starting on Thursday night:
---
A day later, Thursday, GAME DAY; the team had a morning skate in Hockeytown, USA – Newark, NJ.
Here was Gallant's pregame "TURK TALK":
---
Again, this interview was more of the same – Lindgren's return won't be rushed, CZAR IGOR in net, it's all about working hard, and you get the rest.
The only thing new from this "TURK TALK" was that the head coach praised Filip Chytil and said he was happy about his new contract.
---
Here was the Rangers' line-up from Thursday night at "The Pebble":
FIRST LINE: Panarin/Mika/Tarasenko
SECOND LINE: Kreider/Trocheck/Kane
THIRD LINE: Lafreniere/Chytil/Kakko
FOURTH LINE: Vesey/Goodrow/Motte
FIRST PAIR: Miller/Trouba
SECOND PAIR: Mikkola/Fox
THIRD PAIR: Harpur/Schneider
STARTING GOALIE: CZAR IGOR
BACK-UP GOALIE: THE HALAKNESS MONSTER
DAY-TO-DAY: Ryan Lindgren
PRESS BOX: The memories of Ryan Carpenter
---
BOX SCORE time.
The following graphics and information come from ESPN.com:
SCORING:
PENALTIES: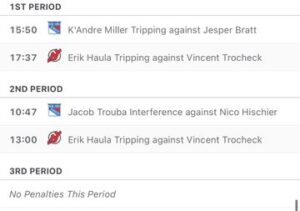 TEAM STATS:
GOALIES:
| | | | | | | | | | | |
| --- | --- | --- | --- | --- | --- | --- | --- | --- | --- | --- |
| SA | GA | SV | SV% | ESSV | PPSV | SHSV | SOSA | SOS | TOI | PIM |
| 25 | 1 | 24 | .960 | 23 | 1 | 0 | 0 | 0 | 60:00 | 0 |
| | | | | | | | | | | |
| --- | --- | --- | --- | --- | --- | --- | --- | --- | --- | --- |
| SA | GA | SV | SV% | ESSV | PPSV | SHSV | SOSA | SOS | TOI | PIM |
| 31 | 2 | 29 | .935 | 25 | 2 | 2 | 0 | 0 | 58:16 | 0 |
---
I have to say – I was pleasantly surprised by the M$GN broadcast tonight – although that seven-foot jackal, Sieve Vagistat, wasn't one of the reasons why.
While Sam Rosen still has problems whenever identifying players, goals, days of the week, hexing the team and perhaps doesn't know where he is half of the time; this wasn't an all-out Jack Hughes love affair as I expected either.
So much for EXPECTED stats!
And maybe my previous comments had reached him!
As opposed to the prior three games between these two teams from this season – Rosen limited the Hughes' love-fest – and really, not once, did he go on-and-on about the first-overall pick of the 2019 NHL Entry Draft.
I tip my cap to the Hall of Fame announcer – especially since if I'm going to call him out whenever he gushes over an opponent – then in the same vein – I must praise him when he doesn't.
However, and once again, for nearly the 75th time this season – Sieve Vagistat remains as a maniacal egomaniac.
Whether it was his plugs for his fake news data company, showcasing the fake bauble of a watch he bought in Chinatown (you never see Lundqvist flash his real rolex on-air), or just talking over "THE KING OF COMMENTARY" himself – it's easy to see why M$GN has over ten employees who work for national broadcasts – while Vagistat, who has been doing this for nine years, does not.
And let's leave it at that, as I know that these rants on the worst analyst on the M$GN can get redundant.
---
To open the broadcast, Lundqvist showed off his sense of humor, as he said, "I would take a bad hair cut to play in this game tonight – and that says a lot." I thought that remark was pretty funny. Self-deprecating jokes are always a hit!
On MIKA SELKE, Lundqvist said of his fellow Swede and former teammate, "You don't have too many players on a team that can do everything. Mika is one of those players – and he does everything well. He's a coach's dream."
On his successor, CZAR IGOR, Lundqvist remarked, "The perfect balance is to be on edge – but be loose. Benoit Allaire always compared it to a great piano player. Igor is on is game."
On tonight's opposing goalie, Vitek Vanecek, Lundqvist said of his "one-time former teammate" (Washington), "He doesn't rely on structure. Without structure you can't be consistent. He has the wins, but not the consistency."
Today, on Opening Day in Major League Baseball, Lundqvist batted .500 here, as CZAR IGOR looked great tonight – but so did Vanecek.
Lundqvist then commented on his other former teammate, the recently paid Filip Chytil, when he said, "It made me really happy when I heard the news. He's taken big steps this year. He creates more offense for his linemates. He knows what he has to do. I'm happy for him and as a Ranger fan."
Of note – and this isn't new either – notice how Lundqvist referred to himself as "a Ranger fan."
Sure, he's being handsomely paid to be the ambassador of both the team and M$G (and let's not forget his M$GN salary either) – but I truly believe him – despite his $100,000,000+ in career earnings – he is a fan. That's why he attends games at M$G on his off-days – and as mentioned before – it would only be human nature for him to be jealous right now.
Conversely, Lundqvist has been the opposite and has become the team's most famous fan.
To close the pregame show, Lundqvist said something that I believed going into this game (note my tweet above) and what I still believe now following it – the only way this game could've been a "statement game" is if either team blew the other out, or had some huge controversial hit and/or fight had taken place.
Neither event occurred.
Come 7PM, and now to Sam Rosen & Joe Micheletti at "The Pebble;" Rosen told us that Chytil re-signed with the Rangers today. Of course, this took place yesterday – and note my "Appollonia" reference from Tuesday's blog – as this played out again here – Sam just loses track of the days of the week.
Following a quick verbal fellatio performed on Jack Hughes – which I thought was a harbinger of what was to come but it never came to be – we finally went to puck drop – which M$GN missed.
GAME REVIEW time.
---
FIRST PERIOD:
In front of a loud and late arriving crowd, the Devils took the opening draw.
A minute later, Trouba blocked the first shot of the game, following a wind-up from two-time Cup champ, formerly of Tampa, Ondrej Palat.
Most of this period, and really this game, saw the Devils pay tribute to their teams of old, as they "trapped" their opponents for nearly sixty minutes. However, unlike those old Lou Lamoriello teams – these Devils of today also created a ton of scoring opportunities for themselves.
We first saw this at the 1:45 mark, as the home team snuffed out a chance from the Rangers' second line.
During a period where Igor saw fourteen shots, he came up with a big save at the 2:20 mark, and where Schneider was then forced to sweep a rebound away.
Niko Mikkola (and tonight's blog header photo was a long-time coming) forced Vitek Vanecek (VV for the rest of this GAME REVIEW) to make his first save at the 2:54 mark.
As noted – Mikkola was the best Ranger skater tonight – or at least in my opinion.
This was his first of three shots on goal. Only Panarin (4) finished with more.
But it just wasn't the offense or the shot attempts.
Mikkola also finished with a team-high three hits, was blocking shots, clearing pucks and was noticeable on every shift.
Equally, Tomas Tatar, of the Devils, was also noticeable. I really thought these two were the best players of the game, as both made impacts whenever they took the ice.
The Rangers' first line had two chances on their second shift of the game, as Zibanejad had a rebound denied and Tarasenko then went wide on a one-timed feed from his center.
Following a Rangers' icing (and there were plenty of them tonight) at just the 5:12 mark, Rosen excitedly exclaimed, "GOOD PACE JOE."
No one loves a good pace more than Mr. Rosen.
This icing then led to the first goal of the game.
Chytil, whose faceoff ability is often a topic of debate (for what it's worth – he did finish 7 of 13 tonight – good for 53.8% – which feels like a career-high), cleanly lost the defensive zone faceoff following the icing.
Hamilton then made a perfect pass to Haula, and following the tip/deflection – 1-0 bad guys, at just the 5:17 mark.
There wasn't much Igor could do here – and where both Harpur and Chytil were caught puck watching.
And oh yeah – Sieve Vagistat, and his asshole ANALytical disciples, will tell you that faceoffs don't matter.
Morons.
For whatever reason, M$GN then had a ready-to-go graphic for Hamilton, you know, on a Rangers' broadcast, following the defenseman's assist.
Baffling.
Following a big Trocheck hit on Hughes, one that I thought Rosen was going to bawl out real tears over; with 12:20 remaining, Ryan Graves, the former property of the Rangers (more on this at the end of this GAME REVIEW), went right to the slot – but fortunately – Miller broke up this play.
As the Rangers continued to struggle; at the half-way mark of the period, CZAR IGOR robbed Nico Hischier from one foot out.
Right after that, on the next Devils' possession, Miller broke up a 3 x 2 odd-man rush, where following it, #79 had now made two strong defensive plays – plays that may be forgotten following this loss.
Now down to 8:51 remaining, Panarin, with the puck, drifted towards the boards, drew a defender and then set-up a TROUBA BOMB – one that VV saved.
Following this stoppage, VV then denied Kane too, following a pass from Trocheck.
Of note – Trocheck had several chances to pick up a point tonight – but VV wasn't having it.
Following a brutal Kakko turnover with 7:35 remaining; the Russian bailed out the Finn, as he stopped Jesper Bratt.
The third line, who didn't have their best game tonight, were absolutely eaten alive during this, as following the save on Bratt, and with this line still on the ice – Igor made two more saves – both on Jack Hughes.
Come 6:20 left on the clock, Miller made another solid defensive play, his third at this juncture, when he broke up a Miles Wood breakaway.
This then allowed the Rangers to retrieve the puck, where Tarasenko from behind VV's net, had Mika set-up in the slot – but at the last second – Hamilton got a piece of the rubber to deny #93 of the no-doubt-about-it one-timer.
Down to 4:45 remaining and following Harpur blocking a shot from Hamilton, the Rangers' d-man went to the locker room for repairs. He'd never miss a shift.
HOCKEY PLAYER.
As we hit 4:10 left to go, Miller tripped Bratt near the corner boards to Igor's left.
Following Sam Rosen's never-ending reverse jinxes, curses and hexes – BOOM – with 2:57 remaining – Hughes found Meier in the slot for the power-play snipe.
2-0, bad guys, where Rosen sounded extremely elated with Hughes picking up an assist.
And one day – someone needs to muzzle Rosen whenever he starts going into his voodoo/bad juju nonsense during special teams time.
Just thirty seconds following the goal, Trocheck drew his first of two tripping penalties on Haula – and the only penalties that the Rangers would draw all game.
The Rangers didn't do much on this two-minute man-advantage.
Just nineteen seconds into the power-play, Fox went end-to-end, but as he approached VV – Graves caught up to him – stick-on-stick.
This was a questionable tripping call, but perhaps the right no-call too – despite Fox, and not the puck, flying into the Devils' net.
This also didn't count as a SOG either.
The only Rangers' SOG during this time was a Kane-to-Panarin try.
The Devils' PK would double the Rangers' SOG total here, as Igor stopped Mercer on a 2 vs 1 odd-man rush (one that Tarasenko hauled ass on to get back), and at the end of the power-play – Igor then stopped Sharangovich too.
We remained at 2-0, bad guys, following another dreadful Rangers' first period.
Here's what I said at the time:
2-0, bad guys, after 20. 1P Thoughts:
— #NYR are prone to these bad starts – not worried.
— Other team, especially good ones, are paid to play too.
— SOG 14-8, FOs 11-6, Hits 8-6; all #njdevils
— Special teams swing games, net difference tonight – 2 goals
— Find a way

— BlueCollarBlueShirts (@NYCTheMiC) March 30, 2023
---
SECOND PERIOD:
The Rangers, as they usually do following a poor first period – woke up a bit here – and where the team's hitting was fully on display.
It was also what Lundqvist had suggested during the first intermission, as #30 thought his former team needed to hit the speedy Devils, in order to slow them down.
Perhaps Rosen also performed his black magic at the start of the period, as he mentioned that during the past three games between these two teams – the team that opened up with a two-goal lead – then went on to lose the game.
This vex pretty much did the Rangers in – but they did try to overcome the mush of the club.
---
After Rosen informed us that the Devils practice during their off-days (I have no clue why Rosen thought this piece of information was riveting and/or something that fans didn't know); Mika lost the opening draw of the period.
Soon thereafter, with 18:18 remaining, the Rangers tested VV – the first SOG of the period – and the first save too.
Twenty seconds later, Tartar Sauce, who was a major pain in the Blueshirt ass all game, fooled Schneider and made #4 lose his footing – which then forced #31 into making a big save – thus preventing a three-goal deficit.
A minute later? Tartar Sauce led a Devils' 3 x 2 odd-man rush – which forced CZAR IGOR into saying "NYET NYET" again.
Down to 15:20 remaining, and with the Devils' cycling; Meier, with a sneaky spinorama shot, almost caught Igor off-guard. Forty seconds later, Palat & Bratt had an odd-man rush – one where #63 in black went wide on.
In case you haven't noticed, and as mentioned earlier – the Devils had plenty of odd-man rushes and breakaways. The Rangers? Nil.
Following these heroics in the Rangers' net, the team finally showed a pulse.
Trouba forced a turnover and almost found Lafreniere for a backdoor goal.
Behind big hits from Trocheck, Trouba and Schneider; the top-six strung a pair of long possessions in the Devils' zone.
But the Devils never relented.
At the halfway mark of the game/period; yet another chance for Tartar Sauce, one that he went wide on and where CZAR IGOR then stopped Graves right after.
It was also around this time when the M$GN cameras caught Goodrow trying to goad Wood into taking a stupid penalty – a goad that was never realized.
Down to 9:13 remaining – yet again – another Devils' odd-man rush – and another Rangers' penalty too – as Trouba had interfered with Hischier – in some captain-on-captain crime.
CZAR IGOR was phenomenal here – and by the end of these two minutes – the Rangers' PK had survived – and I mean "SURVIVED."
Now with 7:00 remaining – a carbon copy replica of what we saw in the first period – as following a Devils' power-play – they were put on the penalty kill again – and for the same thing – as Haula had tripped Trocheck for the second time.
Just 24-seconds later – the Rangers finally broke through:
Mika Zibanejad finds Chris Kreider for a power play goal! #NYR pic.twitter.com/cLD99z98wM

— Rangers on MSG (@RangersMSGN) March 31, 2023
---
2-1, bad guys – and the final goal of the game too.
On a goal that first began with Adam Fox making a huge keep at the blue line; eventually, Zibanejad, on this loose puck/broken play, found Kreider low for the easy goal – although these types of goals, which Kreider routinely scored last season – haven't been as easy to come by this season.
I won't lie – it was at this point of time where I really felt that the Rangers would win.
So did the crowd, as the once dormant Garden Faithful, who were as active as a pet rock previous to this goal, woke up at "The Pebble."
It wasn't meant to be.
The Rangers, who really didn't shoot the puck much, then watched Igor make two saves on Palat with 4:51 remaining.
Following another Devils' odd-man rush – the home team went offside with 2:06 remaining. Haula, while trying to be cute, then put the puck into the Rangers' net – and yep – you know it – the first Blueshirt responder was Mikkola.
I think I've said this three times now during the past ten days, but it remains true – no one defends CZAR IGOR faster than his newest defenseman.
With 1:20 left to be played, and is this getting old & redundant yet – another Devils' breakaway – one that Miller broke up – and as he did on Bratt.
Following a Panarin turnover with forty seconds remaining, thus negating a final Rangers' threat, we remained at 2-1 after two periods.
Here's what I said at the time:
2-1, bad guys thru 40. 2P Thoughts:
— Feels like a next goal wins type of a game.
— Crappy start, but #NYR, once again, pick it up late. Rope a dope?
— SOG 24-15, Hits 16-14 #NJD; FOs 17-15 NYR
— Special teams swing games Part II
— First line coming on
— Find a way!

— BlueCollarBlueShirts (@NYCTheMiC) March 31, 2023
---
THIRD PERIOD:
The Rangers could've at least tied this game – but this is when VV played his best hockey.
Following a set puck-off-the-boards play, Kane-to-Trocheck, and one that didn't work; at the ninety second mark, Hughes had Bratt wide-open for a backdoor goal, but for whatever reason, a fortunate one at that – he didn't make the "extra pass" – and as Ted Lasso would've had instructed!
Not even three minutes in, Igor came up with three saves, stopping Tartar Sauce again and with a pair of denials on Hamilton too.
As the first six minutes of this game were largely taken up by icing and offside calls; Igor stopped Graves with 13:00 left to be played – and with the Rangers only having one SOG to their name during this period of time.
A minute later, Mikkola crushed Palat, which forced the Devils out of the zone.
Down to 11:41 remaining – a turning point save of the game – as VV robbed Trocheck's one-on-one try from the paint, following a pass from Kane.
As we got down to 9:45 left on the clock, Miller tried an end-to-end play, but lost the puck about ten feet out.
As the two teams had another scrum, their third, the officials held onto their whistles. I mention this because I did like the officiating tonight – they let the two teams play and never got bogged down with meaningless penalties after scrums.
Come 8:21 remaining, this is when the second line had the only Rangers' odd-man rush of the game, but Kreider put too much juice on his pass.
As we got into crunch time, it was apparent – VV wasn't fooling around. Any puck that came towards him, even if there was no Ranger within fifteen feet of him – he was freezing it. This conservative approach worked out for him – even if the Blueshirts won a bunch of o-zone draws afterwards.
With 1:44 remaining, and following another VV freeze – Gallant took his timeout, pulled CZAR IGOR and then employed his 6 x 5 empty-net attack.
The Rangers had some chances here and where it should be mentioned that Zibanejad won three consecutive o-zone draws. Funny enough, Mika finished 9 of 23 at the dot tonight, a team-low faceoff percentage of 39.1%. That's Chytil numbers!
The best chance of tying this game took place with 59.4 seconds remaining, as VV stopped a Panarin-to-Kreider tip/deflection try. On the rebound, Tarasenko was right there – but Ryan Graves got the puck out dodge.
Following Graves' play, and I guess this should surprise no one – I had fans telling me how the Rangers should've never traded Graves away – just as they do whenever a former Blueshirt does something positive. (The most egregious and silliest example of this? Last season, when Brett Howden, now in Vegas, had monster games.)
Not mentioned? Graves is a $4,000,000 cap hit – so who would you remove from this team to afford him?
It was one good play – and I think the Rangers are good with what they have – but I do understand getting caught up in the moment too.
A wide shot from "The Breadman," with twenty ticks remaining, which gave the Devils a free clear, pretty much ended the game.
Following one last faceoff in the Devils' zone with 3.8 ticks to go – the Rangers did win the draw – and got the blast off too – but the puck never reached the net.
2-1, bad guys, your final.
---
Here's your favorite coach and mine, "THE TURK," following the game:
---
What a shock – I agreed with Gallant's comments, especially when he said:
"It was a good hockey game, two real good teams, a 2-1 score, but it was a good game. They were fast and quick and it was exactly what we expected and I thought that after the first period we played real well. But the first they were a lot quicker than we were and then we picked up our game and played a lot better the last two periods."
The cool-as-a-cucumber bench boss knows not to overreact about one loss – especially following a winning streak.
For the curmudgeons that are out there, perpetually negative fans, including my good buddy YOFFREY; I will give them a bone and say the following:
Had this loss taken place earlier this season, and as we saw when the Rangers blew multiple goal leads to these same Devils – then yeah – I'd be concerned right now too.
However, I go back to the point that I've been harping on for a while, and one that I'll continue to harp on – it's all about staying healthy.
Call me too optimistic, call me delusional, just don't call me late for dinner – I just think when the playoffs begin – then we'll see a different team – and a more motivated first period squad too!
I just think there are points (and the players have even admitted this themselves) when the team goes into coast mode – which explains some of these woefully bad first periods.
Everyone associated with the club – the g.m., the head coach and the players – will only be judged by what happens in the playoffs.
For a team now abundant with veteran and postseason experience – they know what they have to do once these games become "real" again.
And if they don't succeed?
Then every "DOUBTING TURKER" can have their moment in the sun.
But if you're one of these people – then don't come to the parade in June!
---
The Rangers, as you read these words, are currently inside of a hotel in Buffalo.
They'll get a chance to remove the bad taste out of their mouths on Friday night, as the two WINTER CLASSIC RIVALS rematch in arguably the best NHL city in America, Buffalo, NY.
Better than that? With Jaroslav Halak likely in their net, the Rangers will see a rookie in Buffalo's net – and making his first start too:
**Breaking News** 🚨 📰
I'm told recently signed top G prospect @DevonLevi33 who sizzled at World Juniors & @NCAAIceHockey for @GoNUmhockey , to make his @BuffaloSabres @NHL debut this Friday against @NYRangers . @espn @NHLNetwork @DKSportsbook #HockeyTwitter @Pampers pic.twitter.com/jCxvMp2a0a

— Kevin Weekes (@KevinWeekes) March 30, 2023
---
And yes – I'm all too keenly aware about no-name goalies, rookie goalies, 40-year-old goalies and everyone & anyone else in-between, all shining in their first start against the Rangers.
However, that trend takes place at M$G – not on the road.
Last note as we get to the end here.
Of the three teams jockeying for the top three spots in the division, only the Rangers are in action on Friday night.
Currently, the Canes top the division with 103 points in 74 games played. The Devils now have 102 points in 75 games, and the Rangers, who have also played 75 games, will look for points 99 and 100 in Buffalo.
While tonight's loss perhaps puts the Rangers out of the running for the first two spots in the division; crazier things have happened.
But of course, come Saturday, both the Canes and the Devils have extremely winnable games, as the Canes will do battle with the Canadiens, while the Devils will play against the Blackhawks.
And as you know – the two Original Six teams are currently looking at Connor Bedard – and not the playoffs.
Back at it tomorrow night, with a NYR/BUF GAME REVIEW.
PLUGS TIME!
---
My first plug of tonight's blog – the mandatory plug for my book, "The New York Rangers Rink of Honor and the Rafters of Madison Square Garden."
As mentioned previously, the book is now available in hardcover, in paperback and in Kindle formats. To purchase a copy of the book, visit this link:
https://www.amazon.com/Rangers-Rafters-Madison-Square-Garden-ebook/dp/B09CM5N2WD
For those still looking for signed paperback versions of the book, I have re-ordered more copies. I now have a few signed copies for sale at $25 a pop (includes shipping price) through me directly. Here is all the information on that:
---
My four-volume set of books, "One Game at a Time – A Season to Remember," is a game-by-game recount of the Rangers 2021-22 campaign.
My second title as an author, "One Game at a Time – A Season to Remember," is now available in eBook, paperback and hardcover formats.
To obtain signed copies, visit: https://bluecollarblueshirts.com/onegamebook/
To purchase all four volumes on Amazon, visit: Amazon.com – "One Game at a Time."
---
The greatest volume-set of books on Rangers' history today!
"Tricks of the Trade – A Century-Long Journey Through Every Trade Made In New York Rangers' History," a four-volume set of books that meticulously covers every trade made in franchise history, is now on sale.
All four volumes of the title can be purchased on Amazon.com and are presented in three different formats – eBook, paperback and hardcover.
To purchase Volume I: Conn Smythe (1926) – Craig Patrick (1986), visit Amazon.com
To purchase Volume II: Phil Esposito (1986) – Neil Smith (2000), visit Amazon.com
To purchase Volume III: Glen Sather (2000-2015), visit Amazon.com
To purchase Volume IV: Jeff Gorton (2015) – Chris Drury (2022), visit Amazon.com
To purchase signed copies of all four volumes, visit https://bluecollarblueshirts.com/tricksofthetrade/
---
Here are my last few blogs, in case you missed them:
---
---
---
If you haven't already, subscribe to this blog for the next update:
---
Don't forget to order my recently released four-volume set of books, "Tricks of the Trade!"
If you don't order through me, all four volumes are now available on Amazon.com
For more details, check out: https://bluecollarblueshirts.com/tricksofthetrade/
Thanks for reading.
LET'S GO RANGERS!
Sean McCaffrey
BULLSMC@aol.com
@NYCTHEMIC on the Tweeter machine