What's up everyone and welcome to a DOUBLE-BLOG, here on BlueCollarBlueShirts.com.  I forewarn you, this is going to be a long one, as I talk about the Friday night game with Tampa, and Saturday night's 2-1 win over the Carolina Hurricanes.
I must make mention, I was going to make this blog one long April Fools Joke, where I praised Lundqvist non-stop, like Joe Fortunato, Sean Hartnett or any of the other random Hankholes out there. However, five minutes in, I got so upset typing that crap, that after two paragraphs, I deleted everything. Screw your April Fools! The real fool is James Dolan, who continues to remain ringless, for nearly 25 years, with his two tenants at M$G. You think the Rangers are bad or in tough times? Just imagine being a diehard Knicks fan.
As talked about at the end of my last blog, when the Rangers lost to the Capitals on Wednesday night, I didn't think I was going to be able to get something up after the game with Tampa. As you know by now, these blogs are longer than anything else out there, which means they take a little time to complete. I just didn't want to post something half-assed.
In addition, by the time that you would've read the Tampa recap, it would be time for the Carolina recap. That's a short shelf-life for one of these manifestos! Instead, I'm throwing my weekend thoughts all in this blog. With the next game not being until Tuesday night, you got plenty of time to catch up!
Going into this game with Tampa, I had plans to watch this game at the bar.  Since I'm up every day at 4:30am and had plans of staying out late, a manifesto wasn't happening on Friday night! For the first time since November, I had a weekend off from work and no road trip to go on. In other words, I let the Miller Lite, Crown Royal and Joker Poker machines run wild! That all said, unfortunately, on Friday night, the Tampa Bay Lightning ran just as wild, on our beloved black and blueshirts.
As we get into this magic carpet ride of a blog, here are my last few blogs, in case you missed them or need a reminder of what was previously said:
---
---
---
---
The home finale has come and gone, as the Rangers got thumped by the Tampa Bay Lightning, 7-3. Personally, for me, I had my McDonagh/Girardi/Miller/Stralman/Callahan moment, when I went to Tampa three weeks ago. While McDonagh didn't play in that game, if you recall, I sat right behind the Tampa bench. I had my fill of the Tampa Bay Rangers on that night.
While the Rangers got pounded in that game against Tampa too, obviously, last night's game, the home finale against these Tampa Bay Rangers, was more emotional. Nothing against JT Miller, but to me, seeing McDonagh and Girardi return was more emotional than anything else. For the record, Ryan Callahan was scratched with injury, and he's been gone the longest. We already had that Callahan moment. In the case of Stralman, Senile Sather foolishly moved on from him, three off-seasons ago, and decided to roll with Dan Boyle for two years.
So while I'm aware of all the ex-Rangers that played on Friday night, to me, seeing Ryan McDonagh and Dan Girardi, on the other side of the ice, was bigger than anything else. It was a stark reality, that an era has passed. It's also an unfortunate reminder, that the Rangers are once again changing the cast, but continuing to build around the lone losing constant, in Henrik Lundqvist and his albatross of a contract.
Before getting into tonight's game with the Carolina Hurricanes, let me quickly recap and talk about everything from Friday – including the Tampa Rangers and of course the COWARDLY LION    elephant in the room, Henrik Lundqvist.
Let's get the Lundqvist stuff out of the way first, since that's probably why many of you clicked this link anyway!
Let's start this latest Lundqvist diatribe, concerning Friday's events, in chronological order.
Going into this season finale with Tampa Bay, Henrik Lundqvist is 4-13-3, in his last twenty starts. In that time, Lundqvist has a GAA of nearly 4.00 and a save percentage hovering around .900. What that tells you, is that in the final quarter of the season, Lundqvist once again dipped and regressed.
Every season, since signing that ridiculous contract, Lundqvist has his yearly swoon and debacles. However, for as good as he can flashback, and be "vintage" Henrik Lundqvist, as time passes and the calendar years change, the more inconsistent Lundqvist gets. The cold streaks last longer. He starts leading the league in dubious stats, such as most goals allowed in the first two minutes of a period and most goals allowed in the final minute of a period. Anyone with common sense can you tell you – no one beats Father Time, not even the goalie who abuses women.
Oh and before you start in, yes, I'm referring to the Islander girl that Lundqvist roughed up. Don't tell me "it only happened once." Once is enough. Furthermore, no other goalie has ever done this. In addition, Lundqvist never pulled that shit with a man. This is just another example of his cowardice and thinking that he's above everyone else, something commonly displayed in his post game interviews, where he usually blames anyone but himself after a loss.
And for the record, the only people I have ever seen defend Lundqvist, for bruising up and striking a woman, are young kids on twitter or people who evidently have no woman in their lives. Think about it. Would you be okay with an entitled, multi-millionaire egomaniac, and bonafide diva athlete, striking your sister, wife, girlfriend or mother? If you're fine with that, hopefully you can find one of those yellow striped Lundqvist jerseys out there!
When Henrik Lundqvist signed the ridiculous contract, making him the highest paid goalie, in a league where elite centermen were winning Cups, and not Top 5 paid goaltenders, the Rangers pretty much signed up for no Stanley Cup victories. While they came close, this isn't horseshoes – the Rangers have won zero Stanley Cups in this Lundqvist era. Despite evidence, stats and data explaining why a top paid goalie in this league will never win, god damn it, the Rangers will still try. Their attempts have been futile, but in their heads, they figure they need Lundqvist to draw people to M$G. That theory is also flawed. I've talked about why before and in short – a Stanley Cup victory with Joe Blow in net, would generate more money for the franchise, than failing with Lundqvist.
In this Lundqvist era, if you don't count the 2012 playoffs, where the Rangers came up short to a better goalie in Martin Brodeur, of the NJ Devils, the best chance the Rangers ever had at the Stanley Cup was in the 2015 playoffs. To me, the 2014 Stanley Cup playoffs was a Cinderella run and King Pumpkin couldn't get the Rangers past the finish line.
In the 2014-2015 season, the Rangers were built to win. They would win the Presidents' Trophy that season, with Cam Talbot's remarkable play, helping the team surge to first place overall. As I said then, and as I tell you today, Cam Talbot should've been a wake-up call for the Rangers. He was EXHIBIT A, in my theory that you don't need a top 5 paid goaltender to win a Stanley Cup. It was through his will and elite level of play, that the Rangers were able to get the Presidents' Trophy. In turn, for going above and beyond, he won the Steve McDonald award. It was well deserved.
While the Martin St. Louis for Ryan Callahan trade, if it was straight up, would've been a brilliant move for the Rangers, Senile Sather added two number 1 picks to the deal, helping to piss away some of the Rangers future. As you fast forward to today, Jeff Gorton has sped up the healing process by reacquiring first round picks.
When the Rangers made the trade with Tampa, on March 6, 2014, (Can you believe it's been four years already?) who knew that these teams would be linked for a while?
Both teams have had similar runs, but it was Tampa out-besting the Rangers at every move. The Rangers had their Cup Finals appearance and lost in 2014. Tampa would have their Cup Finals appearance in 2015, where they lost. In 2015, in the Eastern Conference Finals, Tampa beat the Rangers in 7 games. This was a series the Rangers should've won. A year later, in the 2016 Eastern Conference Finals, the Bolts lost to the Penguins in 7 games, a series the Bolts gave away.
As you can see, there's a lot of similarities between the teams.
Last season, the Tampa Bay Lightning were marred with injuries. Knowing that even if they made the playoffs, it would be a one-and-done scenario, the Bolts decided to rebuild on the fly. Despite leading them to two straight Eastern Conference Finals, the Bolts traded franchise goaltender, Ben Bishop, to the LA Kings. It wasn't an easy move to make, but with a young stud, in Andrei Vasilevskiy, waiting in the wings, it was time to give the new kid the reins. After all, that's what the Pittsburgh Penguins did, as they rode then-rookie Matt Murray, straight to two Stanley Cup victories. (The Penguins would then leave high priced goalie, Marc-Andre Fleury, unprotected, in the 2017 Vegas expansion draft.)
In defense of Henrik Lundqvist (I haven't said line much) what the Bolts and the Penguins had, that the Rangers never had, was an elite center. The Bolts have Stamkos. The Penguins have Crosby. The Rangers best forward, on paper, was Rick Nash. While Nash was good on the ice, he never produced to his $7.8M salary. With his concussion history, he will be remembered as a "what could've been", rather than a "what was".
When you look at today, the Penguins and Lightning seem to be on collision course, a collision course that will collide at max throttle, in the 2018 Eastern Conference Finals. Sure, Boston, Toronto, Columbus, and Washington (Okay I'm done laughing, the Caps won't get out of the second round) all have Cup plans of their own. However, if you're a betting man, the smart money is on Tampa vs Pittsburgh, in the ECF.
Tampa and Pittsburgh, these two Eastern Conference powerhouses, went with youth in net. Despite flubbing the Talbot trade, (where Talbot went on to become the starter in Edmonton) the Rangers got lucky once again with their back-up goalie, this time in Antti Raanta. Raanta would be a rock for the Rangers, but once again, the Rangers cast this rock away, this time with the rock landing in the desert.
Let's play the "Is Henrik Lundswiss Overpaid?" game!
The following stats used for this game are from the morning of 3/31 and does not include stats from Saturday night.
Your contestants are Henrik Lundqvist, Cam Talbot and Antti Raanta.
The most important thing in this game are the contracts of the players. Lundqvist is an $8.5M cap hit. That makes him the highest paid goalie in the league. (He will be the second highest paid goalie next season, when Price's new contract kicks in.)
Cam Talbot, the 22nd highest paid goalie in the league, makes $4.16M. Coming in at 59th place, is Antti Raanta, who makes $1M. Of note, Raanta will be a free agent next season and will surely get a raise, whether it's with Arizona or elsewhere.
Let's take a look at the stats.
WINS- Talbot, overused in Edmonton ever since his arrival, is 11th place in the league, with 29 wins. Lundqvist is in 17th place with 25 wins. Raanta, injured for most of the season, is in 28th place, with 19 wins.
SAVE PERCENTAGE – Raanta, on one of the worst teams in the league, a team so bad that everyone wants them moved or contracted, is in 5th place overall in the league, with a stunning .927 save percentage. He's .07 (legally sober) points away from first overall. Coming in at 21st place, is the Swedish sack of shit, Henrik Lundqvist, with a .915 save percentage. Unfortunately, everyone's hero, Cam Talbot, is 39th in the league, with .907 save percentage. I'm the biggest non-relative Talbot fan out there, but I can admit – it's been a bad season for him and the Oilers. At least he doesn't blame his teammates after losses.
GOALS ALLOWED AVERAGE – Antti Raanta is at the top of the pack, yet again, this time in 6th place, with a 2.33 GAA. The highest paid goalie in the league, finds himself in a regal and majestic 36th place, with a 2.94 GAA. A few spots down, at 41st place, is Cam Talbot, with a 3.02 GAA.
For shits and kicks, Lundqvist and Raanta both have two shutouts this year, while Talbot has one.
To end the game – is Henrik Lunqvist overpaid? It's a resounding and unequivocal "HELL YEAH!" Plus, I just showed you the stats of two goalies that used to be Ranger back-up goalies. Every other goalie in the league makes less than Lundswiss and the majority of them are outperforming him too.
On the Talbot front, who finished fourth in the Vezina voting last season, he has had a bad season. Maybe it's from being overplayed, or too many games in a period of time. (if you recall, he played the IIHF Worlds in 2016, 72 starts for Edmonton in 2016-2017 and then the playoffs in 2017.) Whatever the case, he needs to be better.
When it comes to Raanta, who was coached by Allaire more recently than Talbot, the only bad thing you can say about him this season is that he was hurt for a bit. Otherwise, he's been great this season.
In the case of Lundqvist, he's overpaid, overrated and the fact that the Rangers continue to build around this guy, is infuriating. There has never been another athlete in NY, where not only management cowers in fear of him, but as you'll see below, so does the media.
I told you this would be a long double blog! I still haven't even got to my original point, my point that Henrik Lundqvist does not fare well against the Lightning. It is why I think, and many others think, that Lundqvist gave the middle finger to the fans on Friday night, in the home finale.
After all, check out Hank's numbers against the Lightning, ever since the MSL/Cally trade:
Note: All stats come from Hockey-Reference.com. Sometimes their tables don't open up correctly on other websites. You can get the direct information that I'm copying and pasting from https://www.hockey-reference.com/play-index/pgl_finder.cgi?request=1&match=game&season_start=1&season_end=-1&rookie=N&age_min=0&age_max=99&opp_id=TBL&player=lundqhe01&is_playoffs=N&group_set=single&series_game_min=1&series_game_max=7&team_game_min=1&team_game_max=84&player_game_min=1&player_game_max=9999&game_type%5B%5D=R&game_type%5B%5D=OT&game_type%5B%5D=SO&pos=G&game_month=0&order_by=goals_against_avg

Rk
GAA
Age
Pos
Date
▼
Tm
Opp
DEC
GA
SA
SV
SV%
SO
PIM
TOI
EV GA
PP GA
SH GA
EN GA
G
A
PTS
1
7.37
36-006
G
2018-03-08
NYR
@
TBL
L
L
4
31
27
.871
0
0
32:35
4
0
0
0
0
0
0
2
0.98
35-245
G
2017-11-02
NYR
@
TBL
W
W
1
28
27
.964
0
0
61:19
0
0
1
0
0
1
1
3
2.00
34-034
G
2016-04-05
NYR
TBL
W
W
2
41
39
.951
0
2
60:00
1
1
0
0
0
0
0
4
2.00
33-303
G
2015-12-30
NYR
@
TBL
W
W
2
22
20
.909
0
0
60:00
0
2
0
0
0
0
0
5
2.03
33-262
G
2015-11-19
NYR
@
TBL
L
L
2
28
26
.929
0
0
59:10
1
0
1
0
0
0
0
6
5.14
32-274
G
2014-12-01
NYR
TBL
L
L
5
20
15
.750
0
0
58:19
4
1
0
0
0
0
0
7
4.06
32-269
G
2014-11-26
NYR
@
TBL
L
L
4
29
25
.862
0
0
59:03
2
2
0
0
0
0
0
8
5.02
32-260
G
2014-11-17
NYR
TBL
L
L
5
30
25
.833
0
0
59:47
4
1
0
0
0
0
0
Oh, and how about those stats from the 2015 ECF, where King Touchdown blew the Rangers shot at the Cup:
| No. | Player | Pos | Age | GP | DEC | GA | SA | SV | SV% | SO | PIM | TOI | ATOI |
| --- | --- | --- | --- | --- | --- | --- | --- | --- | --- | --- | --- | --- | --- |
| 30 | Henrik Lundqvist | G | 32 | 7 | 3-4-0 | 21 | 215 | 194 | .902 | 0 | 0 | 416:03 | 59:26 |
| | Team Total | | | | 3-4-0 | 21 | 215 | 194 | .902 | 0 | 0 | 416:03 | 59:26 |
A 3.00 GAA and a .902 save percentage, coupled in with the two touchdowns Lundqvist gave up in that series, a series that cost him and the Rangers their best shot at a Stanley Cup? Oh how heavenly, how regal, how majestic! We don't deserve you Henrik! What a joke.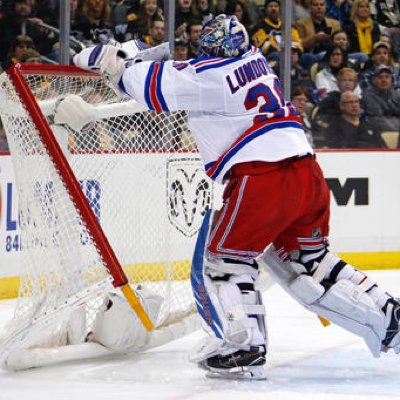 After 3000 words, let's talk about Friday, 3/30.
It was announced before the game that Henrik Lundqvist would not be playing in the home finale. To me, even the biggest and loudest voice of the "TRADE LUNDQVIST" movement, was stunned.
Here's the deal – I have no problem with Lundqvist being benched for the remainder of the season, providing that Alexandar Georgiev and hell, even Brandon Halverson, got starts. After all, this is a rebuild. Let's see what the kids got.
I have a major issue with ONDREJ THE GIANT aka KING PAVELEC (remember, you don't need to win a Cup to call yourself a king), in a one Ondrej Pavelec, starting this home finale against the Bolts. It makes no sense. Pavelec won't be here next season. While it is noble of the Rangers to keep him on board and give him some starts, as an audition for potential suitors in the off-season, starting Pavelec does the Rangers no good right now or for next season. It's a waste of time.
Keep in mind, Alain Vigneault, just last week, said that he can't control Lundqvist and even joked that he wouldn't dare tell Lundqvist he was shut down for the season. The real joke is anyone who paid the extremely high price for tickets for this home finale game. Friday night, a home finale at M$G and you paid for a goalie who won't be here next season.
At least if Georgiev started, you could say you're watching perhaps the future of the Rangers. Instead, you got Pavelec, all while the highest paid goalie in the league, one who supposedly who gives you "extra effort", sat there on his throne on the bench, with his hair slicked back and smiling like a braying jackass.
In example number 89673846370438434 of why the NY Rangers media is terrible at their jobs, not one reporter questioned Lundqvist or Vigneault on this decision. Not one reporter put either man on the spot. Even Al "TEETH" Trautwig, who interviewed Lundqvist in between periods, couldn't be bothered to ask why he wasn't playing in this game.
For all the dedicated Hankhole millennial fans out there, their King couldn't be bothered for the home finale. Instead, he was slated to play a game in Carolina, in front of 3000 rednecks who could care less.
I don't care where you fall on the Lundqvist topic, there was no reason for him to miss this game. After all, how many times have you been told that the Rangers need Lundqvist to sell tickets?
For the legions of fans that still attend games in the Kingdom of RANGERSTOWN, all they saw was their faux King, shampooed and smiling, because Lundqvist knew he would dodge a bullet. He wanted no part of the Lightning. Why would he? After all, Tampa has owned Lundqvist in recent times.
Making matters worse, on the other side of the ice, were people that Lundqvist blamed in the past, for his own shortcomings. Despite blocking more shots for Lundqvist, than any other player in NHL history, Lundqvist would blame Girardi for goals allowed. Despite Ryan McDonagh being a leader for this team, Lundqvist and Ryan McDonagh never really got along, as McDonagh was sick of Lundqvist throwing the team under the bus. JT Miller, one of the more recent victims of the blame game wrath of Lundqvist, was also on the ice. Do you think Lundqvist wanted Miller giving him a sunburn on the back of his neck too?
Instead of proving to the NHL, to Ranger fans and to Ranger management, that he, a one Henrik Lundqvist, was not the problem, he decided to ham it up on the bench. He continued to have his last laugh all game, as he didn't have to prove himself to his ex-teammates. Whether it was Girardi or Miller scoring goals (as they did in the game) Lundqvist didn't have to put up with that. Instead, during the final home game before Easter Sunday, Lundqvist watched the resurrected Rangers, now ghosts of Rangers past, treat Ondrej Pavelec like a sacrificial lamb.
The score, which finished up as Tampa 7, Rangers 3, may have been different with Lundqvist in net. Who knows? What I do know, was Ondrej Pavelec, who made 43 saves on 49 shots, would've been brought into the game, if Lundqvist gave up his usual four goals to Tampa. When Pavelec struggled in the third period, there was Lundqvist still smiling like a jerkoff. He already told AV and the media that he doesn't do mop-up work or come into games cold. Talk about extra effort!
In fact, Lundqvist said these very words during Pavelec's last start. That game, in February, was a game where Hank did have to come in cold, because Pavelec was hurt. Where's Scott Foster when you need him?
A team is as strong as its weakest link. When your weakest link is the contract of your starting goalie, a goalie who is still on the books for three more years, there's only word to describe the situation – FUCKED.
Before the final home game puck drop, of the 2017-2018 season, Henrik Lundqvist won the Steve McDonald "Extra Effort" award. Perhaps the McDonald family were impressed with Lundqvist's extra effort, of getting out of this start against Tampa.
The Steve McDonald Award, a once coveted and respected award in RANGERSTOWN, has now turned into a participation trophy. Fan voting decides the winner, which means millennials with a keyboard, can keep on voting for Lundqvist as many times as they want. In this computer age, it isn't hard to rig votes. (There's a US Presidential election joke to be made somewhere here.)
As I do every year on this blog, take a look at the past winners of this award. (Information courtesy of Wikipedia.com.)
When you look at the Steven McDonald "Extra Effort" award, the award is usually given to a player that's exceeded all expectations, usually a scrappy type of player or a player that played well above of what he was getting paid. Sure, the award has also gone to players who have been leaders among men, like Messier or Gretzky. However, the majority of the time, it honors great players and great teammates, such as an Adam Graves or a Mats Zuccarello. Outside of Lundqvist, it honors players that aren't afraid to get down and dirty on the ice.
With the death of McDonald last season, this award has now turned into a participation trophy. It's SAD, but that's the reality.
You have to wonder how Steve McDonald would've felt about the current handicapped seating situation at M$G? McDonald was never subjected to the dregs of the 200's rotunda, where many handicapped fans sit. I have recently talked to several handicapped/wheelchaired fans and readers of this blog, that are disgusted with the way M$G treats them. This is an issue I was never aware of and I'm thankful for these fans, for bringing this issue to light.
Most of these fans feel that M$G wants them out. After all, they are taking up space and don't move around as much, which means they aren't buying all the $15 beers and $20 food items. M$G could make more money selling seats to someone who isn't handicapped. There is also the situation of the elevators, which are not convenient for handicapped fans.
I have been told by blog reader, @WJPEACE9, that all the ushers are rude to he and anyone else, that uses a wheelchair. Wheelchair fans also have to wait 40 minutes plus, after the end of the game, to get an elevator downstairs. As if M$G wasn't brutal enough to get out of, it's 100 times worse for the handicapped.
So really, while we all respect Steve McDonald and his memory, what do we have here? This award is now a popularity contest and something the Rangers use as good public relations. What CHANGE has been made? I'll tell you what, I'm not going to lie, I never even considered the view of the handicapped fans, because it never affected me. I'm glad these handicapped fans spoke up and hit me up to talk about this, because I would've never known.
It was easy for NYR and M$G to roll out Christopher Reeve and Steve McDonald when they were alive. Reeve and McDonald were happy. After all, they never had to wait for an elevator after a game, nor had to deal with handicapped seats in the upper bowl.
If McDonald's legacy is to be truly honored, it's not through a fan vote, which now carries as much prestige as winning a fourth grade class presidency. No, what would make Steve McDonald proud, would be REAL CHANGES for handicapped fans. I'm not saying roll out the red carpet (no pun intended on the usage of the word "roll") for the handicapped. I'm just saying the Rangers and M$G could be a little bit more accommodating. Instead of catering to the rich fans that want the elevator, let them use the stairs like everyone else. Let's give the handicapped fans first crack at the elevators. Their trek home is harder than the commute home for the fully abled fan.
And as I'm thinking of it, I can't imagine what it's like for a handicapped fan, sitting in the upper bowl, during intermission. As someone with two functional legs, it's nearly impossible for me to get a beer and take a piss, during intermission. At least in my case, I'm able to take a piss in a urinal. For the handicapped, they have to deal with the urine drenched toilet seats, that litter the stalls of M$G. The more and more I think of it from their view, I can understand their ire.
I must restate, I'm not handicapped (although my liver may be) so I'm the wrong person as the point man for this dialogue. I am just bringing this issue to life on this blog. Perhaps the Rangers could talk to their handicapped fans, and come up with a winning solution for everyone. Then again, winning and the Rangers don't go hand-in-hand.
In closing on Lundqvist winning the award, it just devalues the award. If it was up to me, I would've created one of those "M$G Moments" and given it to McDonagh. To me, if you weren't going to do that, Jesper Fast deserved it, with Zuccarello as an honorable mention. To award a guy who throws his team under the bus, cries about everything, gets pulled every other start, has terrible stats, throws pucks at refs, in addition to all the other diva behavior this season, it's just SAD.
For an award created by a handicapped officer, it was the mentally handicapped fans that voted for their Prom King here, a Prom King that couldn't be bothered to give you the final dance at M$G. It just speaks to the lacking of his character. In fact, I wouldn't be surprised if the mother of the kid that won the Lundqvist jersey, during the "off our back" ceremony at M$G, returned it to the Rangers, because after all, that jersey is a choking hazard.
Oh and as I've said before – mark my words. Years after Lundqvist retires, when you start reading books or seeing interviews with his ex-teammates, they will bury him for being a conceited asshole. I guarantee it.
Of course, while Lundqvist decided to play the Candy Canes on Saturday, instead of a playoff team like the Lightning, was a big story, a bigger story were the returns of Girardi, Miller and McDonagh.  I thought NYR and M$G did a good job honoring these three. Here's the video that aired at M$G and on the broadcast:
By now, I've really said everything I could say about these guys on this site. You guys all have your thoughts and opinions on these three men as well.  I just hope these three get the Cup this June and I will be watching their journey.
For a guy like Dan Girardi, time might be running out, as he's taken a lot of physical abuse over the years. McDonagh's best years may be behind him as well.  These two are as deserving as anyone when it comes to getting a Stanley Cup. Good luck to them.
Finally, let's get to this 2-1 win over Carolina, shall we?
The Rangers beat the Carolina Hurricanes on Saturday night, 2-1. With the Devils beating the Islanders, the Hurricanes were officially eliminated from the playoffs. As you may know, I'm rooting for Tampa to get the number 1 seed in the East and hoping the Devils stay at the second wild card. A Tampa/Devils first round series, at the Rock, will be cheaper than tickets for that Rangers home finale with the Bolts!
As we approach the last week of this Rangers season, as I've said before, how do you really analyze these games? It's all about the kids getting time, which really makes me wonder why Georgiev remains in Hartford.
Oh, and speaking of kids in Hartford, there is still no update on why Lettieri is in Hartford. The NYR media is too scared to even ask about it.
Going into this game with Carolina, the Rangers were something like 18-3, in their last 21 meetings with the Hurricanes. I think you know why Lundqvist preferred this game over Tampa. Lundqvist would rather play in front of 3000 hicks in North Carolina, than play in front of a sold out crowd in M$G. How regal.
This game was meaningless, but as I remind the fans wishing for a tank, the players currently on the ice could care less about your desires of a tank. These guys are playing for jobs, money and ice time. They aren't looking for some pimply faced kid to take their job next season.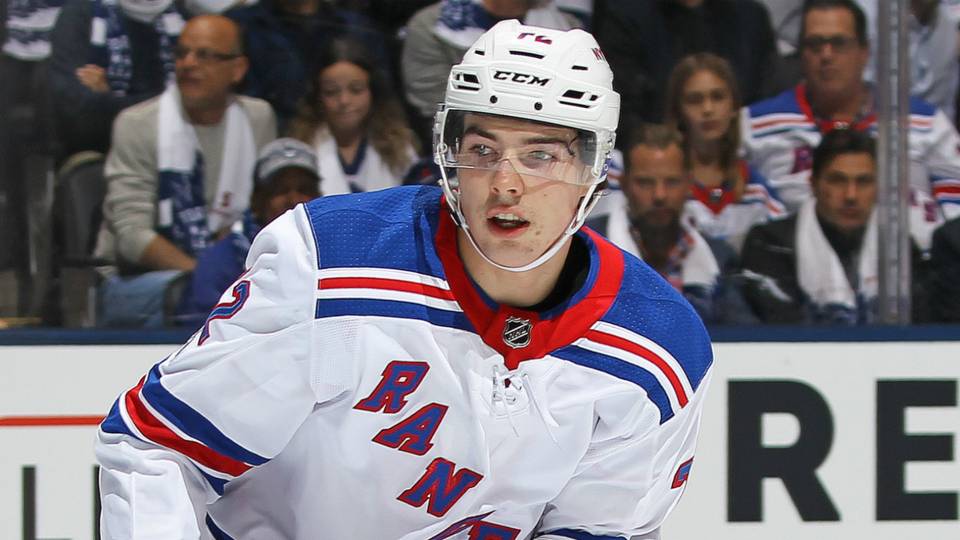 This game was largely a goalie duel, although Lundqvist had double the workload of his counter-part, in Cam Ward. Lundqvist would finish with 40 saves on 41 shots, as opposed to Ward's 18 saves on 20 shots. The bulk of Hank's work came in the odd numbered periods. In a rare occurrence this season, Lundqvist did not blow the 2-1 lead, nor give up the 6 vs 5 goal in the final 2:42 of the game. To me, that's an indicator of how bad the Hurricanes truly are. In fact, while I've read countless Ranger fans saying how they gave up their season tickets, I saw just as many Hurricane fans talk about giving up their season tickets too.
To me, Carolina is a victim of their division. They are kind of like a poor man's Columbus. Unlike Columbus, they don't have a Bobrovsky to steal wins/points for them. The Metro is the toughest division in hockey and as a result, the Hurricanes are left for dead. It still amazes me that the Hurricanes have won a Cup more recently than the Rangers. SAD!
The M$G Networks pregame show was somewhat of a tired exercise. Even the announcers themselves, Sam and Joe, seemed to be going through the motions. I mean, Joe Micheletti was really subdued. Lundqvist had a great game tonight, albeit against a bad team, yet Micheletti wasn't screaming with a raging hard-on. I was shocked.
I did find it funny how Sam Rosen kept raving about the youth on the team and how all these games were about getting the kids time. However, there's Lundqvist, and not Georgiev, in net.
For those keeping track, the latest M$G narratives are that Kreider is a leader & could be captain, Zuccarello loves NY and wants to remain here and that Brady Skjei is an elite defenseman.
For me, the saddest thing about the M$G Networks right now – with no more home games, we've seen our last interaction of the season, featuring Steve Valiquette busting on Al Trautwig.
Let's go to the ESPN.com box score:
1st Period Summary

Time
Team
Scoring Detail
NYR
CAR
No scoring this period
0
0
Time
Team
Penalty Detail
4:02

John Gilmour: 2 Minutes for High-sticking
14:56

Phil Di Giuseppe: 2 Minutes for Hooking

2nd Period Summary

Time
Team
Scoring Detail
NYR
CAR
3:01

Ryan Sproul (1)
Assists: Paul Carey, Vladislav Namestnikov
1
0
13:23

Kevin Hayes (23) (Shorthanded)
Assist: Jesper Fast
2
0
Time
Team
Penalty Detail
13:13

Mika Zibanejad: 2 Minutes for Tripping

3rd Period Summary

Time
Team
Scoring Detail
NYR
CAR
8:07

Jeff Skinner (24)
Assists: Derek Ryan, Klas Dahlbeck
2
1
Time
Team
Penalty Detail
18:46

Kevin Hayes: 2 Minutes for Slashing
Goaltending Summary
Rangers

New York Goaltending

Player
SA
GA
Saves
SV%
TOI
PIM
H. Lundqvist
41
1
40
.976
60:00
0

Hurricanes

Carolina Goaltending

Player
SA
GA
Saves
SV%
TOI
PIM
C. Ward
20
2
18
.900
57:18
0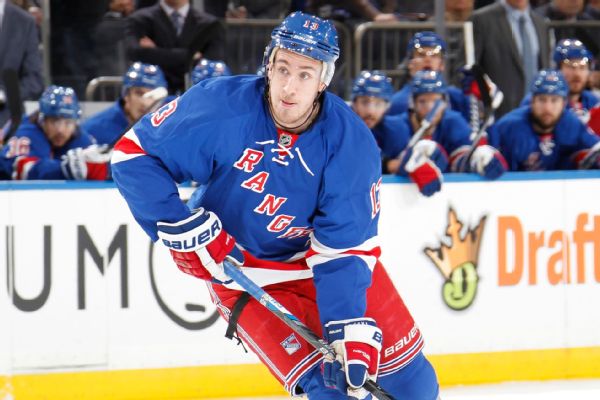 In a game devoid of all crowd noise, aside from the occasional "ZUUUUUUUC" chant, which came from the traveling Blueshirt fanbase, at times, this game felt like a chore to watch. Neither team is going anywhere. At least for us, as Ranger fans, we know the plan and have an off-season to look forward to. For the home team, who knows what happens? It's not like Carolina is a hot destination for free agents, nor do they have many draft picks. The best thing for Carolina will be when Seattle enters the league and the league undergoes a divisional realignment. The 'Canes just need to get out of this Metro division.
The first period was a familiar script, with the Hurricanes controlling the first ten minutes. I believe the SOG were Canes 9, Rangers 1. You can't even accuse the Rangers of being tired from the night before, as this sad story has taken place all season long.
To the Rangers credit, they would even the game up and came on strong in the latter half of the period. When it was over, the shots on goal were Canes 13, Rangers 11.
Like the game the night before, the officiating was suspect at best in this one. If you recall, the Rangers had two PP's negated against Tampa, for BS interference calls. In this game, John Gilmour was called for a questionable high sticking. Then, later on in the game, Justin Faulk, driving to the net, slashed Gilmour on his back. No call, despite these two players being right there with the puck. Unbelievable.
The Rangers had some GOOD LOOKS in this game, but failed to capitalize on three high quality chances. Kevin Hayes, all alone and a foot away from Cam Ward, sent a shot into the net. When I say net, I mean the protective netting that hangs on the boards.
Filip Chytil, who Sam Rosen refers to as "Kegels", had two separate breakaways in this game. Ward stoned him on both attempts.
A good crowd increases your enjoyment or intensity level, when watching a game. It seemed that even the NYR twitter maniacs couldn't be bothered to get up for this game either. Maybe it's the Passover or Easter holiday. Maybe fans have had it. Maybe it's Hank's Maybelline. It wouldn't be until the second period, where the game picked up a bit.
In a period broken up by strong Carolina play in the first half and strong Ranger play in the second half, both teams were 0-0 after twenty minutes. For some reason, Lundqvist was making faces and crying, as he headed towards the locker room. It sure takes extra effort to act like a baby in a game like this one.
The second period saw all of the Rangers scoring. At the 3:01 mark, Ryan Sproul got his first NYR goal, finishing after a great pass from Paul Carey:
"@Sproully93 gets the goal! His first as a #NYR!" – Sam Rosen#NHL https://t.co/vtueEPzwK7

— MSG Networks (@MSGNetworks) April 1, 2018
1-0, good guys. At this point, it was tough to know what to feel. You can't root for the team to lose, but the Islanders were losing as well. In turn, a Rangers win and an Islanders loss meant that the Islanders improved their draft odds. I'm telling you, I kinda hope the Oilers get the first pick in the draft, just to see everyone go nuts. I can only imagine all the articles, calling for "draft reform", if the Oilers landed the number 1 pick.
Later on in the period, Lundqvist actually made a good pass, to Chris Kreider. Kreider was so shocked and caught off-guard, that he just flung the puck at the logo on Ward's chest. The M$G announcers were laughing that Lundqvist actually made a great play and talked about how bad he was at puck handling. It's nice to hear your announcers laugh about how bad Lundqvist is at playing the puck. You know, the same Henrik Lundqvist who makes the most money, at his position, in the world. Lundqvist gets the last laugh here, especially whenever he desposits his check into the bank.
At the 13:13 mark, Zibanejad was called for tripping. 10 seconds later, Kevin Hayes scored another NYR short-handed goal. For the record, the Rangers scored more short-handed goals in this game, than they have scored 6 vs 5 goals this season. Here's Hayes:
Video: NYR@CAR: Hayes buries Fast's pass for slick SHG
A great feed from Fast, and it was now 2-0, good guys.
Carolina, who out-shot the Rangers in every period, including a 16-4 drubbing in the third, just couldn't get it together. They took a lot of shots in traffic. They could never make that perfect cross ice pass. They seemed to be bunched up together a lot and couldn't create the open space, that a team like the Capitals quickly create.
For the Rangers, who have beasted on these Hurricanes for years, it was akin to a struggling Tampa Bay team drawing the Rangers. Tampa was on the "schneid" for a while there, but put it together by kicking the Rangers ass. In this circle of life, the Rangers beat the Canes, in what seems to be an automatic W these days too.
The game got a little chippy at the end of the period, but nothing crazy. With only 10 periods of NYR hockey left for the season, the Rangers led 2-0 after two periods.
The third period was "vintage" Lundqvist, but the time for a great performance was last night. Big whoop, you did your job against a shitty Carolina team. I would've been impressed with this effort against the Lightning.
Jeff Skinner would score at the 8:07 mark of the third period, to make it 2-1 good guys and to make the game interesting.
The final three minutes were probably the highlight of Lundqvist's pedestrian season. Carolina would pull Cam Ward with 2:42 remaining. Pulling Ward so early tells you two things – Carolina doesn't respect NYR's empty net game and that Carolina is out of it, so why not go for it? It's akin to a shitty NFL team going for it on fourth & ten. There's nothing to lose.
Carolina just kept winning every faceoff and kept peppering Lundqvist with shots. Lundqvist stopped them all. Then, Kevin Hayes, who wound up with the GWG, would get called for slashing, thus giving Carolina a 6 vs 4 advantage, for the final 1:14 of the game.
Carolina did everything they could and despite murdering the Rangers at the faceoff dot, could not put one in. The frustration and lack of clock awareness would finally do the Canes in, as they extra-passed themselves out of potential shots on goal, with under 30 seconds left.
The Rangers, specifically Lundqvist, held on. 2-1, your final. It was one of those rare times where the "Give me two goals and I got this" crap actually worked out. Just imagine if Lundqvist played like this against teams that mattered and in games that mattered?
And as much as many of you guys hate him, give it up to Alain Vigneault. If you're a Lundqvist fan, you can't hate on AV for never winning a Cup. Perhaps he's a compiler like Lundqvist, but to be Top 10 in the wins department, all-time, he's doing something right. I'll talk more about it in the off-season, but I just don't see the Rangers firing him.
As we enter the home stretch of this manifesto, here's the official song of this 2017-2018 NY Rangers season:
In closing, on this win over Carolina, I'd be more impressed if Georgiev won this game. That's a positive step for the future of this franchise. This win was nice, but somewhat bittersweet, because yes the Rangers won, but it's a meaningless win and it hurt the team's draft odds.
Let's go to NYR season ticket holder, Greg aka FIXXSER, for his thoughts on this season:
— Fixxser (@Fixxser) April 1, 2018
Three more games remain and then this season will mercifully end. After that, Rangers-wise, it's six long months until the season starts up again.
As far as this site, and I'll get into this deeper once the final game is played, this blog will remain active. There will be playoff stuff, Delorean blogs, book reviews and all that ilk. Some fans suggested that I recap the Bolt games, in the same way I recap these Ranger games. However, with no emotional attachment to the Bolts, those blogs would come off forced and wouldn't have the same emotion. That said, I do plan on hitting one of the TB/NJD games, work schedule permitting!
Speaking of the playoffs, the NHL is doing their annual bracket tournament. Maybe we can do a BlueCollarBlueShirts.com bracket? I'm sitting on a pile of autographed shit, so maybe I can give something away to the winner. Maybe we can even kick up the stakes a bit, and make the person with the worst bracket, get forced to read Joe Fortunato tweets every day, such as this one:
Seriously? @NYCTheMiC @JoeGillio https://t.co/aqjJXUHERv

— FreddiePickles (@FreddiePickles) March 31, 2018
Just reading that single tweet gave me such a giant douche chill, that I can feel the core of my hemmorhoid flaring up.
In what could've been exciting, if the Rangers were any good this year, are three more road games remaining, all with the Rangers fiercest rivals. It's Tuesday at the Rock, Thursday at Barclays and a Saturday matinee in filthy Philly. Depending on my work schedule, I plan on attending at least one of these, perhaps the affair in Philly, as I haven't been there in over a decade.
See ya Tuesday night.
Thanks for reading, and as always, "LET'S GO RANGERS!"
Sean McCaffrey
BULLSMC@aol.com
@NYCTHEMIC on the twitter machine
PS: I apologize for any grammar errors. It's been a long day, a lot of beer was consumed, and I truly need an editor!