Greetings and salutations everyone and welcome to another blog here on BlueCollarBlueShirts.com. OPPORTUNITY WASTED!
On Tuesday night at M$G, the Rangers hosted the 2019 Stanley Cup Champions and the best team in the Western Conference today, in the St. Louis Blues. The Rangers would fall late to the Blues, losing 3-1, with an empty net goal being the final blow.
While I watched the Blues Stanley Cup run from last season, I haven't watched many Blues games from this season. After seeing tonight's game, I'm left with the impression that if every Blues game is officiated like this game tonight, I now can easily see why the Blues are the best of the west.
To be fair, while the refs ignored two blatant penalties against the Blues in this game, truth be told, for the second game in a row, the Rangers offense didn't produce a 5 vs 5 even-strength goal tonight. Unless the Ranger special teams are going to be perfect every game, it's tough to win when you don't score an even-strength goal. It's even harder to win when you only score one goal all game.
Tonight's 3-1 loss to the Blues is a tough loss to swallow. A few months ago, you would've been happy with this effort, with the Rangers seemingly all but dead from making a run at the playoffs. However, fast forward to today, and the mood and circumstances have changed here, as I write these words on March 3rd, 2020. (Then again, if you're one of these losers saying stuff like "TANK", "WE NEED DRAFT PICKS" or any of that crap, then you're probably happy with tonight's decision.)
For the majority of this game, the Rangers played a "military" style type of game, as they were extremely disciplined. In fact, I believe Georgiev faced the least amount of shots of any Rangers goalie this season, as he made 19 saves on only 21 shots faced. However, Georgiev allowed a bad wrap-around goal, at almost the mid-way point of the third period, which put the Blues up 2-1. The Rangers could never rally back.
This will be a tough game for Georgiev to forget, as the team in front of him did their best to limit chances from the reigning and defending Stanley Cup champs. However, you're not going to win many games when you only score one goal in 60 minutes. While it's easy to use the Kreider injury as an excuse for tonight's loss, the truth of the matter is that the Rangers had plenty of chances to score in this game, but were either denied by Binnington or shot wide in front of Binnington. The never-ending barrage of wide shots, along with losing face-offs & having stretches of games without an even-strength goal, have plagued the Rangers all season.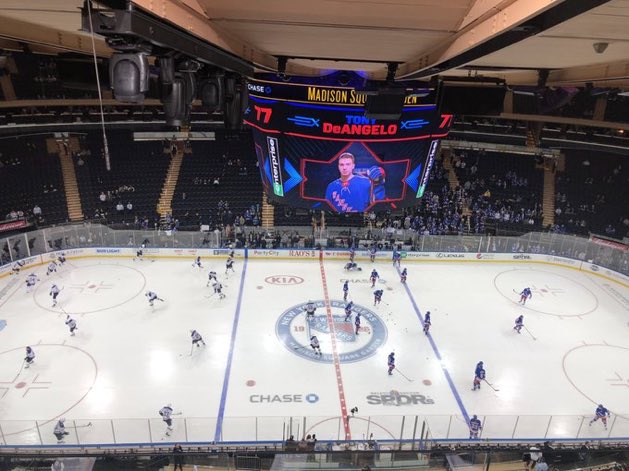 I'll get into the playoff picture at the end of this blog, but the Rangers are really playing with the hour-glass here, as they have now dropped three straight games in a row. Fortunately for the Rangers, they aren't out of it yet, as they still have games in hand. However, three or four more losses this season, especially in the next two weeks, and this team could be out of the playoff race for good.
If anything has kept the Rangers alive right now, it's that the teams ahead of them are losing too. However, that won't last forever. The Rangers need to get back on track. The Rangers can't take solace in other teams losing. They need to handle their own business.
Speaking of the Rangers recent losses, and before getting into everything else tonight, here are my last few blogs, in case you missed them:
---
---
---
---
---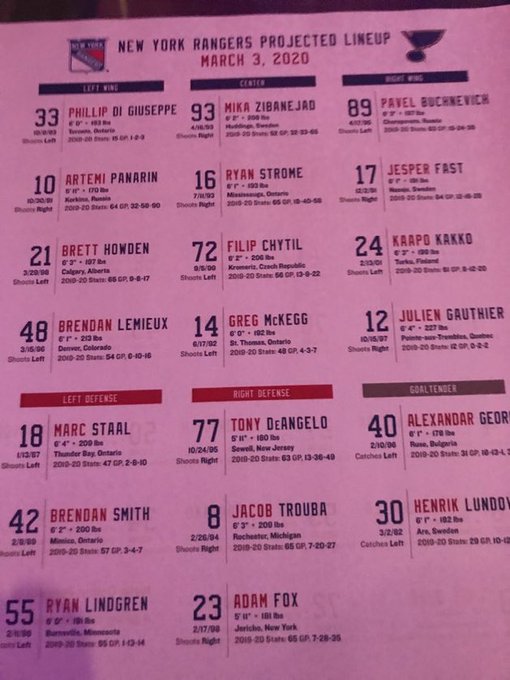 After being blown out by Philly on Sunday, the Rangers practiced on Monday. It's funny, all season long on the official Twitter account of the New York Rangers, they have announced the starting goaltender on their Twitter page, the second the news was made available. For the first time in 2020, the Rangers did not announce the starting goaltender for tonight's game, despite the news being made public yesterday on Monday, from the several beat writers that cover this team.
Here's Colin Stephenson, on Monday afternoon:
Georgiev tomorrow.

— Colin Stephenson (@ColinSNewsday) March 2, 2020
After Lundqvist's dreadful performance on Sunday, unless you're brain-dead, you had to expect Georgiev to go tonight. And that's what happened.
However – it gets better. After ignoring the news about Georgiev starting on Monday, the Rangers twitter account also forgot to make mention of Lundqvist's birthday on March 2nd. This made the Cult of Lundswiss go nuts!
After all, the Rangers twitter account has been wishing Happy Birthday's all season, like they are Oprah giving away free shit: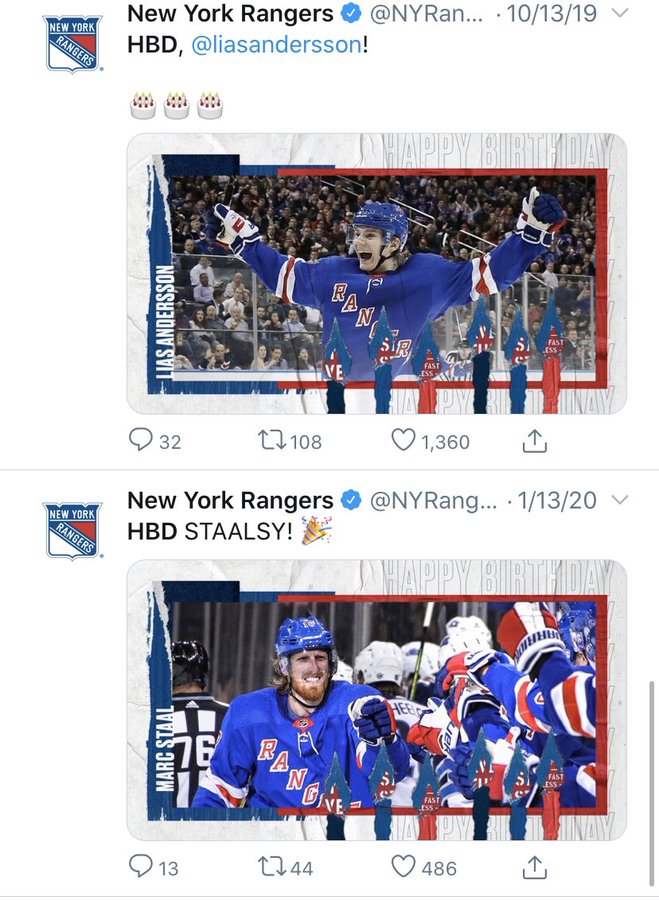 Whatever the reason, the Rangers twitter account has been slacking. It's like they decided to ignore all goaltender talk, after Lundqvist got shellacked on Sunday. I mean, even I, no fan of the Faux King, wished Hank a Happy Birthday:
I would share with you the flood of tears from the Cult of Lundswiss, in regards to the Rangers ignoring Lundqvist's birthday, but I have to be up early tomorrow. Plus, at the end of the day, this is all silly crap. It's meaningless, but it is funny. The Rangers have wished homeless people, cotton candy vendors, illegal aliens, Martian aliens, flat-earthers, Coronavirus victims and everyone else in the world a "Happy Birthday", but when it comes to the fraudulent crooked Swede, the Rangers couldn't be bothered to mention his birthday.
Next!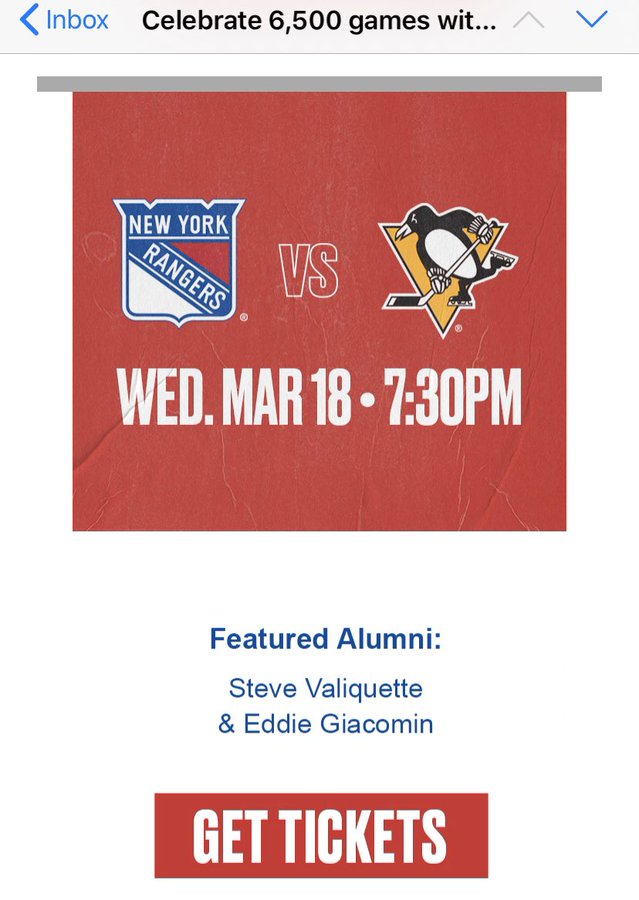 The Rangers, in honor of their 6500th game tonight (I have never seen anyone celebrate the number 6500 in the way the Rangers are right now) are now stationing alumni at upcoming home games. Of course, Frank Boucher, and the countless others of Ranger legends, will remain ignored, as the Rangers celebrate 6500 games.
On March 18th, you can meet one of the greatest goalies in Rangers history, in Hall of Famer Eddie Giacomin. At another entrance, you can meet Steve Valiquette. One thing is not like the other here.
Can you imagine going to this game, and not knowing what entrance these two will be at, and you meet Steve "Father Finkin'" Valiquette, when you could've met Eddie Giacomin? SAD!
As far as other news, there wasn't anything else. The line-up remained the same, Georgiev was in net and the Rangers haven't looked for scoring help from Hartford yet.
At this time, let's go the gambling segment of tonight's blog. Here's what I said before the game:
Season over-under record: 32-30-3

This is a tough game. I actually like 6 total goals for this game, but to make things easy, I won't bet the push.

STL is on fire & on a 7 game win streak. NYR needs to win this game to stop the bleeding.

I like the OVER, both teams can score. pic.twitter.com/3M3RgGWZ0w

— BlueCollarBlueShirts (@NYCTheMiC) March 3, 2020
LOSER!
With only four goals scored tonight, my record drops to 32-31-3 on the season. I will say, the Rangers came close to stopping the bleeding tonight, but the Blues were just the better team for 60 minutes. The Blues were better on special teams, were able to score 5 vs 5, had the better goaltender and took advantage of turnovers.
And before getting into the game recap portion of the blog, as usual, here's the official box score, courtesy of ESPN.com:
SCORING SUMMARY: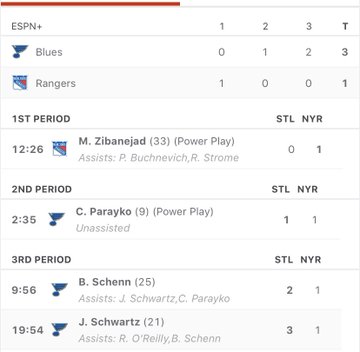 PENALTIES: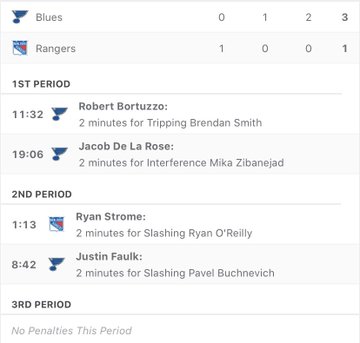 TEAM STATS:
(Note: the Rangers got killed at the dot again.)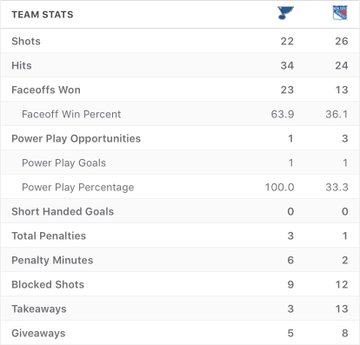 GOALIES:
| | | | | | | | | | | |
| --- | --- | --- | --- | --- | --- | --- | --- | --- | --- | --- |
| SA | GA | SV | SV% | ESSV | PPSV | SHSV | SOSA | SOS | TOI | PIM |
| 26 | 1 | 25 | .962 | 22 | 0 | 3 | 0 | 0 | 60:00 | 0 |
| 0 | 0 | 0 | .000 | 0 | 0 | 0 | 0 | 0 | 0:00 | 0 |
| | | | | | | | | | | |
| --- | --- | --- | --- | --- | --- | --- | --- | --- | --- | --- |
| SA | GA | SV | SV% | ESSV | PPSV | SHSV | SOSA | SOS | TOI | PIM |
| 21 | 2 | 19 | .905 | 15 | 1 | 3 | 0 | 0 | 58:42 | 0 |
| 0 | 0 | 0 | .000 | 0 | 0 | 0 | 0 | 0 | 0:00 | 0 |
As usual, the M$G Networks pregame show didn't provide much of any substance tonight. Here were the hits:
— Jacob Trouba sings in the shower. RIVETING!
— In their 678669697th themed week of the season, tonight kicked off "MUSIC WEEK" on the M$G Networks. I was waiting for Sam Rosen to say, "OH JOE, I'M GOING TO SING AL JOLSON SONGS IN BLACKFACE!"
— Dave Maloney openly pondered if the St. Louis Blues were good enough to win the Cup this year. He then talked about the importance of scoring PPG's with assistant coach David Oliver. Hard-hitting stuff here. This interview with Oliver was like Frost-Nixon.
— Sam Rosen said the Blues had no superstars. Minga.
— Mika Zibanejad's OT GWG, over the Isles, was named the best Rangers play of the month of February. In other news, there were no Lundqvist highlights here, as the M$G Networks recapped the Top 10 plays of the month.
Not mentioned once on the pregame show, were you know, the lines, how St. Louis had a seven game winning streak coming into this game or anything else of hockey relevance.
This was a much different style of game for the Rangers tonight, as for 60 minutes, they played up to the level of their competition. The Rangers played a well-disciplined game and did their best to limit chances, from the best NHL team, of the last 365 days.
In a subtle change, instead of the Panarin line opening up with Lindgren & Fox, it was the Mika line starting off this game. Mika would lose the opening face-off, which as I predicted on Twitter, was a sign of things to come. When the game was over, once again, the Rangers were destroyed at the dot, losing 64% of the game's face-offs.
In his first shot faced of the game, Georgiev kicked a puck away. Little did Georgiev know, it would take the Rangers to get to the half-way mark of the first period, for his counter-part, in Binnington, to make a save.
Five minutes into the game, in what was a back-and-forth game, full of defense and structure, the Blues had the SOG advantage, 4-0. It's not like the Rangers weren't trying either, as multiple scoring attempts were busted up by the stingy STL defense.
Around this point in the game, we were presented the NYU Langone injury report. The Rangers have a sponsor for everything. I wouldn't be surprised one day, to see something like "THE PANARIN PROSTATE EXAM, PRESENTED BY POLAROID! STICK A CAMERA UP YOUR ASSHOLE AND SEE WHAT DEVELOPS. POLAROID!"
The Rangers, who in this game had more missed connections than Craig's List, would then see Scandella float a puck right in front of Binnington. Lemieux was just a hair away from intercepting the puck and blasting one at Binnington.
As the game progressed, we saw the Blues using their size and physicality. Kakko was sent on his ass. Even Trouba, the biggest Ranger on the team, was crushed and sent to the ice.
Binnington, who had one fugazi save here, due to a cleared puck by the Rangers that went in his direction, would make his first real save of the game, 9:16 into the contest, as a result of a McKegg SOG. As I said at the time, you couldn't knock the Rangers effort, as this felt like a feeling out process, as the Rangers sat back and waited for an opportunity.
After our first TV timeout of the game, here's what I said on Twitter:
Rangers may need secondary scoring in this game because the top 2 Blue lines are all over the Mika and Panarin lines. #NYR #PlayLikeANewYorker

— BlueCollarBlueShirts (@NYCTheMiC) March 4, 2020
Ironically enough, right after tweeting this, Brendan Smith got off the best Rangers offensive chance of the game at this point, as Binnington made a right toe save on Smith. Lost opportunity to score here. If Smith lifts the puck, who knows, could've been 1-0 here.
After stopping Smith, right after this SOG, Smith then drew a penalty on Bortuzzo, at the 11:32 mark. In one possession, Smith had the best Rangers chance of the game and drew a penalty. Not shabby. Even better, the Rangers capitalized on this opportunity, as just under a minute later, at the 12:26 mark of the period, Zibanejad broke up the nil-nil tie:
MIKAAAAA in sloooo-mooooo pic.twitter.com/fiNwgWSb02

— Rangers on MSG (@RangersMSGN) March 4, 2020
1-0, GOOD GUYS. Unfortunately, this would be the first and last Ranger goal of the game.
On the goal, Buchnevich made this play, swinging the puck around the boards. Strome would then get the puck and made a sweet one-timer pass to Zibanejad, who picked up his 33rd goal of the season. Of note, Zibanejad now has 33 goals in 53 games this year. While he still has a crack at it, if he didn't miss those 13 games from earlier this season, he's probably sitting on 40 goals right now.
As the game progressed, Georgiev would make a great stick save on Faulk. As the game continued, PDG would have some chances, but STL broke up everything. While on PDG, I saw many people whine about him on the first line. As I've said so many times this season on this blog, I don't really care about Quinn's announced lines. If things aren't working, as he's shown us 67867868967896 times this season, he'll make the necessary adjustments in-game. More on that to come.
I will say, for PDG, he went from playing against bum AHL teams, to now playing on the first line against the best team in the NHL. Tough transition.
Adam Fox had a good game tonight. With STL coming at Georgiev, Fox broke up a Ryan O'Reilly chance. After this, Binnington stopped Fast. Seconds later, Georgiev made a Micheletti "FABULOUS" save on Sanford and cleared the puck.
With under 2:30 to go in the first period, Gauthier just overplayed a puck in front of Binnington, missing a chance to extend the lead to 2-0. And how about Gauthier too? He goes from playing AHL games in front of 2000 people in Charlotte, just a month ago, to playing against the Stanley Cup Champs, in one of the most famous arenas in the world, if not the most famous.
As we hit 53.6 seconds remaining in the period, De La Rose blatantly interfered with Mika Zibanejad. The Rangers would get one of those wrap-around period power-plays, providing they didn't score in the next 53 seconds. Of course, the Rangers didn't score here.
Of note, while it didn't seem as big at the time, Ryan Strome was tripped during these 53.6 seconds. No call. If a call was made, this would've given the Rangers over a minute of a  5 x 3 power-play. These refs were absolute assholes tonight.
After one period, the score remained 1-0, good guys. This was a good period for the Rangers, especially with the Islanders, a team the Rangers are chasing for a playoff berth, were down 3-0 at this moment in time.
Oh, and I have to mention this too. During the intermission, Steve Valiquette was doing his cosplay again and talked about his lousy career again. Vally then started raving about Benoit Allaire. This had me thinking. Isn't it amazing Suzyn, of all the great goaltenders we've seen since Allaire got here, that Vally was the absolute worst of the lot? No joke. When you look at the Ranger back-up goalies under Allaire's watch, Vally is the exception to the rule.
As you know, after Vally, we had Biron, who was at the end of his career and retired. Talbot was called up and would eventually become a starter and get a big contract. Ditto Antti Raanta. After Raanta, we had Pavelec, who like Biron, was at the end of his career and retired. After Pavelec, we've had Georgiev and Shestyorkin, who have been great.
For all the bullshit Vally spews, he's the one person that makes you question Allaire! SAD!
As we opened up the second period, with our usual "SECOND PERIOD, WHAT DO YOU LOOK FOR HERE JOE?" spiel, the Blues easily killed the final 1:07 of the Rangers power-play. In fact, it was Georgiev, not Binnington, making the biggest save of these 67 seconds. Six seconds later, Ryan Strome was boxed for slashing, as he continues his streak of taking penalties.
On the Blues PK, after Georgiev made two fantastic saves on Schwartz and got a clear, on the next STL possession, while trying to clear a puck, Mika passed the puck, accidentally, yet directly, to Colton Parayko. Parayko easily scored, tying the game at 1-1, just 2:35 into the period. Unlike the game with Philly, DQ didn't bench Strome for the remainder of the game.
This was just an unfortunate goal for Georgiev and the Rangers to allow, because up to this point in the game, they were neck-and-neck with the Blues, playing a flawless game and allowed the Blues to capitalize on Strome's penalty.
While the Rangers only scored one goal tonight, it's not like they didn't have chances. After Parayko's goal, Binnington robbed Zibanejad on a one-on-one play.
Then, as this period had a mini-phase of "sloppy, poppy", Trouba would go wide on a shot. Then Kakko fanned on a puck.
Let's do the Kakko rant here.
I've talked about Kakko so much this season. I don't want to do a "repeat episode" here, so I'll be quick.
Simply put, we all know the deal about Kakko. He's 18 years old, he's in a new country, he's learning a new language, he's playing a different style of hockey and he's also trying to figure out a balance between his Celiac disease and a new environment, here in America. And let's not forget all the added pressure that people have given him. After all, you got grown men dressing up as religious figures and naming a Church after Kakko.
I've seen many Ranger fans suggest that perhaps Kakko should've started the season in Hartford. I won't argue against that. (I will say that's hindsight being 20/20 though. I didn't see anyone clamoring for Kakko to start the season in Hartford, in September of 2019.)
Due to Kakko's draft selection, where he was drafted number 2 overall in the 2019 NHL Draft, the Rangers wanted to give Kakko a crack at the main roster. And let's face it – Kakko, because of his #2 overall status, is good for the live-attendance business.
In addition, despite the Rangers still in the mix for the playoffs right now, the one thing that can't be lost here is that this is still a rebuild. At the start of the season, while a playoff run would've been great, it was still a "house-money" type of deal. The playoffs, while a goal, wasn't the end all, be all. That fact remains today, although it would be great if the Rangers could sneak in.
While I 100% understand Kakko's situation and how the Rangers are handling him, we also have to admit that we've seen other teenagers in this league, drafted at either #1 or #2 overall, come into this league and light it up. Kakko hasn't been that guy this season. It's been a grind. It's been a learning experience.
In tonight's game, I thought Kakko played well. You really noticed him out there, as he was constantly driving the offense. It's not like he was the reason the Rangers lost or anything like that.
In 62 games played this season, Kakko only has 8 goals. He probably could have 20 right now, had he capitalized on all the chances he gets.
In this loss to St. Louis, Kakko was credited for two shots on goal. He could've had several more, but he either went wide or fanned on a puck.
I think the nerves about Kakko are getting to some people. After all, here's one Ranger fan on Kakko: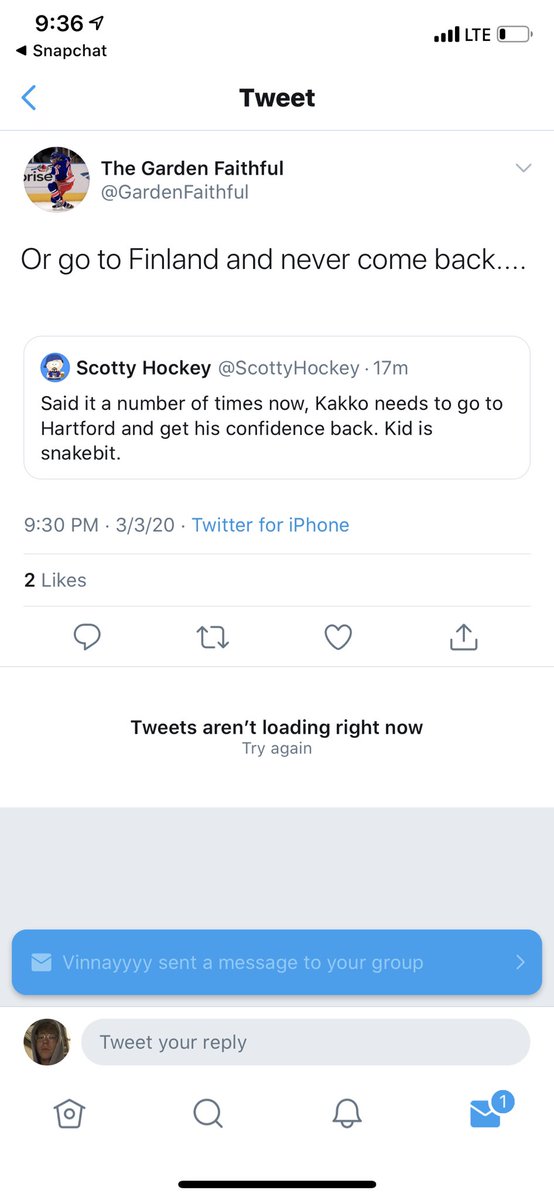 You already have some people demanding Kakko to be deported back to Finland! And you thought I was tough on Grampa Lundswiss!
I understand the frustration with Kakko. While you have to keep in mind who he is and the expectations, the fact is, he has missed on a ton of opportunities this season; opportunities had Kakko cashed in on, could've been the difference between a Rangers win and a Rangers loss.
I think what also riles up Ranger fans, in regards to Kakko's failures this season, is that after blowing scoring chances, he sits on the bench, with a face full of tears, as he grimaces and winces. While he has Celiac Disease, he's also shown us that he may have "Buchnevichitis" too.
As Ranger fans, we have to keep a clear head of Kakko and his situation. That said, this has not been a good rookie year for him. Both Lindgren & Fox are way ahead of him as rookies. It also feels like you've seen better play out of PDG and Gauthier, when compared to Kakko, too. And of course, fellow rookie, in Igor Shestyorkin (who won't even be considered a full-fledged NHL rookie until next season) is light years ahead of Kakko.
As Mr. Belding once said to Zack Morris, on the season finale of "Saved By The Bell", "I hope to see you (Kakko) reach your potential one day."
I also have to say this. After tonight's game, Kakko's name was trending on Twitter and 95% of the comments were negative. If Kakko has a season like this next year – forget it, you'll have a large portion of this fan base calling him a bust.
After Kakko's fanning of the puck here, TDA would blast a puck. Save by Binnington. Fox would also just miss a rebound chance here.
With 11:18 to go in the period, Justin Faulk was boxed for slashing. The Rangers were going on their third power-play of the game. Immediately, despite the Rangers being on a power-play, Georgiev would have to make another save.
In what would be another failed PP for the Rangers, Mika Zibanejad would get the lone SOG here, as Binnington stopped him. With 9 minutes left in the period, the teams were even-Steven, with a 1-1 score and 13 SOG a piece.
Speaking of Kakko, here's what I said at the time:
You're seeing a lot of Kakko in this period. He's all over the puck, just needs some shots on net. #NYR #PlayLikeANewYorker

— BlueCollarBlueShirts (@NYCTheMiC) March 4, 2020
In what hurt the Rangers, in a fast-paced game, a period that had no whistles after Parayko's goal, until 23 seconds left remaining in the period, Brett Howden was blatantly and viciously tackled. NO CALL! I get letting these guys play, but Howden is tackled right in front of the ref and the Rangers don't get a PP here.
As just mentioned, the two teams played an uninterrupted 12 minutes of play here. In fact, in a 20 minute period, in real-time, this second period only took 25 minutes to complete.
And as @11AV31 mentioned to me on Twitter – if you had gone to the bathroom or to get a beer after Parayko's goal, you were standing in the hallway until 23 seconds left in the period, as you're not allowed back to your seat until a whistle is blown. With the refs ignoring Howden being tackled, you may have as well got another beer and took another piss at this point in the contest!
Also of note here, Sam Rosen was complaining about the lack of commercials and non-stop play. He said the Rangers need the commercial time to make some money. As if this franchise doesn't make enough money. Perhaps Rosen needs more cash for another toupee from this guy:
With 23 seconds left in the period, Binnington froze a puck in his direction, courtesy of Buchnevich. As the clock wound down, we remained at 1-1. As we approached the third period, it was the old mantra of, "win the period, win the game."
The Rangers came out as the better team in the third period, with some pep in their step. Immediately, the Rangers got the puck, but Faulk broke up a scoring chance from the Rangers top line. Then, on the other end, Georgiev would make a save and then Fast would break up the STL attack.
As we hit 15:15 to go in regulation, Binnington froze a puck off the stick of Marc Staal, a Marc Staal who had a great defensive game tonight. On STL's next possession, Staal would make two excellent defensive plays, thus clearing the puck for the Rangers.
Brendan Smith, who had a great chance in the first period, would be stopped again, as Binnington denied him, here in this third period.
Right after this, Brendan Smith, who is Kaako's designated driver, saw the kid who sits shotgun in his car, get denied by Binnington. This was another Kakko SOG, that was just there, but once again, the puck doesn't go for a goal scored.
During Kakko's next shift, TDA blasted a puck from the point, Binnington gave up a juicy rebound, but Kakko couldn't handle the rebound. If he did, Kakko would've had all day to score. Another failed chance that made you groan. This play was also another reason why we saw some Ranger fans turn on Kakko a bit tonight.
With 11:05 to go, Sam & Joe were already giving out the save of the game, in a 1-1 game. This was silly, yet meaningless to me.
As we approached 50 minutes of game time, this was a really good hockey game. Despite all the advantages STL had, the youngest team in the league were holding their own, despite being down Kreider and Shestyorkin.
At this moment in the game, St. Louis would score what would wind up being the game winning goal:
Schenn banks it off Georgiev's skate to give the Blues the lead! #stlblues pic.twitter.com/ek3vQ3WQz9

— St. Louis Blues (@StLouisBlues) March 4, 2020
While this is a wrap-around goal, a tough shot for a goalie to stop, this is something Georgiev is going to want back. 2-1, bad guys.
Of note, right before this Blues scoring play, DQ put Panarin on the Mika line, and downshifted PDG. I get that Quinn is looking for offense, and I'll never doubt him, but it seemed out of place to fix what wasn't broken. Yeah, the Rangers weren't scoring, but the game was tied, as the Rangers played the best team in the West & of the last year. Why shake it up now? And really, with the way the Rangers were playing, you didn't need to shake things up. Just getting a point in this game would've been huge.
In what would prove to be monumental, the Blues would then get a 3 on 1 chance. Adam Fox would break this up. Then, right after breaking up this play, Fox was tripped, TWICE! NO FATHER FINKIN' CALL. This was now two awful no-calls by these refs. Even worse, on the Howden tackle and this Fox trip, both fouls happened right in front of the refs. No call. Fans may have well hit the exits after this no-call, because the refs weren't having it.
And yes, while the Rangers did have three power-plays in this game, as opposed to the one power-play St. Louis had, the Rangers didn't get away with anything. These penalties that Howden & Fox drew should've been called – no ifs, ands or buts about it. You could also argue that the refs missed a call, when Strome was tripped in the first period and when Smith was slashed here in the third. However, these plays on Howden and Fox were slam-dunk penalties against the Blues, yet the refs swallowed their whistle, as if they were porn stars swallowing 30 inch kielbasas for Howard Stern.
I'm telling you, if you saw this game live, you're probably nodding your head here – this no-call on Fox just dampened your spirits.
As hit the Adam FOXwoods Final Five, Panarin had a wide-open look, but opted to pass. Turnover. Again, as I've said during many Panarin turnovers this season, how can you critique the guy? He has vision we don't have and hindsight is 20/20.
To keep the agony alive, Kakko would then miss on another rebound. He was in the right place, right time all game, but just could not bury a puck to save his life. I get he's a rookie and everything else blah blah blah, but come on, you have to score on one of these 86778967678967896 chances.
With 1:24 remaining, Binnington put a glove save on Lemieux. DQ then took his timeout here and pulled Georgiev for the face-off, a face-off which occurred to the left of Binnington.
In the Rangers best chance to score with the extra attacker, Binnington denied a Strome stuff-in. With 5 seconds left, Schwartz scored an empty net goal. 3-1, bad guys, 3-1 Blues your final, from Morgue $quare Garden.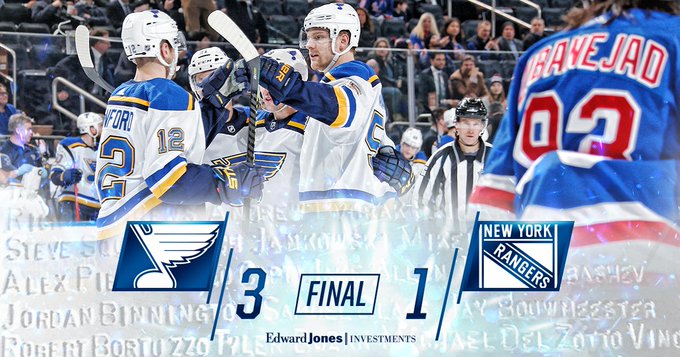 There are two ways to look at this game.
The first way is to say, "the Rangers hung in there with the Cup champs, despite the Rangers missing players and being the youngest team in the league."
The other way, is my way, when I say – "the Rangers deserved these two points and let another chance slip through their fingers."
Bottom line, while the Cult of Lundswiss blames Georgiev for the game winning goal allowed tonight, the truth of the matter is that the Rangers only scored one goal tonight. You don't win many games 1-0 in the NHL these days. While Binnington was a big factor in keeping the Rangers off the board, the Rangers missed tons of chances to score, with Kakko having the most chances.
This loss is going to eat at the Rangers for the next 24 hours. They were right there, but the Blues were just a bit better.
If there is any consolation for Ranger fans tonight, it is that Montreal hammered the Islanders tonight, by a score of 6-2.
As a result of all games played tonight, here are the updated standings: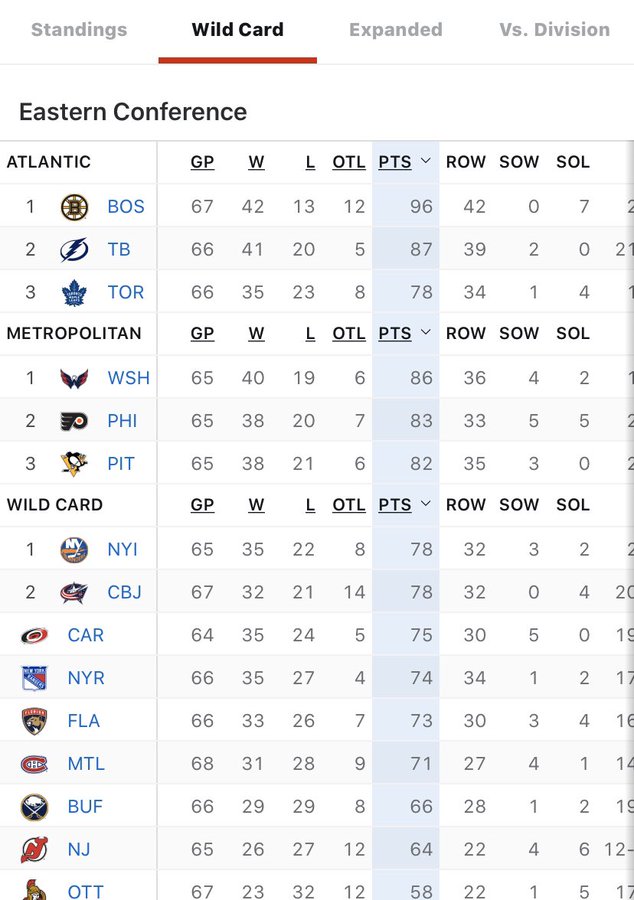 With three straight losses for the Rangers, they have really "Plaxico'd" themselves in the foot here. The two games in hand advantage? Gone. One game away from the wild card? Gone. In fact, Carolina has now leap-frogged the Rangers and have two games in hand over them. The Rangers once had 20 games to gain points in. Now they are down to 16.
The only thing the Rangers have going, in a week's time, since their last win over Montreal last Thursday, is that everyone else is losing too. However, the Rangers can ill-afford to lose any more games. And it doesn't get easier, as the Rangers host the first place Washington Capitals on Thursday night.
Goaltender-wise for Thursday, I'd go right back to Georgiev. Yeah, he gave up one bad goal tonight, but for the most part, he held his own against the best team in hockey. The only way I see Quinn going with Lundqvist, is if DQ has a perverse interest in seeing Ovechkin own that Swedish bitch one last time. Shit, with the way Ovi & Lundqvist are playing, Ovi may surpass Gretzky's 894 career goals if Lundqvist is in net on Thursday!
See ya Thursday night, in what will once again be the "biggest game of the season" for the Rangers.
Just a tough kick in the balls loss tonight.
As always, thanks for reading and win or lose…
"LET'S GO RANGERS!"
Sean McCaffrey
BULLSMC@aol.com
@NYCTHEMIC on twitter