Greetings and salutations everyone and welcome to another blog here on BlueCollarBlueShirts.com. Bring on the mini-break! Suffice to say – the Rangers sure could use it.
In case you missed it, I returned late Friday night, where I covered all of the latest news from Rangerstown, USA here: https://bluecollarblueshirts.com/3323/
I bring up last night's blog at the top of this manifesto for one reason – everything that I said at the end of that tome pretty much played out during the Rangers' Saturday afternoon spent in Boston.
Between being two men down, not being able to call Hartford for help, the schedule (third game in four days), and the fact that the Bruins are enjoying a historic winning season; simply stated – the Blueshirts were just no match for their Original Six rival.
And as also noted last night – that was truly a shame – as had the Rangers been able to dress a full line-up, and didn't have these recent injuries and suspensions to combat – then Saturday's matinee would've been a good litmus test, just in order to see how the Blueshirts match-up against the top team in the league.
But hey – even under these unfortunate circumstances – the Rangers still gave the Bruins a run for their money.
However, rather than a "fair fight;" instead, the Bruins outlasted their weakened opponent, en route to their league-leading 49th win of the season (103 points) – as the soon-to-be 2023 Presidents' Trophy winners handled business – and as they should have done.
I know that I might sound like a broken record as of late – but what's true is true – this 4-2 loss to the Bruins wasn't the end of the world – nor was it a defeat to get upset about either.
While sure, Artemi Panarin did the Rangers no favors on Saturday (he was officially "credited" with six turnovers, but it felt like sixty – and where no other Ranger had more than two); at the same time, there were some positives gained, as the non-"FAT CATS" of the team played well, including Alexis Lafreniere, Braden Schneider and Ben Harpur – a trio of Blueshirts who I thought were the best visitors on the ice.
That all said, come Thursday night at the "Poutine Palace" in Montreal – should the Rangers, following their next four days off, lose another game like this – then my tone will be much different – and I suspect that Gerard Gallant won't be as lenient either.
---
Following the team's off-day, Friday, a day that was also spent in the air; at around 11AM Saturday morning, Gerard Gallant conducted his daily pregame "TURK TALK." Here it is:
---
During his two-minute chat, Gallant confirmed that both Ryan Lindgren and Tyler Motte were out for the game, as both remain "day-to-day."
And as noted last night – it just makes you wonder why the Rangers didn't place Lindgren on the LTIR following the blindside hit he received from TJ Oshie last week.
Had Lindgren been on the LTIR, then the Rangers would have been able to go to the Wolfpack for help.
As far as anything else, besides announcing CZAR IGOR in net; the head coach added that while he wasn't disappointed that Austin Watson didn't receive a suspension following his match penalty for assaulting Tyler Motte – he was shocked that no discipline was handed down by the NHL's Department of Player Safety.
---
Here was the Rangers' line-up from Saturday afternoon, the last time we'll see this line-up, since this was the final game of Miller's three-game suspension:
FIRST LINE: Kreider/Mika/Tarasenko
SECOND LINE: Panarin/Trocheck/Kane
THIRD LINE: Lafreniere/Chytil/Kakko
FOURTH LINE: Vesey/Goodrow
Defensively, we saw:
FIRST PAIR: Mikkola/Fox
SECOND PAIR: Harpur/Trouba
ROTATING DEFENSEMAN: Schneider
STARTING GOALIE: CZAR IGOR
BACK-UP: THE HALAKNESS MONSTER
PRESS BOX: Not a soul
DAY-TO-DAY: Ryan Lindgren and Tyler Motte
SUSPENDED : K'Andre Miller
---
BOX SCORE time.
The following graphics and information come from ESPN.com:
SCORING:
PENALTIES: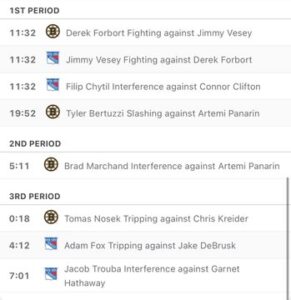 TEAM STATS:
TIME ON ICE:
GOALIES:
| | | | | | | | | | | |
| --- | --- | --- | --- | --- | --- | --- | --- | --- | --- | --- |
| SA | GA | SV | SV% | ESSV | PPSV | SHSV | SOSA | SOS | TOI | PIM |
| 26 | 2 | 24 | .923 | 19 | 3 | 2 | 0 | 0 | 59:55 | 0 |
| | | | | | | | | | | |
| --- | --- | --- | --- | --- | --- | --- | --- | --- | --- | --- |
| SA | GA | SV | SV% | ESSV | PPSV | SHSV | SOSA | SOS | TOI | PIM |
| 24 | 4 | 20 | .833 | 13 | 5 | 2 | 0 | 0 | 58:41 | 0 |
---
As noted right before 12:30PM, prior to the ESPN/ABC pregame show from Saturday, the following:
These afternoon games are the worst #NYR

— BlueCollarBlueShirts (@NYCTheMiC) March 4, 2023
---
As the great Hank Hill used to tell his drinking buddies during "King of the Hill," "YEP!"
While it was nice to see both a pregame show and Mark Messier in-studio; this broadcast was an all-out mess.
I think former Rangers' scribe, Rick Carpiniello, said it best, when he said on Saturday, "Whenever ESPN presents a hockey game, it feels like it's their first time doing it."
This entire pregame show was marred by audio issues – where I think you could've went to your local high school's A/V club and done a better job than what ESPN presented.
Maybe that's why Stephen A. Smith, someone who has a louder mouth than me, can't stand hockey – and will berate his own network's product on ESPN airwaves.
Bitter Ray Ferraro, who has never gotten over being traded by Neil Smith so many years ago, remains aggravating.
However, unlike last week, he only said "Patrick Kane" 2,000 times, rather than 5,000 times. And with the NHL Trade Deadline now expired – we didn't have to listen to the former Ranger play general manager again.
ESPN's roving reporter, Emily Kaplan, who I usually find to do a decent job, made a weird decision today – as she opted to wear black-and-gold colors on the air. So much for no bias!
And of course, it's a little thing like this that bothers you ONLY after a loss!
But this too – a producer should've asked for a wardrobe change.
Color-scheme options aside; Kaplan did provide one new nugget of information in regards to the Kane trade, as she reported that Chicago told Kane that they wouldn't bring him back next season – the final straw prior to #88 waiving his no-move clause.
While it was known that there was no way that Chicago would continue to pay Kane what he had been earning during the past eight seasons; from what Kaplan reported, it sounded like the Blackhawks weren't even interested in offering him a one-year deal at the veteran's minimum. Then again – perhaps the Indian Head didn't want to insult Kane with a paltry offer either.
In other words, I found this report to be incomplete since I have these questions.
After all, should the Hawks land the first-overall pick of the 2023 NHL Entry Draft, and had Kane been willing to take less money to continue his career with the only franchise that he's ever known – are you telling me that Chicago wouldn't want Connor Bedard learning the game under Kane?
Once leaving Kaplan and now in the studio, where as opposed to last week, Chris Chelios was now along for the ride; I tweeted out the following:
Messier has to be separated from ESPN's resident idiot #nyr pic.twitter.com/LRyESrXuMv

— BlueCollarBlueShirts (@NYCTheMiC) March 4, 2023
---
I also said this a few minutes later – a tweet that didn't receive as much attention as the tweet posted above did:
I appreciate all the charity work that Slewban does, but he is just a horrible analyst #NYR

— BlueCollarBlueShirts (@NYCTheMiC) March 4, 2023
---
And while I'll get into all of the Slewban stuff at the end of this blog (as the first tweet was later discussed by Messier, Chelios, Levy and Slewban himself on ESPN); just as a reminder, last week, during the Rangers vs Capitals game (also broadcasted on ESPN) – you could see Messier's blood boiling as Slewban defended Oshie's dirty hit on Lindgren.
For more, check out: https://bluecollarblueshirts.com/22523/
My point? One week removed from Messier pretty much giving Slewban the "evil eye;" there was "THE MESSIAH" standing about one hundred feet away from one of the league's most notorious slew-footers.
And as the six-time champ Messier suggested last week – it didn't look like Slewban cared about playing a clean game during the final years of his Cup-less career.
Maybe that's why #11 stood so far away from #76 – he didn't want to get "Blais'd" himself – and then spend the next nine months rehabbing his ACL!
---
When it comes to Drury's trades for Kane and Tarasenko; Messier said what I've been saying on this site – "it's tough to acclimate right away." However, Messier also said that he would've made these two trades, as both #88 and #91 are "nucleus players."
As far as who won the trade deadline, Chelios went with the Bruins – and how could you argue with that opinion? The best team in the league just loaded-up.
Messier chose his first team, the Oilers, and praised their acquisition of defenseman Mattias Ekholm, where he noted that the rearguard was a perfect fit for the Edmonton club.
Slewban, born in Toronto, went with the Maple Leafs.
For some reason, up next, ESPN showed us that Marky Mark was a huge fan of Max Domi, as Tie's son had been traded to Dallas on Friday. Why the Boston native has a raging hard-on for Max Domi was never explained.
As ESPN played "Shipping out to Boston" by the Dropkick Murphy's for the first time of an eventual one hundred times (and how much money do you think that band has made off of that song through the years, following that song becoming popular after the 2006 release of "The Departed"?); Ferraro, who speaks from both sides of his mouth, told us this week, that the Rangers weren't an upper-echelon team.
He said the exact opposite last week.
At this rate, I rather listen to Pierre McGuire slobber over Sidney Crosby than ever listen to Ferraro again.
Slewban, who was wearing some rhinestone cowboy get-up on television, as if he was ready to go party with Ron Duguay at Studio 54 following the broadcast; then bragged about how much money he made during his playing days – in front of Chelios and Messier.
Classy!
To his credit, at least Slewban does donate money to charity and continues to work with local Montreal children hospitals.
GAME REVIEW time – where if you haven't gathered already, based on the time that I've wasted on this ESPN pregame show – there's not much to rave about!
---
FIRST PERIOD:
In a game featuring the 2022 Vezina Trophy winner, CZAR IGOR, against the most likely 2023 winner, Linus Ullmark – it was the B's backstop who prevailed.
With some new faces in his line-up, Jim Montgomery, bench boss of the Bruins, started his fourth line, while Gallant went with his first line.
The B's came out buzzing, where right away, at the 1:20 mark, Schneider, who I thought was one of the best three Blueshirts on the ice, shut down Patrice Bergeron.
Following a Mikkola shot that was sent out of play with 17:25 remaining, one thing was apparent – Ranger fans came out to support their favorite team – but unlike Philadelphia from Wednesday night – the hometown fans suppressed all "Let's Go Rangers" chants – chants that also kind of faded due to the team's play.
To Ferraro's credit, he basically said what I said last night – it's tough to win in this league with a line-up of 11F/5D – especially when you've been shorthanded for three, four and now five consecutive games.
For whatever reason, if Panarin wasn't turning over the puck, then he was hellbent on setting up Mikkola of all people.
After one stop on Mikkola, Ullmark then made a rebound denial on Trocheck too with 15:52 remaining. This is also where Ferraro brought up Charlie McAvoy – and just like Sam & Joe would've done – reminded us that he was friends with Adam Fox and grew up in Long Beach, NY.
I mean all of these announcers just say the same things over-and-over again.
Down to 15:10 on the clock, Panarin made his first of 986789676676 brutal turnovers – one that Sean McDonough, who was doing the play-by-play, correctly didn't ignore.
As the game proceeded, here's what I said at the time – and this would continue for the rest of the match:
Boston doing a good job of bottling up #NYR stars, all over Fox and Mika, 13:30 to go

— BlueCollarBlueShirts (@NYCTheMiC) March 4, 2023
---
Fox, once again, led all Rangers in TOI with 24:09 – about six minutes shy of what he had played on both Wednesday and Thursday night.
And yep, you can tell he's getting gassed – and not having Lindgren by his side has hurt him too (-2).
Come 12:50 remaining, Panarin made another horrendous turnover – which led to another Boston odd-man rush – but thankfully, Schneider soon bailed out "The Breadman."
Fifty seconds later, a veteran trio of Kreider, Goodrow and Vesey had a good shift – but Ullmark made three saves and kept the game scoreless.
Following a TV timeout, where for some reason, the Bruins were blaring Mariah Carey songs through their speakers; Ferraro reminded us that Patrick Kane was a Ranger and how the Blueshirts were missing both a forward & a defenseman.
At around the half-way point of the period; Panarin baked his third awful turnover, where this time, it was Trocheck who bailed the winger out.
Also of note – despite Panarin's refusal to shoot the puck and his commitment to getting the rubber to the Bruins all game; CZAR IGOR only had to make three saves during these first ten-minutes of action.
Following more "creativity" from "Aturnover Panarin;" ESPN, which had been pretty good as of late with nixing all of their weird camera angles, went right back to these seizure-inducing shots, where as a result, we missed a hell of an attack from the Bruins – one that CZAR IGOR survived – as Marchand had just missed a vacated net.
Down to 8:50 remaining, Schneider took a shot at Ullmark with Vesey screening the goalie – but the netminder came up with the save.
Twenty-two seconds later – our first act of incompetence from the bozos masquerading around as unbiased hockey referees.
At the time, Chytil had "interfered" with Clifton while behind Ullmark's net – an o-zone penalty. ESPN never showed us one replay of the infraction, so I'm to assume this was both a bad and soft call.
However, as the Bruins were on their delayed attack; Trouba leveled Nosek with another one of his patented TROO TROO TRAIN hits.
With Nosek leveled, a big scrum broke out and Derek Forbort dropped the gloves and went right after Vesey – a fight that the Harvard alum didn't win.
While both Vesey & Forbort were boxed for five-minutes each; Forbort, who instigated the fight, FOLLOWING ANOTHER CLEAN HIT BY THE CAPTAIN; was not given the extra two-minutes.
To be clear, I'm not blaming the officials for this loss – but this game was another example of piss-poor officiating.
What should've been two-minutes of "foreplay;" instead became a Bruins' power-play.
Thankfully, the Rangers' penalty kill did their job here, but they were also aided by a Bruins' power-play that couldn't hit the net – including when a 100MPH Bergeron one-timer sailed high.
Now down to 5:32 remaining, Trocheck was getting into it with the Bruins, as after losing his glove on the ice; McAvoy whacked it out of range, which then set-off another scrum.
In what could've been a goal; Pastrnak made a brutal turnover with 3:50 to go – but Tarasenko, who has been hot lately, missed the net.
A few seconds later, the "love-affair" between Trocheck and McAvoy continued, as "OH JOE, THE LONG BEACH NATIVE JOE," smashed Nonna Trocheck's bambino.
Now under 2:30 remaining, Fox prevented a Nosek breakaway, where the puck took a slow path towards CZAR IGOR – a freeze.
However, on the next Bruins' possession, and despite the Rangers holding their own (and arguably the better team of the period too); with just 1:53 remaining – Charlie Coyle scored.
1-0, bad guys.
This goal was largely on Chytil, as following the Bruins' newest forward, Tyler Bertuzzi, going behind Igor's net; the former Red Wing then found Coyle wide-open, all alone, and from two feet away from #31. Igor had no shot on this one, as he never saw it coming. Neither did the Czech – as Chytil's hot streak from several weeks ago now seems like a thing of the past.
Crazy stat? Following this game, the Bruins are now 33-0-3 whenever scoring first. Wow.
After recording his fourth turnover of the game; now returned with the puck and with just seven seconds remaining, Panarin drew Bertuzzi for slashing.
The Rangers would open up the second period on a 1:53 power-play.
Here's what I said at the time:
1-0, bad guys, after 20. 1P Thoughts:
— #NYR playing pretty well all things considered. I know many were expecting a blowout by now.
— Ferraro is unbearable.
— SOG 10-6 NYR; Hits 12-6, FOs 12-9 B's
— BOS PP was BS – should've been 4×4
— Kane has barely touched the puck

— BlueCollarBlueShirts (@NYCTheMiC) March 4, 2023
---
SECOND PERIOD:
Following a shot where ESPN showed McDonough looking like a hostage hanging out in a broom closet; the world-wide leader missed the faceoff – one that the Rangers won.
However, the Bruins soon got the puck and then went on a two-vs-one short-handed odd-man rush – and Igor stopped Nosek. Unfortunately, Igor played the puck, and following a turnover from Fox – BOOM – at just the thirty second mark, there was Nosek one more time, who easily scored from the paint with a backhander – the hardest shot for a goalie to stop.
2-0, bad guys – a brutal SHG to allow – but then again – what SHG allowed isn't brutal?
As Panarin tried to force every pass known to man to Kane, passes that never reached their target; the second power-play unit came on – and where following a perfect pass from Tarasenko – Lafreniere missed the net by forty feet. Fortunately, Lafreniere would redeem himself – twice.
Once returned to full-strength, Schneider blasted a puck at Ullmark. The goalie juggled the puck, but easily calmed the rubber down – especially since there wasn't one Ranger within twenty feet for the rebound.
Down to 14:49 remaining, Panarin, to his credit, drew his second penalty of the game, as The Rat tripped Panarin. (This was assessed as interference.)
Both Panarin and Zibanejad remained unselfish – and they didn't do much of anything here except to make the lives of the Bruins easier.
However, with just two seconds remaining on the power-play, and with the second unit on the ice; Trouba blasted a puck from the blue line – and Lafreniere was soon rewarded:
Laf puts the Rangers on the board!

(via @NYRangers) pic.twitter.com/YAVQ6aTSDT

— Rangers Videos (@SNYRangers) March 4, 2023
---
2-1, bad guys – and a rare PPG for the first-overall pick of the 2020 NHL Entry Draft!
As the old saying goes, "good things happen when you shoot the puck," and Lafreniere, who is not scared to get into the dirty areas, deflected Trouba's bomb right past Ullmark.
In real-time, the officials had to review this one, but for whatever reason, and despite it being clear as day that the puck had easily went in – Bruin fans booed the call as if some sort of nefarious act of injustice had taken place.
Just as we approached the half-way mark of the game/period; Fox found Panarin wide-open, and all alone in front of Ullmark. Panarin, rather than shooting, took his time, allowed Ullmark to get set – and then missed the net. You can't make this up.
Just to give you the state of Ranger fans at the time, my response to the nonsense that I was reading on social media:
#NYR losing by one goal to the best team in the league while missing their top 2 LD, and based on my feed, you'd think they were losing 50-0 to the Flin Flon Bombers of the Manitoban pee-wee league.

— BlueCollarBlueShirts (@NYCTheMiC) March 4, 2023
---
Down to 7:15 remaining, the only time where Kane was really noticeable – as he tried to set-up Trocheck for a deflection. Good try, but no dice.
Fifty seconds later – Ullmark absolutely robbed Lafreniere, as #13 almost had a five-hole goal. Nine seconds after that, CZAR IGOR came up with a heck of a save himself, when he stopped Orlov on a 4 x 3 odd-man rush.
As we hit 5:15 left on the clock, Kreider had a breakaway and despite being tripped & hooked – no call.
Keep in mind, at the time, the Rangers trailed only by one and had scored on their previous power-play. Had the right call been made here – then who knows?
ESPN never bothered to show us a replay of this.
At the two-minute warning of this frame, Kane and Panarin, need I say more – instead of shooting the puck themselves – once again tried to set up the Bobby Orr of his generation, Niko Mikkola.
As we approached the final minute, the Rangers started to gas out, but were able to survive.
2-1, bad guys, after forty minutes. Here's what I said at the time:
2-1, bad guys, after 40. 2P Thoughts:
— #NYR look good, despite the score – and again, consider the circumstances
— Laf's PPG was huge
— SOG 23-15 NYR; Hits 20-17, FOs 21-17 BOS
— Schneider & Harpur really showing up
— Please stay out of the box Mikkola!
— LGR

— BlueCollarBlueShirts (@NYCTheMiC) March 4, 2023
---
THIRD PERIOD:
This is when the Rangers tank pretty much hit empty – and the two back-to-back penalties they took didn't help matters either.
Since this was the worst period of the game, and since I'm trying to get this done prior to tonight's UFC PPV too; let's rapid-fire through this final frame:
— Eighteen seconds into the period, Kreider drew Nosek for tripping.
— Now with a chance to tie, this was the worst Rangers' power-play yet – and something you can't blame the lack of man-power on. The Rangers absolutely failed and were eaten alive here.
— Again – had the Rangers scored here – then who knows?
— Up next, back-to-back Bruin power-plays, one legit, one fugazi.
— With 15:48 to go, Fox tripped Debrusk – a real penalty. Trouba was an absolute beast on this penalty kill and CZAR IGOR made three saves during it.
— However, and no less than a minute after killing the penalty; the captain was boxed himself – a bullshit call – as Trouba was sent to the sin bin for "interfering" with Garnet Hathaway. In reality, the Rangers turned over the puck in the B's zone, the Bruins marched up ice, and with Hathaway skating right at him – #8 protected himself and braced for contact – and because of his power – Hathaway bounced off of him.
— In other words – there was nothing Trouba could've done here, outside of being mowed over himself.
— To their credit, the PK came up with another huge kill, one that was assisted by a broken blade on the skate of Pastrnak, as for whatever reason – the officials paused the game so the Bruin could get his skate repaired – which then gave the Rangers' tired defense a few extra minutes of rest. More bad officiating – although the Bruins didn't seem to mind.
— Goodrow and Vesey also looked good here.
— Now down to ten-minutes remaining, this is where the Rangers unraveled, most likely due to fatigue. One last time – you can't keep asking your defense, especially players not used to it, to keep playing all of these extra minutes – especially when playing three games in four days.
— This was most certainly true when both Schneider and Harpur, who as mentioned, were excellent today, and who were caught on the ice for nearly 3:00 – but were soon able to change with just 9:00 remaining.
— With 8:40 remaining, Panarin coughed up another puck. The ESPN crew really went after him here for all of his turnovers, where it was mentioned that this one was his sixth – four more than any other Ranger.
— Twenty seconds later – Panarin turned the puck over again – but for whatever reason – the official statisticians felt bad for him and didn't record this play as a giveaway.
— Down to 7:04 remaining, Bergeron, who had missed the net thrice before, finally had a "Connect Four."
— 3-1, bad guys, as Mikkola had screened Igor during this. However, it did feel like Bergeron was due.
— As the Rangers tried to comeback, it was the other star in Boston, the newly and heavily paid Pastrnark's turn. With 3:20 remaining, Pasta put some sauce past Igor. 4-1, bad guys.
— As the two teams skated out the final minutes, with 1:26 remaining, Lafreniere scored, where this time, Mikkola was screening the opposing goaltender. 4-2, bad guys.
— Igor left the net following the goal, and in perhaps during an act of cruel & unusual punishment; with just two seconds remaining – Panarin finally shot the puck – but of course – missed the net.
4-2, bad guys, final.
---
Here's Gallant following the game, where he pretty much summed up all of my thoughts:
---
Gallant's response to Panarin forcing pucks to Kane sums up this one:
"They [Kane and Panarin] are trying to force the plays in the middle of the ice too much and there's too many turnovers. Like I said, there's chemistry there, but you've got to make sure we're making strong plays. There's too many times where we're trying for that long pass, east/west in the offensive zone. They know our players too and you are going to pick that off and then they are going the other way. They'll get it together, but it wasn't good tonight, there were too many turnovers. Not just by them, but a lot of guys."
I thought that Gallant was generous to Panarin when including the other players on the team for all of the turnovers.
I know that it's easy to get wrapped-up in the loss, but I do wish that the head coach was asked about Schneider and Harpur – as I really thought they had a good showing – and where now – you do have to wonder if Mikkola is the best option for the third LD position.
---
One last time – while the Rangers certainly had chances to win today – the Bruins are one of the best regular season teams of the salary-cap era – and going into this game – it was tough to envision them losing under these advantageous circumstances.
For the Rangers, it's now four days off, where I'm sure the three practice days will do them wonders.
All of the extra time spent in Tarrytown will allow Gallant to coach his team – and allow Kane to get some full practices under his belt too.
And fingers-crossed, while we know that Miller will be back – hopefully Motte and Lindgren will return too. If not, at least the Rangers can go to Hartford for assistance.
I know that many of you readers (and definitely my Twitter followers) are accusing me of being too optimistic – and I get it – but I just can't get nutty over losses under these conditions.
One fact that gets lost? The fact that the Rangers have played well enough this season to endure this recent malaise.
What also shouldn't be lost is the fact that despite being short-handed all week – NOT ONCE could you ever question the team's compete level.
Did they gas out? Sure. But did they give up? I don't think so.
Had the Rangers just been blown out and looked frustrated, then it's a different story.
I think a lot of the problems we're seeing are easily rectified, and will be corrected, during the practices – where I'd also expect Gallant to pull Panarin aside and tell him to let the game come to him – and stop forcing passes. The passes to Kane will soon come organically.
But I will give you this, and as noted at the top of this blog – should the Rangers lay some eggs next week, against Montreal, Buffalo and Pittsburgh – then my attitude will change.
However, for now, I see these recent two losses for what they were – disappointing in the moment – but not anything to go berserk about.
Let's close with something entertaining.
---
As mentioned earlier, during the ESPN pregame show, I said, "Messier has to be separated from ESPN's resident idiot," as I was referring to the spat that the duo had last week.
Keep in mind – I didn't even tag P.K. Subban in the tweet, nor do I ever use his real surname – I prefer SLEWBAN instead!
During the game, and with the Rangers trailing 3-1 at the time – Slewban called me out on Twitter:
A little tied up… what's the score in the game ? 🧐 💣 📉😘 https://t.co/RUxv7SXHqI

— P.K. Subban (@PKSubban1) March 4, 2023
---
Do you know what was funny about this? Prior to Slewban biding his time, and waiting for the Rangers to fall behind (where it should be mentioned – it's not like I predicted a Rangers' smackdown of Beantown – I was referring to his habitual act of slew-footing Rangers when he was a Devil – something he ignored – and in turn – proved my point for me); the former #76 was shown on-air playing around with his cellphone.
I guess my "chirp" tweet got to him!
That was for you Sammy Blais!
As Will Ferrell famously said in "Old School" – "You're my boy [St. Louis] Blue!"
For what it's worth, I don't know how Slewban found my tweet, because as stated, I didn't even use his name. Maybe he just scrolls through Twitter and searches "ESPN's Resident Idiot!"
However, I can tell you that I do talk to some people from ESPN – and I'm thinking that one of them tipped off Slewban – where I should add here – doesn't bother me at all. In fact, the opposite – I was thoroughly entertained!
It's also my belief that if you give it, then you should be able to take it too – and Slewban gave it right back to me – and as he said during the first intermission of the Stars/Avalanche game that followed today's Original Six tilt:
Look at this! pic.twitter.com/J7xZVD75Lx

— Marc ✡️🇮🇱 (@MiserableNYfan) March 4, 2023
---
Slewban called me a rat!
What am I, Brad Marchand – someone who unlike Slewban – has won a Stanley Cup? (Heyo!)
And if you're keeping track, Vagistat once called me a "pigeon," as I continue to be compared to diseased animals by these former players turned horrible analysts!
However, at least Gretzky once praised me on TNT, and as he did last season when he talked about this tweet:
Just as entertaining for me – the fact that Mark Messier was laughing during all of this!
If I can get "THE MESSIAH" to laugh, then that is my thank you to him for 1994!
And for yours truly?
How many other famous authors and beer-bellied bloggers can claim to have been featured on both ESPN and TNT?
Also worth mentioning? My tweets where I always praise Slewban's charity work weren't brought up! I wonder why!
And oh – I'm not sure if Slewban, nor the panel either, understood what I was referencing.
Should they find this blog, now they do.
Thanks to everyone who shared with me what Slewban said, as I didn't see this in real-time – but I was cracking up once seeing this – and still laughing now.
And for this "rat?"
It's time to watch this UFC PPV – and I'll most likely be back on Monday, with a report of whatever takes place at Rangers' practice.
Anyone have any cheese?
LGR!
PLUGS TIME!
---
My first plug of tonight's blog – the mandatory plug for my book, "The New York Rangers Rink of Honor and the Rafters of Madison Square Garden."
As mentioned previously, the book is now available in hardcover, in paperback and in Kindle formats. To purchase a copy of the book, visit this link:
https://www.amazon.com/Rangers-Rafters-Madison-Square-Garden-ebook/dp/B09CM5N2WD
For those still looking for signed paperback versions of the book, I have re-ordered more copies. I now have a few signed copies for sale at $25 a pop (includes shipping price) through me directly. Here is all the information on that:
---
My four-volume set of books, "One Game at a Time – A Season to Remember," is a game-by-game recount of the Rangers 2021-22 campaign.
My second title as an author, "One Game at a Time – A Season to Remember," is now available in eBook, paperback and hardcover formats.
To obtain signed copies, visit: https://bluecollarblueshirts.com/onegamebook/
To purchase all four volumes on Amazon, visit: Amazon.com – "One Game at a Time."
---
The greatest volume-set of books on Rangers' history today!
"Tricks of the Trade – A Century-Long Journey Through Every Trade Made In New York Rangers' History," a four-volume set of books that meticulously covers every trade made in franchise history, is now on sale.
All four volumes of the title can be purchased on Amazon.com and are presented in three different formats – eBook, paperback and hardcover.
To purchase Volume I: Conn Smythe (1926) – Craig Patrick (1986), visit Amazon.com
To purchase Volume II: Phil Esposito (1986) – Neil Smith (2000), visit Amazon.com
To purchase Volume III: Glen Sather (2000-2015), visit Amazon.com
To purchase Volume IV: Jeff Gorton (2015) – Chris Drury (2022), visit Amazon.com
To purchase signed copies of all four volumes, visit https://bluecollarblueshirts.com/tricksofthetrade/
---
Here are my last few blogs, in case you missed them:
---
---
---
If you haven't already, subscribe to this blog for the next update:
---
Don't forget to order my new four-volume set of books, "Tricks of the Trade!"
If you don't order through me, all four volumes are now available on Amazon.com
For more details, check out: https://bluecollarblueshirts.com/tricksofthetrade/
Thanks for reading.
LET'S GO RANGERS!
Sean McCaffrey
BULLSMC@aol.com
@NYCTHEMIC on the Tweeter machine