"You win three in a row and feel good about yourself, feel good about how this game went. Kind of felt fortunate after the start we had two nights ago against Jersey, but, if you are gonna have a chance you have to string together wins, go on some sort of streak or run and we really hadn't done that to this point, first time we have won three in a row. We are creeping up on the halfway point of the season, our guys realize what is in front of us and with each passing day and you want to continue to gain momentum and move forward, hopefully we can get a couple of more guys back and play close to full strength, a lot of teams aren't doing it this year, but we have done a pretty good job managing some adversity and we gotta keep moving forward and build on what we did today." – David Quinn, 3/6/21, moments after the Rangers 6-3 win over the Devils on Saturday afternoon. As a result of the Rangers second consecutive six pack of goals scored, the team is now on their first three-game winning streak of the season.
"The first game was skating and battling. The hand didn't feel that good, but I feel like every shift is getting better. Today, I think that was a good game from my side, but I think I can be way better." – Filip Chytil, also on 3/6/21. In Chytil's third game back with the Rangers, Chytil picked up both a goal and an assist in the Rangers 6-3 win over the Devils. This was easily Chytil's best game since returning to the line-up. It's now at the point where DQ needs to decide if it's time to put Chytil on the first line or not. As usual, Mika Zibanejad didn't score a goal in either game against the Devils, despite the Rangers scoring 12 goals in the last 36 hours against these free-falling & down-and-out Devils.
---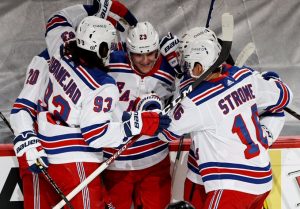 Greetings and salutations everyone and welcome to another blog here on BlueCollarBlueShirts.com. Heave ho, three in a row!
Following their 6-1 win over the Devils on Thursday night, on Saturday afternoon, during a matinee game at "The Pebble" in Newark; the Rangers once again put up a touchdown against the Devils, downing the terrible Devils by a final score of 6-3. For the Rangers, as a result of this smackdown of their Hudson River rivals, the Rangers are now on their first three game winning streak of the season. Baby steps!
While it is not my intention to urinate on anyone's parade here; it should be mentioned that all three of these Rangers wins took place against bottom-of-the-barrel competition, in both the Buffalo Sabres and the New Jersey Devils. In addition, both the Sabres and Devils are playing their worst hockey of the season. Without question, the Rangers caught these two teams at the right time during this part of the schedule.
That said, the Rangers did what they were supposed to do. That's all you can ask for. And really, the Rangers are doing all of this without their best player in Artemi Panarin, their second best right-handed defenseman in Jacob Trouba, and prior to today, without one of their best forwards in Kaapo Kakko. In addition, and as you all know, the Rangers are also doing this without Tony DeAngelo, who is still yet to have been traded for parts. (In other words, the Rangers and under their own volition, are without a $4.8M salary cap player, a player who was fourth overall in scoring among all NHL defensemen last season, yet are still streaking like Will Ferrell in "Old School" here.)
A topic that has been debated about to death during this season is the job status of David Quinn, with the "FIRE DQ" crew never louder after the Rangers worst loss of the season to the Devils three weeks ago. Fast-forward to today, and you can see a lot of progression from these Rangers – a Rangers team that has been saddled with injuries, drama and players contracting COVID-19.
For the DQ haters, the only point that they make that I really agree with is this – if DQ was fired tomorrow, would any team in the league jump out and eagerly sign him for a head coaching gig? I don't think so. However, for right now, he's the man behind the Rangers bench and during an unusual season, he has handled things admirably. I bring up DQ here, because far too often, I see a ton of criticism about him all over the place, (some warranted, some ridiculous) and I feel he should get some credit for the Rangers recent success as well. After all, it's easy to kick someone when they are down. If you do that, you should also use that same effort to praise someone when they are standing up.
---
Obviously, with a 6-3 score, there were a lot of good things that took place today. However, since it's quicker to talk about the bad stuff, let's just get that out of the way first.
In my opinion, there were three bad things about this game, from a Rangers perspective. And truth be told, I am nitpicking a bit. Those three bad things were the power-play, Alexandar Georgiev & the usual suspect in Mika Zibanejad.
The Rangers power-play, after scoring on their first attempt of the game, which really was the result of only one man in Adam Fox, as he had a coast-to-coast PPG; then went 0-4 during the remainder of the game. Let's face it – the Devils stink. The Rangers power-play, which has always seemed like an issue since the beginning of time, has to be better, especially with Pittsburgh and Boston coming up on the schedule. Yes, the Rangers logged another PPG today, but 1-5 against this crappy Devils team is nothing to brag about. (And again, Fox scored the lone NYR PPG all by his lonesome. It's not like the Rangers PP unit created this goal.)
If you're a regular reader of these blogs, you know the deal – I think I'm the biggest fan of Alexandar Georgiev out of anyone that's out there in this fan-base. (His family and personal friends being excluded here!) However, I thought he had a sub-par game today. While Georgiev did make a few key saves in this game, and seemed to settle down a bit in the second period, he was nowhere near his best in this game. Fortunately, he didn't have to be. I'll get into the goals he allowed in this game, but had this been a one-goal game, Georgiev, like Mika Zibanejad, would've been portrayed as a goat here.
What else is there to say about Mika Zibanejad? Yes, he's a great penalty killer and noticeable on defense, but once again, as we are now 22 games into this schedule, Zibanejad is still looking for his first even-strength goal of the season. (Zibanejad has one PPG and one ENG this season, for a total of two goals – a far cry from his amazing season from last year.) Just think about it – the Rangers, in their last three games played, played the two worst teams in the division, two teams who are at their low point. Despite the Rangers scoring 15 goals in their last three games played, Zibanejad hasn't been one of the scorers. If he can't score against the Sabres and the Devils, do you really expect him to light lamps in Pittsburgh and Boston?
---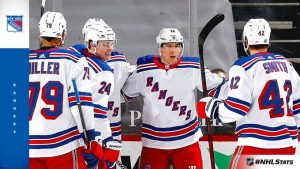 As said, there was a lot of good stuff in this game, where you don't even know where to start. Here's my attempt:
— The Rangers penalty kill kept the Devils power-play off the board today. As a result, the Rangers PK has now killed 47 penalties in their last 50 attempts. And really, of the three goals allowed, two came in the same game when the Rangers were at their lowest point, roster-depth wise. (Miller/Trouba, two PKers, were out.) If you ignore that game against Philly, the Rangers have only allowed one PPG during all of this. This is mighty impressive stuff.
— The Rangers youth were on display all game today. Gauthier had two assists. Chytil had a goal and an assist. Kakko had an assist. And Adam Fox, who sometimes you have to remind yourself that he's still only in his second season; had a multi-point game himself, scoring both a goal and logging an assist. As I have been saying all season, Fox remains the team's MVP. Of note, once again Fox led all NYR in TOI, playing 22:57. The guy does it all and there's not enough good things you can say about him.
— Another defenseman, in Libor Hajek, scored his first goal of the season. In fact, his goal wound up being the game winning goal, a goal which was set up by the PRAYING MANTIS known as K'Andre Miller. This is just another example of young players showing up big time for the Rangers.
— Chris Kreider, who has shed the "Casper" label in recent weeks, picked up an assist in this game, after capitalizing on a Devils turnover, which Kakko helped out on in forcing. And of course, there's Ryan Strome too!
— Ryan Strome, who as noted on recent blogs, has been on fire without Panarin, continued to keep up his point producing ways, scoring two goals in this game. For all the talk that "RYAN STROME NEEDS PANARIN TO PRODUCE", it's been the opposite. In fact, you can argue that it's been Ryan Strome that has helped Kreider find his groove. I'll have to look up the stats for my next blog, but ever since Kreider got a new center, Kreider's been playing his best hockey of the season.
— For the Rangers, this was another team-wide win, with everyone producing and giving a full effort. Even with big leads in the game, the Rangers constantly clogged lanes and blocked shots. After that crappy first period from Thursday night, the Rangers came out guns blazing and in turn, were rewarded for that effort. You have to be happy with what you saw today.
---
There's a lot of stuff to talk about in today's blog. Aside from the game recap/review portion of the blog, I have stuff on the recent passing of Mark Pavelich, where truly, Pavelich's final years are now a complete tragedy. I found what Barry Beck said, regarding Pavelich's passing, to be truly telling. Elsewhere in this blog, I have thoughts on Panarin and all the latest Rangers news and notes for you.
As I type these words, I'm getting a late start on this, so let's get rocking and rolling, as I want this up for you by the time this UFC PPV starts! However, before rocking and rolling, as usual, the PLUGS segment!
Here are my last few blogs in case you missed them:
---
---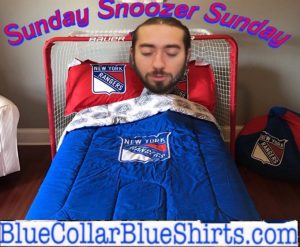 ---
---
On Friday March 5th, it was reported that Mark Pavelich, who spent five seasons with the New York Rangers, but was more famously known as part of the "Miracle on Ice" team from 1980, was found dead on the morning of March 4th. Pavelich, who just turned 63 a week prior to his passing, died at the Eagle's Healing Nest in Sauk Centre, Minnesota, which is a mental health facility where Pavelich had been for the past several months.
The Star Tribune, out of Minnesota, reported the story first. You can read their entire story here: https://www.startribune.com/miracle-hockey-star-mark-pavelich-found-dead-in-treatment-center/600030809/
During the last two years on this site, I have provided updates on Mark Pavelich, updates which I got from Barry Beck from his Facebook account and a Barry Beck, who has personified the word "captain" throughout all of Pavelich's ordeals. Over the summer, I also provided a lot of coverage on the tragic murder of Brock Cameron Beck, the 20 year old son of Barry Beck.
In addition, as you know, I'm working on a "New York Rangers Rink of Honor" book, which features both Barry Beck and Mark Pavelich. In other words, during the last year, I've done a ton of research on both Barry Beck and Mark Pavelich and I was up-to-date on all the latest that was going on with Pavelich.
When I heard the news of Pavelich's passing, like you, I was sad to hear about it. For a guy who was pretty much a loner after his professional hockey career had ended, and for a man who lost his wife after a tragic accident in 2012, Pavelich's life had spiraled. By now, you know about Pavelich's arrest from August of 2019, where following the arrest, the Minnesota courts ruled Pavelich as mentally incompetent. Since his arrest, Pavelich had been in-and-out of several different mental health facilities, with his former captain, in Barry Beck, giving us updates every step of the way.
After reflecting and processing the news, my first thought was poor Barry Beck. Beck has gone through a lot recently with the loss/cowardly murder of his son and now this. No parent should ever outlive their child, and it's very easy to sympathize and have empathy for Barry Beck.
Prior and after his son's passing, Barry Beck had been championing and fighting for better treatment of Pavelich ever since Pavelich's arrest, with a lot of his requests falling on deaf ears. Beck was also asking for others to reach out and support Pavelich as well.
Around 9PM EST (Beck lives in Hong Kong, China) Friday evening, Beck released a statement, where you could feel his anger and loss. In the statement, Beck not only has a message for the New York Rangers and USA Hockey, but for John Davidson too.
Here's Beck's statement, which he posted to his Facebook page:
(Of note, I didn't edit anything here, so there are some typos/grammatical mistakes in this statement.)
I'm deeply saddened, shocked and overcome with grief upon hearing the news of Mark Pavelich's death.

Marks sister Jean and her family are heartbroken as they knew they had to tell Marks mother the news of his death. There will be some tough days ahead.

I just talked with Mark two days ago in an exchange of emails. We asked each other the same question " How you doing?" At the end of the email we said "I love you" to each other as we often did. A week ago we had our first zoom call and it was great to physically see Mark again. We talked for an hour about everything and anything, than said our goodbyes with love.

Being involved with Mark from the beginning taught me a new found love. If I was going to be his voice I would have to learn to write from my heart. I'd never written before but became passionate about writing because of Mark.

When my son Brock was murdered that passion for writing was lost. Mark and his family were there for me but I couldn't connect with my writing skills. It wasn't the same. The loss of my son had broken me.

Climbing one big mountain to overcome my sons death is a difficult task. Now I have two mountains to climb. I guess it's Everest and K2 so I better get ready. I will get through it not because of my strength but because people need each other to heal.

Well I'm ready to climb for Mark now. He was a teammate and a great friend. Not a lot of people understood him so they missed an opportunity to be close to someone unique. Not all the bullshit just the way it is.

There was a lot of people that could have helped Mark and didn't. I will get to them in another post. They know who they are. Mark's sister Jean believed Mark was suffering from CTE as his demeanour became more aggressive.

Now not one NHL team will discuss CTE or any of their players, staff or employees. After the CTE lawsuit the NHL was just happy they didn't have to discuss it anymore. They told teams under no circumstances shall any team discuss CTE the shrinkage of the brain. No even the stick boy.
They don't discuss it because their cowards. The only thing that matters to them is money.
That's it in a nutshell. It's always been that way. Ask the lawyers..yea just money!

When the incident happened with Mark I immediately contacted his sister Jean to see how I could help. I asked her "has anyone from the Rangers or USA hockey contacted you yet to offer their support?" No one called and still to this day no one called. Who the f&$k do these people think they are?

They better not send their condolences now because they missed the boat. If they do I'll chew them up from one end to the other.

For the first time I'm ashamed to call myself a NY Ranger. Mark too!

I sent an email to Adam Graves who I tremendously respect. The email was for John Davidson now president of the Rangers. John and I were teammates with the Rangers along with Mark. Since JD was a goalie and I was a defenceman I always had his back, always!

In the email I asked JD if the Rangers could publicly show their support for Mark by just saying that one of their own former players was sick and we wish him well. Maybe they could show some clips of Mark at a home game so people could see what was happening to Mark. That was it. We didn't ask them for financially help just recognition that they hoped Mark would get well.

Well JD did not even return my email. I guess he was too fu$king busy. He should have picked up the phone and called me. That would have been the right thing to do as we were teammates and he certainly would have my back right?

You're on your throne now John but if our paths ever cross you better be ready. Or maybe just turn your back again.

USA hockey you can throw them in the same boat as the Rangers. Wouldn't respond to help Mark. A fu$king American hero!! You stupid MF'S!

The so called best organisations in the world.

Both the Rangers and USA hockey are accountable for Marks death. The NHL has to grow a set of balls and take action.

There's only one person from an NHL team who called when my son was murdered and that was George McPhee from the Vegas Knights. He's got a pair of balls bigger than them all put together. Also a former Ranger teammate who I knew had my back because I had his.

The NHL Alumni with Glen Healy did eventually get involved and Mark, I and his family were very appreciative for their help.

In the end Mark was alone and desperate. I could have done more.

He was a unique individual and a creative genius that I had the pleasure to play with.

I'd like to thank all the well wishers, former teammates and friends who supported Pav through his journey. We miss and love him forever. I hope he meets my son and my son will take care of him.
Marks sister Jean has been a rock through this process of Marks journey. She is his blood and Jesus Christ will comfort her.

For the last time not a NY Ranger just an American hero.
Mark Pavelich an American Hero!
Love you!
---
I have talked about how the Rangers treat their alumni so many times on this site, to the point where I'm blue in the face. Some talent are treated well, some are forgotten. It's a mixed bag. However, in most cases, especially for players that have no ties with the organization post 1994, the Rangers do a horrible job in their relationships with their greats. After all, this is the sole reason for my upcoming "New York Rangers Rink of Honor" book, as that book is designed to honor the players that the Rangers don't.
For regular readers of this site, you know about all of my stuff in trying to get the Rangers to retire Frank Boucher's #7 jersey, where I was told by someone within the organization that nobody would care. Well that's a lie, because this diehard fan would care and I know the entire Boucher family would care too. (Refer to https://bluecollarblueshirts.com/retire-frank-bouchers-7/ for all of my stuff on Frank Boucher, including my meeting with the Boucher family from two years ago.)
In the same vein, I have also been pushing the Rangers to hang a banner in their rafters for Emile Francis as well, especially with Emile Francis still being alive. I have talked to many ex-Rangers from the Emile Francis Era and they all say the same thing – "I wish we could've won a Cup for Emile". This statement was recently echoed to me by Pete Stemkowski, who I talked about last month.
I 100% understand Beck's frustration and where he's coming from. He wasn't asking for the world. He wasn't asking for a banner. He wasn't asking for money. All he was asking for was some acknowledgement. Let the Pavelich family know that Pavelich's issues with CTE weren't all for nothing. Instead, as the Rangers do with many of their alumni, the Rangers ignored Pavelich and Beck's request. You wonder if the Rangers would've ignored Rod Gilbert if he made a similar request.
---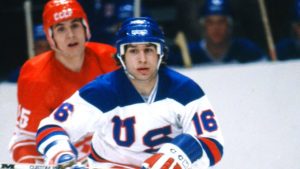 USA Hockey, like the Rangers, had flowery things to say after Pavelich's passing, saying, "We are saddened to hear about the passing of 1980 Olympic gold medalist Mark Pavelich. We extend our deepest condolences to Mark's family & friends. Forever a part of hockey history."
In addition, many hockey outlets, such as the NHL, various players, the NHL Alumni, the NHLPA and others, all released similar statements, expressing their sadness in Pavelich's passing.
Knowing the story and knowing what Beck said, I find a lot of these statements after someone dies to be very hollow, fake and transparent. It's too easy to say "RIP", "thoughts and prayers" or whatever other sort of jargon you want to use. To really make a difference, and knowing that actions will always speak louder than words, if you have the power to help someone you care about, you should make the attempt, as Beck did with Pavelich.
Over the last few years on this site, I have said about 7678669678660645 times, about how when Emile Francis finally passes, the Rangers will have all of these tributes for him and pretend that they are severely impacted by his eventual death. For whatever reason, the Rangers do not choose to honor one of the greatest GM's and head coaches in franchise history. And it's not just about what Francis accomplished on the ice, behind the bench or in the front office either – during his time in New York, Francis made a positive impact on the lives of many. Rather than a banner in the rafters for "The Cat", we currently have banners to honor a serial drunk driver in Billy Joel and a banner for a band that promotes the use of illegal drugs, in "Phish". And why are Joel and Phish honored over Ranger greats, such as Boucher, the Cook's, Greschner, Francis, "Ching" Johnson, Kerr, Heller, Lester Patrick and others? Easy – Phish and Joel drew more money for M$G. It's never about prestige and legacy with the Rangers.
When I read Beck's statement, I could understand the rage he must've been feeling when he typed it. All of his requests fell on deaf ears. I understand Pavelich had some tough times, but because the NHL and other hockey leagues don't want to tip their toes into the pool that's the CTE conversation, the NHL, the Rangers and USA Hockey turned a blind eye to Pavelich. As talked about recently during a Dan Carcillo interview on "Up in the Blue Seats", the NHL does not want to talk about concussions at all. In fact, in recent interviews, Bettman has denied links to hockey and CTE.
Factually, we don't know if Pavelich had CTE or not, as you can't diagnose CTE in the living. However, will it shock anyone, that when Pavelich's brain is examined, that he had a severe case of CTE? I don't think so.
---
At the current time, there is no cause given for Pavelich's death. His death was unexpected.
What we do know, is that prior to his passing, Pavelich agreed to a private signing with Overtime Promotions, where Overtime Promotions were going to get memorabilia signed by Pavelich for fans of Pavelich. If that tells you anything, it tells you that Pavelich's condition was improving, as he had the mental capacity to sit down and sign items for fans. It also tells you that Pavelich's health, at least not from a physical standpoint, wasn't an issue either.
I have written a lot about Pavelich's career on this site, and prior to his passing, had already written 18 pages about him for my upcoming book. You can refer to my previous blogs and that upcoming book for more on Pavelich, his stats, quotes, his career, etc. However, for right now, the issue here is that the hockey world let Pavelich slip through the cracks, where not many tried to lend a helping hand when he needed it the most.
Yes, Pavelich was a Ranger, an ex-NHLer and will always be known for his play during the 1980 Olympics. However, as humans, we could all learn from his death.
For Pavelich, who lived most of his post-hockey life in solitude, perhaps a message, a call or some sign of support from either the Rangers and/or USA Hockey would've helped him. From what Beck and Jean Pavelich say, Beck's phone calls always brightened Pavelich's spirits.
Pavelich is now gone. He is not coming back. Nothing can be done now. Moving forward, you just hope people can learn from this, where they will appreciate and try to help people while they are alive, rather than praising someone only in their eventual death.
RIP Mark Pavelich. My condolences to everyone who knew him, including Jean Pavelich and Barry Beck.
(There will be more about Pavelich during today's blog, as I have comments about the way the MSG Networks handled his death during their broadcast. Those comments will be in the game recap/review section of the blog.)
---
Prior to the news of Pavelich's passing, the Rangers held practice on Friday March 5th, where after practice, the Rangers announced the following:
With Kakko back, DQ had to tinker with his line-up today, where ultimately, DQ scratched Phillip Di Giuseppe.
Here was your line-up for this victory over the Devils:
GAMBLING SEGMENT time. Here's what I said before the game:
Season over-under record: 9-11-1

Another low -5.5 line. I don't see another Kreider hat trick today, altho I wouldn't be opposed to it! Georgiev v Blackwood today. I'm gonna go 3-2 #nyr and taking the under. pic.twitter.com/4iGWZntokZ

— BlueCollarBlueShirts (@NYCTheMiC) March 6, 2021
Well, I did get the 3-2 score right, although that was the score after the first period and not the final score! As a result of a nine goal game, my record drops to a season low three games under .500, with a 9-12-1 record. It's been tough predicting the over-under line this season, as there was once a stretch where the under hit in 9 out of 11 games. Now, the Rangers have crushed the over in two consecutive games. At the end of the day, as long as the Rangers win, that's all I care about!
Box score time! The following information and graphics come courtesy of ESPN.com:
SCORING:
PENALTIES:
TEAM STATS: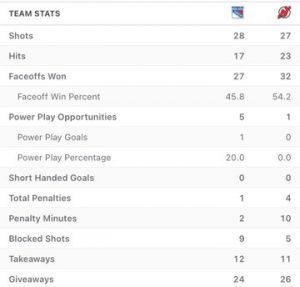 ---
As usual, Valiquette was the drizzling shits today, during the "MONTEFIORE RANGERS GAME NIGHT" pregame show. As talked about on a prior blog, is Montefiore opposed to a "Montefiore Rangers Game Day" ad?
I was disappointed with the start of this pregame show, which admittedly, is a daily occurrence for me. However, today, it's not for the usual reasons. I thought the lead story should've been about Mark Pavelich. Instead, Pavelich's name would be mentioned in passing towards the end of the pregame show. While I knew the Barry Beck stuff wouldn't be brought up, with a full day of prep, I thought the MSGN could've really done a nice 3-5 minute video on Pavelich, rather than posting a graphic and saying "RIP". However, this is the same network that told Ron Duguay he was no longer needed, so I'm not surprised to see the alumni get the short side of the stick again.
Really, the Rangers alumni, which is ran by a nice woman, needs a better advocate. While it's nice that Ranger alumni get free tickets to MSG events, events that are not just limited to Ranger games, the alumni needs someone who really gives a shit to keep their names alive and to celebrate the history these guys created on behalf of the Rangers.
AT THE VERY LEAST, MSG could've showed clips from Pavelich's five goal game. Instead, we get "oh, and Pavelich died", and then we went right back to that seven foot douche Steve Valiquette and his fake news charts. And really, all of Vally's BS is just that – bullshit. Today, he was rambling on about "high danger chances". Is an ENG a high danger chance? Is playing against a cold goalie a high danger chance? All of these fake news stats are so easily skewed and never consider the human element at all.
In addition, Vally gave us more "EXPECTED" stats and "coulda, woulda, shoulda" analysis. There's a reason why games are played on the ice and not on his computer that's probably riddled with viruses after looking up Swedish porn sites. There was also more talk from Vally himself, about Vally's legendary 46 game career during this broadcast. In exhibit #67978867897896796 of Vally talking about his Hall of Fame career, Vally broke down playing matinee games vs night games, as if Vally himself was the living reincarnation of Gump Worsley. What did Vally do different during those games? Did he use his left hand to carry Lundqvist's bags during matinee games and use his right hand to carry Lundqvist's bags during night games?
While I am definitely not a fan of Valiquette at all, at least not as a solo act; just seeing him and listening to all of his crap was more infuriating than usual, considering how these guys brushed off Pavelich's death. When you know what Beck said (and there is no way Beck is lying about anything here, as the Rangers refused to comment on this story rather than refute it) it just comes off like a slap in the face to the alumni.
I feel like I can go on more about this, but I don't want to drag this blog down with negativity. I think I said what needed to be said here. Let's get into this game now.
---
Ryan Strome would lose the opening face-off of this game. In fact, he would lose every first draw of each period today, as his line was on the ice for the start of each period. Twenty seconds into the period, Georgiev would make his first save. Right after, Gusev would fancy pass himself out of a shot on goal and on two separate occasions. However, before you could say "not again", in reference to the Rangers first period from Thursday night; 1:33 into the period, Sami Vatanen caught Brendan Lemieux in the mouth with a high stick. Lemieux was bleeding here, so the Rangers received four minutes of power-play time.
In easily the best goal of the season, from a highlight reel perspective, Adam Fox would go coast-to-coast, scoring on the first Rangers power-play of the game:
Adam Fox looking like vintage Brian Leetch 🤩

Georgie with the assist! pic.twitter.com/8SR6KF7OHR

— Rangers on MSG (@RangersMSGN) March 6, 2021
1-0, GOOD GUYS, just 2:06 into the game!
On the goal, Georgiev played the puck, left it for Fox, Fox blew through the Devils porous defense and Fox finished Blackwood through his five-hole.
Of note, as a result of leaving the puck for Fox, Georgiev got the assist here, the first Rangers goaltender assist since March of 2014, which was recorded by Henrik Lundqvist. That seems like a long time without a goalie assist. It's also funny that Georgiev is the only Ranger goalie with an assist this season, as Georgiev has been nightmarish at times while playing the puck, (just ask Tony DeAngelo) as opposed to CZAR IGOR, a CZAR IGOR who routinely makes long range passes every game.
This was the best Rangers goal from a defenseman since that Neal Pionk spinorama goal from seasons ago.
After scoring the PPG, the Rangers had another two minute power-play, as a result of the double minor. On this PP, Mika, who now looks terrified and scared to shoot these days, turned over the puck. This Rangers power-play, as would be the case throughout the rest of this game, wasn't that impressive and the Devils would get the kill here.
In a first period of many breakaways and odd-man rushes, the Devils would break up a Strome/Kreider give-and-go and Georgiev would then be forced to make a save on the other end.
7:15 into the game, the Rangers increased their lead:
The defense. THE PASS. The shot. 🤤🤤

SATURDAY RANGERS BABY pic.twitter.com/f3gJFaLe6v

— Rangers on MSG (@RangersMSGN) March 6, 2021
2-0, GOOD GUYS!
On this goal, Kaako creates a turnover near the boards, Kreider gets the puck, feeds Strome down low and boom – Strome makes it 2-0 just like that. It was nice to see Strome finish here, as finishing on these types of chances have been an issue for him throughout the course of this season.
With Hajek and Miller standing out defensively and as we approached the ten minute mark of the period, Chytil eventually would be denied on a breakaway opportunity with 7:40 remaining in the period. This was a shame, as the Rangers really could've busted open the game here.
On the next Rangers possession, Blackwood would deny Lemieux. Of note, Lemieux had four great shot attempts in this game, where Blackwood stopped Lemieux each time from near his doorstep. On the fourth shot attempt, which was not a SOG, Lemieux, from a foot away, would sail a puck over Blackwood's head, which had Lemieux pissed off at himself about.
With the Rangers riding high, and with Blackwood preventing this game from being 3-0 or 4-0, the Devils would respond.
With 5:06 remaining, PK Subban beat Georgiev, with a blast from behind the circle to the left of Georgiev. Georgiev perhaps should've had this one. 2-1. Then 17 seconds later, after another Rangers face-off loss, Maltsev would get behind the Rangers defense and beat Georgiev one-on-one. 2-2, tie game, just like that. All of the good work the Rangers had done prior to this point felt like it was now up in smoke.
Of course, with the game now tied, this is where you have to ask yourself – where is MIKA? He's the one being paid to come up big for the Rangers in these kind of moments, but of all players, it would be KEVIN ROONEY tying the game up, with 2:54 remaining in the period:
Absolutely WILD period. 3-2 Rangers now. @kroons25 showing the Devs what they're missin' 😏 pic.twitter.com/ULy8xO82ta

— Rangers on MSG (@RangersMSGN) March 6, 2021
3-2, GOOD GUYS, as the Rangers regained the lead.
On this goal, Chytil, who seems like he's 100% now, went on another odd-man rush in this game, this time passing the puck, with a backhanded pass, to Mr. Rooney, a Mr. Rooney who put the puck past Blackwood.
Right after this goal, Strome would go on a breakaway, where Blackwood denied him. No joke, this could've been a five goal period for the Rangers.
The end of the period saw Subban take what felt like 67896897 shots, with the Rangers blocking most of them and with Georgiev making a save on another.
At the end of the period, we remained 3-2, in favor of the Rangers. Of note, the Rangers led the SOG department at this time, to a tune of 14-5, which admittedly, wasn't great for Georgiev's save percentage!
---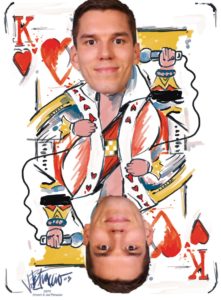 After our "SECOND PERIOD, WHAT DO YOU LOOK FOR HERE JOE?" comment from Sam Rosen, <more power-play goals, ya son of a bitch!> K'Andre Miller would make a great defensive play behind Blackwood's net, where the puck then went to Libor Hajek. Hajek bombed a shot from the point, and with Lafreniere screening Blackwood, Hajek picked up his first goal of the season. 4-2, GOOD GUYS, just 1:05 into the second period!
What a team effort type of goal here, from Miller's great work defensively and with Lafreniere's screen. It was nice to see Hajek get rewarded with a goal.
After the goal, 1:29 into the period, Dmitry Kulikov blatantly held Chytil. The Rangers power-play would go back to work. The Rangers power-play was pretty dumpy here. During this power-play, Georgiev continued to play pucks, rather than letting them sit for his defensemen. Micheletti called this out and pretty much said that Georgiev should leave the puck alone. Of course, Micheletti didn't say this during the Crosby goal, which led to DeAngelo's exile from over a month ago, but who remembers that? (Oh wait, I do!)
After the Devils got their kill, Georgiev would stop Sharangovich on a two-on-one odd-man rush. Right after, Chytil and Rooney went on another odd-man rush, where this time, Blackwood stopped Chytil.
As the period progressed, Kreider took another "excuse me" shot from the boards to the right of Blackwood. Blackwood made this save. Two games ago, against the Sabres, this type of shot from Kreider wound up being the game winning goal for the Rangers.
With 12:35 remaining in the period, Ty Smith tripped Adam Fox. Kreider would make a great pass to Buchnevich, but Blackwood would deny Buchnevich's shot. This would be the lone shot of this Rangers power-play, a PP that was now 1-4.
After the goaltenders made a few more saves, with 8:27 remaining in the period, Miller tripped up Zacha at center ice, giving the Devils their lone power-play of this game. Of note, I don't blame Miller for this tripping call at all, as 99% of the time, Miller is breaking up plays with his stick. No one is perfect, except for the Rangers PK these days!
With Mika and Buchnevich standing out as the top PKer's here and with Georgiev denying Gusev again, the Rangers got their kill, as the Rangers continue to be the best penalty killing team in the NHL right now.
As we got under five minutes to go, Georgiev made some of his biggest stops of the game, including one on Bratt. Georgiev would finish up this period with 12 saves, stopping all 12 shots he faced.
At the end of forty minutes, the Rangers were still up 4-2. All that was left to do at this point was close these bastards out!
---
To open up the third period, Sam and Joe went on their usual "Mika sucks" spiel, although they were much nicer this time around than they have been during previous games.
39 seconds into the period, Kakko drew Johnsson for holding. During this Rangers PP, Strome would hit a post. Mika would get two shots off here, but you know the rest. As a result, the Rangers PP would finish the game here 1-5.
While these two players may come off as afterthoughts as a result of the final score and multi-point box scores, I thought the two Brendans, in Brendan Lemieux and Brendan Smith, both had strong games today. They were noticeable on every shift they took.
After a TV timeout, nearly seven minutes into the period, and with the Devils only having one SOG, we cut to the studio, where Vally explained to us what a breakaway is. Maybe for an encore, he can tell us what a shitty analyst is.
With 11:22 remaining in regulation, Gauthier, who has shown these power-moves off in the past, made a power-move to the net, went around the net, as if this was "NHL '94", and put a SOG. Blackwood made the save, but Filip Chytil would get the rebound, showed off his hands with a slick move and then put the puck into the net. 5-2, GOOD GUYS! As repeatedly said in today's blog, this was definitely the best game out of Chytil since his return; if not his best game of the season.
As we got under ten minutes to go, Sam and Joe heated up on Mika a bit. Of course, since the Rangers won today, Mika's troubles are a bit masked after this game.
In another nice showing out of Georgiev, he would make two quick saves, including a huge save on a Jack Hughes rebound attempt.
As we hit the FOXWOODS FINAL FIVE mark of the game, Sam and Joe decided to finally talk about Pavelich. I believe Joe knew him personally, as both Pavelich and Micheletti are Minnesota boys.
With 2:12 remaining, Georgiev bumbled and fumbled a puck off of the stick of Nathan Bastian. 5-3, Rangers. This was a terrible goal to allow, which would've been a huge thing had this been a one goal game.
The Devils, down two goals, now had a minor, and I mean minor, chance of making this a game. Immediately, they pulled Blackwood. However, with 1:13 remaining in regulation, Ryan Strome scored the empty net goal, giving the Rangers their three goal lead back, thus sealing the deal.
6-3 Rangers, your final from Newark, NJ aka Hockeytown, USA. While I wouldn't say this was a huge win, due to the competition, this was a game that the Rangers had to win and they did their job.
---
In the closing seconds of this game, Mika Zibanejad caught a rut, where he was visibly in pain and limping around. However, in DQ's post-game interview, DQ said Mika was fine and would be able to play on Sunday. While losing Mika for a game or two wouldn't matter offensively, he would be missed defensively, especially on this award winning penalty kill.
I now have to say a few words on Artemi Panarin.
As mentioned 767895689575679 times already on this site and on social media, I'm aware that we probably don't have the full story on Panarin. We don't know if there were threats made, if his family was/is in any sort of jeopardy or what. However, at the same time, it's also being reported that he's skating around near his home in Connecticut. If Panarin is able to skate, he should be able to play.
It's been nearly two weeks now and Panarin has missed a half dozen games or so. What else can he do from his home? Unless there is some sort of threat of a Russian hitman going after him or something, what service is he providing the Rangers by practicing and skating by himself?
I don't mean to speak negative of Panarin here, but really, it's time to re-join the team, especially with the Rangers having four huge games coming up against the Penguins and Bruins. The Rangers can sniff a playoff berth right now and they will need Panarin in the line-up to make this dream a reality.
While we don't have an update on Panarin, DQ did say that Trouba and Igor are traveling with the team. What's it going to take to get Panarin to do the same? Nobody believes these BS allegations against him. And even if they were true, guess what? The Rangers are applauding Governor Cuomo right now, a Cuomo who has admitted that the current allegations against him are true.
If there is any sort of threat out against Panarin right now (I don't think there is, because if there was, I doubt he'd be practicing/skating) then hire security. Hell, Panarin has enough money to hire his own personal security! Plus, at games at M$G, a Russian hitman would need to take a 72 hour PCR test anyway!
I understand what Panarin is going through is a tough and serious situation. However, by ghosting the Rangers right now, Panarin is letting his lying accuser win. We all know that Nazarov is a lying scumbag, so by staying home, Panarin is letting this pile of crap get some excitement.
Enough time has passed. Whatever threats or fears that were there, have all had to have subsided by now. It's been long enough. It's time for Panarin to return to his bakery and put pucks in the net again.
---
The last piece of news here is that after the game, DQ said he wasn't sure who his starting goalie would be on Sunday night, as he said he was debating between Georgiev and Keith Kinkaid. I don't get what's the point of toying around here, because really, with the Rangers heating up and trying to make a playoff push, are you really going to start Keith Kinkaid, a goalie who hasn't played one competitive game in over a year's worth of time?
We know that Igor won't be available tomorrow. Georgiev is, and that's who I think we'll see tomorrow night.
If you haven't already, subscribe to this blog for the next update:
---
Rangers vs Penguins, with a weird 7:30PM start time tomorrow. I'll be back late Sunday night with a game recap/review. For now, it's time for me to get ready for this UFC PPV, where I have Yan, Nunes and Blachowicz winning the three title fights.
One last time – RIP Mark Pavelich.
Until then, and as always here, thanks for reading and…
LET'S GO RANGERS!
Sean McCaffrey
BULLSMC@aol.com
@NYCTHEMIC on Tweeter
Follow the BlueCollarBlueShirts.com Facebook Group by clicking this link: https://www.facebook.com/groups/1564026407193056/