Greetings and salutations everyone and welcome to another blog here on BlueCollarBlueShirts.com.
I don't even know where to start with this blog. As I sit here after the Rangers 3-2 loss to the Detroit Red Wings, I'm just befuddled. There have been worse losses this season, but this loss to the Wings was almost as bad as any. (For the record, I would rate the losses to Arizona, LA, Philly and to Ottawa, as losses worse than tonight's loss.)
For the Rangers, this is now their sixth straight loss. Furthermore, since the trade deadline, the Rangers have not won a game, nor have they scored a power-play goal.
What I can 100% say, with full confidence here, is that this loss was the absolute worst loss since the deadline. In the five prior losses, the Rangers lost to upper-echelon teams, in the Tampa Bay Lightning and twice to the Washington Capitals. The Rangers also lost games to playoff contenders in the Montreal Canadiens and the Dallas Stars.
In those five prior losses, the Rangers played one goal games and played up to the level of their competition. All of those games had their moments and were exciting. Worth mentioning, is the fact that Alexandar Georgiev played in three of those games, where he gave up 4 goals to Tampa (OT), 3 goals to Washington (OT) and 1 goal to Dallas. In the three other losses, Lundqvist gave up 6 goals to Washington (OT), 3 goals to Montreal and 3 goals here tonight. One goalie is paid $8.5M, the other goalie is paid $792,000. I'm sure you can figure out which goalie gets paid the $8.5M!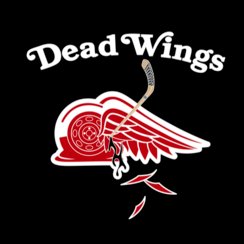 Going into tonight's game with the Rangers, the Detroit Red Wings were the second worst team in the league. They also entered this game on an 8 game losing streak. Furthermore, before this game, Jeff Blashill, head coach of the Wings, said that the Wings best player, in Dylan Larkin, would miss this game. Larkin currently has a back issue. If that wasn't bad enough for Detroit, it was also announced that Mike Green, a defenseman, was done for the season due to a virus.
Despite their five recent losses, the Rangers have played well against the better teams in the league. With the Wings sucking and reeling, this should've been an easy game for the Rangers. Instead, they fell 3-2 to one of the worst teams in hockey.
Sure, some fans in this Rangers fan base will do their "LOSE FOR HUGHES" stuff and do cartwheels after a loss, but I don't know how you can be excited about losing to a horrible team without their best players. What does that say about the Rangers?
And as I've been saying all season, finishing in the bottom three doesn't guarantee you anything. Look at Carolina, who finished in 13th place last season, yet wound up with the second overall pick. Plus, even if the Rangers did get the first overall pick (They won't, because MSG draws and Bettman will fix the pick to a team that needs help in the attendance department) you just know the Rangers will mess it up anyway.
I know it might sound cliche, and perhaps a bit "participation-trophyish", but I believe there are such things as "good" and "bad" losses for a rebuilding team. I thought the losses to Tampa and the second loss to Washington were a step in the right direction. I thought those were games that the younger players on the team could take something from.
In this 3-2 loss tonight, what does anyone on this team take out of this? Outside of Lundqvist, Buchnevich, Lemieux and Smith, everyone looked horrendous tonight. While no loss is a game to hang your hat on, for the Rangers, they should have the hat rack shoved up their ass for this loss. There was nothing redeeming about this game at all, unless you're one of these delusional fans that believes that every loss brings you Jack Hughes.
As far as this game tonight, and I'll get into this more during the "SCRATCH LIST OF QUINN" segment of this blog, this was another game against a shitty team that Lundqvist started in. You know me, while I will bury and laugh at King Coward for racking up all these starts against terrible teams, I can't pin this loss on him either. That said, Detroit put out an AHL team on the ice tonight, but once again, Lundqvist was beat for a bad goal. With Wings goalie Jimmy Howard hot on the other end, that was the difference between a regulation win and a shoot-out loss for the Rangers.
Truth be told, while Lundqvist was the inferior goalie tonight, but only by a razor-thin margin, as Hank made a bunch of big saves in this game, you have to look at who he was playing against. He's playing against an AHL team and couldn't shut it down. That said, if you're going to do the finger-pointing and blame-game stuff, Lundqvist is way down on the list of losers tonight.
When you look for goats in this game, and again, I know some fans aren't as they root for losses, it starts with Chris Kreider and Mika Zibanejad. These two should be in a neck-and-neck competition for team captain for the 2019-2020 season. Instead, Kreider belongs on a milk carton and Zibanejad is too busy crying and face-timing Mats Zuccarello. I know that Zucc was a large part of this team, your proverbial "heart & soul" player, but enough already. After all, Vesey was doing well while replacing Zucc.
To me, there is just no excuse for this cold top line to do absolutely nothing against the Detroit Red Wings. Yea, I can understand getting shut down by the great top players on Washington and Tampa, but you're letting the fucking Red Wings shut you down? It's embarrassing.
When I hear people argue that Mika Zibanejad is "an elite center in this league", it makes me laugh. If Zibanejad is elite, what's Crosby? What's Ovechkin? What's Stamkos? Top players beast and feast on the least. Zibanejad and Kreider did not do that tonight. Are you telling me a 5'7″ Norwegian is the only thing that gets these guys going?
Away from the top two on this team, what has Jesper Fast done this season? Sure, he's solid defensively, but what else does he do? If the Rangers moved on from Fast, would anyone notice? He's just another guy that has seemingly peaked and it's time to move on from Fast as well.
Brady Skjei, who did make an effort offensively tonight, continues to make you drip shit into your underwear, as he's a liability defensively and he's turnover prone. The way the top line misses Zuccarello, well that's the same way Skjei misses the more defensive oriented Adam McQuaid.
Oh, and while I can't really blame a rookie for a loss, the Lias Andersson experiment needs to end. He looks utterly lost out there and is a waste of a body. I don't really see how he's improving game-to-game. BRING BACK LETTIERI!
Speaking of Lettieri, let's go to the LETTIERI WATCH segment of this blog!
Lettieri and Hartford did not play tonight. Thus concludes the LETTIEIRI WATCH for tonight's blog!
Before agonizing about tonight's loss further, here are my last few blogs, in case you missed them:
---
---
---
---
---
---
Before jumping into the line-up changes and the scratching of Kevin Shattenkirk, let's get the Lundswiss stuff out of the way first.
Here's what the Rangers tweeted out 24 hours before the game: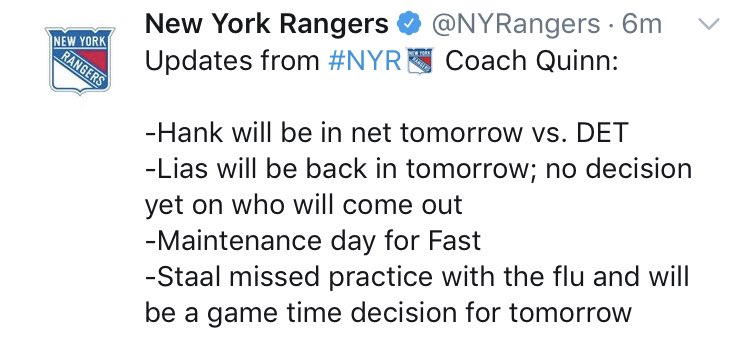 Last week on this site, I said that Lundqvist must be salivating over this game with Detroit. I told you he would not miss this game. I even reiterated that point on Tuesday night's blog: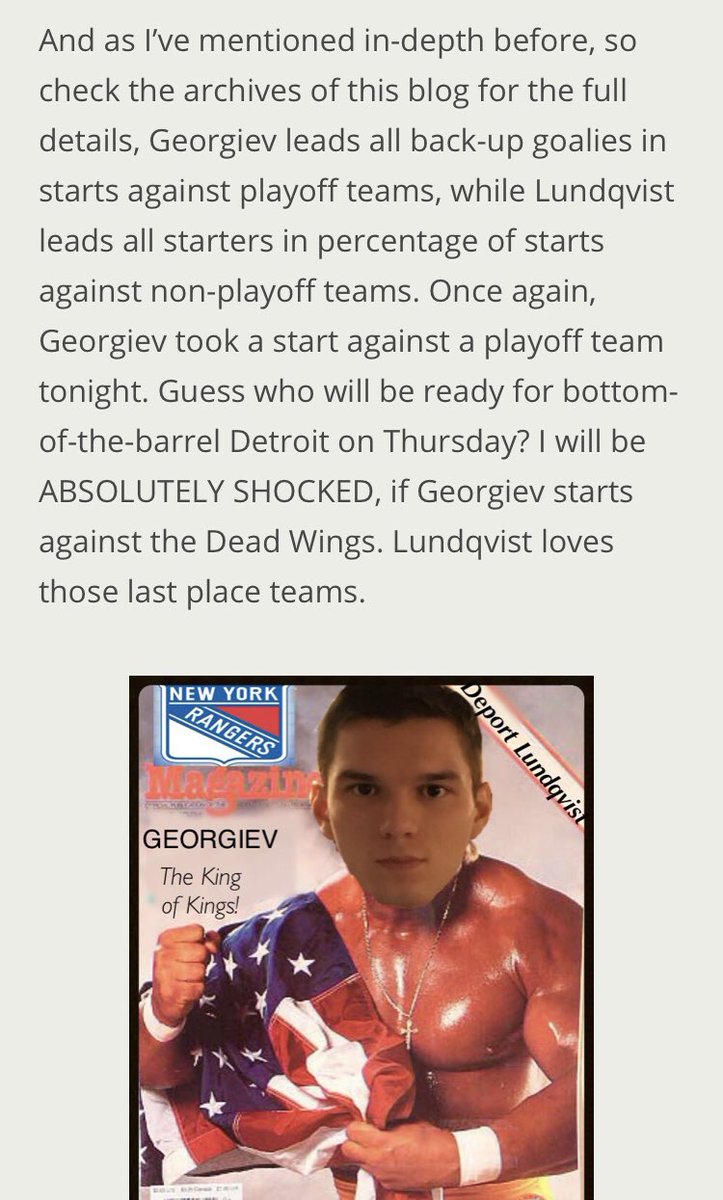 I'm good at what I do and can predict these starts with my eyes closed. There was no shot in hell that Lundswiss was skipping out a start against bottom of the barrel Detroit. In a poetic justice kind of a way, it's fitting that he can't beat any of these last place teams. $8.5M for this! DEPORT!
Now the tricky question is this, knowing that David Quinn wants to alternate his goalies at this stage of the season, does Lundqvist get the last place Devils on Saturday or does Alexandar Georgiev get the start? Edmonton, who the Rangers play after the Devils, are a cupcake team this season too. However the Devils are worse, so it wouldn't shock me that while Georgiev deserves the start against the Devils, that it will be Lundqvist who gets it.
The biggest news before the game was that despite Marc Staal having explosive diarrhea and the flu, it wasn't Staal who got tonight off, it was Kevin Shattenkirk. For the second time this season, Kevin Shattenkirk felt the wrath of the "Quinn Bin" (Credit: BSU Radio) and got to eat popcorn with Freddy Claesson and Connor Brickley.
Real quick, in regards to Marc Staal. I don't get why Staal played in this game. It's not like has some Cal Ripken streak going. I know that Staal hasn't missed a game this season, but it's not like he has some sort of NHL iron-man record going either. If the guy has the Hershey squirts and the flu, why expose him to the rest of the team? Furthermore, why chance his health at this point in the season? The Rangers aren't fighting for a playoff spot. Winning this game didn't matter. Why take a chance on making it worse for Staal?
Knowing that Staal was feeling like a bag of sweaty White Castle, what does that say about Kevin Shattenkirk? Shattenkirk is healthy, yet Quinn wanted his one-eyed red-buttholed defenseman instead.  Quinn alluded to the fact that Shattenkirk has taken a step back, and while that's true, as a whole, I just don't get risking Staal's health to make a point about Shattenkirk's regression.
With Staal playing tonight, I have to give him props a bit. He could've asked out if he wanted to. He knows the deal here. He knows he has a bad contract that the Rangers wish they could get away from. That said, all season long, he's been solid, just as he was last season. While King Coward does the finger-pointing of his teammates after every loss, Staal is more complimentary of his teammates. Staal has given it his all this season and has also helped guys like Pionk and DeAngelo along the way.
On Shattenkirk, he's been bad. Just read my last blog for more on him. I'll say one more time what I said on that blog – it would be nice if the Rangers could roll over his hockey contract to a MSG Studio Analyst contract. It would be a win-win for everyone, as this Shattenkirk/Rangers marriage has been jinxed from day one. (I did a longer blog about this earlier in the season. Check the archives. I don't blame Shattenkirk for everything, as it's just been one untimely incident after another. It's been a pure Murphy's Law deal for #22.)
With Shattenkirk scratched, the superstar fourth line winger, in Brendan Smith, was moved back to his natural position of a defenseman. Claesson remained scratched. Some fans asked me why does Claesson remain scratched. I don't know why, but my guess is that he's not 100% healthy. Brickley, who has been outplaying Andersson, continues to get the shit-stick, as Andersson is the new golden pony.
Here's what Quinn went with tonight:
FIRST LINE: Kreider/Zibanejad/Vesey (Kreider was returned to the first line, but by the third period he was benched. Kreider would get a shift during a four vs four and would get a shift in the final minutes of the game. In fact, he only logged 13:47 of ice time, which I believe is a season low. Will Quinn have the balls to put Kreider in the Quinn Bin next?)
SECOND LINE: Namestnikov/Fast/Strome (One again, this line played well, even if it feels like Fast is invisible.)
THIRD LINE: Lemieux/Buchnevich/Howden (Best line of the night, hands down.)
FOURTH LINE: Nieves/Andersson/Chytil (They were okay, but Andersson does nothing and Chytil is still learning.)
Defensively, Quinn went with:
FIRST PAIR: Skjei/Smith (Smith was one of the best players of the game for the Rangers. That tells you all you need to know about this game.)
SECOND PAIR: Staal/DeAngelo (They remain the best duo on the team.)
THIRD PAIR: Hajek/Pionk (Another solid game for Hajek and another game where Pionk looked exhausted in.)
GAMBLING SEGMENT TIME!
Here's what I said before the game:
Interesting enough, the Westgate doesn't have lines for #NYR tonight. Westgate odds are usually what the Italians in Fila track suits use. If you can get it -5.5 hammer the over. If it goes to 6, hit it too. Lundswiss starts 91% of the time go over and Detroit blows. pic.twitter.com/rWbCpazc9P

— BlueCollarBlueShirts (@NYCTheMiC) March 7, 2019
I got this game wrong. My record drops to 29-16-1 on the season.
What hurt my bet in this game, was that Detroit was really bad. It felt like Detroit had a passing percentage of 13% tonight. Both teams missed easy chances and conversely, both goalies played well tonight. I know these games are usually low scoring, but I figured with two bad teams, we would see a lot of odd-man rushes. We would get those odd-man rushes but both teams were so bad that they couldn't finish.
I also thought, that after five straight games of playing well against playoff teams, the Rangers would explode and put a 5 spot on the board. Woe is me!
The plight of the gambler!
Lastly, before going to the box score, a few words on Ted Lindsay.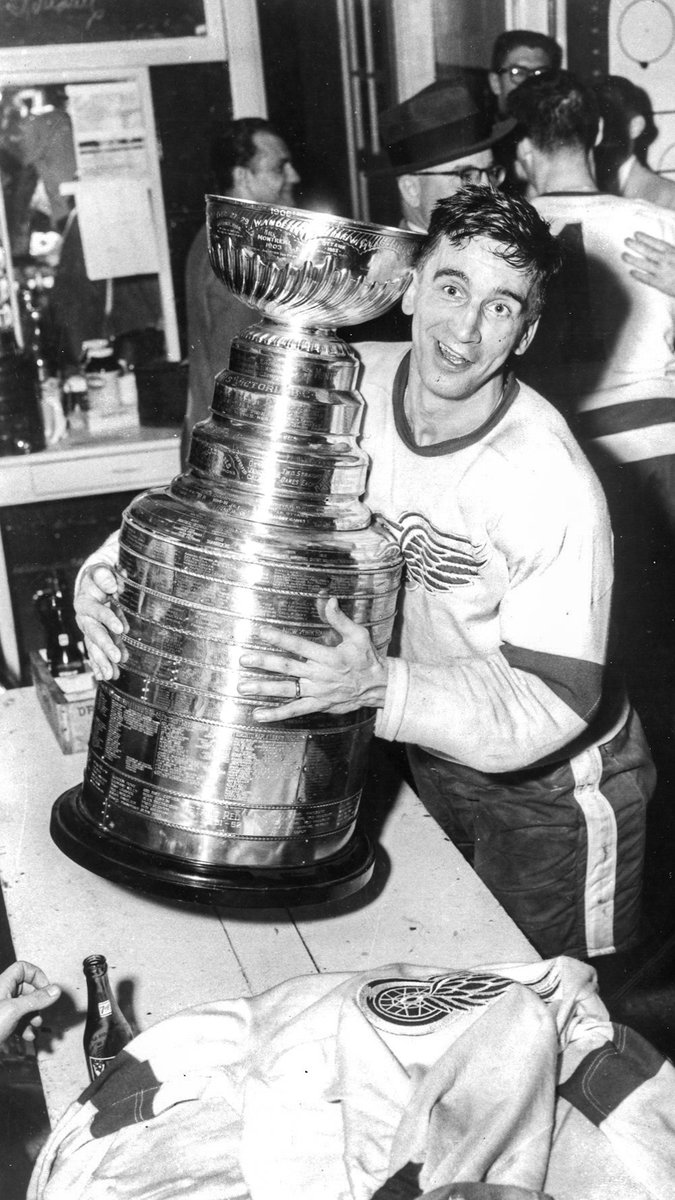 Despite being a Rangers fan, I'm also a fan of the history of the league, especially when it comes to the Original 6 franchises. The Detroit Red Wings have a rich history and I'm glad I got to make it to "The Joe" before it shut down. (I attended the last ever NYR/DET game at The Joe. To read that blog, check out: http://doinow.com/detwin/)
When it comes to Ted Lindsay, fans owe it to themselves to check out the hard work the Detroit Red Wings have done in honoring Mr. Lindsay. Here's just one of the many tweets and pictures the Wings have put out there:
— Detroit Red Wings (@DetroitRedWings) March 7, 2019
Personally, I never saw Lindsay play. I've seen clips, I've read books and I've listened to interviews. I'm also a Rangers fan, so I never connected with Lindsay at a fan level. That said, every player that has ever laced up a pair of skates in the NHL, owes a token of gratitude to Ted Lindsay, because he was a pioneer when it came to unionizing NHL players.
Keep in mind, Lindsay helped create what would become the NHLPA, in an era where there were only 6 teams. In those times, for every player in the NHL, there were 100's more in the minors, just chomping at the bit to take your job. In other words, Lindsay risked his career (he was actually traded by Wings boss Jack Adams for trying to unionize) in an effort to get his peers a decent wage.
For all of Lindsay's accolades on the ice, it was the work that Lindsay did in unionizing the players that will be everlasting. Lindsay was a nightmare to greedy owners. Furthermore, the players during Lindsay's time had second jobs to make ends meet. Through Lindsay's work, NHL players were able to earn a wage that made them "full-time" hockey players.
When I saw what Detroit did since Lindsay's passing and what they did for Lindsay since his retirement, I just have to say kudos to the Wings. I wish the Rangers would do the same thing with their number 7, in a one Frank Boucher.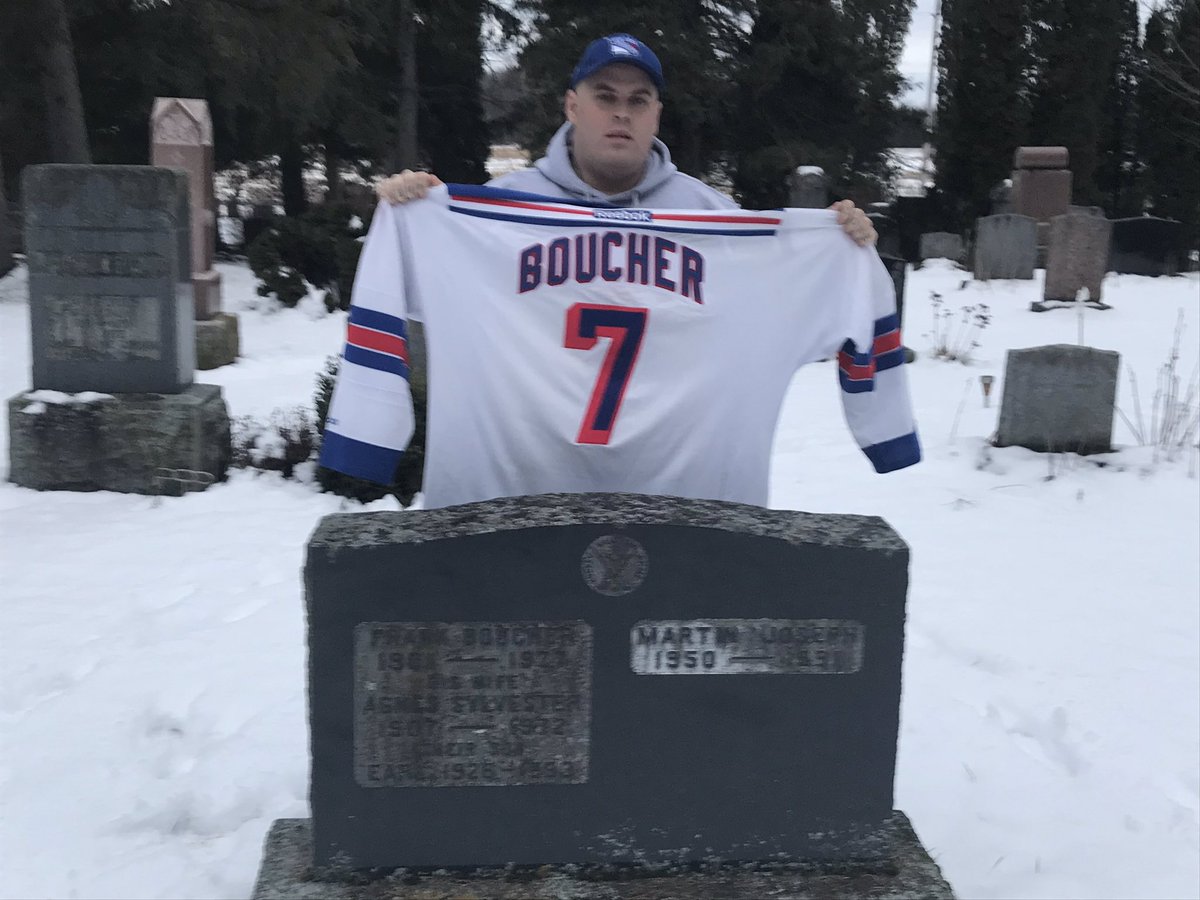 And finally, ESPN.com box score time.
SCORING SUMMARY:
1st Period
8:43

Pavel Buchnevich

(14)

Assists: Brett Howden, Brendan Lemieux

1
0
2nd Period
5:46

Tyler Bertuzzi

(16)

Assists: Madison Bowey, Andreas Athanasiou

1
1
3rd Period
6:15

Andreas Athanasiou

(23)

Assists: Danny DeKeyser

1
2
14:29

Pavel Buchnevich

(15)

Assists: Brendan Lemieux, Tony DeAngelo

2
2
OT Summary

No Goals Scored
Shootout Summary

Shootout GOAL scored by Andreas Athanasiou on Henrik Lundqvist
0
1
PENALTIES:
1st Period

No Penalties This Period
2nd Period
8:49

Libor Hajek:

2 minutes for Holding

10:34

Michael Rasmussen:

2 minutes for Holding

14:22

Brady Skjei:

2 minutes for Tripping
3rd Period
5:38

Ryan Strome:

2 minutes for Hooking

5:38

Madison Bowey:

2 minutes for Holding the stick

11:09

Brady Skjei:

2 minutes for Holding
OT Summary

No Penalties This Period
GOALIES:
| | | | | | | | | | | |
| --- | --- | --- | --- | --- | --- | --- | --- | --- | --- | --- |
| SA | GA | SV | SV% | ESSV | PPSV | SHSV | SOSA | SOS | TOI | PIM |
| 45 | 2 | 43 | .956 | 40 | 0 | 3 | 0 | 0 | 65:00 | 0 |
| | | | | | | | | | | |
| --- | --- | --- | --- | --- | --- | --- | --- | --- | --- | --- |
| SA | GA | SV | SV% | ESSV | PPSV | SHSV | SOSA | SOS | TOI | PIM |
| 34 | 2 | 32 | .941 | 29 | 3 | 0 | 0 | 0 | 64:59 | 0 |
Before jumping into the game, I have a beef, as usual, with the MSG Networks crew. For starters, it has to be an inside joke among the MSGN crew, that Joe Micheletti must mention the age of Filip Chytil during every game. Is there some side-bet these guys have that Micheletti will mention it 6786789679679 times during every game? I wish I could bet the over on this!
Oh, and what's with the MSG Networks doing ANOTHER Henrik Lundqvist interview package? We get it. You love him:
Instead of promoting the declining Lundqvist, how about a sit down interview with Georgiev? How about interviewing DeAngelo about his recent streak of hot play? How about an interview with the rarely-mentioned Marc Staal? How about some face time with Brendan Lemieux?
Lastly, because I don't want to spend too much time on this crap, I want to point out that Anson Carter was dead wrong when he said "the Rangers and the Wings are similar, talent-wise." That's bullshit. The Rangers are much better, and that was evident in their games against the league's best teams over this past week. Detroit put out an AHL team tonight. The Rangers were far superior, talent-wise, and should've won this game. This loss was a step back for the franchise. I know it's not a major step back in the grand scheme of things, but this loss was bad.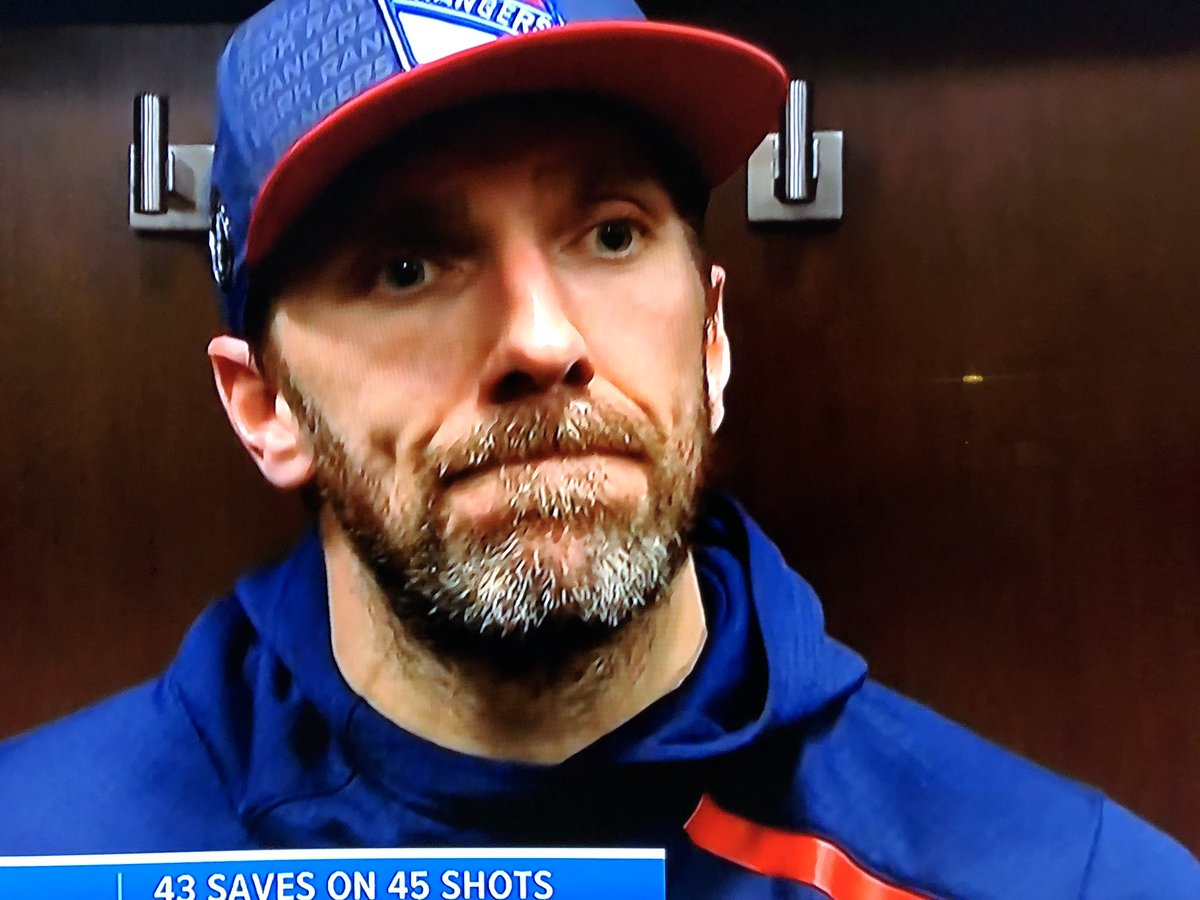 The first five minutes of this game were all Detroit, which I kind of figured would happen, as they were riding on the emotion of the Ted Lindsay passing. However, after a collision between TDA/Lemieux (TDA was shook up, but wouldn't miss a shift) the Rangers took control of the first period.
I won't bullshit you here. I watch a lot of the league, but I really don't watch Wings games. (Of note, on non-Ranger game days, I usually watch teams like Tampa, Edmonton, Philly, The Isles, Nashville, San Jose, Columbus, Pittsburgh, the Caps, the Canes, Montreal, the Leafs and others.) The Wings just aren't one of my priority teams and if you watched tonight's game, can you blame me?
I know the Wings traded off a lot of their guys (Jensen/Nyquist) and were without Larkin and Green. I'm aware. That said, the Wings were FUCKING HORRIBLE. They couldn't skate with the puck. They couldn't put two passes together in a row. They blew every odd-man rush they had. For a team that was celebrating the life of Ted Lindsay, it looked like they were celebrating the life of Scott Norwood, as the majority of their shots were wide.
As the game went on, Lundqvist would make two brutal turnovers, turnovers that an NHL team would've capitalized on. On both turnovers, Lundqvist left his net open after misplaying a puck, but Detroit couldn't make Lundqvist pay for it. This isn't a shot on Lundqvist's sloppy play, because in fact, Lundqvist was arguably the best Ranger in this game. (You can argue for Buchnevich here if you want.) When I saw Detroit unable to capitalize on these grade A scoring chances, it just told me the level of suckage that the Wings were on.
While watching this game, the empty seats were accentuated by all the number 7's that were in the seats. I was wondering why more fans didn't come out for this game. As the game continued, I saw why. DETROIT IS BAD. Like real bad. If you think the Rangers suck, well you should see Detroit. That is why I'm so pissed that the Rangers lost this game.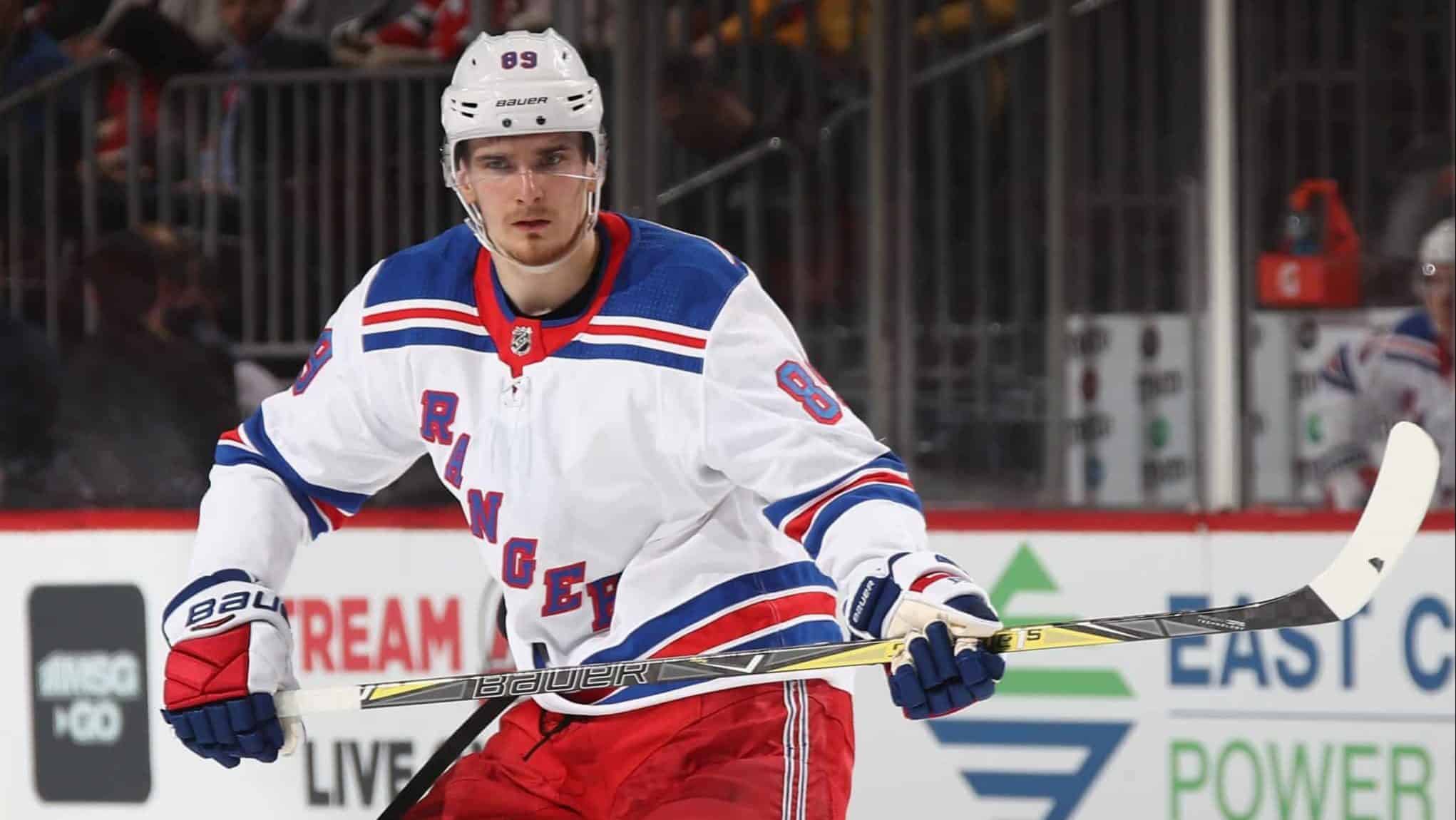 After surviving an early flurry from the Wings, at the 8:43 mark, Brendan Lemieux ran roughshod and helped set up Buchnevich for the game's first goal:
PAVEL BUCHNEVICH PERSISTS TO OPEN UP THE SCORING FOR THE RANGERS!#NYR pic.twitter.com/xWo3lALlAd

— Hockey Daily (@HockeyDaily365) March 8, 2019
Incredible work from Lemieux here, who screened Howard, made a hit and got the puck to Buchnevich. Then, Buchnevich stuck with the play, got his own rebound and beat Rangers killer Jimmy Howard for the game's first goal. 1-0, good guys.
Howard and Lundqvist would make some big saves in this period. On one save, a save on Ehn, Micheletti shrieked, "THE KING". What a buffoon.
Detroit looked absolutely horrible after the first five minutes of this game. It looked like the Rangers would cruise to victory, but that was a mirage. Once again, I look at Chris Kreider, who should be carrying and helping the Rangers beat up on teams like Detroit. He was no where to be found tonight.
After one period, 1-0, good guys.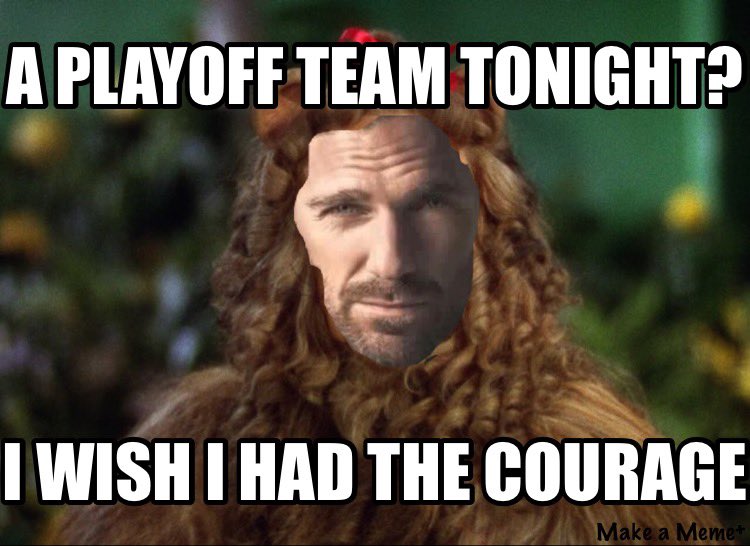 After a great interview with Giacomin in-between periods, we went to the second period. The Rangers continued to play well. It was nice to see footage of the 1950 SCF aired here by the MSG networks too. Of course, this begs me to ask – if you guys have this footage, why not use it on the MSG network? I would love to watch a game from 1950 and see these players play. I can't find a full game from this 1950 SCF anywhere online.
Brady Skjei was extremely shot happy all game, which was nice to see. Darren Helm, after a Skjei miss, would go down the ice and ring one off the post. I thought it would be the best chance the Wings had all game, as I can't stress enough how horrible they were, especially when it came to elementary stuff like skating with the puck and passing.
At the 5:46 mark of this period, Alexandar Georgiev remained the only goalie on the Rangers with a shut-out this season, courtesy of Tyler Bertuzzi:
TYLER BERTUZZI TIPS ONE HOME TO KNOT IT UP AT 1!#LGRW pic.twitter.com/C0zmwbMUhx

— Hockey Daily (@HockeyDaily365) March 8, 2019
Right through the legs, like clock-work. My number 1 criticism of Hank's play stays true – Hank can have these games where he makes a bunch of great saves, but he will ALWAYS give up that bad goal that makes you say, "WTF?"
1-1.
For as bad as Detroit was, the Rangers were doing themselves no favors either. The fact that this game was tied was a disgrace.
Later on in the period, Libor Hajek was called for holding. Detroit went on the PP. I thought the Rangers PP was bad (and it is) but Detroit made the Rangers look like the late 1970's Montreal teams. The majority of the Detroit PP's tonight were spent in front of Jimmy Howard.
Detroit would actually take a penalty while on the PP, when Michael Rasmussen was caught for holding. This gave the Rangers a 1:45 PP. Of course, the Rangers did nothing with the PP, as they are now 1 for their last 20 in this department.
Both Howard and Lundqvist would continue to play well, which led this guy to raw-meating his pecker:
There was one point in this period, where Lundqvist over-played the puck but still managed to make some saves. To me, while Lundqvist made it harder on himself, I thought this was more about Detroit sucking and not being able to finish than anything else.
I want to share what my buddy Nick Adams said about these saves. To completely paraphrase from "American History X" here, "everything's already been said, so why not quote someone who said it best?"
Here's what Nick said on the Garden of Ill Repute: The Skjeidy End of Rangerstown Facebook Group:
To all the #HANKWADS of the world: if you're actually paying attention, THAT shit is what the rest of us cannot stand and it's why we make fun of you.

What we saw: That entire flurry in front of the Rangers net was the DIRECT result of the goalie failing to control/hold on to the puck. Everything after that was completely unnecessary risk, nearly ceding a lead to another shit team, created by an avoidable mistake.

What you saw: "GREAT FUCKIN SAVE BY THE KING!!! AGAIN!!"
It's beyond old hat.

You wanna know WHY he's "Mister Game Seven?" BECAUSE HE CAN'T GET IT DONE IN FUCKING FOUR OR FIVE.

That whole sequence was a microcosm of a large part of the "Lundqvist mystique." Yeah, it DID happen, but it only looked good because he fucked up to start with.

Took a long time to really understand that. I used to be like you people, but once I decided to really look at it objectively, the truth was plainly evident.

At this point, I really just want him to waive and take a trade, or just retire. I'm sick of this shit. Don't care if you agree or not. It's just…over.
Can I get a Hallelujah here? TESTIFY!
At the 14:22 mark, Skjei took a dumb penalty and it almost led to a Wings goal. Fortunately for the Rangers, a puck found a crossbar. On another occasion, Vanek was left all alone in front of Hank and rather than making a move, Vanek took a video game slap shot that came no where close to the net and caromed back to Howard.
In a game that was uglier than a Penn Station men's room, these two teams remained tied at 1-1 after two periods. Here's what I said at the time:
Will the DO IT FOR TED speech motivate the Wings in the final stanza?

— BlueCollarBlueShirts (@NYCTheMiC) March 8, 2019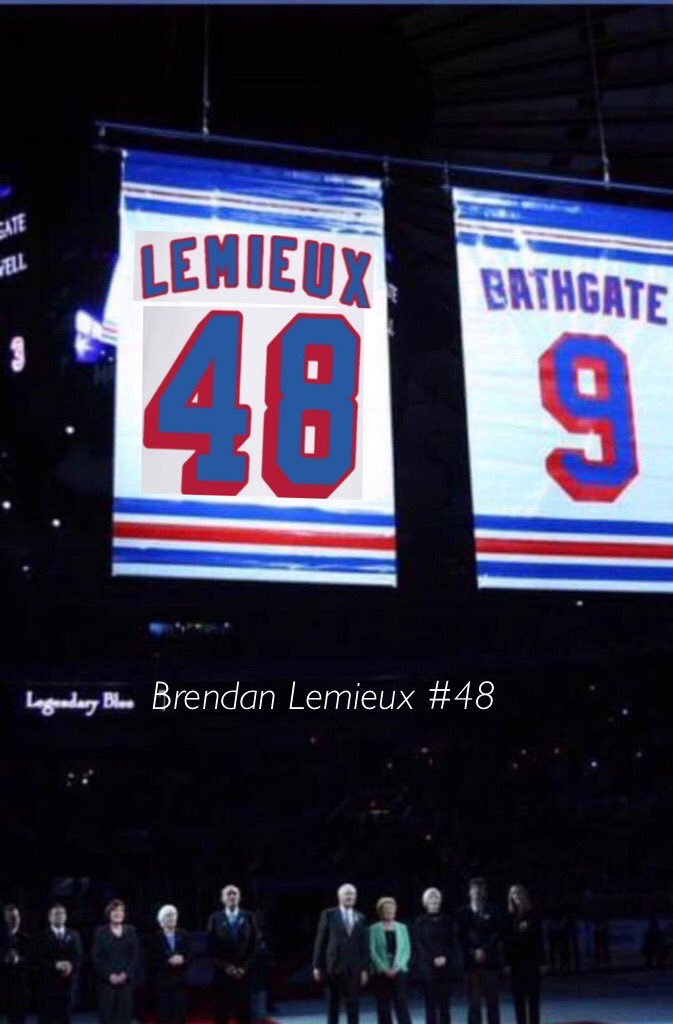 The third period started very much like the first period – it was all Detroit. Also of note, this is where Kreider spent most of his time on the bench, as he only came out for some four on four foreplay (Joe Micheletti's favorite style of hockey) and for the end of the game. Again, I wonder if Quinn has the CAJONES to Quinn Bin him on Saturday? That would be a huge statement from Quinn if he did.
Lundqvist would make some great saves against these AHLers. Then, at the 5:38 mark, Strome and Bowey took off-setting penalties. On the four vs four, Howard made two phenomenal saves and like clockwork, Detroit marched up the ice and quickly beat Lundqvist. Just like that. We've seen it a million times before.
Here's Andreas Athanasiou at 6:15:
ANDREAS ATHANASIOU SNIPES ONE HOME ON THE ODD MAN RUSH!#LGRW pic.twitter.com/iVTV7pqCna

— Hockey Daily (@HockeyDaily365) March 8, 2019
2-1, bad guys. I'm not blaming Lundqvist here for this odd-man rush goal, but this happens all the time in these situations.
Later on in the period, Detroit would get another power-play. Once again, their PP was feeble.
With the game looking like it was cruising to a 2-1 final, Buchnevich tied it up at 14:29:
The pass by @blemieux22.The goal from Pavel Buchnevich.

We're headed to overtime! #NYR pic.twitter.com/X3hYdiuvWN

— MSG Networks (@MSGNetworks) March 8, 2019
What a pass! What a finish! 2-2. This was now a next goal wins type of game.
Both Howard and Lundqvist remained on top of their game, as we were tied after 60 minutes of regulation.
In the overtime, both goalies continued to remain fantastic. That said, both teams missed easy opportunities to win, as Detroit blew two odd-man rushes and Howden missed a wide open net.
After a scoreless overtime, we went to the shoot-out.
In the shoot-out, which really just prolonged this agonizing game of garbage, Athanasiou scored the lone shoot-out goal. The Ranger skaters went scoreless. You can't win these shoot-outs if you don't score. That said, Howard did his job here. While Lundqvist faced more shots tonight, I thought Howard had to face shots from better competition. Another "W" for KING HOWARD.
3-2, bad guys, your final from the Little Caesers shitty pizza arena.
In conclusion on this game, I hated this loss. Again, I'm not in the tank camp, so I feel this was just horrific.
I have been offered free tickets to Saturday's game against the Devils. Of course, no tickets are free with beer, the LIRR, and everything else, but the ticket to the game is free. As mentioned on past blogs, I'm so sour on the MSG experience, where it's not as fun as it used to be. I know many older readers agree with me on that.
If Georgiev starts, I'll go. If it's Lundqvist taking another start against a bad team, I just have no interest. I will say, I do want to see Lemieux live. For those fans in the tank/LOSE FOR HUGHES camp, you should want me to go to this game, as I'm 0-10 this season! Personally, I'd like to see the team win once this season!
If I go to the game, there will be no blog until Sunday. If I watch it at home, I'll be back, as usual, in the wee hours of late Saturday night/Sunday morning.
Until next time, as always, thanks for reading and…
"LET'S GO RANGERS!"
Sean McCaffrey
BULLSMC@aol.com
@NYCTHEMIC on twitter