"I thought it was a tale of two games. In the first 30 minutes, they completely took it to us and I thought we finally started doing the things we had to do – being more physical, starting skating and battling, and all of a sudden, the whole thing changed from our end of it. We did a much better job sustaining zone time and creating chances for ourselves. Unfortunately, it took a little longer than we wanted it to, obviously, we get caught at the end of the second period when they were buzzing pretty good and we just weren't able to get through that shift, which was disappointing. Certainly love how we battled back, but it's tough to win a game when you play 30 hard minutes." – David Quinn, on 3/9/21, moments after the Rangers 4-2 loss to the Pittsburgh Penguins. In what seems like a regular occurrence, the Rangers play well for bursts of time against upper-echelon competition, but without a complete 60 minute effort, the Rangers once again find themselves on the wrong end of a close game.
"I think he's been taking a step each passing game, I like the direction his game is going and he's earning the minutes he's getting and it's good to see for a kid who is putting a lot of work into it and certainly wants to get better." – David Quinn, also on 3/9/21, in response to a question about Julien Gauthier. For my money, Julien Gauthier was head and shoulders above every other Ranger skater tonight and BY FAR.
---
Greetings and salutations everyone and welcome to another blog here on BlueCollarBlueShirts.com. I hope the Rangers release new jerseys, made in all black, as after this loss, it looks like this 2021 New York Rangers season is funeral bound.
If you've been along with me for the ride here all season, I went into this season with high hopes and perhaps with too much optimism. I really thought these 2021 New York Rangers would contend for a playoff berth. Now, after this loss, I'm pretty much ready to throw in the towel. Unless "ATM" ArTeMi Panarin is going to come back, and put on a stretch of games that rivals the performance of a Willis Reed in Game 7; it's tough to envision these Rangers qualifying for the playoffs. Too many games have been lost. Too many valuable points in the standings have been pissed away.
I don't want to sound like a broken record and continue my stuff on Artemi "Pines Barren" Panarin; but yeah – the longer he sits out, the more and more the Rangers get away from their goal of making the playoffs.
Going into this season, I really thought this team would surprise a lot of people. Heck, some "experts" also had the Rangers making the playoffs this year too. However, no one could've predicted all the drama and failed expectations that we've seen. No one saw the Tony DeAngelo thing coming. No one saw the Artemi Panarin allegations coming; allegations, which seem to be completely false, yet Panarin is still away from the team but skating/practicing by himself, nearby his home in Connecticut. As mentioned previously on this site, the more games Panarin misses, the more of a win this is for his accuser.
When it comes to the players, you know the deal. Mika Zibanejad, for a lack of a better word here – has "SUCKED" all season long. Yes, he's great defensively, on the penalty kill and blah, blah blah, but at the end of the day, he's here to score and he doesn't do so. Three goals in 24 games played, with only one even-strength goal of those three goals, is just not going to cut it. I don't think I have to explain this any further to you.
Of course, when it comes to the younger players on this team, and I'm talking about the forwards specifically here, Kaapo Kakko and Alexis Lafreniere have been disappointing. I would never use the word "bust" when talking about them, but if you thought these two would be sitting on six goals combined, after 24 games played, you'd be lying to yourself. I understand that they are developing and it's all a "PRO-CESS", but there is no way you can say they've met expectations so far.
For the "generational talent" label that was affixed to Lafreniere prior to this season, at this point, we're still waiting to see a glimpse of that. To be clear, I'm not writing him off, but based on the hype, I was hoping he was going to enter the league like gangbusters, akin to a Petterson from Vancouver. That hasn't happened, but I think it will all come together eventually for him.
In the case of Kaapo Kakko, a Kakko who is closing in on 100 NHL games played in his young career – I thought this was one of his worst games of the season tonight. While it's way too early to use words like "ceiling", "peaked" and "flat-lined"; I am also reminded of a young Jimmy Vesey, a Jimmy Vesey who everyone thought would be the next savior of the Rangers, where you even had celebrities begging him to sign here and NYC watering-holes promising Vesey free drinks for life for doing so. Far too often, Ranger fans get caught up in the hype, where with their head in the clouds, they can't see the obvious in front of them. And admittedly, I've been one of these fans at certain points in time. (I know that Pavel Brendl break-out season is coming!)
And really, no one hypes their own players like Ranger fans do. However, very rarely, do you see these young Ranger rookies take the NHL by storm, like other rookies routinely do around the league. On the flip-side, at least Adam Fox and Ryan Lindgren, here in their sophomore season, remain one of the top defensive duos in all of the NHL. Anytime I get down about the current state of the team, I just think about how great Lindgren and Fox have been. Now, if only the young Ranger forwards could produce like the young Rangers defensemen, we'd be cooking with gas here.
---
After this Rangers 4-2 loss, the Rangers remain in sixth place, as they continue to try to chase a fourth place standing in this ultra-stacked division. However, this now looks like an impossible task, as the Rangers don't have any games in hand of the teams they are chasing. In addition, the Devils also have two games in hand over the Rangers, where if they win those two extra games, they would be tied with the Rangers.
Making things extra difficult for the Rangers, is the fact that the top teams in the division are all playing great hockey right now and are eating up the bad teams in the division, such as the Rangers, Sabres and Devils.
In a super-loaded Mass Mutual, My Shiney Hiney, Viagra, Frosted Flakes, Steve Valiquette Hair Dye, Cool Water, Hugo Boss, Roy Rogers, Dude Wipes East Division, the top teams aren't throwing many points or games away. Even worse for the Rangers, who just lost these two games to the Penguins; up next are two games with the Bruins, two games with the Capitals, a brief break with one game at home with Buffalo, two more games with the Flyers and then two more games with the Capitals, where after that two-game set with the Caps, the Rangers will then close out the month of March. By the time Panarin comes back, it's likely that he will spend his time on the team plane on his cellphone, while shopping for new golf clubs.
Yes, the Rangers have played well one time against the Bruins this season, but the Bruins are far superior than the Rangers. Once these two games with the Bruins are over, the Rangers will nearly be at the half-way mark of the season. Once there, the Rangers then close out the month by playing six out of seven games against the elite teams of the division. If Panarin remains out, (and who knows if he can even make that big of a difference against these top teams) come April 1st, the Rangers, organizationally, will be looking at the NHL Draft Lottery.
If the 2021 NHL Draft Lottery is the future of this club, that would mean that the Rangers were players in the lottery for the third time in as many seasons. And if the Rangers are players at the lottery for the third year in a row, you would then have to wonder if you got a Buffalo, New Jersey or Edmonton type of culture here.
I'll say this – I rather see Jeff Gorton hold his Steve McDonald badge at a playoff game, rather than at another draft lottery.
I don't mean to be a black cloud here, and I understand all the conditions of this season, but it just feels like that the Rangers are moving backward instead of forward right now. As somewhat a historian of this franchise, this feels like a season which not many will forget in the future. There's just been so much drama and unusual stories.
This game was a mixed bag, where going back to what DQ said after the game, I thought this game was more Penguins than Rangers, despite DQ pegging it at 50-50.
If you're looking for the good stuff to talk about, once again, the Rangers penalty kill was flawless, although admittedly, Keith Kinkaid, making his first start in net as a New York Ranger, was the main reason for that. To the Rangers credit, they only took one penalty in this game, and while on that penalty kill, Keith Kinkaid would make four huge saves.
I thought Julien Gauthier and Jack Johnson had their best games of the season tonight. While Gauthier didn't score a goal tonight, (he did get an assist on Johnson's goal) you noticed Gauthier on every shift and on both ends of the ice. He played like he had something to prove.
The much maligned Jack Johnson was in the line-up tonight, replacing Libor Hajek. Johnson would score the first goal of the game. As a result of Johnson's goal, the only three Rangers without a goal this season are Ryan Lindgren, (I am, and you should be fine with this too) Jacob Trouba, (who has a season point total of four. I'll save you my Neal Pionk vs Jacob Trouba comparisons for one night) and Brett Howden, a Howden who while solid on the PK & defensively, has played in all 24 games this season and only has two assists to his name.
The Rangers, who continue to find new ways to lose games this season, found a new path to failure tonight. While the power-play is consistently atrocious, even with Strome's fluke PPG tonight, (more on this in the game recap/review portion of the blog) the Rangers gave up a short-handed goal in this contest. The Rangers then allowed a pair of "end of the period goals", with Guentzel striking at the end of the first period and Kapanen scoring with only 13.2 seconds left in the second period. A short-handed goal allowed and two late goals allowed is never going to lead to success.
Of course, the third period would be dominated by the Rangers, where the Penguins didn't get a shot on goal until there were 33 seconds left – a Crosby ENG. While I don't know for certain if a team in NHL history finished a period with a 1.000 shooting percentage, after not having a SOG for 19+ minutes previous to this lone shot for a goal; I do know that the Rangers had what felt like a zillion chances to tie this game up, but with the game on the line, another opposing goalie, this time in Tristan Jarry, channeled his inner Dominik Hasek. This was just another new way to lose, which seems to be the Rangers forte.
The bottom line is this – in crunch time against good teams, the Rangers top guns rarely pass the challenge they are tasked with. The Rangers are still looking for their first extra skater/6 vs 5 goal of the season, where conversely, they've given up two of these goals this season.
---
This blog already sounds depressing, which is never my aim, but there's just no other way to spin this.
As usual, before getting into the meat and potatoes of this manifesto – the PLUGS segment.
Here are my last few blogs in case you missed them:
---
---
---
---
After getting blown out on Sunday, the Rangers had Monday off, where in a rare instance, the franchise made no news.
On Tuesday morning, seven hours to puck drop, David Quinn announced that Keith Kinkaid would take the net for this game. As talked about last blog, I predicted this and was fine with this. Kinkaid played well enough on Sunday to earn a start. And as said on that blog, who knows if Georgiev is 100% or not, after Ritchie sat on his head just over a week ago?
With this being a rare 6PM start time, at 5:30PM, we found out the line-up for this game. Here is that information:
As you can see, Brendan Lemieux was scratched tonight. The media never asked DQ if this scratching was over Lemieux's meaningless scrum that took place at the end of Sunday's game. While I don't know this for a fact, I think this was just DQ rotating guys in-and-out of the line-up, as he previously did with Colin Blackwell and Phillip Di Giuseppe.
I wasn't really bent out of shape about Lemieux being scratched in this game, as I have been in the past whenever DQ has scratched Lemieux. While Lemieux does draw the most penalties on the team, I also understand that not everyone can play every game, especially with a team deep with young wingers. And really, this is only going to get worse whenever Panarin decides to stop feeling sorry for himself and whenever Vitali Kravtsov comes over.
Real quick on Kravtsov here – his KHL team is now one game away from being eliminated from the KHL Gagarin Cup playoffs. Should they get bounced out this week, it's already been reported and stated by both John Davidson and Jeff Gorton, that the plan is to get Kravtsov over to America. While I'm not sure how long the quarantine process will take, Kravtsov will eventually be here. Whether or not the Rangers give him a game or two in the AHL, in order to get his legs back after going through the NHL COVID-19 protocol, remains to be seen. That said, I do think we'll see #74 in Rangers blue this season, especially if the team is out of the playoff mix.
In any event, the Rangers will just add to their glutton of wingers fighting for ice time, while the team's glaring weakness at center will remain on display.
Also a healthy scratch for tonight's game was Libor Hajek. I was shocked about this one. I thought Hajek had been playing well of late. Plus, as we all know, Jack Johnson won't be here next season. Yes, Johnson had a good game tonight and yes, this was Johnson's best game of the season; but why is Johnson taking time away from a young player of this rebuild? The only answer to this is that DQ is still clinging to his hopes of making the playoffs and wanted to go with a veteran against a veteran team. For what it's worth, when it comes to just Johnson specifically, this move did work out, even if the scoreboard doesn't reflect this.
We're almost at the game recap/review portion of the blog – two more segments to go!
Up first, the GAMBLING segment. Here's what I said before the game:
Season over-under record: 9-12-2:

You can get this game for – 6 or -6.5. Kinkaid v Jarry tonight & a #nyr team that Artie "Pines Barren" Panarin remains absent from. I'm taking the -6.5 line and the UNDER. pic.twitter.com/U4wiuNULWD

— BlueCollarBlueShirts (@NYCTheMiC) March 9, 2021
I'm glad I took the under and that -6.5 line! With six total goals scored, the under hit, as my record inches closer to .500. I'm now 10-12-2 on the season.
BOX SCORE time.
The following information and graphics come courtesy of ESPN.com:
SCORING:
PENALTIES:
GOALIES:
| | | | | | | | | | | |
| --- | --- | --- | --- | --- | --- | --- | --- | --- | --- | --- |
| SA | GA | SV | SV% | ESSV | PPSV | SHSV | SOSA | SOS | TOI | PIM |
| 35 | 2 | 33 | .943 | 29 | 2 | 2 | 0 | 0 | 60:00 | 0 |
| | | | | | | | | | | |
| --- | --- | --- | --- | --- | --- | --- | --- | --- | --- | --- |
| SA | GA | SV | SV% | ESSV | PPSV | SHSV | SOSA | SOS | TOI | PIM |
| 26 | 3 | 23 | .885 | 18 | 1 | 4 | 0 | 0 | 58:25 | 0 |
TEAM STATS: (Note: the Rangers set a team high 58 hits in this game, during this 2021 season. It should be mentioned that a large part of this is because the Rangers were chasing the Penguins around for most of the game.)
---
As usual, during the pregame show, it was John Giannone, and not that geek Steve Vagistat, providing us the stats/facts that were the most interesting and pertinent. Here was your "did you know" fact of the night: Keith Kinkaid became the first American goalie to start a game for the Rangers since Mike Dunham in 2003. I know this means nothing, but I enjoyed this factoid.
Not even three minutes into the pregame show, Vally was once again talking about both his crappy NHL career and his even crappier KHL career. Seriously, can't Nazarov come up with something about Vally too?
Vally then started hitting all of his buzz words, such as "total packages", "dumps", "backdoors" and "stretching out the o-zone", which really, most likely sums up his nightlife. I could see him hamming it up with Vito Spatafore at some S&M club.
After Vally finished presenting his useless and made-up stats, where this turd even has the audacity to plug his horrible company while doing so; we finally went to Sam and Joe.
Sam Rosen had me laughing hysterical here.
To kick off his pregame analysis, Rosen, like an angry Italian parent, started slapping his left hand into his right hand and said, "THE RANGERS BETTER PLAY A FULL SIXTY MINUTES!" Not for nothing, this analysis was spot-on and was more accurate than Vally going on and on about EXPECTED stats and whose backdoor he likes.
At 6:08PM, an hour earlier than usual, we had puck drop.
---
One last thing before getting into the play-by-play here – during my season preview blog, I said that if we saw Keith Kinkaid play a game for the Rangers this season, that would mean something bad had happened and the Rangers were in trouble. While that was an easy prediction to make, that's pretty much what's going on here, with CZAR IGOR still out and Alexandar Georgiev not being able to replicate his season from last year.
After losing his previous eight first face-offs of a period, Strome won this face-off. He'd win another in this game, as he snapped that negative trend. At least that's something!
On the Rangers first possession, Kreider tried to hook up with Strome down low, only for Dumoulin to break it up. Right after, Kinkaid would be challenged early, making his first save on Sidney Crosby, a Sidney Crosby that has just owned Henrik Lundqvist and Alexandar Georgiev in recent years. Heck, Crosby has caused more strife and agony for Georgiev than any other player in the league. If you're glass half-full person, I guess if you're going to get owned, at least you're getting owned by one of the greatest players of all-time and not by some scrub.
In the opening minutes of this period, it felt like the Rangers and Penguins were picking up where they left off last game, as Kinkaid, after stopping Crosby, would then have to make a stop on a Penguins two-on-one odd-man rush.
K'Andre Miller, who continues to regress a bit after a hot start, fumbled a puck, which then led to a SOG from ANTHONY ANGELO of the Pittsburgh Penguins. It's like the Penguins were trolling both the Rangers and Adam Herman with ANGELO and Miller here. Of course, since I saw this joke made by many on Twitter, I guess I have to include it here – "Anthony Angelo is just like Tony DeAngelo – he has no D!" I don't know who to credit with that joke, as many made it, including friend of the blog, in a one Jim S. of "The BSU Show". FWIW, I laughed. (Also of note: I hate, hate, hate when people steal jokes. You should always give credit to whoever popped off a joke first!)
Oh and speaking of Miller, Angelo and Tony DeAngelo; later on during this game, Miller would get burnt, once again, for a goal. Of course, Ranger fans aren't talking about that. However, when Tony DeAngelo got burnt by an elite forward in Aho from Carolina, you never heard the end of it. Just sayin'!
Kinkaid would continue to be called upon throughout the first half of this period. After stopping Letang and Aston-Reese, Kinkaid saw Brendan Smith take an interference penalty, to the left of his net, on Teddy Blueger, just 4:20 into the period. The Rangers PK, who have killed their last 50 PK's in their last 53 attempts, would go to work.
The Penguins controlled the puck for over a minute during their power-play, where Kinkaid ultimately made four saves during all of this. Brett "HE HATE ME" Howden, who some fans just trash on relentlessly, would finally clear the puck for the Rangers, thus getting a change of players on the ice.
The Rangers would get their kill here, where 6:20 into the first period, Kinkaid had already made 8 saves.
Once killing the Smith penalty, Blackwell would get the puck near the corner boards to the right of Kinkaid, where he then passed the puck to Johnson. Johnson fumbled this puck, which led to a Pens SOG. With a Penguin looking to swoop in for the easy rebound, Johnson dove in front of the net and blocked a shot. At least he covered up his own mistake. His best moment was still yet to come.
After Miller shot wide from two feet away, Ryan Lindgren would break up a Malkin/Kapanen two-on-one odd-man rush.
On the next Rangers possession, this happened:
The 1st @NYRangers goal from @jackjohnson (That's the handle, right?) #NYR pic.twitter.com/3cXGjotdjF

— Rangers on MSG (@RangersMSGN) March 9, 2021
1-0, GOOD GUYS, with 10:44 remaining in the first period.
This goal was something else and for many different reasons. First off, the Penguins were dominating the period up to this point, and of all people, it's Jack "Bobby Orr" Johnson turning the tide with this goal, his first goal of the season. (Johnson now has as many even strength goals as Mika Zibanejad does this season.)
In addition, this goal was highlighted by Julien Gauthier, who really, I can't rave about enough tonight, as he was an absolute stud in this contest. Gauthier went around the net, got the puck to Johnson at the blue line and Johnson put the puck on net, a puck that hit the skate of Pens defenseman John Marino. As they say, GOOD THINGS HAPPEN WHEN YOU SHOOT THE PUCK. Ironically, Marino would score both Ranger goals tonight, as the two pucks that went by Jarry in this game first went off of the skate of Marino.
What was even more hilarious, is that Sam and Joe had no clue that the Rangers had scored. As they usually do, as they babble about everything and nothing all at once, Johnson scored and no joke, it took 20 seconds for Sam Rosen to finally blurt out, "RANGERS GOAL!" I get that they are paid to speak, but sometimes Sam and Joe get so engrossed in the nonsense that they are talking about, that it becomes a detriment. They missed this goal, and would later miss penalties assessed to the Penguins, as they yammered over the PA announcer.
Anyway, 1-0 Rangers.
This goal didn't deter the Penguins, as they continued their attack of Kinkaid. However, with 7:05 remaining, the Penguins took one of those lovely "too many men on the ice" penalties, which gave the Rangers their first power-play of the game. This power-play was absolutely brutal.
After Zibanejad lost another face-off (he finished with 8 wins and 10 losses at the dot tonight, which are good numbers for him) it would be Kinkaid, and not Jarry, making a save during this Rangers PP. The Rangers would do nothing here at all, and the Penguins would get the kill.
After a pass from Strome, and in something that was noticeable all game, Kakko would get the puck, where instead of moving forward or making Jarry's night tough, Kakko would skate away from the net and towards the blue line. I know some of you love to rave about every little good thing Kakko does, but really, he wasn't that hot tonight. He seemed timid at times. I know he's not a power forward, but watching him skate away was a bad look. You're not going to get many goals this way, which explains Kakko's poor point production this season.
During a whistle, we got a shot of David Oliver showing Mika an iPad of the previous Rangers power-play. I wonder if Oliver or if any of these guys tell Mika that it's okay to try to take a shot on the power-play without falling down to a knee, as if he were "Tonya Harding'd?" Seriously, it's very rare this season to see Mika take a shot on the PP, while having both skates on the ice.
With the Rangers starting to get momentum, with 66 seconds left in the period (a great number for Penguin fans) Guentzel beat Kinkaid. 1-1. Tough to get on Kinkaid for this one.
After the Rangers got the puck back, and now with under a minute ago, Kakko ran away from Jarry, as if Jarry was infected with COVID-19, and took a no look shot from behind the circle. That went nowhere.
At the end of one period, we remained 1-1 and with the Penguins having a 16-7 SOG advantage as well. In other words, Kinkaid held the Rangers in there, making 15 saves in the period.
---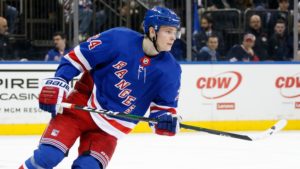 After our "SECOND PERIOD, WHAT DO YOU LOOK FOR HERE JOE" comment from Sam Rosen, <how about some shots on goal?> we started the period with the Chytil line on the ice. They would win their face-off.
55 seconds into the period, Brett "SUCK IT HATERS" Howden would draw Mike Matheson into a tripping call. The Rangers power-play would get their second chance.
After a Strome to Mika one-timer shot attempt, (you know the rest) a new Ranger killer, in Teddy "Who?" Blueger, would burn by the Trouba and Miller pairing and easily beat Kinkaid for a short-handed goal, just 2:40 into the period. This Rangers power-play was horrible. 2-1, bad guys.
Seriously, while up 1-0 and while tied 1-1, the Rangers had chances to push their lead or regain the lead. Instead, the Rangers did nothing, and even worse, let the Penguins get a SHG. For the love of all things holy, get Mika off of this PP. He does nothing but shoot pucks into legs of the defenders or into the center of the opposing goaltender. It's just not working. How much more of this do we have to endure?
After laughing about this SHG and then getting their kill, the Penguins then went on another odd-man rush, where Kinkaid stopped Rust. On the next Rangers possession, Kakko high-tailed it from Jarry, with speed that rivaled a Kenyan. Is he scared of contact? Again, I know he's not a Kreider or Gauthier type, but Kakko not looking to force the issue was on display throughout this game.
As we hit six minutes into the period, Gauthier dominated another shift, a shift where Miller fumbled another puck, which then led to Kinkaid making another save.
In a rare shift where Kakko didn't back away from Jarry during it; Kakko would get the puck to Smith, where Jarry would stop Smith with a save. At least that's some offense here.
The other young stud of this team, in Lafreniere, would then crash the net, grab a puck, wasn't worried about contact and went for a spinorama shot that Jarry saved. Had that gone in, that would've been highlight reel material.
As we hit the half-way mark of the period/game, Sam and Joe did their usual "MIKA SUCKS" spiel, although it was toned down a bit.
After a Kinkaid "child please" glove save on Rust, once again, Gauthier's line would dominate the Penguins. On Mika's next shift, he put a SOG, but you know the rest.
Jankowski of the Pens would then just miss by an inch of making this game 3-1. However, Kapanen didn't.
With 19.3 seconds left in this second period, and during a Penguins long attack in the Rangers zone & in a goal which you could see coming from a mile away, Kapanen beat Kinkaid. 3-1, bad guys. The Rangers were dominated in this final minute, couldn't get a clear and this would be a rare even strength goal allowed by the Lindgren/Fox pairing.
If there was anything of note here, it was that Sam & Joe said RYAN CALLAHAN would be on the next MSGN broadcast. While this seems to be a one-off, if this could turn out to be a regular thing, I will jump for joy. And if Callahan punches that stooge Valiquette in the face, I will wear my Callahan jersey during every Rangers game for the rest of this season.
I'm not sure where Callahan is living right now, but I think he's local. He's done good stuff on TV for the NHL Network. THE RANGERS DESPERATELY, AND I MEAN DESPERATELY, need someone else in that studio than Steve Vagistat. Even if Vally remains, if MSGN could add Cally full-time, at least it would take time away from Steve Valliturd and all of his useless fake news stats.
Similar to previous MSGN analyst in Ron Duguay, Cally is a fan favorite. Cally has been through the wars. All Vally ever did was carry Lundqvist's shampoo, conditioner and hair brushes around. If MSGN is to add Cally, we would be getting an analyst WHO ACTUALLY HAD A MEANINGFUL, WELL-RESPECTED AND STORIED CAREER. If Cally talks about his career, it will mean something, especially when opposed to the back-up goof with 46 NHL games under his belt.
And if you're the MSGN, wouldn't a "CALLY & VALLY" team make sense, at least from a marketing stand-point? Man, oh man, I want Cally here full-time!
---
Of note on Callahan, if you want to read my tribute to Callahan, which I posted after his retirement, check out: https://bluecollarblueshirts.com/cally/
When the second period ended, the SOG statistic read as Penguins 26, Rangers 20. When the game concluded, the SOG read as Rangers 35, Penguins 27. In other words, the Rangers out-shot the Penguins to a tune of 15-1 in this final frame of the game. In what has to be some sort of historical thing, the Penguins one shot came with 33 seconds left in regulation, which was a short-handed goal for Sid "No Longer The Kid" Crosby.
While the Penguins did have shot attempts here, a lot of their stuff was blocked, deflected and just went wide. The Rangers absolutely dominated this period, yet, as a result of the Crosby ENG, each team scored one goal each, giving the Penguins a victory. Of course, the Penguins did win by two goals, but until that ENG, this was mostly a one goal/one shot game for most of the period.
To kick off the period, Mika took a shot, where you know the rest.
3:11 into the period, Brett "The Jet" Howden forced Sidney Crosby into holding him at center ice. For those keeping track, especially you Brett Howden haters, Howden drew two penalties tonight, made the biggest clear of the Rangers PK and finished 7-4 at the dot; face-off numbers that were better than the top two centers of the team. Just don't lose fact of that. Of course, people will rave about Kakko touching the puck tonight instead, while ignoring all of Howden's contributions. Just sayin'!
Seven seconds into the power-play, Ryan Strome scored:
.@strome18 is a pinball wizard pic.twitter.com/GuQVzaBbQC

— Rangers on MSG (@RangersMSGN) March 10, 2021
On this goal, this was similar to Johnson's goal, although Johnson was shooting for the net, while here, Strome was trying to set-up Kreider in the paint. It should be said, if Kreider wasn't in the right position, Strome never makes this pass to begin with and the Rangers don't get this goal.
From the right side of Jarry, Strome tried to make a cross-ice pass to Kreider, but Marino, once again, booted another puck past his goaltender, with the puck sliding past the right leg of Jarry. 3-2, a goal for the GOOD GUYS!
This rare PPG, instilled life into the Rangers. (Should be mentioned, as a result of the previous SHG allowed, NYR's power-play net-gain tonight here was zero.)
After another Mika shot, (you know the rest) Jarry would stop Strome. On the next possession and after more fancy work out of Gauthier, Jarry would stop Lindgren. Chytil, realizing good things happen when you shoot, tried his luck, flinging a harmless puck from the blue line at Jarry. Hey, you never know, although Jarry made the easy save here.
After a Kakko turnover, Kreider would regain the puck, where he and Kakko almost connected for a backdoor goal. That would've been something and it would've helped Kakko's game out big-time.
On the next Rangers possession, Jarry would make another save, this time on Blackwell, who I thought had a pretty decent showing tonight, especially after DQ ragged on him a bit during a recent interview.
With 10 minutes remaining in the period, the SOG stat read as NYR 8, Pens 0.
Johnson would almost tie this game up, as he took a shot that Jarry didn't see at all. However, Jarry was positioned correctly and got the lucky save here.
After Gauthier forced another turnover, Gauthier fed Chytil, but Jarry stopped Chytil again. One more time – Gauthier was a beast tonight.
As we got under the FOXWOODS FINAL FIVE mark, Kakko, after some razzle dazzle, turned over the puck again, this time as a result of a poorly timed and ill-advised pass.
With 2:41 to go, and after Jarry froze a puck, DQ called a time-out. The Rangers were getting ready to make one more push.
Right after the timeout, Buchnevich couldn't score, despite Jarry leaving the net wide-open. The Pens would then get the puck, where the Rangers got a break and still had life, after Crosby bounced a puck off the post. This was wild.
With the two minute warning bestowed upon us, Kinkaid took a powder to the bench where Lafreniere, as the extra skater, joined the Rangers PP1 unit. The Rangers would then get 5-6 chances here, where of course, Mika did nothing and Kakko was denied. Jarry had his big boy cup on, as he was making brass balls saves here.
With 45 seconds left, Rust hit the post. The Rangers were still alive! Then, with 33 seconds left, Crosby scored his ENG from deep, giving the Penguins a 4-2 lead and the eventual 4-2 victory.
As they say, good teams find ways to win, bad teams find ways to lose. That's what you got here. And for as good and as impressive as this third period was for the Rangers, they didn't play like this the whole game and couldn't find the tying goal, despite having seemingly a zillion chances to do so.
4-2 Penguins, your final.
---
The angriest I've ever been after a Rangers loss this season was when the Rangers lost to the Devils a few weeks back, which at the time, put the Devils up 2-0 over the Rangers in the season series. Now, somewhat like the Rangers themselves, I'm now resigned to losing. I've accepted it. While that's one thing for a diehard fan to say, that's another thing for the team to think that way.
Despite these two losses to the Penguins, I never really questioned the Rangers effort in this two-game set, as I did in that loss to the Devils. The Rangers simply aren't good enough. That said, for all the rebuild/development/growth talk, let me remind you that the Rangers also dedicated over $20M in payroll (25% of the cap) to Trouba and Panarin. If you want to use the bust word, use it on Trouba, who throughout his Rangers career, has seen Fox out-produce him for 8 times less the salary and with Fox producing 8 times as much. I don't think Trouba has been "bad" or anything, but he isn't as good as Fox, and based on Pionk's numbers in Winnipeg, Trouba hasn't come close to being as good as Pionk currently is either.
And as you know by now, while we all understand why Panarin wanted/asked for time off at the time of the fake news allegations against him, we're soon into the third week of this. How much time does he need? And as mentioned previously, I wouldn't get on Panarin here, if it wasn't for the fact that it has been reported that he's skating and practicing on his own. If he can get on the ice in Connecticut, he can get on the ice for the Rangers. If there's a reason why that's not the case, then the Rangers should give us an update on why not, especially while they are trying to sell tickets to fans – tickets/games where you won't see the Rangers best player. (Aside from Adam Fox of course!)
In other news, "The Blueshirt Underground Show" returned on Monday night. You can view their latest show here:
If you haven't already, subscribe to this blog for the next update:
---
Up next, two games against a Boston Bruins squad that has physically dominated the Rangers all season. They will play the first game on Thursday at 7PM, followed by a Saturday matinee game at 1PM. As far as who starts, if Igor is ready, you go with him. If not, I'd run back Kinkaid, as in the 5+ periods we've seen out of him, he's been better than Georgiev.
I also want to mention an idea that Larry Brooks proposed in his latest editorial in the New York Post – it might behoove the Rangers to call up Geersten for this game, just for the physical presence. While I confess I have never seen Geersten play, from what's out there by the people who do watch him, Geersten brings SNARL and punch to his game. The Rangers just need someone willing to bang with guys like Frederic and Ritchie. That said, I can't recently recall a team bringing up a goon, just for the sake of a rivalry game, besides the Islanders, when they brought up Ross Johnston to play the Rangers.
Lastly, sorry if this blog comes off like a downer. I can only work with the material I'm given!
Until then, and as always here, thanks for reading and…
LET'S GO RANGERS!
Sean McCaffrey
BULLSMC@aol.com
@NYCTHEMIC on Tweeter
Follow the BlueCollarBlueShirts.com Facebook Group by clicking this link: https://www.facebook.com/groups/1564026407193056/