"I certainly liked a lot about our second and third period. Disappointing we didn't get the two points, but every point is life and death right now. We have to be better 3-on-3, something we are probably going to work on in the next practice. I liked how we bounced back after a tough first period." – Rangers head coach David Quinn on 4/11/21, moments after the Rangers 3-2 overtime loss to the Islanders. Here's an idea – how about playing a full sixty minute game so you don't need overtime to win games?
---
"We were struggling so bad in the first period and I really liked how Kravy's been playing, so I thought I would give that line a different look. That line hasn't been as sharp as it normally is and it was something I thought we needed to do." – DQ, also on 4/11/21, when talking about how crappy Chris Kreider, Pavel Buchnevich and Mika Zibanejad have been recently. In this game, not only did Kravstov play on all four lines, he took a bunch of shifts on the top line, as DQ put Kravtsov on the first line and Chris Kreider on the fourth line.
---
"He [Brendan Smith] brings an awful lot of passion, gives it his all and is a good example for our young players and he's been playing well. He's a guy that has done an awful lot of things for us and it was nice to see him get that goal tonight." – DQ, one last time here on 4/11, when asked about Brendan Smith possibly being moved prior to Monday afternoon's trade deadline.
---
Greetings and salutations everyone and welcome to another blog here on BlueCollarBlueShirts.com. Are you really surprised that the Rangers lost on Sunday night?
During Friday night's blog, which covered the Rangers 4-1 win over the Islanders; I said three things, which now, as an end result of Sunday night's game, hit home even harder. In no order of importance, those three things were:
— The Rangers had to follow up their 4-1 win with another victory. During this season, the Rangers have only won one back-to-back road series this season – against the down and out Devils. Furthermore, the Rangers haven't won two games in a row against the four playoff teams of this division. (WSH/NYI/PIT/BOS.)
— Would it surprise you if the Rangers lost on Sunday night and then split the four-game set with the Devils?
— I would've started Alexandar Georgiev in net for this rematch with the Isles.
---
I'll get more into the Georgiev vs Shestyorkin debate later on during tonight's blog, but really, as stated on Thursday night, and as I stated on social media prior to tonight's puck drop – I thought Georgiev should've got the nod tonight. He didn't and that's fine. Furthermore, and to jump ahead a bit here, blaming CZAR IGOR for this loss would be foolish too.
If you just want the quick and dirty, and in an attempt to explain this loss, here you go:
— The Fat Cats were horrendous.

— The Rangers finished this game 0-3 on the power-play.
— Hajek & Smith were your only goal scorers. While that's good for them, that isn't necessarily great for team success.
— The Rangers continue to be a dumpster fire at the face-off circle, especially during offensive and defensive zone face-offs. Lafreniere, a winger mind you, not only had a winning face-off percentage at the dot (he finished 3-1) but Zibanejad, Strome, Chytil and Blackwell all had losing face-off percentages. Tonight, the four starting centers, combined, finished with 16 wins and 28 losses.
— Buchnevich, who must've came down with Mika-19, missed a wide-open net.
— First half of the season Mika Zibanejad is back, and seemingly at the point of no return.

— Panarin needs to have an ego and shoot more. While I'm not criticizing Panarin here, I do have to say that when it's apparent that Mika, Strome and others are struggling, Panarin needs to play "hero ball" and be a puck hog. Many of his great passes were wasted tonight. He's better off just shooting, especially on the power-play, and hoping for a deflection, rebound or for a clean goal.

For anyone to blame David Quinn or CZAR IGOR for this loss, well in my opinion, that's just idiotic. DQ quickly realized that his first line were stinking out the joint tonight, and in turn, DQ gave his third line, aka the Kid Line, a ton of ice time. They even opened up the second period. Even better, when it was apparent that Vitali Kravtsov was once again shining, DQ gave Kravtsov top six minutes and shifts.
I will say here, when it comes to CZAR IGOR, while he does make a bunch of great saves in every game he plays, he's still prone to giving up one of those "how did that go in?" goal per game. In another one goal loss for these Rangers, an extra save could've been the difference. That said, goaltending was the least of the Rangers issues tonight.
---
I got a busy Monday, so let's get right into it.
Up first, and as usual, the PLUGS segment.
In case you missed them, here are my last few manifestos:
---
---
---
---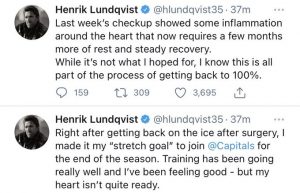 In an update to the Henrik Lundqvist story and my ideas talked about on Thursday night's blog; Henrik Lundqvist will not be joining the Washington Capitals during this 2021 season. As talked about on Thursday, in Lundqvist's recent interview with Kevin Weekes, Lundqvist was attempting to return to the NHL this season, where his comeback would ultimately be decided by whatever his doctors told him.
As a human being, Lundqvist has to do whatever his doctors tell him. His health and family come first. As hockey fans, it would've been nice to get that "Giacomin" moment, during the first week of May of 2021, but it isn't meant to be.
While no one can predict the future, and in addition, no one knows if Lundqvist's heart issues will be career-ending; the other idea I explored on Thursday night's blog is still in play, regarding a possible Lundqvist return to the Rangers for the 2021-2022 season. Of course, a lot of things will have to happen in order for that scenario to come to fruition, but if you're a Rangers fan wanting to see Lundqvist ride off to the sunset properly and befitting of a Rangers legend, that door hasn't been slammed shut yet.
Based on what we've heard out of Henrik Lundqvist in interviews and from tweets from his Twitter account, this much is known – he doesn't want his career to conclude as a third string goaltender and as a player forced to retire because of a medical condition. If he's able to be cleared by doctors one day, he will be back, whether it's with the Rangers or with someone else.
While it is my opinion that the Rangers may try to off-load Georgiev, due to Georgiev's high cap hit for a back-up goalie in these flat-cap times; the Rangers have to worry about what's best for the Rangers and not what's best for Henrik Lundqvist. Of Georgiev and Kinkaid, and while I know Kinkaid has had some success this season, I still think Georgiev is the better option to back-up CZAR IGOR. Of course, that being said, this is all a numbers game too.
The Rangers can't bank on a Lundqvist return, because for all we know, his career is over. Another scenario to explore is that maybe the Rangers do go with Kinkaid as the back-up, due to the salary cap. Then, if a healthy and cleared Lundqvist could return, the Rangers could then send Kinkaid to Hartford and have Kinkaid around as an insurance policy, in case Lundqvist doesn't work out.
While all of this is "fantasy booking" and 100% speculation, I do think it's worth considering. You guys all know that I'm the biggest fan of Georgiev that's out there, but I do think his current cap hit is too high in this flat-cap era.
Speaking of my fandom of Georgiev, I was surprised, but not mad, about DQ's decision regarding his starting goaltender in tonight's game.
---
After the Rangers pregame morning skate, DQ spoke to the media, where he explained why he went with CZAR IGOR in net over the Islanders Killer, in a one Alexandar Georgiev:
"Probably the decision we went back and forth on more than any this year, who to play in goal tonight. Shesty, his play overall, has kind of put him in this position. Georgie played a hell of a game the other night, but, to me, Shesty has put himself in a position to get this opportunity."
While I don't disagree with what DQ is saying here, I just would've went with Georgiev and his numbers against the Islanders and would've let CZAR IGOR just worry about the Devils.
Of course hindsight is always 20/20, and I have already seen people saying, "SEE, TOLD YA GEORGIEV SHOULD'VE STARTED TONIGHT!" However, to fault the head coach for going with his starting goaltender is hardly something to go after DQ for. Eventually, Igor is going to need play and win games against the Islanders. To react negatively about Igor going tonight instead of Georgiev; well that just seems like wasted energy to me.
Lastly while on this, it's impossible to know if Georgiev would've won this game, and as mentioned at the top of this blog, goaltending wasn't the issue tonight. The biggest issue tonight were the fat cats, who after this game, should be embarrassed to cash their game paychecks.
---
As mentioned on Friday night's blog, Ranger games at the Nassau Coliseum remain a hot ticket. Despite this game being played on a Sunday night, (a "work night", even if most people are working from home these days) tonight's game at the rundown and dilapidated Nassau Coliseum featured the highest ticket prices of the season.
The above ticket prices were from 5:30PM Sunday, or in other words, 90 minutes before puck drop. By 6:00PM, the game was sold out. Another win for the scalpers tonight.
What wasn't a win tonight was my over-under pick. Let's now go to the GAMBLING segment.
Here's what I said before the game:
Season over-under record: 17-21-2

Looks like Shestyorkin v Sorokin, first time ever & live from LI.

My brain says take the under, but my gut instinct is to take the over. I'm going w/the OVER. I would've took the under if Georgiev was going. I just feel Igor is prone to bad GA. pic.twitter.com/hwFMfHKGgm

— BlueCollarBlueShirts (@NYCTheMiC) April 11, 2021
For the second game in a row, I went with my beer-gut feeling over my brain. It cost me again. These games are just impossible to predict at a high success rate this season, because you never know what Ranger team will show up. It's either all or nothing from this team, where some games, the team clicks and puts up 8+ goals. Then you have a game like this, where not one forward scored. That's gambling Suzyn.
As a result, my over-under record now drops to a season low of five games under .500, at 17-22-2. SAD!
BOX SCORE time.
The following information and graphics come from the new world-wide leader in NHL coverage, in ESPN.com.
SCORING:
PENALTIES:
GOALIES:
| | | | | | | | | | | |
| --- | --- | --- | --- | --- | --- | --- | --- | --- | --- | --- |
| SA | GA | SV | SV% | ESSV | PPSV | SHSV | SOSA | SOS | TOI | PIM |
| 26 | 2 | 24 | .923 | 21 | 1 | 2 | 0 | 0 | 61:13 | 0 |
| | | | | | | | | | | |
| --- | --- | --- | --- | --- | --- | --- | --- | --- | --- | --- |
| SA | GA | SV | SV% | ESSV | PPSV | SHSV | SOSA | SOS | TOI | PIM |
| 32 | 3 | 29 | .906 | 27 | 0 | 2 | 0 | 0 | 61:13 | 0 |
TEAM STATS:
---
I have some "positive" news to report here – the MSGN pregame show wasn't as awful as it was on Friday night. Then again, how could it be?
To open the broadcast, Vally brought up the Rangers inconsistency issues and how the Rangers barely and rarely win back-to-back games during this season. Real stats! However, and of course, rather than sticking with real news and information, Vally, who talked about the size of Kakko's "trunk" and "backseat" on Friday night's broadcast; then started talking about K'Andre Miller's "firehose." Vally has to trolling at this point or just has his mind on whatever he does once he leaves the studio after these games.
In a story-line that was pushed throughout the duration of this broadcast, was the fact that this was the first time that the two Russian goaltending comrades, in Ilya Sorokin and Igor Shestyokin, would face each other head-to-head at the NHL level. Not mentioned? This was also the first game featuring each team's 2018 first round pick squaring off, with Vitali Kravtsov and Oliver Wahlstrom playing against each other in this game. In round one of the 2018 first rounders, Kravtsov had the much better game, but it were Wahlstrom's Islanders eking out the win.
After stating on Friday night that Georgiev should've got the start for this game, Vally pulled a 180 and explained why Shestyorkin deserved to start. Vally then said that he hoped to see Shestyorkin vs Sorokin for many years to come. Why? As a Rangers fan, I hope Sorokin comes down with "Flyers Goaltendingitis" and washes out. I am not rooting for anything positive when it comes to the Islanders!
Even more ridiculous, was when Giannone asked Valiquette what is it like playing against a friend. Vally brought up the legendary feud that was Steve Valiquette vs Jason Lebarbera, as if anyone was clamoring to hear tales from those "wars". The way Vally spoke about his games against Lebarbera, you would think that Vally was like Mike Richter, while talking about playing against Marty Brodeur. Speaking of Richter, Vally was also able to work in a Richter name-drop, mentioning how he talks to Richter on the phone. It might be time for Richter to change his phone number.

If there was anything good here, it was at least we didn't get another full blown segment on that Islander girl and her cuck boyfriend, as we did on Friday. However, for whatever reason, during the MSGN gambling app segment, Vally and Giannone pondered about which Islander would score against Shestyorkin in this game. How about saying – "I SEE A SHUTOUT JOHNNY BOY!" Fat chance, just like the fat cats of this team playing at a consistent high level!
Lastly while on this M$GN pregame show, I had tears in my eyes, where the always unintentional comedic Sam Rosen asked Joe Micheletti, "WHAT'S YOUR TACO BELL TAKE JOE?" While asking someone for their "Taco Bell Take" is funny enough, Rosen asked this question with as much sincerity and as concern as you'd ask a doctor about the health status of a loved one, as your loved one was laid up and on tubes while laying on a hospital bed.
Let's get to this putrid game.
---
I know many people blame DQ whenever the team comes out flat to start a game, but really, for the most part, we're talking about millionaires and professional players here. You just can't blame the coach for every shitty start. The players need to be held accountable too. And really, do you think DQ, prior to these games, is saying, "it's okay if you want to take the first period off"? As Joe Biden would say, "COME ON MAN!"
I guess I should also mention here, that outside of CZAR IGOR in net instead of Georgiev, the line-up was the same in this game as it was on Friday night. For those who need a refresher, here you go:
I share the line-up information here, rather than earlier in this blog as I normally would do, because during this game, you needed one of those Carrie Mathison of "Homeland" cork boards, a cork board full of push pins and red string, in order to keep track of all the in-game line changes tonight. I'll do my best to recap all of them, but I'm bound to miss one or two of these in-game line-up changes. After all, as previously mentioned, Kravtsov spent time on all four lines!
And I should say here – I wouldn't be shocked if Kravtsov is on the top line come Tuesday night either.
Actually, let me go one step further and double-down here. Not only would I put Kravtsov in the top six, I would promote the entire third/Kids line, of Lafreniere/Chytil/Kakko, and make them the top line on Tuesday night. I'd then make a line of Panarin/Strome/Kravtsov for the second line and demote Kreider/Mika/Buchnevich to the team's third line.
If you get anything out of what I'm saying here, not only were the young guns FABULOUS tonight, the Fat Cats absolutely sucked. They need a nice cold hard reality slap to the mouth, and taking their time away is the only way to do it. With DQ always using those two words of "playoff push", if you want to go with what's best right now, then play the guys who are giving it their all and executing, which Kravtsov and the Kids Line did tonight. You just can't have this top line continue to eat minutes when it's not earned. And this isn't a one-game reaction here either – the top line has been embarrassing for some time now.
Back to tonight's horrible outing.
---
Just twenty seconds into the game, CZAR IGOR would be forced to make a big stop on an all alone Kyle Palmieri. Nearly a minute later, at the 1:23 mark of the first period, Chris Kreider lazily put a puck over the glass, thus giving the Islanders a quick power-play opportunity. This was terrible, as rather than grinding and making a move with the puck, Kreider just flipped the puck, as if he was trying to give a fan a souvenir.
22 seconds into the Isles power-play, Kyle Palmieri scored his first goal as an Islander. 1-0 bad guys, just like that.
This goal was the result of two trends that ran throughout this game. First, the Rangers could barely win a defensive zone face-off in this game. Their play in their own end was catastrophic tonight and not only did it lead to this Islanders goal, it also led to the Islanders game winning goal.
Secondly, this goal was the result of a rebound. If my calculations are correct, CZAR IGOR gave up eight rebounds tonight, which I believe is a season-high, if not a career-high as well. While this was the only goal that was scored off of a rebound, Igor did look shaky during most of this game and wasn't as rock-solid as he has been as of late.
Even worse, this goal was scored right in front of Adam Fox. For the team MVP and Norris candidate, these two games against the Islanders weren't his best. In fact, he was held pointless in both of them. Prior to this two-game set with the Islanders, Fox racked points in twelve consecutive games.
After the goal, Kravtsov was promoted to the second line, with Colin Blackwell being pushed down to the fourth line. While I'm not bellyaching about this, I don't know what Blackwell did to get a demotion, especially with just 90 seconds played into the game.
The Islanders, who just came out flying in this period, would put another shot in Igor's direction. Igor made a glove save, but the puck went high, where it was then touched by a high-stick for a stoppage. While this save was good (another rebound) Micheletti went bonkers here, ripping out the word FABULOUS three times in succession.
Mika, who continues to be plagued by whatever is plaguing him, would later streak to the net, only to pass the puck backwards to Buchnevich. Instead of shooting the puck, this errant pass led to a turnover. Brutal.
Seven minutes into the game, the Isles were out-shooting the Rangers 7-2 and Igor had given up four rebounds. Somehow, that meant that this game was going at a "GOOD PACE", according to Sam Rosen.
At the 7:18 mark of the period, Wahlstrom was boxed for interfering with Blackwell. To his credit, Ryan Strome went right into Wahlstrom's face. Fortunately, unlike other games we've seen from the zebras season, the refs didn't box Strome too.
With the Rangers power-play needing an equalizer, Mika couldn't score despite receiving a perfect pass from Panarin and while right in front of Sorokin. Then, with 48 seconds left on the power-play, the PP2 unit came on, where the Islanders PK ate them up, thus getting their kill. Another blown scoring chance for the Rangers.
After hitting the ten minute mark, the fourth line had a chance to score, after a rebound given up after a shot from Howden. However, with Rooney charging the puck and looking for the tying goal, the Isles got the puck out of dodge, thus breaking up another scoring opportunity for the Rangers.
After more shakiness out of Igor, and about ten minutes after the fact, Sam and Joe realized that Blackwell and Kravtsov had been flip-flopped. Nothing gets by them!
In another example of the referees missing infractions against the Rangers, Brendan Smith took a cross-check, but no call. Right after, Kakko was then denied of a goal.
As the period waned down, the Rangers would ice the puck. The Rangers would lose another d-zone face-off, with Igor stopping Beauvillier. After the save, the Rangers would lose another face-off, this time where Igor made a clean save on Eberle.
As the Rangers continued to fail of putting any sort of coherent offense together, Igor would lose his stick. His defensemen couldn't be bothered to give up their stick. Fortunately, and while it did take a bit here, the Rangers would get the puck out of the zone. Of course, the Rangers can never have nice things.
On the next Islanders possession, after more laziness out of both Chris Kreider and Mika Zibanejad; with 7.6 seconds left on the clock, Henrik Lundqvist and New York Ranger killer, in a one Jean-Gabriel Pageau scored, as the result of a pass received by Barzal. 2-0, bad guys.
On this goal, Trouba looked baffled, as he just stood there and watched JGP shoot. I don't know if you can really hang Igor here, but this is stuff we've seen him stop before. Does Georgiev stop this? Who knows? All I know is that at the end of one period, the Rangers were completely out-worked, out-classed and out-played.
Put it this way, after twenty minutes, not only were the Islanders up 2-0 on the scoreboard, but the Isles dominated every other pertinent stat, as the Isles out-shot NYR 17-8, out-hit the Rangers 12-9, won the majority of face-offs by a tally of 11-5 and were better on the special teams too. (NYI PP 1-1, NYR PP 0-1.)
Another slow start for the Rangers and another example of how these games are sixty minute games. Had the Rangers played in this period as they would later play in the second and third periods; the Rangers would've won this game. Instead, their issues with being consistent once again doomed them.
---
After our regular comment of "SECOND PERIOD, WHAT DO YOU LOOK FOR HERE JOE?" <some life out of the Fat Cats Sam!> it became even more important for the Rangers to win this game. Not only did the Flyers choke to the Sabres earlier in the day, but the Bruins were being creamed by the Capitals as well. A win over the Islanders would've put the Rangers three points out of a playoff spot. (More on the standings at the end of this blog.)
In what was eye-opening and true, I should also mention that during the intermission, Vally buried Chris Kreider and even called him soft. Wow. However, Vally was right, and DQ had enough of Kreider too. Not only did the Kids Line open up this third period, but Kreider would be demoted to the fourth line as well, which as a result, sent Kravtsov to the first line. In turn, Blackwell also returned to his spot on the second line. Got all of that? Good!
Once Sam and Joe used all of their fingers and toes, and figured out the line changes, HEEL MICHELETTI brought out his claws and fangs, and buried Kreider as well. That's a first, as Micheletti usually just makes pooish remarks about Missing Mika.
With both goalies making saves on either end of the ice, Nick Leddy did the Rangers a solid, as while all alone and having a clean shot at Igor, Leddy over-skated and didn't get a shot off. Then, right after, with Kravtsov now entrenched as a first line guy, Kravtsov ripped a shot. Sorokin made the save, but he gave up a juicy rebound to Fox, where to Sorokin's credit, he stopped that too.
At the 4:42 mark of the period, Matt Martin was boxed after a knee-to-knee trip on Rooney. The Rangers power-play would get a chance to strike within one.
The Rangers PP1 unit would have 1:15 worth of time in the Isles d-zone, but Mika's sloppy passes helped out the NYI PK. With the PP2 unit now on, Trouba fired a shot, and Buchnevich couldn't handle what would've been a slam-dunk rebound, had he any sort of offensive skills in this game, rather than just playing "offensive".
After the Isles got their kill, Matt Martin almost had a jack-in-the-box opportunity, but fortunately, the puck went to the back boards that were behind Igor's net.
With Kravtsov continuing to fire on all cylinders, Sorokin would then stop his fellow Russian again. I can't stress enough how noticeable Kravtsov has been in all five of his games played, and on both ends of the ice. It was also around this point in the game where Sam and Joe really took a dump on the high-priced fat cats and showered the young Rangers with well-deserved praise.
As Kravtsov continued to search for his first NHL point, Pavel Buchnevich poo-poo'd on that idea, as after a perfect pass from Kravtsov, and while all alone, wide-open, and six inches away from a net that Sorokin left vacated; Buchnevich fired a puck right into the post. Between Buchnevich, Mika and Strome, I have never seen three players miss wide-open nets at the rate these three players do. It's not even a 50-50 thing either. It feels that these guys can only hit a wide-open net one out of every ten times.
The Rangers would finally get on the board with 9:37 to go in the period, as Libor Hajek would bomb a shot from deep and the puck sailed into Sorokin's net. 2-1, bad guys.
On this goal, the third line and the third pair defensemen were on the ice. As a result, Kakko and Chytil also picked up assists here. While it was apparent already, DQ would continue to feed his Kid Line minutes throughout the remainder of the game.
Less than two minutes later, and with first line Kravtsov on the ice, Kravtsov would try to set up Mika in the middle. Instead, the puck bounced off of Mika's skate, and in rare occurrence during this season, the puck took a Rangers bounce, where the puck found the blade of Brendan Smith's stick. Smith, who has played some time as a forward in the past for the Rangers, then ripped a top shelf cheese shot, where the puck found the top right corner of Sorokin's net. 2-2, with 7:44 to go in the period.
This was a hell of a goal, and for how bad the fat cats were playing, it were the 5th and 6th defensemen picking up goals here, and within a span of 1:53. Unfortunately, these would be the only Rangers goals of the game.
Of note, as a result of the fortunate bounce, Kravtsov got his first NHL point here, with the secondary assist. Also of note, in an equivalent to his fluky empty net goal from Friday, Mika picked up a fluky assist here too. Maybe one of these days he can go back to being dominant.
In a chance to give the Rangers the lead, while a foot away from Sorokin, Mika whiffed on a puck. Ugh.
With the Rangers keeping the momentum, we had a scrum break out after a save from Sorokin. Ryan Strome went at it again with the Islanders, while Blackwell got right into the mix too. The best part of this was Blackwell challenging Mayfield to a fight, especially considering the height difference between the two. Blackwell even laughed in his face, but unfortunately, the Islanders would have the last laugh tonight.
Here's the altercation: (FYI: this clip is posted from an Islander's fan account, as I couldn't find a clip from a Rangers fan.)
Mayfield and Blackwell ready to have a tickle fight pic.twitter.com/yuUToNXR1k

— YESUV🚙 (@IslesWhiteSUV) April 12, 2021
As the period wound down, all I could think to myself was – NO LATE GOAL ALLOWED PLEASE! Igor would hold on, and after two periods, we were tied at 2-2. For a game that was mostly all Islanders, the Rangers were still in this and with one more good period, could've had their hands raised. However, the Rangers would remain snake-bitten for the rest of the game.
---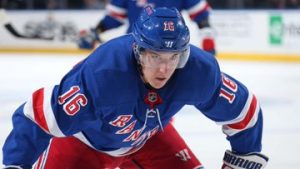 With a line of Kravtsov/Mika/Buchnevich to start the third period, it would be the Strome line getting a quick chance to get the go ahead goal, but Strome would over-pass a streaking Panarin. Another blown scoring chance in a game full of them for the Rangers.
At the 3:54 mark of the period, Martin would go to the box again, this time for tripping Smith. In a fun fact, did you know that Smith leads all NHL defensemen in penalties drawn this season, with 18? Shove that up your ass, ya Smith haters!
Mika, who looks like he's auditioning for the latest season of "American Horror Story", continued to be horrific on the power-play. If there was anything I would criticize DQ for tonight, it was keeping Mika out there, not only on the power-play, but during the 3 vs 3 portion of the game too. When Mika sucks, he SUCKS, and there's no way of turning it around, while in-game.
On this power-play, Mika shot right into an Islander for a clear. Later on, Panarin made another perfect pass, and once again, Mika loused it up. Equally appalling was Chris Kreider, who didn't screen Sorokin once during any of this. The Rangers power-play, once again, failed here. To put the cherry on top, on his next shift, Kreider would go high and wide from two feet away.
With 10:57 remaining in regulation, the rarely penalized Fox went to the box, for a questionable high-sticking call. Without their key PKer, the Rangers held down the fort, with Miller and Buchnevich making several good clears.
Back at full-strength, Igor made a save on Wahlstrom. With 6:03 remaining, Igor stopped Barzal too.
As we got under five minutes, Lafreniere kept taking face-offs and winning them. I don't know if they'll try to transition Lafreniere into a center next season, but if he can keep winning face-offs, I'd keep having him take them, especially with Chytil going 0-5 tonight.
With under three minutes to go, the Rangers would get another chance, but this time, a cross-bar stunted those hopes.
After a long Islanders shift in the Rangers zone, where you were expecting the worst to happen, Igor would make a bevy of saves here, including while giving up his 8th rebound of the game. Then, with 1:29 remaining, Buchnevich and Mayfield would take off-setting penalties, thus giving us 1:29 of four vs four foreplay to close out the period.
The Isles would swarm Igor one more time in the final sixty seconds, but fortunately, the Rangers held on. 2-2 after sixty minutes. At the very least, the Rangers got one point in the standings, but really, they needed two.
---
For whatever reason, Mika was out there for the 3 vs 3. I would've used Lafreniere and/or Kravtsov.
After Mika lost the face-off as usual, Panarin and Fox would get the puck and feed Mika. Of course, Mika would be stuffed by Sorokin again.
With Strome/Kreider/Miller on, they would make a few gaffes, including one that forced Igor to make a MONSTER save on Zajac, a shot which came as the result of an Islanders two-on-one odd-man rush. You could see Zajac's shot coming from a mile away here and luckily, so did Igor. The good feelings wouldn't last long.
After the Rangers won a rare d-zone face-off, and with Kreider/Chytil/Miller on the ice, Miller and Chytil couldn't get the puck out of the zone, Chytil turned the puck over from the sideboards and Ryan Pulock scored his first goal of the season, an OT GWG at that, to give the Islanders a 3-2 victory.
Just like death, taxes and bad Flyers goaltending being three guarantees in life, another guarantee is that the Rangers will always allow someone to get their first goal of their career, season or just in life in general, against them.
3-2, Isles, your final in overtime.
---
Maybe I sound too down on the Rangers, because after all, they did pick up three out of four points against an Islanders team that's practically tied for first place in the division. What bothers me, and what probably bothers you, is that this game was the same old shit:
— No production out of the fat cats
— Can't win a face-off
— Another one-goal loss, where it feels like the Rangers lead the league in this department
— Power-play issues
— Missing every wide-open net possible
— A bad first period
— Not playing a full 60 minute game
As it stands right now, the Rangers are four points out of fourth place and with the Bruins having two games in hand on the Rangers. (And six games left with Buffalo to boot, a Buffalo team that continues to sell off parts as I write these words.)
AND THIS JUST IN, as reported by Elliotte Friedman of Sportsnet, Taylor Hall is leaving Buffalo for the Bruins. When it rains, it pours. The Bruins are also adding Curtis Lazar from Buffalo too.
When you look at the 41 games the Rangers have played thus far during this 56 game season; there have just been too many games they have blown or just not showed up for in the first period. They very easily could have a playoff spot secured right now, especially if Mika Zibanejad was even just as half as good as he was last season.
It's one thing to have growing pains with the young talent/kids. That's to be expected. That's understandable. It's another thing for the fat cats to skate around aimlessly in a lot of these games.
If the fat cats were doing the heavy lifting all season, while the kids struggled, you'd be fine with that. However, it's the guys with the big paychecks doing the Rangers in during the majority of these games. I mean, Kravtsov has five NHL games to his name, and even with no goals, during these last five games, he's out-played every single member of the top six, sans the under-a-million-bucks-cheap-pick-up Colin Blackwell. Defensively, we all know the issues there, as Trouba gets paid nearly as much as all five of the other Rangers defensemen combined, yet it are guys like Fox, Lindgren, Miller and Smith routinely out-playing the $8M man every night of the season. Even Hajek scores more than Trouba.
With the next four Rangers games against a Devils team that will most likely feature an AHL roster; as mentioned earlier on this blog, this is where I would experiment with giving the young talent more time. How many times can you watch Mika suck the life out of this team? How many times can you watch Kreider skate around dumb-founded? How many times can you watch Buchnevich distort his face after playing like crap? Similar to Fox earning his spot over Trouba, I'd let the Kids Line and Kravtsov get a chance to play top six minutes on Tuesday, that is, until the fat cats start playing to their contracts. And really, who knows if that day will ever happen?
As noted in the past on this site, while I think the Rangers will fall short of the playoffs, they are still alive in this hunt. DQ must do what's best for the team, and this Kreider/Mika/Buchnevich line hasn't been it during these past two weeks.
I have some things to do tomorrow, but if the Rangers make a trade prior to Monday's 3PM NHL trade deadline, I'll come back tomorrow night. I will say, I don't think a DeAngelo trade will happen now, as Florida traded for Buffalo's Montour to help out their currently Ekblad-less roster.
Out of the current Rangers who potentially could be traded, I think you're looking at Brendan Smith, Julien Gauthier and in a long-shot, the soon set to be RFA in Pavel Buchnevich. Of course, the Rangers may sell Blackwell too, but if this team feels like they can really make a playoff push with these 15 games remaining on the schedule, it would be silly to trade Blackwell if the playoffs are the goal.
If you haven't already, subscribe to this blog for the next update:
---
If I'm not back tomorrow, I'll be back Tuesday night with a NYR/NJD review.
Stay FABULOUS my friends.
Until then, and as always here, thanks for reading and…
LET'S GO RANGERS!
Sean McCaffrey
BULLSMC@aol.com
@NYCTHEMIC on Tweeter