Greetings and salutations everyone and welcome to another blog here on BlueCollarBlueShirts.com
On Monday night, riding a two-game win streak, the Rangers saw their winning ways come to an end, as their Hudson River rivals, in the New Jersey Devils, defeated the Blueshirts by a final of 4-2. For the Rangers, this loss was obviously good for their draft positioning, but no one is smiling after this loss. In fact, as I'll get into in a bit, Henrik Lundqvist finally broke down after the game.
I've been saying this all season – while there is a large part of this fan base that roots for losses, you know the "TANK" people, the bottom line is that players and coaches don't tank or lose on purpose. This isn't the NBA.
While I don't mean to reiterate and rehash all of this stuff, stuff I've been saying for nearly 80 games now, while a loss like this is good for the draft, this is a loss that takes some of the soul out of the team.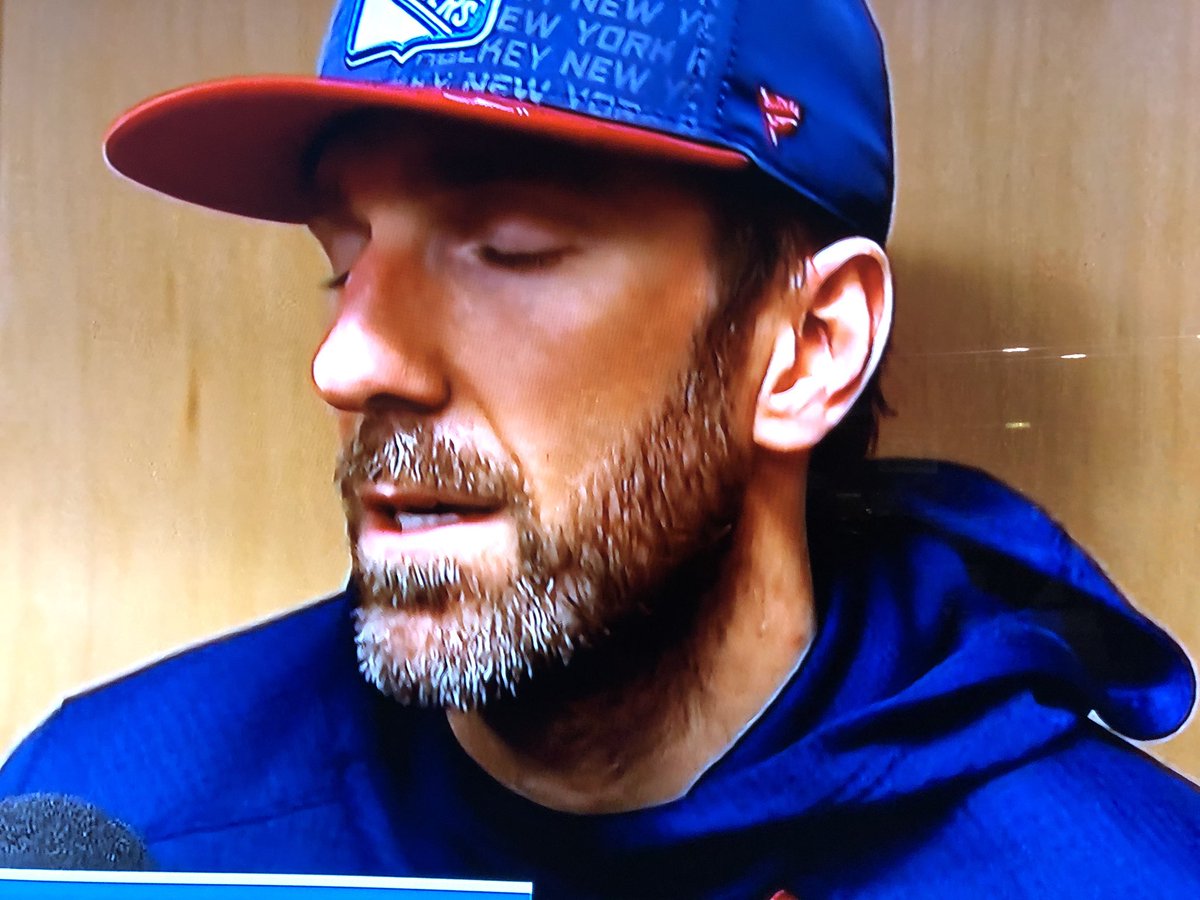 For 60 minutes, the Rangers broke their holes. Guys like Brendan Lemieux, Tony DeAngelo and to a lesser extent, Lias Andersson, all put their bodies on the line. However, after the game, some fans and even Dave Maloney, were calling this contest a "meaningless" game. For Dave Maloney, someone who I respect and enjoy hearing from, to sit there and call this game "meaningless", well I think that is wrong.
I mean really, tell Lemieux this game was meaningless. Tell DeAngelo this game was meaningless. Tell Andersson, Lettieri, Howden, Chytil, Pionk and the other baby-faced Rangers on this team that this game was meaningless. Shit, tell Henrik Lundqvist, the dinosaur of this team, that this game was meaningless. Everyone playing tonight wanted this win.
Fans, and even the people on the MSG Networks, can toss around the word "meaningless" with reckless abandon all they want. However, these are the types of games these players want to build off of and won't forget moving forward. In fact, you can argue that a spark was rekindled in this once great rivalry between these two teams tonight, two teams that play no less than 10 miles away from each other.
When I hear Dave Maloney and Steve Valiquette talk about how losing is okay, I wonder how they would've felt if broadcasters said the same thing about them during their playing days? No one in that Rangers locker room wants to lose. For the younger guys, they are trying to make their bones for next season. They are playing for their jobs and for their futures. To blow off a loss as a "well it's a good thing because the game is meaningless", to me, that is just a horrible take. The Rangers wanted this one. They sacrificed their bodies and their fists. The physical punishment given and taken won't feel "meaningless" on the bus ride back to Manhattan.

This was an unfortunate game for the Rangers and a script we've seen too many times this season. King Cupless cherry picks a start against a last place team. He gives up a bad goal. Then Lundqvist buckles down for a bit until giving up that back-breaking goal, late into the game. The Rangers go on to lose said game and then Lundqvist blames everyone else for the loss.
I'll tell you what, man oh man, do I miss Derek Stepan! In fact, I would argue that Derek Stepan and his salary would be more useful to this team than Lundqvist and his salary. Stepan is a born leader. Sure, he's not a true number 1 center, but he wouldn't need to be on this team. The Rangers need some of those locker room leaders; veterans who have been around the block. Stepan would've been perfect this season, as this is a role that Kreider hasn't been able to fill.
While I will get to Lundqvist's post game meltdown at the end of this game review, for him to start doing the finger-pointing bullshit again, it just doesn't help anyone. It would be nice if someone like Zibanejad called out Lundqvist for giving up a bad goal in the first period, a goal that was the difference in tonight's loss.
When it comes to Lundqvist, and I'll save you the Georgiev spiel since I talked about that in my last blog, I think he's just mentally shot and realizes he has no connection with this team no more. You have a group of kids, all 12-15 years younger than Hank, that has no bond with the "franchise" player. If you and a group of your buddies were getting chastised by your older boss every day at work, you'd get sick of your boss and his or her shit real quick.
I also wonder if there is some "intimidation" factor with these kids and Lundqvist? After all, Lundqvist ran a coach and several players out of town. The team kowtows to his every wish and command. The old expression is you can't fight city hall. For these Ranger players, you can't fight Lundqvist, even if he's a shitty teammate.
Moving away from Hank being a dickhead of a teammate, what bond can these kids truly have with Hank? Many of these players live together. Many hang out together. Many are single and are enjoying the NYC life. Lundqvist is past all that, as he's a family man and in a different stage of life. There just are no common interests, which leads to no team chemistry. For Lundqvist, being on this team right now is like seeing a 50 year old man at a frat party. It's just out of place.
Additionally, let's face facts – if you're one of these young Rangers, who are you going to gravitate to and want to play harder for – the guy who buries you after every game or the guy your age who praises you after every game, win or lose?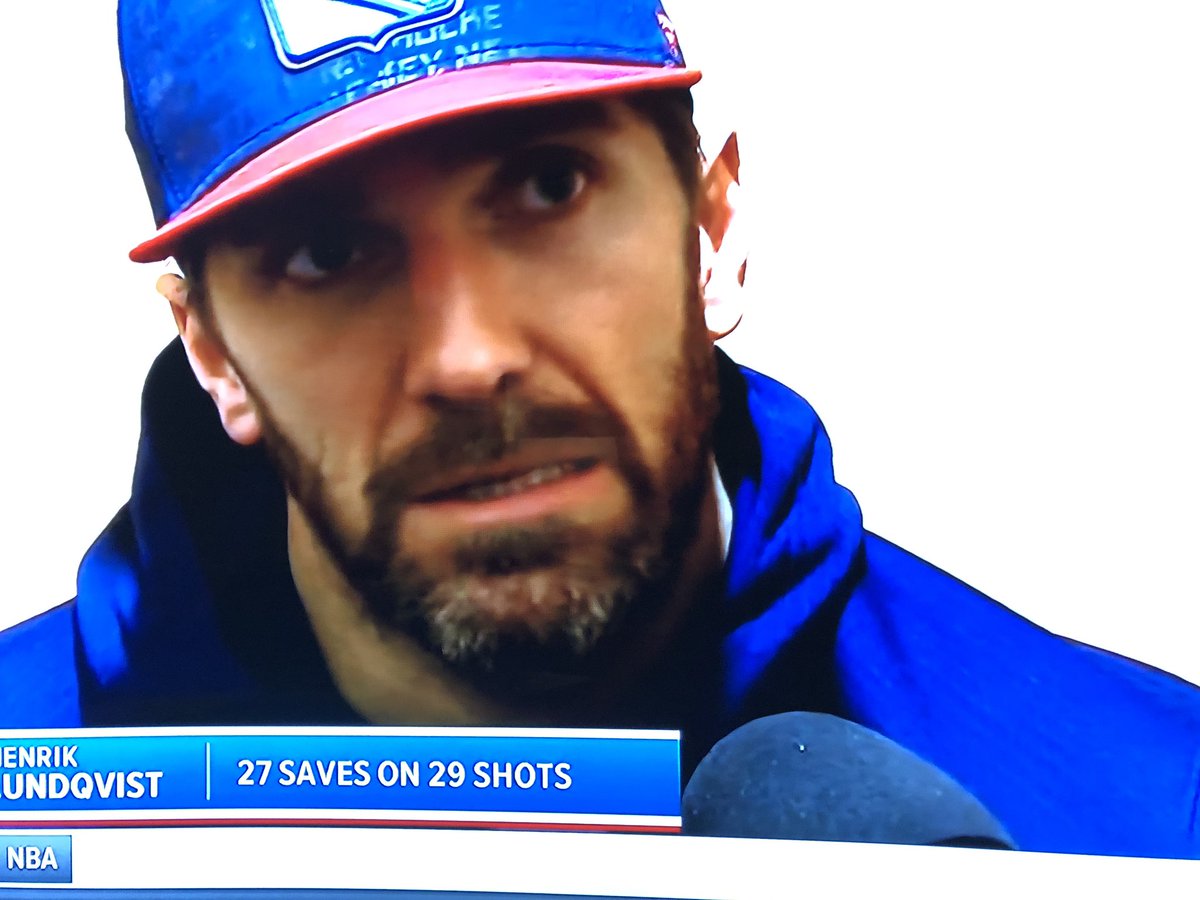 As always, in case you're new here or missed my last few blogs, here they are:
---
---
---
---
---
---
While I'm always one not to shy away from criticizing Lundqvist, I was shocked that going into this game, that just like Georgiev, Blackwood has a better winning percentage, save percentage and goals allowed average than Lundqvist. After all, the Devils suck and have been maimed by injuries this year. Plus, after the deadline, the Devils have put many AHL rosters on their ice. For Blackwood to have better numbers than Lundqvist, I was kind of shocked.
In tonight's game, the Devils got a two goal lead early. The Rangers would eventually tie it up. With four minutes remaining in regulation, the Devils got the back-breaker game winning goal and would then finish the Rangers off with an empty netter to win the game, 4-2.
What I found most compelling about this game was how different each period was. The first period saw both teams play loosey-goosey, with each team getting 17 shots off. The second period was an all-out war, where I believe the teams combined for 10 total shots in the period. The third period was played conservatively, as each team tightened up. There weren't any similarities in any of the periods played.
While this game featured two struggling teams, because of the second period, this game was really exciting. In a season that's really been about the future, it's nice that in game 79, that the players from both teams wanted to win. With both teams trying their hardest, it made for an entertaining hockey game, unlike the snoozer from yesterday with the Flyers.
And now, before diving into the game itself, let's roll through the normal segments here!
After scoring a goal and logging an assist, Lettieri was held off the box score in recent games. However, in tonight's affair, Lettieri logged a power-play assist. He now has three points since being recalled. Despite my fandom of Lettieri, I don't know if he will be back with the organization next season. I hope so, but I wouldn't bet on it either.
One person who I would bet on not being back next season would be John Gilmour, who was scratched for the third straight game. Speaking of, let's go to the SCRATCH LIST OF QUINN segment of this blog.
Before tonight's game, the Rangers tweeted out the following: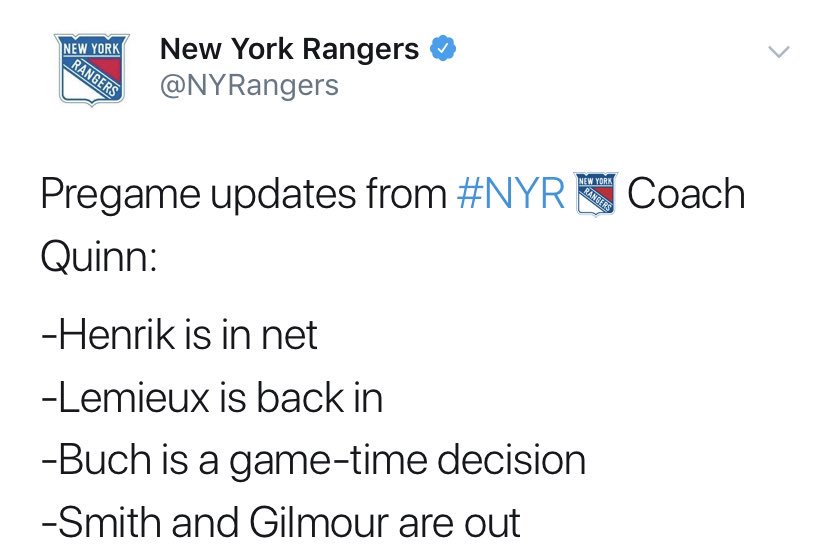 Let's look at the easy stuff first. After committing four penalties in the game with the Flyers, Brendan Smith got a night in the "Quinn Bin". (Credit: BSU Radio.) I don't think that move came as a surprise to anyone, because Quinn, for the most part, has been holding guys accountable all season. How can you reward Smith with playing time after the disaster of a game he had yesterday?
John Gilmour remains scratched. I'm surprised the Rangers haven't sent him back to Hartford. At this point, what's the use in keeping him up with the big team? As mentioned before on these blogs, while I was hoping he would get a chance, he got his chances and failed. With the Rangers having a plethora of defensemen under contract, Gilmour is very expendable.
Buchnevich was also scratched tonight, but not because of performance issues. If you recall, and as mentioned in yesterday's blog, Buchnevich had a nasty accidental collision with Nolan Patrick in the game with the Flyers. It was thought that Buchnevich was 90%-95% healthy, but with no playoffs to play for, Quinn and the Rangers didn't see any use in risking Buchnevich's health. Makes sense to me.
Of course, with New Jersey being a last place team, Henrik Lundqvist got the start. For Lundqvist, this wound up being another loss to another shitty team. And yes, as I'm teasing this all blog, this loss really seemed to crack him.
Here's what Quinn went with tonight:
FIRST LINE: Kreider/Zibanejad/Strome (It was nice to see Strome get some time on the first line. He deserved it and seemed to fit in fine. The first line didn't score tonight, but they came close at the end of the first period. You would think for all this fan talk about Zibanejad being elite that he would score against a bad team, but alas, Zibanejad is not elite.)
SECOND LINE: Vesey/Chytil/Namestnikov (Meh, they try hard, but Vesey and Namestnikov aren't producing results. Chytil had one of his better games of the season. I don't think he thought this game was meaningless.)
THIRD LINE: Lemieux/Howden/Brickley (Nice to see Brickley get some time tonight, as he played in lieu of Brendan Smith. I'd keep it that way. Lemieux was arguably the MVP of the game for the Rangers.)
FOURTH LINE: Nieves/Andersson/Lettieri (Andersson showed a willingness to get dirty tonight. I appreciated that. Both Lettieri and Nieves are improving in my eyes.)
Defensively, Quinn went with:
Skjei/Shattenkirk (Disastrous. The Rangers should try to find a trading partner for Shattenkirk in the off-season. Maybe there is another player in the league that needs a change of scenery that Gorton can find. Imagine if Gorton can find his next Spooner for Strome swap with Shattenkirk? All it takes is finding another player who is struggling and makes similar money to Shattenkirk. Not saying Milan Lucic is the guy, but that would be someone comparable, salary cap wise.)
SECOND PAIR: Staal/DeAngelo (As usual, the best duo on the team. I'm also sick of the millennial fans in their soy boy twitter echo chamber who will bury Marc Staal all game long. He's the best defensive defenseman on the team, a great teammate and has helped his partners shine all season long. He won't get it, but he deserves McDonald Award attention. He should get the "Player's Player" award.)
THIRD PAIR: Claesson/Pionk (Not as bad as you think they would be.)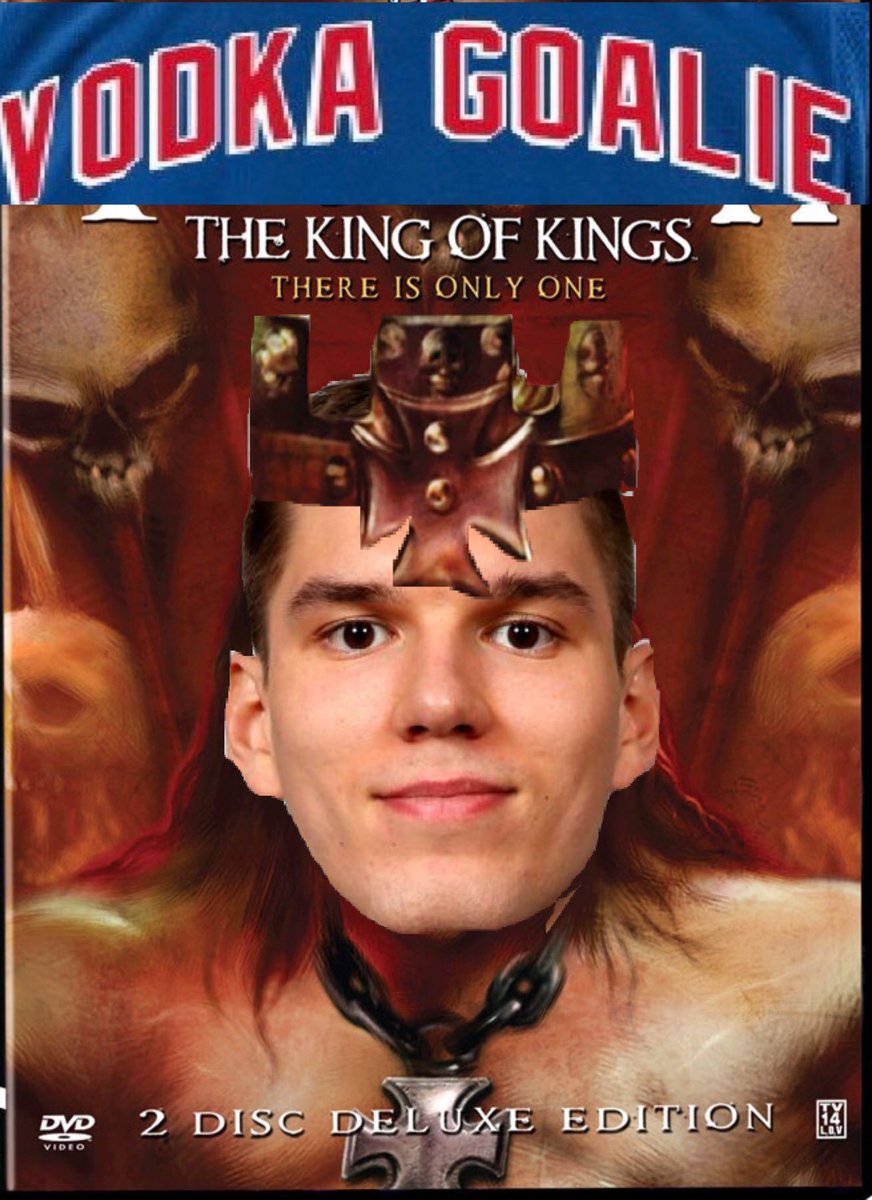 In the gambling segment of this blog, here's what I said before the game:
FREE MONEY ALERT:
Lundswiss in net and the o/u is only -5.5. Hammer the over. It's a shame Georgiev isn't starting (you know, Hank only "rewards" him with Pitt) because then you could've bet #NYR with ease. pic.twitter.com/mlgH8ISBmO

— BlueCollarBlueShirts (@NYCTheMiC) April 1, 2019
You know what was funny? The OVER on this game opened at -5.5 and you had to lay $105 to win $100. By game time, you had to lay $135 to win $100 and that was after it was announced that Buchnevich wasn't going to be playing. That shows you how much faith the odd-makers have in Lundqvist right now.
I had a buddy asking me if he should bet the Rangers tonight. I told him absolutely not, because the Devils would win this game 4-2. In fact, here's exactly what I said:
I see a 3-2 game , Devils empty netter

— BlueCollarBlueShirts (@NYCTheMiC) April 1, 2019
What happened? Devils took a 3-2 lead, hit the empty netter, and boom, the Rangers lose and the over hits. That said, I don't bet against the Rangers to lose, which is why I've been betting the over-under all season.
With tonight's victory, my record improves to 34-20-3 on the season. Easy money. I know my goalies and who will give up what goals and when!
And now, as usual, here's the ESPN.com box score:
SCORING SUMMARY:
1st Period
3:54

Miles Wood

(10)

Assists: Connor Carrick, Mirco Mueller

0
1
14:34

Travis Zajac

(18)

(Power Play)

Assists: Damon Severson, Nico Hischier

0
2
18:40

Brett Howden

(6)

Assists: Connor Brickley, Neal Pionk

1
2
2nd Period
16:36

Filip Chytil

(11)

(Power Play)

Assists: Vinni Lettieri, Tony DeAngelo

2
2
3rd Period
15:50

Connor Carrick

(2)

Assists: Drew Stafford, Michael McLeod

2
3
18:51

Joey Anderson

(4)

Assists: Kenny Agostino, Travis Zajac

2
4
PENALTIES:
1st Period
13:56

Anthony DeAngelo:

2 minutes for Tripping

15:32

Kevin Shattenkirk:

2 minutes for Slashing
2nd Period
9:21

Anthony DeAngelo:

5 minutes for Fighting (Major)

9:21

Brendan Lemieux:

2 minutes for Roughing

9:21

Brendan Lemieux:

2 minutes for Roughing (served by Chris Kreider)

9:21

Kevin Rooney:

2 minutes for Roughing

9:21

Nathan Bastian:

5 minutes for Fighting (Major)

15:02

Andy Greene:

2 minutes for Holding

16:43

Brendan Lemieux:

5 minutes for Fighting (Major)

16:43

Miles Wood:

5 minutes for Fighting (Major)

17:23

Blake Coleman:

2 minutes for Interference (served by Nathan Bastian)

17:23

Blake Coleman:

5 minutes for Fighting (Major)

17:23

Lias Andersson:

5 minutes for Fighting (Major)
3rd Period
10:25

Brett Howden:

2 minutes for Hooking
GOALIES:
| | | | | | | | | | | |
| --- | --- | --- | --- | --- | --- | --- | --- | --- | --- | --- |
| SA | GA | SV | SV% | ESSV | PPSV | SHSV | SOSA | SOS | TOI | PIM |
| 32 | 2 | 30 | .938 | 27 | 2 | 1 | 0 | 0 | 59:56 | 0 |
| | | | | | | | | | | |
| --- | --- | --- | --- | --- | --- | --- | --- | --- | --- | --- |
| SA | GA | SV | SV% | ESSV | PPSV | SHSV | SOSA | SOS | TOI | PIM |
| 40 | 3 | 37 | .925 | 31 | 2 | 4 | 0 | 0 | 59:36 | 0 |
The theme of the pregame show on the MSG Networks and a theme that carried throughout the broadcast was, "Will Henrik Lundqvist win his 450th game tonight?" The answer – NO! However, it's just annoying whenever you have Vally spitting out his Lundqvist propaganda, because what does a Lundqvist milestone have to do with the team rebuilding and developing today?
Of note, this was the fifth time Lundqvist was going for this milestone and this was the fifth straight game he lost.
Even after the game, Valiquette, who knows that Georgiev is better this season, was petitioning Lundqvist to start against another last place team on Wednesday, in the Ottawa Senators. Maybe one day Vally can pump the brakes on his Hank-centric analysis and focus on the team as a whole. I was also annoyed by Vally at the end of this game, and I'll get into that at the end of this blog.
And while I'll get more into Vally at the end of this blog, you can see that Vally, the unofficial defacto leader of Chart Nation & someone trying to take Micheletti's spot as the number 1 Lundqvist cheerleader, is having an effect on the younger and more impressionable fans. In fact, the Rangers twitter account shared clips of some great saves Igor Shestyorkin made today for SKA during the KHL playoffs. Immediately, some Ranger fans attacked Igor and said Hank has made better saves in his career. Here's one retard:
Imagine being this delusional? All these Hankbots root for every other Ranger goalie to fail. #nyr https://t.co/mKi9N2IHct

— BlueCollarBlueShirts (@NYCTheMiC) April 1, 2019
And yes, I said the word retard. And no, it's not a slur. The word retard is defined as "a person who has a mental disability." If you need to put down Igor or Georgiev, to prop up a guy whose best days are behind him, you're a delusional retard. Cry about that, ya liberal cucks!
By the way, here's the CZAR of CZARS making a fantastic save in the KHL playoffs:
The fact this pains people in the #NYR twitterverse is hilarious https://t.co/It66aLtBZ2

— BlueCollarBlueShirts (@NYCTheMiC) April 1, 2019
The Rangers started off this game on fire, and in the first three or so minutes, were out-shooting the Devils 8-1. Chytil had four of the shots by himself. In other words, right out the gate, Blackwood was forced to keep his team in this game.
However, despite the Rangers bringing the noise and bringing the funk, it was Lundswiss surrending a goal on his second shot faced at the 3:54 mark:
"He is just fine!"

It did not take long for Miles Wood to show he is healthy with a goal after being shaken up early in this #NYR #NJDevils matchup. pic.twitter.com/yDO0GmaS4G

— MSG Networks (@MSGNetworks) April 1, 2019
1-0, bad guys.
I don't want to say that one goal allowed, less than four minutes in changed the game, but with the final goal being an empty netter, this was essentially a one goal game. Make the save here and who knows what happens? Of course, in his post game interview, Lundqvist blamed the Rangers third period for the loss. Typical.
As the game went along, Beavis and Joehead spent three minutes talking about St. Cloud and Duluth hockey. Yes, the Rangers vs the Devils is a major rivalry. However, droning on about college hockey, as if they were doing their best Pierre McGuire impression, was more important. Seriously, back a truck up to Eddie O. & Kenny Albert and get them here.
Later on in the period, Brickley would have a breakaway, but fumbled the puck. Then, during an elongated amount of time in the Rangers zone, the Rangers couldn't clear the puck against the Devils. TDA would take a penalty. At 14:34, Travis Zajac made this a 2-0, bad guys game:
TRAVIS ZAJAC TIPS ONE HOME IN TIGHT!#NJDevils pic.twitter.com/9ocKLr0iBK

— Hockey Daily #StickTogether (@HockeyDaily365) April 2, 2019
Tough goal here, but these are the types of goals scored in the NHL these days, off of deflections. You may want to say this is tough for Hank to save, but we've seen Georgiev make these saves all season. Hank is also paid elite and premium money to be a difference on such plays and he's not earning his keep.
After this goal, Shattenkirk took a penalty. Luckily for the Rangers, their PK went 3-3 after surrending a PPG on the Devils first PP of the game. In fact, the Rangers got a 3 vs 2 odd-man PK rush here, but couldn't find the net.
With 80 seconds to go in the period, Brett Howden finished off a 3 on 1 rush to put the Rangers on the board:
A belated birthday present for Brett Howden puts the #NYR on the board against #NJDevils pic.twitter.com/qQ8K68VT9v

— MSG Networks (@MSGNetworks) April 2, 2019
2-1, bad guys.
On the goal, this was a great finish for Howden.
Immediately after, Kreider looked like he had a goal. The refs even blew the whistle. However, upon review, it was shown that the puck didn't fully cross the goal line, thus preventing the Rangers from tying the game. This would've been huge goal for NYR, as it would've tied the game and it would've given the Rangers some momentum. While the goal was reversed, the Rangers would get plenty of momentum in the second period.
2-1, bad guys, after twenty.
The second period was reminiscent of that game from years ago, where the Rangers and Devils opened the game with a full out brawl. While what happened next in this game wasn't that, it was the closest thing we've ever seen since.
Blackwood make some early saves in the period. However, as the period went along, the puck kept going to dirty areas and frustrations would mount. It would all come to a head at the 9:21 mark, as Brendan Lemieux and Tony DeAngelo channeled their inner Bob Probert and Joey Kocur, and just kicked some fucking ass. This was the best part of the game to me, even if the night-light sleeping fan base had to cry to their mothers after witnessing such carnage.
Check out the clips of the fights and brawls:
First, here's TDA going after that big bastard Nathan Bastian:
"Are you not entertained?!" – Tony DeAngelo asks @PruCenter after #NYR and #NJDevils throw down! pic.twitter.com/7pqFibDsYg

— MSG Networks (@MSGNetworks) April 2, 2019
Here's Lemieux dropping Miles Wood like a bad habit:
Looks like the #NYR and #NJDevils are getting ready for #WrestleMania36! pic.twitter.com/w7I7LZ7glr

— MSG Networks (@MSGNetworks) April 2, 2019
The most entertaining thing about these fights was TDA with his ode to Tie Domi. I was hoping he would mimick wearing the heavyweight title, but I'll take TDA jaw jacking after the fight any day.
Now, here's one of my problems with the Vally's, the Sean Hartnett's and all of these other liberal crybabies. All of these grown men were crying about fighting in the game. Most of these people are 30+ years old. To them, I ask, "didn't you guys grow up watching this stuff?"
I'm not going to get into the whole CTE issue again here. Check out my review of "Ice Guardians" or watch the movie yourself. You have a better chance of getting a concussion from a dirty hit than you do from a fight. Fights limit the dirty hits. This is why Gretzky never had problems with concussions – he had enforcers. This is why Crosby has problems with concussions – he doesn't have enforcers. The instigator penalty has limited the fighting in the league, as the NHL tries to eliminate fighting.  However, what isn't limited are the dirty hits.
In the post-game, Valiquette admitted to hating the fighting and how he wanted the Rangers to lose. He sounds like every other crybaby millennial that spews this shit into their echo chamber. This is what makes me miss Ron Duguay, who was an old school guy and had a soft spot for guys like Tanner Glass or Cody McLeod. Plus, do you think you would ever hear Ron Duguay say he wants the Rangers to lose?
I'm not saying that I know Ron Duguay well, but I know enough from my conversations with him and from reading his comments that he likes the old-time hockey. I also know that he bleeds blue. You would never hear the guy say he was rooting for the Rangers to lose like Valiquette said he was tonight.
I'm pro-fighting in hockey. These guys know what they signed up for. It's a dangerous job. It's a job hazard. I work in construction. There are job hazards there. Cops have job hazards. Firemen have job hazards. Most jobs have job hazards. Fighting is part of the job description and if it offends you, go watch baseball or shuttlecock.
I'm so sick of 2019 and all these mom-jean wearing crybabies wanting a world of pussification. WHAT HAPPENED TO MEN MANNING UP? If you can't stand fighting in hockey, go protest for the rights for a transgender to take a dump in a urinal in a women's bathroom. Go shopping for wallpaper and ottoman's. Stop fucking crying about fighting you pansies! It's been part of the game since DAY one, ever since hockey started in Quebec and Ontario. It's not going anywhere, so if you're offended, go put on a hazmat suit and finger bang yourself in your safe space.
And that's all I got to say about that.
Seriously, this second period brought back flashbacks to when this rivalry meant a damn. I loved it. Again, for Maloney, Valiquette and others to suggest this game was "meaningless", I have to ask them what game were they watching tonight? These two teams battled and wanted to win. As TDA and Lemieux soak their hands in ice tonight, I wonder if they felt their effort tonight was meaningless?
Immediately after all the fighting, with 28 minutes left in the game, Lundqvist made a routine save. Micheletti immediately shrieked that was the save of the game and gave Lundqvist the "official" save of the game. Again, there were 28 minutes remaining in the game, but Micheletti saw enough and awarded Hank the save of the game anyway.
At the 16:36 mark of the period, Filip Chytil scored a PPG:
FILIP CHYTIL BURIES THE REBOUND TO TIE IT UP!#NYR pic.twitter.com/zYWYeWhwlw

— Hockey Daily #StickTogether (@HockeyDaily365) April 2, 2019
2-2.
On the goal, this was the same set play as yesterday, when the first line rushed up the ice and Buchnevich wound up with the goal. Here, TDA makes a great pass to Lettieri, Lettieri shoots a hard shot and there is Chytil to scoop up the rebound and bury the puck. Beautiful stuff here.
In a period plagued with penalties, the Rangers would get another PP with 2:37 remaining. Unfortunately, Chytil's goal would be the last Ranger goal of the game. 2-2 after two periods.
After a wild and crazy second period, the teams calmed down and played a conservative third period. Both teams went back and forth, but couldn't find day light. Lundqvist had the heavier work load here. While his fans were showering him with praises for making saves against a last place team, I knew it was only a matter of time. That time came at the 15:50 mark of the third period, as Connor "WHO?" Carrick scored the game winning goal:
Connor Carrick with the game-winner for the @NJDevils! pic.twitter.com/ljwIe9E8PW

— MSG Networks (@MSGNetworks) April 2, 2019
3-2, bad guys. Henrik Lundqvist erased all the great vibes and hard work Tony DeAngelo & Lemieux brought to this game.
After this goal allowed, Lundqvist started the sad faces, the crying and the woe is me bullshit. He effectively let everyone know he was checked out and rattled.
With 93 seconds left, Lundqvist went to the bench, where he sat by himself and made sure everyone saw him go through his crybaby routine. 40 seconds later, Joey Anderson scored the ENG, giving the Devils the 4-2 lead and the eventual win.
This is a tough loss for the Rangers, who gave it their all. However, as usual Lundqvist cracked at the worst moment, went into tear mode and that was that. 4-2, your final, from the Rock.
In what was a first, Lundqvist somewhat broke down after tonight's game and lamented about the future.
Here's what's interesting. As mentioned in the past, after the games, I rarely watch the post-game stuff, as I don't want my opinion influenced by anyone or anything. However, I left the post-game on, as I wanted to see the interviews.
After the game, MSG ran a 3 minute and 30 second interview with Lundqvist. That interview does not appear on the MSG or Ranger websites. However, a truncated video appears on the NYR facebook and twitter pages. Here's a link to the EDITED video: https://www.facebook.com/nyrangers/videos/593567981144013/
After blaming the team as usual, in the UNEDITED interview that aired on the MSG Networks post-game, Lundqvist said that Georgiev has been better, deserves the work and how Lundqvist feels that he can't win games. Lundqvist looked to be a broken man and the tone of his voice suggested that this season is not what he hoped for. Lundqvist also suggested that he might be shut down for the season.
Going into this week, David Quinn said that Georgiev would get two of the last three games. However, because Lundswiss is sitting on career win 449 and only has 18 wins this season, David Quinn is reversing his thoughts. Now Quinn is saying he will give Lundqvist a chance to win 20 games.
What kind of horseshit is that? We all know Georgiev is better, but we are going to continue to worry about what's best for Lundqvist's milestones? Does David Quinn want to be part of this picture:
Oh, and for the record, here's exactly what Quinn said after the game: "I'm going to play him again, and I might even play him two of these next three. I'd like him to get 20 wins. So we'll talk more about that."
This is just exhibit 76789678967956867856785 of this rebuild being catered to a 37 year old goalie that has no future with this team.
This comment also makes Quinn hypocritical and somewhat of a liar. Quinn, all season, has said that he wants to win as many games as possible. He said that he wants to reward players who play well. He already promised Georgiev two of these last three games. However, Lundswiss can't beat the Devils and now the Rangers & Quinn must change everything to cater to the cupless egomaniac. NO OTHER TEAM IN HOCKEY DOES THIS!
Even Vally, as you would suspect, was begging for Lundqvist to start against crappy Ottawa. For a team game, this coach and this network sure pampers one player more than the others.
In Lundqvist's interview, he admitted that he is checked out and Georgiev is better. I don't want to say he's considering retiring, because I have no way of knowing that, but he sounded like a man at the end of his rope.
It would be nice to see Georgiev get rewarded with an easy start, before playing one of the back-to-back end of the season games. And let's face it, Georgiev is playing Pittsburgh, because there is no way in hell Lundqvist will take that start, especially with the Rangers catering to the fragile ego of the highest paid goalie in America.
You can talk about the rebuild, the draft and all the development you want, but with three games left in the season, the Rangers mission hasn't changed – Lundqvist's feelings come first.
To me, Georgiev deserves to start on Wednesday night against Ottawa. However, knowing that Quinn needs to coddle Lundqvist, I would expect Hank to take another start against another crappy team. After that, it's Columbus at home, which I would expect Lundqvist to start again. The finale is with Pittsburgh and I'm sure Georgiev will have to take that game.
I know this season was always about the draft, but do we really need two more seasons of doing what's best for Lundqvist? How about putting the front of the jersey as the number one priority?
See ya Wednesday.
As always, thanks for reading and…
"LET'S GO RANGERS!"
Sean McCaffrey
BULLSMC@aol.com
@NYCTHEMIC on twitter