"Very important. I mean, if you are going to have success at any point in time, your goalie needs to be good. Unfortunately, it was a period that we needed to find a way to get through it, and we did, and I really liked the way we went about our third period. I thought we did a lot of good things in the third and kind of turned the switch a little bit." – Rangers head coach David Quinn, on 4/13/21, moments after the Rangers 3-0 win over the Devils. As you can tell, DQ was very ecstatic about the way his starting goaltender CZAR IGOR Shestyorkin played tonight.
---
"Obviously, early on Kreids had the fight and it got us an opportunity to move him [Kravtsov] around a little bit, even Laffy up there, and then I kind of liked what I saw with Bread and Stromer. I thought Blackie was playing well, so I put Blackie back there for the third and I think maybe we have better balance when Blackie stays on that line and when Kravy plays with Howden and Rooney." – DQ, again on 4/13/21, when talking about bouncing Kravtsov around the line-up in-game again, and for the second consecutive game in a row. Of note, I'm surprised cancel culture hasn't gone after Quinn for using the nickname of "Blackie", for Colin Blackwell! Imagine if Tony DeAngelo used that nickname? I can only imagine the lies that would've been tossed around had that happened!
---
Greetings and salutations everyone and welcome to another blog here on BlueCollarBlueShirts.com. Finally.
In his 36th game as an NHL goaltender, on April 13th, 2021, CZAR IGOR Shestyorkin picked up his first NHL shut-out of his blossoming career. While this fact is trivial, CZAR IGOR now has shut-outs at the AHL, KHL and NHL levels. For the Rangers and their fans, everyone hopes that this will be the first shut-out of many, for the current starting goaltender of the New York Rangers.
In addition, with this Shestyorkin shut-out, I believe the Rangers are now the only team in the NHL, to have three different goaltenders recording a shut-out this season. Prior to tonight, both Georgiev (2) and Kinkaid posted shut-outs this season on behalf of the Blueshirts.
If you're a long-time reader of these blogs, I don't have to sell my fandom of CZAR IGOR to you. If you're new here, I've been pumping the tires of CZAR IGOR on this site for over four years. No fan wanted CZAR IGOR on this team as earlier and as much as I did. In fact, I've been posting the following over four-years old picture on this site for some time now:
Maybe my hype of CZAR IGOR has been too much. At the very least, it does come off as "fan-boyish". I can admit to that. That said, I don't watch these games with 776789678967896 Igor jerseys all over my walls or talk about "Shesty Saturday's" or "Shesty Sunday's". (Admittedly, I do have one signed CZAR IGOR jersey in my office where I write these blogs. I attained that signature myself, with my buddy "Dancin' Larry", after Igor's NYR debut.)
When it comes to the unrealistic expectations that I have bestowed upon CZAR IGOR, I have previously written that I think CZAR IGOR will one day join Davey Kerr as the only Ranger, in all of Rangers franchise history, to win both the Vezina Trophy and the Stanley Cup. Obviously, that's a whale of a thing to say, considering that in 95+ years of Rangers history, only one goalie has accomplished this feat. That said, I truly do believe we'll see this one day. Am I dreaming? Perhaps, but I'm not selling you a crock of shit here – I feel this will happen during the course of CZAR IGOR's Rangers career. I'm not saying this for "shock value".
For the detractors of CZAR IGOR, and there are some of them out there and for whatever reason; when it comes to this shut-out, you can easily say – "well look at the competition." I don't deny that fact at all. The Devils are awful and outside of a handful of players, they are currently dressing a roster made-up of primarily AHL level players. As an end result of all the deals the Devils made prior to the NHL trade deadline, the Devils, and not the Rangers, are now the youngest team in the NHL – a fact which made Rosen and Micheletti giddy about tonight.
Furthermore while on this point, and as a day-one fan of CZAR IGOR and the Rangers; I am indeed joyous, or dare I say, feeling "FABULOUS", after this win. That said, this win wasn't pretty. I'll soon get into everything about this game tonight in the game recap/review portion of the blog, but to be held to only 19 shots on goal (20 if you count the Buchnevich empty net shot/goal) against this Devils team? That's just not good enough.
Yes, it's a terrible Devils team, but this was a great night out in Hockeytown, USA, aka the sunny skies of Newark, NJ, for CZAR IGOR. Without question, he carried his team to victory. For those who worry about "stolen wins", this was absolutely a stolen win for CZAR IGOR tonight. Again, I get who the competition was, but you can only play the team you're playing against.
For as happy as I am about CZAR IGOR, I'm equally concerned about this Rangers offense. For a team that often talks the talk, but rarely walks the walk, the Rangers were pretty much bogged down all game, sans a few plays here and there. I'd venture to say that for about 55 minutes of this game, the Rangers offense was the equivalent of trying to run backwards in a mile long strip of quicksand. While there were a few bright spots (Vitali Kravtsov once again, was FABULOUS) for the most part, despite Mika Zibanejad and Artemi Panarin scoring goals tonight, the Rangers had a lot of trouble of making plays against this young and talent-deficient Devils team.
There's a lot of news and notes to get into tonight, including Jeff Gorton talking about the team and the NHL Trade Deadline. Elsewhere, I have updates on Tony DeAngelo and the latest Rangers signing, in defenseman Zac Jones. I'll do the news first and then get into everything about this game and the aftermath of it. However, first up, and as usual here – the PLUGS segment.
Here are my last few blogs, in case you missed them:
---
---
---
---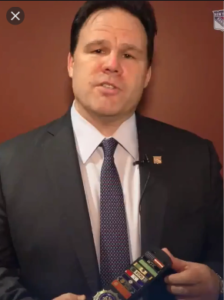 The 2021 NHL Trade Deadline is now a thing of the past, where the Rangers, and as expected, stayed put. While the top four teams of the division, in the Washington Capitals, New York Islanders, Pittsburgh Penguins and the Boston Bruins all made significant moves prior to the deadline, the Rangers decided to stay the course with the roster they currently have. I see no fault in that.
Whether or not the Rangers make the playoffs this season, it was expected that if the Rangers were to make roster changes, these changes would come during the off-season and not at this year's trade deadline. And yes, one of those roster changes could be a potential trade for Jack Eichel, a trade rumor that's seemingly been around for a year now. With Buffalo going backwards and tearing it all down again, who knows, maybe this season could be the last straw on the camel's back for Jack Eichel. In addition, with returns on players like Taylor Hall, Eric Staal, Curtis Lazar and others not really being that great; maybe the price for Eichel won't be as bad as many expected it would be, especially if Eichel demands a trade.
Around 3:30PM on Monday, thirty minutes after the trade deadline had expired, Rangers General Manager Jeff Gorton had a lengthy zoom call with the media. You can watch Jeff Gorton's press conference by clicking the play button below:
If you don't have the time to watch this 10+ minute video, Gorton addressed a few topics. Here's the quick and dirty:
— Jeff Gorton didn't want to risk the future of this team for a rental player, in an attempt to make a playoff run this season.
— Gorton said if you talked to him right after the Rangers lost their most recent game with the Buffalo Sabres; he would've had a much different attitude than he had during this particular zoom call. Gorton pretty much said he was calmer on Monday afternoon than he was after that loss. Gorton praised the young kids on the roster during this as well.
— Gorton likes where the team is heading, and even if the playoffs don't happen this season, he still thinks the future is bright. In a way, you could also take some of Gorton's comments as a vote of confidence for his head coach in David Quinn.
— Gorton ruled out an NHL debut of Nils Lundkvist for this season, but pretty much expects to sign Lundkvist to a contract over the summer.
— With rumors about the Rangers agreeing to terms with Zac Jones, Gorton wouldn't comment on Jones, but said he'd comment on the signing once the signing was official. (More on this below.)
— Gorton specifically had high praise for Alexis Lafreniere, Adam Fox and Morgan Barron.
— Gorton also talked about the latest regarding Tony DeAngelo, which I'll have covered for you after this segment on Gorton.
---
If I have any "hot takes" or reactions about the non-moves Gorton made on Monday, it is that I'm happy to see Blackwell, Smith and Gauthier remain with the team. While no one knows if these three will be here for the 2021-2022 season, had Gorton dealt Blackwell and/or Smith for draft picks on Monday, that would've been Gorton's way of taking away pieces for this playoff push, even for as slight of a chance the 2021 playoffs may be for the Rangers.
As previously opined on this site, I hope the Rangers keep Smith around for next season. While I have no way of knowing what Smith's mind-set is, because after all, he's at an age where he can get one more decent contract and could try to Cup chase, I wouldn't mind him back next season.
When it comes to the best interest of the Rangers, having a utility man like Brendan Smith around on the cheap would be a good thing. From what we see and from what we hear, Smith is very well liked and has been a great veteran presence for the team. However, does a one-year/$1M deal make sense for Smith? Anything more than that, for a guy who would most likely be a healthy scratch during most nights next season, wouldn't be smart salary cap management.
When it comes to NYR defensemen for next season, the top four are pretty much set, barring a miracle and Jacob Trouba waiving his NMC and some team looking to add a hideous contract to their books. Those top four would be Adam Fox, Ryan Lindgren, Jacob Trouba and K'Andre Miller.
As far as who the team's third pair would be for next season, it's a roll-of-the-dice. Right now, it's Smith and Libor Hajek. However, with Zac Jones now signed and Nils Lundkvist assumed to be coming in, two players who will get an opportunity; where does that leave guys like Yegor Rykov, Matthew Robertson, Tarmo Reunanen and others, including Smith and Hajek?
By not dealing Smith now, and allowing Smith to finish out his contract with the Rangers; it tells me that there is a chance of Smith being brought back, where I'd then envision his playing time being diminished. If Smith got a deal like Jack Johnson got from the Rangers last off-season, it would be a great thing for the Rangers, but not the best thing for Smith. After all, no athlete worth his weight wants to sit in the press box, which as stated, would most likely be Smith's role on most nights.
All of this is a good problem to have.
When it comes to Colin Blackwell, his situation is going to be tricky. For as good as Blackwell has been, the question you have to ask yourself, or really, the question that Jeff Gorton has to ask himself, is this – "is this a 'fluke or a flash-in-the-pan' season for Blackwell, or can he replicate this production next season?" There's just no way for anyone to answer this with any sort of confidence.
Similar to Smith, another thing to consider is what's Blackwell's worth to the league right now? For a bottom of the barrel team, like say Buffalo, Blackwell would be a good addition to their roster and maybe they'd overpay for him. At the very least, Blackwell deserves a raise and he should get it. How much do the Rangers want to pay for Blackwell? And of course, how much time do you want to give to Blackwell, when you have a slew of forwards who have already created a logjam?
This is another tough decision for Gorton, and another good problem to have, where whatever Gorton does with Blackwell, it will most likely be met with a 50-50 response. Both arguments, meaning to keep or to move on from Blackwell, both have merit.
Lastly here, regarding another player the Rangers need to assess, would be Julien Gauthier, who has been the odd-man out as of late. While Gauthier has shown potential, at the same time, he hasn't produced like Blackwell either. Gauthier may be considered expendable during the off-season, because as just mentioned, the Rangers do have a logjam of wingers and at the end of the day, you can't play everyone.
There are two more players to talk about here, and those two players are Tony DeAngelo and Zac Jones.
---
As mentioned above, on Monday, Jeff Gorton was also asked about the current status of Tony DeAngelo. Here's what Gorton said about DeAngelo, and word-for-word:
"I've had some conversations with some teams about Tony, but nothing really ever materialized and nothing lately. That will be a summer issue we will deal with."
After making these comments, reporter Darren Dreger tweeted out the following:
NYR were willing to mutually terminate Tony DeAngelo's contract to allow him to pass through waivers and sign as a free agent. Montreal believed to very interested as early as this weekend. However, DeAngelo opted not to accept. He will be bought out of his contract this summer.

— Darren Dreger (@DarrenDreger) April 12, 2021
The easiest thing to get out of the way here is this – of course the Rangers were willing to terminate Tony DeAngelo's contract! With DeAngelo being an outcast, the Rangers would've liked nothing better than to move on from him. However, the Rangers have held onto hopes of some team helping them out, and taking DeAngelo's contract off of their hands. Why the Rangers thought this would happen, I do not know.
As discussed when the Rangers first decided to move on from DeAngelo and as discussed as recently in my Jeff Gorton blog; no matter what you think about DeAngelo the person, the player or his opinions, the bottom line is that this was one of the worst cases of asset management that you'll ever see.
Take Tony DeAngelo's name out of the equation here, as I know the fan base is split on their opinions of him. For this example, I'm going to say "Player X" instead of DeAngelo.
If you're running any team, and in any sport that features a hard salary cap, and as talked about to death on these blogs; players are like stocks, and not only do you need to know when to buy and sell, you also need to know how to assess your players/stocks.
For a GM to do a public press conference, where not only does he bury Player X, but also definitively states that Player X will never play for your team again, what do you really think you're going to get back for Player X? Not only did you damage the product you're trying to sell, you're also telling your potential trading partners that Player X is extremely messed up, where as a result, you run your potential suitors all off. This is like a good looking person having many interested romantic partners, only to reveal that they have a laundry list of STD's. Everyone runs away.
As I stated from day one here, if Jeff Gorton wants to get rid of Player X, or any other player, the best way to do that is to prop that player up. The way Gorton handled this situation, where he put himself in a hole by making ultimatums that he didn't have to make, he pretty much burned Dolan's money here – and he burned Dolan's money with this contract several times over. He basically took Player X's stock and value and turned it the equivalent of Jared Fogel doing commercials for a joint Bernie Madoff and Enron venture.
To be clear, and as previously talked about on this site, I don't think we have the full story on the DeAngelo situation. I'm not going to rehash everything, but I just want the new readers of this site to know that I think we'll eventually get more details about this situation once the season is over and when DeAngelo is elsewhere.
If Gorton (and I really think this is more of Gorton backing up his coach than anything else) wanted DeAngelo gone, there was just a better way of handling this.
For example, and I am just spit-balling here; once Gorton and DQ came to the point that they thought DeAngelo was a detriment to the team and for whatever reason, they should've pulled DeAngelo aside and had a man-to-man conversation. While this may be unethical, this is also a dirty business too. If I were Gorton and/or DQ, I'd tell DeAngelo that he was done and that I was looking to move on. I'd then tell DeAngelo, in an effort not to embarrass him and to keep his trade value high, that we're going to say DeAngelo has an "upper-body injury" or something like that. After all, the NHL allows teams to be vague about the health of their players, so why not use this to your advantage?
From there, I'd then negotiate around the league. While I don't know what the Rangers could've got back for DeAngelo had they not buried him, you'd have to think they'd at least get a second round pick, if not more back in a return. By just nuking his name and reputation, not only did the Rangers hurt DeAngelo personally, they also "Plaxico'd" themselves as well.
Outside of buy-outs, I can't think of a situation of worse player management in Rangers history, than what was exhibited by Jeff Gorton here.
After Gorton's comments and Dreger's report, Tony DeAngelo posted the following on Instagram:
While this isn't 100% official yet, but it may as well be, come the summer, Jeff Gorton will buy-out Tony DeAngelo, where from there, Tony DeAngelo will gauge the league's interest on him. I'll talk more about what I think DeAngelo's future is once that buy-out becomes official, but I do see DeAngelo remaining in the league, rather than going to Russia or somewhere else in Europe.
While it sucks for DeAngelo, meaning that he will have to rebuild his reputation/do damage control, where most likely, he'll settle for a one-year deal for a million bucks or less, (and also lost a season of his career here) I do think he'll get another chance. It's my belief that talent outweighs any perceived "issue" or "dilemma", and some team will take a chance on him. (As talked about with Brendan Smith, I see DeAngelo getting a Jack Johnson type of contract.) If DeAngelo can succeed and keep his temper in check, then maybe he can get back to the near $5M level where the Rangers once had him at. In any event, what happens next for DeAngelo will determine the fate and outcome of his career.
To wrap-up on the soon-to-be-bought out DeAngelo, it never made sense for DeAngelo to agree to a termination of his contract. For starters, who knows if he'll ever make this type of money again in his life?
The following information comes from @PUCKPEDIA:
If DeAngelo agreed to terminate his Rangers contract, he would lose $1M this year + $5.3M next year ($6.3M total). If he's bought out, he'll lose $3.53M (2/3 of next year's $5.3M Salary). Waiting for the buyout saves him $2.76M overall.

For a player that never made more than a million bucks prior to this season, it would be insane for DeAngelo to walk away from the money he's making this year, plus the $2.76M, especially with his future uncertain and with the Rangers pretty much burying him on the way out.
For a young player like DeAngelo, it has to be painful to have a season of your career taken away from you, but at the end of the day, this is a business and DeAngelo made the right business decision. If you were in his position, would you turn down the money? I don't think many would say yes here.
The next time we'll be talking about DeAngelo on this site will be when the buy-out becomes official.
In more positive news, and while on the topic of American defensemen, the Rangers have officially signed Zac Jones.
---
While it was reported on Monday, on Tuesday it became official – the Rangers have signed their third rounder of the 2019 NHL Draft, in defenseman Zac Jones. This one surprised me.
During a blog I wrote on 2/18/21, I recapped an episode of Ron Duguay's "Up in the Blue Seats" podcast. You can read that recap/blog here: https://bluecollarblueshirts.com/21821/
On that episode of "Up in the Blue Seats", Duguay's new co-host, in Mollie Walker, was able to get Zac Jones on the show. This was the first time a Rangers prospect had ever given an interview to the show. The connection to Jones here is that Walker graduated from UMass, which is the college that Jones now once played for.
Here's what I wrote on 2/18, when talking about what Jones said:
Jones says he's not ready to play pro hockey yet and will be returning to UMass for his junior year. Jones said he's aware that he needs to grow more and wouldn't have a problem if he had to spend all four years at UMass before signing with the Rangers. Jones at least sounds confident about his career path and what he wants.
Not even two months later, not only is Jones passing on his junior year and graduating from college; Jones is now a New York Ranger. In fact, he was at the Rangers pregame skate on Tuesday morning.
Here's what the Rangers said about the signing, courtesy of: https://www.nhl.com/rangers/news/rangers-agree-to-terms-with-defenseman-zac-jones/c-323602896
The New York Rangers announced today that the team has agreed to terms with defenseman Zac Jones on an entry-level contract.

Jones, 20, skated in 29 collegiate games with UMass this season, registering nine goals and 15 assists for 24 points, along with a plus-17 rating and eight penalty minutes. He helped UMass win the National Championship in 2020-21.Jones was named to the NCAA (East) Second All-American Team this season, as well as the Hockey East Second All-Star Team and the Frozen Four All-Tournament Team, and he also helped UMass win the Hockey East Championship during the season. He ranked second among NCAA defensemen in goals, ranked third among NCAA defensemen in points, tied for third among NCAA defensemen in shots on goal (84), and tied for eighth among NCAA defensemen in assists this season. Among NCAA defensemen who were either a freshman or sophomore in 2020-21, Jones ranked first in points and shots on goal, ranked second in goals, and tied for third in assists. He ranked second on UMass in shots on goal, ranked third in assists, tied for third in points, and tied for fourth in goals in 2020-21.

The 5-11, 185-pounder skated in 61 career collegiate games over two seasons with UMass (2019-20 and 2020-21), registering 12 goals and 35 assists for 47 points, along with a plus-29 rating and 32 penalty minutes. Over his two seasons in the NCAA, Jones ranked third among defensemen in points, ranked fourth among defensemen in assists, and tied for seventh among defensemen in goals. In addition, among NCAA defensemen who were in their U21 season or younger over the last two seasons, he ranked first in points and assists, and tied for third in goals. Jones was named to the Hockey East All-Rookie Team as a freshman in 2019-20, as he led NCAA freshman in assists (20) and shots on goal (89), ranked second among NCAA freshmen in points per game (0.72), and ranked third among NCAA freshmen in points (23) during the season.

Prior to beginning his collegiate career, Jones played one season with the Tri-City Storm in the United States Hockey League (USHL); he was named the USHL Rookie of the Year in 2018-19, and he led all defensemen in the league in assists during the season. Internationally, the Richmond, Virginia native represented the United States at the 2020 IIHF World Junior Championship and recorded two points (one goal, one assist) in five games in the tournament. Jones also helped the United States win a gold medal at the 2018 World Junior A Challenge.

Jones was selected by the Rangers in the third round, 68th overall, of the 2019 NHL Entry Draft.
While I'm not blaming or admonishing for Jones changing his decision, it's just amazing how confident he sounded two months ago and how he is now pulling a 180 here. Of course, winning a national championship and being offered a contract from the Rangers changes things.
Based on reports, Jones signed a three year deal worth $832,500 a season, and with a signing bonus of $92,500 per season as well. Who needs to graduate from college now?
With Jones already with the team, there's a chance he will get to play for the Rangers this season. Of course, there will be an adjustment period, despite there only being 14 games left in the season. Jones, as a college player, isn't coming up from Hartford and will have to learn the Rangers systems on-the-fly. He's going to need a few practices under his belt, or so one would think.
As far as if and when Jones plays, I think you'll see him in the likely event when the Rangers are mathematically eliminated from the playoffs. For team that keeps using the phrase "playoff push", it makes no sense to put Jones in the line-up right now.
Obviously, I wish Jones all the best here. I'm interested to see how he does, especially since he didn't assess himself as an NHL player two months ago.
Lastly on this, and to her credit, she doesn't hide it; expect Mollie Walker of the NYP to have a ton of coverage on Jones, due to their mutual UMass affiliation.
---
As far as any other Rangers news, there wasn't much of anything, outside of David Quinn telling the media on Tuesday morning that he would be using the same line-up as he has been recently using. In other words, this is a tough time to be Julien Gauthier right now.
Season over/under record: 17-22-2 (SAD!)

Tonight's game is a gamblers dream or so you would think, as you can get this game at -5.5, -6 or -6.5 by shopping around.

Igor v Blackwood.

I'm going with the over on the -5.5 line before that line is boosted. #nyr usually rebound. pic.twitter.com/d7qK6mYeOK

— BlueCollarBlueShirts (@NYCTheMiC) April 13, 2021
With a final score of 3-0, my over-under pick was like a Devil shooting at Igor tonight – shut out! My over-under record now drops to six games under .500, a season low, at 17-23-2. It looks like for the first time in four years, when I first started doing these over-under bits, that I'll finish this season with a losing record. As mentioned on past blogs and as you probably know, these inconsistent Rangers are just impossible to predict game-by-game. That said, of course, the only thing that matters here is that the Rangers won!
BOX SCORE time.
The following information and graphics come from the new world-wide leader in NHL coverage, in ESPN.com.
SCORING:
PENALTIES:
GOALIES:
| | | | | | | | | | | |
| --- | --- | --- | --- | --- | --- | --- | --- | --- | --- | --- |
| SA | GA | SV | SV% | ESSV | PPSV | SHSV | SOSA | SOS | TOI | PIM |
| 19 | 2 | 17 | .895 | 17 | 0 | 0 | 0 | 0 | 58:05 | 0 |
| | | | | | | | | | | |
| --- | --- | --- | --- | --- | --- | --- | --- | --- | --- | --- |
| SA | GA | SV | SV% | ESSV | PPSV | SHSV | SOSA | SOS | TOI | PIM |
| 27 | 0 | 27 | 1.000 | 23 | 0 | 4 | 0 | 0 | 60:00 | 0 |
TEAM STATS:
---
I know I've gone in-depth on this topic in the past, and even as recent as several blogs ago, so I won't go into my "Greatest Hits on Joe Micheletti" or in repeat mode here. That said, I can't ignore this – Joe Micheletti must've said the word "FABULOUS" 780678969696796976676 times tonight. There was even one point in the game, where after a play from Panarin, Micheletti, and I'm not making this up, shrieked out "FABULOUS, FABULOUS, FABULOUS", just like that and three times in succession.
And to be clear and to reiterate here, I don't care about anyone's sexual preferences, what anyone does, and yadda yadda yadda. I'm not insinuating or alleging anything either here. What I am doing, is trying to get a laugh out of you!
All I'm really saying here, is that the word "FABULOUS" is one of those old Hollywood words, that you'd hear at some ritzy California cocktail party or during some TV show featuring RuPaul.
And to go further here, while the word "FABULOUS" does have some connotations, the bottom line is that "FABULOUS" isn't a signature catch phrase or trademark out of Micheletti – it's just a word he uses in every sentence. What I mean by that, is that it doesn't have to be the word "FABULOUS." Whether it's "FABULOUS", marvelous, amazing, great, or whatever, Micheletti just uses this one word too often. This isn't Micheletti using the word in the same fashion as Rosen using his calling card of "And it's a power-play goal!" This is just Micheletti beating a horse, or should I say unicorn, to death.
As I've said previously, what am I getting at here? I'd like to see someone get Micheletti a thesaurus for his birthday!
And oh yeah – CZAR IGOR was FABULOUS tonight, which you may have figured out by now already!
---
While I'll quote Micheletti during the game recap/review portion of tonight's manifesto, I had to crack up when I saw this picture tonight. Talk about a perfect backdrop!
After talking about the sizes of player's "trunks" and "firehoses" on the last two broadcasts, Vally kept the schlong talk inside of his pants tonight. Instead of talking about girth, Vally, not even three seconds into the broadcast, once again talked about his legendary 46 NHL game career. Later on during the broadcast, Vally gave some pointers to both Artemi Panarin and Igor Shestyorkin, as if either of these two would ever listen to a word this guy says. (Of course, Panarin and Shestyorkin don't speak English fluently, and with Vally always around, I don't blame these guys for not trying to become proficient in English!)
In what's also a new trend for Vally, rather than analyzing the two teams individually himself, his statement of, "you can't warm up the other goalie" is now a regular throwaway line out of him on these broadcasts. This is generic junk that you can say prior to every game, just like my generic junk of – "you need to come out hot and with a good start." Both lines/statements applies to any game being played in the NHL.
After two shameless plugs for his fake news stats company, Vally then babbled on about High Danger Chances, where despite his psychoanalysis on High Danger Chances, the Rangers have actually won more games this season while giving up more HDC than when they lead the other team in HDC. Isn't that amazing Suzyn?
While I doubt Vally still reads this site/blogs anymore, he said two things that I've been saying here recently. The first thing he said isn't something I originally came up with, (I believe I heard Ron Duguay say this first and many years ago, which is probably where Vally got this from too) as Vally, while talking about the fat cats, (Kreider specifically) said, "the only way you can punish a millionaire hockey player is by taking their ice time away." Whatever the case, Vally was right here.
The second thing Vally said, (and as I've said during the last three game reviews on this site) during the new M$GN gambling segment on these broadcasts, Vally responded to Giannone with: "I am not picking a Devil (an opposing player) to score tonight. If I have to pick one, I'm going with (and I forget who Vally named here, as it wasn't important to me.)" While Vally didn't out-right proclaim a shut-out for CZAR IGOR tonight, for all intents and purposes, he was close enough. Of course, I'm still waiting for Vally to say prior to these games, "I EXPECT A SHUT OUT TONIGHT, JOHNNY BOY!"
Lastly while on this MSGN pregame show segment, and to do the Barry Horowitz "pat on the back" thing here – I predicted CZAR IGOR to record a shut-out tonight. However, I have to give you this disclaimer – I've been predicting a CZAR IGOR shutout prior to the last ten CZAR IGOR starts. I was bound to be proven correct eventually! How about those fake news stats!?!?!
Let's get to the game now.
---
After Sam Rosen desperately asked Micheletti for his "TACO BELL TAKE", the line of Panarin/Strome/Blackwell opened the game, where Strome defeated the returning Nico Hischier at the dot. However, despite this rare night, where Strome actually finished with a winning face-off percentage (5 wins in 7 face-offs taken), it would be the Devils getting the first shot on goal in this game.
Igor would pass his first test here, but it wasn't easy, as he was forced to make a save on Jesper Bratt, as the result of a Devils two-on-one odd-man rush. As you know by now, nothing would get past Igor tonight, but this save here, and with hindsight, would foreshadow the rest of the game. In fact, the Devils would get a bunch of HIGH DANGER CHANCES throughout this game, but despite the Devils having the GOOD LOOKS, it would be CZAR IGOR saying NYET NYET.
After this save, and not even in a minute into the game, Sam and Joe took a meaty dump on Chris Kreider, mentioning Kreider's scoring woes of late, and saying that Kreider hasn't had a five-vs-five goal during the last 15 games. With this game included, I believe Kreider has now been held without a goal in eight consecutive games. You all know the story by now – when Kreider is hot, he's hot, but when he's cold, he's ice cold. Kreider is just streakier than a ten-year old pair of underwear.
1:27 into the game, and perhaps frustrated with his play, being demoted to the fourth line last game or maybe he just heard the fat mouths of Sam and Joe from across the river; Chris Kreider dropped the gloves for the first time this season:
Chris Kreider and Damon Severson drop the gloves. Spirited bout. #NYR #NJDevils pic.twitter.com/gMKmO2VFfK

— Rob Taub (@RTaub_) April 13, 2021
While Kreider lost this fight with Damon Severson, at least it looked like he gave a damn. However, Kreider would finish up this game with no points and only one shot on goal. Not good.
The biggest thing to look for at this time in this game, was who was going to replace Kreider on the first line, during the next five minutes while Kreider was in the box for his fighting major. It would up being Alexis Lafreniere. During this time, and throughout the game, DQ would flip-flop Blackwell and Kravtsov from the second and fourth lines. Kravtsov would also play on the third line during these five minutes as well. I know how many of you guys are in the "FIRE DQ" crew, but give DQ some credit – he seems to have a knack of when to deploy Kravtsov in the top six and when to use Kravtsov to help bolster the fourth line too. The same can be said about Blackwell as well.
In what was good to see, even if they didn't score, was Strome and Lindgren shooting. For a team that has issues with putting pucks on net, this was encouraging, even if the Rangers would later find trouble in shooting the puck. (The Rangers had a period high of eight shots on goal in this period, and would finish with 19 shots on Blackwood overall.) Right after these two shots, Pavel Buchnevich airmailed a puck high and wide.
After Buchnevich's gaffe, Kakko put a great shot on net, only for Blackwood to make the save. Sam said the puck went wide, either out of habit or because he can't see so well. Bless Sam's heart.
In another play out of Kravtsov this season that has now turned me into a cheerleader of his, (I will forgo the skirt though) Kravtsov ate a huge hit. Right after, Kravtsov bounced up, delivered a hit himself and regained the puck. This kid is much better than advertised. I'm seeing a lot of the "Cuckoo For Kakko" people turning into "Krazy for Kravtsov".
In fact, I'll even add this – like many, I was critical of the way Kravtsov handled his transition to America. He thought he should've been in the NHL right away. Instead, after a crappy stint in Hartford, Kravtsov went right back to Russia, where he was then demoted to the "Siberia" league that is the VHL. (KHL's version of the AHL.) I know six games is a short sample size, but in all six of Kravtsov's NHL games, he's looked – FABULOUS! He's shooting the puck, he's winning puck battles, he's hitting guys, he's playing physical, he has a nose for the puck and he's doing every other imaginable thing correctly and impressively. I can now see why Kravtsov thought he deserved to be in the NHL and why he threw a tantrum, when he wasn't placed with the varsity club last season. Of course, while Kravtsov is most likely better now than he was at the start of the 2019-2020 season; at the very least, you can understand his self-confidence.
In some early of the period craziness, Igor would be forced to make another robbery save on Bratt. Immediately after, PK Subban put two shots in Igor's direction. Of note, I'm surprised the Devils couldn't find a taker for Subban at the deadline. In real-time, while I was thinking "why is Subban still with the Devils?", Panarin went on a breakaway, where he pulled a Mika and was stopped while shooting backhanded.
As I was thinking about Missing Mika, 7:02 into the period, this happened:
MIKAAAAAAAAA

🚨1-0 Rangers🚨 pic.twitter.com/GaDajZZNr0

— Rangers on MSG (@RangersMSGN) April 13, 2021
A rare breakaway goal for Mika Zibanejad this season! 1-0, GOOD GUYS!
On this goal, Fox gets the puck up ice, Kravtsov tips the puck up to Mika, and boom, Mika finished. Good for Mika, as he needed a goal like this.
For some reason, on the official scorer's sheet/box score, they have Fox and Buchnevich with the assists. I don't want to turn this into the JFK assassination here, but I have freeze-framed this goal and have watched it back a few times. Every single time, Kravtsov gets the puck up to Mika. Why Buchnevich gets the assist over Kravtsov here, I do not know. I would expect this to be changed tomorrow, but really, this seemed blatantly obvious that Kravtsov made the play at center ice here.
In any event, while it would be nice to see Kravtsov get credit, the bottom line is that the Rangers took the lead in a game they had to win.
Unfortunately, we wouldn't see another goal scored in this game until about 40 minutes of game-time later. Despite the Rangers possessing a ton of fat cats and up-and-coming talent, the Devils hung in there, clamped down and kept this contest as a one-shot/one-goal game for the majority of regulation.
After a few more saves out of Igor, which meant a few more times where Micheletti shrieked out the word "FABULOUS", Igor would then stop McLeod, as the end result of a mini 3 vs 2 rush out of the Devils. Kravstov continued his strong "Zodiac Killer" style of play; as Kravtsov was shooting everything and leaving bodies all over the place.
With 40.2 seconds left in the period, Brendan Smith was boxed for interference, after checking Jack Hughes in the back and while in front of CZAR IGOR. The Devils would get a power-play here. Of note, for the second time in three games, the Rangers didn't get one power-play tonight, which truly is a rarity. (NYR lead the league in penalties drawn per game.)
The Rangers would kill these 40 seconds of Devils power-play time, and after one period, we remained 1-0, in favor of the good guys.
---
This second period was like watching paint dry.
After our usual comment of "SECOND PERIOD, WHAT DO YOU LOOK FOR HERE JOE?" <more goals dipshit>, the Rangers would easily kill the remainder of the Devils power-play off, where the Rangers got some help from the Devils themselves, with all of their errant passes.
Sam and Joe started babbling about Valiquette's stats, the ages of the players and what they weigh, which just added to the boredom.
During a big play, CZAR IGOR stopped Miles Wood on a breakaway. Sam once again said the shot went wide. Maybe he should hold up from saying that until he sees a replay of these breakaways.
In example #786786789678 of my immaturity and junior high sense of humor, I was cackling like a goofball when Rosen said, "SEND IN THE WOOD!", when talking about the Devils and Miles Wood. Also of note, after making all of those Blackwell/Blackwood errors from a few games back, Sam didn't take no chances in that department tonight. Anytime Blackwood made a save, Sam sounded out Blackwood's name, in the same way you'd teach a first grader how to read and write. Sam would pause in-between syllables and say "BLACK < short pause> WOOD".
At the 5:42 mark of the period, Brendan Smith and McLeod dropped the gloves. This wasn't a fight, as this was a Greco-Roman wrestling match, where McLeod earned two points and five minutes for his takedown of Smith. No loss of man-power here.
11 minutes into the period, each team had only two shots on goal.
As we neared five minutes remaining in the period, the Devils had a long shift in the Rangers d-zone against the Strome line. After a few rebounds, Igor finally made a clean save and was able to get his skaters a change.
With the period winding down, Igor made another save on Wood, this time after another Devils odd-man rush. Lindgren would finish this period with two shots on goal, boosting the Rangers total of SOG in this period to four. Not good.
After forty minutes, and after this uninspiring period of hockey, the Rangers maintained their 1-0 razor-thin lead.
In what was a story at the time, even if this was just two guys talking rather than arguing, Mika and Kreider were caught on camera getting loud with each other near the Rangers tunnel. Both looked frustrated, but I wouldn't look into this as anything deeper than two frustrated players wanting the same goal. In other words, this wasn't Georgiev vs DeAngelo!
---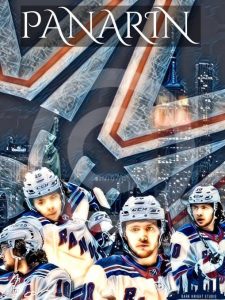 In another one-goal game for the Rangers and another third period where your ass cheeks were left hanging off of your couch (FABULOUS), Mika would lose the opening draw of this period. Then, on the Strome line's first shift of the period, Murray laid a clean hip check on Strome, which left Strome floored on the ice. Strome would eventually get up under his own power, but it was scary there for a second. That said, Strome wouldn't miss a shift. HOCKEY PLAYER.
In a period that resembled the one previous, both teams were playing physical but not getting much offense off, that is, until the 7:50 mark of the period, when this happened:
🍞Order up!🍞

Panarin makes it 2-0 pic.twitter.com/BSIZqPGjvn

— Rangers on MSG (@RangersMSGN) April 14, 2021
2-0, GOOD GUYS, as the result of Panarin scoring after a perfect pass from Filip Chytil. This goal was historic and notable for several reasons:
— Fox got the assist here. He now leads the league for most assists out of all NHL defensemen.
— This was Chytil's third game in a row with a point.
— With this goal, Panarin set a franchise record for most points in the first 100 games played with the Rangers. Prior to tonight, and with 99 games previously played with the Rangers, Panarin shared the record with Mark Messier, with 137 points. With this being Panarin's 100th game as a Ranger, he now has the record with 138 points. Just imagine if Panarin didn't lose all those games because of that KGB BS – he'd be a Hart Trophy candidate again.
Of course, this goal was also important, as it gave the Rangers some breathing room, as this was the insurance goal.
As Sam was wondering about the Buffalo Sabres, Victor Hedman and what kind of bedtime story he'd like to have read to him after this game, Trouba rang a shot off of the iron. In what seems like a common occurrence this season, Sam and Joe named Trouba as their defenseman of the game, despite Fox significantly outplaying the $56M man.
With under ten minutes to go, you had two thoughts in your head – would Igor get the shut-out and would Igor score an ENG?
After the Devils screwed up a three vs one opportunity, Igor would stop Ty Smith. As we approached the FOXWOODS mark of the game, K'Andre Miller absolutely floored McLeod, where I think McLeod had to return to the ice from the third row after the hit.
With under four minutes to go, and after Micheletti gave us the word FABULOUS three more times, the Devils would make a mad dash to Igor's net, where Igor lost his stick during all of this. Thankfully, the Rangers got the puck out of the zone and the shut-out was preserved.
After a Rangers icing, and with 2:09 to go, Devils head coach Lindy Ruff called a time-out and pulled Blackwood. With 1:19 remaining in the game, Lindgren was busted for high-sticking Bratt. The Rangers never make anything easy, so for the final 79 seconds of the game, the Devils had a 6 vs 4 attack, but it also meant that the Rangers could ice the puck at will.
Igor would have to make two more saves while on the PK here, but with 28 seconds remaining, and after a turnover forced at center ice, Buchnevich sealed the deal with an empty netter. 3-0 GOOD GUYS. For Igor, he was now 28 seconds away from his first NHL no-no. In addition, this Buchnevich goal was the franchise's 20,000th goal. I know some people went goo-goo ga-ga after that, but if you can tell me who scored the team's 1000th, 5000th, or 10,00th goal, I'd be impressed. It's just one of those future trivia questions, rather than anything of significance to me.
With 10.5 seconds to go, Igor had to make one more save, his 27th. After one more face-off, the time ran out and that was that – two points in the standings for the Rangers and the first NHL shut-out for CZAR IGOR!
---
I don't want to sound down and disparaging after a win, especially a win like this, where the new franchise goaltender received his first shut-out victory. I also know that this is a league of "Any Given Sunday's", where anyone can beat anyone on any given night, so at the end of the day, I'm happy with the win. All I'll say here, is that the Rangers have to play better, unless Igor is going to pick up three more shut-outs against this Devils team. (This is my way of saying RIDE IGOR!)
When it comes to the standings and the "playoff push", the Rangers now own their destiny when it comes to fifth place. Just keep winning. If the Rangers do their job, they don't have to worry about the Flyers.
When it comes to that fourth and final playoff spot in this division, the Rangers kept pace with the Bruins tonight, as the Bruins came back and handled business against the Sabres on Tuesday night. I don't want to keep saying this every blog, but all those lost points to the Sabres, and all of those one-goal losses, will most likely be part of the reasons why the Rangers don't make the playoffs this season. (Other reasons: first half Missing Mika, the Panarin situation, bad power-play, the DeAngelo drama, etc.)
For the Rangers, the Bruins still have two games in hand on them, but up next for the Bruins are the Islanders, an Islanders team that has had the Bruins number in recent games. The Rangers just need to handle their own end. If they can turn this into a four game winning streak, I'm sure the Islanders, for as much as their fans won't want to see it, will help the Rangers out. Again, the Rangers must keep their own house in order first.
I think all Ranger fans want to see this team alive and make the playoffs. At the very least, you'd love to see a scenario, where the final two games of the season have playoff implications. Of course, the Rangers play the Bruins in the last two games of the season. Even if the Rangers win-out (impossible, I know), they will still need Boston to lose at least two more games along this final 25% stretch of the season. And really, can you believe this season is now 75% complete? Me neither.
If you haven't already, subscribe to this blog for the next update:
---
Back at it again on Thursday night, for game two of this four-game series. Of note, the Rangers approach to these four games is "one game at a time", rather than looking at this as a four-game set. That's the correct approach, even though as fans, we are calling this a four-game series.
Stay FABULOUS my friends.
Until then, and as always here, thanks for reading and…
LET'S GO RANGERS!
Sean McCaffrey
BULLSMC@aol.com
@NYCTHEMIC on Tweeter