Greetings and salutations everyone and welcome to another blog here on BlueCollarBlueShirts.com. It's really hard to restrain myself from doing the "I TOLD YOU SO" act! I'll try to limit myself from doing so – even during my heightened moment of jubilation! 4-0 never fails!
While the disgusting and petulant creatures known as "analytical fans" (and the media too) were once again doubting Gerard Gallant, this time about his usage of Alexis Lafreniere (when will they ever learn?); here's what I said going into today's game:
Watch Lafreniere score today while chart nation goes bonkers lol #nyr https://t.co/Dd7OSpbpL1

— BlueCollarBlueShirts (@NYCTheMiC) April 16, 2022
---
What happened during this game? Not only did Lafreniere score – but he scored two goals, where his second tally was the best looking goal of the season.
"BUT, BUT, BUT, MY CHARTS SAY THAT GALLANT HATES LAFRENIERE!"
UPDATE: AFTER THIS BLOG WAS ORIGINALLY POSTED, BRIAN ATTARD, OF "BLUETRUTH," MADE THE FOLLOWING ROMAN REIGNS/ALEXIS LAFRENIERE MASH-UP. CHECK IT OUT:
Acknowledge Lafreniere. pic.twitter.com/oahwJBRZ7k

— Captain9NYR (@captain9nyr) April 16, 2022
---
After the game Lafreniere just had, and a game that Gallant just coached – you just hope that these morons will finally shut up, and as I've been preaching all season long – "TRUST IN TURK!"
That said, I'm sure they'll now find something new to complain about.
In fact, I can see it now:
"LAFRENIERE ONLY PLAYED 13:03 TODAY! HE SHOULD'VE PLAYED 15:54!!!! FIRE GALLANT INTO THE SUN!"
And oh yeah, does anyone know what analytic can predict a final score like I can?
For those wondering, these two consecutive 4-0 final scores is only the fourth time in franchise history where the Rangers have won this way. That covers a time-span of 95 years.
In a season full of individual milestones, record-breaking and career-bests; the only other times where the Rangers have won back-to-back games by a final score of 4-0 were in 1968, 1970 and 1977.
For a 2021-22 team that has been making history all season (and where they still have a chance to eclipse the win and point totals that the 2014-15 team once set), and for as meaningless as these 4-0 finals are (the only thing that matters is the win) – once again, all these guys do is create history.
And while I don't want to go too crazy with the "Barry Horowitz" pat on the back stuff; it truly is amazing how dead-on accurate I've been with my predictions about this team. That's why the EYE TEST will always be a more valuable tool than some crap put together by Sieve Vagistat on a chart!
To wrap-up on this 4-0 bet/prediction, and really, all of my predictions in general – "blogs don't lie!"
You can just check out the archives of this site for everything; but while many were doubting Drury and his decisions during the off-season – no one was beating the Rangers' drum louder than me, especially when I defiantly stated that this team would be good, would make noise in the playoffs, would make huge deals at the deadline, would win individual hardware, and yep, this too – Gallant would be successful.
"BUT, BUT, BUT, THEY WON'T WIN ANYTHING WITHOUT BUCHNEVICH! FIRE DRURY INTO THE SUN!"
But enough bragging about my predictions that even Nostradamus would bow to! (And yes, I'm extremely giddy after this win too, so please excuse me for stroking my own ego!)
Let's now talk about what really matters – the New York Rangers.
---
As talked about during yesterday's blog (linked below); on Friday, there were two major talking points from both Gallant and his players. Those two things were about being prepared and taking care of business.
On Saturday, in what was billed as "Kid's Day" (providing that these kids could afford these astronomical ticket prices, as there were no discounted ticket prices for families on this day), the Rangers did just that.
Not only were Gallant's Gang prepared, and not only did they take care of business too – but for 52 minutes of this 60 minute affair – the Rangers flat-out dominated.
Sans a short eight minute stretch during the second period, the Rangers completely owned this rebuilding Detroit team – and as they should've done.
Unlike Carolina on Thursday night, who played the role of "Goliath" in their 3-0 loss to this "David" Detroit team; the Rangers just King Kong'd the hell out of the Red Wings.
This was a pure wire-to-wire victory, where while there were a few hairy moments – the victor of this game was never in doubt.
The only negative to come out of this game was an injury suffered by Kaapo Kakko, which I'll get into during the GAME REVIEW.
Aside from Kakko, the Rangers looked phenomenal.
The Wings had no answer for Artemi Panarin, who basically did whatever he wanted during these sixty minutes of matinee action.
The Rangers power-play, questioned by the media just 24 hours prior; scored the opening goal, a Zibanejad blast that held up as the game winner.
Zibanejad's new linemate, Frank Vatrano, continued his torrid scoring pace, after a rifle of a goal, a goal which he created after laying a stellar hit on an unsuspecting Wing.
And then there was Alexis Lafreniere, the top topic of Rangerstown, USA, putting forth his best performance of the season, if not his career.
Crazier than all of that? CZAR IGOR posted another shut-out, where his fifth shutout of the season comes off like an afterthought. That's how good the Rangers were today.
In other words, this was a team-wide victory, a victory that starts with the head coach and then right on down to his players – a Blueshirt squad who all played at a superb and at an elite level.
Unless you're a nit-picker, there is nothing to criticize about this game. Let's not forget that the opponent is also paid to play hockey too.
This was a huge feel-good win, and should the Colorado Avalanche beat the Carolina Hurricanes late Saturday night – the Rangers will then control their own fate for first place in the division.
What a time to be alive!
At this time, let's get into the news, interviews, and of course, the main event – the GAME REVIEW.
---
I covered all of the Ranger news from Friday on yesterday's blog, so we don't have much news to talk about today.
Two hours prior to puck drop, Gallant spoke to the media for ninety seconds, as there wasn't much to discuss after yesterday. Here was Saturday morning's chat:
---
As predicted earlier this week (am I good with my predictions or what?), Gallant went back on what he had previously said, in regards to announcing his goalies. "The Turk," who seemed like he was in a good mood, announced that CZAR IGOR would be receiving the start.
Gallant, as he did on Friday, also confirmed that Alexis Lafreniere would be back in the line-up.
---
Here's what "The Turk" went with for this "Mike Knuble Tribute" game:
FIRST LINE: Kreider/Zibanejad/Vatrano
SECOND LINE: Panarin/Strome/Copp
THIRD LINE: Goodrow/Chytil/Kakko
FOURTH LINE: Lafreniere/Rooney/Hunt
Defensively, we had this:
FIRST D-PAIR: Lindgren/Fox
SECOND D-PAIR: Miller/Trouba
THIRD D-PAIR: Nemeth/Schneider
And in net, CZAR IGOR
---
BOX SCORE time.
The following information and graphics come from the new world-wide leader in NHL coverage, ESPN.com:
SCORING:
PENALTIES:
TEAM STATS:
GOALIES:
| | | | | | | | | | | |
| --- | --- | --- | --- | --- | --- | --- | --- | --- | --- | --- |
| SA | GA | SV | SV% | ESSV | PPSV | SHSV | SOSA | SOS | TOI | PIM |
| 37 | 4 | 33 | .892 | 30 | 1 | 2 | 0 | 0 | 60:00 | 2 |
| | | | | | | | | | | |
| --- | --- | --- | --- | --- | --- | --- | --- | --- | --- | --- |
| SA | GA | SV | SV% | ESSV | PPSV | SHSV | SOSA | SOS | TOI | PIM |
| 20 | 0 | 20 | 1.000 | 16 | 2 | 2 | 0 | 0 | 60:00 | 0 |
---
The M$GN broadcast today was a mess.
Normally, you'd think that it would be the Rangers who would get off to a slow start during a matinee game, but instead it was the broadcast (M$GN) itself – and I'm not even talking about the useless Sieve Vagistat here.
While this doesn't mean anything in the grand scheme of things; you had commercials bleeding into segments, a ten second still shot of the "BUD LIGHT BAR," where some guy was laying on the steps of as if he were a Penn Station bum, audio issues, visual problems, guys coughing, and other things that you normally wouldn't see or hear.
Sieve Vagistat (who I think just says stuff to see what I'll write in this space in my reaction), opened up the broadcast by talking about his family tree. That was really relevant.
I'm not making the following up, as this really happened:
Right after talking about his "Uncle Jack," Vagistat showed us a picture of himself as a kid, where he had long blonde hair. Vagistat, in a response to the photo, said, "my mother wanted a daughter." Well, perhaps she got what she wanted!
Even crazier than that, was the fact that Vagistat then repeated his comment of "my mother wanted a daughter" later on during the pregame show. What a weirdo, but I guess it explains a lot! Of all the things to repeat!
After showing us the Rangers' line-up, with FOURTH LINER ALEXIS LAFRENIERE (THE HORROR!); Vagistat then plugged his fake news numbers company, a company that can't predict 4-0 finals like I do!
As we continued to see more and more photos of the Rangers when they were kids, we then saw this picture of Mika Zibanejad:
Not for nothing, but I never knew that Zibanejad grew up during the Civil War!
(The black-and-white photo really makes this joke work!)
Once back inside of M$G, we saw a camera shot of a young girl with a "MARRY ME SCHNEIDER" sign. While underage marriages may have been legal during the Civil War; Schneider would've been locked up, had he acted upon this offer!
And as we've seen a lot of lately; it was nice to see the players give away free pucks and sticks to the young fans, rather than to the adult cretins and creeps who try to push the kids away during pregame warm-ups. We saw Goodrow give away a few pucks to kids during this part of the broadcast.
After the only saving grace of this pregame show, Dave Maloney, talked about Copp and Vatrano, and then later joked about his time growing up too; we finally went to Sam Rosen and Joe Micheletti – two announcers who once again brought the unintentional comedy:
"OH JOE, KID'S DAY JOE! IT'S EASTER SATURDAY JOE! OH JOE, THE EASTER BUNNY JOE!"
"SAM, THESE KIDS DON'T KNOW WHAT'S GOING ON, BUT IT'S OKAY!"
Not for nothing, but I don't think that Sam knows what's going on half of the time either.
(And again, I'm not making any of this up. That's what they really said – except for the "Easter Bunny" crack!)
---
Something else worth noting, before going into the GAME REVIEW? The following:
Not once were we told who Detroit's starting goaltender was going to be, you know something that's kind of important – especially with the 78967896786786 gambling ads you have to contend with during these broadcasts.
While Alex Nedeljkovic was coming off of a 3-0 shut-out; Thomas Greiss, because of his 6-0-1 history against the Rangers, got the start. After today, his line now reads as 6-1-1 against the Blueshirts.
Also omitted from the broadcast, and from the Rangers themselves, was any mention of Mike Bossy. I was shocked about this. Sam and Joe never brought him up either, and they usually bring up everyone and their mothers on these broadcasts.
"OH JOE, MANNY MAHOLTRA'S MOMMY JOE! LOOK AT HER RACK JOE!"
"SAM, I THINK SHE GAINED FIFTEEN POUNDS DURING THE OFF-SEASON!"
<SLAP!>
The only time Bossy's name came up was during the second intermission, during Bill Pidto's "150 Seconds" segment. I thought this was odd, because the Rangers, and M$GN, did a video tribute for the recently fallen Jean Potvin.
All I'm saying here is that if you're going to pay respect to Jean Potvin, shouldn't you pay respect to Bossy too?
Then again, I guess I shouldn't be that surprised.
After all, this is the same organization that ignored Stan Fischler's 90th birthday – despite the Islanders honoring him at the IBS Arena on that day.
On that note – has anyone seen Al Trautwig?
GAME REVIEW time.
---
The Rangers' new third line started this game. They played a lot today, which as I said yesterday, and also felt during this game – this was a way to see how they'd continue to play together. Gallant would later confirm my thoughts during his post-game interview (linked below).
(So if you're keeping track, once again I knew what Gallant was doing, while the "LAFRENIERE IS ON THE FOURTH LINE, THE SKY IS FALLING" beat reporters had no clue. Just sayin'!)
Two minutes into the game, we still hadn't seen a shot on goal. Fourteen seconds later, Lafreniere, after receiving a perfect pass from Andrew Copp, recorded the Rangers' first shot on goal, a save for Greiss. Then, on the next Rangers' possession, the returning Patrik Nemeth put a shot on goal.
In other words, the two returning Rangers had the two first shots on goal of this game.
These two would also play strong throughout the contest, where of course, Lafreniere, because of that highlight reel goal (and his status too) will overshadow all of the great work that Nemeth did.
At around the 4:30 mark, Trouba found Zibanejad wide-open. On this mini-breakaway, Greiss was able to deny Mika's backhanded attempt. This is when you first started saying, "oh no, not again with this Greiss guy," but that wouldn't last long.
Barclay Goodrow, a stud today, at around the 7:30 mark, made two tremendous forechecking plays. With Greiss behind his own net to play the puck, Goodrow forced a turnover and then got the puck to Chytil. While the Rangers wouldn't score here – this was just one of the many great examples of the Rangers having success while forechecking.
A minute later, Mika, who was very unselfish again today, fed Kreider. Greiss was able to prevent "CK50" from becoming "CK51," as Greiss stopped Kreider's initial shot and the rebound that ensued. Still, the Rangers were just motoring here and never let their foot off of the gas.
With 10:30 remaining, and with the first line still on the ice with Fox and Lindgren; the Rangers continued their attack. However, Bertuzzi broke his stick and then threw it at Fox, which as a result, forced Fox to carry the puck offside. This should've been a penalty, but the officials ruled that Bertuzzi "dropped" his stick; rather than launching it like a javelin – with the latter being shown on replay.
In a period that the Wings looked like a pee-wee team in; Greiss was soon able to thwart off both Schneider and Kakko. It was also after the mid-point of the period where Kakko showed off some of his strength, where he hit a Wing while carrying the puck.
With 7:58 to go, "OLD FRIEND MARC STAAL JOE" was able to catch up to Zibanejad at the last second, and prevented what would've been the son of the Civil War's one-on-one chance with Greiss.
After CZAR IGOR made a thunderous save on Walman, where the puck bounced all the way back to the Rangers' blue line; the Blueshirts went up ice. Greiss made a save, but following it, he then airmailed a puck over the glass with 8:12 remaining. In turn, the Rangers received a power-play.
In a little bit of deja vu, considering what happened last time out with the Flyers; just 31 seconds later, the Wings took another penalty, as Sam Gagner had now sent a puck over the glass too. In turn, and for the second consecutive game, the Rangers now had a lengthy 5 x 3 power-play.
Just 25 seconds into the Rangers' two-man advantage, this happened:
Mika Magic on the Power Play! pic.twitter.com/PLRNWHzpBD

— x – Rangers on MSG (@RangersMSGN) April 16, 2022
---
1-0, GOOD GUYS, as Zibanejad blasted a one-timer after receiving a perfect pass from "The Breadman."
Better than that, with 6:16 remaining and 1:36 left on the Ganger penalty too – the Rangers remained on the power-play.
The Rangers power-play, after scoring on their first try, wouldn't score again for the rest of the game.
On this second power-play, the Rangers kept up their attack; but blocks, deflections and timely saves out of Greiss prevented the Rangers from going up 2-0 here.
With 4:03 remaining, two things took place.
On the ice, the Wings went on a two vs one odd-man rush. Patrik Nemeth got back, snow angeled, and then blocked the vulcanized rubber. In turn, no SOG for the Wings here, on what could've been a goal scoring play.
Off of the ice, we were told that Kaapo Kakko had gone to the tunnel. At the time, Sam and Joe said it was most likely for equipment issues. They would be wrong.
On replay (in real-time, we didn't see this on television), we found out what happened to Kakko:
Awkward fall by Kakko. Left the game. #NYR #NHL pic.twitter.com/4OqqJ850na

— David 🔹 (@DaveyUpper) April 16, 2022
---
So yeah – that wasn't an equipment issue. This was a knee issue – even if the Rangers are referring to this as a "lower-body injury."
As is the norm after a Rangers' injury; the media and the fan base have 7956679575676756858 different overreactions, where none of these overreactions come from anyone who possesses a medical degree.
Some people were quick to irrationally rush to a diagnosis, where these people threw out all sorts of shit, such as "torn MCL," "ACL tear," "he's pregnant," etc.
Obviously, this looked bad – but I'm hoping this looked worse than what it actually was.
And if you don't know already – Kakko never returned to the game.
Following the game, Gallant said that he didn't think that this injury was anything serious. He also said they kept Kakko out of the game to be safe.
Of course, outside of the Tyler Motte injury – Gallant always says "day-to-day," where sometimes, "day-today" turns into "week-to-week," and worse than that – "month-to-month."
That said, both Ryan Strome and Filip Chytil, who were recently "day-to-day," were in fact, "day-to-day." On the other hand, so was Kakko back in January. We know how that turned out.
In either event, let's hope for the best.
---
Despite being down to eleven forwards, the Rangers kept on purring like a Ferrari.
Greiss, to his credit, soon made tough saves on Zibanejad and Fox, where the goaltender wasn't tricked by Fox's backhander from a distance.
Braden Schneider, who once again had another excellent game, a game that may get lost to the wayside because of the accomplishments of his teammates; was able to soccer kick a puck to Panarin during the final two minutes of the first period.
With 16.8 seconds to go, Danny DeKeyser high-sticked Dryden Hunt. The Rangers now had their third power-play of the game, a wraparound power-play.
As the final horn went off, this was just pure Ranger domination.
While the scoreboard, at 1-0, GOOD GUYS, didn't reflect as much; the rest of the box score did. The Rangers out-shot the Wings 17-3, out-hit them 8-6, and won 11 of 14 faceoffs.
As said earlier, the only negative of this period, and the game in general, was the Kakko injury. Everything else was, dare I say it, FABULOUS!
---
The Rangers opened up the second period with 1:43 worth of power-play time. Right after the Rangers took possession of the puck, Zibanejad was tripped as he went towards Greiss. No call.
Panarin, like many, tried to deflect a puck off of Kreider for a goal, but instead, the puck hit "CK50" in a bad spot. Kreider grimaced on his way towards the bench, but never missed a shift.
Once the Wings did their job and killed off their penalty; Schneider blasted a puck so hard off of the post that even Rosen heard it.
Greiss wouldn't be so lucky on the next shot that he faced, as at the 3:46 mark, this happened:
hot shot from Frank 🔥 pic.twitter.com/S1DAayXfL1

— x – Rangers on MSG (@RangersMSGN) April 16, 2022
---
2-0, GOOD GUYS, following Vatrano's bomb of a wrister!
WHAT. A. BLAST.
The Rangers are so hot right now, that it's impossible to talk about every milestone and historic achievement recorded. However, with Zibanejad assisting on this goal, this brought him up to 77 points on the season – a career high.
And don't you love these Italians who have worn Ranger jerseys?
Whether it was Phil Esposito, Tony DeAngelo, Vinni Lettieri or Frank Vatrano himself – all they do is shoot, shoot, shoot! The Rangers need a player like Vatrano in their line-up – especially whenever the Rangers have their bouts with unselfishness.
I should also mention, that prior to the goal, and near center ice on the side of the penalty box, Vatrano clipped a Wing. Then, once Vatrano scored, Dylan Larkin hit him from behind. This should've been a penalty – even if Larkin was trying to defend a teammate during his act of retaliation.
After the goal and once the third line returned; Goodrow won a puck battle in the corner. He then set up Chytil – a save for Greiss.
As Panarin skated all over the place, which dizzied the Wings during the process; Goodrow and Chytil almost hooked up again, but Zadina was able to break up their scoring opportunity.
With eight minutes to go, the Rangers, up 2-0, were also up in the SOG statistic too, by a tally of 24-5. That's not a typo.
However, if there was a rough patch during this game for our beloved Blueshirts, it were during these final eight minutes of this second period.
CZAR IGOR, who eventually recorded a clean twenty save shutout today; did the bulk of his work during these eight minutes.
Speaking of that number eight, Igor would then make the next eight saves of the game, as the Wings got off eight straight unanswered shots on goal.
After Igor's octet of saves; with 1:02 remaining, Chytil took a bad penalty when he tripped Michael Rasmussen while in the Wings' d-zone.
The Rangers penalty kill, and as they often do, almost scored here, following a two vs one odd-man rush that Copp and Miller went on. However, Greiss held down the fort.
With ten seconds to go, Igor made possibly his best save of the game, when he stopped Rasmussen on a stuff-in wrap-around try.
After two periods, we remained at 2-0, GOOD GUYS.
However, remember that SOG statistic that once read as 24-5, and in favor of the Rangers? It was now 25-14.
And yep, while the SOG stat doesn't mean anything (only the final score does), this Detroit 9-1 SOG finish during the final eight minutes was indicative of what was going on. That said, the Rangers were playing well and this would be the last sign of life for Detroit.
---
The Rangers penalty kill opened up the final frame, where they did their job and killed off the remaining 58 seconds of the Chytil penalty.
While the Rangers didn't exactly go into "PREVENT" mode, as they did with Philly; the Rangers didn't give up much either.
The only difference between this game, and the game against Philly, is that the Rangers kept on attacking. It would pay off. (It also paid off for me too!)
The Rangers went back to the way they opened the game and completely dominated Detroit. Greiss was under duress during all of this, as he had to stop Goodrow, Copp, Chytil and Panarin.
With 15:45 to go, Greiss received a temporary reprieve, when a defender caught up to Fox at the nick of time. Had this not happened, it could've been Fox who had the third goal of the game.
Instead of Fox, it was Alexis Lafreniere, who did this with 15:23 remaining:
Laf gets his 16th of the year!!! pic.twitter.com/lYSOztdSxP

— x – Rangers on MSG (@RangersMSGN) April 16, 2022
---
3-0, GOOD GUYS, after Lafreniere banged home a pass from Chytil!
The rout was on!
Worth noting? This was the first of two assists for Goodrow today, a veteran #21 in blue who continues to make the young stars of this team shine. It's why Gallant didn't break up his third line. And when Kakko went down, there was Lafreniere to step right up, a Lafreniere who has played well with both Goodrow and Chytil.
While I still think that Chris Kreider gets the Steven McDonald Extra Effort Award; Goodrow remains as my dark-horse candidate.
Now up by a field goal, the Rangers never relented.
With 12:34 to go, Greiss made a tough stop on Goodrow. A minute later, Zibanejad tried to set-up Kreider, but the attempt was snuffed out.
As I was just begging for that fourth Rangers goal, I thought it was going to be Panarin who would get it.
However, with just under ten minutes to go, Greiss made his best save of the game, when he stopped #10 on a breakaway.
The M$G crowd, which serenaded CZAR IGOR repeatedly with "IGOR! IGOR! IGOR!" chants (have I ever told you before that I first started this chant during Igor's first preseason game as a Ranger?); #31 in blue received help once again from Nemeth.
With 8:06 to go, the Rangers almost got caught on a change, but Nemeth blocked another shot for his goalie. Crisis averted. Shut-out still in tact!
In what is easily the biggest highlight reel goal of the season, with 5:43 remaining, this happened:
goal of the year??? pic.twitter.com/3ZNB4ILRgA

— x – Rangers on MSG (@RangersMSGN) April 16, 2022
---
4-0, GOOD GUYS!!!!!!
Alexis Lafreniere, what a FATHER FINKIN' goal!
Just watch the video, as my description will do it no justice.
On this goal, Lafreniere went into "Harlem Globetrotters Meet Michael Jordan" mode, deked out everyone to kingdom come, skated to the net, and when he felt it was right – backhanded the puck right past Greiss.
There have been a lot of good looking goals from the Rangers this season, and even if you include the ones from the shootouts – it's tough to think of a better looking goal than this.
"BUT, BUT, BUT GALLANT DOESN'T KNOW WHAT HE'S DOING! HE HATES LAFRENIERE!"
And no joke, after the way Gallant's team played and with what Lafreniere did today – Gallant had every right to molly-wop every single face of the Rangers' beat, and then tell them to Father Fink off. How dare they question THE GREAT GALLANTSBY!
Up 4-0, you know what I was hoping for – this score to hold!
That said, my 4-0 bets are small risks. I would've had no problem if the final score was 5-0, 6-0, 7-0 and you get the idea.
The Rangers came very close of increasing their four-goal lead during the FOXWOODS FINAL FIVE.
Lafreniere, unselfish and not worried about a potential hat trick, had a clear path to the net. Rather than shooting, he made a drop pass to Rooney that didn't produce anything.
A minute later, Greiss made a tough stop on Schneider, where more times than not, this shot would've went in.
Then, with 2:18 remaining, Greiss made another fantastic save, where he prevented Vatrano from his second goal of the game.
Not to be outdone, with 1:11 to go, Chytil almost scored. If that wasn't enough, with just ten seconds to go, Chytil was stopped one more time, as Greiss did his job. While Chytil didn't score, it wasn't for a lack of effort. He had a nose for the puck today.
As the final ten seconds rolled off of the clock, we remained at 4-0, GOOD GUYS!
WHAT A GAME!
And what a team, who perhaps by the time you read these words, will be in first place come Easter Sunday.
---
While every team goes through injuries; obviously, an injury to Kakko, who just returned, isn't good news.
As far as an injury time-table update on Kakko, we probably won't hear anything officially until Monday – as the Rangers are off for Easter.
Then again, maybe Larry Brooks gets the inside scoop – because after all, no one else on the beat is capable of breaking any news.
Here's Gallant after the game:
---
The Rangers have a six-pack of games remaining. I think they'll finish off strong.
PLUGS time!
---
My first plug of tonight's blog – the mandatory plug for my book, "The New York Rangers Rink of Honor and the Rafters of Madison Square Garden".
As mentioned previously, the book is now available in hardcover, in paperback and in Kindle formats. To purchase a copy of the book, visit this link:
https://www.amazon.com/Rangers-Rafters-Madison-Square-Garden-ebook/dp/B09CM5N2WD
For those still looking for signed paperback versions of the book, I have re-ordered more copies. I now have a few signed copies for sale at $25 a pop (includes shipping price) through me directly. Here is all the information on that:
---
Here are my last few blogs, in case you missed them:
---
---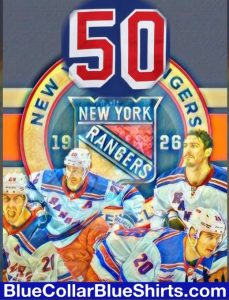 ---
If you haven't already, subscribe to this blog for the next update:
---
Up next: Tuesday night, as the Rangers will host the Winnipeg Jets. Be aware for "OLD FRIEND MORGAN BARRON JOE!" Be aware for "OLD FRIEND NEAL PIONK" too!
As always here, thanks for reading and…
LET'S GO RANGERS!
Sean McCaffrey
BULLSMC@aol.com