Greetings and salutations everyone and welcome to another blog here on BlueCollarBlueShirts.com. These are the 2021-22 New York Rangers that I know!
After disappointing, if not crushing (at least for the fan base), back-to-back losses to heated rivals in the New York Islanders and the Philadelphia Flyers; on Tuesday night, the Rangers got back on track and defeated the Devils 3-1.
There are a ton of lede stories that I can go with tonight. Better than that – all of these stories are positive – just like Charlie Sheen in Wuhan, China!
While we'll eventually get into this particular game, the head coach, and the players themselves; to me, this is the biggest takeaway following this victory:
For regular readers of this website, I'd imagine that you're probably sick of my Barry Horowitz act after a victory – but hey, shouldn't I be happy about my predictions coming to light?
After all, who else was telling you from day one, when Chris Drury first took over the reigns, that the Rangers would be really good this year and would make noise in the playoffs? That's right, yours truly – and I'm loving every second of this! (And admittedly – I get a kick out of the ANALytical community always being wrong too!)
With just eleven games remaining during this 2021-22 campaign; the Rangers are now two points out of first place. Wow!
Even better? The Blueshirts not only control their own destiny for second-place in the division (which as a result, would also give them a home ice advantage during the first-round of the Stanley Cup Playoffs); but they also control their own fate for first-place in the division too – as the Rangers will soon host the first-place Hurricanes in two separate contests.
Not bad for a franchise where the ANALytical community accused both general manager Chris Drury, and head coach Gerard Gallant too, of not knowing what they were doing!
EYE TEST > ANALytics, always!
---
On a Tuesday night that couldn't have gone any better, due to the Rangers' win, and the losses that both the Canes and Penguins endured; the team from the city that never sleeps was the one who put the opponent to bed tonight.
After an explosive first period, where a huge Braden Schneider hit on Jesper Boqvist, and a huger "FIGHT CLUB" victory that Schneider recorded against Yegor Sharangovich, which then changed the course of this game; the Rangers scored back-to-back power-play goals and never looked back, enroute to their 3-1 defeat of the Devils.

In fact, the Rangers' special teams, which had been struggling as of late, were absolutely flawless tonight. The Rangers' penalty kill went two for two tonight, where during both kills, the PK didn't even afford the Devils a shot on goal.
The Rangers' power-play went two for three tonight, but again, THE EYE TEST tells all.
The third Rangers' power-play took place with just 49 seconds left in regulation, and with the GOOD GUYS possessing a 3-1 lead.
In other words, I wouldn't count that final power-play. In my eyes, the Rangers' special teams had a 100% success rate, where they truly went four-for-four.
This tilt was also a tale of two games.
After some first period fireworks (which we'll get into during the GAME REVIEW), the Rangers became more conservative than both Mike Pence and those Martin Brodeur NJD teams from the turn of the century, combined, during the final forty minutes.
While the FINAL SCORE is the only thing that matters; I present the following to you for your consideration:
— NYR First Period SOG: 13, where the Rangers logged 7 of them within the first 4:45 of action.
— NYR Second Period SOG: One. That's not a typo.
— NYR Third Period SOG: Three. That's not a typo either.
Yes, some people may look at the lack of SOG during the second and third periods (four in all) as a detriment; but to me, this was the Rangers learning from their previous mistakes to the Devils.
With a 2-1 lead at the time; the Rangers didn't give up much of anything. In fact, they limited the Devils to only 21 shots on goal tonight, where again – they didn't even allow the Devils to muster up a SOG during their two power-plays. (Barclay Goodrow was a huge reason why.)
And while the Devils are a bottom-feeder and won't be in the playoffs; it was nice to see the Rangers clamp down and protect a one-goal lead, a lead that expanded to two goals following Justin Braun, now at the left defenseman position, providing the much needed 3-1 insurance goal.
---
Since the NHL Trade Deadline, we've seen both Frank Vatrano and Andrew Copp light the lamp, where it feels like they are good for a point a game during any given night.
Tyler Motte, a fourth-line grinder, has excelled during his limited time with New York, where he's become an everyday player at the fourth-line left wing position.
Justin Braun was the "ugly duckling" of the quartet, where "ugly duckling" is an expression, and nothing indicative of his play.
After tonight's game, where Gallant experimented by flipping the man who can get you a deal on Chinese gum (yes, that's a Lloyd Braun "Seinfeld" reference) to the left side; both the head coach and the former Flyer have to be feeling pretty good right now.
For Gallant, once again, he pressed the right buttons. For Braun, I feel that he's moved up on the Rangers' d-man depth chart.
Both Braun and Schneider, who played for the first time together in this game; each d-man finished with a plus/minus rating of +1. That +1 number was the end result of Schneider assisting on Braun's early third period goal. Better than that, this new pair didn't allow the Devils to score at all tonight.
The only Devils goal in this game was the unfortunate result of a bad turnover by Jacob Trouba, which Yegor Sharangovich then capitalized on, when he beat Georgiev on a breakaway.
Outside of this one hiccup, the Rangers were pretty much perfect the rest of the way, including when they scored three unanswered goals, with the eventual game winner coming off of the stick of the unofficial captain of the team, Chris Kreider.
---
As I wind down this intro of the many ledes that came out of this contest; there's one enormous thing that the M$GN somewhat ignored tonight.
After Trouba's turnover that put the Devils up 1-0; we saw a camera shot of Chris Kreider talking to Trouba, where the soon-to-be minted "CK47" told Trouba, "don't worry about it, we'll get it back."
Right after that comment, Kreider assisted on one power-play goal, and then scored another.
While I don't think that the Rangers will fool around with what's working, and name a captain prior to entering the playoffs (it's still my opinion that the franchise may wait for Adam Fox to grow into it); without a shadow of a doubt, Kreider is the top dog of the team.
Yes, Trouba has been extremely great after the first 12-15 games of the season. Yes, Mika is a leader. And yes, Strome, Reaves and Goodrow are veteran voices too. However, it's still #20, the longest-tenured Blueshirt of them all, who is the sage and battle-tested warrior of the franchise. We saw why again tonight.
I couldn't be any happier for Kreider, who is now enjoying the best season of his career.
At this time, let's get into the news, interviews, and of course, the main event – the GAME REVIEW.
---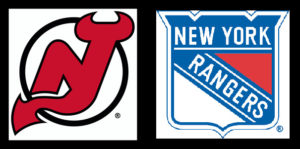 Following the pair of back-to-back losses on home ice; on Monday, the Rangers decided to cancel their originally scheduled practice.
At the time, I thought this was a wise decision. Sometimes, you just need a day off to clear the mind.
I know that others thought that Gallant should have "bag skated" his team a bit; but at this point in the season, a season that's seen more good than bad – I thought it was a solid idea to just take a break and recharge.
---
On Tuesday morning, the Rangers held a pregame practice, where Ryan Strome was at his familiar spot, at the second line center position.
Here was what "The Turk" said after the practice:
---
As far as what Gallant said, there were a few news and notes:
— Gallant expected Strome to play against the Devils. He said that as long as the training staff gave him the okay, then Strome would be centering Panarin and Copp. (And that's what happened.)
— For the 7896786696986th time this season, Gallant said that he'd no longer be divulging information about his starting goaltenders. As mentioned repeatedly on this site all season, Gallant has flip-flopped on this throughout this 2021-22 campaign, where at this point – I wouldn't be shocked to hear him announce CZAR IGOR as his starter on Thursday. (And does anyone really expect Georgiev to play on Thursday night?)
— Gallant said that both Kaapo Kakko and Kevin Rooney were expected back sooner, but it is what it is. Once they are able to return, Gallant said that both players would be "really ready," and that he would re-insert them back into the line-up.
— When it comes to the line-up itself; just like his goalies, Gallant said that he wouldn't be leaking information about who plays and who sits for the remainder of the season. However, Gallant told the media that it would be easy to figure out, based on his practice formations.
— Gallant also joked about all of the hysteria from earlier this season, where the media said "the Rangers can beat the bad teams, but they can't beat the good teams." Gallant said that's been reversed as of late, but was also quick to point out that there is no "bad team in the NHL" – just like all coaches do. (No head coach wants to give the other team bulletin board information.)
---
Two quick hitters before giving you the line-up:
You can now vote on the Steven McDonald Extra Effort Award winner for this 2021-22 season. You can do so by clicking this link: https://www.nhl.com/rangers/fans/extra-effort-award?icmp=int_web_nyr_sma_dl_220404
I've talked about this award in-depth on this site already, including as recently during the All-Star Break. You know what it means by now.
For what it's worth, I voted for Chris Kreider, but as said multiple times this season – there are a bunch of different players who could win this award. That's a good problem to have, especially when you think about last season, where only 2021 winner Adam Fox stood out as a candidate.
It's my opinion that you can also make cases for CZAR IGOR, Mika Zibanejad, Adam Fox, Ryan Lindgren, Jacob Trouba, Ryan Reaves, Barclay Goodrow, and others.
In either event, have your voice heard!
---
In other news, tickets are now available for the annual Rangers vs Islanders alumni charity game.
To purchase tickets, and for event information, click this link: https://www.nhl.com/rangers/community/alumni-classic
For those who care about such things, Bryan Trottier (coach), Arron Asham and Darius Kasparaitis will be appearing – for the Islanders.
Ron Greschner (head coach), Adam Graves, Brian Mullen, Brandon Dubinsky (new name for this game), Stephane Matteau and others will be appearing on behalf of the Blueshirts.
The game, which takes place on Saturday, April 23rd from 1:30PM – 4:30PM at the Northwell Health Ice Center located in East Meadow, New York, does go head-to-head with a Rangers vs Bruins game – as the two Original Six clubs will continue to jockey for playoff positioning at the same time.
---
Here's what "The Turk" went with for this "Scott Gomez Tribute" game:
FIRST LINE: Kreider/Zibanejad/Vatrano
SECOND LINE: Panarin/Strome/Copp
THIRD LINE: Lafreniere/Chytil/Goodrow
FOURTH LINE: Motte/Brodzinski/Hunt
Defensively, we had this:
FIRST D-PAIR: Lindgren/Fox
SECOND D-PAIR: Miller/Trouba
THIRD D-PAIR: Braun/Schneider (First time this season, with Patrik Nemeth in the press box tonight.)
And in net, Alexandar Georgiev
---
BOX SCORE time.
The following information and graphics come from the new world-wide leader in NHL coverage, ESPN.com:
SCORING:
PENALTIES:
TEAM STATS:
GOALIES:
| | | | | | | | | | | |
| --- | --- | --- | --- | --- | --- | --- | --- | --- | --- | --- |
| SA | GA | SV | SV% | ESSV | PPSV | SHSV | SOSA | SOS | TOI | PIM |
| 17 | 3 | 14 | .824 | 14 | 0 | 0 | 0 | 0 | 58:26 | 0 |
| | | | | | | | | | | |
| --- | --- | --- | --- | --- | --- | --- | --- | --- | --- | --- |
| SA | GA | SV | SV% | ESSV | PPSV | SHSV | SOSA | SOS | TOI | PIM |
| 21 | 1 | 20 | .952 | 20 | 0 | 0 | 0 | 0 | 60:00 | 0 |
---
The M$GN broadcast was better than usual – only because Henrik Lundqvist was back.
I'll save you from my "Greatest Hits" here, but yep – Lundqvist is a freakin' natural in this role, where he's become so good, that he even makes Sieve Vagistat somewhat bearable. I just hope that Lundqvist wants the position full-time next season and in turn, that the powers-to-be at the M$GN deport Vagistat to Islander broadcasts.
After all, a second-rate team deserves a second-rate ANALyst.
Bill Pidto filled-in for John Giannone tonight. I thought he was fine in replacing "JOHN GIANNONE, FROM THE PROJECTS IN BOONTON." (That's an old "Sopranos" reference, one that Giannone himself enjoyed, from 7-8 years ago.)
In what was somewhat prophetic, Lundqvist talked about the last time the Rangers and Devils played, specifically that disastrous second period, when the Rangers, then up 2-0, gave up five straight goals. Come the second period tonight, the Rangers barely looked at the net, and instead, were in pure defense mode.
Vally, who brings nothing original to the broadcast, then echoed what Gallant has said 3-4 times over the past few days – "The Rangers must play like they did against Pittsburgh, and not how they played against the Islanders." M$GN could've just aired a clip of Gallant saying this, rather than having the Clairol Chart King parrot "The Turk."
Five minutes into the broadcast, Gallant's line-up was revealed. Not only were Greg McKegg, Ryan Reaves and Julien Gauthier (why he played last game I don't know) scratched – but so was Patrik Nemeth. In turn, Justin Braun started at the left side for the first time in his career in nearly a decade.
And hey, it worked out! After all, how about this post-game spoiler for ya:
After Vally nauseated us with more stories from his legendary 46 NHL game career, where the stooge even had the audacity to compare his career to Lundqvist's for the 87678678678966th time this season; Lundqvist shrugged off his coffee boy. Even better, Lundqvist ignored Vally's self-serving "Royal Road" talk too!
For the second consecutive game in a row, we saw a camera shot of little kids on the glass, in their attempts to meet their favorite players; rather than seeing these disgusting adult cretins begging for free shit. By the end of it, Igor Shestyorkin found some young Ranger fan (in a Devils' barn that was probably filled by Blueshirt backers to a tune of 90%), and gave that young kid a free stick.
As I always say, whenever a player does this – they make a fan for life. Tonight, it was CZAR IGOR's turn.
(And I speak of this from first-hand knowledge. While I was always a Rangers' fan, when I first started to go to games with my friends, rather than with my dad; all of those teams from the mid-to-late 1990s took time out to sign autographs for us. That's why I still hold a special affinity for Petr Nedved, a former #93 that I must have 786696796 signed cards of!)
As Lundqvist and Vagistat talked about Braun, I tweeted out this:
I want Braun to have a big game tonight, just so I can do a horrible blog pic of him getting chinese gum lol #NYR #Seinfeld

— BlueCollarBlueShirts (@NYCTheMiC) April 5, 2022
---
While I didn't make that pic – I did get a Lloyd Braun reference in during this blog! Better (and certainly more important) than that – Braun had his best game as a Ranger tonight too.
After Vagistat told us about the values of "packing it in tight" and "stretching zones" (he'd know best); I got a kick out of Lundqvist just rolling his eyes at the seven-foot doof and then saying the complete opposite of what the worst-back up of the #30 era had said.
I like to make bad jokes on this blog. My "Vagistat" jokes would suggest as much!
Sometimes these attempts at comedy hit, sometimes they don't. However, I never try to laugh at my own jokes, because the worst jokes are the ones where you're the only one laughing. That principle is something that Vagistat hasn't grasped.
During the "BUD LIGHT BAR" segment, you know, when these guys belly-up to the bar but never drink; we saw a clip of Lundqvist on stage, playing guitar with the band "Dirty Honey."
As Lundqvist explained there's no right or wrong in music, as there are in sports; Vally's first question? "DID YOU MAKE ANY MISTAKES?" The douchebag then laughed at his own joke. I was hoping that Lundqvist would smash a stick across Vally's temple, but no such luck.
After Lundqvist praised Drury's four latest acquisitions; we then went to Sam Rosen and Joe Micheletti, where it looked like Rosen had dyed his toupee to a lighter shade of brown.
Sam and Joe, as they always do, then fellated the Devils a bit, made excuses for their poor season, and then finally waxed poetically about the done-for-the-season Jack Hughes. Not mentioned during any of this? That the Rangers were still without Kaako and Rooney.
Seriously, we proverbially saw Sam and Joe bust out the pom-pom's for Dawson Mercer and Nico Hischier during this. At least Micheletti then went on to accurately predict that Kreider would break Jagr's power-play records. Sam also wondered if Kreider would set the record for most game winning goals during a Rangers' regular season too. Update: #KreiderDidIt (Shout out to day one Kreider fan, the great Nick Adams!)
I think it's about time I get into the GAME REVIEW. Let's do it!
---
This game was won in the first period, and that victory was then protected in the second and third periods.
In a game featuring Georgiev vs "Who Let The Daws Out?" Nico Daws; Mika won the opening faceoff. In fact, Mika would eventually win 12 of 18 faceoffs, for a game-high winning percentage of 66.7%.
Just 1:40 into the period, the returning Ryan Strome broke up a Devils' two vs one chance. If he hadn't, Georgiev's weak side would've been beaten, as he left that part of the net empty when playing the puck carrier.
This all goes back to the EYE TEST vs ANALytics. Strome saved a goal here, something that won't appear in the box score and/or on any chart.
In a building full of Ranger fans, we got our first "POTVIN SUCKS" chant of the evening, just two minutes into the game. Also of note, P.K. Slewban was booed whenever he touched the puck tonight, including during the final two minutes of regulation. It must be nice to get booed out of your own building!
The first 4:45 saw Daws stop a barrage of Ranger shots, where he made saves on Jonny Hockey, Mika, Kreider, Fox, Trouba and a wicked wrister from Miller. Vatrano also came close to a rebound goal, but he went a bit high.
With the Rangers dominating early, the Devils struck first. Trouba turned over the puck at the blue line, and Sharangovich beat Georgiev on a breakaway.
1-0, bad guys, at the 5:54 mark.
This goal didn't bother me like others, because I understand that Georgiev isn't CZAR IGOR, and that breakaways are #40's kryptonite.
After a strong shift from the Gauthier-less reunited third line of Lafreniere/Chytil/Goodrow; with 10:53 remaining, Hamilton carried a puck offside – a great thing for Georgiev, because if this puck wasn't whistled dead, the $9M man would've had a clear path to the BULGARIAN BEAST.
It was also around this time where we saw the camera shot of Kreider talking up Trouba.
The turning point of the game came at the 10:05 mark of the period.
Braden Schneider laid a thunderous, yet legal and clean, hit on Jesper Boqvist. In a response, Sharangovich challenged the youngest Ranger. It didn't go so well for the little Devil:
BRADEN! 🥊

(via @RTaub_) pic.twitter.com/w7qVzFy7Ut

— Rangers Videos (@SNYRangers) April 5, 2022
---
I know that everyone hates these types of fights, because a player is forced to fight after making a legal hit – but I get it. (Of note: we've seen Trouba have to defend himself during situations like these, approximately 3-4 times this season.)
Had a Ranger been trucked like this, I would've wanted a player like Reaves, Trouba and/or Goodrow, to defend his teammate.
I understand that people/fans want these plays out of the game, but I'm fine with this – as long as the officials dole out the penalties correctly. They did so tonight.
(And let me say this too – SCHNEIDER KICKED THE SHIT OUT OF SHARANGOVICH, SO BAD AT THAT, THAT SHARANGOVICH IMMEDIATELY RAN TO THE LOCKER ROOM FOR REPAIRS. It didn't matter, as he was done for the game anyway.)
This all worked out marvelously for the Rangers.
Not only was Sharangovich (the lone Devils' scorer of the game) tossed from the contest; but the Rangers also received a power-play too. They'd make the Devils pay just a minute and two seconds later:
Welcome back Ryan Strome!

(via @NYRangers) pic.twitter.com/4YZrAJklIB

— Rangers Videos (@SNYRangers) April 5, 2022
---
1-1, with 8:53 remaining.
Talk about a team-wide power-play goal.
Not only did Schneider win his fight (and make that big hit as well); but all five Rangers of the PP1 unit touched the puck before Strome scored from a mere few feet away.
I told you last blog – the Rangers missed Ryan Strome!
And yep, not only did Strome score here, but Kreider (along with Panarin, who went on to set his single-season best in the assist category tonight, as he now has 65 apples on the season) picked up an assist too.
Gotta love it!
Following the tying goal, Daws then made stops on Lafreniere and Kreider.
As we hit 5:28 remaining, the Devils hadn't had a SOG since Sharangovich's opening tally.
After Vatrano was head-locked in the Devils' d-zone (no call), back in the Rangers' d-zone, Pavel Zacha (dormez vous?) blatantly held Adam Fox with 2:28 left on the clock.
25 seconds later, Kreider put the Rangers ahead:
25 PPG's for Chris Kreider!!!

a new #NYR record pic.twitter.com/qx8D73RM2W

— Rangers on MSG (@RangersMSGN) April 5, 2022
---
2-1, GOOD GUYS, as Kreider deflected a shot from Panarin for his 47th goal of the season – and his 25th (franchise record) PPG too!
And in another example of why the EYE TEST TRUMPS ALL; while Strome didn't get an assist here (Fox and Panarin did), this all started with the returning #16.
Prior to Kreider's PPG, Strome prevented Susan Sarandon's favorite player, Jimmy Vesey, from clearing the puck. Strome got the puck to Fox, and bada-bing-bada-boom, the Rangers had the lead in the room.
After twenty minutes, we remained at 2-1, GOOD GUYS. Outside of the Trouba mishap (which doesn't happen often), this was as good of a period as any.
---
The second period, as talked about earlier, saw the SOG statistic read as 6-1, and in favor of the Devils.
Perhaps not wanting a repeat of last time, the Rangers were confident with their one goal lead and did nothing aggressive – outside of their work on the penalty kill.
4:40 in, Georgiev recorded his best save of the game, when he stopped Zacha from near the paint, with a puck that went off of #40's cow.
After Miller made a stop at 6:30 in, where he lost his stick in the process; Trouba fed Lafreniere for a breakaway, but a Devil caught up at the last second, and then bumped #13 off of the puck.
With 12:09 to go, Jimmy Vesey, who gets free drinks in NYC for life, laid a weak-ass check on Schneider. Vesey then crumpled to the ice and never returned to the game, as he had a horrific looking limp as he was assisted to the tunnel.
I still don't know how Vesey got hurt here, as it was he who tried to hit Schneider; but he fell down and was writhing in agony. Again – "don't mess with the bull if you don't want the horns!"
As a result, Schneider, unintentionally, had taken two Devils out, which left Lindy Ruff's team with only ten available forwards. This is another reason why the Rangers defensive approach worked, as the Devils' forwards started to gas out a bit.
Put it this way, once Vesey went out, the SOG stat read as 5-0. Each team would get one more SOG during these final twelve plus minutes of the second period.
With 8:13 remaining, Hunt finally recorded the lone Rangers SOG of the period. It was also the first of the final four SOG for the team for the rest of the game. In other words, the Rangers only had four SOG during the final 28:13 of regulation.
With 6:44 to go, Copp was arrested for two minutes, after tripping Smith.
The penalty kill is where Goodrow really shined.
During this PK, and the one that eventually followed, he was clearing pucks, getting pucks deep and wouldn't allow the Devils to do anything.
I know that the Steven McDonald Extra Effort Award will most likely go to a "name brand" Ranger, but you can make a strong case for Goodrow too.
Also of note during this PK – Strome didn't miss an empty net – but he did hit a post. However, whenever rubber meets iron, it doesn't go down as a SOG.
With 1:55 to go, Georgiev prevented Tartar Sauce of tying it.
2-1, GOOD GUYS after two periods, where we saw two extremely different periods, but don't get it twisted – the Rangers implemented their game plan well.
---
Fifty seconds into the third period, Georgiev made a big balls stop on a Zacha one-timer.
In a game where the Rangers were better than the opposition, but you still felt nervous because they only had a one-goal lead; the newest LD picked up the insurance goal at the 3:55 mark of the final frame:
Copp ➡️ Schneider ➡️ Braun

1st as a #NYR 👌 pic.twitter.com/3UNxIVmB9y

— Rangers on MSG (@RangersMSGN) April 6, 2022
---
3-1, GOOD GUYS, as Braun somehow fooled Daws on an innocent shot attempt from deep, following a pass from his new partner Braden Schneider.
And yep, at this point in the game, I was hoping for Schneider to get a goal. If he had, I believe he would've been the youngest Ranger (if not in all of NHL history too – I haven't looked this up) to record a Gordie Howe Hat Trick.
It didn't happen on this night, but for #45, not only was he the catalyst of this game – he picked up the insurance assist too.
And how about both of these third-pair defensemen from a collective aspect?
Both men earned a start on Thursday night. If they can continue to play like this, Nemeth will quickly become the odd-man out. However, it's only one game, so let's not get too excited yet – easy for me to say!
As Sam and Joe cried about Jack Hughes not playing (not one word about the other pick from that 2019 NHL Draft, you know, Kaapo Kakko), Micheletti mentioned that both the Canes and Penguins were losing their games. Sam's response? A hearty "MOOOOOOOOOO!"
With 8:25 to go, Fox was boxed for hooking the Bratt from NJ. Once again, the Rangers penalty kill was dominant, where Goodrow was the star who shone brightest during these two minutes.
As Georgiev recorded a few more saves after tries from both Zacha and Bratt; I was cackling when Slewban was still getting smoked by the crowd with 4:20 remaining on the clock.
With 2:30 remaining, Daws took a hike. This is where I was hoping for the Schneider empty netter, but unlike Sam and Joe talking about Jack Hughes – it never came.
With 49.6 seconds to go, Tatar sealed the deal for the Rangers, when he tripped Vatrano.
To go back to what I said earlier, the Rangers, with the win in hand, didn't press the issue during this power-play, which is why I said that the special teams were perfect tonight – despite the black-and-white stats suggesting otherwise.
3-1, GOOD GUYS, your final from The Pebble!
---
Obviously, the Rangers needed this win tonight. To be clear, this wasn't a "MUST WIN" game – it was a "NEEDED WIN" affair.
And after two losses which felt greater than they really were, due to the opposition/rivalries; the Rangers, after all of that, are now two points out of first place. Isn't that amazing Suzyn?
The Rangers, who have played Pittsburgh well throughout this season (remember when that wasn't always the case?), will look to extend their four-point second-place lead over the Penguins this Thursday night.
Win or lose – I think it speaks volumes that the Rangers have a cushion over the black-and-mellow-yellow attack.
However, all eyes must remain on the prize – first-place is within reach.
PLUGS time!
---
On Monday evening, "The Blueshirt Underground Show" returned with a new episode. To watch it, click the play button below:
---
On Tuesday night, following this 3-1 Rangers win, our buddies at "2 Guys, 1 Cup" returned with a post-game recap. To listen to the show, click the link below:
After a calm 3-1 victory over the Devils, we break down the last 4 games, the return of Ryan Strome and what that means for the power play, Igor's usage and upcoming schedule, and Roc shares a great Mark Messier story #NYR https://t.co/CSF4LXzNO0

— 2 Guys 1 Cup Podcast (@2G1CRangers) April 6, 2022
---
My first plug of tonight's blog – the mandatory plug for my book, "The New York Rangers Rink of Honor and the Rafters of Madison Square Garden".
As mentioned previously, the book is now available in hardcover, in paperback and in Kindle formats. To purchase a copy of the book, visit this link:
https://www.amazon.com/Rangers-Rafters-Madison-Square-Garden-ebook/dp/B09CM5N2WD
For those still looking for signed paperback versions of the book, I have re-ordered more copies. I now have a few signed copies for sale at $25 a pop (includes shipping price) through me directly. Here is all the information on that:
---
Here are my last few blogs, in case you missed them:
---
---
---
If you haven't already, subscribe to this blog for the next update:
---
Up next: Rangers vs Penguins Part IV, live at M$G. The Rangers currently own a 2-1 lead in the regular season series and have outscored the Pens 8-3 too.
As always here, thanks for reading and…
LET'S GO RANGERS!
Sean McCaffrey
BULLSMC@aol.com