Greetings and salutations everyone and welcome to another blog here on BlueCollarBlueShirts.com. WOW!
Spoiler Alert: I don't think that the Rangers and the Lightning like each other very much!
Another spoiler? Yes, we're going extremely long tonight – where thankfully – I'm off from the real job until Monday!
There are a multitude of adjectives and phrases you can use following the Rangers' 6-3 victory over the reigning-and-defending three-time Eastern Conference Champions from Wednesday night – where all of them are suffice – and where following this game – it would be a travesty if these two teams don't meet-up again come the 2023 Eastern Conference Final.
(I know – the Boston Bruins may think otherwise – the only team that I think can prevent NYR vs TBL Part III.)
And should the Rangers & Bolts square off in the playoffs for the third time in eight years – let's hope another phrase, as in "third time's a charm," will apply too!
---
Wednesday night's game, which aired on national television via the TNT network, had it all.
And if you had Tyler Motte, not only to be named as the first-star of this game featuring a cavalcade of All-Stars and future Hall of Famers, but to score two goals too – then either you're lying – or need to buy a lotto ticket right now!
Frequently on this site, whenever describing boring games or "snoozers," I'll say – "this is not a game you'd introduce a new fan to, in the attempt to get that person into hockey."
Tonight's game? The complete opposite.
Not only was there a total of nine goals scored (against a pair of Vezina Trophy winners no less); but these two teams combined for seventy penalty minutes, as the Lightning were assessed with 42 PIM, while the Rangers were assessed with 28 PIM.
And while this is nowhere close to the lede story – and this will probably be forgotten about too (I doubt any other blogger or reporter will mention this) – but I thought that the officials from tonight's tilt were excellent – no easy task – all things considered.
Following a game where the word "chippy" doesn't even scratch the surface – the men in stripes had a lot to contend with – and as I'll get into during the "GAME REVIEW" – I thought they got every call right – and whether it favored the home team or not.
---
The Rangers, who have been prone to slow starts during first periods throughout the past few weeks – and as they did on Sunday against Washington – quickly negated that talk tonight.
By the 10:21 mark, the Blueshirts had raced out to a 3-0 lead, backed by a power-play goal from Chris Kreider, an absolute rip-job from Kaapo Kakko and perhaps a fluke goal allowed to Tyler Motte.
An Alexis Lafreniere penalty, which immediately took place following Motte's 3-0 goal, stunted the Rangers' momentum – but it did set-up what we'd later see during one of the craziest and most physical periods of Blueshirts' hockey – and as we saw during tonight's second period.
Put it this way: Had Lafreniere not taken this penalty, then who knows?
Maybe the Rangers go up 4-0, and in turn, would have ended Andrei Vasilevskiy's night in net.
Instead of that, the Lightning, now on the power-play, scored within seconds. 3-1, good guys.
And that's how the score would remain until the 7:10 mark of the middle frame, as a former member of the organization (he played with the Wolfpack), Darren Raddysh, scored his first goal of the season – aka – "The Rangers' Way!" (Trademark still pending!)
The Bolts, who never gave up, had nearly erased the "dreaded three-goal lead," and at the time – one more Lightning strike would have completed their potential comeback.
Up next? A period that in real-time ran just less than 75-minutes – due to the abundance of penalties, fights and official reviews.
While we'll recap all of the madness during the GAME REVIEW; needless to say – both of these teams were out for blood and badly wanted these two-points.
And I don't know if it was just me, and I'm interested to see if fans of the Bolts felt the same – but while all of this was exciting, electrifying and entertaining – I just wanted to see my team escape this game without further injury.
After all, during the first period, the Rangers lost their captain, Jacob Trouba, following a questionable slew-foot from one of the dirtiest players in the game, Corey Perry. (As of this writing – yep, you guessed it – "The Great Eight" is currently "day-to-day.")
Despite Gallant's Gang missing their captain, who prior to the game, became the second winner of the now annual "Mr. Ranger" award (more below), and who also leads the team in blocked shots, hits and fights – it's like the entire team embodied the spirit of Trouba – and played in homage to him too.
The back-half of the second period felt like "Mortal Kombat On Ice," as following a first period that featured a Harpur v. Maroon fight, we then saw two more bouts of pugilism – as Trocheck fought Perry – and Schneider, following a Trouba inspired "TROO TROO TRAIN" hit of his own – battled Ross Colton.
By the end of the game, both Harpur and Perry would return to the "ring" – and where #5 absolutely mopped the floor with one of the biggest instigators and agitators in all of the league – and unlike former Rangers' defenseman, Tony DeAngelo, previously this season – Harpur didn't need to spear Perry in the nuts in order to floor him!
However, prior to Harpur's second TKO of the night; the Rangers and the Lightning entered the final frame with the home team up by a goal, 4-3.
Behind CZAR IGOR, the Bolts would never strike again.
Instead, we saw both Zibanejad and Fox pick up a pair of assists, as both men received apples on Kreider's 5-3 goal and on Panarin's 6-3 power-play goal.
In crunch time, and with the game on the line – it was nice to see the FAT CATS dine.
Due to these scores – Tampa would never get a chance to pull their goalie and go for the equalizer.
But don't get it twisted – this was a team-wide effort – where on a night where eleven forwards and seven defensemen were dressed – everyone contributed and were major factors in this statement win.
And maybe this sounds "sacrilege" – but should the Rangers get blown out tomorrow (Thursday night) in St. Louis – I wouldn't care one iota.
For a team that's been alleged to "play up to the level of competition," but also "play down to the level of competition" too; the Rangers, against a Stanley Cup contender, and a Tampa team that has recently won two Stanley Cups to boot – the Blueshirts left their imprint on them tonight.
Sure, you can't overreact to one game – but deep down – I felt this win was the Rangers showcasing themselves to the league. (It's just too bad that we didn't see these Rangers against the Devils last week!)
On a night where both teams were battling as if they were playing in a Game 7 of a playoff series – it were the Rangers who outlasted one of the best franchises of the salary cap era.
But of course – this was only a regular season game – but for a Blueshirt squad that needed some momentum heading into the playoffs – they surely received it tonight.
---
There's a ton of stuff to talk about tonight – including many videos too – so let's get into all of the pregame news & notes first – and then get into the GAME REVIEW.
In other words, get out your favorite beverage and prepare to wear out the scroller on your mouse – or your thumb – should you be reading these words on your phone!
---
Following Sunday's matinee, the win against Washington; a day later, Monday, the team had the day off.
Come Tuesday, the Rangers returned to their practice facility in Tarrytown, NY – and where good news was to be had.
Ryan Lindgren, who had missed eleven straight games before his one-game return against Carolina, only to then miss the next six games – was back – and announced as "good-to-go" for Wednesday night – and where "good-to-go" is much better than "day-to-day!"
#55, who had missed seventeen of the previous eighteen games due to his left shoulder injury following the dirty hit he received from the hands of T.J. Oshie – and just like everyone else in Rangerstown, USA – was happy to be back.
As far as any other news, Patrick Kane had Tuesday off, as he was described as having a "maintenance day" – something that Gallant had previously alluded to last week – as the head coach said he would be giving some of his regulars some practice days off, as the team prepares for the playoffs.
Following the practice, Gallant met with the media.
Here was the Tuesday edition of "TURK TALK":
---
Obviously, the biggest story was about Lindgren's return.
When talking about his top left-defenseman, Gallant said:
"We're going to play him good to go, good to go. Nobody has told us anything different. The kid worked hard for a week. We probably held him out a little longer but you know what, you want to make sure and hopefully, things go well. Injuries can happen at any time to any player even if he's coming off injury, but you just hope everything is good. He works hard and plays hard and he feels 100%, ready to go."
Gallant later added that despite the Rangers playing a back-to-back set on Wednesday and Thursday – he expected Lindgren to play in both games.
When asked about Kane's maintenance day, and the possibility of resting others, Gallant said that he wouldn't be opposed to dressing line-ups of eleven forwards/seven defensemen, where in this potential scenario – a regular forward would receive rest, while Harpur would return to the line-up.
(That potential became reality tonight.)
And as mentioned many times before on this site – the Rangers can't call up anyone from Hartford, due to the salary cap – as a 11F/7D line-up would be the only way to give a forward some rest.
As far as anything else, Gallant went out of his way to rave about his third line, and also showered praise upon both Tarasenko and Trocheck.
---
Come Wednesday, GAME DAY; two hours prior to puck drop, Gallant spoke to the media one last time – and where he revealed that Kane would miss the contest. In turn, the bench boss, as he foreshadowed the day before, said that he would use the unorthodox 11F/7D line-up.
Here was the pregame edition of "TURK TALK":
---
When talking about Kane missing tonight's game, Gallant said it was just a precautionary measure, but also hit his famous go-to phrase, "day-to-day."
As far as whatever is specifically ailing Kane (presumed to be his hip), Gallant said that his newest star has a "lower-body injury."
Gallant also added that had tonight's game been a playoff game, then Kane would've played.
As far as my opinion – if someone isn't 100% right now – and just like I've been saying all along in regards to Lindgren – then it makes no sense to suit them up.
We all know the goal. They all know the goal. It's all about entering the playoffs at 100%.
With Kane out of commission; Gallant bumped up Jimmy Vesey to the first line, while Tyler Motte & Barclay Goodrow were used as fourth-line spares.
Ben Harpur, who following the deadline, was thought to not receive much playing time moving forward; remained in the line-up, as the team's seventh defenseman.
The Rangers would need Harpur tonight – and in turn – he had his most impressive outing to date.
---
Here was the Rangers' line-up from Wednesday night:
FIRST LINE: Kreider/Mika/Vesey
SECOND LINE: Panarin/Trocheck/Tarasenko
THIRD LINE: Lafreniere/Chytil/Kakko
FOURTH LINE: Goodrow/Motte
FIRST PAIR: Lindgren/Fox
SECOND PAIR: Miller/Trouba
THIRD PAIR: Mikkola/Schneider
SEVENTH DEFENSEMAN: Ben Harpur
STARTING GOALIE: CZAR IGOR
BACK-UP GOALIE: THE HALAKNESS MONSTER
DAY-TO-DAY: Patrick Kane
PRESS BOX: Some beat reporters who are more obsessed with their meal than the game they are supposed to cover.
---
BOX SCORE time.
The following graphics and information come from ESPN.com:
SCORING:
PENALTIES:
TEAM STATS: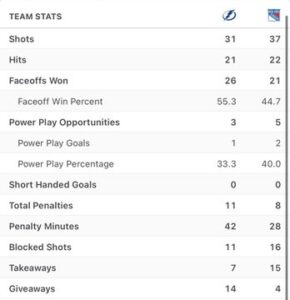 GOALIES:
| | | | | | | | | | | |
| --- | --- | --- | --- | --- | --- | --- | --- | --- | --- | --- |
| SA | GA | SV | SV% | ESSV | PPSV | SHSV | SOSA | SOS | TOI | PIM |
| 37 | 6 | 31 | .838 | 20 | 10 | 1 | 0 | 0 | 60:00 | 0 |
| | | | | | | | | | | |
| --- | --- | --- | --- | --- | --- | --- | --- | --- | --- | --- |
| SA | GA | SV | SV% | ESSV | PPSV | SHSV | SOSA | SOS | TOI | PIM |
| 31 | 3 | 28 | .903 | 27 | 1 | 0 | 0 | 0 | 59:46 | 0 |
---
I won't play every single from my "TNT: The Greatest Hits" album tonight (especially since I did so on Sunday) – but in short – no one broadcasts a hockey game better than TNT.
Henrik Lundqvist was back in-studio, where yep, you know what I'm about to say next – TNT features him much better than M$GN does – as Lundqvist is the main event act – and doesn't play second fiddle to some analytical jackass, the worst Rangers' goalie of this century – and as he does on M$GN.
On the two goalies set to start, Lundqvist shared my feelings (which is why I hate, but I do understand, the "IGOR'S BETTER!" chants – which we heard a few times tonight), and said that in a Game 7, or in any other game where you needed a goalie to get you the win – he'd want Vasilevskiy in net – and with this one caveat for his successor – "until proven otherwise."
And even if you're the biggest Rangers' homer in the world – you'd be crazy to disagree with both yours truly and "THE KING OF COMMENTARY" on this point. Need proof? Just look up Vasilevskiy's playoff record – and then look at his Game 7 stats too.
But yes, this is true too – we all want CZAR IGOR to prove us otherwise!
TNT brought up the 2022 Eastern Conference Final, which in hindsight, was the right move – especially since these two teams soon tore each other apart – as if this was another playoff game from last May.
TNT also raved about Gallant's third line, where everyone on the panel, sans Lundqvist – Liam McHugh, Anson Carter and Jennifer Botterril – all referred to this line as "THE KIDS LINE."
Lundqvist knew better than to go with the elementary and now dated moniker.
In what I thought was funny, cruel and an exhibit of complete hypocrisy; TNT started to read off all of the gambling odds – and then told fans to bet their life savings on this game.
Lundqvist's response? The following: "I don't understand gambling and how all of these odds work."
Of course, every night on the M$GN, we're bombarded with Lundqvist Caesars' sportsbook ads, where the official ambassador begs his subjects to bet all of their money on every game – and then follows up his royal decrees with:
"WE'RE ALL CAESERS!"
As previously (and repeatedly) mentioned on this site – I don't blame Lundqvist for being "KING SELL-OUT" – especially since you have athletes who made more money than him doing the same (the Manning brothers are the best example here) – but Lundqvist's remarks on this subject tonight were 100% hypocritical.
---
Come 7:30PM, we went to the booth where Kenny Albert and Keith Jones had the call – and where once again – we were also reminded of how a competent announce team is supposed to sound like.
Also of note: Kathryn Tappen, formerly of NBC, and who didn't make the jump to either TNT or ESPN following the NHL's television rights contract expiring with their former partner; she is now with TNT, as she was the roving reporter at rink level tonight.
However – don't expect to see Tappen's former co-workers, Mike Milbury, Pierre McGuire and Jeremy Roenick, back on national television with her anytime soon.
One last thing before getting into the GAME REVIEW.
---
While you can't expect TNT to spend all of their time on one team, as they do have to be fair-and-balanced; prior to the game, Jacob Trouba won the second annual "Mr. Ranger" award.
TNT didn't show us this honor in real-time – and as M$GN would have done. However, once this game became 6-3, and where it was 100% apparent that the victor had been determined – TNT then quickly showed us a brief video package of Trouba winning the award – and as presented by Rod's wife, Judy Gilbert.
It's my opinion that the Rangers should've saved this ceremony for Monday night at M$G – and then do the Steven McDonald Award presentation during the season finale, Game 82 of the season, which takes place on 4/13.
They didn't – and it is what it is.
For the sake of posterity, here's how the Rangers covered Trouba's win, courtesy of https://www.nhl.com/rangers/news/jacob-trouba-honored-with-second-annual-rod-gilbert-mr-ranger-award/c-343157974?icmp=int_web_nyr_news_rightrail :
New York Rangers captain Jacob Trouba has been named the recipient of the second annual Rod Gilbert "Mr. Ranger" Award, given to the Rangers player "who best honors Rod's legacy by exemplifying leadership qualities both on and off the ice, and making a significant humanitarian contribution to his community."

An influential voice in the Rangers locker room, Trouba has earned the utmost respect of his teammates through his physical play and sacrifice with his actions in games and practices. The 28th captain in franchise history, Trouba, 29, has posted eight goals and 22 assists for 30 points in 77 games this season. In addition, he has added 188 blocked shots – the second most in the NHL, and 210 hits – the team-high.

The defenseman's hard work and dedication in the community has impacted thousands of individuals throughout his career and time as a Ranger, including but not limited to those battling epilepsy, and the Garden of Dreams Foundation (GDF).
In September, Trouba participated in BGC's Charity Day, the event held in honor of the lives lost at BGC on 9/11. With his participation, Trouba, alongside his wife Kelly, founded "The Trouba Creative Expressions Arts Program," which is a Group & Individual Multimedia Art Program featuring a highly qualified Art Therapist who provides her professional services to EFMNY adult clients with epilepsy and seizures. In the 10-week program, Group and Individual Art Sessions will be provided to persons living with epilepsy.

Through his time in New York, Trouba has played a role in the exposure and growth of GDF. In November, Trouba attended the holiday dinner where he, along with several his teammates, were involved in distributing meals at TAO Lavo for the annual holiday dinner. The players served over 250 hot meals for 35 families. On Garden of Dreams Night in December, Trouba had the chance to meet Dominic, a 6-year-old Junior Ranger and hockey fan in person, after meeting via Facetime earlier in the season. Dominic was diagnosed with a brain tumor and is currently going through chemotherapy and radiation. Trouba took Dominic behind the scenes and showed him what it was like to be a Ranger.

Trouba has appeared in 266 games across four seasons with the Rangers after being acquired by the team on June 17, 2019, tallying 108 points (28G-80A). He has totaled 674 NHL games between the Rangers and Winnipeg Jets, posting 70 goals and 217 assists for 287 points.
---
Congratulations to Jacob Trouba on the high honor.
With the "Mr. Ranger" award settled; four team awards/trophies remain – Team MVP, the Steven McDonald Extra Effort Award, The Players' Player Award and the Frank Boucher Fan Trophy.
Of note: Since this site now determines the winner of the "Frank Boucher Fan Trophy," an honor which first came to be during the 1951-52 season – make sure to get your votes in.
For more information, visit: https://bluecollarblueshirts.com/32823/
Last year, I received nearly 700 votes. This year, I've received about half of that (and maybe that's because I haven't been as adamant in plugging the voting as I was last year) – and voting ends this Easter Sunday.
I will tell you, and I hope not to discourage anyone here – of the 350 or so votes I've received – there's already an overwhelming favorite – but I'll disclose both the winner and the voting totals on Monday night.
As far as the three other awards/trophies, I see Mika Zibanejad as Team MVP, Ryan Lindgren as the Steven McDonald winner and Jimmy Vesey named as the Player's Player.
Finally – GAME REVIEW time!
---
FIRST PERIOD:
In a game featuring two of the best goalies of the last three seasons, CZAR IGOR v. Andrei Vasilevskiy (AV from this point on – and no – not Alain Vigneault!); the Rangers' third line, and as expected, began the game alongside Adam Fox & Ryan Lindgren.
While Tampa won the draw, and as we saw a lot of on Sunday – the third line quickly retrieved possession of the puck – and at just the thirty second mark – it was the returning Lindgren who almost had the first SOG of the contest – but his attempt hit traffic.
And just like Sunday – Gallant rolled out his lines in the order of 3-1-2-4 – and where Chris Kreider received the first double-shift of the game.
(Gallant double-shifted many forwards tonight and when a center wasn't on with Goodrow and Motte, then Goodrow played in the middle. I bring this up because it tells you how versatile #21 truly is, as he played two positions all game.)
At the 2:30 mark – Niko Mikkola (who is really growing on me – as I can't remember the last time he took a penalty after beginning his career on Broadway with a buttload of them), blocked a pair of shots.
With 16:18 remaining, CZAR IGOR made his first tough save of the game, when he denied a Hagel back-handed try. This stoppage produced a scrum – where Alexis Lafreniere was right in the middle of it.
While you can say that maybe Lafreniere isn't the goal scorer that many expected he'd be at this point of his career – you can't deny that he embraces physicality – and is never afraid to mix it up. I respect that.
During the stoppage, Albert & Jones brought up how Kane wasn't playing and said what I felt (and what you probably feel too) – there's no point in playing anyone that's not 100% right now – and since #88 has three rings on his fingers – it's safe to assume that he knows what has to be done once the playoffs commence.
At the five-minute mark and still looking for their first SOG; Kreider, on a breakaway, was stopped, as a Bolt defender caught up to him.
Thirty seconds later, Braden Schneider recorded the team's first SOG, but AV stopped #4's slapshot. However, at the same time, Stamkos had slashed Trocheck, which in turn, put the Rangers on the power-play.
Of note: Don't lose sight of the fact that Trocheck has been drawing a myriad of penalties lately. Good stuff.
So, if you're a regular reader of these blogs, then you already know what my feelings on the current state of the power-play are.
In short, I feel that the Rangers have lost way too many faceoffs, which in turn, allows opposing PK's to burn nearly a minute off of the clock before the Blueshirts can even set-up.
Not on this power-play!
Just forty seconds into this man-advantage, this happened:
Kreider. In front of net.

(via @BR_OpenIce) pic.twitter.com/cdxYpjjRQj

— Rangers Videos (@SNYRangers) April 5, 2023
---
1-0, GOOD GUYS!
On this historic goal of franchise history, as with Kreider's 34th goal of the season, he now has sole possession of fifth-place for most goals (and he's now 17-goals shy of third all-time too – a feat he'll accomplish next season); Zibanejad won the o-zone draw. Mika tried to set-up Tarasenko, but no good. However, and still with the puck, Zibanejad set-up Tarasenko again, and this time, following a VLAD THE IMPALER RIP – Kreider got the tip – and BOOM – finally, the Rangers' power-play scored the first goal of a game.
And the analytical community will tell you that faceoffs don't matter! What a bunch of booger eaters!
Less than ninety seconds later?
The following:
THE KIDS

(via @NYRangers) pic.twitter.com/Illt9fjRN8

— Rangers Videos (@SNYRangers) April 6, 2023
---
2-0, GOOD GUYS!
This goal came with some bad news attached, as prior to Kakko's rip, this happened:
Closer look at it. pic.twitter.com/YfDmaPvpvb

— David 🏒 (@DaveyUpper) April 5, 2023
---
As you can see here, Trouba was slew-footed by Perry – and where #8 awkwardly landed on his head.
I have no clue what Trouba's injury is – but he never returned after this.
For what it's worth, the Rangers said he had an "upper-body injury;" which in turn, will lead people into assuming a concussion was suffered.
While who knows what Trouba's injury is, there are two silver linings:
1) This slew-foot wasn't as bad as a Slewban slew-foot, meaning that there was no "lower-body injury" reported.
2) Following the game, Gallant said that Trouba would be flying with the team to St. Louis. Usually, if you have a concussion, then you're not allowed to fly – so maybe Trouba was just banged up a bit – and since the big picture is all about the playoffs – there was no reason to return him to this game.
More on Trouba during tomorrow's blog, as we'll have more info then.
Back to the goal.
---
As Trouba went down, his partner, K'Andre Miller, was able to get the puck up ice to an awaiting Filip Chytil. The Czech then set-up the Finn – and BOOM – Kakko rifled a shot from the left circle for the 2-0 goal.
Right after this goal, and with 11:22 remaining, Vesey almost got on the board – but no dice.
With 10:24 to go, we saw a replay of what happened to Trouba (it was tough to see what happened in real-time) and where of note – I don't think that Tanner Jeannot, who was also involved in this play – is worth a first-round pick – much less five draft picks!
Now under ten-minutes remaining, I present to you goal number three:
Motter!

(via @NYRangers) pic.twitter.com/lP90VrZnle

— Rangers Videos (@SNYRangers) April 6, 2023
---
3-0, GOOD GUYS!
This was a horrid goal for AV to allow – and where the former Cup champ & Vezina winner was clearly having an off-night.
Take off your Rangers' glasses for a second – this puck should've never went in – but as I often say on this site – that's a problem for Tampa – and not for me or you! (Hi Linda H.!)
This goal was all set-up by the fourth-liners.
Goodrow successfully made a drop-pass to Vesey. Vesey then blasted the puck at AV, but the goalie made the save – while also struggling – thus giving up a rebound.
With the Rangers cycling; Schneider found Goodrow and the center then found Motte.
Motte, who was practically at the boards near the penalty box, fired-off a knuckle-puck – and somehow & someway – the rubber squeezed in-between the little space that AV was affording.
Now up 3-0 at the 10:21 mark – you thought the Rangers were about to visit BLOWOUT CITY.
Of course, that's not "THE RANGERS' WAY!"
On the faceoff that ensued, Lafreniere high-sticked Colton, and nineteen seconds following Motte's goal; Tampa returned the favor, via a Killorn backhanded tip/deflected power-play goal.
3-1, good guys – and where I still question what would've happened had Lafreniere not taken this penalty.
Following a stoppage and now returned from our first commercial break of the game; TB head coach, Jon Cooper, told Tappen that this was a "shinny game."
Albert quickly pointed out that Cooper said "shinny" – and not "shitty" – which is how the Bolts looked at the moment.
By the end of the night – this felt like a game from the "Broad Street Bullies" era of Flyers' hockey.
As the two Russian goalies exchanged saves; with 6:20 to go, Artemi Panarin, of all people, floored Jeannot with a hit. How embarrassing!
Come 5:40 remaining, Vesey and Goodrow almost hooked up for a goal, but AV, still shaky, was able to prevent it.
A minute later, Sergachev blocked a Lindgren shot, as #55 remained looking for his first goal in his return.
With 2:51 remaining and with Maroon looking to jump-start his team, we saw this:
Pat Maroon and Ben Harpur chuck some knucks 👊 pic.twitter.com/yzBwtI8qlT

— Sportsnet (@Sportsnet) April 6, 2023
---
Here's BIG BEN HARPUR, taking out the BIG RIG, following a BIG TIME left hook!
What I most loved about this? Watch Harpur both prior to and after the fight.
He was beaming ear-to-ear!
While I understand why Maroon wanted to fight – he got his ass kicked here!
Better than that – since Maroon dropped the gloves first – he was nailed for instigating, which the officials later changed to slashing. But either way – the Rangers came out of this with another power-play opportunity.
This power-play wasn't like the first one – as instead – it was like many that we've seen before – lose the faceoff, burn a minute and then try to set-up.
Fox hit AV's left shoulder and the goalie stopped Kakko too – and that was that.
Now returned to full-strength; with under thirty seconds remaining, Tampa had an all-out attack, one where they forced CZAR IGOR to drop his stick during.
With just six seconds remaining – Miller high-sticked Kucherov – a pretty dumb penalty with no awareness for the time left on the clock.
And wouldn't you know it – Tampa, after winning the o-zone draw following the penalty – almost scored – but the Rangers survived.
3-1, GOOD GUYS – where despite the score and Harpur's fight card victory – you weren't calm about the situation at all.
Here's what I said at the time:
3-1, GOOD GUYS, after 20. 1P Thoughts:
— Good to see the PP score
— Hope Trouba is ok – probably precautionary for now
— SOG 11-8 #NYR; FOs 14-4 TBL, Hits 8-all
— Third line remains on fire
— AV looks off
— Can't put TB on the PP
— Keep it up!
— LGR!

— BlueCollarBlueShirts (@NYCTheMiC) April 6, 2023
---
SECOND PERIOD:
This period took nearly 75-minutes to complete – and felt as long as yours truly trying to run the NYC marathon.
In comparison, the third period moved quicker than a Kenyan during a 50-yard dash.
And this too – this will become one of those periods and games that no one will forget anytime soon either.
In a way, it reminded me of the first period from the Rangers/Flyers Valentine's Day game from back in 2015 – when the Blueshirts got their revenge on Wayne Simmonds for injuring then-captain, Ryan McDonagh.
<DEEP BREATH> – especially since I feel like I have to ice my fingers already – much like the many hands that will have to be iced after this period!
---
This period actually featured hockey before the theatrics began.
With the Lightning opening the period on a 1:54 power-play, and with the news of Trouba's night being over too – the Rangers killed Miller's penalty – and didn't allow a SOG either.
Once back to full-strength; Perry tried to get cute with CZAR IGOR following a save from #31.
And yep – you know it – the first one to rush to the Russian's aid was no other than Mikkola.
Immediately after, and following a Tampa o-zone win and a save from CZAR IGOR – Lindgren found himself involved in a scrum – something that I didn't want to see – as the last thing we needed was #55 re-aggravating his injury.
Fortunately – that never took place.
Tampa pretty much dominated the first 7:10 of this period – where their power-play was part of it – but at the same time – the Rangers could never muster anything up offensively.
In a goal that you felt coming the whole way – but you just didn't know who would score it – it was former Ranger, Raddysh, picking up his first goal of the season – as his long distance puck got a piece of Schneider and then deflected past Igor.
3-2, good guys.
It should be mentioned, especially for all of the "THREE-GORE" people – that both Tampa goals at this time were scored on deflections – where one happened on a power-play and the other taking place after bouncing off of a Rangers' d-man.
In other words – there's no way that you could blame CZAR IGOR for these pair of Tampa tallies.
However, and despite Tampa dominating this period; just fifteen seconds after the Lightning shaving the Rangers' lead to one goal, the following:
This one from Motte just squeaks by Vasilevskiy 🤏 pic.twitter.com/qqh6KcgARr

— B/R Open Ice (@BR_OpenIce) April 6, 2023
---
4-2, GOOD GUYS!
If you had Tyler Motte scoring two goals, especially one where he beats the Tampa defense and then makes a successful move against AV too – then I think you're lying!
What a response!
After all, following the Raddysh goal, you could feel some of the energy being sucked out of the room – only for Motte to instantly restore it.
As the game progressed, with 11:10 to go, Fox was sent off for slashing Perry. Fox was pissed about this penalty, but to be fair – Perry did goad him into it.
The biggest play during this Rangers' PK took place with twenty seconds remaining, as CZAR IGOR robbed Perry on a breakaway, which in turn, M$G responded by belting out those familiar "IGOR! IGOR! IGOR!" chants.
Then, with 8:26 remaining – all-out insanity.
Take a look:
Absolute CHAOS has broken loose between the Rangers and Bolts after the puck appears to cross the goal line 😱 pic.twitter.com/LTr67bYnQz

— B/R Open Ice (@BR_OpenIce) April 6, 2023
---
On another Bolts' breakaway afforded, CZAR IGOR stopped Cirelli. However, Hagel followed-up and was able to push both the puck and the goalie into the net. This was a good goal. What wasn't good, was following a whistle, and I'm talking about five seconds afterwards – which is a long time – Killorn got cute and barreled over CZAR IGOR.
As noted earlier – I thought the officials did a wonderful job tonight.
Following Lindgren going into angry Jack Nicholson mode; the officials reviewed everything and came to the right decision:
Hagel's goal was good. 4-3, good guys.
However, Killorn was going to the box too, along with Cirelli and Lindgren, which in turn, gave the Rangers another power-play.
And give kudos to TNT too – as once the penalties were assessed and delivered – the cameras caught an irate Lindgren going off on the pair of Bolts, where he said, "What do you want me to f—ing do? Do nothing? You piece of shit!"
There may been a few other f-bombs dropped as well – but I don't need to print them here!
Now with another power-play, and a chance to score the insurance goal – nada.
The Rangers did force AV into making three saves, but where a Kreider miss with just 36-seconds remaining pretty much ended the power-play.
Once returned to full-strength, the two goalies continued to exchange saves – and where the hitting and physicality was also clearly on display.
Don't tell these two three-seeds of their respective divisions that this game was meaningless.
Despite both teams pretty much locked as a three-seed, and with their first-round match-ups pretty much written in stone too – these two squads beat the hell out of another.
So much for taking it easy!
Come 3:47 remaining, Trocheck and Perry dropped the gloves – where NONNA'S BAMBINO fought admirably – but didn't win the fight.
And what a wuss move by Perry to go after Trocheck, a non-fighter – but the Rangers, via BIG BAD BEN HARPUR, would later extract their pound of flesh from #10.
Following more scoring chances denied from both netminders; we had another display of RUTHLESS AGGRESSION – where this time – Schneider not only lived up to the "BABY TROUBA" nickname – he TROO-TROO trained Nick Paul too:
MASSIVE hit by Braden Schneider leads to another tilt 🥊 pic.twitter.com/lR8ydTDDy8

— B/R Open Ice (@BR_OpenIce) April 6, 2023
---
Following Schneider's humongous, yet clean, hit; Ross Colton went after the sophomore Ranger – and was then quickly disposed of too!
And once again – the officials got this right too – as the Rangers received a power-play afterwards, as Colton was bagged for a ten-minute misconduct for instigating.
I've said it before, so I won't repeat everything again – but yep – come the summer, the NHL should give misconducts to anyone who throws down following a clean hit.
While it's both admirable and understandable whenever a teammate steps up following a monster hit; it's now at the point where it's too much.
Simply stated – you can't have fights every time a player gets caught skating with his head down – and I say that as an old-school fan who loves whenever the gloves are dropped – and who also complains whenever the officials step in!
And I think the NHL is also keenly aware of this.
Following the longest Rangers' period of the season – we remained at 4-3, GOOD GUYS.
Here's what I said at the time:
4-3, GOOD GUYS, after 40. 2P Thoughts:
— Longest period of the season
— Love this game – if it was during the playoffs – just don't need any injuries right now
— SOG 25-21, FOs 22-13 TBL; Hits 18-14 #nyr
— Lots of sore bodies in STL and on LI tomorrow
— FINISH!

— BlueCollarBlueShirts (@NYCTheMiC) April 6, 2023
---
THIRD PERIOD:
Maybe the two teams were beat-up a bit – and that was justified – but thankfully, following a second period where your asshole was in your mouth whenever worrying about injuries – you didn't have to be as nervous during this final frame.
That is, unless you're Corey Perry – but more about Harpur whooping his rooty-poo candy-ass at the end of this GAME REVIEW.
Just seconds into this period, and while still on the power-play – AV absolutely robbed a Mika-to-Kreider try from the paint – the best save of the game – hands-down.
The officials would later review this play – and they got it right – AV juggled what should've been a "gimmie goal" for Kreider – but he did stop the puck – and the puck never fully crossed the goal line.
Play on.
CZAR IGOR looked a little shaky himself – as following a pair of saves – he gave up rebounds on both of them – but had no clue where the puck was. However, his skaters did and again, PLAY ON!
With 13:50 remaining, Killorn made a brutal turnover, but AV was able to bail him out, as he came up with another robbery (not as good as the one on Kreider), when he prevented Kakko from scoring his second goal of the contest.
Forty seconds later, Lafreniere tried "THE MOVE" again – but Tampa had it scouted and quickly shut it down.
Down to 12:20 remaining, Panarin dipsy-doodled around, found himself wide-open – then shot the puck wide himself.
Following a monster hit by Kreider on Jeannot (and after hearing from many Ranger fans who all told me how great Jeannot was – he looked like a weakling tonight); this set-up Motte (game-high seven SOG!) to go for the hat-trick – but he missed the net on this chance.
As we surpassed the ten-minute mark, and now with nine-minutes to go – TARASENKO TIME – where his defensive play should NOT be forgotten.
Take a look at what happened next:
CHRIS KREIDER DOUBLES THE LEAD

(via @NYRangers) pic.twitter.com/OpCbmUgmXI

— Rangers Videos (@SNYRangers) April 6, 2023
---
5-3, GOOD GUYS – the much needed insurance goal too!
On this play, Tarasenko sacrificed himself (again – remember the situation and big picture – no injuries & the playoffs). As a result, the first line rushed up the ice, Mika made move, hit the post and BOOM – Kreider tapped in the rebound for his 35th goal of the season.
And with four games remaining – who knows – maybe Mika (39 goals) and Kreider both hit 40?
(It's also a shame that Tarasenko didn't get an assist for this goal – another example of why the EYE TEST trumps all.)
Down to 7:19 remaining and still with the two-goal lead; the Rangers had a chance to go up by three again, following a Kucherov trip on Kakko.
Despite AV being able to stop every Mika SOG tonight (3 in all – but the top center did log three assists) – just a minute or so into the power-play – BOOM – Zibanejad recorded his 47th assist of the season, as Panarin sniped a goal past his fellow comrade.
6-3, GOOD GUYS – game over.
For good measure, and at the near FOXWOODS FINAL FIVE mark of the game – CZAR IGOR stopped Jeannot – and where Panarin was grinning ear-to-ear afterwards.
With the game pretty much in garbage time, this is when Albert announced that Dave Maloney's mother (Albert & Maloney are close-friends, as they do a lot of radio work together), Regina, had passed away.
RIP to Regina Maloney – and my condolences to the Maloney family.
I have no clue how old Regina Maloney was at the time of her death (who passed away last Friday), but since Dave will turn 67-years-old on July 31st – I have to imagine that she lived a long and prosperous life.
As the final horn went off, 6-3, GOOD GUYS – but we weren't done yet – as Perry decided he wanted some black-and-blues:
Rangers win the game.

Ben Harpur wins the fight(s).

(via @BR_OpenIce) pic.twitter.com/qRsfCzWt8M

— Rangers Videos (@SNYRangers) April 6, 2023
---
One more time – had the Rangers had a full-roster – then Harpur wouldn't have played tonight.
Kane was hurt, and in turn, Harpur played – and after tonight – and no matter whatever happens next – he'll always be an example of "ONCE A RANGER, ALWAYS A RANGER!"
Here's your favorite coach and mine, "THE TURK," following one of the most heated and extremely spectacular wins of the season:
---
By this point, if you're still one of these "FLAT EARTH TURKERS," people who try to discredit the Rangers' bench boss at every twist-and-turn, then GASP (you're not allowed to use the r-word anymore Sean – but it does apply here!) – you may be the textbook definition of "mildly r-word!"
At the very least – you don't possess any modicum of a strong hockey IQ if you're doubting THE TURK!
As you can imagine – Gallant was thrilled with the effort, and while he didn't want to see anyone get hurt either – he also said that he'd rather see this effort, rather than the tripe we saw last week.
I concur!
---
As you read these words, the Rangers are currently coming down from their adrenaline high in a St. Louis hotel room.
I know I say this a lot – but it's certainly true tonight – I wish the Rangers were off on Thursday night – rather than playing another back-to-back set – as the NHL schedule-makers did the Blueshirts no favors this season. (Both Columbus and the Rangers led the league with most back-to-backs this season, eighteen in all.)
And as said at the top of this – should the Rangers lay an egg in Missouri – and to paraphrase the useless birdbrain, Mollie Walker – "who gives a shit?"
Tonight was the final test of the Rangers' season – they freakin' aced it.
It remains to be seen what the line-up will be on Thursday night, as there's a chance that Gallant may have to dress a short-handed line-up of 11F/6D, due to the current statuses of both Kane and Trouba.
And this too – I 100% expect Tarasenko to have a MONSTER game against his former club.
I'm already locking in my VT91 anytime-goal-scorer prop bet! (As Lundqvist says, "WE'RE ALL CAESARS!")
Back at it tomorrow night – where I wish I had more time to savor this victory!
Kudos to my beloved New York Rangers – WHAT A WIN!
PLUGS TIME!
---
On Monday night, our pals over at "2 Guys 1 Cup" returned with a new episode. To check it out, click the link below:
---
On Tuesday night, our other pals, "The Blueshirt Underground Show," returned with a new episode, where former Ranger, Corey Hirsch, was interviewed.
To check out the interview, click the play button below:
---
My first plug of tonight's blog – the mandatory plug for my book, "The New York Rangers Rink of Honor and the Rafters of Madison Square Garden."
As mentioned previously, the book is now available in hardcover, in paperback and in Kindle formats. To purchase a copy of the book, visit this link:
https://www.amazon.com/Rangers-Rafters-Madison-Square-Garden-ebook/dp/B09CM5N2WD
For those still looking for signed paperback versions of the book, I have re-ordered more copies. I now have a few signed copies for sale at $25 a pop (includes shipping price) through me directly. Here is all the information on that:
---
My four-volume set of books, "One Game at a Time – A Season to Remember," is a game-by-game recount of the Rangers 2021-22 campaign.
My second title as an author, "One Game at a Time – A Season to Remember," is now available in eBook, paperback and hardcover formats.
To obtain signed copies, visit: https://bluecollarblueshirts.com/onegamebook/
To purchase all four volumes on Amazon, visit: Amazon.com – "One Game at a Time."
---
The greatest volume-set of books on Rangers' history today!
"Tricks of the Trade – A Century-Long Journey Through Every Trade Made In New York Rangers' History," a four-volume set of books that meticulously covers every trade made in franchise history, is now on sale.
All four volumes of the title can be purchased on Amazon.com and are presented in three different formats – eBook, paperback and hardcover.
To purchase Volume I: Conn Smythe (1926) – Craig Patrick (1986), visit Amazon.com
To purchase Volume II: Phil Esposito (1986) – Neil Smith (2000), visit Amazon.com
To purchase Volume III: Glen Sather (2000-2015), visit Amazon.com
To purchase Volume IV: Jeff Gorton (2015) – Chris Drury (2022), visit Amazon.com
To purchase signed copies of all four volumes, visit https://bluecollarblueshirts.com/tricksofthetrade/
---
Here are my last few blogs, in case you missed them:
---
---
---
If you haven't already, subscribe to this blog for the next update:
---
Don't forget to order my recently released four-volume set of books, "Tricks of the Trade!"
If you don't order through me, all four volumes are now available on Amazon.com
For more details, check out: https://bluecollarblueshirts.com/tricksofthetrade/
Thanks for reading.
LET'S GO RANGERS!
Sean McCaffrey
BULLSMC@aol.com
@NYCTHEMIC on the Tweeter machine