"I thought we had a bunch of things lacking tonight, certainly taking advantage of some of the opportunities we had certainly wasn't what it was two nights ago, but there were other issues we had that caused us to be in the position that we are in right now." – Rangers head coach David Quinn, on 4/8/21, moments after the Rangers 5-2 loss to the Penguins, a loss that now puts the team seven points back from a playoff spot and with 17 games remaining.
---
"When you play a good team, worried isn't the right word. I knew what was in store for us tonight and we just weren't able to be consistent enough throughout the game." – DQ, again on 4/8/21, when responding to a question regarding if he was worried, (or as Mike Francesa would say, "werried") about the Penguins response after the Rangers 8-4 win over them on Tuesday.
---
"I just like the way Kravy's been playing. It was something we did a little bit in the last game and I think he's showing a lot of things that we like. I like his effort and hockey sense and I thought he might complement that line a little bit." – DQ, one last time here on 4/8/21, on why he tinkered with his lines in-game, using an idea I originally brought up, by putting Kravtsov with Ryan Strome and Artemi Panarin. For what it's worth, I thought Kravtsov was the best forward on the ice tonight, even if it were Blackwell and Rooney scoring the two Ranger goals.
---
Greetings and salutations everyone and welcome to another blog here on BlueCollarBlueShirts.com. Same old shit, although this game featured a new twist.
On Thursday night, and with the Rangers needing a victory in their chase of a playoff berth; the Rangers were flat all game and as a result, fell to the Penguins by a final score of 5-2. This loss was catastrophic for the team's playoff hopes, because not only did the Boston Bruins handle the Washington Capitals on Thursday night, but the Islanders also won a three-point game over the Philadelphia Flyers, as the Isles knocked off the Flyers in a shoot-out. To just give you the playoff picture here, here are the current Mass Mutual, My Shiny Hiney, Johnson & Johnson Vaccine Shot, Summer's Eve, Angel Soft, East Division standings:
The biggest news going into this game was that the Rangers, as a team, decided to get vaccinated on Tuesday night, following their win over the Penguins. It was later reported that not every Ranger decided to get vaccinated, but due to privacy laws, the team didn't divulge information on who got vaccinated and who didn't get vaccinated. All we know for a fact is that Jacob Trouba did get vaccinated, as he was pictured getting the needle during the MSGN pregame show.
It has been reported that the Rangers received the one-time Johnson & Johnson shot, rather than any of the two-shot vaccines that are out there. Of course, of all the vaccines that are out there, the Johnson & Johnson shot has been reported to be the riskiest and has had more cases of negative effects than any of the two-shot vaccines. (In other words, longer recovery times.)
I don't want to turn tonight's blog into anything political, "anti vaxxers" vs "pro vaxxers" or anything like that. I just want to deal with the facts. After all, everyone is entitled to their own opinion on this topic and what is right for you may not be right for anyone else.
Here's the biggest fact of them all – of everyone who has been vaccinated, whether it be the one-shot Johnson & Johnson vaccine or one of the two-shot vaccines; a high percentile of these people have complained about soreness in their arms after getting their shot or shots.
Additionally, while there is no way of getting an exact percentage here, many people have commented that they have felt sick for a few days after getting the vaccine. Not everyone, but some people. Again, another fact here – this vaccine effects everyone differently and there is no way to know what your reaction will be until you get it.
Getting vaccinated is a personal decision. That's another fact. You don't have to get vaccinated if you don't want to. What we do know, in regards to the Rangers, is that the Rangers front office, whether it be John Davidson, Jeff Gorton or David Quinn being the person pushing it, brought doctors into their locker room on Tuesday night and made the vaccine available to all of their players.
Here's my issue – David Quinn, for the past week or so, has been using the word "playoffs" as much as Joe Micheletti uses the word "fabulous". Knowing that people have had negative reactions to the vaccine, rather than waiting until the end of the season or when the team had two consecutive off-days; the Rangers, organizationally, decided to make vaccines available to everyone on Tuesday night. In turn, the Rangers didn't practice on Wednesday, as they used that day as a "recovery day". Again, everyone reacts differently to these vaccines and in many cases, one day is not enough when it comes to recovery. Heck, many people have complained that they weren't feeling good a week after getting vaccinated.
What is tricky here is the human element. Obviously, the overall health of these players is more important than winning a kid's game. You can't just simply say that these players should refuse to get vaccinated until the season is over. It's a personal decision and none of us can tell these players what they should or shouldn't do. It's up to them to decide. These guys have families too. As hockey fans, maybe we would've better off if the Rangers had waited to get these vaccines. As human beings, who are we to have an opinion on what these guys decide to do?
What bothers me, is that DQ has been talking playoffs for some time now, and with back-to-back games against the Penguins and the Islanders, two games that his team needed to win; as an organization, the Rangers risked their playing health with this vaccine. Is it cruel to say maybe these guys should've waited to get vaccinated until the season was over? Maybe. However, I'm not flat-out saying that – I'm just saying that opting to get vaccinated at this point in the season wasn't a positive thing for the team's playoff hopes. That is all.
Were Strome and Lindgren feeling some effects from their vaccines? There's no way of answering that, because after all, we don't know for a fact that Strome and Lindgren even got the vaccine to begin with. That said, neither player looked good tonight.
Again, while I have no way of proving this in any way, shape or form, I have the OPINION that Mika Zibanejad was vaccinated. After all, how else can you explain this game out of him tonight? To me, after this horrid performance out of Mika, I feel that Mika should donate his game check to the Garden of Dreams charity. If Mika were to do that, at least something good would then come out of his game tonight.
No joke, Mika was so bad tonight, that this may have been his worst game of the season and that includes his terrible first half of this season; a first half of the season where many pondered if Mika had some sort of "Corona Hangover". At least when Mika was struggling in the first half of the season, he was getting to the net routinely. Tonight, Mika didn't get to the net as much, and when he did, he missed wide-open nets, nets that a limbless toddler would've hit.
Let's put it this way – you guys know that I rarely agree with Steve Valiquette on this site. On tonight's broadcast, after the first intermission and after the game, Valiquette brought up the idea that the vaccines may have hurt the Rangers tonight. Why do I bring this up? Easy and for two reasons. One, I always cover the MSGN stuff on this blog. Two, when it comes to hockey opinions, I usually differ with Vally, as he's a chart guy and I'm an eye-test guy. However, here are two people from two different ends of the spectrum saying the same thing. (Ron Duguay, whose podcasts I always recap on this site and a former co-worker of Vally's, brought up the same thing on his Twitter account during this game.)
(I'm also surprised that Vally didn't have EXPECTED Vaccine Shot stats!)
If you get anything out of this, it should be this – I do not question anyone for wanting to get vaccinated. That decision is up to every individual. I just question the timing of this. If you're someone who hasn't got the vaccine yet (I'm one of these people) this game should tell you that if you have something important to do within a 72 hour time period, you probably should wait until you have some free (recovery) time to get the vaccine.
---
As I said during my last blog on this site, during the NYR 8-4 win over the Pens, I said that win wouldn't mean a damn if the Rangers didn't follow up on it on Thursday night. I said if the "One Step Forward, Two Steps Back" and "Find-A-New-Way-To-Lose" Rangers returned, then that win on Tuesday was all for naught.
Prior to this game tonight, and while knowing about the vaccinations; I said on social media that if the Rangers lost this game and came out flat, then the vaccinations would be blamed for the cause of the loss. While no one in the media had the balls to ask the Rangers or DQ about this in the post-game interviews, as mentioned, Valiquette brought this topic up on the broadcast. I tip my cap to him.
I know I've rambled on about the vaccine enough already for one blog, so I'll try to put a pin in this topic now. However, without a shadow of a doubt, not only did the "Same Old Shit" Rangers return, but I think the vaccine hurt them too.
Off the top of my head, the Rangers have had two other games this season, where they just came out like complete shit, as they did tonight. So if you don't agree with me here, you can point to those two games and say this has happened before. However, if you look at this game and the game from Tuesday, and knowing the facts – I don't see any other way to explain this game.
One last time – all of this stuff regarding this loss is just my opinion and not a fact, so don't twist my words around.
---
There is a ton to get into tonight, and I mean a ton. Aside from tonight's game review/recap, I have a recap of the latest Ron Duguay "Up in the Blueseats" podcast for you. After recapping the podcast, I have the complete Henrik Lundqvist interview for you as well, an interview which was conducted by Lundqvist's "old friend Joe!" Kevin Weekes. I also have an update for you on Rangers prospect Nils Lundkvist.
In other words, get out your favorite beverage, loosen your belt buckle and enjoy the ride.
Up first, and as always, the PLUGS segment.
Here are my last two blogs in case you missed them, and I have some good news to report here too – these last two blogs were the most viewed blogs in this site's history. There's no way for me to know this, so maybe you can give me some feedback here – how many of you refresh/or come back to this site/blogs/manifestos after reading a few segments and how many of you read these blogs in just one sitting? And yes, these blogs will always be "10,000 words, one click and no ads!"
Anyway, here are my last two manifestos:
---
---
On Thursday morning, the New York Post sponsored "Up in the Blue Seats" podcast returned with their latest episode. Of course, for those unable to make simple deductions, this means that this episode was recorded prior to Thursday night's Penguins/Rangers game.
To listen to the show, click the links below:
🎙Episode 51 of Up in the Blue Seats!🚨@RonDuguay10 & I dive into the #NYR offense, @NYP_Brooksie gives the latest on vaccines in NHL.

We get an officiating perspective from Hall of Fame referee @PaulStewart22!
Apple: https://t.co/psgVCRievX
Spotify: https://t.co/GCD22W5uym pic.twitter.com/VecR99NmR7

— Mollie Walker (@MollieeWalkerr) April 8, 2021
Let's get right into the recap, as there are a lot of things to talk about today.
---
Mollie Walker pays tribute to Oprah Winfrey in her introduction, paraphrasing the media mogul by saying, "You get a goal, you get a goal", when describing the Rangers 8-4 win over the Penguins from Tuesday night. Walker then previews everything we'll hear on this episode.
After the intro music, Jake Brown welcomes us to the show, where he asks us to review and rate the show. Done and done. Brown then also previews everything that's on tap for this episode.
Duguay says there is a level of excitement for Ranger fans right now. Duguay then brings up today's guest, in former NHL official Paul Stewart. Duguay says, while as players, he spent time with Stewart at Rangers training camp one year. Duguay says he has Stewart on this episode, in an attempt to see how officials view the game today. A timely topic for sure!
Duguay says things look good for the Rangers. Duguay says CZAR IGOR is playing really well. Duguay says Panarin looks like an All-Star. Duguay then raves about Fox as well. Duguay then gets tongue-tied a bit, referring to Mollie Walker as "Wally". That's what we call a "Sam Rosen Moment." Mollie Walker starts cracking up and mentions how her dad's nickname is Wally. Walker tells Brown not to edit this out, because she finds it funny and because she feels this pays tribute to her father. Duguay then calls her "Mollie Wally". If you get anything out of this, it is that the Duguay/Walker chemistry is once again evident here, as they seem like two old friends rather than two people who have never met each other face-to-face. (It was brought up on a past episode that these two haven't met in person yet.)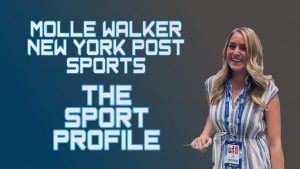 Duguay and Walker talk about the Rangers impressive 8-4 win over the Penguins. Walker mentions how this was the third time this season that the Rangers have scored 8+ goals in a game. Walker then runs down how these wins have been historic and how we're seeing stuff that we haven't seen in nearly thirty years. Walker brings up that the last time the Rangers were scoring like this, it was during the "Core Four of '94" era.
Walker says the Rangers need to have hot and fast starts to games. Gee, who has been saying that for weeks/months, while questioning why Steve Vagistat never says this on the MSGN pregame shows? Hmmmm! Walker says the Rangers need to capitalize more on their power-plays. It's like she's ripping sentences off of this site! (I'm joking, all of this stuff is common sense, even if the resident analyst on the MSGN doesn't see it.)
Duguay says for a young team, early goals are important. Duguay says if a young team can get out to a hot start, it allows them to be excited, keep up strong play, follow the coach's game-plan and not feel the urge to press/revert to bad habits. Duguay says you have to give a lot of credit to David Quinn as well and explains why. Duguay says you're seeing a lot of great play-making out of Ryan Strome lately.
Duguay says he loves the coaching of "Pat Quinn". Duguay must've woke up early when he recorded this podcast! Walker ignores Duguay's flub, but brings up the "FIRE DQ" crew, where instead of saying "crew", she says "brigade". Tomato/"Tamato".
Duguay says he sees a lot of people screaming for DQ's head. Duguay brings up the differences in being a college coach vs being pro coach. Duguay says it's one thing to coach kids, it's another thing to coach rich and married men. Duguay says there is an adjustment period for coaches making the jump from the collegiate ranks to the pro ranks. Duguay says there's also an adjustment period for college coaches while coaching against seasoned NHL coaches too. All of this makes sense.
Duguay says while DQ has made mistakes, the Rangers look good overall.
Walker brings up the FIRE DQ crew again. Walker says how people are crying about Kravtsov's playing time. Walker says Kravtsov has looked good and encouraging. It's a shame we have to talk about TOI stats, in regards to a player who has only two NHL games to his name. Walker brings up how Ullmark robbed everyone of the Disney ending, when Ullmark made that huge save with two minutes to go in regulation against Kravtsov during Kravtsov's debut.
Walker then brings up how Kravtsov was put on the fourth line against Pittsburgh. Walker then brings up points I've previously made on this site – who are you taking out of the top six to give Kravtsov more playing time?
Duguay callbacks to a previous episode, mentioning Kravtsov by only his first name of Vitali. Duguay says the Rangers have a nice problem, as they try to figure out which skill-set guy to play and where they fit into the line-up. Duguay feels there are unrealistic expectations on Kravtsov. Duguay says Kravtsov hasn't recieved a lot of "puck time" yet, but that Kravtsov has shown some great skating ability. Duguay says he doesn't think that Chytil is the best center/play-maker for Kravtsov. Duguay says the only thing that matters is winning, which the Rangers did on Tuesday.
Walker looks ahead, and brings up the Rangers upcoming opponents, which include the Islanders and Devils. Walker brings up the Rangers history against these two teams from this season. Duguay says they have to handle Pittsburgh first. Duguay says Pittsburgh's goaltending isn't great and feels the Rangers will get a ton of scoring chances. Duguay is complimentary of the Islanders and how the Islanders are committed to shutting the Rangers down.
Brown brings up the Rangers loss to the "drunken" Sabres, where the word "drunken" is a callback to last week's episode. The word "drunken" and the term "losing" then transitions into Brown bringing Larry Brooks on the show. (And yes, this is also a callback to a previous episode too!) Hmmm!
With Brooks on the horn, Walker talks about how the Rangers just received their vaccinations. Brooks said that most of the Rangers were vaccinated, while some opted out. (No names here.)
Walker brings up how Nils Lundkvist was named the best defenseman in the SHL this season. Brooks feels Lundkvist will be here next season and doesn't see Lundkvist becoming a free agent. More on this in tonight's news segment.
Duguay brings up how Dubinksy is currently in the news, after making comments about Sidney Crosby, where Dubinsky called Crosby a "crybaby". Duguay feels Crosby is better than Ovechkin, only because he feels the two players are equal, and when it comes to that scenario, the centerman should always get the edge. Brooks agrees with Duguay. Brooks says he was always a fan of Dubinsky. Brooks says Dubinsky was selected for Team USA in 2016 and how Dubinsky was selected only to match-up against Crosby and then how Torts scratched Dubinsky during USA's game against Canada. (Brooks had to work his Torts dig in!)
Brooks says Ovechkin's "Second Act" has made Ovi only better and how Ovi has worked people into arguing for Ovechkin over Crosby. That said, Brooks still favors Crosby.
Duguay brings up Ovi's goal scoring and goes back to a question discussed in-depth last year on this podcast, asking Brooks, "can Ovi catch Gretzky?" Brooks thinks Ovi is going to fall shy of catching Gretzky's 894 goals. (Lockouts and the pandemic have hurt Ovi's chances of catching #99.)
Duguay asks Brooks for his thoughts on Colin Blackwell. Brooks says Blackwell is a very confident player. Brooks says while Blackwell's play is a surprise to many, it isn't a surprise to Blackwell himself. Brooks says Blackwell is a great team player. The only gripe about Blackwell, which has nothing to do with his own play, is that Blackwell takes playing time from the younger players. This goes back to the old "balance" argument and how DQ has tough decisions to make.
This then wraps up a brief segment with Mr. Brooks.
Up next is former NHL official/referee, Paul Stewart. Walker brings up how Stewart is in the U.S. Hockey Hall of Fame. Walker also brings up how Stewart, who was a former player, once played with Mark Messier at the WHA level.
Stewart says he once went to training camp with Ron Duguay, and says that's his claim to fame! Stewart talks about how he also played with Mike Gartner too. Stewart then adds, that he played against Wayne Gretzky in the WHA.
Stewart talks about Messier's first goal in the WHA, which was the result of flipping the puck up at center ice and how he was changing as the goal was scored. Stewart talks about how around this time, that he introduced Mark Messier to Pete Rose, and due to the way Messier was dressed, Rose said, "what a big kid, but it looks like he fell off of a tractor!"
Duguay asks Stewart about playing against Gretzky in Gretzky's first game as a pro and what the vibe of that game was. Stewart talks about his first meeting with Gretzky, which happened in Indianapolis. Stewart talks about how he joked with Gretzky about Gretzky's young age. Stewart mentions that he still talks to Gretzky to this very day. Stewart also said Gretzky had great parents and that played a huge part in Gretzky's success. Stewart says Gretzky is a classy guy.
Duguay asks Stewart, what was it like transitioning from a player to an official? Stewart says playing professional hockey was a dream come true for an American kid, in an era where not many Americans played professional hockey. Stewart talks about the disadvantages he had while as a young American player. Stewart said in order to go pro, he picked the worst team of the worst league, just so he could get playing time that he wasn't getting previously. Stewart mentions that he was also in the movie "Slap Shot".
Stewart said he was never going to last long professionally, so he started to get into coaching and officiating. Stewart says he loved refereeing because he would be on the ice for the entire game. Stewart says playing hockey helped him become a good official and how the players respected him for it.
Walker then asks Stewart about the Tim Peel incident. Stewart says he's not happy with what Peel did, and brings up how his father and grandfather were also referees, and how they instilled into him that you can only call what you see and live with those calls. Stewart says he made mistakes and how things happen. Stewart says you just have to own your own mistakes. Stewart then talks about the advice his mother gave him, which included the old adage of "two wrongs don't make a right." Stewart said a referee should never "lie" or alter a game with a make-up call. Stewart said what Peel did set back the referee position and how Peel's hot mic will now have people saying that these referees are on the take. (The refs were definitely on the take in Thursday's NYR vs Pens game, or at least that's my opinion!)
Duguay says he's always respected and liked Stewart. Duguay says, while as a player, he was never too critical of the officials, but how now as a former player, and as a fan of the Rangers, that he's screaming at the officials all the time, screaming, "STAY OUT OF THE GAME!" Duguay asks for Stewart's thoughts on the officials of today. Stewart talks about more advice that he got from his parents. Stewart says no matter what game you're officiating, you have to call every game the same, no matter if it's a pee-wee game, an NHL game, or an international game. Stewart says he always approached games as a "tourist", and wouldn't make calls unless it was necessary. Stewart then talks about the 1987 Canada vs Russia series and how he handled those games.
Stewart also mentions when you don't make a call, that's a decision too. Stewart says he always tried to call penalties as if he was playing the game, explaining that if he would've been pissed off if something happened to him while he was still playing, he'd make a call. Stewart feels today's referees need to work more on anticipating where the puck is going to go and communication. Stewart also feels these younger referees need more time before entering the NHL. Stewart talks about his progression as a referee, from lesser levels and how he made it to the NHL. Stewart talks about how as a referee working at lesser levels, you grow up with those players and how they all make it to the NHL together, which allows the players to understand how a referee approaches games.
Duguay says the rules have changed today from Stewart's era and asks Stewart for this thoughts on the rule changes. Stewart says the pandemic, which changed the schedule, created more friction among divisional rivals. Stewart feels the NHL should keep these divisions/schedule. Stewart talks about the invention of the high glass around the boards and how Ron Hextall influenced that. Stewart hates the delay of game penalty, saying that a Stanley Cup Final game shouldn't be decided if a player accidentally sends the puck over the glass.
Stewart says this is a physical game and players need to be accountable too. Stewart says officials need to have the ability to judge, rather than being anonymous on the ice. Stewart feels Gary Bettman has hurt the state of officiating.
Duguay asks Stewart what is it like calling a playoff game? Stewart talks about how not many American officials get to call Stanley Cup Final games and thinks it's all political. Stewart says the first round might be the toughest round to call, because of all the hoopla, hype and friction. Stewart says as the playoffs advance, you have better players and better teams, so they play better and that makes it easier for an official.
Stewart, in closing, praises Duguay as a player and as a person. Stewart also talks about a story where Duguay and Stewart roomed in Vegas and how Duguay gave Stewart some shaving advice. Stewart then says, "Duguay is the Martha Stewart of hockey." This was all funny and entertaining.
This then wraps up the show.
---
Going into this show, when I saw Paul Stewart was the featured guest, I said to myself, "blah, I'm not that interested in a 20 minute interview with a referee." By the end of the interview, I was hoping that "Up in the Blue Seats" would bring Stewart back on, as Stewart was entertaining and a good talker, two things that Duguay obviously knew, based on his friendship with him.
When I saw that the topic of DQ was plugged as a featured topic, I was interested in that. I was hoping Walker and Duguay would get opinions out of Brooks on this, but it never came up. As mentioned last blog, it feels that Brooks has more bass in his voice when talking to DQ after losses than compared to the way Brooks talks to DQ after wins.
Whenever I recap these podcasts, it takes an hour of my time. I do this, because I really take a lot out of these podcasts, especially from Duguay, an ex-player who brings a perspective that's unique. I feel this podcast should be regular listening for any Ranger fan.
In any event, this was another enjoyable episode.
---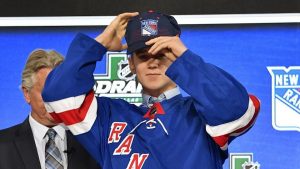 I forgot to bring this up last blog, but on Monday, April 5th, Rangers prospect/draft pick, in a one Nils Lundkvist, won the SHL's "Salming Award", an award named after Borje Salming. The Salming Award is the equivalent of the NHL's Norris Trophy, as it honors the top defenseman in the league. While I can't profess to watching anything out of the SHL this season; based on some quick research, similar to the Norris Trophy, it seems that the Salming Award rewards offensive defensemen more than honoring pure defensive defensemen.
As talked about recently in my Jeff Gorton blog, Lundkvist is the Rangers last hope, in their attempt to come out as an equal winner to the Tampa Bay Lightning, in regards to the Ryan McDonagh & JT Miller trade of February of 2018. As noted in that blog, Lundkvist was the Rangers 28th overall selection of the 2018 NHL Draft.
While Lundkvist still remains unsigned by the Rangers, it is highly likely that Lundkvist will sign with the Rangers in this upcoming off-season, where it's thought that he'll most likely be in the line-up, come the home opener of the 2021-2022 season. What is unknown, is if Lundkvist can immediately find success in the NHL, as he has done in the inferior SHL.
Let's play glass half-full here, and say that Lundkvist can translate his success from Europe to North America. Where does that leave the Rangers? Obviously, Tony DeAngelo's contract will be gone, whether the Rangers are able to trade DeAngelo at the trade-deadline or if they buy him out when they are able to.
Here's what's crazy. As noted on a previous blog, Trouba makes nearly the same money as every starting Rangers defenseman right now – COMBINED. This fact will also ring true next season if Lundkvist replaces Hajek in the line-up. And if Lundkvist replaces Brendan Smith in the line-up, that will mean that Trouba makes MORE MONEY than every other Rangers starting defenseman combined, and by a significant amount.
With Adam Fox cemented as the team's number one right-handed defenseman and if the offensively gifted Lundkvist plays his way into the second RD position, are the Rangers really going to pay Trouba $8M a season to be the team's third RD?
I told you that Trouba contract was a mistake, and it's mistake the Rangers won't be able to get out of anytime soon, due to Trouba's NMC kicking in.
While the Rangers will be able to suck it up next season, in regards to the Trouba deal; come the 2022-2023 season, the Rangers are going to have a lot of tough decisions to make, when they have to re-sign guys like Fox, Lindgren, Shestyorkin, Kakko and others.
The Rangers better hope for an amnesty clause before the "kids" become men!
Let's now go from Lundkvist to Lundqvist.
---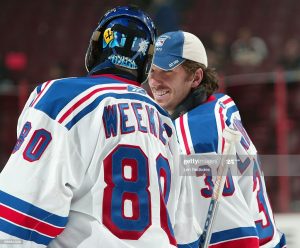 On Tuesday, Wednesday and Thursday afternoon of this week, Kevin Weekes and the NHL Network released their three-part interview series with former Rangers goaltender Henrik Lundqvist. Even better, after releasing the interviews on the NHL Network, the NHLN then gave out the interview for free on their YouTube page.
Since I'm a nice guy and will save you the time from clicking around all over YouTube, here are the three parts of the interview and in order:
---
If you're a Rangers and/or Henrik Lundqvist fan, I'd urge you to watch this interview, an interview that runs about 30 minutes or so. Kevin Weekes was the perfect interviewer here, as he's been friends with Lundqvist since the start of Lundqvist's NHL career, despite Lundqvist "Wally Pipping" Weekes.
If there's one thing you really get out of this interview, outside of the fact that Lundqvist's health situation was very dangerous; it is that with this life-altering/changing event, it is that Lundqvist is now adopting a "zen" personality, which Weekes noted when he referred to #30 as "Zen-rik Lundqvist".
I mean take a look at this:
In the interview, Lundqvist talks in-depth about his surgery and his recovery. Again, watch the interview for yourself.
As far as coming back, Lundqvist will see his doctors later this month, where at that time, the doctors will determine if Lundqvist can return to action during this season. If there is anything you need to know about Lundqvist's future in the NHL, it is that he wants to come back no matter what. However, it's all up to the doctors. If they clear him, Lundqvist will be in Washington before Micheletti can say the word "FABULOUS".
I know many of my detractors can't decipher my opinions on Lundqvist. I have always HATED his contract. I have always HATED the way he'd throw teammates under the bus. As a human being, I wish him the best. I hope he comes back. In fact, what I'm about to soon say will perhaps even shock you too.
(And when it comes to my opinions on Lundqvist's contract, who was right – me or the young kids on Twitter who have painted me out as the "Mephistopheles of NYR Social Media"? Just like Carey Price (MTL) and Pekka Rinne (NSH) you just can't win a Stanley Cup when your goalie takes up 10%+ of your payroll and/or is a top five paid goalie in the league. I've made these points about 56675785658 times on this site, points, where with time, have all been proven correct and true.)
First, as a human being, Lundqvist has a wife and two kids. For his sake, and it looks like he will be fine from a non-hockey perspective; I hope that he makes a full recovery and enjoys his family. That's what's most important here. The hockey career is just a cherry on top and a luxury. For Lundqvist, it's all about being able to live his life and grow with his family. Nothing is more important than that. With that said, let's now get into the hockey end of it.
As you may know, I spent 10+ years in the pro wrestling business, and prior to that, was a huge fan of pro wrestling. I love the story-telling and the drama of pro wrestling. If you're a wrestling fan, you'll understand what I mean here, when I say that I was a WWF guy over an NWA guy. I liked the theatrics and the crazy story-telling that the WWF had in the 1980's, rather than the straight wrestling matches out of the NWA. When I was in the pro wrestling business, I enjoyed booking and telling stories rather than just telling two wrestlers to go sixty minutes and have a great match. (I wound up doing both of these things!)
I hope to the hockey gods, that Lundqvist can come back and play with Washington this season. And really, Washington could use the goaltending help, and with their playoff future locked, they could give Lundqvist games and see what they have with him. I'm not saying Lundqvist will be their playoff goalie if he's healthy, I'm just saying he could be there in case of an emergency.
And guess what – the Rangers have two more games at M$G with the Capitals this season, in the final week of the season at that, on both May 3rd and May 5th.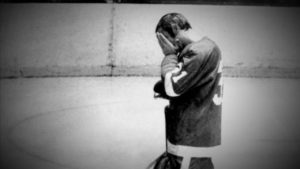 As someone who loves the drama and the story-telling, can you imagine if Lundqvist gets cleared and plays against the Rangers at M$G this season? Ticket prices, which are now returning to their normally absurd levels, would be even crazier for this game, especially with M$G only allowing to open to a capacity of 10%. Of course, I'd be rooting for the Rangers to light Lundqvist up, but I'd love to see this game regardless!
Now this is where I'm going to get crazy and sound out of character for you.
During the interview, Lundqvist said he wants to win a Stanley Cup, which if he did, would make him a slam-dunk candidate for the Hall of Fame. (I still think he's borderline without the Cup, due to the goalies who are and aren't in the HOF today. Whatever happens with Luongo will help determine Lundqvist's candidacy for the HOF.)
As mentioned, Lundqvist is in a state of zen right now. Yes, he wants to win the Cup, but this experience showed him that there is more to life than hockey. While he was always family first, this experience just illustrated that statement even more.
Before going into what I'm about to propose here, it should be mentioned that if Lundqvist is able to return and win a Cup with Washington, who knows – maybe he retires. There would be nothing left for him to do. Winning a Cup would be a great last chapter for him. However, even if he does win a Cup, and even if he doesn't, wouldn't a Lundqvist return to New York check every single box imaginable for Lundqvist, the Rangers and the fans? Let me explain.
At the present time, there is some trade chatter regarding Alexandar Georgiev. Who knows if there is really anything to that or not? What we do know for a fact, is that Georgiev, as a $2,425,000 2021-2022 salary cap hit for the Rangers; well that's just way too much for a back-up goaltender, especially for a back-up goaltender who isn't having a great 2021 season.
When Keith Kinkaid was first signed here, we all knew that the only reason that the Rangers signed him, was in order to protect Georgiev from Seattle. In the present day, it would be in the best interest of the Rangers if they could trade Georgiev's cap-hit or if Seattle took him in the expansion draft. And yes, I say this as one of the biggest fans of Georgiev out there. Like my previous opinions on Lundqvist and Ranger goalies, these opinions are all rooted with the salary cap in mind.
With the salary cap staying flat for several seasons, and knowing the Rangers need to free money in order to re-sign their kids in the future; getting rid of Georgiev's deal (just like shedding Trouba's deal) is the best thing for the team. Every buck counts.
Come the 2021-2022 season, it is hoped that M$G can open up their building at a full capacity. Henrik Lundqvist, who has always been a draw, would be a perfect addition to this roster, in an attempt to bring back fans.
I'm 100% fantasy booking here and not saying any of this will happen, but from a salary cap point-of-view and providing that Henrik Lundqvist would be healthy and could play – who says no here?
Let's assume Lundqvist can return, as that's the only way any of this can go down. If the Rangers can lose Georgiev's contract and providing that Lundqvist is willing to accept a back-up role, where he'd only play 10-15 games a season; combined with the notion that he'd take a veteran's minimum salary as well, this reuniting would be a storybook ending/Disney finish for his career.
Think about it. If you watched his interview, Lundqvist is in a different frame of mind. His family is what's most important. Even if he returns and fails to win a Cup with Washington, I can't see him chasing a Cup in Edmonton, Colorado, Tampa or whatever other city that's out there that's not close to his home of Manhattan. Previously, he's also said that he doesn't want to uproot his kids, kids who are going to private schools in NYC.
If the Rangers can get Lundqvist to agree to becoming a back-up (a role which he didn't rule out in his interview) and can get him to take a deal that's a million bucks or less (he has enough money for several lifetimes) wouldn't this work for every party?
For the Rangers, they would get a huge draw on the cheap. They'd also get some veteran presence in a locker room that's missing veteran presence. Without having to be "the man" or the "face of the franchise", Lundqvist would be looser than he was in his first run here and in my opinion, would be a better teammate. If Lundqvist would accept a back-up role, where one of his focuses would be to help Igor out, rather than compete against him for playing time, it would be a win-win situation for everyone involved.
For Lundqvist, he would get to finish out his career the way he wants – as a New York Ranger. He'd also maintain his home life in New York and not be away from his family, outside of road games.
For Ranger fans, they'd get to see Lundqvist go out in a positive fashion, rather than be relegated as a third string failing goalie in his final season.
Of course, a lot of things would have to break right for this scenario to even be entertained. That said, it is fun to think about.
Good luck to Lundqvist moving forward, that is, unless he's a Capital in M$G in May!
One last thing before getting into the game recap.
---
Real quick on the above photo – not only is Adam Fox great on the ice, but he's also great off of it. By giving up only just ten minutes of his personal time, Fox enriched the life of a kid that has been dealt a bad hand. I appreciate this gesture.
Speaking of great work on and off the ice, if you visit the Rangers official website, you can now vote on who wins the Steven McDonald Extra Effort Award. Surprisingly, I'm not seeing Adam Fox or Artemi Panarin's name being suggested by the majority of Ranger fans. The name that seems to have the most buzz right now is Ryan Lindgren, who also is a worthy candidate.
For my money, I think Fox should win this, but I wouldn't be upset if Lindgren won either. We'll find out the winner on April 29th.
Maybe I should talk about tonight's game now?
---
GAMBLING segment time. Here's what I said before the game:
Season over-under record: 16-20-2
A rematch of CZAR IGOR v Jarry, which I'm hoping to see similar results out of #nyr

I feel this will be a low scoring & a more defensive oriented game, but Jarry looked bad & Igor is good for one bad goal allowed.

I'm taking the over on the -6. pic.twitter.com/MNHml6fVtr

— BlueCollarBlueShirts (@NYCTheMiC) April 8, 2021
While it's not the final score that I wanted, I did hit with my over bet tonight. I'm now 17-20-2 on the season.
BOX SCORE time.
The following information and graphics come from the new world-wide leader in NHL coverage, in ESPN.com.
SCORING:
PENALTIES:
GOALIES:
| | | | | | | | | | | |
| --- | --- | --- | --- | --- | --- | --- | --- | --- | --- | --- |
| SA | GA | SV | SV% | ESSV | PPSV | SHSV | SOSA | SOS | TOI | PIM |
| 31 | 4 | 27 | .871 | 21 | 0 | 6 | 0 | 0 | 58:55 | 0 |
| | | | | | | | | | | |
| --- | --- | --- | --- | --- | --- | --- | --- | --- | --- | --- |
| SA | GA | SV | SV% | ESSV | PPSV | SHSV | SOSA | SOS | TOI | PIM |
| 24 | 2 | 22 | .917 | 19 | 0 | 3 | 0 | 0 | 59:18 | 0 |
TEAM STATS:
---
This was just a brutally bad and horrible game to watch. Rather than re-living every second of it as I usually do with these game recaps, I'm bringing back "The Good, The Bad and The Ugly" style of recap. After all, I value both my time and yours. I had a better time talking about everything else in tonight's blog than watching and writing about this game. However, I do feel like I do have to cover this game somewhat, but I'm not going to go as lengthy as I usually would. Who needs that misery?
Of course, before getting into the game, let's talk about the MSGN pregame show first.
MSGN Pregame Show
THE GOOD: A Brendan Smith interview that took time away from Vally and Giannone. Smith always has electric interviews.
THE BAD: Not only did these guys not give us the line-up for tonight's game, they couldn't even get the starting goaltender of the Penguins right either. Gianonne said DeSmith would be starting, but later on, made the correction and said Jarry was starting.
Of note, the only line-up change was that PDG was out and Howden was in. I counted twelve different gambling ads during this pregame show, but there wasn't one mention of the Rangers line-up. Insane.
THE UGLY: Vally bringing up his legendary 46 game career just ten seconds into the broadcast. He can't help himself. Vally and Giannone did bring up that the Rangers were vaccinated, but unlike yours truly and some of you guys, didn't bring up how the vaccine could lead to a slow start or a flat game. Vally would only question the vaccination after the fact. (And really, I understand why. I can say whatever I want. He answers to a boss.)
---
First Period
THE GOOD: CZAR IGOR, who had to make nine saves within the first five or so minutes of this game. Igor would make twelve saves overall in this period, as the Rangers were able to slow down the Penguins around the mid-point mark of the period. Also looking good was Vitali Kravtsov. Once again, Kravtsov, or should I say "Kravstov", was noticeable, which is why he was flipped to the second line during this period. Panarin, who didn't record a point tonight, made two great defensive plays in the Rangers d-zone.
THE BAD: Another slow start for the Rangers. I don't want to say the word "vaccine" anymore, but as said earlier, I don't think this shot to the arm helped the sluggish and prodding Rangers tonight. If anything, after the first period, the Rangers needed a "B-12" shot.
Igor would give up a goal on his tenth shot faced in the game. At one point, the SOG were 13-2, in favor of Pittsburgh. The Rangers stars were barely noticeable, that is, when it comes to positive play.
THE UGLY: Mika Zibanejad, who looked like he hit every ugly branch during his descent in this game. Mika finished with only three official giveaways, but he easily turned the puck over 7-8 times in this period, as a result of all of his ill-advised bad passes to nowhere.
Mika, while short-handed, would also miss on a wide open-net, which was illustrated in the image included earlier in this blog. Buchnevich set him up perfectly on this two-on-one, and rather than reversing the momentum and tying the game, first half of the season Mika returned and Mika had one of those games where he couldn't hit water from a boat.
The Penguins also had a time of possession stat that doubled-up the Rangers, as the Rangers kept making the extra pass to nowhere, rather than shooting the puck, and that includes Kakko, Panarin and others.
The Rangers would also get a power-play in the final 2:42 of the period, but aside from one lousy shot on goal from Buchnevich; the Rangers could never get the power-play moving. They spent over a minute in their own zone, while trying to get the puck into the Penguins zone.
After Jarry gave up four goals on Tuesday night, the Rangers only put five shots on goal in this period.
This was just not good.
1-0 bad guys after twenty minutes.
---
Second Period
THE GOOD: Colin Blackwell, after Mika Zibanejad drew a penalty just 17 seconds into the period, ripped a perfect one-timer, after receiving a pass from Buchnevich. This goal, Blackwell's 11th of the season, tied the game, and in a goal scored where you thought the Rangers would finally get going and pick up their game. Of course, that's not what happened.
Later on, Brendan Smith, while trying to inspire the team and sick of the bullshit, would have a nice brawl with Sam Lafferty. Smith was the only Ranger that looked to be "mad" about the way this game was going. However, the Rangers could never respond.
Kravtsov also continued to play well, where he was also making defensive plays. For some reason, Rosen was going on about Kravtsov scoring in Buffalo, only to be corrected by Micheletti. This was another bad night for Rosen, as he couldn't even see the Penguins scoring an empty net goal in the final moments of this game. It was also a bad night for both Sam and Joe together, as they would not stop with their Penguins pom-pom's act.
THE BAD: I don't think Mika Zibanejad won one offensive or defensive zone face-off in this game. If he did, it sure didn't feel like it. One of his losses directly led to the third Penguins goal of the game. Mika would also over-skate the net and continue his over-passing act, as most of these Rangers did tonight.
Strome, a Rangers center that didn't miss an empty net tonight, would find himself all alone and near Jarry, while with the puck. Instead of shooting, he passed it backwards, with the puck going to CZAR IGOR.
THE UGLY: Take a deep breath.
Filip Chytil, like Mika Zibanejad, would miss a wide-open net. How he missed this net I do not know.
After Blackwell scored, the Penguins got the puck and had a long shift in the Rangers d-zone. Mika had a chance to clear a puck but lazily played it. This then led to a Penguins goal, a goal for Letang, after the puck deflected off of the stick of Chris Kreider. This goal should've never happened, as Mika got soft here and it cost the Rangers. Even worse, this goal was scored 81 seconds after Blackwell's goal. In other words, in these two games with the Penguins, and at this point in the game, of the last 4/5 Penguin goals, they were all scored within a two minute time-span after a Rangers goal.
The Rangers would get another power-play in this period, but couldn't reach the net. At the end of the period, and with the Pens up 3-1, Kreider was a statue during a penalty shot he received after Cody Ceci tripped him. He couldn't have made it any easier for Jarry.
THE UGLIER: The officials, who from the second period on, called one of the most one-sided games you'll ever see. The refs missed multiple calls, including infractions on both Mika and Kravtsov and while in full view of the officials.
Later on in the period, and before Smith's fight (this penalty sparked the fight that would come) Lafferty attacked Smith. Smith defended himself. Both players would go to the box, only for Smith to get an extra two minutes. This was just ridiculous and this is something I've complained a lot about this season. However, this was the worst case of poor officiating this season. Not only was Smith penalized for defending himself, he got an extra two minutes for it. This game was a black mark for NHL referees, so bad, that you have to check the bank accounts of these referees.
3-1 bad guys, after 40 minutes of action where you just knew the Rangers weren't going to come back. At this point, the Rangers were playing two teams here – the Penguins and the Zebras.
Third Period
THE GOOD: In what was pretty much an A-Rod goal for Kevin Rooney, as it was scored with under seven minutes left and with the game at 4-1 Pittsburgh; Fox assisted on this goal. As a result, Fox's point/assist streak was extended to twelve straight games. He's now two games shy of matching Leetch's franchise record of 14 straight games with a point/assist.
THE BAD: The Rangers had a short 45 second power-play, but couldn't do anything with it. They struggled to get the puck into the Penguins zone all game. The officials also remained a horror show.
And let's face it – when Rooney and Blackwell are your only goal scorers, that's great for them but not great for the team's superstars.
THE UGLY: Down 4-2 and with 4:53 to go, Mika took a lazy high-sticking penalty, thus running two minutes off of the clock.
With 2:38 to go, and with Mika out of the box, CZAR IGOR was pulled. The Rangers, looking for their first 6×5 goal of the season, would once again fail here. Jankowski scored the empty netter with 91 seconds left in regulation and that was that.
5-2, bad guys, your final. I wouldn't call this the worst loss of the season (that loss to the Devils was) but this was painful to watch.
---
A couple of stats for you, even if the plus/minus stats aren't as important as they used to be. Panarin and Strome finished -3. Fox and Lindgren, who rarely are in the minus, were both -1. Kreider, Blackwell and Zibanejad, who all played on the top six tonight, were -2.
Of the Rangers who took face-offs tonight, only Rooney finished with a winning percentage, winning 7 of 10 face-offs. Chytil was 28.6%, Strome was 38.5% and Mika was 46.7% tonight. Not good.
Shots on goal wise, Lafreniere, Buchnevich, Chytil and Kakko all finished with 0 SOG. Panarin and Strome had one each. The Rangers just made it too easy for Jarry tonight, where again, perhaps that "V" word was part of all of this. There's just no way to know. What we do know is the starting goaltender for Friday night's game with the Islanders:
Earlier this week, I told you that I thought Georgiev would go in this game with the Isles. Georgiev, who hasn't played in three weeks, has to play eventually. With this Islanders game being the second half of a back-to-back, and knowing Georgiev's numbers with the Islanders, this start makes sense. Plus, after giving up eight goals in two straight games against the Penguins, perhaps Igor needs a rest too.
If you haven't already, subscribe to this blog for the next update:
---
I know it feels like that the playoffs are out of reach after every loss, but it's never felt as certain after this loss. Even with four consecutive games upcoming against the stripped down Devils, I wouldn't be surprised if these Rangers split that series.
See ya tomorrow night.
Stay FABULOUS my friends.
Until then, and as always here, thanks for reading and…
LET'S GO RANGERS!
Sean McCaffrey
BULLSMC@aol.com
@NYCTHEMIC on Tweeter