Greetings and salutations everyone and welcome to another blog here on BlueCollarBlueShirts.com. The magical season continues – and it will officially continue into the month of May too!
And maybe this is an exaggeration in my moment of elation – but to me, this was an unforgettable night in Rangers' history. I'll soon explain why.
---
On Saturday night, at the "World's Most Expensive Arena," we saw a good team play a bad team. Rather than seeing another "Any Given Sunday" type of a game and/or another "David vs Goliath" affair; instead, we saw the dominating New York Rangers knocking the snot out of the Ottawa Senators by a final score of 5-1.
If there was any word that sums up this game, and a word that will continue to appear throughout this report, it's that "d-word" itself – DOMINATING.
While the scoreboard after the first period reflected a tied score (1-1), make no bones about it – the Rangers were the far superior team of the first twenty minutes of play.
Twenty minutes of action later, the powerhouse Rangers hung a field goal on their inferior opponents. They could've had a touchdown – that's how locked in they were.
Once we saw triple zeroes on the scoreboard after the third period, we saw another triple digit number – 100, as in how many points the Rangers have now accrued this season.
Here are the updated standings after this sixty minute affair of pure domination, domination that felt like a stereotypical bully from a 1980s movie kicking sand in the face of some skin-and-bones weakling:
I can do the Barry Horowitz "pat on the back" stuff here, and tell you how I've been predicting that these Rangers would be great ever since day one of the Chris Drury era. However, I'm sure you're bored with that act by now. I don't need to play my "Greatest Hits" for you again – unless you're a new reader, and if you are – just check the archives of this site for all of that.
I will say, I had some regular readers (long-time readers of this site at that), around December, who told me to "pump the brakes" about the Rangers being in first place.
At the time, the Rangers were in first place – but they had played in four more games than Carolina. Once Carolina caught up to the amount of games that the Rangers had played, they overtook first place from the Blueshirts. The team from Raleigh, NC have maintained first place ever since catching up in the games played category.
Fast-forward four months later, and here we are – the Rangers are pretty much in a virtual tie for first place and still control their own destiny for the top spot in the Metro.
As mentioned before – two regular season games with Carolina remain. These two games (both at M$G) will most likely decide who wins the Metropolitan Division.
And the Pittsburgh Penguins, who the Rangers were once neck-and-neck with for second place? The third-place team from Shitsburgh are now eight points back of both the Canes and Rangers.
In other words, unless something catastrophic happens – the Rangers will open up the 2022 Stanley Cup Playoffs on home ice. Print the tickets! (Or put them online, whatever!)
---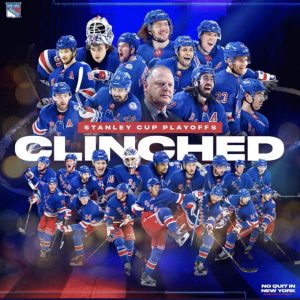 Where were you on February 8th, 2018, when the Rangers announced the following:
I don't think I have to give you a recent history lesson here, as I'm pretty sure everyone is aware of what the old regime did on February 8th, 2018, when then Team President Senile Sather, and then General Manager Jeff Gorton, released what will forever be known as "The Letter."
"The Letter" (which announced the brain-trust's intention to rebuild), ended an era – an era where the Rangers were perennial playoff competitors.
Following the release of "The Letter;" within a span of the next two-and-a-half years, the only two stars (NHL All-Stars too) from a now bygone era that remained with the club turned out to be Mika Zibanejad and Chris Kreider – two players who later signed big contracts to remain with the franchise, deals that prevented both players from entering free agency.
Soon to be gone were long-time Ranger stalwarts and fan favorites, players such as Ryan McDonagh, Dan Girardi, Marc Staal, Mats Zuccarello, JT Miller, Kevin Hayes and others. The last pillar to go, and a player who put the Rangers above "Cup Chasing," was #30 himself – Henrik Lundqvist.
Rebuilds can be tricky. For every Chicago, Los Angeles and Tampa – there are also your Edmonton's, Arizona's, Buffalo's, and other teams that can't get over the hump.
Sometimes you need luck. And the old front office, without a shadow of a doubt, received a bunch of good luck along the way.
Due to location, location, location, and the fact that the Rangers provide the best amenities in all of the league (travel, doctors, staff, etc) – the Rangers easily attracted big-time free agents in Jacob Trouba (the Rangers got him via a trade, but they soon gave him a huge deal after trading for him, as he was a pending free agent at the time) and Artemi Panarin. These two players accelerated the rebuild process.
Perhaps even better than those two, was the fact that Adam Fox, from Jericho, NY, and who grew up as a Blueshirt backer (you may have heard about this once or 7867896896789 times before), didn't want to play for any other team.
The Calgary Flames, who originally held the rights of Fox, soon traded him to the Carolina Hurricanes. Fox wanted no part of Raleigh, and after Gorton traded away two second round draft picks for him – Fox became a Ranger.
(And yep – while some may argue in favor of the Brassard for Zibanejad trade – it's my belief that this trade for Fox was Gorton's best. Either way – these were the two best trades of the "Gorton Era.")
In just his second season in New York, #23 went on to win the Norris Trophy and was easily the best defenseman of the league. He remains as one of the best d-men in all of the NHL today.
In addition, that Steven McDonald badge, that former general manager Jeff Gorton once held ever so tightly, would continue to bring the Rangers luck.
The Rangers would win back-to-back NHL Entry Draft Lotteries, where they drafted Kaapo Kakko second overall during the 2019 NHL Entry Draft and Alexis Lafreniere first overall during the 2020 NHL Entry Draft. While these two haven't hit their potential just yet; being in the position to draft these two was most certainly positive.
(And for what it's worth – these draft picks were the consensus/slam-dunk selections too.)
Along the way, Jeff Gorton was also able to bring in other young stars, including K'Andre Miller and Ryan Lindgren – two players who are now regulars of the Rangers' top four of defensemen.
And did I mention yet, that Jeff Gorton was also able to bring in CZAR IGOR, formerly of the Russian KHL (SKA) to New York too? Where would the Rangers be without #31?
After a brief flirtation with the beloved John Davidson at the helm; team owner James Dolan grew impatient. However, in hindsight, his hastiness paid off.
Once firing both John Davidson and Jeff Gorton (how Sather still collects a paycheck as an advisor I'll never know), Dolan then hired/promoted the team's then assistant general manager, Chris Drury, to run everything.
Prior to installing Drury into the big chair at M$G, where like former legendary Ranger general managers, including Lester Patrick, Frank Boucher and Emile Francis, Drury holds a dual-role as team president and general manager – the former team captain had been coveted league-wide.
Drury, rather than accepting numerous offers to serve teams as their general manager; bid his time and waited for his number to be called by Dolan.
In his first move as general manager, Drury fired former head coach David Quinn – a DQ who had been a close confidant of the former #23 in blue. Drury would soon hire a former Jack Adams' Award Winner, and a 2018 Stanley Cup Finalist head coach too, in a one Gerard Gallant. The rest, as they would say – is now history. Great history at that!
Also history as a result of this win over Ottawa, and this season in general? The Rangers five-year playoff drought.
Fast-forward to today, just four years and two months after "The Letter," Drury and Gallant have assembled a true Stanley Cup contender. They have as good of a shot as any team of winning the Stanley Cup in 2022.
Enjoy this Ranger fans. I know I am!
---
Last night, I covered all of the news, where I closed last night's blog with the following, in regards to the standings and Friday night's important tilt between the Hurricanes and Islanders:
On Friday night, the Carolina Hurricanes host the New York Islanders. Should the Canes defeat the Islanders in regulation, the Rangers will officially clinch a playoff berth.

Should the Islanders win or lose in overtime, the Rangers can clinch a playoff spot with any type of win over the Senators tomorrow. (The magic number right now is two points.)

For me, and for as blasphemous as this may sound – I'm rooting for the Islanders to win. After all, I'm rooting for the Rangers to catch the Canes for first place in the division. An Islander win will increase the Rangers' chances for first place.

Plus – wouldn't you rather see the Rangers clinch a playoff berth on home ice anyway? I rather see the Garden rockin', rather than celebrating a Canes victory over the Belmont Bozos.

---
Following these comments, I received some feedback, where many people were pissed about me wanting the Islanders to win.
Now, on April 9th, 2022 – aren't you glad it all worked out that way?
Rather than securing a playoff berth, their first in five years, via an opponent's victory; instead, the Rangers clinched a playoff berth on their own, and put that "x" next to their name in the standings, by doing what they've done all season – coming back to win a game.
While the Rangers impeached the Senators right on their asses on Saturday night; at one point, this game was 1-0 and in favor of the road team. The Rangers then scored five unanswered goals for their league-leading 26th comeback win of the season, which is also a franchise record.
And I know what you might say – "the Senators suck." That is true, but in their first crack at securing a playoff spot, the Rangers excelled and played one of their best games of the season. Even the biggest pessimist has to be happy after this win.
Better than that – the Rangers did exactly what they were supposed to do – they destroyed a bad team behind a complete team-wide sixty minute effort.
There was no dicking around tonight, as the Rangers never let off of the gas just once, including during the waning minutes of the contest with the game's result having been long decided. As a result, with just 2:29 remaining, Chris Kreider scored his 49th goal of the season.
As mentioned repeatedly on this site, Jaromir Jagr holds the franchise record for most goals scored during a regular season with 54. Whether Kreider can surpass him or not remains to be seen. (I truly hope he does and in the worst way.) However, what seems to be automatic is this – "CK50."
---
I know I might be all over the place tonight, but I have my reasons. In fact I have three:
— I'm extremely giddy.
— I may have been nipping at the bottle. (Bulleit Bourbon!)
— I'm watching a UFC PPV as I type these words!
---
There's just so much overwhelming positivity throughout the streets of Rangerstown, USA after this win.
There are also many stories that I could've led with tonight. I feel that a lot of stuff will be lost in all of the celebration – just because there's a lot to be proud of and to be ecstatic about.
I mean, who else is mentioning the following right now:
The 2014-15 New York Rangers hold the franchise records in wins (53) and points (113). Gallant's Gang has nine games remaining to break these records, as they currently have 47 wins and 100 points. Would you doubt these 2021-22 Rangers to break these records? I know I wouldn't!

In my opinion, this isn't too bad for a team that NEEDS Buchnevich, and for a head coach who HATES Lafreniere!
Man, oh man, I always get a kick out of seeing the analytical losers bomb with all of their stupid and erroneous predictions! I'll put my track record and predictions against any of these people!

And speaking of predictions, how about another one of mine, where once again, the EYE TEST NEVER FAILS:
Let's have a field day reliving this game during the GAME REVIEW.
I'm not even joking – this is the happiest I've been with this team, ever since the 2014-15 season. ("IN CAM WE TRUST!")
However, before getting there, the usual – the line-up, news, and everything else under the sun!
---
If you haven't read last night's blog (plugged at the end of this one), check it out, as I recapped a newsworthy Friday.
Come 5PM Saturday evening, Gallant once again stuck to his guns and wouldn't reveal his line-up, nor his goaltender.
I understand why Gallant does this, as he perceives this as giving himself an edge/advantage; but for a league that has 786786867896796868769 gambling ads per broadcast, the NHL will soon make their coaches transparent – just like the king of sports, the NFL, does.
In fact, I'm sure that the NHL's gambling partners are already pressuring Gary Bettman and company into doing so – especially with the playoffs ahead. Money is lost when information isn't readily available.
As far as what information Gallant disclosed, he confirmed what he said on Saturday – if the medical staff cleared Kevin Rooney and Kaapo Kakko, then they'd play. The medical staff cleared both men, and in turn, they were both inserted into the line-up, a line-up that sure needed them – especially following the injuries received by both Tyler Motte and Filip Chytil.
---
Here's what "The Turk" went with for this "Derick Brassard Tribute" game:
FIRST LINE: Kreider/Zibanejad/Vatrano
SECOND LINE: Panarin/Strome/Copp
THIRD LINE: Lafreniere/Goodrow/Kakko
FOURTH LINE: Hunt/Rooney/Reaves
Defensively, we had this:
FIRST D-PAIR: Lindgren/Fox
SECOND D-PAIR: Miller/Trouba
THIRD D-PAIR: Braun/Schneider
And in net, CZAR IGOR
---
BOX SCORE time.
The following information and graphics come from the new world-wide leader in NHL coverage, ESPN.com:
SCORING:
PENALTIES:
TEAM STATS:
GOALIES:
| | | | | | | | | | | |
| --- | --- | --- | --- | --- | --- | --- | --- | --- | --- | --- |
| SA | GA | SV | SV% | ESSV | PPSV | SHSV | SOSA | SOS | TOI | PIM |
| 33 | 5 | 28 | .848 | 26 | 2 | 0 | 0 | 0 | 60:00 | 0 |
| | | | | | | | | | | |
| --- | --- | --- | --- | --- | --- | --- | --- | --- | --- | --- |
| SA | GA | SV | SV% | ESSV | PPSV | SHSV | SOSA | SOS | TOI | PIM |
| 22 | 1 | 21 | .955 | 21 | 0 | 0 | 0 | 0 | 60:00 | 0 |
---
Normally, at this part of the blog, I'd write 9786787986 paragraphs about how bad Sieve Vagistat was. As usual, Vagistat was completely unbearable tonight, where he was perhaps at his most irritating – and that says a lot!
However, I'm on such a Rangers' high right now, that I don't want to spend anymore time on this loser – an analytical freak who bombarded us with his worthless charts, talked about his "tingles," and then flip-flopped on remarks that he had previously made regarding this team.
I watched tonight's game with my good buddy, my fellow road-tripper, and my neighbor too – the infamous "TEN O'CLOCK TOMMY."
At one point during this broadcast, he said, "I can't wait to see what you write about Vagistat tonight." Instead, I'll keep my comments between Tommy and your's truly private – as there is no point in giving this seven foot goof anymore of my time! I won't let him bring me down!
Thankfully, Henrik Lundqvist was back tonight.
Lundqvist, who has been phenomenal in his new job all season (I may have mentioned this 8678678967896796 times before), was perhaps at his best tonight.
Between his career, his stuff with the guitar, and now as an analyst – he does everything extremely well. (Did you ever imagine me saying this several years ago? Again – it was always about the salary cap hit with me.)
Furthermore, as a Rangers' historian (Stan Fischler considers me as one, and that's good enough for me) – I now look at Lundqvist historically; rather than analyzing the worst years of his career in the moment – which the final years of his career were. I choose to remember him for his prime; rather than looking at his cap hit. I feel cleansed!
And admittedly – as someone who felt negative about this team in seasons' past (and my thoughts were proven true during that time) – it's so much better to be "glass half full." It's like a weight has been lifted – just not a beer gut weight!
I think the pandemic has changed me a bit – as I truly approach life with a prism of optimism. It's a better way to live.
Then again, I turn forty years old in two months – maybe I'm just getting wiser and more appreciative of things as my peak years are now behind me! It's all downhill for me now – except when it comes to rooting for my favorite team!
What was so spectacular about #30 tonight, was that he was brutally honest throughout the entire broadcast.
Unlike Gallant, who has to praise the bad teams of the league (no coach wants to give the other team bulletin board material); Lundqvist not only buried the Senators throughout the broadcast – he pretty much lifted his leg and pissed on them too.
(I know, it sounds like I'm going back on my "glass half-full"/optimism stuff – but Lundqvist just stated the facts. I was right with him on all of this!)
Lundqvist's honesty and candidness were both appreciated and refreshing. You didn't feel lied to. Lundqvist said what it was – the Rangers are great and they smacked around a shit team. (He didn't say these words verbatim – but you get the point!)
Also back for this broadcast, after missing the last two broadcasts, was John Giannone, who must've been overcoming something, as he did sound under the weather tonight. What a trooper!
As far as anything else worth noting (as there was way too much Vagistat on this broadcast, where I can't be bothered to recap how bad he truly was tonight); Dave Maloney, during his segment, said that Jacob Trouba drove the bus of the Rangers defense.
As a fan of puns (Hi Mike!), I thought that the former captain missed out on an opportunity. He should've said that Trouba conducts the "TROO TROO TRAIN!"
Once we went to Sam and Joe, M$GN should've played Phil Collins' "In the Air Tonight," because all they talked about were playoff implications and the stakes that were involved – and as they should've. I was fist-pumping along with them.
And once tonight's tilt concluded, the Rangers had smashed the Senators – just like the drum solo during that famous song.
In addition – the Blueshirts rejected the Senators like Lisa Ann shutting down Michael Del Zaster!
---
A few general comments before fully diving into the GAME REVIEW:
— Artemi Panarin, the game's number one star, absolutely put forth a masterpiece. Aside from his one goal and two assists (another three-pointer baked by "The Breadman"); there were many times throughout the game where he just danced around and made the Senators look foolish. It was like a never-ending game of "duck, duck, goose," where the Senators could never touch him.
— The Rangers, who have that "all for one and one for all" mentality; once again played unselfish hockey. While they scored five goals; they could've had ten. There were many times during the game (including during a penalty kill, where they had four different chances to score), where rather than shooting the puck – they went for the extra pass instead, a pass that became a turnover.
— Watching Mika and Kreider smile and celebrate after the game put a grin on my face too. There's so much positive team chemistry right now, which is why these guys give up GOOD LOOKS in order to set their teammates up. There is no puck hog on this team. Everyone revels in each other's success.
— CZAR IGOR, for what I think is now the fourteenth time this season, only gave up one goal. As is always the case, the one goal allowed wasn't on him. It's always a fluky play, or a lone brain-fart by the defense. Without them, Igor would easily have ten or more shutouts. Instead, the likely 2022 Vezina winner (I think Auston Matthews now has the Hart Trophy locked down, especially with a pro-Canadian panel voting on it), remains as the league-leader in save percentage. He's also .03% away from tops in the league in goals allowed average too. And now, with 34 wins, he's now one win away from having the most wins in the league. VEZINA!
— Just like last game, there was no weak link on the Rangers' roster. The Rangers had one bad play, one they got burnt on, but after it – that was the end of that. And yep – the other team is paid to play hockey too.
---
In a game featuring rising goalie Anton Forsberg, and the best goalie in the game today, CZAR IGOR; Josh Norris took the opening draw from Mika. By the end of the game, #93 in blue would win eight of thirteen draws.
More impressive than that? Barclay Goodrow, arguably the team's best penalty killer and a Steve McDonald Extra Effort Award candidate too; won a whopping thirteen of seventeen draws.
Tasked to center a young line with Kakko and Lafreniere flanking him, the two wonder-kids themselves; I thought Goodrow was the best player of his line – and as he ought to be. He's the veteran. He's the one with two Stanley Cups. Lafreniere and Kakko will only get better by playing with him.
(And if it was up to me, and by now you know it's not – I rather see this trio than ever see Filip Chytil again – despite how well #72 has been playing lately, which is also due to Goodrow on his line.)
The crowd at M$G tonight, who were most certainly aware of what a win would've meant, cheered loudly and proudly early. When the returning Kakko took his first shift at the two minute mark, the crowd gave him a rousing applause.
However, Kakko was also on the ice at the 2:22 mark, when noted slugger Austin Watson scored. 1-0, bad guys.
On this goal, the forwards got trapped, and Mark Kastelic, who was behind CZAR IGOR's net, found Watson wide open for an easy goal. Justin Braun, who played for the second time at LD with Schneider as his partner, could only watch.
This goal was the only negative thing of this game. The next 57:36 were all Rangers.
Thirty seconds after Watson's lucky goal, the returning Kevin Rooney took the ice, where he forced Forsberg to make a tough stop. As mentioned earlier, Rooney, and as I expected, was much better than Kakko tonight. And who could argue otherwise – as Rooney finished with two SOG and with a rating of a +1. Kakko didn't register a shot on goal and finished -1.
However, I thought this was all predictable and expected.
Rooney is a veteran, and because of his role on the fourth line, it's easy for him to plug right back in. For a skill guy like Kakko, a young player, I think it's going to take some time for him to find his stride. He has nine games to do so, should Gallant continue to play him.
---
Following Watson's goal, the Rangers, and as they always do, forgot about it.
In turn, they quickly raced out to a 7-1 SOG advantage, where Forsberg stopped Fox, Mika, Miller and others.
In our first sign of unselfishness, at around the five minute mark, Trouba was left wide-open. Rather than slamming the puck towards the net, he forced a pass to Miller. A turnover. Again, this isn't a criticism – this is just me pointing out that I think these guys are such great teammates, that they rather see someone else score than themselves.
The latest Rangers' fourth line put forth an excellent showing tonight.
In fact, because of their forechecking, and some monster hits out of Reaves too; this line drew the only Senator penalty of the game.
At the 5:55 mark, Josh Norris was boxed for tripping Dryden Hunt.
The best scoring chance for the Rangers' man-up attack was with the second power-play unit on the ice.
With just a few seconds remaining on the power-play, and with 11:58 to go; Trouba blasted a puck at Forsberg. Lafreniere got the rebound and was all alone. Rather than shooting, he tried to set-up Kakko. No SOG and another turnover, where yep, you guessed it – this was being unselfish, rather than anything truly negative.
Of course, you want to see them shoot the puck – but maybe they were toying around with a crap opponent. (And I'm sure they wanted to get the returning Kakko going too.)
After Kreider was denied of goal #48 (he'd soon get that goal, and one more to boot), following a Lindgren smash that went wide; we saw a camera shot of Mike Richter, who was in the building. Too bad he didn't boot Vally from the chair.
If you're going to have two goalies on the panel, you may as well have the two best living ones of franchise history, rather than the worst back-up of the Lundqvist era, in-studio.
The Rangers, who just kept firing away at Forsberg; finally had their high-octane offense rewarded with 7:28 to go, when this happened:
BREAD'S HOT! pic.twitter.com/lKPmjAoE9a

— Rangers on MSG (@RangersMSGN) April 9, 2022
---
1-1!!!
On this goal, following a Sens' icing; Strome won a faceoff, Copp cleared the ice, and after a Senator briefly touched the puck, Artemi Panarin pounded the puck past Forsberg.
And the analytical losers say that faceoffs don't matter. (I'm not making this up.) But their EXPECTED stats do. Those people are a shit show.
If there was anything "bad" about this goal, it was that Strome and Copp didn't get assists here. This was a pure second line goal – something that won't show up in the box score and/or on any analytical chart.
Since a Senator touched the puck before Panarin scored, #10's linemates don't get the apple – but make no mistake about it, this goal doesn't happen without them.
Two minutes after Panarin's tally, Forsberg stopped Goodrow, where #21 was just a hair away from scoring.
Following the save, Del Zaster was able to fight off Kakko and Lafreniere, as the duo were trying to get a puck deep.
As Forsberg continued to rack up the saves, where during the final minutes of the period he stopped Trouba, Miller, Fox and Panarin; we finally hit the end of the final frame tied at 1-1.
While of course, the only thing that matters is goals for and goals against; the Rangers out-shot the Senators 13-3. During the intermission, Giannone said that the shot attempts were 30-5. (I think the real number was 20-5, but I'm just telling you what Johnny Boy said.)
---
Following Mika's faceoff victory; the top two lines strung two amazing shifts together. However, at the end of the second line's shift, Joseph, on a two-on-one, hit the post. Then, at the 2:56 mark, Fox tripped Mark Kastelic.
Up next was perhaps the Rangers' best penalty kill of the season – even if they didn't score a goal as they have done in the past.
Kreider made two remarkable plays, where Forsberg was forced to make a denial. Right after, Mika and Kreider had a two on one odd-man rush, but Mika turned over the puck on the pass.
It's obvious, and the two somewhat admitted as much after the game – Mika wants to get Kreider to fifty. I can appreciate this, even if this should've been a SOG for #93 here.
That said, you can do this against Ottawa. I don't think they'll do this in the playoffs, where nobody gives a damn about individual stats. Come May, it's only about winning games – and not chasing records.
If that wasn't enough for you, with just sixteen seconds left on the PK, Strome had a breakaway, where the Senators may as well have been sitting in the press box.
Despite being wide-open, and without a Senator in sight, rather than going straight to the net, Strome looked behind him, as he was in disbelief that he was so wide-open. Once he realized that he had to go to the net, and there wasn't anyone to pass off too – Forsberg stopped #16 on this breakaway opportunity afforded.
Once getting their kill, with 13:26 to go, Igor came up with a huge robbery save on Norris. This was also a turning point save.
22 seconds after the save, this happened:
Panarin ➡️ Copp connection is 💪 pic.twitter.com/fso7Fic0qr

— Rangers on MSG (@RangersMSGN) April 10, 2022
---
2-1, GOOD GUYS – and a rare cross ice pass that actually connected too!
After Igor committed a robbery; it was Copp who arrested Forsberg after Panarin's pass. What a sweet looking goal.
This was also the first goal of three from the period.
Just a shade over two minutes later, this happened:
48!!! Absolute MISSILE pic.twitter.com/UE8NZE1OqP

— Rangers on MSG (@RangersMSGN) April 10, 2022
---
3-1, GOOD GUYS. Goal #48 for Chris Kreider.
This was a rip-job, as CK20, soon-to-be "CK49" after this game; streaked to the net, and then just lasered a puck past Forsberg.
Forsberg, who seemed to be on his way to having another one of those opponent's "I turn into Dominik Hasek in his prime whenever at M$G" type of a game; was now broken.
Following the goal, Dryden Hunt hit a post. With 7:03 remaining, Mika tried to set-up Kreider again, but just missed.
However, with 2:33 to go, the Rangers struck again:
STROMER!!! BREAD with another assist, 3 points on the night 🙌 pic.twitter.com/MQVDbGuYyS

— Rangers on MSG (@RangersMSGN) April 10, 2022
---
4-1, GOOD GUYS, as Panarin executed a perfect pass to his favorite centerman. This is the Ryan Strome I know!
As the horn went off to signal the end of the period, the Garden was electric.
For your consideration, not only was the score 4-1, but the Rangers were also out-shooting the Sens' 25-9.
As Lundqvist would say during the intermission segment – the Senators had no response for these focused Rangers.
---
It was clear as day that this game was over once the third period commenced.
Just thirty seconds in, Frank Vatrano hit a post.
Earlier, I said that the Rangers could've had ten goals tonight. Check that. They could've had a dozen, as a result of the iron they hit!
The Rangers, despite the three-goal lead, didn't sit back. They were ruthless. They were relentless. They were determined to clinch a playoff spot on home ice.
The bulk of the first ten minutes of the period saw the Rangers shut the Senators down and then Forsberg would come up with save.
The Rangers got fancy too, as Panarin made the Senators dizzy as they watched the Russian fly around the ice, including a Harlem Globetrotter play when Panarin fed Fox.
With 8:02 remaining, Igor made a thunderous save. Right after, the cameras flashed to Dancin' Larry. Soon, the rest of Rangerstown, USA would be dancing right along with him after the win.
Do you remember that light "four-goal win" bet that I showed you earlier? Who else but Chris Kreider to give the Rangers a four-goal lead with just 2:29 remaining:
1 more!!! I love this man pic.twitter.com/YtfhzCZhrQ

— x- Rangers on MSG (@RangersMSGN) April 10, 2022
---
5-1, GOOD GUYS. Goal number 49 for Christopher James Kreider!
Oh yeah – Vatrano picked up an assist on this goal. What have I been saying for a while now – Vatrano and Copp are good for a point-per-game!
And for shits and kicks, with just 26.4 seconds left, Igor made a save on a Senators' breakaway. This save reminded everyone of who was the best Father Finkin' goalie of the league.
As triple zeroes flashed across the scoreboard, the Garden erupted.
And as fans, a derivation of the word "fanatic," it was a heart-warming moment watching Chris Kreider and Mika Zibanejad, the two longest tenured Rangers on this team, go into pure celebration mode. Their passion, emotion, and embracing really connected with any fan who saw all of this.
Yea, Filip Chytil (third longest tenured Ranger, and who didn't play tonight) and Alexandar Georgiev (fourth longest tenured Ranger, who sat on the bench tonight) were there for the entire rebuild too. However, we all know how much Kreider and Mika mean to this team. They both want to be here. They got their huge moment after this game.
Also worth mentioning, since I haven't mentioned it yet? This:
I really liked that CZAR IGOR got this start, even if you could've rested him in preparation for Carolina. He deserved to be there – as the Rangers clinched a playoff spot in his first full 82-game season in the NHL.
Plus, the Rangers now have 48 hours to get ready for Carolina. Igor didn't need the rest tonight. I liked that Gallant didn't fool around and dressed his best line-up possible.
---
There's no way that I can call this the "best win of the season." After all, consider the competition.
Was it perhaps the most dominating win of the season? Sure, but it should've been.
However, what I can say with 100% certainty is that this was the most emotional win of the season.
If you don't count that 2020 bubble debacle – the last time the Rangers were in the playoffs was in 2017 – when Jean-Gabriel Pageau owned Henrik Lundqvist, and where these Senators eliminated the Rangers during the second round, in a series where everyone and their mother had the Rangers winning it.
It's been five long years. The wait was real. So are these Rangers.
---
Here's the head coach after the monumental win:
---
While he didn't say it – I'd imagine the Rangers will have off on Sunday. They've earned it.
PLUGS time!
---
My first plug of tonight's blog – the mandatory plug for my book, "The New York Rangers Rink of Honor and the Rafters of Madison Square Garden".
As mentioned previously, the book is now available in hardcover, in paperback and in Kindle formats. To purchase a copy of the book, visit this link:
https://www.amazon.com/Rangers-Rafters-Madison-Square-Garden-ebook/dp/B09CM5N2WD
For those still looking for signed paperback versions of the book, I have re-ordered more copies. I now have a few signed copies for sale at $25 a pop (includes shipping price) through me directly. Here is all the information on that:
---
Here are my last few blogs, in case you missed them:
---
---
---
If you haven't already, subscribe to this blog for the next update:
---
Up next: Rangers vs Hurricanes this Tuesday night. This is a big one. I don't think I have to explain why!
As always here, thanks for reading and…
LET'S GO RANGERS!
Sean McCaffrey
BULLSMC@aol.com