"I actually thought it was better than Thursday. It didn't feel like the other night." – Rangers head coach David Quinn, on 5/1/21, moments after the Rangers 3-0 loss to the Islanders.
I don't know about you, but I 100% disagree with David Quinn here. After all, the Islanders scored earlier in Saturday night's game than they did during Thursday night's game! Without question, and in my little humble opinion, this game felt like a continuation of Thursday night more than anything else. And yes, I know – the Rangers had a disadvantage going into this game, due to the injuries on their roster. That said, I must ask you again – Where's Mika? Where's Panarin? Where's Buchnevich? Where's Bueller?
---
"When you get down early it takes a little bit of the wind out of your sails, but like I said, I thought we kind of found ourselves a little bit in the middle of the first period. We give up the one to start the second, to go down 3-0, and it was deja vu from the other night, but I thought we hung in there a lot more than we did on Thursday. Thursday, to me, was really disappointing in a lot of ways, but I thought tonight there was a lot more push-back as the period went on." – DQ, one more time on 5/1/21.
Of course Thursday was more disappointing, because that loss killed the Rangers slim playoff chances. This game tonight, was just a "play-out-the-string" type of game, where the Rangers seemed resigned to losing during the entire contest. And to counter DQ here – there was no push-back. The Islanders were just happy to sit back and protect their three goal lead. There was never one point in this game where you thought the Rangers had even an inkling of a shot of coming back, much less winning.
---
Greetings and salutations everyone and welcome to another blog here on BlueCollarBlueShirts.com. Four more games and it's a wrap.
In a game where the Rangers were forced to start many young and rookie players, due to injuries suffered by Jacob Trouba, Chris Kreider, Ryan Lindgren and Brett Howden; the Rangers continued their lifeless ways, losing a boring 3-0 game to their arch-rivals. Not even a cheap elbow to the face of Mika Zibanejad could wake these Rangers up. The same Mika Zibanejad who now finishes this eight game season series with only one empty net goal against the Rangers biggest rival. Elite? Hardly.
You know it's bad, and that the Rangers have hit rock-bottom, when "Uncle" Leo Komarov is more noticeable than both Mika Zibanejad and Artemi Panarin – combined. Want a "fun fact"? Here you go! Not only did Artemi Panarin not get a SOG in this game, (and for the second consecutive game in a row) but during this 2021 season, Panarin has been held to no shots on goal in only five games. Four of those games were against the Islanders, with Panarin not getting one SOG against the Isles during the final three meetings between these two teams. As you may have figured out, that's not a recipe for success.
So yeah – while I've been very hard on Mika on these blogs, Panarin, especially in Games 6 and 7 of this series, games which could've turned the Rangers fortune around, came up empty-handed. The bread basket was empty, aside from three turds he laid during these past two weeks with the Isles and in "must-win" games. Some may say that this feels like the Carolina series from the bubble all over again. However, this time, there will be no #1 draft pick coming after these losses.
Even worse, Seymon Varlamov, who now makes Jaroslav Halak's time as a "Rangers killer" look like nothing; now has four shutouts this season against the Rangers. In addition, with this shut-out, as Varly has now shutout the Rangers in back-to-back games; Varalmov now holds the all-time consecutive shut-out minutes against the Rangers as well. Needless to say, the Rangers were on the wrong side of this season series with the Isles and historically at that.
When you look back at these last three games against the Islanders, where had the Rangers won all three, they'd be a playoff team right now; the Rangers, cumulatively, have lost all three games by a final score of 13-1. As you may know, that's not good.
When you look back at the entire season series, a series that the Islanders have now won by a final of six games to two, the Islanders absolutely embarrassed the Rangers this year. As you may know, that's the worst thing about all of this losing.
Who would've known, that back on 1/14, when this 2021 NHL season began; that when the Islanders shut-out the Rangers by a final score of 4-0, it would create a ripple effect of misery throughout the course of the Rangers season?
It was in that first game of the season and between these two warring rivals, where the Tony DeAngelo saga first began, a saga which soon led to DeAngelo's eventual exile from the team. However you feel about DeAngelo and I'm not going to rehash all of this again, at the end of the day, not only did the Rangers lose the fourth highest scoring defenseman from the season prior, they also created $4.8M of dead cap space for the rest of the season. Now here on May 1st, (or May 2nd by the time you read this) not only did the Islanders end the Rangers hopes at the playoffs, they embarrassed the Rangers while doing so. The Islanders have been the catalyst for the Rangers misery all season. SAD!
If you look at the entire history between these two rivals, where it's now assumed that the Islanders will never be back at the Nassau Coliseum again; (we've heard this before) the only time period that was worse than this one was during the early 1980's, when the Islanders had their dynasty, a dynasty which included four playoff series wins over the Rangers. Of course, playoff losses will always be worse than whatever happens in the regular season, but to finish 2-6 against this Islanders team, and to be shut-out four times along the way – well quite frankly, it's sickening and vomit-inducing.
As I'll soon get into during the news segment, the Rangers entered this game as the walking wounded. To be up front with you, I didn't think the Rangers had a snowball chance in hell of winning this game. That said, I expected the Rangers to at least show some effort, or at the very least, score one goal.
While I have never joined the "FIRE DQ" bandwagon, I was perplexed by DQ's post-game quotes, where he said this loss was different than Thursday's loss. If anything, this was Part III of the Rangers recent travesties against the Islanders. If you look at Games 6, 7 and 8 independently, and outside of the Rangers scoring one goal in Game 6, all three games were the same. And tonight, this game was just a continuation of the shit-show we saw from Thursday night.
Seriously, as I remarked on social media during the first period of this fiasco, the Rangers and Islanders beat writers must've loved this. This was an easy day at the office for these scribes, where all they had to do was copy and paste their stories from Thursday night, and just switch out the name "Igor Shestyorkin" and replace it with "Alexandar Georgiev." Yes, some of the faces may have changed for the Rangers tonight, but this was a carbon copy of the game from two nights prior, right down to the shutout, the fat cats not producing, an ineffective power-play and no life to be found at all.
I know many people are banging the drum for DQ to be fired, and if that's your opinion, that's fine. However, I would look at Games 6 and 7 of this series to strengthen that argument, rather than this game tonight. Those two losses were significantly worse, due to what was at stake. However, just like those two games, here in the eighth and final game of the series, once again the Rangers just looked like they never gave a damn and were out-matched, out-willed, over-powered and depressing to watch. It's tough watching a game when you know your favorite team is finished just a minute into the action. So much for the "Any Given Sunday" stuff.
As it always is on this site, I'll be here for the rest of the season and beyond. I mention this, because for the first time this season, I saw a lot of drop-off in NYR social media activity, and that includes from the team, the beat reporters and the fan base themselves. Sure, you can say it's a Saturday night, the Kentucky Derby was on, the UFC was on, baseball was on or whatever else; but if this game had playoff implications for the Rangers, everyone would've came out of the woodwork.
Truth be told, I'd be interested in seeing what the TV ratings were tonight. I'd also be interested in seeing what the drop-off in ratings were from the first period to the end of the game as well. Based on Twitter trends, this was the least talked about Rangers game of the season, a trend I'd expect to continue during these final four games of this 2021 season.
While I know some diehard fans are already talking the off-season, as talked about last blog, I'll go into all of that and in-depth once the season is over. All I'll say for now is that I see DQ being retained, Mika being moved and several roster changes, as it is apparent that the Rangers lack the roster stew that's needed to get to the next level. Yes, the Rangers are at the end of the rebuild and all that jazz, but simply put, the Rangers didn't give out all of these high-priced contracts to miss the playoffs every season. I also think all of these losses to the top teams in the division sums up the Rangers failure to make the playoffs too – a lack of toughness and drive.
And lastly while on this topic, for all the people who say, "this season was never about the playoffs anyway"; while that opinion is valid, there is no one in the organization that had the mind-set at all. In addition, the Rangers very easily could've been a playoff team this season. Again, more on all of this once the season is complete.
At this time, let's get into tonight's game, the news and everything else.
However, up first, and of course – the PLUGS segment.
Here are my last few blogs in case you missed them:
---
---
---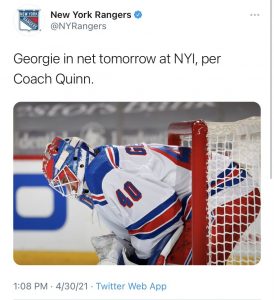 There was a ton of news coming out of Friday's practice, where injuries and call-ups were the two biggest news items. Before getting into that, it was also announced that Georgiev would get the nod in net for this game. I don't want to do this Igor vs Georgiev rant again, since I just did that rant during my last blog here; but yeah, I still feel that Georgiev should've started in the two previous games against the Islanders. Instead of trying to make the playoffs with the goalie who has owned the Islanders throughout his entire career, Georgiev got the "band-aid" start in this meaningless game tonight.
In addition, and while on Georgiev, and just to fast-forward a bit here, I never thought he had a chance to win this game. As I said on social media prior to the game, I thought all of his great stats against the Islanders would take a hit tonight, due to the team in front of him, which I'll now get into.
Due to injuries and the Rangers inability to make the playoffs this year, the Rangers called up both Tarmo Reunanen and Morgan Barron on Friday. Both players skated with the team. Despite injuries to Chris Kreider, Jacob Trouba, Ryan Lindgren and Brett Howden; for whatever reason, on Friday, DQ wouldn't confirm if Reunanen and Barron would play against the Islanders. Come 5:30PM Saturday, 90 minutes before puck drop, DQ confirmed it.
Here's how the Rangers covered the news on Twitter:
For Brett Howden, who blocked a shot during the Rangers 4-0 loss to the Islanders, it seems that once he took off his skates after the game, he was then diagnosed with a fractured foot. His season is now over. Aside from the disgusting cretins that make up the "Howden Hate Club" on social media, who actually reveled in this news; sane Ranger fans had sympathy for Howden. Obviously, this injury sucks for Howden and he will have to rehab during the off-season, with his status with the Rangers for next season being questionable at best.
It's at that point in the season where you can now start thinking about the Seattle Kraken expansion draft, especially since they have now paid all of their league fees. While it was pretty much official before Friday, on Friday, the Kraken squared up financially with the NHL and they are now officially set to join the NHL for the 2021-2022 season. I would expect that Brett Howden will be left unprotected, should Seattle be interested. In the event that Howden doesn't wind up with Seattle, it's really hard to envision him being back for next season. The Rangers just need quality centers and pieces that can help them win, and Howden just isn't that guy moving forward.
In any event, the best of luck to Howden.
When it comes to Ryan Lindgren, his head-first collision into the glass next to the Rangers bench was nasty. For a guy who always comes back into games after some dust-up, physicality or loss of blood, it was telling when Lindgren didn't return during Friday night's game. For Lindgren not to return and to miss games, it tells you how serious his injury was, as this warrior will play through anything.
As far as the call-ups of Reunanen and Barron go, these call-ups were to be expected the second when the Rangers playoff hopes went down the tubes. With the hopes swishing around the drain, as we are now a day or two away from the Rangers being officially eliminated from playoff contention, it makes all the sense in the world to get a look at Reunanen and Barron. While it's tough to really assess a player with only five games under his belt, the Rangers do hope that Barron can be one of their centers for next season and seasons beyond. That's to be determined.
---
With all the injuries and call-ups, here was what DQ deployed tonight:
FIRST LINE: Lafreniere/Zibanejad/Buchnevich (Buchnevich blew about three different scoring opportunities tonight.)
SECOND LINE: Panarin/Strome/Kravtsov (Panarin wasn't that much of a ghost as he's previously been against the Islanders, as he did set-up teammates for scoring chances. His teammates could just never finish. That said, he has to shoot more too.)
THIRD LINE: Blackwell/Chytil/Kakko (I didn't even notice that Blackwell was dressed in this game, which is saying something. Chytil, as mentioned several blogs ago, seems very "tradeable" at the present time.)
FOURTH LINE: Barron/Rooney/Gauthier (Once again, it was the Rangers fourth line that created the most consistent offense throughout the game. That's an indictment on the top 9.)
Defensively, we had this:
FIRST PAIR: Hajek/Fox (Hajek had a forgettable game. Fox broke up several Islander scoring chances, but with no points in these last two games with the Islanders, he's lucky he beefed up his offensive stats against inferior competition, where his Norris bid still remains strong.)
SECOND PAIR: Miller/Jones (Miller was a trainwreck again, as he continues to hit his rookie wall. Of the two, it looked like Jones had been playing all season and that Miller just made the jump from college. To be fair, it should be restated that Miller is only a rookie, but as the season has progressed, his game has regressed.)
THIRD PAIR: Reunanen/Smith (Smith was tasked to carry another young rookie defensemen and I thought Smith played well again. Of all six NYR defensemen, only Reunanen, who did play over 17+ minutes, finished with a plus/minus that wasn't negative, as Reunanen finished with a +/- stat of 0.)
And as mentioned, Georgiev was in net tonight. I thought he had a decent game, as the three goals he allowed saw two of them being allowed after being screened by his own defensemen, and with the other goal being scored after a Barzal breakaway.
Just like the loss from Thursday night, and even during Game 6 of this series, two games which CZAR IGOR started; it didn't matter who the goalie was. When you can't score you can't win, simple as that.
When I saw the insane prices for tickets to this game, I had two immediate thoughts. My first thought was who would pay this kind of money, especially to attend a game inside of an arena that doesn't sell alcohol! You would need a copious amount of alcohol just to spend this type of money in the first place. My second thought was that I could only imagine what the ticket prices would've been like, had the Rangers won on Thursday night. Had the Rangers won on Thursday, and based on these prices, I'm sure the "get-in" price would've started at $300, if not more.
Gambling segment time.
Here's what I said before the game:
Season over-under record: 20-29-2 (all time low, thanks inconsistent #nyr )

Georgiev v Varlamov. I'm taking the under, but wouldn't shock me to see the #isles expose all these NYR rookies, as they look to clinch.

If Georgiev wins tonight, it will lead to a ton of "what ifs" pic.twitter.com/ktRrkIMQ7V

— BlueCollarBlueShirts (@NYCTheMiC) May 1, 2021
Unlike the Rangers, my losing streak is snapped. I'm now 21-29-2 on the season.
And as I suggested, had the Rangers won this game behind a Georgiev shut-out or something heroic like that, everyone would've been doing the "SEE, I TOLD YOU GEORGIEV SHOULD'VE STARTED THE LAST TWO GAMES" stuff. At the very least, it would've definitely generated a lot of "what if's?"
BOX SCORE time.
The following information and graphics come from the new world-wide leader in NHL coverage, in ESPN.com.
SCORING:
PENALTIES:
GOALIES:
| | | | | | | | | | | |
| --- | --- | --- | --- | --- | --- | --- | --- | --- | --- | --- |
| SA | GA | SV | SV% | ESSV | PPSV | SHSV | SOSA | SOS | TOI | PIM |
| 25 | 3 | 22 | .880 | 21 | 1 | 0 | 0 | 0 | 60:00 | 0 |
| | | | | | | | | | | |
| --- | --- | --- | --- | --- | --- | --- | --- | --- | --- | --- |
| SA | GA | SV | SV% | ESSV | PPSV | SHSV | SOSA | SOS | TOI | PIM |
| 28 | 0 | 28 | 1.000 | 23 | 1 | 4 | 0 | 0 | 59:36 | 0 |
TEAM STATS:
---
As far as the pregame show goes tonight, bless their hearts – they actually opened up with a graphic of the standings and would then show the standings a few more times. While on this topic, with the Bruins win from earlier in the day and with this Isles win/Rangers loss; not only did the Islanders clinch a playoff spot tonight, but the Rangers tragic number is now at one. That means one more Rangers loss, a Bruins win or a Bruins overtime loss and it will be official. It also means that I will soon be fan-boying for whoever plays the Islanders in the first round, where I hope it's the Capitals, as I think the Caps match up well against the Isles. Plus, I like Ovechkin, and much more so than any of the stars from Boston and Pittsburgh.
With the pregame show going head-to-head with the Kentucky Derby, I was watching both broadcasts. It was also at this time, where friend of the blog, in Jen E., brought up a hilarious scenario, suggesting the idea of Sam Rosen and Joe Micheletti calling the Derby. Listening to Sam and Joe call the Derby would be more entertaining than anything you saw on the M$GN tonight. I actually had a whole bit on this for you tonight, but with this crushing and listless loss, I'll pocket it for next year. That said, here's the preview:
— "OH JOE, THIS HORSE IS ONLY TWO YEARS OLD JOE!"
— "THIS HORSE HAS A FABULOUS BLINDERS MASK ON, BACK TO YOU MICHELLE GINGRAS."
— "IT'S AMERICAN PHAROAH, I MEAN SECRETARIAT, I MEAN JUSTIFIED, I MEAN….. WHERE THE HELL AM I JOE?"
You get the point. Of note, it's a shame Vally wasn't sent to a glue factory after this game either.
Trust me, I get it. Pushing fake news stats, such as HIGH DANGER this and EXPECTED that, is part of Vally's brand. It pads his bank account, especially since he has a useless company that tracks stats that have no bearing on a game.
What is funny, is that during these past two losses, Vally tossed all of that junk out the window, and went right into the "eye test" and "human element" talk. It's a shame he can't do this all the time. Even a bigger shame? When Vally, during an intermission, busted out a hockey stick and told the Rangers how to play hockey. The way this guy talks about himself and his career, you'd think he's knocked Wayne Gretzky off of Hockey's Mount Rushmore.
Lastly while on the M$GN broadcast, they did a "Top 10 Plays of The Month" bit, where a Buchnevich empty net goal was considered the top highlight of the month of April. That tells you all you need to know about the Rangers this season.
Ugh, game recap/review time.
---
There's no point in me doing my usual play-by-play and recapping every minute of the game. After all, you can just read my last blog for that and that would pretty much tell the story of this game. Instead, I'm bringing back the short version of recapping for this one. (Or should I say "re-crapping", due to the way this game was played, with an assist to reader Zap for "re-crap".) In addition, even with this format, I'm sure that as usual, I'll have more words written about a Rangers game than anyone else out there! Sad!
Without further ado, let's get into "The Good, The Bad and The Ugly".
FIRST PERIOD
THE GOOD: Julien Gauthier, returning to the line-up for the first time since Kravtsov came over, looked extra motivated. Due to the recent roster issues, it was probably a given he'd play on Monday regardless, but with that said, with this game, he definitely deserves to be back in the line-up against Washington. Gauthier, who had a nose for the net, also drew a penalty in this period. And while on Gauthier here, he recorded the first NYR SOG of the game – which took 8:16 worth of game time to do so.
Adam Fox, while held without a point, broke up several plays.
---
THE BAD: Once again, the Rangers couldn't get anything going offensively, with their top 1-2 punch, of Mika and Panarin, looking like scared little children looking for monsters under their bed. When Leo Komarov is taking it to you and outplaying your top two stars, there's a problem.
Pavel Buchnevich, who is a senior man on this team, flubbed several chances and looked as lost as a new shopper trying to navigate the corridors of a newly built "Home Depot".
---
THE UGLY: This game was over not even a minute in, when the Rangers had no response after this happened:
How does this not get called? Refs off to a great start i see. Martin with the direct elbow to Mika face. #NYR pic.twitter.com/QFSKWlh7le

— David 🔹 (@DaveyUpper) May 1, 2021
Here you have Matt Martin elbowing Mika in the face and there never a response, despite DQ talking about a Rangers "push-back" in this game. I know some fans may say this is where Brendan Smith needs to step in, but he wasn't on the ice during this. Plus, with the Rangers defense issues being what they were, you really didn't want your second best defensemen in this game going to the box for five minutes or more. The Rangers just took this beating and seemed happy to do so.
The Islanders scored a pair of goals this period, after new Rangers killer, in Anthony Beauvillier, scored on Georgiev, just 4:39 into the period. On the goal, Hajek not only was beat, but he screened Georgiev too. And it's obvious – playing with Hajek is hurting Fox.
The Islanders would get their second goal of the period with 3:38 remaining, after Barzal beat Georgiev on a breakaway. K'Andre Miller, who as mentioned, has not been playing well lately, had a clear view of the #13 Islanders jersey streaking towards his goalie. For Georgiev, who has struggled during breakaways earlier this season, only to come up big lately, couldn't figure out Barzal here.
---
THE UGLIER: The Rangers power-play still couldn't figure out Seymon Varlamov. And really, in what's my biggest takeaway from this game, was that after the elbow to Mika and the Beauvillier goal, the Rangers seemed to be in "toss in the towel" mode. There was never one point in this game where you thought the Rangers would win it.
For DQ, and in what had to be frustrating for him, is that despite all his Joel Osteenesque preaching of, "SWAGGER, NORTH-SOUTH GAME OVER EAST-WEST GAME and blah blah blah"; the Rangers continued to do the cross-ice stuff and the end result of all of this was turnover after turnover, as they played right into the Islanders hands. That said, when you have so many young players, one guy making his debut (Barron) and another guy playing his second game of the season; (Reunanen) well it's just hard to get what you want out of your players.
2-0 after one period and you knew it was over.
---
SECOND PERIOD
THE GOOD: Zac Jones, who played over 17 minutes in this game, seems to have a hang of this. Of course, it should be said that once the Islanders took a 3-0 lead, they didn't push the issue too much, as they were happy to sit back and run the clock out. It was also during this period where Jones had one of the better Ranger scoring chances of the game, only to be denied by Varlamov.
Vitali Kravtsov would put a SOG with about 90 seconds remaining in the period. He's still looking for goal number 2, but you can see what he brings to the table. It's just a growing process.
While this has nothing to do with the game, I did laugh when Joe Micheletti said the Islanders are "good at rubbing one out." He would know.
---
THE BAD: Zibanejad (7 SOG) and Strome (5 SOG) kept shooting, but they could never find the back of the net. It should also be mentioned that Zibanejad finished with 8 wins and 8 losses at the dot tonight, while Strome finished with 4 wins and 5 losses at the circle in this game. Sadly, that feels like season highs for them.
The Rangers would have another power-play in this period, but once again, couldn't figure out the Islanders or Varlamov.
---
THE UGLY: On Thursday night, 1:03 into the period, the Islanders scored, thus making the game 3-0. In this game, just 1:02 into the period, and after K'Andre Miller did his patented "El Matador" defense, where he shies away from blocking a shot, Beauvillier scored again. 3-0 at this point and that would be it.
Miller finished with the worst +/- of the game, at -2, with the second line of Panarin, Strome and Kravtsov all joining him for this dubious honor.
---
THE UGLIER: Just the way the Rangers couldn't do anything. Put it this way, if you worked in the NHL marketing department, and were in charge of trying to create new fans or draw back casuals, you'd burn this game tape. This game was as boring as it was aggravating to watch.
3-0 bad guys after two periods, where assuming you want to watch every minute of Rangers hockey from this season, you just wanted to fast-forward in time and get to the end of this.
---
THIRD PERIOD
THE GOOD: The Rangers didn't allow the Islanders to score. Again, and of course, that's because the Islanders were "kneeling down" all game, as a football team would do during their victory formation.
With no penalties or no goals in the period, this period, in real-time, took the shortest amount of time to play. At least this loss didn't drag on and on.
---
THE BAD: The Rangers offense couldn't do anything, and even when they came close, Varlamov was there for every save.
And this is me being a fan more than anything else, but down 3-0 and with two minutes to go, I would've pulled Georgiev. I would've done anything to try to snap this shut-out streak of Varlamov's. This is another reason why I question the Rangers effort. DQ may as well have done the old Pedro Martinez act after this game, and say the that the Islanders are his daddy.
---
THE UGLY: All of the impressive and dominating stats the Islanders set in this season series over the Rangers and all of the Rangers futility stats, including franchise lows, against the Isles.
---
THE UGLIER: All of the Ranger fans who after every loss say, "IF WE WERE IN A DIFFERENT DIVISION, WE'D BE IN THE PLAYOFFS." There's no way of knowing that, nor knowing how the Rangers would play in a different division. They'd probably lose eight straight to both the Oilers and Leafs for all we know. They'd probably do the same against Colorado and Vegas. All we can talk about is what happened this season and it's that the Rangers beasted on the bottom three teams, and lost nearly every game imaginable against the top four teams. 4-15 in one-goal games don't help either.
In addition, is proclaiming to be the best fifth place team in hockey worth your time? Is that what you want to hang your hat on?
And one last time when it comes to the ugly, Mika and Panarin, who couldn't produce at all.
---
If you're a glass half-full person, and with the Rangers most likely big underdogs in their final games remaining against both Washington and Boston; if the Rangers lose the rest of these games, it will help their status in the NHL Draft Lottery.
The Rangers usually match-up well against Washington, but it's hard to imagine them winning either game, and that includes if Ovechkin is out. The Rangers are just too banged up, accepting of losing and never have any energy at the start of a game.
When it comes to wrapping up this loss with the Islanders, you know how I feel. I just don't get how DQ can put a positive spin on this and say he saw improvement. It's been 180 consecutive minutes of pure misery against the Islanders.
If you haven't already, subscribe to this blog for the next update:
---
By this time next week, the regular season will be over. Rough.
See ya Monday night, as win or lose, I will still be watching and recapping every game.
Stay FABULOUS my friends.
Until then, and as always here, thanks for reading and…
LET'S GO RANGERS!
Sean McCaffrey
BULLSMC@aol.com
@NYCTHEMIC on Tweeter