What's up everyone and welcome to another blog here on BlueCollarBlueShirts.com. I have a 4:30AM alarm clock in my future & a nice and dirty work day ahead of me, so let's get right into it. I want to do a full blog here, after kinda mailing in my Game 2 report. After all, it's always much easier to write these manifestos after a win!
The Rangers have just defeated the Senators, 4-1, in Game 3 of their second round best of 7 series. With the win, the Rangers now trail the Senators 2-1 in the series. For the Rangers and their fans, this was the game that we all needed. It was also the game we all expected, ever since these two teams were paired up together in the second round.
This has been a weird series for the Rangers before tonight's Game 3. They lost Game 1 on a fluke goal and really looked lifeless for a lot of the game. If it wasn't for the strong goaltending from Lundqvist, the game could've been a blow out. In Game 2, Lundqvist gave forth his worst effort of the playoffs and the Rangers lost a game they had no business losing.
Every good team and every Cup winning team experiences "puck-luck" during their spring journey to immortality. For the Rangers, they haven't gotten any of that in this series, whereas you can point to several instances of Ottawa getting some fortunate bounces. Even in tonight's 4-1 drubbing of the Senators, the Rangers didn't get any puck luck – they were simply the better team. This is the team that needs to show up the rest of the way.
My prediction going into this series was Rangers in 5, just because I expected this version of the team showing up. I even said in my preview blog, that I expected higher scoring games in this series, than the scores in round 1 with Montreal. While NYR in 5 won't happen, I wouldn't rule out Rangers in 6. The Rangers are the better team and hopefully a game like tonight will remind the Rangers why they are the favorite in this series. That said, they just can't rest on that. As we all know, games are won on the ice, not on paper.
For the sake of continuity, here are my blogs thus far on this series:
As much as many of you know me as the "Cam Talbot" guy, I'm starting to get the "Tanner Glass Guy" reputation in the Rangers social media circles. I don't want to say I told you so, but Talbot did wind up becoming a great starting goalie in the NHL. I don't want to pile on, but the Rangers had arguably their best game of the postseason with Tanner Glass back in the line-up.
I have talked about Tanner Glass to death on this blog. Just check the archives or google "DOINOW TANNER GLASS". Not going to reiterate all my reasons on why I like Glass, but here's just a few reasons why I want him in the line-up, in case you're new here:
He is a seasoned veteran.
He is in a contract year, which means these games are an audition for a job next year, as he's most likely not returning to the Rangers next season.
He brings stuff to the team on and off ice, that no one brings
I've never seen the Rangers look lifeless with him in the line-up
He is a locker room leader
He plays the game hard
He never takes a shift off
He is a great forechecker
He is not afraid to block shots, even if they come from Karlsson
He's not afraid to shoot and doesn't overpass
He is not afraid to throw down and protect his teammates
He has a chip on his shoulder after being brushed aside for most of the season
Listen, I'm not here to take a steamy shit on Pavel "WHO?" Buchnevich, but as I've said in the past, Buchnevich has the potential to be great one day. He's just not the guy for the team right now. I'm sick of hearing about Pavel's skills. What skills? Ok, I'm being facetious here, but seriously, how many times can he shoot wide on an open look? How many times can he look like a zombie and dazed out there? Tanner Glass has been better this postseason, even scoring a GWG in these playoffs. Tonight, after several games off, Glass came right back out there, kicked ass and even tallied an assist, after making a great defensive play.
Some of you guys are up the commie's ass. We all want him to be good and I think it will happen one day. That said, Glass is the better player now and he's the better player for this team.
So to play off "2 Live Crew" and their "Face Down, Ass Up, That's The Way We Like To Fuck" single, that once swept the nation (Ok, not really), all I gotta say is, "Glass In, Buch Out, That's the Way We Move the Puck!"
I've been wanting Glass in this line-up (and really, since the start of the regular season) since day one of this series. I got my wish today and Glass did well. I also wanted Nick Holden in the press box. I would've taken Klein, Kampfer, Clendening, Coach Beukeboom or even Al fucking Trautwig over Holden at this point. That said, Holden played.
After leaving cryptic clues about his line-up, ever since the Game 2 loss, here is what AV rolled out for Game 3:
Line 1: Kreider/Zibanejad/Zucc – best line of the game tonight.
Line 2: Vesey/Stepan/Nash – they had another solid performance tonight.
Line 3: Grabner/Hayes/Fast – this also worked tonight.
Line 4: Glass/Lindberg/Miller: When all four lines are scoring goals, as they did in Game 3, you gotta say AV was perfect.
Defensively, AV kept the same 3 pairs going, of McDonagh/Girardi, Staal/Holden and Skjei/Smith. Lundqvist also remained your starter. Again, I wasn't pulling for Raanta to start, like several others were. Hank has had one bad game these playoffs and you had to figure he would bounce back after the shit-show that was Game 2.
I've said this before too – we aren't around the team every day like AV and the NHL has these perplexing rules where line-ups and injuries do not have to be reported. That's really going to have to change, especially with a team in Vegas next season. I don't know if Klein is hurt, but I do know that Holden is the weak link on this team now. Granted, Holden wasn't terrible tonight, but why risk it? You know the anti-AV fans would've been down AV's throat, if Holden was liable for a goal against Lundqvist in this game.
For the sake of prosperity and a reference point, cheapest tickets an hour before game time were $175 for the worst (and obstructed) seat in the house. My good friend has season seats in section 111, 10 rows off the ice, aisle seats to boot and his face value for those seats are $240 for the second round, as opposed to $135 during the regular season. It really is a shame what M$G charges for these tickets. I know Game 6 in Round 1 was boisterous, but tonight, on a weeknight, I think the crowd was at half speed. That was a shame, since they got a great game. However, long after the National Anthem concluded, you still had the suits making their way to the seats from the Delta Club.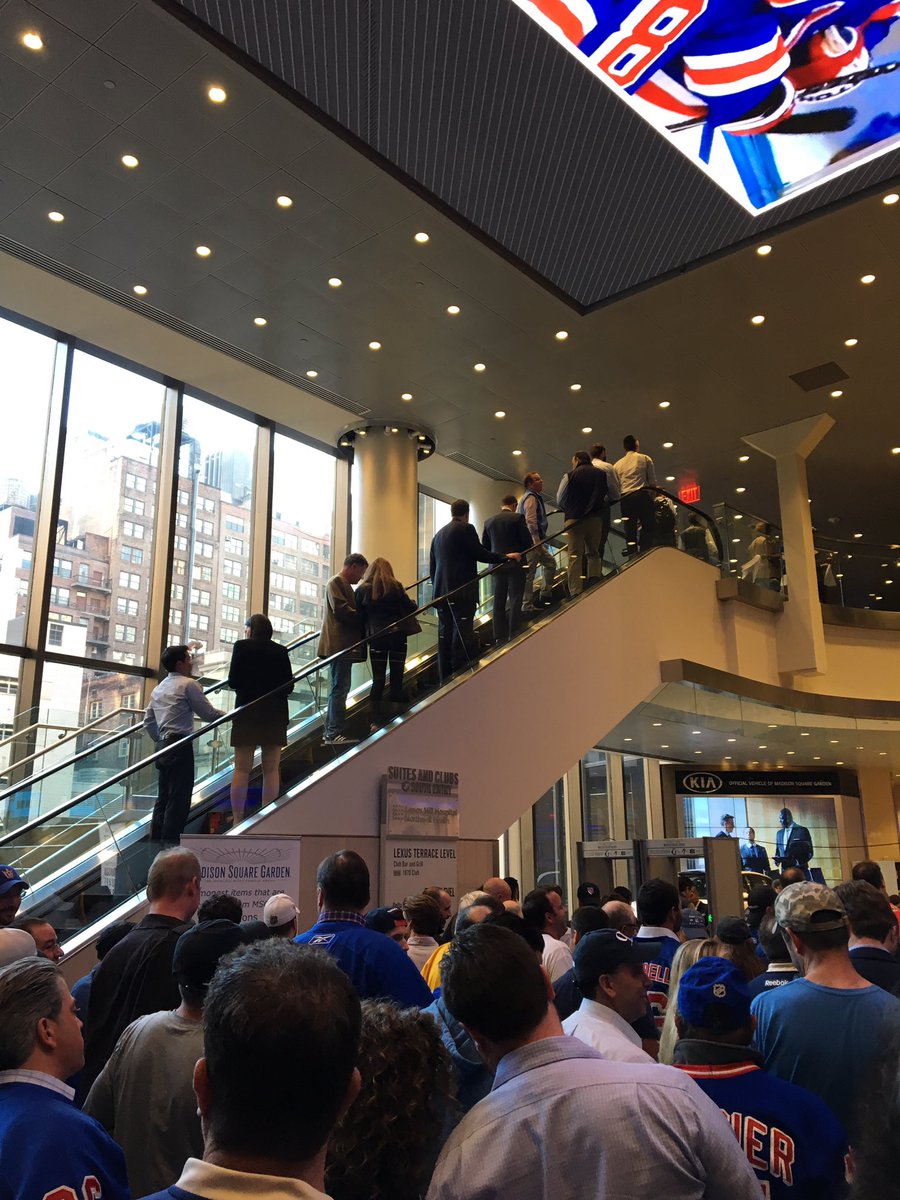 Listen, I don't judge people by their looks, but seeing close-ups of Pageau and his foo-foo hair cut, made me want to slap him even harder tonight, than after Game 2! Between Pageau's hipster hair and pony-tail man in the Rangers penalty box, I want to "Jackass" them like this:
Let's get into this game, perhaps the most relaxing game thus far for the Rangers. As always, the ESPN.com box score:
1st Period Summary

Time
Team
Scoring Detail
OTT
NYR
5:31

Mats Zuccarello (4)
Assists: Mika Zibanejad, Dan Girardi
0
1
13:24

Michael Grabner (4)
Assist: Mats Zuccarello
0
2
Time
Team
Penalty Detail
No penalties this period

2nd Period Summary

Time
Team
Scoring Detail
OTT
NYR
12:21

Rick Nash (3)
Assists: Jimmy Vesey, Derek Stepan
0
3
18:17

Oscar Lindberg (1)
Assists: J.T. Miller, Tanner Glass
0
4
18:49

Jean-Gabriel Pageau (6)
Assists: Cody Ceci, Bobby Ryan
1
4
Time
Team
Penalty Detail
2:59

Ryan Dzingel: Brady Skjei
3:41

Chris Kreider: 2 Minutes for Slashing Dion Phaneuf

3rd Period Summary

Time
Team
Scoring Detail
OTT
NYR
No scoring this period
1
4
Time
Team
Penalty Detail
2:57

Brendan Smith: 2 Minutes for High-sticking Tommy Wingels
7:23

Fredrik Claesson: 2 Minutes for Tripping Rick Nash
8:32

Brady Skjei: 2 Minutes for Holding Viktor Stalberg
8:32

Jean-Gabriel Pageau: 2 Minutes for Slashing J.T. Miller
8:32

J.T. Miller: 2 Minutes for Roughing Jean-Gabriel Pageau
11:20

Ryan Dzingel: 2 Minutes for Slashing Oscar Lindberg
Goaltending Summary
Ottawa Senators Goaltending

Player
SA
GA
Saves
SV%
TOI
PIM
C. Anderson
30
4
26
.867
60:00
0

New York Rangers Goaltending

Player
SA
GA
Saves
SV%
TOI
PIM
H. Lundqvist
27
1
26
.963
59:48
0
After a John Amirante-less National Anthem, the Rangers went to work. That is, of course, after the mandatory icing that seems to take place at the start of every game.
The Rangers just dominated the first period. To me, it was the best period for the team in the playoffs. They out-shot the Senators 15-5, with the Senators final two shots coming in the last minute of the period. It was all Rangers for the first twenty minutes.
The first goal came early in this game, which was huge, as the Rangers have had scoring woes this postseason. Zibanejad, from behind the net, found Zucc racing to the hopper and perfectly fed him a pass. Zucc finished, 1-0 Rangers, 5 minutes into this contest. While all goals are big in the playoffs, this was a big one for the Rangers, because they were playing so well. They needed something to show for it. Plus, with a goal early, the Rangers dictated the pace and could play their game. Too often, this team has been trailing and fighting to come back. Here, they set the tone early.
All four lines were clicking early and the chemistry was at a Walter White level. Even my man T.G. was getting to the net. Senator Zack Smith, who would get hurt in the period and miss the rest of the game, got into a chirp session with Mr. Glass. Glass, again, who does all the little things, got right under Smith's skin. Not only can he beat you with his hands, he can beat you with his words!
I also gotta mention here – the DJ at M$G is fucking terrible. It's like you're at a Sweet Sixteen. Some of the songs were lifted directly off the "American Pie" and "She's All That" soundtrack. Tanner Glass needs to punch the DJ out. Then, in what I found hysterical, late in the third period, during a Rangers PP, the DJ is playing "Sober" by Tool. Go figure. They should've used "Sober" for that series with Montreal, considering the circumstances!
I must also mention – the NBC broadcast was brutal. I'll get into Crosby later, but even during the intermission breaks, it was all Crosby, all the time. I hate the way NBC presents these games. I've talked about how NBC has dropped the ball a million times, but this is what really got me pissed tonight:
Pierre McGuire's interviews during the game: They are all meaningless. Every coach says the same thing, no matter what. If the team is winning, the coach says, "We gotta keep it up, they are a good team." If the team is losing, the coach says "They are a good team, we gotta fight back." No real information is obtained with these meaningless Pierre face-time segments.
I'm surprised Pierre, who was flashing his '91-'92 Pens Cup ring, wasn't wearing a 2015-2016 Pens Cup ring, considering the way he fellated that team last year.
Pierre talking through EVERY THING. There was a scrum and a few penalties called in the third period. After remarkably staying quiet for a bit, the second the PA announcer was reading off the penalties, Pierre just started doing his mindless and inane psycho babble. SHUT THE FUCK UP. I had to check ESPN to see what the penalties were, because not only did Pierre talk through the entire announcement like black people at a movie theater (It's a joke, relax), NBC didn't bother to tell us what was called!
Seeing Pierre in general!
The Rangers did not let up after the Zucc goal, as they continued to pepper Anderson from all angles. After getting away from the hitting game a bit, the Rangers returned to the physicality that worked in the Montreal series. They were just all over the Senators.
Michael "I'm the second leading goal scorer on this team but not good enough for the PP" Grabner provided the second goal of the contest, this time on a wraparound play, at the 13 minute mark of the period. This is the Grabner Ranger fans saw all season, as opposed to the Toronto Grabner, who missed converting on some opportunities in this series. The Rangers quickly had a two goal lead and you could hear Lundqvist's asshole puckering and clenching up. Thankfully, he would hold this one.
As far as Lundqvist goes in tonight's match, he had an alright game. I say alright, because he wasn't relied on as he was in game one or in the Montreal series. It was a quiet 26 saves for him, which really is a testament for how well the team played tonight.  We know it's a team game and here, it truly was, as everyone played strong. I thought Lundqvist's worst period was this first period, because he looked kinda jumpy, literally. He was making jumping saves. It was like watching an outfielder making a diving catch on a ball that he could've just caught from a stationary position. He was also loose with his puck-handling, as usual.
For all the stats in hockey, I would love to know what Hank's turnover stats are with the puck. He just makes these aimless passes around the boards that always goes to the opponent. As far as tonight goes, it didn't bite him in the ass, and when he was called to make some saves later on in the game, he did just that.
After 1 period, 2-0 good guys. And I thought Pavel Buchnevich was the key to the Rangers offense! Ha!
In what became a trend on Rangers twitter for all of the game, NYR and NHL reporters were providing NYR defensemen time on ice stats. In the first period it was:
McDonagh- 8:21
Skjei- 7:36
Girardi- 7:01
Smith- 7:01
Staal- 5:46
Holden- 4:15
I just found it funny that the reporters are furious about Holden too, hence them running these stats all game. That said, if Holden is going to play, these are the right amount of minutes distributed by AV. I wonder if AV will get credit for this win, or does he only take the blame after a loss? He's like the anti-Lundqvist with these fans!
The second period would see the first of three Ranger powerplays. The team would go 0-3 on the PP, as the worst playoff PP team continued to fail. In a new way to shoot themselves in the foot, the team would take two penalties during two different powerplays. This has now led to a new take on the #BUCCIOVERTIMECHALLENGE, the #BUCCIWHICHRANGERWILLTAKEAPENALTYONTHEPPCHALLENGE. (I also gotta give an assist to @BernieAndBeard for this idea!)
No penalty was worse than the penalty Kreider took. With the Rangers on a PP, Kreider blatantly and ignorantly slashed Dion Phaneuf, for really no reason at all, except that Phaneuf was there. This ended the Rangers PP and would give the Senators, grasping for hope, a 40 second PP. Luckily, the Rangers killed it, as their strong again PK went 3-3 for the night. However, they didn't score 2 shorties like they did last game, so to some, that's not good. (I'm joking, sarcasm Sheldon!)
What drove me nuts during the PK was the Garden got loud for a "POTVIN SUCKS" chant. Really, this is the shit you chant during a PK? I've been over this a million times but I can guarantee that 99% of the people chanting this can not pick Potvin out of a police line-up, nor tell you who Ulf Nilsson was.
Rick Nash would make the game 3-0, after taking a perfect pass from Derek Stepan and sniping one by Anderson at the 12 minute mark of the second period. While a 2 goal lead makes me nervous, only the Islanders could blow a 3 goal lead in this type of game! Sadly, this goal didn't get the same reaction as the Garden gave Clare Danes or John Oliver for showing up on the Jumbotron.
Seriously, I like Homeland and I like other celebrities that show up at M$G. That said, I don't give a fuck if they are there or not. Do this shit at intermission, not during the game. If I have to see that cook with the wacky bleached blonde hair again, I may take a shit at M$G, but not in the bathroom!
I will say, the crowd, full of suits and not the most Ranger faithful that you see during the regular season, did give Lundqvist a nice "HENRY" chant. Of course, the chant came after Hank gloved a puck three feet wide of the net, but I guess it's the thought that counts. That is a problem when a majority of the fanbase is priced out – the people that can afford to go, really only know the names. Just like the idiots chanting "POTVIN SUCKS", many of the fans at M$G would be lucky to pull Jesper Fast out of a police line-up.
Even someone like me, who isn't rich, but isn't poor, couldn't afford to go to this. $200+ for a bad seat then the cost of food/booze/train home, it's a $400 night. Plus, there are no bathroom lines at my house!
Late into the second period, Tanner Glass would make a great defensive play and get the puck to Miller. Miller then fed Lindberg and boom, 4-0 Rangers. With this goal, all four lines scored.
Before the announcer could read the Rangers goal to the crowd and before the crowd could finish the Rangers goal song, Jean Pageau scored again. Just another trend in the regressing Lundqvist era – allowing a goal right after the Rangers score one. Ranger fans quickly scrambled to blame Holden, but realized it was McDonagh's man. That said, Lundqvist has a bad history of giving up goals not only late in a period (This goal came with 90 seconds left in the second) but also giving up goals right after his team scores.
At the end of 2 periods, 4-1 good guys. It was looking good, but the team wasn't home just yet.
Going into the third period, I thought it would be funny if AV switched goalies and let Raanta close the game, akin to the Yankees calling on Mariano Rivera for all those years. After all, Lundqvist has struggled with leads many times in his career.
I will say, I gotta give douche McGuire some credit, as he said this during the break, "AV took the skill out and put the will in. The will is Tanner Glass." However, is the commie really that much more skilled at Glass RIGHT NOW?
The reporters were all quick to twitter to report the following:
McDonagh 16:21, Skjei 15:17, Smith 14:07, Girardi 13:11, Staal 10:39, Holden 9:43. Man, were the reporters really on AV and his minutes tonight.
In the third period, the Senators made their push, but the Rangers held them off, even featuring a huge Karlsson shot block from Tanner Glass. Glass got the fist pounds as he made his way to the bench after that.
The Rangers would also get another PP, but this time it was Skjei winning the #BUCCIWHOWILLTAKEAPENALTYONTHERANGERSPP challenge. Decreasing your PP minutes by taking penalties isn't quite ideal.
Zibanejad, who had a great game, but was scoring as much as Al Trautwig on Spring Break, couldn't find the net to save his life. He came so close many times, but no cigar. No smoking in M$G anyway, I suppose!
With Ottawa trying to hold off the Rangers and the Rangers content to sit back for most of the period, it came to that point of the game where it was Dancin' Larry time.
MSG Networks reporter, Rick Carpiniello had the following to say:
Please, please, please tell me Mess wasn't clapping for Dancing Knucklehead.

— Rick Carpiniello (@RickCarpiniello) May 3, 2017
Leave it to me to talk about professionalism, but however, I'm just a fan who vents after games with these blogs. I don't get paid for this. This is a hobby. However, Rick Carpiniello gets paid from the MSG Networks to fellate Lundqvist and blame the defense after every Rangers loss.
You know my spiel on Larry already. I like him. I treat people the way they treat me, and he's always been nice to me. I respect his fandom. He pays his money like everyone else. The Rangers want him to dance, then great. It doesn't affect my ability to enjoy a game. I don't buy into jinxes. Whether Larry dances, whether I sit on the right or left side of my couch or whether Trautwig brushes his teeth or not before a game (Two Trautwig jokes in one blog, I feel like Vally), it doesn't affect what the team does on ice.
That said, I just felt it was pretty low and unprofessional for a paid M$G employee to take an unprovoked shot at a loyal and paying customer. Larry loves this team & is somewhat an unofficial ambassador of the team. He promotes the team daily. I just don't see why a M$G employee would attack someone like that.
While Rick got fired from his old job because you got people like Sean Hartnett working for $10/hr with no health benefits, taking shots at paying customers probably isn't a great idea as an employee of M$G, especially in a field where reporters are getting fired at a rapid rate.
Speaking of Messier being at the game, if Pierre really wanted decent TV, he should've asked Messier his thoughts on a potential NYR/EDM final and who he thinks would win that!
As you can tell with my section on Dancin' Larry here, this third period was what it should've been for the Rangers. A comfortable period protecting a three goal lead. 4-1 was your final, with the Rangers now one game away from evening this series.
For Rangers fans, this is all you wanted. This is what we expect in the next three games of this series and what we expect to see in the ECF. Fuck your jinxes, I believe this team can compete for the Cup, as I've been saying during the whole second half of the regular season.
The Rangers biggest obstacle to the Cup aren't these Senators from Ottawa, it's the Pittsburgh Penguins.
As you may have heard by now, Sidney Crosby received a concussion in Game 3 of the PITT/WSH series. Trust me, you had to hear it, as every intermission break from NBC was dedicated to this story! I think I heard more about Crosby today than the Zibanejad/Brassard trade before this series started!
To me, Pittsburgh is the team to beat if you want the Cup. I believe the Rangers match up well against Washington, or at least better against Washington than they do Pittsburgh. Yes, I know I'm getting ahead of myself here, but I'm excited, so deal with it.
For the record, I don't think Niskanen's hit was dirty. I think it was bang-bang hockey play. It's a penalty, but to me, not intentional. If someone is coming right at you, it's human nature/instinct to put your hands up. This wasn't a dirty hit, just an accident/unfortunate hockey play.
As a hockey fan, I'm not happy to see this. The best player since Wayne Gretzky, in the prime of his career, is losing more time because of concussion issues. It might be to the point, where Crosby has to ask "is this worth it?" Does he want to be a Jim McMahon with CTE? Hockey is great, but quality of life is better. You don't want to be a vegetable with more than half of your life to live.
As a Ranger fan, obviously this is good news, even if the incident is unfortunate. I still believe that if the NHL still had enforcers and lost the instigation penalty, you wouldn't see Crosby or other top stars taking these shots. I think this is why Crosby is kind of bitchy on ice and spearing people & chopping off fingers left and right. He's forced to fight back and protect himself because no on else will.
I still say you can print the Ranger ECF tickets right now. Confident, cocky and maybe a tad assholish thing to say? Perhaps, but I believe this Rangers team is better than Ottawa. The Rangers must buy in three more times, impeach these Senators from the playoffs and await the big gun in the ECF. Anything can happen in the playoffs and wouldn't it be nice to have a Cup appearance this season?
Game 4 is Thursday night at MSG, where the Rangers, in my opinion, WILL, tie the series at 2! Game 5 is another Saturday 3PM game, as it's the lead-in for the Kentucky Derby and the night game, which is Pitt/WSH Game 5. I'll definitely be back Thursday night. I gotta work Saturday, but you bet your ass, I'm going to rush to get the fuck out of there and watch the Rangers take a 3-2 lead!
While the Rangers have a lot of work left to do in this series, it's nice to see some fans take a step off that ledge and get back onto solid ground.
As always, LET'S GO RANGERS
See ya Thursday
Sean McCaffrey
BULLSMC@aol.com
@NYCTHEMIC on twitter