Greetings and salutations everyone and welcome to another blog here on BlueCollarBlueShirts.com. Have you heard the news yet? On Friday, May 22nd, the NHL & the NHLPA took huge strides in the direction of having a Stanley Cup Tournament this summer. As it looks right now, the NHL will return this summer, barring something crazy happening in the near future.
As the NHL & the NHLPA negotiate with each other, and as the NHL coordinates with governments & health officials, we are now inching closer and closer to the return of the NHL. "The pause", which was the phrase the NHL used when this corona virus nonsense first began, will soon be lifted. GAME ON!
There's a ton of stuff to get into tonight, so let's get the puck moving as usual – with the PLUGS segment of the blog! After that, I'll tackle all the latest news and rumors, both from the NHL and from Rangerstown, USA.
If you haven't read them already, here are my latest blogs, in case you missed them:
---
---
---
---
---
---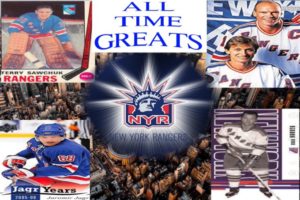 ---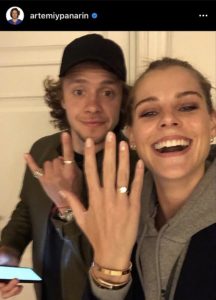 The big news of the week, obviously, is the NHL & the NHLPA taking steps to crown a Stanley Cup champion in 2020. While the NHL hasn't released an official story on their NHL.com website yet, all the Canadian reporters and news outlets, such as TSN & Sportsnet, have been reporting on this story.
Keep in mind, before I continue here, while these reporters are confident with what they are reporting, nothing is 100% official yet. However, due to the NHL & NHLPA agreeing on several things, it looks highly likely that the 2019-2020 NHL regular season is now complete. When the NHL returns, it is being reported that the NHL will go straight to a 24 team playoff field, in a quest to crown a 2020 Stanley Cup Champion.
I'm not going to get into the integrity of such a tournament and the asterisk debate again. I've already written thousands of words on this already. Check my previous blogs for my detailed thoughts on this. All I'll say here, is that I'm 100% fine with whatever the NHL does. I rather hockey than no hockey. Anyone moaning and groaning doesn't know their Stanley Cup history. Furthermore, this is good for business, good for the economy & a good way to grow the game. Even before all of this corona virus BS, I've been advocating for the NHL to expand their playoff field.
As said in the past on this site, you once had four out of six teams qualifying for the playoffs. This eventually turned into sixteen teams out of twenty one teams qualifying for the playoffs. As it stands right now, with the upcoming Seattle expansion franchise entering the league, you will now have sixteen out of thirty two teams qualifying for the playoffs. We've already seen the NFL & MLB increase the amount of teams that qualify for their playoffs. It's time for the NHL to increase their playoff field too. It's a decision that benefits everyone.
And real quick here, before I start going into repeat mode, with the NHL losing a ton of money this season, increasing the playoff field from this point moving on, will help the league, the teams, the ushers, the beer vendors, the bars, the parking attendants, and everyone else that relies on these games, financially. It also keeps fans of fringe playoff teams more active and as loyal customers.
Put it this way, say if the NHL increased the playoff field to 24 teams permanently. For eight more different franchises, you will help those markets out tremendously, come the final six weeks of the season. You would ensure bigger crowds, better TV ratings, increased merchandise sales and help the local businesses that benefit from having a team that's in the Stanley Cup hunt.
While it's being reported, that here in 2020, that the NHL isn't using my "wild card weekend" idea, an idea where you would have do-or-die/one & done elimination/play-in games, I think you could use that idea next season & that idea would help generate interest and eyeballs to the league. Just something to think about.
---
When it comes to the news reports this week, I'll use a Canadian news outlet here. After all, all the American reporters just rewrite their reports anyway.
While I'm not sure who was the first to report this, as several prominent Canadian NHL reporters all had the same story around the same time, it was Sportsnet that posted the most detailed story about the NHL's return.
If you haven't seen it already, here's the story from Sportsnet: https://www.sportsnet.ca/hockey/nhl/nhlpa-executive-board-approves-nhls-proposed-return-play-format/
For those too lazy to read the article from its original source, here's the story from Sportsnet, which was posted on May 22nd:
The NHLPA Executive Board authorized further negotiations with the NHL over how a 24-team return to play scenario would play out.

"The Executive Board of the National Hockey League Players' Association (NHLPA) has authorized further negotiations with the NHL on a 24-team return to play format to determine the winner of the 2020 Stanley Cup," a statement from the NHLPA said. "Several details remain to be negotiated and an agreement on the format would still be subject to the parties reaching agreement on all issues relevant to resuming play.​"

Elliotte Friedman reported a proposed framework Wednesday, however, not all details of this framework were approved Friday night.

Under the NHL's initial proposal, the top four seeds — based on points percentage — in the East and the West qualify for the post-season. Those teams in the East are Boston, Tampa Bay, Washington and Philadelphia and in the West St. Louis, Colorado, Dallas and Vegas.

The next eight teams in each conference will compete in a best-of-five play-in series, with the winners going on to face each conference's top seeds.

Both the top four in the West and the top four in the East would be given a bye from competing in this play-in tournament but would play games against each other before the playoffs begin.

In the Eastern Conference, the opening round will play out like this:

• 5. Pittsburgh vs. 12. Montreal (winner plays four seed)
• 6. Carolina vs. 11. Rangers (winner plays three seed)
• 7. Islanders vs. 10. Florida (winner plays two seed)
• 8. Toronto vs. 9. Columbus (winner plays one seed)

And the Western Conference opening round shakes out as follows:

• 5. Edmonton vs. 12. Chicago (winner plays four seed)
• 6. Nashville vs. 11. Arizona (winner plays three seed)
• 7. Vancouver vs. 10. Minnesota (winner plays two seed)
• 8. Calgary vs. 9. Winnipeg (winner plays one seed)

According to Sportsnet's Chris Johnston, the format of the playoffs is still up for negotiation. Friedman's report originally indicated that playoffs would be "bracketed" similar to the NCAA tournament but that was not approved in Friday's vote and the potential still exists for the playoffs to be seeded based on standings position.

While Friday's vote is a meaningful step forward, there are other critical elements that would still have to be ironed out such as testing protocols, visas and whether or not the league intends to use hub cities.

The NHL is still without a firm timeline for when it will be able to resume activities after having its season paused due to the COVID-19 pandemic.

---
Again, keep in mind that nothing is 100% official yet, but as is evident from the report above, we now have an idea of what the league and NHLPA are talking about. For people like me, who want hockey to return, these reports are encouraging. After all, we're talking about the league resuming, rather than talking about the 2020 Stanley Cup playoff tournament being canceled.
To break everything down here, as previously reported, the NHL is looking for two host cities. There will most likely be an Eastern Conference city (with cities in Florida & Columbus being the front-runners right now) and a Western Conference city (Las Vegas being the front-runner right now) to host each respective conference.
Based on everything that's being reported, it looks like every 2020 Stanley Cup playoff game will be played in front of no fans, in closed arenas, as these contests will all be empty arena games. If that's the case, that brings up a whole new batch of talking points, such as should the NHL pipe-in noise at the games? Should there even be TV timeouts? How many games a day would you play in one arena? Etc, etc, etc.
To give you a visual look of what's being proposed for the 2020 Stanley Cup Tournament, here's a graphic that was posted on Sportsnet: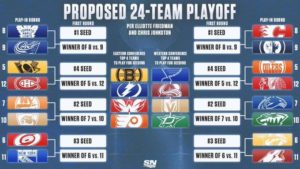 One more time here – this isn't 100% official yet. This is just what's most likely to occur.
When I came up with my proposed playoff idea back in late March, I pushed for byes and a single elimination wild card weekend type of idea. The reason I thought a do-or-die first round, for the bottom teams in the playoff mix would work, is because you can't have these first round series going 3, 5 or 7 games, all while keeping a top seed idle. By keeping a top seed idle, you would allow the teams playing to get into a groove and adjusting to the new conditions.
The negative aspect of my idea, is that you would have all these teams returning, go through testing, quarantining and a mini-camp, only to play one game. Then again, that's the novelty and excitement of a single elimination game.
In the proposed idea that's pictured and talked about above, we would see byes for the top seeded teams. For everyone else, they would play in a best of five first round series. To offset idleness & rust, the teams with a bye would all play each other, in an effort to get fresh and get their legs. These top teams will also play for seeding, which truth be told, may not amount to much, since there is no home ice advantage & you don't know what "play-in" team will be hot.
While no idea is 100% perfect, obviously, both the NHL & NHLPA are doing their best to accommodate every one and every team. Of course, the teams that lose will have their gripes eventually and do the "what if" game. However, in my opinion, it's better to do something than shutting down.
Of course, the imperfectness here, is that for the top seeded teams with a first round bye, and who will get ice time by playing each other, how could their games be as intense or as meaningful, as the teams playing in a best of five game series? For these top seeded teams, while I'm not suggesting it would be as slow and drab as an NHL All Star Game, would you expect any big hits in these games or these guys going full-speed, as they would in a regular NHL playoff game?
Just think about it for a second. Why would you risk an injury, in what is pretty much an exhibition game? On paper, obviously, you would think you would have more passion, physicality and intensity between teams vying to get into the next round, than the teams who have byes. Again, there is no perfect solution here, but it's something to think about.
As far as the seeding itself, while the above graphic is the most likely scenario, not every franchise is happy about these pairings. Again, there's no way to make everyone 100% happy here, but it is my belief that the NHL is doing the best job to ensure fairness across the board.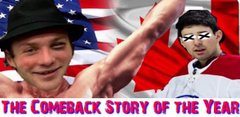 As a fall-out of the news of the NHL's imminent return, which is rumored to start in July, after a 2-3 week mini-camp in June, we now have other stories to discuss here. The three biggest stories, as a result of this news this week, are Carey Price & the Pittsburgh Penguins, the two teams who voted against this 24 team playoff format and of course, all the Covid 19 safety shit.
Let's get the easiest thing out of the way first here, and that's the topic of safety.
If you're a fan of all sports like me, you already know that both MMA & pro wrestling are running shows regularly. In the case of pro wrestling, the two major companies in the game, in WWE & AEW, have never stopped running shows. They've been holding empty arena shows this whole time. In the case of MMA, specifically UFC, they took a break, but returned with three shows in one week, just two weeks ago.
While each organization has done different things, they have been testing their athletes and staff. Of note, UFC, WWE & AEW, have ran all their events in Florida, with AEW also taping on a closed set in Georgia too. This is why the state of Florida is being considered as one of the hosts for the Eastern Conference.
When it comes to pro wrestling and MMA, it's a bit easier to hold their events than the NHL. After all, outside of tag-team matches in pro wrestling, these are individual sports. There's also a lot less "people baggage". For the NHL to have their games, they have to bring in full teams, their staffs, their announcers, their trainers and everyone else that's needed. While it's easy for the UFC or WWE to rent out a hotel for 25-50 people, for the NHL, they will have to find hotels that can accommodate much larger numbers than the UFC or WWE.
While I believe hotel/travel accommodations will all be taken care of, there will obviously be a lot of planning and time that will have to go into this.
Another topic, related to safety, is the NHL game itself. I've already seen reports suggesting stopping play in the event of blood, no fighting and no spitting on the ice. To me, that's silly. After all, the UFC and WWE guys are all beating each other up, sweating on each other, and in some cases, bleeding on each other too.
Obviously, I believe everyone involved in hockey, will be tested upon arrival to whatever city hosts these games. The sidebar here, is that the NHL is worried about purchasing thousands and thousands of tests, when regular citizens may need these tests more. All I can say here, is that the UFC, WWE and AEW are all using these tests and there hasn't been any issue or backlash on that fact at all.
It is my opinion that you can not change the rules of the NHL during this time. If everyone is tested and healthy, fighting should be allowed. A whistle shouldn't be blown if someone gets a busted lip or nose. And if a player wants to spit on the ice, who cares? It's not like players are touching the spit with their skin or anything. That said, I would suspend Brad Marchand if he tries to lick anyone again!
As fans or as outsiders, is anyone really worried about on-ice safety? The game should be played as it has always been played.
When it comes to quarantining players to one hotel and all the travel stuff, I believe the NHL will employ the proper measures to guarantee safety. Of course, one outbreak would bring on a litany of problems, so that is something many people are considering, including Brian Burke of Sportsnet. To me, this is a risk that the players will have to take on, if they want to continue playing. And perhaps I'm an optimist here, but I truly believe the NHL will handle all of the testing in the best way possible, to ensure there is no one with the corona virus at their arenas and hotels.
The last topic here, in regards to safety, are all the border and travel restrictions among NHL players. I've talked about this topic already in past blogs, so real quick here, from what I've seen, American cities are the front-runners to host these games. While there has been some talk about either Edmonton or Vancouver hosting games, Vegas, due to the many hotels they have in their city, is still the front-runner here, when it comes down to finding a Western Conference host city.
When it comes to the travel restrictions, we've already heard President Donald Trump say 7678678968976 times, how he wants sports back. I believe Trump will lift travel restrictions for the NHL and allow Canadian, European and Russian players to re-enter the United States. While testing and quarantining of these players will have to be done, it is my opinion that all that stuff will happen before these mini-camps get together. I just don't think it will be an issue of getting these players back into America. I don't think I can say the same about Canada right now, as Canadian Prime Minister Justin Trudeau seems to be more worried about keeping his country closed than Trump.
---
The second big topic coming out of the NHL's eventual return, is Carey Price. I'm not joking when I say this either – the reason why the NHL is rumored to return with a best of five game series in the first round,, rather than a best of three game series, is because teams feel that Carey Price could steal a short first round series. The team that would face Price & the Canadiens, under this new proposed format? The Pittsburgh Penguins.
In a shocker to the Cult of Lundswiss fans, the idiots who will moronically shout until they are blue in the face, that Lundqvist is better than Marty Brodeur, across the league, Carey Price is considered the best goaltender in all of the NHL. Whether it's player polls, GM polls, the media or whatever other survey is being taken among people employed by the NHL, Carey Price is always ranked as the top goalie in all of hockey today.
Let me preface the following with this – as usual, I don't agree with this opinion of the majority. Everyone knows my feelings on Henrik Lundqvist, and how I'll never be accused of being part of his fan club. That said, even with how bad and selfish Lundqvist is today, I much rather Lundqvist in a playoff game than Carey Price. While Price may be great in the regular season, what has he done in the playoffs? Perhaps maybe he gets the Habs to the Cup Final in 2014, if Chris Kreider hadn't skated into him, but we'll never know. We do know that the Rangers & an eroding Lundqvist defeated Price & the Habs, in the first round of the 2017 playoffs.
It has been the topic of many reporters of the NHL media, about how Price could unfairly knock out the Penguins in the first round. Sportsnet.ca has an article about this here: https://www.sportsnet.ca/hockey/nhl/penguins-players-vote-yes-nhls-proposed-return-play-format/
As an NHL fan, while Carey Price is obviously one of the better goalies in the league, if you know anything, you know that these high priced goalies haven't won Cups in the salary cap era. You may have heard me talk about this before! To me, I'd be much more scared of a young goalie heating up, as we've seen in past years, with guys like Jordan Binnington and Matt Murray. And for non-Ranger fans, I'd be much more concerned about CZAR IGOR going lights out, than Carey Price.
In a topic I'll talk about after this Price one, the Penguins were rumored to have shot down the proposed 24 team playoff idea. As shown in the Sportsnet.ca link above, the Penguins did agree to the 24 team format, providing the first round was a five game series, rather than a three game series. The players just want to play.
As a Rangers fan, we all know the recent playoff history between the Rangers & the Penguins and the Rangers and the Canadiens. I would much rather see the Canadiens in the playoffs than the Penguins. If anyone can take over a series, it's Sidney Crosby, not Carey Price. We've seen the proof, many times over.
I gained respect for Kris Letang, when he said the following about a potential Pens/Habs first round series:
"At the end of the day, nobody gets exactly what they want," the cornerstone defenceman said Friday night. "But, we all want what is best for hockey and to continue to grow the game."

"We have a union for everyone to express our views. Whatever the format is, some agree, some don't. As a union, we want to make the best decisions over time, the greater good for everyone."
All in all, and at the end of the day, if a high seeded Penguins team can't handle the Habs, a Habs team who wouldn't have been a playoff team if the season wasn't ruined by the corona virus, then how would the Penguins expect to handle teams like the Flyers, the Capitals and the Lightning? To be scared by a goalie who doesn't have much of a playoff track record, well to me, that's lunacy.
---
Our last topic, as a result of the NHL & NHLPA agreeing to return to play, are the two teams that voted against returning. Those two teams are the Tampa Bay Lightning and the Carolina Hurricanes.
The following comes from 1994 Stanley Cup Champion and current NHL reporter, Nick Kypreos:
The two @NHL teams that voted against @NHLPA 24 team format were playoff teams. @Canes and @TBLightning https://t.co/bizAbf6mMR

— Nick Kypreos (@RealKyper) May 23, 2020
Of note here, Kypreos' news tweet was later confirmed by other NHL reporters.
Let's get the Bolts out of the way first.
While it's the Boston Bruins, and not the Tampa Bay Lightning, that are in first place in the Atlantic division, it is the Tampa Bay Lightning that voted against the 24 team playoff format. While we don't know the reason officially, I think it's safe to say that we can speculate that the Bolts are still upset with how they were embarrassed in the playoffs last year. For those who may have forgot, the Bolts were the victims of the biggest playoff upset in modern NHL history, when after a record-setting season, where they won the Presidents' Trophy, they were then promptly swept out of the first round, by the last seed in the Eastern Conference, in the Columbus Blue Jackets.
(And an aside here, I would much rather face Carey Price, than a team led by head coach John Tortorella, in a first round series.)
As mentioned above, under this proposed playoff format, the Bolts would be one of the teams playing in exhibition games, while the first round of the NHL Stanley Cup tournament was going on. Again, there is no way to appease everyone. For the Bolts to win the Cup, they must nut up here, face the music and handle their end of business. The Bolts were my pick to win the Stanley Cup at the beginning of the season, but seeing that they are perhaps a bit scared right now; well that has me reconsidering that pick!
With the vote 29-2, in favor of the proposed playoff format talked about here, the Bolts, in order to win the Cup this year, must exorcise the demons from last year and accept the conditions of these 2020 playoffs. If they don't, it will be another first round exit for them.
---
While we all know that hockey is a team game, when it comes to the Carolina Hurricanes, no goalie has a better winning percentage against the Hurricanes than Henrik Lundqvist. Of course, it should be stated that the Hurricanes were a bad team for a long time, while the Rangers were a perennial playoff team during the same time. That said, even with Lundqvist struggling over these past few seasons, whenever the Hurricanes were on the docket, Lundqvist and the Rangers always beat them.
Knowing all of this, it is no surprise that the Carolina Hurricanes were the other team to reject this 24 team playoff format, as they want no part of the Rangers, who would be the Canes first round opponent. (I'll save the Lundqvist stuff for the next segment of this blog.)
Again, just like Pittsburgh vs Montreal, or whoever Tampa Bay plays in the second round, there is no playoff seeding idea that will make everyone happy. All you can do is handle business. It's up to the Carolina Hurricanes to beat the Rangers. If you can't beat the Rangers, who wouldn't be in the playoffs under a traditional 16 team format, then how do you expect to beat the better teams of the conference?
If anything, with the way the Rangers have disposed of the Candy Canes during the last decade, you'd think the Canes would want the chance to avenge their arch-nemesis. Then again, I wouldn't want to face CZAR IGOR in the first round either, which now brings me to the Rangers and their situation, come these 2020 NHL Stanley Cup playoffs.
---
As a Rangers fan, I think other fans who root for teams, that wouldn't have been in the playoffs under the traditional 16 team format, all feel that their team has as good of a shot as anyone, to win the Cup this year. This 24 team playoff tree is wide-open. Who knows what will happen, but you can make a case for anyone. The Stanley Cup playoffs are always unpredictable. It's even more unpredictable now.
As a Rangers fan, the biggest talking points, in the argument that the Rangers could win the Cup, is the fact that the Rangers are the youngest team in this proposed tournament, which theoretically, would make it easier for the Rangers to comeback after this break. The legs are fresher. They would have more stamina.
Of course, that being said, the Rangers would be giving up playoff experience to their opponents, but hey – how much experience did Jordan Binnington and the Blues have last year? Hell, in year one as a team, the Vegas Golden Knights got all the way to the Stanley Cup Final, in 2018.
Of course, three other talking points here are CZAR IGOR SHESTYORKIN, ARTEMI PANARIN and MIKA ZIBANEJAD. In fact, I think this rest helps Igor a bit, who has been playing all over the world during the last year. He should enter the playoffs fresh, and spoiler alert – he should be the starting goalie for the Rangers, of these 2020 playoffs, for reasons I'll soon get into.
When it comes to Panarin & Zibanejad, who wants to face this 1-2 punch of a duo in a first round? Prior to the shutdown, Zibanejad was the hottest player in the league. In fact, if anyone was screwed by the corona virus, it was Zibanejad, who was playing the best hockey of his career prior to this pandemic. However, I do think he'll find his game again, and as a Swede, he's most likely practicing and skating right now. (Check out my last few blogs for more on Swedish players & how they are on the ice right now.)
In the case of Artemi Panarin, year one in New York couldn't have gone any better. Personally, his dog became a social media celebrity, and as mentioned up top, the Breadman is now engaged to the love of his life. On the ice, Panarin was having a Hart Trophy contending season. While you could make the case for Zibanejad, of the two, Panarin was most likely to finish up as the team MVP this season.
Come the playoffs, if Panarin, Zibanejad & Igor can all regain the playing levels they were at before this pause, coupled in with the way the Rangers defense was playing, I really can see the Rangers winning the Cup in 2020. Maybe I'm being too much of a fan here, but hell, WHY NOT the Rangers? They have two extremely valuable forwards in Panarin & Zibanejad and have a goalie capable of stealing games left & right.
This now brings me to the topic of the starting Rangers goaltender for the playoffs.
In case you haven't figured it out already, I want CZAR IGOR between the pipes, come the playoffs. Going by what NYR head coach David Quinn has done this year, I believe that's who he will suit up for this role.
Let's face it – if the Rangers were playing any other team besides the Carolina Hurricanes, I think the answer on who should have the net in the playoffs would be unanimous – CZAR IGOR SHESTYORKIN. However, due to Lundqvist's history with Carolina, I do see the argument for why some fans, even those crazy Cult of Lundswiss fans, are demanding that Lundqvist get the nod.
Let me be fair here and get the pro Lundqvist starting talking points out in the open here:
— Lundqvist's history vs Carolina.
— The potential Disney finish, with Lundqvist leading the Rangers to a Stanley Cup, in what is most likely his final season with the Rangers. (And I 100% believe, should the NHL allow amnesty clauses as a result of the salary cap staying flat, that the Rangers will buy him out.)
— Lundqvist's playoff experience, despite a 61-65 career record.
— Lundqvist's advantage of being able to get a jump start, by being able to practice and skate right now.
— The loyalty factor, which many fans have towards him, even if David Quinn has shown he does not. (And DQ isn't wrong here, in my opinion.)
The topic of who should start in goal for the Rangers, come the playoffs, is a major topic across all channels of Rangers social media. There are about 30867308743807 polls, surveys, postings and tweets, such as this one: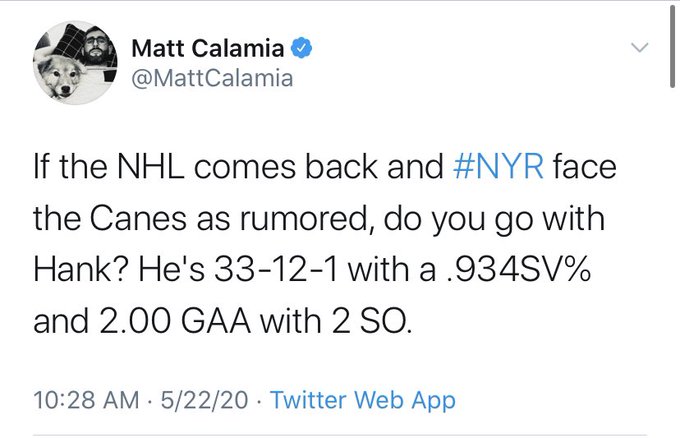 Reality check time. Without a question and without hesitation, CZAR IGOR should be the starting goalie, hands down. There are no ifs, ands or buts about this. Let's get into why Igor should start here, and why I feel he will.
For starters, for all of Lundqvist's history with Carolina, in the last game between the Rangers & the Canes, David Quinn went with CZAR IGOR in net, rather than Henrik Lundqvist.
For a quick refresher of CZAR IGOR's short 12 game NHL career, here is his game history, courtesy of https://www.hockey-reference.com/players/s/shestig01/gamelog/2020:
As you can see from the table above, the last time the Rangers played Carolina, CZAR IGOR got the nod, in the Rangers 5-2 win over the Candy Canes. More eye-popping than Igor getting the start, was the fact that Igor started three games in four nights, winning all three of them.
As I said at the time (read my blog of that game by checking the archives of this site) if there was ever a time to start the idle & super well rested Lundqvist, it was that game with Carolina. Instead, DQ ignored all of Lundqvist's history with Carolina and kept riding Igor the whole way. It was my opinion at the time, and to this day, that by continuing to go with Igor with no rest, DQ was done with Lundqvist. If it wasn't for Igor's car accident at the trade deadline, Lundqvist probably would've never started another game with the Rangers this season, and perhaps ever again.
And to add more ammo here, when Igor was out, after a result of the injuries received in his car accident, David Quinn made Alexandar Georgiev his temporary number 1 goalie, and only started Lundqvist to give Georgiev a breather.
Unless you're truly delusional, and have a tear-soaked "Cult of Lundswiss" Fan Membership Card, when it comes to the Rangers goalies this season, the depth chart, in order, is Shestyorkin, Georgiev and Lundqvist. Even with a friendly match-up with Carolina, DQ has to go with his best hand. You don't change the game plan now. And really, as Ranger fans, we all know what happens if Lundqvist starts – Brady Skjei scores the series winning goal. We've seen this story far too many times.
Moving past Lundqvist's history with Carolina, CZAR IGOR is the best goalie on the team. You don't play someone else for sentimental reasons. You go with the guy who gives you the best chance to win. And as alluded to several times on these blogs, CZAR IGOR has the ability to catch lightning and could lead the Rangers to the Cup. Wouldn't that be something? Igor could get Lundqvist his Cup. And while it wouldn't be a true Cup victory for Lundqvist, it would be a Cup regardless and his name on a Cup would 100% ensure a Hall of Fame induction one day.
To expand even more on this, let's not forget this fact too – this is the final season of the Rangers rebuild. Missing the playoffs in 2021 would be a step backwards, where these last two seasons were a step forward in the right direction. The Rangers now have the pieces to be a playoff team again. After all, you don't lock up Trouba & Panarin to massive deals, just to play golf every spring. The winning playoff culture needs to come back here once again. You don't want to be Edmonton and Buffalo, bombing out after years of great picks.
Truth be told, and admittedly here, the Rangers are getting a huge chance by qualifying for the 2020 playoffs. When the season paused, the Rangers weren't a playoff team, although they most likely would've been, had the Rangers not kowtowed to Lundqvist, by sending Igor to Hartford at the start of the season. Had Igor been here the whole way, who knows – it's most likely that the Rangers would've had their playoff spot tied down. The Rangers are one of the biggest beneficiaries of this corona virus 24 team playoff format, because before the pause, with a dozen or so games remaining, the Rangers had a tough schedule, a schedule they would've had to face without the newly minted Chris Kreider. Now, the Rangers have a clean slate and a healthy Chris Kreider too.
You all know my opinions about Lundqvist, and one of my opinions that I've had, even before this season, going back to as far as 2015, is that the Rangers need to move on from Lundqvist. I also look at the current New York Yankees and their new core, which developed in 2017, as they came one game of qualifying for the World Series that year.
For this new Rangers core, which now features guys like Panarin, Zibanejad, Fox, DeAngelo, Strome and others, rather than a previous core that featured McDonagh, Girardi, Nash, Hagelin, Callahan, Brassard and others, in the same vein, the Rangers must embrace Shestyorkin, rather than running out the tired tread of Lundqvist.
For this new Rangers core to grow as a collective group, CZAR IGOR must earn his war stripes with this new baby-faced Rangers crew. While I wouldn't rule the Rangers out in their quest to win the Cup this season, under this new format, take a look at where the Vegas bookmakers have them right now: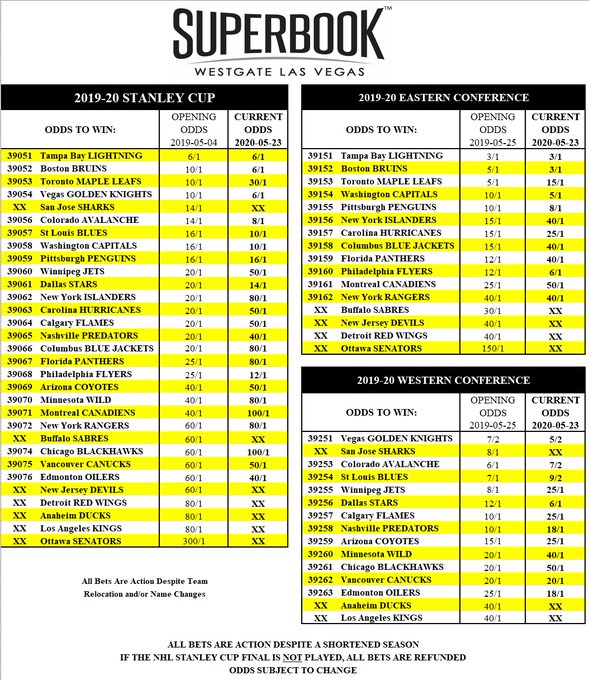 The Rangers are currently a long shot at the Cup, with or without Lundqvist in net. Even in the worst case scenario, which would be the Canes sweeping the Rangers with Igor in net (which would then lead to the Cult of Lundswiss being outraged that Lundqvist didn't play) these games will give Igor playoff experience. And really, that is what it is all about – getting Igor, and this new group of Rangers, playoff games under their belt.
It is my opinion, that even if Lundqvist could handle the Canes, what happens next? He gets torched in the second round? Do you make the switch to Igor in the middle of the playoffs? That would all be counter-productive to me.
Even if the Rangers don't win the Cup in 2020, the fact they are getting playoff games is a huge deal. This new group will get their feet wet. For many of these players, with Kreider, Fast & Staal being the biggest exceptions, the 2020 playoffs will be the biggest games of some of these guy's lives. As a group, this team, even if they don't win the whole thing, which wouldn't be the end of the world, would get playoff experience, and here comes the most important word here – TOGETHER.
By going through the battle and war of the 2020 Stanley Cup playoffs, this new group will get experience, time and will bond by being in the trenches together. That is why, that not only do you go with your best goalie on the team today in CZAR IGOR, you go with the goalie that will be your starter for hopefully the next decade, in CZAR IGOR as well.
At the end of the day, the old adage of "what matters is the front of the jersey, not the back of the jersey" still applies here. The Rangers must do what's best for the franchise, and not what's best for a relic whose prime year was 8 years ago.
And really, in closing on this topic here, even if you're the biggest Lundqvist fan in the world, the best odds for Lundqvist getting a Cup on his resume, is by watching Igor in the press box.
---
Switching gears for a minute, let's now go to the podcast report.
This past Wednesday, the Blueshirt Underground guys returned, as they continued their tournament of the worst 64 moments in Rangers history. You can listen/watch the show, by clicking the video below:
When BSU first started this tournament, I mentioned I had a similar idea for a blog. However, since BSU is doing this already, I felt no need to replicate what they are doing. Plus, I'm a fan of their show and have a fun time conversing in their chatroom as they do their show. That said, and I won't name names here, I've seen several people doing what BSU is doing right now. Coincidence? Filling up space during a down time? Probably. However, some of the stuff I've seen from others, feels like they are ripping off BSU right now.
In other podcast news, also returning this past Wednesday, was Ron Duguay, with his "Up in the Blueseats" show. You can listen to that podcast by clicking the link below:
— Ron Duguay (@RonDuguay10) May 21, 2020
In a rare episode, Duguay takes a diversion from talking Rangers hockey and to a member of the Rangers alum, as in this episode, he interviews a member of the Team USA women's hockey team, and an official ambassador of the Rangers themselves, in Amanda Kessel.
I've talked about women's hockey a ton of times on these blogs, with one of my most deepest looks on the sport appearing here: https://bluecollarblueshirts.com/5519/
I don't want to go into everything women's hockey here today, as I've done that a bunch of times on these blogs already. Check the link above and the archives of this site, for more of my thoughts on women's hockey.
All I'll say here, is that for women's hockey to be successful, it is my belief that they should run when the NHL is in off-season (like the WNBA does with the NBA), needs to create marketable stars (which the NHL also struggles to do, because after all, Connor McDavid is rarely featured in prime-time in the USA) and needs to play under the same rules as the NHL, which means hitting & fighting. If we've learned anything from the most marketable female athletes in the last few years, whether it be Ronda Rousey, Miesha Tate, Amanda Nunes, Becky Lynch or Charlotte Flair, and hell even the Bella Twins (who have a successful TV show on E!) it is that people, of all genders, race and ages, enjoy females competing in combat. I'm sure a women's hockey fight would become a viral clip, which in turn, would get fans to watch.
And in my last repeat of this blog, because I know I've mentioned this 796767896 times before, I've tried to attend two different NY Riveter games, of the NWHL. However, both of those games took place, head-to-head, with a Rangers game. As much as I hope women's hockey succeeds, I'm not missing a Rangers game to watch the Riveters. That's why I think the women's league needs to take place in the summer, when the NHL is usually in the off-season. (This year being the lone exception.)
I thought Duguay & Kessel brought up two great points on the podcast, two points I strongly agree with. Duguay suggested a six-team women's league, with the six teams being Original Six cities – NY, Detroit, Chicago, Boston, Montreal and Toronto. I like that concept, although I guess it would be unfair to fans of other markets, markets that are in existence today, such as hockey-starved Buffalo.
As I was listening to the show, Kessel said exactly what I thought when I clicked play on the podcast – (and this is me paraphrasing her here and using my words) women's hockey is screwed right now, as a result of the corona virus.
Prior to the corona virus, many women's hockey players were on strike, as they were looking for better pay. Listen, I get their woes and issues, but if their leagues aren't making any money, where do these players think the money is going to come from? Sports are a business and if your business isn't profitable, you cease to exist. Again, I think these women hockey leagues are doing this all wrong, as running head-to-head with NHL games & not using NHL rules hurts their game. That's my opinion at least. And let's face facts, even if this sounds callous – outside of the people playing in these games, no one gives a crap about women's hockey, unless it's the Olympics. Once the international games/national pride factor is taken out of the equation, no one wants to watch these games.
Moving forward in the present time, it's going to be harder than ever before, to jump-start and generate interest in women's hockey. Furthermore, these women hockey leagues, that are looking for the NHL to invest in them, will find that business idea on the back-burner too. The NHL has enough financial issues right now. With this corona virus, the last thing on the NHL's mind right now, is trying to facilitate a women's hockey league. To Kessel's credit, she said pretty much what I'm saying here. And really, I found Kessel to be very intelligent and astute, when talking to Duguay on this topic.
I thought Duguay & Kessel had a good conversation, a realistic one at that too. Kessel came off very well-spoken to me, and with her charity work that was talked about on the show, it's easy to see why the Rangers hired her.
---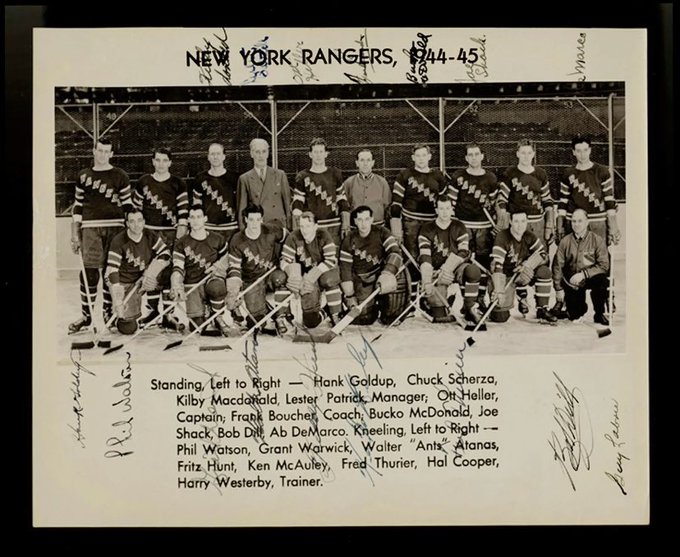 It's about time I wrap this bad boy up.
In closing with this blog, I don't care how it gets done – I just want hockey to return. While I don't feel like a "victim" during this and I know many people have had it much worse than me during all of this, it would be nice to get a simple pleasure like the NHL, back in full-swing.
I will say, and I'm 100% being selfish here – I wish the NHL never took a break. It would've been nice to have something to watch while home. I know many of you are in the same boat as me. However, like me, I'm sure many of you will be back to work once the NHL is back to work too. It would've been nice to have days off, so we could watch every single NHL playoff game!
Subscribe to this blog by clicking the button below, so you don't miss the next update: