"We all saw it. There are lines that can't be crossed in this game and there is just zero respect for the game in general. You have one of the star players in the league [Artemi Panarin] now who could have gotten seriously, seriously, hurt in that incident. You saw what happened, it happens time and time again with him and it's totally unnecessary. You all saw what happened. It's just zero respect for the game and the players and everybody involved." – Rangers head coach David Quinn, on 5/3/21, moments after the Rangers 6-3 loss to the Washington Capitals. During this quote, DQ was giving his thoughts about the Wilson craziness, craziness which changed this entire game. It should also be mentioned that in prior interviews, DQ has said that the NHL is a man's game and you need to be tough and possess "swagger", two traits the Rangers do not have at the current moment.
---
"Losing Bread for the rest of the game certainly was a big blow to us. We were gonna go on a 5-on-3 and not having him part of it, him and Buchie, we lost him and Buchie who are regulars on our 5-on-3. That certainly set us back on that and that goal at the end of the period, they get a goal with 1:40 to go, that kind of took a little bit of the wind out of our sails and they get the fourth one and we weren't able to finish and hang in there and respond to that situation." – DQ, also on 5/3/21, in responding to the question of, "did Tom Wilson change this game?" The answer, at least in my opinion, is a resounding yes.
---
"Just another level of disappointment really. Just didn't get enough done this year, had some great moments, some great stretches, but just wasn't enough." – DQ, one last time on 5/3/21, when talking about the Rangers failing to make the playoffs this season.
---
Greetings and salutations everyone and welcome to another blog here on BlueCollarBlueShirts.com. Well that was something.
I guess I should start off tonight's blog by sharing the turning point of the game, and the top story in the NHL right now, which was when Tom Wilson snapped again and single-handedly destroyed Pavel Buchnevich and Artemi Panarin:
I'll have an in-depth recap and a reaction to the play above, during the game recap/review segment of tonight's blog. That said, I'll talk a little bit about it here during this intro.
---
On Monday night at Madison $quare Garden, and in the Rangers penultimate home game of the 2021 season; the Rangers dropped a 6-3 decision to the Washington Capitals. For the Caps, with the win, they move into first place in the "Mass Mutual, Hanson Brothers Glasses, Old Time Hockey, East" division. For the Rangers, with the loss, the Rangers are now mathematically eliminated from the playoffs, where all the "what if?" questions  have now become official.
During a game which was held on the NHL mandated "PRIDE NIGHT"; where the Rangers and the NHL tell us that "Hockey is For Everyone", (except for people with religious beliefs of course!) the Rangers showed NO pride, after Tom Wilson changed the course of the game, and after a MMA melee in the second period.
While on "PRIDE NIGHT", I'm not going to do my complete rant on this night, as I've done this before during the last several seasons. There's no point in going into re-runs here. Plus, at the end of the day, I really don't care, as we all know this is just a new way for the NHL to sell merchandise, and for the NHL, that's what it's all about – the bottom line. Buy your rainbow colored merchandise today! FABULOUS! And really, I don't care what your background is, especially when rooting for the Rangers.
(And that's the great thing about sports. Republican, Democrat, straight, gay, white, black, poor, rich, legal resident, alien, blue collar, white collar, whatever; when you're inside of M$G, and the Rangers do well, you're slapping hands with anyone near you, while wearing Rangers blue. Sports is always a uniter, except for maybe recently. (Hello Lebron!) Of course, that's a story for a different time!)
That said, all I'll ask here is this – I wonder what the reaction would be, had the Rangers had a Muslim on their roster, and knowing what Muslims believe? I don't want to do a whole political thing here, but it always fascinated me, whenever some politician wanted to open our borders for every Muslim, while at the same time, preached human rights. Of course, in some of these countries where these Muslims were/are from, these same Muslims were/also stoning and prejudiced against people of different sexual orientations. Makes you wonder. Of course, that's a topic for a political blog and not a hockey blog, so let's move on! After all, the only thing that matters tonight is Tom Wilson.
When assessing and recapping this game, you can come up with a bunch of different reasons to explain the Rangers most recent loss – their third loss in a row. Despite the Capitals missing all of their top players in Alex Ovechkin, TJ Oshie, Evgeny Kuznetsov and others; the "Find-A-New-Way-To-Lose" did just that, as Tom Wilson became the latest excuse for a Rangers loss.
I'll get into all of the Tom Wilson stuff during the game recap/review segment of this blog, but while you can blame the Rangers injuries, a sub-par game out of CZAR Igor, bad games from the NYR defensemen, coming up empty-handed on many power-plays and missing/whiffing on about 5-6 different scoring chances; the bottom line is this – Tom Wilson's play in the second period altered this game.
You can cry to the moon, write your Congressman, bitch on social media or do whatever you want. What shouldn't be ignored is this – what Tom Wilson did tonight not only killed the Rangers momentum, it put his team over the top.
And I have to say this, in regards to the bitching on social media – I'd venture to guess that 99% of the hockey world, which is currently bitching; all came from people who only reacted to a clip and didn't watch the game in-full. On social media, everyone has an instant-take. That's the world in 2021.
After Wilson's display of violence, not only did the Rangers blow a 3-2 lead, the Caps would go on to score the final four goals of the game. For anyone who is upset with Wilson, and that's fine if you are, at the end of the day it worked. And this is why any team in the league would gladly sign Wilson to their team, if offered the chance. For all of the fancy passes, Harlem Globetrotter plays, meaningless analytics and silly charts; when you break it all down, you can never undervalue the traits of toughness, grit and drive – three traits that the Rangers don't have, and embarrassingly so at that.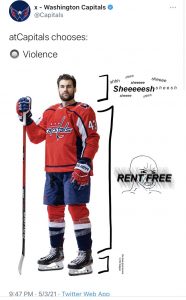 UPDATE: As predicted and expected, the tweet shown above WAS deleted by the Washington Capitals. It's a shame no one has any balls or convictions anymore, as just one response from someone complaining can create a public relations nightmare these days. I'd rather see teams and people double-down than caving in. The Caps posted this tweet once the game was over. They knew what they were doing. They didn't delete this tweet out of remorse, they deleted it after public pressure.
As you've seen already and probably know by now, Tom Wilson is the top talk of not only this game, but in all of the NHL right now. As mentioned, I'll soon get into everything, but simply stated here during this intro, Wilson just highlighted all of the Rangers weaknesses, no matter how dirty you feel Wilson was in this game.
In a game where the Rangers were leading 3-2, once Wilson did his thing, the Rangers turtled. There was no bounce-back. There was no vengeance. The Rangers just don't have tough guys, as their roster full of similar players don't know how to respond to these situations. Tom Wilson pummeled Panarin as if he was Chuck Liddell in his prime. The Rangers response? Nothing, which was the same response after Matt Martin hit Mika Zibanejad with a UFC elbow in the game prior to this one.
Just think about it. In back-to-back games, you had a goon on the opposing team take cheap shots on your two most accomplished forwards, in both Mika Zibanejad and Artemi Panarin. The Rangers response? Oo-gatz, as they sat there and took it. I wonder when these guys go to the beach next week, if they will let "bullies", a word Valiquette kept using during the broadcast, to kick sand in their face too?
Yes, the Wilson stuff was uncalled for, but it works. Unless the NHL is going to make a statement by suspending Wilson for the playoffs, this stuff will continue to happen. And while there are only three games left now for the Rangers, the book is out on them – just bruise them up and they will figure skate their way to the bench.
There's a lot to get into tonight, so let's get rolling.
However, up first, and of course – the PLUGS segment.
Here are my last few blogs in case you missed them:
---
---
---
The Rangers tonight, as they were on Saturday night, were the walking wounded, where really, I don't envision Kreider, Trouba and Lindgren returning this season, especially if the latter two do have concussions as suspected. Outside of playing for pride, which is another trait this team doesn't possess right now, what's the point of risking injury in these next three meaningless games? The season is over, and there's no point in making matters worse for these players.
And it should also be said, that perhaps losing isn't the worst thing right now, as not only are you getting a look at your prospects – you're also helping your position in the 2021 NHL Draft Lottery. While it would take a miracle to land a #1 or #2 pick again, at the very least, the better the pick, the better the asset, even if you use this asset as a trade during the off-season. Just sayin'! (And I'm not rooting for losses here, I'm just looking for a silver lining.)
After the Rangers announced that CZAR IGOR would go in this game, the Rangers also tweeted out the following:
Prior to the game, it wasn't known what ailment was hindering Panarin from practice. After the game, if Panarin misses the final game at M$G and the final two games against Boston, it will be known what is ailing him. Two words: Tom Wilson.
With the Rangers accepting their fate going into this game, DQ tinkered his lines, and went with this line-up tonight:
A couple of things here, in regards to the line-up.
Prior to the game, when asked about his line-up, DQ pretty much sounded like someone who threw his hands in the air and said "Father Fink It"; as he displayed no confidence in the lines he was deploying tonight, at least not publicly.
If there was anything telling here, it's the fact that after being shut-out in two straight games, DQ put Panarin and Mika on a line, in an attempt to get some scoring. That worked. Conversely, especially if you want to play the role of a "conspiracy theorist" here, it was also telling that it was Ryan Strome, and not Mika Zibanejad, who was tasked to play in the middle between Kaapo Kakko and Alexis Lafreniere. This also worked, as Kakko picked up a goal tonight, as the end result of a two-on-one odd-man rush with Lafreniere.
As far as anything else to note here when it comes to the forwards, it's that Julien Gauthier, who deserved to be in the line-up, remained in the line-up, with Phillip Di Giuseppe being the healthy scratch for this game.
Defensively, the Rangers pairings pretty much stayed the same.
When it comes to any other news and notes prior to puck drop, it was a column that Larry Brooks wrote for the New York Post, where he suggested that there was a disconnect between the Rangers top players and David Quinn. To me, while this is a story, I also wonder how much truth there is to this? After all, if Brooks truly believes this, how come he never goes down this path of questioning, during the many zoom calls that have took place during this season? I know what reporting is in 2021, but would it hurt to ask DQ this – "do you feel some sort of disconnect between you and your players?" With Brooks having HOF status, his job wouldn't be in jeopardy for asking this question.
While Brooks kind of placed a lot of the blame on DQ, thus riling up the "FIRE DQ" crew; and while I'll really get into all of this once the season is over, I want to say this – I truly believe that DQ, Jeff Gorton and John Davidson all knew what they had with their top players. After all, for a team that hasn't had a captain since the Ryan McDonagh trade of three years ago; it made all the sense in the world to either name Chris Kreider or Mika Zibanejad the captain, prior to this season commencing. Instead, no captain was named and in turn, neither Kreider or Mika have had a season to be happy about.
Additionally, for all the talk about "the leadership group"; there is not one player that stands out as a lone and true leader. The Rangers lack an "alpha-male", which they once had with Henrik Lundqvist. (And that's me saying that!) Right now, the Rangers are just a bunch of guys, sans Brendan Smith and Ryan Strome, who all say the same old shit after every game. And yeah – Strome and Smith aren't captain material either.
This much is true – when it comes to this team, David Quinn is the leader, and not one of these players. It's DQ who gets all the face time. It's DQ who the media goes to. It's DQ whose words carry the most weight. Not Kreider. Not Mika. Not Trouba. Not Panarin. Not anyone else besides DQ.
And lastly before moving on, I found it hilarious, how Steve Valiquette and his merry band of chart cult members, are now all talking about the Rangers lacking grit, toughness and sandpaper. What happened? All of your "EXPECTED" stats and "HIGH DANGER" nonsense aren't working anymore? Stick to your spreadsheets, ya mooks! These people have all been exposed as single-minded frauds. I, like many of you, have been calling out the Rangers lack of roster diversity all season long.
I don't know who is paying for these tickets, but when I saw how high tickets were going for prior to tonight's game, I monitored the secondary market throughout the day. All I can tell you is that every ticket sold on StubHub, so people are paying these astronomical prices for crappy seats and for an even crappier brand of hockey. As I write these words now, the "get-in" price for Wednesday's night game is already over the $200 mark. Insane. I'll enjoy my hockey, my no line bathroom and cheap booze at home!
Gambling segment time.
Here's what I said before tonight's travesty:
Season over-under record: 21-29-2

Igor v Vanecek tonight & both teams have injury issues.

I'm taking the over on the 6. #nyr usually play Washington well, but Washington is on a different level than the previous 6 meetings.

Could be ugly tonight. pic.twitter.com/6QG3jLiPb7

— BlueCollarBlueShirts (@NYCTheMiC) May 3, 2021
I'm on a two game winning streak, as my record now improves to 22-29-2 on the season. And when I said "this could be ugly tonight", I had no clue how prophetic I would be with that comment.
BOX SCORE time.
The following information and graphics come from the new world-wide leader in NHL coverage, in ESPN.com.
SCORING:
PENALTIES: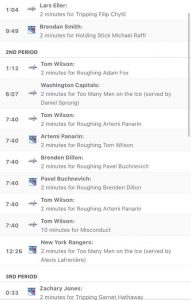 GOALIES:
| | | | | | | | | | | |
| --- | --- | --- | --- | --- | --- | --- | --- | --- | --- | --- |
| SA | GA | SV | SV% | ESSV | PPSV | SHSV | SOSA | SOS | TOI | PIM |
| 39 | 5 | 34 | .872 | 26 | 0 | 8 | 0 | 0 | 57:50 | 0 |
| | | | | | | | | | | |
| --- | --- | --- | --- | --- | --- | --- | --- | --- | --- | --- |
| SA | GA | SV | SV% | ESSV | PPSV | SHSV | SOSA | SOS | TOI | PIM |
| 26 | 3 | 23 | .885 | 15 | 1 | 7 | 0 | 0 | 60:00 | 0 |
TEAM STATS: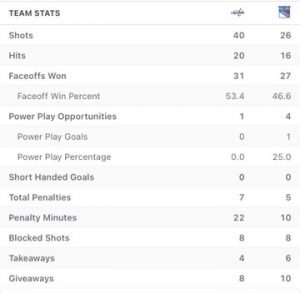 ---
After talking the Rangers lacking toughness, size and grit during last game's post-show; Vally opened up this broadcast with all of his normal useless charts and graphs. While on Vally, I really thought he would have his national moment during Pride Night. I'm glad he didn't, or else I wouldn't be able to make all of my horrible Artie Lange inspired jokes anymore. And when you're shooting to be the Artie Lange of Ranger blogs, maybe that's an issue too! And oh, much to the dismay of my critics, unlike Artie, a heroin or crack problem won't take me down! My nose is firm! Beer and whisky is as far as I go! Heck, I don't even smoke the pot!
Of course, as I say this, two minutes into the broadcast, Vally talked about players being stretched. He never fails. And yes, I miss all of Lange's material on Troy Aikman, Tony Romo and about other athletes on teams that I hate! (If you take anything out of this, I'm just trying to be stupidly funny, and don't wish anything bad on Vally. I know he's a nice guy in real life. I have NEVER heard one negative story about a fan interaction with Vally. I just can't say the same about his career!)
For those wondering what Giannone's hot take was after the Islanders loss, it was that Mika had 7 shots on goal. Yeah, that was the biggest takeaway from that game.
In your Michelle Gingras update, in her final game of the season, she was dressed head-to-toe in leather, sans the face area, where she had on her patented leopard print mask. By the way she was dressed, she looked like she had a party to look forward to after this game, rather than attending the Rangers funeral. Smart woman.
During commercials and after the game, it was mentioned that transgender athletes are the same as any other athlete. Tell that to any woman who has lost a championship, game, race, fight or match to a biological male. I'm not against anyone competing in sports, but I just think like male and female sports, you need transgender leagues too, in order to even out the playing field. And I say this as a huge fan of MMA, where in smaller promotions, I've seen biological females get pummeled by celebrated biological males. You just can't put your head in the sand in this, just because you don't want to offend anyone and want to be progressive. (Of note, UFC does not allow biological males to fight biological females.)
In more mind-boggling crap out of the mouth of Vally, Vally commended the Rangers leadership and said that he expected them to stand up in this game. Right, just like they did in the last three "must-win" games against the Islanders? Sometimes I think he just says shit without thinking, because I really don't think he's that stupid.
And finally, and because he's the best, Joe Micheletti mentioned that Pride Night was FABULOUS. I laughed.
---
Going into this season, it was thought that CZAR IGOR would be the best rookie goaltender in the league. Instead, it was his opponent tonight, in Vitek Vanecek, who has those honors. That said, both goalies were questionable in this game. Ironically, Steve Valiquette, during an intermission, called both of these goalies "shaky." With Michael J. Fox in the house tonight, how offensive! #CANCELVALLY ! Am I doing the cancel culture stuff right here?
More on Vally to come.
In what was somewhat telling, both coaches started their fourth lines in this game. Kevin Rooney, who has been the best Rangers face-off man this season, continued Rangers tradition and promptly lost the first face-off of the game to Nick Dowd. Fourteen seconds later, Igor was forced to stop a puck.
Just 64 seconds into the game, and after a rebound given up by CZAR IGOR; Lars Eller tripped Filip Chytil, as Chytil was getting to the loose puck. In other words, the Rangers got a power-play early and could've taken the lead. Instead, and with both power-play units receiving near equal time, the Rangers wouldn't put a shot on goal during this power-play. Pathetic.
Once back to full-strength, the Rangers made two quick turnovers, with Buchnevich having to break up a Tom Wilson scoring chance. These two would meet-up later on in this game.
As Joe Micheletti raved about Kakko's "growth", six minutes into the game, the Rangers only had one SOG. This felt somewhat like the games against the Islanders. While that wouldn't turn out to be the case at the end of this one, without question, this was another slow and uninspiring start out of the Rangers. Why this always happens, I do not know.
In exhibit number 36463378463896868349 of the Rangers blowing a scoring chance this season; after Chytil took a shot at Vanecek, Vitali Kravtsov would be denied of an easy goal and on a vacated net at that, by Garnet Hathaway.
As we approached eight minutes played, and as you wondered if the Rangers 1-2 punch of Mika and Panarin would do anything; both Fox and Panarin would hit the post. As these two changed, Lafreniere came on the ice, where he pulled off a spinorama, but Vanecek would make the denial.
It should be mentioned that Alex Ovechkin, who had been hurt going into this game, tried playing tonight, but five minutes in, whatever was bothering him ended his night. In turn, the Caps were missing most of their stars, yet the Rangers would never make the Caps pay, due to the Tom Wilson show.
With 10:11 remaining in the period, Brendan Smith, who just had a nightmare of a game, was boxed for holding Raffl's shaft. (Not that shaft, ya freaks!) Daniel Sprong, who replaced Ovechkin on the Caps PP1 unit, had 3-4 chances here, but fumbled and loused up each one. Igor would still make three saves during this Rangers PK, but yeah, the Rangers PK got lucky that Sprong was shooting and not Ovechkin.
In a solid play out of the kids, Reunanen took a shot from deep and Lafreniere deflected it. Vanecek made the save, but as we've seen as this season makes its way towards the end, Lafreniere's confidence has increased exponentially. What's that phrase? Oh yeah – "the best is yet to come."
It was also brought up at this time, and by Joe Micheletti, that Lafreniere had shaved his beard. Sam, of course, didn't notice. As Micheletti told Sam about this stunning new facial hair development, Sam Rosen belted out a hearty "MOOOOOOOOOOO!" ("Moo" joke credit: Jim S. of the BSU Show.)
With 5:48 remaining, fourth liner Nick Dowd kicked off the scoring, as a puck went by Reunanen and Dowd beat Igor one-on-one. While this is a 50/50 thing, as we've seen Igor make these saves before, but yeah –  it's Nick Dowd. 1-0, bad guys, where while you really can't hang Igor 100% here, he does deserve some of the blame.
1:32 later, Conor Sheary made it 2-0, bad guys. This was a puck luck goal here, as a puck bounced off of Raffl's skate and went right to Sheary. To Sheary's credit, he found the small and narrow space between Igor's post and the right side of Igor's body and scored. Not much Igor could do here.
As you were wondering what else was on TV, with two minutes remaining, Buchnevich got the puck to Panarin near center ice and Panarin found a streaking Mika. Mika, with no hesitation, quickly scored after a snap shot snipe. 2-1, bad guys. Of course Mika scored here – this was a meaningless game!
In the final seconds of the period, the struggling K'Andre Miller had his best play of the game, breaking up a Raffl breakaway. As you may have guessed, a late back-breaking goal here would've made the score 3-1 and Miller prevented this from happening.
2-1 bad guys after twenty minutes, and in another game which felt like a "ho-hum" loss for the Rangers. What happened next would be anything but that.
---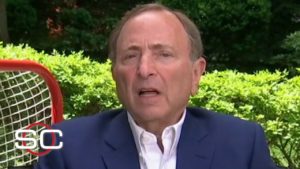 After our regular comment of, "SECOND PERIOD, WHAT DO YOU LOOK FOR HERE JOE?" <a win, ya dumbass!> the Rangers, behind their fourth line, took quick possession of the puck. Just like the period prior, the Rangers would get an early power-play here, as Tom Wilson hit Adam Fox in the face. For some reason, Wilson and Caps coach Peter Laviolette were complaining about this penalty, but it was clear as day that Wilson went high.
During the power-play, Mika hit a post. Before you could say "not again", Mika then tied the game:
Okay, NOW we can say it.

MIKA MAY BABY! #NYR pic.twitter.com/NpfQpJnuTL

— Rangers on MSG2 Tonight (@RangersMSGN) May 4, 2021
2-2, after a perfect tic-tac-toe power-play goal, as the end result of excellent passes from both Artemi Panarin and Ryan Strome. While I was happy with this goal and the Rangers erasing the two-goal deficit, I can't lie to you either. After this goal, all I could think was – "WHERE WAS THIS MIKA AGAINST THE ISLANDERS?"
2:05 later, and at the 4:35 mark of the period, it was time for the kids:
Kakko and Laffy making it happen, you love to see it pic.twitter.com/M4HxC3WPKX

— Rangers on MSG2 Tonight (@RangersMSGN) May 4, 2021
3-2, GOOD GUYS, after Kakko scored on this two-on-one with Lafreniere by his side. This was a pretty goal for Kakko too, as he showed off his hands while finishing off Vanecek. Sadly though, this would be the end of the Rangers scoring in this game.
Right after this goal, Caps coach Laviolette took a time-out. I don't know if he said anything to Wilson here, but this time-out would work out for the Caps.
With 13:53 to go, the Caps were banged for one of those delicious "too many men on the ice" penalties. In turn, the Rangers got a power-play. 93 seconds into this power-play, the Tom Wilson incident happened:
Tom Wilson gets a 10-minute misconduct for punching Buchnevich in the head on the ground and body slamming Panarin pic.twitter.com/fg2HRej8yD

— Brady Trettenero (@BradyTrett) May 4, 2021
As talked about earlier, this play changed the game.
Unless you've been living under a rock, you know about Tom Wilson's reputation, where he's been suspended and fined so many times, but since all of these suspensions and fines don't seem to phase him, he'll keep on doing what he's doing. And do you know what's a shame? Even if Wilson lost the thuggery and goon stuff from his game, he'd still be a top flight NHLer.
It should also be mentioned that earlier this season, Wilson was suspended for eight games. In his first game back from suspension, which was against the Rangers, Brendan Smith egged and goaded Wilson on. Wilson, who lost something like $300,000+ in salary because of that suspension, never took the bait. In other words, there is some recent history with Wilson and the Rangers.
You're going to see many stories and opinions on Wilson, where his reputation and previous history will all be brought up. What will be lost in all of these stories, is that Buchnevich crashed the net and got physical, while Mika was playing games with Vanecek. In a game where the Caps were missing all of their stars, it was Tom Wilson who took it upon himself to dust things up and change the momentum.
Listen, I'm not defending Wilson at all, but since the NHL allows this to continue and since every NHL team would sign Wilson tomorrow if given the opportunity; what is supposed to deter Wilson from going all UFC or ECW here? And take your Ranger fandom out of this – all of this "OLD TIME HOCKEY" or "Broadstreet Bullies" brand of hockey worked. Not only did Wilson intimidate the Rangers and scare them out of their dresses, the Caps would go on to score the next four goals of the game. When Wilson eventually returned to the game, and after his 14 minutes of penalties; the Rangers said please, thank you and excuse me whenever they skated near him. The Rangers, aside from this scrum here, WOULD NEVER fight back after this. It's like Wilson was a 1930's nun here, beating the Rangers into submission with his yard stick.
During this scrum, Wilson defended his teammates and punched a downed Pavel Buchnevich in the back of the head. This is dirty. There's no way of spinning this. This was absolutely disgusting. If anything, Wilson should've hit Buchnevich in the ribs or sat on him. To punch someone in the back of the head, you could end that person's career, and really, threaten a life. If you're going to suspend Wilson, it should be for what he did to Buchnevich, and not anything else. After all, even the UFC bans fighters from punching fighters in the back of the head.
As Panarin was watching his comrade get pummeled, Panarin, to his credit, jumped on the back of Wilson. In turn, Wilson kicked the shit out of Panarin. I have no qualms with Wilson going after Panarin, as my issue remains with what Wilson did to Buchnevich. You simply can't punch a guy in the back of the head when he's downed and defenseless.
Again, can you blame Wilson for mopping the floor with Panarin? Panarin jumped on his back. Wilson isn't soft like the Rangers. If someone goes after Wilson, especially an opponent he knows he can wax, he's going to do so.
To me, the biggest offense is Wilson's fists to Buchnevich. When it comes to Panarin vs Wilson, I thought that was fair game. Panarin did the right thing and defended his teammate. Wilson responded and defended himself. Please, don't twist my words here. I agree, Wilson was filthy with Buchnevich, but I have no issues with Wilson slapping around Panarin.
Before continuing, I want to talk about what Vally said during the intermission and during the post-game show. Vally cried and said Tom Wilson was a "bully". While I get what Vally meant here, I just think the word "bully" has turned into this millennial word, a word that carries "soft" connotations.
To me, this wasn't bullying. This was Wilson defending his teammate, and later himself. Is it Wilson's fault that the Rangers don't possess anyone that can go to toe-to-toe with him? Should Wilson say, "oh, the Rangers are soft, so I will be soft too tonight too?!?!?" Of course not.
In what I found to be completely hypocritical, Vally started talking about how his ex-teammate Colton Orr would never allow this. What Vally didn't realize, is by saying this, he's addressing the current roster issues of the Rangers.
During intermission, Vally texted Colton Orr and brought this up during the post-game show. Vally said the Rangers need Colton Orr for Wednesday. Right after this, Vally called Wilson an "idiot" and said Wilson should be suspended for a year. In his next breath, Vally was championing what Orr used to do and was hoping that Orr would beat up Wilson. So which is it? Is Vally offended by this action or just offended that Wilson used his strength against the Rangers? You can't tell me how anti-fighting you are, and then build a shrine for Orr in your next sentence. That's my beef.
And if the Rangers really wanted a pugilist, they'd turn to UFC heavyweight champion Francis Ngannou or Triller sensation Jake Paul!
Let's face it – a Stanley Cup champion like Tom Wilson isn't going to care about what some back-up goalie of 46 games had to say on a post-game show. However, this play/action got league-wide attention, which I do feel was blown up a bit, due to Wilson's checkered past. After all, in the majority of the clips that were shared by the mainstream media, including the pandering hound known as Keith Olbermann; most of these clips didn't show what started this. Also not mentioned? How Smith tried to bait Wilson in the last game between these two teams.
If you know me, I'm a big MMA guy and love the fighting in hockey. To me, it's sad to think of how the movie "SLAP SHOT" would be received today, as it would probably be canceled before it even had a chance to hit "NETFLIX". I know that the NHL has changed, but what has not changed, is that this style of physicality will always work.
What Wilson did tonight worked for the Caps, just as it worked for the Colorado Avalanche & Detroit Red Wings teams from the turn of the century, the Flyer teams of the mid-1970s, and the Gordie Howe Detroit teams from the era before that. (For all the love Howe gets, it shouldn't be forgotten that he was just as dirty as anyone.)
What also hasn't changed in the NHL, is how players are perceived through their reputations. If anything is telling here, unless Wilson does get a massive suspension, Panarin is not Sidney Crosby. Had Crosby been pummeled like this, Wilson would've got thrown out of the game, rather than the 14 minutes of penalties he got for these actions. Like Rodney Dangerfield, Panarin gets no respect.
Did Wilson deserve to get kicked out of this game? Probably, just because of the rabbit shots he landed on Buchnevich. That said, if it were someone else going after Buchnevich, and after Buchnevich crashed the Caps net – would this be as big of a deal as it turned out to be? Probably not.
If anything, this just exposed the Rangers lack of toughness and how "OLD TIME HOCKEY" can swing games. The Rangers never recovered from this. Even worse? Tom Wilson flexed like he was Hulk Hogan slamming Andre The Giant after this, but none of this would piss the Rangers off. The Rangers would use their "words" after the game, rather than using their actions during it.
It should also be stated that social media has power, as you had so many people crying about this play, many fans from a younger generation, who just don't like the fighting in hockey. While I know the game has changed, there will always be older fans who appreciate a real rivalry and real emotions.
End of the day, like the Caps deleted tweet, I think the NHL Player Safety team will be forced to suspend Wilson, due to public reaction. If this wasn't Wilson, I think nothing would've happened. We'll see.
And let's face it, unless you're one of these really "ELIMINATE FIGHTING FROM HOCKEY" nut-jobs, you'd take Tom Wilson on your team tomorrow – just like any other team in the league would.
I'll have more on this topic during the third period.
And oh, not only did Wilson swing the game, Panarin would never return:
The Rangers would have a 5 x 3 power-play here, but the Caps would kill both penalties. Another scoring chance blown. You let Wilson beat up your best player and you don't make him pay. That's on the Rangers.
With 7:34 to go in the period, it was the Rangers turn to take a "too many men on the ice" penalty. The Rangers would get the kill here. We'd also see Mika try for a short-handed goal here, which would've given him a hat-trick, only to have the play broken up by John Carlson.
With 90 seconds left in the period, the Caps fourth line scored again. The Caps would take three shots on goal here, and on the second rebound given up by Igor, Hathaway buried the puck. We were now tied at 3-3 and after another one of those end of the period goals allowed by the Rangers. Of note, Miller just watched, where I'm surprised that on a rookie contract, he could afford the ticket prices to this game.
In a period and game that would be dominated by Tom Wilson, we were knotted up at 3-3 after two periods. As they say, "win the period, win the game", but the fragile Rangers were far too broken to come out in the third.
---
While Vally was crying to Colton Orr, Micheletti said the truth – everyone in the NHL would take Wilson on their team right now. Micheletti also addressed the Rangers lack of toughness as well.
33 seconds into the period, Zac Jones took a tripping penalty, as he tripped Hathaway. Rooney and Buchnevich would get chances at short-handed goals, but failed. In a crazy sequence, Igor would stop Raffl on a breakaway, and on the other end, as the Caps power-play expired, Kakko and Strome went on a two vs one, where Strome whiffed during an attempted one-timer.
With 15:23 remaining in regulation, Brendan Smith made a god-awful turnover, right to the stick blade of Daniel Sprong. Sprong then easily beat Igor. 4-3, bad guys. As mentioned, this wasn't a good night for Smith, and he knew it, as he just hung his head on the bench after this goal.
Six minutes into the period, Tom Wilson was released and jumped on the ice. Here's my issue – Panarin was knocked out of the game. Outside of a hit from Colin Blackwell, which was a traditional hockey hit, NO ONE did anything to Wilson. I don't know if this was an edict from DQ or what, but down a goal, and later two goals, you would think someone would take a run at Wilson. To me, I thought Brendan Smith should've been the guy to do so.
As talked about earlier, previous in this series, Smith tried to goad Wilson in Wilson's first game after his suspension. Tonight, with Wilson more than ready to go, Smith didn't pick a fight with Wilson. After Smith's terrible play and with this game looking like a Rangers loss, where was Smith? And while it sounds like I'm picking on Smith here, who else is going to fight Wilson? Hajek? Miller? Buchnevich? Hardly. Again, the Rangers must address their toughness issue, or lack thereof, this off-season.
I mean, you had Wilson knocking the snot out of your best player and there was no response at all. This made you long for the days of Tie Domi, Joey Kocur, Jeff Beukeboom, and hell even the 3'9″ Theo Fleury, who would never back down from a battle. It's why Vally called Colton Orr. Say what you want about Wilson, but you need toughness and size, not only to prevent these situations, but to respond when they happen.
Mika would get another chance to get a hat trick, at the nine minute mark of the period, but he whiffed on a perfectly passed puck from Lafreniere. In turn, the Caps retained their lead.
As we hit the ten minute mark, it should be mentioned that the SOG stat read as 37-22, in favor of the Caps. So with Vanecek struggling, the Rangers never forced the issue.
In what gave the Caps their insurance goal, Mika found Kravtsov in the slot. Kravtsov shot so wide and so hard, that the puck ricocheted around the boards, where ultimately, Backstrom, with Miller hanging on to him, beat Igor. 5-3 bad guys, and with 8:19 remaining.
It should be mentioned that despite his two goals, Mika was on the ice for five of the six Capital goals scored in this game. Both Smith and Mika finished with a team low +/- stat of -3.
Again, with the game all but decided, Wilson was able to skate around pretty much untouched. With the Rangers pulling Igor with 3:36 to go, of course, with 1:26 remaining and after the Rangers flailing and failing to score the 6 x 5 goal, Wilson scored the empty netter. 6-3, bad guys, where Wilson, who does deserve headlines, should also get the first star of the game. He changed this entire outcome.
---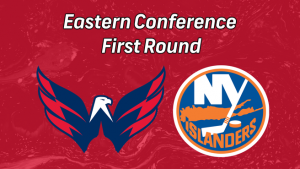 I feel like the "Brady Bunch" right now, with all of this TOM WILSON, TOM WILSON, TOM WILSON talk, but yeah, he's the top story of the night.
I want to be clear – I'm not defending what he did, but I understand why it happened. What he did to Buchnevich was 100% dirty, but this is a reminder that you can't have a team of all figure skaters. You need toughness and really, the league shouldn't allow the European style of game to become the norm. There is something to "OLD TIME HOCKEY". As they say, half of an arena will jump up for a goal, but 100% of an arena will jump up for a fight.
Up next for the Rangers is a rematch with the Caps. I'd expect Wilson to be suspended for this one, but I will say, if he is suspended, it will be a reputation suspension.
Again, my biggest pet peeve is not that this happened, but how the Rangers reacted. If you recall, over five years ago, Wayne Simmonds took a run at Ryan McDonagh, which put McDonagh on the IR for a bit. In the Rangers next game with the Flyers, both Tanner Glass and Dylan McIlrath went after the Flyers, where to his credit, Simmonds stood up and accepted his fate. If Wilson somehow isn't suspended on Tuesday, who is going to fight him on Wednesday night on NBC? The answer – no one.
Programming note, our friends at "The Blueshirt Underground Show" returned on Monday night, with a special pregame episode. You can watch it by clicking the play button below:
If you haven't already, subscribe to this blog for the next update:
---
If you're looking for a silver lining, at least this loss wasn't to the Islanders.
UPDATE: AFTER I PUBLISHED THIS BLOG, ELLIOTTE FREIDMAN OF SPORTSNET IS REPORTING THAT PANARIN IS DONE FOR THE SEASON. Like the other walking wounded on the Rangers, this is probably what's best. There's no point in risking Panarin's health in games against tough teams in Washington and Boston.

Stay FABULOUS my friends.
Until then, and as always here, thanks for reading and…
LET'S GO RANGERS!
Sean McCaffrey
BULLSMC@aol.com
@NYCTHEMIC on Tweeter