Greetings and salutations everyone and welcome to another blog here on BlueCollarBlueShirts.com. I take no gratification, nor solace neither, in the fact that I predicted that the referees would swing this series in favor of the Pittsburgh Penguins.
While of course, one loss doesn't mean the end of a series – the officials sure gave their favorite team an edge tonight.
Former NBA official, Tim Donaghy, would be proud of what we saw on the ice tonight. Hell – I've seen better officiating in the WWE – including in Montreal during November of 1997.
(Blog programming note: it's very late as I write this and I'm very tired & pissed off. In other words – I apologize to you in advance for any grammatical errors and typos that you might find tonight. I'll also try to limit the foul language and personal insults too!)
On Tuesday night at "The World's Most Expensive Arena," where the walk-in price for a ducat ran fans over $300; the animal kingdom, the Penguins and the Zebras, defeated the New York Rangers in triple overtime by a final score of 4-3.
As you'd imagine – I'm not a happy camper to say the least!
And let me say this before continuing Part I – I hate, hate, and did I mention HATE – blaming the officials after a loss. Very often, blaming officials for a loss is an excuse – but I feel that my opinions on these bozos are valid tonight.
And let me say this before continuing Part II: I'm so glad that I didn't attend this game. After all – M$G cuts off beer/booze sales at the start of the third period!
More important than my alcohol intake? The following:
I couldn't have dealt with the LIRR on the ride home, where my worst memory on the train following a Rangers' playoff loss was the Game 4 loss to these same Penguins in 2014. That was the quietest train ride I've ever experienced.
And let me say this before continuing Part III: Let's hope for a similar series end result come sometime next week.
---
No one (and I mean no one, including Penguin fans themselves), can ignore how the officials impacted this game tonight – despite the M$GN crew talking about how "fun" and "exciting" this game was.
This game was anything but that – especially with just minutes remaining towards the end of the third period – following a disallowed goal scored by Filip Chytil. You've probably heard about this by now.
As I write these words, I'm absolutely irate, furious and agitated.
Half of me right now just wants to say "FATHER FINK THE REFS," and then hit the publish button on this blog.
That said, I'll troop on and give you a full game review tonight – or at the very least – the best possible game review that I can do after watching over five periods of the officials screwing the Rangers.
I'll also say this as a caveat, and in the attempt to be fair too – despite the officials ruining this game, where I think that the league (and the IRS) should check their bank accounts, in addition to getting a gander under their mattresses too, in an attempt to find unreported income/a case of tax evasion; the Rangers had multiple chances to win this game. They couldn't find a way – even with third string Penguin goaltender, Louis Domingue, in net during crunch time.
That stated, in a game that was called one-sided; the officials did their best to get the Penguins over the finish line. These horrific officials succeeded in their mission.
---
I'll get into every example of the officials taking a payoff tonight during the game review; but while the men in stripes were a big factor in the Rangers' loss – the Blueshirts didn't do themselves any favors neither – that is, with the exception of CZAR IGOR.
It's late as I type these words, so I'll have to look up the stats tomorrow – but it felt like the Rangers lost 78956786789789689698 zone faceoffs in this game.
After every failure at the dot, CZAR IGOR, who was impeccable tonight; #31 made every save super-humanly possible, where he finished with 79 saves in all – a new franchise record that blew away the old one (Gump Worsley, 56 saves).
In addition, CZAR IGOR's 79 saves (where did I mention yet that this was also his first official playoff game of his career too?) – the 2022 Vezina winner now has the second most amount of saves ever recorded during an NHL Stanley Cup Playoff game.
Only Jonas Korpisalo (CBJ) has more, when the Blue Jacket logged 85 saves against the Tampa Bay Lightning on 8/11/20 – a 3-2 loss for Korpisalo's team.
In other words, CZAR IGOR is now the record-holder for most saves ever recorded during a "non-bubble" Stanley Cup Playoff game. However, and just like Korpisalo – the team in front of him failed him – in spite of this historic effort.
---
If you're a fan of history and records – then the arrogant display of ineptness by these dip-shit NHL officials was the game for you. Without them, IGOR doesn't finish with 79 saves – nor does this game go to triple overtime.
However, if you're a fan of the most important thing about a hockey game, you know, a WIN – then this wasn't the game for you.
I'm not trying to be funny here – these NHL officials from tonight's game shouldn't be allowed on the ice ever again. Instead, they should receive a one-way ticket to Guantanamo Bay and pay for their crimes.
As predicted a month ago on this site, and later during my Stanley Cup preview blog – the officials swung another game for the Penguins. Is anyone surprised?
It's also why I thought that Sieve Vagistat, the worst NHL ANALyst in the league, was 100% dead-wrong when campaigning for the Rangers to draw the Penguins during the first round.
While I didn't care who the Rangers would play – I also thought that the Washington Capitals would've provided the least path of resistance – just because of the league's torrid love affair with Sidney Crosby's team.
And yes, I know I'm bitching a lot about the officials; but at the same time – you can't ignore it.
For a league that features 786786789679689766 gambling commercials per broadcast – how am I NOT supposed to think that these assholes took a payoff and/or bet on the Penguins tonight?
---
It's late, I'm disgusted and I'm pretty much in a state of shock.
Heck, following Malkin's deflection triple overtime game winning goal – I just sat in my front of my television speechless for about ten minutes or so. And that says a lot – as following any Rangers' game, I'm quick to turn off the TV – as I can't stand the smug Sieve Vagistat and all of his horrendous takes.
Before getting into everything, let me reiterate this point/take/fact one more time – THE OFFICIALS SCREWED THE RANGERS.
However, that doesn't excuse the Rangers for their horrific second period; nor does it excuse the team for their 75 giveaways/turnovers. 75! That's not a typo.
It also doesn't excuse #10, "The Breadman," Artemi Panarin, the highest-paid player on the team, who just refused to shoot the puck tonight; and more times than not – who also looked like a deer in headlights whenever left all alone with whoever was in net for the Penguins.
I'm really sickened, which I guess tells me that the Rangers are playing playoff hockey again. I know my liver would suggest as much!
I know there is a recency bias here – but I can't remember feeling this horrible after a loss.
Yes, the 2014 Cinderella Rangers came up short, and yes, the 2015 Rangers lost a Game 7 ECF by a score of 1-0 – but that was on them. They lost to a better team during those two years.
Tonight's game, I felt like the officials did their best to ensure that the Rangers wouldn't win. That's what just kills me the most.
Call me a crybaby, call me a sore loser – but I don't care. I understand that the Rangers didn't play at their best tonight – but there is no way that you can convince me that the officials didn't play their part either.
At this time, let's get into the news, interviews and everything else; and then march our way into the GAME REVIEW.
---
At 10AM Tuesday morning, game day, the Rangers announced that Adam Huska was called up to the taxi squad/"black aces." He now joins Zac Jones, Nils Lundkvist, Matthew Robertson, Jarred Tinordi, Lauri Pajuniemi, Timothy Gettinger and Keith Kinkaid (currently day-to-day, hence the Huska call-up) as part of the practice crew.
Seven hours later, at 5PM, head coach Gerard Gallant spoke to the media.
Since he just spent the last two days conducting "TURK TALKS," there wasn't much coming out of it, outside of the fact that the bench boss wouldn't reveal his line-up.
In addition, he said that during pregame warm-ups, he would be skating two decoys, a forward and a defenseman. (He didn't do so, as this was pretty much a lie/strategic move.)
Here's Gallant prior to the game:
---
Here's what "The Turk" went with for this "Petr Nedved" tribute game:
FIRST LINE: Kreider/Zibanejad/Vatrano
SECOND LINE: Panarin/Strome/Copp
THIRD LINE: Lafreniere/Chytil/Kakko
FOURTH LINE: Goodrow/Rooney/Reaves
Defensively, we had this:
FIRST D-PAIR: Lindgren/Fox
SECOND D-PAIR: Miller/Trouba
THIRD D-PAIR: Nemeth/Schneider
And in net, CZAR IGOR.
---
BOX SCORE time.
The following information and graphics come from the new world-wide leader in NHL coverage, ESPN.com:
SCORING:
TEAM STATS: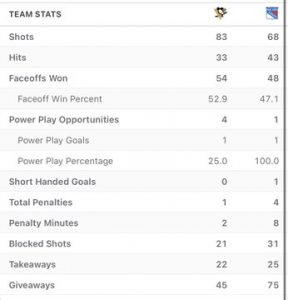 GOALIES:
| | | | | | | | | | | |
| --- | --- | --- | --- | --- | --- | --- | --- | --- | --- | --- |
| SA | GA | SV | SV% | ESSV | PPSV | SHSV | SOSA | SOS | TOI | PIM |
| 51 | 3 | 48 | .941 | 46 | 2 | 0 | 0 | 0 | 89:07 | 0 |
| 17 | 0 | 17 | 1.000 | 17 | 0 | 0 | 0 | 0 | 16:40 | 0 |
| | | | | | | | | | | |
| --- | --- | --- | --- | --- | --- | --- | --- | --- | --- | --- |
| SA | GA | SV | SV% | ESSV | PPSV | SHSV | SOSA | SOS | TOI | PIM |
| 83 | 4 | 79 | .952 | 69 | 0 | 10 | 0 | 0 | 105:58 | 0 |
THREE STARS:
---
Tonight's game was broadcasted on both the M$GN and ESPN.
Since I have two TV's in my man-cave, yours truly, along with my buddy/friend/neighbor, the often-mentioned "TEN O'CLOCK TOMMY," watched both broadcasts, where we kept the M$GN volume on – for both comedic and tragic purposes.
"OH JOE, AFTER FIVE PERIODS OF HOCKEY, THEY MAY BE FATIGUED JOE!"
I will say, ESPN had a much better picture, but even if I can't stand the M$GN broadcast half of the time – I'm loyal. At least I got that going for me!
During a M$GN broadcast and Rangers game that shaved about five years off of my liver; the phenomenal Henrik Lundqvist was back in-studio (I believe he's here for this entire series); but unfortunately, the worst back-up goalie of the Lundqvist era was also right there aside him – Sieve Vagistat.
Lundqvist opened up the broadcast by talking about his playoff memories and what it felt like entering a playoff series – stuff that Vagistat couldn't talk about. However, don't worry – Vagistat would soon make sure to endlessly horn in on Lundqvist throughout the broadcast, where come the three overtime intermission segments – you were hoping that INS would rip him out of the studio and deport him back to Canada.
I say this with every fiber in my being – I just want to hear from someone who did it. I don't need to hear from Lundqvist's back-up. I just want to hear from #30 himself.
On playoff hockey, Lundqvist said: "It's the best feeling. Excitement is up. You can feel the energy in the city and in the building. Go out there and try to enjoy it at the same time. Don't lose composure, but love the moment."
What did Vagistat say in response? After a month of begging the Rangers to draw the Penguins, the man of the most magical 46 games ever played in all NHL history talked about how Pittsburgh could win the series. A complete Father Finkin' jackass – if I say so myself.
In fact – I think CZAR IGOR, in his first real playoff game (not counting the bubble) made more saves tonight than Sieve Vagistat ever did in his pathetic pro "career."
(And yes, I understand that even playing in the NHL is an elite accomplishment; but the way Vagistat always tries to compare himself to starting goalies is just maddening.)
After talking the lines, and after Maloney praised his fellow peer of the blue line, Adam Fox; we had a goosebump inducing clip of Ryan Reaves belting out "SHESTY, RELEASE US!"
Of note, Reaves, who had to play in this game, did just that. I thought he was one of the better Rangers on the ice tonight, as he made both Chris Drury and Gerard Gallant look wise. Reaves was a beast in both the hitting and forechecking departments.
Once Sam and Joe received their facetime, I was left wondering – what Penguin would these two buffoons praise tonight? The answer? Brian Boyle. Of course.
Finally, in regards to my thoughts on the pregame show – I thought it was distasteful that they didn't show us the National Anthem tonight. M$GN didn't even give us "Baba O'Riley," nor an anxious crowd with their silly glow-in-the-dark wristbands neither. Instead, we were told 987678689678967896 times to bet our life savings on this game. And if you did that – your pockets are now as empty as Vagistat's head.
Ugh.
Game review time.
---
Tonight's first period was the best twenty minutes of hockey that the Rangers have played all season; but at the same time – they only came away from the first frame with one goal. That would prove to be the difference.
Remember last season (or even a few blogs back, when I brought this up again), when the 2021 Stanley Cup Playoffs began, and how we saw an extreme amount of hits, hits that would've ran the 2021 Rangers off of the ice?
During tonight's game, it were the Rangers who hit everything that moved in the first twenty minutes of action.
And who knows this for sure – this physical brand of hockey may have tired them out as the game progressed.
It's the only way to explain their disastrous second period, where they gave up 25 SOG, and committed nearly a million turnovers.
After Casey DeSmith stopped Lindgren just 27 seconds into the game, the Ranger bruisers went to work – where K'Andre Miller made the first monster hit of the game, followed up by two more by Alexis Lafreniere – including a hit from the 2020 first overall pick which absolutely leveled Pens' d-man John Marino.
And raise your hand if you had Miller and Lafreniere recording the first two hits of the game – big-time hits at that. I know I can't raise my hand.
Patrik Nemeth, who after tonight's game, ensured that Justin Braun would be in the line-up for Game 2; was hit himself, which in turn, gave the Pens' a two vs one odd-man rush. Immediately, Braden Schneider snuffed it out.
And when it comes to the Rangers' defensemen that I've mentioned – Miller had a "Jekyll and Hyde" game, where he made some horrible turnovers and plays; only to follow them up with some defensive wizardry.
I think the technical term is "shit-show," when describing Nemeth's game. B-Schneids, #45, looked strong in his first-ever playoff game.
The third line, the kid line, also had an up-and-down game, where more times than not – they played well. They'd later be robbed of the game winning goal too.
After Chytil missed out on an easy goal, where all he had to do was lift the puck over DeSmith's leg (at the time, and on social media, I said – "I hope this failed opportunity wouldn't bite them in the ass," where I'm also disgusted to say that I would later be proven correct); Ryan Reaves put on a show.
During the first ten minutes, Reaves, who finished with a game-high eight hits (Lafreniere, of all people, finished second-best in this department with 5); "The Grim Reaver" laid three thunderous body blows, where after each of them – the Garden gave him a rousing approval.
In what was a non-stop hit show; with 11:02 remaining, Kakko, like many tonight, opted not to shoot at a wide-open net. Instead, he gave the puck to Chytil, a #72 in blue who was then slashed by Teddy Blueger.
Just twenty seconds into the power-play, the only man-advantage that the Rangers would receive on this night (the Penguins were awarded with four times as many power-plays as the Rangers were), this happened:
ADAM FOX OPENS UP THE SCORING

IT'S A POWER PLAY GOAL! pic.twitter.com/v39m4le7Lg

— x – Rangers on MSG (@RangersMSGN) May 3, 2022
---
1-0, GOOD GUYS, as Adam Fox, the 2021 Norris Trophy winner, recorded the Rangers' first 2022 postseason goal.
On this goal, Strome, and not Kreider, had DeSmith screened. Fox blasted the puck and the Rangers, who were just on fire at this point, were rewarded.
Unfortunately, despite their great play during this period – they wouldn't score again during these first twenty minutes.
The officials, now realizing their mistake of giving the Rangers a power-play; then put their whistles in their pockets after Rooney was held and after Goodrow was tripped.
Instead, with 8:33 to go, Nemeth was boxed for a phantom interference penalty on Rodrigues. We'd later see the Penguins do the same thing to the Rangers (and multiple times at that), but of course – not one call during any of these displays.
CZAR IGOR, who finished this game with ten short-handed saves in all, made three of them during this two-minute Rangers' penalty kill.
After Igor's amazing saves, Sam and Joe started to jerk off Brian Boyle. "OH JOE, HE ONCE WAS A RANGER JOE, LET'S PERFORM FELLATIO ON HIM JOE!"
The Penguins' top line, who would later wreak havoc on the Rangers; first started to come on with four minutes to go – but CZAR IGOR fought them off each time.
With 2:30 to go, there again was Filip Chytil, wide-open, who then missed an open net from a mere few feet out.
With 1:19 to go, we had a controversial play when Ryan Lindgren absolutely floored "Rakell, Rakell The Musical." It looked like #55 caught Rakell in the face with an elbow.
In what originally was called a five-minute major; the officials reviewed it and then penalized Lindgren with a two-minute roughing call instead.
I thought Lindgren's high hit was an accident, as Rakell came into him – but it was a penalty – even if Lindgren made this hit during a defensive reaction.
Igor came up with three more saves during this short-handed attack.
Here's what I said on social media after the first period:
1-0, GOOD GUYS. 1P Thoughts:
— These aren't DQ's/Gorton's #NYR
— Rangers are pulling a Pulp Fiction beating
— Only negative thing, besides the officials – score isn't 2-0 or 3-0. DeSmith has been good. Igor has been better.
— SOG 15-10, Hits 19-10 R; FO's 9-7
— LGFNR!

— BlueCollarBlueShirts (@NYCTheMiC) May 3, 2022
---
Up next? The equivalent of Frank Costanza landing asshole-down on "Fusilli Jerry."
---
When the first period came to an end, I, and I'm sure others – we were all doing the KING KONG shit. That feeling wouldn't last long.
After the Rangers killed off the remainder of the Lindgren penalty; we were then told that "Rakell, Rakell The Musical" was done for the game.
Following a few more saves out of DeSmith, and with the Rangers now having the momentum after their kill; at just the 3:08 mark of the period, this happened:
Another look at the Copper's goal pic.twitter.com/ktm5ZOuGGd

— x – Rangers on MSG (@RangersMSGN) May 4, 2022
---
2-0, GOOD GUYS, as Andrew Copp, who averaged over a point-per-game with the club during his limited run this season, buried a puck past DeSmith, following Strome's perfect one-timer pass. (Sam Rosen said Panarin made the pass, but at this point – Sam has no clue what's going on half of the time.)
As Copp, the perfect "policeman" for this Rangers' squad celebrated; we saw a shot of a smiling Barclay Goodrow on the bench, who waved off Rangers' trainer Jim Ramsey, following a huge shot block out of #21.
This would be the last Rangers' highlight for a while – unless you're talking about Igor in net.
Until Chris Kreider scored a short-handed goal with three minutes remaining – the rest of this period was all Penguins, where once again, they recorded 25 shots on goal during this middle frame – where three of them went past Igor.
And let me be clear before continuing – of Igor's four goals allowed – NONE OF THEM WERE ON HIM.
Call me a fanboy, accuse me of trying to push my CZAR IGOR propaganda on you, or whatever else you want to say – there's just no way you can blame him for any of the goals allowed tonight. His defense did him no favors in this game – nor did the officials neither.
In fact, by the end of this game, I was reminded of what CZAR IGOR first said when he debuted – "I like to see a lot of shots." He sure got his wish tonight.
As the Rangers tried to set a record for most turnovers committed during a playoff game; just 1:24 after Copp's 2-0 goal, Jake Guentzel put the Penguins on the board.
On this play, Miller got beat and CZAR IGOR temporarily bailed out #79 by making a lights-out save on Letang during a Penguins' two vs one odd-man rush.
However, following the save – Crosby got the puck, and with Miller "puck watching;" #79 watched #87 make an easy pass to an awaiting Guentzel in the paint, for the easy tap-in goal.
2-1.
While Reaves would continue to hit anything that moved; the pass-happy Rangers would routinely pass themselves out of scoring opportunities, where Kakko and Chytil were the biggest offenders during this point of the contest.
With the Penguins' top line now coming on, as they dominated any Ranger line that they opposed; CZAR IGOR made three successful saves in succession with 11:30 to go – including his 12th save of the period. Not even a minute later – he'd notch his 15th save of the middle stanza.
As the Rangers couldn't muster up much; with 8:13 to go, Guentzel got his second, following more questionable defense out of the Rangers. 2-2, where need I remind you – DeSmith was a back-up goalie that the Rangers weren't challenging at all.
With 6:04 to go, Mika Zibanejad whiffed on a wide-open one-timer. On the other end, Miller, who looked great sometimes and looked overwhelmed at other times; broke up a Crosby one-timer himself.
Despite the score reading as 2-2, it was with 3:28 to go, when Nemeth was boxed again – this time for holding Rust – it felt like the Penguins were up 6-2.
However, despite how horrible the Rangers were looking, it was the unofficial captain of the team himself, "CK52," who gave his team the lead again, this time via a short-handed goal:
Kreider shorty!!! 🚨🚨🚨 pic.twitter.com/Y8N2GHsIGU

— x – Rangers on MSG (@RangersMSGN) May 4, 2022
---
3-2, GOOD GUYS, after the Rangers' "POWER KILL," led by Zibanejad and Kreider, who came up with a huge go-ahead goal.
Of note – we've seen Kreider score this type of goal before, as he did his new patented move of going forehand-to-backhand, where once again – he finished off a goalie after his quick flick of the wrists.
After gifting the Penguins a power-play, where it were the Rangers who scored instead – the officials said enough of that.
With 2:11 to go, the refs called a phantom boarding penalty on Jacob Trouba, following #8's clean hit of Guentzel.
With three seconds left on the 5 x 3 two-man Pens' advantage, and 90 seconds remaining of the period; Rust scored a tap-in goal while in Igor's paint. 3-3, as the animal kingdom, the Penguins and the Zebras, got their equalizer.
Garbage officiating.
As the second period concluded, a period full of defensive gaffes from the Rangers, and even worse calls by the officials – I said the following about the now 3-3 score:
3-3 after 40. 2P thoughts:
— What a difference 20 minutes makes.
— Officials have been fucking awful.
— SOG 34-23, FO 20-17 Pens, Hits 27-15 #NYR
— Pens four PP's including a 5×3, Rangers one PP
— Not one goal allowed is on Igor.
— Can't blow this game.
— LGR

— BlueCollarBlueShirts (@NYCTheMiC) May 4, 2022
---
Lindgren, who blocked a shot on the penalty kill during the end of the second period; didn't return for the start of the third period. However, he'd later make his return, as I'll soon get into.
After DeSmith stopped Kakko early, and after Miller made a bad pass towards Rooney's direction; with 17:27 to go, Boyle hooked Reaves. No call.
With 15:48 to go, Panarin, who led the Rangers up ice during this particular 4 x 2 attack, decided to make a wild pass to Copp instead. No SOG and another turnover.
Two minutes later, Lindgren returned to the bench, but after testing himself out on the ice during a TV timeout – he'd return right back to the locker room for work. However, he'd soon return. Warrior.
During this TV timeout, we also saw Jake Guentzel take two swipes at the back of K'Andre Miller's head. As that piece of shit was committing these infractions – an official was a foot away and looking right at this. No call. I wonder if Ryan Reaves had done the same to Crosby, if that would've been called?
With 11:50 to go, Heinen hit a post after another Rangers' giveaway.
Two minutes later, the second line did everything but score, as DeSmith thanked the horseshoe that was wedged up his five-hole.
Following great defensive plays from both Miller and Trouba; CZAR IGOR made one of his best saves yet of his 79, where he made a sweeping cow glove save on Kapanen, and with just 5:07 to go in regulation.
As the Rangers centermen continued to lose every zone faceoff known to man; just seconds later, CZAR IGOR came up with another huge save, where he stopped Kapanen again. He'd later stop him one more time with 3:46 to go.
With 3:10 remaining, we had the turning point of the game:
Filip Chytil's goal was overturned for goaltender interference. Thoughts? 🤔#StanleyCup pic.twitter.com/t7LmMHyRsg

— Sportsnet (@Sportsnet) May 4, 2022
---
In what should've been 4-3, GOOD GUYS, and following a great defensive play by Kakko, where DeSmith stopped #24's try, but wouldn't stop Chytil on the rebound – the refs reviewed the goal for goaltender's interference.
DESPITE KAKKO BEING PUSHED INTO DESMITH BY DUMOULIN – the officials and Toronto came to a mutual agreement – "SCREW THE RANGERS!"
In what most likely would've been a game winning goal; within seconds into the video review, the officials reversed the goal – DESPITE CLEAR EVIDENCE OF KAKKO BEING FORCED INTO DESMITH BY DUMOULIN.
Between the bullshit calls, the ignored Penguin infractions and now this – it was obvious – the Rangers had to beat two teams tonight.
Put it this way – DeSmith wasn't screaming at a referee after the goal. Neither were his teammates, as it was obvious that this was a good goal.
However Pens' bench boss, Mike Sullivan, who had to challenge this goal at this time (he had nothing to lose), won this challenge – as the officials have accommodated him on EVERY SINGLE ONE OF HIS CHALLENGES THIS SEASON. A 100% success rate – are you kidding me?
M$G, and as you'd imagine, was furious, and then belted out loud chants of "THESE REFS SUCK" and "ASSHOLE."
This Chytil goal reversal just sucked the life out of you, because if it wasn't as clear as day before, it now was – the officials were doing their best to get the Penguins over the finish line.
I should also mention here, that with two minutes and change to go – Lindgren returned, and he'd continue to play for the rest of this match.
3-3 after sixty, in one of the worst officiated games that I've seen in a long time.
---
As the M$G ice crew had more issues, as after each period there were excess water problems; we finally began the first overtime, where I, and most Ranger fans, couldn't shake off that Chytil goal reversal.
(Of note: it's 2AM as I write these words, so I'm going to blow through these three overtimes.)
From this point on, the Rangers would lose 95% of every zone faceoff they took. I'm not making this up for effect.
As the two teams played a cautious overtime; CZAR IGOR hit 50 saves with eight minutes remaining. This also tells you that he'd make 29 more – which is just ridiculous, as the Rangers bled shots on goal for the Pens.
A scary moment took place with 6:01 to go, as IGOR lost his stick following a save, but he held on to keep the Penguins off of the board. The Rangers, after some hairiness, would then get the puck out of the zone.
With 4:24 to go, and with the Blueshirts looking tired; Fox had a clear look at DeSmith. Instead, he passed the puck to Strome, a #16 who was expecting a shot out of #23 rather than a pass. This was a break for the Penguins.
I'm not one to question Fox – but yeah, I think Strome wanted Fox to shoot, and if the defenseman didn't bury it – then Strome would've been there for a puck on pads rebound.
As the officials ignored multiple Penguin icings; with 3:50 to go, the stripes finally called one against their favorite team. M$G roared with a "Bronx Cheer/Jeer," where from this point on – anytime that the Penguins were called for an icing, the crowd would mock these dumbass and paid-off officials.
Igor, who admittedly did get some breaks along the way; would receive another one with 2:41 to go.
On this play, Miller made a horrific turnover, where he passed the puck to Crosby in the slot. Crosby fed Guentzel immediately, where a crossbar denied the Penguin of a hat trick.
After four periods, we remained tied, and where CZAR IGOR was now up to 53 saves.
---
During this first overtime intermission; Lundqvist, along with his side-kick "THE AMAZING SEVEN FOOT CHART BOY;" the two goalies kept on telling us how "FUN" and "EXCITING" this game was.
While I could see how this game would be fun and exciting to someone who had no skin in the game – the opinions of these two did not capture the opinions of Ranger fans. I know their opinions didn't reflect mine!
All we saw were the officials dicking over the Rangers at every opportunity possible. And then when the Rangers couldn't bury a puck and continued to turnover pucks too – how was this entertaining? This was freakin' heart-attack inducing instead!
In the double overtime, and following another Zibanejad faceoff loss to Crosby; just 28 seconds into the bonus frame – Igor stopped Letang with a FABULOUS save.
After Igor made three more saves; DeSmith then made three himself, where during this time – Chytil failed again to bury a puck while wide-open, where yep – #72 should've had already been credited with the game winner.
At the 3:21 mark, Rust barrelled Igor. No call.
As the crowd displayed their displeasure with these officials, zebras whose heads must've reeked of rancid asshole, as that's where their heads were tonight; M$G cheered as loser linesman, Chris Lee, fell down on his Penguins' supporting ass.
As Mika tried to set a record for most zone faceoff losses accrued during a playoff contest; Igor hit 60 saves with eleven minutes to go. 19 more would follow.
With 10:42 to go, and with the Rangers attacking, the refs blew a whistle. Of course.
Turns out, Craig DeSmith had vaginal cramps, and he'd then leave the game for third-string goalie Louie Domingue.
What happened next? Domingue, after stopping Fox twice in ten seconds, would finish the game with 17 saves on 17 shots against. Of course.
As the Rangers turned Domingue into the second coming of Patrick Roy; with 2:35 to go, I had to scrape out my underwear, following a Rust shot that clanged off of the post.
Just as the double overtime was set to expire – CZAR IGOR recorded save #70.
After five periods, we remained at 3-3.
During the intermission, Vagistat, and I'm not making this up, tried to compare his garbage career to CZAR IGOR. He then talked about his previous issues with cramping, where I'm to assume that they were menstrual.
---
Following Lundqvist telling us about what overtime games can do to a goalie, as he mentioned that he lost over ten pounds during a bonus affair; Vagistat then tried to equate his career to the greatness of Lundqvist and Igor. Ridiculous.
Let's get to the end.
After more Ranger turnovers, and nary winning a faceoff neither; CZAR IGOR recorded save #79 at the four minute mark.
At the 5:58 mark, Malkin deflected a puck shot from long distance past Igor. 4-3, bad guys, 4-3 officials, your final.
Disgusting.
You don't mind if you lose fair-in-square, but this game wasn't that.
Here's Gallant after this screw job:
---
I give Gallant this – he was a lot calmer after this game than this blog was. That said – he too admitted that Chytil could've had a four-goal game. But to blame Chytil for the loss? That's not true at all.
I think you know this – I am a hardcore fan. It's one loss. I shouldn't overreact. But if this is the type of officiating we're going to see all series – it's going to be tough for the Rangers to beat two teams at once.
As far as what happens on Wednesday; as Gallant said, it will be a video session for the team.
As far as who is in net, you'd have to think CZAR IGOR will go, despite playing the equivalent of two games in one night. It will also be interesting to see who plays for the Penguins on Thursday night.
In other words, I wouldn't be surprised to hear if the Rangers hooked CZAR IGOR to an IV prior to Game 2.
This was a game that the Rangers had in hand after one period. It was also a game that the Penguins got what they wanted.
While Game 2 isn't a "house-money" game for the black-and-yellow – they achieved their goal – they guaranteed themselves a split on the road. I just hope it was worth it financially for the officials, who should lose their jobs after this.
For the Rangers to win on Thursday, they'll have to get better production out of their top six, especially out of Panarin and Mika. They're making the big bucks now. They need to score the big goals.
After all – legacies are made during the playoffs – and not during the regular season.
Silver lining – CZAR IGOR sure started his playoff legacy tonight. One game into his playoff career and he set a franchise record.
One more parting shot – hopefully this game eliminates all of the nerves.
Many of the turnovers tonight looked like a result of the jitters. Fingers-crossed – Gallant settles his team down and the Rangers now have an experience to draw from.
Sorry if I sound so down tonight, but at this time of year – these games take over my life and my mood too! Maybe I have menstrual craps with my mood swings!
Lastly, and as a reminder – these blogs are my way of venting.
After hitting the "PUBLISH" button, I'll cleanse myself and get ready for Thursday with a fresh mind and positive approach. I may also add my name to a liver's donor list too!
LGR.
PLUGS TIME!
---
On Monday, the "Blueshirt Underground Show" returned with an all new episode, where they gave their preview for the 2022 Stanley Cup Playoffs. To watch/listen to the show, click the play button below:
---
My first plug of tonight's blog – the mandatory plug for my book, "The New York Rangers Rink of Honor and the Rafters of Madison Square Garden".
As mentioned previously, the book is now available in hardcover, in paperback and in Kindle formats. To purchase a copy of the book, visit this link:
https://www.amazon.com/Rangers-Rafters-Madison-Square-Garden-ebook/dp/B09CM5N2WD
For those still looking for signed paperback versions of the book, I have re-ordered more copies. I now have a few signed copies for sale at $25 a pop (includes shipping price) through me directly. Here is all the information on that:
---
Here are my last few blogs, in case you missed them: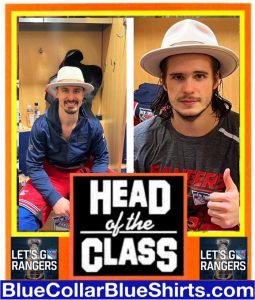 ---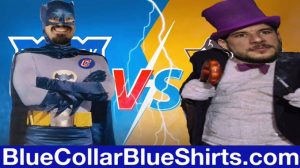 ---
---
---
If you haven't already, subscribe to this blog for the next update:
---
Up next: Thursday night, Rangers vs Penguins Game 2.
As always here, thanks for reading and…
LET'S GO RANGERS!
Sean McCaffrey
BULLSMC@aol.com